New Fashionable & Game Changing Happi Coat "HAPPYCOAT" to be Sold at Isetan Shinjuku
Costume designer Junko Koshino and design order happi coat brand Happi.Tokyo have developed a new style of Japanese happi coat which, when worn, expresses Japan and hospitality. The coats are available at Isetan Shinjuku, the Isetan online sotre, and Online Happi.Tokyo.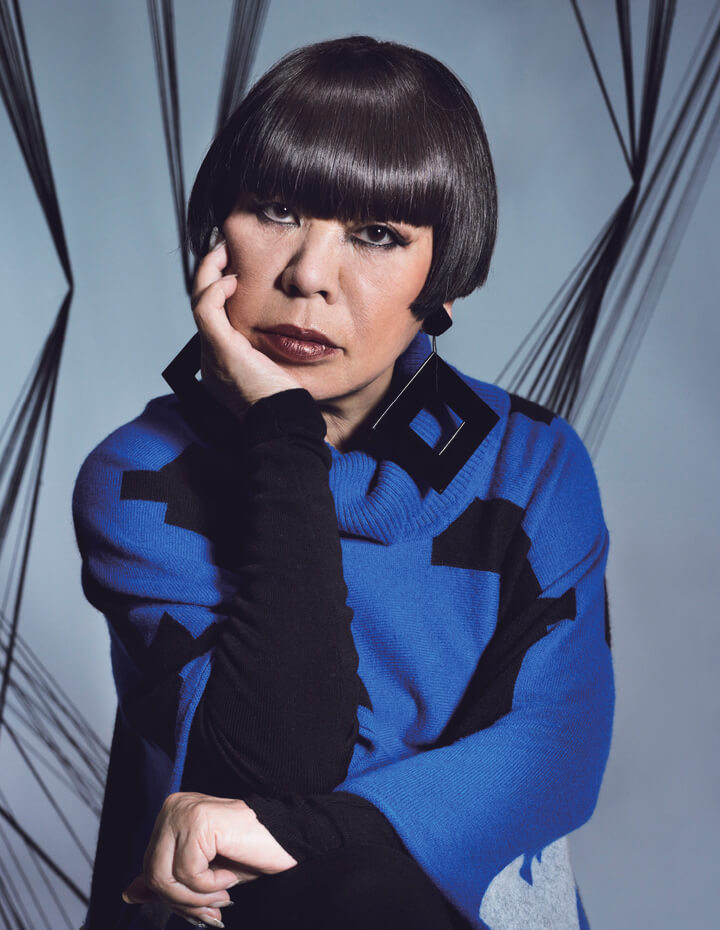 Happi coats are generally worn during festivals and events in Japan. But because of the recent boom in traditional Japan and the increase in foreign visitors to the country, they are being worn in many more instances such as for sales promotion and as uniforms. In response, Junko Koshino, who has developed international cultural exchange in the world through fashion, and Happi.Tokyo, who promote happi coats in a multitude of ways, have used their knowledge to co-develop the new HAPPYCOAT.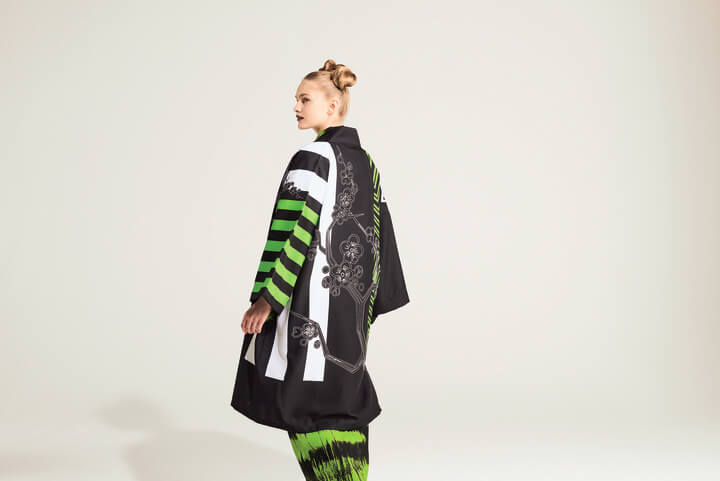 The HAPPYCOAT can be easily put on and possesses functionality – it can be worn for businesses promotion, as a uniform, at events, in support of something, and so on. It can also be used as a fashion item in the yukata scene or on the street.
The design of the HAPPYCOAT uses Japanese motifs together with unconventional colour combinations and patterns to create a coat that is a happi – but also isn't. It also makes full use of the sleeves of a happi which create a genderless and sizeless design. To those overseas, it can enjoyed as traditional Japanese fashion.
The sewing and printing was crafted by experts in their fields who have years of experience with the special characteristics of materials. You can feel the refinement and consideration put into this happi.
Why not try a new style of Japanese with the HAPPYCOAT?
■Information
HAPPYCOAT
On Sale: March 28, 2018
Price: ①¥16,956 (tax incl.) / ②¥19,980 (tax incl.)
Size ①: Original M (Short)
Width: 64cm / Length: 92cm / Sleeve Width: 36cm / Cuffs: 36cm / Neck: 5cm
Size ②: Original F (Long)
Width: 76cm / Length: 109cm / Sleeve Width: 38cm / Cuffs: 29cm / Neck: 5cm
Designs: 12
UME / SHIMA / SHO
TORA / EDA / TSURU
Available:
Isetan Shinjuku 7F
March 28, 2018 ― April 3, 2018
Isetan Online Store
http://isetan.mistore.jp/onlinestore/index.html
From March 28, 2018
Online Happi.Tokyo
From April 3, 2018 (Subject to Change)
*Amazon / Rakuten listings scheduled for future sale.
Website:http://www.online-happi.tokyo
RELATED ENTRIES
Collaboration Between Designer Tomo Koizumi and Marc Jacobs to Release in Japan Only

Tomo Koizumi is one of Japan's most popular up-and-coming young designers. At a young age, he began creating custom outfits for his female friends, and eventually, the editor of Vogue Italia Sara Maino posted an image of his incredible work on Instagram, netting him instant fame. Now, the creator is collaborating with Marc Jacobs on a Japan-only collection scheduled to be released on November 17, 2021. 

At the 2019 New York Fashion Week, Koizumi was invited by Marc Jacobs to show his designs at the Marc Jacobs Madison Avenue store. The designer is known for his experimental and unique approach to clothing, always managing to shock audiences. This new collaboration will feature a number of colorful pieces featuring the signature stylings of Marc Jacob with Tomo Koizumi's incredible ruffles. To celebrate this new limited-edition collab, Koizumi himself appears in many of the campaign images. Actress Yumi Adachi will also appear as a model. 

Marc Jacobs' iconic bag 'The Snapshot' serves as the centerpiece of the collection, along with plenty of ruffles and hairbands. A special series of one-of-a-kind garments handcrafted from scrap stock fabrics laying around in Jacobs' atelier will be sold in limited quantities. 

Tomo Koizumi x Marc Jacobs pop-up stores will appear at Isetan Shinjuku and HANKYU Umeda for a limited time from November 17 until November 23, 2021. 

Information

Tomo Koizumi x Marc Jacobs

Release Date: November 17, 2021

Japan Only

Online Store: https://www.marcjacobs.jp

Shibuya PARCO 2F (15-1 Udagawa-cho Shibuya-ku, Tokyo)

Isetan Shinjuku Main Building 2F (3-14-1 Shinjuku, Shinjuku-ku, Tokyo)

Available: November 17 – November 23, 2021

HANKYU Umeda 3F (8-7 Kakuda-cho, Kita-ku, Osaka)

Available: November 17 – November 23, 2021

Tennis Star Naomi Osaka Releases Upcycled Denim Collection with Levi's®

Naomi Osaka is one of the fiercest young athletes in sports today. Now a four-time Grand Slam singles champion, she's caught the attention of aspiring athletes all over the world with her authenticity and skill. Now, she's teaming up with Levi's® to release a new collection, available at select stores in Japan beginning August 24. The pieces will also be sold at the official online store. 

Crystal Fringe Short : ¥33,000 (Tax Included)


Lace-Up Short : ¥19,800 (Tax Included)


Trucker Jacket Bustier: ¥24,200 (Tax Included)


Denim Kimono : ¥40,500 (Tax Included)


 

The collection utilizes vintage or upcycled denim to capture Osaka's preferred silhouette, with each piece utilizing her unique designs based in femininity and sportiness. 

The Denim Kimono is a respectful homage to traditional Japanese culture. "I loved wearing kimono as a child," Osaka commented. "I thought if I included one made of denim in the collection, it would be super unexpected and surprising." 

This collection also includes two denim shorts: the Lace-Up Short is sportier, and is a clever reimagining of the classic Levi's® denim shorts. They feature cutouts above the knees, a feminine lace-up back, and were made from upcycled men's Levi's® jeans. For those wanting something more girly, the Crystal Fringe Short features a collection of shimmering fringe gracefully dropping down the sides of the cut-off pants. 

Rounding out the collection is the Trucker Jacket Bustier, a denim bustier with a lace-up back. This is a remake of the Levi's® trucker jacket, cut in the traditional corset style with classic lines, flap pockets, and recognizable buttons. "When I was sketching, the idea of the bustier came to me and I absolutely loved it. Now that it's been made and is actually real, it's so much cuter than I imagined. I love it even more!" Osaka commented. 

This blend of sporty and feminine makes the collection a perfect shoutout to Naomi Osaka's rich heritage. Most importantly, the collection is made from vintage and upcycled denim, breathing new life into already existing Levi's® items and reducing impact on the environment. "Sustainability initiatives are important to me. What I love most about the collection is how responsibly the pieces were made," the tennis star said. 

Which of these four pieces would you like to rock this summer? 

Information

Levi's® x Naomi Osaka Collection

Release Date: August 24, 2021

Where to Buy: 

Levi's® Harajuku Store

Levi's® Osaka Store

Official Levi's® Online Store: https://www.levi.jp/

Stylish Bags and Sneakers Arrive at Camper's Pop-Up Shop in Isetan Shinjuku

Shoe, boots, and sneaker brand Camper opened a pop-up shop at Isetan Shinjuku on Wednesday which is set to run until April 27. The shop is a collaboration with Japanese textile designer Masaru Suzuki who has provided his iconic designs to a collection of bags and sneakers that you can get your hands on. The shop also has a display designed by Suzuki.

Pop-Up Store Line-Up

HOP STEP LIFE | ¥19,800 (Tax Included)

ANIMAL BISCUIT | ¥22,000 (Tax Included)

CHARM POINT | ¥5,500 (Tax Included)

TWINS by MASARU SUZUKI (Women's) | ¥25,300 (Tax Included)

TWINS by MASARU SUZUKI (Men's) | ¥25,300 (Tax Included)

TWINS by MASARU SUZUKI (Kid's) | From ¥12,100 (Tax Included)

Men's Building – "CAMALEON 1975" Pop-Up Store

Men's Building Pop-Up Store Original Novelty

This marks Camper's third long-awaited collaboration with Masaru Suzuki and the first in four years, and this time the series adds shoes to the mix in addition to the popular bags. Suzuki visited Camper's main office in Majorca, Spain, for detailed discussions on the designs.

Suzuki is set to attend the pop-up event on April 17. Customers who spend over ¥5,500 (tax included) on this day will receive a fabric swatch signed by Suzuki. Additionally, the men's building of Isetan Shinjuku is also opening its CAMALEON 1975 pop-up shop once again selling shoes made from recycled materials from Camper. Those who spend over ¥14,300 (tax included) at this shop will receive a free eco-friendly bag made from 100% recycled nylon.

Information

ISETAN x CAMPER Pop-Up Store

Running: April 14, 2021 – April 27, 2021

Where: Isetan Shinjuku

ISETAN x CAMPTER/Masaru Suzuku: Main Building Floors 1F & 2F

CAMALEON 1975: Men's Building Floor B1F
Opening Hours: 10:00-20:00

Official Website: https://www.camper.com/

7 Days of Strawberry Dessert Love at Isetan Shinjuku This January

Isetan Shinjuku has announced a special one-week event titled "7 Days of Loving Strawberries" which is centred around cute and delicious strawberry desserts and will run this month from January 13-19. Ten cafes and restaurants are participating with a sweet and succulent line-up including strawberry daifuku, strawberry shortcake, special parfaits and crepes, and more.

Strawberry Candle Pavlova @ mihopan popcake | Two for ¥972 (Tax Included) *Limited quantities

MIGAKI-ICHIGO Strawberry Parfait @ Ichibiko | ¥1,980 (Tax Included)

Strawberry Shake @ Ichigo-ya Sunsunen | ¥721 (Tax Included)

Crispy Strawberry Mille-Feuille Crepe @ Sorairo Crepe | ¥935 (Tax Included) *Limited quantities

Strawberry Shortcake Parfait @ Shiseido Parlour | ¥1,045 (Tax Included)

Strawberry Daifuku @ Berry UP! | ¥432 (Tax Included)

Ripe Strawberry Milk Pudding @ Kanjyuku Ichigo Kashi Kekyusho | ¥486

Whole Strawberry Sandwich @ Sajisakon | From ¥864 (Tax Included)

MIGAKI-ICHIGO Strawberry Daifuku @ Seigetsudo Hoten | ¥432 (Tax Included)

Information

7 Days of Loving Strawberries (Japanese Name: いちごに恋する七日間)
Running: January 13, 2021 – January 19, 2021
Location: Isetan Shinjuku Floor B1F
Official Website: https://mi-journey.jp/foodie/66251/

discord Yohji Yamamoto x HUNTER Pet Accessories Drop in Tokyo

discord Yohji Yamamoto, a luxury accessory brand spearheaded by Yohji Yamamoto, has launched a collaboration with German pet brand HUNTER to release a collection of dog collars, leads, and other accessories like bags and wallets.

HUNTER was established in 1980 and has gone on to mark its territory across the world as a provider of high quality pet goods, praised for for the design, functionality, and safety of its products.


Black Dog Collar & Lead

The dog collars are fitted with studs as part of the collaboration. Both the collar and lead feature the same colouring as discord Yohji Yamamoto's products, arriving in the brand's signature black as well as beige, the latter of which is often used for its bags and small leather products. They are also clipped with a signature charm which has a design symbolising the collaboration.

Beige Dog Collar & Lead

The accessories are made from elk leather which is soft and made extra durable with double layering. Having the collar and lead the same colours also adds a sophistication to the design when fitted on a dog.

The collection will be released at discord Yohji Yamamoto stores in GINZA SIX, Shibuya PARCO, and Isetain Shinjuku, as well online. More details can be found on the official website here.

discord Yohji Yamamoto Black / Beige Selection


Y BACKPACK Nylon Studs | ¥148,000


ORIGAMI Tote | ¥98,000


Triple Clutch | ¥58,000


Diagonal Bag | ¥45,000

Y SERIES Studs


Y BODYBAG Studs | ¥138,000


Y BACKPACK Studs | ¥158,000

Small Leather Goods

Card Mini Wallet | ¥17,000

Key Wallet | ¥20,000

Enjoy the Beautiful Taste of Kyoto at Isetan Shinjuku in Tokyo

Isetan Shinjuku has announced a special event dedicated to promoting the beautiful taste of Tokyo. Set to begin on December 2, the event will see both traditional and newer restaurants from Kyoto come together to serve up Kyoto-style cuisine to the people of Tokyo from oldies like sushi to dango to more modern dishes like okonomiyaki and katsu sandwiches. Visitors will also be able to watch real chefs from Kyoto at work.

Hi-Lite Shokudo's "Hi-Lite Katsu Sandwich" | ¥850

Since first opening in 1960, Hi-Lite Shokudo has continued to treasure the taste of home cooking and has continued to evolve that taste over the years to cater to each generation. Its famous katsu sandwich is made with a secret sauce that has kept it unbeaten against other popular eateries in Kyoto, and they've upped the taste for this event.

Kotoka's "Mitarashi-dango" | ¥864 (6 Sticks) 

These dango are made fresh in front of customers and are doused in a rich secret sauce. Their chewy texture is irresistible.

Izuu's Mackerel and Tilefish Assortment | ¥4,455 (3 of each per person)

Izuu is an iconic sushi restaurant in Kyoto that was first established in 1781. This assortment is made with chub mackerel from coastal waters, esumai rice from Shiga Prefecture, and kombu from Hokkaido.。

Yumeya's Fuwafuwa Okonomiyaki | ¥801 (1 portion)

Many people living outside of Kyoto search for the okonomiyaki flavour served by Yumeya. It's made fresh, fluffy, and is topped with lots of ingredients.

Daitokuji Saiki-ya's "Dashimaki Tamago" | ¥648 (1 portion)

Daitokuji Saiki-ya is a specialty store in Kyoto catered food in business for 1933 years. It serves Kyoto-style dashimaki tamago as well as lots of other delicious food that captures the taste of Kyoto.

Art and Lifestyle Come Together at Isetan Shinjuku's 'Living with ART' Event

Isetan Shinjuku is now hosting its "Living with ART" event on the 5th floor of the main building until September 29, 2020.

Living with ART brings together collections of artistic products by designers from both inside and outside Japan, from unique items to add accent to your daily life to more daily-use bits and bobs.

STUDIO THE BLUE BOY comes to Isetan Shinjuku for the first time

<STUDIO THE BLUE BOY> Wavy Gradient rug – Orange × Yellow | ¥289,000 (Before Tax)

Keisuke Shoda is a Tokyo-based designer and art director whose name is known both in Japan and overseas. He creates products for his art studio, STUDIO THE BLUE BOY, all of which are sold exclusively online from rugs to interior products and more. Exhibiting at Isetan Shinjuku for the first time, STUDIO THE BLUE BOY's lineup will include their popular rugs, fragrances, bags, and more.

<STUDIO THE BLUE BOY> Zen Garden Collection (Left: Charcoal Grey, Right: Matcha Deep Green) | ¥329,000 Each (Before Tax)

Visitors will also be able to order the Charcoal Grey and Matcha Deep green rugs early from the studio's new Zen Garden Collection line.

Valeria Vasi showcases their new range in Japan for the first time

<Valeria Vasi> Vases | ¥12,000-¥75,000 Each (Before Tax)

Barcelona-based designer Valeria Vasi is showcasing her iconic and eye-catching handcrafted vases. Her designs are simple, but have their own beauty and quality, giving room for a single flower to express its own beauty. She will be selling around 40 items.

<Valeria Vasi> Vases | ¥34,000-¥45,000 (Before Tax)

As well as her ceramic vases, which have a beautiful glossy finish, Valeria Vasi is also selling her newest glass-type vases in Japan for the first time.

Young artists' pictures turned into blankets

<Slowdown Studio> Blanket | ¥32,000 (Before Tax)

Slowdown Studio's products are available in 16 countries worldwide. It is a home product brand that makes items using pictures and illustrations created by young artists around the world. At the event, they will be selling 10 different kinds of blankets, including three from their new TOKYO COLLECTION together with Japanese artists.

<Slowdown Studio> Blanket | ¥32,000 (Before Tax)

The blankets can even be used as wall art.

This is just a snippet of what will be on show at Living with ART. If you're in Tokyo this month, don't miss out on the event.

New Japanese Haori Brand NOBLE SAVAGE to Arrive in Shinjuku Isetan

When talking about traditional Japanese clothes, the first to come to mind is undoubtedly the kimono, something adored the world over. But another type of traditional attire from Japan that's gaining attention for adapting more to today's modern lifestyle is the haori. NOBLE SAVAGE is a new brand by 10th generation owner of Kondaya Genbei set to be sold inside Shinjuku Isetan for a limited time.

NOBLE SAVAGE is redefining tradition by taking the ancient dyeing and weaving techniques forged in Japan and adding new value to them by adapting them to today's lifestyle.

The haori is incorporated into a diverse number of outfits in Europe and America, from everyday clothes to streetwear. Kondaya Genbei has a history spanning over 280 years. Using their enormous inventory is materials from around the world, they are using Japanese techniques to weave new haori.

NOBLE SAVAGE Haori: ¥63,800

This design is known as the yabure-kouji, an iconic design by the 10th generation owner. It's a revival of a pattern worn by people working in kabuki theatre around 250 years ago and holds the meaning of "breaking down order."

NOBLE SAVAGE Haori: ¥418,000

This muga silk is handwoven with wild silkworm and dyed with vegetables. The pockets are arranged with a special silver leaf that has been used by Kondaya Genbei for 100 years.

NOBLE SAVAGE Haori: ¥69,300

Made from deadstock Laos fabric and dyed with catechu, something which has been used since the Nara Period, the haori gets a distinct earth colour.

NOBLE SAVAGE is also collaborating with Pascal marie desmarais to release washable face masks online at Isetan on June 16 at 10:00 (JST).

NOBLE SAVAGE will showcase their products at a showrooming in Isetan Shinjuku from June 17 to 23 and sell them from June 24 to 30.​

Modern Japonisme Beauty Products and Fragrances Arrive at SABON's Shinjuku Pop-Up Store

Japanese beauty company SABON opened its first ever pop-up shop on Wednesday on the first floor of Isetan Shinjuku in the makeup and promotion section. The shop will run until June 23, 2020.


Items on show include classic SABON products as well as their "TOKYO CELEBRATION" line-up, a collection of "modern Japonisme" items made in collaboration with millennial generation Japanese calligrapher MAMI. The fragrance of this special collection is "Clear Citrus Green" which combines notes of sparkling lemon, fresh verdure, transparent jasmine, and dreay orange blossom.

The collection is first on pre-sale at the Isetan Shinjuku pop-up store until June 23. After that, it will go on limited sales at SABON stores across Japan and SABON's online store on June 25.

Additionally, customers who spend over ¥8,000 (tax included) on the TOKYO CELEBRATION collection have the chance to receive the above-pictured fan. These are available while supplies last.

Information

Pop-Up Shop
Location: Isetan Shinjuku (1st Floor Makeup/Promotion)
Running: June 10, 2020 – June 23, 2020

Line-Up: SABON Products / TOKYO CELEBRATION Collection

Prices: ¥1,300-¥18,500 (Before Tax)

Official Website: https://www.sabon.co.jp

Japanese attire brand Relier81 began selling its "OBI Square Sandals" on the official UNITED TOKYO online store on Thursday. The sandals are made using dead stock obi which are the sashes used to tie kimono.

Who are Relier81?

Relier81 is a Kyoto-based upcycling brand which aims to maintain Japanese tradition, culture, and the original craftsmanship of its creations.

In today's era, there are less opportunities for people to wear kimono in Japan. Beautiful and breathtaking kimono, obi, and other kimono related items are gathering dust in people's wardrobes. So Relier81 began to think of a way that would enable them to still make use of kimono and kimono accessories that would fit the modern lady. That's where their upcycling skills come into play.

OBI Square Sandals – ¥29,700 (Before Tax) | Size 1: 23cm-23.5cm, Size 2: 24cm-24.5cm

Relier81 have collaborated with UNITED TOKYO for these new OBI Square Sandals, a brand which prides themselves on products that are "Made in Japan." The sandals use Relier81's "OBI Sandals" as the base which have been wrapped in carefully selected dead stock obi by UNITED TOKYO's designers. There are 12 sandal designs in total with two different kinds of elastic insoles used. The sandals lighten the burden of the feet and are super comfortable to ensure that your feet don't get tired easily.

The sandals are shipped in a special "kiribako" box with both company's logos branded on it to keep with the traditional theme.

All of these sandals are manufactured in Japan, but the ageing of artisans and lack of successors is of real concern. UNITED TOKYO's official online store has posted photos of the manufacturing process of one shoes to show people how it's done.

Isetan Shinjuku's Restaurant Floor EAT PARADISE Turns Into a Pink Paradise

To celebrate the 30th anniversary of EAT PARADISEーthe restaurant floor located on the 7th floor of Isetan Shinjuku in Tokyoーthe entire area, as well as restaurants and cafes throughout Isetan Shinjuku, are going pink from March 4 to 31. 

Chocolate Printanière – ¥2,860 (+Separate 10% Service Charge) @ Le Salon Jacques Borie / *5 served per day


Watch this animated chocolate dessert melt as you pour over the hot sauce and tuck in. The centre is filled with a fluffy berry cream.

Vacherin With Japanese Strawberries – ¥1,320 @ Cafe Rejiig


Located on the 8th floor of the men's building, Cafe Rejiig is serving up a pink-coloured French dessert made up of a tower of meringue, ice cream, and various other delicious delights.

Strawberry & Cranberry Cream Mont Blanc Parfait – ¥1,211 @ latte chano-mama

latte chano-mama is a cafe popular with mothers who go there with their children. The cafe's new mont blanc parfait is made with strawberries and sponge which has cranberry sauce hidden inside.

Left: Pink Non-Alcoholic Cocktail – ¥981 / Right: Pink Champagne Cocktail – ¥1,201 @ The Stand


These two cocktails are cherry blossom-inspired. As well as all of these cute pink delights, EAT PARADISE is celebrating with a range of other dishes other than desserts and drinks too, like soba and risotto.

There's plenty of visually-striking items to tuck into at EAT PARADISE for their 30th anniversary, so be sure to pay a visit if you're visiting Tokyo this spring.

Kimono IN LAFORET 2020: Kimono Brands Galore to Gather at Event in Harajuku

Laforet Harajuku has announced that its next "Kimono IN LAFORET" kimono and furisode pop-up shop will run from January 4 to 22 next year.

Iroca Kimono "Leopard Gecko" – ¥63,800 (Tax Included) / Half-Width Obi – ¥26,400 (Tax Included)

Pure Silk Butterfly Black Cloth Furisode – ¥132,000 (Tax Included)

Light Blue Dove Print Polyester Furisode – ¥128,150 (Tax Included)

Eight brands will line the shelves of the annual pop-up shop, with kimono, furisode, accessories and more available for purchase, including new items.

Model and actress Shen Tanaka features as the star of the main visual for Kimono IN LAFORET 2020, mixing colourful kimono with western clothing to create a unique look. Marie Higuchi, who was the stylist for the visual, has also released some dress advice for those who love kimono or those who are beginners and newcomers to the scene.

Mixing kimono with the kind of regular clothing that screams you

Marie Higuchi is a stylist who also writes columns in Nylon Japan and Sozen. Her advice can be used by both beginners and experts alike: by mixing kimono with some of your own clothing, you can simply and easily create a stylish look that's you. This makes for a perfect outfit for a special occasion.

Styling Point

This outfit combines fishnet tights with sandals that have thick metallic soles to create an edgy kimono style. Using thick sandals makes them really stand out when wearing kimono, so you can easily incorporate them with any kimono you wear.

Items Used

Kimono/Obi/Other: iroca

Haneri: C.H.O.K.O

Obi Clip: conoco

Styling Point

The gorgeous flower head dress brings a strikingly elegant touch to the overall look of this outfit. Whether used with kimono or in your regular day-to-day outfits, it's sure to bloom beauty with whatever style you go with.

Items Used

Kimono: MIKI SAKURA

Head Dress: Atelier Senka

One Piece Shirt: Ank Rouge (Laforet Harajuku Floor 4F)

Styling Point

Coloured turtlenecks are in right now for the current season in Japan, and this kimono look incorporates one underneath the kimono. The mix of loose socks and thick-sole sneakers really adds to the flavour of this style, even more so with the addition of personal items like the vinyl record headband and lip clutch bag which make it unique.

Items Used

Kimono/Obi: Tamao Shigemune

Headband/Clutch Bag: SINZ (Laforet Harajuku Floor B0.5F)

Other: Personal items

If you're looking for kimono and furisode when visiting Japan in January, be sure to hit up Kimono IN LAFORET at Laforet Harajuku, located in Tokyo's fashion central: Harajuku.