Sanrio Puroland & Round-Trip Train Ticket Set to be Sold at Shinjuku Station!
Sanrio Puroland is a theme park where you can meet some of the world's most iconic characters including Hello Kitty and My Melody.
The closest station to the park is Tama-Center Station which is often perceived as being quite a trip, but it's very easy to get to. Just hop on the Odakyu Line from Shinjuku Station and it's just one stop. It takes about 35-minutes.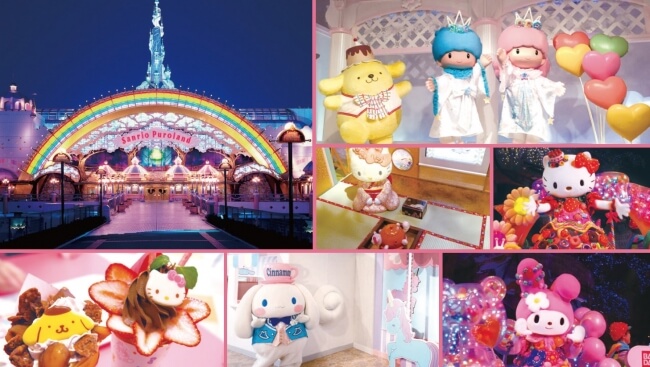 If you're planning a trip to Sanrio Puroland, then consider the new ticket set that's coming out on April 1, 2018. The super affordable Odakyu Sanrio Puroland Tour contains both a round-trip train ticket as well as a passport ticket into Puroland.
The tour can be paid for at the Odakyu Travel Center in Shinjuku Station's West Hub, which was refurbished this month.
Have a fun trip and affordable trip to Sanrio Puroland with this new ticket set!
■Information
Odakyu Sanrio Puroland Tour
On Sale: April 1, 2018
Location: Odakyu Travel Center Shinjuku West Hub, Hakone Tabi Ichiba
*Near Odakyu Line ticket gates at Shinjuku Station West
Price: Adults (18 years and above) ¥3,200 / Children (3-17 years) ¥2,400
Website: https://www.puroland.jp
RELATED ENTRIES
Sanrio Puroland's All-Night Halloween Party to Feature Guest Performances by Scha Dara Parr, m-flo & chelmico

Sanrio Puroland, Tokyo's theme park home to Hello Kitty and her friends, has teamed up with music company Melody fair to create a very special one-night-only Halloween party called SPOOKY PUMPKIN 2019 〜PURO ALL NIGHT HALLOWEEN PARTY〜 which will take place on October 26.

This marks the 6th year of Puroland's all-night event which never fails to sell out every ticket every single time. This year, there will be 4 live stages instead of the usual 3 allowing for even more exciting entertainment. There will be alcohol, performances from some big names in Japanese music, appearances from the Sanrio character cast, special openings of select park attractions and restaurants, and more for a truly unique club night experience you won't find anywhere else.

The park will be decorated in all things Halloween, and guests must dress according to the dress code which is titled "Orange or Pumpkin."

m-flo

chelmico

There is a huge list of artists are lined up with 40 expected to perform. The first batch have been announced already and includes Scha Dara Parr, m-flo, chelmico, Mom, BILLIE IDLE®, xiangyu, 4s4ki, DJ To-i (from DISH//), 掌幻と昴、LEGEND Of Densetsu a.k.a. Cypress Ueno, OTOTOY FRIDAY, Makita Sports、Poseidon Ishikawa, Shaka bose, JUN INAGAWA, Kubotakai, DJ DEVILMINTKIRYU, DJ yksb, and DJ Hello Kitty. The rest are to be announced at a later date.

There will also be a special pre-celebration for Hello Kitty's birthday which is officially on November 1.

This fun all-night Halloween festival welcomes everybody include those who have never been to a music festival or club before.

Links to where you can buy tickets are listed below. If you buy them from Reco Ticket you'll get the above-pictured exclusive Hello Kitty ticket.

Enjoy a Halloween party like no other this year at Sanrio Puroland.

©2019 SANRIO CO., LTD.

Information

SPOOKY PUMPKIN 2019 〜PURO ALL NIGHT HALLOWEEN PARTY〜

Date: October 26, 2019

Time: Open 22:00 / Finish 05:00 (subject to change)

Location: Sanrio Puroland (1-31 Ochiai, Tama, Tokyo)

Lineup: Scha Dara Parr, m-flo, chelmico, Mom, BILLIE IDLE®, xiangyu, 4s4ki, DJ To-i (from DISH//), 掌幻と昴、LEGEND Of Densetsu a.k.a. Cypress Ueno, OTOTOY FRIDAY, Makita Sports、Poseidon Ishikawa, Shaka bose, JUN INAGAWA, Kubotakai, DJ DEVILMINTKIRYU, DJ yksb, DJ Hello Kitty … & more TBA

Tickets: Advance ¥5,000 (Tax Included) *Available from August 3 at 10am (JST) / Same-Day ¥6,000 (Tax Included)

Reco Tickets: https://reco-ti.jp/l?dn=73001

Lawson Tickets:  https://l-tike.com/spooky-pumpkim2019

e+:  https://eplus.jp/spookypumpkin2019/

Ticket Pia: https://w.pia.jp/t/spooky-pumpkin/ (P-Code: 159-441)

Event Page: https://www.puroland.jp/spookypumpkin2019/

Hello Kitty Collaborates With Hawaiian Musical To Spread Awareness For Coastal Protection

Fantasy musical Honu by the Sea is collaborating with Hello Kitty at Sanrio Puroland on July 13th, 14th and15th.

Honu by the Sea is a fantasy-themed musical aimed at families. The story is set on a beach in Hawaii. From the appearance of a magical "Honu" (Hawaiian for "sea turtle") to the range of sea wildlife and the broadway-style singing and dancing, this is a musical that is highly praised on an international level. 

When Honu by the Sea in Sanrio Puroland took place last year in July, popular Sanrio character Hello Kitty took to the stage with the cast, performing the first ever full Japanese version of the musical. Following last year's admiration, the musical will be returning again this year. The music will take place every day of the three-day Japanese national holiday period that celebrates Marine Day. 

 At the Sanrio Puroland live performance, the actors and actresses, who were all born in Hawaii, will be singing all the songs live in Japanese. This musical aims to enforce the importance of protecting our oceans and coasts. Thanks to the collaboration, the musical also spreads the message of the importance of friendship to viewers. This is a wonderful chance to enjoy a globally-admired musical along with Hello Kitty. 

Information

HONU BY THE SEA 2019 in Sanrio Puroland

Dates: July 13, 14 & 15, 2019

Venue: Sanrio Puroland 

Performance Times:

July 13 & 14: 11:00 ー 11:30/13:25 ー 13:55

July 15 (national holiday): 11:50 ー 12:20/15:30 ー 16:00

Location: Wisdom Tree Stage, 1st floor 

 

Sanrio Puroland

Address: 1-31, 1 Chome-31 Ochiai, Tama, Tokyo

Website: https://www.puroland.jp/

Sanrio Character Awards 2019 | Event Report

Hi, everyone. Midori here from MMN's editorial department.

The Sanrio Character Awards is a hugely popular event held in Japan every year. The winners were just recently announced, and I got to attend the announcement event.

This year marks the 34th run of the awards which have become an annual custom amongst Sanrio fans. People waited with a slight nervous anticipation at Puroland where the event was held as they awaited for the award ceremony to begin.

The ceremony began with an initial greeting by Kabuki Nyantarou before the participating characters of the awards were presented on screen. There were over 80 entries this year!

They took no time at all in listing the winners in order from the top. Cinnamoroll has reigned champion for two years in a row, but taking the crown this year is Hello Kitty who is celebrating her 45th anniversary. After her were Cinnamoroll and then Pompompurin. Hello Kitty is the poster girl for Sanrio but the last time she earned the No. 1 spot was six years ago in 2013, and last year she was in 4th place.

Hello Kitty is the only character since 2000 to win three years in a row. The highest streak by the other characters is just two years. When the votes began rolling in this year Cinamoroll was initially at the top with Hello Kitty in 2nd place, but halfway through they swapped places. Of course, we mustn't forget Pompompurin and YOSHIKITTY either who followed close behind them.

Firstly, let's take a look at who received the Special Awards.

Cogimyun―Sanrio's flour dough fairy character―obtained a much higher ranking than last year, earning her the Hop Step Jump Award. Fans were fascinated with this announcement as Cogimyun is said to the most elusive of the Sanrio characters.

Hello Mandy reigned in the Collaborations Category, a collaboration between Hello Kitty and Mandy Sekiguchi from Japanese boy band GENERATIONS from EXILE TRIBE. Sekiguchi himself surprised the crowd as he was present to receive the award alongside Hello Mandy.


Taking home the TikTok Award this year is Marumofubiyori Moppu. Moppu is a cute white bear who likes to lounge around at home wrapped in his favourite blanket. His sleepy videos were a hit on the Japanese TikTok.

Now, for the main announcements.

Ranks 20 through 10 were announced via large cardboard panels.

The top 10 were then announced in order, from 10 down to 1. Each of these popular characters were announced until just 2nd and 1st place were left to be announced. The remaining two names were Cinnamoroll and Hello Kitty, leaving fans anxious to hear who the winner of 2019 will be.

And the winner is…

Hello Kitty, with 1,647,073 votes! Not only does she take home the top award, it's also her 45th anniversary and the first win of Japan's Reiwa era. Cinnamoroll came in a close second at 1,584,057 votes. I saw some fans with tears in their eyes as a result of this heated battle.

At the end, the characters lined up in a big row and celebrated their rank by holding up a card.

To celebrate her win, it was announced that Hello Kitty will hit up Sanrio stores across Japan to show her gratitude. Exclusive merchandise will also be available for purchase to thank fans for their support. Full details can be found on Sanrio's official website.

The Awards were also held in several overseas countries with the outcomes being much different. In Taiwan Cinnamoroll was 1st place, Pompompurin 2nd place and Hello Kitty 3rd place. In China, it was Cinnamoroll in 1st place, My Melody in 2nd place, and YOSHIKITTY in 3rd place, a collaboration between X Japan member Yoshiki. And in Hong Kong it was Pekkle in 1st place, Pompompurin in 2nd place and Cinnamoroll in 3rd place.

This year's award ceremony for the internationally beloved Sanrio characters comes to an end. Congratulations, Hello Kitty!

Sanrio Puroland Announces Puro Summer Festival 2019

The scorching sun is already shining on Sanrio Puroland as it announces its special summer event Puro Summer Festival 2019 which will take place from July 12 to September 1.

The festival will centre around three elements: music, food and beach. Guests can look forward to enjoying the park's first ever festival-themed live show as well as an exciting beach event which will see the appearance of the indoor "Puro Island," tasty food from meat to desserts, and lots more.

For the live show, costumed characters will take to the stage to perform a mix of rock, hip-hop, techno, disco and soul music while beckoning the crowd in fun call-and-response segments.

The beach will be brought to those who head into the entertainment hall where cute and colourful sea-themed decorations and motifs will be scattered around. Look out for the mascot characters wearing their summer costumes including a tanned Hello Kitty. Guests who pay a fee can also participate in a summertime-only "greeting" where they can meet the characters.

Peckish guests are invited to the Puro Meat & Dessert Festival where they can try wolfing down a "mega" portion of the Gudetama Roast Beef Don which has 1.8x more meat than the regular size, or they can cool themselves down with special ice candy made in collaboration with Cold Stone Creamery.

Sanrio fans can get their hands on exclusive summer themed merchandise too from toys to folders and more. And if you dress for the occasion you'll even get a discount on entrance passports (the name for tickets at the park). Details below.

©1976,2009 SANRIO CO., LTD.  ©1976,1988,1990,1996,1999,2001,2013,2019 SANRIO CO., LTD.

Information

Puro Summer Festival 2019
Running: July 12, 2019 – September 1, 2019
Event Page: https://www.puroland.jp/2019_summer/

Festival Passport Discount
Running: July 12, 2019 – September 1, 2019
Discounted Price: ¥2,500 for adults and children on weekdays, weekends holidays (¥1,500 from 2:00pm on weekdays and from 3:00pm on weekends and holidays)
Conditions: You must hold a discount voucher obtained via the Puroland homepage (this can be presented on your phone when you arrive at the park). You must be in a group of 2+ people and must all be wearing the same colours and designs.
*Excluding student uniforms and yukata
*Accessories (bags, shoes, shawl, jewellery etc) don't have to match
*Please check the official homepage for the full terms and conditions

Sanrio Puroland Announces New Year Celebratory Event 'The Final Heisei Celebration'

2019 will mark the final year of Japan's Heisei period under Emperor Akihito. To toast to the final New Year celebrations of this era of history, Sanrio Puroland is holding a special event called The Final HEISEI Celebration which will run from December 26, 2018 to January 8, 2019.

Sanrio has much planned for the event. Its line-up of characters who were created during the Heisei period (1989-2019) will make appearances on a daily rota and there will be a chance to meet with each of them.

Win Character Prizes

Different characters born in the Heisei period such as Cinnamoroll, Pompompurin, Pochacco and more will appear on different days to hold a fun lottery event. Get involved and win prizes.

Running: December 26, 2018 – January 8, 2019 (No Planned Holidays)

Location: Wisdom Tree Stage (Floor 1F)

 

Meet Your Favourite Characters Wearing Kimono

The Sanrio cast will appear throughout the event wearing traditional colourful Japanese garments. A special 'greeting' will also take place on New Year's Eve where all the most popular characters will come together.

Running: December 26, 2018 – January 8, 2019
Location: Around the park
*There will be other characters appearing not dressed in kimono too.

New Year's Even Special Greeting
Date: December 31, 2018
Location Puro Village (Floor 1F)

 

Cinnamoroll, Pompompurin & Pochacco Turn Into Pigs

From January 1 through January 8 one of each character―Cinamoroll, Pompompurin and Pochaccoーwho are all dogs representing the 2018 Year of the Dog in the Chinese Zodiac will transform into a pig in line with the 2019 Year of the Pig. They will go around hugging guests in the park and let you take photos with them. Be sure to hug them tight!

Running: January 1, 2019 – January 8, 2019
Location: Wisdom Tree Stage (Floor 1F)

 

Observe the Character Cast On Stage

For the first time ever Puroland is holding an event where guests can simply observe the Sanrio characters with no performance. They may even react to the audience's reactions and calls.

Running: December 26, 2018 – January 8, 2019 (Expect December 29 and 31)
Location: Discover Theater (Floor 1F)

Kagamimochi Cinnamoroll Fukubukuro Lucky-Dip Bags

Puroland will sell fukubukuro lucky bags with a kagamimochi Cinnamoroll design on them who has a mikan orange on his head. The contents of the bags include Hello Kitty merchandise, a large photo of Cinamoroll and more. 150 bags will be available per day.

Running: December 28, 2018 – January 3, 2019
Location: Sanrio Town (Floor 1F)

Price: ¥3,000
Quantity: 150 available per day

 

Puroland End-Of-Year Countdown

Puroland will hold "the world's earliest" countdown event. The island republic of Kiribati is known as the earliest place to pass into the new year. Puroland will join Kiribati in the celebrations.

Date: December 31, 2018

Time: 18:40-19:10 (JST)

Location: Puro Village & Wisdom Tree Stage (Floor 1F)
*PUROPASS tickets into the priority area will be sold for ¥500. Full details can be found on the park's homepage.

 

"New Year's Passport Coupon" – Official Puroland App

Those who download the official Puroland app and present their QR code upon entering will receive a discount on their passport entry ticket. You do this as many times as you like for the duration of the event.

Running: January 1, 2019 – January 8, 2019
Passport Discount Price: ¥2,500 (for both adults and children)
To receive the discount you must meet the following two conditions.
①Download the official Puroland app
②Present your QR code on the app at the ticket window upon entry

App Page: https://www.puroland.jp/app/

 

My Melody's Birthday Celebration

To celebrate My Melody's birthday on January 18, guests who enter the park dressed in pink and white clothing inspired by My Melody will receive a special discount on their passport entry ticket.

Running: December 26, 2018 – March 20, 2019
Passport Discount Price: Weekdays & Holidays ¥2,500 (for both adults and children) / ¥1,500 from 2pm on weekdays and 3pm during holidays
*Applies to children aged 3-17 years on holidays only.
*A holiday constitutes as a weekend, national holiday or school holiday.

To receive the discount you must meet the following two conditions.
①Co-ordinate one piece of plain pink clothing and one piece of plain white clothing.
②Present your QR code at the ticket window upon entry

More Details: https://www.puroland.jp/2019_mm-narikiri/

Enjoy a very special New Year's celebration this year at Sanrio Puroland!

Christmas 2018 at Universal Studios Japan, Sanrio Puroland & Tokyo Disney Resort

Universal Studios Japan, Sanrio Puroland and Tokyo Disney Resort are packed full of Christmas events for this year's holiday season. Let's take a look at what's going on at each park right now.

Universal Studios Japan – "Universal Wonder Christmas"

Universal Studios Japan has added a new daytime program titled Yellow Christmas to its "Universal Wonder Christmas" winter event which is running until January 6, 2019.

The main event of Yellow Christmas is seeing the cheeky Minions from the Despicable Me film franchise come together for the Minion Hacha Mecha Christmas Party. This party is bigger, better and crazier than last year's hugely successful run. Expect to see Minions donning Christmas attire as well as appearances from Gru and Santa Claus. Yellow balloons float across the event and bubbles are blown as everyone comes together for festive merry making. The event finale sees Minion-yellow confetti shoot across the whole area. The decorations give rise to a completely new kind of Christmas aesthetic from the usual red and green combination. Embrace your inner Minion!

Sanrio Puroland – "Puro Christmas"

Sanrio Puroland's white Christmas-themed event "Puro Christmas" is currently being held up until Christmas Day.

"The Puro Christmas" is a brand new musical that has arrived at the park to warm the hearts of its guests this Christmas. It will is centred around Hello Kitty and the Little Twin Stars (Kiki and Lala) who are joined by some other familiar Sanrio faces. The show contains lots of Christmas songs, and guests are pulled into a winter wonderland as gorgeous flurries of snow fall before them.

Magical Snow is a new attraction at the park made in collaboration with NAKED that is running for a limited time only. It takes place at Kiki & Lala Twinkling Tour, an attraction based on the Yume Star-Cloud where Kiki and Lala were born. The attraction has been turned into a snowy world for this Christmas only.

Enjoy Christmas as you never have before this year at Sanrio Puroland.

Tokyo Disney Resort – "Disney Christmas"

Tokyo Disneyland and Tokyo DisneySea are now hosting a special Christmas event this year which is running up to December 25.

Tokyo Disneyland is celebrating its 35th anniversary this Christmas. At Celebration Street, which is open at the park's World Bazaar to commemorate 35 years, it is holding a very special performance you can only see during this holiday period. Christmas music, visuals and lights carry the Christmas spirit through the bazaar centred around Celebration Tower which is decorated in all the colours of Christmas. And for the first time ever, this year sees a Christmas tree behind Cinderalla's castle with the 35th anniversary logo on it.

Over at Tokyo DisneySea they are hosting a range of festive events. This includes the new daytime harbor show "It's Christmas Time" at the Mediterranean Harbor which sees Mickey Mouse and friends together with tap dancers and line dancers backed by breathtaking singers.

There are plenty of other Christmas themed events at the park too for the whole family to enjoy to be sure to check out their website.

Which of these theme parks do you want to spend your Christmas at the most?

Experience a White Christmas This Year at Sanrio Puroland's Christmas Event

Sanrio Puroland will hold a white Christmas themed event this winter which will run from November 9 to December 25.

The Puro Christmas is a brand new musical show arriving at the park to warm the hearts of its guests this Christmas. It will be centred around Hello Kitty and the Little Twin Stars (Kiki and Lala) who will be joined by some other familiar faces. The show will contain lots of Christmas songs and guests will be pulled into a winter wonderland as gorgeous flurries of snow will fall before them.

 

Magical Snow is a new attraction made in collaboration with NAKED that will run for a limited time. It will take place at Kiki & Lala Twinkling Tour, an attraction based on the Yume Star-Cloud where Kiki and Lala were born. The attraction will turn into a snowy world for this Christmas only.

The White Twinkling Tree will be adorned with Christmas ornaments. Guests can also snap a photo at the Twinkling Moon Ride with a magical amusement park atop a cloud in the background. Projection mapping will be used on a white tree amongst lots of other things allowing for plenty of photo opportunities.

 

さらに期間中はホワイトクリスマスをイメージした真っ白でかわいいキャラクターのフード&スイーツも限定発売。雪やツリーをイメージしたアイテムが登場する。

Hello Kitty, My Melody, the Little Twin Stars, Cinnamoroll and Pompompurin will be at the first floor entertainment hall dressed in white Christmas-y outfits waiting to greet guests.

The beautiful Blue Snow Christmas will also make a return this year after their huge success last year.

A true white Christmas is what you can expect to enjoy this year at Sanrio Puroland.

All-Day Puro Halloween Party to Begin at Sanrio Puroland on September 14

The annual autumn-time event at Sanrio Puroland 'Puro Halloween Party' will take place at the indoor theme park from September 14 to October 31.

The theme this year is 'Halloween Rock.' It promises to be bigger and better than last year's event. A whole cast of Sanrio characters will make an appearance, including Cinnamoroll and friends.

The event will be split into two parts this halloween: DAY TIME ~Party People Time~ and NIGHT TIME ~Horror People Time~.

During the daytime, you can look forward to the attractions taking on a Halloween theme, and the Sanrio cast dressed up in Halloween costumes.

Amongst the attractions taking on a spooky theme this year is the Sanrio character boat ride which will be decked out in pumpkins, clowns and other little Halloween decorations.

The third floor Rainbow Hall will also be home to a Halloween photo spot that'll make it look like you're being gobbled up by a pumpkin!

And for kids only, there will be a trick-or-treat greeting event with the fluffy purple kitten character Mewkledreamy. Maybe they'll get some candy from Mew…? All the characters will be dressed up super cute so be sure to meet them all.

When it turns to nighttime, several new themed attractions will open their creaky doors to the public, all of which you cannot run away from. This includes the Kurayami no Sanrio Character Boat Ride in the dark, the Ghost Pierrot Sneaking Horror House, and more. Sanrio are teaming up with Obaken, a horror attraction in Tokyo that offers top class scares and incorporates an escape element with varying difficulty levels. People of all ages can look forward to some real scares!

Opening the night part of the event will be the Halloween Rock Live Parade, a brand new parade running for this event only.

There will of course be a food menu perfect for Halloween-time too. Pick from the cute daytime menu or the spooky nighttime menu.

So that guests can enjoy the Halloween party even more, those who attend the event dressed up in a full costume will be able to buy a discounted passport ticket.

Enjoy your Halloween this year at Sanrio Puroland!

■Information

Sanrio Puroland

Address: 1-31 Ochiai, Tama, Tokyo

Opening Hours: https://www.puroland.jp/calendar/

TEL: 042-339-1111

Website: https://www.puroland.jp/

Puroland Halloween Party

Running: September 14, 2018 – October 31, 2018

Details: https://www.puroland.jp/2018_halloween/

DAY TIME ~Party People Time~

Open from opening time to 3:30pm on weekdays and to 4:30pm on holidays.

NIGHT TIME ~Horror People Time~

Open until closing time from 3:30pm on weekdays and from 4:30pm on holidays.

*Park open until 6:00pm on weekdays during Halloween.

*Times subject to change.

Halloween Discount

Running: September 14, 2018 – October 31, 2018

Passport Discount Prices: Weekdays & Holidays – Parent & Child ¥2,500 (¥1,500 on weekdays from 2:00pm and on holidays from 3:00pm)

Conditions: Take the discount ticket from the Puroland homepage (printed or shown on your phone screen) and attend in full costume.

*The discount is available to those in full costumes only. Not applicable to those in simple dress-up such as only face paint, a cloak and other single items.

Discount Page: http://www.puroland.jp/halloween-narikiri/

*Please check the full details and conditions for wearing costumes.

©1976,2009 SANRIO CO., LTD.

©1976,1988,1989,1990,1992,1993,1996,1999,2001,2004,2005,2010,2017,2018 SANRIO CO., LTD.

Sanrio Boys Touch Rally to Take Place at Sanrio Puroland

Sanrio Puroland is introducing an original touch rally game to the park inspired by Sanrio Boys, a media project that was set up around a group of boys who love Sanrio's characters. The event begins on April 28, where a special discount will also be given to male attendees who arrive at the park holding plushies of the same characters that the Sanrio Boys do.


The Sanrio Boys Touch Rally will have people running around Puroland while listening to voice messages. If you purchase the Sanrio Boys IC card that has all 5 members on it and use it to touch four terminals in the park, you'll be able to hear voice messages from the characters. They will appear on the terminal display. Listen to their messages, head around the park and touch all the terminals. Those who clear the course will receive a Sanrio Boys original pin-back button. The stories that will take place in the voices messages will change from season to season, so enjoy hearing all of them.


Also, in line with the event, those who arrive carrying the same plushies as the Boys can enjoy a special discount. If you satisfy the conditions, you can purchase a Puroland passport ticket at a special price. The character plushies include Pompompurin, My Melody, Hello Kitty, Little Twin Stars, Badtzmaru, Cinnamoroll, and Kerropi. Simply show your plushy at the Sanrio Puroland ticket booth.


A series of live events titled Miracle☆Stage "Sanrio Boys" is also slated for November this year with the immensely popular Boys. Get up close and personal with them at the events and maybe find your favourite Sanrio character too.

Talk with "Cinnamorol" in real time!? Live streaming from Sanrio Puroland

Sanrio Puroland has started an official channel of Live Shop for the first time!

They will introduce/sell limited items which can only be bought at Live Shop!

The first streaming program will be broadcasted from the 18th of March 2018 (Sun.) and the popular character "Cinnamoroll" will participate in the program. The program will be broadcasted from Sanrio Puroland.

Ahead of Puro Easter which will be started from the 21st of March, goods related to Easter and Puroland's original goods selected by Cinnamonroll will be sold. The items which will be introduced in the program can easily be bought by using the application.

Also, Cinnamonroll will respond to the quizzes and questionnaires in the program. Let's send lots of comments and "Likes!"

 Don't miss this program where you can chat with Sanrio's characters in real time!

■Information

Cinnamoroll Birthday Special live streaming

Date: 2018/03/18 (Sun.) 20:00 to 21:00

HELLO KITTY will challenge Kabuki! Sanrio Puroland's "KAWAII KABUKI"

The new musical using the motif of "Kabuki (Japanese traditional drama performed by male actors) named "KAWAII KABUKI ~HELLO KITTY Ichiza no Momotaro~" will be performed from at Meruhen Theater inside Puroland from the 10th of March 2018 (Sat.)

A press conference was held on the 7th of March (Wed.) and persons who are related to the play such as Kensuke Yokouchi who produced the script/rendition/lyrics of the play (he has been producing "Super Kabuki") and Esaburo Ichikawa, a kabuki acting coach, participated in the press conference. Also, Sanrio's characters including HELLO KITTY appeared on the stage.

It can be said that it is a new type of "spectacle entertainment show" using projection mapping and the motif of kabuki. The performance incorporates both the "kawaii" of Sanrio and the traditional "wa" culture of Japan.

 Let's enjoy Sanrio's new type of collaborative musical of Sanrio characters and kabuki!

Sanrio Puroland will perform a new musical using the element of "Kabuki"

Sanrio Puroland will perform a new musical "KAWAII KABUKI ~HELLO KITTY Ichiza no Momotaro~" using the element of "Kabuki (traditional drama performed by male actors)" from the 10th of March 2018 (Sat.)

It is a first time that a musical using the element of kabuki will be performed at Puroland. You can enjoy a brand-new experience-based spectacle entertainment show combining the cuteness of Sanrio characters, traditional kabuki and projection mapping technology which will be used at the Meruhen Theatre.

Kensuke Yokouchi who has been directing "Super Kabuki" will write the script and do the staging of the show. Also, Shochiku, a leading company in the field of theater, will direct the show. The Sanrio characters, including KITTY, will receive training by Esaburo Ichikawa to perform this kabuki show. The scenes where the Sanrio characters wear kabuki uniforms, making gestures and tussling about are a "must-see."

The story of the show uses the motif of the famous folktale in Japan "Momotaro." Therefore, even viewers who are not familiar with kabuki can enjoy the show and understand the story. It is a show that both Puroland's fans and kabuki fans can enjoy.

Also, Shido Nakamura will participate in the show as a voice actor and Minosuke Bando will appear on the screen during the show. Shido Nakamura will play the part of an important character in the story, one of the "Oni (demons)" and Minosuke Bando will appear on the screen with "Kabuki Nyantaro," a new kabuki PR character to fight against the villains.

Digest movie

The story of the show promotes "the importance of understanding each other and living peacefully with your neighbors." Moreover, many elements including the renditions of kabuki, high realistic video renditions and acrobatic dance performance are incorporated into the show.

Don't miss this new musical of Puroland!

■Information

KAWAII KABUKI ~HELLO KITTY Ichiza no Momotaro~

Starting date: 2018/03/10 (Sat.) – last day is undecided

Venue: Meruhen Theatre inside Sanrio Puroland

Time: 40 minutes per play

Characters which will appear in the show: HELLO KITTY, Cinnamoroll, Dear Daniel, Bad Batsu Maru

 "KAWAII KABUKI" ~HELOO KITTY Ichiza no Momotaro" information site:

https://www.puroland.jp/kawaiikabuki/

Sanrio Puroland

Address: 1-31, Ochiai, Tamashi, Tokyo

TEL:042-339-1111