Projecting Mapping Recreates Festival Atmosphere at Ooedo-Onsen Monogatari
Odaiba Tokyo Ooedo-Onsen Monogatari is a hot spring 'theme park' popular with both local and foreign tourists that recreates the look and life of Edo. Projecting mapping by NAKED was brought to the entrance of the establishment on March 22, 2018.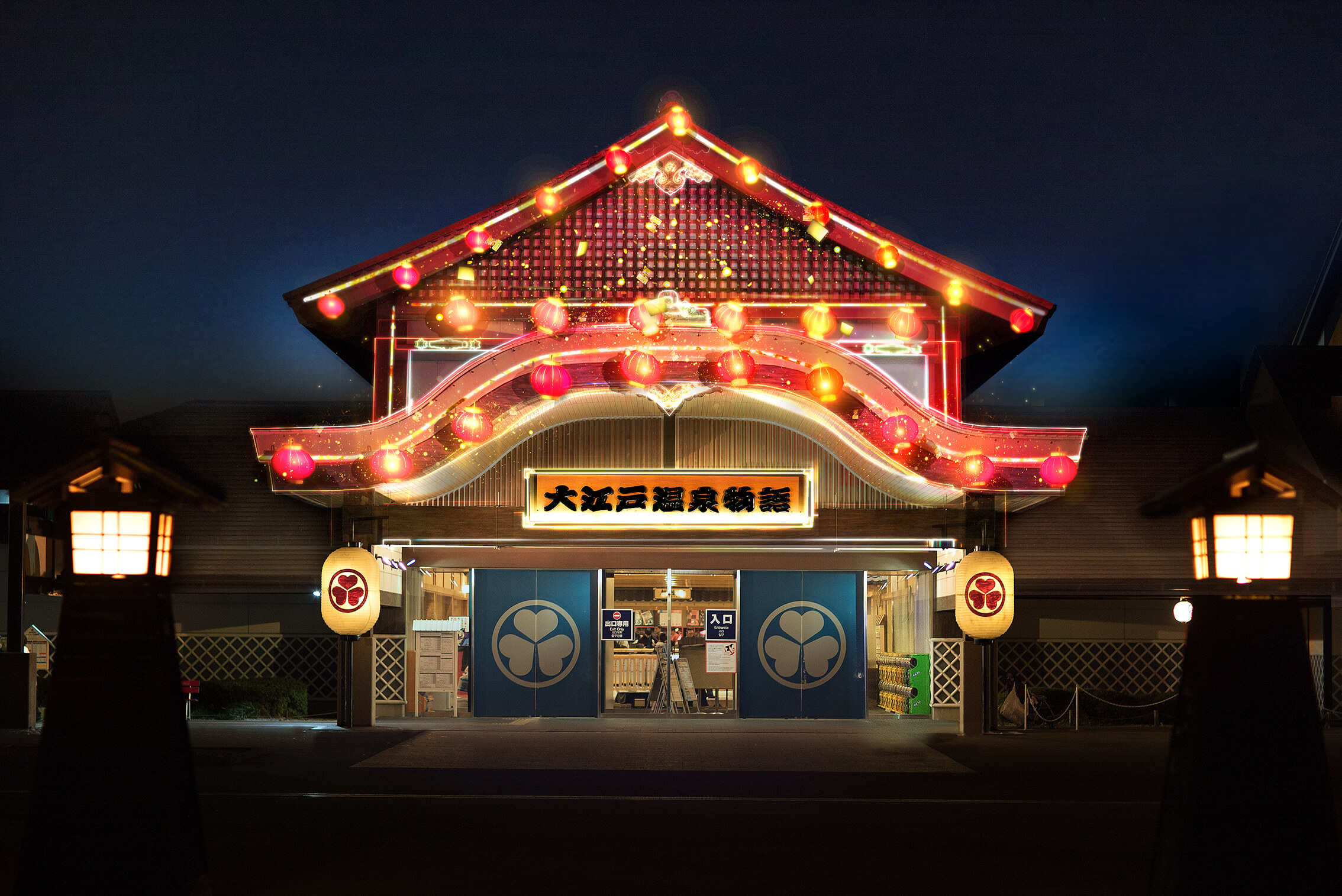 The projection mapping display flies out across the hot spring water from the buildings. The footbath area themed on the 53 Stations of the Tōkaidō from the Edo Period is wrapped in ukiyo-e and patterns found on yukata, a popular dresswear in the building. 
At "Happyaku Yacho" on the main street in the building where the stalls are lined up, paper lanterns and digital lights illuminate to recreate the atmosphere of a festival during Edo.
Experience an Edo festival in Odaiba at Ooedo-Onsen Monogatari!
■information
Odaiba Tokyo Ooedo-Onsen Monogatari
Opening Hours: 11:00am-9:00am Next Day (Managed until 10:00pm) 
Address: 2-6-3 Aomi, Koto, Tokyo
TEL: 03-5500-1126 
URL: http://daiba.ooedoonsen.jp/
Odaiba Tokyo Ooedo-Onsen Monogatari × Projection Mapping by NAKED
Permanent display from March 22, 2018.
Time: 30-minutes after sunset until 12:00pm.
*Please note that sunset changes depending on the period.
RELATED ENTRIES
Kusatsu Onsen's Emerald Green Pudding is a Must-Try After a Dip in the Hot Springs

Kusatsu Onsen is a hot spring resort in Gunma Prefecture that is one of Japan's three principle hot spring locations. The site opened its new Japanese custard dessert (known as 'purin') shop, Kusatsu Onsen Pudding, on August 24, which serves the most incredibly smooth purin you have ever tried, each inspired by the hot springs.

Once you've stepped out of the nice warm hot springs of Kusatsu Onsen you can refresh yourself with a delicious purin packed full of love from the shop which has created a flavour you can only try by travelling to Gunma and going there. Each and every dessert is made fresh in the shop to further elevate its exclusivity as a local speciality.

Kusatsu Onsen Pudding also makes sure to use local and regional ingredients where it can to help support manufacturers and producers. Their purin is also made with a special type of milk sourced from in Gunma known as Haruna milk. The milk is made as delicious as can be by ensuring cows are raised on a healthy natural diet of grass on green pastures in Gunma bathed in plenty of sunlight.

Yuhata Purin

The Yuhata purin is inspired by the hot spring areas where mineral deposits are harvested, its jelly taking on a gorgeous emerald green colour. It's lemon and lime flavoured, the perfect flavour to enjoy when stepping out of the hot water, and one which goes surprisingly well with purin.

Yumomi Purin

The staple purin of the store, this purin is based on yumomi, a method used for cooling the hot water with paddles from which cold water gushes forth. This velvety delight is made with lots of fresh cream and high-quality vanilla beans from Madagascar for added punch.

Furomage

A pun on the word fromage, with furo in Japanese meaning "bath," the Furomage purin uses a rich cream cheese base which has a seriously smooth texture. It's topped off with strawberry jelly for the perfect combination, packing a perfect balance between sweet and sour.

Yuhata Soft (Milk/Yuhata/Mixed)

Choose from the Yuhata soft serve ice cream which is ramune flavoured and inspired by the flowing water of the hot springs or the Haruna milk-mixed vanilla flavoured Milk soft serve. If you can't pick, then choose mixed for a bit of both. A satisfyingly refreshing pick for when you're done in the hot springs.

The shop has plans to sell purin made using bamboo steamers in the near future, so you're pudding can be steamed like yourself after a dip in the water! The wooden spoons used to eat the desserts are also made in the image of the paddles used in yumomi too.

Mitama Hot Spring in Yamanashi Ranks in Japan's Top 100 Night Views & Registers as Night View Heritage

Located in the beautiful little town of Ichikawamisato in Yamanashi Prefecture is Mitama Hot Spring, a "day-trip" type hot spring, which has just received a double award: it has been listed as one of Japan's Top 100 night views for the first time, and as a Night View Heritage of Japan.

Mitama Hot Spring is built on the southern tip of the Kōfu Basin―Kōfu being Yamanashi's capital city-which can be viewed in a breathtaking 180 degree panoramic view from the northern side of the open-air baths. The majority of the hot spring also faces the south which means a breathtaking nighttime view of the city, picturesque against a resplendent sky, as you soak in the warm embrace of the hot spring.

During the day, one's eyes can roll their gaze across the Yatsugatake Mountains at the front, and in the direction of west is Mount Kita, the second tallest mountain in Japan after Mount Fuji.

Mitama Hot Spring should absolutely be on your bucket list of things to do when visiting Yamanashi Prefecture.

Information

Mitama Hot Spring

Address: 2608 Ōtsuka, Ichikawamisato, Nishiyatsushiro District, Yamanashi Prefecture

Opening Hours: 10:00-23:00 (Last Entries 22:00)

*Closed around 5 days a year for inspection and maintenance

Price: General ¥700 / Elementary School Children ¥500 / Toddlers – Free

*General price set to increase to ¥780 this October

Official Website: http://www.mitamanoyu.jp/

The New Kaga Onsen Hot Spring Town-Inspired Purin Shop Kaga no Yu Purin

Kaga no Yu Purin is a new shop specialising in Japanese custard puddings, known in Japanese as 'purin,' that is inspired by Kaga Onsen―a collection of hot spring towns in Ishikawa Prefecture. It will open on June 29.

The shop encourages people to experience Kaga Onsen's ancient hot spring culture while enjoying their desserts made with fresh ingredients from Kaga such as milk and eggs. The shop itself too has that Japanese hot spring atmosphere to it.

One of their standout purin is the Awa Purin (Bubble Pudding), the first purin in Japan to be inspired by the bubbles of hot springs. Not only is its appearance bubbly, the texture is too so it just melts on your tongue. Other purin flavours include strawberry, which are made with local strawberries, Kaga-bocha tea, and pumpkin.

If you're passing through the hot spring region of Kaga Onsen then be sure to treat yourself to one of these special purin.

Information

Kaga no Yu Purin

Address: 1-55 Kosuganamimachi, Kaga, Ishikawa Prefecture

Business Hours: Weekdays 10:00-16:00 / Weekends & Holidays 10:00-17:00

Access: 1-minute on foot from Kagaonsen Station

Official Website: https://kaganoyupudding.com/

Enjoy The Beautiful View of Tokyo's Nighttime Sky And Sea With The Tokyo Twilight Pool Plan

Spending a cool night overlooking the beautiful calm water at Odaiba and relaxing in the gorgeous pool sounds like an excellent way to spend summer nights in Tokyo. Grand Nikko Tokyo Daiba is launching their summer-limited plan called Tokyo Twilight Pool Plan 2019 to allow you to do just that. 

The Tokyo Twilight Pool Plan 2019 comes with a delicious food menu that serves a variety of luxurious, mouthwatering dishes that look just as luxurious as they taste. Some examples include; mini hotdogs with chicken and vegetable sauce aurore, barbeque sauce spare ribs, and much more. They even serve all-you-can-drink top quality Jacquart champagne, which is a global top class wine chosen by many airlines and hotels. 

This hotel offers a unique view of the night sky and night waters of Tokyo from an open terrace. Guests can gaze at the relaxing view whilst enjoying delicious food and luxurious champagne. The Tokyo Twilight Pool Plan offers the perfect getaway for friends and couples. 

Information

Grand Nikko Tokyo Daiba's Tokyo Twilight Pool Plan 2019 

Running: July 5 ー September 1 (Weekdays only, reservations required. Please reserve at least three days before the date of your visit).

※ Closed between August 13 and 16. (Please obtain further information on opening and closing dates and times using the official website and telephone numbers listed below.)

Opening Hours: 16:00 ー 21:00 (Last entries: 19:30)

Prices: General: ¥11,000/ One Harmony members: ¥10,000

※ A restriction of up to 4 One Harmony members are permitted per group.

※ Entry prices included in prices stated above. 

Grand Nikko Tokyo Daiba

Address: 2 Chome-6-1 Daiba, Minato City, Tokyo 

Access: Direct connection from Daiba Station (Yurikamome line)/ Approx. 10-minute walk from Tokyo Teleport Station (Rinkai Line) 

Telephone no: 03-5500-6711(main number)

Official Website: https://www.tokyo.grandnikko.com/

Goldfish Art Exhibition Begins at Ooedo-Onsen Monogatari in Tokyo Odaiba

Onsen theme park Ooedo-Onsen Monogatari in Odaiba, Tokyo launched its biggest event of the year Kingyo Matsuri Art Exhibition on June 24. The festival feature a range of exciting exhibits including Japan's biggest terrarium developed by aquarium creator Masanori Miyazawa.

Aquarium ①: Japan's biggest Japanese-style Terrarium

A terrarium is a sealable glass container inside which soil is placed to grow plants. Aquarium creator Masanori Miyazawa, who goes by the artist name GA☆KYO, has built Japan's biggest Japanese-style terrarium which represents the change from the old generation into the new. Standing at 5-meters tall and stretching 1.5-meters wide, the terrarium makes use of bonsai, moss and driftwood.

Aquarium ②: Yukata x Aquarium x Photo Spot

Inspired by the ladies of Edo Castle, beautiful cylindrical fish tanks with kimonos wrapped around them act as a great photo opportunity together with the goldfishes.

Aquarium ③: Meet the 1 Million Yen Ryukin Goldfish

This innovative art installation pairs the Ryukin, a type of Japanese goldfish that has been sold in long-standing fish shops for more than 200 years, with onigawara decorative tiles that have been used to ward off spirits since ancient times, bonsai and more. Also in the exhibit is the "Pre-Edo Goldfish Tearoom" and "Large Round Fish Tanks."

Summer Festival Drinks & Desserts

From Left: Blue Goldfish Shaved Ice: ¥550 @ Kuranoe / Goldfish Blue Hawaii Soda: ¥580 @ Yumeakari / Blue Mojito: ¥850 @ Ooedo Cafe

Feel the festive spirit with these summery drinks and desserts.

Goldfish Goodies

The souvenir store Ryokokuya is selling a range of goldfish themed merchandise perfect as gifts and souvenirs or for taking on summer trips with you.

Get a Night Pass to the teamLab Borderless Digital Art Museum in Odaiba

MORI Building DIGITAL ART MUSEUM: EPSON teamLab Borderless is an art museum co-managed by MORI Building and teamLab which is home to a borderless world without any maps in sight. The museum is currently displaying its spring display until the end of May.

It has been announced that this summer, from July 13 to September 1, the museum will extend its weekday hours to weekend hours where it will stay open until 21:00. They will also begin selling a limited number of Night Passes which enables guests to enter the museum from 18:00 for a closer, more intimate interaction with the exhibitions.

If you'll be in Japan this summer then take advantage of this opportunity to enter teamLab's immersive borderless world of digital art.

Information

MORI Building DIGITAL ART MUSEUM: EPSON teamLab Borderless

Address: 1-3-8 Aomi, Koto Ward, Tokyo

Price: Adults – ¥3,200 / Children – ¥1,000 / Disability Discount – ¥1,600

Night Pass: Price: Adults – ¥2,900 / Children – ¥1,000 / Disability Discount – ¥1,500

*Night Pass available from July 13 to September 1 only. Entry from 18:00 permitted.

Opening Hours: Weekdays 10:00-19:00 / Weekends 10:00-21:00

*Opening hours to run from 10:00-21:00 all week from July 13 to September 1.

*Last entries are one hour before closing time.

Closed: Every 2nd and 4th Tuesday

*Also closed Saturday June 22 and Saturday August 10. Open on Tuesday August 13.

Official Website: https://borderless.teamlab.art/

RAKU SPA 1010 is a new spa located in Kanda, Tokyo that had its grand opening on March 1, 2019. With its concept of "an oasis in the city," the bath house perfectly balances relaxation, work and social interaction.

Reisei Otsumami (Cold Light Meals): ¥480 (Before Tax)

The facility also serves light food and refreshments. And as part of the grand opening, the first 5,000 people to use the bath house will receive an original RAKU SPA 1010 towel with the facility's logo on it.

There are 3 different spa plans on offer at RAKU SPA. This includes a 10-hour option which allows full use of the facility, a 3-hour option for use of the bath house, and a sauna option. Each plan offers long stay periods which can be utilised in many ways whether to simply use the sento or sauna or to make use of the co-working space, eat at the pub and diner, and so on.

Enjoy a long and luxurious sojourn at RAKU SPA 1010.

Information

RAKU SPA 1010 Kanda

Address: 2-9-9 Kanda Awajichō, Chiyoda Ward, Tokyo

Opening Hours: 11:00am-8:00am (the following day)

Grand Opening: March 1, 2019

TEL: 03-5207-2683

Prices (Tax Included)

・RAKU SPA Course (10 Hours): ¥1,460

・Sauna Course (3 Hours): ¥890

・Sento Course (3 Hours): General ¥460 / Children ¥180 / Infants ¥80

*General: 12+ years / Children: 6-12 years / Infants: 6 years and below

Official Website: http://rakuspa.com/kanda/

teamLab Borderless Digital Art Museum Unveil Springtime Display

teamLab Borderless is a digital art museum co-managed by MORI Building and teamLab that seeks to create a "borderless world" made possible by digital art. For this spring only the museum has announced a limited time display that will run from early March to late May.

The digital art pieces will take guests through a world of spring. Springtime flowers like Daphne odora and Astragalus sinicus will bloom in Spirits of the Flowers while plum blossoms and tree peonies will decorate Flowers – Layered Ultrasubjective Space. A spring scene will also unfold over in Memory of Topography, and Cherry blossom coloured lights will illuminate Forest of Illuminating Lamps.

Forest of Resonating Lamps – One Stroke (Running: Early March – Late April)

Two new displays will be exhibited inside Forest of Resonating Lamps – One Stroke for spring only. This includes the Cherry Blossom display with lamps lit up in that distinct pink colour and the Spring Hills & Fields display where the colours of five different flowers will radiate including four types of Japanese kerria and peach tree plants. When a person stands next to a lamp the light resonates to the next two lamps and this continues, spreading the lights across the room. This happens until all of the lamps have shone once brightly before returning to the first lamp.

Spirits of the Flowers (Running: Early March – Late April)

Flowers bloom and change throughout the year, and this rings true with this art installation. March will see the arrival of Daphne odora and in April Astragalus sinicus.

Flowers – Layered Ultrasubjective Space (Running: February 9 – Late May)

Plum blossoms will be rendered through February and March while April and May will give rise to tree peony displays. teamLab explains how "flowers are born, they grow, bud, blossom and in time the petals scatter and they die and fade away. The flowers repeat the process of birth and death endlessly." This process is recreated at Layered Ultrasubjective Space.

Memory of Topography (Running: Early March – Late May)

This installation depicts a rural mountain landscape of different elevations, and from March onward will give rise to elements of spring. teamLab explains that as the seasons change so does the appearance of flowers and insects. They highlight how even if you don't see scenery changing, including the landscapes, it always is and will never be the same twice, meaning a single moment in nature will never be repeated and can never be seen again.

Experience nature and the latest technology come together this spring at teamLab Borderless.

Information

MORI Building DIGITAL ART MUSEUM: EPSON teamLab Borderless

Address: 1-3-8 Aomi, Koto Ward, Tokyo

Opening Hours: Weekdays 10:00-19:00 / Weekends 10:00-21:00 (*Last entries are 1 hour before closing time)

Closed: Every 2nd and 4th Tuesday of the month. Also closed February 18th-20th but open February 12th and 26th.

Price: Adults – ¥3,200 / Children – ¥1,000 / Disabled Discount – ¥1,600

Official Website: https://borderless.teamlab.art/

Hot Spring Theme Park Solaniwa Onsen Osaka Bay Tower to Open in 2019

The Kansai region's biggest hot spring style theme park Solaniwa Onsen, spanning 16,500m², is set open on floors 2 to 5 at Osaka Bay Tower North on February 26, 2019.

Osaka Resort City 200 (ORC 200) changed its name to Osaka Bay Tower on March 27, 2018. Following that, Hotel Osaka Bay Tower―which welcomes all guests from business people to families―underwent a re-branding and re-opened on March 29. The tower is now set to expand its facilities even further with the grand opening of Solaniwa Onsen.

The hot spring theme park is themed on "Beauty, Healing, Taste." It will be decked out with natural hot springs, stone saunas, relaxation facilities, restaurants, stores and more. Based on the concept of the Azuchi–Momoyama period of Japanese history, the park fuses traditional Japan with the modern to offer a unique and exceptional experience.

The area in which the park is being set up is where an already hugely popular theme park is based. A world fair is set to take place there in 2025 which will bring more international attention to the Osaka Bay area.

There will be many types of bathing experiences on offer at Solaniwa Onsen such as a natural hot spring with low alkalinity for beautiful skin, an open-air bath with the water source running into it, a bath that overlooks an immense Japanese-style garden, a bath with carbonic acid water, another that changes daily, and more. There are also baths that can be booked for 2-5 people for a more private bathe.

The female locker room at the park is home to Japan's biggest powder room which spans close to 100m². There they have a range of beauty equipment, cosmetic rental services and more. The menu includes a combination of traditional food crafted by Tsubouchi Sekisai―who is said to have been a chef to Oda Nobunaga―and modern cuisine.

Step back into the Azuchi–Momoyama period at Solaniwa Onsen.

Information

Solaniwa Onsen Osaka Bay Tower
Address: 1-2-3 Benten, Minato Ward, Osaka, Osaka Prefecture
Grand Opening: February 26, 2019
Opening Hours: 11:00am-9:00am (next day)
Price: Weekday ¥2,400 / Weekends & Holidays ¥2,600 / Special Day ¥2,800
Access: The closest station is Bentenchō Station which is connected to the Osaka Loop Line and Osaka Metro Chūō Line. You can also access the station by boarding the Rapid train on the JR Line at Kansai Airport Station (ETA: 60-minutes).

Official Website: http://www.solaniwa.com

Psycho-Pass Event Taking Place at TOKYO JOYPOLIS in 2019

Haregake, a creator of riddle-solving games that have brought in over 100,000 participants, has developed an all-new puzzle game called "Psycho-Pass: Sinners of the System in JOYPOLIS" that is set to run at the indoor theme park TOKYO JOYPOLIS in Daiba, Tokyo from January 11 to March 17 next year.

The game will make use of the entire JOYPOLIS building and have participants solving riddles. You will take the role of an executive officer and use your smartphone to talk with Shinya Kogami, Nobuchika Ginoza and Shuusei Kagari to gather clues and solve the puzzles.

Trailer:

An incident took place with unknown origins that led to a murder… Will you be able to identify and stop the killer?

Information

Psycho-Pass: Sinners of the System in JOYPOLIS

Location: TOKYO JOYPOLIS

Address: DECKS Tokyo Beach 3F-5F, 1-6-1 Daiba, Minato Ward, Tokyo

Running: January 11, 2019 – March 17, 2019

Reception Hours: 10:00-21:00

Access: 2-minutes on foot from Odaiba-kaihinkōen Station via Yurikamome Line / 5-minutes on foot from Tokyo Teleport Station via Rinkai Line

Participating: Purchase a ticket at the theme park on the day

Ticket Price: ¥1,500 (Separate fee charged for entry to TOKYO JOYPOLIS)

TOKYO JOYPOLIS Entry Fee: Adults (18+ Years) ¥800 / Children (17-Years and Below) ¥500

Event Page: https://nazoxnazo.com/psycho-pass_ss/joy

©Psycho-Pass Production Committee

Girls' Sweets Coffret Christmas Buffet to be Held at Hilton Tokyo Odaiba

Christmas is loved particularly by girls in Japan as it's the season when all the sparkly items begin to fall and flicker. Hilton Tokyo Odaiba is bringing a Christmas buffet this year which it is calling the Girls' Sweets Coffret. It's inspired by the "Christmas Coffret" cosmetic sets that are sold during the Christmas season only and tickle the hearts of girls across the country.

Coffret is a French word that refers to a small jewel box. Searches for the term "Christmas Coffret" have been on the increase in Japan since 2015 and in 2016 and 2017 ranked in the top 10 most searched Christmas related terms by women. Hilton Tokyo Odaiba is responding to this by packing everything a girl could want into their Christmas buffet.

The buffet is overlooked by a bright pink Christmas tree under which are all presents a girl could hope for including a dress, jewel box, flowers and more―all edible. A cute Santa Claus, reindeer and snowmen also decorate the table in all their delicious dessert glory. The colour palette is girly but stylish, with pink as the main colour and blacks and whites everywhere else.

There will also be a photo spot decked out with a pink Christmas tree, huge life-sized presents and other Christmas motifs. What's more is that guests who attend during the event dressed in something pink or wearing ribbons will receive a special drink.


The line-up of desserts all have some very enticing names. Translated from Japanese, some to look forward include the "Going Out With Your in My Best Dress – Princess Tart," "Like a Romantic Bride – Pink Dress Strawberry Chiffon Cake," "What I Want the Most: Jewellery – Yogurt Panna Cotta Jelly," "Drag Me Away – Pink Pearl Cupcakes," and more.

Also on the list is a cake made to look like Santa's belly called "I'll Start My Diet Tomorrow – Cranberry Mascarpone Santa Cake." There's also the the "Santa's Happy Helpers – Reindeer Chocolate Cake."

There's a range of Christmas classics too like the yule log and stollen as well as a tree-shaped mohn plunder. If you're looking for Christmas treats this year then look no further!

Information

Girls' Sweets Coffret Christmas Dessert Buffet

Address: Hilton Tokyo Odaiba, 1-9-1 Daiba, Minato Ward, Tokyo
Location: Seascape Terrace・Dining (Floor 2F)
Running: November 1, 2018 – December 28, 2018
Time: Slot 1 – 15:00-16:30 (90 minutes) / Slot 2 – 16:45-17:30 (Express Buffet – 45 minutes)

Price

Slot 1 – Weekdays: General ¥3,500, Children ¥2,100 / Weekends: General ¥3,900, Children ¥2,340

Slot 2 – Weekdays: General ¥2,400, Children ¥1,440 / Weekends: General ¥2,800, Children ¥1,680

*Listed prices do not include tax or service charge.

*Children prices are for those aged between 6-11 years.

Embrace Japan's 4 Seasons with Luxurious Treatments at YU, THE SPA by L'OCCITANE

YU, THE SPA is a new spa being developed by L'OCCITANE that will open in the sophisticated Hotel Chinzanso Tokyo on October 1, 2018.

Spa L'OCCITANE is one style of spa run by French skin care and body product company L'OCCITANE. As of July 2018 they have 70 establishments worldwide and are found only in 5 Star hotels.

YU, THE SPA offers two kinds of facial treatments, two hotel treatments and an original treatment limited to Hotel Chinzanso Tokyo. Pick your favourite treatment from the menu and enjoy the experience in a comfortable and tranquil environment.

They will offer a 150 minute facial and body care treatment service called "Garden Secret Signature Treatment" which can only be experienced at Hotel Chinzanso Tokyo. The service makes use of different body care items used themed around spring, summer, autumn and winter to offer customers Japanese omotenashi, or hospitality, which revolves around the seasons. March to May will be cherry blossoms and June to August will be verbena.

Before getting your treatment done you can warm up your body in the hot springs, and after you've received your treatment you can enjoy tea time in the lounge.

The spa will be taking bookings at the start of October for a 60-minute body treatment with a stay plan which will be effective from November 15.

Indulge in a luxurious experience at YU, THE SPA by L'OCCITANE.