McDonald's Japón incluirá una variedad de gadgets secretos de Doraemon enel Menú Happy Meals a partir del 8 de marzo de 2019.
Nine toy will be included in the meal set―eight known ones (below) and one secret one―all of which are taken from the animated film Doraemon: Nobita's Chronicle of the Moon Exploration which was released in Japan on March 1, 2019. The toys and set take inspiration from the film, which takes place on the moon, and its themes of adventure and friendship.
Se incluirán nueve juguetes en el menú, ocho conocidos (abajo) y uno secreto, todos de la película animada Doraemon: Nobita's Chronicle of the Moon Exploration, que se lanzó en Japón el 1 de marzo de 2019. Los juguetes y el menú se inspiran en la película, que tiene lugar en la luna, y sus temas de aventura y amistad.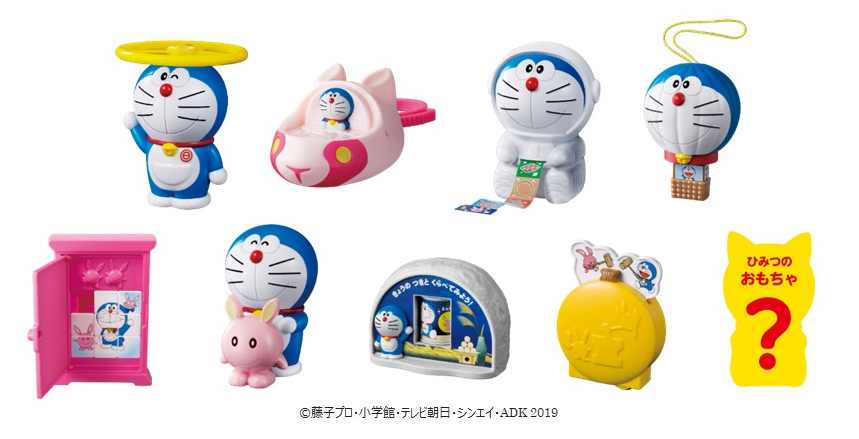 Los gadgets incluirán a Moobit y Rabbit de la película, así como clásicos como la Puerta Magica y el Gorrocóptero.
Los juguetes serán lanzados a través de dos periodos. Un lote de ellos estará disponible del 8 al 21 de marzo y otro lote del 22 de marzo al 4 de abril. A partir del 5 de abril, los clientes tendrán la oportunidad de recibir cualquiera de ellos.
La caja del Happy Meal también presenta un diseño especial de Doraemon y el Moobit de la película. El 9 y 10 de marzo, todos los Happy Meals también incluirán una imagen para colorear.
¿Cuál de los gadgets de Doraemon te gusta más?
Information
Doraemon Happy Meal
Fecha de lanzamiento: 8 de marzo de 2019
Web Oficial de McDonald's Japón: http://www.mcdonalds.co.jp/
©Fujiko Pro・Shogakukan・TV Asahi・Shinei・ADK2019