McDonald's Happy Meal Set Contains Doraemon's Secret Gadgets
McDonald's Japan is set to include an assortment of Doraemon's secret gadgets in Happy Meals starting on March 8, 2019.
Nine toy will be included in the meal set―eight known ones (below) and one secret one―all of which are taken from the animated film Doraemon: Nobita's Chronicle of the Moon Exploration which was released in Japan on March 1, 2019. The toys and set take inspiration from the film, which takes place on the moon, and its themes of adventure and friendship.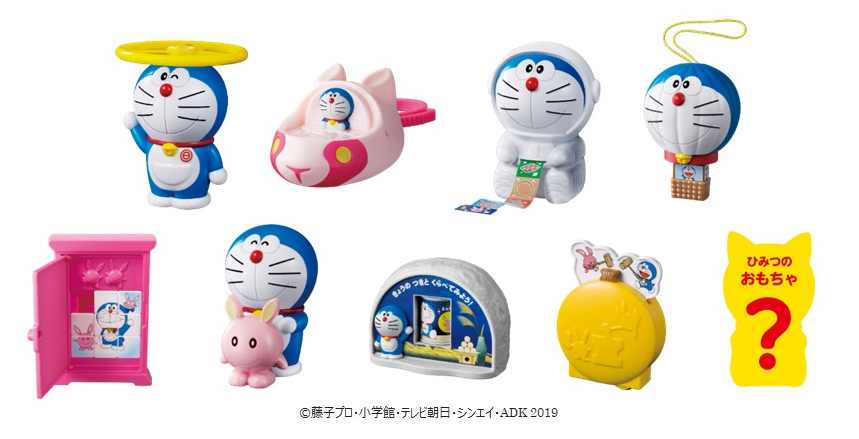 Gadgets will include the Moobit and Rabbit Card from the film as well as classic tools like the Anywhere Door and Bamboo Copter.
The toys will be released across two periods. An assortment of them will be available from March 8 to 21 and another batch from March 22 to April 4. From April 5 customers will have the chance to receive any nine of them.
The Happy Meal box also features a special design of Doraemon and the Moobit from the film. on March 9 and 10, all Happy Meals will also come with a picture for colouring in.
Which of Doraemon's gadgets do you want to use the most?
Information
Doraemon Happy Meal
Release Date: March 8, 2019
McDonald's Japan Official Website: http://www.mcdonalds.co.jp/
©Fujiko Pro・Shogakukan・TV Asahi・Shinei・ADK2019
RELATED ENTRIES
Doraemon Appears in Traditional Ukiyo-e Woodblock Print Limited-Edition Release

Everyone's favorite robot cat is making a peculiar appearance inside a piece of famous Japanese art! Using traditional Ukiyo-e crafting techniques, the Hanzou company has successfully inserted Doraemon into the painting Fujimigahara in Owari Province by Hokusai, originally created between 1830 and 1832. The painting will be available to preorder online starting October 8, 2021, with only 300 copies available!

Ukiyo-e Woodblock Print Production Process

Engraving by Craftsman

Rubbing by Craftsman

First, a sketch is made, and a monochrome version of the print is carved. After carving a number of woodblocks for each color and using them to rub the painting tirelessly to bring it to life, one single woodblock print is completed. The extremely delicate and advanced techniques these craftsmen utilize have been passed down from the Edo period. 

The original painting was created after Hokusai turned 70, and took two years to complete. The painting is said to portray the view of Mount Fuji from Fujimi-cho, Naka-ku, Nagoya City. An eccentric piece for the time, looking closely shows that each and every line and dot was meticulously calculated. Note the vivid indigo sky and the abundance of blue shades that Hokusai loved to use. Doraemon and Nobita are shown having fun as they make barrels, a welcome departure from the more stoic figure in the original painting. 

Information

Doraemon Ukiyo-e Woodblock Print: Fujimigahara in Owari Province from the series Thirty-six Views of Mount Fuji

Preorders begin on October 8, 2021, at 12:00

Price: ¥46,000 (Tax and Shipping not Included)

Number of available copies: 300 

Echizen-Manufactured Washi Paper Provided by Iwano Ichibei

Online Shop: http://ukiyoework.com/

McDonald's Japan Releases New Locally Sourced Limited-Time Rice Burgers

Here's something you can only find in Japan: starting September 29, McDonald's locations throughout the country will add three new tasty sandwiches wrapped in rice buns to the menu for a limited time! These include the Gohan Chicken Filet with Garlic and Black Pepper, the Gohan Shrimp Filet with Spicy Sauce, and the Gohan Teriyaki Burger!

Each sandwich features a fluffy bun made entirely from domestically-grown rice and will be sold after 5 PM as part of the Yoru Mac (Night Mac) menu. Items on this late-night menu offer customers one special perk: any amount of meat can be doubled for only ¥100! Originally introduced in 2020, these burgers were a smash hit, mixing a traditional Japanese staple with western flavors. 

Gohan Chicken Filet with Garlic and Black Pepper: ¥410

Gohan Shrimp Filet with Spicy Sauce: ¥440

 

Guests are sure to enjoy each of these two brand-new menu items. The Chicken Filet features a garlic and black pepper sauce, while the Shrimp Filet is filled with plump shrimp cutlets with a spicy red-pepper-based glaze. 

A new series of ads for the new products starring popular actors Satoshi Tsumabuki and Jun Shison will begin airing on September 28. 

Gohan Burger 'Rice Farmers/Episode 1' – 30-second ad


More new additions to the Gohan Burger lineup are expected in late October, so keep an eye out! Would you like to try one of these the next time you're in Japan?

Information

Gohan Chicken Filet with Garlic and Black Pepper

Gohan Shrimp Filet with Spicy Sauce

Available: September 29, 2021 – Mid-November, 2021 at participating McDonald's Japan locations

Official Site: https://www.mcdonalds.co.jp/

'UCC CAFE@HOME' Release Coffee to Match Doraemon & Dorami's Favorite Snacks

UCC Ueshima Coffee is currently developing the Food with Coffee themed 'UCC CAFE@HOME' selection, pairing snacks with a perfectly matching coffee. Doraemon is the latest to appear in the CAFE@HOME series in the new collaboration, designed by Sanrio. The new series features coffee and gifts based on the Doraemon characters' favorite snacks and was released on September 3, Doraemon's birthday.

CAFE@HOME Doraemon Series

UCC CAFE@HOME DORAEMON Dorayaki Suited Coffee VP10g: ¥281 (Tax Incl.)

UCC CAFE@HOME DORAMI Melon Pan Suited Coffee VP10g: ¥281 (Tax Incl.)




UCC CAFE@HOME NOBITA Caffeine-free Coffee VP10g: ¥281 (Tax Incl.)

Gifts

UCC CAFE@HOME Doraemon Secret Gadget Print 6-piece Set: ¥1,901 (Tax Incl.)


UCC CAFE@HOME Doraemon Open Lot Printed 6-piece Set: ¥1,685 (Tax Incl.)

Goods

Doraemon Mug (Dorayaki): ¥1,540 (Tax Incl.)

Doraemon Cotton Handkerchief (Yellow) ¥990 (Tax Incl.)

Present Campaign Freebie: Original Coaster

CAFE@HOME, main product and cafe brand of UCC Group's COFFEE STYLE UCC, are releasing a lineup of Doraemon themed coffees, each to be drank with the characters' favorite snacks: One to go with Doraemons beloved Dorayaki, one for Dorami's preferred Melon Pan, and a caffeine-free blend for the sleep-loving Nobita.

UCC has been researching coffee and food combinations for many years, using taste sensors to analyze both the coffee and food before diagnosing the comparability rating between each product. The company has patented their 'Food Matching System' technology, which has now been used to find out which coffee would be best suited to Doraemon's Dorayaki.

 

An in store campaign has been announced to celebrate the release of CAFE@HOME's Doraemon series, starting on September 3. During the campaign, customers who spend over ¥3,000 on CAFE@HOME's Doraemon series will receive a free coaster. The coasters are only available in store and are limited in quantity.

 

Taste the world of Doraemon for yourself with UCC CAFE@HOME's special coffee technology!

 

McCafe by Barista® Offering New Kuromitsu Uji Matcha Frappe

In Japan, McDonalds McCafe by Barista will be releasing the new Kuromitsu Uji Matcha Frappe beginning September 1. The sweet autumn drink will only be available for a limited time.

McCafe by Barista has been popular with customers looking for sweet beverages, such as Frappes and smoothies. The Uji Matcha Frappe was added to the regular product lineup in June 2021, and features a mellow matcha flavor. With this release, kuromitsu, or Japanese black sugar syrup, has been added to enhance the drink's flavor.

Kuromitsu Uji Matcha Frappe: ¥490 (M), ¥560 (L)

 

The Kuromitsu Uji Matcha Frappe is made with powdered Uji Matcha tea from Kyoto, mixed with milk and topped with Kuromitsu jelly, known for its gentle sweetness and rich flavor. Brown sugar from Okinawa Prefecture along with whipped cream is added on top.

Uji Matcha Frappe: ¥440 (M), ¥490 (L)

The regularly available Uji Matcha Frappe is made with Uji Matcha powder from Kyoto, milk, and fluffy whipped cream. Dark green matcha powder and pure white whipped cream gives the beverage a gorgeous appearance, along with a truly Japanese flavor.

These are two drinks not to miss if you're in Japan!

Doraemon Tokyo Banana Now Available by Mail-order Nationwide for Limited-time

Tokyo Banana World has started selling 8-packs of the new Doraemon Tokyo Banana by mail for a limited time. The treats will be available on the Tokyo Banana Official Online Shop until September 14. (Once they're gone, they're gone.) 

In the first week of release, the Doraemon Tokyo Banana sold over 150,000 units. 

Doraemon Tokyo Banana 'Found it!' (8-pack): ¥1,188 (Tax Included)

The Doraemon Tokyo Banana is a fluffy, gluten-free sponge cake baked in a Doraemon pattern with rich banana custard cream in the center. The treats come in a cute gift box adorned with Doraemon's smiling face. 

The sponge cakes come in 6 different designs, with the Takecopter design being the rarest. If you snag one, consider it good luck!

©Fujiko-Pro,Shogakukan,TV-Asahi,Shin-ei,and ADK

New Lottery Campaign Celebrates 10th Anniversary of Fujiko F. Fujio Museum

To celebrate the 10th anniversary of the Kawasaki-based Fujiko F. Fujio museum on September 3, a book fair lottery event featuring a variety of the manga artist's works is coming to bookstores nationwide starting August 13. For each specially-marked manga or book purchased, participants can grab a special sticker as a prize. These stickers are new versions of those from last spring's 'Not-only-Doraemon Sticker Lottery.' 

10th Anniversary Pin (©Fujiko-Pro/Shogakukan)

10th Anniversary Denim Doraemon Plushie (©Fujiko-Pro/Shogakukan)

*Images submitted from social media.

The prize stickers for the campaign don't only feature beloved characters from Fujio's beloved Doraemon series, but also familiar faces from Perman and Kiteretsu Daihyakka. These are perfect for decorating smartphone cases, notebooks, or anywhere that needs a manga makeover! 

There are also two secret stickers, along with two special rewards for lottery winners. You'll have to win to find out which characters are featured!

As part of this event, a special photo campaign using these stickers will be held from August 13 to September 30. Just follow the official Doraemon Channel Instagram and Twitter and post a photo featuring a prize sticker of your choice with the hashtag #NotOnlyDoraemonStickerLottery (#ドラえもんだけじゃないシール) to enter. 10 people will be randomly selected to receive both the 10th Anniversary Pin and Denim Doraemon Plushie!

Which sticker set would you choose? Who is your favorite Fujiko F. Fujio character? 

©Fujiko-Pro/Shogakukan

Special Area for Doraemon Tokyo Banana Opens in JR Tokyo Station

Popular souvenir brand Tokyo Banana is celebrating 30 years! These tasty treats are a must-buy for those visiting Japan, and now, a familiar face will be popping up at a special area in the JR Tokyo Station Tokyo Banana shop: Doraemon Tokyo Banana Tokyo Station opens on August 6, 2021. Our favorite blue robot-cat just turned 50 in 2020, and this is the perfect way to celebrate!

Doraemon Tokyo Banana 'Found it!' 

Shop Image

Package Design

The Doraemon Tokyo Banana is a fluffy, gluten-free sponge cake. Created to celebrate the original creation of these dreamy sweets, the special Doraemon Tokyo Banana Tokyo Station area is now open at JR Tokyo Station. Adorned with various super cute designs, you'll also be able to find these treats at convenience stores across Japan!

Visitors will also be able to purchase a special gift box, complete with a gently smiling Doraemon design. The box contains eight Tokyo Banana sweets, and is perfect as a souvenir for family and friends–or even for yourself! The sweets within are decorated with random Doraemon designs, so you'll have to open the box to find out which ones you got! This item is sure to bring joy to all Doraemon fans both young and old.

A two-pack Doraemon Tokyo Banana will also be available. Three different Take-copter varieties and three different Anywhere Door varieties will be on sale, each with uniquely adorable designs to make you want to collect them all. Be sure to check out this special area, and pick up some memorable gifts!

(Please note that the shop has certain quantities of each package, and not all packages may be available depending on the date.

This product is manufactured in the same facility as products containing wheat flour.)

©Fujiko-Pro,Shogakukan,TV-Asahi,Shin-ei,and ADK

McDonald's Japan Releases Strawberry and Banana Frappes at McCafe by Barista®

McDonald's Japan released its new Strawberry & Condensed Milk Frappe and Banana Caramel Frappe beverages at McCafe by Barista® branches up and down the country on July 14. The fruity frappes and the perfect choice for the hot summer season.

Strawberry & Condensed Milk Frappe | Regular: ¥490


The strawberry frappe is made with a sweet and tangy strawberry sauce that has fresh strawberry pieces in it as well as juice taken from amaou strawberries grown in Fukuoka which are known for their fresh and sweet taste. Added to the cup is rich condensed milk along with a squirt of whipped cream for a milky and velvety finish.

Banana Caramel Frappe | Regular: ¥490


The banana frappe is filled with a banana puree sauce, banana syrup, and a crème brûlée syrup. It's topped with smooth whipped cream and a drizzle of caramel sauce. The banana and caramel make for a delicious combination.

This Doraemon Eco Bag Collection is Inspired by the Anime Character's Secret Gadgets

Japanese clothing retailer BLACK OJICO released two new eco bags as part of Sanrio's "I'm Doraemon" series on July 2.

Eco Bag・I'm Doraemon Small Light

Eco Bag・I'm Doraemon Time Cloth

The designs are inspired by two of Doraemon's Secret Gadgets: the Small Light which can turn other objects smaller, and the Time Cloth, which can advance or regress an object.

Information

BLACK OJICO "I'm Doraemon" Eco Bag

Released: July 2, 2021

Price: ¥900 Each (Before Tax)

Size: 60cm x 46cm

Material: 100% Polyester
Buy Online: https://www.ojico.net/

McDonald's Japan Releases Pikachu Desserts

Mc Donald's Japan released its new Sweets Trio Fruchu menu on Friday which features a line-up of three fruit-flavoured Pikachu items: the Yellow Peach McShake, Chocolate Banana McFlurry, and Hot Apple Custard Pie.


The menu items comes in limited-edition cups and packaging featuring the adorable Pikachu.




Yellow Peach McShake | Small ¥120 – Regular ¥200 (Tax Included)

A fruity and refreshing summery McShake made with sweet and sour yellow peach with that satisfying creamy McShake texture. Available in small and medium, both sizes come with three different cup designs each for a total of six.

Chocolate Banana McFlurry | ¥290 (Tax Included)

The Chocolate Banana McFlurry is served in an ice cream cup with a fresh squirt of milky rich soft serve and drizzled with banana and chocolate sauces. The ice cream is finished with a sprinkle of crunchy yellow cornflakes. Another perfect choice for cooling down in the hot summer weather. There are three possible cup designs to receive.

Hot Apple Custard Pie | ¥150 (Tax Included)

The apple custard pie is served hot with a crunchy outside and filled with custard cream made with fresh apple and vanilla beans and seasoned with caramel and cinnamon. There are three possible packaging designs to receive.



McDonald's Japan is also serving a Pikachu-style Happy Meal as part of the collaboration which come with one of six possible toys.

New Doraemon and Korosuke Dessert Gets Served at the Fujiko F. Fujio Museum

The Kawasaki-based Fujiko F. Fujio Museum, which is dedicated to the Japanese manga writing duo who created Doraemon, is now serving up its new Doraemon Korosuke Chiffon Sandwich which was added to the menu on Wednesday.

Doraemon Korosuke Chiffon Sandwich | ¥1,280 (Tax Included)

The new arrival sees Doraemon and Korosuke turned into chiffon sandwiches with the beloved blue robot cat made from chocolate and filled with banana cream and his friend filled with mango cream.

Check out some of the other items available on the menu at the museum too.

Doraemon Arrabbiata | ¥1,230 (Tax Included)

French Toast de Anki Bread | ¥980 (Tax Included)

Fork into the Doraemon Arrabbiata with tomato sauce and a Doraemon face made from egg sheets, or a French toast inspired by Doraemon's Copying Tost, one of his many Secret Gadgets.

ⒸFujiko-Pro

Information

Doraemon Korosuke Chiffon Sandwich

Released: April 21, 2021

Where: Fujiko F. Fujio Museum

Address: 2-8-1 Nagao, Tama Ward, Kawasaki, Kanagawa 214-0023, Japan

Opening Hours: 10:00-18:00

Official Website: http://fujiko-museum.com/english/

McDonald's Japan Releases Peach Smoothie and Frappe Made From Three Kinds of Peaches

McDonald's Japan is releasing two new beverages at McCafé by Barista® on April 28 each made with three varieties of peach: the Gorotto Peach Smoothie and Fuwa Fuwa Peach Creamy Frappe.

Gorotto Peach Smoothie: Regular ¥440 / Large ¥480

Fuwa Fuwa Peach Creamy Frappe: Regular ¥490 / Large ¥530

McDonald's Japan's original Peach Smoothie and Peach Frappe beverages first appeared in 2015 and have been slurped up by customers every year since. This year, they return even juicier and more delicious than ever before by being made with three kinds of peach juice: yellow peach, white peach, and for the first time, nectarine.

The Gorotto Peach Smoothie cup is topped with a sauce made from fresh white peach pieces that give an exquisite sweet kick to the richly sweet yellow peach. The nectarine adds a sweet and sour layer to the mix for the ultimate peach combination. The Fuwa Fuwa Peach Creamy Frappe has all of this plus a topping of fluffy whipped cream. And for an extra ¥60, customers can double the amount of sauce they can have on either of these drinks.

While these limited-time drinks are on offer, customers can pick up a stamp card. For every peach frappe or smoothie ordered, they'll get a stamp. Collect all four and get yourself a free regular-sized mango smoothie, green smoothie, chocolate frappe, or espresso frappe. The card is valid from April 28, 2021 to September 30, 2021.

Information

Gorotto Peach Smoothie / Fuwa Fuwa Peach Creamy Frappe

Release Date: April 28, 2021

Where: McCafé by Barista branches of McDonald's in Japan

McDonald's Japan Official Website: https://www.mcdonalds.co.jp/