"HIBON" -startup of new type of miniature potted tree brand
A new type of miniature potted tree brand, "HIBON" was debuted and a pop-up store of the brand is now in business at "CIAO PANIC COUNTRY MALL" (started from the 1st of April).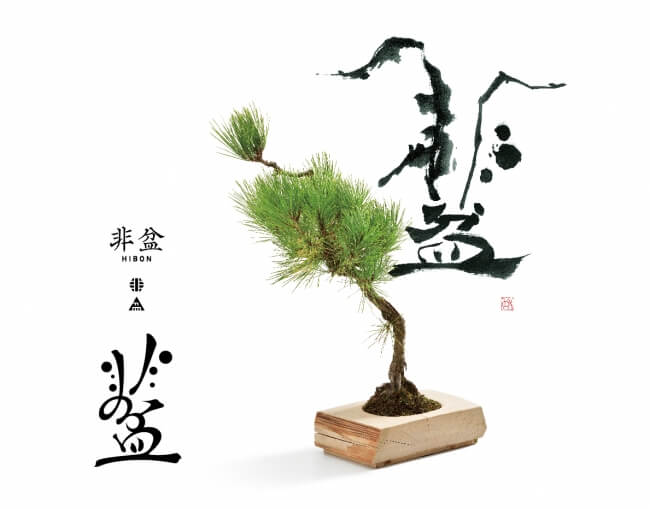 "HIBON" is a new type of bonsai (miniature potted tree) brand which was created under the concept of "close but not the same as usual bonsai." The brand has both a traditional and fresh taste to it.
The varieties of the trees include, five-leafed pine, black pine, Japanese quince, dwarf azalea and weeping cherry and the pots are made using high-quality recycled hiba and wood refuses.
Moreover, the lettering, "HIBON" and the tapestry on the pots were created by Norie Takeuchi, an ink painting artist.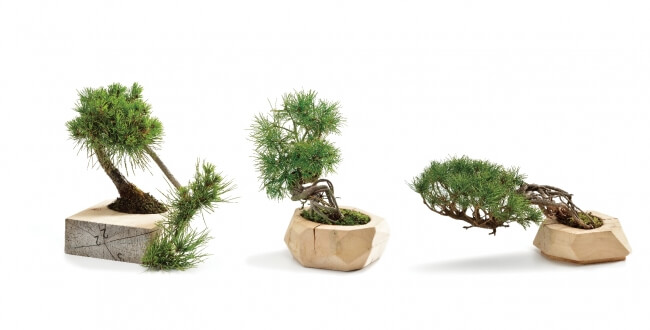 The first bonsai pot they created uses Aomori Hiba. Refuses of the high-quality wood, "Aomori Hiba" which is often used in interior design and for chopping blocks is used for the pot of the bonsai. The idea of "planting a tree in a pot made of wood" is adding a modern taste to the work. The pot made of Aomori Hiba uses wood refuses as noted above and the size and shape of each pot is different.
The trees planted in each pot are strictly selected. In addition,  more "Hinokitiol" which is known as a component that blocks bugs and bacteria is contained in Aomori Hiba than in usual hinoki. Aomori Hiba has the effect of relieving stress and therefore it has been used as the material for the pots.
Let's experience this new style of bonsai.
■Information
HIBON Exhibition
Date: 04/01 (Sun.) to 04/30 (Mon.) 11:00 to 20:00
Venue: CPCM(CIAO PANIC COUNTRY MALL)
Address: 6-12-22, 1-2F, Jingumae, Shibuyaku, Tokyo
TEL : 03-3406-1104 
Website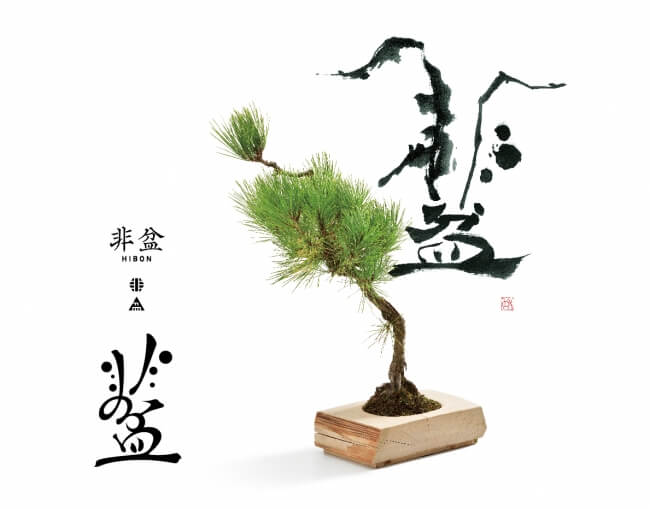 :http://cpcm-shop.com/news/010.html
RELATED ENTRIES
This Week's Dessert: Savouring Autumntime Matcha Sweets at ATELIER de GODIVA in Ikebukuro

One thing I do at least once a week without fail is treat myself out to some delicious food or dessert. It's very important time well spent to ensure happiness.

I've been working relatively hard as of late. I had some spare time before a business meeting, so I took advantage of the occasion to treat myself to some desserts. My destination: ATELIER de GODIVA located inside Seibu Ikebukuro.

GODIVA has numerous stores throughout Tokyo, but Ikebukuro's concept store branch has an eat-in space that's perfect for that tea or coffee break.

ATELIER de GODIVA boasts that same level of quality when it comes to their desserts, some of which are exclusive to this branch. There are only three branches: this one in Seibu Ikebukuro (Tokyo), another in Daimaru Kyoto (Kyoto), and the last in Hakata Hankyu (Fukuoka). The cake I am showing you today is a special dessert sold only in these three branches (and is takeout only at Hakata Hankyu).

The first delight I ordered was the Mousse Matcha Cherry.

Mousse Matcha Cherry: Eat in ¥980 / Takeout ¥780 (*Matcha Ice Cream is eat-in only)

Available: Until November 26, 2019 while supplies last

The shiny cake is served on a round white plate with a dollop of matcha ice cream. The pink berry sauce is drizzled around the plate to make the plating even cuter.

Time to tuck in. This extravagant cake is supported by a fluffy matcha mousse topped with a crunchy chocolate sable. On top of that still are juicy cherries, adding a hint of freshness to the cake. The matcha glaze on the mousse has just the right amount of bitterness, which when coupled with the subtly sweet matcha mousse makes for a heavenly balance of flavours. Lined around the base of the mousse are sweet and sour dried raspberries which elevated the matcha-ness of the matcha mousse.

The matcha ice cream which it comes with when you order to eat in is rich and creamy.

I was full up after my dessert, but since I'd taken the time to come here I wanted to order a drink too… so I got a takeout Chocolixir Uji Matcha Kiwami from a shop adjoining ATELIER de GODIVA.

Chocolixir Uji Matcha Kiwami – ¥602 (*Takeout only at the GODIVA Seibu Ikebukuro branch)

This new drink is part of GODIVA's chocolate and tea pairing series. The chefs at GODIVA have carefully selected the best varieties of tea to combine with chocolate. This one is an iced drink made with white chocolate and matcha.

It's a mix of GODIVA's popular smooth and sweet white chocolate and rich Uji matcha. It's crowned with a sprinkling of bitter Uji matcha powder. All of the flavours are highlighted in this sweet drink. The crunchy white chocolate pieces you sip up as you drink are delicious. It's the kind of drink where you're sure to find something new each time you take a drink.

My 30-minute tea break is my little self-indulgence for the day. Spare minutes in my daily schedule affords me the chance to go and enjoy some delicious desserts. You should treat yourself to some special autumntime sweets too.

Today's Presents

Matcha Adzuki ATELIER Tablet – ¥800

I's important to share the happiness between family and colleagues on when you get the chance to enjoy something tasty. The present I bought today was a tablet chocolate handmade in the shop. The matcha white chocolate has almonds in it as well as Japanese-style chocolate mixed with adzuki. It has a strong matcha flavour and isn't overly-sweet. You can also request for a ribbon to be tied around it for gift-giving. It's a chocolate that's sure to bring anyone joy.

Writer:Sayuri Mizuno(MOSHI MOSHI NIPPON)

Translator: Joshua Kitosi-Isanga

Information

ATELIER de GODIVA Seibu Ikebukuro

Address: Seibu Ikebukuro B1F, 1-28-1 Minami-Ikebukuro, Toshima Ward, Tokyo

Opening Hours: [Mon-Sat] 10:00-21:00 / [Sun & Holidays] 10:00-20:00

ATELIER de GODIVA Daimaru Kyoto

Address: Daimaru Kyoto B1F, 79 Tachiuri Nishimachi, Shimogyo Ward, Kyoto, Kyoto Prefecture

Opening Hours: [Mon-Sun] 10:00-20:00

ATELIER de GODIVA Hakata Hankyu

Address: Hakata Hankyu B1F, 1-1 Hakataekichūōgai, Hakata Ward, Fukuoka, Fukuoka Prefecture

Opening Hours: [Sun-Thurs] 10:00-20:00 / [Fri-Sat] 10:00-21:00

Chocolixir Uji Matcha Kiwami

Running: October 1, 2019 – November 30, 2019

Available: GODIVA

https://www.godiva.co.jp/boutique/?view=map&store_list_id=50

GODIVA Official Website: https://www.godiva.co.jp/

Following up from the opening of their Shinjuku branch back in 2016, BEAMS JAPAN has announced that it will open a second branch in Shibuya on December 5, 2019. It will be found inside the new Shibuya FUKURAS which is also set to open beside Shibuya Station to this December.

Shibuya-Exclusive Field Watch – ¥15,000 (Before Tax)

BEAMS JAPAN Shibuya is set to be the second hub for BEAMS "TEAM JAPAN," a project which aims to build a community around the brand and promotes products made in Japan. Opening with a completely original line focused on "super basic" clothing, it is sure to be a welcome addition to the streets of Shibuya―one of Japan's leading districts when it comes to Japanese fashion and culture.

BEAMS JAPAN Hachiko Logo Long T-Shirt – ¥7,800 (Before Tax)

Scramble Crossing/Traffic Safety Caps – ¥5,800 Each (Before Tax)

The new store will stock a whole range of different clothing items, including attire exclusive to the branch such as the above-pictured caps and watch inspired by Shibuya;s tourist sites like the Scramble Crossing and Hachiko statue.

Information

BEAMS JAPAN SHIBUYA

Grand Opening: December 5, 2019

Address: Tokyu Plaza Shibuya 2F, 1-2-3 Dogenzaka, Shibuya, Tokyo
Opening Hours: 10:00-21:00
Stocked Labels: Men's <BEAMS> / Women's <Ray BEAMS> <BEAMS BOY> / Other <BEAMS JAPAN> <TOKYO CULTUART by BEAMS>

BEAMS JAPAN Official Website: https://www.beams.co.jp/beams_japan/

BAND-MAID Unveil New Album 'CONQUEROR' Artwork & Bonus Merchandise

BAND-MAID have teased fans by showcasing the CD artwork for their upcoming album CONQUEROR which is set to hit shelves on December 11.

The band has worked for over a year on the new record. The unveiled artwork features the band members with flowers blooming for them, signifying the blossoming of new music.

Speaking about the artwork, vocalist and guitarist Miku Kobato commented: "We've put a lot of time into this album. It's packed full of the best music we've ever written, which has been made possible by where we are today. I would be overjoyed if the album helps to blossom our Masters' and Princesses' dreams and desires."

The album will feature 15 tracks, including the song new Dilemma which until now was untitled. If you pick up a copy of the album at select stores in Japan, you can get your hands on some exclusive goodies too as pictured above. Full details below.

Information

CONQUEROR

Release Date: December 11, 2019

Tracks: 15

First Press Limited Edition A (CD+Blu-ray): ¥4,545 (Before Tax) [CRCP-40590]

First Press Limited Edition B (CD+DVD): ¥3,636 (Before Tax) [CRCP-40591]

Regular Edition (CD-Only): ¥2,727 (Before Tax) [CRCP-40592]

■CONQUEROR Bonus Merchandise
*Available on a first-come, first served basis while supplies last
*Select branches not participating, please be sure to check in advance before completing your order
*If ordering online, be sure to add the additional merchandise option to your basket (please note that select services do not allow you to cancel your order upon completion)

・Amazon: Original ticket folder
・Tower Records/Tower Records Online: Original A2-Size Poster TYPE-A
・HMV/HMV&BOOKS Online: Original A2-Size Poster TYPE-B
・Disk Union: Conqueror Key Ring
・Shinseido/WonderGOO: Alternative CD Cover (MISA Ver.)
・Rakuten Books: Alternative CD Cover (AKANE Ver.)
・7 Net: Alternative CD Cover (KANAMI Ver.)
・Neowing/CDJapan: Original Folder
・BAND-MAID INTERNATIONAL WEB SHOP (https://bandmaidshop.com/): Original Pin Badge

BAND-MAID Official Website: https://bandmaid.tokyo/

BABYMETAL Thrill Los Angeles at The Forum With Their New Album 'METAL GALAXY'

BABYMETAL released their long-awaited third album METAL GALAXY worldwide on October 11, following up from their hit 2016 record Metal Resistance. On this same very day, the band performed their first ever highly-anticipated US arena show at The Forum in Madison Square Garden, Los Angeles.

A slew of artists, from the pop world to the rock world, have performed at the acclaimed venue The Forum. BABYMETAL hail as the first Japanese act to headline the area. The sold-out show saw an electrifying set list of 15 tracks, including songs from their new album such as Shanti Shanti Shanti and PA PA YA!! (feat. F.HERO).

The arena was equipped with a giant wide screen and moving centre stage, all of which BABYMETAL made full use off to pull fans into their Metal Galaxy. Every song was welcomed with cries of cheers and a thundering applause followed by plenty of moshing and fist pumping. It was a monumental night for both the band and their American fans due to the hype leading up to the show.

When METAL GALAXY launched last Friday, it show up to No. 1 on the iTunes metal chart and rock chart around the world, including the US, UK, France, Germany, Sweden and Japan. It also made it to No. 2 on several album charts in the US, UK and Japan.

BABYMETAL will perform in Japan this November as part of the Metal Galaxy World Tour, with shows at Saitama Super Arena on the 16th and 17th and at Osaka-jo Hall on the 20th and 21st. They will be joined by British rock act Bring Me The Horizon who will perform as special guests at the already sold-out shows.

BABYMETAL recently added extra shows to the Japan leg of the tour. The additional concerts will take place at Makuhari Messe International Exhibition Hall on January 25 and 26 next year.

Photos by Taku Fujii

Information

METAL GALAXY

Release Date: October 11, 2019

Limited Edition SUN – Japan Complete Edition (2 CDs+Vinyl Size Jacket): ¥4,500 (Before Tax) [TFCC-86684]

Limited Edition MOON – Japan Complete Edition (2 CDs+Vinyl Size Jacket): ¥4,500 (Before Tax) [TFCC-86685]

Limited Edition – Japan Complete Edition (2 CDs+DVD): ¥4,200 (Before Tax) [TFCC-86686]

Regular Edition – Japan Complete Edition (2 CDs): ¥3,500 (Before Tax) [TFCC-86687]

Vinyl Edition – Japan Complete Edition (2 Vinyls): ¥5,000 (Before Tax) [TFJC-38037]

METAL GALAXY Special Website: https://www.toysfactory.co.jp/artist/babymetal/metalgalaxy20191011/ 

BABYMETAL Official Website: http://www.babymetal.com/jp/

MAN WITH A MISSION Drop 'Dark Crow' Music Video & Announce Music Documentary

5-piece wolf rock band MAN WITH A MISSION will release their new single Dark Crow on CD on October 23. In the run up to its release, the title track has released an early digital release today, in addition to a music video which you can see below.

The band recently began embarking on their Remember Me Tour which began at Kumamoto-Jo Hall on October 13. This show was held as part of GAMADASE KUMAMOTO, a festival created by the band in collaboration with Kumamoto to help raise money for the city. It was held originally back in 2018.

At the end of every MWAM show they will showcase a video during the encore with details of a big announcement. This time it was the announcement of the band's first-ever music documentary MAN WITH A MISSION THE MOVIE -TRACE the HISTORY- which is set for release next year. Check out the teaser below.

Information

Dark Crow

Release Date: October 23, 2019

First Press Limited Edition (CD+DVD): ¥1,800 (Before Tax) [SRCL-11320~11321]

Regular Edition (CD): ¥1,200 (Before Tax) [SRCL-11322]

Anime Edition (CD+DVD): ¥1,800 (Before Tax) [SRCL11323~11324]

MAN WITH A MISSION THE MOVIE -TRACE the HISTORY-

・Starring: MAN WITH A MISSION (Tokyo Tanaka, Jean-Ken Johnny, Kamikaze Boy, DJ Santa Monica, Spear Rib)

・Director: Tsuka Chenko

・Publisher: TOHO

・Release Date: 2020

・Copyright: ©2020 "TRACE the HISTORY" FILM PARTNERS

・Film Official Website: http://mwam-movie.com/

MAN WITH A MISSION Official Homepage: https://www.mwamjapan.info/

Disney Launches Merchandise Collaboration with Fashion Brand SHIPS

The new "DISNEY DESIGN COLLECTION by SHIPS" collaboration launched on Tuesday (October 15) featuring all-new exclusive merchandise sold at Disney Store branches across Japan.

The collection, made in collaboration with fashion brand SHIPS, features simple and chic designs. Many of the items incorporate motifs from the classic Steamboat Willie, the animated short film which marked Mickey Mouse's debut. SHIPS has even created its own original logo with their company name written in a rope-like font. The items are exclusive to Disney Store Japan. 

From clothing like hoodies and caps to everyday items like a mug and notebook, this unisex collection is packed full of fun goodies for everyone to enjoy. The long-sleeved navy hoodie has a simple design with the SHIPS logo displayed proudly on the hood. The bag is made from a light material and can hold a high capacity of things. It also comes with an additional pouch for more lightweight and convenient use.

But the collaboration doesn't stop there. It in fact goes both ways. SHIPS themselves are also selling their own exclusive items as part of the collection with Mickey Mouse motifs. Their merchandise is different from that at the Disney Store. The designs feature a retro-style Mickey, with fashion items covering all bases including men, women and kids. There's also a tote bag, bandanas, and more.

Be sure to visit both the Disney Store and SHIPS to see what else they have in stock.

©Disney

Information

DISNEY DESIGN COLLECTION by SHIPS

Release Date: October 15, 2019

Hat: ¥2,900 (Before Tax)

Face Towel: ¥1,400 (Before Tax)

Long-Sleeved Hoodie: ¥7,000 (Before Tax)

Long-Sleeved T-Shirt: ¥4,500 (Before Tax)

Bag: ¥6,500 (Before Tax)

Mini Bag: ¥3,000 (Before Tax)

Product Page: http://disneystore.jp/ships

Indulge in a Strawberry Heaven at Hoshino Resorts KAI in Tochigi Prefecture

A new hotel plan has arrived at three branches of Hoshino Resort's hot spring hotel brand KAI in Tochigi Prefecture where guests can enjoy the luxury of strawberries together with their stay. Tochigi is famous for growing strawberries, and so all three hotels will serve up their own unique succulent strawberry experiences. The branches in question are KAI Kawaji, KAI Kinugawa, and KAI Nikko.

For roughly the past 50 years, Tochigi has enjoyed the largest cultivation of strawberries in the whole of Japan. Hoshino Resorts KAI is taking advantage of this milestone by presenting guests with a strawberry experience they won't forget, with the delicious fruit comprising the whole of their stay from checking in to checking out. Each hotel branch will have different varieties of strawberries in stock, and guests will discover new ways to enjoy them. They will also be presented a map highlighting different locations to indulge in strawberry desserts, so they can carry on their fruitful after checking out on the road home too.

KAI Kawaji: Strawberry Picking at a Japanese-Style Hot Spring Inn

KAI Kawaji's "Satoyama Ichigo Taizai" (Satoyama Strawberry Stay) plan offers a one-night stay with a strawberry picking session by the watermill in the hotel grounds. The strawberries there are juicy and sweet and ripen on the stalks. During your stay, you can go and pick them at your leisure. The strawberries grown there are a variety called tochiotome which have a full-bodied aroma are sweet with the perfect amount of sourness. In the evenings, a sunken hearth will be lit at the watermill so you can stay warm in the fresh winter outdoors while you pick your strawberries. Guests can also enjoy a strawberry sweet red-bean soup made with rare white strawberries which came out as a new variety of Tochigi Prefecture strawberry in 2018. They have less sourness and are super sweet with a smooth texture.

Running: January 15, 2019 – February 29, 2019 (Check In)

Price: From ¥25,000 (1 room for up to 2 people / Service charge included / Tax not included)

Reservations/Official Website: https://kai-ryokan.jp/kawaji/

KAI Kinugawa: Taste and compare seasonal strawberries

KAI Kinugawa's "Mingei Ichigo Taizai" (Folk Craft Strawberry Stay) plan will see the appearance of the tochihime strawberry which has been dubbed the "phantom strawberry." This sweet variety is large and has a soft flesh and is exclusive to Tochigi. Guests will be able to taste and compare this and a handful of other types, as well as tuck into various strawberry confections. They will pick from 300 cute different bowls from the bowl gallery and pile inside them strawberries and assorted confections. In the evenings, strawberries will also be served boiled in white wine. A two-day and one-night experience you'd expect from the place that boasts the biggest strawberry haul in Japan.

Running: December 10, 2019 – February 29, 2019 (Check In)

Price: From ¥29,000 (1 room for up to 2 people / Service charge included / Tax not included)

Reservations/Official Website: https://kai-ryokan.jp/kinugawa/

Note: Limited to 5 separate bookings per day

KAI Nikko: Revel in wintertime Okunikko

KAI Nikko is located beside the grand Lake Chūzenji. Their "Zekkei Ichigo Taizai" (Spectacular View Strawberry Stay) plan will see their lobby, which offers a panoramic view of Mount Nantai, turn into a tearoom inspired by the rest stops of Nikkomou, an event that took place during the Edo Period when the Tokugawa Shogunate made their pilgrimage to Nikko. Guests can enjoy the contrast between the setting sun and the snow, as well as the pink-coloured sky when morning breaks. Taking place between sunset and sunrise, guests can tuck into rare white strawberries and warm confections made with yōkan―a Japanese jellied dessert made from red bean paste, agar, and sugar―which is a local specialty of Nikko.

Running: December 1, 2019 – February 29, 2019 (Check In)

Price: From ¥28,000 (1 room for up to 2 people / Service charge included / Tax not included)

Reservations/Official Website: https://kai-ryokan.jp/nikko/

Note: Limited to 2 separate bookings per day

Enjoy you're a seasonal strawberry fill like never before at Hoshino Resorts KAI.

Full Moon Salted Caramel & Paradigm Shift Pudding Cooked Up By firando

Mirai Image and firand have teamed up to create a new dessert brand named "firando." Their website launched just recently, and their first products, "MANGETSU" and "PURIORI," were shown for the first time at the 9th Tsuhan Expo which took place on September 26-27. Sales of these two confections went live on their official website on Tuesday (October 15).

During the Edo portion of Sakoku, when Japan closed its doors to most foreign trade and foreign nationals, Hirado was called "firando" and thrived as a port for international trade. During this time, caramel, then a western-style confection, found its way to Hirado, and has since resurfaced in Hirado, Nagasaki.

"MANGETSU" is the Japanese term for full moon. This salted caramel treat is made with a very special salt: it's taken from the sea of the beautiful Hirado Island only when the tide is high during an evening full moon. It's also made with freshly-squeezed raw milk shipped directly from the only dairy farmer in Hirado that has been passed down the generations. The dessert is completely additive-free, using no preservatives or artificial colouring. It uses the highest quality unrefined sugar from Kagoshima Prefecture that is easy on the body, with each and every grain being accounted for in the 10-second cooking progress. The milk has a rich flavour, and the full moon salt adds a pleasant accent, resulting in a refreshing aftertaste.

The "PURIORI" is a Japanese-style pudding whose concept is "going back in time." The concept asks, "What if you went back in time to the end of the Edo period and presented nanbangashi* to the Matsuura feudal lord?" The pudding piles together the layers of Japan's confection culture. It's made with rare eggs from Nagasaki Prefecture that you can't get on the marketplace.

*Nanbangashi are a variety of Japanese sweets derived from Portugal and Spain

firanodo has whipped up some seriously special and luxurious desserts here. If you find yourself in Nagano, be sure to visit their store, and don't forget to check out their website below.

Information

firando

Address: 310-2 Tsuyoshichō, Hirado, Nagasaki
Products: MANGETSU / PURIORI」
Official Website:  https://firando-caramel.com/

Experience Art and the Japanese Tea Ceremony Come Together at hotel koe tokyo's Private Lounge

"hotel koe tokyo" isn't your everyday normal hotel. Developed and produced by "koe," the hotel brings together fashion, music, cuisine, and a luxury accommodation experience. In line with DESIGNART TOKYO 2019, the hotel has announced it will hold a reservation-only event entitled "DESIGNART TOKYO 2019: Tea ceremony by artless+asahiyaki" at its third-floor private lounge on October 19 and 20.

Asahi ware is a type of Japanese pottery originating in Uji, Kyoto almost 400 years ago. Hosai Matsubayashi is the 16th generation master of this long-running workshop, known as Asahiyaki, and he's set to collaborate with Shun Kawakami, an artist and art director of global branding agency artless Inc. The collaboration is being held to promote Japanese culture not only to the people of Japan but those overseas too, and "hotel koe tokyo" is the perfect place to do it due to the huge number of foreign visitors that stay at the hotel.

The two of them have taken the traditional Japanese tearoom and have put a modern spin on it. Normally, this private lounge of the hotel is only usable by guests staying there, but this reservation-only event will grant exclusive access to all. It brings together Japanese tea and art in the form of a special tea-making course. Attendees will follow Hosai Matsubayashi's instructions and prepare their own tea. During the session, both Matsubayashi and Kawakami will give talks on their work while you enjoy your tea.

Take advantage of this special occasion to learn about the beauty of Japanese tea.

Information

Tea ceremony by artless + asahiyaki
Dates: Saturday October 19, 2019 / Sunday October 20, 2019
Time: 4 Slots – ①12:00 / ②13:30 / ③15:00 / ④16:30 (60 minutes each)
Capacity: 10 per slot
Location: hotel koe tokyo ("koe lounge" on Floor 3F)
Content: Tea Making + Tea Art
Price: ¥3,000 (Before Tax)
Reservations:  https://www.tablecheck.com/ja/shops/hotelkoe-tokyo-privatelounge/reserve
*This event is reservation-only

Suiran Ranks as Japan's Best Hotel in Condé Nast Traveler For Second Year in a Row

"Suiran, a Luxury Collection Hotel, Kyoto" has ranked as the number one hotel in Japan for the second year in a row in the Japan's Top Hotels category of Readers' Choice Awards 2019 in Condé Nast Traveler.

The Condé Nast Traveler Readers' Choice Awards lists the world's best travel experiences as ranked by international travellers. Over 600,000 people voted Suiran as Japan's best hotel for the second time.

Suiran is located in Arashiyama, Kyoto and first opened in March 2015 under a brand of luxury hotels known as The Luxury Collection®. The hotel's concept is to make full use of Arashiyama's appeal, lauded for its deep culture and history, while paving the way to the future. It houses guests from around the world who can enjoy a view of Arashiyama's lush natural landscape which changes beautifully with the seasons, and who can experience a fusion of the traditional and the modern while being served classic Kyoto hospitality.

Speaking about the award, the hotel's general manager Hiroyuki Hatori said the following: "I am greatly honoured that we have been given the number one spot two years in a row in this internationally-recognised poll. To all the people in the region who continue to support Suiran, and to all our guests who use the hotel, I thank you from the bottom of my heart. These results are an incentive to further work hard with our associates to ensure this is a hotel that people will love even more."

If you are travelling to Kyoto and looking for a place to stay, why not consider the city's best: Suiran, a hotel which continues to pass down tradition while embracing the modern?

Information

Suiran, a Luxury Collection Hotel, Kyoto

Address: 12 Sagatenryūji Susukinobabachō, Ukyo Ward, Kyoto

Access: 15-minutes on foot from Saga-Arashiyama Station / 6-minutes on foot from Arashiyama Station via Keifuku Electric Railroad / 15-minutes on foot from Arashiyama Station via the Hankyu Arashiyama Line

Official Website: https://www.marriott.com/hotels/travel/ukylc-suiran-a-luxury-collection-hotel-kyoto/

Rilakkuma & Korilakkuma Confections by Tabemas Coming to Lawson Convenience Stores

Character-inspired Japanese confectionery series Tabemas has revealed that its next products will be Halloween-themed Rilakkuma and Korilakkuma sweets. They will go on sale at Lawson convenience stores across Japan (excluding Lawson Store 100 branches) on October 15, 2019.

These adorable confections are so cute it's hard to choose where to even start eating them from! Both versions are wearing snug pumpkin hats.

'Tabemas' is an abbreviation of the Japanese words taberareru masukotto, meaning 'mascots that you can eat.' It is a Japanese confectionery series that combines well-known characters and Japanese sweets made from ingredients like red bean paste, sugar and rice flour. The sweets are also made with a dough called "nerikiri" which is used in making traditional Japanese wagashi sweets.

To keep with the theme of autumn, Rilakkuma is pumpkin pudding flavoured (which is his favourite treat) and Korilakkuma is maple flavoured.

Stop by the ubiquitous Lawson convenience store while in Japan and grab yourself one of these treats for Halloween.

©️2019 San-X Co., Ltd. All Rights Reserved.

*The photographs are for illustrative purposes only.

*Actual product may differ from the photographs.

*Please be careful not to choke on the mochi.

*The latest information can be viewed via the Bandai Candy homepage.

*Tabemas and 食べマス are registered trademarks of Bandai.

Hirosaki Castle Chrysanthemum and Autumn Foliage Festival Begins on October 18

This year's Hirosaki Castle Chrysanthemum and Autumn Foliage Festival is set to take place in Hirosaki, Aomori from October 18 to November 10.

The festival is held annually every autumn and has been since 1962. It has become a festival deeply tied to autumntime Hirosaki, with 1,000 vivid chrysanthemum trees set to bloom at Hirosaki Park this year in addition to 2,600 cherry blossom trees, which in springtime were pink and will now turn red and yellow for the autumn season.

After the sun sets during the event, the castle, park and surrounding areas will be lit up with enchanting illuminations, reflecting off the trees and surface of the moat, lending even more beauty to the area.

Information

Hirosaki Castle Chrysanthemum and Autumn Foliage Festival

Running: October 18, 2019 – November 10, 2019

Time: 9:00-17:00

Location: Hirosaki Castle Botanical Garden in Hirosaki Park

Entry Prices

General (High School Students and older) – ¥320

Children (Junior High School students and younger) – ¥100

*The illuminations will run from sunset to 21:00

Event Page: https://www.hirosaki-kanko.or.jp/web/edit.html?id=cat02_autumn_momiji