LiSA will release two greatest hits albums simultaneously on May 9th: LiSA BEST -Day- and LiSA BEST -Way-. As fans wait impatiently for the J-rock singer's first ever greatest hits record, the tracklist, which contains new songs, has been made known, as well people LiSA worked with for them.
LiSA BEST -Day- will feature a new song titled WiLL ~Mushoku Toumei~ ('colourless and transparent'). LiSA wrote the lyrics for the track while Hiromasa Ijichi produced it. Ijichi is also known for producing for the vocal and dance group SPEED who LiSA has admired since her childhood. The song is a rock ballad that centers on LiSA up to now and going forward.
The new track will debut on LiSA's segment LiSA LOCKS! on the hugely popular radio show SCHOOL OF LOCK! which airs across 38 radio channels across Japan, including TOKYO FM. Tune into SCHOOL OF LOCK! on April 10th (22:00-23:55) to hear WiLL ~Mushoku Toumei~ for the first time!
LiSA BEST -Way- features a re-recording of ROCK-mode, a popular performed song at her shows, titled ROCK-mode '18, as well as the new song Believe in ourselves. LiSA wrote the lyrics for the new song together with Tomoya Tabuchi (UNISON SQUARE GARDEN), who also produced the track.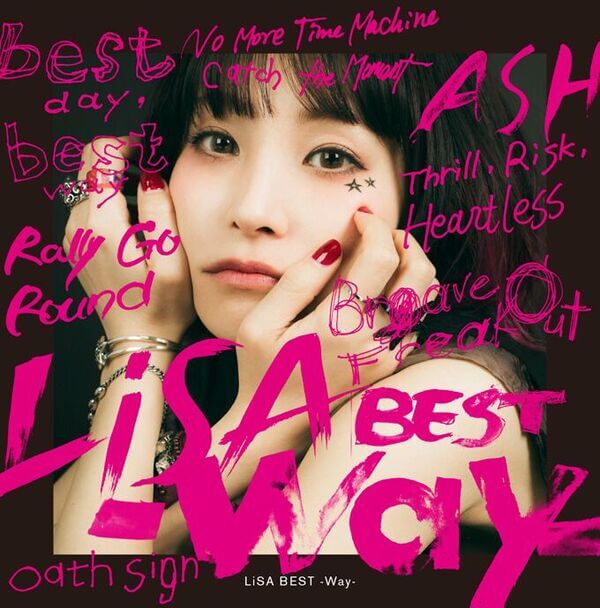 The singles and album songs featured on both albums all made it into the Top 10 of Oricon's Daily CD Single Ranking, making it a definitive edition that features her masterpiece anime songs from 2010 onward.
Look forward to LiSA's behemoth release of 28 songs with her greatest hits albums!
■Information
LiSA BEST -Way-
On Sale: May 9, 2018
First Press Limited Edition (CD+BD) ¥4,500 + tax
First Press Limited Edition (CD+DVD) ¥4,000 + tax
Regular Edition (CD) ¥3,000 + tax
LiSA BEST -Day- & LiSA BEST -Way-
On Sale: May 9, 2018
Limited Pressing Edition (2CD + BD + T-shirt) ¥11,111 + tax
Tour Details:
Japan Live House Tour: LiVE is Smile Always ~FUN&FANFARE~
2018.04.08 TOYOSU PIT (Tokyo)
2018.04.14 @ Zepp Nagoya (Aichi)
2018.04.15 @ Zepp Osaka Bayside (Osaka)
Asia Tour: LiVE is Smile Always~ASiA TOUR 2018~
(Japan Dates)
2018.06.14 @ Nippon Budokan (Tokyo)
2018.06.15 @ Nippon Budokan (Tokyo)
2018.06.30 @ Osaka-jō Hall
2018.07.01 @ Osaka-jō Hall
(Overseas Dates)
2018.07.21 @ Singapore
2018.08.11 @ Hong Kong
2018.08.18 @ Taipei (Taiwan)
Website: http://www.lxixsxa.com
RELATED ENTRIES
Demon Slayer: Mugen Train New Trailer Reveals Main Theme to be Performed by LiSA

A new poster and trailer have been released for the upcoming film Demon Slayer: Kimetsu no Yaiba the Movie: Mugen Train which is set for release on October 16, 2020. The trailer gives us a snippet of the main theme Homura (Flame) performed by LiSA. The singer-songwriter previously performed the TV anime's first opening theme Gurenge.

Demon Slayer: Kimetsu no Yaiba the Movie: Mugen Train is a direct sequel to the 2019 anime series adapted from Koyoharu Gotouge's manga series Demon Slayer: Kimetsu no Yaiba. It is being animated by ufotable.

The showcases the protagonist Tanjiro Kamado battling it off against Enmu aboard the Infinity Train (Mugen Train). Tanjiro is clenching his teeth while Enmu smiles on, revealing what is sure to be a testing battle for our hero.

Enmu threatens Tanjiro with the words, "To be able to die while dreaming… Just how lucky are you?" We also see Tanjiro reunite with his siblings, who are supposed to be dead, but he senses something amiss and encourages himself to wake up as he is being attacked. The Infinity Train will be an action-packed locale as Tanjiro and Enmu battle it out. We also see returning characters on the train with Tanjiro.

Fans also get to hear the main theme Homura by LiSA for the first time. The song was composed by Yuki Kajiura who also wrote the TV anime adaptation's ending theme from the edge which is performed by FictionJunction feat. LiSA.

Natsuki Hanae (Voices: Tanjiro Kamado) | Comment

"When I read the Mugen Train arc, I saw so many scenes I wanted to hurry up and voice act for, so I'm so happy that I get to perform for this film. All the other voice actors during the recording sessions were on fire. When it was over, I was so burnt out, I really thought I was gonna die. ufotable's gorgeous animation and the beautiful music both come together wonderfully. It's a really amazing film. Like the fans, I wanna watch it in the cinema already. I hope you're looking forward to it just as much as I am!" (Translated from Japanese by MMN)

Akari Kitō (Voices: Nezuko Kamado) | Comment

"It had been a while since we'd done voice work for Demon Slayer, but getting to work on the Mugen Train arc, which is a popular one in the manga series, I psyched myself up like the rest of the cast! Despite us not having any visuals to work with for the recording sessions, everyone really put their all into it. Seeing that actually brought tears to my eyes. I think what we achieved by the end of it exceeded our expectations! I hope you all enjoy watching it in the cinema!" (Translated from Japanese by MMN)

LiSA | Comment

"I previously performed for the TV anime series, now I'm doing them main theme for the Mugen Train film arc. It's personally my favourite arc from the manga, so I was able to add another layer of strength to the song. While the characters face sadness, they still have a fire lit in their hearts. I hope that all of you who may be sad have the strength to move forward just like them." (Translated from Japanese by MMN)

©Koyoharu Gotouge/Shueisha・Aniplex・ufotable

Information

Demon Slayer: Kimetsu no Yaiba the Movie: Mugen Train

Release Date: October 16, 2020

Official Website: https://kimetsu.comz

Having recently opened on YouTube on November 15, THE FIRST TAKE just dropped their 10th video which features anisong singer LiSA once again. LiSA's previous session saw her perform Gurenge which was viewed over 3 million times in just the first week. The view count is currently at 7.5 million and still on the rise. In response to the video, comments such as "It gave me goosebumps" and "I got a bit emotional" were all over social media. LiSA will be returning to the show again to perform her emotional song "unlasting" which was released on November 12. 

LiSA – unlasting / THE FIRST TAKE

THE FIRST TAKE is a new channel where each episode sees a famous artist perform one of their hit songs all in one take. In doing so, the channel aims to deliver a more authentic and organic perspective of the featured artist and their song, opening a whole new level of excitement to fans. The hype of being able to thoroughly enjoy the raw talent of your favourite artists in a high-quality 4K video is unimaginable. The channel will continue to feature a range of artists and add new content. It is on the way to becoming a go-to music channel for discovering your favourite artists. If you're a fan of Japanese music, make sure to subscribe to the channel to catch your favourite artists.

The plain white room allows the audience to fully focus on LiSA's passionate singing, her expressions and flawless vocal control. Her new performance is sure to give you exciting chills.

LiSA Announces Live DVD & Blu-ray Featuring First Performance Of Demon Slayer OP Theme 'Gurenge'

It has been announced that LiSA's performance at Yokohama Arena on April 30, 2019 will be released on DVD and Blu-ray on March 4, 2020. The show was the second day of a two-night concert entitled "LiVE is Smile Always~364+JOKER~" held at the venue on April 29 and 30.

26,000 fans attended the two sold out concerts across the two days. The show featured LiSA's first-ever live performance of Gurenge which is the opening theme for the TV anime series Demon Slayer: Kimetsu no Yaiba. LiSA is also set to perform the song as the 70th Kōhaku Uta Gassen, an annual New Year's Eve television special produced by NHK.

Each edition of the Blu-ray and DVD will be released with their own respective first press bonuses. Limited Pressing Editions are coupled with merchandise as well as a CD featuring the audio of the concert. Details on the merchandise it includes are yet to be announced.

Information

LiSA Blu-ray & DVD "LiVE is Smile Always~364+JOKER~ at YOKOHAMA ARENA"

Release Date: March 4, 2020

■Limited Pressing Edition (Blu-ray+Merchandise+CD): ¥12,000 (Before Tax) [VVXL-60~62]

■First Press Limited Edition (Blu-ray): ¥8,000 (Before Tax) [VVXL-63]

■First Press Limited Edition (DVD): ¥8,000 (Before Tax) [VVBL-134~135]

*Merchandise and tracklist TBA

LiSA Official Website: http://www.lxixsxa.com/

LiSA has announced that she is set to embark on a nationwide arena tour in Japan next year.

There is never a breather when it comes to LiSA's successful musical activities, with her new song unlasting being used as the ending theme for the ongoing anime series Sword Art Online: Alicization – War of Underworld, which made it to No. 3 on Oricon's Daily Single charts for December 10.

The singer's new tour will be her biggest to date, with ten concerts planned across five locations throughout Japan, including the famous MetLife Dome which has a capacity of nearly 40,000. She will perform for an estimated 115,000 fans over the duration of the tour. Pre-sale tickets will go live via LiSA's fan club "LiSA Love" on December 11, 2019 at 22:00 (JST).

LiSA said: "I'll be heading on an arena tour in 2020, which includes MetLife Dome. It's the start of my 10th year. Let's go and have the best time ever next year once again with our favourite thing: music!"

unlasting topped digital music charts in Japan and overseas, including the J-pop category on iTunes in countries around Asia including Malaysia, the Philippines, Hong Kong, Taiwan, Macao, and elsewhere. The song reached No. 1 on the the KKBOX's J-pop daily charts in Taiwan (October 23-November 3) as well as its weekly charts (October 25-31). It also made it to No. 1 on the QQ Music J-Pop weekly charts (October 24-30).

Information

LiSA 2020 Arena Tour

2020/6/20 @ Osaka-jo Hall

2020/6/21 @ Osaka-jo Hall

2020/6/27 @ Pia Arena MM (Yokohama)

2020/6/28 @ Pia Arena MM (Yokohama)

2020/8/15 @ Aichi Prefectural Gymnasium

2020/8/16 @ Aichi Prefectural Gymnasium

2020/9/5 @ MetLife Dome (Seibu Dome)

2020/9/6 @ MetLife Dome (Seibu Dome)

2020/10/3 @ Xebio Arena Sendai

2020/10/4 @ Xebio Arena Sendai

*Pre-sale tickets available via LiSA's official fan club "LiSA Love" on December 11, 2019 from 22:00 (JST)

LiSA Love Fan Club: https://k.lxixsxa.com/

LiSA Official Website:http://www.lxixsxa.com/

Sword Art Online: Alicization – War of Underworld

Initial Broadcast: October 12, 2019

Official Website: https://sao-alicization.net/

THE FIRST TAKE is a new channel to YouTube that launched on November 15 where each episode sees a famous artist perform one of their hit songs all in one take. In doing so, the channel aims to deliver a more authentic and organic perspective of the featured artist and their song, opening a whole new level of excitement to fans. The hype of being able to thoroughly enjoy the raw talent of your favourite artists in a high-quality 4K video is unimaginable.

LiSA 'Gurenge'/ THE FIRST TAKE Premium Video (Available from December 6, 2019 from 22:00)

The fifth artist to feature on the channel will be LiSA, who is most widely known not only for her sensational anisongs but has also appeared at multiple rock festivals and will have her first appearance on the NHK TV show Red and White Song Battle (NHK Kōhaku Uta Gassen) to bring in the New Year. She also released her first piano cover of Gurenge, which is the opening theme song for the popular anime Demon Slayer: Kimetsu no Yaiba.

Although nervous at first, she completely transformed the moment she stepped in front of the mic. Her characteristic voice pierced through the air as she gave a classic jaw-dropping performance. The video will premiere on YouTube at 10pm today (December 6) and you don't want to miss it.

A Statement from LiSA :

"This is the first time I've ever performed Gurenge in one take with a piano accompaniment. There's a special groove and flow and a beautiful balance of interdependence between my voice and the piano. The breathing regulation, the finishing touches and  feelings in the song are really beautiful in this song because it is limited to a piano and vocals arrangement. The beauty of THE FIRST TAKE is its authenticity. You will never hear the same thing twice. It's raw and pure like a live performance. I'm so thrilled to have been given the chance to deliver something so precious to the audience. Please enjoy my song as much as you like. "

LiSA Dominates International Music Charts with SAO Ending and Releases New Music Video

Anisong artist LiSA's latest release unlasting has been the current ending theme for Sword Art Online Alicization War of Underworld since October 21. The song blew up the real-time and daily charts of several streaming services within moments of its simultaneous international and Japan release. The song became an instant number one hit across Asia on the iTunes J-Pop charts in Malaysia, the Philippines, Hong Kong, Taiwan and Macau. The song dominated several large international record charts such as Taiwan's KKBOX charts, where it remained at number one on the J-Pop daily charts for new releases from October 23 to November 3, and the new release weekly charts from October 25 to October 31. It also remained at number one on QQ Music's weekly J-Pop chart from October 24 to 30. LiSA's powerful voice resonates across Japan and is even capable of dominating international song charts.

unlasting: MUSiC CLiP

LiSA dropped the official music clip for unlasting on YouTube to whet our appetites in time for the release of the song on December 11, which will be her 16th single. The music clip is very different to LiSA's usual style. It tells the heart-rending story of a breakup between a man and woman in the style of a short dramatic film. 

A DVD containing the music clip will be included in the First Press Limited Edition version of the single.

Information

LiSA's 16th Single CD Release: unlasting

Release Date: December 11, 2019

First Press Limited Edition (CD+DVD): ¥1,600 (Before Tax) [VVCL 1580~1]

Regular Edition (CD-Only): ¥1,200 (Before Tax) [VVCL 1582]

Limited Pressing Edition (CD+DVD): ¥1,600 (Before Tax) [VVCL 1583~4]

Digital Download/Stream: https://LiSA.lnk.to/a3rAw

  ☆Bonus Item: LiSA Postcard

・Each music store chain stocks only 1 design

・Limited in stock so available while supplies last

・There are no other store bonuses other than this one available at the shops and online stores listed at the link below

・1 postcard per CD purchase

・Select branches not participating – please enquire in-store for more details

Participating Shops: https://www.lxixsxa.com/shoplist/191211/

 

LiSA Official Website: http://www.lxixsxa.com/

Sword Art Online: Alicization – War of Underworld

Initial Broadcast: October 12, 2019.

Available on TOKYO MX, Tochigi TV, Gunma TV, BS11 and other services every Saturday from 12am.

Currently available for streaming on Abema TV

Official Website: https://sao-alicization.net/

LiSA's Sword Art Online: Alicization – War of Underworld Ending Theme Tops Asian Music Charts

LiSA earned the title of female Japanese artist with the most downloaded track of 2019 in September for her song Gurenge which broke 300,000 downloads on September 22, 2019. The song was used as the opening theme for the TV anime series Demon Slayer: Kimetsu no Yaiba which aired from April to September. As of November 2019, the song has over 370,000 downloads, and the number claws itself closer to 400,000 everyday.

LiSA's new song unlasting is being used as the ending theme for the ongoing anime series Sword Art Online: Alicization – War of Underworld. The song received an early digital release on October 21 ahead of the single's CD release which is set for December 11. It has already topped digital music charts in Japan and overseas, including the J-pop category on iTunes in countries around Asia including Malaysia, the Philippines, Hong Kong, Taiwan, Macao, and elsewhere.

The song reached No. 1 on the the KKBOX's J-pop daily charts in Taiwan (October 23-November 3) as well as its weekly charts (October 25-31). It also made it to No. 1 on the QQ Music J-Pop weekly charts (October 24-30).

When purchasing the single at select stores in Japan, fans can receive one of the above-pictured monochrome postcards of LiSA. More details below.

Information

Unlasting (CD Ver.)

Release Date: December 11, 2019

First Press Limited Edition (CD+DVD): ¥1,600 (Before Tax) [VVCL 1580~1]

Regular Edition (CD-Only): ¥1,200 (Before Tax) [VVCL 1582]

Limited Pressing Edition (CD+DVD): ¥1,600 (Before Tax) [VVCL 1583~4]

Digital Download/Stream: https://LiSA.lnk.to/a3rAw

☆Bonus Item: LiSA Postcard

・Each music store chain stocks only 1 design

・Limited in stock so available while supplies last

・There are no other store bonuses other than this one available at the shops and online stores listed at the link below

・1 postcard per CD purchase

・Select branches not participating – please enquire in-store for more details

Participating Shops: https://www.lxixsxa.com/shoplist/191211/

LiSA Official Website: http://www.lxixsxa.com/

Sword Art Online: Alicization – War of Underworld

Initial Broadcast: October 12, 2019

Official Website: https://sao-alicization.net/

LiSA's Sword Art Online: Alicization – War of Underworld Ending Theme Single CD Covers Unveiled

LiSA's new song unlasting is being used as the ending theme for the ongoing anime series Sword Art Online: Alicization – War of Underworld. The song has received an early digital release on October 21 ahead of the single's CD release which is set for December 11. It has already topped digital music charts in Japan and overseas, including the J-pop category on iTunes in countries around Asia including Malaysia, the Philippines, Hong Kong, Taiwan, Macao, and elsewhere.

Regular Edition CD Cover

First Press Limited Edition CD Cover

The CD covers for the physical release of unlasting have been showcased. This will be LiSA's 16th single.

To date, the majority of the visual work for LiSA's releases have been colourful with a pop aesthetic, but she has turned that on its head this time with a monochrome concept for Regular Edition copies. First Press Limited Edition copies come with a simple cover with just the song title while Limited Pressing Edition copies feature an illustration from the anime series.

First Press Limited Edition

The anime edition also comes with a mini poster of the CD cover.

LiSA's website has undergone a revamp for the release of unlasting, so be sure to check it out at the link below.

Information

Unlasting (CD Ver.)

Release Date: December 11, 2019

First Press Limited Edition (CD+DVD): ¥1,600 (Before Tax) [VVCL 1580~1]

Regular Edition (CD-Only): ¥1,200 (Before Tax) [VVCL 1582]

Limited Pressing Edition (CD+DVD): ¥1,600 (Before Tax) [VVCL 1583~4]

Digital Download/Stream: https://LiSA.lnk.to/a3rAw

LiSA Official Website: http://www.lxixsxa.com/

LiSA's Sword Art Online: Alicization – War of Underworld Ending Theme Single Photos Released

LiSA earned the title of female Japanese artist with the most downloaded track of 2019 last month for her song Gurenge which enjoyed over 300,000 downloads. The song was used as the opening theme for the TV anime series Demon Slayer: Kimetsu no Yaiba which aired from April to September.

LiSA is now performing the ending theme unlasting for the anime series Sword Art Online: Alicization – War of Underworld which began airing on Monday (October 21). The song has received an early digital release ahead of the single's CD release which set for December 11. It also dropped on Monday and has already topped music charts in Japan and overseas, including the J-pop category on iTunes in countries around Asia including Malaysia, the Philippines, Hong Kong, Taiwan, Macao, and elsewhere.

unlasting is also now available to listen to on streaming services including Spotify. That song alongside Gurenge and others have found themselves placed amongst many playlists.

New photos of LiSA for the promotion of the unlasting single were also released (pictured above), featuring a profile shot of LiSA inspired by the lo-fi ballad title track.

Info surrounding the CD cover(s) and music video will be released in the near future, so stay tuned.

Information

Unlasting (CD Ver.)

Release Date: December 11, 2019

First Press Limited Edition (CD+DVD): ¥1,600 (Before Tax) [VVCL 1580~1]

Regular Edition (CD-Only): ¥1,200 (Before Tax) [VVCL 1582]

Limited Pressing Edition (CD+DVD): ¥1,600 (Before Tax) [VVCL 1583~4]

Digital Download/Stream: https://LiSA.lnk.to/a3rAw

LiSA Official Website: http://www.lxixsxa.com/

LiSA Performs Sword Art Online: Alicization Ending Theme 'unlasting'

LiSA earned the title of female Japanese artist with the most downloaded track of 2019 last month for her song Gurenge which enjoyed over 300,000 downloads. The song was used as the opening theme for the TV anime series Demon Slayer: Kimetsu no Yaiba which aired from April to September.

It has been announced that LiSA will perform the ending theme unlasting for the anime series Sword Art Online: Alicization – War of Underworld. The first episode aired on Saturday and was a recap of the first 24 episodes of Alicization. LiSA's new song will be used from the second episode starting on October 12. This marks LiSA's 7th song she has performed for the Sword Art Online franchise, including for its anime series, film and games.

unlasting will be released digitally on October 21 at 00:00 (JST). The song will be available for pre-order in Japan from October 7 at 00:00 (JST), the same date has the SAO protagonist's birthday, Kirito.

Speaking about her new collaboration with the series, LiSA commented: "The first opening theme for the Alicization arc which I sang was ADAMAS, a song that wishes for a bright future. unlasting as the ending theme is about a new chapter that wishes for the sadness the characters were left with to not last forever. I hope the people who are important to you feel the same for you in some way."

©2017 Reki Kawahara /KADOKAWA / ASCII Media Works / SAO-A Project

Information

LiSA – "unlasting"

Release Date: October 21, 2019 (Digital release in Japan at midnight)

Lyrics: LiSA / Composer: Kayako Kusano / Arrangement: Shouta Horie

Tie-Up: Ending theme for Sword Art Online: Alicization – War of Underworld

Pre-Order: https://LiSA.lnk.to/a3rAw

LiSA Official Website: http://www.lxixsxa.com/

Sword Art Online: Alicization – War of Underworld

Initial Broadcast: October 12, 2019

Anime Official Website: https://sao-alicization.net/

Demon Slayer Opening Theme 'Gurenge' by LiSA Breaks 300,000 Downloads & 6 Million YouTube Views

LiSA's newest single Gurenge is used as the opening theme for the ongoing hit anime series Demon Slayer: Kimetsu no Yaiba. The song was dropped digitally on April 22 and dominated the Japanese digital music charts upon its release. Its number downloads only grew in the following days, allowing it to get pushed up to No. 1 on the iTunes Japan Weekly Song rankings, as well as sitting at No. 1 for two weeks on Oricon's Weekly Digital Single charts.

The song broke 300,000 downloads on September 22, 2019, making it the most downloaded track of 2019 from a female artist in Japan.

The song's music video was LiSA's fastest to hit 5 million views on YouTube, and just 4 months after its release, it has gained over 6 million views.

Demon Slayer is also approaching its anticipated climax. The anime's ending theme from the edge by FictionJunction feat. LiSA is also enjoying rave reviews from fans. If you've yet to enter the world of Demon Slayer, then what are you waiting for?

©Koyoharu Gotouge / Shueisha・Aniplex・ufotable

Information

Gurenge

Release Date: July 3, 2019

First Press Limited Edition (CD+DVD): ¥1,600 (Before Tax) [VVCL 1458~9]

Regular Edition (CD): ¥1,200 (Before Tax) [VVCL 1460]

Anime Limited Pressing Edition (CD+DVD): ¥1,600 (Before Tax) [VVCL 1461~2]

Digital Download: https://LiSA.lnk.to/gurenge

from the edge by FictionJuncrtion feat. LiSA

Digital Download: https://lisa.lnk.to/PHyO4

Demon Slayer: Kimetsu no Yaiba Official Website: https://kimetsu.com/anime/

LiSA Official Website: http://www.lxixsxa.com/

LiSA to Digitally Release Anime Version of Demon Slayer: Kimetsu no Yaiba Opening Theme 'Gurenge'

LiSA's new song Gurenge is used as the opening theme for the TV anime series Demon Slayer: Kimetsu no Yaiba. The full song was released digitally on April 22 with a CD version announced for July 3. It has now been revealed that the anime edit version of the track, which will be included with Limited Pressing Edition copies of the single, will also receive a digital release.

The decision to release the TV edit version of the track came after demand from anime fans who wanted both the full and short versions. The anime's ending theme from the edge by FictionJuncation feat. LiSA will also be released digitally on June 30 at midnight (JST).

Pre-orders for the digital version of the single will begin on June 22. It will feature 5 songs including Gurenge as well as the TV edit and an instrumental version.

LiSA is set to embark on a tour in Japan tour beginning on the same day as the single's release The title of the tour is "LiVE is Smile Always ~Gurenge~".

©Koyoharu Gotouge / Shueisha・Aniplex・ufotable

Information

Gurenge – Digital Version

Download Link: https://LiSA.lnk.to/gurenge

2019/6/22 @ Midnight (JST) – Gurenge full single pre-orders

2019/6/30 @ Midnight (JST) – Gurenge -TV ver.- digital release

2019/6/30 @ Midnight (JST) – from the edge -TV ver.- by FictionJunction feat. LiSA digital release

Gurenge – CD Release

Release Date: July 3, 2019

First Press Limited Edition (CD+DVD): ¥1,600 (Before Tax) [VVCL 1458~9]

Regular Edition (CD): ¥1,200 (Before Tax) [VVCL 1460]

Anime Limited Pressing Edition (CD+DVD): ¥1,600 (Before Tax) [VVCL 1461~2]

Digital Download: https://LiSA.lnk.to/gurenge

LiSA Official Website: http://www.lxixsxa.com/

Demon Slayer: Kimetsu no Yaiba Official Website: https://kimetsu.com/anime/