Sales of New Ujimatcha latte starts at "the AIRSTREAM GARDEN" in Omotesando
"Chushutsusha" which introduces the culture of Japanese tea to the world, has developed a new menu item of the demand center style café, "the AIRSTREAM GARDEN" named "Koini Ochiiru (fall in love) Ujimatcha Latte" released on the 6th of April (Fri.)
Hibiki Fujioka (barista) and Yuya Koyama (Japan's first "charista" – tea barista) developed "Chushutsusha" which is introducing the new café culture of Japan created based on the key word of "extracting technology." They decided to develop and sell "Ujimatcha Latte" at "the AIRSTREAM GARDEN" created based on the key word of "creating a new community by extracting our passion."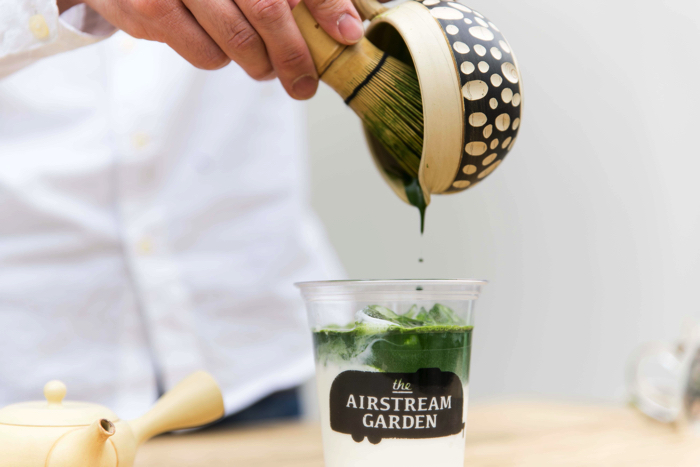 "Ujimatcha Latte" (550 yen – tax included) uses the single-origin matcha tea leaves produced in "Tsujiki," the tea producing farm family in Ujishi, Kyoto. It is a brand new Japanese tea which has a rich flavor that goes well with the taste of milk.
"the AIRSTREAM GARDEN" is also selling many other kinds of drinks and food items. Their original blend of coffee created by a professional roaster will be served in two ways (espresso and hand drip). The café latte created with their special espresso machines is one of the most popular menu items they sell! For those of you who want to enjoy the real taste of coffee we recommend you choose the hand dripped coffee.
The lunch box menu items produced by the catering service, "Mo:take" will be offered on a day-by-day basis. Both main and side dishes can be chosen at your own will and you can eat your food on the wood deck or you can takeout your order.
Why not spend a splendid time at "the AIRSTREAM GARDEN" which will sell some very special menu items?
■Information
the AIRSTREAM GARDEN
Address: 13-8, 4th Street, Jingumae, Shibuya-ku, Tokyo
Business hours: 11:00 to 18:00
TEL:03-6408-9085
Website:https://airstream-garden.com/
RELATED ENTRIES
Chibi Maruko-chan Themed Cafe Heading to Tower Records Cafe Omotesando

To celebrate the 30th anniversary of the Chibi Maruko-chan anime series, Tower Records Cafe in Omotesando is collaborating with the franchise to turn its establishment into all things Maruko-chan for a limited time from September 5 to 29. Also, 22 branches of Tower Records as well as the Tower Records online store will sell collaborative merchandise.

Maruko-chan's Hamburger Plate – ¥1,500

The hamburger plate will be served throughout the entire collaboration. Hamburgers are Maruko-chan's favourite meal, and this one is served with vegetables and a rice ball with her adorable face on it.

The collaboration will be split into two different periods with different food and merchandise line-ups. The food in the second period has yet to be unveiled, so we will take a look at some of the things for the first period.

Collaboration Period ①

Nagasawa-kun's Onion Soup Pasta – ¥1,500

Served with a whole onion, this soup seeped vongole pasta is inspired by the onion-head himself Nagasawa-kun.

Chi Chicken Sandwich – ¥1,500

This dish is  inspired by the scene in the anime series when Maruko fights with her sister over who gets to have a notebook as there is only one of them. When her sister claims ownership, Maruko proceeds to write "idiot" on the front cover while she's asleep and slips it back onto her bookshelf. This tuna mayo packed sandwich comes with a sandwich bag featuring the design of the notebook.

Noguchi-san's Birthday Cake – ¥1,200

Celebrate Noguchi-san's birthday (September 9) with this very special blueberry and milk crepe birthday cake.

30th Anniversary Melon Soda Float – ¥800

Topped with a dollop of ice cream and a cherry, the melon soda comes with a special 30th anniversary straw tag.

Chibi Maruko-chan Lattes – ¥700

The character lattes will have different character designs for each period as pictured above with the top row being the first collaboration and the bottom the second.

For every menu item ordered, customers will receive a random postcard. The postcards above feature the designs from the first collaboration period.

And the ones above here are those in the second.

And if you order a set of three items (food, drink and dessert), you'll receive an exclusive lunch mat. All of these items are first-come, first-served so you'll want to get to the cafe ASAP when it opens.

The exclusive merchandise takes on a music theme with original designs, from a towel to a tote bag and more.

Three t-shirts and a hoodie will also be sold exclusively at Tower Records Shibuya, Tower Records Shinjuku, Tower Records Cafe Omotesando, and the Tower Records online store.

Full information can be found on the official website below.

*All prices are tax-inclusive. Photos are for illustrative purposes only.

*Please enquire with shop staff about any food allergies.

ⒸSakura Production/Nippon Animation

Information

Chibi Maruko-chan x TOWER RECORDS CAFE

Running: September 5, 2019 – September 29, 2019

Period ①: September 5, 2019 – September 17, 201

Period ②: September 18, 2019 – September 29, 2019

*The menu line-up and free gifts will be different for each period

TOWER RECORDS CAFE Omotesando
Address: Imon Harajuku Bldg. 2F, 6-3-9  Jingumae, Shibuya, Tokyo

Opening Hours: 11:00-21:30 (Last Orders 20:30)
Official Website: http://tower.jp/restaurants/cafe/omotesando

*No reservations, however during busy times numbered tickets will be handed out. Details on numbered tickets will be announced on the cafe's official Twitter page: @TRC_Omotesando

Chibi Maruko-chan x TOWER RECORDS Collaboration Merchandise
Release Date: September 5, 2019 (*Pre-orders now open)
Available: At 22 Tower Records branches and the online store
Tower Records Online: https://tower.jp
Collaboration Page: https://tower.jp/chibimaru

Bubble Tea Gourmets THE ALLEY to Open Flagship Store in Shibuya's Dogenzaka District

Tea enthusiasts THE ALLEY are opening a flagship store in Dogenzaka, Shibuya on September 14, 2019.

THE ALLEY's main customers are women and office workers. It's custom for people to go out for a cup of coffee with friends and coworkers, but THE ALLEY hopes to bring that same idea of "grabbing a coffee" to tea with their drinks line-up. Located at the top of Dogenzaka, the new branch aims to make tea even easier to enjoy while embedding a culture of tea.

Enjoy a drink between shopping or work in one of their 73 comfy seats spread across two floors, or grab a takeaway cup to sip.

"THE ALLEY x thermo mug" 300ml Tumbler – ¥3,500 (Before Tax) / "THE ALLEY x thermo mug" 300ml Stainless Steel Bottle – ¥3,500 (Before Tax)

The cafe has also teamed up with thermo mug to create a seriously stylish tumbler and stainless steel bottle. Both are limited in availability, and if you do decide to grab one, you can get a coupon for one free drink of your voice. They are perfect for using at home, out or at the office.

THE ALLEY is known for its three tea bases: Assam, Royal No. 9, and Jasmine. But the new Dogenzaka branch will have two extra exclusives. The first is White Peach Oolong which originally appeared as a limited-time flavour and in the cafe's milk foam series. It's now a regular at the new cafe. The other is Tieguanyin, a premium oolong tea, whose sales ended in May this year. Due to high demand, they are bringing it back to THE ALLEY Dogenzaka and plan to put it on the menu of other branches in the future.

The cafe has also incorporated paper straws to help combat the use of single-use plastic straws. This includes their thick straws used for tapioca bubble tea drinks and ordinary thin straws for their regular teas.

THE ALLEY Dogenzaka marks the cafe's move from a tea stand into a full-fledged tea shop. If you're in Shibuya, be sure to pay them a visit when they open on September 14.

Information

THE ALLEY Dogenzaka

Grand Opening: September 14, 2019

Address: 1-19-11 Dogenzaka, Shibuya, Tokyo

Business Hours: 10:00-22:30

Official Website: http://www.the-alley.jp/

Top 13 Cream Sodas in Tokyo: Cool Yourself Down This Summer with Classic Drinks & Modern Beverages

Hey, MOSHI MOSHI NIPPON readers! I'm Banako of MOSHI MOSHI FRIENDS.

It's safe to say that most long-standing, older cafés in Japan serve cream soda. It's a drink that bellows with nostalgia, topped cutely with a dollop of ice cream and sparkling bright with vivid colour like some rare jewel.

It's a rather simple drink, but the number of people intrigued by its unique appearance are evidently on the rise. And I'm one of those people! I've had times where if it's available on the menu I want to order it-and further still I've gone out of my way to a café solely because I've wanted some cream soda.

Depending on the vibe and atmosphere of a café, the appearance of the cream soda will be different, which also means a different flavour. This is all part of the enjoyment of cream soda: it's fun to compare the different tastes.

I have made a long list of my most recommended cream sodas in Tokyo, all of which I have actually tried!

To make it easier to picture each drink I have also given a rating out of 5☆ stars for the strength of the fizziness, the sweetness of the soda, and sweetness of the ice cream. Use this as reference when picking your drink of choice. Enjoy this specially curated selection of drinks in cafés that you're going to want to snap lots of pictures of♡

①CAMPUS TOY cafe&bar

CAMPUS TOY is located in the Jinbocho district of Tokyo. This exciting little place has gone for an American pop vibe. They sell toys too.

The extra goodies they put in the cream soda here is influenced by the US too. The owner is a really interesting person, so much so that you end up losing track of the time as you get lost in conversation with them.

Fizziness:★★★★☆

Soda Sweetness:★★☆☆☆

Ice Cream Sweetness:★★★☆☆

CAMPUS TOY cafe&bar

Address: 2-10 Kanda-Jinbocho, Chiyoda Ward, Tokyo

Opening Hours: [Mon-Fri] 18:00-22:00

Closed: Weekends & Public Holidays

Access: 2-minutes on foot from Jinbocho Station's A2 Exit

TEL: 03-3261-7383

Instagram: https://www.instagram.com/campustoy_matz/?hl=ja

②Café Negura

This little-known-good-spot can be found in Shimokitazawa. The café interior has relaxed and retro décor. Their cream soda is served with two stacks of ice cream and a crown of whipped cream topped off with a cherry. What a cute-looking drink!

Fizziness:★★★☆☆

Soda Sweetness:★☆☆☆☆

Ice Cream Sweetness:★★★★☆

▶︎ Café Negura

Address: PACKAGE ONE Floor 1F (North Side), 2-26-13 Kitazawa, Setagaya Ward, Tokyo

Opening Hours: 11:30 ー 20:00

Closed: Mondays & Tuesdays

Access:152m walk from Shimokitazawa Station

Twitter:https://twitter.com/neguracafe_mi

③Sepia

Another retro-style café, except this one is specifically influenced by the Showa period . Situated in Shibamata, everything about this café, from the outside to the interior, breathes retro-Showa. On the second floor is the Candy Candy Museum.

Their cream soda is the quintessential classic cream soda…but with a twist. It has mikan in it, a type of orange, which is very rare with cream sodas. That gives off a retro-ness too. Another cute beverage!

Fizziness:★★★☆☆

Soda Sweetness:★★☆☆☆

Ice Cream Sweetness:★★★☆☆

▶︎ Sepia

Address: 7-4-11 Shibamata, Katsushika Ward, Tokyo

Opening Hours: 10:00-18:30 (Last Orders 18:00

Closed: Tuesdays & Wednesdays

Access: 2-minutes on foot from Shibamata Station (Accessed via the Keisei Line)

Instagram: https://instagram.com/sepiamama?igshid=1urnwdix23qbx

④ALL C'S CAFE

ALL C'S CAFE is in Koenji, the retro hub of Tokyo. Decorations of cute bears are what this café is all about. There are enormous life-sized bears everywhere, so you can get ready to snap some seriously kawaii pictures.

The café itself, as well as the adorable smiley bear on your cream soda, is sure to elicit some high-pitched "Aww's."

Fizziness:★★★☆☆

Soda Sweetness:★★☆☆☆

Ice Cream Sweetness:★★★★☆

▶︎ALL C'S CAFE

Address: Miyake Bldg. 2F, 3-25-24 Koenji, Suginami Ward, Tokyo

Opening Hours: 12:00-22:00

Closed: No Fixed Holidays (except Obon and New Year's Holidays)

Access: 5-minutes on foot from the north exit of Koenji Station (Accessed via the JR Chuo Line)

Website: http://www.allcscafe.com

⑤Café Hosekibako

Hosekibako, which means 'jewelry box' in Japanese, is right next to Chitose-Karasuyama Station. Retro vibes waft their way throughout this cozy little hideaway with the littering of Showa manga and other miscellaneous odds and ends.

This café too has the signature classic cream soda. It has a transparent appearance in its truly beautiful colour.

Fizziness:★★★☆☆

Soda Sweetness:★★★☆☆

Ice Cream Sweetness:★★★☆☆

▶︎ Café Hosekibako

Address: Koyama Mansion 102, 4-18-18 Minamikarasuyama, Setagaya Ward, Tokyo

Opening Hours: 12:00-18:30 (Last Orders 18:00)

Closed: Wednesdays

Access: 5-minutes on foot from the east exit of Chitose-Karasuyama Station (Accessed via the Keio Line)


Website: https://housekibako.wixsite.com/2009

⑥THE GREAT BURGER STAND

This hamburger shop sells an American-style cream soda, topped with swirly ice cream rather than cream soda's classic dollop. That, together with the huge glass it's served in, is enough to get you excited before you even take a sip. The café can be found in Shibuya Stream, meaning you can stop by for a breather after shopping.

Fizziness:★★★★☆

Soda Sweetness:★★☆☆☆

Ice Cream Sweetness:★★★★☆

▶︎THE GREAT BURGER STAND

Address: Shibuya Stream 1F, 3-21-3 Shibuya, Shibuya Ward, Tokyo

Access: 1-minute on foot from Shibuya Station via the JR Yamanote Line 

Opening Hours: 11:00 ー 23:00 (Last orders:  22:30)

Closed when Shibuya Stream is closed.

Access: Approx. 1-minute walk from Shibuya Station (JR Yamanote Line)

Instagram: https://www.instagram.com/the_great_burger/

⑦Coffee Shop Galant

Right beside Ueno Station you'll find Galant, a coffee shop also with an air of retro-Showa to it during the bubble economy period. You'll feel like you've been transported back in time when you see the dazzling décor and the staff uniforms. Peeking through the see-through liquid is a cute red cherry♡

Fizziness:★★★★☆

Soda Sweetness:★★☆☆☆

Ice Cream Sweetness:★★★☆☆

▶︎ Coffee Shop Galant

Address: 6-14-4 Ueno, Taito Ward, Tokyo

Opening Hours: 8:00-23:00

No Fixed Holidays

Access: Directly behind the toy store Yamashiroya (山城屋), just a two minute walk from JR Ueno Station. Also 1-minute on foot from exit 5b of Ueno Station (accessed via the Tokyo Metro Line and Hibiya Line)

Tabelog: https://www.google.co.jp/amp/s/s.tabelog.com/tokyo/A1311/A131101/13039759/top_amp/

⑧bio ojiyan cafe Harajuku

Ojiya, also known as zosui, is a type of Japanese rice-based vegetable soup. In my opinion, the ojiya served here is the tastiest in the world! Their cream soda comes in a large round cup and is a nice refreshment after a spot of ojiya.

Fizziness:★★★★☆

Soda Sweetness:★★☆☆☆

Ice Cream Sweetness:★★★★☆

▶︎bio ojiyan café

Location: 4-26-28 Jingumae, Shibuya, Tokyo

Opening Hours: 11:00-20:00

No Fixed Holidays

Access: 10-minutes on foot from JR Harajuku Station / 3-minutes on foot from the Jingumae Crossing ticket gate elevator exit of Meiji-Jingumae Station (Accessed via the Tokyo Metro Fukutoshin Line)

Website: http://mfs11.com/brand/bio-ojiyan-cafe-harajuku/

⑨PEPPERS DRIVE IN

The main dish at this Kanagawa-based restaurant is curry. Every single thing about PEPPERS DRIVE IN is influenced by retro US elements, from the car park to the nooks and crannies inside and even the trays. You can take some really cute photos literally anywhere in the restaurant. The cream soda portion stays true to the American taste too with a generous serving.


Fizziness:★★★☆☆

Soda Sweetness:★★☆☆☆

Ice Cream Sweetness:★★★☆☆

▶︎PEPPERS DRIVE IN 

Address: 1129-1 Kidokoro, Hiratsuka, Kanagawa

Opening Hours: Lunch 11:30-15:00 (Last Orders 14:45) / Dinner 18:00-22:00 (Last Orders 21:30)

Closed: Wednesdays (Except on public holidays, in which case closed the following day)

Access: 6-minutes by taxi from south exit of Isehara Station (Accessed via the Odakyu Odawara Line) / 16-minutes by taxi from the north exit of Hiratsuka Station (Accessed via the JR Tokaido Main Line)

Official Website: http://www.peppers.co.jp

⑩BRIDGE

I reviewed the melon bread pancakes at this Ginza-based café earlier this year. It's located inside a long-standing department store meaning the cream soda here has been around for a long time too, offering a more traditional taste. They are served on coasters which you can take home with you. It's a great place to stop off for a break when strolling around Ginza.

Fizziness:★★☆☆☆

Soda Sweetness:★★★★☆

Ice Cream Sweetness:★★★☆☆

▶︎BRIDGE

Address: NISHIGINZA Floor B1F, 4-1 Ginza, Chuo Ward, Tokyo

Business Hours: [Monday-Saturday] 11:00-20:30 (Last Orders 20:00) / [Sunday & Holidays] 11:00-20:00 (Last Orders 19:30)

Closed: When NISHIGINZA Department Store is closed.

Website: http://www.nishiginza.co.jp/page/shopguide/detail/?id=33

⑪HIROMAN'S COFFEE

Another snug hideout, situated in the backstreets and surrounded by trees, is HIROMAN'S COFFEE. This cute café has lots of antique picture frames, rabbit ornaments, and other tidbits. Their melon soda arrives in a cute round and plump glass. They plenty of other Instagrammable drinks too including one topped with cotton candy. This one is one to keep coming back to!

Fizziness:★★★★☆

Soda Sweetness:★★☆☆☆

Ice Cream Sweetness:★★★☆☆

▶︎ HIROMAN'S COFFEE

Address: 3-18-12 Jingumae, Shibuya, Tokyo

Opening Hours: 11:00-19:00 (Last Orders 18:30)

No Fixed Holidays

Access: 10-minutes on foot from Meiji-Jingumae Station

Instagram: https://instagram.com/hiromans_coffee?igshid=oumb3g7aergo

⑫ blikje button

⑫blikje button

blikje button in Shimokitazawa, which offers both a café and dining experience, has a vintage vibe to it with decorations that have a handcrafted feel to them.  The glasses the cream sodas come in match that aesthetic. The stroking colours of the sodas are something beautiful to behold!

Fizziness:★★★★☆

Soda Sweetness:★★☆☆☆

Ice Cream Sweetness:★★★☆☆

▶︎blikje button

Address: Shimokitazawa Central Bldg. 2F, 2-14-7 Kitazawa, Setagaya Ward, Tokyo

Opening Hours: 12:00-23:00 (Lunch 12:00-16:00/Café 12:00-18:00/Dinner 17:00-23:00) *Food last orders 22:00, drink last orders 22:30

No Fixed Holidays

Access: 2-minutes on foot from Shimokita Station via the Odakyu Line / 2-minutes on foot from the south-west exit of Shimokitazawa Station via the Keio Inokashira Line

Website: http://www.blikje-button.com/

⑬CAROLINE DINER

CAROLINE DINER is a famous café in Harajuku inspired by American diners. The cream sodas sold here are striking and nothing short of Instagram-worthy! They go perfectly with the stylish interior of the café that you'll no doubt find yourself taking photos.

Fizziness:★★★☆☆

Soda Sweetness:★★★☆☆

Ice Cream Sweetness:★★★☆☆

▶︎CAROLINE

Address: 2-14-11 Jingumae, Shibuya, Tokyo

Opening Hours: 12:00-18:30 (Last Orders 18:00)

Closed: Thursdays

Access: 10-minutes on foot from Meiji-Jingumae Station / 10-minutes on foot from Kita-Sando Station / 10-minutes on foot from Setagaya Station

Website: http://caroline1.theshop.jp/

And that's all from me Banako and my must-try recommendations for Tokyo cream soda. Do you have a favourite from this list?

Tokyo's summer is nowhere near over yet. How about treating to yourself to a nice refreshing cream soda to cool yourself down from the scorching heat?

Kyoto's Sweet and Salty Matcha Cheese Tea is an Enlightening Flavour Discovery

Kiyomizu Cheese Kobo opened at Kiyomizu Gojozaka at the foot of the famous Kiyomizudera Temple as Kyoto's first ever cheesecake shop to sell its delicious cheesecakes in a cute jar. On August 13, they released a mouthwateringly rich Matcha Cheese Tea which will enlighten you with a new way to enjoy matcha.

The Matcha Cheese Tea harnesses Kyoto's unbeatable Uji matcha which is full of rich and fresh flavour. A light cloud of fluffy cheese foam floats on top of the drink, adding a salty accent to the overall flavour. A traditional tea combined with a sweet and salty cheese flavour ー this brand new flavour discovery will leave you feeling refreshed and enlightened. The recipe for the cheese foam consists of cream cheese carefully selected by the cheesecake shop's specialists. This is then blended with a small amount of salt to accent the flavour. 

If you mix the matcha milk tea with the cheese foam, the rich matcha mixes with the saltiness of the cream cheese, creating a sweet salty flavour that you will not be able to get enough of. As the flavour is not too overpowering, you can enjoy this drink endlessly and will feel refreshed even on a hot summer's day. 

Matcha Cheese Tea: ¥460

Kiyomizu Cheese Kobo recommends three different ways to drink the Matcha Cheese Tea to enjoy three different levels of flavour combinations. 

① First off, drink just the matcha milk tea so you can experience the true authentic flavour of Kyoto's famous rich Uji matcha tea. 

② Next, move your straw so that you taste just the cheese foam on its own. The fluffy foam will gently slide over your tongue and spread a mild and sweet flavour all over your mouth. 

③ Finally, it's time to mix everything. The saltiness of the cheese foam and the sweetness of the matcha milk will create a new salty sweet flavour that you will want to try again and again.

Whether you are a Japanese local or a foreigner, this drink is a fun new way to enjoy matcha. If you are new to matcha, this is a good way to try the flavour without being too overwhelmed. 

Information

Kiyomizu Cheese Kobo (清水チーズ工房)

Address: 569-10, Shiraitocho, Higashiyama Ward, Kyoto City, Kyoto

Opening Hours: 11:00 ー 17:30

No fixed closed days.

Official Website: http://kiyomizu-cheese.com/

Haneda Airport Releases First Bubble Tea Which Passengers Can Enjoy as They Fly

XFLAG STORE + HANEDA is a small branch of XFLAG STORE and is located in Terminal 1 of Haneda Airport. On August 13th, they released three energising bubble tea flavours served in a bottle that you can take on board with you when travelling along domestic air routes. The three bubble tea flavours are; MILK TEA, HOJICHA (a type of green tea) and MATCHA. 

These bubble tea flavours are limited to XFLAG STORE + HANEDA and were created with the intention of providing a splash of energizing fun to tiresome travels. 

As long as you screw the lid on properly, you can store your delicious drink in your bag and even carry it onto your flight so you can enjoy it whilst soaring through the clouds. This is the first time a shop at Haneda airport has ever sold a bubble tea drink with the intention of flight passengers taking it on board with them.

*Drinks and liquids are usually permitted on domestic flights in Japan. Please check the specific rules of your flight by referring to the official website of your airline. 

To commemorate the release of the new bubble teas, XFLAG STORE + HANEDA has launched an Instagram campaign with the chance to win an Amazon gift card worth ¥10,000 (approx. 80GBP/95USD). 

To take part in the Instagram campaign for the chance to win a ¥10,000 Amazon gift card, be sure to take a photo with your XFLAG STORE + HANEDA bubble tea drink and then post the picture on Instagram with the following three hashtags:

#旅タピ #タピオカ #空の上で飲めるタピオカドリンク

Four winners will be selected.

Get your summer holidays off to a soaring start with a beautiful bottle of bubble tea. 

Information

MILK, HOJICHA, MATCHA Bubble Teas

Price: ¥650 (before tax)

Release Date: August 13, 2019 

Available at: XFLAG STORE + HANEDA 

Address: Haneda Airport Terminal 1 South Wing, floor 3 (3-3-2 Haneda Airport, Ota Ward, Tokyo)

*Bubble teas sold may differ in appearance to the images in this article. 

* The MILK Bubble Tea (cup) is also available at XFLAG STORE SHINSAIBASHI. Both the HOJICHA and MATCHA Bubble Tea flavours are limited to XFLAG STORE + HANEDA.

XFLAG STORE Portal Website: https://xfl.ag/soratapi

Sold Out On Day One―Itohkyuemon's Matcha Parfait Bars Release at Gion Shijo Store

Kyoto-based Uji tea store Itohkyuemon released its new Matcha Parfait Bars at its new branch in Gion Shijo on August 7.

The bars proved so popular that all 1,500 in stock sold out on the first day. The store is currently being piled with orders for future sales. There are five flavours to enjoy: the classic matcha parfait flavour as well as cherry blossom, tropical, mont blanc, and strawberry.

Matcha Parfait Bar – Matcha

The matcha flavoured bar retains the original rich flavour of the Uji matcha, which has been passed down since the Muromachi period, and combines it with a delicious assortment of parfait toppings including raw matcha chocolate, mini daifuku, coarse sweet red bean paste, and more.

Matcha Parfait Bar – Sakura (Cherry Blossom)

For another traditional Japanese twist there is the springtime sakura parfait bar which is made with cherry blossom pink rice flour dumplings and ice cream. It's also topped with cherry blossom cream and salted cherry blossom petals for a cute finish.

Matcha Parfait Bar – Tropical

Tropical flavours like pineapple and mango blend together in this bar which is drizzled in a sweet, sour and refreshing tropical sauce. Topped with fresh tropical fruits, this is the ultimate summertime luxury.

Matcha Parfait Bar – Mont Blanc

This bar incorporates a sense of autumn with its mix of candied chestnut, astringent chestnut skin, and melt-in-the-mouth mont blanc cream.

Matcha Parfait Bar – Strawberry

Strawberry lovers will delight in the handmade strawberry sauce and strawberry meringue of this bar. The meringue elevates the sumptuous flavours of the parfait even more, including the fresh strawberry, raspberry and blueberry toppings which provide a sweet and sour kick.

Which of these Matcha Parfait Bars do you want to try the most?

Information

Matcha Parfait Bars

Released: July 10, 2019 (On August 7, 2019 at the Gion Shijo branch)

Prices

Matcha Parfait Bar – Matcha: ¥540 (Tax Included)

Matcha Parfait Bar – Sakura (Cherry Blossom): ¥590 (Tax Included)

Matcha Parfait Bar – Tropical: ¥590 (Tax Included)

Matcha Parfait Bar – Mont Blanc: ¥590 (Tax Included)

Matcha Parfait Bar – Strawberry: ¥640 (Tax Included)

Participating Branches: Uji Honten, JR Uji Station, Gion Shijo, Byodoin, Kyoto Station, and online shop

Online Shop Product Page: https://www.itohkyuemon.co.jp/site/parfait-bar/index.html

Fate/Grand Order Themed Cafe to Open in Omotesando

The third run of the Fate/Grand Order themed cafe, with designs produced by Sanrio, will take place at OMOTESANDO BOX CAFE&SPACE from September 5 to 29.

Fate/Grand Order is a popular online free-to-play RPG developed by Delightworks for smartphones and is based on the Fate/stay night franchise by Type-Moon. The story has continued to evolve since its released in July 2015, and as of July 2019, it has been downloaded more than 1.7 million times. A TV anime adaptation is slated for release in October 2019 and an anime film is in production for 2020.

This marks the third opening of this limited-time cafe, the previous two having taken place in December 2017 and August 2018 respectively. This year sees the introduction of new Servants as well as an all-new menu with the theme "Autumn tea room." Exclusive merchandise featuring designs of the Servants will also be available for fans to pick up.

When you book a table in advance (¥650 before tax per person) and order from the menu you'll receive one of the above possible 16 lunch mats.

And if you order a drink you'll get one of the 16 coasters. You'll get one of either piece of this original merchandise per item you order from the menu.

Menu Line-Up

Master & Mash Snow Field Meatballs – ¥1,490

This dish is piled with filling sauteed meatballs and mushrooms. The cream sauce is made to look like a snowy field. It's served with a side of jam for a succulent sweet and sour kick.

Romani & Vinci Waffle Sandwiches – ¥1,590

Waffles turned from desserts into a real meal, packed plump with chicken and cheese and served with a side of fries.

Gilgamesh & Merlin Afternoon Tea Set – ¥1,690

This gorgeous assortment of finger food includes cute cupcakes topped with Gilgamesh and Merlin. Enjoy together with a nice cup of tea.

Brynhildr & Sigurd Croquembouche Parfait – ¥1,390

Croquembouche is often served at weddings in Italy at France. Here, it has been turned into an easy-to-eat parfait. It's topped with salt ice cream, yogurt mousse and more, all in refreshing colours.

Fruit Tea (5 Flavours) – ¥790 Each (Male Master / Female Master / Mash / Romani / Da Vinci)

Matcha Milk Float (3 Flavours) – ¥790 Each (Okita / Ryoma / Izo)

Original Merchandise

Acrylic Key Rings (16 Designs – Chosen Randomly) – ¥650

Folder Set of 2 – ¥750

There are even more items on the menu as well as merchandise to look forward to at the cafe. Head to Omotesando and enjoy a beautiful autumn with the Servants!

 © TYPE-MOON / FGO PROJECT

*All prices listed are pre-tax. Photos are for illustrative purposes only.

Information

Fate/Grand Order Design produced by Sanrio – 3rd Collaborative Cafe

Running: September 5, 2019 – September 29, 2019

Location: OMOTESANDO BOX CAFE&SPACE (Pine Under Flat Floor B1F, 5-13-2 Jingumae, Shibuya, Tokyo)

Official Website: https://fgo-sanrio-cafe.jp/

*Reservations now open via the official website

Shop in Harajuku & Omotesando With a Takeout Dessert From Q-pot CAFE

The real summer is here now, and what better way to cool yourself off during your shopping spree in Harajuku and Omotesando than with a cool and refreshing takeout dessert from Q-pot CAFE?

Melty Mousse (Peach x Apricot Seed) – ¥500 (Tax Included)

Q-pot CAFE's Melty Mousses are encased in an adorable jar. This one is a heavenly mix of fruity peach mousse and a smooth apricot kernel milk mousse. Laced in the peach mousse is a divine blend of raspberries and lychees. The subtle sweetness of the peach coupled with the sourness of the raspberries and refreshing taste of the lychees make this dessert a perfect summer pickup. Also hidden within the delicious mix are pieces of fresh and juicy peach.

Melty Mousse (Mint x Chocolate) – ¥500 (Tax Included)

This summer sees the return of Q-pot CAFE's popular mint chocolate mousse. Chocolate and mint are always an exquisite combination, and this mousse mix proves it, fusing rich chocolate with a cool mint kick. The cute melty-looking mint chocolate at the top also gives it an appetising appearance.

Cat Ice Creams – ¥600 Each (Tax Included)

Also returning once more this summer are Q-pot CAFE's adorable cat ice creams, a mix of ice cream and various toppings. Choose from strawberry, vanilla or chocolate.

All of these desserts will be available to buy from August 5. They are all super cheap and are perfect for getting for takeout and walking around Harajuku and Omotesando. Be sure to stop by if you're planning a shopping trip there this summer break.

Information

Melty Mousse

Release Date: August 5, 2019

Price: ¥500 (Tax Included)

Available: Q-pot CAFE Omotesando (3-4-8 Jingumae, Shibuya, Tokyo)

Cat Ice Creams

Release Date: August 5, 2019

Price: ¥600 (Tax Included)

Available: Q-pot CAFE Omotesando (3-4-8 Jingumae, Shibuya, Tokyo)

Q-pot CAFE Official Website: https://www.q-pot.jp/shop/cafe/

Moomin Stand in Asakusa Releases Strawberry Daifuku Milk Drink

On July 16 this year, a new branch of Moomin Stand―a drinks shop inspired by the Finnish children's books The Moomins―opened in Asakusa, one of the most popular tourist spots in Tokyo.

Moomin Stand serves original fruity beverages, drinks with rich milk bases and more, all with chewy tapioca-like pearls.

Moonmin Stand is produced by Moomin Café. The first branch opened in Kichijoji and proved popular with women in their 20s and 30s, high school and university students, and families with children. It continues to enjoy flurries of customers; you're guaranteed to be lining up on weekends.

Strawberry Daifuku Milk – ¥700 (Before Tax)

The newly-released Strawberry Daifuku Milk drink is exclusive to the Asakusa branch. Its mix of sweet and sour strawberry flavour with the chewy pearls gives a texture reminiscent to daifuku, a traditional Japanese confection which takes mochi and stuffs it with a sweet filling. The drink has a delicious white bean paste base and is topped off with fresh pieces of strawberry.

The café interior is decorated with beautiful illustrations from The Moomins making for plenty of great photo opportunities. There is also a bar to lean on as well as spaces on the wall to rest your back on to relax with your drink after walking around.

All drinks also come with a cute Hattifattener straw toy that bites onto straws and pens which you can take home with you.

After you've taken a stroll around Asakusa and seen the Kaminari gate, Nakamise Shopping Street and Sensō-ji temple, why not stop off at Moonmin Stand for refreshments?

Information

Moomin Stand Asakusa

Address: 1-1-12 Asakusa, Taito Ward, Tokyo

Opening Hours: 11:00-19:00
Moomin Stand Branch List: http://www.benelic.com/moomin_cafe/moominstand/

Stawberry Daifuku Milk (Cold)
Price: ¥700 (Before Tax)
Released: July 16, 2019
*Comes with Hattifattener straw toy

Vegan Bubble Tea Arrives at Harajuku's BOTANIST Tokyo Tea Stand

For the whole month of August, the BOTANIST Tokyo tea stand in Harajuku is serving two different tapioca bubble tea beverages. Just 100 of each will be sold each day.

The two delicious drink flavours include "Butterfly Pea Soy Milk Tea" and "Matcha Milk Tea." Both beverages are made with high quality tapioca pearls from bubble tea store Bull Pulu who serve up Taiwanese pop culture with their tasty menu.

Vegans shopping in Tokyo's Harajuku and Omotesando areas will be excited to try the vegan-friendly Butterfly Pea Soy Milk Tea. Both of the drinks are also sold in eco cups and come with paper straws.

Tapioca Butterfly Pea Soy Milk Tea – ¥600 (Tax Included)

The vegan-friendly option is a combination of bright and colourful butterfly pea tea and soy milk. It's laced with a tropical coconut syrup for enhanced flavour.

Tapioca Matcha Milk Tea – ¥600 (Tax Included)

The matcha milk tea is a combination of rich and smooth matcha foam and milk. It's mixed with a fragrant hazelnut syrup.

Both drinks are takeout only and are available to buy on the first floor. If you fancy a little refreshing drink while strolling through Harajuku then be sure to visit BOTANIST Tokyo.

Information

BOTANIST Tokyo

Address: 6-29-2 Jingumae, Shibuya, Tokyo (Shop – Floor 1F / Cafe – Floor 2F)
Business Hours: 11:00-20:00
Official Website: https://botanistofficial.com/shop/

Stone Oven Cooked Burgers Served at New Ishigamaya GOKU BURGER in Omotesando

Stone oven hamburger chain Ishigamaya Hamburg has opened its first global flagship branch Ishigamaya GOKU BURGER in Omotesando. The restaurant will be open for a limited-period of 2 years.

The classic hamburger is made from 100% ground beef, but at Ishigayama Hamburg they serve what is known as the "Hamburg Steak," a mix of onions, spices, breadcrumbs, milk and other ingredients in the patty. It's a popular dish in Japan alongside ramen and tonkatsu.

We visited Ishigamaya GOKU BURGER to see what a hamburger tastes like at a place that specialises in juicy, stone oven cooked Hamburg Steak.

The restaurant faces Omotesando Hills. It's in the same building as Heiroku Sushi on the second floor. It's very easy to spot with its big sign that reads "GOKU BURGER."

The cosy burger joint has a casual atmosphere to it, lit up by its many variations of lamps.

From the big windows you can look down onto the the streets of Omotesando.

From your table you can see the large stone ovens which cook the famous Hamburg Steak. The smell is incredible.

I ordered the ¥1,450 Avocado Cheeseburger. It looks really cool with the knife stuck through it. You can choose from three different sauces to coat your burger: Original, Teriyaki and the Chef's Special. I went with Original.

Time to tuck in! But before that, you've got to put on the gloves provided by the restaurant which come with every burger. So what explains why the sauce is served in a separate tray! The fact you get your own gloves is a great idea since it means it'll keep your hands nice and clean so you won't get grease all over them.。

The meat is succulent and extremely juicy. The burger juices and sauce blend together to make a really delicious flavour which make you just keep on dipping.

The hamburgers are made with red meat that has only a little fat content, with each burger formed by hand individually. And by cooking them in a stone oven it means the burger will cook evenly and all at once, sealing the flavours and juices in even more compared to infrared cookers. The buns too have an amazing taste and are nice and fluffy.

The potato fries are round rather than long and thin. They don't go soggy and go amazingly with the sauce too.

The ¥1,580 BLT Burger looks tasty too, it's packed full of colourful ingredients.

When you order the ¥1,380 Premium Hamburg Steak Regular Set they pour the sauce over for you, so I had to take a photo. The thick steak is crispy on the outside and soft on the inside so it maintains its juiciness.

If you love burgers then you'll definitely want to pay a visit to Ishigamaya GOKU BURGER to try a burger like no other.

Visiting Shibuya's Candy Apple Store | Food Review

Hello everyone! This is Midori from MOSHI MOSHI NIPPON.

Candy apples are the staple food of summer festivals. A crunchy candy coating and a sweet, fruity apple is such a divine combination. It can be quite difficult to find candy apples outside of festivals. That's where Candy Apple steps in. This is a brand new shop on the block that specialises in candy apples!

This is located just a five-minute walk from Shibuya Station's west exit. If you check out their saved Instagram story, you probably won't get lost. During the weekdays and on Saturdays, this is an Italian restaurant called Buonappetito. On Sundays, when the restaurant is closed, it transforms into a candy apple shop.

The shop interior is gorgeous.

Plain: ¥600

I ordered the plain apple without wasting any time. This is much larger than what you would usually get at a festival. Although these are usually eaten by immediately sinking your teeth in and biting out a big chunk, you can cut your apple here and enjoy it at your own pace. 

After taking your first bite, you will realise just how different this is to your normal candy apple. The apple is coated in a thin layer of candy, creating a delicious crunch. The apple is fresh, juicy and sweet. Some candy apples are made with mushy apples that are not fresh, however these apples are extremely fresh and delicious right to the last bite. 

These candy apples are full of a variety of flavours.

Cinnamon Sugar: ¥600

The apple with the dusting of beige-coloured powder is cinnamon-flavoured. The sweet cinnamon scent spreads everywhere as soon as you set it on the table. The sweet flavour of the apple and the fragrant cinnamon is a match made in heaven. 

Cocoa: ¥600

The apple covered in the brown powder is cocoa-flavoured. The slightly bitter flavour of the chocolate is a perfect match for the sweet apple. The colour contrast between the brown chocolate and white apple is also beautiful. ♪

Matcha: ¥600

The apple with the green powder is matcha as you may have already guessed! The flavouring of the Uji matcha used for this apple was carefully balanced to maximise the flavour when combined with the apple. After you take your first bite, you just won't be able to stop. 

Blueberry Yoghurt: ¥600

The bright white dusting on this blueberry yoghurt-flavoured apple is beautiful. The blueberry scent is mild and is perfect with the yoghurt.

Black Cocoa: ¥600

The pitch black colour of the Black Cocoa Candy Apple is very appetizing. The black cocoa is even more bitter than the cocoa apple, which really brings out the flavour of the sweet apple even more.

You can even get chocolate fondue for your candy apple (¥400). By adding the fairly bitter chocolate to your candy apple, you can enjoy three different kinds of sweetness when it mixes with the chocolate, candy and the apple. 

You can even order your candy apple to go, making it the perfect summer souvenir. Taking it home to enjoy is also another wonderful way to make the most of your experience. 

This candy apple shop is only open on Sundays, but you can order to take away on other days. 

This is a flavour that a festival candy apple will never be capable of offering. You can tuck into your apple inside the beautiful shop, or take it home to enjoy at home at your own pace. 

Information

Candy Apple

Address: Nomura Building 1st floor, 7-12, Sakuragaocho, Shibuya, Tokyo

Opening Hours: 11:00-20:00 (Open every week on Sundays only)

*Only the Italian restaurant Buonappetito is open on weekdays.

Instagram: https://www.instagram.com/candy_apple_369/