Ace Hotel Makes Japan Debut With Ace Hotel Kyoto Opening in Late 2019
Ace Hotel has partnered up with NTT Urban Development Corportation to open Ace Hotel Kyoto towards the end of 2019. The hotel will mark the first Ace Hotel to be established in Asia.
Ace Hotel is a hotel chain that opened its first branch in Seattle in 1999. To date, the company manages 9 hotels across the US and UK. Not only will Ace Hotel Kyoto be the first establishment in Japan – it will be the first ever to open its doors in Asia.
Ace Hotel is great for its attention to detail in the little things, maintaining a comfortable environment across its branches, each of which come with their own particular designs. But the hotels aren't just limited to accommodation. They also work together with the local areas and businesses to create a social hub for local communities. That concept and the designs have influenced hotels across the globe, and they continue to create major trends in the industry.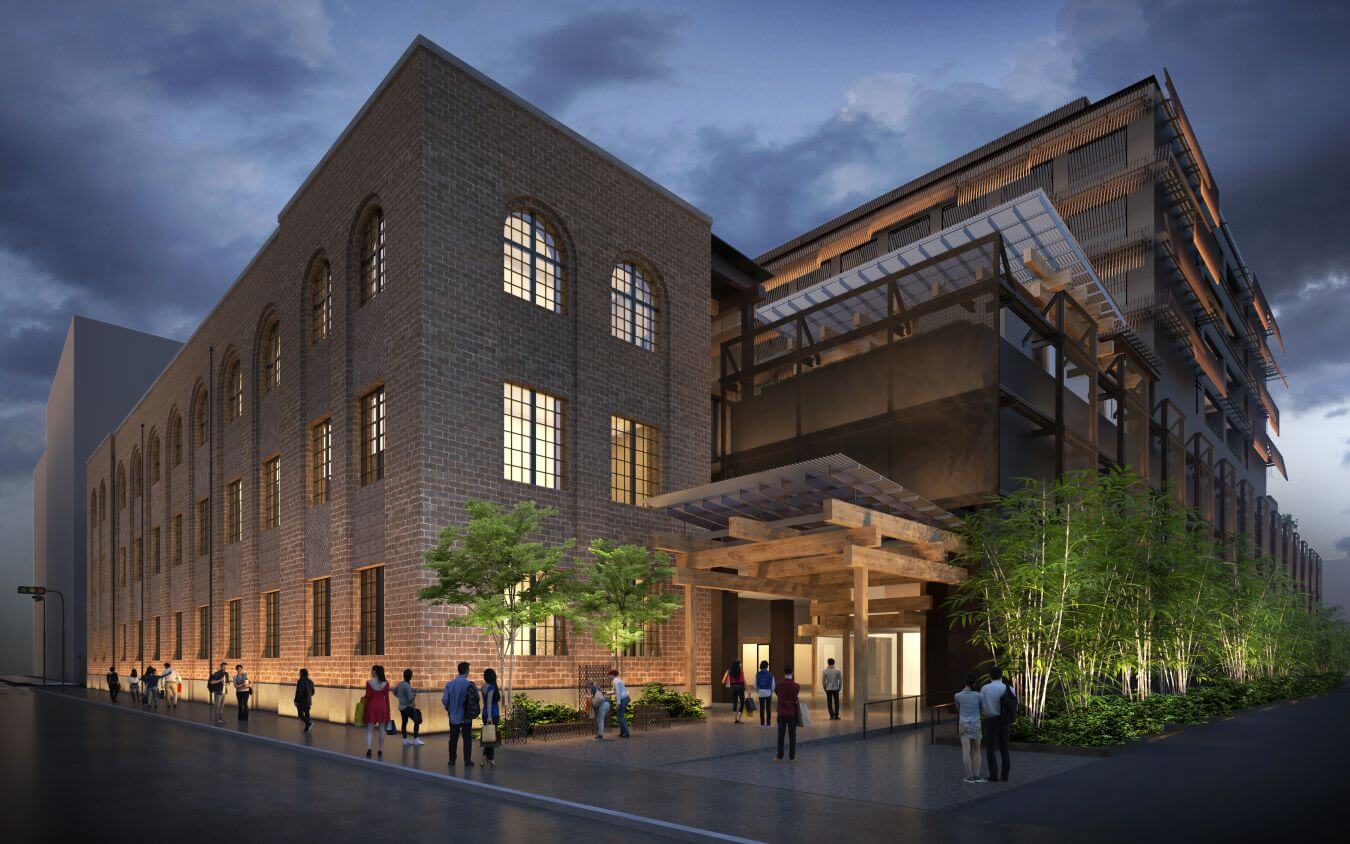 Ace Hotel incorporates traits and characteristics from each location of its hotels, offering unique designs, promoting culture through collaborations with regional communities and companies, and working to stimulate the area.
Then you have Kyoto, a place home to countless hotels known internationally as a famous sightseeing location with historical architecture that has stood the test of time since the Taisho Period. Ace Hotel Kyoto aims to be a place for travellers around the world as well as locals to come together.
Brad Wilson, Ace Hotel Group President
"It's been our long-standing dream to put down roots in Japan. We feel incredibly humbled and grateful to work with such well-respected and admirable partners as NTT Urban Development Corporation and Kengo Kuma to make our dreams a reality, creating a space that honors the beauty and history of Kyoto while fostering global connection and cultural innovation."
Be sure to stay up to date for future updates on Ace Hotel Kyoto.
RELATED ENTRIES
Wine and Dine at Four Seasons Hotel Kyoto's Luxurious New 'Champagne Garden'

Four Seasons Hotel Kyoto opened its limited-time "Champagne Garden" on July 3 at its first floor outdoor terrace restaurant Brasserie. Running until September 6, customers can enjoy free-flow French Bollinger champagne and cocktails.

Four Seasons Hotel Kyoto opened back in October 2016 as a luxury hotel, home to the famous Sekisuien Gardens which have a history spanning back 800 years and are mentioned in the The Tale of the Heike epic. The hotel's first floor restaurant Brasserie has towering 9-meter tall windows that look out onto these gardens, while inside customers can enjoy dining in a stylish environment.

The champagne served in the Champagne Garden is produced by the French Champagne house Bolligner, a company that started by Jacques Bollinger in 1829. Fermented in oak barrels, the champagne has sophisticated and complex flavours. In 1884, Bolligner received a Royal Warrant from Queen Victoria.

At the Champagne Garden, guests can enjoy four different types of canapé made by the restaurant's head chef Koga together with a glass of Bolligner. They can also order rosé wine, cocktails, or soft drinks too, all of which are free-flow. And since the restaurant faces the garden, guests can enjoy the view of the greenery throughout all four seasons, in central Kyoto.

Four Seasons Hotel Kyoto reopened on July 1 after closing temporarily due to COVID-19. The hotel has launched its "Lead With Care" program which ensures guests and staff are at the top of the priority list for safety against the coronavirus.

Information

Four Seasons Hotel Kyoto – Champagne Garden
Running: July 3, 2020 – September 6, 2020

Location: Brasserie, Four Seasons Hotel Kyoto Floor 1F

Address: 445-3 Myōhōin Maekawachō, Higashiyama-ku, Kyoto
Time: 11:00-20:30
Price: ¥8,800 per person (90 minute window)
*15% service charge and 10% consumption tax charged separately

*Booking in advance recommended

TEL:  075-541-8288

Official Website: https://www.fourseasons.com/jp/kyoto/

Hoshinoya Tokyo Ranks Number One On 'World's Best Awards 2020 Top Hotels in Tokyo'

Travel + Leisure published their "World's Best Awards 2020 Top Hotels in Tokyo" list on July 8, 2020 on which Hoshinoya Tokyo, managed by Hoshino Resorts, placed No. 1.

"World's Best Awards" is a list of the top hotels as ranked by travel magazine Travel + Leisure's user ratings. The hotel category takes into account the facilities, location, service, food, and more offered at each hotel.

Established in Otemachi, Tokyo in July 2016, Hoshinoya Tokyo is a ryokan-style hotel which has two basement floors and 17 upper floors. It has a traditional Japanese ryokan vibe to it with its tatami mats, sliding doors, bamboo materials, and more, plus guests must take their shoes off at the entrance. And while it has traditional elements, it caters to the modern lifestyle, combining the best of both worlds. It offers guests a chance to easily experience Japanese culture and what it's like to stay in a ryokan.

Information

Hoshinoya Tokyo
Address: 1-9-1 Otemachi, Chiyoda-ku, Tokyo

TEL: 0570-073-066

Rooms: 84

Check In @ 15:00 / Check Out @ 12:00

Access: 10-minutes on foot from Tokyo Station's Marunouchi North Exit / 2-minutes on foot from Otemachi Station's A1 and C2 exits (via Tokyo Metro)

Official Website: https://hoshinoya.com/en/

THE AOYAMA GRAND HOTEL to Open on the Former Aoyama Bell Commons Grounds This Summer

THE AOYAMA GRAND HOTEL in Aoyama, Tokyo will officially open on August 5, 2020. Set to be a new landmark of Tokyo as "a hotel where you have fun," the establishment will house 42 rooms and a restaurant which serves everything from food around the world to authentic Japanese cuisine. Table bookings for the restaurant opened on July 1, 2020.

THE AOYAMA GRAND HOTEL is opening on the former Aoyama Bells Commons building which is just a 3-minute walk from Gaiemmae Station. The hotel is managed by Plan・Do・See who also manage 6th by ORIENTAL HOTEL (Yurakucho), ORIENTAL HOTEL (Kobe)< WITH THE STYLE (Fukuoka), THE LUIGANS (Fukuoka), and more.

Gaiemmae in Aoyama is a hub for fashion and culture in Japan which is visited by people all over the world. THE AOYAMA GRAND HOTEL will slot nicely into place in the area, serving a timeless experience with its polished and relaxing atmosphere and incredible restaurant.

ROOM

All guest rooms are fitted with a unique mid-century modern style design that maintains both the welcoming vibe of the region and brings a contemporary feel. Rooms are made to offer an experience akin to living there, where guests can look forward to indulging all their senses.

The bathroom amenities offered are provided by Oltana, making this the first hotel in Japan to stock the company's products. The items were developed specially for THE AOYAMA GRAND HOTEL and blend essential oils with Japanese fermentation methods. Everything from the raw materials to the finish product is made in Japan, and all are made sustainably and ethically.

RESTAURANT

Welcoming guests at the hotel entrance is THE BELCOMO on the fourth floor which offers a delicious casual dining experience whether it be for lunch, dinner, coffee, or an evening drink.

On the same floor is SHIKAKU, a counter-style restaurant serving authentic and seasonal Japanese food that is prepared before guests' eyes with fresh ingredients.

And hidden on the 19th floor where the guest rooms are located is Aoyama Sushi Kanesaka, a sushi bar that serves exquisite sushi courses made with artisanal care and the utmost care.

Opening on the hotel's top floor this autumn too is TRATTORIA ANDREA ROSSI, a classic Italian restaurant which will serve simple yet delicious dishes, wines, and desserts prepared in front of customers. On the same floor, a rooftop bar called THE TOP will also open where you can enjoy seasonal original cocktails, specially-selected wines, champagnes, and more.

Information

THE AOYAMA GRAND HOTEL

Address: 2-14-4 Kita-Aoyama, Minato-ku, Tokyo

Rooms: 42

Price: ¥60,000-¥120,000 (2 people for 1 room)

Check In From 15:00 / Check Out By 13:00

Official Website: https://aoyamagrand.com/en/

Kyoto's World Heritage Site Nijo Castle Announces Summer Evening Illumination Event

NAKED, INC. has announced that it is holding a special summertime light-up event at Nijo Castle, a World Heritage Site in Kyoto, from August 8 to August 30. The company has also released its first ever 3DCG VR experience NAKED NINJA -Nijo-jo Castle- on the official NAKED, INC. online store.

Enjoy art entertainment in person or at home

NAKED, INC. has collaborated with many World Heritage Sites, Cultural Properties, tourism centres, leisure spots, and more over the years. Right now, the company is grappling with the question of what the shape of tourism, as well as art and entertainment, looks like during the COVID-19 outbreak—and what shape it will take post-pandemic. Nijo Castle is no exception, a place that enjoys tourism from both Japanese people and people overseas. In considering these issues, NAKED has conceived two different ways Nijo Castle can still entertain tourism now and in the near future.

The first is holding an event in person at Nijo Castle in the form of an outdoor light-up event that will have people wandering around as opposed to being stationary. In spring of 2017, NAKED held "Nijo Castle Cherry Blossom Festival 2017" where they hosted a variety of performances and events in line with the season. In fact, one such event was planned to take place at Nijo Castle this summer, but it had to be reconsidered as a result of COVID-19. Those involved still wanted to come up with a way that people who live close by could still enjoy some leisure time this summer, which is what led to this light-up event from NAKED.

Visitors will be able to enjoy the light-up safely by staying a set distance from one another while walking around Nijo Castle. The number of people inside at once will also be restricted. As well as this, people will need to wear masks, temperature will be regulated, and alcohol gel will be provided—all to ensure that visitors are kept safe.

The second way that NAKED has devised for people to still enjoy Nijo Castle is with the release of NAKED NINJA -Nijo-jo Castle-, the company's first ever full 3DCG VR experience that lets people enjoy Nijo Castle online in a virtual space. This is so that people who cannot visit Nijo Castle can still enjoy its sights. NAKED plans to launch even more real and virtual, offline and online experiences in the future too in order to promote tourism in a new way during COVID-19.

Information

Nijo Castle x NAKED Summer Special Light-Up 2020
Running: August 8, 2020 – August 30, 2020

Time: 19:00-22:00 (Last Entries 21:20)
Location: Nijo Castle

Address: 541 Nijojocho, Nakagyo Ward, Kyoto場

NAKED NINJA-Nijo-jo Castle- VR
Price: ¥880 (Tax Included)

Official Website: https://event.naked.works/nijojo-summer2020/

NIPPONIA HOTEL Ozu Castle Stay: Ehime Prefecture's New Tenshu Hotel

Value Management, a company in Japan which carries out work in bringing new life to historical Japanese buildings, hotels, restaurants, and more, is opening a new hotel in Ehime Prefecutre called NIPPONIA HOTEL Ozu Castle Stay on July 23, 2020. The hotel will be the first in Japan where guests can stay inside wooden tenshu, which are traditionally the highest towers in a Japanese castle.

The city of Ozu is home to many examples of historical architecture, from its central castle town to Ozu Castle itself and more. It has become a location for tourism which focuses on historical houses and buildings. That's where NIPPONIA HOTEL Ozu Castle Stay comes in. The surrounding townhouses have been renovated so that both the town and castle make up the entirety of the hotel complex.

Ozu Castle is a symbol of Ozu and was built by Tōdō Takatora and Wakisaka Yasuharu. It is officially recognised as an Important Cultural Property of Japan. Its tenshu were demolished during the Meiji Period, but thanks to the existence of pictures and models, they were rebuilt for the first time ever after the war in 2004. NIPPONIA HOTEL Ozu Castle Stay is the first facility in Japan to offer a castle stay experience like this, so it's a must-include on anyone's bucket list when visiting Japan.

Information

NIPPONIA HOTEL Ozu Castle Stay

Address: 382 Ozu, Ozu-shi, Ehime Prefecture

Price: From ¥1 million per night. One group per night. 30 groups per year (subject to change).

Official Website: https://www.vmg.co.jp/

Kyoto's Famous Kifune Shrine Celebrates Tanabata With Bamboo Lamp Light-Up

Kifune Shrine, which is dedicated to the god of water Takaokami no Kami, is currently holding evening illuminations with Tanabata bamboo lamps until August 15, 2020.

About Kifune Shrine

Kifune Shrine is one of Kyoto's foremost historical shrines. Records show that the shrine was already built in 677 during the reign of Emperor Tenmu. It is located near the source of Kamo River and is dedicated to the god of water who is said protect Kyoto's water sources. The area is also known for kawadoko which is where Kibune's restaurants build platforms over the river where visitors can enjoy their meal as the water flows beneath them.

Kifune Shrine and Tanabata

Tanabata is said to originate from the Suijinsai Festival (Water God Festival), with the stars themselves as the god of water. At Kifune Shrine, which is dedicate to Takaokami no Kami—the god of water—people not only pay their respects to the blessing of water, but hold Tanabata events as well as the Kifune Water Festival.

For this year's Tanabata event, bamboo lamps will be lit up with wishes written on them by people.

Tanabata Shinto Rituals and the Kifune Water Festival

Tanabata Shinto rituals and the Kifune Water Festival will be held on July 7 where people will express their gratitude to the god who watches over Kifune's waters as well as pray for water's blessing throughout the year.

Information

Kifune Shrine Tanabata Bamboo Lamp Light-Up
Running: July 1, 2020 – August 15, 2020
Time: From sunset to 20:00
Location: Kifune Shrine, 180 Kuramakibunecho, Sakyo-ku, Kyoto
TEL: 075-741-2016

Official Website: http://kifunejinja.jp

Hotel New Otani Tokyo to Open Night Pool & Stay Plan

Hotel New Otani Tokyo is launching its "Night Pool & Stay" hotel plan on July 1, 2020 which gives guests exclusive access to the night pool during their stay.

Hotel New Otani Tokyo's night pool was first opened in 1998 with the concept of building a luxury pool that you won't get sunburned in. Over 20 years on, the pool continues to beckon people during summertime for its unique pool experience under the moonlight and hotel lights and music produced by Japanese DJs who are popular in the country's club scene. This year's "Night Pool & Stay" plan will open with all of the necessary measures in place against COVID-19, with thorough cleaning and bacteria elimination at the top of the hotel's list to ensure safety for its guests.

Check-in to the hotel's "Night Pool & Stay" plan opens at 17:00. Guests don't have to worry about using the locker room – they can get ready in their rooms before heading to the Garden Pool. After a luxurious dip in the pool, guests can retire to their sophisticated rooms, whether standard or suite, for some relaxation time. Check-out is 10:00, so they can enjoy their rooms throughout the early morning.

Located next to the Garden Pool is OUTRIGGER, a poolside restaurant open during the summer only that you can enter in your swimsuit. The restaurant serves popular dishes served at Hotel New Otani as well as Garden Pool exclusives. Tuck into a soybean hamburger, fresh green salad, nutritional smoothies, and more.

Information

Night Pool & Stay
Running: July 18, 2020 – September 5, 2020 (Not open Sundays except August 9 and 16)

Hotel Otani Club Members: Open June 30, 2020 at 10:00am

General Guests: Open July 1, 2020 from 10:00am

Bookings/Enquiries: 03-3234-5678 (10:00-18:00)

Official Website: https://www.newotani.co.jp/tokyo/stay/plan/night-poolstay/

Chocolate-Piled Shaved Ice & Other Summer Season Delights at BEL AMER Kyoto Villa

Kyoto-based chocolate bar BEL AMER Kyoto Villa is serving up the perfect line of new chocolatey bites for summer 2020.


The entire line-up is a delight to look at, from a mountain of chocolate piled on top of shaved ice, a summertime mango and melon dessert, and more.

Chocolate Noir Shaved Ice x Matcha: ¥1,540 (Tax Included)

Shaved ice is the quintessential summertime dessert in Japan, and since this one is being served at a shop specialising in chocolate, what better way to serve it than drizzled in a mountain of the stuff? The shaved ice is covered in rich chocolate cream and chocolate sauce and is topped with chocolate nibs. It's also served with a side of matcha sauce which you can pour over yourself, creating a delicious harmony of flavours.


Mille-Feuille au Chocolat Exotic With 196℃ Chocolate Ice Cream: ¥1,650 (Tax Included)

This summertime dessert is made with lots of mango and melon. In the centre of it all is even more mango, as well as pineapple and coconuts, for a flavourful layered experience. Served on the side is ice cream made from BEL AMER Kyoto Villa's own original couverture chocolate.

Summer Pavlova: ¥1,320 (Tax Included)

This piece of art of a dessert is a must for lovers of matcha and melon. It's made from fluffy meringue topped with white chocolate, matcha mousse, and chocolate cream, which itself is then topped with refreshing melon and grapes for a refreshing kick.


Chocolate Croquette Sandwich: ¥990 (Tax Included)

BEL AMER Kyoto Villa is also serving up a very unique dish indeed which mixes together chocolate and croquette—a flavour that actually works, combining sweetness and bitterness. The croquette is made from potatoes. The brioche sandwich also contains cheese and bacon.

These are just some of the delights on show at BEL AMER Kyoto Villa this summer. If ever you're in Kyoto, be sure to stop by, especially in the summer.

Information

BEL AMER Kyoto Villa Bettei Sanjo

Address: 66 Sanjodori Sakaimachi Higashi Iru Kitagawa Masuyacho, Nakagyo-Ku, Kyoto

TEL: 075-221-7025

Official Website: https://www.belamer-kyoto.jp

4 Refreshing Matcha Shaved Ice Flavours Released at Itohkyuemon in Kyoto

Kyoto's famous tea shop Itohkyuemon began serving four new Uji matcha and shaved ice mixed desserts on its menu yesterday (June 29). Itohkyuemon was founded in 1832 in the latter period of Edo. Ujitawara, the place in Kyoto where the shop is located, is famous for the tea served by Itohkyuemon which has been harvested by the Ito family for years.

Uji Matcha Parfait Ice: ¥1,490 (Tax Included) | Serving: Until Late September 2020 | Avaialble: Itohkyuemon JR Uji Station/Itohkyuemon Gionshijo

The Uji Matcha Parfait Ice uses a blend of matcha and milk-infused ice as its base. It's then topped with sweet treats like rice flour dumplings, red bean paste, ice cream, matcha jelly, and more to turn it into a parfait.

Uji Matcha Daifuku Ice: ¥1,290 (Tax Included) | Serving: Until Late September 2020 | Avaialble: Itohkyuemon JR Uji Station/Itohkyuemon Gionshijo

This Uji Matcha Daifuku Ice is an upgrade of the one Itohkyuemon served last year. It has a creamy custard base with matcha daifuku hidden in the shaved ice.

Fluffy Uji Kindokei Vanilla Ice Cream: ¥990, Matcha Ice Cream ¥1,090 (Tax Included) | Serving: Until Late September 2020 | Avaialble: Itohkyuemon JR Uji Station/Itohkyuemon Gionshijo


Fluffy Uji Kindokei Rice Flour Dumpling: ¥850, Rice Flour Dumpling & Vanilla Ice Cream ¥970, Rice Flour Dumpling Matcha Ice Cream ¥1,090 Serving: Until Late September 2020 | Avaialble: Itohkyuemon Uji Main Branch

These two "Kindokei" (Gold Watch) servings use more ice. At the main branch of Itohkyuemon they're more crunchy, while at the JR Uji Station and Gionshijo branches they're more fluffy.

BEAMS Japan Kyoto finally opened on June 11, 2020 after the postponed grand opening of ShinPuhKan shopping centre in which it is located.

BEAMS Japan Kyoto comes as the first branch of BEAMS Japan in Kyoto and aims to be a hub of made-in-Japan products from BEAMS's "TEAM JAPAN" range, a project to curate content across a broad range of categories based on the keyword "Japan." The store will collaborated with Kyoto-based creators and businesses and offer a wide selection of branded products, original apparel lines, and more—through the lens of TEAM JAPAN.

The 3.5m high ceiling art of the legendary mythical bird Hou-ou catches the eye upon entry, and the shop lends a modern tinge to its traditional aesthetic. Here, BEAMS JAPAN's many different products are lined up against one another.


BEAMS JAPAN opened a brand in Shinjuku in April 2016 and subsequently in Shibuya in December 2019. BEAMS Japan Kyoto comes as the company's third branch.

Kyoto's New Hotel Mitsui Garden Hotel Kyoto Kawaramachi Jokyoji Fuses With a Temple

Mitsui Garden Hotel Kyoto Kawaramachi Jokyoji, a new hotel by major real estate developer Mitsui Fudosan and Mitsui Fudosan Hotel Management, opened bookings for the new hotel last Friday. The hotel is set to officially open on September 28, 2020.

The hotel was developed to integrate into Jokyoji, a temple in Kyoto with a history spanning over 500 years. Even in Japan, where it is common for temples to undergo reconstruction, this is a rare project. The hotel aims to be a model case for breathing new life into temples.

The hotel is just a 1-minute walk from Kyoto-Kawaramachi Station and within walking distance from the bustling retail area of Shijō Kawaramachi, the Hanamachi district Ponto-chō, and Kyoto's geisha district Gion. Guests are wrapped in the serene atmosphere of Jokyoji Temple where they can enjoy its historically maintained art, get involved in morning activities, and more.

Entrance Lobby

Mitsui Garden Hotel Kyoto Kawaramachi Jokyoji's design concept is "Hotel Temple." Nikken Space Design crafted the hotel's interior design, which makes use of Jokyoji Temple's preserved wood, gold leaf-covered folding screens and other features, while adding a modern white and black colour scheme throughout, giving a sense of comfort and high quality. From the lobby, guests can glimpse the main area of the temple and feel one with it.

Spacious rooms and baths

  

Guest rooms, even the standard room types, are a spacious 24m². All rooms can accommodate 2+ people, and there are even triple rooms which can house 3 people. Every room also comes with separate toilets and showers. Up on the second floor are the baths where guests can wind down after a day of travelling and sightseeing.

Restaurant

The 2nd floor restaurant, Sanga Ono Kyoto Jokyoji, was developed by ONO GROUP which has built many restaurants in Fukuoka Prefecture. This is the company's first restaurant to be built outside Fukuoka. Guests can enjoy delicious Japanese rice, Kyoto vegetables, tai-chazuke (green tea poured over sea bream), Kyoto-style grilled fish, and more. The restaurant will also serve Japanese buckwheat noodles overseen by Akamachaya Asago, a restaurant listed in the Michelin Guide.

Experience Jokyoji Temple

Jokyoji Temple was founded in 1171 by Taira no Shigemori. In 1591, the temple was moved to Teramachi-dori where it has stayed to this day. When the hotel opens its doors, it will offer various activities to guests. Those who take part in the morning activity will receive a goshuin stamp from the chief priest.

Experience a hotel and a temple like never before as both are fused together at Mitsui Garden Hotel Kyoto Kawaramachi Jokyoji.

FUNATSURU Kyoto Kamogawa Resort Opens Rooftop 'KAMOGAWA Tenku Terrace'

FUNATSURU Kyoto Kamogawa Resort, the administrative building of VMG HOTELS & UNIQUE VENUES, has opened its 4th floor rooftop terrace 'KAMOGAWA Tenku Terrace' for a limited time. It will remain open until August 31, 2020.

VMG HOTELS & UNIQUE VENUES uses historical buildings to open new brands, like hotels and unique venues, while offering historical and cultural experiences of the buildings' local areas.

FUNATSURU Kyoto Kamogawa Resort originally opened as a traditional inn priding itself on its cuisine back in 1870. It was renovated and reopened as FUNATSURU Kyoto Kamogawa Resort in 2008. Its historical and artistic value has been highly acclaimed as a time-honoured work of architecture and was registered as a tangible cultural property of architecture by Japan's Agency for Cultural Affairs. It has banquet and ceremony spaces, and in the summer you can enjoy its restaurant on the riverbed. The building is also used for parties and wedding ceremonies.

Like all businesses, FUNATSURU Kyoto Kamogawa Resort too has suffered at the hands of the COVID-19 pandemic, but the facility wants people to enjoy the summer nighttime skies of Kyoto and so while observing the necessary coronavirus precautions it has opened its rooftop terrace which can be used as a bar.

Information

KAMOGAWA Tenku Terrace
Running: June 6, 2020 – August 31, 2020 (Closed Tuesdays & rainy days)
Opening Hours: 20:00-Midnight (Last Orders 23:00)
Price: Table Charge ¥1,000 per person (includes tax and service charge)

Official Website: https://www.funatsuru.com/restaurant/news/#new_01