MMN Festival 2018: Review of Airbnb Tours Held by Popular Japanese Models
MOSHI MOSHI NIPPON FESTIVAL 2018 in SHIBUYA was held across the weekend of March 24 and 25 and promoted Japanese culture to the world from Shibuya. The event ended with huge success.
One of the popular aspects of the event were the original tours held in collaboration with Airbnb. Three models who performed on stage at the festival's Harajuku Kawaii Market, presented by Mynavi Baito, became guides and took attendees on their own original tours.
Let's review each of the tours so you can get a feel for walking the streets of Harajuku and participating in workshops with the models!
Guide: Yuri Suganuma – Getting Involved in a Workshop with Yuri Suganuma
Yuri 'Yurippa' Suganuma worked as a guide at the Swag Workshop. She learned how to make a 'swag' from Asami Char Tanabe, a popular type of wall decoration similar to a wreath.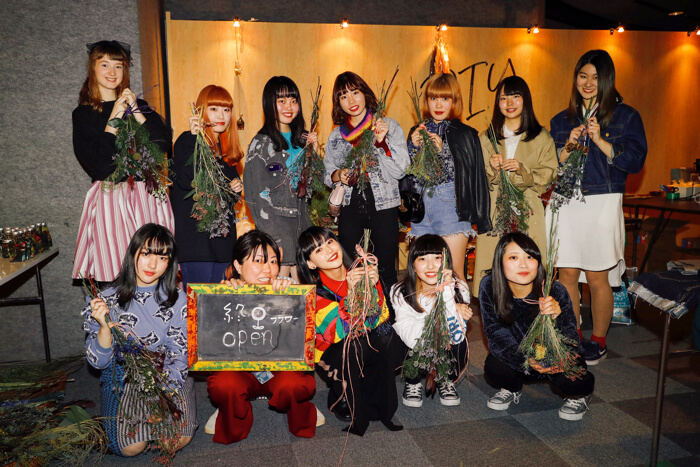 What colours shall we go with?" "Aah, that's cute!" Yurippa and those who got involved in the workshop were back and forth with each other having fun.
At the end of the workshop, everyone held their swag for a photo. It was a special workshop for those involved, who also posted their photos on social media.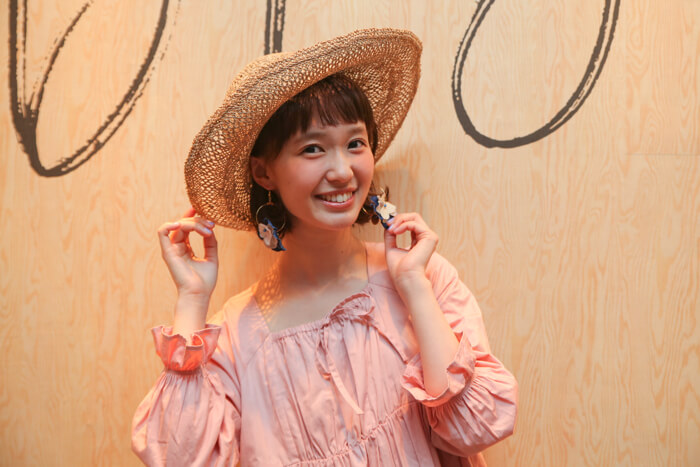 Guide: Saki Shibata – Shibatabi
Saki 'Shibasaki' Shibata held a tour on both days of the festival called 'Shibatabi,' a play on her nickname where 'tabi' means a 'trip' or to travel.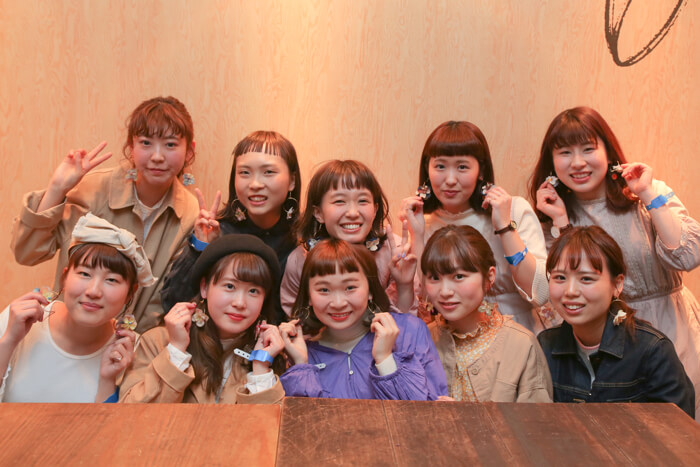 On the 24th, Shibasaki took part in the CHACO workshop, something she had always been interested in. Everyone made matching piercings and earrings together before eating some lunch later on.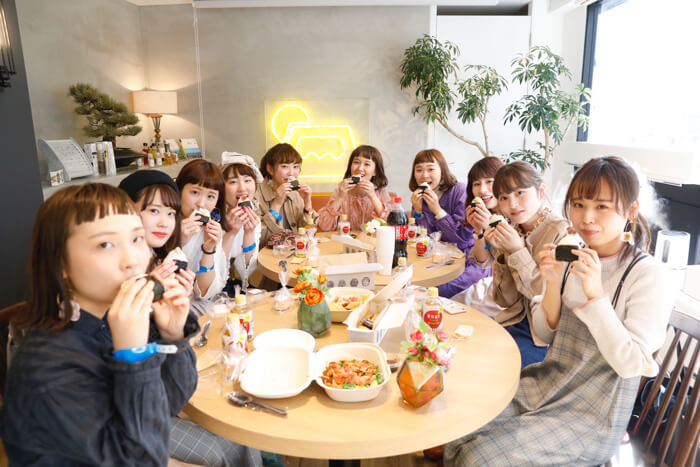 Originally, the group were scheduled to go to Cat Street for some shopping, but the weather was too good, and the cherry blossoms were in full bloom. So, they had a change of plan and instead made a trip to Yoyogi Park. They spent hanami strolling through the park.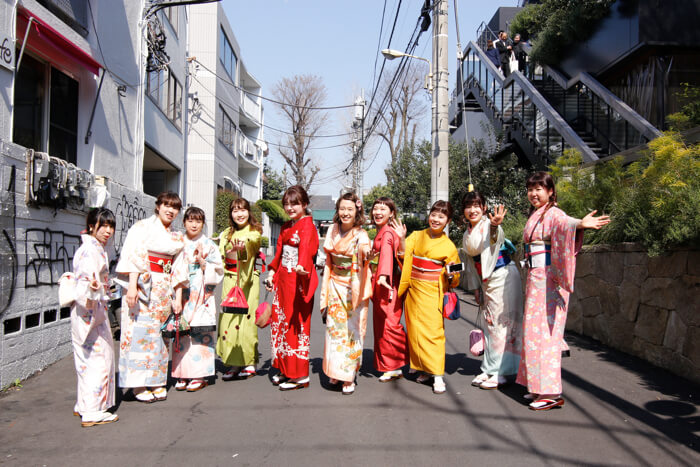 To wrap up, they walked back to their starting point of SHIBUYA CAST, ending the first day of Shibatabi.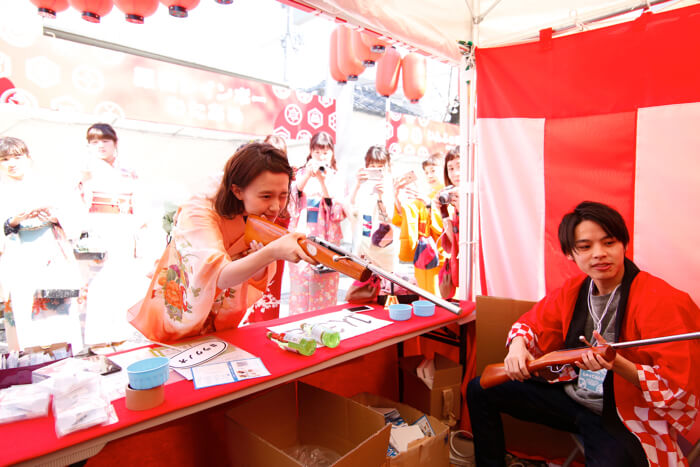 On the 25th, Shibatabi began with dressing up in kimono! Each person in the group had their kimono fitted in succession, and when everyone had theirs on they departed for Onden Shrine. There, they admired the booths such as the target practice game and glimpsed the performances on stage. To commemorate the day, they received a goushuin, before heading to their next destination SHANTi. This is Shibasaki's favourite curry soup restaurant. Everyone enjoyed eating curry together before heading back to SHIBUYA CAST and scattering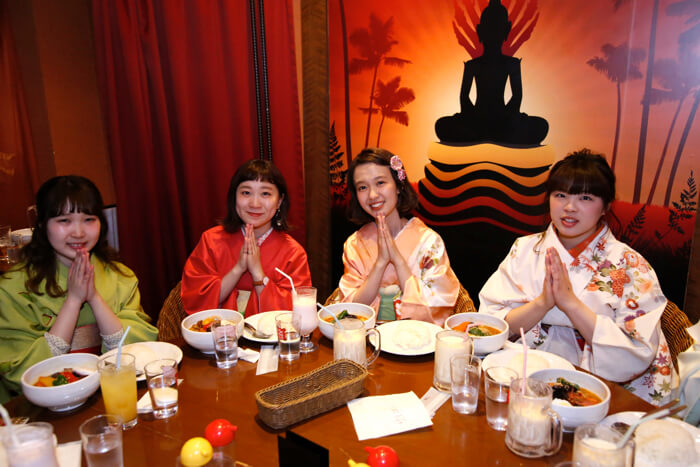 Shibatabi was like hanging out as friends with Shibasaki. She plans to hold it again every now and then, so be sure to keep up to date with her social media or check the MOSHI MOSHI NIPPON website and our social media too.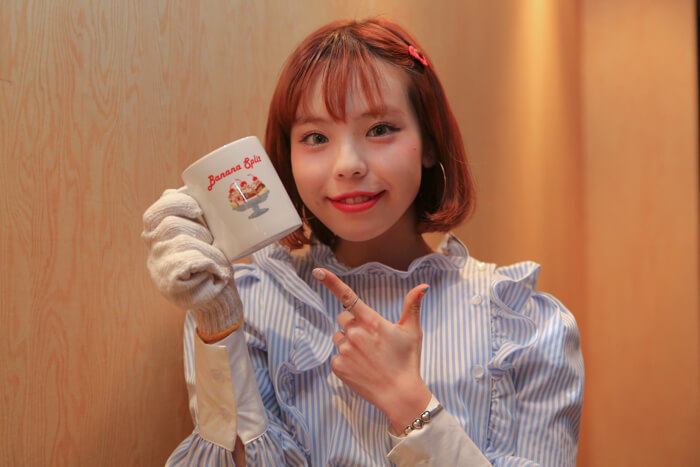 Guide: Ayumi Seto – Aymmy in the batty girls Tour
Model and designer Ayumi Seto gave a tour of 'Aymmy in the batty girls.' The first half of the tour centered around a workshop. Everyone created their own original mugs using Aymmy designs.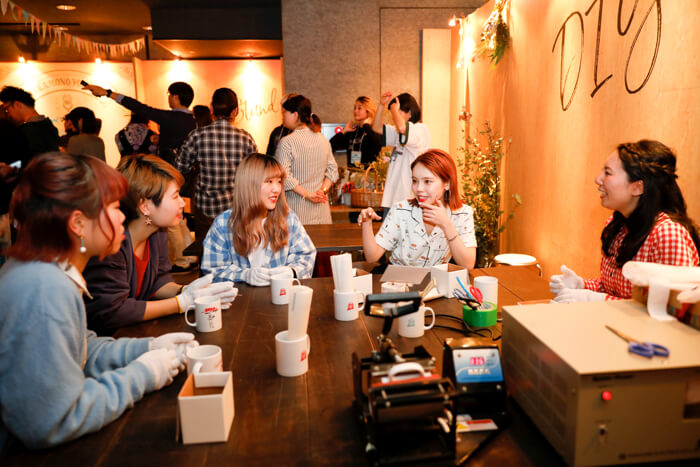 The tickets for this tour were like golden tickets as there were only 5 available. Those lucky few who obtained one were a little nervous in front of Ayumi.
Following the workshop was a trip to the Aymmy in the batty girls store, where everyone was given tips and trucks for co-ords and styling with this year's spring and summer items.
If you were one of the people who was able to spend a wonderful day on one of these exclusive tours: how did you find it?
MOSHI MOSHI NIPPON will be teaming up with Airbnb again to hold future tours the way we know how. If you want the chance to get involved with one, then be sure to stay up to date via our website and social media.
RELATED ENTRIES
Model Shibata Saki's Trip to Mie Prefecture to Air on BS12 for 2 Consecutive Weeks

On November 18 and November 25, national free broadcasting service BS12 will air 'NEXT TRIP: A Luxury Resort Trip to Ise and Shima.' The host for the excursion will be popular model Shibata Saki (nicknamed Shibasaki), who is a well-known figure to women of all ages.

NEXT TRIP is a new travel program that helps travelers figure out where to go next. The theme of the series is "Where should I go once the world settles down?" From visiting popular city spots to faraway resorts in Japan and abroad, the show aims to introduce people to locations they haven't discovered yet, showcasing what the world has to offer. Those watching should keep a lookout for spectacular scenery, gourmet local food, outdoor activities, and so much more. 

[Part 1] November 18, 2021, 9:00 – 'NEXT TRIP: A Journey to Ise'

In this episode, Saki Shibata travels to Ise, Mie Prefecture, first visiting Ise Shrine to pay her respects. The shrine is one of the holiest and important sites in the Shinto faith and was said to be established in the year 4 BCE. After visiting the Inner Shrine on a bright and sunny morning, Shibata travels to the ancient Okage Yokocho street to find some souvenirs and enjoy a local cafe to enjoy Ise's famous rice cakes and traditional Japanese sweets. For lunch, she visits a very retro western-style building. At the nearby Ise Ninja Kingdom, guests can wear ninja costumes, and Shibata does just that! As the day comes to an end, Shibata opts to stay at a luxurious ryokan, Ikyuu, and highlights the incredible dinner and other services the lodging offers.

Air Date: November 18, 2021 / 9:00-10:00

[Part 2] November 25, 2021, 9:00 – 'NEXT TRIP: A Luxury Resort Trip to Ise and Shima' 

The second part of the trip begins with cycling. Visiting the famous Married Couple Rocks on the coast of Futami, Shibata sets out for Shima. After enjoying the breathtaking view from the 'Mailbox in the Sky' on the Ise-Shima Skyline, she stays at a resort overlooking the Shima coast. Guests are welcome to take a leisurely stroll around the grounds and enjoy a luxury cruise or dinner. The sunset is something Saki Shibata will surely never forget.

 

Air Date: November 25, 2021 / 9:00-10:00

Where do you want to travel in Japan once the world settles down?

First Collection from Fragrance Brand ainou Produced by Four ASOBISYSTEM Talents

ASOBISYSTEM has teamed up with cosmetics company Bijinaru to launch a new fragrance brand ainou. Offering a variety of products, the first collection was produced by models Yuri Suganuma, Saki Shibata, Rinko Murata, and Goto Yutaro. The four were asked to come up with fragrances inspired by their own personal thoughts and feelings. Products will be on sale starting October 20 at PLAZA/MINiPLA locations nationwide and at the ainou online store. 


ainou = i know

 

Scents can evoke memories. 

If we could share our precious memories through scents…

 

The Scent of Memories

ainou

 

1st Collection Producers

Yuri Suganuma

'A clear, sweet, and fresh aroma,' produced by Yuri Suganuma

ainou 0 Fragrance Mist Eau de Toilette

 

With the nickname 'Yuripa,' Suganuma has gained a massive following among young women. She has become a social media influencer and often shares her beauty knowledge online, having obtained certification in cosmetics and skincare. Suganuma has acted as an MC for numerous events, has produced apparel and accessories in the past, and has collaborated with popular brands from Zoff to CA4LA. She recently started her own brand, LOBJECT. 

Saki Shibata

'The happy scent of flowers and grass after the rain,' produced by Saki Shibata

ainou 8 Fragrance Mist Eau de Toilette

 

Nicknamed 'Shibasaki,' she is a model from Aichi Prefecture who is loved by women of all ages. During her time as a fashion model, she has appeared on the cover of popular women's magazine mer for 12 consecutive months and has also appeared in numerous commercials and other mediums. She has also begun selling her clothing and vintage items overseas as part of a broadcast she produces and has collaborated with many other designers and brands. Shibata has traveled all over Japan to help revitalize small towns and has served as a PR ambassador for several outlying islands. 

Rinko Murata

'The unforgettably sweet scent of a bouquet,' produced by Rinko Murata

ainou 23 Fragrance Mist Eau de Toilette

 

Murata has appeared across a wide range of mediums, including in fashion magazines, on the radio, in web and TV advertising, and strutting the catwalk in fashion shows. She writes a popular online column titled 'Curry Tokidoki Rinko Murata,' where she catalogs her hobby of visiting curry shops, as well as 'Pub Patrol,' a series in Tabelog Magazine. Murata is active in product collaborations and has produced a number of popular products using her heightened sense of style. She also is the director of her own brand, idem. 

Goto Yutaro

'A scent that causes you to turn your head,' produced by Goto Yutaro

ainou 66 Fragrance Mist Eau de Toilette

 

Goto Yutaro was born on June 3, 1998, in Hiroshima prefecture. In 2016, he began his career as a vintage clothing store clerk before becoming a model known to the industry as being 'too cute.' He began his acting career in 2017 and has appeared in the popular drama series Trouble of the Blue Vampire and Cherry Magic! Thirty Years of Virginity Can Make You a Wizard?! With a number of films currently in the pipeline, the actor is expected to continue his upward trajectory as a unique talent on screen. The star is currently appearing in the NHK drama series Komi Can't Communicate, as well as in theaters in both It's a Summer Film and Kaguya-Sama: Love is War Final. 

New Balance 996 Model Sneakers to be Redesigned, Relabeled

Since their creation in 1988, the 996-model sneaker has been one of New Balance's most popular models. This month, the 996 will be reborn as the New Balance Standard, with the same comfortable feel and some minor changes to the logo.

In the new campaign, Natsume Mito, Saki Shibata, Fumiko Aoyagi, and Shiho Takechi will be modeling the new shoes, each in a sleek new color. The photos are meant to depict women living their daily lives with positivity, as they did in 1988 and as they do today.

The 996 model sneakers are the third model in the 99X series. Released in 1988 as a running shoe meant to be used on paved surfaces, its comfort and design has made it a best-seller among both men and women.

Will you be grabbing a pair of these updated kicks?

Young ASOBISYSTEM Models Design Glasses Perfect for Everyday Fashion

Glasses brand Zoff teamed up with famous models Saki Shibata, Yuri Suganuma and Rinko Murata to produce a branded glasses series that is perfect to wear "All Day, Every Day". The girls designed these glasses to fit into and enhance your everyday life experiences. The Zoff CLASSIC Girls Collection -All Day, Every Day- series will be released across Japan from October 11, 2019. 

The main theme of this series is All Day, Every Day. From this, the three sub themes of morning, midday and evening were created and each model was put in charge of the designs for one of these themes. Shibata was in charge of 'morning' designs, Suganuma was in charge of 'midday' designs and Murata was in charge of 'evening' designs. Each model carefully thought of how the user would wear the glasses during their sub theme time in order to fully enhance their daily experiences. Each model also created a unique personal design out of metal for the temple tips of the glasses they designed. 

Before being released in stores, the glasses will be available to preorder from Zoff's official online store from 11am (JST) on September 20. From the same day from 9pm, there will be a one-hour-long live broadcast where the models will showcase their creations.  A limited number of the glasses will be available to preorder during this live broadcast. 

There is also a lottery taking place with the chance to take part in the Zoff CLASSIC Girls Collection Special Event which consists of two parts: A tea session where you can listen to the girls' stories on how they produced the glasses and even get some pointers on how to coordinate your look, and a special photography session with the three models. 

Designs by Saki Shibata

ZH191011 Available in 3 colours ¥7,000

These compact and circular-shaped rims are the perfect way to highlight your classic look or even a tomboy look. However you decide to wear these glasses, you will always look good with minimum effort. 

ZO192024  Available in 3 colours ¥9,000

The vintage style and matte coloured metal frame make these glasses perfect for both men and women. The carefully chosen size makes these extra special. 

Shibata's statement on the personalised symbol:

"I want the wearer to feel good the moment they put on these glasses. I designed these glasses to give the wearer confidence to hold their head high and say: 'Today is going to be a wonderful day and I am going to enjoy every moment of it.'"

Designs by Yuri Suganuma

ZP192020 Available in 3 colours ¥7,000

These frames are rectangular with soft round edges to make your face look smaller and your eyes look bigger. 

ZO191012 Available in 3 colours ¥9,000

A perfect mix between foxy and geeky, the roundness of these rims is subtle, adding a feminine touch to your look. Although you may get the impression that these glasses only go well with a few styles, they actually coordinate well with a surprisingly large range of styles.

Suganuma's statement on the personalised symbol:

"My design is a heart rate to represent how the wearer will feel when they put these glasses on. I hope my glasses make your heart jump with excitement." 

Designs by Rinko Murata 

ZP192019 Available in three colours ¥7,000

The metal frame is so beautiful that it is like wearing an accessory. The subtle colours of the frame make it perfect for casual clothing. If you are looking for something for everyday use, these are perfect. Big rims are trending right now. 

ZN191011 Available in three colours ¥9,000

There is a wonderful contrast between the different materials used and the circular-shaped lenses give a classic look. Switch the lenses for blue light blocking lenses to reduce the amount of blue light exposure from your computer and phone. 

Murata's statement on the personal symbol:

"I etched my initials 'rm' into the design. I hope the wearer feels the power to transform into a brand new person whenever they put on these glasses. I hope my glasses provide a sense of comfort and confidence to the wearer."

Whether you are a fan of the models or this is your first time hearing about them, you just have to check out their stylish designs which are suitable for men and women of all ages.

Information

Zoff CLASSIC Girls Collection -All Day, Every Day-

Price: ¥7,000/ ¥9,000 (Price after tax, includes price of standard lenses) 

*Comes as a set with a special case and microfiber cleaning cloth

Product Range: 6 different shapes in 3 different colours (18 designs in total)

Release Date: October 11, 2019 

* Available for preorder from 11am on September 20, 2019 from the following locations:

– Zoff Online Store

– Zoff Rakuten Market 

– Zoff ZOZOTOWN Store 

* The models will be presenting their glasses on the Live Shop! live stream for 1 hour from 9pm on September 20, 2019. During this hour, a limited number of the glasses will be available to preorder. 

Link: http://clk.nxlk.jp/NwGufFql/test

* All pre ordered goods from this series will be shipped to customers from the end of October. 

Purchasable From: All Zoff stores nationwide (Not available at shopping outlets), Zoff Online Store, Zoff Rakuten Market, Zoff ZOZOTOWN shop, Zoff i LUMINE (Also available at the following overseas Zoff stores: Shanghai, Hong Kong and Singapore).

Special Edition Website: http://clk.nxlk.jp/Z6IMGHK5/test

Help Me Choose! Japan's Trending Makeup #3: Autumn & Winter Cosmetics

"Help Me Choose!" is the first ever featured article series where I, Yuri "Yurippa" Suganuma, feature as the writer, model and director.

I've been conservative with my eyeliner when doing my makeup recently, instead wanting to go for a more effortless style to convey my eyes. I've also been having more fun with eyeshadow, and I've wanted to make my lips the centerpiece of my makeup, so I've been making additions and subtractions which has slowly led to a more grown-up look.

So, for my recommended autumn/winter cosmetics this time around I'll be focusing on eyeshadow, lips, and cheeks. These are items I've been interested in and am buying. Here's my review.

▶︎THREE

THREE Dimensional Vision Eye Palette 03 – ¥7,020 (Tax Included)

This palette features four colours, none of which you will ignore. The colours also have different textures including pearl, matte powder, and cream.

Today's Makeup:

①For the whole eyelid

②For the undereye

③Adds gradation to the double eyelid

④Adds accent to the inner corner

I tried playing around a bit! Although I added colour and glitter to the inner corners of my eyes I'm all about it.

According to THREE, this is the order you should put these items on:

1. Add the ② cream eyeshadow to your whole eyelid

2.Add the ③ colour as a base around the edge of your ueye

3.Layer ① on your whole eyelid

4.Finish with ④ as a highlighter

Using the cream eyeshadow as a base brings out the orange to make it look even better!

Part of the fun of this eye palette is how easily arranged it all is. The colours in this palette in particular are extremely popular.

▶︎RMK

RMK Stone Blossom Brush 03 – ¥3,456 (Tax Included)

The thin powder blends softly into your cheeks. It gives gentle colouring while still bringing your whole face to life, making it an indispensable item. And terracotta looks good on anyone.

And how about combining it with this?

RMK Stone Blossom Lips 05 – ¥3,780 (Tax Included)

This lipstick is a smooth cream type. The orange hype is just beginning. It has a slightly deep colour and gives off a casual grown-up vibe. It also has moisturizing ingredients in it making it great for winter when your lips dry up.

By the way, this collection was inspired by the stony beaches of Málaga in Spain. The items are limited-edition so get your hands on them ASAP.

▶︎CHANEL

(New Colour) Rouge Allure Velvet Extreme 130 – ¥4,536 (Tax Included)

From my always-favourite Rouge Allure Velvet series comes a new colour and a limited-edition colour from CHANEL! At first glance, No. 130 looks like a deep red, but when you put it on it also has a slight purple tinge to it, serving up a wine colour.

The deep burgundy makes you look like a lady and is sure to captivate. If you're a girl who loves autumn/winter collections then you won't be able to resist the colour of this one!

(Limited Edition Colour) Rouge Allure Velvet Extreme 128 – ¥4,536 (Tax Included)

Orange beige. Beige lipstick has yet to become a thing around the world, but this colour isn't overly plain and even works on myself! The beige has a subtle, healthy orange in it. Another stylish colour from CHANEL.

Another thing I like is how the case is matte (normally in the Velvet series it's glossy). Autumn/winter vibes, I'm all about it!

▶︎GUERLAIN

GUERLAIN Glitter Eyeliner 02 KAKI & 03 BURGUNDY – ¥5,508 Each (Tax Included)

This glittery liquid eyeliner gleams and looks just as it does when applied to yourself. It gives your eyes a beautiful impact, and both of this colours are good taste.

▶︎SHIRO

SHIRO Ginger Lipstick 9I08 Vintage Brown – ¥4,320 (Tax Included)

SHIRO have released their very first lipstick collection. The vintage brown has a deep, elegant look to it. SHIRO really are amazing. They've become a brand I just can't let go. Everyone who sees this colour says it's cute. I especially want to recommend this one to those of you who are beginners to orange and browns. It's a really stylish one.

Incidentally, the brand actually changed its logo to commemorate its 10th anniversary, from "shiro" to "SHIRO."

"Do you have anything a little more natural?"

▶︎THE PUBLIC ORGANIC

THE PUBLIC ORGANIC Essential Oil Colour Lipstick Noble Orange – ¥700 (Tax Included)

This organic cosmetic item is 100% natural. It's made with the skin in mind to ensure it's good to it. It also has a nice roughness to it like when taking your makeup off with soap. This terracotta orange adds just a touch of colour so as to make full use of the lips' natural colour.

This lipstick was originally released as a limited-edition item last year and blew up on social media, but they are set to bring it back as a regular item this year on September 25.

ーYurippa's Closing Commentsー

In the end, I end up going for deep coloured lips and burgundy eyes every autumn and winter, but with these items they're not just simply deep reds or browns. When you apply them they have a faint orange or purple in them. I think that was the original intention of those brands. I love little devilish things like that, and so I recognize to the fun of cosmetics year by year.

I'm actually really into the new eyeshadow from TOMFORD, but I wasn't able to get ahold of it by the photoshoot so I had to leave it out this time, TOMFORD's eyeshadow is amazing  too!

I'm a girl who loves autumn and winter, so I'm looking forward to the coming seasons. I want to use lots of different coloured items and become an even more beautiful woman―more than in summer and more than I am now!

Writer / Model  Yuri Suganuma
Photographer  / Haruka Yamamoto

TALENT PROFILE

Yuri Suganuma

Yuri Suganuma is a model with a high fashion sense that has been picked up by various magazines. She receives much love and support from girls of the same generation as her to whom she is known by her nickname "Yurippa." She has a huge influence across her social media. Recently, she has stepped into other fields outside of modelling, such as appearing in TV shoots and in music videos. She is skilled in make-up and involved in the development of cosmetics.

Popular Japanese Model Saki Shibata Releases Items in Collaboration With Pompompurin

Popular Japanese model Saki Shibata―known to her fans by the nickname Shibasaki―has teamed up with Sanrio's adorable golden retriever Pompompurin to release a collection of collaborative items on the character merchandise online store hopely.

"Pompompurin x Saki Shibata" Handbag – ¥2,500 (Before Tax)

"Pompompurin x Saki Shibata" Compact Mirror – ¥1,000 (Before Tax)

"Pompompurin x Saki Shibata" Pocketable Tote Bag – ¥3,000 (Before Tax)

Shibasaki is a huge fan of Pompompurin, and her cute collection includes a handbag, compact mirror and tote bag.

All of these items can be enjoyed by girls and women alike. Which do you have your eyes set on?♡

Tokyo DisneySea's New 'Song of Mirage' Show is a Must-See

Tokyo DisneySea fans have been waiting in excited anticipation for the opening of the park's new attraction Soaring: Fantastic Flight on July 23. But did you know that an all-new show also started on the same day?

I visited Tokyo DisneySea together with models Saki Shibata and Kanako to see this new show. It's called Song of Mirage and features Mickey, Minnie, Donald and Goofy as the cast.

The show takes place at the Hanger Stage in Lost River Delta. Mickey and the rest of the cast are led to the mysterious city of  Rio Dorado by a cane that Donald found.

From the very start of the show the characters are sucked into this magical place by the mysterious cane. During this time Donald ends up getting himself in trouble. Mickey also takes part in a dance battle where he shows off his cool moves which leaves Minnie positively in awe. Each character has their own performance which guests can look forward to seeing.

The most overwhelming part of the show however is the voice of the diva who appears during the set. She sings beautifully yet powerfully and it gave me goosebumps.

The singing and dancing throughout, as well as the realistic projection mapping were all spectacular. We were completely drawn into the story and the vibrant and dynamic performances that tied it together.

The performers singing and dancing in their golden costumes too were a sight to behold.

Saki's reactions were really charming as her face changed every single second while she laughed, clapped and really got into the show. Kanako, who loves Disney, was extremely pleased to see her favourite characters on stage too.

There is both reserved and free seating at the show. Reserved seating must be booked in advance but is allocated through a lottery system where people are chosen randomly. The schedule for bookings can be found on the official website.

The Disney cast wear adventurer costumes during the performance, and you can buy plush toys of them wearing them too!

If you're visiting Tokyo DisneySea then be sure to catch the show during your breaks between attractions and parades.

©Disney

Soar All Over The World With DisneySea's Brand New Attraction Soaring: Fantastic Flight

Tokyo DisneySea will open their new attraction Soaring: Fantastic Flight on July 23. This ride is an immensely popular attraction at theme parks around the world. DisneySea has created a new adaptation of this ride, offering a brand new and original experience to visitors.

Model Saki Shibata from MOSHI MOSHI NIPPON Editorial Department headed to DisneySea with model Kanako for an exclusive opportunity to experience this attraction before it opens to the rest of the public!

Climb up the stairs next to the Mediterranean Harbor and the attraction will lie right before your eyes. 

Before you enter the building, you will notice that there are lots of photo spots outside. 

You will also spot Camellia Falco; a keen flyer who became the first woman to be accepted in the Society of Explorers and Adventurers in 1851.

The Museum of Fantastic Flight located in the Mediterranean Harbor is celebrating Camellia Falco's innovation in the field of aviation by holding a special commemorative exhibition dedicated to her and her research. 

The final room of the museum is a gallery filled with Camellia's outstanding achievements.

Finally, it was time to climb aboard the invention of Camellia and her colleagues; an aircraft called the Dream Flyer.

The Dream Flyer was a magnificent trip. We soared through the sky, through the nature and around famous places of the world.

We were propelled from one place to another, experiencing a range of new atmospheres and surroundings in so many ways. At each location, we felt the wind and temperature of each country on our skin and could even smell a mix of intriguing smells unique to each location. 

The final destination we arrived at was our most favourite… 

This DisneySea original attraction is overflowing with imagination. It was like flying through an imaginary world. You absolutely must check it out. 

Fantastic Flight Churros (Pineapple): ¥400

Fantastic Flight Drink (Lychee Bubble Tea): ¥450

To celebrate the opening of the new attraction, new Fantastic Flight-themed merchandise and foods have been released. Zambini Brothers' Ristorante is even selling pineapple flavoured churros and bubble tea. Just looking at the blue sky colour of these delicious treats will leave you feeling refreshed.

Postcard: ¥200 

Origami Notebook: ¥400

Socks (22 ー 25cm/ 25 ー 27cm): ¥700

Please check out the full goods range!

It has been quite a while since DisneySea has opened a new attraction, so the park is booming with excitement in anticipation for its grand opening to the public! Climb aboard the Soaring: Fantastic Flight ride and embark on a worldwide adventure! 

©Disney

Help Me Choose! Japan's Trending Makeup #2: Yurippa's Repeat Cosmetic Pickups♡

This is my first ever series I've ever been put in charge of as a writer and model.

As long as you're stocked up on these items, you're good to go. In this special edition, I will showcase cosmetics that I'm a repeat buyer of and would definitely buy again.

▽Skincare

The first thing I should mention is my skin type.

・I have tough skin and so it doesn't blemish easily

・It becomes dull when I have lack of sleep

・With my combination skin, it's easy to spot oily areas (T Zone) and dry areas (around the eyes, U Zone)

Like this.

Using my knowledge of various cosmetics and methods I have tried I would like to showcase my recommendations. (Don't worry if you don't have the same skin type as me as some of the items I have picked can be used with other types too, so be sure to take a look.)

Finally, you'll be happy to know that these can be used during all seasons.

So, ready to give it a go?

▶︎Dior Capture Youth Series

Quickly and actively delays the appearance of signs of ageing. This series was created to retain youthful looking skin. There are six serums to choose from which cater to different skin conditions. Each can be used on their own or in combination with your own serum products. I've made a custom serum for myself by combining two different types.

1. Intense Rescue Oil (30ml) – ¥12,420 *Photo is my own. Price shown is as was on the day of purchase.

(Effective against dry skin and helps maintain moisture. Supplements lipids.)

2. Glow Booster (30ml) – ¥12,420 *Photo is my own. Price shown is as was on the day of purchase.

(Rich in Vitamin C. Leaves skin glowing and feeling invigorated.)

For face lotion, I use 3.Enzyme Solution. It has a refreshing water-like texture and leaves skin moist. Good to use on skin that favours serums in this series.

Enzyme Solution (150ml) – ¥7,452 *Photo is my own. Price shown is as was on the day of purchase.

For cream, I use 9.Capture Youth Creme. It doesn't remove the face lotion or the serum and doesn't feel sticky.

Capture Youth Age-Delay Advanced Creme (50ml) – ¥12,420 *Photo is my own. Price shown is as was on the day of purchase.

It's safe to say that after using this series, I don't even know what dry skin is anymore. It really is that effective!

▶︎FEMMUE

5. Lumière Vital C  (30ml) – ¥8,000 (Before Tax) *Photo is my own. Price shown is as was on the day of purchase.

6. Ideal Oil (30ml) – ¥6,000 (Before Tax) *Photo is my own. Price shown is as was on the day of purchase.

FEMMUE is a really popular brand right now from the hub of beauty, South Korea. Firstly, it's steeped in fragrance. It's rich in floral scents like perfume. Simply holding the bottles fills you with a feeling of satisfaction. It leaves your skin feeling clear, smooth and glowing. And though it's a thick oil, the skin absorbs it extremely well. 10/10 from me!

I might recommend it to girls who've just stepped into adulthood, girls who want to look sexy, and those who want to be popular! It's perfect for skin that blemishes easily.

▶︎dear mayuko

7. Innocent Skin Serum (20ml) – ¥8,424 *Photo is my own. Price shown is as was on the day of purchase.

This serum contains sericin which comes from silkworm cocoons. Sericin ensures your skin is moist and is gentle on the skin. Despite being a beauty product the texture of this serum is really silky (like water!) and will leave your skin soft and healthy.

Personally, I recommend using it as a booster serum! It's an easy way to nourish the skin before putting on any makeup. It will also help things like face lotions and milky lotions soak in better. The serum itself soaks into your skin nice and quickly so it won't ruin your makeup. Its warm matte texture and colour will leave you looking soft♡

▶︎Kiehls

4. Kiehl's Ultra Face Cream (49g) – ¥4,000 (Before Tax) *Photo is my own. Price shown is as was on the day of purchase.

This cream spreads lightly on the skin. It's also very clear to see that it lets no moisture escape…! That's how dense this cream is, it's like it adds a cover to your face. It also doesn't clear away face lotion or any beauty essences. It reaaally moisturises your skin. This is my 5th or 6th time buying it.

8. Kiehl's Ultra Face Cleanser – ¥2,800 (Before Tax) *Photo is my own. Price shown is as was on the day of purchase.

This can be used on any skin time. (It's also good for people with eyelash extensions!)

It's a gel-type cleanser. What's good about it being gel-type is that cleans off better than oil and yet doesn't take in unnecessary moisture from the skin. You also don't get that stretched feeling after you wash your face. This can really be used all season and by anyone. I haven't used any other cleansers the past three or four times. It's one I can trust.

▽Cosmetics

Be sure to check out my recommended lipsticks from last time too!

https://www.moshimoshi-nippon.jp/183569

▶︎CANMAKE

8. Quick Lash Curler (Transparent Type) – ¥680 (Before Tax) *Photo is my own. Price shown is as was on the day of purchase.

I often use this as a top coat. It makes it harder for your eyelashes to sag and can be used with any kind of mascara. You get a great product for a cheap price, so there's no need to feel guilty about picking up something cheap. You'll end up picking it up multiple times a day, and the cosmetic pouch one stick comes with is sure to come in handy too!

▶︎BIODERMA

2. Sensibio H2O – ¥1,200 (Before Tax) *Photo is my own. Price shown is as was on the day of purchase.

This is a cleansing water to be used with sensitive skin. Pour some onto a cotton pad and simply wipe to remove your makeup without any unwanted excess being left on. It's a super convenient product to have during those times when your makeup need a quick fix up. It's often used in makeup shoots too! They have both small and large bottles, so try starting from the handy mini size first ☺

▶︎M.A.C

1. Strobe Cream Peachlite – ¥4,500 (Before Tax) *Photo is my own. Price shown is as was on the day of purchase.

A glittery pink cream that feels comfortable on the skin. When used as a base for your makeup it will brighten your skin, or when used as a highlight it will glimmer in the light on your shiny skin. It might be nice to add to the décolleté or when you are exposing skin too to add a little something. This item has many different uses!

▶︎Primavista

3. Long Keep Base UV – ¥2,800 (Before Tax) *Photo is my own. Price shown is as was on the day of purchase.

This product can won't blemish skin at all even if it's been working all throughout the day. It goes on gently and soaks up quickly. This means it can be used when you don't have much time, such as when you're in a hurry in the morning. It feels so light it makes you wonder whether you've even put any on! It also holds up well against sweat and oil so I highly recommend it for the coming season! (It's been a No. 1 best seller for 9 years in a row.)

As a footnote, I'll just add that I'm actually a model for Primavista's products and I'm really glad I discovered them.

▶︎YSL

5. TOUCHE ÉCLAT BLUR PRIMER 1 – ¥6,300 (Before Tax) *Photo is my own. Price shown is as was on the day of purchase.

This is a makeup base that has gold pearls in it. It fixes the uneven parts of the skin to make it uniform making it perfect for foundation. It has a semi-matte consistency and the goal pearls give your skin a gorgeous gloss.

10. LE CUSHION ENCRE DE PEAU B30 – ¥7,500 (Before Tax) *Photo is my own. Price shown is as was on the day of purchase.

This is the covering power, moisturisation and texture I wanted! It feels very light on the face, so much so that it feels like you have none on, but it's the opposite of useless―it covers the face completely. As expected of them. It's easy to put on too, just pat it onto your face with a sponge. It's very durable too!

▶︎MIMURA

4. Smooth Skin Cover – ¥4,200 (Before Tax) *Photo is my own. Price shown is as was on the day of purchase.

This too is a makeup base and evens out the odds of your face. It's silky and makes you look extremely beautiful so it's the perfect accompaniment to makeup. It also thankfully contains SPF20 and PA++ and is free from ethanol, colouring agents and synthetic fragrances, making it kind to skin. I would also recommend it to people with weak skin. This is my second pot ♡

▶︎LANCOME

6. Grandiôse Mascara (Volume Type) BK – ¥4,200 (Before Tax)

The rose design of the cap is so cute! This is the No. 1 easiest product to coat. The shape of brush has been carefully calculated to curve with your eyelashes. It does nothing short of bolstering the volume of them. It has also received high praise for how easy it comes off with hot water. But it doesn't blot either. This one's for those who want to emphasise their gaze♡

▶︎CLINIQUE

7. Lash Power Mascara Long-Wearing Formula BK – ¥3,780

We can all relate to mascara becoming clumpy. This formula entwines with each eyelash hair to give big, beautiful eyes. It makes you feel good when applied. Though this is my third time buying it it never fails to make me say out loud to myself, "Wow, how beautiful." You don't have to worry about sweat or oil either, plus it comes off easily with hot water♡

▶︎MAYBELLINE

9. Hyper Sharp Liner BK – ¥1,200 (Before Tax) *Photo is my own. Price shown is as was on the day of purchase.

I have loved and used MAYBELLINE since I was a high school student. I've used many different eyeliners but always end up returning to the same place. The Hyper Sharp Liner is easy to draw with, doesn't smear, and the tip of the brush is thin and soft, so drawing on cat eyes is so much easier now. It's perfect! Get it ASAP!

What do you think of my list? The categories are a bit jumbled, but I have listed all the items I highly recommend.

A lot of the items I've presented are expensive, but even if they are pricey, the quality is good and the effects they have really work! I wonder if the reason for people in their teens and 20s focus so much on skin care is because they have seen the speed at which you can revitalise your skin, or have the power to 'rebirth' oneself.

My skin is changing entirely now compared to back when I thought it was okay to not take care of it. I want to make more recommendations to people at my age and invest in my future self.

Be sure to reference this last, and thank you for reading! Until next time ☺

Writer / Model  Yuri Suganuma
Photographer  / Hikari Shibata

Translator / Joshua Kitosi-Isanga

TALENT PROFILE

Yuri Suganuma

Yuri Suganuma is a model with a high fashion sense that has been picked up by various magazines. She receives much love and support from girls of the same generation as her to whom she is known by her nickname "Yurippa." She has a huge influence across her social media. Recently, she has stepped into other fields outside of modelling, such as appearing in TV shoots and in music videos. She is skilled in make-up and involved in the development of cosmetics.

Aymmy in the batty girls's New Spring Fashion Items

Aymmy in the batty girls is a fashion brand led by Ayumi Seto. I took a trip to the store's press room together with Chinese model Etsuna to see the brand's new spring collection.

First up, Etsuna & Ayumi's casual attire!

"I normally wear a lot of pastel-coloured clothes, but today I came wearing a bright rose pink one piece to look like Ayumi! I was also happy Ayumi was wearing the same coloured pants as me." ―Estuna

Shirt: ¥14,040 / Pants with Belt: ¥18,360 (All Tax Included)

"I coordinated this outfit using Aymmy's new items. The sparkly buckle on the pants is an important piece so I wore shiny earrings and glasses to go with it. I also combined the purple in the shirt design with the pants, so even though I have both the patterns and flashy coloured pants it all comes together." ―Ayumi

Aymmy in the batty girls's recommended spring items

The theme for Aymmy in the batty girls's items this season is "Blooming Garden Picnic." They maintain that typical Aymmy feel while mixing in springtime motifs like daisies and tulips. The collection is made to make you feel like you're by the flower beds having a picnic.

Which item do they recommend this most?

One Piece: ¥22,680 (Tax Included)

"This slim-fit knitwear is something I want to see combined with the checkered one piece. It's made tight and minimalist and can be worn stylishly and girly. The collar and sleeves are also rainbow coloured." ―Ayumi

Knitted Polo: ¥10,800 (Tax Included)

"This slim-fit knitwear is something I want to see combined with the checkered one piece. It's made tight and minimalist and can be worn stylishly and girly. The collar and sleeves are also rainbow coloured." ―Ayumi

Cardigan: ¥14,040 (Tax Included)

"Glitter is in the spotlight this spring, so I recommend this knitted glitter cardigan too. The sleeves have frills to make you look cute. Another highlight is the red ribbon." ―Ayumi

PVC Bag: ¥7,560 (Tax Included)

"The number one most popular items at our exhibition were these three PVC bags. They come in three different colours. They are transparent so you can see the contents inside which I think is cute. I recommend the red one to those who don't want their things to be seen though, that one is harder to see through. We made the handles long too so they can be worn from the shoulder!" ―Ayumi

Etsuna & Aymmy's outfit showdown!

At Etsuna's request Aymmy did her styling for her!

One Piece: ¥17,820 / Cardigan: ¥14,040 / Beret: ¥8,640 (All Tax Included)

"Estuna's image is pink, so I tried to give the outfit a spring vibe by combining pink and green. The gingham one piece has a high waist and can be used to alter to change how it looks so you can make yourself look even more stylish." ―Ayumi

Next, Etsuna did Ayumi's styling.

Sweater: ¥9,720 / Skirt: ¥17,280 / Blouse: ¥12,960 / Cap: ¥5,400 (All Tax Included)

"Ayumi normally goes for a boyish look, so I wanted to make her more girly so I mixed in a dotted blouse. I combined red and white to make her look like Lolita from the movie." ―Estuna

Estuna was very happy with her first ever visit to the Aymmy press room. She comments: "Back when Ayumi used to be a frequent model in magazines, I often saw her cute boyish style. I am moved to be able to actually meet the person whom I admired. I can see she has become more of an adult since the magazines, but the base of her hasn't changed one bit!"

Aymmy in the batty girls's new item collection can be bought from the brand's official website or via Amazon. Those living overseas can purchase them on Amazon too. There are plenty of other cute items we couldn't show today too, so be sure to check them out and enjoy filling up your wardrobe for Spring 2019!

Etsuna also made a video about her trip over on her Weibo page, so check that out below too.

https://weibo.com/1053701534/HnKj48RL9

Model / Ayumi Seto Etsuna

Writer / Sayoko Ishii

Photographer / Kayo Sekiguchi

Help Me Choose! Japan's Trending Makeup: #1 Lipsticks Loved by Everyone!

This is my first ever series I've ever been put in charge of as a writer and model.

Moshi Moshi Nippon is where I start!

To briefly explain my makeup history, I first became interested in makeup when I was in elementary school after I went to a drugstore and saw cosmetics all lined up. After entering middle school, I was an awkward girl hooked on eyeshadows. I realised in high school that unique people get a lot of attention, and so I wanted to learn more about makeup. Every week, if I had a free moment, I'd pop down to the department store and little by little, deepened my knowledge about cosmetics. At around the age of 22 or 23, I achieved my certification as a "Cosmetics/ Skincare Meister". (There's still a lot to learn though…)

At 23, I started writing a series of my own about makeup!
Even if it's just a little bit, I want everyone to feel like they can use my articles to help themselves find their favourite cosmetics.

As this is my first ever business, I was obviously quite nervous about a few things.

As the impression that makeup leaves, and everyone's individual tastes can always completely change in an instant, I made this report which puts the spotlight on lipsticks that are suitable for a range of people!

These are recommendations by Yurippa!

These lipsticks are perfect for spring and summer!

If you're looking for stylish yet affordable lipsticks, join me and take a peak of my world of makeup through my eyes!

▽ Yurippa's recommended lipsticks!

・3CE  MOOD RECIPE MATTE LIP COLOR #909 ¥2160

Feels like a cream when you spread it on your lips.

A matte finish colour that sticks to your lips.

Very good colouring

Slightly deep red coral…

Gives an adult-like impression!

Coordination ideas: Perfect highlight for an all black outfit or a white shirt, or all navy look. I think it would make a great contrast with blue!

Suitable for all skin types (yellow base, blue base)

No matter where you go, you'll be complimented for your lipstick coordination ♡

To buy this, search for "3ce" lipstick

It'll be somewhere around the 4th or 5th link down. Look out for the product number #909.

This is a very popular lipstick!

・another item・

・M・A・C

(Left)Dubonnet ¥3240

Matte finish wine purple colour.

Deep with an edgy finish.

M・A・C lipstick colours are very defined and difficult to rub off!

You don't even need to top up very much throughout the day.

(Right)Chili (MINI size) ¥1404

This is an orange brown matte lipstick.

There are many models these days who use this colour.

If you are not sure what colour suits you, you can play it safe with this.

All these lipsticks smell like vanilla.

※M・A・C lipstick is sold at some stores.

・CHANEL Rouge, Allure, Velvet series ¥4536

These are also matte lipsticks.

If you compare the feel of 3CE and M・A・C lipsticks, you'll find they both have a different matte texture.

You can really feel the moisture in this!!

A smooth, matte finish.

I'm way too keen on this series. I mainly have lipsticks from the colour version.

The texture, quality of colour, and the exquisite choice of colour is what makes this lipstick so addictive!

(Left)No.58 Rouge Vie

Deep, strong red

(Right)No.61 La Secrete

Salmon pink

▽2019 Perfect for spring and summer Lip

・ADDICTION  Lipstick Sheer 003 cherry cherry ¥3024

Finally here's a non-matte lipstick that I like! Haha…

But despite I love matte lipsticks so much, this lipstick just has the cutest texture! I fell in love with it at first sight.

The transparency is perfect for the shade of red.

Despite the strong red colour, it is rather transparent, giving a "pop" look.

The more you apply, the cuter your lips!

How about wearing a white shirt to match your red lips?

…or a patterned shirt, woven bag and denim bottoms??

Allow yourself to be driven by the wild feeling of spring and summer fashion. This lipstick is a must for your handbag!

I really want to wear cherry earrings to match the lipstick!

・shiro ginger lip butter(lip gloss)9C06 copper brown  ¥4104

A matte brown-orange.

This is quite a fashionable colour that will make you appear more like an adult.

A lip balm and gloss in one! No need to apply a balm as a base to stop your lips from drying out.

The shade is rather nice and the colouring is perfect.

The small touch of gloss will make you seem more adult-like ♡

It has a smooth texture and spreads smoothly!

The natural scent of ginger makes it seem just like an organic cosmetics product like "shiro".

Look no further for a lipstick you can use all year round!

The new colours came out on 7th March as a product not just for spring and summer, but also autumn and winter.

・Celvoke  Enthrall gloss 03 ¥3024

Orange/brown, glossy and plenty of moisture.

This will give you the plump lips that every girl wants!

As the colour is quite toned-down and dark, use a subtle amount of eyeshadow,  give your cheeks a matte finish and your lips will become the glossy accent to finish your look!

▽ Stylish yet affordable!

・CANMAKE Lip Tint Matte 03 rose ¥650

This is a rather girly rose pink.

Although this is a strong-coloured lip tint, it holds moisture so you don't have to worry about your lips drying out.

Spreads completely over your lips perfectly.

You would look so cute if you combined this with a floral outfit or gingham checks♡

01 coral

04 Terracotta red

・INTEGRATE Silky Matte Lip(Lip/cheek colour)PK384 ¥1296

Bright coral with a slight glossy semi-matte finish.

This is a fresh colour which will brighten your face.

Enjoy the light texture as you apply it.

As you can colour both your cheeks and your lips with this lipstick, this is perfect for those of you with busy mornings or those of you who are not good at makeup and are uncertain of how to balance colours!

This is an easy way to achieve a balanced look!

~ <Extra!> If you get your hands on this you should celebrate! ~

Pat McGrath is a hair and makeup artist. She owns the makeup brand "Pat McGrath"♡

She still hasn't been to Japan.

She is involved in famous fashion show brands and collections and is a hair and makeup specialist.

From the packet design, these products overflow with cuteness!

The smooth matte lipstick is absolutely perfect when it comes to durability and colour.

This high-quality lipstick is a leading lipstick ー no doubt about it!

Just how people buy CDs because of the awesome CD designs, you might end up getting this just for the packaging!

・Pat McGrath MATTETRANCE LIPSTICK

Elson 2  (The Perfect Red) ¥4752

Omi (Mid-tone Rose) ¥4752

(The packaging and the lipstick are just so beautiful!)

You can purchase these online.

I don't think there's many people who use these lipsticks!

If you have them, you can boast about your fashion to others! ☺︎

That's all!

…and that wraps up my personal lipstick report!

I didn't even realise that I wrote an entire report…

I want to continue with a second and even third series!

I aim to write these reports in a style that creates a close connection with my readers.

If you want to ask questions or need advice, I'm making an advice corner where you can reach me personally!

Let's be friends!

Writer / Model  Yuri Suganuma

Photographer    Haruka Yamamoto

Make & Hair      Yusuke Hashimoto

Learn About Shimane Prefecture's Oki Islands with Japanese Model Saki Shibata

On March 2, 2019 Japanese model Saki Shibata, along with nine others, carried out a research project entitled "Research Lab on the Charms of Oki" (隠岐のお気に入り研究所) to come up with a travel plan for the Oki Islands.

The Oki Islands are part of Shimane Prefecture. There are over 180 islands in total, sixteen of which are named, but only four of which are inhabited by humans. These can be visited via a ferry or high-speed boat.

The islands were formed almost 6 million years ago from volcanic activity. In September 2014, the islands were designated a UNESCO Global Geopark for their rich land and unique flora and fauna, history and culture. Visiting the islands offers the opportunity to experience unique nature you can't anywhere else in Japan. It is a place to enjoy characteristic culture of a different locale.

If you flip over a map of Japan you will also see that the Sea of Japan side of the islands are in the centre of the country. The Oki Islands also used to bustle with people as the doorstep to Japanese trade.

Saki Shibata visited the Oki Islands for the first time last year. She saw the bright red and immense Matengai Cliffs formed by the volcanoes' magma, the sea waves, felt the breeze in her hair and more. See her full nature-packed trip here.

An island local proposed her desire to show the wonder of the Oki Islands to the people of the world, and so the "Research Lab on the Charms of Oki" was formed. Saki, having already experienced those charms, was appointed Research Leader, and recruited other fellow members to join. She would convey her experiences and time spent on the islands for everybody to learn more about them so they could think up a travel plan together.

The event began with project leader Saki Shibata greeting everybody. She spoke about her memories of the Oki Islands and expressed enthusiasm to create a wonderful travel plan to the participants. Her talk was accompanied by slideshows with which she presented photos taken during her trip last year.

Saki played back through her mind how overwhelmed she was by the islands' nature and how warm and welcoming the locals were. All the other research members were absorbed in her talk and listened intently.

After Saki said her piece, a member of the Oki Islands UNESCO Global Geopark Association―which seeks to promote the charms of Oki Islands―spoke about Oki.

A "geopark" is a location with valuable geological features and forms and promotes the well-being of people living there through education and tourism.

Japan has nine officially-designated UNESCO Global Geoparks, one of them being the Oki Islands. Check out the video above which includes drone footage showcasing the expanse of nature there. It makes you want to see it with your very own eyes.

The group subsequently went on to creating a travel plan for the Oki Islands. Each member wrote down where they wanted to visit in Oki amongst other things.

They asked questions to the Geopark associate such as whether you can fish squid there, do skydiving and so on. When the group were asked what they had written down, all 9 of them had said they wanted to try eating Okigyu, or "Oki Beef." Local food is an absolute must to include on any travel plan.

Saki and her fellow research members' original plan is complete, full of ways to feel the full power of Oki's nature.

After learning about Oki, everybody got to try specialty products from the island. They lapped up the flavours of Oki while listening to Saki speak more about her time there.

Oki is famous for "Haruka," a type of Iwagaki oyster. They are a brand of oyster raised in the beautiful waters of Nakanoshima in the town of Ama. They also tried other local delights such as turbo sazae rice balls, seaweed miso soup, sake lees crackers and kojouyu miso, fukugi tea and more.

Obsidian

Salted Polvorón Cookies (Oki Kisen Shoji) / Sake Lees Crackers (Oki Brewery) / Sake Lees Soap (jimono) / Fukugi Mist (jimono) / Fukugi Tea (Amacho Sakura no Ie)

At the end of the event, Saki and the members were given an obsidian key ring and batch of Oki souvenirs from the associate. Though the event took place in Tokyo, everybody was able to get their fill of Oki.

If you read this article and are interested in the Oki Islands, then we have some good news. All of the specialty products and souvenirs shown can be bought at Rito Kitchen Nihombashi who carried out this event. These aren't easy to get your hands on unless you visit the islands, so if you're in Tokyo, be sure to visit and enjoy the flavours of the Oki Islands.