MMN Festival 2018: Review of Airbnb Tours Held by Popular Japanese Models
MOSHI MOSHI NIPPON FESTIVAL 2018 in SHIBUYA was held across the weekend of March 24 and 25 and promoted Japanese culture to the world from Shibuya. The event ended with huge success.
One of the popular aspects of the event were the original tours held in collaboration with Airbnb. Three models who performed on stage at the festival's Harajuku Kawaii Market, presented by Mynavi Baito, became guides and took attendees on their own original tours.
Let's review each of the tours so you can get a feel for walking the streets of Harajuku and participating in workshops with the models!
Guide: Yuri Suganuma – Getting Involved in a Workshop with Yuri Suganuma
Yuri 'Yurippa' Suganuma worked as a guide at the Swag Workshop. She learned how to make a 'swag' from Asami Char Tanabe, a popular type of wall decoration similar to a wreath.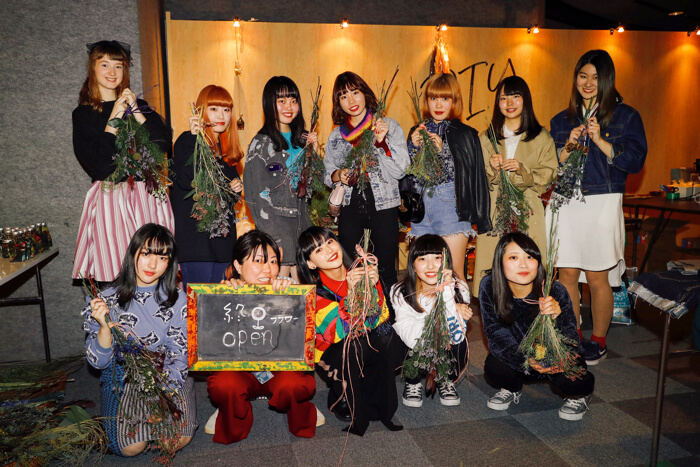 What colours shall we go with?" "Aah, that's cute!" Yurippa and those who got involved in the workshop were back and forth with each other having fun.
At the end of the workshop, everyone held their swag for a photo. It was a special workshop for those involved, who also posted their photos on social media.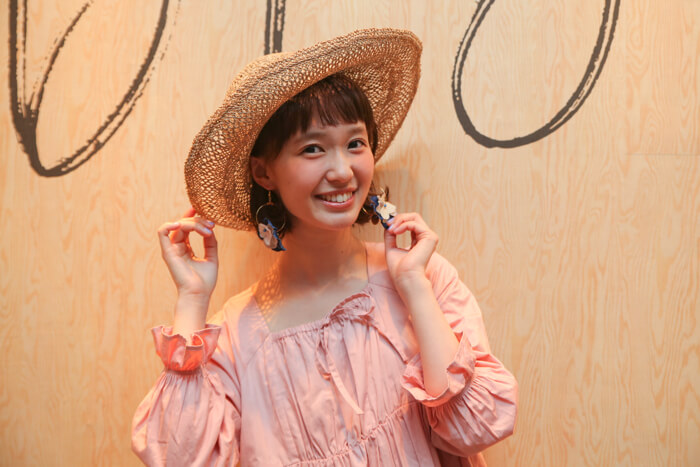 Guide: Saki Shibata – Shibatabi
Saki 'Shibasaki' Shibata held a tour on both days of the festival called 'Shibatabi,' a play on her nickname where 'tabi' means a 'trip' or to travel.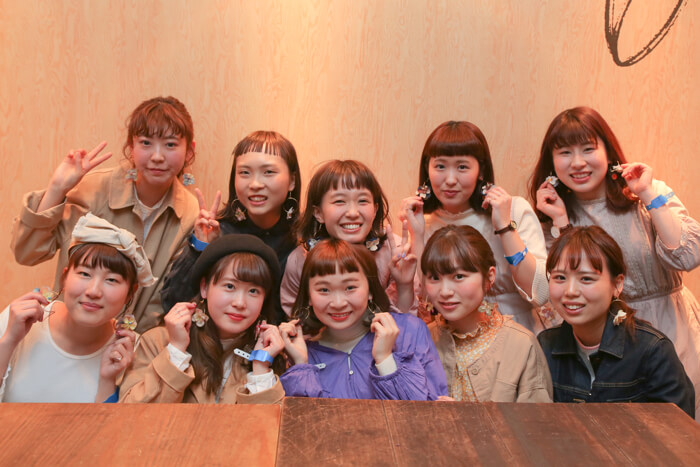 On the 24th, Shibasaki took part in the CHACO workshop, something she had always been interested in. Everyone made matching piercings and earrings together before eating some lunch later on.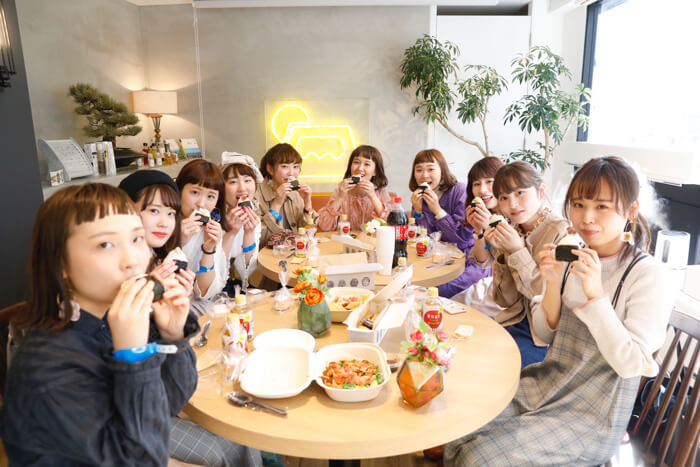 Originally, the group were scheduled to go to Cat Street for some shopping, but the weather was too good, and the cherry blossoms were in full bloom. So, they had a change of plan and instead made a trip to Yoyogi Park. They spent hanami strolling through the park.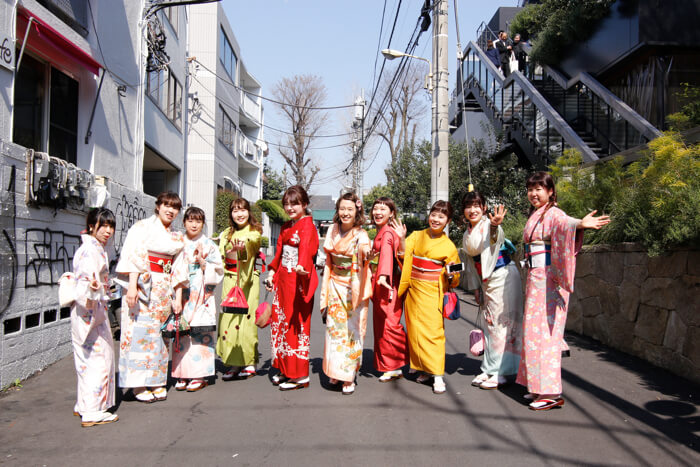 To wrap up, they walked back to their starting point of SHIBUYA CAST, ending the first day of Shibatabi.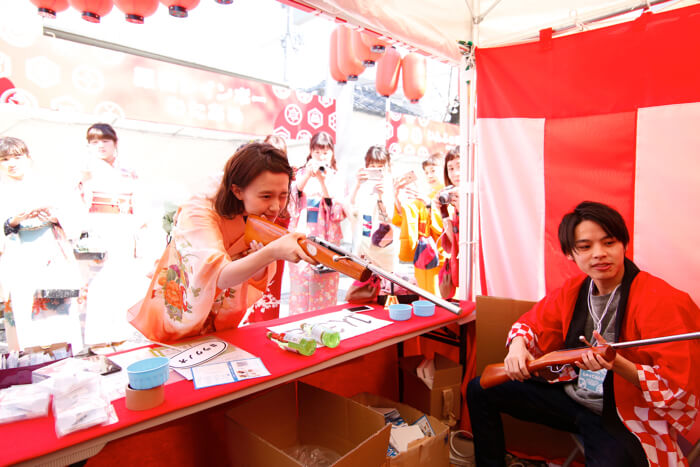 On the 25th, Shibatabi began with dressing up in kimono! Each person in the group had their kimono fitted in succession, and when everyone had theirs on they departed for Onden Shrine. There, they admired the booths such as the target practice game and glimpsed the performances on stage. To commemorate the day, they received a goushuin, before heading to their next destination SHANTi. This is Shibasaki's favourite curry soup restaurant. Everyone enjoyed eating curry together before heading back to SHIBUYA CAST and scattering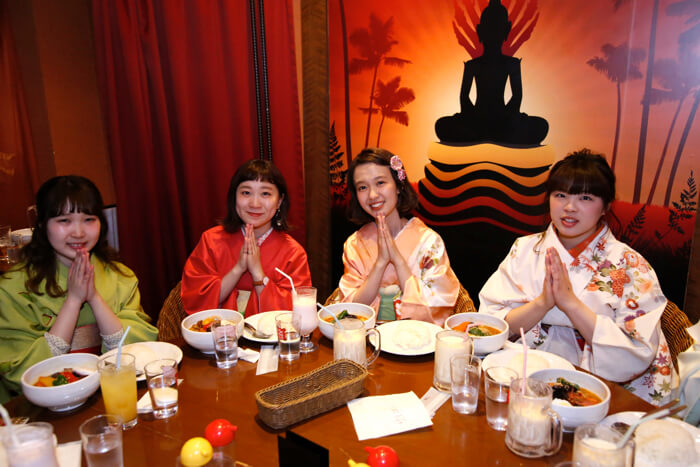 Shibatabi was like hanging out as friends with Shibasaki. She plans to hold it again every now and then, so be sure to keep up to date with her social media or check the MOSHI MOSHI NIPPON website and our social media too.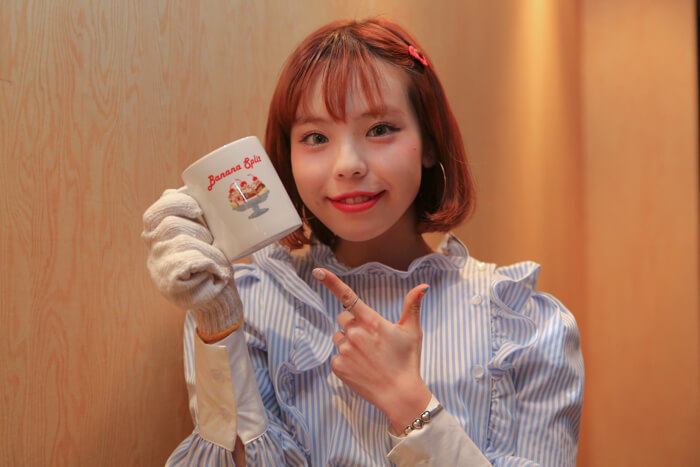 Guide: Ayumi Seto – Aymmy in the batty girls Tour
Model and designer Ayumi Seto gave a tour of 'Aymmy in the batty girls.' The first half of the tour centered around a workshop. Everyone created their own original mugs using Aymmy designs.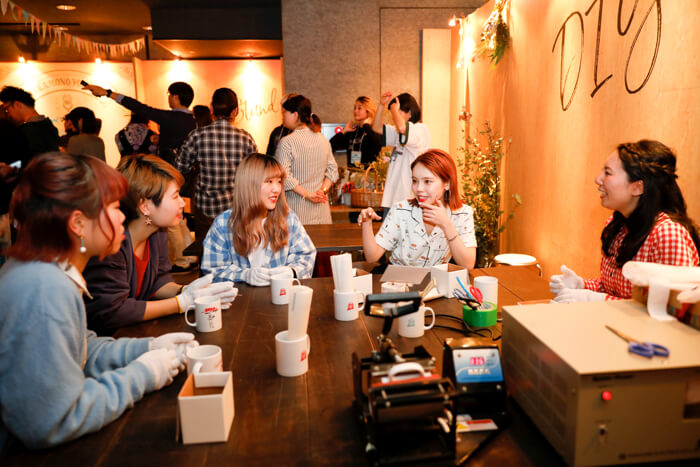 The tickets for this tour were like golden tickets as there were only 5 available. Those lucky few who obtained one were a little nervous in front of Ayumi.
Following the workshop was a trip to the Aymmy in the batty girls store, where everyone was given tips and trucks for co-ords and styling with this year's spring and summer items.
If you were one of the people who was able to spend a wonderful day on one of these exclusive tours: how did you find it?
MOSHI MOSHI NIPPON will be teaming up with Airbnb again to hold future tours the way we know how. If you want the chance to get involved with one, then be sure to stay up to date via our website and social media.
RELATED ENTRIES
Tokyo DisneySea's New 'Song of Mirage' Show is a Must-See

Tokyo DisneySea fans have been waiting in excited anticipation for the opening of the park's new attraction Soaring: Fantastic Flight on July 23. But did you know that an all-new show also started on the same day?

I visited Tokyo DisneySea together with models Saki Shibata and Kanako to see this new show. It's called Song of Mirage and features Mickey, Minnie, Donald and Goofy as the cast.

The show takes place at the Hanger Stage in Lost River Delta. Mickey and the rest of the cast are led to the mysterious city of  Rio Dorado by a cane that Donald found.

From the very start of the show the characters are sucked into this magical place by the mysterious cane. During this time Donald ends up getting himself in trouble. Mickey also takes part in a dance battle where he shows off his cool moves which leaves Minnie positively in awe. Each character has their own performance which guests can look forward to seeing.

The most overwhelming part of the show however is the voice of the diva who appears during the set. She sings beautifully yet powerfully and it gave me goosebumps.

The singing and dancing throughout, as well as the realistic projection mapping were all spectacular. We were completely drawn into the story and the vibrant and dynamic performances that tied it together.

The performers singing and dancing in their golden costumes too were a sight to behold.

Saki's reactions were really charming as her face changed every single second while she laughed, clapped and really got into the show. Kanako, who loves Disney, was extremely pleased to see her favourite characters on stage too.

There is both reserved and free seating at the show. Reserved seating must be booked in advance but is allocated through a lottery system where people are chosen randomly. The schedule for bookings can be found on the official website.

The Disney cast wear adventurer costumes during the performance, and you can buy plush toys of them wearing them too!

If you're visiting Tokyo DisneySea then be sure to catch the show during your breaks between attractions and parades.

©Disney

Soar All Over The World With DisneySea's Brand New Attraction Soaring: Fantastic Flight

Tokyo DisneySea will open their new attraction Soaring: Fantastic Flight on July 23. This ride is an immensely popular attraction at theme parks around the world. DisneySea has created a new adaptation of this ride, offering a brand new and original experience to visitors.

Model Saki Shibata from MOSHI MOSHI NIPPON Editorial Department headed to DisneySea with model Kanako for an exclusive opportunity to experience this attraction before it opens to the rest of the public!

Climb up the stairs next to the Mediterranean Harbor and the attraction will lie right before your eyes. 

Before you enter the building, you will notice that there are lots of photo spots outside. 

You will also spot Camellia Falco; a keen flyer who became the first woman to be accepted in the Society of Explorers and Adventurers in 1851.

The Museum of Fantastic Flight located in the Mediterranean Harbor is celebrating Camellia Falco's innovation in the field of aviation by holding a special commemorative exhibition dedicated to her and her research. 

The final room of the museum is a gallery filled with Camellia's outstanding achievements.

Finally, it was time to climb aboard the invention of Camellia and her colleagues; an aircraft called the Dream Flyer.

The Dream Flyer was a magnificent trip. We soared through the sky, through the nature and around famous places of the world.

We were propelled from one place to another, experiencing a range of new atmospheres and surroundings in so many ways. At each location, we felt the wind and temperature of each country on our skin and could even smell a mix of intriguing smells unique to each location. 

The final destination we arrived at was our most favourite… 

This DisneySea original attraction is overflowing with imagination. It was like flying through an imaginary world. You absolutely must check it out. 

Fantastic Flight Churros (Pineapple): ¥400

Fantastic Flight Drink (Lychee Bubble Tea): ¥450

To celebrate the opening of the new attraction, new Fantastic Flight-themed merchandise and foods have been released. Zambini Brothers' Ristorante is even selling pineapple flavoured churros and bubble tea. Just looking at the blue sky colour of these delicious treats will leave you feeling refreshed.

Postcard: ¥200 

Origami Notebook: ¥400

Socks (22 ー 25cm/ 25 ー 27cm): ¥700

Please check out the full goods range!

It has been quite a while since DisneySea has opened a new attraction, so the park is booming with excitement in anticipation for its grand opening to the public! Climb aboard the Soaring: Fantastic Flight ride and embark on a worldwide adventure! 

©Disney

Help Me Choose! Japan's Trending Makeup #2: Yurippa's Repeat Cosmetic Pickups♡

This is my first ever series I've ever been put in charge of as a writer and model.

As long as you're stocked up on these items, you're good to go. In this special edition, I will showcase cosmetics that I'm a repeat buyer of and would definitely buy again.

▽Skincare

The first thing I should mention is my skin type.

・I have tough skin and so it doesn't blemish easily

・It becomes dull when I have lack of sleep

・With my combination skin, it's easy to spot oily areas (T Zone) and dry areas (around the eyes, U Zone)

Like this.

Using my knowledge of various cosmetics and methods I have tried I would like to showcase my recommendations. (Don't worry if you don't have the same skin type as me as some of the items I have picked can be used with other types too, so be sure to take a look.)

Finally, you'll be happy to know that these can be used during all seasons.

So, ready to give it a go?

▶︎Dior Capture Youth Series

Quickly and actively delays the appearance of signs of ageing. This series was created to retain youthful looking skin. There are six serums to choose from which cater to different skin conditions. Each can be used on their own or in combination with your own serum products. I've made a custom serum for myself by combining two different types.

1. Intense Rescue Oil (30ml) – ¥12,420 *Photo is my own. Price shown is as was on the day of purchase.

(Effective against dry skin and helps maintain moisture. Supplements lipids.)

2. Glow Booster (30ml) – ¥12,420 *Photo is my own. Price shown is as was on the day of purchase.

(Rich in Vitamin C. Leaves skin glowing and feeling invigorated.)

For face lotion, I use 3.Enzyme Solution. It has a refreshing water-like texture and leaves skin moist. Good to use on skin that favours serums in this series.

Enzyme Solution (150ml) – ¥7,452 *Photo is my own. Price shown is as was on the day of purchase.

For cream, I use 9.Capture Youth Creme. It doesn't remove the face lotion or the serum and doesn't feel sticky.

Capture Youth Age-Delay Advanced Creme (50ml) – ¥12,420 *Photo is my own. Price shown is as was on the day of purchase.

It's safe to say that after using this series, I don't even know what dry skin is anymore. It really is that effective!

▶︎FEMMUE

5. Lumière Vital C  (30ml) – ¥8,000 (Before Tax) *Photo is my own. Price shown is as was on the day of purchase.

6. Ideal Oil (30ml) – ¥6,000 (Before Tax) *Photo is my own. Price shown is as was on the day of purchase.

FEMMUE is a really popular brand right now from the hub of beauty, South Korea. Firstly, it's steeped in fragrance. It's rich in floral scents like perfume. Simply holding the bottles fills you with a feeling of satisfaction. It leaves your skin feeling clear, smooth and glowing. And though it's a thick oil, the skin absorbs it extremely well. 10/10 from me!

I might recommend it to girls who've just stepped into adulthood, girls who want to look sexy, and those who want to be popular! It's perfect for skin that blemishes easily.

▶︎dear mayuko

7. Innocent Skin Serum (20ml) – ¥8,424 *Photo is my own. Price shown is as was on the day of purchase.

This serum contains sericin which comes from silkworm cocoons. Sericin ensures your skin is moist and is gentle on the skin. Despite being a beauty product the texture of this serum is really silky (like water!) and will leave your skin soft and healthy.

Personally, I recommend using it as a booster serum! It's an easy way to nourish the skin before putting on any makeup. It will also help things like face lotions and milky lotions soak in better. The serum itself soaks into your skin nice and quickly so it won't ruin your makeup. Its warm matte texture and colour will leave you looking soft♡

▶︎Kiehls

4. Kiehl's Ultra Face Cream (49g) – ¥4,000 (Before Tax) *Photo is my own. Price shown is as was on the day of purchase.

This cream spreads lightly on the skin. It's also very clear to see that it lets no moisture escape…! That's how dense this cream is, it's like it adds a cover to your face. It also doesn't clear away face lotion or any beauty essences. It reaaally moisturises your skin. This is my 5th or 6th time buying it.

8. Kiehl's Ultra Face Cleanser – ¥2,800 (Before Tax) *Photo is my own. Price shown is as was on the day of purchase.

This can be used on any skin time. (It's also good for people with eyelash extensions!)

It's a gel-type cleanser. What's good about it being gel-type is that cleans off better than oil and yet doesn't take in unnecessary moisture from the skin. You also don't get that stretched feeling after you wash your face. This can really be used all season and by anyone. I haven't used any other cleansers the past three or four times. It's one I can trust.

▽Cosmetics

Be sure to check out my recommended lipsticks from last time too!

https://www.moshimoshi-nippon.jp/183569

▶︎CANMAKE

8. Quick Lash Curler (Transparent Type) – ¥680 (Before Tax) *Photo is my own. Price shown is as was on the day of purchase.

I often use this as a top coat. It makes it harder for your eyelashes to sag and can be used with any kind of mascara. You get a great product for a cheap price, so there's no need to feel guilty about picking up something cheap. You'll end up picking it up multiple times a day, and the cosmetic pouch one stick comes with is sure to come in handy too!

▶︎BIODERMA

2. Sensibio H2O – ¥1,200 (Before Tax) *Photo is my own. Price shown is as was on the day of purchase.

This is a cleansing water to be used with sensitive skin. Pour some onto a cotton pad and simply wipe to remove your makeup without any unwanted excess being left on. It's a super convenient product to have during those times when your makeup need a quick fix up. It's often used in makeup shoots too! They have both small and large bottles, so try starting from the handy mini size first ☺

▶︎M.A.C

1. Strobe Cream Peachlite – ¥4,500 (Before Tax) *Photo is my own. Price shown is as was on the day of purchase.

A glittery pink cream that feels comfortable on the skin. When used as a base for your makeup it will brighten your skin, or when used as a highlight it will glimmer in the light on your shiny skin. It might be nice to add to the décolleté or when you are exposing skin too to add a little something. This item has many different uses!

▶︎Primavista

3. Long Keep Base UV – ¥2,800 (Before Tax) *Photo is my own. Price shown is as was on the day of purchase.

This product can won't blemish skin at all even if it's been working all throughout the day. It goes on gently and soaks up quickly. This means it can be used when you don't have much time, such as when you're in a hurry in the morning. It feels so light it makes you wonder whether you've even put any on! It also holds up well against sweat and oil so I highly recommend it for the coming season! (It's been a No. 1 best seller for 9 years in a row.)

As a footnote, I'll just add that I'm actually a model for Primavista's products and I'm really glad I discovered them.

▶︎YSL

5. TOUCHE ÉCLAT BLUR PRIMER 1 – ¥6,300 (Before Tax) *Photo is my own. Price shown is as was on the day of purchase.

This is a makeup base that has gold pearls in it. It fixes the uneven parts of the skin to make it uniform making it perfect for foundation. It has a semi-matte consistency and the goal pearls give your skin a gorgeous gloss.

10. LE CUSHION ENCRE DE PEAU B30 – ¥7,500 (Before Tax) *Photo is my own. Price shown is as was on the day of purchase.

This is the covering power, moisturisation and texture I wanted! It feels very light on the face, so much so that it feels like you have none on, but it's the opposite of useless―it covers the face completely. As expected of them. It's easy to put on too, just pat it onto your face with a sponge. It's very durable too!

▶︎MIMURA

4. Smooth Skin Cover – ¥4,200 (Before Tax) *Photo is my own. Price shown is as was on the day of purchase.

This too is a makeup base and evens out the odds of your face. It's silky and makes you look extremely beautiful so it's the perfect accompaniment to makeup. It also thankfully contains SPF20 and PA++ and is free from ethanol, colouring agents and synthetic fragrances, making it kind to skin. I would also recommend it to people with weak skin. This is my second pot ♡

▶︎LANCOME

6. Grandiôse Mascara (Volume Type) BK – ¥4,200 (Before Tax)

The rose design of the cap is so cute! This is the No. 1 easiest product to coat. The shape of brush has been carefully calculated to curve with your eyelashes. It does nothing short of bolstering the volume of them. It has also received high praise for how easy it comes off with hot water. But it doesn't blot either. This one's for those who want to emphasise their gaze♡

▶︎CLINIQUE

7. Lash Power Mascara Long-Wearing Formula BK – ¥3,780

We can all relate to mascara becoming clumpy. This formula entwines with each eyelash hair to give big, beautiful eyes. It makes you feel good when applied. Though this is my third time buying it it never fails to make me say out loud to myself, "Wow, how beautiful." You don't have to worry about sweat or oil either, plus it comes off easily with hot water♡

▶︎MAYBELLINE

9. Hyper Sharp Liner BK – ¥1,200 (Before Tax) *Photo is my own. Price shown is as was on the day of purchase.

I have loved and used MAYBELLINE since I was a high school student. I've used many different eyeliners but always end up returning to the same place. The Hyper Sharp Liner is easy to draw with, doesn't smear, and the tip of the brush is thin and soft, so drawing on cat eyes is so much easier now. It's perfect! Get it ASAP!

What do you think of my list? The categories are a bit jumbled, but I have listed all the items I highly recommend.

A lot of the items I've presented are expensive, but even if they are pricey, the quality is good and the effects they have really work! I wonder if the reason for people in their teens and 20s focus so much on skin care is because they have seen the speed at which you can revitalise your skin, or have the power to 'rebirth' oneself.

My skin is changing entirely now compared to back when I thought it was okay to not take care of it. I want to make more recommendations to people at my age and invest in my future self.

Be sure to reference this last, and thank you for reading! Until next time ☺

Writer / Model  Yuri Suganuma
Photographer  / Hikari Shibata

Translator / Joshua Kitosi-Isanga

TALENT PROFILE

Yuri Suganuma

Yuri Suganuma is a model with a high fashion sense that has been picked up by various magazines. She receives much love and support from girls of the same generation as her to whom she is known by her nickname "Yurippa." She has a huge influence across her social media. Recently, she has stepped into other fields outside of modelling, such as appearing in TV shoots and in music videos. She is skilled in make-up and involved in the development of cosmetics.

Aymmy in the batty girls's New Spring Fashion Items

Aymmy in the batty girls is a fashion brand led by Ayumi Seto. I took a trip to the store's press room together with Chinese model Etsuna to see the brand's new spring collection.

First up, Etsuna & Ayumi's casual attire!

"I normally wear a lot of pastel-coloured clothes, but today I came wearing a bright rose pink one piece to look like Ayumi! I was also happy Ayumi was wearing the same coloured pants as me." ―Estuna

Shirt: ¥14,040 / Pants with Belt: ¥18,360 (All Tax Included)

"I coordinated this outfit using Aymmy's new items. The sparkly buckle on the pants is an important piece so I wore shiny earrings and glasses to go with it. I also combined the purple in the shirt design with the pants, so even though I have both the patterns and flashy coloured pants it all comes together." ―Ayumi

Aymmy in the batty girls's recommended spring items

The theme for Aymmy in the batty girls's items this season is "Blooming Garden Picnic." They maintain that typical Aymmy feel while mixing in springtime motifs like daisies and tulips. The collection is made to make you feel like you're by the flower beds having a picnic.

Which item do they recommend this most?

One Piece: ¥22,680 (Tax Included)

"This slim-fit knitwear is something I want to see combined with the checkered one piece. It's made tight and minimalist and can be worn stylishly and girly. The collar and sleeves are also rainbow coloured." ―Ayumi

Knitted Polo: ¥10,800 (Tax Included)

"This slim-fit knitwear is something I want to see combined with the checkered one piece. It's made tight and minimalist and can be worn stylishly and girly. The collar and sleeves are also rainbow coloured." ―Ayumi

Cardigan: ¥14,040 (Tax Included)

"Glitter is in the spotlight this spring, so I recommend this knitted glitter cardigan too. The sleeves have frills to make you look cute. Another highlight is the red ribbon." ―Ayumi

PVC Bag: ¥7,560 (Tax Included)

"The number one most popular items at our exhibition were these three PVC bags. They come in three different colours. They are transparent so you can see the contents inside which I think is cute. I recommend the red one to those who don't want their things to be seen though, that one is harder to see through. We made the handles long too so they can be worn from the shoulder!" ―Ayumi

Etsuna & Aymmy's outfit showdown!

At Etsuna's request Aymmy did her styling for her!

One Piece: ¥17,820 / Cardigan: ¥14,040 / Beret: ¥8,640 (All Tax Included)

"Estuna's image is pink, so I tried to give the outfit a spring vibe by combining pink and green. The gingham one piece has a high waist and can be used to alter to change how it looks so you can make yourself look even more stylish." ―Ayumi

Next, Etsuna did Ayumi's styling.

Sweater: ¥9,720 / Skirt: ¥17,280 / Blouse: ¥12,960 / Cap: ¥5,400 (All Tax Included)

"Ayumi normally goes for a boyish look, so I wanted to make her more girly so I mixed in a dotted blouse. I combined red and white to make her look like Lolita from the movie." ―Estuna

Estuna was very happy with her first ever visit to the Aymmy press room. She comments: "Back when Ayumi used to be a frequent model in magazines, I often saw her cute boyish style. I am moved to be able to actually meet the person whom I admired. I can see she has become more of an adult since the magazines, but the base of her hasn't changed one bit!"

Aymmy in the batty girls's new item collection can be bought from the brand's official website or via Amazon. Those living overseas can purchase them on Amazon too. There are plenty of other cute items we couldn't show today too, so be sure to check them out and enjoy filling up your wardrobe for Spring 2019!

Etsuna also made a video about her trip over on her Weibo page, so check that out below too.

https://weibo.com/1053701534/HnKj48RL9

Model / Ayumi Seto Etsuna

Writer / Sayoko Ishii

Photographer / Kayo Sekiguchi

Help Me Choose! Japan's Trending Makeup: #1 Lipsticks Loved by Everyone!

This is my first ever series I've ever been put in charge of as a writer and model.

Moshi Moshi Nippon is where I start!

To briefly explain my makeup history, I first became interested in makeup when I was in elementary school after I went to a drugstore and saw cosmetics all lined up. After entering middle school, I was an awkward girl hooked on eyeshadows. I realised in high school that unique people get a lot of attention, and so I wanted to learn more about makeup. Every week, if I had a free moment, I'd pop down to the department store and little by little, deepened my knowledge about cosmetics. At around the age of 22 or 23, I achieved my certification as a "Cosmetics/ Skincare Meister". (There's still a lot to learn though…)

At 23, I started writing a series of my own about makeup!
Even if it's just a little bit, I want everyone to feel like they can use my articles to help themselves find their favourite cosmetics.

As this is my first ever business, I was obviously quite nervous about a few things.

As the impression that makeup leaves, and everyone's individual tastes can always completely change in an instant, I made this report which puts the spotlight on lipsticks that are suitable for a range of people!

These are recommendations by Yurippa!

These lipsticks are perfect for spring and summer!

If you're looking for stylish yet affordable lipsticks, join me and take a peak of my world of makeup through my eyes!

▽ Yurippa's recommended lipsticks!

・3CE  MOOD RECIPE MATTE LIP COLOR #909 ¥2160

Feels like a cream when you spread it on your lips.

A matte finish colour that sticks to your lips.

Very good colouring

Slightly deep red coral…

Gives an adult-like impression!

Coordination ideas: Perfect highlight for an all black outfit or a white shirt, or all navy look. I think it would make a great contrast with blue!

Suitable for all skin types (yellow base, blue base)

No matter where you go, you'll be complimented for your lipstick coordination ♡

To buy this, search for "3ce" lipstick

It'll be somewhere around the 4th or 5th link down. Look out for the product number #909.

This is a very popular lipstick!

・another item・

・M・A・C

(Left)Dubonnet ¥3240

Matte finish wine purple colour.

Deep with an edgy finish.

M・A・C lipstick colours are very defined and difficult to rub off!

You don't even need to top up very much throughout the day.

(Right)Chili (MINI size) ¥1404

This is an orange brown matte lipstick.

There are many models these days who use this colour.

If you are not sure what colour suits you, you can play it safe with this.

All these lipsticks smell like vanilla.

※M・A・C lipstick is sold at some stores.

・CHANEL Rouge, Allure, Velvet series ¥4536

These are also matte lipsticks.

If you compare the feel of 3CE and M・A・C lipsticks, you'll find they both have a different matte texture.

You can really feel the moisture in this!!

A smooth, matte finish.

I'm way too keen on this series. I mainly have lipsticks from the colour version.

The texture, quality of colour, and the exquisite choice of colour is what makes this lipstick so addictive!

(Left)No.58 Rouge Vie

Deep, strong red

(Right)No.61 La Secrete

Salmon pink

▽2019 Perfect for spring and summer Lip

・ADDICTION  Lipstick Sheer 003 cherry cherry ¥3024

Finally here's a non-matte lipstick that I like! Haha…

But despite I love matte lipsticks so much, this lipstick just has the cutest texture! I fell in love with it at first sight.

The transparency is perfect for the shade of red.

Despite the strong red colour, it is rather transparent, giving a "pop" look.

The more you apply, the cuter your lips!

How about wearing a white shirt to match your red lips?

…or a patterned shirt, woven bag and denim bottoms??

Allow yourself to be driven by the wild feeling of spring and summer fashion. This lipstick is a must for your handbag!

I really want to wear cherry earrings to match the lipstick!

・shiro ginger lip butter(lip gloss)9C06 copper brown  ¥4104

A matte brown-orange.

This is quite a fashionable colour that will make you appear more like an adult.

A lip balm and gloss in one! No need to apply a balm as a base to stop your lips from drying out.

The shade is rather nice and the colouring is perfect.

The small touch of gloss will make you seem more adult-like ♡

It has a smooth texture and spreads smoothly!

The natural scent of ginger makes it seem just like an organic cosmetics product like "shiro".

Look no further for a lipstick you can use all year round!

The new colours came out on 7th March as a product not just for spring and summer, but also autumn and winter.

・Celvoke  Enthrall gloss 03 ¥3024

Orange/brown, glossy and plenty of moisture.

This will give you the plump lips that every girl wants!

As the colour is quite toned-down and dark, use a subtle amount of eyeshadow,  give your cheeks a matte finish and your lips will become the glossy accent to finish your look!

▽ Stylish yet affordable!

・CANMAKE Lip Tint Matte 03 rose ¥650

This is a rather girly rose pink.

Although this is a strong-coloured lip tint, it holds moisture so you don't have to worry about your lips drying out.

Spreads completely over your lips perfectly.

You would look so cute if you combined this with a floral outfit or gingham checks♡

01 coral

04 Terracotta red

・INTEGRATE Silky Matte Lip(Lip/cheek colour)PK384 ¥1296

Bright coral with a slight glossy semi-matte finish.

This is a fresh colour which will brighten your face.

Enjoy the light texture as you apply it.

As you can colour both your cheeks and your lips with this lipstick, this is perfect for those of you with busy mornings or those of you who are not good at makeup and are uncertain of how to balance colours!

This is an easy way to achieve a balanced look!

~ <Extra!> If you get your hands on this you should celebrate! ~

Pat McGrath is a hair and makeup artist. She owns the makeup brand "Pat McGrath"♡

She still hasn't been to Japan.

She is involved in famous fashion show brands and collections and is a hair and makeup specialist.

From the packet design, these products overflow with cuteness!

The smooth matte lipstick is absolutely perfect when it comes to durability and colour.

This high-quality lipstick is a leading lipstick ー no doubt about it!

Just how people buy CDs because of the awesome CD designs, you might end up getting this just for the packaging!

・Pat McGrath MATTETRANCE LIPSTICK

Elson 2  (The Perfect Red) ¥4752

Omi (Mid-tone Rose) ¥4752

(The packaging and the lipstick are just so beautiful!)

You can purchase these online.

I don't think there's many people who use these lipsticks!

If you have them, you can boast about your fashion to others! ☺︎

That's all!

…and that wraps up my personal lipstick report!

I didn't even realise that I wrote an entire report…

I want to continue with a second and even third series!

I aim to write these reports in a style that creates a close connection with my readers.

If you want to ask questions or need advice, I'm making an advice corner where you can reach me personally!

Let's be friends!

Writer / Model  Yuri Suganuma

Photographer    Haruka Yamamoto

Make & Hair      Yusuke Hashimoto

Learn About Shimane Prefecture's Oki Islands with Japanese Model Saki Shibata

On March 2, 2019 Japanese model Saki Shibata, along with nine others, carried out a research project entitled "Research Lab on the Charms of Oki" (隠岐のお気に入り研究所) to come up with a travel plan for the Oki Islands.

The Oki Islands are part of Shimane Prefecture. There are over 180 islands in total, sixteen of which are named, but only four of which are inhabited by humans. These can be visited via a ferry or high-speed boat.

The islands were formed almost 6 million years ago from volcanic activity. In September 2014, the islands were designated a UNESCO Global Geopark for their rich land and unique flora and fauna, history and culture. Visiting the islands offers the opportunity to experience unique nature you can't anywhere else in Japan. It is a place to enjoy characteristic culture of a different locale.

If you flip over a map of Japan you will also see that the Sea of Japan side of the islands are in the centre of the country. The Oki Islands also used to bustle with people as the doorstep to Japanese trade.

Saki Shibata visited the Oki Islands for the first time last year. She saw the bright red and immense Matengai Cliffs formed by the volcanoes' magma, the sea waves, felt the breeze in her hair and more. See her full nature-packed trip here.

An island local proposed her desire to show the wonder of the Oki Islands to the people of the world, and so the "Research Lab on the Charms of Oki" was formed. Saki, having already experienced those charms, was appointed Research Leader, and recruited other fellow members to join. She would convey her experiences and time spent on the islands for everybody to learn more about them so they could think up a travel plan together.

The event began with project leader Saki Shibata greeting everybody. She spoke about her memories of the Oki Islands and expressed enthusiasm to create a wonderful travel plan to the participants. Her talk was accompanied by slideshows with which she presented photos taken during her trip last year.

Saki played back through her mind how overwhelmed she was by the islands' nature and how warm and welcoming the locals were. All the other research members were absorbed in her talk and listened intently.

After Saki said her piece, a member of the Oki Islands UNESCO Global Geopark Association―which seeks to promote the charms of Oki Islands―spoke about Oki.

A "geopark" is a location with valuable geological features and forms and promotes the well-being of people living there through education and tourism.

Japan has nine officially-designated UNESCO Global Geoparks, one of them being the Oki Islands. Check out the video above which includes drone footage showcasing the expanse of nature there. It makes you want to see it with your very own eyes.

The group subsequently went on to creating a travel plan for the Oki Islands. Each member wrote down where they wanted to visit in Oki amongst other things.

They asked questions to the Geopark associate such as whether you can fish squid there, do skydiving and so on. When the group were asked what they had written down, all 9 of them had said they wanted to try eating Okigyu, or "Oki Beef." Local food is an absolute must to include on any travel plan.

Saki and her fellow research members' original plan is complete, full of ways to feel the full power of Oki's nature.

After learning about Oki, everybody got to try specialty products from the island. They lapped up the flavours of Oki while listening to Saki speak more about her time there.

Oki is famous for "Haruka," a type of Iwagaki oyster. They are a brand of oyster raised in the beautiful waters of Nakanoshima in the town of Ama. They also tried other local delights such as turbo sazae rice balls, seaweed miso soup, sake lees crackers and kojouyu miso, fukugi tea and more.

Obsidian

Salted Polvorón Cookies (Oki Kisen Shoji) / Sake Lees Crackers (Oki Brewery) / Sake Lees Soap (jimono) / Fukugi Mist (jimono) / Fukugi Tea (Amacho Sakura no Ie)

At the end of the event, Saki and the members were given an obsidian key ring and batch of Oki souvenirs from the associate. Though the event took place in Tokyo, everybody was able to get their fill of Oki.

If you read this article and are interested in the Oki Islands, then we have some good news. All of the specialty products and souvenirs shown can be bought at Rito Kitchen Nihombashi who carried out this event. These aren't easy to get your hands on unless you visit the islands, so if you're in Tokyo, be sure to visit and enjoy the flavours of the Oki Islands.

Explore the Beautiful Agriculture of Tokunoshima Island with Saki Shibata

Saki Shibata loves travel, both in her personal and work life. She was recently appointed ambassador of the Tokunoshima Island Gem Project.

Her position runs until March 31, and during that time she is going to introduce to all of us the "gems," or things made on the island, as well as its allures and charms.

Saki receives her official ambassador certificate. "I will put my all into promoting the appeals of Tokunoshima. Let's all work hard, together!" she says with enthusiasm and a smile.

View this post on Instagram

To know the products, Saki must first learn about the people making them and where. She gets her hands on a tourist guidebook of Tokunoshima and studies. The island is approximately 470km south of mainland Kagoshima. It takes about an hour to get from there to the island in a plane. It's also famous for triathlons and bullfighting.

The main produce farmed on Tokunoshima is sugarcane. You can see sugarcane growing all over the island, and there are lots of different products made from sugarcane in souvenir shops.

There is a rare and unusual product made from the island's sugarcane "Shima no Napoleon." It's a type of sugarcane shochu sold on the island, outside of which only Amami Ōshima has special approval to make it, a neighbouring island. Saki saw the alcohol in shops and restaurants on Tokunoshima.

Sugarcane shochu demands delicate control and management in the production process. Multiple types of storage vessels are used to contain it. Saki felt even more so just how special Shima no Napoleon is when she saw the place it was being made.

There are plenty more special products being made from the sugarcane too. This includes additive-free cookies. They are sold in various flavours and are made on Tokunoshima. The manager said that the cookies came about from a desire to stock more products in the island's souvenir shops using things available on the island. Much trial and error was put into crafting the best possible cookies.

You can get them in stylish pouches or high quality packaging for that proper souvenir feel. The box type is really cute!

The manager also kindly showed us around the factory. He has a wonderful smile!

Saki was healed by the harmonious and peaceful atmosphere of everybody working.

The next place Saki headed to was Tomita, an industrial association in Tokunoshima where they make raw peanuts. Tokunoshima is a producer of peanuts which has earned them the name Jimame, or "land of legumes."

The reason they sell the peanuts raw is because they want people to eat them with the flavour of their choosing at home. They also come with some simple recipes. Also, when planted, the raw peanuts give rise to sprouts in just a few days. People planting their own peanuts is something they want to encourage too.

Let's take a look at some of the other wonderful products. The Papaya Spice, a product of Okayama, goes well sprinkled lightly on meat, helping to bring out the meat's full flavour. It's packed with papaya enzymes and is supposed to be good when dieting.

The Buta Miso is an accompaniment to a meal and is made from Berkshire pig, ginger, peanuts and other ingredients.

If you want to visit Tokunoshima but haven't got time then we've got some good news for you! If you're in Tokyo between February 9 and March 8 this year, all of the "gems" you've seen up to now and more can be bought at Rito Kitchen in Nihonbashi. These are available for a limited time only, so head on over ASAP and enjoy the flavours of Tokunoshima.

■Information

Rito Kitchen Nihonbashi

Address: YUITO Nihonbashi Muromachi Nomura Building Floor B1F, 2-4-3 Nihonbashi Muromachi, Chuo Ward, Tokyo

TEL: 03-6225-2095

Here are the products that Saki was most interested in when visiting Tokunoshima.

The first is Shima no Hachimitsu, or "Island Honey" made by Shigeaki Maeda. This raw honey contains no sugar or additives. It has a very organic flavour that lets you taste the nature of Tokunoshima.

Mr. Maeda handles every part of the manual labour effort when creating his honey, from collecting bees to operating the centrifuge to packaging. He understands customers may become worried as the concentrated honey solidifies when it's stored below 14℃ (though this does not affect its quality, he explains), so he sells it from springtime.

Contact:Shigeaki Maeda #201 5553-8 Kamezu Tokunoshima-cho Oshimagun Kagoshina

This is called a Great Green Turban. You often see them spanning 20cm on Amami Ōshima, and you can even prep and cook them. Saki made them herself during her stay and enjoyed pasta and curry.

Blue Shell, a Great Green Turban workshop, uses their mother-of-pearls to create beautiful stamps. Each and every one is handmade by the owner Umeyama, so all of them have their own unique forms and shapes.

You can't miss out on products made with oranges native to Tokunoshima either. The Dressing Candy, a brand of ponzu, is made with orange juice and fine powder and uses absolutely no agrochemicals. It's a product that's hard to get your hands on anywhere else.

The 100% orange juice too is full of nutritional value and has even been called a "high power food."

Tokunoshima Airport is nicknamed Kodakara Kuukou, or "the airport treasured with children." This comes from the high birth rate up and down the island. When you exit the airport you see women dubbed Nesugatayama as they look like the mountains when laying down. The airport is supposed to give you very good luck!

Try discovering the beautiful charms of Tokunoshima yourself too like Saki, the ambassador of the Tokunoshima Island Gem Project, and be sure to visit Rito Kitchen too to enjoy the natural flavours of the island if you can't make the trip.

Rikako Ōya's #OOTD (September 2018)

Rikako "Ricopin" is a Japanese model and this is her featured article series in which she delivers the latest fashion from Japan.

For her 8th entry to the series, Ricopin is serving us a "Neo-Punk Mix" theme. The style incorporates elements of hardcore punk while lacing it with the kind of street and girly vibes that are in today―Ricopin style. She's also joined once more by Yuri Suganuma again this month in her personal co-ord section.

Street Mix means playing with colours & designs

The t-shirt and knitted fabric pants have that 90s street style vibe to them. Nonchalantly added to that is checkered outerwear and a pair of boots which act as her punk components. By daring to add these colours it creates a unique, one-step-ahead of the pack punk style.

KAWI JAMELE (LTN Showrooms): T-Shirt ¥2,800, Knitted Pants ¥11,800, Knitted Beret ¥2,800, Boots ¥13,800

*Everything else are items from the stylist.

An orthodox punk look with leather and a checkered pattern

The leather jacket and checkered skirt alone give that "hard" look – they're an indispensable combination in punk. The bright red t-shirt adds a change to the look while the long length of the skirt adds the kind of silhouette that's in right now.

Aymmy in the batty girls: T-Shirt ¥7,500, Checkered Long Skirt ¥22,000

*Everything else are items from the stylist.

Serving spicy sweetness with a rockabilly mix

This style combines a glittery top with a circular skirt that falls gently. These girly monotone items serve a 50s rockabilly style while the redness of the hat give a punk element.

Aymmy in the batty girls: Beret ¥8,000, Skirt ¥14,000 / KAWI JAMELE (LTN Showroom): Shoes ¥12,800

*Everything else are items from the stylist.

<Ricopin's Thoughts>

"I've loved that hard style since long ago. During middle school I was crazy on black co-ords, and before that I wore a lot of leather accessories. But this time I did things like combining a jacket with a deep blue checkered pattern, and added more colours to the co-ords. Even thought it was in the 'hard' realm I really felt a newness! The purple and orange combination in the first co-ord is also my theme colour for this year. I also added purple lipstick to match. Just wearing that really brings out your face. It makes you look stylish so I recommend it. The styling of the third co-ord with the checkered skirt is my favourite! The glitter material and skirt seem girly but they're also cool. It seems easy to look flashy by just adding small accessories. The truth is whenever I go shopping after doing these shoots [for this article series] I'm learning while remembering how I combined things. Up to now I've done a lot of styles that are more bright and cheerful so for autumn and winter I sure want to go for something chic and cool!"

Cooperating Stores

LTN Showroom (KAWI JAMELE) (03-6690-8776), Aymmy in the batty girls  (03-3470-0140)

In this section, Style Leader Ricopin shows us what clothes she's into right now. This month she's joined again by Yuri Suganuma, a model who Ricopin has much respect and affection for.

Serving autumn with colours that are more chic than usual

<Ricopin Interview>

"I haven't owned a lot of autumn browns and smoky colours up to now, but recently I've been wearing beige Chinos, and I like incorporating pink beige like today, so I've started collecting them. They are mellow colours but have their standout traits. I'm losing my strength to them they're so easy to get by with (laughs). For example although t-shirts are standard simply changing the colour makes it autumn-like and changes the entire feel. That's what I'm showing. I combined it with black but short pants and sandals aren't too heavy and look good for the turning point of the seasons. It was a very fun photo shoot♡"

<Yuri Suganuma Interview>

"The first thing that popped into my head for this autumn coloured shoot was the colour orange. The orange skirt and orange logo on the t-shirt gives a sense of uniformity.The skirt and boots are also leather. Heavy material like that brings out the seasonal vibes. Incidentally, when I came up with this outfit, I realised the colours felt Halloween-y and thought 'this really is an autumn outfit!' (laughs) And Ricopin combined beige with black so we look like twins which I'm glad about!"

Information

■Information
Rikako Ōya 

Won the grand prix in the 2009 LOVE Berry auditions. Currently signed to LesPros Entertainment. " Known as "Ricopin" by her fans, she is active as a model and talent. She has an interest in playing the guitar, DJing, Harajuku Fashion and film cameras. She appears on the radio show "Oya & Takami no Shaberi Suta!".

Twitter: @lespros_ricopin

Instagram: @rikako_ooya

Experience Japanese Culture #5: Film camera part 2 – developing and printing pictures for the first time!

Welcome to Model Yuri Suganuma's series where she discovers a new hobby! This is a continuation from her previous article where she first discovers her love for film cameras. Lately, she's becoming more absorbed in this hobby, and after paying a visit to a second-hand camera shop in Shinjuku, she managed to get her hands on her dream camera! However, unless she gets her photos developed and printed, or gets them transferred into a digital format, she won't be able to see any of her pictures. Upon this realisation, she travelled to Gakuei-daigaku station because her favourite photo shop "monogram" is located on this street. Presenting her much-loved film camera along with her first film roll full of dear memories to the staff, they took it off her hands to get the photos developed and printed. Monogram is known to take a lot of care in printing their photos perfectly. Did any of Yurippa's photos really catch her eye?

"This photo shop has such a cool image!" exclaimed Yurippa. She brought along with her two films she had taken with a film compact camera that she bought last month. She managed to restrain herself from getting them developed as soon as possible, committing to the decision to get them developed at an opportunity where we could also tag along!

After Yurippa handed the undeveloped film to the staff, they asked her a series of questions: would you like prints or digital photos on a CD? What size would you like the prints? What kind of photo paper would you like them to be printed on? And lastly, would you like a white border on your prints? Yurippa couldn't believe just how much choice she was given! That's right – monogram can fulfil this many requests! Yurippa wanted a copy of the photos on her phone as well as prints so she asked for both digital photos on CD and prints on matte paper with a white border.

Another cool service offered by monogram is that you can choose to have a colour tint on your photos. Monogram is also popular because of their ability to adjust the colours for printed and digitalised negative photos. There aren't many photo shops around like this that will adjust the colours for you. They will also avoid loading their conversations with technical terms (unless you want them to). Yurippa asked for "California style" vivid photographs. They wrote down her order – take a look at her order sheet! Can you see just how unique monogram is in comparison to other photo shops? Yurippa waited in excitement to witness the outcome.

They really proved their ability to produce special photos! First off, they placed the film in the developer. As well as developing solution, there are a range of chemicals in the machine. Afterwards, the film was processed for negative photos.

The negative images were scanned and then printed on photo paper. This is the stage at which they were made into California style photographs. Three staff members at monogram overlooked the printing process. As each has their own unique style of printing, they can be designated to certain customers. This truly is the real world of a photography specialists! The staff just say: "leave it to us", and they adjust the colours to complement the photo!

Whilst waiting for the prints to be done, Yurippa spent some time browsing the shop for another film for her camera, which is the Konica Genba Kantoku that uses 35mm film. This is a standard film size that is easy to get your hands on. A staff member at the store explained to her what the numbers written on the film box meant. 100 is well suited for photos taken during the day, whereas 400 is an allrounder, as it is also suitable for taking photos during the day and also photos taken indoors. On the other hand, 800 is suited to photos taken indoors, on cloudy days and during the night. In other words, this number is the measurement of the film's sensitivity to light in numerical value (ISO), they explained. As Yurippa is always on the go with her camera and taking photos during the day, she chose an ISO 400 film. She decided to purchase the Kodak ULTRAMAX400 for photos with an American vibe.

Although this store specialises in developing photos, the shop is filled with camera accessories. A silver hand strap particularly caught Yurippa's eye. Just by attaching one of these accessories, your camera will look really glamourous! Having said that, they suited her camera to the extent that they appeared to have been specifically made for it!

The silver leather hand strap was launched as monogram's 10-year anniversary edition accessory. It costs ¥ 2,000+ tax.

…The prints are ready! They were all perfect personal photos. Yurippa was constantly hiding the photos and peaking at them. She selected her favourite ones to share with us – the feeling of the matte paper was really nice.

They look so cool! Did I really take these myself? She asked. The locations in the photos are very distinct. Although digital photos are very useful, the feel of prints in your very own hand is just a wonderful feeling. You would want to give these to friends as a present. Having said that, the quality of these photos is so high that you begin to question whether you actually took them yourself!

Finally, we asked Yurippa for her thoughts on today. "I used to think that developing photos involved exposing them to lasers. I was surprised to discover that this can be done with developing solution! There is just too much that I don't know about photos taken with film. It is great fun to learn so much! I initially started this whole photo project because I didn't have anything in particular that I would call a hobby, but now there's no doubt that this is becoming one of my new favourite hobbies!

<Shop information>

monogram

Address:2-19-13, Takaban, Meguro, Tokyo

Phone number:03-3760-5852

Opening hours: 12:00〜20:00(Closed on Wednesdays)

Access:1-minute walk from East exit of Gakuei-daigaku station  (Tokyu Yokohama line)

<Profile>
Model:Yuri Suganuma @yurippa93
yuri_profile

Yuri Suganuma is a model with a high fashion sense that has been picked up by various magazines. She receives much love and support from girls of the same generation as her to whom she is known by her nickname "Yurippa." She has a huge influence across her social media. Recently, she has stepped into other fields outside of modelling, such as appearing in TV shoots and in music videos. She is skilled in make-up and involved in the development of cosmetics.

Experience Japanese Culture #4 – Searching for a Film Camera in Shinjuku's Used Camera Shops

This is Yuri 'Yurippa' Suganuma's featured article series in which she takes us on her adventures to cultivate new hobbies.

Yurippa has been interested in photography for some time now, but she's been unsure which camera she should buy. So, she decided to head to some used camera stores,  Lucky Camera Shop andChuko Camera Box in Shinjuku to find the perfect camera that best suits her. Was she able to find the right one…? Let's find out!

The first place Yurippa stopped by was Lucky Camera Shop. It's located next to Isetan Shinjuku and has a kind of foreign, non-Japanese air to it. When Yurippa saw the eye-catching red exterior of the shop, it was loved at first sight. In any case, time to head in!

The store is lined with cameras made in lots of different countries including Japan, Germany and the US. Lucky Camera Shop puts a lot of effort into stocking foreign-made cameras and mechanical cameras with everything built in. They have a varied line-up, including famous Leica cameras.

The Leica parts were all expensive – the bodies and lenses were both over ¥100,000 ($915)!

Yurippa was shown a camera she was interested in from inside the showcase. The left was a single-lens reflex Olympus OM-1 and the right was a Barnack Leica. 35mm films are all the rage right now, and these were some of the first models to use them. Both are at a nice, compact size.

Yurippa was blown away looking through the viewfinder of the Olympus OM-1. 'You can see things easily, so much so that everything looks even more beautiful through the viewfinder!' she said.

Next, Yurippa also tried the Barnack Leica. It's a valuable camera that has you feeling a little nervous touching it. She said surprised at how quiet the shutter was, to which the shop assistant explained, "This is a different single-lens reflex to that of the OM-1. There's no mirror inside so the shutter is quiet." Yurippa learned much about how cameras are put together differently, as well as the diverse number of types available.

■Information

Lucky Camera Shop

Address: Gomeikan Bldg. 1F, 3-3-9 Shinjuku, Shinjuku-ku, Tokyo

TEL: 03-3354-7898

Opening Hours: 10:00-20:00

Access: 5-minutes on foot from JR Shinjuku Station / 1-minute on foot from Shinjuku Sanchome Station

Website: http://lucky-camera.com/

The next shop Yurippa headed to was Chuko Camera Box. It's a used camera store located along Shinjuku Electric Street (Shinjuku Denki-gai). The showcase is crowded with cameras, and the shop has an atmosphere to it like a secret hideout.

"It'd be great to have a camera that's small and easy to use. One that I can take out and snap a photo with straight away. That'd definitely be fun!" said Yurippa while looking in earnest for a camera.

She continued to search with these keywords in mind, focusing on auto-focus film compact cameras. And then, she found it. In her hands was the Genba Kantoku from Konica. You can snap a photo just by pressing the shutter. It has auto-focus, flash and auto-load. "It's a little big, but it's affordable and seems easy to use!"

Chuko Camera Box is famous for its friendly store clerk and regular customers. Yurippa learned that the Genba Kantoku was formerly used for recording at construction sites. It's durable and can get wet or be dropped and has an excellent lens. She's finally made her purchase!

■Information

Chuko Camera Box

Address: 1-13-7 Nishi-Shinjuku, Shinjuku, Tokyo

Tel: 03-5339-2701

Opening Hours: 10:00-20:30

Access: 2-minutes on foot from Shinjuku Station

Website: http://camerabox.web.fc2.com

Yurippa loaded her Genba Kantoku right away with 35mm film. Simply take out the film tip and close it on its back. Film cameras can seem tricky, but there are easy-to-use ones like this too!

Yurippa was hugely satisfied finally getting her hands on her long-sought film camera. In the second part of this article, she will develop and print the photos that she has taken with her Genba Kantoku at a photo shop.

How about getting yourself your own film camera and to start up photography yourself?

<Profile>

Model: Yuri Suganuma @yurippa93

Yuri Suganuma is a model with a high fashion sense that has been picked up by various magazines. She receives much love and support from girls of the same generation as her to whom she is known by her nickname "Yurippa." She has a huge influence across her social media. Recently, she has stepped into other fields outside of modelling, such as appearing in TV shoots and in music videos. She is skilled in make-up and involved in the development of cosmetics.

Photographer & Writer: Haruka Yamamoto

Translator: Joshua Kitosi-Isanga

MMN Festival 2018: Report by Scarlet, a Japan-loving Brit

This year was a new challenge for the MOSHI MOSHI NIPPON FESTIVAL- the first time the event was held over four different locations around the Shibuya and Harajuku area! The stylish La Foret department store, the famous music hotspot Tower Records, the bustling shopping square Shibuya Cast and finally the traditional tranquillity of Onden Shrine. All the best of Japanese pop-culture – held within just a short distance of each other! Here were some of the highlights.

FASHION

Fashion at MOSHI MOSHI NIPPON FESTIVAL 2018 set the bar high! The Harajuku Kawaii Market area in particular brought together a wide variety of styles in two days of the latest Kawaii trends. Bright, colourful fashion as well as toned down, natural fashion was displayed at booths and on stage by famous models.

Tobidase! Picture Book Show ~Storytime With Natsume Mito~

Bulldog Tanei to Kieta Hoshi (BUNKEIDO Co., LTD.) is a really famous picture book in Japan, loved by children and adults alike for its moving story. It has a very distinct art style and colour scheme – the perfect ingredients for a fashion show! Singer and presenter Natsume Mito produced the show herself – everything from the concept to shopping for the clothes in vintage shops.

When asked on stage why she chose this book in particular she answered – "The drawings are cute so easy to match fashion to. But I also thought it would be nice to use a moving story to make people smile by watching this fashion show". Everyone who attended could write their wishes on star shaped paper and stick it on the night sky wall outside the event – just like in the picture book.

My Navi Baito Fashion Awards

Gas station workers and barmaids are not necessarily the jobs that come to mind when you think of Kawaii fashion – but the My Navi Baito Challenge Awards are here to change that stereotype! The competition showcased at MOSHI MOSHI NIPPON FESTIVAL was for fashion students with the challenge of creating cute "baito" outfits – "baito" means part time work in Japanese.

Popular models showed off the outfits on stage. Model Yano Anna commented that her moving van worker outfit was really cute with lots of lace but also very practical with big pockets, and that if the outfit was this cute, she would definitely like to do this part time work! The students, who only had one month to complete the project, were also interviewed on the key points of the outfits and any difficulties they faced. The winner was decided by audience vote over the two days.

A Lecture on Being Photogenic

In recent times social media presence is really important for models, for building their fan base and giving fans a look into their everyday lives. Many came to get tips from top models giving this panel on creating "Instagrammable" photos – which covered every topic from fashion to cosmetics to photos of food.

Rikako Ōya from popular idol group Babyraids Japan explained that she takes some of her photos on a film camera to bring out the bright colours of her clothes. She also likes taking artistic photos, such as where she used the light of Tokyo Tower reflected on her face for a very expressive, serious photo. Ellie likes to capture the beauty of nature and tradition in her outfit photos by posing at lakes and shrines. Ema on the other hand focuses on capturing the charm of cafes around Japan. She does this by framing the table to look stylish and simple but with something surprising, such as a beer or a brightly coloured blue soda. Her key tip was to always use natural light rather than filters.

Yuna's aim is to show dog owners in Tokyo cute and fun places to go through her Instagram. There were a lot of "awws" from the audience in reaction to her photos of her dog swimming! Yuri's photos focused more on cosmetics and beauty. One of Yuri's most popular photos is of her nails in a Jacuzzi, where the bubbles really bring out the colours. Another signature photo she takes is a zoomed in part of her face, such as her eyes and nose, which she then posts on Instagram. It was a fun and educational panel!

TRADITIONAL

One of the four locations was Onden Shrine – tucked away behind the streets between Harajuku and Shibuya. The Bon Odori was a stunning masterpiece that was not to be missed.

A procession of beautiful colours, striking makeup and the highest shoes I've ever seen! The wave of contrasting kimono down the path to the shrine to graceful traditional music, was combined with fast pop beats to give the show a modern twist.

Even DJ character Shimockey was happily dancing along to the music and getting everyone involved! When the performance was over the audience could even learn a special Bon Odori taught by the performers, a mash up between traditional flowing dance moves and energetic j-pop.

 

Fortune Telling

Fortune Telling is a tradition in Japan that dates back to the Edo period, and recently has become trendy and modern. For example, fortune teller celebrity Chamereon Takeda has over 50,000 followers on her official LINE account, and fortunes regularly appears on television and in magazines. I have always been fascinated to try tarot cards so I had my fortune told by Yuushi Kusunagi, who is also a voice actor and MC! While tarot cards are a very traditional method, he also used computer software to input my answers for part of the fortune telling. It was a really interesting experience!

YUMENOYA Kimono Salon

In a traditional x kawaii mashup, YUMENOYA Kimono Salon had a booth at SHIBUYA CAST, a market area with food, robots and even a foot spa! The kimonos are all distinctly very beautiful in kawaii colours – this is because the kimono most suited to Harajuku fashion are handpicked from rooting through hundreds at markets. You can even see some are adjusted with added colours and lace. If you think the background looks familiar, the colourful shoji (sliding paper) door is actually designed by Sebastian Masuda, the genius behind the designs of Kyary Pamyu Pamyu's music videos! If you're interested in trying this out, YUMENOYA has a permanent store on the 1st floor of MOSHI MOSHI BOX in Harajuku!

 

Tower Records Stage – CY8ER

The hugely famous music location for locals and tourists alike, Tower Records hosted three stages and many different acts across the weekend. I decided to check out the performance of idol group CY8ER, who have gained huge traction abroad for their bass heavy tunes and energetic performances. Many members were also already influential figures in the idol world before joining the group, and member Rinahamu is actually also the producer! Their musical genre is commonly described as Future Bass, a subgenre of EDM. It was definitely a performance to dance and chant along to, and I had a lot of fun alongside the other fans.

 

Harajuku Kawaii Market Stage – AmaDan and MAGiC BOYS

The Harajuku Kawaii Market stage hosted two very cool boy groups over the weekend. Sugary sweet Amato Danshi are themed completely around sweets, with some of their famous tunes being "Choux Cream" and "Chocolate". During the bridge in one of their songs, they even gave out sweets to everyone in the audience before rushing back on stage! You could even buy sweets they recommend at a booth in SHIBUYA CAST.

MAGiC BOYS are possibly the youngest hip hop rapping group I have ever seen, the youngest member being only 13 years old and a DJ! "Ore no Kami ha Kuro" is a song that revolves around the stereotype that dying your hair in Japan gives you a rebellious image, but they think the hair you were born with is more cool. Their performance was not only energetic but also theatrical, they really put on a show!

After all of that, how will MOSHI MOSHI NIPPON FESTIVAL top it next year? We will have to wait and see! Thanks for reading!

MMN Festival 2018: Experience-Based Booths Packed with Japanese Charm

MOSHI MOSHI NIPPON FESTIVAL 2018 in SHIBUYA was held across the weekend of March 24 and 25 and promoted Japanese culture to the world from Shibuya. The event ended with huge success.

One of the many things attendees enjoyed were the 'experienced-based booths.' From traditional Japan to the country's culture of kawaii, let's take a look at the line-up of booths that were packed with Japanese charm.

Harajuku Kawaii Market presented by Mynavi baito: Kawaii Culture at Laforet Museum

Japan's culture of kawaii gathered together at Laforet Museum for MMN Festival 2018. Many of the booths were popular including the accessory booths, DIY booths, and photo spots where people could go for a simple image change by putting on a wig.

Mynavi Baito

Mynavi Baito held a questionnaire for attendees regarding part time jobs. They asked questions like "Do you think your part-time work outfit is cute?" and other kinds of questions you'd only hear at MMN Festival. Those who answered were gifted an original memo pad. Mynavi also presented their Challenge Award onstage in relation to the questionnaire where fashion students were made to develop their own cute part-time work outfits. The students who made the outfits as well as the popular models put on an exciting performance.

DIY: Herbarium & Swag

Asami "Char" Tnabe was invited to host a workshop on how to make "herbariums" with colourful dried flowers and a bottle, and "swags" which are wall decorations made from plants and flowers. It cost just ¥1,500.

DIY: CHACO Hydrangea Accessories

Popular flower accessory shop CHACO held their own workshop. For ¥1,000 people made their own earrings and piercings from hydrangeas, perfect for spring and summer.

DIY: Mug Workshop

Apparel brand "Aymmy in the batty girls" led a ¥1,500 workshop where people got involved in making a kawaii mug with the brand logo and designs with spring and summer items. Aymmy designer Ayumi Seto also joined in the workshop where she showed how to make a cute mug while talking with fans.

 

Fortune Telling

Six fortune-tellers active in the media took shifts in fours. Just ¥500 got people an expert 10-minute reading. Lots of people turned up to this booth.

Big Harajuku Debut

Popular hair dye brand FRESHLIGHT hosted their popular campaign for people to make their big Harajuku debut (#原宿デビュー大作戦). They changed up their image with colourful wigs and took photos in the kawaii pink photo booth. Prizes will be sent at a later date to those who joined in the hashtag campaign by posting on social media. The models who performed on stage also stopped by this booth where they were posting plenty of 'kawaii' online.

Kawaii Darts

This game challenged people to throw darts onto a map of Japan. Local specialties unique to specific regions were given out depending on which parts of Japan were hit, such as kakeru miso from Nagano and cabbage cider from Gunma.

 Kawaii Basket

To win, people had to shoot a ball into a kawaii goal that looked just like a floral headband. Kawaii products from around Japan like accessories and cosmetics were given out depending on how many goals were scored.

OH!江戸ポップ -oh,EDO POP!!-(DODYCO)

People handmade marshmallow fondants, a photogenic dessert that originates from the US. They decorated it with flowers they cut themselves and other bits and bobs to make a castle and street, giving the Edo Period a taste of contemporary Harajuku. Timeless pop Edo desserts were brought to life at the festival.

Clarence Lee Design ~111-HAWAII PROJECT~

Japan's first collaborative project between a Hawaiian design company that combines Japanese ukiyo-e with Hawaiian motifs and a Japanese enterprise. Thanks to the success of crowdfunding, this project will bring about an array of apparel items fusing Japan and Hawaii, such as aloha shirts with traditional ukiyo-e prints.

Hawaiianjewelry -Aquabelle-

Hawaiian jewellery brand Aquabelle prepared a photobooth inspired by Hawaii's sandy beaches where people could feel like they were in Hawaii from Harajuku, with white sand and hibiscus in the frame!

Hikari TV Dream

At the promotional booth for crowdfunding service Hikari TV Dream, people enjoyed making their own wooden keyholder with the same wood used in the creation of Okawa Kumiko, a brand of furniture from Okawa in Fukuoka that has been designated as 'an art form to leave behind for the future.' Hikari TV's main character Hikari Kaesaru also made an appearance to excite everyone.

NOTO HI BAKARA

Those who rolled up to this booth enjoyed a game of jenga made up of hinoki building blocks. Hinoki building blocks don't generate bacteria even if a child licks them. The wood acts as an antibacterial and pesticide. The prize included NOTO HI BAKARA 'essential water' made with hinoki extract.

Cute Tanuki Don't Have It Easy Either

Ponkichi is the tanuki who came down from the mountain and just wants to kill, kill, kill humans from the manga series Kawaii Tanuki mo Raku Janai (Hakusensha). The popular foul-mouthed tanuki had his own photo spots where people took photos while hearing abuse from Ponkichi. They also made their own bad-mouth pin badges for free from 12 varieties.

Yuzawaya

Yuzawaya held a workshop to make popular herbarium piercings as well as resin piercings and earrings. The herbariums combined flowers and oil. Each class lasted 30 minutes and was a hit with people every time. Many people enjoyed making this original accessory.

Tokyo Flea Market

A flea market was held which sold personal items of the stage performers including Natsume Mito, Ayumi Seto, Rinko Murata, Yuru Suganuma, and more. The line-up included items the performers had worn in magazines and on their social media.

Don Quijote Perfume Cosmetics

The Don Quijote booth sold around 30 different brands of perfume. The staff working there were scent experts and offered advice on recommended perfumes like it was a perfume bar. Normally when you buy their perfume you have to pay a fee to get your name inscribed on the bottle, but they offered the service for free at the festival. "D Ting Eau de Toilette" by Akemi Darenogare also made its first Japan appearance.

MOSHI MOSHI NIPPON Market: Experiencing Japan's Unique Culture for Free

Various aspects of Japanese culture were presented at SHIBUYA CAST. From food to art, sightseeing and moe, everything was enjoyed by Japanese people and foreigners alike.

Delivering Satoyama Spring #tamura

A promoter of local specialities from and sightseeing in Tamura in Fukushima Prefecture. They sell Youchuu Gumi, (¥400) or larva gummies, named after the popular sightseeing spot Kabutomushi Shizen Kansatsu-en. They are shaped like the real thing – the body is Calpis flavoured while the centre is filled with purple blueberry sauce, creating a strange taste. They also sold strawberries, a noted product from Tamura.

Don Quijote – Souvenir Candy

Don Quijote is a super souvenir shop, and at the festival they stocked lots and lots of confections that screamed 'Tokyo,' including some of the most popular snacks and common snacks, chocolates, as well as the Tokyo strawberry chocolate daifuku, a defining souvenir of the city.

Katsukonmi

This booth managed by Keihan Sangyo handled Katsukonmi, a flavourful powdered dashi made bountifully with carefully selected ingredients such as katsuo tuna, mackerel and konbu. People were able to taste test dash stocks that used Katsukonmi. They also have a future line-up planned of new products with plenty of dietary fibres perfect for dieting.

 

Kyo Baum

Kyo Baum has stores in Gion, Shimizu and elsewhere and specialises in Uji matcha and soy milk flavoured Baumkuchen. Lotteries were held 3 times each day to win tickets for Kyo Baum, which are the perfect eating-and-walking snack, original masu boxes, and more. There was a huge line for the lottery before it began. The matcha and sugar fondant offers a crunchy texture at room temperature, and a completely different delicious experience when melted.

MOSHI MOSHI Kimono Salon

People had the opportunity to try on kimono with a Harajuku-style spin – lots of colours, eye-catching designs, studs and more. It was free to put on yourself and take a selfie, or ¥1,000 for the staff to help you put it on and take a picture. It cost ¥4,000 to rent the kimono for as long as the booth was open. There were lots of girls enjoying the MMN Festival experience by strolling around Onden Shrine dressed in kimono!

HARAJUKU EXPERIENCE

Official Harajuku sightseeing tours were held for foreign travellers by Airbnb. "Hidden Fashion Street Tour" enabled people to enjoy Harajuku fashion, "History Tour" detailed the history of Harajuku, "KAWAII×Food Tour" combined kawaii culture with cuisine, and the "Official Tour" took people around the various MMN Festival areas. The tours were mostly aimed at foreign travellers, but lots of fans turned up at the same time as the tours to see Saki Shibata and the other models working as tour guides.

PERFORMANCE SPACE

Creator MIOCHIN held a live painting session called Mio's World where she illustrated from her colourful pop perspective. This was her first ever live painting. She completed the piece across two days using permanent markers and POSCA markers while interacting with fans.

Maebashi "Kusatsu" Support Booth

A booth promoting the city of Maebashi in Gunma Prefecture, people had the opportunity to enjoy a footbath experience in the image of Kusatsu Onsen – a famous Japanese hot spring resort in Kusatsu – right in the middle of Shibuya. People lined up one by one to rest their tired feet. It became the resting place of the festival. There was also an introduction to professional football club Thespakusatsu Gunma supported by Maebashi city, as well as fliers handed out for Susono.

SHIBUYA FASHION FESTIVAL

SHIBUYA FASHION FESTIVAL.13 was held on March 24th. A lottery was held to win special benefits that could be used at participating stores.

 

Amato Café

Amato Danshi, the six-member idol unit centred around sweets, worked at their very own café. One of their recommended chocolates was the DEL'IMMO Bon Bons which came with a kabedon (¥1,800). The kabedon is a popular way of expressing love in Japanese media, such as anime, where one person hits (don) the wall (kabe) with one hand and pins someone against it. After receiving a kabedon from the group's members, customers were fed chocolate. What a heart-throbbing menu!

Maidreamin

The number one maid café group Maidreamin set up shop at the festival. For the special "SAKURA Float" (¥1,100 w/ omajinai), the main maids gave cute instructions to power up the item. It was quintessentially 'moe' and 'kawaii' made with cherry blossom syrup and cherry blossom ice cream. Customers also dressed up in maid outfits and original merchandise was sold. It was a sight to behold seeing customers experiencing maid culture for the first time and really getting into the fun of it, from girls to entire families.

MUSIO, Your Curious New Friend

Musio is your robot friend who came from the future. Equipped with state-of-the-art AI, Musio is able to do things like have natural conversations and express emotions. Everyone chatted with him and had their fortunes told.

The festival took place in 5 areas, and because there was plenty to be enjoyed for free, we saw many people having fun stopping by each location throughout the day.

5 areas, 5 themes. That was MOSHI MOSHI NIPPON FESTIVAL 2018 in SHIBUYA. This year was a huge change from last year. How did you find it? Did you have fun?

MOSHI MOSHI NIPPON will continue to promote Japan's multilayered culture to the world through our website, at events and elsewhere. We post the latest information about events on our website, so don't forget to stay up to date!