5 Newly Opened Stores in Harajuku & Omotesando Selling Popular Sweets
Hey, everyone. Shiota here, the Director of the MOSHI MOSHI BOX Harajuku Tourist Information Center. Harajuku is a candy and sweets battleground, with many different stores lining the streets. Today, we take a look at Instagram-worthy goodies from much talked about newly opened stores!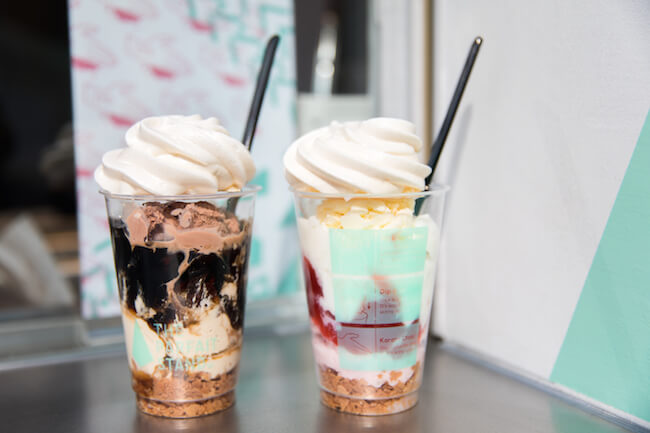 "THE PARFAIT STAND" – Takeout Parfaits
Located exactly ZERO minutes from the Takeshita Exit of Harajuku Station is THE PARFAIT STAND, the sister store to popular cheese tart shop BAKE CHEESE TART.
Topping the parfait isn't fresh cream, but meringue! The taste and texture of the parfait is irresistible throughout, with ice cream, purin, mousse and more. Just holding it is kawaii and something new to take onto the streets of Harajuku with you♡
Full Details: https://www.moshimoshi-nippon.jp/100198
"LONG! LONGER!! LONGEST!!!" – Japan's Longest Food & Sweets
Opening as Japan's first shop to center around the 'length' of food, LONG! LONGER!! LONGEST!!! is located along Takeshita Street. The menu has three size variations, the same as in the store's name. 'LONGEST' in fact offers the longest food product in Japan!
They have lots of products on offer, including soft serve ice cream, tornado potato, churros and more. You'll never forget about their crazy length once you try one!
Full Details: https://www.moshimoshi-nippon.jp/93395
"GOMAYA KUKI" – Sesame Ice Cream
GOMAYA KUKI is a store selling sesame ice cream which has received support from inside and outside Japan. They have opened a store in Ura-Harajuku. One serving is covered in close to 9,000 sesame seeds!
Their menu is full of new, unique products including ice cream made with sweets friend in sesame oil, Japanese-style parfaits sprinkled with sesame seeds, and more. They also offer takeaway ice cream in cups.
"Q-pot CAFE." – Accessories Turned Into Sweets
This café is inspired by Q-pot., an accessory brand who create kawaii products themed around sweets.
The café is decorated in all things sweet as far as the eye can see. The interior has a fairy-tale like atmosphere that female customers will love. The sweets here are both sweet in appearance and taste looking exactly Q-pot.'s necklaces, rings and so on.
"The Pie Hole Los Angeles" – Original Pies from LA
This popular store hails from Los Angeles and sells their own original pies and organic coffee, and it's found its way to Takeshita Street in Harajuku!
Since April 4, they have been holding their second all-you-can-eat session for all their pie products every Wednesday. From sweet pies to classic pies, each and every one is handmade with care and attention. Why not head to one of their all-you-can-eats to try them yourself?
Are you hungry now? Be sure to use this list as reference if you're looking for a café in Harajuku!
And if you're unsure of how to get to any of these places, then pop into the MOSHI MOSHI BOX and we'd be happy to help!
RECOMMENDED ENTRIES
7 Popular Ice Cream Shops in Harajuku

Over at the MOSHI MOSHI BOX, Harajuku's tourist information center, we are always asked about ice cream and soft cream shops. These cute and Instagrammable shops are currently experiencing a huge boom with the younger generation!

Here are 7 popular ice cream and soft cream shops that you can visit during your trip to Harajuku.

Eddy's Ice Cream

Located in Ura-Harajuku, Eddy's Ice Cream completely is pasted in pink and white. Wherever you turn to look, you're going to want to take a photo. The grand menu of Eddy's Ice Cream, where the toppings are already chosen, is super popular, but you can also customise to your liking – there are 10 cones and 3 soft creams to choose from as well as 13 different toppings. The most popular item on the menu is the "Unicorn" (¥1,200), a magical delight wrapped in pastel coloured cotton candy and milk soft cream. This one promises a new kind of sensation for the taste buds!

Full Details: http://www.moshimoshi-nippon.jp/55526/2

■Information

Eddy's Ice Cream
Address: Eddy's Ice Cream 1F, 4 Chome-26-28 Jingumae, Shibuya, Tokyo (住所:東京都渋谷区 神宮前4-26-28 1F)
Opening Hours: 11:00-20:00
Closed: No fixed holidays
TEL: 03-6438-9742
Access: 10 minutes' walk from Harajuku Station via the JR Line / 8 minutes' walk from Meiji Jingumae Station via Tokyo Metro
Official Homepage: http://eddysicecream.jp/

Roll Ice Cream Factory

This unique rolled ice cream is mixed together with liquid ice cream and other ingredients on a cool plate. You can order from the regular menu or customise your own. The shop's recommendation is the "Cookie Monster"! Not only can you take great pictures of the finished ice cream piece itself, but also the process as it is made in front of you.

Full Details: http://www.moshimoshi-nippon.jp/57051

■Information
ROLL ICE CREAM FACTORY
Address: Just harajuku 1st floor, 4-28-12 Jingumae, Shibuya-ku, Tokyo
Phone Number: 03-3470-0227
Closing Dates: No scheduled holidays
Open time: 10:00-21:00
Official Homepage: http://rollicecreamfactory.com/

Nanaya (Aoyama Branch)

Nanaya sells luxurious gelato made using matcha sourced from Fujieda in Shizuoka. It offers seven varying levels of matcha intensity – level 1 begins with a more moderately sweeter flavour, but as you progress up the scale to level 7 the flavour of the matcha becomes richer and deeper. The no. 7 gelato is the most popular item and claims to be the most matcha intense flavoured ice cream in the world. It uses matcha that received an award from the Minister of Agriculture, Forestry and Fisheries. It boasts a deeply rich and bitter matcha flavour inside which lies a hint of refreshing sweetness.

Full Details: http://www.moshimoshi-nippon.jp/58538

■Information
Nanaya Aoyama
Address: Nanaya 1F, 2-7-12 Shibuya, Shibuya-ku, Tokyo
Tel: 03-6427-9008
Hours: 11:00〜19:00
Closed: Tuesdays (but open on Tuesdays when it's a national holiday)
Website: http://nanaya-matcha.com

Matcha Café Maiko

The same matcha – just imported from Hawaii! "MATCHA Stand MAIKO" has been in business in Hawaii since July 2016, and it has made its way to Omotesando in Japan. Matcha Café Maiko uses the highest quality matcha produced in "Harimaen," a tea brand from Uji in Kyoto, aka the birthplace of Japanese tea. The matcha-flavored soft served ice cream of Matcha Café Maiko extracts the umami and texture of matcha to the fullest, meaning you can enjoy a matcha soft ice cream unlike any other!

Full Details: http://www.moshimoshi-nippon.jp/47577

■Information

"Matcha Café Maiko – Omotesando"
Address: B1 of GYRE, 5-10-1, Jingumae, Shibuyaku, Tokyo
Open: 11:00-20:00
Website: http://www.matchacafe-maiko.jp/

"MATCHA Stand MAIKO"
Address: 2310 Kuhio Ave. #143 Honolulu, HI 96815
TEL: (808) 369-8031
Open: 11:30-21:00 ※Time in Hawaii
Website: http://www.matchacafe-maiko.com/

"Milk" – Fresh Cream Specialty Shop

When "Milk" opened in Shibuya it was a roaring success, bringing in 30,000 people in the first month. Fresh cream usually plays the supporting role of sitting on top of something like pancake, but "Milk" promotes it to the lead role by drawing out its flavour to the fullest. "Milk" serves a range of sweets with the fresh cream as the main acts, including "Milky Cream Chiffon Cake" (¥780), "Milky Soft Cream" (¥540), "Milky Soft Parfait" (¥780), and more. The shop is only open for a limited period, so don't miss out.

Full Details: http://www.moshimoshi-nippon.jp/54370

■Information

"Milk" – Fresh Cream Specialty Shop (生クリーム専門店 ミルク)

Popup Shop in Harajuku Justin
Opening date: August 3rd ※Takeout available from August 10th
Address: Harajuku JUSTIN Gingumae 3-25-18 Shibuya-ku Tokyo
Open: 11:00-18:00(※JUSTIN's normal business hour starts from 18:00)

Takeout specialty shop in LUMINE EST Shinjuku
Opening date: August 20th, 2017
Address: LUMINE EST 1F Shinjuku 3-38-1 Shinjuku-ku Tokyo
Open: 11:00-22:00 (10:30-21:30 on weekends and holidays)

Official Website: http://www.opefac.com/milk/

sorama

Affogato (¥550), a definite recommendation to those people who find normal ice cream a tad bit boring. It's made with rich wholesome ice cream that melts its way into strong coffee. Even people who aren't adjusted to coffee can enjoy this one. What's more is that "sorama" is a café situated away from the hustle and bustle of the busy streets of Harajuku where time flows calmer, allowing you to take a breather. It's a place where you can enjoy more "grown-up" ice cream.

Full Details: http://www.moshimoshi-nippon.jp/32960

■Information

sorama gallery+coffee

1-12-6 Dohi Bldg., Jingumae, Shibuya-ku, Tokyo

TEL: 03-3423-2370

OPEN: 9:30~11:00/12:00~19:00  (Closed: Mondays, Tuesdays, National Holidays)

Homepage: http://sorama.tokyo/coffee/

coisof(コイソフ)

Ice cream and dairy specialists "Morinaga Milk Industry" teamed up with "GOMAYA KUKI," a store specialising in sesame ice cream, to open the soft serve ice cream shop "coisof." Their sesame ice creams strive to stand superior to ice creams all over the world and are topped with colourful "oiri," a traditional candy from Kagawa prefecture that brings good luck. Once you have one you won't be able to stop!

Full Details: http://www.moshimoshi-nippon.jp/54778

■Information

Coisof (コイソフ)

Address:OZ Harajuku Building 1st floor, 1-8-24, Jingu-mae, Shibuya, Tokyo

Open: 10:00-20;00

Telephone number: 070-1185-1309

【Select Menu Items】

・Coi soft (white) ¥600 (tax included)

・Coi soft (mix) ¥600 (tax included)

・Coi soft (black) ¥600 (tax included)

GOMAYA KUKI Website: http://gomayakuki.jp/

Harajuku – the home of the "kawaii" culture. Know you know some of its most photogenic ice cream shops. So what are you waiting for? Have your fill♡

ーーー

Writer: Ellie

6 places you can get Instagram-worthy rainbow treats in Tokyo!

Rainbow sweets are now trending. As well as being very popular overseas, a large variety of shops that sell rainbow sweets have also been opening in Japan. Today we'll be looking at rainbow sweets that you can eat in Tokyo! The impact of their vivid colours makes them perfect for an Instagram shot!

LE SHINER (Takeshita Street, Harajuku)

This shop has appeared many times on TV for its Instagram-worthy aesthetics. The pink bear is a real eye-catcher! The exterior is also cute ♡

The shop's speciality is the rainbow soft serve ice cream. Colourful rainbow ice cream spirals around the base of pink ice cream.

Their colourful menu also includes rainbow cake sticks, rainbow sandwiches and much more!

Further information: https://www.moshimoshi-nippon.jp/ja/93444

◼︎Information

LE SHINER (レ・シヤナー)

Address: COXY176 Building 1st floor, 1-7-10, Jingumae, Shibuya, Tokyo

Opening hours: Weekdays – 11:00 — 18:00 / Weekends & national holidays – 10:30 — 19:00

Access: 3-minute walk from Harajuku station Takeshita Street exit (JR Yamanote line)/ 4-minute walk from the 5th exit of Meiji-Jingumae Station (Tokyo Metro Chiyoda line)

TEL:070-1361-8686

Totti Candy Factory (Takeshita Street, Harajuku)

Totti Candy Factory has cute petit cakes, cotton candy and much more. There must be so many people who have tried this! Whatever you may have heard about this place, their showstopper is definitely the huge colourful cotton candy!

If you're looking for a present or souvenir, we recommend you get one in a cup!

◼︎Information

Totti Candy Factory

Address: RYU Apartment 2nd floor, 1-16-5, Jingumae, Shibuya, Tokyo

Opening hours: Weekdays – 11:00 — 20:00

Weekends & national holidays: 10:00 — 20:00

Access: 3-minute walk from Harajuku station Takeshita Exit (JR Yamanote line)

TEL:03-3403-7007

The KAWAII MONSTER CAFE is a new famous spot in Harajuku that has attracted many from all over the world.

One of their specialities is the colourful poison parfait, which is a photogenic masterpiece that is topped with ice cream, fruit, and even a piece of roll cake.

There are even rainbow cakes, rainbow pasta dishes, and much more!

Further information: https://www.moshimoshi-nippon.jp/ja/64096

◼︎Information

KAWAII MONSTER CAFE(カワイイモンスターカフェ)

Address: YM Square 4th floor, 4-31-10, Jingumae, Shibuya, Tokyo

Opening hours: Lunch: 11.30 — 16:30 (last orders: 16:00 ), dinner: 18:00 — 22:30 (last orders: 22:00) (Monday — Saturday and the day before national holidays

※ 90-minute seating slots, last entry: 15:30

Sundays & national holidays 11:00 — 20:00(Last orders: 19:30)

No regular closing days. It is possible that customers will not be allowed to enter the cafe when certain events take place.

Access: 1-minute walk from the 5th exit of Meiji-Jingumae station (Subway)/ 5-minute walk from JR Harajuku station Omotesandō exit

TEL: 03-5413-6142 ※It is possible to make reservations(Excluding Weekends and national holidays)

LOLA'S Cupcakes (Roppongi, Harajuku)

It is possible to say that LOLA'S Cupcakes are the instigators for the rainbow sweets trend. Their cupcakes may be famous, but their rainbow cakes are also a popular choice!

Seven different colour layers of cake are sandwiched together with buttercream.

◼︎Information

LOLA'S Cupcakes

Harajuku

Address: Cascade, 2nd floor, 1-10-37, Jingumae, Shibuya, Tokyo

Opening hours: 11:00 — 20:00

Access: 2-minute walk from 3rd exit Meiji-Jingumae station (Tokyo Metro Fukutoshin line/ Chiyoda line), 2-minute walk from Harajuku station Omotesando exit (JR Yamanote line)

TEL:03-6447-1127

Roppongi

Address: Roppongi Hills Metro Hut floor B1, 6-4-1, Roppongi, Minato, Tokyo

Opening hours: 11:00 — 21:00

Access: Direct access from the concourse of Roppongi station (Tokyo Metro Hibiya line), 4-minute walk from Roppongi station (Toei Ōedo Line)

TEL:03-3475-1127

A WORKS (Gakugei-daigaku Station)

What makes this cafe appear so Instagram-worthy is its resemblance to a traditional Japanse-style house. In this popular cafe, all the cakes are made by hand. Sales end once all the cakes are gone.

This place has more to offer than just a rainbow-coloured cheesecake — there are also unicorn cakes, Cheshire cat cakes and much more ♡

◼︎Information

Address: 3-3-7, Takaban, Mguro, Tokyo

Opening hours: Monday, Tuesday Friday & Sunday:  11:30 — 22:00

Thursdays:  11:30 — 16.00

Saturdays:  11:30 — 23:00(Last orders: 22:00)

Regular closing days: Wednesdays

Access: 2-minute walk from Gakugei-daigaku Station (Toyoko line)

TEL:050-5570-3475

NEW NEW YORK CLUB (Azabu-Jūban/ Jiyūgaoka station)

This shop was built for those who want to experience and taste New York culture in a New York atmosphere. Their signature treat is the rainbow-coloured bagel. However, they are only available on the weekends!

◼︎Information

NEW NEW YORK CLUB

Azabu-Jūban

Address: 3-8-5, Azabu-Jūban, Minato, Tokyo

Opening hours: 9:00 — 18:00 (Sales will end once all have been sold)

No regular closing days

Access: 3-minute walk from the A1 exit of Azabu-Jūban station (Tokyo Metro Namboku line)

TEL:03-6873-1537

Jiyūgaoka

Address: TF 2-15-14, Midorigaoka, Meguro, Tokyo 

Opening hours: 11:30 — 20:00

Regular closing days: Tuesday

Access: 5-minute walk from Jiyūgaoka station

TEL:03-6459-5669

What are you waiting for? Get your hands on some rainbow sweets!

A "zoo" beside a Harajuku Denki Shokai ?! An ice cream store, "Dobutsuen" which use the motifs of animals was opened

"Dobutsuen" which sells cute animal-shaped ice cream under the theme of  "the smallest zoo of the world" was opened on the 23rd of September.

Each item is 500 yen! Below are the items which are suitable to be uploaded on your SNS.

Buta (strawberry) Buhtaro (5oo yen / tax included)

Panda (cookie and cream) Runrun (5oo yen / tax included)

Zou (soda) Umeko (5oo yen / tax included)

Koara (Vanilla) Ocean Hiroko (5oo yen / tax included)

Tora (blueberry cheese cake) Eijikun (5oo yen / tax included)

3 Biki no Kobuta (random flavor) (1,000 yen / tax included)

Why not try these cute animal-shaped ice creams after drinking Denkyu Soda.

■Information

Dobutsuen

Address: 150-0001, B1F 3-20-10, Jingumae, Shibuyaku, Tokyo

TEL: 03-6434-5074

Business hours: 11:00 to 19:00
RELATED ENTRIES
Disney's Mickey and Minnie Mouse Feature on Lotte's Choco Pie Chocolate Treats

Japanese confectionery company Lotte is joining white gloves with Mickey and Minnie Mouse to collaborate on their popular chocolatey Choco Pie treats. The tie-up will roll out in Japan from January 26.

Lotte Choco Pie Heartful W Strawberry

Lotte Choco Pie Heartful W Chocolate

Try and find the Mickey head on the packaging

Get your hands on one of 10 packaging designs

Line up these two to make it look like Mickey and Minnie kissing

 

Handmade Choco Pie Art

This marks Choco Pie's first collaboration with Disney's characters with Mickey and Minnie appearing in ten different designs. Each design has a hidden Mickey head to find (like in Kingdom Hearts III). Lotte is has also showcased some unique designs you can make for Valentine's Day with the Choco Pies, so get creative!

ⓒDisney

Information

Lotte Choco Pie Mickey & Minnie Design
Release Date: January 26, 2021
Official Website: https://www.lotte.co.jp/

K Confect released a batch of its new 'SNOW SAND' chocolate sandwich cookies for the winter season on Wednesday (January 20) made with ingredients from Hokkaido and within just 30-minutes the online stock sold out. The company has now been launching a new limited batch every day since January 21st. All orders come with an original polar bear postcard.

Front and back of polar bear postcard

The SNOW SAND sandwich cookie brings some warm and cosy love this cold winter season with its delicious combination of butter made in Hokkaido, wheat flour, and sugar. The cookie packaging comes in two designs based on two works of art by Japanese painter Otani Kazuyoshi.

Japan declared a state of emergency on January 5, 2021 in response to the COVID-19 pandemic, and so those unable to make it to the company's pop-up shops at Daimaru Sapporo and Daimaru Tokyo, which will open on January 27, can order the cookies online too.

Information

SNOW SAND Raw Chocolate Sandwich Cookie
Online Orders: From January 20, 2021

Buy Here: https://www.snowsand.jp/

Daimaru Pop-Up Shop Orders: January 27, 2021 to February 14, 2021

Daimaru Official Website: https://www.daimaru-matsuzakaya.jp/valentine/

Daimaru Pop-Up Shops
Daimaru Tokyo: Available on Floor 1F's sweets section

Daimaru Sapporo: Available on Floor 1F's Valentine's section

Opening Hours: 10:00-20:00

*Those who spend over ¥3,160 (Tax Included) will receive an original mini tote bag – available while supplies last

TALENT PROFILE

Ema Tanioku

"Emaeri" is the nickname for models Ema and Eri Tanioku, who are Aomoji fashion model twins. Ema and Eri Tanioku specialise in twin fashion coordination. Over the years their fanbase has increased due to their cute looks. Ema Tanioku spreads Harajuku culture within Japan as well as overseas and works as a Harajuku Tourism Ambassador. Starting off as a model, Ema has broadened her talent range from fashion magazines to TV, and from playing the lead role in dramas to movies.

Valentine's Day Treats Cooked Up at The St. Regis Osaka

The St. Regis Osaka, a hotel located in Chuo, Osaka, is seducing couples with the reveal of its luxurious Valentine's Day dessert line-up which will be sold at the hotel's Italian restaurant La Veduta from February 1 to 14.

2021 Valentine's Collection Line-Up

Valrhona Chocolate Bark | Single Bag: ¥1,200 (Before Tax)

A bag of irresistible chocolates made using chocolate by the French premium chocolate brand Valrhona. It's available in three flavours: Milk (Hazelnut/Miso), Dark (Almond/Soy Sauce), and White (Macadamia/Sake Lees).

Extra Dark Chocolate Gateau Chocolat | ¥2,800 (Before Tax)

A truly full-bodied chocolate experience made with 61% chocolate that can be indulged chilled or warmed up.

Valentine's Edition Valrhona Guanaja & Jivara Lactee Chocolate Éclairs | ¥750 (Before Tax)

A chocolate cake strip loaded with thick ganache and topped with chocolate-covered hazelnuts to create a bite-sized éclair.

St Regis Signature Brioche | Set of 3: ¥1,000 (Before Tax)

A set of three of St Regis's signature brioches: the extra dark Valrhona chocolate "Danish," the Valrhona Guanaja & Jivara Lactee chocolate "Ganache," and the Valrhona "Passion Fruit Inspiration."

La Veduta's Italian Valentine's Day Menu

Dinner For Two | ¥32,000 (Before Tax)

The menu line-up at La Veduta features a dinner for two which includes an amuse-bouche, marinated Japanese amberjack, heart-shaped ravioli capresi, Tournedos Rossini beef fillet with tai sea bream, a strawberry tiramisu, and tea snacks.

This is a real indulgence for couples looking for a romantic dining experience or treat.

Information

The St. Regis Osaka Valentine's Day
Running: February 1, 2021 – February 14, 2021
Address: 3-6-12 Honmachi, Chuo-ku, Osaka-shi, Osaka
Opening Hours: [Mon] 8:00-14:00 / [Tue-Sun] 8:00-18:00

La Veduta
Running: February 10, 2021 – February 14, 2021
Opening Hours: 17:30-21:00 (Last Orders 19:30) *Closures at 20:00 until February 7
Enquiries: 06-6105-5659 (10:00-19:00)
The St. Regis Osaka Official Website: https://www.marriott.co.uk/hotels/travel/osaxr-the-st-regis-osaka

Delicious Parfait and Smoothie Made With Strawberries From Fukuoka Serving at Ginza Cozy Corner

Ginza Cozy Corner released a new parfait and smoothie made with amaou strawberries from Fukuoka Prefecture at its 12 cafes and restaurants on Saturday (January 23).

The amaou strawberry is known for its plump form, rich sweetness, and refreshing flavour. Ginza Cozy Corner has taken this delicious fruit to whip up a parfait topped with strawberry gelato, vanilla ice cream, and fresh cream, as well as a smoothie made from a whole bunch of blended amaou strawberries and milky ice cream.

Left: Fukuoka Amaou Parfait – ¥1,380 (Tax Included) | Right: Fukuoka Amaou COZY Smoothie – ¥1,000 (Tax Included)

The parfait is loaded with four deluxe-size strawberries so you can enjoy their fresh, soft texture together with the ice cream, gelato, and fresh cream combo, while a straw-sip of the ice-mixed smoothie will tickle taste buds sweetly with the sherbet hidden at the bottom.

Information

Ginza Cozy Corner Amaou Parfait & Smoothie
Serving: January 23, 2021 – Early March 2021
Ginza Cozy Corner Official Website: https://www.cozycorner.co.jp/

Hello Kitty Valentine's Day Chocolates by Bicerin Are Sure to Surprise Your Lover

Café Al Bicerin released a special collection of chocolates in Japan for Valentine's Day on Wednesday (January 20) in collaboration with Hello Kitty.

Café Al Bicerin is a cafe in Torio, Italy, that first opened back in 1763. It has a long history and is a place that was enjoyed by the likes of Friedrich Nietzsche and Ernest Hemingway.

Bicerin × Hello Kitty Love Assortment | ¥2,160 (Tax Included)

Bicerin × Hello Kitty Love Assortment | ¥2,160 (Tax Included)

Valentine's Baci di Dama (Includes 5) | ¥1,350 (Tax Included)

© 2021 SANRIO CO., LTD. APPROVAL NO. L617585

Information

Bicerin x Hello Kitty Valentine's Collection
Released: January 20, 2021
Available: Bicerin Japan (Ginza SIX, Takashimaya Shinjuku, Midland Square, Hankyu Umeda, Roppongi Hills, Tokyo Midtown Hibiya)
Official Online Store: https://shop.bicerin.co.jp/
Official Website: http://www.bicerin.co.jp/

McDonald's KitKat McFlurry to be Whipped Up in Japan

McDonald's Japan is teaming up with Nestlé next week to bring back last years' customer-favourite McFluffy® KitKat® for a limited time starting on January 27.

McFlurry KitKat | ¥290

The delicious dessert combines McDonald's tasty soft service ice cream with crushed KitKat and finishes it with a drizzle of special sauce made with couverture chocolate. Mix everything together for pure chocolatey heaven goodness.

McFlurry Oreo | ¥290

McDonald's Japan also serves the McFlurry Oreo, a regular item on the menu, and right now is the only time you can enjoy comparing the tastes and textures between both the Oreo and KitKat McFlurries.

Which one has you drooling more?

Information

McFlurry® KitKat®
Running: January 27, 2021 – Late March 2021

Available: McDonald's Japan (Select branches not participating)
Serving Times: 10:30 until closure
Official Website: http://www.mcdonalds.co.jp/

*KitKat is a registered trademark of Nestlé Group.

Luxury Japanese Gateau Chocolate Infused With Sake Made From Famous Yamada Nishiki Rice

Japanese sweets and dessert brand KAKERI opened pre-orders for its new luxury chocolate "Nihonshu Gateau Chocolat" on Monday (January 18) which is made in collaboration with Inami Shuzo, a distillery based in Miki, Hyogo, a city known for a type of rice called Yamada Nishiki. Pre-order opened exclusively on Makuake.

Daigin Koshu – Bronze Award winner in the Sake category at IWC2020

Inami Shuzo

The chocolate is infused with Daigin Koshu, a sake made by Inami Shuzo which won a Bronze award at the International Wine Challenge for Japanese Sake in 2020. The chocolate is also best paired with a cup of strong sake too. Online orders are shipped in freezer refrigeration and can be eaten frozen too, giving it an ice cake-like texture. If left to defrost in the fridge, the taste and fragrance of the infused sake increases, so sake-lovers can pick how they best want to enjoy their gateau treat.

What makes this chocolate so special is that it enjoys the combination of ingredients and a workforce all from the city of Miki where the distiller is located. The sake is made with a rice called Yamada Nishiki which is grown in Miki and is famous for being used to make sake. The consumption amount of this rice has decreased as a result of the pandemic and so the chocolate was developed to help spread word of the rice and ensure it doesn't go to waste.

Valentine's Dessert Sets Served Up at Harajuku's Tea Latte Shop CHAVATY

CHAVATY, a cafe in Harajuku that serves tea lattes made with high quality tea leaves, is getting ready for Valentine's Day early with the release of some tasty new desserts which they began serving up on Thursday (January 14).


Valentine's Set | ¥1,100 (Before Tax)


Valentine's Scone Set (6 Included) | ¥2,480 (Tax Included)


Raspberry Chocolate | ¥970 (Tax Included)

The Valentine's Set comes with a cute scone as well as fondant chocolate made with rich, high-grade chocolate from the French chocolate brand Cacao Barry. It also comes with a tea latte of your choice. There's also a scone set which comes with two each of three different scones for a total of six including the Berry & Cocoa Pink Chocolate, Orange & Chocolate Chip Double Chocolate, and Dried Fruits & Nuts White Chocolate. CHAVATY has also made their own seasonal homemade spread: the Raspberry Chocolate.

Information

CHAVATY Valentine's Set
Running: January 14, 2021 – February 14, 2021

Address: Minami-Harajuku Bldg. 1F, 4-6-9 Jingumae, Shibuya, Tokyo

Official Website: https://chavaty.shop-pro.jp/

Pokémon Tokyo Banana Adds Special Pikachu Box Set Online

Tokyo Banana World recently added its special Dengeki Box (Electric Box) of Pikachu Tokyo Banana confections to its official website which is available to order in Japan until January 30, 2021 at 17:00 (JST).

Tokyo Banana is Tokyo's official souvenir sweets brand and it launched its new Pokémon Tokyo Banana series of confections in November last year with the first catch being Pikachu. It subsequently added Eevee to the collection in December. The Pikachu confections are also available to buy at Tokyo Station.

Pikachu Tokyo Banana – Dengeki Box | Box of 12 Packs (24 Confections) | ¥3,456 (Tax Included)

The limited-time addition of the Dengeki Box to Tokyo Banana's official website means that anyone in Japan can get a taste of the electrifyingly delicious sweet fluffy custard-filled sponge cakes without having to travel to Tokyo.

Waiting inside the Dengeki Box are 12 packages each with two cakes in and each in one of six different Pikachu designs to greet hungry Trainers, all of which are positively kawaii. The box itself also features these adorable illustrations.

Left: Front of Box | Right: Back of Box

The box even has a handle attached to it so you can reuse it after to store all your bits and bobs.

©2021 Pokémon. ©1995-2021 Nintendo/Creatures Inc./GAME FREAK inc.
Pokémon, ポケットモンスター, and ポケモン are registered trademarks of Nintendo, Creatures Inc., and GAME FREAK inc..

Information

Pikachu Tokyo Banana – Online Orders
Running: January 12, 2021 – January 30, 2021
*Available while supplies last

*Shipping not available to select islands in Japan

Tokyo Banana Group Official Online Shop
https://www.paqtomog.com/shop/c/cpk-bana/

Luxurious Gin Infused White Chocolate by Dean & DeLuca Tempts With Tasty Allure

Asakusa-based 'aromatic raw chocolate' brand MAISON CACAO created a new gin-flavoured white chocolate for Dean & DeLuca which was released in Japan on January 15, 2021.

The "Aroma Raw Chocolate (Gin)" keeps the original flavour of the white chocolate and infuses with a craft gin known as "COMMON" by Toranomon Joryusho.

Aroma Raw Chocolate GIN FOR DEAN & DELUCA | ¥2,592 (Tax Included)

​One bite into a piece of this artisanal chocolate fills the mouth with a tang of subtly fruity chocolate. Then comes the refreshing taste of the gin which complements the sweetness and adds sophistication to the chocolate in an exquisite balance of flavours.

 COMMON gin is fruity and clear

COMMON craft gin has a 'botanical' flavour. Its base is a shochu made on the islands of Hachijō-jima and Nii-jima. It also contains soft water taken from Okutama Sawai.

"It has a faint fruity taste that combines with the flavour of the cacao, and he used really delicious white chocolate," explains Shingo Ishihara of MAISON CACAO who helped in the chocolate's development. "I hope people indulge in its enjoyable melt-in-the-mouth texture."

Information

Aroma Raw Chocolate GIN FOR DEAN & DELUCA

Japanese Name: アロマ生チョコレート GIN FOR DEAN & DELUCA

Released: January 15, 2021
DEAN & DELUCA Official Website: https://www.deandeluca.co.jp/

Snoopy and Charlie Brown Turn Into Confections at Japanese Convenience Stores

Bandai's character-inspired Japanese confectionery series Tabemas is releasing two new traditional Japanese wagashi confections inspired by the Peanuts comic series. Snoopy and Charlie Brown will arrive at Lawson convenience stores across Japan on January 19, 2021.

Tabemas Snoopy | ¥264 Each (Before Tax)

The cute confections capture the little details of the iconic characters, from Snoopy's doggo features and collar to Charlie Brown's hair and shirt. The Snoopy confection is filled with chocolate bean paste—a nod to his favourite chocolate chip cookies—while Charlie Brown is filled with custard bean paste as a nod to his trademark shirt. The packaging features exclusive art drawn for the Peanuts comic's 70th anniversary with Snoopy atop his dog house.

© 2021 Peanuts Worldwide LLC

Information

Tabemasu Snoopy / Charlie Brown
Release Date: January 19, 2021

Available: At the chilled sweets section of Lawson convenience stores in Japan (Excluding Natural Lawson and Lawson Store 100)

*Available while supplies last

*Stock date may differ from branch to branch

*Select stores not participatingProduct Page: https://www.bandai.co.jp/candy/tabemas/snoopy03/

SNOOPY MUSEUM TOKYO's PEANUTS Cafe Serves Up New Menu Items Inspired by the Comics

The PEANUTS Cafe at SNOOPY MUSEUM TOKYO rolled out new menu items on Saturday (January 16) as part of a new exhibition called "Snoopy to Kyoudai" (Snoopy and Siblings) featuring a sandwich and desserts inspired by scenes from the beloved Peanuts comics.

The New Menu Line-Up

Snoopy Flower Basket Sandwich | ¥1,400 (Before Tax)

This flower basket is based on a scene when Snoopy meets with his siblings who pay him a visit after he recovers from being unwell and they eat sandwiches together. The tasty sandwiches are stuffed with pastrami beef and veg so you too can get your fill like Snoopy. The basket also comes with mini corn dogs and crispy fries. This is one to share (or hog all to yourself!)

Olaf's Pancakes | ¥1,200 (Before Tax)

These pancakes are inspired by Olaf, who was first introduced in the ocmics as the winner of the Ugly Dog Contest. They are loaded with ice cream, fruit, a whole Japanese custard pudding, fresh cream, and a drizzle of caramel sauce.

Belle's Raspberry Milkshake | ¥900

A doughnut-topped raspberry milkshake like the one that appears in the comics. It's a nod to Belle, Snoopy's only sister.

©2021 Peanuts Worldwide LLC (短縮形 ©2021 Peanuts)

Information

PEANUTS Cafe SNOOPY MUSEUM TOKYO
Running: January 16, 2021 – July 11, 2021
Address: Minami-Machida Grandberry Park Park-Life Site, 3-1-1 Tsuruma, Machida, Tokyo
TEL: 042-850-7390
PEANUTS Cafe Official Website: http://www.peanutscafe.jp/snoopymuseum-tokyo/