Experience Traditional Japanese Culture Through Buddhism at Kohgen Festival in Meguro & Nakameguro
Kohgen is a festival focused on Buddhism held at shrines and temples in Japan where people can experience traditional Japanese culture. The next events are set to take place at Shokakuji Temple in Nakameguro on May 5 and Ryusenji Temple, Gohyakurakanji Temple and Banryuji Temple in Meguro on May 6.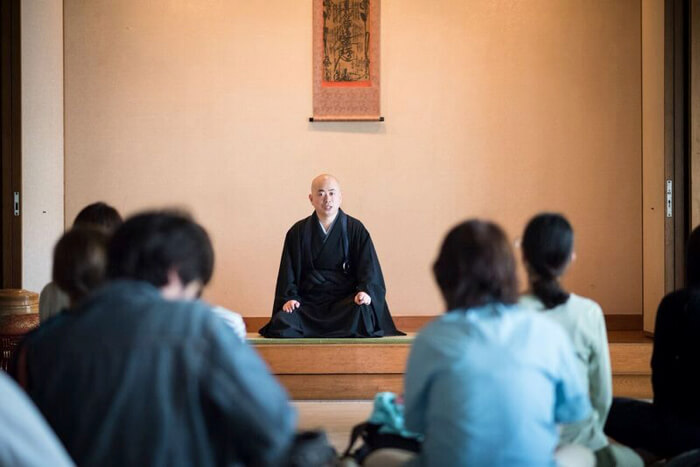 Kohgen works towards allowing people to feel the true essence and root of Japan's rich culture. The festival takes place over a huge distance every year, with 2018 marking its eighth run.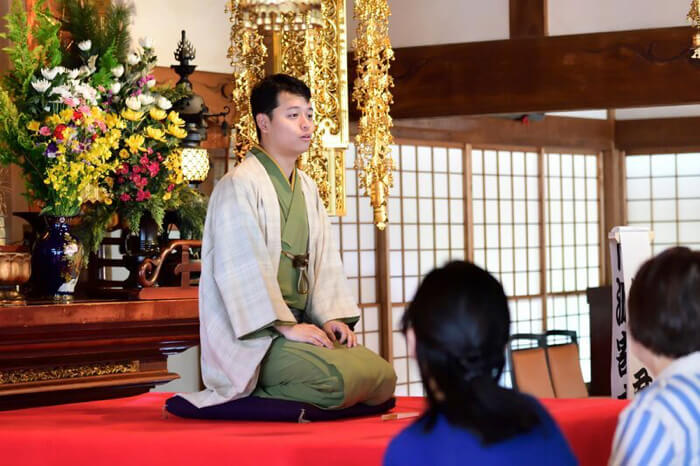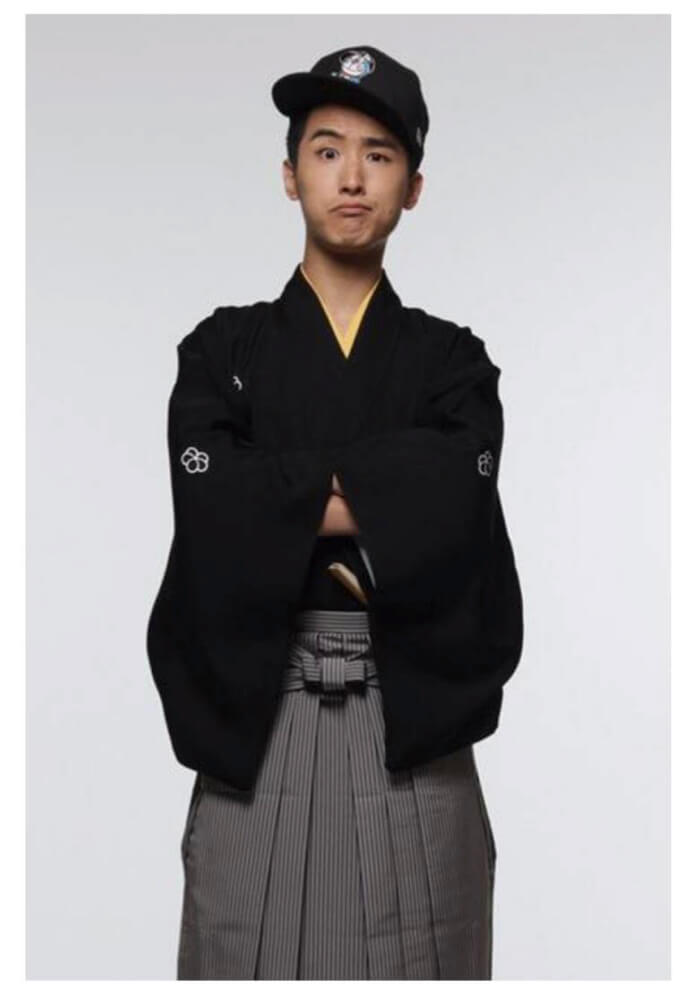 On Saturday May 5 at Shokakuji Temple, there will be performances from young rakugo entertainers in their 20s and 30s in the main hall, a chance to hear three priests chanting Buddhist sutras, and a string of experienced-based workshops like making goshuincho shrine and temple stamp books, ascetic practices and more.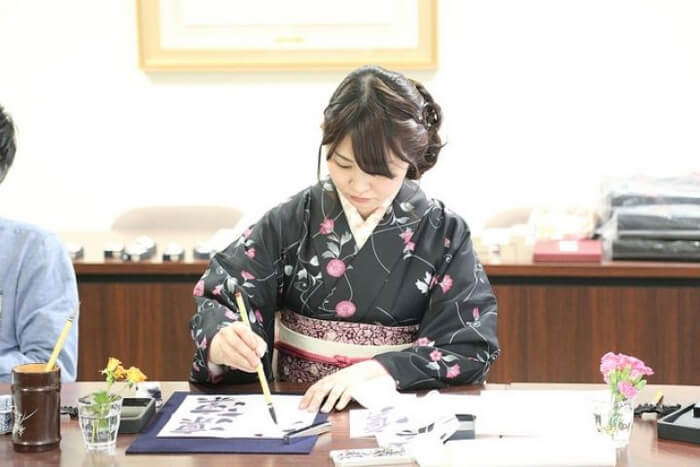 On Sunday May 6 in Meguro, there'll be a talk show by a Buddhist picture artists at Ryusenji Temple, an opportunity to learn about philosophy with a chief priest at Gohyakurakanji Temple, and ikebana flower arranging, calligraphy, and a viola performance at Banryuji Temple. There's plenty more scheduled too, with each temple having its own particular events.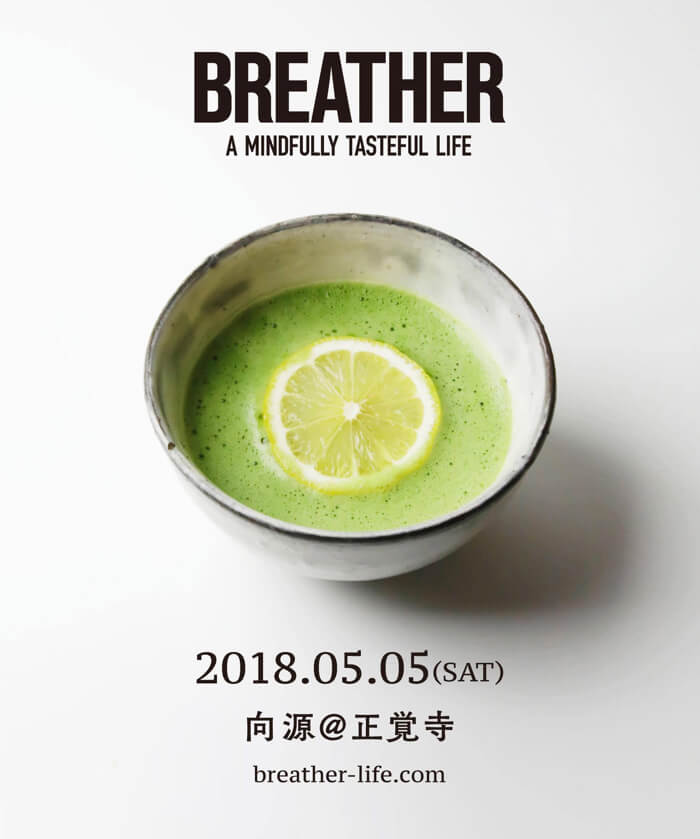 Also, for 2018, those who haven't bought tickets can enter the festival too. There are free events happening at the tent area, and a catering area where you can enjoy food.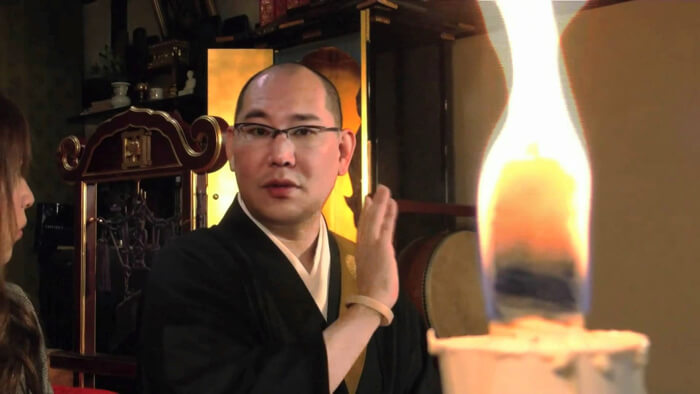 In addition, ghost story telling priest Daiun Miki has also been invited to Shokakuji Temple in Nakameguro. He'll be telling one of his ghost stories.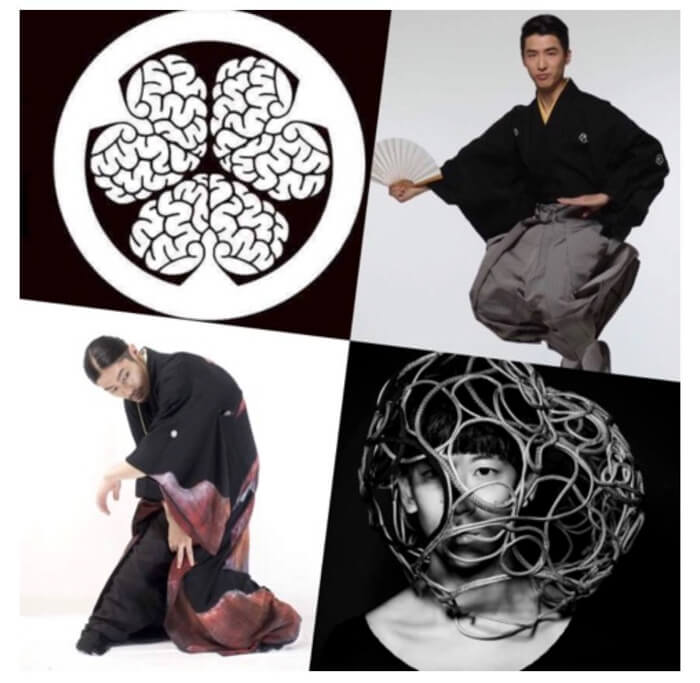 For more details on this fun-packed festival, make sure to check the official Kohgen website.
■Information
Kohgen
Venues: Shokakuji Temple / Ryusenji Temple / Gohyakurakanji Temple / Banryuji Temple
Dates/Times:
May 4, 2018 @ Shokakuji Temple (Festival Eve: 19:00-21:00)
May 5, 2018 @ Shokakuji Temple (09:00-20:00)
May 6, 2018 @ Ryusenji Temple / Gohyakurakanji Temple / Banryuji Temple (09:00-19:00)
Price: Free Entry / ¥2,000-¥6,500 (tax incl.) for each workshop and course
No. of People: Different for each workshop and course
Applications: Via "Peatix" online ticket application
Access:
Shokakuji Temple: 3-1-6 Nakameguro, Meguro-ku, Tokyo
Ryusenji Temple: 3-20-26, Shita-Meguro, Meguro-ku, Tokyo
Gohyakurakanji Temple: 3-20-11, Shita-Meguro, Meguro-ku, Tokyo
Banryuji Temple: 3-4-4, Shita-Meguro, Meguro-ku, Tokyo
Website: http://kohgen.org/
RELATED ENTRIES
OMOTENASHI MATSURI Festival to Deliver Japanese Culture to the World in Free Twitch Live Stream

OMOTENASHI BEATS has announced that it is set to serve Japanese culture to the world with its new DJ party event "OMOTENASHI MATSURI" which is set to stream live on Twitch on June 7, 2020.

OMOTENASHI BEATS is a project that fuses Japanese music with DJ culture. Its concept is to get people visiting Japan to experience Japanese culture and to deliver Japanese music to the rest of the world.

The event will be completely free to watch to everyone around the world on Twitch.

OMOTENASHI MATSURI / Official Trailer 

The DJ line-up OMOTENASHI MATSURI is as follows:

DJ KOO: A resident DJ with a career spanning 40 years who is also the leader of Japanese pop band TRF.
Motsu: Former member of m.o.v.e, a band with many a hit song including the Around the world which was used in the anime series Initial D.
DJ Arisa Komiya: Also known as the voice actress of Aqours member Dia Kurosawa in Love Live! Sunshine!!
DJ Zu from i☆Ris: A member of i☆Ris, a music unit formed of voice actresses and idols.
Shinichiro Kamio: The voice of Rio Mason Busujima from rap project Hypnosis Mic.
DJ Miyu Takagi: The voice actress for Shinobu Inuyose from the multimedia project D4DJ.
MIMORI from kolme: A member of kolme who write and produce their own music.
Tsunko: A cosplayer, anime song DJ, and the voice actress of Miyake Aoi from D4DJ.
Asanyan: DJ and multi-talent from social media.
DJ CAESAR from TOKYO: Produced Mobile Suit Gundam 40th Anniversary BEST ANIME MIX and is a huge name in the anime song scene.

10 big names will grace the line-up of the event. This will also be the first time Shinichiro Kamio and MIMORI have performed as DJs.

Japan Opens Temple Priest Consultation Service For Those Worried About COVID-19

A new online consultation service by the name of "Soudan no Madoguchi" (Consultation Window) has been launched in Japan as a measure against rising stress levels as a result of the COVID-19 pandemic outbreak.

Stress levels are soaring in Japan because of the sudden societal changes people have had to adapt to, such as having to work from home. The novel coronavirus has had enormous impact the world over. Those in Japan who are suffering from heightened stress can now make use of the Soudan no Madoguchi one-to-one online consultation service where they can talk to a Buddhist temple priest.

The priests will listen to peoples' worries, whether it be about the worry of working from home, difficulties faced with raising kids, and so on. Consultations can take place without any references to Buddhism, but they are available in Japanese only. Slots are booked via the service's official website. The standard fee is ¥2,000, but this is not compulsory: those who have had a consultation can decide their own price at the end of the session.

Aoe Kakuhō – Chief Priest at Ryokusen-ji Temple

Mitsuaki Tooshima – Assistant Priest at Kyogan-ji Temple

Priests that people can talk to are all active priests from the contemporary world of Buddhism and include priests with MBA's, those with experience holding seminars on mental health, and more. Sessions offer the chance for people to look inward and relieve their worries. The service is a great way for those who want to talk to someone but are unable to.

One Piece Goshuin Shrine Stamp Books Get Luffy and Trafalgar Law Designs

Movic has collaborated to release two special goshuincho books at Animate stores in Japan as well as the Animate and Movic online stores and select Mugiwara shops.

A Goshuincho is a book for collecting goshuin, which are stamps or seals given at shrines and temples across Japan. Every shrine and temple has its own unique goshuin which are stamped alongside calligraphy handwritten by the staff there and then who write the date and the name of the temple or shrine. We have covered goshuin here on MOSHI MOSHI NIPPON many times – click for more details.

Goshuincho – Luffy

Goshuincho – Trafalgar Law

The designs feature Luffy and Trafalgar Law made from gold leaf stood against backgrounds with traditional Japanese designs. Both books also feature their respective pirate logos. They are the perfect gift for any fan of One Piece heading to Japan to see the temples and shrinesーor to just add to their collection at home!


The order window for these books will run from March 16, 2020 to April 15, 2020 at Animate, Animate online, Movic online, at select Mugiwara storesーthe latter being the official One Piece merchandise shop. You won't be able to order them after April 15, so be sure to get your order in quick.

*Photos are of the product still in development. Actual product is subject to alterations.

*Product sales subject to change, extensions, or cancellations.

©Eiichiro Oda / Shueisha・Fuji TV・Toei Animation

Information

Goshuincho (2 Designs)
Price: ¥3,300 each (Tax Included)
Size: Approx. 16cm x 11cm
Product: Front Cover – Cloth with gold leaf / Inside: 24 folds
Order Window: March 16, 2020 – April 15, 2020

Release Date: June 19, 2020

Order here: https://www.movic.jp

Cherry Blossom Themed Sumikko Gurashi Store to Open at Ginkaku-ji Temple in Kyoto

The all-new Sumikko Gurashi Dou store is set to open permanently at Ginkaku-ji Temple in Kyoto on March 19, 2020.

Ginkaku-ji is a famous temple in Kyoto that was first built in 1490. It lives as a representation of the Higashiyama culture which flourished towards the end of the Muromachi Period. In 1994, it was designated as a World Heritage Site. The temple stands as a famous tourist spot of Kyoto.

Glasses Case – ¥1,500 / Contact Lenses – ¥1,100 / Mini Towels – ¥600 / Hanging Plush Toys – ¥1,100 / Cookies – ¥1,000 (All prices are pre-tax)

The new Sumikko Gurashi Dou store will be based entirely on the Sumikko Gurashi characters created by San-X. "Sumikko Gurashi" translates roughly to "life in the corner." The shop will take on a cherry blossom theme, where you can get your hands on exclusive and licensed products.

Sumikko Gurashi Yaki Takeout Cup (Contains 6) – ¥300 / Sumikko Gurashi Yaki Omiyage Bag (Contains 12) – ¥700 / Tapioca Drinks (3 Flavours) – ¥500 / Ice Cream (3 Flavours) – ¥500 (All prices are pre-tax)

There's also takeout food and drinks, like sweet and fluffy baby castella sponge cake, tapioca drinks, soft serve ice cream, and more.

And of course, the entire store will be adorably decorated in all things Sumikko Gurashi to ease your soul. If you're travelling to Kyoto and Ginkaku-ji Temple, then make sure you pop into Sumikko Gurashi Dou.

©2020 SAN-X CO., LTD. ALL RIGHTS RESERVED.

Kyoto Brighton Hotel Offers 5 New Hotel Plans For Springtime, Cherry Blossom & Temple Experiences

Kyoto Brighton Hotel is now selling reservations for its new "Haru no Asobi Plan" (Springtime Fun Plan) which is taking place between March and May this year and offers guests the opportunity to enjoy Kyoto in the spring and its cherry blossoms.

Spring in Kyoto is the most popular season for tourists and travellers who flock from not only across Japan but from around the world. The Haru no Asobi Plan is made up of 5 exciting plans to see the ancient capital's breathtaking cherry blossoms, vibrant green maples, and other offerings.

"Asakatsu" – An early morning temple visit and stroll

Get away from the crowded streets and enjoy the rare opportunity to experience incredible early morning sights you don't normally get to see. Spend a quiet morning in a gorgeous environment in this plan. Several temples and gardens are in place for the experience: Kōdaiji Temple, Bishamon-do Temple, Taizō-in, Haradanien, and Tenryū-ji.

Kiyomizu-dera Temple special night viewing

One of the must-visit spots when travelling to Kyoto is Kiyomizu-dera, officially a World Heritage Site. This plan rents out the temple for you to experience it at nighttime. The main building is currently undergoing large-scale renovation to secure the roof as well as the inner construction of the temple. Seeing the temple is truly a sight to behold.

You are guaranteed a view of the famous "Stage of Kiyomizu," an enormous veranda attached to the main hall. The surrounding trees will be lit with enchanting lights, and you'll be able to gaze at the distant city nightscape. Experience Kyoto like never before as the warm lights illuminate the Niōmon (Deva Gate), 3-storey pagoda, and purified water which runs from the Otowa Waterfall.

Discover the world of Kyoto embroidery

The traditional practice of Kyounui, or Kyoto-style embroidery, has continued since the Heian Period and is even garnering attention overseas. It's a delicate and refined style of embroidery unique to Kyoto.

After your embroidery session which will take place in a Kyoto town house nearby the cherry blossom-filled Hirano Shrine, you'll look at kimono and yukata so beautiful they'll look like they should be in an art museum, before heading to eat together with the creator.

See the green maple trees of Hōgon-in on a private train

Board the private 1-2 carriage Randen train on the Keifuku Electric Railroad, which runs from Shijō-Ōmiya to Arashiyama. This cute retro train will take you Arashiyama where the green maples are breathtakingly beautiful.

You'll also get to stroll through the quaint gardens of Hōgon-in Temple, view artwork painted by Noriko Tamura, and more.

Sky Bus

Enjoy a panoramic view on a private ride of the Sky Bus, a double-decker bus which is gaining huge popularity right now. You will ride through the city of Kyoto and see the rows of pink cherry blossoms. In April, they will also do an evening tour of the cherry blossoms so you can see them at night, and in May they'll do a green maple tree tour.

Discover the beauty of Kyoto in this very special hotel plan at Kyoto Brighton Hotel.

DJ Arisa Komiya from OMOTENASHI BEATS Celebrates First Overseas Performance at Anime Festival in Singapore

Last October, Zepp Divercity, Tokyo was filled with excitement and thrill as the Anime Rave Festival Vol.2 took place, which saw the appearance of a brand new DJ at the scene: Arisa Komiya from OMOTENASHI BEATS.

What's more, it hasn't even been two months since the DJ released her CD full of non-stop anisongs called SUPER OMOTENASHI BEATS vol.1 × DJ Arisa Komiya on October 2 and she has already leaped across a border for her first ever overseas performance at Anime Festival Asia Singapore 2019,  which flies the flag for Japanese culture and aims to spread the love for Japanese music. The festival was held at Suntec Singapore Convention and Exhibition Centre.

Arisa Komiya took to the stage on the second day of Anime Festival Asia Singapore 2019. The floor shook in beat to the thudding fans and the entire evening was a great success. The DJ's kicked off her overseas debut at C3AFA AKIBA STAGE, which was met with a swarm of hiphop fans. Next, she performed on the LUMICA stage, which saw a sea of penlights sway in beat, each fan unshakable with admiration. Komiya left the venue being assured of her strong fanbase in Singapore. 

 

DJ Arisa Komiya is sure to continue performing in Japan and overseas. Keep an eye on her and OMOTENASHI BEATS because they are sure to have a lot in store for everyone.

Information

SUPER OMOTENASHI BEATS vol.1 × DJ Arisa Komiya

Release: October 2, 2019

A 35-Track Mix CD of Non-Stop Anisongs by Love Live! Sunshine!! School Idol Group Aqours Member DJ Komiya Arisa.

 

CD: ¥2,338 (Before Tax)

CD + Blu-ray: ¥4,074 (Before Tax)

*Blu-ray includes the NONSTOP MIX BACKGROUND MUSIC VIDEO and MAKING VIDEO

Purchase Here: https://omotenashibeats.jp/discography/shop.php?id=1030637

OMOTENASHI BEATS Official Website: https://omotenashibeats.jp/

5 Temples in Kyoto Announce Exclusive Viewings For Their Secret Cultural Assets

The history of Yamashina dates back over 1,400 years when Kyoto, then known as "Heian-kyō," was the official capital of Japan. Located in the southeastern part of Kyoto, Yamashina is rich in history, abound with nature, and has maintained a traditional industry that has gone unbroken since ancient times.

This year, with the arrival of Japan's new emperor and the opening of a brand new era, five of Yamashina's great temples are set to unveil several cultural assets, which until now have never been shown to the public.

They are as follows.

Anshoji Temple's Wooden Jūichimen Kannon Statue (Important National Treasure)

Kajū-ji Temple's Sliding Door Panel Artwork  – "Eight Views of Ōmi" & "Tatsuta River Autumn Leaves" (Important National Treasures)

Zuishinin Temple's Gold Lacquered Fan Inkstone Case & 4-Panel Folding Screen

Bishamon-do Temple's Imperial Prince Flag & Tortoise Shell Doors

Honkokuji Temple's Kyōzō (Important National Treasure)

Get away from the hustle and bustle of central Kyoto and steep yourself in its history with this very special once-in-a-lifetime opportunity.

Information

Special Viewings

Running: November 16, 2019 – December 1, 2019

Viewing Times:

Anshoji Temple, Kajū-ji Temple & Honkokuji Temple: 9:00-16:30 (Last Entries 16:30)

Zuishinin Temple: 9:00-17:00 (Last Entries 16:30)

Bishamon-do Temple: [Until November 31] 8:30-17:00 (Last Entries 16:30) / [From December 1] 8:30-16:30 (Last Entries 16:00)

Price

Anshoji Temple: ¥500 / Kajū-ji Temple: ¥400 / Bishamon-do Temple: ¥500

Zuishinin Temple: ¥500 (¥700 during illuminations at 6pm-8:30pm)

Honkokuji Temple: ¥500 (+¥500 to view the Kyōzō)

More details can be found over on Totteoki Kyoto Travel: https://totteoki.kyoto.travel/ (Japanese)

Witness the Sengoku Period Parade at the Kazutoyo Festival in Kisogawa

The town of Kisogawa in Nagoya, Aichi is just 30-minutes by car from Nagoya Station, which is set to welcome the 36th annual Kazutoyo Festival on September 15.

The city of Ichinomiya was the birthplace of Yamauchi Kazutoyo, a famous military commander during the Azuchi–Momoyama period (1568-1600). Every year, the bustling Kazutoyo Festival recalls the Sengoku Period, a time of war and upheaval in Japan which lasted over a thousand years, as well as the helmet and armor-clad commander.

The festival also has mini live performances, as well as an anime show which can be enjoyed by children. There's also food, horse riding, and other fun activities.

Experience a unique cultural autumntime festival this year at the Kazutoyo Festival in Kisogawa.

Information

36th Kisogawa Kazutoyo Festival

Date: September 15, 2019

Time: 10:00-16:00

Locations

Main Location: Ichinomiya Shiritsu Kuroda Elementary School (Kojo-26-2 Kisogawacho Kuroda, Ichinomiya, Aichi)

Sub-Locations: Aeon Mall Kisogawa (25-1 Kisogawacho Kuroda Minamihatsukaike, Aichi Prefecture) & APiTA Kisogawa Shop (51-4 Kisogawacho Kuroda, Ichinomiya, Aichi Prefecture)

Sengoku Period Parade

Time: From 10:00

Course: Sotowariden Crossing→Kisogawa Ginza Shotengai→Kuroda Elementary School

Enquiries: Kisogawa Kazutoyo Festival Planning Committee (0586-87-3618)

teamLab Now Holding Digital Art Exhibition at World Heritage Site Shimogamo Shrine in Kyoto

With the increase in number of collaborations between contemporary digital art and traditional and historical Kyoto sites, teamLab is getting in on the action with its new digital art exhibition "Digitized Forest at the World Heritage Site of Shimogamo Shrine."

We are joined by Instagrammer Macchan who recently attended the exhibition and who has provided photos for us.

Shimogamo Shrine is a shrine located between the Kamo River and Mount Kōya. It was registered it as a World Heritage Site by UNESCO. The shrine is associated good luck in marriage and welcomes sightseers from Japan and around the world. It can be reached by the 205 Bus from Kyoto Station and getting off at either Shimogamo Shrine (下鴨神社) or Tadasu Forest (糺ノ森前). It's also about a 20-minute taxi ride from Kyoto Station.

This marks the third run of teamLab's "Digitized Forest" exhibition at Shimogamo Shrine, and this year's exhibition has been made even bigger. It is running until September 2, 2019.

Floating by the Rōmon Gate of the shrine are spheres of light which change colour and emit various musical tones unique to the colour when touched by a person. They also react to the other spheres around them, changing to the same colour and letting out the same tone, creating a chain reaction.

Egg-shaped orbs of light can be found dotted around the Tadasu Forest by the shrine which illuminate the trees. Like the light spheres, when the eggs are pushed they change colour and play a musical noise specific to that colour, the sound and tone spreading through the forest.

These objects of light can also be found at Mitarashi Pond where they float on the water. The orbs shine brightly and then fade slowly as if breathing. If pushed by people or blown by the wind they will change colour and emit sound.

The best part about teamLab's art exhibitions is how visitors become part of the exhibition itself by interacting with the installations, offering a much more engaging experience than simply looking. Visit Shimogamo Shrine before the exhibition ends to see digital art meet a traditional Japanese shrine at night.

If you're looking for more sightseeing recommendations for Kyoto then be sure to follow Macchan on Instagram!

Photos by まっちゃん

Information

Shimogamo Shrine
Address: 59 Shimogamo Izumikawachō, Sakyo Ward, Kyoto, Kyoto Prefecture
Official Website: https://www.shimogamo-jinja.or.jp/english/

Digitized Forest at the World Heritage Site of Shimogamo Shrine, Kyoto Art by teamLab – TOKIO INKARAMI
Running: August 17, 2019 – September 2, 2019
Time: 18:30-22:00 (Last Entries 21:30)
Location: Shimogamo Shrine

Price: Weekdays ¥1,300 / Weekends ¥1,500
*Free entry for elementary school children and below. Must be accompanied by a parent or guardian aged 20+.

Official Website: https://www.teamlab.art/e/shimogamo/

A Date With Yutaro: Soaking Up the Japanese Summer Sun & Visiting the Art Aquarium | Tokyo Stroll

It's been a while since our last date with Yutaro. He's been very busy with film shoots. He had some spare time today so we paid a visit to Nihonbashi for our next date. "ECO EDO Nihonbashi: Enjoy Cool Edo With All Five Senses" is an event held every year in the Nihonbashi area which takes the Edo period cultural idea of "coolness"―an in, to enjoy being cool during the summer-and puts a modern spin on it. There are many exciting things to look forward to, including the art aquarium which proves massively popular every year.

We gave ourselves more time to arrive at the meeting place to be in the safe side, but it seems Yutaro-kun was already there waiting for us!

Nihonbashi Information Center | IPPIN CAFÉ "Sparkling Herb Tea" – ¥518 (Tax Included)

"Here, you must be boiling." Yutaro-kun kindly offers a cup of IPPIN CAFE's limited-edition sparkling herb tea. It's a delicious mix of fizzy soda and lemon, a perfect refreshment for the summer. Since he ordered takeout the drink came with a goldfish straw. Goldfish are a staple sight during Japanese summer festivals so it's very fitting for the occasion! 

With our drinks in hand, it's time to head to Nihonbashi for our Edo summer date!

Wind-Chime Forest Path

Lining the path between Fukutoku Shrine and Fukutoku Garden is the Wind-Chime Forest Path where around 200 Edo-style wind chimes dangled. This year, during the evenings, the path is illuminated with beautiful lighting. 

When the breeze rolls past the wind chimes ring one by one-a cool and refreshing sound.

"I hear each one of these Edo wind chimes are individually handmade by craftsmen."

When you hear the sound of the wind chimes it makes you feel cool like a gentle breeze of the wind.

After strolling along the Wind-Chime Forest Path we make our way towards this year's ECO EDO Art Aquarium event.

The moment we step instead Yutaro is already dazzled by all the goldfish: "Wow! I knew about this place from what I'd seen online, but this my first time here! This art aquarium really is something!"

The full title of the event is "ECO EDO Nihonbashi ART AQUARIUM 2019 ~Edo, Coolness of Kingyo~ & Night Aquarium."  Goldfish were a huge part of the common culture in Nihonbashi during the Edo period. This event recreates that and brings that "coolness" aspect while combining it with contemporary art by having people observe the fish in lots of different artistic environments.

Super Oiran

"This is the biggest fish tank, apparently it has 3,000 fish swimming inside!"

"Seeing the light reflect on the water from the illuminations lets you see the fish in a different light, doesn't it?"

Looks like Yutaro-kun is having a lot of fun taking photos.

He's equally interested in just about every fish tank!

These other fish tanks have a different aesthetic to them. Their Japanese-style designs make for great photos.

Kaleidorium 3D

"This one's beautiful, it's like a kaleidoscope."

It really does look like one. When you take a peek instead you can glimpse all kinds of colourful fish gently swimming around.

Ceiling Kingyo

"There're goldfish swimming on the ceiling too. So cool! This aquarium is incredible. It brings together the great culture of Edo and contemporary art."

The Art Aquarium bustles every single year with visitors, but this year will mark its last run. It's being held at Nihonbashi Mitsui Hall, so if you have the chance to go then please do.

We of course checked out some local Nihonbashi treats too! We stopped by morozoff for some cheesecake after the aquarium.

morozoff Kamadashi Cheesecake (Goldfish) – ¥270 Each (Tax Included)

These cute cheesecakes with their goldfish designs are available for a limited time only. They're filled with sweet red bean paste. They perfect with iced tea.

"Got some! Let's eat them while we head back."

Goldfish Lantern Walkway

Our first date in Nihonbashi was so much fun. While on the date Yutaro-kun spoke about the new live-action film he's in, Kaguya-sama: Love Is War.

"It's a romance film with mind games to try and make the other person confess their love. I play the character Tsubasa. His number one highlight scene is the kabedon scene. That was my first day shooting, so I was super nervous, but I got along well with the other actors, and the atmosphere on set was harmonious, so I was able to relax for the shoots. Tsubasa is a genuine guy who will believe things that have been said to him in earnest. You've definitely gotta check out all his scenes throughout the film!"

"A lot of the cast are the same age as me, so we were all energetic together in the waiting room. There's a scene at the end where all the cast get together. It took 3 days to shoot so we ended up getting along really well."

"This film has made me realise that love comes in many shapes, and that mind games happen in a variety of ways between guys and girls. There's cute scenes that express that small bit of pride that teenagers have, the embarassment they feel, when they get butterflies, scenes that will warm your heart. The film has various elements to it so I thoroughly enjoyed watching it myself. I hope that couples in love in their teens and twenties watch it, and I also hope that married couples watch it and crack up laughing too."

"In the film it's summer break, and they go and see fireworks and stuff. It's definitely one to watch durnig the summer. You're gonna come watch it too, right? Shall we go?"

An offer we cannot refuse! We'll definitely go and see it with you, Yutaro-kun! 

Model: Yutaro

Writer: Yuki Yokoo

Photographer: Kayo Sekiguchi

Information

ECO EDO Nihonbashi 2019 ~Enjoy Cool Edo With All Five Senses~

Running: July 5, 2019 – September 23, 2019

Location: Nihonbashi Area

TEL: 03-3242-0010 (Nihonbashi Information Center)

Event Page: https://www.nihonbashi-tokyo.jp/en/ecoedo2019/

ECO EDO Nihonbashi ART AQUARIUM 2019 ~Edo, Coolness of Kingyo~ & Night Aquarium

Running: July 5, 2019 – September 23, 2019

Location: Nihonbashi Mitsui Hall Floor 5F (Entrance at 4F),  COREDO Muromachi 1, 2-2-1 Nihonbashimuromachi, Chuo Ward, Tokyo

Opening Hours: Art Aquarium 11:00-19:00 / Night Aquarium From 19:00

[Sun-Fri] 11:00-22:00 (Last Entries 22:00) [Sat & days prior to public hoiday] 11:00-23:30 (Last Entries 23:00)

Access: Directly connected to Exit A6 of Mitsukoshimae Station, accessible on the Tokyo Metro Ginza Line and Hanzomon Line / Directly connected to Shin-Nihombashi Station / 8-minutes on foot from East Exit of Kanda Station JR 8-minutes on foot from Nihonbashi Exit of Tokyo Station

TEL: 03-3270-2590

Event Page: https://www.nihonbashi-tokyo.jp/en/ecoedo2019/contents/005.html

Kaguya-sama: Love Is War Film

Release Date: September 6, 2019

Adapted from the manga of the same name by Aka Akasaka (Shueisha/Weekly Young Jump)

Cast: Sho Hirano (King & Prince), Kanna Hashimoto, Hayato Sano, Natsumi Ikema, Nana Asakawa, Mayu Hotta, YUTARO, Takashima Masahiro, Jiro Sato

Official Website: https://kaguyasama-movie.com/

TALENT PROFILE

Yutaro

Yutaro was born in Hiroshima on June 3rd 1998. His modeling career has earned him lots of attention as a fashion icon of the new generation. The famous model also works as a "charisma" shop assistant. Yutaro has gained his reputation as a "mysterious and handsome guy" from his appearance on Japanese variety shows. His debut was made on the show "Gyoretsu no Dekiru Horitsu Sodanjo" and has since then appeared on numerous different TV shows. He challenged himself to appear on stage for the very first time in March this year and is gaining popularity by the day for his diverse work.

Kyoto's Sweet and Salty Matcha Cheese Tea is an Enlightening Flavour Discovery

Kiyomizu Cheese Kobo opened at Kiyomizu Gojozaka at the foot of the famous Kiyomizudera Temple as Kyoto's first ever cheesecake shop to sell its delicious cheesecakes in a cute jar. On August 13, they released a mouthwateringly rich Matcha Cheese Tea which will enlighten you with a new way to enjoy matcha.

The Matcha Cheese Tea harnesses Kyoto's unbeatable Uji matcha which is full of rich and fresh flavour. A light cloud of fluffy cheese foam floats on top of the drink, adding a salty accent to the overall flavour. A traditional tea combined with a sweet and salty cheese flavour ー this brand new flavour discovery will leave you feeling refreshed and enlightened. The recipe for the cheese foam consists of cream cheese carefully selected by the cheesecake shop's specialists. This is then blended with a small amount of salt to accent the flavour. 

If you mix the matcha milk tea with the cheese foam, the rich matcha mixes with the saltiness of the cream cheese, creating a sweet salty flavour that you will not be able to get enough of. As the flavour is not too overpowering, you can enjoy this drink endlessly and will feel refreshed even on a hot summer's day. 

Matcha Cheese Tea: ¥460

Kiyomizu Cheese Kobo recommends three different ways to drink the Matcha Cheese Tea to enjoy three different levels of flavour combinations. 

① First off, drink just the matcha milk tea so you can experience the true authentic flavour of Kyoto's famous rich Uji matcha tea. 

② Next, move your straw so that you taste just the cheese foam on its own. The fluffy foam will gently slide over your tongue and spread a mild and sweet flavour all over your mouth. 

③ Finally, it's time to mix everything. The saltiness of the cheese foam and the sweetness of the matcha milk will create a new salty sweet flavour that you will want to try again and again.

Whether you are a Japanese local or a foreigner, this drink is a fun new way to enjoy matcha. If you are new to matcha, this is a good way to try the flavour without being too overwhelmed. 

Information

Kiyomizu Cheese Kobo (清水チーズ工房)

Address: 569-10, Shiraitocho, Higashiyama Ward, Kyoto City, Kyoto

Opening Hours: 11:00 ー 17:30

No fixed closed days.

Official Website: http://kiyomizu-cheese.com/

Awa Odori Festival 2019 Kicks Off in Tokushima With Spectacular Traditional Dance

The Awa Odori Festival is the largest dance festival in Japan and is held every year in Tokushima Prefecture from August 12 to 15 as part of the Obon festival. This year, the first day welcomed over 380,000 spectators who gathered to witness the groups of traditional dancers.

This year marked the first Awa Odori Festival of the current Reiwa era which began on May 1, and so to commemorate the occasion, new elements were introduced. The biggest of these were four areas that showcases performances of Souodori which saw over 1,000 people dance along the 100 meter long dance floor.

The first day of the festival was held at the Konyamachi Theater along the bustling shopping streets of Tokushima. This spacious location made for easy access and guaranteed you could watch the procession. While the people in packed-out outdoor theatre were looking left and right to see when the show was about to start, the clock struck 10pm, at which musicians began playing their instruments. The orchestra was made up of over 400 people who played enchantingly in perfect order. As they split into groups on the left and right side of the theatre, the crowd caught the first glimpses of the dancers. Out they came in different groups, starting with female dancers, then male dancers, and then more female dancers, this time dressed in happi coats. The crowd cheered them on, especially when they spotted somebody they knew.

The dancers made up in the free areas included groups of workers, students and various others. But in the paid premium area spectators were able to watch the "famous" group.

The premium area was located in front of the town hall and packed full of people. The famous group are made up of dancers with incredible skill.
There was also a group for people in the crowd or onlookers to join in if they wanted to as well. Many celebrities also took part including comedians Hayashiya Sanpei II and Kazuya Kojima, actresses Sachiko Kokubu, Tomoko Fujita and Wakako Shimazaki, and more.