Additional performers of dance music festival, "EDC Japan 2018" were announced!
The world's largest dance music festival, "Electric Daisy Carnival" will be held in Japan named, "EDC JAPAN 2018" and the additional performers of the event were announced.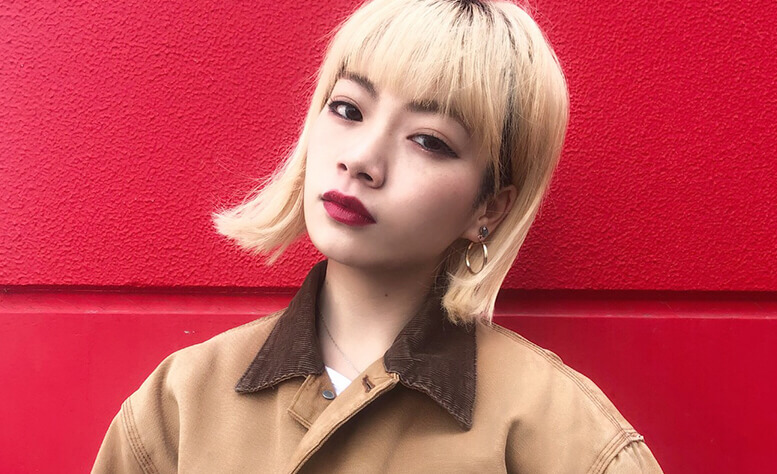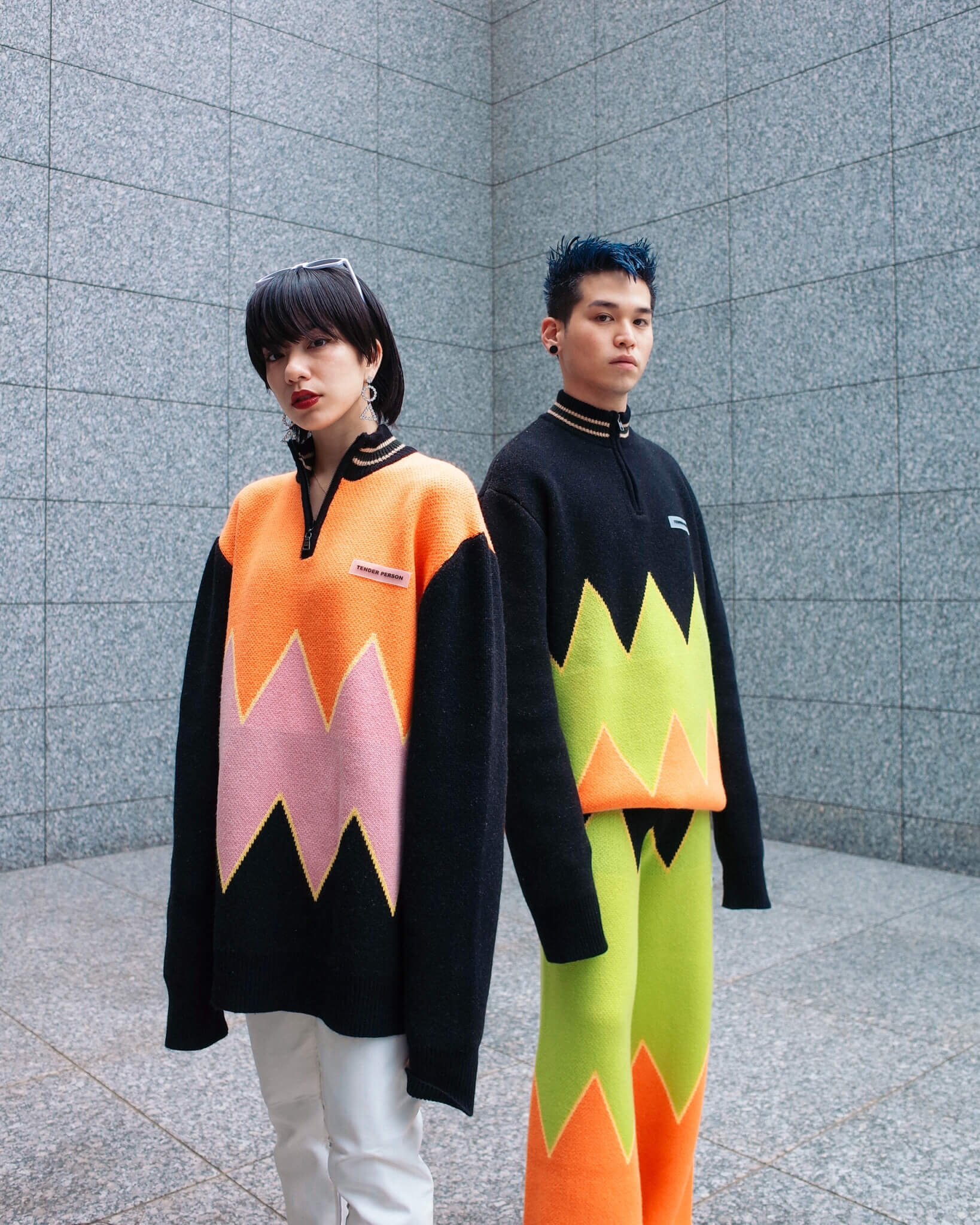 They announced that 5 artists including AMIAYA who is participating in various collections overseas , Yuna Yabe who was seriarizes in MOSHI MOSHI NIPPON and UNA+MATCHA will participate in the stage named, "BoomboxARTCAR."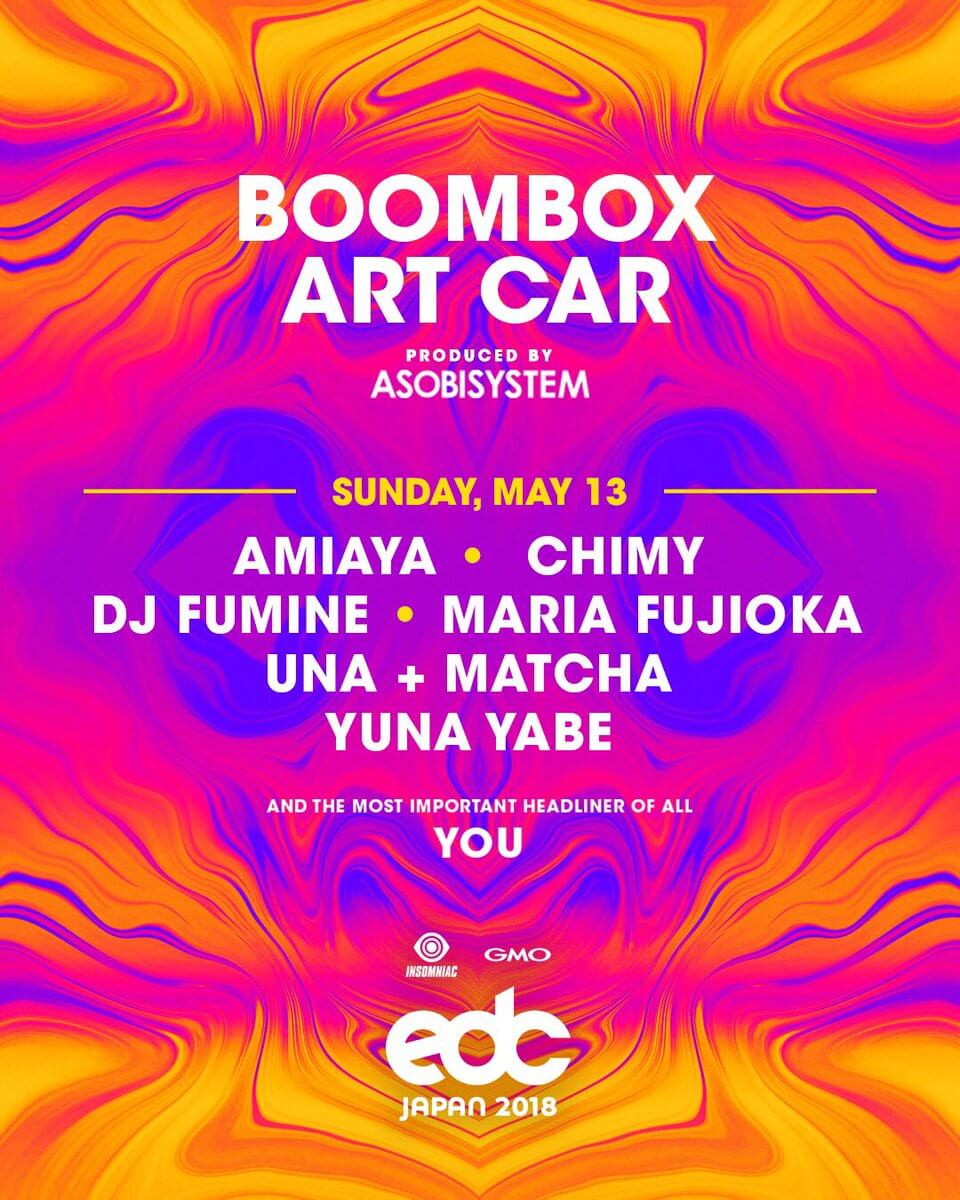 As the name "BoomboxARTCAR" states, a radio cassette recorder-shaped car decorated with neon lights will be used as the DJ booth. The car will appear in various areas inside the venue.
In EDC, the DJs will perform in four unique and entertaining stages which are "kineticFIELD," the main stage with the big statue, "circuitGROUNDS," a beach stage using lots of laser beams and lights and "neonGARDEN," a tent-shaped stage covered with daisies and colorful decorations.
Let's enjoy this festival where many gorgeous artists will perform!
■Information
EDC Japan 2018
Address: Mihama 1, Mihamaku, Chibashi, Chiba Prefecture, ZOZO Marin Studium & Makuhari Kaihin Park EDC Special Stage
Date:2018/5/12 (Sat.), 13 (Sun) – Open/Start 12:00PM~9:00PM
Price: GA two days ticket – 29,000 yen / one day ticket – 15,000 yen / VIP two days ticket – 65,000 yen / one day ticket – 35,000 yen
Age limitation: persons 18 years old and younger cannot enter the venue, VIP ticket – persons 20 years old and younger cannot enter the venue.
RELATED ENTRIES
MUSER FEST.2021 -MUSIC AID- Event Holds Spin-Off Event for One Night Only

Last month's MUSER FEST.2021 -MUSIC AID- event isn't quite over! A spin-off event, ZIP-FM presents LIVE LIVE! Super Collaboration with MUSER FEST.2021, will be broadcast online on October 22 at 21:00. Since August, collaborative live performances have been planned with different guest artists each month on ZIP-FM's LIVE LIVE! With MUSER FEST.2021 program hosted by CHAI. This event is the culmination of these plans and the lineup is sure to get fans pumped. 

Performing artists include YUNA from CHAI, Suzuka and Mizyu from Atarashii Gakko!, Tabu Zombie from SOIL & "PIMP" SESSIONS, and Shingo Suzuki from Ovall. Ryo Kishimoto from fox capture plan will also join the live performance as a supporting artist. An archived stream will be available for two weeks after the live show, and tickets are on sale now on the official MUSER website. 

 

Information

ZIP-FM presents LIVE LIVE! Super Collaboration with MUSER FEST.2021

Broadcast Date: October 22, 2021 from 21:00-22:00

Price: 2,000YELL – ¥2,200 (Tax Included) *Includes access to archive

Buy Tickets: https://muser.link/__b/events/573 

Archive Available from October 23 – November 5 at 23:59

Archive Ticket Sales Period: October 23 – November 5 at 23:59

Official Site: https://muser.link/

Outdoor Music and Craft Festival Creema YAMABIKO FES 2021 Announces Second Round of Artists

Creema YAMABIKO FES 2021 has announced the second round of participating musical acts! The event features live performances on an impressive outdoor stage with Mt. Fuji in the background, along with a number of craft markets, workshops, and a two-day 'sauna village,' where guests can enjoy outdoor saunas while sampling some fantastic local fare. 

Twelve live performances are scheduled during the event, with the full timetable scheduled to release in late October. The second announcement lists Hanaregumi, DENIMS, YONA YONA WEEKENDERS, Strange Reitaro, island echo, and Super VHS as participating acts. 


DAY 1 (November 6, 2021)


Clammbon, never young beach, Humbert Humbert, DENIMS, YONA YONA WEEKENDERS, island echo

DAY 2: (November 7, 2021)
SPECIAL OTHERS, TENDRE, D.W. Nicols, Hanaregumi, Strange Reitaro, Super VHS

This year's event will have a new kid's area, along with a new outdoor area featuring 15 stores selling a wide variety of camping gear. There will also be a place to custom order items and a hammock area. The kid's area will offer workshops for children led by expert staff, a stamp rally, and other content to keep the little ones busy. 

The popular coffee roaster LEAVES COFFEE ROASTERS from Kuramae, Tokyo, will be participating in the event, serving up some delicious beverages. Japan's champion barista Taka Ishitani will be participating in the coffee drinking competition, so don't miss it!

Are any of your favorite bands playing at this year's event? 

Information

Creema YAMABIKO FES 2021

Dates: November 6 and 7, 2021

Venue Hours: 10:00-17:30 (Concerts from 10:30-17:00)

Address: Gotemba Kogen Toki no Sumika OUTDOOR HILL VILLAGE
(719 Koyama, Gotemba, Shizuoka)

Official Site: htttp://www.yamabikofes.jp/

Changes Made to November's OMNIBUS Music Festival in Tokyo

As part of the Tokyo Art & Live City project, the OMNIBUS music festival will take place on November 6 and 7 in Japan's capital. Rather than being held at Shinjuku Central Park, the November 7 concert will now take place at Hulic Hall Tokyo. Originally, this concert was named The Park #Assembly, though this has now been changed to The Hall #Space. For those holding tickets with the original name, don't worry–your ticket will still be valid at the new venue. 

Those who want a refund due to the venue change should head to the official website by October 9. The November 6 concert titled The Circuit #Excursion will be held as scheduled. 

Additional tickets for the festival went on sale on October 2, 2021. Schedules for the events will be released soon, so stay tuned for more details!

Information

OMNIBUS

The Circuit #Excursion 

When: November 6, 2021 / Venue Opens at 12:00, Show Starts at 12:30

Locations: Shinjuku ACB HALL / Shinjuku Marz / Shinjuku Marble / Shinjuku Motion / Shinjuku Zirco / Shinjuku Red Cross / Shinjuku ReNY

Performers: asobi, Wez Atlas, ODD Foot Works, Campanella, kiki vivi lily, Kvibaba, Kai Kubota, Kuro, (sic)boy, SUKISHA, Suzuki Mamiko, Sleepless Sheep, Saboten, sooogood!, dongurizu, PEAVIS, VivaOla, YOSA&TARR, YonYon, and more

The Hall #Space

When: November 7, 2021 / Venue Opens at 15:30, Show Starts at 16:30

Location: Hulic Hall Tokyo 11F (2-5-1 Yurakucho Center Building, Yurakucho, Chiyoda-ku, Tokyo)

Performers: Sohei Oyamada, GLIM SPANKY (Acoustic ver.), Koji Shimotsu, and more

Tickets: 

Lawson Ticket: https://l-tike.com/omnibus/ (L Code: 74447)

Ticket Pia: https://w.pia.jp/t/omnibus/ (P Code: 203-026)

Official Site: https://omnibus-tokyo.com/

Matsue Excel Hotel Tokyu in Shimane to Hold 2021 Matsue Water Lantern Festival

A number of beautifully decorated paper lanterns are currently on display in the lobby of the Matsue Excel Hotel Tokyu in Shimane prefecture until October 31. 

Normally, the event is held around Matsue Castle, with lanterns lighting up the streets and stalls set up to allow guests to design their own lanterns. Due to the current pandemic, the popular yearly event was abruptly canceled, and the Matsue Excel Hotel Tokyu stepped up, with the support of the Matsue Tourism Association, hosting the event in its first-floor lobby. 

For the past three years, the hotel has continuously hosted events and activities to help guests learn more about Matsue, including hosting trips to the area around Matsue Castle and cruises on the Horikawa River. For this year's event, hotel staff created their own lanterns based on these attractions, for a total of 17. If you could attend, how would you decorate your lantern? 

Seaside Park Nagoya in Kinjofuto Event Offering Exciting Activities This Fall

Seaside Park Nagoya in Kinjofuto is coming to Makers Pier in Nagoya City on October 16 and 17, as well as October 30 and 31. The event will feature 30 different activities for both parents and children to enjoy, along with workshops where kids can learn new things, such as cardboard crafts and lunch totes. 

For those more adventurous types, bouldering and slacklining will invite guests to stretch and refresh their bodies while enjoying the sea air. Even beginners can safely enjoy some of these more strenuous activities, as instructors will be on site. Plenty of unique experiences will keep little ones busy discovering and exploring. 

 




When the sun goes down, the Night Cinema will begin, and guests can enjoy a movie beneath the stars. How would you like to come and relax by the seaside? 

Information

Seaside Park Nagoya in Kinjofuto

Dates: 

October 16, 17 from 10:00-20:00

October 30, 31 from 10:00-20:00

*After 5:00, all activities except movie screenings will be closed. 

Address: Inside Maker's Pier 

Official Site: https://seasidepark.info/

Noseden Artline Festival 2021 Bringing Light, Sound, and Food to the Kawanishi Area

A celebration of light, sound, and food, the biennial Noseden Artline 2021 Festival will take place from October 30 until November 23, 2021. Set in one city and three towns along the Nose Electric Railway, the regional art event began in 2013 to celebrate the 100th anniversary of the rail line, and brings local artists and residents together. 

The festival will be in Kawanishi and Inagawa in Hyogo Prefecture, as well as in Toyono and Nose in Osaka Prefecture, with Mt. Myoken marking the center point. Each part of the event will connect the history, industry, and tradition of the area with new and engaging creations. 

The theme of the 2021 Noseden Artline Festival is 'Enlarged Mentality.' By taking things that are subjective, like an artist's thoughts and senses, and applying them to the objective world that can be shared, it creates a one-of-a-kind way to connect fully with others. The event will feature local cuisine and music, as well as art focused on light, inspired by the North Star. After a year of solitude due to the pandemic, the festival hopes to remind people to cultivate, nourish, and preserve local relationships. 

Art can make life more enjoyable, so why not come and see what the area has to offer?

 (C)Kousei Ikeda(SPEKTRA)

Information

Noseden Artline Festival

Running: October 30 – November 23, 2021

Location: Nose Electric Railway Line ~ Near Summit of Mt. Myoken

Official Site: http://noseden-artline.com/2021/

Namco and Sanrio Team Up for Collaborative Halloween Campaign

BANDAI NAMCO AMUSEMENT has announced Namco de Halloween 2021 -Skulls Festival!- coming September 10. The campaign will take place at over 200 Namco amusement centers nationwide, and at the online crane game site Torumo. Those participating can snag some spooky and super adorable Sanrio goodies!

Namco Limited Edition Prizes

Sanrio Characters Big Plushies

Cinnamoroll / My Melody / Kuromi (In stock second week of September)

Sanrio Characters Skull Festival! Plushies

Pom Pom Pudding / Cinnamoroll / Pochacco / My Melody / Kuromi (In stock second week of September)

Sanrio Characters Skull Festival! Cushions

All characters (Back side: Blue) / My Melody & Kuromi (Back side: Pink) / Cinnamoroll, Pom Pom Pudding & Pochacco (Back side: Orange) (In stock second week of September)

Sanrio Characters Jiangshi Night Plushies 2021

Pom Pom Pudding / Cinnamoroll / Pochacco / My Melody / Kuromi (In stock second week of September)

Sanrio Characters Spooky Night 2021 Plushies

Pom Pom Pudding / Cinnamoroll / Pochacco / Hello Kitty / My Melody / Kuromi (In stock third week of September)

Sanrio Characters Dreamy Dark Halloween 2021 Plushies

Pom Pom Pudding / Cinnamoroll / My Melody / Kuromi (In stock fourth week of September)

Sanrio Characters Exciting Halloween 2021 Plushies

Pom Pom Pudding / Cinnamoroll / Hello Kitty / My Melody / Kuromi (In stock first week of October) 

Use the Namco Point App to get one limited-edition shopping bag each day. 

Exclusive Presents

Clear cards

Colorful bag

During the Torumo gift campaign, 100 winners will be randomly selected to win a special Halloween blanket. 

The prizes available during the campaign were designed for the event. Also, limited-edition plushies to appear in the past have returned in brand new colors! Those who use the Namco Point App and place ¥500 into one of the crane machines will receive one of five clear cards and a colorful bag. (Not available using Torumo.)

© 2021 SANRIO CO., LTD. APPROVAL NO. S620926

AMIAYA Fashion Brand jouetie to Collaborate with BETTY'S BLUE on New Collection

Beginning September 10, a new collection from women's brand BETTY'S BLUE and jouetie will be available on RUNWAY channel, ZOZOTOWN, and a jouetie shops nationwide. Tokyo fashion icons and twins AMIAYA serve as creative directors for jouetie, and their style is sure to give these pieces some added flair.

Preorders for the collection are currently open on the ZOZOTOWN and RUNWAY channel websites.

BETTY'S BLUE Blouse M (White / Bordeaux / Beige): ¥8,800 each (Tax Included)

BETTY'S BLUE Patterned Dress M (Pink / Purple / Beige): ¥9,900 each (Tax Included)

BETTY'S BLUE Bag (Red / Pink / Purple): ¥3,300 each (Tax Included)

Launched in 1985, BETTY'S BLUE continues to be loved by fashionistas of all ages. With this limited-edition release, the brand is reviving its popular trend of releasing collaborative merchandise.

Under the concept "MIX GIRL," the brand's collaboration with jouetie aims to combine both rock and girly styles into one signature street fashion look. Utilizing BETTY'S BLUE's pop coloring, the collection features three items in multiple colors: the blouse, the dress, and the bag.

The trendy blouse, complete with frilly collar and voluminous sleeves, is finished with BETTY'S BLUE's signature checkered pattern. The long dress covered from top to bottom in a loud pattern, is sure to turn heads. Carry the matching tote bag, and you'll be ready to stroll the streets of Tokyo looking funky this fall!

Twin Fashion Icons AMIAYA Release Photobook with STREET Magazine

Tokyo fashion icons and twin unit AMIAYA have collaborated with street-snap magazine STREET on a new photobook! 'AMIAYA x STREET TOKYO FASHION 2021ss' will go on sale August 23 at select bookstores and online.

AMIAYA began their fashion journey in street fashion when they were teenagers, and are currently attracting worldwide attention as icons representing Tokyo style. STREET magazine has been highlighting unique international streetwear since its first issue in 1985, and both parties are using this collaboration to help the fashion industry, which has been adversely affected by the pandemic.

The magazine features snapshots of AMIAYA wearing the hottest Tokyo fashions on the streets of Harajuku and other popular areas around Japan's capital. The photos were taken by Shoichi Aoki, photographer and editor-in-chief of STREET.

Each photo has the power to open up your mind to a new world of fashion, so why not give it a look?





Comment from AMIAYA

 

"The Coronavirus pandemic has given us a new perspective on fashion, and how we can share it from Tokyo to the rest of the world. STREET magazine has so many readers overseas, and it's truly made an effort to boost the Japanese fashion scene. We believe in the potential of fashion to connect Japan to the rest of the world, and we hope that through this collaboration, we share some positive energy through our style."





Comment from the Editor-in-chief of STREET, Shoichi Aoki

"The pandemic has caused unprecedented damage to the entire fashion industry, and it has become more difficult to share Japanese fashion with the rest of the world. Fashion is not something unnecessary–it's something important for Japan, and for humanity as a whole. AMIAYA are Japanese fashion icons that are recognized around the globe. They are somewhere between reality and the virtual world. By having them model on the streets of Tokyo, I wanted to create something to convey the current state of Japanese street fashion with international audiences. It took a year and a half of shooting while adjusting AMIAYA's schedule, but it's finally being published. Even if it seems like a small project, even the smallest activity can have a massive impact."

Information

AMIAMA x STREET TOKYO FASHION 2021ss

Release Date: August 23, 2021

Page Count: 76 pages

Price: ¥4,950 (Tax Included)

Where to Buy: Tokyo TSUTAYA stores/ UNITED TOKYO Jingu-mae, Shanghai, Beijing, Hong Kong

Online Store: https://amiayaxstreet.com (Open August 23, 12:00JST)

Official Site: https://amiaya.asobisystem.com

Naruto and Boruto Summer Event Begins at Nijigen no Mori

Nijigen no Mori, an amusement park located on Awaji Island in Hyogo, began a summer event at its Naruto and Boruto-themed zone on July 22 which is set to run until September 30.

Event-exclusive stickers

The event includes a huge water gun event where 25 litres of water will be sprayed to cool down guests during the hot summer event. With themed character panels displayed around the park, join Naruto and the gang, including Zabuza and Haku, for some summer fun. All guests receive a free original sticker too.

© 岸本斉史 スコット/集英社・テレビ東京・ぴえろ

Information

NARUTO&BORUTO SHINOBI-ZATO
Running: July 22, 2021 – September 30, 2021

Location: Nijigen no Mori

Opening Hours: 10:00-18:00
Price: Free (But park entry payment required)
Official Website: https://nijigennomori.com/naruto_shinobizato/

Organic Tattoo Brand Inkbox Collaborates With Fashion Icons AMIAYA

The Canadian semi-permanent tattoo brand Inkbox launched a special collaboration with the pink twin duo themselves AMIAYA, icons of Tokyo fashion.

AMIAYA are symbols of Tokyo pop culture and have garnered attention worldwide. Their influence spreads far and wide – not only are they models but DJs, creative directors at the apparel brand 'jouetie,' and more. Flowers are the theme of their Inkbox tattoo collaboration which they show off in a special shoot taken for the release.


The semi-permanent tattoos use stickers to plaster the tattoo on the skin. Everything from the tattoos to the packaging capture the vibe and aesthetic of AMIAYA.

BanG Dream! Girls Band Party x Fuji-Q Highland Summer Event Announced

Fuji-Q Highland is set to host a summer event in collaboration with the mobile rhythm game BanG Dream! Girls Band Party from August 7 to September 12.

This marks the amusement park's 4th collaboration with the game which will see newly-illustrated artwork of the characters decorating the attractions, a special talk show hosted by the voice actresses, limited-time announcements on the attractions recorded by the voice actresses, a themed food menu, original merch, and more.

A digital stamp rally will also take place which will have guests locating life-sized panels of seven characters which they need to scan with their smartphone. This will give them a special voiced story. Those who obtain all the digital stamps by scanning all the panels will receive a free novelty as well as an original voiced guide for boarding the amusement park train. The train too will be decorated in BanG Dream! artwork.

©BanG Dream! Project ©Craft Egg Inc. ©bushiroad All Rights Reserved.