Hot spring trip in the mountains of Ishikawa Prefecture recommended by sommeliers
"Kissho Yamanaka" will sell the hot spring lodging plan named "Kissho TOUJI" from April of 2018 to the 30th of September.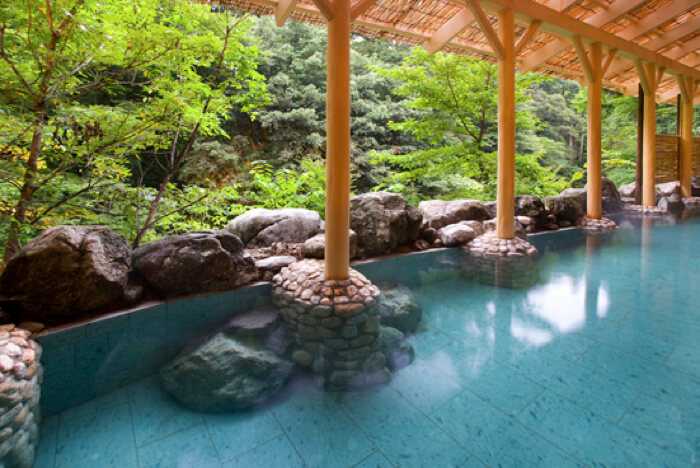 Yamana Onsen (hot spring) which was opened about 1,300 years ago is a hot spring area where the famous Japanese poet Basho Matsuo stayed for 9 days.
The plan that they are going to sell offers the experience of enjoying the view/forest of Kakusen Valley, Kaga Area's delicious foods and hot springs. This hot spring is known to be effective for relieving stress and healing illnesses.
"Yuge Kaido Machi Aruki Ticket" where you can enjoy 10 hot springs in the mountains, local sakes, Daiginjo (sake variety) Soft Served Ice Cream and famous crocket is included in the plan as well as the Jiwamon Onigiri (rice ball) lunch menu/Teppanyaki (pan fried meat and vegetables), sauna, hand-massage service, rental cycle and bus tickets.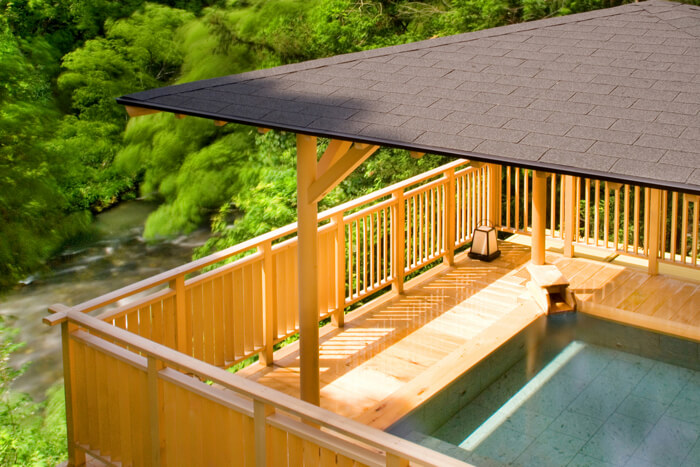 Persons who are interested in this plan must visit Kissho TOUJI since you can obtain an onsen textbook from the onsen sommeliers.
■Information
Kissho TOUJI – Hot Spring Plan Recommended by Onsen Sommeliers.
Address: Kissho Yamanaka, 14-3, 1st avenue, Higashimachi, Yamanaka Onsen, Kagashi, Ishikawa Prefecture
Date: 2018/04/01 (Sat.) to 09/30 (Sat.)
Price: One day ticket that comes with dinner and breakfast / 21,000 yen ~ (two persons – one room) ※the price differs depending on season. ※tax/service fees and hot spring fee (150 yen) are not included, additional fee (5,000 yen) must be paid when staying at the accommodation before a holiday. ※one person – one room ticket is available.
Meal: Dinner – tea ceremony dishes of Kaga Noto Area at "Benihana," breakfast – Japanese dishes or teppan breakfast
TEL:0761-78-5656
Website:http://kissho-yamanaka.com/
RELATED ENTRIES
Shizuoka's Hot Spring Hotel SOKI ATAMI Opens For Business

UDS Ltd. opened SOKI ATAMI on Sunday (November 1), a new hot spring accommodation situated in the town of Koarashicho in Atami, Shizuoka.

The town of Koarashicho is considered the annex, as it were, to Atami. SOKI ATAMI can be reached in around 40 minutes by bullet train from Shinagawa Station. The accommodation takes into account the value of Atami's hot spring resorts and what's on offer there. It serves a 'sojourn style' of accommodation that allows you to return to yourself as you are, without any stresses, something which is enhanced thanks to being situated away from the hustle and bustle of the city in nature.

The accommodation's name originates from the Japanese characters so (素) and ki (器), the former roughly translating to 'origin,' 'source,' or 'foundation' and the latter as 'utensil' or 'vessel.' Together, the words combine to make up what SOKI ATAMI prides itself on: seeking authenticity and being yourself without decorations in a space that welcomes nature, natural features, and incorporates raw materials.

Atami is one of the primary hot spring locations in Japan, prospering as a place that treats illness and injury, something which began after Tokugawa Ieyasu himself bathed there during the Edo Period. The city has since continued as a place to pass down the Japanese culture of hot spring bathing, and SOKI ATAMI cements this fact once again with its grand opening as it serves as a facility offering the nurturing of the body and soul. At the same time, it will promote local culture and cuisine.

The accommodation, surrounded by nature, offers a panoramic view of the ocean, and consists of a reception wing, guest room wing, and restaurant wing. In the 'Village Garden,' there are trees growing citrus fruits and a variety of plants and crops, showcasing the regional lifestyle and natural features.

Guest Rooms

There are 54 guest rooms in total ranging from 40㎡ to 65㎡ which can fit up to 4 people. Guests can enjoy the hot springs with all room types.

TONERICO:INC. is in charge of the inter design who have given it a natural feel.

 

In the rooms, guests will find sencha and kisetsucha tea grown in Shizuoka Prefecture as well as a Japanese confection made with mugikogashi barley flour which is said to promote longevity and sound health.

Numerous amenities are also available in all guest rooms including relaxing self-care items.

Baths

The public baths benefit from the changing seasons which changes up the bathing experience. The water is perfect for de-stressing, moisturising, and making your skin look beautiful.

There's also a traditional steam sauna in the women's area for detoxing and moisturising.

Tea Room

The tea room on the top floor of the accommodation offers a panoramic view of Atami Bay. Guests can enjoy watching the annual fireworks launched there throughout the year.

Menu Sample: Seasonal Yoseicha Course ¥3,000 | Wakan Gin & Tonic ¥1,200 (Before Tax)

A variety of menu choices to stabilise the mind and body will be available to order, many using local ingredients from Atami and Shizuoka Prefecture.

Food

Menu Sample: Breakfast – Seasonal Yosei Gozen | Dinner: SOKI Course, Nabe Course, Chef's Course

In the restaurant wing is the dining room which has an open kitchen in front of guest tables where the chefs cook locally-sourced fish and vegetables among other delicious foods. and other ingredients are all sourced locally and directly.

The dining room was designed by age co.,ltd which has worked on many different ryokan and restaurants. The open and dynamic space has a high ceiling towering 4.5 meters overhead.

Garden

The garden area can be seen from the restaurant and is home to a variety of citrus fruits from the Izu Peninsula as well as seasonal vegetables and herbs. It offers beautiful scenery throughout the year .

Information

SOKI ATAMI
Grand Opening: November 1, 2020

Address: 4-36 Koarashichō, Atami, Shizuoka

Access: 10-minutes by car from Atami Station

Official Website: http://www.so-ki.jp/

Hoshino Resorts KAI Poroto to Open in Hokkaido in January 2022

Hoshino Resorts, Japan's premiere hotel management company boasting over 40 properties both inside and outside Japan is set to its new onsen ryokan (hot spring Japanese style inn) Hoshino Resorts KAI Poroto in January 2022 following the completion of a partnership agreement with Shiraoi, Hokkaido on June 28, 2018.

KAI Poroto comes as the 19th property for the KAI brand, following KAI Nagato (opened in March 2020), KAI Kirishima (scheduled to open in January 2021), and KAI Beppu (scheduled to open in summer 2021). It will also be the third KAI property to open in Hokkaido, following RISONARE Tomamu in Shimukappu and OMO7 Asahikawa in Asahikawa. The new property will be designed by Japanese architect Hiroshi Nakamura.

(Hiroshi Nakamura & NAP)

Guests will be able to enjoy Shiraoi onsen water at KAI Poroto. The water comes from a "moor spring" which contains organic minerals derived from plants. This type of water is rare throughout the world. KAI Poroto faces the shores of Lake Poroto and is surrounded by the natural forests of Hokkaido where many species of wild bird live. All guest rooms boast a lake view where changes in scenery throughout the seasons can be enjoyed.

KAI Poroto will is cooperating with both the town of Shiraoi as well as "Upopoy", the National Ainu Museum and Park, which has the aim of becoming a "symbolic space for ethnic harmony". The facility will respect Ainu culture and provide a place of accommodation for guests to experience it.

Upopoy: A symbolic space for ethnic harmony

A symbolic space for ethnic harmony by the name of "Upopoy opened in Shiraoi, Hokkaido on July 12, 2020. This national centre serves as a base for the reconstruction and development of Ainu culture, which is in danger of survival. The main facilities are the National Ainu Museum and the National Ainu Park. The National Ainu Museum is the first national museum in Japan centred around indigenous Ainu people and the history and culture of the people as expressed through their perspective. This is expressed in a variety of different exhibits. The National Ainu Park is a field museum, where Ainu culture can be taught through a number of programs. Experiences on-site include the Ainu traditional dance, which is registered as UNESCO intangible cultural heritage, wood carving, and embroidery workshops, as well as food and traditional performing arts experiences. "Upopoy" means "to sing (in large numbers)" in the language of Ainu.

Designed by Hiroshi Nakamura

Japanese architect Hiroshi Nakamura is behind the design of KAI Poroto. "Poroto" means a large lake in the Ainu language and KAI Poroto boldly draws this lake into its premise. In the lobby of the birch forest, guests will be greeted by a magnificent view of the lake, which leads to Mount Tarumae. Guests can also relax in the lounge while watching the flames in the fireplace, something which was at the centre of Ainu people's lives. On the surface of the lake, a bathhouse called Kashi, which is built using traditional Ainu construction methods, stands like a village. The open-air bath makes one feel as if you are immersed in the lake. The design has been created in a way that is modern, inspired by the lifestyles, nature, and family of Ainu people.

Osamu Tezuka's 'Phoenix' Original Anime Production and Projection Mapping Showcased at Dogo Onsen

Dogo Onsen, a hot spring located in the city of Matsuyama in Ehime Prefecture, is currently undergoing maintenance work but is still open for business, with customers enjoying their dip in the onsen as usual. While this work is being carried out, the facility has launched the Dogo REBORN Project. As part of the project, Dogo Onsen is collaborating with Osamu Tezuka's manga series Phoenix which includes the creation of an original anime by Tezuka Production along with a projection mapping show in the evenings.

The first episode of the original anime production was posted in May 2019 and the second in February of this year. Earlier this month, on October 1, subtitles in English, Korean, and Traditional/Simplified Chinese were posted on both episodes. The third episode will be shown at Dogo Onsen.

Dogo Onsen launched the "Dogo Reborn 2020 Campaign" on August 7 as a way to show gratitude to frontline medical workers, which included putting up a special art piece called Blue Phoenix along with over pieces of wall art with messages on them.

The Dogo REBORN Project has much more planned going into the future.

©手塚プロダクション/松山市 2020
©TEZUKA PRODUCTIONS

7 Best Spots to Visit During Autumn in Ishikawa Prefecture's City of Kaga

Ishikawa Prefecture is generally split into two areas—Kaga and Noto—and these areas are home to six cities dubbed Kaga no Kuni, or "Kaga Country." The cities include Kaga, Komatsu, Nomi, Kawakita, Hakusan, and Nonoichi. Today, we'll be looking at some of the must-visit spots in these cities to visit during the autumn season.

Kaga Country's Autumn Colours

Natadera Temple in Komatsu

The beautiful Natadera Temple is a symbol of southern Kaga and even has a Michelin star in Michelin Green Guide Japan. It's home to a large number of important cultural properties such as the picturesque Kigan Yusenkyo Rock Formations. Visitors can ross the Fugetsukyo Bridge to reach the observation deck from which their eyes are treated to all the fiery colours of autumn.

Address: Yu-122 Natamachi, Komatsu, Ishikawa
TEL: 0761-65-2111
Natadera Temple Official Website: http://www.natadera.com/

Kakusenkei Gorges in Kaga

The Kakusenkei Gorges are located in a valley where the Daishoji River runs. Its autumnal beauty is said to be the most beautiful in all of Japan's Hokuriku region. The 1.3km stretch of the valley has a public footpath which is perfect during autumn as you gaze at the red and yellow leaves overlooking the river below.

Address: Kakusenkei Gorges, Yamanakaonsen Kajikamachi, Ho, Kaga, Ishikawa
TEL: 0761-78-0330
Information: https://www.yamanaka-spa.or.jp/global/eng/view2.html

Matsusaki in Nomi

Matsusaki is an onsen ryokan (hot spring Japanese inn) that was built during the Edo Period. It's enjoyed greatly for its open-air baths which boast their own water source as well as their kaiseki-ryori traditional Japanese multi-course dinner made using local ingredients. It's also the setting for the Japanese novel Umi no Naru Toki. It boasts a gorgeous garden with an area that overlooks trees which blossom beautifully in autumn.

Address: 3-1 Tatsunokuchimachi, Nomi, Ishikawa
TEL: 0761-51-3111
Matsusaki Official Website: https://www.matsusaki.jp/

Jumoku Park in Hakusan

The park located by the Ringyoshiken Center in Ishikawa Prefecture is home to a variety of towering regional trees. There are 900 trees of 130 different species, which give rise to beautiful cherry blossoms in the spring. It also enjoy incredible autumn scenery and is home to rolling fields and a Japanese-style garden too. It offers must-see views throughout all four seasons.

Address: Ho-1 Sannomiyamachi, Hakusan, Ishikawa
TEL: 076-272-0673
Information: https://www.pref.ishikawa.lg.jp/ringyo/about/park.html

Aramata Gorge in Komatsu

Aramata Gorge is known as one of the Eight Views of Kano. The Osugidani River flows through this year, and there's huge strangely shaped rocks and rolling trees which create an incredible sight to see. There's a 400m path which bustles with people during the autumn months who flock to see the verdure.

Address: Akazemachi, Komatsu, Ishikawa

Bettou Suspension Bridge in Hakusan

Bettou Suspension Bridge is the entryway to the highset peak of Hakusan. The discharge of rocks to the area in 2004 meant that the bridge had to be rebuilt. The towering bridge offers a panoramic view of autumnal trees and bushes.

Address: Shiramine, Hakusan-shi, Ishikawa

Tedori Gorge in Hakusan

The beautiful Tedori Gorge was created as a result of the flow of Tedori River. Along the 8km path, which runs from Komon Bridge to Taizan Bridge, is a 20m-30m precipitous cliff. The surroundings along the bridge are a must-see, bringing people together every year to see the autumn environment.

Address: Kamashimizumachi, Hakusan, Ishikawa

FUFU NIKKO: The New Hot Spring Hotel in Nikko, Tochigi Prefecture

Kato Pleasure Group is set to open its 4th branch of FUFU NIKKO hotels in Nikko, Tochigi on October 2, 2020 following their Atami, Lake Kawaguchi, and Nara branches.

A resort steeped in Japanese history and culture

The site in which the hotel is located has a sacred air to it. It dates back to the Meiji Period and has continued into modern times. Upon entering the hotel, your ears are treated to the sound of classical music. Overhead you will spot high ceilings made from wood which give it a warm and welcoming atmosphere.The shadows of the outside walls, the warmth of the inviting lights, and the metallic decorations which catch the light present a calm and quiet mood.

Classy and sophisticated cuisine

Both the food and plates it is served on capture the essence and beauty of the Japanese way. Meals are prepared using seasonal ingredients from Tochigi as well as high quality foods like foie gras, truffles, and caviar. Each dish expresses elegance and refinement and combines both Japanese and Western flavours.

Hot spring water sourced from Tamozawa

All rooms at the hotel are fitted with hot springs or large baths which natural light from the outdoors shining through. In the open-air baths, guests get to experience the surrounding sights of nature coupled with the sound of the flowing stream and chirping birds.

Information

FUFU NIKKO JAPAN

Grand Opening: October 2, 2020

Address: 1573-8 Honcho, Nikko, Tochigi Prefecture

Official Website: https://www.kpg.gr.jp/

teamLab's 'A Forest Where Gods Live' Exhibition in Saga Introduces Autumn Inspired Digital Art

teamLab's annual A Forest Where Gods Live exhibition is currently taking place at Mifuneyama Rakuen Park in Saga Prefecture until November 8, 2020. For autumn this year, the digital art team has introduced a seasonal piece entitled Forest and Spiral of Resonating Lamps in the Forest – One Stroke, Autumn Mountain.

Forest and Spiral of Resonating Lamps in the Forest – One Stroke, Autumn Mountain
teamLab, 2018, Interactive Installation, Murano Glass, LED, Endless, Sound: Hideaki Takahashi

Available to see for this autumn season only, ​Forest and Spiral of Resonating Lamps in the Forest – One Stroke, Autumn Mountain showcases Kasane no Irome, which are nuances of layered colours that were seasonal colours created in silk before Japan's modern era, in the form of lit lamps.

The lamps in the exhibition shine brightly and then fade. In the light, one can see the eight autumn Kasane no Irome colours: Budding Leaves, Green Leaves, Fallen Green Leaves, Yellow Leaves, Fallen Yellow Leaves, Fallen Leaves, Fallen Red Leaves, and Autumn Leaves.

Flowers Bloom in an Infinite Universe inside a Teacup
teamLab, 2016, Interactive Digital Installation, Endless, Sound: Hideaki Takahashi

Make tea in the tea house at the exhibition. Flowers will bloom inside the teacup, which if you pick up, sends the flowers scattering and spreading to the outside of the cup. Flowers will bloom infinitely as long as there is tea. For September, there are safflowers, dianthus, and Chinese asters, while next month will introduce cosmos, osmanthus, and chrysanthemums.

Ever Blossoming Life Rock
teamLab, 2017, Digitized Nature, Sound: Hideaki Takahashi

Megaliths in the Bath House Ruins
teamLab, 2019, Interactive Digital Installation

You can also see autumn flowers in the Ever Blossoming Life Rock and Megaliths in the Bath House Ruins exhibits too.

Visitors can also get set tickers which includes entry to the exhibition as well as a dip in the Rakan no Yu hot springs of Mifuneyama Rakuen Hotel. These tickets are limited to 40 people per day.

Information

teamLab: A Forest Where Gods Live

Running: July 22, 2020 – November 8, 2020
Address: Mifuneyama Rakuen, 4100 Takeo, Takeo-cho, Takeo City, Saga, Japan

Hours

Jul 22 – Sep 13, 2020 19:00 – 22:30
Sep 14 – Oct 11, 2020 18:00 – 22:30
Oct 12 – Nov 8, 2020 17:00 – 22:30

*Enter from Entrance 1. Entrance 2 is only available 60 min after the opening.
*Last entry is 22:00.

Official site:http://mifuneyamarakuen.teamlab.art/

Glamp Dome Kobe Tenku: Go Glamping With Hot Springs and Kobe's Night Sky

The new glamping facility Glamp Dome Kobe Tenku is set to open inside Minotani Green Sports Hotel in Kobe, Hyogo on August 7, 2020.

Located in the lush green abyss of Kobe's Minotani area, Glamp Dome is just 20-minutes from Kobe-Sannomiya. Guests can look forward to a glamorous camping experience inside on of the huge dome tents set up on site from which they can enjoy Kobe's sunset and subsequent night sky. The facility promises a luxury camping experience like no other.

Your dome tent and a private BBQ space

The half-dome tents are 7 meters in circumference. They are fitted with air conditioning and can be used throughout all four seasons. Each one has its own private BBQ space too so you can enjoy a close-knit meal together with friends and family without having to interact with other guests.

The Ginga Hot Spring's water is directly from the water source

Ginga Hot Spring's water spurts out from 1,200 meters underground. The facility offers a variety of bathing experiences, from the open-air hot spring to utaseyu where water falls onto your back, and more, as well as a resting area, sauna, and so on.

It is said that if water pH levels are over 7.5 then it is good for your skin. The water at Ginga Hot spring is 8.5, making the water quality very high.

The unique foot bath bar

At Glamp Dome Kobe Tenku, guests can enjoy a bar experience with pouring their own drinks while getting a foot bath from the facility's hot spring water sauce. Open from 19:00-21:00, there's also campfires, fire pits for private domes, and other services.

Glamp Dome Kobe Tenku also offers high quality ingredients for a gourmet camping BBQ experience, from premium Japanese black wagyu steak to seafood and more.

Menu
・Japanese black wagyu steak
・Domestic smoked beef
・Skillet of the day日
・Acqua pazza
・Dessert skillet
・Baguette

Hotel amenities

Glamp Dome Kobe Tenku also offers hotel-style amenities like towels, toothbrushes, hair dryers, gowns, and more. All domes are also fitted with Wi-Fi and plug sockets.

When Glamp Dome Kobe Tenku opens, it will also be bookable on Resort Glamping, a booking website for glamping facilities and resort villas across Japan. If you're ever travelling to Kobe, why not stay there in style with this very special glamping experience?

Japan's Best Hot Springs and Spas For 2020 Ranked by Tripadvisor

Tripadvisor® has posted its list for this year's most popular hot springs and spas in Japan for day trips as ranked by its users over the past year.

This is the 9th run of this particular list, which is normally announced each winter, but due to the stress caused by the COVID-19 pandemic, travellers have been looking to find somewhere to relax, and so the website decided to release the list earlier this time. Tripadvisor® also ranked the best hot spring regions as well as foot baths.

This year's list has a diverse line-up of locations, from huge new facilities to old ones with history. Half of the places in the list are situated in the Kanto region of Japan—more than the previous lists. Those in the ranking are listed not only for the hot springs, but for the services on offer like massage, dining, rest, and more, all of which adds to them being great for day trips.

Hot Springs & Spas Popular With Japanese People For Day Trips – 2020 Edition

1st Place: Busshozan Onsen (Takamatsu, Kagawa)
2nd Place: Miharashi no Yu (Hashijo-machi, Tokyo)
3rd Place: Hōheikyō Hot Spring (Sapporo, Hokkaido)
4th Place: Shika no Yu (Nasu, Tochigi)
5th Place: Tenzan Tohji-kyo (Hakone-machi, Kanagawa)
6th Place: Hoshino Onsen Tombo-no-yu (Karuizawa, Nagano)
7th Place: Lamune Onsen (Taketa, Oita)
8th Place: Spadium Japon (Higashikurume, Tokyo)
9th Place: Maenohara Onsen Sayano Yudokoro (Itabashi, Tokyo)
10th Place: Miyazawako Onsen Kirari Bettei (Hanno, Saitama)
https://tg.tripadvisor.jp/news/ranking/best-public-bathes/

8th Place: Spadium Japon (Higashikurume, Tokyo)

Spadium Japon is a large-scale public bath facility with 15 different types of baths and saunas. It has transparent onsen, which is rare in the Kanto region, and the water is known for its sodium salt. Tripadvisor® users praise the facility for offering all-day services and how big it is, likening it to a theme park.

Special Mentions

Tripadvisor® also listed some special mentions of popular hot spring "chiku," or districts, where you can walk around and try out lots of different types of hot springs, as well as foot baths. The foot baths in Oita Airport and Kagoshima Airport are free to use, making them a great way to kill some time while waiting for departure.

Top 5 Hot Spring Chiku Popular With Japanese People

1st Place: Kinosaki Onsen (Toyooka, Hyogo)
2nd Place: Yu no Mine Onsen (Tanabe, Wakayama)
3rd Place: Kurokawa Onsen (Minamioguni, Kumamoto)
4th Place: Ginzan Onsen (Obanazawa, Yamagata)
5th Place Gero Onsen (Gero, Gifu)

Top 3 Foot Baths Popular With Japanese People

1st Place: Oita Airport Foot Bath (Kunisaki, Oita)
2nd Place: Lake Kussharo Sunayu (Teshikaga, Hokkaido)
3rd Place: Kagoshima Airport Foot Bath (Kirishima, Kagoshima)

Yukai Resort Premium Toba Saichoraku: The New Hot Spring Resort Hotel in Mie Prefecture

Yukai Resort, a company in Japan which manages lots of famous hot spring resorts across the country, opened Yukai Resort Premium Toba Saichoraku in Toba, Mie on June 5, 2020.

Yukai Resort manages 29 well-established hot spring resort hotels and ryokan throughout Japan, including hotels where you can get one night with dinner and breakfast from just ¥7,500 (before tax) to ryokan where you can enjoy kaiseki meal courses, and more. All their luxury establishments feature hot springs surrounded in lush environments.

Yukai Resort Premium Toba Saichoraku opened on June 5, 2020 and is taking all of the necessary precautions against COVID-19 to protect guests and so that guests can enjoy a comfortable stay.

Yukai Resort Premium Toba Saichoraku is 10 minutes by car from Toba Aquarium and 30 minutes from Ise Grand Shrine, making it a great location to enjoy the sightseeing spots of Ise and Shima. The hotel's concept is centred on being an "active resort" where you can get the full Toba experience with history, the sea, and activities.

The large open-air communal baths look out onto Toba Bay. The baths are designed like infinity pools, giving the effect that they are connected to the sea. Guests can enjoy a dip in the day or evening so they can enjoy both a blue sky or starry sky. There are also saunas.

There is also an indoor swimming pool with warm water, as well as foot baths, a kids play park, karaoke room, and many more fun features.

Yukai Resort Premium Toba Saichoraku also houses Yukai Resort's first ever indoor glamping guest rooms with large tents decked with beds, sofa, carpet, cushions, and other amenities for a glamorous camping experience. There are glamping rooms with their own open-air baths that look out onto Toba Bay too, as well as both Japanese-style and Western-style rooms.

As a precaution against COVID-19, the restaurant is serving its food for takeout only until August 31, 2020. Guests can enjoy their meal in their rooms or in one of the many communal spaces. There's plenty of health Japanese food to enjoy including sushi, Matsuzaka roast beef, eel, tuna, and more.

Coronavirus in Japan: Kaname Inn Tatemachi in Kanazawa Offers Free Accommodation to Foreigners Who Can't Get Home

Kaname Inn Tatemachi, a hotel in Kanazawa, Ishikawa, has announced a project named "Room for rescue" which will offer free accommodation to foreigners unable to travel back to their home countries from Japan due to lockdowns and restrictions from going outside as a result of the ongoing COVID-19 pandemic

With flights cancelled around the world, there is no way for foreigners to return home from Japan, resulting in them being forced to change their plans and extend their stay. They are living their days in constant worry, both financially and mentally. To ensure that foreign travellers don't feel like their trip to Japan was a bad experience, free accommodation is becoming available to those who meet certain prescribed conditions.

In response to the decreasing number of tourists, Kaname Inn Tatemachi opened its doors to Japanese citizens through Facebook for free accommodation to help support businesses like local restaurants that could no longer make a living. They received a lot of guests, as well as a request from a friend who asked if someone from the Netherlands could stay there because they couldn't get back to their country. This sparked the "Room for rescue" project for stranded foreign tourists to stay at Kaname Inn Tatemachi for free too.

 

Kaname Inn Tatemachi is using its own funds to pay for the project and allow free stay. However, doing this long term will put strain on the business, so to help pay for hotel use and staff's wages, the hotel has opened up a crowd funding page which you can find here.

Information

Room for rescue

Aimed at: Foreign travellers who cannot return home

How to Apply

Send the following details to the e-mail address r4r@kaname-japan.com

①Write "Room 4 Rescue" as the subject of your e-mail

②Include which country you are from

③Write the names of all the people who wish to stay at the hotel

④Write the number of adults

⑤Write the number of children

⑥Write your check-in time and date

⑦Write your check-out time and date

⑧Attach a screenshot or photo of your cancelled flight details

Application Deadline: March 28, 2020 at 23:59 (JST)

Free Accommodation Stay Time: Until April 15, 2020

O Park OGOSE: Saitama's Hotel Resort Opens New Sauna Suite Cabin

BIO RESORT HOTEL & SPA O Park OGOSE, a hotel resort in Iruma, Saitama, is opening a new accommodation facility on March 12, 2020 called the "Sauna Suite Cabin."

This single-building cabin brings to mind a sauna cabin of Northern Europe. The entire interior is decked out in beautiful warm wood. It's roomy and fully equipped with furniture, a Finnish-style private sauna, jaccuzi, stove, and other bits.

Guests can enjoy a contrast bath experience with the sauna and open-air bath, as well as entertain themselves with a glamping-style dinner in the spacious outdoor dining area.

To make the Sauna Suite Cabin's atmosphere even more enjoyable, O Park OGOSE teamed up with Finland's oldest textile brand, Finlayson, which turned 200-years-old this year, to bring in some of their elephant design furniture and products, including bed linen, towels, and more. Their "ELEFANTTI" line-up is popular even in Japan.



In the bedroom drawers, their are even ELEFANTTI notebooks and letter sets which guests are free to take and use.

If you're looking for a private sauna experience away from the busy city while in Japan, then be sure to check out the new Sauna Suite Cabin at BIO-RESORT HOTEL & SPA O Park OGOSE.

Information

Sauna Suite Cabin

Location: BIO-RESORT HOTEL & SPA O Park OGOSE (3083-1 Ueno, Ogose, Iruma-gun, Saitama Prefecture)

Date: March 12, 2020

Time: 11:00-14:00
Official Website: https://opark.jp/

Okinawa's New Hot Spring Resort Lequ Okinawa Chatan Spa & Resort Opens

Lequ Okinawa Chatan Spa & Resort is the first hotel resort from Vessel Hotels. Operating on the concept of "Loving Yourself, Family, and the Town," the hotel opened in the town of Chatan in Nakagami, Okinawa on March 1, 2020.

Rooftop Infinity Pool & Cafe/Bar

Sat atop the hotel roof is a spa which houses an infinity pool that offers an unbroken view of Chatan as well as the picturesque sunset in the evenings. There's also a 3-meter high infinity pool, jacuzzis, and more, offering a luxurious space to relax.

Located to the side of the pool is a cafe and bar that serves a selection of original cocktails and fruity drinks as well as light food. When the sun sets and the evening settles, the pool lights are turned on, creating a relaxed atmosphere. Enjoy a cup of Japanese sake or one of the refreshing cocktails while staring down at nighttime Chatan.

Vessel Hotel's First Natural Hot Spring

Chatan Onsen hails as Vessel Hotel's first-ever natural onsen hot spring. The water is drawn from 1,400m underground, which provides relief and relaxation from a day of sightseeing and travelling. The hot spring has towering windows, and there's also a sauna for both men and women.

SPA SOLANI OKINAWA CHATAN – The Relaxation Salon

SPA SOLANI OKINAWA CHATAN is a "relaxation salon" which offers a Hawaiian-style spa experience using original products made using ingredients sourced in Okinawa. Oils are made with carefully-selected organic ingredients for that natural feeling. There are body treatments, messages, quick treatments, and more.

Filling Breakfasts at the Resort's Kitchen

Vessel Hotel has brought its "Happy Breakfast Project" to Lequ Okinawa Chatan Spa & Resort. Tuck into a variety of meals prepared with Okinawan ingredients, or try one of the household classic Okinawan breakfasts. Whatever you have, you are guaranteed the Okinawan experience to start your day off.

The restaurant's original souffle hamburger is made with a mix of Okinawan black cattle beef and Agu pork. The souffle is made in-house and prepared by the hotel guests' hands. Food is also served in Okinawan yamuchin porcelain.