Hot spring trip in the mountains of Ishikawa Prefecture recommended by sommeliers
"Kissho Yamanaka" will sell the hot spring lodging plan named "Kissho TOUJI" from April of 2018 to the 30th of September.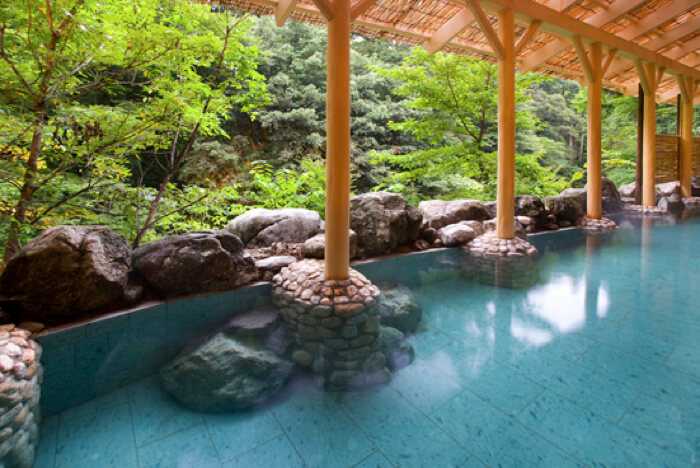 Yamana Onsen (hot spring) which was opened about 1,300 years ago is a hot spring area where the famous Japanese poet Basho Matsuo stayed for 9 days.
The plan that they are going to sell offers the experience of enjoying the view/forest of Kakusen Valley, Kaga Area's delicious foods and hot springs. This hot spring is known to be effective for relieving stress and healing illnesses.
"Yuge Kaido Machi Aruki Ticket" where you can enjoy 10 hot springs in the mountains, local sakes, Daiginjo (sake variety) Soft Served Ice Cream and famous crocket is included in the plan as well as the Jiwamon Onigiri (rice ball) lunch menu/Teppanyaki (pan fried meat and vegetables), sauna, hand-massage service, rental cycle and bus tickets.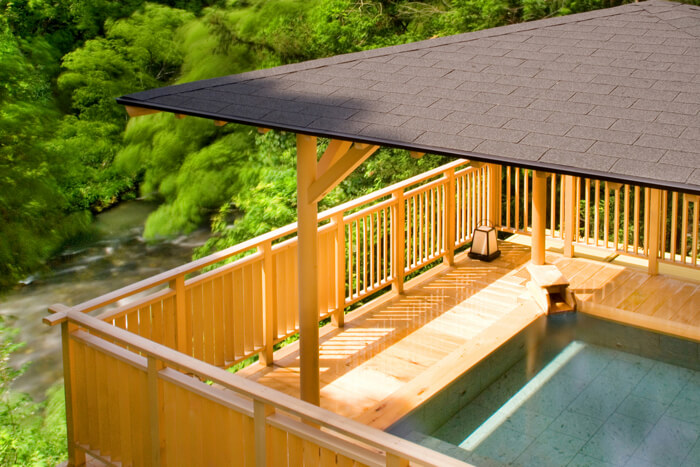 Persons who are interested in this plan must visit Kissho TOUJI since you can obtain an onsen textbook from the onsen sommeliers.
■Information
Kissho TOUJI – Hot Spring Plan Recommended by Onsen Sommeliers.
Address: Kissho Yamanaka, 14-3, 1st avenue, Higashimachi, Yamanaka Onsen, Kagashi, Ishikawa Prefecture
Date: 2018/04/01 (Sat.) to 09/30 (Sat.)
Price: One day ticket that comes with dinner and breakfast / 21,000 yen ~ (two persons – one room) ※the price differs depending on season. ※tax/service fees and hot spring fee (150 yen) are not included, additional fee (5,000 yen) must be paid when staying at the accommodation before a holiday. ※one person – one room ticket is available.
Meal: Dinner – tea ceremony dishes of Kaga Noto Area at "Benihana," breakfast – Japanese dishes or teppan breakfast
TEL:0761-78-5656
Website:http://kissho-yamanaka.com/
RELATED ENTRIES
Yunohana Onsen Resort Reveals Contemporary Art-Inspired Guest Rooms

Sumiya Kihoan, a cozy inn at Yunohana Onsen in Kameoka City in Kyoto, opened a unique new guest room on April 28, 2022. The room's concept is "where guests can stay in the middle of contemporary art," and was inspired by the works of internationally-acclaimed contemporary artist Yukinori Yanagi. The new room, created as part of the Art Room Project, has been named 'Kofuu.'

The Icarus Corridor Connecting Heaven and Earth

Heavenly Bath Welcoming a Rainbow at Dusk

In-Ground Bath Featuring Oribe Glazed Ceramic

Concept Drawing of the Art Room Project by Yukinori Yanagi


The new room includes an open-air bath where guests can be transported into the world of Yanagi's contemporary art while gazing at the gorgeous Kyoto landscape. Upon entering the inn, guests are greeted by a long corridor leading to the bedrooms, dining room, and two creative open-air baths. The space was created in collaboration with Yanagi and local artists and craftsmen, such as potter Ishii Naoto, obi craftsman Yamaguchi Genbei X, plasterer Kusumi Akira, and Japanese paper craftsman Hatano Wakaru. A delicious menu is prepared by chef Hosoi Kunihiko.

Hololive VTuber Members Collaborate with Raku Spa in 'Furolife' Campaign

Hololive has announced a special collaboration between HoloFantasy and Raku Spa, with special merchandise and VTuber-scented baths at participating locations around Japan!

Merchandise

Collaboration Menu (Coasters Available!)

Photo Spot

 

Guests can grab original merchandise with newly-drawn illustrations during the event period, and original food and beverages based on the five members will be on sale. Five unique baths have been prepared by the Hololive members, as each girl chose her favorite scent. The announcements in each location will also be broadcast by the popular VTubers.

Starting February 6, called Bath Day in Japan, specially-drawn yukata and chibi versions of the characters will be available on limited-edition postcards and new merchandise. To get one of these postcards, visitors will need to follow the official Raku Spa Twitter, retweet the campaign Tweet, and present it at the reception desk at their Raku Spa of choice. These are available on a first-come, first-served basis, so be sure to grab them before they're all gone!

Information

Hololive x Gokurakuyu/Raku Spa Collaboration Campaign
Running: January 27 – February 28, 2022
Locations: 25 participating Gokurakuyu/Raku Spa locations nationwide *Not available at some locations.
Details: https://rakuspa.com/hololive/

Online Shop: https://eshop.gokurakuyu.ne.jp/

Postcard Schedule ※Available while supplies last.
・Usada Pekora: January 27 – February 3
・Uruha Rushia: February 4 – February 10
・Shiranui Flare: February 11 – February 17
・Shirogane Noel: February 18 – February 24
・Houshou Marine: February 25 – February 28

Collaboration Bath Schedule
・Usada Pekora Bath / Japanese Cypress Scent
January 27 – January 30


・Uruha Rushi Bath / Peppermint Scent 
February 4 – February 6


・Shiranui Flare Bath / Grapefruit & Lemongrass Scent
February 11 – February 13, 2022


・ Shirogane Noel Bath / Milk Scent
February 18 – February 20


・Houshou Marine Bath / Flower Cologne Scent
February 25 – February 27


Gokurakuyu/Raku Spa Official Twitter: https://twitter.com/gokurakuyu_spa

Wakura Onsen in Ishikawa Prefecture to Hold Special Illumination, Luxurious Tea Time

The Wakura Onsen Tourist Association is sponsoring a new project to illuminate Seirinji Temple, a nationally registered cultural property. Along with this light show, guests can enjoy a luxurious tea time starting on January 8, 2022. This year, the pavilion and garden will be lit up again, and the entrance will be decorated with traditional local paper lanterns. 

The historic property was built in 1909 as a resting place for Emperor Taisho. Only two such buildings exist in Japan: one in Hamada City, Shimane Prefecture, and the other at Wakura Onsen. Both were registered as Tangible Cultural Properties of Japan in 2017. 

 

Last year, the area was photographed for posters and pamphlets as part of the 'Japanese Beauty Hokuriku' campaign organized by JR East, JR West, and the Central JR Railway.

Each Saturday evening through February 26, guests will be invited to enjoy a different kind of atmosphere while enjoying a very fancy tea time. The program has been very well received by visitors, so it shouldn't be missed!


The light-up of the temple and garden, with its slowly changing colors, will transport guests to another world. The entrance to Seirinji Temple will be redecorated and lit up, and a pathway of lights will be created from the gate to the entrance of the pavilion using paper lanterns.

Information

Seirinji Temple Illuminations & Luxury Tea Time

Running: Saturdays from January 8 – February 26, 2022 

First Seating: 17:00  

Second Seating: 18:00

Address: Seirinji Temple, Wakura Onsen (61 Wakuramachi, Nanao, Ishikawa)

*Available for guests of Wakura Onsen

Official Site: https://www.wakura.or.jp

Discover the wonder of Kanazawa with AMIAYA and ETSUNA with new "HAKKEN" videos produced by Channel 47

Fashion icons show the modern and historical charm of Kanazawa, Japan

TOKYO, JAPAN (16 November, 2021) – Channel 47, a company focused on globally promoting the appeal of local and popular Japanese culture through the power of entertainment, is excited to debut their new "HAKKEN" video series today, 16 November, highlighting the wonderful modern and historical tourism aspects of Kanazawa City in Ishikawa Prefecture. "HAKKEN" is the Japanese word for discovery, which is the core feeling this new video series is aiming to convey. Channel 47 wants toinspire viewers to discover the wonders of Japan's local culture through these shortfilms.

The debut videos feature fashion icons AMIAYA and ETSUNA (both represented by ASOBISYSTEM), each exploring a different facet of what Kanazawa has to offer curious visitors. These films were produced by Channel 47 as a part of promotional efforts for the Kanazawa Film Festival held in September of 2021. These entries in the "HAKKEN" series were informed by Channel 47's shared philosophy with the Kanazawa Film Festival, to disseminate the culture of Japan's countryside and promote its appeal worldwide.

In the first video, twin model & singer duo AMIAYA discover the "pop" elements of the city at locations such as the Omi-machi market, the 21st Century Museum of Contemporary Art, the Nagamachi Samurai District, and more. Along the way they sample delicacies from some of Kanazawa's highly rated restaurants. Through their experiences viewers will see art, food, shopping, and scenery that has high appeal among visitors.

Watch "HAKKEN – Discover Kanazawa with AMIAYA"

https://www.youtube.com/watch?v=a9-gD-ftTE0

Find AMIAYA online

Official Website: https://asobisystem.com/talent/amiaya/

AMI Instagram: https://www.instagram.com/amixxamiaya/

AYA Instagram: https://www.instagram.com/ayaxxamiaya/

Twitter: https://www.twitter.com/AMI__AYA

In the second video, fashion designer and influencer ETSUNA takes a different approach and wanders the traditional side of Kanazawa. Starting with a stroll in the Higashi Chaya District, her journey takes her to make ceramic art at Hokutoh, and to see historic locations such as the Ishikawa Bridge, the Gyokusen'inmaru Garden, Sannomaru Square, and more. To fit the traditional theme of her visit, she visits Kimono & Antiques Soki and gets dressed for the occasion. Viewers will see through ETSUNA's exploration the beauty and historical legacy of Kanazawa City.

Watch "HAKKEN – Experience Kanazawa's History with ETSUNA"

https://www.youtube.com/watch?v=Z3h-57mhouU

Find ETSUNA online

Official Website: https://asobisystem.com/talent/etsuna/

Instagram: https://www.instagram.com/etsunaotsuka/

Twitter: https://www.twitter.com/etsuna_artist/

ABOUT KANAZAWA FILM FESTIVAL

The 15th Kanazawa Film Festival was held from September 18-20, 2021 in Theater 21 at the 21st Century Museum of Contemporary art in Kanazawa. The festival has a reputation not only for the high quality of films presented each year, but also for its "New Directors with Promising Talent" program. This year 83 films were entered in the "New Directors with Promising Talent" program, and 11 of them won screening rights. The Grand Prix was awarded to MELIA's "Experiential Tour", for which she also received the special Channel 47 Award.

More information on the Kanazawa Film Festival can be found at

 https://www.eiganokai.com/event/filmfes2021/kanazawa/

ABOUT CHANNEL 47

Channel 47 is a project that using the power of entertainment to communicate the appeal of Japan and its different regions to overseas audiences. Through planning and producing events with celebrities and personalities, Channel 47 creates content that conveys the appeal and charm of Japan's many different regions to viewers all over the world. Channel 47 created the post-movies for the 15th Kanazawa Film Festival, held in September 2021. Additional efforts to promote the event overseas include producing

English subtitles for "Alien Painter" which was screened as a Kanazawa Film Festival Scholarship Film.

For more information about Channel 47 please contact: info@channel47.jp

Socially Distanced NAKED Night Walk Art Project to Open in Kaga, Ishikawa

The COVID-19 pandemic has impacted how many people live their lives, with fewer and fewer people venturing outdoors. Now, Japanese creative company NAKED has announced a Night Walk at the picturesque Katayamazu Hot Springs in Kaga, Ishikawa. While practicing social distancing, visitors can explore an illuminated wonderland from December 17, 2021, until January 16, 2022. 

Lights of the Dragon God: Ukimidou

Sunny Spot Baths: Katayamazu Hot Springs Sunahase Park, Aiai Plaza

NAKED Distanced Lanterns: Katayamazu Hot Springs Sunahase Park, Aiai Plaza

NAKED Flower Cleansing: Katayamazu Hot Springs Sunahase Park, Aiai Plaza

The Halo of Life: Aizenji Temple

Crystal-Dyed Paper Lanterns: Aizenji Temple

Guests will be invited to explore the grounds while carrying a NAKED Distanced Lantern–both an art piece, and a way to illuminate your steps. With safety in mind, there will be plenty of space between visitors, so people can enjoy the event with peace of mind. 

The location for the event, Katayamazu Onsen, was recently a runner-up in the Onsen General Election 2018 spectacular scenery category. Surrounded by crystal blue waters and with a beautiful view of Mt. Haku, the location will have guests feeling completely calm by the time their visit comes to an end. 

Information

NAKED Night Walk -Katayamazu Hot Springs-

Running: December 17, 2021 – January 16, 2022

Hours: 17:00-22:00

Address: Katayamazu Hot Springs (Sunahase Park, Aiai Plaza, Yonomoto Park, Aizenji Temple)

Admission: Free

Official Site: https://yoru-sanpo.naked.works/katayamazu/

Gorgeous Project Mapping Event Coming to Yamashiro Onsen in Kaga, Ishikawa

DMM.com will sponsor a projection mapping project titled Yamashiro Night Promenade Fall 2021 on Yamashiro Onsen Street in Kaga, Ishikawa prefecture from October 30 until November 28, 2021. 

The limited-time project is being organized by the Yamashiro Onsen Tourist Association with support from DMM. Under the themes of harmony and local tradition, brilliant images of flowers, water, and geometric patterns will illuminate the hot spring resort while accompanied by music. There will also be traditional Taiko performances during the event. 

Information

Yamashiro Night Promenade Fall 2021

Running: October 30 – November 28, 2021

Hours: 20:20-21:20 (Canceled for rain) 

Address: Yamashiro Onsen Street in front of Hatori Ryokan (17 Onsen-dori, Yamashiro Onsen, Kaga City, Ishikawa) 

Official Site: https://sousei.dmm.com/

Colorful Collection of Wajima Lacquered Goods Appear at Yokohama Takashimaya

An exhibition featuring artisan Hiroshi Nakakado's unique lacquerware will be on display at Yokohama Takashimaya from September 29 until October 5, 2021. Wajima, located in Ishikawa prefecture, is home to 25,000 people, and a number of craftsmen producing Wajima-nuri, known throughout the country as some of the most durable and beautiful lacquered products in Japan. 

Umbrella Dessert Dish: ¥31,900

Umbrella Dessert Dish: ¥59,400

Coffee Cup & Saucer: ¥49,500

Pasta Bowl: ¥30,800

Cube Vase: ¥26,400

Umbrella Cup: ¥52,800

Limited-Edition Takashimaya 190th Anniversary Goods | Wine Glass: ¥67,100 / Dry Lacquer Sake Cup (small): ¥33,000 / Dry Lacquer Sake Cup (medium): ¥35,200 / Oval Tray: ¥60,500

Nakakado Lacquerware, established in 1928, specializes in the top coating of Wajima-nuri, the traditional lacquerware made in the small city of Wajima, in Ishikawa prefecture. Nakakado Hiroshi, a fourth-generation craftsman, is one of the leading experts on 'colored lacquer.' Using his unique technique, each piece is treated like a canvas and painted on appropriately. Gazing at each detailed piece, it's easy to see that Nakakado has over 40 years of experience in his field–he has created over 100 different colors of lacquer, and continues to create modern lacquerware featuring trendy techniques such as gradation. His innovative pieces break the mold of traditional Wajima-nuri, and are beginning to become popular with younger generations. 

In recent years, the production value of Wajima-nuri has begun to decline, largely due to changes in lifestyle, the aging population, and a lack of successors due to the low birth rate in Japan. Additionally, the COVID-19 pandemic has put a halt to foreign tourism, with local tourism also in a steep decline over the past year. Compared to the amount of production in 1991, the current rate is only 20%, and the number of workshops and craftsmen continues to decline year after year. 

If you're in the area, be sure to check out this exhibition highlighting one of the traditional crafting areas of Japan. Purchasing any of these items will also help revitalize Wajima city, and hopefully, bring more attention back to this fading craft. 

Satoyama Jujo THE HOUSE IZUMI: Rent Out a Renovated Japanese House in Niigata

Japanese design company Jiyujin launched its new Satoyama Jujo THE HOUSE chain of accommodations this month which offer a single group of guests a one-night stay in an entire house.

The first branch to open is IZUMI which features a fully-renovated Japanese-style house located in the city of Uonuma in Niigata. A gorgeous outlook is offered from the house with an unbroken view of lush forests, rice fields, and Mt. Makihata, which is listed as one of the '100 Famous Japanese Mountains.'

A breathtaking view awaits guests from the open-air bath

The spacious living room

Fully renovated from a 150-year-old private house, the building is supported by beautiful wooden beams and columns, and in the middle the oe, a sunken hearth. This, along with the beams and sashigamoi joints, are made from keyaki Japanese zelkova which is an elm-like tree. This species of tree is rare even in a tree-covered region such as Uonuma. The lumber used for this house was cut, preserved, and dried out for a number of decades before being processed into building material for the house. The heart in the middle of the living room is reminiscent of a time when large families would gather around one and serves to recreate that lifestyle.

The Nishiyama region is known for is production of delicious rice. IZUMI in fact looks out over Kabanosawa, a special and important place of rice production in Nishiyama. This vantage point also gives guests an opportunity to appreciate the hot and cold temperatures of the daytime and evening, the rivers, the shape of the land, and the earth the city sits on. The drastic change in temperatures in the day and night are especially noteworthy as this, along with the basin between the mountains, gives rise to a sea of clouds.

IZUMI sits on a hill that overlooks the rice paddies, making it a perfect location for spotting the sea of clouds. Minamiuonuma's sea of clouds has over a 70% chances of appearing in the autumn and spring seasons.

The number one reason why Japan's old, long-standing, and precious private houses are demolished is due to the cold getting in and it being too dark inside. Even those who want to see them preserved for tradition, including those who live in them already, would rather live in a modern home. That's why Jiyujin has begun a renovation project instead of a demolition one. By refurbishing the houses, the ancient framework can be fixed up and preserved while a range of contemporary amenities are incorporate to fit with modern lifestyles. The Satoyama Jujo accommodations are built so they can be used for over 100 years.

For dinner, there are three options for guests. The first is a dinner at SANABURI which earned itself a Michelin star in Michelin Guide Niigata 2020. The second is a meal at a restaurant that earned the status of Bib Gourmand in the same guide. The third is to prepare your own meal in the house. There are plenty of shops around the station nearby where you can buy local ingredients.

After a delicious meal, guests can take a soak in the open-air tub and enjoy gazing out across the fields and the beautiful mountains which stand almost 2,000 meters high.

Information

Satoyama Jujo THE HOUSE IZUMI

Japanese Name: 里山十帖 THE HOUSE IZUMI

Address: 671-1, Amanosawa, Minamiuonuma, Niigata, 〒949-6433, Japan

Official Website: Opening early July 2021

Access: 7-minutes by car from Jōetsu International Skiing Ground Station (JR Joetsu Line) / 16-minutes by car from Shiozawa-Ishiuchi IC

Be Surrounded by Glowing Fireflies With Kissho Yamanaka's New Hotel Plan

Kissho Yamanaka, a hot spring hotel in Kaga, Ishikawa, is now offering a firefly-viewing experience as part of a new guest plan until June 15. This gorgeous resort, situated by the Daishoji River in the Kakusenkei Gorges, was awarded three Michelin stars in the Ryokan category of Michelin Guide Hokuriku 2021 Special Issue.

The firefly tour arrives as early summer is soon to begin. As part of the hotel plan, guests can also enjoy a dazzling Firefly Cocktail too.

Feel the rays of early summertime at Kissho Yamanaka.

Information

Firefly & Sunset Hotel Plan

Address: Kissho Yamanaka, 1 Chome-14−3 Yamanakaonsen Higashimachi, Kaga, Ishikawa 922-0114, Japan

Official Website: https://kissho-yamanaka.com/

Bathe With Real Ducks at Tamagawa Onsen in Saitama

As part of their 10th anniversary event, Tamagawa Onsen, a Showa retro-style bathhouse in Saitama, opened their 'Real Duck Baths' on May 29 which lets people bathe with real ducks. The experience is available on weekends and public holidays only.

Forget bathing with bright yellow toy ducks – now you can have the real thing. These ducks were hatched and raise from ducklings by the bathhouse manager Arai at their home. The ducks are still small so the hours when they will be out are not set in stone, but the bathhouse hopes that guests will watch their and support their growth as they mature over time.

Information

Real Duck Bath
Running: Weekends and public holidays from May 29, 2021

*Subject to cancellation on any day depending on the condition of the ducks
Where: Tamagawa Onsen

Address: 3700 Tamagawa, Tokigawa, Hiki District, Saitama 355-0342, Japan
TEL: 0493-65-4977
Official Website: https://tamagawa-onsen.com/

Hokkaido's New Hotel Boasts a Famous Hot Spring and Overlooks the Tsugaru Straits

Core Global Management is set to open the all-new Yunokawa Onsen Umi to Akari Hewitt Resort on July 1, 2021. In line with its opening, Japanese calligrapher Shoko Kanazawa has been put in charge of designing the hotel's name logo.

The sea and sky meet in the Infinity Onsen

Tsukifune: the buffet restaurant

Enjoy Japanese-style food at Kumonami

Tatami baths

Fires prepared by the staff everyday

A look inside the guest rooms

A look inside the guest rooms

Yunokawa Onsen is one of the three major hot spring resorts in Hokkaido. During the Edo period, Matsumae Chikatsumaru, who later became the lord of the Matsumae domain, and Enomoto Takeharu, the president of the former Tokugawa shogunate, are said to have bathed in this very hot spring. Yunokawa Onsen Umi to Akari Hewitt Resort is a chance to enjoy the good old days of Hakodate Yunokawa.

The rooftop offers an unbroken view of the incredible Tsugaru Straits. Guests can also enjoy a tranquil moment at the historic hot spring with a cup of Hakodate's local sake and dango in hand underneath a moonlit sky while surrounded by the lights of fishing fires. There's also a chance for both kids and adults to take a dip in a tatami bath – something you don't really see in Japan.

Information

Yunokawa Onsen Umi to Akari Hewitt Resort

Address: 3-9-20 Yunokawacho, Hakodate, Hokkaido 042-0932, Japan
Access: 5-minutes by car from Hakodate Airport
Official Website: http://hewitt-resort.com/hakodate-yunokawa/

Yusuke Nakamura Exhibition Opens at the 21st Century Museum of Contemporary Art, Kanazawa

The Yusuke Nakamura Exhibition opened at 21st Century Museum of Contemporary Art, Kanazawa, on April 29. It was also announced that the Japanese illustrator is releasing the first artbook to compile all of his CD cover art on May 28, but the book can be bought early at the exhibition.

Yusuke Nakamura Exhibition

Yusuke Nakamura Exhibition CD Artworks

Yusuke Nakamura has designed covers forASIAN KUNG-FU GENERATION, Masashi Sada, Spitz, and more

Commentary on the CD covers written by the Yusuke Nakamura himself

Rough sketches are featured in the book

A talk between Yusuke Nakamura and Masafumi Gotoh (ASIAN KUNG-FU GENERATION)

It wouldn't be an exaggeration to call Yusuke Nakamura one of Japan's most prolific artists, having worked with some of the country's biggest names such as ASIAN KUNG-FU GENERATION, Gentouki, Masashi Sada, and more. His new artbook, entitled PLAY, compiles all of his CD covers from 2002-2020, commentary, rough sketches, talks, and more. While many things from the book are explored at the exhibition, there's plenty of content exclusive to the book too, so it's a must-grab for fans.

Information

Yusuke Nakamura Exhibition

Running: April 29, 2021 – May 29, 2021

Location: 21st Century Museum of Contemporary Art, Kanazawa

Official Website: https://www.kanazawa21.jp/

PLAY
Release Date: May 28, 2021

Price: ¥2,273 (Tax Included)