Purification Footbath Introduced at Meotoiwa Museum in Ise, Mie Prefecture
In the town of Futami, located in Ise, Mie Prefecture is ISE Meotoiwa Meato Yokocho, one of the largest shopping facilities for souvenirs across the Shima Peninsula. Inside is the Meotoiwa Museum where they offer activities for tourists. They have just introduced the Misogi no Ashiyu, or 'Purification Footbath,' which uses seawater from Meotoiwa, Futami.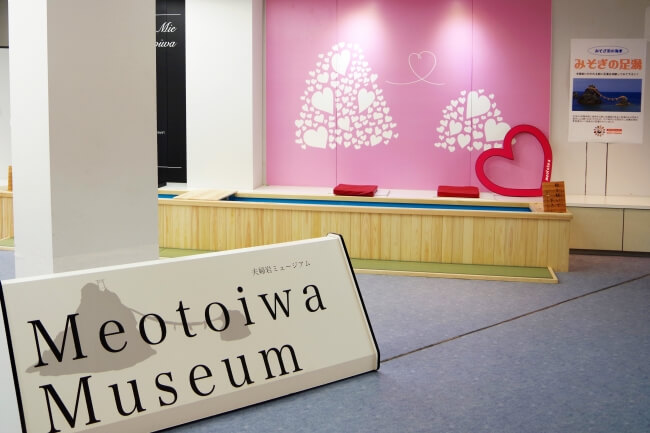 Futami is a place where purification ceremonies took place at Misogi Hama, the purification beach of Futaminoura where the Meoto Iwa, or 'Married Couple Rocks' are located. This happened before one went to pray before the Ise Grand Shrine at a steam bath during the Edo Period, which is now next to Okitama Shrine. Additionally, in 1882, it received recognition as Japan's first swimming area in the ocean, and bustled with members of the imperial family who used it as a health resort, including Emperor Taisho. The ocean water used in the purification footbath is normally taken from the seawater well located inside the facility. It is poured into the footbath bucket after being heated at the source of the free-flowing water.
There's plenty of other fun content to enjoy too, including a new purification-style fish tank, a spot to take photos themed on the Married Couple Rocks, and more!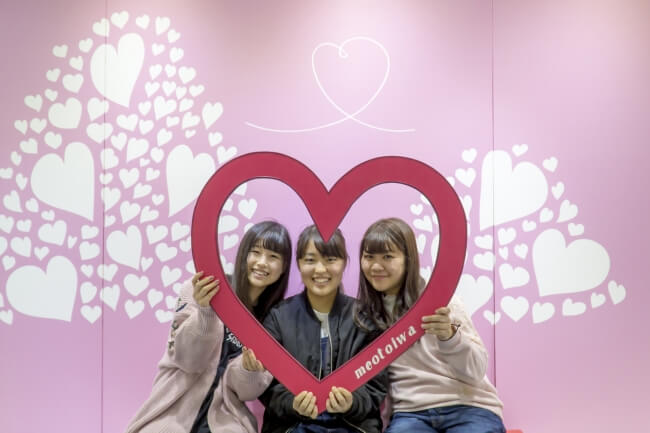 Why not enjoy a footbath to cleanse yourself before going to see the Married Couple Rocks?
■Information
ISE Meotoiwa Meato Yokocho
Address: 580 Futamichoe, Ise-shi, Mie Prefecture
Opening Hours: 09:00-17:00 (Times may vary depending on the season)
TEL: 0596-43-4111
Website: https://ise-seaparadise.com/
ISE Sea Paradise
Address: Same as above
Opening Hours: 09:00-17:00
TEL: 0596-42-1760
Website: https://ise-seaparadise.com/
RELATED ENTRIES
This Week's Dessert: Indulging in a Seasonal Parfait at Kinoshita Chaen in Ise

One thing I do at least once a week without fail is treat myself out to some delicious food or dessert. I find it very important time well spent in order to live a happy, fulfilling life.

This week, a business trip took me out of Tokyo to the city of Ise in Mie Prefecture. When the trip was over, I had some spare time to kill before my train arrived, so I went inside a cafe called Kinoshita Chaen which is close to Ise Grand Shrine.

You can arrive at Kinoshita Chaen in just three minutes on foot is walking from Ise Grand Shrine, or five mintues from Ise Station. The exterior design of the building takes on a Western style, which I found to be both cute and retro. You can feel the warm and welcoming atmosphere of the cafe as soon as you step inside. The decor is decked out with all things wooden.

The cafe has been around since the Meiji Period. It serves drinks and desserts all made using tea, and offers both eat-in and takeout services.

I ordered their seasonal-exclusive parfait. 90% of the people in there were ordering it, so I thought it must be popular!

Strawberry & Parfait Puree Parfait w/ Japanese Black Tea – ¥1,300 (Tax Included)

This super cute parfait is completely stuffed to the top with strawberries♡

You can snap cute photos of it no matter the angle♡

When I spooned the caramel puree, soft custard reveal itself. You get a delicious pairing of the bitter flavour and crunchy texture of the caramel with the subtly sweet custard.

The next ingredient to show itself was the mascarpone cream, which combines with the rest of the flavours perfectly. Once your mouth is satisfied with the sweetness of the flavour combinations, you're next met with Ise matcha gelato.

The matcha gelato is a great palate cleanser for the sweet ingredients when eaten on its own. When eaten together with the sweet puree, you get a completely different kind of delicious flavour. I recommend trying it together with the puree, mascarpone cream, and the crunchy pie which is the next layer.

Moving on from the sweetness and bitterness, the next layer is fresh strawberry sherbet, which is a combination of sweet and sour. To finish, you're brought back to the subtle sweetness once more with white chocolate mousse, strawberries, and mixed berry jelly.

The final bites of a parfait can generally be hard to get down because you grow tired of the flavour, but the ones sold at Kinoshita Chaen are on another level. The various flavours and textures mean you won't grow tired as you spoon through the many layersーyou'll find yourself savouring every last bite.

The Japanese black tea that came with it was luxurious. The cafe actually caters the type of tea they serve to each seasonal parfait. Enjoy a cup together with your parfait.

Matcha Soy Flour Dumpling Cream – ¥830

I didn't get to order them this time, but I'm really taken by the matcha soy flour shiratama dumplings… The dumplings are made in-house and are topped with brown sugar syrup from Okinawa and Ise matcha. The bitterness of the matcha together with the rich sugar syrup is sure to be delicious with some chewy dumplings. I'll definitely be trying them when I next visit.

I cannot recommend a trip to Kinoshita Chaen enough. Offering an exemplary menu of Ise flavours, their drinks and sweets maintain the culture and tradition of Japanese tea while keeping up to date with current trends in the world of sweets.

Today's Souvenir

Houjicha Teabags – ¥400 (1 Pack) 

On the days you get to eat delicious sweets, you've got to share the happiness with friends and family. I bought some houjicha tea bags made with tea leaves grown in Mie Prefecture. They have various other teas too, and the packaging is really cute, so they're perfect as gifts for friends and family.

Information

Kinoshita Chaen (Ise Branch)

Address: 1-1-31 Iwabuchi, Ise, Mie Prefecture

Opening Hours: 10:30-17:30 (Last Orders 17:00)

Closed: Wednesdays (Except Obon, New Year's, and public holidays)

TEL: 0596-24-6747

Official Website: https://www.kinoshitachaen.com/

Sanrio Character Museum to Open in Tokyo's Roppongi Hills For 60th Anniversary

Sanrio is set to turn 60-years-old in August 2020. To commemorate, the company has announced that it will open a museum called "Sanrio Character Museum" in summer 2020 where it will tour around Japan until 2025. The full dates and locations have yet to be announced, but its first stop will be the Tokyo City View Sky Gallery located on the 52nd floor of Roppongi Hills Mori Tower in Tokyo. Details for this first stop will be revealed sometime next month.

ⓒ '74, '75, '76, '77, '79, '80, '82, '83, '84, '85, '86, '88, '89, '90, '92, '93, '96, '98, '99, '01, '04, '05, '20 SANRIO CO., LTD.

Since its establishment, Sanrio has sought to spread kawaii culture to the world, as well as the message of everybody getting along and being friends. But how have gotten to this point with each passing generation? The museum exhibition will answer that very question, exploring its line-up of over 450 characters Sanrio has created over the years, including the most prominent ones like Hello Kitty, My Melody and Little Twin Stars who have been around for more than 40 years. It will also showcase characters that will be nostalgic to longtime Sanrio fans.

The exhibition will peruse the history of Sanrio from before it created its characters, and delve into the origin of the company's kawaii world. Fans can expect to see valuable prints, products, materials, and more. The exhibition will also include works made in collaboration with some of Japan's up-and-coming and prominent artists. Expect plenty of kawaii, and plenty of what is sure to be invaluable information for Sanrio fans.

Information

60th Anniversary Sanrio Character Museum

Start Date: Summer 2020

*Details TBA at the time of posting this article

Hyakudan Hinamatsuri 2020: Hotel Gajoen Tokyo Announces Hina Doll Festival at 100 Step Staircase

Hotel Gajoen Tokyo, a historical museum and hotel in Japan, has announced that it will host the Hyakudan Hinamatsuri 2020 doll festival from January 24 to March 15 next year. It will take place at the hotel's Hyakudan Kaidan, or '100 Steps Staircase'―which was registered by Tokyo Prefecture as a Tangible Cultural Property in 2009 for its exceptional architecture and artistic beauty.

Hinamatsuri is an annual festival in Japan celebrated on March 3 every year where ornamental dolls are displayed. Hotel Gajoen Tokyo boasts the biggest Hinamatsuri festival in Tokyo, with over 600,000 visitors having attended across the 10 years it has been held.

A First For The Festival: Photography Permitted

Up to now, photography at the hotel's Hinamatsuri has been restricted to protect the displays. However, for the first time ever, next year's event will allow photography in all of the rooms, which will house dolls symbolising each period of Japanese period: Edo, Meiji, Taisho, Showa, Heisei, and the current Reiwa, not to mention the 500+ zashikibina dolls. There will also be hanging decorations with rabbit designs in the elevator hall created by Nippon Tsurushibina Kyoukai, a non-profit organisation. Also for the first time this year, visitors will be able to dress up in a beautiful uchikake wedding coat and take a photo at the designated photo spot. This is so they can further fill a part of the hina doll world.

Tottori, Shimane & Yamaguchi Get Involved For The First Time

Visitors will be able to enjoy dolls in a variety of ways from different places across  Japan, including a giant 2-meter long wall decoration and old hina dolls handed down from families past from the city of Yonago in Tottori, tiny tsuchi dolls from Hokuei in Tottori which can fit in the pal of your hand, renbei dolls, and more. The spectacular collection will have visitors feeling like they are inside a hina doll palace.

The Hina Doll of the Ishitani Residence (Chizu, Tottori)

The town of Chizu is located in the southeast portion of Tottori Prefecture and is surrounded by mountains. It flourished during the Edo period as a post town and place of rest for the Tottori Domain as part of sankin-kōtai, a policy which had feudal lords alternate living for a year in their domain, as it headed towards Edo. The Ishitani Residence, which is built facing the Inaba Kaidō―a type of route built during the Edo period for transportation―has almost 40 rooms and spans 4,000 square meters. It is listed as an Important Cultural Property of Japan for its modern Japanese-style architecture. The enormous mansion, which is home to a doma dirt floor supported by great beams as well as a Japanese-style garden which can be seen from all the tatami rooms, is decorated with ancient handed-down hina dolls when early spring settles in. This includes dolls from the Meiji periodo with vibrantly embroidered outfits, gorgeous decorations for the hina doll steps, special hina bowls used when celebrating Hinamatsuri at the Ishitani Residence, and more.

Hyakudan Hinamatsuri Memorial: Display Of Over 500 Zashikibina Hina Dolls (Iizuka, Fukuoka)

Iizuka in Fukuoka formerly thrived for its coal mines and bustled as a business dealing in coal. The Former Den'emon Ito Residence spans 2,300 square meters and speaks volumes of the cultural significance of the city's ties to coal as it belonged to Den'emon Ito who was known as the "King of Coal Mining." Every year during the Hinamatsuri season, the Itsuzuka Hina no Matsuri festival is held at the residence where hina dolls from 16 areas throughout the town are displayed. The Former Den'emon Ito Residence is the main venue for Itsuzuka Hina no Matsuri, which sees a huge number of zashikibina hina dolls put out. The Residence has been involved with Hyakudan Hinamatsuri twice in the past, and this time, their overwhelming showcasing of 500+ dolls, which has garnered popularity every time, will be put on as a special display. The display will keep with the festival's theme of tales of Izumo as well as the myth of the Hare of Inaba.

Hina no Shitsurai: Table Laying

Another special display will also be put on for the festival with the theme "Hina no Shitsurai," meaning "setting up a hina living space." There will be gorgeous table laying by Tomiko Ishibashi, who is an interior decorator working internationally, as well as displays of hina decorations in home living rooms and genkan. Select parts of this exhibition will be available to purchase in the museum shop, so people can take away a memory and try setting up their own hina decorations. And for the first time ever, the festival is opening the Hina Cafe for a limited time between January 24 to February 14 where visitors can sip on Japanese tea and eat Japanese snacks. Hina decorations will serve as the theme for the cafe.

Discover the beauty of the Hinamatsuri, a festival unique to Japan, at the 11th Hyakudan Hinamatsuri.

Information

Hyakudan Hinamatsuri 2020

Running: January 24, 2020 – March 15, 2020

Time: 10:00-17:00 (Last Entries 16:30)

*Photography allowed (However please refrain from using tripods and flash and from taking photos for commercial or business purposes. Photography prohibited for select displays.)

*The venue will not use heating in order to protect the displays

Entry Prices

Same-Day: ¥1,600 / Official Online Ticket: ¥1,600 (Special ¥1,100 price available on January 23)

External Ticket Sellers: Adults ¥1,500 / University and High School Students ¥1,000 / Elementary and Junior High Students ¥600

*School ID required. Entry free for preschoolers.

Special Tickets

Pair Ticket (For the first half of the festival period): ¥2,000

Ticket With Postcard (Limited Quantity): Advance ¥1,200 / Same-Day ¥1,500

Ticket With Designated Date and Time, Gallery Talk & Guidebook: ¥1,800

Location: Hotel Gajoen Tokyo

Event Page: https://www.hotelgajoen-tokyo.com/event/hinamatsuri2019

Tokyo's Poop Museum Announces Halloween Event 'MAX UNKO HALLOWEEN'

Unko Museum Tokyo, a poop-themed (unko in Japanese) museum located on the second floor of DiverCity Tokyo Plaza in Odaiba, opened its Halloween event "MAX UNKO HALLOWEEN ~Unko & Dancing Halloween~" last Friday which will run all the way up to October 31. They are serving "max unko kawaii-ness" in this all-new Halloween event.

Unflushed Poop Resurrects For a Poop Monster Parade

At the Unko Museum this Halloween, expect to see nnko idol monsters, unko mummies, and lots of other cute and fashionable unko critters. All of them will be part of a spooky parade together with the museum's mascot character Umberto. Join in as they show the audience how to do the unko dance which the museum created themselves!

Candy Rains From the Unko Volcano

You'll find Halloween decorations all around the Unko Museum for the duration of the event. If you've visited before, you'll be familiar with the Unko Volcano which normally spurts out poop. Well, for Halloween, it will instead offer up candy. Its design has also changed so it's more fitting for the spooky season.

By the way, if you go up to one of the museum staff members and say, "Trick or Unko?" you'll receive a special present. Don't miss out―pluck up the courage and just say those words!

Exclusive Unko Museum Halloween Merchandise

The museum's popular "My Unko Maker" feature, where you sit on a toilet and colourful poop appears at the bottom, will also take on a Halloween theme. Halloween items will also be sold including the above-pictured unko headbands.

Visit the quirky Unko Museum for a Halloween event like no other.

Information

MAX UNKO HALLOWEEN ~Unko & Dancing Halloween~

Location: Unko Museum Tokyo

Address: DiverCity Tokyo Plaza Floor 2F, 1-1-10 Aomi, Koto Ward, Tokyo

Opening Hours: 10:00-21:00 (Last Entries 20:00)

No Fixed Holidays (Except when DiverCity Tokyo Plaza is closed)

Ticket Reservations: https://reserve.ale-box.com/reserve/169

Official Website: https://unkomuseum.com/tokyo

Sebastian Masuda And Other Phenomenal Artists Create Outstanding Doraemon Exhibition

28 artist groups and individuals have created artistic pieces to represent Japan's favourite animated character Doraemon. From July 12 to September 23, 2019, you can see these magnificent creations at the Doraemon Exhibition Osaka 2019 which will take place at Osaka Culturarium at Tempozan.

The Doraemon Exhibition Osaka 2019 features a range of artists who exhibit their works in Japan and even in foreign countries. This is a fantastic chance to meet a range of new Doraemon that the world has never seen. This event covers a range of genres through modern art that is overflowing with creativity and dedication for the anime character that has grasped the nation. 

On July 11, the day before the opening of the exhibition, there was a special opening ceremony and private viewing event held exclusively for staff and the press, which was a massive success. 

Press releases of the event reveal that artists Yasumasa Morimura and Sebastian Masuda were present at the ceremony for photos and greetings. 

Yasumasa Morimura commented with deep emotion: "I am so happy to have finally taken part in the Doraemon Exhibition. For this creation, I used lots of paper to make the costumes. I collaborated with Junko Koike, collecting lots of Doraemon manga as raw materials for the dress. As Doraemon has the power to manipulate time and space, and has the ability to create a door that leads to anywhere he desires, I thought a grey dress would be appropriate. In fact, the entire exhibition venue is just like the inside of Doraemon's pocket ー it is packed with the work of 28 solo artists and groups. What a fun experience it is. I hope that many people in the Kansai region come see this," he explained.

Sebastian Masuda commented: "I'm actually the same age as Doraemon and I share the same birthday as Noby; the main character from the series. I was born with a love for Doraemon."

He then commented on his art piece: "I actually wanted to make it as big as the Budha statue at Todaiji Temple in Nara, but we wouldn't be able to fit it in the venue so I made it two metres tall instead", he laughed. "I collected materials from markets from all around the world, so the final piece is literally made up of the colours of the world," he continued. 

His message to the people of Osaka is: "I would love it if lots of children came to see this. It would really make my day to hear reactions from them like "whoa, it's huge" or "that's so cool!""

Please come stop by to visit your favourite Doraemon!

Information

The Doraemon Exhibition Osaka 2019

Running: July 12, 2019  ー September 23, 2019 (74 days) 

※ No closed days.

Venue:  Osaka Culturarium at Tempozan (next to the Osaka Aquarium Kaiyukan) 

Address: 1-5-10, Kaigandori, Minato Ward, Osaka

Open: 10:00 ー 17:00 ※ Last entries: 30 mins before closing time 

Entry prices

General:¥1,500

Middle/High School: ¥1,200

4 y/o ー Elementary School: ¥800

Enquiries: (Hello Dial)  TEL: 050-5542-8600 (8:00 ー 22:00, no holidays)

The Entire World Is Curious About PAPABUBBLE's Candy Art Museum To Open In Ginza

Described as the "most interesting sweets shop in the world", PAPABUBBLE sells a range of cute and fun confections. On July 1, PAPABUBBLE will open a Candy Art Museum on basement floor 2 of GINZA SIX.

PAPABUBBLE has set up shop in over 30 cities worldwide. The main shop will contain art pieces made from candy. Considering all the candy shops that are currently out there in the world, nobody has ever seen anything quite like this before. 

The museum contains around 20 different ornaments that are edible sweets. Visitors who wish to purchase the ornaments can do so. Besides the standard sweets, the display items and range of sweets for sale will be changed every day. 

When the museum opens in July, visitors will be able to enjoy the wonderful texture and flavour of candy lampshades, enjoy the artistic and charming glow of candy mushrooms, and gaze in bewilderment at an antique vase baumkuchen cake. 

To commemorate its grand opening, customers who spend more than ¥5,000 (after tax) on display items or on the sweets shop range will receive either a soft gummy brain or soft gummy dentures. This campaign will be running throughout July. 

Along with the grand opening of the art museum, there will also be Ginza-limited products on sale that are completely unique to the Ginza branch. The lineup includes sweets made from ingredients that are rarely seen in Japan. This includes colourful and fruity chocolate such as rocky roads and soft candy sweets made from snow sugar. PAPABUBBLE will also sell souvenirs that represent Ginza such as Kirihako boxes which are beautiful boxes made from wood. 

If you are in Tokyo, you just cannot miss this museum that is overflowing with originality.

Information

Candy Art Museum by PAPABUBBLE (Gallery of Sweets Art by PAPABUBBLE)

Address: B2F, 6-10-1, Ginza, Chuo Ward, Tokyo 

Opens: July 1, 2019 

Opening Hours: Mondays ー Sundays (10:30 ー 20:30)

TEL: 03-6228-5535

PAPABUBBLE JAPAN Official Website: http://www.papabubble.jp

LuLuLun Face Mask: A Beautifying Souvenir From the Japanese City Ise

When travelling abroad, I find myself buying and taking back lots of different souvenirs for myself and my family. I look for those items that are made with each region's particular materials and ingredients. By handing them out to people, I'm also sharing a little bit of that place with the people around me too.

Today I introduce to you the "Ise LuLuLun" face mask, a souvenir from the Japanese city of Ise that's perfect for that one person we all know who's into beauty and cosmetics.

The Ise LuLuLun is part of the popular "Tabi Suru LuLuLun" face mask series which sees limited edition face masks sold in different regions. The masks are made from an assortment of ingredients and plants. They are sold not just in Japan but around the world. Some of the variants to hit Japan have included Okinawa Shequasar and Shōdoshima Olive.

Ise Lululun is the first product in Japan to include extract of sakaki leaf which moisturises the skin. Sakaki is a flowering evergreen tree native to several Asian countries including Japan and is used as a symbol of longevity and vitality. The extract was made in cooperation with Ise City's manufacturing and tourism department, making this a very special product indeed. The sakaki is used in various Shinto activities such as offering them to altars and household shrines. Ise itself is home to many sasaki trees from which the extract in the Ise Lululun is made. Its moisturising effect ensures the skin stays nice and moist.

Let's get onto talking about what it's like to use this product. I've used Lululun packs in the past, but the feature of the Ise Lululun is absolutely the fragrance it gives off. The instant you bring the mask to your face your nose is filled with a smell akin to a forest of trees. If you close your eyes it's like you're enveloped in nature. It gives you a feeling of peace and tranquillity. And the way it relaxes you is nothing short of incredible… It's truly a gift and souvenir from Ise, bound with the air and scent of the city.

My face felt so smooth the day. I think I'll definitely be using this again for special occasions.

The Ise Lululun is a fusion of the Ise spirit of "being thankful for and treasuring every day" and Lululun's own spirit of being in high spirits and sound health. At the end of the day it made me hold my head high and say "thank you" to today. I was also warmed by the message written on the packaging (which you can see above).

If you plan a trip to Ise be sure to check out this exclusive beautifying item and maybe pick one up as a souvenir.

Writer: Sayuri Mizuno (ASOBISYSTEM)

Translator: Joshua Kitosi-Isanga

Information

Ise Lululun

Price: 2 Packs of 7 – ¥1,000 (Before Tax) / 4 Packs of 7 – ¥1,700 (Before Tax)

Available: At souvenir shops in Mie Prefecture, Aichi Prefecture and select parts of the Kansai region

Official Website: https://lululun.com/oise/

Junpaku no Mori Night Museum: Japan's Wedding Facilities Turned Into Pure White Forests

Japanese wedding company NOVARESE Inc. is set to open 19 of its marriage ceremony facilities as museums for a limited time this year. The theme of this art event is "Pure White Forest" and will showcasing tree-inspired objet d'art, candles and more, and projection mapping will also be used.

This event will run from June 7, 2019 to February 20, 2020 and will roll out from different dates at each venue. Venues in Chiba, Atsugi, Kyoto, Ashiya, Gifu and Aomori will open on Friday June 7 and will be open until Saturday June 8. Entry is free and there are no age restrictions.

To create the Pure White Forest, the banquet table of each main venue will give way to 14 huge white trees decorated in glitter and hanging decorations. Tables and the floor will be lined with white lace reminiscent of leaves and flowers. The walls and ceilings will transport guests into a wonderful white world using projection mapping. Flower-shaped interior lights will also be dotted around  with white LED lights to brighten the room. Once the doors open, you are transported into the dazzling world of the Pure White Forest.

150 enchanting floating candles of various sizes will bob by the wedding aisle of the chapel.

There will also be a 1.94m x 1.3m tall white canvas where a living painting session will be carried out. Expect to take lots of photos too at the "Flower Walls" that adorn each venue as well as herbariums made from dried flowers and preserved in glass bottles.

If you're in Japan, have your camera in hand and head to one of the wedding venues to see the forest for yourself.

In Autumn 2019, the Snoopy Museum will relocate to Grandberry Park, Minami Machida. The museum, which once stood in Roppongi, will be twice the size and come with a new logo and upgraded image.

Head of Cozfish Shin Sobue created the logo and image design for the Roppongi Snoopy Museum and is now in charge of the design and logo for the new museum. In contrast to the Roppongi logo design, which was minimalistic to represent the museum's metropolitan surroundings, the new logo reflects the image of a park and fun picnic memories. There is particular emphasis on the letters SMT in this new logo design. There are plans to place the logo on the museum wall nearest to the park. A model of the new museum will make its debut appearance at the Snoopy Museum exhibition to be held in Osaka from 13th April.

The Snoopy Museum will have many similarities with the Schulz Museum in California. The Snoopy Museum will be home to many fascinating and precious original storyboards and materials, and will even have permanent exhibits as well as personal workshop rooms. You can also obtain original goods that you cannot find anywhere else. Visitors are also invited to stop by the cafe in the adjoining annexe. The museum's location is surrounded by greenery, and it is here that a wide range of activities will take place to entertain visitors. A brand new type of museum is soon to be born.

 The exhibition that took place five times in the Roppongi Snoopy Museum has been condensed down to be held in Nagoya and Osaka. Here, you can catch original drawings and sketches and purchase from the selection of 200 carefully chosen vintage goods. The most popular original goods are also making a comeback!

 If you're a Snoopy fan who missed the opportunity to catch the exhibitions held at Roppongi, there's now a chance to enjoy Snoopy at the new Snoopy Museum!

(C) Peanuts Worldwide LLC

Information

Snoopy Museum

Open from:Autumn to winter 2019

 

Snoopy Museum Exhibition

Location (Osaka) : Grand Front Osaka Kita Kan Knowledge Capital Event Lab

Open: Sat 13/04 ー Sun 16/06/2019

 

Location (Nagoya):Nagoya City Museum

Open: Sat 22/06 ー Sun 01/09/2019

 

Snoopy Museum official website:

 

Snoopy Japan official website:

Poop Art Drops Its Load at the Unko Museum in Yokohama

The new Unko Museum Yokohama is set to open on March 15, 2019 on the second floor of the new ASOBUILD entertainment facility in Yokohama which is opening on the same day.

This limited-time museum features a range of poop-themed exhibitions from giant sculptures to cute and sparkly area known as the Unstagenic Area, a combination of the Japanese word for "poop" (unko) and the words "Instagram" and "photogenic." There's also the Untelligence Area where you can learn about the history of faeces and the conditions of people's poop around the world. There's even the Unteractive Area where you can enjoy playing poop-related games.

The UK is home to its own National Poo Museum and South Korea has a toilet museum called Mr. Toilet House. Japan has hosted numerous events related to faeces to discuss diet and toilets too, but this is the country's first amusement-type facility focused on it and it welcomes people of all ages and nationalities to get involved.

Advance tickets are now live on the ALE-BOX official website and will also be sold via e+ on February 16. Additionally, all people who visit the museum during the period  March 15 to 17 will receive some original merchandise.


Further information will be posted via the museum's official Twitter page in the run up to its grand opening.

An original pop/house song written has also been written for the museum and can only be heard by attending. It was written by Kenmochi Hidefumi of Wednesday Campanella with Frasco on vocals.

Information

Unko Museum Yokohama
Address: ALE-BOX, ASOBUILD Floor 2F, 2-14-9 Takashima, Nishi Ward, Yokohama, Kanagawa Prefecture
Running: March 15, 2019 – July 15, 2019

No Fixed Holidays.

Opening Hours

[Monday-Thursday] 11:00-20:00 (Last Entry 19:30)

[Friday-Sunday & Holidays] 10:00-21:00 (Last Entry 20:30)

Attending: You must order an advance ticket but will be permitted entry without one if there are enough spaces on the day
Entry Times: Entry times are fixed on weekends, national holidays and days before holidays for the following slots: ①10:00-14:00 / ②14:00-17:00 / ③17:00-20:30
Price: Junior High School Student and Older – ¥1,600 / Elementary School Student – ¥900 / Toddler – Free料
Official Website: https://ale-box.com/unkomuseum/

Nogizaka46 Artwork Exhibition to Take Place at Sony Roppongi Museum

Having wrapped up the Snoopy Museum in September 2018, the Sony Music Roppongi Museum is set to open as a new and even more exiting museum next year. The first exhibition to welcome the re-opening will be the Nogizaka46 Artworks Daitai Zenbu Ten ('Exhibition of Almost All Nogizaka46 Artwork') which will run from January 11 to May 12.

Fans of the Japanese idol group Nogizaka46 can look forward to seeing CD covers on display as well as actual outfits worn during their music videos, unreleased artwork and much more. It will be an accumulation of almost all of their artwork since their debut in 2012.

Exclusive merchandise developed for the event will be sold, and there will even be a café called the Zaka CAFE with food made in collaboration with the members. Live concert footage will be screened using a crystal LED display that will make you feel like you're really there.

Special preview days of the event will be held from November 11 to 14 giving an early peek into the exhibition before it opens to the general public on January 15. Tickets to the early previews go on sale via on November 30 from noon (JST) via Lawson Tickets. General tickets will be available on December 15 from 10:00am (JST)

Further information on the menu items, merchandise and more will be posted on the venue's official website in the coming months.

Information

Nogizaka46 Artworks Daitai Zenbu Ten
Location: Sony Music Roppongi Museum (5-6-20 Roppongi, Minato, Tokyo)
Running: January 11, 2019 – May 12, 2019
Opening Hours: 10:00-20:00 (Last Entries 19:30) *No scheduled closures
Access: 7-minutes on foot from Roppongi Station via Tokyo Metro / 10-minutes on foot from Azazu-Juban Station

Tickets
Adults/University Students: Set Date ¥1,800/ Same Day ¥2,000
High School/Junior High School Students: Set Date ¥800 / Same Day ¥1,000

Elementary School Students: Set Date ¥400 / Same Day ¥600
*Set date tickets are bought in advance and mean you can only enter on a specific date. Sold via Lawson Tickets.

*Same day tickets are sold at the museum depending on the amount of set date tickets that have been sold on that day.
*Free for those aged 6 and under.

Official Website: https://smrm.jp/

TripAdvisor Announces Top 20 Best Museums & Best Art Museums in Japan for 2018

Restaurant and travel website TripAdvisor® has released its lists for the Top 20 Best Museums in Japan 2018 and Top 20 Best Art Museums in Japan 2018 as ranked by its users.

Taking the number one spot for art museums is Teshima Art Museum in Kagawa Prefecture and for museums the Nagasaki Atomic Bomb Museum in Nagasaki Prefecture.

The Teshima Art Museum is located on the island of Teshima in the Seto Inland Sea just a 30-minute ferry ride from Takamatsu. It's home to a single piece of artwork – a concrete shell structure devoid of pillars that's made in the image of a water droplet just as it's about to land. The structure takes in natural light, sounds and wind from the surrounding area, combining man-made artwork with nature.

The Nagasaki Atomic Bomb Museum is based in the city of Nagasaki and was built in remembrance of the Nagasaki atomic bombing which occurred on August 9, 1945. It houses permanent exhibitions as well as occasional temporary exhibitions all giving historical background to the atomic bombing and postwar nuclear weapons. The museum also has a library with books and picture books relating to peace, nuclear weapons and other relevant topics, as well as a museum shop.


There are twenty each of museums and art museums ranked on TripAdvisor's list, all must-visits celebrated for their individual and unique exhibits. The art museums are also not only revelled for what they have on show but for their architecture and gardens where one can enjoy nature through all four seasons; many users commented on how they lose track of time and find themselves healed from visiting. A number of facilities related to the disasters of the war ranked in the lists, including the Hiroshima Peace Memorial Museum.

Top 20 Best Art Museums in Japan 2018
1. Teshima Art Museum (Kagawa)
2. Fujishiro Seiji Museum (Tochigi)
3. Nezu Museum (Tokyo)
4. Otsuka Museum of Art (Tokushima)
5. Ghibli Museum Mitaka (Tokyo)
6. Adachi Museum of Art (Shimane)
7. Okada Museum of Art (Kanagawa)
8. Pola Museum of Art (Kanagawa)
9. Hiroshi Senju Museum Karuizawa (Nagano)
10. The National Museum of Modern Art (Tokyo)

Top 20 Best Museums in Japan 2018
1. Nagasaki Atomic Bomb Museum (Nagasaki)
2. Hiroshima Peace Memorial Museum (Hiroshima)
3. Tokyo National Museum (Tokyo)
4. Motorcar Museum of Japan (Ishikawa)
5. Kitakyushu Museum of Natural History & Human History (Fukuoka)
6. Fukui Prefectural Dinosaur Museum (Fukui)
7. The Museum Meiji-mura (Aichi)
8. Toyota Commemorative Museum of Industry and Technology (Aichi)
9. National Museum of Ethnology (Osaka)
10. Shimane Museum of Ancient Izumo (Shimane)

If you're looking to visit a museum while you're in Japan then be sure to check out TripAdvisor for reference.