Purification Footbath Introduced at Meotoiwa Museum in Ise, Mie Prefecture
In the town of Futami, located in Ise, Mie Prefecture is ISE Meotoiwa Meato Yokocho, one of the largest shopping facilities for souvenirs across the Shima Peninsula. Inside is the Meotoiwa Museum where they offer activities for tourists. They have just introduced the Misogi no Ashiyu, or 'Purification Footbath,' which uses seawater from Meotoiwa, Futami.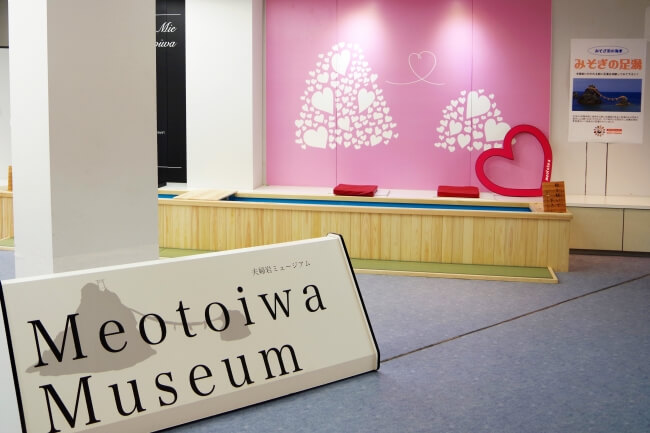 Futami is a place where purification ceremonies took place at Misogi Hama, the purification beach of Futaminoura where the Meoto Iwa, or 'Married Couple Rocks' are located. This happened before one went to pray before the Ise Grand Shrine at a steam bath during the Edo Period, which is now next to Okitama Shrine. Additionally, in 1882, it received recognition as Japan's first swimming area in the ocean, and bustled with members of the imperial family who used it as a health resort, including Emperor Taisho. The ocean water used in the purification footbath is normally taken from the seawater well located inside the facility. It is poured into the footbath bucket after being heated at the source of the free-flowing water.
There's plenty of other fun content to enjoy too, including a new purification-style fish tank, a spot to take photos themed on the Married Couple Rocks, and more!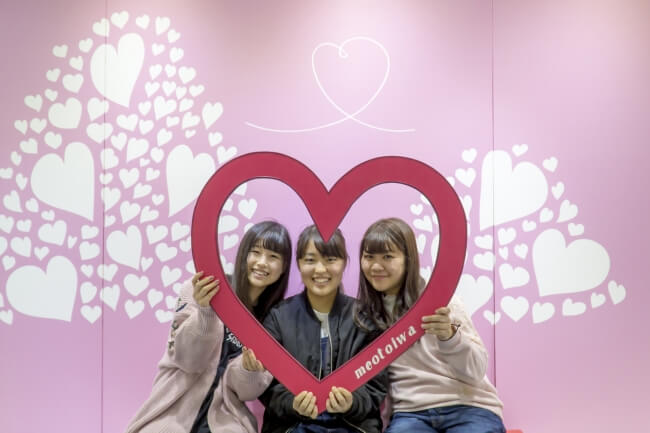 Why not enjoy a footbath to cleanse yourself before going to see the Married Couple Rocks?
■Information
ISE Meotoiwa Meato Yokocho
Address: 580 Futamichoe, Ise-shi, Mie Prefecture
Opening Hours: 09:00-17:00 (Times may vary depending on the season)
TEL: 0596-43-4111
Website: https://ise-seaparadise.com/
ISE Sea Paradise
Address: Same as above
Opening Hours: 09:00-17:00
TEL: 0596-42-1760
Website: https://ise-seaparadise.com/
RELATED ENTRIES
Beloved Japanese Artist Yayoi Kusama's Works on Display at Islamic Arts Museum as Part of Qatar Creates

Qatar Museums recently announced Qatar Creates, a year-round cultural project overseeing, promoting, and encouraging diverse cultural activities throughout Qatar. Currently, over 40 pieces of art by prominent local and international artists are on display in Doha and throughout the country.

A large-scale outdoor exhibit titled My Soul Blooms Forever, designed by iconic Japanese artist Yayoi Kusama, has just been installed on the grounds of the Museum of Islamic Art (MIA). The exhibition includes a large-scale work on display for the first time in Qatar, expressing the artist's well-known reverence for the natural world through a spectacular installation of colorful, fantastical plants and a three-dimensional sculpture of a pumpkin with Kusama's iconic polka-dot pattern. My Soul Blooms Forever will be on display at MIA Park until March 1, 2023 to commemorate the 10th anniversary of Qatar's Years of Culture program, as well as to commemorate the 2012 Qatar-Japan Year of Culture.

Photo by Iwan Baan. Artwork © YAYOI KUSAMA. Courtesy David Zwirner, Ota Fine Arts, and Victoria Miro.

Information

My Soul Blooms Forever – Yayoi Kusama Exhibition

On Display until March 1, 2023

Venue: MIA Park (Islamic Arts Museum)

Official Site: https://mia.org.qa/en/

Ad Museum Tokyo and Felissimo Collab on Nail Stickers Inspired by Edo Period Trends and Showa Style

Felissimo's Museum Department has teamed up with Ad Museum Tokyo to release a collection of nail stickers inspired by famous works of art from the Edo Period. They also released an incense collection inspired by classic matchbooks on November 21, 2022. Nishiki-e is a type of Japanese multi-colored woodblock printing, and those interested in traditional art will love showing off their new style with these easy-to-apply stickers. 

Edo Trend Nishiki-e Gel Style Nail Stickers

One Hundred Beauties from Famous Places of Edo – Ninghocho

Sixteen Female Sennin

Keisei Oyodo – Ichikawa Masunojou

Showa Modern Incense with Matchbox Labels

These incense sets were inspired by classic matchboxes, each featuring ads from the time. Each stick burns for about 10 minutes, making them perfect for use in your spare time. After using the incense, these are perfect for using as boxes for jewelry or other small items!

The Sumida Hokusai Museum Opens Hyakunin Isshu Exhibition Featuring 105 Unique Works

The Sumida Hokusai Museum in Sumida-ku, Tokyo, will be holding the 'Hokusai at Play with the 100 Poems' exhibition from December 15, 2022 until February 26, 2023. The exhibition will focus on the Hyakunin Isshu, a famous collection of 100 poems integral to Japanese traditional culture.

Hyakunin Isshu Uba ga Etoki – Sojo Henjo / Katsushika Hokusai, The Sumida Hokusai Museum.

Hyakunin Isshu Uba ga Etoki – Ariwara no Narihira / Katsushika Hokusai, The Sumida Hokusai Museum. (Phase 2)

The Five Great Poets, Tsuki – Katsushika Hokusai, The Sumida Hokusai Museum. (Permanently on Display)

By the middle of the Edo period, the Hyakunin Isshu, or 100 classical poems, had become an established part of Japanese culture. Hokusai, an ukiyo-e artist of the period, painted a total of 27 of these famous poems, incorporating his own ideas and views to create unique pieces still beloved so many years later. This exhibition features 24 paintings from the museum's Hyakunin Isshu collection along with dozens more items pertaining to this legendary collection of writings. Don't miss it!

Information

Hokusai at Play with the 100 Poems

Running: December 15, 2022 – February 26, 2023

*Certain exhibits will be changed between the first and second phases. 

Phase 1: December 15, 2022 – January 22, 2023

Phase 2: January 24 – February 26, 2023

Hours: 9:30-17:30 (Last entry at 17:00)

Official Site: https://hokusai-museum.jp

Sailor Moon Museum Releases New Christmas Menu

The Sailor Moon franchise's 30th-anniversary museum is open from July 1 to December 30 at Tokyo's Roppongi Museum. The series became a global phenomenon in the 1990s and remains incredibly popular with audiences around the world to this day. The museum itself is located near Azabu-Juban, where Sailor Moon took place.


 
Volume 3 of the museum, the final installment, will take place from November 12 until the museum closes on December 30. During this period, fans can see over 100 pieces of rare Sailor Moon goods from its run in Nakayoshi magazine.

 

All of the original color drawings currently on display will be replaced, with over 60 new pieces being added including previously unreleased works. Fans will also get a glimpse of the original drawing that appeared on the cover of Nakayoshi when the final chapter of Sailor Moon was published!

Christmas Menu

Sailor Moon Museum Christmas Pancake

Sailor Moon Museum Cheese Melt Muffin

Latte Art featuring Famous Quotes

THE ALLEY Collaboration Drinks

Christmas Tapioca Banana Pumpkin

Princess Serenity Cream Cheese Yogurt

New Christmas menu items will also be available during Vol.3. Guests can enjoy the cafe's original Christmas tree-inspired pancakes and collaboration drinks with THE ALLEY. The main menu has also been overhauled and now includes plenty of dishes perfect for the cold winter months. The drink menu will also feature original coasters and straw tags only available at the museum.




Will you be visiting the museum during its last few weeks?

(c) Naoko Takeuchi

Information

Sailor Moon Museum

Running: July 1 – December 30, 2022

Vol. 3: November 12 – December 30, 2022

Hours: 

Weekdays: 10:00-18:00 (Last entry at 17:30)
Weekends/Holidays: 10:00-20:00 (Last entry at 19:30)
*Open from 10:00-20:00 from December 26 – December 30
Venue: Roppongi Museum (5-6-20 Roppongi, Minato-ku, Tokyo)
Official Site: www.sailormoon-museum.com


60th Anniversary Sanrio Exhibition: The Beginning of Kawaii to Open at Hokkaido Museum of Modern Art in February 2023

The word 'kawaii' is now commonly used around the world. Sanrio is largely to thank for this, and the beloved company has announced that the 60th Anniversary Sanrio Exhibition will open at the Hokkaido Museum of Modern Art from February 11 until April 2, 2023. Advance tickets will include a discount and will be available until November 14 online. 

"Sanrio celebrated its 60th anniversary in 2020, and the company continues to share Japan's character culture with fans around the world," Sanrio said in a comment. "Kawaii is now a universal language, and this is very much thanks to the over 450 characters that are part of Sanrio's history, from Hello Kitty to My Melody. 

This exhibition traces the history of Sanrio and guests can enjoy seeing rare materials including merchandise, publications, and early designs from the company's founding. We want to continue to grow and develop our characters while valuing communication with our fans, ensuring that our adorable characters are loved by generations to come."

The Sanrio exhibition is something that generations of fans can enjoy, so come immerse yourself in this kawaii world! For more details, visit the official website. 

Information

60th Anniversary Sanrio Exhibition: The Beginning of Kawaii

Running: February 11 – April 2, 2023

Hours: 9:30 – 17:00 (Last entry at 16:30)

Venue: Hokkaido Museum of Modern Art (17-chome Kita 1 Jonishi, Chuo-ku, Sapporo, Hokkaido)

Official Site: https://stv.jp/event/sanrio

Terrifying Halloween Night Yokai Tour to be Held at Kokuminshukusha Shodoshima in Kagawa Prefecture

In conjunction with the autumn segment of Setouchi Triennale 2022, the Yokai Halloween 2022 event will be held for the first time at the Yokai Art Museum in Shodoshima in Kagawa. During the event, guests can take part in the Halloween Night Yokai Tour on Saturdays, which will invite them to transform into terrifying ghouls! Each guest will receive a yokai mask and will be tasked to test their courage in this unique Halloween event. Those visiting the museum in costume will receive a discount, and visitors can also enjoy some spooky treats at the Yokai Bar. This is one museum horror fans won't want to miss!

Visit the Yokai Art Museum at Night 

Unlike daytime, the Yokai Art Museum is filled with a mysterious energy at night. With a flashlight in hand, staff members will lead guests on a tour through the museum, which exhibits more than 800 yokai sculptures. Visitors can wear yokai masks and costumes, and unlike a haunted house, you won't need to worry about yokai jumping out at you. However, the staff may ask you to keep an eye out for anything mysterious. Guests are permitted to take as many photos as they like inside the museum, so be sure to share your experience on social media!

Too Realistic! Enjoy Finger Cookies at the Yokai Bar

At the Yokai Bar attached to the museum, guests can find these terrifying finger cookies! These were made in collaboration with FUJI, a popular snack shop in Shidoshima. While tasty, they might be a little too realistic for some people. These will be available in two flavors: spicy and sweet. 

Rent a Halloween Lantern for Free

A Night Walk through the Shidoshima Maze will invite visitors to carry a Halloween-themed lantern through the town. This event is being held to promote tourism in the town at night, and lanterns will be free to rent! These will be available in different colors from the first floor of the nearby Shodoshima International Hotel. Shodoshima, known as the City of Mazes, has over 60 streets with three-way intersections and many mysterious alleys. Walking through the town at night will be an experience you'll never forget, especially during the spookiest time of the year!

Information

Halloween Night Yokai Tour

Dates: October 1, 8, 15, 22, 29 / November 5

Time: 20:00 at the Yokai Art Museum (Please reserve your spot by 20:00.) 

Venue: Yokai Art Museum (298 Kou, Tonosho, Shozu District, Kagawa)

Price: Adults ¥3400 / Middle/High School Students ¥1,950 / Elementary Students and Under are free (Must be accompanied by a parent or guardian.)
*Fee includes admission, yokai masks, and the tour. 

Details/Reserve Tickets: https://www.asoview.com/channel/tickets/eZLNyX5SzG/

*The tour will feature parts of buildings 1-4 and will be led by staff members. Fee includes admission to the museum. Guests can enjoy the museum both before and after the tour, and may re-enter the museum only on the same day. 

Suntory Museum of Art to Display Art from Chishakuin Temple in Kyoto for the First Time

From November 30, 2022 until January 22, 2023, the Suntory Museum of Art in Tokyo will hold the 'Treasures from the Chishakuin Temple in Kyoto' exhibition.

National Treasure. Maple Tree. Hasegawa Tohaku. (Four of Six Sides) Momoyama Period / 16th Century.

Chishakuin Temple. [On display during the entire exhibition.]





Chishakuin Temple is located in Higashiyama, Kyoto, and is the headquarters of the Chisan School of the Shingon Sect of Buddhism. This originated with Kobo Daishi (774-835), and the sect now has 3,000 temples around Japan. Founded during the Muromachi period (1095-1143) the temple was originally built in Wakayama Prefecture in memory of Toyotomi Hideyoshi's son Sutemaru, but the builds were brought to Kyoto in 1598 on the orders of Tokugawa Ieyasu.

Kobo Daishi Scroll

Muromachi Period, First Year of Bun'an Era (1444)

[On Display from November 30 until December 26, 2022]

Kyoto Prefecture Designated Tangible Cultural Property –  Kogyo Daishi Scroll

Kamakura Period / 13th Century

[On Display from November 30 until December 26, 2022]

National Treasure. Cherry Blossoms. Hasegawa Tohaku. (Four of Five Sides) Momoyama Period / 16th Century.

[On display during the entire exhibition.]


The temple is best known today for its panel paintings and gardens, the latter of which was inspired by tea master Sen-no-Rikyu. Half of the original paintings remain, with some having been lost to fire and some simply being degraded over time. 

National Treasure. Diamond Sutra (Partial) – Zhang Jizhi

Southern Song Dynasty, First Year of Houyuu (1253)

[On display during the entire exhibition]

Important Cultural Property. Mahamayuri Scroll.

Kamakura Period / 14th Century

[On Display from December 28, 2022 until January 22, 2023]

Important Cultural Property. Green Maple and Waterfall. Song Dynasty / 13th Century

[On Display from November 30 until December 26, 2022]

Ladies at Tea. Insho Domoto. 4 sides. Showa 33 (1958)

[On display during the entire exhibition]

This exhibition will mark the first time that many of the paintings are shown simultaneously outside of the temple, including Cherry Blossoms, Maple Tree, and Pine Tree with Autumn Plants. Visitors can also enjoy National Treasures and items from the temple's treasure trove of Buddhist Art. Would you like to come and browse these incredible pieces?

Information

Treasures from the Chishakuin Temple in Kyoto

Running: November 30, 2022 – January 22, 2023
*To preserve the works, items will be switched out during the exhibition period.
*Dates are subject to change. Please check the museum's website for the latest information.

Venue: Suntory Museum of Art, Tokyo Midtown, Galleria 3F
(9-7-4 Akasaka, Minato-ku, Tokyo)
Official Site: suntory.jp/SMA/

Sailor Moon Museum Reveals Second Round of Exclusive Merch, New Cafe Menu

The Sailor Moon franchise's 30th-anniversary museum is open from July 1 to December 30 at Tokyo's Roppongi Museum. The series became a global phenomenon in the 1990s and remains incredibly popular with audiences around the world to this day. The museum itself is located near Azabu-Juban, where Sailor Moon took place. 

 

The museum is divided into three volumes, with the second starting on September 10. During this phase, the many original color drawings currently on display will be replaced by 60 color drawings mainly from the third and fourth parts of the original work. All 10 main characters will be on display, including Sailor Uranus, Sailor Neptune, Sailor Pluto, and Sailor Saturn.

New Merch at a Glance



Hand Cream


Clear Shoulder Bag

Fluffy Socks (Super Sailor Moon)

MA01 (NV) ※Available to Order

StyleDoll Princess Serenity

Postcard Set (B)


Clear Folder (Set of 2, B)


Sailor Moon & Tuxedo Mask Plushie Set


Bento Box with Cutlery


Sailor Moon Case

Cafe Menu at a Glance



Outer Senshi Plate


Sailor Soldier Duo Soda Float



With the start of Vol. 2, new goods and a new cafe menu will be available. More than 70 goods will be available, including a wide variety of items using original drawings of the 10 Sailor Soldiers. A cafe menu featuring the four Outer Senshi will also be revealed, so why not come show your love of this classic series?

© Naoko Takeuchi

Information

Sailor Moon Museum
Running: July 1 – December 30, 2022

Vol. 1 – July 1 – September 4, 2022

Vol. 2 – September 10 – November 6, 2022

Vol. 3 – November 12 – December 30, 2022

Closed: September 5-9, November 7-11

Hours: 10:00-18:00 (Last Entry at 17:30)

Weekends & Holidays after Vol.2: 10:00-20:00 (Last Entry at 19:30)
Venue: Roppongi Museum (5-6-20 Roppongi, Minato-ku, Tokyo)

Tickets

Tickets will include a date and time to help reduce congestion.
Same-day tickets will also be available on e+ and at the counter at the venue.

For more information, check out the official website.
e+ Ticket Page: https://eplus.jp/sf/word/0000153589

Ticket Details / Official Site: www.sailormoon-museum.com 

Sailor Moon Museum Details Second Round of Exclusive Merchandise

The Sailor Moon franchise's 30th-anniversary museum will run from July 1 to December 30 at Tokyo's Roppongi Museum. The series became a global phenomenon in the 1990s and remains massively popular to this day.

 
The exhibition will feature the largest-ever exhibition of original illustrations by Sailor Moon's creator Naoko Takeuchi, at over 600 pieces. The museum will have three phases, each swapping out different pieces, so fans can have a different experience depending on when they visit!

The event will include an 'immersive experience theater,' which will display colored images on a massive 4.5 x 8-meter screen with special effects. Fans can also enjoy a 'hologram manuscript exhibit,' which will display the Sailor Scouts' famous dialogue. Plenty of merchandise will also be available for purchase, with the second round of available goods just announced!

Original Merchandise (Second Lineup)

Clear Folder ('90s Anime Logo)

Clear Folder (Random, 5 varieties)

Masking Tape Holder

Masking Tape (Luna, Artemis & Diana)

Hat ('90s Anime Logo)

Cloth Shirt ('90s Anime Logo)

Aurora Sticker (Random, 10 varieties)

Reversible Cushion (Luna & Artemis)

Pochette (Luna)

Face Powder Collection (5 varieties)

The second round of original merchandise features many items utilizing the '90s anime logo, including a shirt, hat, and clear folders. A themed masking tape holder was made to resemble Sailor Moon's Moon Stick, and the tape itself features the cats Luna, Artemis, and Diana.

 

The interior of the special store created for the exhibition was designed by Wataru LINDA Igarashi, an art director known for his cute pieces based on the concept of 'window shopping.' 

Come experience some serious nostalgia at the Sailor Moon museum later this year!

© Naoko Takeuchi

Information

Sailor Moon Museum

Running: July 1 – December 30, 2022

Vol.1: July 1 – September 4

Vol. 2: September 10 – November 6

Vol. 3: November 12 – December 30

Closed: September 5-9, November 7-11

Hours: 10:00-18:00 (Last entry at 17:30)

Venue: Roppongi Museum (5-6-20 Roppongi, Minato-ku, Tokyo)

Official Site: sailormoon-museum.com

Sailor Moon Museum Details Exclusive On-Site Merchandise

The Sailor Moon franchise's 30th-anniversary museum will run from July 1 to December 30 in Tokyo's Roppongi Museum. The series became a global phenomenon in the 1990s and remains popular to this day.



The exhibition will feature the largest-ever exhibition of original illustrations by Sailor Moon's creator Naoko Takeuchi, at over 600 pieces. Rare original color drawings and some never-before-scene creations will be on display, and fans won't want to miss this incredible chance. The museum will have three phases, each swapping out different pieces. Fans can have a different experience depending on when they visit!

Postcard Set (A): ¥880 (Tax Included)

Clear Folder A (Set of 2): ¥770 (Tax Included)

Nakayoshi Extras Reprint – Premium Card Collection Graffiti Ver. 1 / Ver. 2: ¥1,650 

 

A special store at the exhibition will sell original goods featuring original artwork by the original series creator Naoko Takeuchi. Postcards and clear folders feature colorful designs of famous scenes from the series, and longtime fans will appreciate a reproduced collection of trading cards that appeared in Nakayoshi Magazine.

 

New original goods will be available during each period of the museum. In late June, the interior of the exhibition and the second batch of original merchandise will be revealed!

© Naoko Takeuchi

Information

Sailor Moon Museum

Running: July 1 – December 30, 2022

Vol.1: July 1 – September 4

Vol. 2: September 10 – November 6

Vol. 3: November 12 – December 30

Closed: September 5-9, November 7-11

Hours: 10:00-18:00 (Last entry at 17:30)

Venue: Roppongi Museum (5-6-20 Roppongi, Minato-ku, Tokyo)

Official Site: sailormoon-museum.com

UNIQLO Releases UT Collection Inspired by the Great Museums of the World

UNIQLO's graphic T-shirt brand UT has launched an artful new collection! The Museums of the World collection of men's shirts features beloved museums like the Tate Modern, the Louvre, the Museum of Fine Arts Boston, and more. This valuable collection was made possible by UNIQLO's continued art initiative, as the company has continued to work with museums around the world to share the wonders of art with as many people as possible.

A Collection Allowing Customers to Enjoy the World's Best Museums as Part of Their Daily Lives

This collection brings together some of the world's most beloved museums, with designs inspired by the exteriors of these well-known homes of art. The Louvre design fully captures the iconic pyramid, while the contemporary MoMA is expressed with simple lines. The name of each museum is also printed on one sleeve for extra style.

UNIQLO's Art Initiative


UNIQLO has partnered with some of the world's leading museums over the years. Through free admission programs, sales of collaborative products and various events, these museums aim to provide opportunities for more people to experience and deepen their understanding of art.

May 2013 – Present / The Museum of Modern Art (New York, USA) 

March 2016 – Present / Tate Modern (London, England) 

September 2017 – Present / Museum of Fine Arts (Boston, USA) 

March 2018 – Present / Barcelona Museum of Contemporary Art (Barcelona, Spain)

February 2021 – Present / Louvre Museum (Paris, France)

Don't miss this unique collection! Which museum would you like represented in your wardrobe?

Ueno's National Museum of Western Art Celebrates Reopening with Live Commentary for 'In Dialogue with Nature' Exhibit

The National Museum of Western Art, located in Ueno Park, reopened in April 2022 after being closed for renovations for 18 months. The first special exhibition post-reopening will feature Van Gogh's works in Japan for the first time, along with paintings depicting modern nature from both the National Museum of Western Art and the Museum Folkwang in Essen, Germany.

To commemorate the post-renovation reopening of the National Museum of Western Art in Tokyo, this exhibition traces the development of modern art born out of the dialogue between nature and humankind.

The event was realized in collaboration with the Museum Folkwang, and both institutions were founded on private collections: that of Karl Ernst Osthaus (1874–1921) in Germany and Matsukata Kojiro (1866–1950) in Japan.

The exhibition will feature over 100 paintings, drawings, prints, and photographs from both museums, spanning from German Romanticism to the art of the twentieth century, ranging from Impressionism to Post-Impressionism. 


Guests can enjoy all aspects of the infinite expanse of nature as shown in both collections, from the smallest roadside flowers to the vast universe and all humanity contained within. Would you like to come and experience this unique exhibition?


Information

The National Museum of Western Art Reopening Event
In Dialogue with Nature: From Friedrich, Monet and Van Gogh to Richter

Running: June 4 – September 11, 2022

Closed Mondays, July 19 (*Open July 18 and August 15)

Venue: The National Museum of Western Art (Ueno Park, Tokyo)

Hours: 9:30-17:30 (Open until 20:00 on Fridays, Saturdays)

Niconico Museum Homepage: https://ch.nicovideo.jp/niconicomuseum