Shibuya's first full-fledged souvenir shop, "Shibutanien" was opened
Shibuya's first full-fledged souvenir shop "Shibutanien" was opened on the 1F of the new commercial facility, "MAGNET bySHIBUYA109" which was rebuilt and opened on the 28th of April 2018 (Sat.).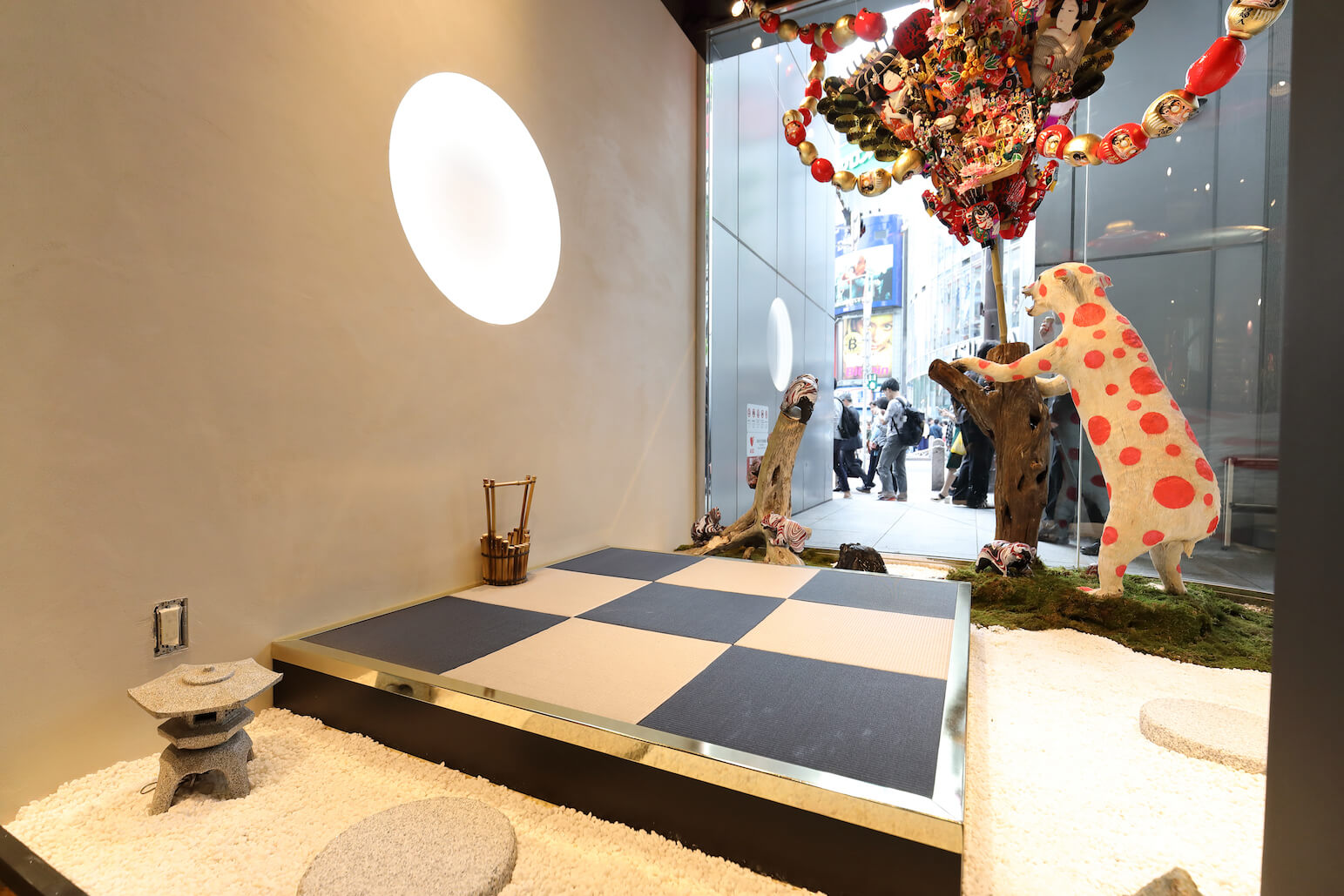 This unique shop which has a blue shrine gate, a vivid-colored garden and a tearoom area is the sister shop of "the shop that sells drinkable rice balls" named "Onigiri Bar Shibutanien" which was opened on the 28th of April on the 7F of the same building. The shop was produced by the party-rocker, Akkun who is the sightseeing ambassador of Shibuya.
The world's first blue shrine gate installed at the entrance of the shop is made of Japanese cedar brought in from Tokushima Prefecture and colored blue using the indigo dying method. Modern"garden/tearoom areas" using traditional Japanese crafts such as works using a stuffed bear and large bamboo rake using the motif of Takasaki Daruma (traditional Japanese round doll)have been set up. The areas are going to be used as a photo spot, workshop spot, event space and live space for street musicians.
The products they are going to sell include lacquered tumblers and clutch bags made of Nishijinori (traditional Japanese fabric). They are also selling many kinds of interesting souvenirs for tourists from both inside Japan and abroad such as snacks, chopsticks, Japanese towels and original decals.
Why not visit this shop the next time you are in Shibuya!
■Information
Shibutanien
Address, 1-23-10, Jinnan, Shibuyaku, Tokyo, MAGNET bySHIBUYA109 1F
Business hours: 10:00 to 21:00
No fixed holidays (the shop will be closed when the facility is closed)
RELATED ENTRIES
Experience Okinawa From Tokyo Station to Shin-Osaka Station at Tokai Kiosk's Fair

Tokai Kiosk Company has announced a Kyushu and Okinawa themed fair which will run at all branches of Tokai Kiosk from Tokyo Station to Shin-Osaka Station starting on March 2. Customers will be able to enjoy a range of local foods and products from Kyushu and Okinawa.

Kyushu Okinawa Fair Poster

A Look at Some of the Available Products

Salted Shiroi Tabekko Doubutsu

Sugar Butter Sand Tree – Amaou Strawberry Butter

Okinawa Bireley's Ishigaki Island Pineapple

Sausage & Egg Yuzu Kosho Sandwich

This is just a peek of what will be available to try from Kyushu and Okinawa this spring. If you're travelling in Japan this March, then don't miss out.

Information

Kyushu Okinawa Fair

Japanese Event Title: 旅行気分で「うまい!」を楽しもう!九州・沖縄フェア

Running: March 2, 2021 – March 22, 2021

Where: Bellmart Kiosks, Grand Kiosks, Gift Kiosks, and Kiosks from Tokyo Station to Shin-Osaka Station

Official Website: https://www.kiosk.co.jp

Aromatic Kamakura Raw Chocolate Brand to Open New Branch in Nagoya

MAISON CACAO, the company behind the aromatic raw chocolate brand of the same name, will open a store on floor B1F of JR Nagoya Takashimaya on March 3, 2021. It will be the brand's first permanent shop in Japan's Tokai region.

The company held a special Valentine's event from late January to Valentine's Day where MAISON CACAO made the second most sales. They also enjoyed other sold out products, and showcased some exclusive indulgences like the gold leaf-adorned "Aroma Raw Chocolate ARMOUR" and "Aroma Raw Chocolate STRAWBERRY" as well as the all-new "Cacao Butterland."

The Nagoya Line-Up

Aroma Raw Chocolate AMOUR | ¥6,000 (Before Tax)

Exclusive to this new Nagoya branch of MAISON CACAO, these "AMOUR" chocolates are all handmade using techniques that have been passed down through the company. The dark chocolates are wrapped in luxurious gold leaf and have a fruity, sweet, and bitter combination. One box contains a generous serving of 16.

Cacao Butterland | ¥2,000 (Before Tax)

MAISON CACAO uses cacao beans from Columbia to bake its menu. These gooey treats are made with cacao butter and chocolate caramel with a double layering of dark and white chocolate. A rich and filling serving of six comes in a box.

 

Aroma Raw Chocolate STRAWBERRY | ¥2,200 (Before Tax)

Also a Nagoya-exclusive, these strawberry variants are made with intensely sweet JApanese amaou strawberries white combine with the fragrance cacao butter and white chocolate for a refreshing taste. You get 16 in a single box.

But Wait, There's More…

Raw Chocolate Butter Cake | ¥3,500

A cake made with velvety chocolate butter cream packed with roasted nuts, raisins, and caramel chips.

Rich Raw Chocolate Tart STRAWBERRY | ¥2,000

Yet another exclusive to Nagoya, these crunchy tarts are lathered in amaou strawberry chocolate and filled with runny and fruity amaou strawberry cream. A box comes with three included.

Other Popular Goodies Available While Supplies Last

Aroma Raw Chocolate MAISON (Grape) | ¥2,400 (Before Tax)

Babka | ¥2100

Raw Gateau Chocolate | ¥2500 (Before Tax) 

Information

MAISON CACAO

Grand Opening: March 3, 2021

Location: JR Nagoya Takashimaya Floor B1F

Address: 1-1-4 Meieki, Nakamura-ku, Nagoya-shi, Aichi

Opening Hours: 10:00-20:00

MAISON CACAO Official Website: https://maisoncacao.com/

Disney Japan Celebrates Minnie's Day With Exclusive Minnie Mouse Merchandise

Minnie's Day is set to fall in Japan on March 2, so to celebrate, Walt Disney Japan is getting in on the festivities nice and early by announcing the release of a new Minnie Mouse merchandise collection, called the "Disney ARTIST COLLECTION by Kelly Park," which will be officially released at Disney stores in Japan on February 23. Pre-sales will also roll out at select stores and Disney Japan's online store shopDisney from February 19.

©Disney

©Disney

Plushie ¥3,300 / Makeup Brush Set ¥2,640 / Tote Bag ¥2,090 / Room Fragrance ¥4,180 / iPhone Case (iPhone 11) ¥3,520 / Mirror ¥2,420 / Ballpoint Pen & Notebook Set ¥1,980 – (Prices Include Tax)

©Disney

nuiMOs Plushie ¥2,750 (Tax Included)


Kelly Park is an artist that is enjoying immense popularity in South Korea right now. Their new "Disney ARTIST COLLECTION by Kelly Park" is an exclusive release in collaboration with Disney Store.

The line-up is a celebration of all things Minnie Mouse for her big day, aptly named "Minnie's Day," on March 2. Vibrant blue is the main colour for the collection which Kelly Park has created to support fellow dreamers out there – those who have big hopes and aspirations in their everyday lives. The designs are bright, beautiful, and full of positivity, making them a perfect pick for the coming spring season. Minnie fans can feel fresh this spring season with fahsion items, accessories, stationery, a variety of lifestyle goods, and more.

Disney's popular nuiMOs plushie range will welcome an exclusive new Minnie Mouse plushie on February 26 which features the date "March 2, 2021" on it for Minnie's Day. It also comes with a pin. These plushies are limited-edition and only 320 will be sold – a number that of course aligns with March 2.

Celebrate the day of the original Disney Princess with the new Disney ARTIST COLLECTION by Kelly Park.

Shibuya PARCO Reveals Fashion Campaign Key Visual For Spring 2021

Shibuya PARCO has unveiled its key visual for its Spring 2021 fashion campaign "SHIBUYA PARCO S/S NEW LOOK" which features Japanese model Lala Takahashi.

SHIBUYA PARCO S/S NEW LOOK Key Visual

In the visual, Lala Takahashi is donning the 'Pablo' series by UNDERCOVER which is inspired by Picasso's 'Blue Period.' It's been transferred onto a print of an abstract oil painting by Jun Takahashi. The photo was taken by visual artist Takako Noel, while the conceptual headpiece, which is made from recycled plastic, was created by hair stylist Haruka Tazaki.

The campaign brings with it a wave of new fashion and cosmetic items from stores inside Shibuya PARCO. A special coupon that can be used on the PARCO online store from February 9 to 28 is also available. It comes in response to stay-at-home measures raised in Japan due to the pandemic.

Cute Milk Bottle Pudding Releases at Milk Bakers in Tokyo

Tokyo-based bakery Milk has released an adorable new milk pudding at two of its branches, both of which are served in cute milk bottles.

Smooth Pudding / Milk Pudding – ¥380 Each (Tax Included)

Box of 4

Box of 8

Pudding Soft

Carefully-selected and fresh milk of high quality is used to make these Japanese-style puddings, known as purin. Each and every one is handmade individually, and they can be bought separately or in boxes of 4 and 8. No preservatives, additives, of any nasty stuff is added to the dessert either.

Also on the menu is a milk-loaded soft serve ice cream. The cup it's served in has a cute retro design to it.

Information

Milk Pudding
Available: Milk Sano / Milk Shibuya
Address: 2-7-1 Sano, Adachi-ku, Tokyo
TEL: 03-5613-5550
Opening Hours: 10:00-18:00
Closed: Wednesdays
Official Website: https://tokyo-milk.jp/

Yokohama Welcomes Products and Souvenirs From Ise at the New ISE SHOP

Tama Plaza Terrace, a shopping centre in Yokohama, opened a limited-time pop-up shop on Tuesday (February 9) called ISE SHOP which is selling goods and products from Japan's city of Ise.

The shop opened in response to the reduction of sales of foodstuff, traditional handicrafts, and more in Ise due to the pandemic. Ise is known for its bounty of diverse products, and so this is a way to continue supporting it. Free tourist pamphlets are also being handed out detailing information about the city's wonders.

Some of the must-grab items

The store is a showcase of Ise's history, traditional, and food culture. Shoppers will find staple souvenir items like Ise udon, sea lettuce, hijiki seaweed, pearls, and more. Other touches of Ise include a popular hand cream made with water drawn from the Isuzu River, a fragrance mist also made from the same water, all-new cosmetic items, cookies inspired by the oshiraishi stones spread over the most holy part of Ise Grand Shrine—the list goes on. 58 Ise-based businesses are stocking around 100 products inside the store, so it's a must-visit for anyone interested in the ancient city.

Information

ISE SHOP
Running: February 9, 2021 – March 28, 2021
Opening Hours: 10:00-21:00
*Opening hours subject to change depending on the pandemic

Location: Tama Plaza Terrace – Gate Plaza Floor 2F
Official Website: www.tamaplaza-terrace.com

Blue Bottle Coffee to Open Pop-Up Stores at Shibuya Scramble Square in Tokyo

Blue Bottle Coffee Japan has announced that it will open a pop-up store on the second floor of Shibuya Scramble Square in Tokyo from February 10 to March 15.

Cacao Candy & Instant Coffee Set | ¥2,800 (Before Tax)

Coffee Set | ¥3,200 (Before Tax)

Sweet Bean Jelly & Instant Coffee Set | ¥3,000 (Before Tax)

The pop-up shop will sell a variety of Blue Bottle Coffee products like fresh coffee beans, mugs, Valentine's Day gifts, item sets, and more.

Information

Blue Bottle Coffee Pop-Up Store
Running: February 10, 2021 – March 15, 2021
Location: Shibuya Scramble Square Floor 2F

Address: 2-24-12 Shibuya, Shibuya-ku, Tokyo
Opening Houes: 11:00-20:00
Official Website: https://store.bluebottlecoffee.jp/

hotel koe tokyo Celebrates 3rd Anniversary With Luxurious Financier Strawberry Open Sandwich

hotel koe tokyo is celebrating its third anniversary by serving up a special financier strawberry open sandwich at the koe lobby on the first floor.

Financier Strawberry Open Sandwich | ¥1,045

The sandwich is made using a financier bread baked by the hotel koe bakery. This fluffy and airy treat has crunchy sides and sits on top of a bed of fresh cream bathed in crème anglaise. It's finished with a loaded topping of fresh strawberries which add a sweet and tangy flavour to the sandwich.

If you're staying in Tokyo this month, don't miss out on this limited-time treat which is being served from February 8 to 28.

Information

hotel koe tokyo Financier Strawberry Open Sandwich
Where: koe lobby @ hotel koe tokyo
Serving Dates: February 8, 2021 – February 28, 2021

Serving Times: 15:00-18:00提供期間:2021年2月8日(月)~2月28日(日)
Opening Hours:

[Morning] 7:30-11:00 (Last Orders 10:30)

[Lunch] 11:00-15:00 (Last Orders 14:30)

[Tea Time & Dinner] 15:00-20:00 Last Orders 19:30)

Official Website: https://hotelkoe.com/food/

This Colourful Striped Pasta Looks Just Like Sweet Candy

Padonni is a Japanese pasta brand that sells multicoloured pasta that look like little candies. The brand tied up with Village Vanguard to make their stock available on their website on Wednesday (January 20).

Striped Paper Hat Pasta | ¥702 (Tax Included)

Shooting Star Pasta | ¥540 (Tax Included)

Heart Pasta | ¥540 (Tax Included)

Salted Striped Twist Short Puglia | ¥1,296 (Tax Included)

The rainbow-coloured pastas use no artificial colourings, all colours are brought about naturally with ingredients like beetroot and paprika.

The Instagrammable striped pasta is particularly cute and are sure to add some fun to pasta night. And these pastas aren't just for show either – they are made with high quality durum wheat from Apulia in Southern Italy so great taste is guaranteed. Traditional techniques are used to make the pasta with each and every piece being handmade. They are carefully dried in a low temperature for 4+ hours, giving them a delicious chewy texture.

Tokyo's Cat-Shaped Food Bakery Tokyo Neko Neko Announces New Branch in Tokyo Station

Tokyo Neko Neko will open a new branch at ecute Keiyo Street inside Tokyo Station on January 25, 2021.

The launch comes just 6 months after the bakery opened its store in Ginza, attracting customers from all over for its line-up of cat-shaped pastries. Both of these bakeries are the result of yet another branch, Kyoto Neko Neko, which opened in June last year as the first in the line of these cute locations.

Tokyo Station Exclusives: Neko Neko Jam Bread – Marmalade, Caramel, Strawberry, Blueberry

Tokyo Neko Neko Bread – Plain, Chocolate, Caramel Almond, Tsubu-an, Matcha, Soybean

As well as the classic Tokyo Neko Neko Bread—which is like a croissant being loaded with French butter, crunchy on the outside, and moist on the inside—the new Tokyo Station branch is also serving its own exclusive pastry treat: the Neko Neko Jam Bread, made with plenty of milk, and arriving in four irresistible flavours including marmalade, caramel, strawberry, and blueberry. And most important of all: everything is shaped like an adorable kitty.

If you're travelling through Tokyo Station then don't miss out on a trip to Tokyo Neko Neko, opening January 25.

Information

Tokyo Neko Neko (Tokyo Station branch)
Grand Opening: January 25, 2021

Shop Name: Tokyo Neko Neko ecute Keiyo Street

Location JR Tokyo Station inside the ticket gates of the Yaesu South Exit on Floor 1F

Address: 1-9-1 Marunouchi, Chiyoda, Tokyo, 〒100-0005

Opening Hours: 8:00-22:00 (until 21:30 on weekends and holidays)

No Fixed Holidays
TEL: 03-3217-5557
Official Website: https://nekoshoku.jp

Cacao Jang: The World's First Seasoning Combining Chocolate and Soy Sauce

Marushin Honken is an old soy sauce maker based in Wakayama, the birthplace of Japanese soy sauce, which has teamed up with chocolate sommelier Tani Kanako who is the spearhead of the chocolate company TomoeSaveur and was a judge at the 2014 International Chocolate Awards, and the French chocolate brand Erithaj Chocolat, to launch the world's first chocolate soy sauce seasoning. The product is called Cacao Jang and was released on Wednesday (January 20).

Left: Paste Type / Crunchy Type

The condiment uses a soy sauce called Kuyo Murasaki and steeps in it roasted cacao to create a rich, complex flavour combination. A completely unique seasoning, it's available in two types – paste and crunchy. Chocolate is typically seen as a sweet food, but this condiment uses no sugars, allowing for the deep-bodied flavour of the chocolate to shine through. It goes well with as a sauce seasoning for duck and chicken, as well as white fish.

Discover a flavour like never before with a pot of Cacao Jang.

Kingdom Anime Collaborates With Firsthand On Exclusive Merchandise

Creative and sustainable concept store Firsthand released a collection of items in collaboration on Wednesday (January 20) with the TV anime series Kingdom, which is set to begin airing its third season this April, and Japanese artist Kosuke Kawamura. The items are available to buy both online in Japan and at a pop-up store at OPEN STUDIO inside FREAK'S STORE Shibuya.

Firsthand is a Japanese brand centred on upcycling and sustainable production. Fans of the ongoing anime series can get their hands on a range of clothing items, phone cases, and more. If they head to OPEN STUDIO they'll also find an illustration exhibit, a photo spot, and more. The gallery is also selling posters signed by Kosuke Kawamura.

Will you be watching Season 3 of Kingdom this spring?

Information

Kingdom x Firsthand x Kosuke Kawamura Pop-Up Shop
Running: January 20, 2021 – January 25, 2021
Location: OPEN STUDIO, 1-31-1 Jinnan, Shibuya, Tokyo

Opening Hours: 10:00-20:00
TEL : 03-6415-7728

Where to buy the merchandise collection:
・OPEN STUDIO (Limited time January 20th-25th)
・Firsthand RAYARD MIYASHITA PARK (From January 26th)
・FREAK'S STORE ONLINE (From January 24th) @ http://www.freaksstore.com/
・ZOZOTOWN (From January 28th) @ https://zozo.jp/shop/freaksstore/

Event Details: https://firsthand.jp/news/3609/