Snoopy Exhibition Taking Place in Roppongi with Art by 7 Artists
The Peanuts Global Artist Collective is a global project led by Peanuts Worldwide LLC. For their first step, a mini poster exhibition began taking place at the Snoopy Museum in Roppongi on April 21, with works produced by seven artists including Tomokazu Matsuyama.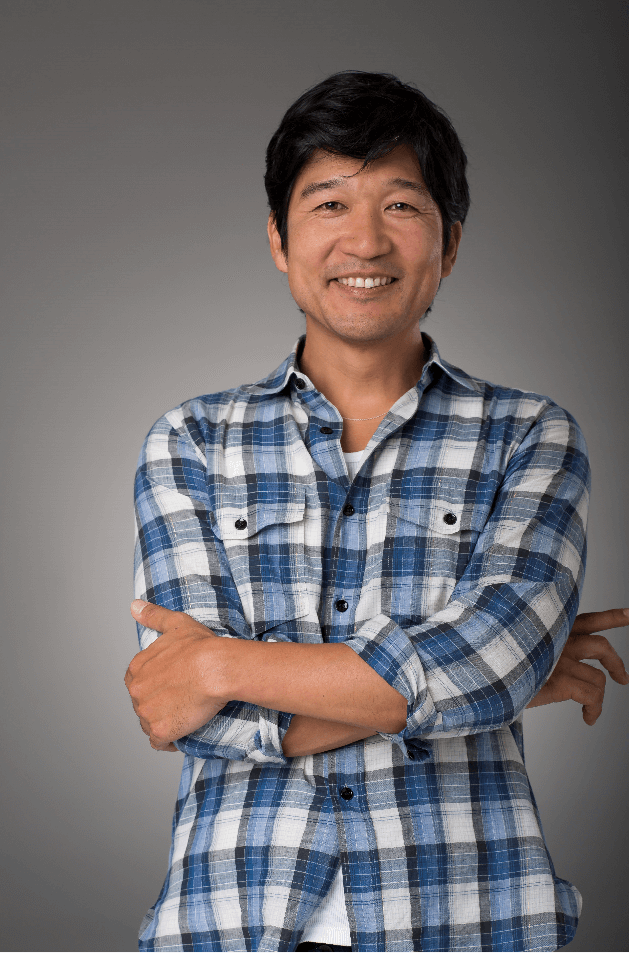 Tomokazu Matsuyama is a Japanese artist based in New York. He graduated from the Pratt Institute in Brooklyn in 2004 and has gone on to produce works for galleries and art museums around the world.
Additionally, videos are currently being shown on the large screens in Shibuya as well as at a showcase in Shinagawa Station. The videos began running on April 28 and will continue to until May 4. Collaborations are also planned such as with Tomokazu Matsuyama's piece Same Same, Different which will take place at NEWoMan Shinjuku.
This groundbreaking and international art collection has been devised to expand the Peanuts world. The Peanuts Global Artist Collective is a project by Peanuts Worldwide LLC officially approved by the Schulz family. To celebrate one year since its initiation, over 100 pieces of art by contemporary artists have been selected.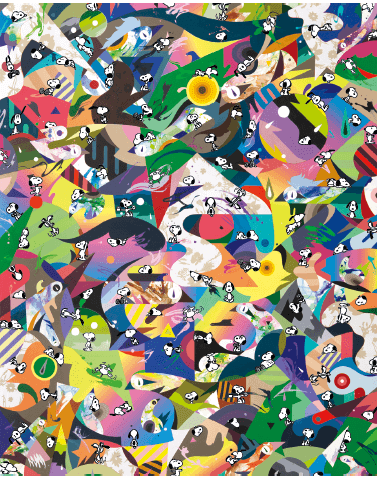 Seven artists have been finalized by Peanuts Worldwide LLC as endorsed by Culture Corps, each of which have a deep understanding of Peanuts and each of which has a long history of having their art exhibited to the public.
The artists participating in the exhibition include Tomokazu Matsuyama, Mr. A, Nina Chanel Abney, AVAF, Friends With You, Rob Pruit, and Kenny Scharf.
Original works by all seven artists will be displayed in Tokyo at the art exhibition. Each work is imbued with each artists' unique approach and offer a new interpretation of Snoopy, such as Matsuyama's Snoopy drawn emotionally into a colourful piece of art, or Pruit's iconic panda drawn together in a fun confrontation with Schulz's famous beagle.
This art tour is set to expand and head to Paris, Seoul, New York, San Francisco and Berlin at the start of this month before heading to Mexico City later in May.
Be sure to check out this special project featuring an artist from Japan!
■Information
Peanuts Global Artist Collective – Tokyo Exhibitions
Mini Poster Exhibition
Address: Snoopy Museum, 5-6-20 Roppongi, Minato-ku, Tokyo
Running: From April 21, 2018
http://www.snoopymuseum.tokyo/
Tomokazu Matsuyama – "Same Same, Different"
Address: Lumine 0, NEWoMan Shinjuku 5F, 5-24-55 Sendagaya, Shibuya, Tokyo
Running: April 29, 2018 – May 6, 2018
Opening Hours: 11:00-19:00
Tomokazu Matsuyama Official Website
Peanuts Global Artist Collective
http://www.peanutsglobalartistcollective.com/
Official Japanese Snoopy Website
RELATED ENTRIES
Celebrate 70 Years Of Snoopy & the Peanuts Series Around Japan in 2019-2020

Charles M. Schulz's internationally beloved comic series Peanuts will turn 70 years old on October 2, 2020. To commemorate the milestone, celebrations for the 70-year-anniversary have began early in Japan from October 2, 2019.

Japan is a big supporter of Snoopy and the Peanuts series he features in, and so the country has lots of events and celebratory merchandise lined up.

70th Anniversary Website Opens

 

70th Logo

The Peanuts Japan website has been transformed to celebrate 70 years since 1950 when the comic strip first launched. On it, you can see the first ever strip of Peanuts as well as when Snoopy first appeared on it. There's also details about upcoming events, exclusive products, and other related topics.

70th Anniversary Website: https://www.snoopy.co.jp/70th/

B.League 2019-20 SEASON CHEER Ambassador Inauguration

 

©B.LEAGUE

Snoopy and his pals have been appointed as "Cheer Ambassadors" for Japan's professional basketball team B.League and their 2019-20 season.

Peanuts Comic Collection

25 Volumes

The long-awaited entire Peanuts collection, comprised of 25 volumes spanning 70 years of comic stripes, is being published in Japan by Kawade Shobō Shinsha. This is the Japanese version of the Complete Peanuts collection released by Fantagraphics Books in the US. It was translated by famous Japanese poet and translator Shuntarō Tanikawa.

Two volumes will be released every month from this month (October 2019), but fans who pre-order the collection will receive some exclusive artwork, a poster and more.

Peanuts Collection Website: http://web.kawade.co.jp/bungi/2752

70th Anniversary Events

Time Capsule Exhibition

In celebration of the 70th anniversary, the Snoopy Time Capsule Exhibition will be taken around Japan, starting with Seibu Ikebukuro from December 11, 2019.

The exhibition's theme imagines Snoopy finding a key to a time capsule and opening it to find locked-away memories of himself and the Peanuts gang from across the series. If you're an adult who read the comics as a child then get ready to feel like a kid again as you are transported back in time.

There will be exclusive merchandise available to buy too.

Exhibition Schedule

・Seibu Ikebukuro: December 11, 2019 – December 29, 2019

・Daimaru Kyoto: March 11, 2020 – March 23, 2020

・Daimaru Umeda: April 29, 2020 – May 11, 2020

・Matsuzakaya Nagoya: December 16, 2020 – December 30, 2020

*Schedule to be updated on www.snoopy.co.jp in the neat future

Join Snoopy and the gang to celebrate 70 years of Peanuts.

©️2019 Peanuts Worldwide LLC

Information

Snoopy Japan Official Website

Tokyo's Revamped Snoopy Museum to Open On December 14

The Snoopy Museum was moved from Roppongi to Minami Machida Grandberry Park last summer. Standing double the size of the original museum and being completely revamped, it has finally been announced that it will open its doors on December 14, 2019.

Tickets for the first two days of the opening will be put through a lottery system with lucky attendees being selected randomly. Sign-ups for these tickets opened on Tuesday.

The revamped Snoopy Museum will house a variety of brand-new permanent exhibitions, just like the Charles M. Schulz Museum and Research Center which is dedicated to the works of Peanuts creator Charles M. Schulz. There will also be a theatre with four large screens showing the life of Schulz and his career, his illustration techniques, and more. There will also be an area jam-packed full of vintage goods as well as exhibits of the Peanuts gang including Charlie Brown. Fans can also look forward to the Snoopy Room where they will be welcomed by the 8-meter long Sleeping Snoopy.

Peanuts Gang

Sleeping Snoopy

As well as permanent exhibits, the museum will also showcase limited-time ones too, including borrowed works from the Charles M. Schulz Museum like original illustrations. Limited-run exhibits will change every 6 months. The first of these is entitled "The Beagle Scouts Arrive!" as pictured below.

Peanuts Original Work Trimming

Fans of Snoopy and the Peanuts series can expect to get their hands on a whole range of original pieces of merchandise as well as items made in collaboration with other popular brands at the museum's Brown Store, a shop inspired by Charlie Brown. You're sure to find lots of goodies for your collection or as a gift to someone else.

From Left: Grand Opening Commemoration Snoopy (Medium) – ¥5,000 / Grand Opening Commemoration Woodstock (Medium) – ¥4,000 / Snoopy (Large) – ¥6,500 / Snoopy (Small) – ¥2,500 / Woodstock (Small) – ¥2,000

From Left: Fjällräven Kanken Mini – ¥14,000 / Kanken – ¥16,000 / JULY NINE SHUSHI SACK – ¥5,800 Each

From Left: Paper Mache Dog Bowl Set – ¥3,500 / Paper Mache Grand Opening Commemoration Faron – ¥2,000

The hugely popular PEANUTS Cafe will also open a new branch in the annex connected to the museum (in the Park Life wing) on November 13 in the lead up to the museum's opening. Their huge menu is packed full of greens are inspired by Peanuts, like the picnic plate which is based on the Peanut gang's "pot luck picnic." You can dine at the cafe even without a museum ticket.

PEANUTS Cafe

BEAGLE SCOUTS SHACK

PEANUTS GANGS APPLE

▼PEANUTS Cafe

Grand Opening: November 13, 2019
Opening Hours: 10:00-22:00 (Last Orders 21:00)
Official Website: http://www.peanutscafe.jp/snoopymuseum-tokyo/

The new museum will also have regular workshops running where you can make your own Peanuts plush toys, tote bags, candles, confections and more.

Information

Snoopy Museum

Grand Opening: December 14, 2019

Address: 3-1-1 Tsuruma, Machida, Tokyo
No Fixed Holidays (Shortened opening hours on December 31; Closed January 1, 2020)
Access: 4-minutes on foot from Minami-Machida Station via the Tokyu Den-en-toshi Line

Entry Prices

<Adult/University Students>
Advance: ¥1,800
Same-Day: ¥2,000

<High School/Junior High School Students>
Advance: ¥800
Same-Day: ¥1,000

<4-Years Old to Elementary School Students>

Advance: ¥400
Same-Day: ¥600

*All prices are tax-inclusive

December 14-15 Tickets
Tickets for the first two days of the opening will be put through a lottery system with lucky attendees selected randomly. Available through e+ from October 1.

December 16 Onward Tickets
Tickets from December 16 onward will be available to purchase from December 16 through e+.

Workshop Tickets
Workshop tickets will be put through a lottery system with lucky participants selected randomly.

Workshop: https://www.snoopymuseum.tokyo/workshop/

Snoopy Museum Tokyo Official Website: https://www.snoopymuseum.tokyo/

Snoopy Museum Tokyo Official Facebook: https://facebook.com/snoopymuseumtokyo/

Snoopy Museum Tokyo Official Twitter: https://twitter.com/snoopy_m_tokyo

Two Snoopy Chocolate Shops to Open in Kyoto on October 9

Two chocolate shops themed on American cartoonist Charles M. Schulz's Peanuts character Snoopy are set to open simultaneously in Arashiyama and Kiyomizu-zaka in Kyoto on October 9, 2019.

Tablet Chocolat – From ¥1,200

Named SNOOPY Chocolat, the shops have many delicious treats lined up for fans of Snoopy, including these tablet-shaped chocolates. There are 8 in total, each telling a story of love, friendship and family that serve to give you courage.

Tablet Chocolat Japan – From ¥500

These cute heart-shaped tablet chocolates are made with Japanese ingredients like wasabi, yuzu, shiso, sesame, matcha, adzuki, shichimi, houjicha and more.

BonBon Chocolat – From ¥800

Made with rich, fragrant cocoa and Japanese flavours like yuzu, wasabi, roasted soy flour, matcha, houjicha and Japanese sake, these luxurious chocolates are like little pieces of art featuring Snoopy in his many different looks.

Both shops will feature an interior design reminiscent of Japanese-style houses. The Kiyomizu-zaka branch will have a luxury white chocolate colour tone while the Arashiyama branch will have a brown-coloured milk chocolate tone.

Tablet Chocolat (Arashiyama Exclusive)

Tablet Chocolat (Kiyomizu-zaka Exclusive)

Both shops will also have their own individual exclusive items too like the ones above, all original to SNOOPY Chocolat.

There will of course be plenty of original merchandise to get your paws on too, like plush toys, takeout cups, mugs, tote bags, freezer bags, and more, all perfect for use at home or as gifts to a friend.

Information

SNOOPY Chocolat (Kiyomizu-zaka Branch)

Address: 2-252 Kiyomizu, Higashiyama Ward, Kyoto, Kyoto Prefecture

Business Hours: 9:30-18:30 (Open from 10:00 on October 9 only)

No Fixed Holidays

Access: 20-minutes on foot from Kiyomizu-Gojō Station via Keihan Electric Railway

SNOOPY Chocolat (Arashiyama Branch)

Address: 22 Sagatenryūji Susukinobabachō, Ukyo Ward, Kyoto, Kyoto Prefecture

Business Hours: 10:00-18:00

No Fixed Holidays

Access: 5-minutes on foot from Arashiyama Station via Keihan Electric Railway / 15-minutes on foot from Saga-Arashiyama Station via JR Line / 20-minutes on foot from Arashiyama Station via Hankyu

SNOOPY Chocolat Official Website:  http://www.snoopy-chocolat.jp

ROPPONGI HILLS HAPPY HALLOWEEN 2019: Monster Desserts, Horror Film Parade & More

Roppongi Hills has announced this year's Halloween festival. Titled "ROPPONGI HILLS HAPPY HALLOWEEN 2019," it will take place from October 1 to 31, packed full of spooky fun from a Halloween costume parade to a ghoulish gourmet menu line-up, featuring an always-unique array of food and drink.

Halloween Cupcakes – ¥638 Each @ LOLA'S Cupcakes Tokyo (Available from October 5)

LOLA'S Cupcakes has baked up an assortment of cute monster motif cupcakes, with flavours including pumpkin, purple sweet potato and more. Whichever one you pick, it's sure to give you a smile and delight your taste buds.

Halloween Mixed Berry Cake – ¥530 @ Roasted coffee laboratory

Creepy eyeballs adorn this cake, which is topped with blackberries and blueberries while drizzled in bloody blackcurrant jam. The cake is layered with sponge, fresh cream and a sweet and sour strawberry jelly.

Happy Monster – ¥980 @ Cafe Crepe

Delight in this cute pumpkin and fresh cream crepe, filled with pumpkin ice cream and snug in an orange crepe wrap. Housed inside is an adorable purple sweet potato mont blanc monster wearing a witch's hat.

A movie-themed parade will take place on Saturday October 26 at the event in line with the 2019 Tokyo International Film Festival. Children and adults can take part in the parade if they dress up. The 1km parade will last 25 minutes.

Gift bags will be given to all kids who get involved!

▼Halloween Parade

Date: October 26, 2019

Time: 10:30-13:30 (subject to change)

Location: Roppongi Hills Arena

Participation Conditions: Anybody who dressed up can join (the theme is "Movies")

Participation: Free

Enquiries: 03-6406-6000 (Roppongi Hills Information)

Halloween will hit Roppongi Hills for the entire month of October. Be sure to visit if you're in Japan next month!

Poop-Themed Exhibition to Teach People All About Poop in Fukuoka

Fukuoka PARCO and Higashiyama Zoo and Botanical Gardens are collaborating to hold a poop-themed exhibition entitled "Poop Exhibition: Poop Academy Cultural Festival in Fukuoka" on floor B1F of the south building of Fukuoka PARCO from September 27 to October 27.

There will be many elements to the exhibition. The first of these is the language section where sentences written in Japanese will be draped all across one room, each with references to poop.

Above photo taken from the Ikebukuro exhibition

In the "Outdoor Lesson" corner, there will be cased displays of different animal droppings with descriptions, enabling people to see the different shapes and sizes poop comes in.

In the "Poop Arithmetic 3rd Year Students" corner is a photo spot where you can pose like the Poop Maths Teacher as shown on the right.

At the end of the exhibition there's an exam room where you can take a test based on what you have learned from the exhibition.

There'll even be a range of original and exclusive merchandise.

Postcard Set (5 Designs) – ¥400

Folders – ¥300

Toilet Roll – ¥348 / Character Tape Cutter – ¥700 / Leather Futon Books (2 Designs) – ¥500 Each

Japan is having a poop craze right now, with the opening of the Unko Museum in Yokohama which is also set to arrive in Shanghai next month.

*Photos are for illustrative purposes only. Listed prices are pre-tax. Event content subject to change.

Information

Poop Exhibition: Poop Academy Cultural Festival in Fukuoka

Running: September 27, 2019 – October 27, 2019

Opening Hours: 10:00-20:30 (Until 18:00 on October 27; last entries 30 minutes before closing times)

Location: Fukuoka PARCO South Building Floor B1F

Entry Price: ¥600 (Free entry for preschoolers)

*POCKET PARCO members get ¥100 off

Event Page: https://art.parco.jp/fukuoka/detail/?id=297

PEANUTS Café and PEANUTS DINER to run Nostalgic Flying Ace Fair

The PEANUTS Cafe and PEANUTS DINER located in Nakameguro, Yokohama and Kobe will be holding a nostalgic Snoopy Flying Ace Fair from September 4th at all branches.

The first time this fair was held, Snoopy dressed as an Astronaut. As this is the second time the fair will be held, Snoopy will be present at all PEANUTS Cafes and PEANUTS DINERs in a different costume. This time, his costume is themed around the series Flying Ace. Pilot Snoopy will be soaring into the scene fully equipped in his Flying Ace gear, steering his red doghouse to battle his rival the Red Baron as he did in those nostalgic daydreams. 

During the fair period, there will be a whole new menu of drinks and original merchandise themed around Snoopy's classic look where he is wearing his Flying Ace aviator hat and red scarf.

Flying Ace Green Tea Latte: ¥700 before tax (eat in) Comes with a limited original drinks coaster

Take out: ¥600 (after tax) 

The colour of the green tea takes on the image of Snoopy's green helmet. The sweetness and bitterness of the flavours perfectly balance out. The strawberry syrup adds a tangy accent of flavour. The vibrant colour creates the imagery of Snoopy's red scarf fluttering in the breeze. The drink is topped with vanilla ice cream and whipped cream and is studded with cocoa cookie bullets penetrating through its deliciously creamy surface. If you love sweet drinks, then come taste the flavour of Snoopy's adventurous daydream.

* The limited original coaster is only given to those who order to eat in.

* As there are a limited number of these coasters, there is a possibility that they will run out before the end of the fair period.

Original Flying Ace Eco Tote Bag (green/orange):¥1,500 (before tax)

The PEANUTS Cafe in Meguro has also released a limited edition Flying Ace version of their popular Original Eco Tote Bag. This bag is available in the two fair colours: green and orange. This A4-sized bag is the perfect size for multiple uses. It can be folded and stored inside your main bag as a sub bag or even used as your main bag.

If you are a Snoopy fan, make sure to stop by!

© 2019 Peanuts Worldwide LLC

Information

Flying Ace Fair: IT'S A BEAGLE LIFE "HOW'S THIS?

Running: September 4 ー November 4, 2019

Running at: PEANUTS Cafe Nakameguro
Address:2 Chome-16-7 Aobadai, Meguro City, Tokyo

Website: http://www.peanutscafe.jp/

Japan's Poop Museum Dumps Its Load in Shanghai

The poop-themed exhibition Unko Museum is set to roll into Shanghai on October 19 where it will run until January 3 next year.

The museum first appeared at the entertainment facility ASOBUILD, which is connected to Yokohama Station, where it is still running as Unko Museum YOKOHAMA. It was then followed by Unko Museum TOKYO where it is still open at DiverCity Tokyo Plaza. This will mark the museum's first trip overseas.

Just 4 months after opening in in Yokohama, the museum had amassed over 200,000 visitors. The subsequent Tokyo museum served to promote the new Japanese concept of "kawaii poop" to tourists both Japanese and foreign. It was a huge success and enjoyed substantially more visitors than predicted.

With the museum receiving huge attention from both Japan and overseas, Shanghai was chosen as the next destination as a means to develop the concept outside Japan since Shanghai is one of the main global cities of the Asian region. There is also the fact that mainland China has a population of over 1.4 billion. The Unko Museum aims to promote and establish itself as a new entertainment experience.

The museum will be set up at Joy City Shopping Mall, which is home to a whole host of experience entertainment, as well as restaurants, shops, and even a Ferris wheel. It will have the same content as the museum in Japan, including giant poop statues, the "Unstagenic Area," a combination of the Japanese word for "poop" (unko) and the words "Instagram" and "photogenic" with cute and stylish poops, and more.

Information

Unko Museum SHANGHAI
Address: Joy City Shopping Mall Floor 4F, 166 Xizang N Rd, Zhabei Qu, Shanghai Shi, China
Running: October 19, 2019 – January 3, 2019
Opening Hours: 10:00-22:00 (Last Entries 21:00)

Official Website: https://unkomuseum.com/

Andy Warhol Exhibition to Grace Kyoto's Kyocera Museum of Art in 2020

An exhibition centred around Andy Warhol, the American artist who was at the forefront of the pop art movement, is set to roll up to the Kyocera Museum of Art in Kyoto on September 19, 2020.

The exhibition will showcase pieces available only at the The Andy Warhol Museum in Pennsylvania, US. It will be the first Andy Warhol exhibition of its kind to hit Japan and will also touch on his deep knowledge of Kyoto.

The exhibition will be the first to take place in the museum's new Toyama Cube building which is currently under construction.

More details will be announced on the exhibition's website and social media accounts below.

Roppongi Hills Renovates Food Court Revealing Mouthwatering Michelin Guide Restaurants

Looking for a delicious Michelin-approved food experience? You surely cannot go wrong with heading to Roppongi Hills; a large-scale development project located in Tokyo, which is known for its nightlife and and shopping. Roppongi Hills is also home to the shopping mall Metro Hat, which is currently renovating its food court on basement floor 2. The foodcourt will have its grand opening on October 29th. 

The renovation will introduce seven new restaurants to the food court. Some of these include ramen shops and Yakitori restaurants which are bringing brand new rare dishes and flavours to the table.

Let's look at our recommendations:

Ginza Kagari (銀座 篝)

Chicken Soba: ¥900 (before tax)

Ginza Kagari is known for their notorious never-ending queues. In 2016 and 2017, it earned a place in the Michelin Guide Tokyo and even became popular overseas. One of their specilaties is their chicken soba. The broth is packed with the goodness and flavour of the entire chicken and even the bones. The flavour of the broth is exquisite and rich. The salt kaeshi sauce which is made from a mix of soy sauce, mirin and sugar goes perfectly with the soup. The salt mixture in the sauce consists of a range of natural salts which contain the natural goodness of the sea and perfectly enhance the flavours of the soup.

Location: Metro Hat Hollywood Plaza Floor B2

Opening Hours: 11:00 ー 23:00 (L.O: 22:00)
Website: https://www.roppongihills.com/en/  (The website is scheduled to open during mid October)

Yakitori Kokorikoan (焼鳥 ここりこ庵)

Yakitori (chicken skewer): ¥200 (before tax)

You must not miss out on Kokorikoan's Chicken Skin Hotpot ー a dish that is rare even to Tokyo. This dish is the perfect opportunity to discover a new kind of flavour and a new way to enjoy food. This restaurant prepares their dishes using special and rare cuts of chicken and chicken that is freshly ground in the morning. The chicken is flavored using traditional flavorings such as tare sauce and salt as well as flavorings that are not so conventional in Japan such as balsamic vinegar, herb vinegar, madeira wine, brandy and much more. Each cut of meat is prepared with the most careful methods and best seasonings to fully bring out the flavours. 

Location: Metro Hat/ Hollywood Plaza Floor B2
Opening Hours: Lunch: 11:00 ー 15:30 (L.O.15:00)  Dinner: 17:00 ー 23:00 (L.O.22:00)

Website: https://www.roppongihills.com/en/ (The website is scheduled to open during mid October) 

 Pintokona (ぴんとこな)

As a cheap place to enjoy authentic sushi, Pintokona has become a very popular restaurant. Now, it is having a fresh renewal. This sushi is made by using seasonal ingredients from around Japan. From November 1 to 30, there will be an exciting new menu that includes fresh fish from Miyazaki and authentic shochu (Japanese spirit). There will also be a fair that you also should not miss out on. 

Location: Metro Hat/ Hollywood Plaza Floor B2
Opening Hours: Lunch: 11:00 ー 15:30 (L.O: 15:00) Dinner: 17:00 ー 23:00 (L.O: 22:00)

Website: https://www.roppongihills.com/en/ (The website is scheduled to open during mid October) 

AFURI(アフリ)

Yuzu Orange and Salt Ramen: ¥1000 (before tax) 

Popular ramen shop AFURI sells a ramen with a translucent gold-coloured soup made using the natural spring water that gushes from the foot of Mount Afuri (Mount Oyama) located in the Tanzawa Mountain Range of the Kanto Region. Carefully selected chicken bones, pot herbs, kombu (kelp) and katsuobushi (fermented and smoked fish) is boiled in the water to add to the flavour. The whole wheat flour used to make the noodles creates a wonderfully fresh, chewy texture. The chashu roast pork pieces are freshly barbecued upon each order, creating a fresh and delicious flavour. AFURI also sells vegan ramen which is particularly popular among foreigners.

We have a full report on our heavenly trip to AFURI so if you are curious to find out more, please check out our this article: Introducing AFURI—Harajuku's Michelin-Starred Ramen Restaurant

Location: Metro Hat/ Hollywood Plaza Floor B2
Opening Hours: 11:00 ー 23:00 (L.O:22:00)
Website: https://www.roppongihills.com/shops_restaurants/restaurants/00100.html

There are just so many popular shops and restaurants at Metro Hat that you will be spoilt for choice. We hope you enjoy exploring the rich culture of Roppongi. 

Gundam Artist Yuji Kaida Exhibition Announced For Osaka Umeda LOFT

To celebrate 40 years of Yuji Kaida's illustration artwork for the Gundam series, an exhibition entitled Yuji Kaida Gundam Gallery will take place on the fifth floor LOFT Forum of Umeda LOFT in Osaka from August 23 to September 8.

Yuji Kaida is known for his longtime work on box art for Gunpla model kits. The exhibition will feature a gorgeous collection of his iconic Gundam artwork, covering traditional art from Mobile Suit Gundam to Mobile Suit Gundam Wing to digital art in Mobile Suit Gundam: Iron-Blooded Orphans.

Over 70 pieces illustrated by Kaida will be displayed, each categorised into one of four themes. Many of these will include artworks being shown to the public for the first time such as the Gwazine-class battleship.

There will also be enormous towers of piled-up Gunpla boxes, a showcasing titled "Maiking of Hi-νGUNDAM" the process of digital art, and more.

The exhibition is an absolute must-visit for all fans of the Gundam franchise.

©Sotsu Co., Ltd.・Sunrise Inc.

Information

Yuji Kaida Gundam Gallery
Running: August 23, 2019 – September 8, 2019

Time: 11:00-21:00 (Until 18:00 on September 8) *Last entries 30-minutes before closing time
Location: LOFT Forum, Umeda LOFT Floor 5F, 16-7-5 Chayamachi, Kita Ward, Osaka
Entry Price: Adult ¥500 (Includes novelty gift) / High School Children & Below ¥400 (Includes novelty gift) / Elementary School Children & Below – Free
Official Website: https://art.parco.jp/

Snoopy, Joe Cool & Charlie Brown Confections by Tabemas Are Coming to Lawson Convenience Stores

Character-inspired Japanese confectionery series Tabemas has unveiled its new Snoopy, Joe Cool and Charlie Brown wagashi confections that will go on sale at Lawson convenience stores across Japan on August 20.

The characters are made from a type of dough called "nerikiri" which is used in making traditional Japanese wagashi sweets. Each of their charm points have been recreated, including Snoopy's collar, Joe Cool's shades and folded arm pose, and Charlie Brown's instantly-recognisable outfit.

Their cute designs make it hard to decide where to start eating from, with Snoopy's beady eyes, Joe Cool's composed manner, and Charlie Brown's smiley face.

Each character is filled with different flavoured bean pastes, maintaining that traditional wagashi touch. Snoopy is chocolate flavoured, Joe Cool is salted vanilla, and Charlie Brown is custard. The three of them line up perfectly for a cute Instagrammable photo. They are limited in stock so if you're in Japan this summer be sure to stop by a Lawson store.

©️2019 Peanuts Worldwide LLC

Information

Tabemas – Snoopy Series

Flavours: 3 Snoopy (Chocolate) / Joe Cool (Salted Vanilla) / Charlie Brown (Custard)

Price: ¥259 Each (Before Tax)

Release Date: August 20, 2019

Available: At chilled desserts section of Lawson convenience stores across Japan

*Not available at Natural Lawson or Lawson Store 100

*Available while supplies last

*Stock date may differ from branch to branch

*Select stores not participating

Product Page: https://www.bandai.co.jp/candy/products/2019/4549660393474000.html

Celebrate Hello Kitty's 45th Anniversary at the Hello Kitty Collection Exhibition in Chiba

Lovers of Sanrio and all things Hello Kitty won't want to miss the 45th Anniversary Hello Kitty Collection Exhibition currently being held at Sogo Chiba until August 15.

The event look backs at the kawaii history of Hello Kitty with a huge range of old and new merchandise. There's also photo spots for taking cute photos, a wall of Hello Kitty plush toys, touch interactive digital videos, and much more.

If you're looking to stock up on your collection of Hello Kitty merch then you have around 850 items to choose from including goodies exclusive to the event, pre-sales of items to be released at a later date, and more. There's even a pottery workshop as well as a chance to take your photo with the real Hello Kitty.

Kawaii Chronicles: Hello Kitty Design Museum

Get ready to witness a wide selection of Hello Kitty goods from across generations, including rare and vintage items no longer manufactured. Witness the history of Hello Kitty's kawaii world and how things changed through the years to fit each generation.

Digital Content & Plush Toy Wall

Get interactive with Hello Kitty with the wall mapping – touch the wall and see the visuals change. There's also another wall completely full of Hello Kitty toys which makes for a really cute photo opportunity.

Photo With Hello Kitty

Hello Kitty will be present on August 12 in a beautiful kimono ready to have her picture taken with you! Tickets will be handed out 30 minutes before each session. Spaces are limited so make sure you're on time!

Date: August 12, 2019 at 11:00/13:00/15:00

Location: Floor 6F Event Hall

No. of People: 20 per shoot

Workshop

Paint your very own ceramic Hello Kitty ornament. You colouring it means that yours will be unique and the only one in the world♡

Running: August 7, 2019 – August 15, 2019

Time: 11:00-16:00

No. of People: 30 per day

Price: ¥1,296

Hello Kitty Kawaii Market
Get your hands one one of 850 pieces of Hello Kitty merchandise from plush toys to stationery, interior items and more. Many of these items are exclusive to the exhibition.

Mascot Holder – ¥1,728 (400 Available – 1 Per Person) / Acrylic Key Ring – ¥648 / Mug – ¥1,080 / Hand Towel – ¥756

Replica Classical doll – ¥17,280 / Mini Mascot Brooch (20 Designs) – ¥1,080 Each (1 Per Person) / A4 Folders (Includes 2) – ¥486

Enter the adorable world of Hello Kitty this summer and help her celebrate her 45th anniversary.

Information

45th Anniversary Hello Kitty Collection Exhibition

Running: August 7, 2019 – August 15, 2019

Time: 10:00-20:00 (Until 17:00 on August 15) *Last entries are 30-minutes before closing time

Location: Sogo Chiba Floor 6F Event Hall (1000 Shinmachi, Chuo Ward, Chiba, Chiba Prefecture)

Price: Adults & University Students ¥500 (High School Students & Younger – Free)

*Those with a disability certificate can enter the exhibition for free (including one guardian)

Sogo Chiba Official Website: https://www.sogo-seibu.jp/chiba/