The vegan restaurant located inside the forest of Karuizawa "RK GARDEN" was opened
The vegan restaurant, RK GARDEN surrounded by flowers and trees of Karuizawacho, Nagano Prefecture which serves organic vegetables produced in the Shinshu Area started this year's operation from the 20th of April 2018.
RK GARDEN serves healthy vegan foods that do not use any egg, dairy products and animal-related ingredients. Since they use freshly cropped organic vegetables they purchase their vegetables from contracted farmers every morning, you can enjoy the deliciousness of fresh seasonal vegetables. Why not try eating healthy foods and become healthy?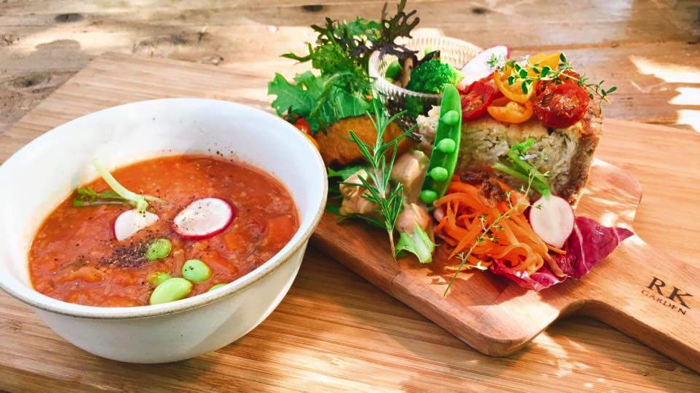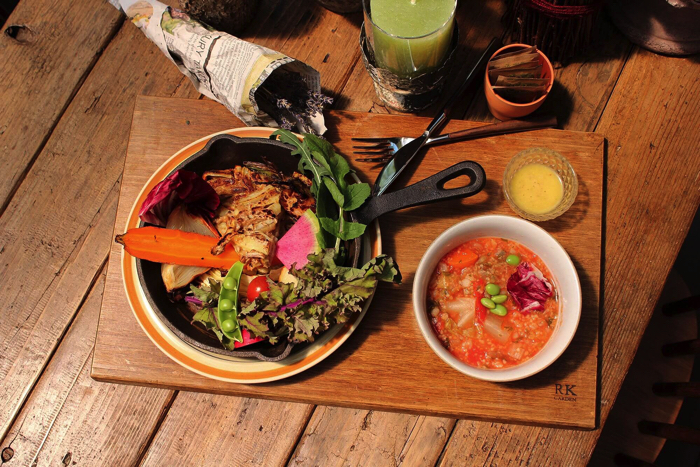 The menu items they sell include "Rosemary-flavored potato gallate and grilled vegetables" using organic whole-grain, gallate made of potato and grilled vegetables produced in Karuizawawa and "Seasonal highland vegetables and home-made vegan quiche using mini tomatoes" which taste and look good.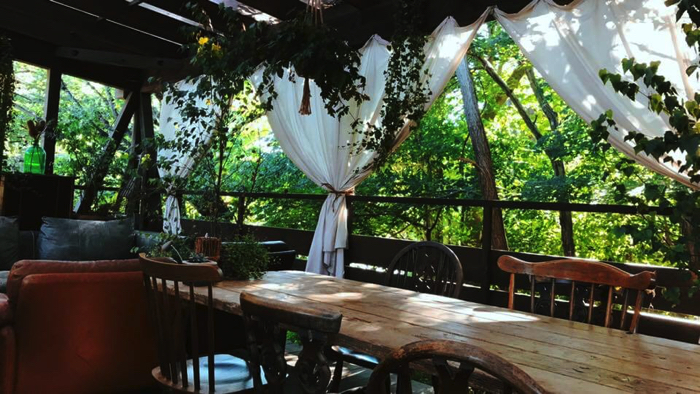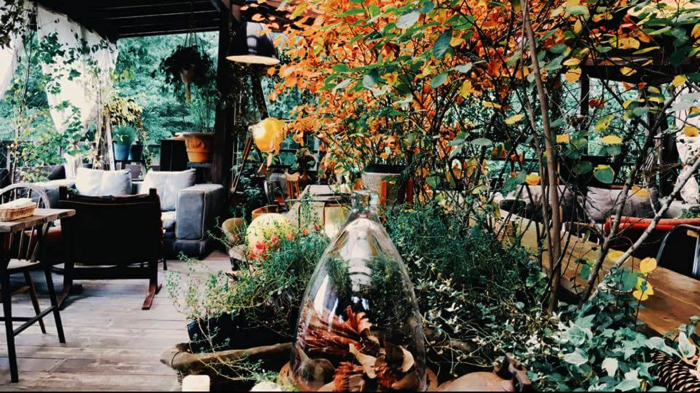 The interior of the restaurant does not have any windows because they wanted their customers to feel the nature of Karuizawa and is filled with the scent of greens, sunlight, surrounded by flowers and trees. You can enjoy the warmth of Karuizawa's nature with the antique interiors.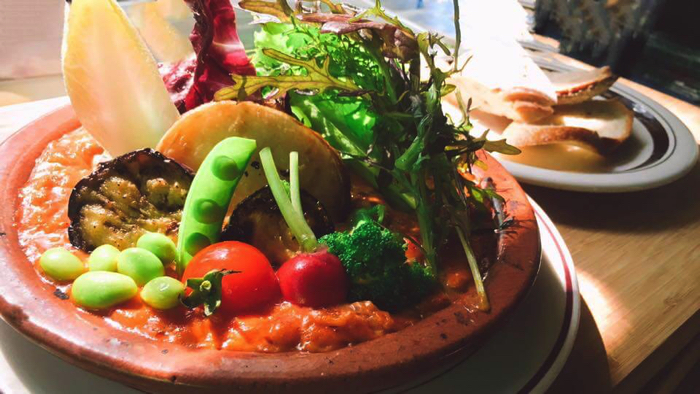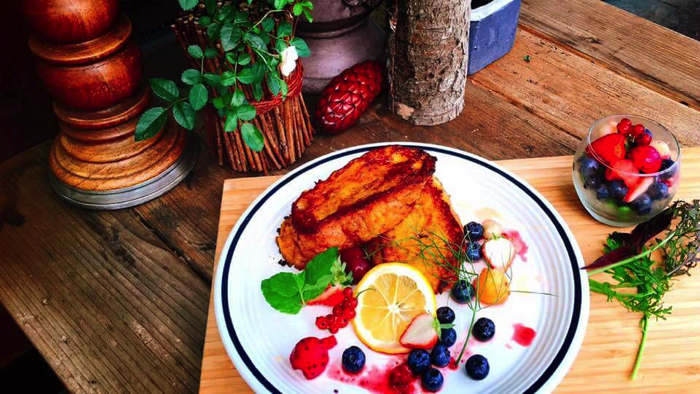 The restaurant can be used as a space for after wedding parties and usual parties, so why not make an unforgettable memory in this restaurant surrounded by the flowers and trees of Karuizawa?
■Information
RK GARDEN
Address: 1138-1, Oiwake, Karuizawacho, Nagano Prefecture
Business hours: Morning Time 9:00~11:00
     Lunch Time  11:00~16:00(LO)
Fixed holiday: Tuesday
TEL:0267-31-5330
Website: https://www.rustic-kitchen.net/
RELATED ENTRIES
Karuizawa's New Apple Farm Opens in Collaboration With Hoshino Resorts and Local Farmers

The Karuizawa-based hotel and hot spring complex Hoshino Onsen Tombo-no-yu joined hands with local apple farmers last year to help support apple cultivation for their apple hot springs. This is now being taken to the next level with the opening of Ringo Tsuchi, an apple farm that Tombo-no-yu staff helped to build. The farm opened on March 19, and locals will be able to visit part of the farm for free starting on April 26.

The project ties in with the global Sustainable Development Goals (SDGs) initiative, specifically the 12th goal: "Responsible Consumption and Production," which looks to ensure sustainable consumption and production patterns. Karuizawa is located in Nagano Prefecture which is ranked as the 2nd biggest producer of apples in Japan. When growing apples, those fruits which incur any kind of damage or grazing isn't shipped to the country's supermarkets or stores. It's these not-so-perfect apples that Tombo-no-yu uses for its apple hot spring experience. Though it may just be a small step towards that goes, it still goes a small incremental way towards achieving it.

Free entry to Ringo Tsuchi

The main raw materials at Ringo Tsuchi ("Apple Earth") are the apples used in the apple hot springs and fallen leaves from around the Hoshino area. In addition to compost and water, the materials are fermented, which adds the necessary nutrients to growing apples and creates soft and breathable soil. And since compost is added, it creates an environment where gardening tools can be used in the earth without any prior preparation.

The completion of Ringo Tsuchi

In the mid-October last year, work was carried out at Nomoto Kajuen Orchards in Mimakigahara Okubo, Nagano, to carefully select picked apples and not-so-perfect apples. These apples were used for the apple hot springs at Tombo-no-yu over a three day period from October 23 to 25. The apples are placed in both the male and female hot springs to float on the water.

After that three-day period, the apples were collected, washed, and cut to be used for compost. Since fermentation removes water content, the staff also had to add water twice a month to manage the compost.

Working with the locals

Katsuya Nomoto is a representative of Nomoto Kajuen Orchards, a farm that grows apples, prunes, and more. The farm takes advantage of the area's high altitude and takes pride in its work to cultivate produce that is healthy to the body and environment using soil microbes as an organic fertiliser. It's also officially recognised as a farm dedicated to supporting Nagano's environment, and carries out school trips for children to visit, creating ties with the local community.

Tokyo's New Vegan Dessert Shop the vegan marshmallooow Opens in Ginza

Ginza Mitsukoshi is welcoming a limited-time vegan dessert shop by the name of 'the vegan marshmallooow' which is open from April 1 to June 30. This shop is known amongst the vegan community in Japan for its vegan cakes, and due to that positive response, is now opening its first long-term promotional pop-up shop in collaboration with Mitsukoshi Isetan Group.

Online orders opened at Mitsukoshi Isetan on March 27 with a delicious line-up that includes their signature vegan chocolate cake.

A look at just some of the mouth-watering line-up

Chocolate Cake

Their number one most popular order: a gorgeously gluten-free mirror cake made with rich chocolate.

 

<NEW> Whole Fruit Cake

For those who like something a little more fruity and refreshing, this juicy cake is topped with assorted fruits like setoka orange, peach, kiwi, blueberry, strawberry, and more. The gluten-free sponge and soy cream give it a light texture that's also rich.

 

<NEW> Special Chocolate Cake Slice

An exquisite three-layered version of the shop's iconic chocolate make made with plant-based ingredients. Its triple tier is formed harmoniously of sponge, chocolate mousse, and cream. A single serving for a single sweet tooth.

Strawberry Shortcake

Two moist layers of gluten-free strawberry sponge with a soy milk base. Smooth, creamy, light, and delicious.

 

Mont Blanc

This mont blanc is specially made with Japanese chestnuts. The addition of soy cream elevates the nutty flavour throughout. A crunchy tart and fluffy sponge also makes for a textural sensation.

the vegan marshmallooow's vegan cake now available online at Mitsukoshi Isetan

Vegan Chocolate Cake Set (3 Pieces)

The Little BAKERY Tokyo Revamps and Reopens With New Eat-In Area

The beloved takeout bakery The Little BAKERY Tokyo, which is just down the road from another of Harajuku's popular eateries THE GREAT BURGER, has undergone refurbishment to add a brand new eat-in space. The site reopened on March 22 as a bakery and cafe.

A tasty new eat-in menu

Crushed Avocado Toast | ¥1,250 (Before Tax)

Homemade Maple Granola | ¥1,350 (Before Tax)

New York Pizza (Pepperoni Slice) | ¥1,000 (Before Tax)

Classic Ham, Egg, & Cheddar Cheese Sandwich | ¥1,500 (Before Tax)

Apple Gorgonzola Cheddar Cheese Sandwich | ¥1,450 (Before Tax)

Bread loaves and takeout goodies

Red Bean Paste & Butter Ball | ¥420

Hokkaido Yotsuha Butter Croissaint | ¥260

Custard Pudding | ¥550

Hokkaido Brioche Loaf – Whole ¥580, Half ¥320 / Hokkaido Whole Wheat Loaf – Whole ¥560, Half ¥300 / Hokkaido Milk Loaf – Whole ¥580, Half ¥320 (Before Tax)

The new eat-in menu features a range of irresistibles like vegan-friendly avocado toast, homemade granola topped with fresh fruits and Greek yogurt, a selection of sandwiches made with homemade brioche toast, New York-style, pizza, and more.

Takeout options includes all the classics like bread loaves, sweet custard pudding, soft and crispy croissants, and so on.

There are around 30 baked delights to pick from at The Little BAKERY Tokyo all of which are made using flour from Hokkaido and natural yeast. All items on the menu are made fresh in-house every day, all ingredients from the salt and sugar to the eggs and more are domestic, and all ingredients are sourced sustainably and locally. The bakery also caters to all needs from those with food restrictions and allergies as well as a fantastic vegan menu which replaces animal products like eggs and butter with soy milk and grapeseed oil.

They even sell American-style doughnuts from the doughnut brand GOOD TOWN DOUGHNUTS who are inspired by doughnuts from Brooklyn. There's around 20-30 to choose from, all colourful and all used with natural ingredients like fruit – none of the bad additives. Of course, there's vegan doughnuts too, so if you're struggling to find vegan food in Tokyo, you know where to go.

One worry in the bakery industry is that of leftover stock. But The Little BAKERY Tokyo has a solution for that: by wrapping up their pastries and baked foods and selling them as 'DAY OLD BREAD' on their online shop so nothing goes to waste, something which has received huge praise from people across Japan.

Japanese Springtime Flowers Bloom a Delicious Menu at TREE by NAKED Yoyogi Park

Spring has arrived at TREE by NAKED Yoyogi Park, a cafe run by NAKED that's located in Yoyogi Park in Shibuya, Tokyo. On Monday, the cafe launched a seasonal menu which incorporates a variety of spring flowers like cherry blossoms, showy's baby breath from Kumamoto, keiou-zakura from Yamagata, and more.

TREE by NAKED Yoyogi Park first opened in July 2017. It's an experience-based art restaurant where customers can enjoy Japan's latest cutting edge technology and next-generation gastronomy. Its popularity has risen rapidly, earning itself a reputation for offering an experience that stimulates all five of the senses, as well as for its photogenic interior decor.

With the pandemic restricting travel in Japan, people are unable to visit places far away across the country, and so the cafe is bringing a little bit of different places around Japan, namely their flowers, in collaboration with JA Kumamoto Uki and JA Yamagata.

Kumamoto is the only place in Japan that grows show's baby breath. They are raised with the prefecture's rich water and soil to blossom beautiful white and pink. These flowers can not only be enjoyed at TREE by NAKED Yoyogi Park as decorations, but customers can actually buy a bouquet of them too. Thanks to the skills of producers, the flowers can be grown out of season over a long period running from December to April, allowing people to enjoy their gorgeous springtime hues even if it's not spring.

Açaí Lemonade – Eat In ¥825 / Takeout ¥810

Cherry Blossom & Strawberry Nicecream – Eat In ¥770 / Takeout ¥756

"Power & Healthly" are the concepts for the lunch and cafe-time menu which includes both food and drink. The cafe's popular homemade açaí lemonade has been turned into a springtime version with fresh cherry blossom petals. There's also a vegan-friendly ice cream made with banana, avocado, soy milk, and a blend of strawberry and cherry blossom. It has a slight salt tang to it.

Vegan Cherry Blossom Latte – Eat In ¥770 / Takeout ¥756

Vegan Avocado & Sprout Sandwich – Eat In ¥1,100 / Takeout ¥1,080

The cafe's popular cherry blossom latte from last year returns with a soy milk base. There's also sandwiches, including a vegan one fried in coconut oil.

Strawberry Mille-Feuille – Eat In ¥1,650

The cafe's strawberry mille-feuille is so popular that they have to make a limited batch each day. It's even been featured on Instagram. With the strawberry season here, customers can enjoy fresh whole strawberries topping their dessert.

The cafe will also be running an evening cafe and bar experience with a range of desserts, food, and alcohol.

Information

Spring Menu

Released: March 15, 2021

Where: TREE by NAKED Yoyogi Park

Address: 1-10-2 Tomigaya, Shibuya, Tokyo

Opening Hours: 11:00-20:00 (EVENING CAFÉ & BAR TIME from 16:00) *Last orders at 19:00

Closed: Tuesdays/Wednesdays

TEL: 03-6804-9038

TREE by NAKED Yoyogi Park Official Website: https://tree.naked.works/yoyogi/

Vegan Food Heads to Tokyo Midtown at New FRUITS IN LIFE Juice Bar and Deli

FRUITS IN LIFE is a new fruit juice bar and deli set to open in Tokyo Midtown on March 2, 2021. The eatery will serve up a fruity vegan menu.

Slow Juice (6 Flavours) | ¥850 Each (Before Tax)

Smoothies (11 Flavours) | Medium ¥550, Large ¥700 (Before Tax)

Fruful 200 Set | ¥1,250 (Before Tax)

Smoothie Parfaits: Avocado & Banana ¥1,000 (Before Tax) / Amaou Strawberry ¥1,250 (Before Tax)

FRUITS IN LIFE opens its first branch in Tokyo Midtown

Enjoy 200g of fresh fruits with Fruful 200

The menu is entirely plant-based ranging from smoothies and cold press slow juices to avocado toast made with a 100% whole wheat focaccia, the rice paper-wrapped salad baton filled with fruit and veg, and more. The lunch menu also includes the one plate Fruful 200 Set which contains 200g of fruits, and more. There's also fruit desserts like jelly and smoothie parfaits. The Avocado Banana Parfait is packed with vitamins and over 200g of fruits, is only 438ml, and is low in calories.

Information

FRUITS IN LIFE Tokyo Midtown
Grand Opening: March 2, 2021
Location: Tokyo Midtown Plaza Floor B1F

Address: 9-7-2 Akasaka, Minato-ku, Tokyo
Opening Hours: [Weekdays] 8:30-21:00 (Last Orders 20:30) / [Weekends & Holidays] 10:00-21:00 (Last Orders 20:30)

No Fixed Holidays
TEL 03-6447-1190
Fruful 200 Official Website: https://aoki-group.com/fruful200/
FRUITS IN LIFE Official Website: http://www.fruitsinlife.com/

Ginza's Italian Restaurant FARO Earns Michelin Star

FARO, an innovative Italian restaurant in Ginza, Tokyo, has earned itself a Michelin Star in Michelin Guide Tokyo 2021 which went on sale on December 10, 2020.

Located on the 10th floor of the Tokyo Ginza Shiseido Building, the restaurant offers a taste of contemporary Italy, fusing tradition and innovation with a menu that incorporates Japanese ingredients and culture for an original dining experience.

Chef's Special: Potato spaghetti

The individual credited with the creation of a new food culture is FARO's executive chef Kotaro Noda who is the only Japanese person to own two Michelin-starred restaurants in Italy. He has been at the forefront of the Italian cooking world for the past 20 years.

Vegan Menu: Daikon Mochi [Winter Season Item]


Flower Tart

FARO puts a lot of work into its array of colourful vegan courses. These courses aren't only aimed at vegans either – they are available to anyone wanting to eat delicious and healthy food.

The restaurant is also a display of Japanese craftsmanship, with all cutlery, crockery, table accessories, and more made using traditional Japanese methods, like the lattice work on the doors from Niigata Prefecture, the Tajimi and Arita ware, fabrics from Imabari, Edo kiriko cut glasses, and more.

The decor of FARO is an elegant and stylish fusion of both Japanese and western tastes, with a colour gradation representing the earth, sea, and sky. This colouring offers a completely different dining in both the daytime or during evening hours.

Information

FARO
Address: 8-8-3 Ginza, Chuo-ku, Tokyo

Opening Hours: [Lunch] 12:00-13:30 / [Dinner] 18:00-20:30

Closed: Sundays/Mondays/Mid August/New Year Holidays
TEL: 0120-862-150 / 03-3572-3911
Official Website: https://faro.shiseido.co.jp/ 

Karuizawa Shiraito Falls Midwinter Light Up Arrives For 2020-2021

Shiraito Highland Way has announced that this year's Karuizawa Shiraito Falls Midwinter Light Up will run from December 19, 2020 to February 14, 2021.

The illumination event will take place at Karuizawa Shiraito Falls, a 3-meter tall waterfall that spans 70-meters in length. The lights will add a warmth to the cool evening and glow under a starry night sky.

The event creates a different atmosphere from the summer light-up, allowing visitors to enjoy the enveloping nature in a way that they normally can't and see beauty they may not have noticed in the area before. The waterfall is located in Jōshin'etsu-kōgen National Park, a protected area which means the lights will be set up in a way that's considerate to the park.

If you're in Japan this winter then don't miss out on this year's Karuizawa Shiraito Falls Midwinter Light Up which will be split into three sessions: the Christmas Session, New Year Session, and St. Valentine Session. More details below.

Information

Karuizawa Shiraito Falls Midwinter Light Up
Location: Karuizawa Shiraito Falls
Running: December 19, 2020 – February 14, 2021
・Christmas Session: December 19th-20th, 24th-27th (17:00-19:00)
・New Year Session: January 2nd-3rd,  8th-11th (17:00-19:00)
・St.Valentine Session: February 11th-14th (17:30-19:30)

Access: https://karuizawa-shw.com/access/
*Please see the website for the latest information

*Entry restrictions may be made depending on the number of visitors

Official Website: https://karuizawa-shw.com/

SOAK: Tokyo's New Entertainment Restaurant & Bar Opens Bookings

Japanese creative company BAKERU has opened bookings for the new entertainment restaurant and bar SOAK which is set to open on November 13, 2020 on the top floor of MIYASHITA PARK's new brand hotel "sequence MIYASHITA PARK" in Shibuya, Tokyo. The restaurant will served up a 'Japanese innovative' menu made by Takeshi Nagashima of Nishiazabu 81 and Hideaki Nagaya of L'Effervescence.

An otherworldly restaurant and bar serving Japanese innovative cuisine

"BUILD NEO TOKYO" is the theme of SOAK. SOAK welcomes by Takeshi Nagashima of Nishiazabu 81 which delivers performance style-entertainment to customes, and Hideaki Nagaya of L'Effervescence, who was chosen for "JAPANESE CUSINE TOP 5 CHEF IN HONG KONG." Bartending will be Takashi Goto who has worked as the main bartender at Sake Bar DECIBEL in New York and Shampoo in Shinjuku Golden Gai.

An event and party space which can hold up to 100 people

Located just a 3-minute walk from Shibuya Station, SOAK can be used as a party and event space with a maximum capacity of 100 people whether it be a wedding reception or a gathering of friends, family, or business, as well as for events, catering to any and every need. The space was designed by Noiz, a leading interior designer in Japan. The monuments were designed by contemporary artist Akira Yoshida, while the audio design is by Acoustic Engineering and the music is selected by Hirokazu Yamasaki from the post-rock and instrumental band Toe.

OYU: The rooftop terrace offering a panoramic view of Shibuya

Take in a panoramic view of Shibuya atop the rooftop terrace, and enjoy the pool either in the sunlight or shrouded luxuriously in the night with gorgeous illuminations and a glass in hand.

The pre-opening is set for November 13, 2020, but this is subject to change depending on the state of the pandemic.

Information

SOAK

Pre-Opening: November 13, 2020

Address: MIYASHITA PARK North Floor 18F, 6-20-10 Jingumae, Shibuya, Tokyo

Opening Hours: 17:00-24:00 (Last Orders 23:30)

Closed: Mondays

TEL: 03-6427-9989 (17:00-22:00)

Official Website: https://soaks.tokyo/

The North Face and ANA Holiday Inn Resort Shinano-omachi Kuroyon to Co-Develop Mountain Resort

The North Face is set to collaborate with ANA Holiday Inn Resort Shinano-omachi Kuroyon, which opened in Nagano's city of Omachi in July, to develop a new mountain resort where guests can enjoy outdoor activities. The first part of the collaboration will see activities offered which have been made under the supervision of athletes contracted to The North Face. The activities will make full use of Omachi's gorgeous natural environment which is surrounded by stunning mountains.

The North Face has had a high affiliation with this region for a long time. The brand created an original uniform for the staff that work along Tateyama Kurobe Alpine Route, a 37km mountain sightseeing route. It also opened the outdoor clothing and equipment shop The North Face Gravity in Hakuba.

ANA Holiday Inn Resort Shinano-omachi Kuroyon, too, embraces the outdoors of this region as it sits embedded within the lush natural landscape of Omachi. It hails as one of Japan's best mountain resorts which offers guests the chance a sojourn amongst nature. One of the brand's concepts is cultivating real human communication which it offers through its hospitable service, aiming to increase the number of smiles to those who visit.

The North Face x ANA Holiday Inn Resort Shinano-omachi Kuroyon

The collaboration will see the two companies coming together to serve up a plethora of outdoor activities throughout the year to encourage more families to spend time outside. The hotel will offer equipment that can be used for the activities, and there'll also be workshops for people to create their own items that can also be used. They will also work to increase sustainability with local businesses and groups in Omachi in an effort to revitalise the local region.

Workation Plan

The hotel is also offering a workation plan for guests to get away from the hustle and bustle of the busy city to work somewhere more quiet and peaceful. The plan takes into account well-being and is a way for people to up their creativity and motivation. Guests can work and relax at the same time with Wi-Fi and electrical outlets available as well as off-work treats like the open-air baths, spa, gym, and more. The hotel will also offer other plans this winter which include snow biking, family skiing, and more.

Winter Vegan Food to be Served Up at BOTANIST Tokyo in Harajuku This Holiday Season

BOTANIST's flagship shop BOTANIST Tokyo will be serving up a special Northern European-themed holiday season menu at its second floor BOTANIST Cafe from October 31, 2020. The line-up is made with the wish in mind that everyone can live with hope in mind as we draw closer to the end of 2020 and ready for the start of the New Year.

Holiday Menu

All food on the seasonal holiday menu is vegan and promised to be filling, delicious, and healthy.

White Mushroom & Meatball Pasta | ¥1,250 (Tax Included)

A vegan pasta with must-have meatballs covered in a lip-smacking tomato sauce. The pasta is made from rice flour.

Shiitake Patty & Shimeji Sauce Hamburger | ¥1,500 (Tax Included)

A vegan burger with a patty made from shiitake mushrooms and doused in an aromatic shimeji mushroom sauce. It's served with hot hasselback potatoes which are seen in the cuisine of North Europe as well as cauliflower.

Five Mushroom Soy Potage | ¥510 (Tax Included)

A rich potage made from five varieties of mushroom including shiitake, eryngii, shimeji, and hen-of-the-wood. It has a full-bodied flavour and is nothing short of delicious.

​

Vegan Doughnut Holiday Cake | ¥600 (Tax Included)

A Christmas cake where you can pick two vegan doughnuts from a selection of flavours. It's filled with soy cream which goes perfectly with the chewy rice flour doughnuts.

Christmas Set To Go


Christmas Set To Go: ¥2,200 (Tax Included) / Uber Eats: ¥2,600 (Tax Included)

A Christmas set that can be ordered to go or via Uber Eats. Perfect for get-togethers with friends and families.

BOTANIST Botanical Winter Coffret


BOTANIST Botanical Winter Coffret (Premium Hair Care Set) | ¥8,690 (Tax Included)

At BOTANIST Tokyo's first floor shop, they have announced the release of a new hair care collection called BOTANIST Botanical Winter Coffret which will hit shelves on October 31, 2020.

BOTANIST Tokyo's vegan winter menu will arrive on October 31, 2020 which is the final day of their vegan autumn menu. Check out their autumn food line-up here.

Information

BOTANIST Tokyo
Address: 6-29-2 Jingumae, Shibuya, Tokyo (1st Floor – Shop / 2nd Floor – Cafe)
TEL: 1st Floor: 03-5766-3777 / 2nd Floor: 03-5766-3778
Opening Hours: 11:00-20:00

Official Website: https://shop.botanistofficial.com/

Sip Sparkling Wine and Other Drinks Among Tokyo's Nightscape With Sarabeth's HIGH TEA TERRACE NIGHT

The Tokyo branch of New York-based restaurant chain Sarabeth's has announced a special autumn event that goes by the name 'HIGH TEA TERRACE NIGHT.' Set to run from September 23 to October 31, customers will be able to sit on a rooftop terrace in the evening with Tokyo's towering cityscape surrounding them while drinking sparkling wine and other all-you-can-drink free-flow alcoholic beverages—high tea style.


High tea refers to post-dinner evening tea time. At Sarabeth's, customers can look forward to dining on a special set menu for grown-ups with alcohol and other treats.


High Tea Style Set Menu With Free Drink | ¥5,000 (Before Tax)

Served on an afternoon tea stand, tuck into six different appetisers, meatball sliders, and truffle flavoured French fries. For the main dish, there's steak made in a red wine sauce and boletus mushrooms. Free drinks include sparkling wine, red and white wine, beer, high balls, cocktails, soft drinks, and more.

Feel the evening breeze of autumn while indulging in a special high tea experience in Tokyo.

Information

Sarabeth's Tokyo – HIGH TEA TERRACE NIGHT

Running: September 23, 2020 – October 31, 2020

Location: Sarabeth's Tokyo

Address: 1-8-2 Marunouchi, Chiyoda-ku, Tokyo

Serving Hours: 17:00-20:30
TEL: 03-6206-3551
*Free -flow drinks are all-you-can-drink for 90 minutes

*Reservations required by 16:00

Official Website: http://www.sarabethsrestaurants.jp/

Harajuku's New Carbonara Restaurant Serves Pasta Japanese Style

A new spaghetti carbonara restaurant by the name of Nama Carbonara opened in Harajuku, Tokyo on September 17, 2020.

The restaurant opened in the same building as Harajuku's popular fresh cream shop MILK and bubble tea shop Mot Tram. The restaurant makes its own fresh flat pasta everyday and uses fresh, rich cream sourced from Hokkaido.

The current menu lineup consists of six dishes, from classic carbonara to Japanese twists. Let's take a look at some of them.

Classic Carbonara | ¥790

Walleye Pollack Roe Japanese Carbonara | ¥1,090

Freshly Grated Cheese & Bacon Carbonara | ¥1,090

Seafood, Avocado & Basil Carbonara | ¥1,190

Discover a brand new world of carbonara like never before at Nama Carbonara in Harajuku.

Information

Nama Carbonara (生カルボナーラ専門店 原宿店)

Grand Opening: September 17, 2020

Address: THE SHARE 1F, 3-25-18 Jingumae, Shibuya, Tokyo

Opening Hours: 11:00-19:00 (Last Orders 18:30)

TEL: 03-5772-8858

Official Website: http://www.opefac.com/