Sake App "SakeWiz" to be Released in Japan, US, Canada and Singapore for iOS & Android
A mobile app called SakeWiz used for finding information on Japanese sake was released on May 8, 2018 and is available on iOS and Android in Japan, the US, Canada and Singapore.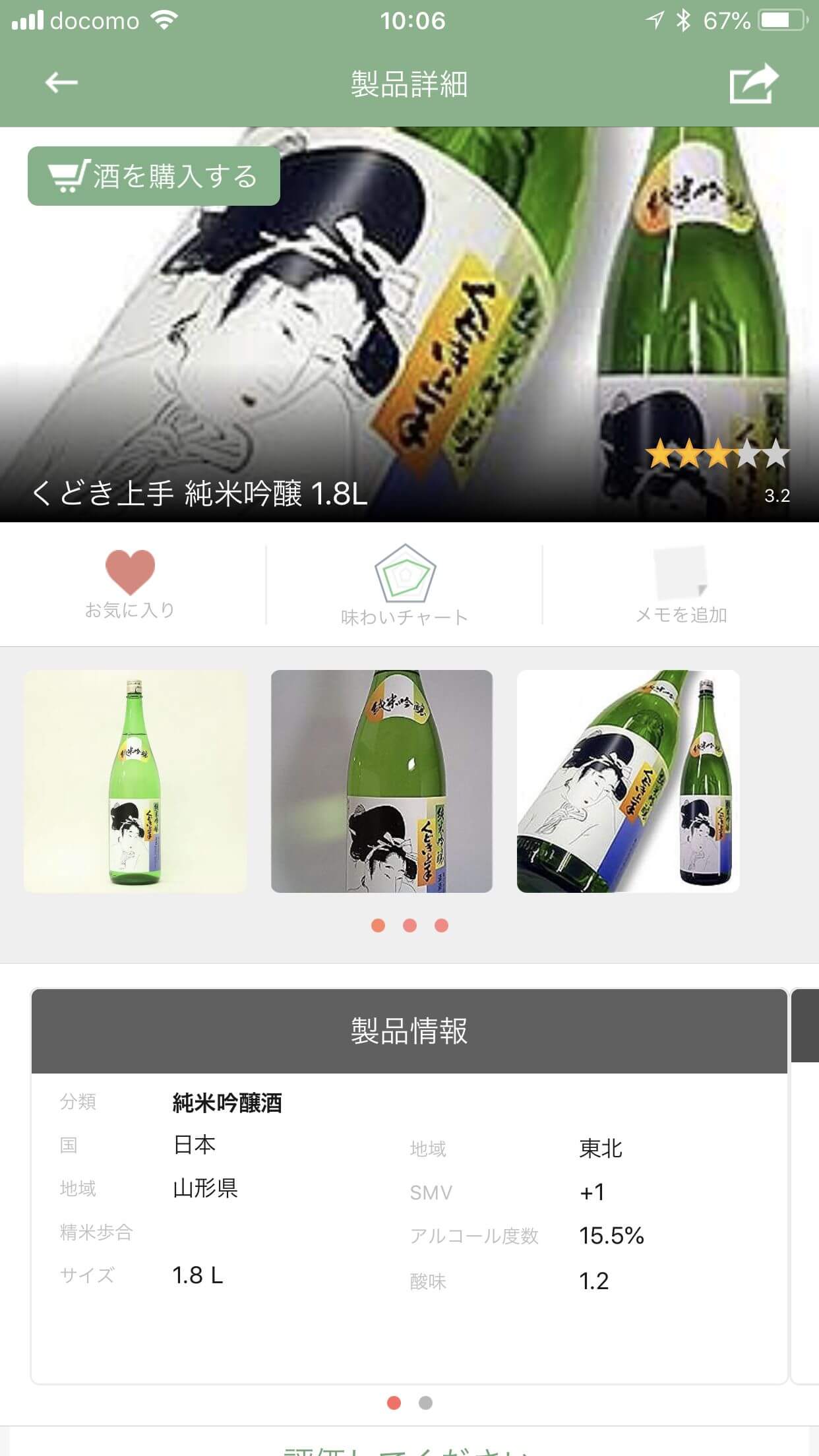 There's been a boom recently amongst young females in Japan for local sake. SakeWiz was developed to play a role in helping spread the boom of Japanese sake even more through the internet.
The app was officially endorsed by Sake Service Institute (SSI), a Japanese sake service that authorises the Kikisake, or Master of Sake course.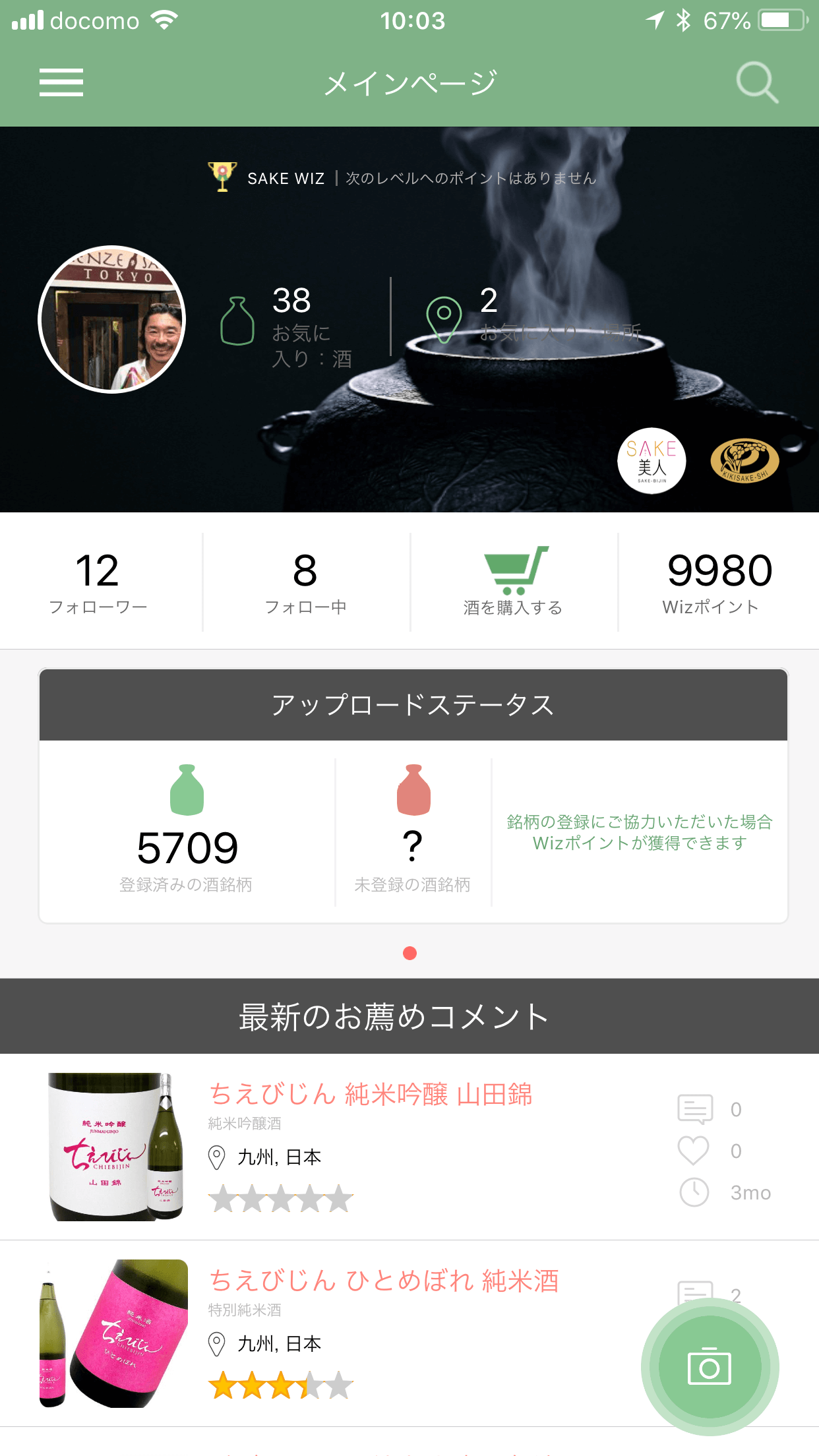 Using artificial intelligence, the app has label scanning software to search for Japanese sake brands and names which can be difficult to remember. Additionally, you can save your favourite brands on the app to share and recommend with friends.
Sake has a tendency to mostly be enjoyed by males and females in their 30s. The polyphenol effect, which became the impetus for the first wine boom in Japan, also played a role in lighting a fire amongst young women who are consistently the leaders consumption in this area.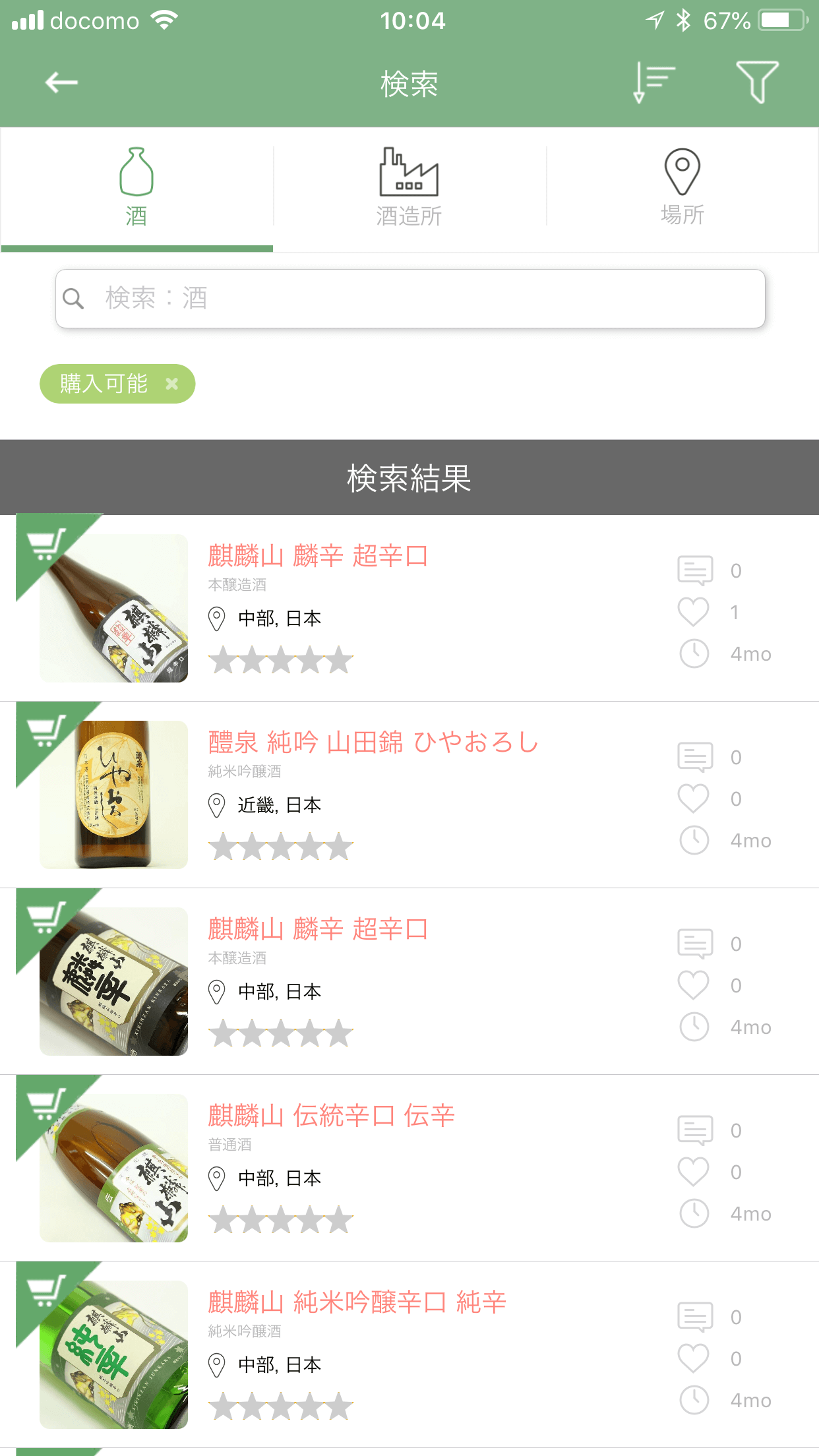 There are plans to implement more functions such as to enable users to be able to comment on sake and food they like, as well as introduce coupons. The app is also available in multiple languages, including Chinese and Korean.
If you love Japanese sake or someone who wants to try out all the sake that Japan has to offer, then consider downloading SakeWiz.
■Information
SakeWiz
Fuctions:
・Label scanning
・Favourites list
・Japanese sake online purchasing
・User community
・Search function for restaurants serving Japanese sake
・Ability to post on social media including Facebook and Instagram
Download:http://l.ead.me/baqirY
Firenze SAKE:http://firenzesake.jp/
RELATED ENTRIES
The Crayon-Shin Chan Nohara Family Get Appointed as Official Restoration Supporters of Kumamoto

In an effort to help support of the restoration efforts in Kumamoto after the 2016 earthquake devastated the prefecture, the Nohara family from the popular manga and anime series Crayon Shin-chan have been appointed official Kumamoto Restoration Supporters. This begins with a PR campaign to help promote tourism in Kumamoto's city of Aso. To celebrate, Shin-chan himself visited the Kumamoto Prefectural Government on July 15.

Shin-chan's mother, Misae, was born and raised in Aso, Kumamoto, while himself and his father Hiroshi were both born in Akira Prefecture. Shin-chan considers Aso his second home, and all of this the reason behind the family's appointment as supporters. The manga series has raised money for Kumamoto numerous times in the past, including for the Crayon Shin-chan 25th Anniversary Exhibition which saw money raised for charity products donated towards relief efforts of the earthquake disaster. This year, the series joins hands with the prefecture once more.

The 2021 summer campaign is being carried with the slogan "I'm fine! ASO." The Nohara family will serve as PR characters to spread the word about Aso. This will include a digital stamp rally that will have people travelling around the prefecture on their smartphones. The app will be released in August, followed by campaign posters, pamphlets, and other promotional material rolling out.

When Shin-chan visited the local government office for his appointment as a supporter, he played the Nintendo Switch game Crayon Shin-chan: Ora to Hakase no Natsuyasumi – Owaranai Nanokakan no Tabi with officials, which also released on the same day. In the game you can visit lots of spots around Kumamoto such as Kumamoto Station, Kusasenri Observatory, Tsujun Bridge, Aso Station, and more.


©臼井儀人/双葉社・シンエイ・テレビ朝日・ADK
©2010熊本くまモン

 ⒸNeos Corporation
Nintendo Switchのロゴ・Nintendo Switchは任天堂の商標です。

Supporting Japanese Sake Breweries During the Pandemic With the WAX&WANE Project

WAX&WANE is the name of a new project that has launched in an effort to support ARCADE TOKYO, an 'online shopping arcade' stocking countless must-grab products from Tokyo, due to the impact COVID-19 has had on participating businesses having to close down, resulting in a drastic decrease in shipping and consumption.

12 breweries pour 12 unique sake beverages

Pair your drinks with foods outside Japanese cuisine to change things up

Bottle clothes with designs showcasing each sakes' personality

The project was launched on June 10 via the crowdfunding website CAMPFIRE as a way to pay back thanks to 12 sake breweries in Japan who produce sake you can't get anywhere else. It aims to spread the word of Japan's sake culture the world to preserve its future and create even more brands, thereby adding new value to sake.

As part of the project, tie dye creator YUKIDYE, who has worked with many different street brands, has produced a collection of tie dye cloths which take inspiration from each of the 12 sake flavours and the characteristics of each brand.


Sanrio Releases Hello Sweet Days Dress-Up App in the US, Canada, and South Korea

Digital content enterprise Cocone has made Sanrio's popular character dress-up game Hello Sweet Days available in the US, Canada, and South Korea. The app hit the overseas countries on June 10, allowing for fans outside Japan to enjoy dressing their avatars up like their favourite Sanrio characters.

Hello Sweet Days first launched in Japan back in August 2017 and has since amassed over 2 million downloads. It rolled out to Taiwan, Hong Kong, and Macao in 2020, and now an English version has finally been made available. There are plans to release the app to even more countries in the future.

Pre-registration opened early in South Korea on May 24 when it garnered 60,000 advance sign-ups. Those who registered early even received K-pop idol-style fashion items. Since releasing last Thursday, it is now being used by over 300,000 fans in South Korea.

Head on over to the App Store or Google Play and enjoy Hello Sweet Days in English now!

© 2021 SANRIO CO., LTD. TOKYO, JAPAN Ⓗ. APPROVAL NO. S620438 ©cocone corp.

VTuber Yukihana Lamy Releases Her Own Sake Called 'Yuki-Yo-Zuki'

Yukihana Lamy, a Virtual YouTuber associated with hololive, launched her own Japanese sake project in February to bring her dream to life of making her very own sake by hand. That sake has now been released by the name of Yuki-Yo-Zuki, a premium brand daiginjo sake.

The sake was created in collaboration with Meiri Shurui, a Japanese sake brewery which has been around since the Edo Period. Every single ingredient in the drink was considered from scratch including the type of rice, the ratios, yeast, alcohol content, and so on. The sake is made by hand in a brewery located in Mito, Ibaraki.

Yuki-Yo-Zuki uses Fukushogun Daiginjo as its base, a sake that won Gold in the Sake category at IWC2020. It's made with a combination of Yamada Nishiki and Biyama Nishiki rice as well as ginjoka, the highest quality daiginjo, known for its light spicy kick and fruity notes. The bottle features an illustration of Yukihana Lamy drawn by Abara Heiki, an artist Lamy likes, with a fusion of black and silver inspired by the meaning of drink's name: 'Snowy Evening Moon.'

haccoba Craft Sake Brewery Re-Releases Limited Edition Hanauta Drops Sake

haccoba launched its new sake brewery, haccoba -Craft Sake Brewery-, in February. It released its first product last Monday: a limited restock of Hanauta Drops, a sake that uses unrefined sake brewing methods which first originated in the Tohoku region.

Hanauta Drops

©︎ Puddle Inc.

Humulus lupulus hop

The sake crafted by haccoba uses the same techniques found in traditional Japanese sake brewing, including the rice and yeast used, but throws in a variety of fruits and herbs during the fermentation process. This upholds the traditional culture of Japanese brewery which was formerly carried out in homes while adding some fun flair. The brand plans to make its main product a fusion of hops used in beer making and classic Japanese crafting methods.

The secret ingredient that was so enjoyed in Japanese homes in the past when making sake is the humulus lupulus, a type of hop that makes this brewing process to making beer. Hanauta Drops uses the very same technique. It also enjoys a blend of yellow koji mold which has a sweetness similar to refined Japanese sugar found in rice, and white koji mold for a lemony tang. The result is a refreshing experience with every sip thanks to the bubbles that occur naturally during fermentation.

Premium Japanese Sake Lounge Opens Inside JR Chiba Station

After the success of the hit Ikkon-Fugetsu event held at Perie Chiba Ekiue Hiroba last autumn, a permanent nihonshu Japanese sake lounge is set to open at JR Chiba Station on April 28, offering the same kind of atmosphere as inside a luxury airport lounge.

CHIBASAKE.COM SHOP with PERIE Onliine SHOP

A sake shop will also open at the same time at the lounge where customers can scroll through different drinks they'd like to purchase using their smartphone or tablet. You can purchase sake that you enjoyed drinking in the lounge as well as pick up exclusive and original beverages available online only at CHIBASAKE, sake from different regions across Japan, and more.

That's not all for customers' sake experience however. Umami is a big part of Japanese food culture, and so in order that all who visit can enjoy their drink to the fullest, Japanese wineglass makers RIEDEL, who have been in the business for 260 years, have provided their special junmaishu glasses which were developed over a period of eight years. Food will also be on the menu made with ingredients local to Chiba Prefecture, and more.

Information

Ikkon-Fugetsu

Grand Opening: April 28, 2021 @ 17:00

Address: Perie Chiba Floor 3F, 1-1-1 Shinchiba, Chuo-ku, Chiba-shi, Chiba

Opening Hours: [Weekdays] 17:00-22:00 / [Weekends & Holidays] 12:00-22:00

Official Website: https://ikkon-fugetsu.com/

Captain Tsubasa Mobile Game TSUBASA+ Releasing Worldwide This Autumn

TSUBASA+, a 'real world' mobile game developed by MIRAIRE that's based on the popular football manga series Captain Tsubasa, is set to begin rolling out worldwide this autumn.

TSUBASA+ is a collaboration between football players throughout the world and Captain Tsubasa's players, bringing them together in real world locations using GPS and Google Maps Platform. Development of the game was supervised by video game designer Yoshiki Okamoto (Monster Strike; Street Fighter II; Red Dead Revolver).

TSUBASA+ in-game image

Players walk around real world locations and battle with Captain Tsubasa characters and real-life FIFPro football players at stadiums found around the game.

Stadium check-in

Example of a team formation

Players can create their own unique teams and play 1-on-1 with 3 players around the world.

Playing a match

Match Results screen

Players must pick a stadium in-game which will be registered as their home stadium where they can level up by playing with others. As your stadium levels up, it becomes easier to recruit more famous and high level football players. Players can also receive a variety of items at their stadium.

The map

The game can be played indoors too using the map system, so you don't have to worry about having to go outdoors to play during the pandemic. Players can also warp to other users they follow too.

The soundtrack for TSUBASA+, including the background music and sound effects, is composed and produced by Taku Takahashi.

☆Taku Takahashi (m-flo) | Comment

"I'm really proud to have had the opportunity to be involved for this game which is based on a series popular worldwide. I have become a football lover, supporter, and rival supporter through this game. I was conscious when making the music for it to be a way for people who love football to quickly connect to one another. I'm really looking forward to playing too."

©Yoichi Takahashi/SHUEISHA
©"The use of images and names of the football players in this game is under license from FIFPro Commercial Enterprises BV. FIFPro is a registered trademark of FIFPro Commercial Enterprises BV"
©LICENSED BY JAPAN PROFESSIONAL FOOTBALL LEAGUE
©miraire Inc.

Information

TSUBASA+

Release Date: Autumn 2020 (Worldwide)

Platform: iOS/AndroidTM

Market: App Store / Google Play

Genre: Real World Game

Official Website: https://tsubasa.plus/en/

ISEKAI App That Lets You Talk With Anime Characters Begins Summer Event

The ISEKAI app began its summer event on July 20, 2020. The app, developed by BOOK WALKER, lets you have conversations with anime characters.

The summer event will be split into two different phases. The first phase is running from July 20 to August 3 and lets you talk about the ocean, while the second phase which will run from August 3 to 17 lets you have conversations about Japanese festivals. The event also introduces a new swimsuit costume for Megumin from KonoSuba who is also the first character introduced on the app.

To get more people playing the game, users can now talk with Megumin for free up until August 3, 2020. The usual paying price is ¥360, so don't miss out on this opportunity.

The light novel series, which is written by Natsume Akatsuki and illustrated by Kurone Mishima, concluded with its 17th volume on May 1, 2020. The series is being published in English by Yen Press.

©2019 Natsume Akatsuki・Kurone Mishima/KADOKAWA/映画このすば製作委員会

Information

ISEKAI 2 Week Free Trial (Usual Price: ¥360)
Running: July 20, 2020 – August 3, 2020

Summer Event
Phase 1: July 20, 2020 – August 3, 2020 / Conversation Theme: Ocean
Phase 2: August 3, 2020 – August 17, 2020 / Conversation Theme: Japanese Festivals

Functions: English Pack (Voice Acting/Text) / Conversation / Alarm / Timer / Stopwatch / Costumes

Official Website: https://isekai.app/

KonoSuba Official Website: http://konosuba.com/

Tokyo's New Sake Ice Cream Shop Launches Crowdfunding Campaign to Ship Ice Cream Around Japan

SAKEICE is an ice cream shop that offers a new kind of ice cream experience, combining Japanese sake and alcohol together with the frozen treat. The shop opened in Akusaka, Tokyo in March this year.

However, due to the outbreak of the COVID-19 pandemic, the store has had to close temporarily. SAKEICE wants to cheer people up during these turbulent times with their ice cream, and has therefore announced the launch of a crowdfunding campaign so they can set up a website where people can order ice cream in Japan and have it delivered to them.

I tried out their ice cream

Otokoyama / Nihonshu Ice

SAKEICE's ice cream is laced with lots of Japanese alcohol. I tried the Otokoyama and the Nihonshu Ice, the latter of which is an original ice cream flavour exclusive to SAKEICE. They both contains around 4% alcohol. I were curious exactly how they would taste.

I started with the Nihonshu Ice. The moment the ice cream hits your tongue, your taste buds are met with its smooth texture, and your nose is filled with the full bodied flavour of nihonshu. The velvety texture on your tongue as it melts is to die for. The Otokoyama has a refreshing kick to it when compared to the Nihonshu Ice. It's creamy, but the aftertaste is refreshing, so we recommend it for people who aren't a fan of sweet treats. Both are sure to leave you feeling satisfied, and maybe a little flushed afterwards.

These ice creams contain alcohol, so keep that in mind when coming here with minors, kids, pregnant women, or if you're driving.

 

They have non-alcoholic flavours too!

Matcha / Cherry Blossom

Of course, they have non-alcoholic options too. I tried out the matcha and cherry blossom flavours.

The matcha one has an irresistible bitterness layered inside the sweetness. You get that real rich matcha taste too. The cherry blossom ice cream is a cute light pink colour and has a subtle sweetness to it. If you don't like alcohol then you'll definitely want to try one of delights.

Smartphone App 'Tipsys' That Helps Women in Japan Make Friends Expands Service

Tipsys, a social app for women in Japan, has expanded its reach to the whole of Japan on March 17, 2020. It was previously only usable in major cities throughout the country.

Tipsys is an app aimed at women who are at a turning point in their livesーwhether it be going to university, looking for work, changing jobsーand helps them make friends with other women to hang out with so they can go going shopping, get a drink at a bar, and so on.

The app launched its service in Tokyo in March 2017, and subsequently rolled out at surrounding major cities. It has over 60,000 users, and that number is set to grow as the app now caters for the entire country.

The app allows you to customise your profile with tags and details, like hobbies, where you want to meet up with people, if you drink and what you like to drink, your outing budget, and so on. Tipsys aims to introduce more functions that cater to the needs of its users and their matchmaking needs too.

Information

tipsys

Price: Free (*Select services require fee)

Official Website:  https://tipsys.me

*Cannot be used by males or minors

Protect Yourself From Natural Disasters in Japan With the Multilingual 'Safety Tips' App

"Safety Tips" is an app for foreign travellers in Japan that was developed by the Japan Tourism Agency. The app has added three new languagesーKhmer, Burmese, and Mongolianーbringing the total number up to 14. The languages were added together with the new 3.4.0 version of the app on March 17, which is available on iOS and Android.

Safety Tips was launched in October 2014 and enables push notifications and alerts for sudden earthquakes, tsunamis, breaking news, volcano eruptions, virus outbreaks, civil protection news, evacuation announcements, and more. It also displays flow charts that showcases the spread of the particular disaster, links on where to get important and helpful information at the time of disaster, and more.

Compatible languages include: English, Japanese, Chinese (Simplified/Traditional), Korean, Spanish, Portuguese, Vietnamese, Thai, Indonesian, Tagalog, Nepali, Khmer, Burmese, and Mongolian.

If you're worried about natural disasters when travelling to Japan, arm yourself by downloading Safety Tips for all the necessary information.

Chat With My Melody Via Text Message Everyday With Sanrio's Official New App

My Melody's birthday was yesterday (January 18), and in the run up to it, Sanrio released a new smartphone app on Friday named "Itsudemo Issho ni My Melody" (Together Always With My Melody). Described as a "healing app," the app is My Melody's way of cheering on those who are working hard every day; it continues her support of healing people on Twitter and radio with her personality.

This app was developed together with fans, with 300 of them participating in a questionnaire for it. It has three major functions including "Text Chat," "Schedule," and "Alarm," all of which incorporate everybody's favourite bunny.

Receive texts from My Melody with Talk Chat

The Talk Chat function enables you to chat with My Melody via text messages. Replies are given 24 hours a day, so you can send her a text at any time, whether it's idle chit-chat or telling her a secret you can't tell anyone else. Whatever it is you want to talk to her about, her words are sure to leave you feeling warm and fluffy.

The messaging service has 12 special stamps which can only be used on the app. If you send a certain stamp, you'll even receive a call from My Melody. You can also customise the chat backgrounds as you please.

My Melody keeps your days organised with the Schedule

Using the app's cute calendar, you can enter your schedule for each month.

My Melody will even send you reminders of upcoming plans in the chat too, even if the app is closed, so you won't miss a thing.

There are 10 "Schedule Seals" you can use depending on what kind of reminder you are setting. Depending on which seal you use, My Melody will send you a different message. Setting a schedule has never been so much fun!

Look forward to waking up to My Melody's voice with the Alarm

The Alarm function makes use of My Melody's voice, which is sure to support you during your busy days. There are six voice functions you can set, from waking up in the morning to break time and more.

Additional convenient functions to be released in the future

More functions are set to be released in the future, including the Weather function in March which will have My Melody informing you what the weather will be like outside. If you ask her about the weather in the chat room, she'll tell you the weather type, temperature, and more to help you prep for each day.

Download the My Melody app and make your days even more fun♡

©'76,'20 SANRIO