The Crayon-Shin Chan Nohara Family Get Appointed as Official Restoration Supporters of Kumamoto
In an effort to help support of the restoration efforts in Kumamoto after the 2016 earthquake devastated the prefecture, the Nohara family from the popular manga and anime series Crayon Shin-chan have been appointed official Kumamoto Restoration Supporters. This begins with a PR campaign to help promote tourism in Kumamoto's city of Aso. To celebrate, Shin-chan himself visited the Kumamoto Prefectural Government on July 15.

Shin-chan's mother, Misae, was born and raised in Aso, Kumamoto, while himself and his father Hiroshi were both born in Akira Prefecture. Shin-chan considers Aso his second home, and all of this the reason behind the family's appointment as supporters. The manga series has raised money for Kumamoto numerous times in the past, including for the Crayon Shin-chan 25th Anniversary Exhibition which saw money raised for charity products donated towards relief efforts of the earthquake disaster. This year, the series joins hands with the prefecture once more.
The 2021 summer campaign is being carried with the slogan "I'm fine! ASO." The Nohara family will serve as PR characters to spread the word about Aso. This will include a digital stamp rally that will have people travelling around the prefecture on their smartphones. The app will be released in August, followed by campaign posters, pamphlets, and other promotional material rolling out.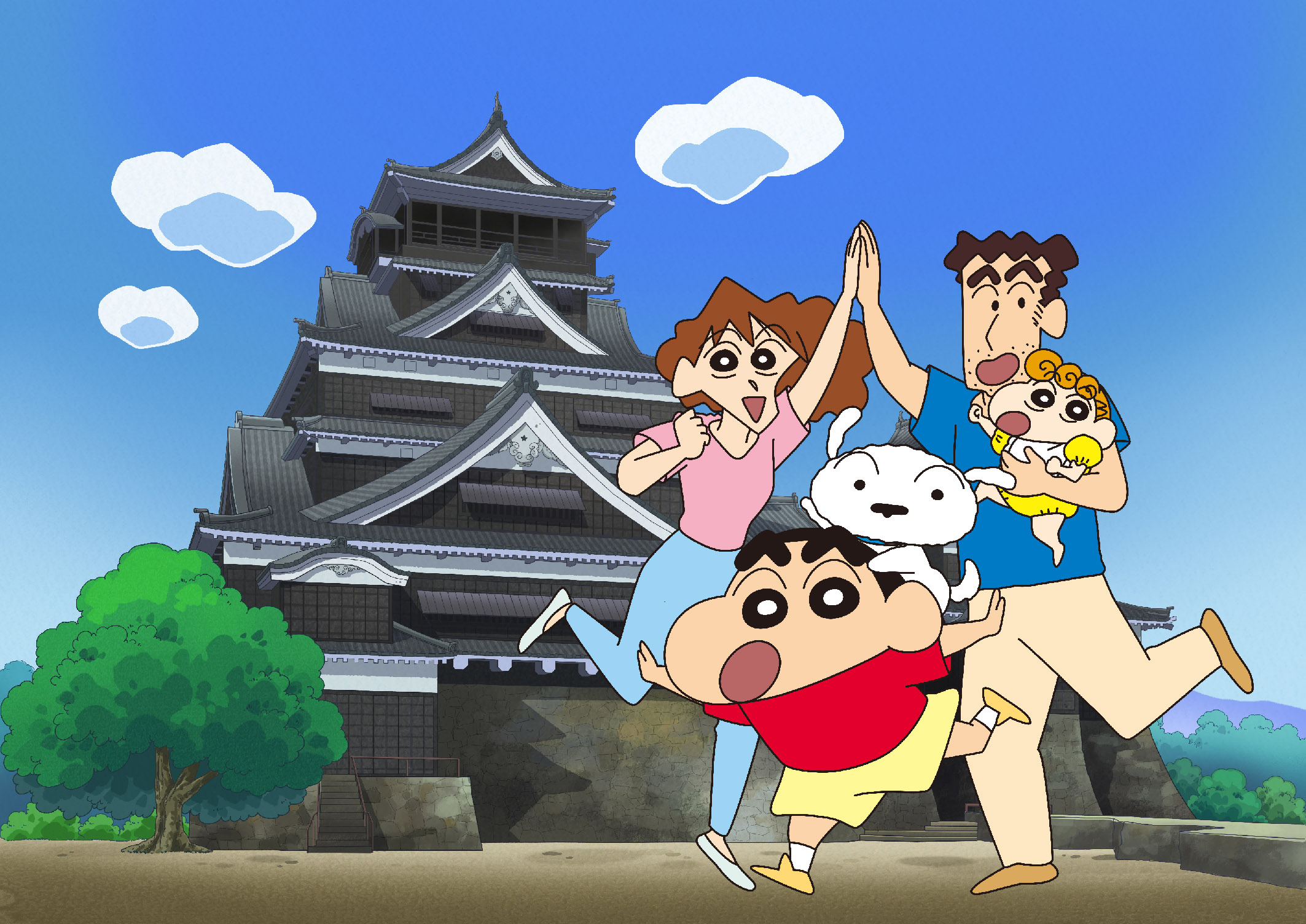 When Shin-chan visited the local government office for his appointment as a supporter, he played the Nintendo Switch game Crayon Shin-chan: Ora to Hakase no Natsuyasumi – Owaranai Nanokakan no Tabi with officials, which also released on the same day. In the game you can visit lots of spots around Kumamoto such as Kumamoto Station, Kusasenri Observatory, Tsujun Bridge, Aso Station, and more.

©臼井儀人/双葉社・シンエイ・テレビ朝日・ADK
©2010熊本くまモン
 ⒸNeos Corporation
Nintendo Switchのロゴ・Nintendo Switchは任天堂の商標です。
RELATED ENTRIES
Crayon Shin-chan and Adorable Bunny Rabbits Available from Ikumimama Animal Donuts

Ikumimama Animal Donuts has been a popular topic on social media for it's cute creations, many based on popular characters. Now, customers located in Japan can purchase the new Crayon Shin-chan and Otsukimi Usa-chan Donut Sets online! 

Otsukimi Usa-chan Set

Otsukimi Usa-chan (White)

Otsukimi Usa-chan (Pink)

Otsukimi Dango Donuts

Crayon Shin-chan Donut Set

Shin-chan (Normal)

Shin-chan (Sparkling)

Shiro

Buriburizaemon

Himawari

Otsukimi means 'moon-viewing' in Japanese. On the 15th day of the eighth month of the traditional Japanese calendar, it's tradition to hold a celebration to view the harvest moon. The Otsukimi Usa-chan set is perfect to serve during a get-together as you watch the starlit sky with friends. This year, September 21 is the lucky day! Dango, or dumplings, are popular snacks to enjoy during this event, and these coconut-filled Dango Donuts are a fun twist on a traditional treat. 

Shinnosuke, Shiro, Buriburizaemon, and Himawari all make an appearance in the new Crayon Shin-chan collaboration.

Which of these sugary sweets looks the most scrumptious? 

Pink Crocodile Waniyama-san from Crayon Shin-chan Gets His Own Holiday

If you watch Crayon Shin-chan, you're probably familiar with the pink crocodile on Shin-chan's favorite snack, Chocobi. On August 2, 2021, a special ceremony was held at the Chocobi Store in SHIBUYA109 to commemorate the establishment of 'Waniyama-san Day!'

Chocobi Chocolate Flavor

Chocobi Strawberry Flavor

Campaign Prize: Rubber Mascot

The lively ceremony was held before the Pop-Up Store's opening to a very excited crowd, and was attended by the larger-than-life mascots of Shin-chan and Waniyama-san. These six limited-edition shops, opening all over Japan, commemorate the 15th anniversary of Chocobi's release. Yummy snacks aren't the only things you can grab at these colorful stores: plenty of original goods featuring Waniyama-san and Shin-chan are available!

Beginning on September 1, 2021, a special campaign will begin, offering shoppers the chance to win an original (and very adorable) rubber mascot! For those who win the jackpot, you'll have the chance to get one of three unique designs. These were created for the 15-year event and can only be obtained through this campaign, so don't miss it!

Event Report

Shin-chan and Mr. Waniyama, the pink crocodile featured on the titular character's favorite snack, attended the ceremony. The two received special certificates marking the occasion, and were happy to pose for the camera.


After the ceremony concluded, the two immediately went shopping for goods in the store. They had a great time picking out some original merch, decorated with their own unique decorations.

As soon as the store opened, people flooded in! Everyone's eyes were glittering as they took in the sight of these new items, and everyone seemed to be having an incredible time. The colorful storefront also attracted plenty of attention, with countless people snapping commemorative photos.

©Yoshito Usui/Futabasha/Shinei/TV Asahi/ADK 2021
©Yoshito Usui/Futabasha/Shinei/TV Asahi/ADK

©臼井儀人/双葉社・シンエイ・テレビ朝日・ADK 2021
©臼井儀人/双葉社・シンエイ・テレビ朝日・ADK

Information

Chocobi Store

Pop Up Store Details:
Chocobi Store in SHIBUYA109
Event Period: August 2, 2021-August 11, 2021
Location: B1F Shibuya109 (2-29-1 Dogenzaka, Shibuya Ward, Tokyo)


Chocobi Store in Abeno Q's Mall
Event Period: August 16, 2021-August 31, 2021
Location: 1F Event Space at Abeno Q's Mall (1-6-1 Abeno-suji, Abeno Ward, Osaka)

Chocobi Store in LOFT Nagoya
Event Period: August 2, 2021-August 16, 2021
Location: 5F LOFT Nagoya (3-18-1 Sakae, Naka Ward, Nagoya) 

Chocobi Store in LOFT Shibuya
Event Period: August 2, 2021-August 19, 2021
Location: 6F LOFT Shibuya (21-1 Udagawa-cho, Shibuya Ward, Tokyo)

Chocobi Store in LOFT Sapporo

Event Period: August 16, 2021-August 31, 2021
Location: Esta 6F, LOFT Sapporo (North 5 Nishi 2-chome, Chuo Ward, Sapporo)

Chocobi Store in LOFT Kobe
Event Period: August 25, 2021-September 15, 2021
Location: 3F Kobe Hankyu Building (8-1-8 Onogara-dori, Chuo Ward, Kobe)

Campaign Details: https://www.bandai.co.jp/candy/chocobi/

Open Period: September 1, 2021 (Ends when all applicable products are gone.)

Official Site: https://www.shinchan-app.jp/chocobi202107/

Sanrio Releases Hello Sweet Days Dress-Up App in the US, Canada, and South Korea

Digital content enterprise Cocone has made Sanrio's popular character dress-up game Hello Sweet Days available in the US, Canada, and South Korea. The app hit the overseas countries on June 10, allowing for fans outside Japan to enjoy dressing their avatars up like their favourite Sanrio characters.

Hello Sweet Days first launched in Japan back in August 2017 and has since amassed over 2 million downloads. It rolled out to Taiwan, Hong Kong, and Macao in 2020, and now an English version has finally been made available. There are plans to release the app to even more countries in the future.

Pre-registration opened early in South Korea on May 24 when it garnered 60,000 advance sign-ups. Those who registered early even received K-pop idol-style fashion items. Since releasing last Thursday, it is now being used by over 300,000 fans in South Korea.

Head on over to the App Store or Google Play and enjoy Hello Sweet Days in English now!

© 2021 SANRIO CO., LTD. TOKYO, JAPAN Ⓗ. APPROVAL NO. S620438 ©cocone corp.

Kumamon Promotes Strawberry and Whipped Cream Pastry For Pasco Kumamoto Project

The Pasco Kumamoto Prefecture Project is a collaboration between the Japanese pastry company Pasco and Kumamoto Prefecture which has appointed Kumamon, the mascot of Kumamoto, as its head to promote local foods.

The project was started as a reconstruction and restoration effort to help support Kumamoto after the devastating earthquake that struck in 2016 and the 2018 Japan floods. For every select product sold, 0.5 yen is donated to the relief effort to aid victims of the disasters.

The Pasco Kumamoto Prefecture Project is set to run until end end of September this year. It released two items on April 1 as part of the project. It is now releasing two new products: the "Strawberry Jam & Milk Whipped Cream" pastry and "Pancake Omelette Custard & Milk Whipped Cream." The milk, strawberries, and eggs used for these confections are all sourced from Kumamoto

The pastry recipe creates whipped cream from milk and layers it with a strawberry jam made from yuubeni, a popular brand of strawberry grown in Kumamoto, before baking. The pancake omelette is a combination of Jersey milk, eggs, and custard cream to create a fluffy dessert.

Pasco carefully selects ingredients as part of Kumamon's promotional products

The ingredients used in the recipes for these food products are all carefully selected to go deliciously well with Pasco's bread. This includes milk, eggs, and yuubeni strawberries. Pasco plans to used Kumamoto-grown rice for a new product in August.

 

Scan the code on the packaging and meet Kumamon!

A special Kumamon AR service has also been created as part of the project. If you scan the code on the packaging of these products using a smart device, you can take a photo together with Kumamon as pictured above. He has the same design as on the packets.

Information

Pasco Kumamoto Prefecture Project – 2nd Release

Running: June 1, 2021 – July 31, 2021

Available: Supermarkets and shops in Japan

Pasco Official Website: https://www.pasconet.co.jp/

Kirin Announces Restoration Project With Gogo no Kocha Milk Tea

Kirin Beverage launched the Gogo Tea Happiness Project on June 1, 2021. The project will donate the proceeds made from select products to locations in Japan that require support in restoration efforts. The first product to launch is the 'Gogo no Kocha for HAPPINESS Kumamoto Strawberry Tea' which released in limited quantities in Japan on Tuesday.

 

Kirin Group launched a similar project in 2011 called the 'Kirin Bond Project.' in 2016, they began efforts to support the people of Kumamoto after the earthquake that struck there that year – to 'bind' them to the future. From then until 2018, they also shot commercials for their Gogo no Kocha milk tea brand at Miharashidai Station, Shirakawa River, and other places around Kumamoto, as well as promoted the village of Minamiaso to showcase its beautiful natural environment.

The Gogo Tea Happiness Project takes Kirin back to Kumamoto to continue helping to support restoration efforts, something the company has been doing since July 2011 after the Great East Japan Earthquake struck. For every bottle of Gogo no Kocha for HAPPINESS Kumamoto Strawberry Tea sold, not only does 3.9 yen of the proceeds go towards supporting Kumamoto, it also gives people around Japan the chance to try a type of strawberry grown in Kumamoto called yuubeni. The project also ties in with the 35th anniversary of Kirin's Gogo no Kocha tea.

Information

Gogo no Kocha for HAPPINESS Kumamoto Strawberry Tea

Japanese Product Name: キリン 午後の紅茶 for HAPPINESS 熊本県産いちごティー
Released: June 1, 2021

Available: Japan

Price: ¥140 (Before Tax)

Official Website: https://www.kirin.co.jp/

niko and … Collaborates With Kumamoto Painter to Promote New Store Opening

Style editorial brand "niko and …" opened pre-orders for a new collection with Kumamoto resident oil painter Takeshi Matsunaga at its new AMU PLAZA KUMAMOTO branch on April 23. The line-up is set to be subsequently released via the online webstore "st." as well as five branches of niko and … on April 29, including their Tokyo store.

MATSUNAGA TAKESHI MEETS niko and … KUMAMOTO

The line-up is a collection of everyday items from tote bags and mugs to key rings, pencil cases, iPhone cases, t-shirts, caps, and more. Each item features a design inspired by Rakunou Gyunyu, a brand of milk that's hugely popular in Kumamoto. Matsunaga adds his delicate touch to the oil-painted series. Part of the proceeds generated from the sales of these items will be donated to the city of Kumamoto in support of restoration efforts from the 2016 Kumamoto earthquakes.

niko and's new Kumamoto store also has a cafe attached to it, "niko and … COFFEE," where a milk smoothie will be sold for a limited time until September 30. Each will come with a milk-flavoured wafer featuring Matsunaga Takeshi's art on it.

Information

niko and … x Matsunaga Takeshi

Pre-Sales: April 23, 2021

Where: niko and … AMU PLAZA KUMAMOTO

General Sales: April 29, 2021

Where: .st / niko and … TOKYO/ Five branches of AMU PLAZA in Kyushu (Oita, Kokura, Hakata, Kagoshima, Nagasaki)

Buy on .st: http://www.dot-st.com/nikoand
Buy on niko and…: https://www.nikoand.jp

Crayon Shin-Chan Teaches Bicycle Safety in Animated Video

Japanese bicycle shop Asahi has teamed up with the anime series Crayon Shin-chan as part of its spring promotion campaign to spread awareness of the importance of riding your bike safely. Check out the collaborative video below.

The video was released to highlight the rules and manners of bike riding as with the sunny spring season comes more riders. It stars Shin-chan and his parents and is sure to have fans of Yoshito Usui's series reminiscing on the manga and anime while taking into account the importance of protecting yourself and those around you. Playing in the background of the video is Hashirigaki by Japanese rock band Macaroni Enpitsu. The song, which sings of youthful days, was used as the main theme for the new anime film Crayon Shin-chan: Shrouded in Mystery! The Flowers of Tenkazu Academy.

As part of Asahi's spring campaign, their official website also has information on things to consider when choosing a bike, how to praticing riding with training wheels, and more, all presented by the Kasukabe Defence Force from Crayon Shin-chan. The website is also giving 10 lucky people a chance to win a Nintendo Switch Lite by completing and posting the colouring-in sheet you get when buying a children's bike on their website to Instagram.

Appreciate Kumamoto's Culture at New Tokyu Hands Store in Amu Plaza Kumamoto

Tokyu Hands is opened a new lifestyle shop called Hands Be inside Amu Plaza Kumamoto in front of JR Kumamoto Station April 23. The shop will sell a range of everyday products from beauty to stationery, seasonal, and more, that showcase Kumamoto's culture and craftsmanship. Whether it be for yourself or a gift for someone else, there's something for everybody.

Kumamoto culture

Kurikawa Uchiwa Shoten

Kurikawa Shoten is a specialist in Japanese uchiwa fans that first opened in 1889. Kumamoto is the third biggest producer of uchiwa fans together with Kyoto and Marugame and is the only place passing down the traditional kutani craft of fans. Their fans are durable and long-lasting, enjoyed as gifts at children's birthday parties, weddings, as well as at company commemorations and elsewhere. To celebrate Hands Be's opening, the Kurikawa Shoten is providing fans with original colours exclusive to the new store.

Coffee Arrow

Coffee Arrow is a coffee shop that opened in Hanabatacho in the central ward of Kumamoto back in 1964. Customers can get their hands on a range of original coffee beans, merchandise, and more.

Coming together during these times

BLUE SEED BAG 

"HOLD hands be Happy" is the message written on the recyclable, eco-friendly BLUE SEED BAG which is made using washed blue sheets that were actually used as part of the restoration efforts after the Kumamoto Earthquake struck in 2016. The bags are a reminder that even though many of us can't hold hands with us during the pandemic, we are still connected by our hearts.

Wesign

Javasparrow is a manufacturer and service focused on creating products around "familiarity" and "connection." The Wesign is a set of two lights that connect to Wi-Fi. These unique lights can be used by lovers or family members who live apart or long-distance, so that you know when the other is on or offline, helping everyone feel connected.

Original bandana available for the grand opening

Hands Be is also offering a free bandana for the opening to anyone who spend over ¥3,000 (tax included).

Information

Hands Be Amu Plaza Kumamoto

Opening Date: April 23, 2021

Where: Amu Plaza Kumamoto Floor 3F, Kasuga, Nishi-ku, Kumamoto-shi, Kumamoto

Official Website: https://hands.net/

Crayon Shin-Chan Collaborates With Pop-Rock Band Macaroni Enpitsu

Crayon Shin-Chan is collaborating with the Japanese pop-rock band Macaroni Enpitsu who are appearing in both the manga and anime adaptations.

It was recently announced that Macaroni Enpitsu is performing the main theme for the anime film Crayon Shin-chan: Shrouded in Mystery! The Flowers of Tenkazu Academy which will be released on April 23, 2021. The band are now set appear in the Crayon Shin-Chan manga in the May issue of Manga Town. The magazine will be released in Japan on April 5.

Macaroni Enpitus will also feature in the anime adaptation of Crayon Shin-Chan on April 24, with all members lending their real voices to their respective characters.

Macaroni Enpitsu | Comment

"Can we really be trusted with such a series as this!? This might be the happiest we've ever been. Enpitsu really are collaborating with Shin-chan, right!? It made us thankful for being Macaroni Enpitsu! This collaboration happened because of the band name, right!? <laughs> Thank you so much! We've yet to get to recording our parts, but we heard we're all getting our own scripts, so we bought a humidifier! <laughs> We researched today's Shin-chan anime series and looked up what kind of characters are appearing. We're fired up."

*Comment translated from Japanese by MMN. Translator's Note: Enpitsu is Japanese for 'pencil.'

©臼井儀人/双葉社・シンエイ・テレビ朝日・ADK 2021

Iconic Japanese Mascot Kumamon Takes Annual Festival Online to Thank Fans

Kumamon is a Japanese mascot many are sure to have seen. It was created in 2010 as a way to promote Kumamoto Prefecture in Kyushu, Japan.

Each year, Kumamon brings fans together at an event called "Kumamon Fan Gratitude Festival in TOKYO." This year, for the safety of fans, it will be held digitally—from Tokyo rather than in Tokyo—with an online stream via Kumamon's official YouTube channel Kumamon TV on February 12 at 20:00 (JST). Kumamon is currently in the last stages of preparing what is sure to be an equally fun event for fans.

You can follow Kumamon on social media at the links below. Be sure to tune in for the stream this Friday.

Crayon Shin-chan: Crash! Graffiti Kingdom and Almost Four Heroes DVD & Blu-ray Releases in Japan

Crayon Shin-chan: Crash! Rakuga Kingdom and Almost Four Heroes was released on September 11, 2020 as the 28th animated feature film in the Crayon Shin-chan anime series. This week, Bandai Namco Arts released the movie on DVD and Blu-ray on February 10, 2021.

Blu-ray: ¥5,280 / DVD: ¥4,180  (Tax Included)

© Yoshito Usui/Futabasha・Shin-Ei Animation・TV Asahi・ADK 2020

The film takes place in Rakugaki Kingdom where Shin-chan uses the Miracle Crayon to draw doodles that come to life. The film stars various guests in the voice cast including Kyary Pamyu Pamyu. Both the DVD and Blu-ray also include various bonus features like TV promos and video extras.

Bonus Item

Select stores in Japan are also coupling the DVD and Blu-ray release with an exclusive limited-edition pen. These are available while supplies last.

Anime Film Crayon Shin-chan: Crash! Rakuga Kingdom and Almost Four Heroes Promoted With Themed Cafe in Saitama

Crayon Shin-chan: Crash! Rakuga Kingdom and Almost Four Heroes was released on September 11, 2020 as the 28th animated feature film in the Crayon Shin-chan series. To promote the film, a themed cafe is set to open at BOX cafe&space in the city of Koshigaya in Saitama Prefecture from October 1 to November 1.

The cafe originally opened at TOKYO PARADE inside Shibuya PARCO back in March for a limited time, and now it's headed north of Tokyo to Saitama.

Shin-chan fans can look forward to a menu lineup of dishes, drinks, and desserts inspired by the film's theme of "drawing."

Rakuga Kingdom Cafe Crayon Shin-chan Curry | ¥1,390 (Before Tax)

The Shin-chan curry is a spicy yellow curry combined with coconut milk. The white sauce is inspired by the light blue colour of the smocks worn at Futaba Kindergarten in the series.

Rakuga Kingdom Cafe Buriburizaemon Curry | ¥1,390 (Before Tax)

This one's a spicy black masala curry centred on Buriburizaemon.

Uki Uki Da Zo Crayon Shin-chan Pancakes | ¥1,390 (Before Tax)

Pancakes toped with cream and a cute Shin-chab illustration. It's served with a wafer featuring pictures of other characters from the film.

Minna Suki ni Kakeba? Rakugaki Pudding Plate | ¥1,390 (Before Tax)

Two pudding tarts and a crepe which you can draw on with a chocolate pen to create your own cute illustrations like Shin-chan.


Shin-Chan's Miracle Colourful Jelly Soda ¥890 | Shiro's Cotton Candy Strawberry Milk ¥990 (Before Tax)

A soda served with jelly in five different colours and a strawberry milk topped with Shiro who's made from cotton candy. It becomes a sweet strawberry milk as soon as the cotton candy hits and melts into the drink.

Pin Badges (8 Designs) | ¥400 (Before Tax)


Canvas Art | ¥3,500 (Before Tax) *Limited edition

Bonus Items

The merchandise lineup features items with original artwork. There's also bonus items for customers who book a table in advance as well as order a drink.

Enter the Rakugaki Kingdom of drawing at the limited-time Crayon Shin-chan cafe.

ⒸYoshito Usui/Futabasha・Shinei・TV Asahi・ADK 2020

Information

Uki Uki Kaki Kaki Rakugaki Kingdom Cafe
Location: BOX cafe&space
Address: AEON LakeTown kaze LakeTown Gate 1F, 4-2-2 LakeTown, Koshigaya, Saitama

Running: October 1, 2020 – November 1, 2020

Table Reservations: ¥500 (Before Tax) *includes free merch

Cafe Official Website: https://shinchan-movie2020-cafe.jp/