Tokyo Stroll: Anna Yano Visits Famous Sites From "Penguindrum" Anime Series
Anna loves anime, and so she is bringing a new series to our "Tokyo Stroll" feature where she takes us on a pilgrimage to visit real life anime locations! The theme chosen by Anna for this first entry is a solo trip to Okigubo which appears in the anime series Penguindrum (which she is a huge fan of!) Just what kind of encounters will be waiting for her there?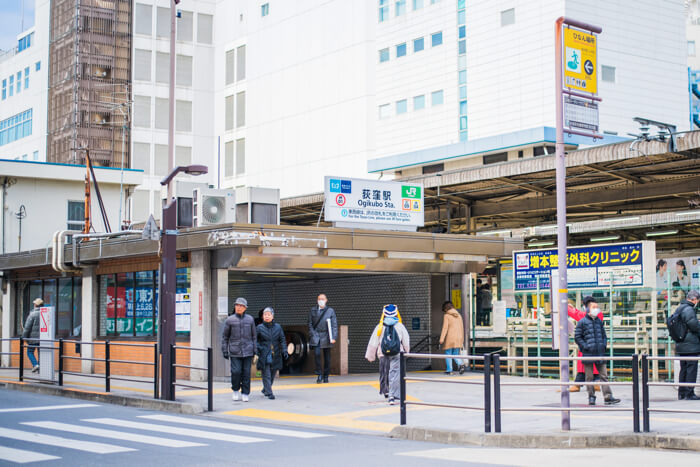 Anna puts on the same hat as the anime's protagonist Himari Takakura (from her own collection) and meets at the station. You can tell she is in high-spirits from behind. The train station too is exactly the same as in the anime!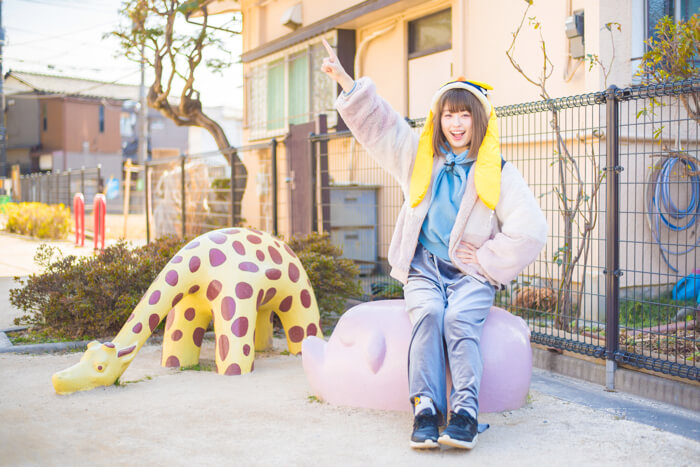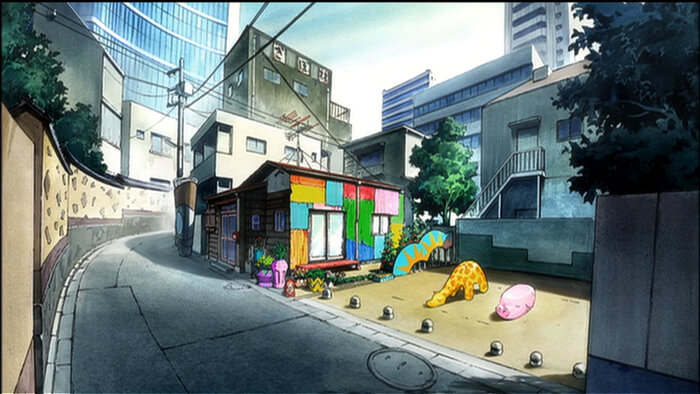 The first location on the list was Ogikubo Second Children's Park. Anna did get a little lost on the way there, but she managed to find the giraffe and pig park installations. In the anime, the Takakura brothers live in the house right next to this park.
Anna said solemnly "I think the colourful house is a symbol of happiness for the brothers" while confirming that this was the location the house should be if it was the anime. Upon basking in the afterglow, one of the staff members that was with Anna cried out as if to cling onto something!
"Survival strategy! I'll tell it to you lowlifes who will never amount to anything.* Time to go to the shopping district and get my hands on the Penguin Drum!"
[*Translator's Note: This is a quote from the anime series Penguindrum.]
Anna was taken aback by this remark.
"I wanted to go there because that appears in the anime too!"
And with that, off they went. But just what is the Penguin Drum…?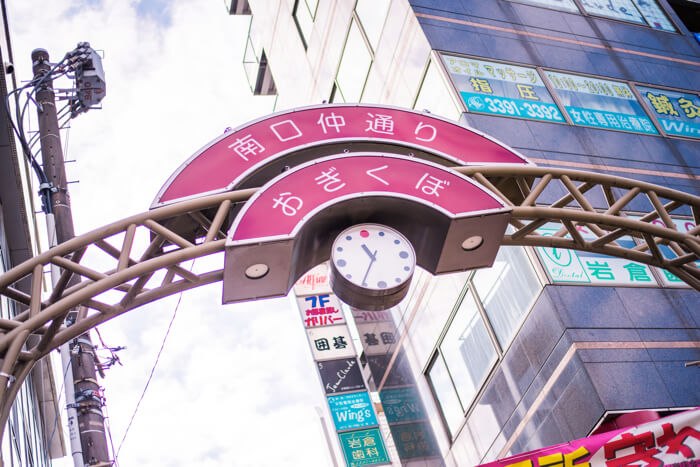 Here's the shopping street archway that you see in the anime! It's pretty exciting. Ogikubo is a kidn and friendly place. While strolling the streets, Anna was asking people "Where's the Penguin Drum?!" to passers-by. Along the way, there was a shop that caught her eye! It was a kebab shop that had a deliciously inviting smell.
"I'm glad because I was reaaally hungry."
The man's Japanese was very good. Anna went in for the kill, asking, "Please show me your artefact that's associated with your fate!" He kindly showed her his charm from Turkey that's preciously decorated in the shop. Does fate relate to the Penguin Drum?! Maybe the Penguin Drum something that each person possesses… Our trip isn't over yet!
The next location can be found on the roof of Town Seven, a shopping center at the north entrance of Ogikubo Station. It's a wide and open space where a lot of children were playing.
This is the scene when the older of the Takakura siblings, Kanba, is talking to his ex-girlfriend, when a memory-erasing red ball comes flying and hits her on the forehead.
The playground equipment that appears in the background was very impressive to look at.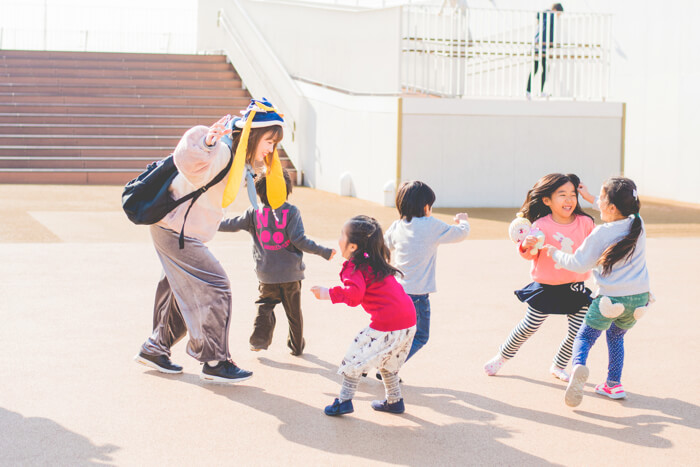 The children became interested in Anna's hat. She was completely surrounded!
The next place Anna headed to was the shrine where the heated fight between the brothers unfolds. The younger brother, Shoma, becomes aware of the events surrounding his older brother, so presses him with questions. Kanba declares that he was playing parent. Anna prayed by herself in the grounds.
And don't forget to take a commemorative photo.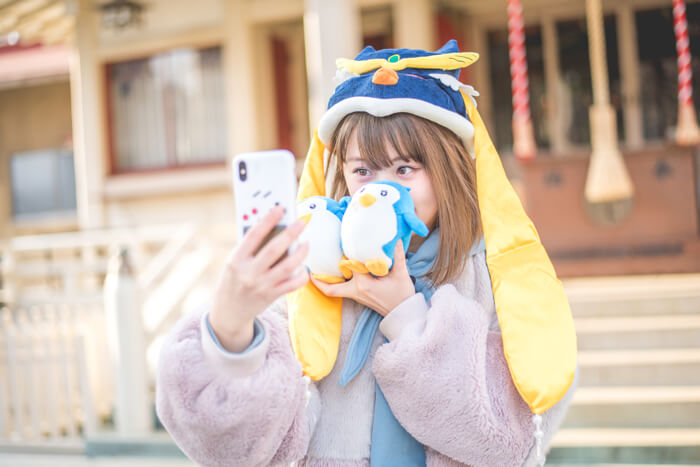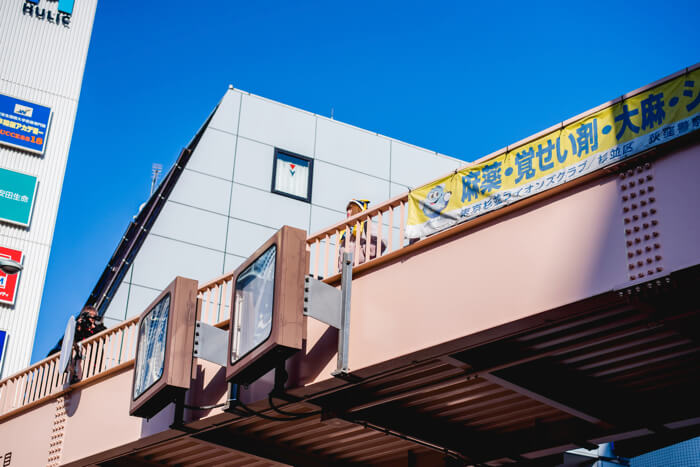 Next is the scene with the pedestrian bridge where Kanba blows up a car. We took the photo at the same angle as in the anime.
Anna told a story with a serious expression.
"He [Kanba] wasn't always a bad guy. The fact that he did something like that. That scene shocked me."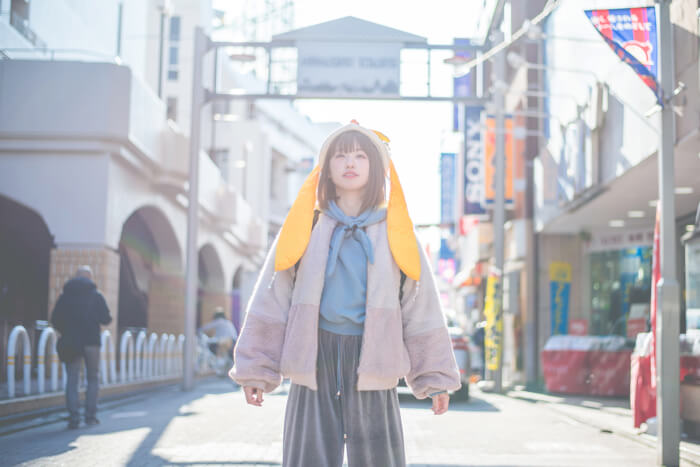 Anna also passed under the arch to Hakusan Towns shopping district. It seems like it has changed a little since the anime aired, but you can tell it's the place immediately!
Anna tottered over and shouted, "Survival strategy!" again to a lady passing through. She then made her way to a ramen shop as the lady had also mentioned which is famous among fans.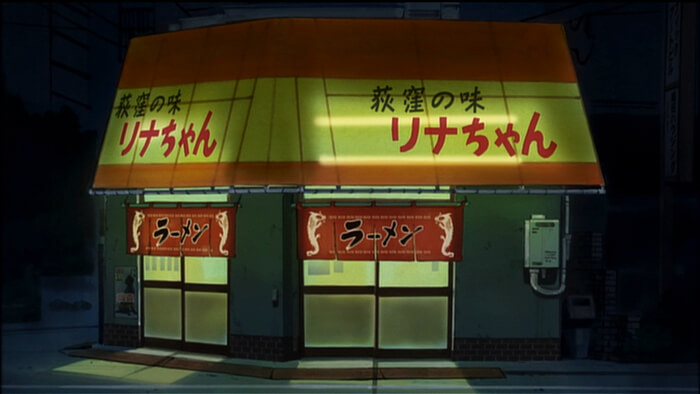 "Sanchan Ramen" is a restaurant with a 60-year history that has continued to be loved by locals in Ogikubo.
This is the place used as a location for handing over money between Kanba and the evil organisation. There's a lot of fans that imitate the anime and slide envelopes with money inside on the tabe.
Of course, Anna had a bowl of ramen too.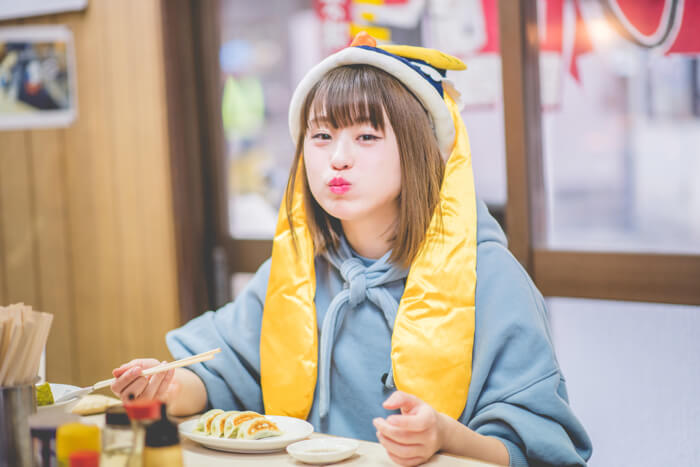 And gyoza!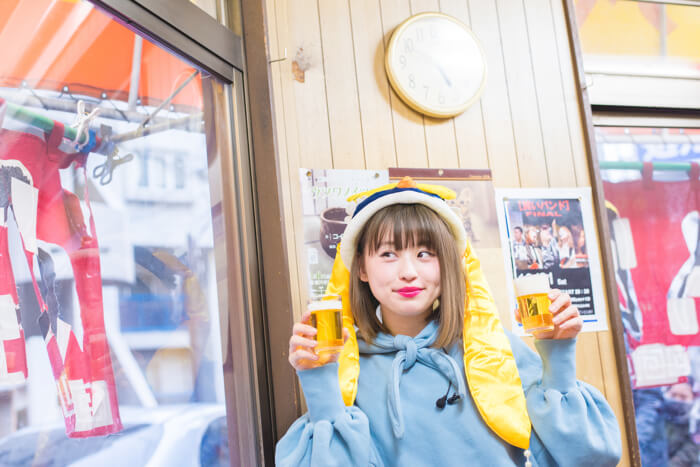 And beer!!
By the way, why do you like this anime, Anna?
"Penguindrum is a very deep series, it makes you think about things like love and fate. The art is cute and the music and presentation are gorgeous. I really want everyone else to watch it."
Today's article will be broadcast on "Kawaii JAPAN-da!!" on MBS (Kansai Local). It will go on air on March 13th! Don't miss out on Anna's solo travel!
■Information
MBS (Kansai Local) – "Kawaii JAPAN-da!!"
Broadcast Date: March 13th at 1:59am
*There will also be a repeat streamed on MBS Dizm (https://dizm.mbs.jp/title/?program=kawaiijapanda)
Blu-ray BOX edition of "Penguindrum" now on sale in Japan!
Artist / Model:Anna Yano
Photographer:LOVEGRAPH
RECOMMENDED ENTRIES
【Kyoto Stroll】A Day Trip Bike Ride Around Tourist Spots Near Kyoto Station

Kyoto's streets tell the story of Japan's history, tradition and culture. The depths of Kyoto are something you will fall in love with when visiting this long-standing city. In this feature, models Una and Mei took strolled those same streets while calmly and wholly taking in the scenery before laid them. Please relish at your own leisure the trip of these two Kyoto girls, one that you can enjoy fully too if you have a free day.

A trip with fellow company means riding bikes!

It takes two hours and twenty minutes to arrive from Tokyo via the Tokaido Shinkansen. The first thing the two of them did upon arriving was drop by "Kyoto Eco Trip," a bicycle rental shop just a short walk from Kyoto Station. What made them decide to kick their trip off with a bike ride was because you can get a feel the wonderful sights interwoven with historical architecture and nature against your skin even though you're on the move. Kyoto has a lot of narrow alleyways, but if you're going by bicycle you can come and go between them smoothly and unhinderedly. Plus, you have the advantage of being able to maneuver your way through open areas with speed too. Travelling by bicycle means you can discuss a route for your sightseeing as well, making it a reassuring option even for first-timers in Kyoto. There are 8 varieties of bikes to choose from at the shop, and since they're equipped with an automatic assist function, you can ride around effortlessly.

It's time to go. What kind of adventure is about to begin…?

Tō-ji Temple – home to Japan's number one 5-storey pagoda

In 1994, UNESCO designated Tō-ji as part of the "Historic Monuments of Ancient Kyoto" World Heritage Sites. It's just a 5-minute bike ride from Kyoto Eco Trip.

The location is the last existing remnant of Heian-kyō, a former name for the city of Kyoto that translates to "Capital of Peace and Tranquility." It was built as a national temple along with the relocation of the capital city (Heian-kyō) almost 1,200 years ago.

Tō-ji repeatedly experienced ruin and restoration due to war, and received its full-scale reconstruction under Toyotomi Hideyori in 1603.

Tō-ji has many worthy highlights, but its five-storey pagoda, which is an appointed national treasure, is symbolic of Kyoto.

The pagoda was completed in 883. It was burnt down several times due to thunder but was ordered to be rebuilt to what it is today in 1644 by Tokugawa Iemitsu, the third Tokugawa Shogun. At 54.8 meters (180 feet) high, it stands as the tallest wooden five-storey pagoda in Japan.

In spring, Tō-ji is also a famous location for cherry blossoms. Because it has so many varieties of the flower, you can enjoy them over a long period of time. The spectacular view of cherry blossoms surrounding sights around the temple, such as the pagoda and Mieido House, will move your heart. The cherry blossom season is almost upon us. I wanted to see it myself as a Japanese person while sipping some hot umekobucha (plum and kelp tea).

If it's souvenirs you want, Otabe Honkan has it all!

The travelling duo wanted something sweet during their cycling trip, so they stopped by "Otabe Honkan." If you're looking to buy popular souvenirs from Kyoto, then this is the place to go. You can find the most perfect confectioneries as, whether as a treat for yourself or as a gift to family and friends, including a range of famous products such as "Otabe," "Yatsuhashi" and "Kyo Baum."

Here they are taste-testing while looking for their favourite picks. "Otabe" is the store's specialty and an absolute must-buy. It's made using koshihikari rice flour and red bean paste that's cooked delicately with adzuki beans from the district of Tokachi in Hokkaido.

On the second floor of the shop you can see otabe being made in the factory through a glass window. You can even try tasting freshly made otabe. It's soft, and you can enjoy the texture of the mouth-melting outside and the red bean paste. You'll find yourself smiling without even realising.

Una and Mei purchased souvenirs as well as some sweets since they became hungry on their trip.

Tōfuku-ji Temple has the oldest hojo architecture in Japan

The next destination on the list is Tōfuku-ji, a Buddhist temple with priceless architecture where you can glimpse into the life of a Zen priest of the Muromachi Period. It traces back to 1255. The temple was founded by Kujō Michiie who prayed for a temple to be built with Buddha enshrined in it as a family temple for his grandfather, Fujiwara no Kanezane. It took 19 years before completion.

The chief priest garden (houjou) that underwent ruin was built anew in 1939 has continued to survive, transcending time and space. It is called "Tofuku-ji Temple Honbo Garden." A houjou is where a priest resides. This garden is one of the four gardens that surrounds the chief priest's houjou, each of which faces in each direction: North, East, South and West. It was created by Mirei Shigemori, a Japanese modern landscape architect.

The South garden uses the classic Japanese rock garden (karesansui) landscape. Una and Mei never grew tired no matter how many times they gazed at it, with its powerful large rocks and fine, detailed sand design.

In the North was a more novel design garden that designed with a checkered pattern. It reuses paving stones that you wouldn't find in an everyday garden.

From the Tsuten Bridge you can see a valley known as 'Sengyokukan' where a small stream runs. This is the place people that makes people think of Tōfuku-ji's red autumntime leaves. The bright red maple leaves that bury this location is truly a sight to behold. The winter branches that are gradually becoming dyed red had a real elegance to them.

The travel snacks bought at Otabe Honkan came in cute packaging that went perfect with the aesthetic of Tōfuku-ji, so the two of them took a photo to commemorate. They then moved onto the next location.

Wrapping up the trip gazing at the serene flow of Kamo River

The final place Una and Mei cycled to was Kamo River, a place steeped in Kyoto's history just like the city itself. The river breeze is refreshing is you cycle along the riverbank.

The two of them parked their bikes up and had a fun girl's chat while being revitalised by the flow of the beautiful river.

When summer rolls in, the tea shops and restaurants that run along Kamo River from Kiyamachi Nijou to Kiyamachi Gojou set up noryoyuka, balconies that look over the river, specially for the summer season. You will see the place bustling at the start of summer in the evenings – the only time it gets this busy.

Spring, Summer, Autumn and Winter. Kyoto's charm lies in its ever-changing face throughout the seasons, something you'll entirely stuck on. It's a place you will want to revisit time and time again.

Try renting a bicycle on your Kyoto trip and enjoy the city and all its sights in a light different from usual.

Model:Una& Mei Nagasawa

Writer:Ai Watanabe

Photographer:Takuya Ikawa

【Tokyo Stroll】Collecting a Goshuin Stamp at Ōmiya Hachiman Shrine – Tokyo's Foremost Hachiman Shrine

In this regular article series, we introduce you to 'power spots' and goshuin at shrines on the outskirts of Tokyo. This time, our navigator Ellie visited Ōmiya Hachiman Shrine which you can reach from Shibuya Station via the Keio Line and Inokashira Line. Take the train to "Nishi-Eifuku Station" and it's a 7-minute walk from there. The shrine is the third largest in Tokyo after Meiji Shrine and Yasukuni Shrine.

Ōmiya Hachiman Shrine has a long history – this year marks 955 years since it was established. There are numerous Kami (gods) enshrined here, including Emperor Ōjin, who also goes by the name Emperor Taichu which translates to 'center of the womb.' He is a Kami of household harmony, marriage, conception after a shrine visit, easy childbirth, and child rearing. The shrine gets the nickname "Tokyo's Belly Button" for being located in the center of the city. It's famous as a 'power spot' where one can return to the womb.

This sacred tree is called Kyosei no Ki, or "Tree of Symbiosis." A nutmeg tree, it gets its name from the parasitic inuzakura flowering cherry that grows from it, living in a symbiotic relationship. Because the two trees have continued to live together mutually as one, many people visit the tree to pray for family happiness.

This is another power spot at the shrine: the chikaraishi, or "power stones." During the Edo period, these stones were offered to compare the strength of the divine. There are 14 stones of varying weights and sizes, from 101kg to 187kg.

Another popular power spot is the "Happy Gaeru" – large stone frogs placed which, if you stroke, are said to bring happiness.

Before praying at a shrine, it's customary to cleanse yourself at the temizuya (water basin) before heading in. First, pick up the ladle and hold it with your right hand and rinse your left hand.

Do the same thing but this time hold it with your left hand and rinse your right.

Afterwards, take the ladle in your right hand once more, pour some water into your left hand and rinse your mouth with it. Make sure not to bring the ladle to your mouth and don't swallow the water. Spit the water next to the fountain – never directly into it. Rinse your left hand one more time.

Lastly, take the ladle with both your hands and pour out the remaining water from it next to the fountain. Once your 'temizu' session is complete, return the ladle neatly to its original upside-down position so it's ready for the next person to use. Let your wet hands dry naturally, don't use a handkerchief or hand towel.

You can't receive your goshuin stamp straight away, so it's best to wait on the goshuin reception before you make your way to the main shrine. (Make sure you get your stamp after you have prayed!)

It's time to pray. Firstly, perform two deep bows at a 90°angle. Bring both hands to your chest and open them up shoulder-width apart. Clap twice. Keep your hands together and pray. Once you have finished praying, bring your hands down and perform one last deep bow.

We successfully received another goshuin stamp in our book. It costs just ¥300 to receive one.

Did you enjoy this Tokyo Stroll? Ōmiya Hachiman Shrine is also known as one of the three big shrines of Musashi Province. It brings good fortune to childbirth, child rearing and marriage, so it was a shrine we wanted to recommend for women. The power spots in the spacious shrine grounds are perfect for refreshing your mind.

■Information

Ōmiya Hachiman Shrine

Address: 2-3-1 Omiya, Suginamu-ku, Tokyo

TEL: 03-3311-0105

Access: 7-minutes on foot from "Nishi-Eifuku Station" and 10-minutes on foot from "Eifukucho Station" via the Keio Line and Inokashira Line

Website: http://www.ohmiya-hachimangu.or.jp/

Model: Ellie

Writer: Ryoichi Komaba

Photographer: Haruka Yamamoto

Translator: Joshua Kitosi-Isanga

Outfit: Aymmy in the batty girls

【Tokyo Stroll】The cafe that you want to visit to see someone #5: "café Benisica" – The Birthplace of Pizza Toast

"A café that has continued to be loved for 60 years"

In this entry to my café series, I visited the familiar Yurakucho, the center of modern Tokyo culture. This year, long-standing café Benisica turned 61-years-old. I stopped by to have my fill of their amazing pizza toast. The café is a 2-minute walk from Hibiya Station via Tokyo Metro lines, and 4-minutes on foot from Yurakucho Station via JR lines, making it an easy place to get to.

The café opened all those years ago in response to the large number of cinemas and theatres dotted around Yurakucho. They wanted to create place where people could relax on their way back from seeing a show.

Upon arrival, you can still observe stylish older ladies strolling into the café. The scene hasn't changed one bit which I found to be wonderful.

Café Benisica is famous for being the birthplace of original pizza toast. They even have a sign at the entrance telling you that! Eye-catching!!!

Without further ado, let's head on in♪

I take one step into the café, and… Huh? What's this?!

That's right. At Benisica, you can enjoy vacuum brewed coffee. This was the first time I had seen a vacuum coffee maker up close, so I gazed at them with a keen interest.

Inside, I gazed at the café décor and objects scattered around of Hibiya, a town which changes with the times. You can feel the weight of the times instore – all the wonderful items look stylish simply by being placed in there! The café interior is a collection of warm colours. It's a place where you can relax and feel comfortable.

This is Benisica's famous pizza toast, costing ¥950 (tax included). They have plenty of set menus, and drink menus are ¥1,350. The story behind the pizza toast was how if you didn't go to an Italian restaurant back then, you couldn't eat pizza. So, they took pizza and turned it into something you can eat casually – toast. Since then, it has continued to be a much-loved menu item with customers for almost half a century.

After hearing the story, I took no time at all ordering my own pizza toast! To drink, I chose a strawberry shake. Just so you know, the shake doesn't come in set orders, so be careful.

Thick servings of cheese and put onto chunky slices of toast. "The soul of the pizza toast is in the cheese!" is what you'll be saying at its presence on the toast. Its generous serving makes this pizza toast suitable not just as a light meal, but even a whole lunch. As well as the standard ingredients like salami, onion and bell peppers, I was happy that there were mushrooms too.

The bread's texture is fluffy! I was hungry, so I made short work of it. Thank you for the meal.

This is the owner of Benisica, Setsuko Murakami, who told me the story of the café. She's a very wonderful person who loves her husband very much. Not only did she tell me about the café – I got to hear about her husband's way of living and thoughts too. The words of people that have walked the road of life longer than me are deep and enlightening.

I stored the owner's story safely onto the shelves in my heart. The next time something happens, I'll rely on those special words she graciously taught me and work hard.

■Information

Café Benisica

Address: 1-6-8 Yurakucho, Chiyoda-ku, Tokyo

Opening Hours: 9:30-23:45 (Open from 9:00 on Weekends & Holidays)

No Fixed Holidays.

Access: 2-minutes on foot from Hibiya Station via the Hibiya Line, Chiyoda Line, and Toei Mita Line / 4-minutes on foot from Yurakucho Station via JR Lines

Model : Ema Tanioku

Profile: "Emaeri" is the nickname for models Ema and Eri Tanioku, who are Aomoji fashion model twins. Ema and Eri Tanioku specialise in twin fashion coordination. Over the years their fanbase has increased due to their cute looks. Ema Tanioku spreads Harajuku culture within Japan as well as overseas and works as a Harajuku Tourism Ambassador. Starting off as a model, Ema has broadened her talent range from fashion magazines to TV, and from playing the lead role in dramas to movies.

Instagram:@ematanioku

Photographer:Haruka Yamamoto

Editor&Writer:Ryoichi Komaba

Design:Yuko Abe (ASOBISYSTEM)

Translation: Joshua Kitosi-Isanga

【Tokyo Stroll】Experiencing the Finest Quality Gateau au Chocolat at "Ken's Cafe Tokyo"—Reservations Required

Shinjuku—Situated in the heart of Tokyo, the most populated metropolitan area in the world, and absolutely packed with travelers and tourists. It's a pivotal ward in Tokyo connected via many transportation services including the JR Line, subway, private railways, rapid bus lines and more. Shinjuku is an absolute must-visit when sightseeing in Tokyo.

In today's entry to "Tokyo Stroll," Rinko Murata stopped by Ken's Cafe Tokyo in Shinjuku, a shop specializing in Gateau au Chocolat that's made with the best quality ingredients.

Ken's Cafe Tokyo is very easy to get to, located just 3-minutes on foot from Exit 2 of Shinjuku-Gyoemmae Station via the Tokyo Metro Marunouchi Line.

The Special Gateau au Chocolat is one of the desserts served by the shop's owner, Kenji Ujiie. Full sales of this dessert began due to strong demand from customers for it being so delicious. The word got out and immediately led to high praise that spread far and wide, and this year, the shop is celebrating its 20th anniversary!

The Special Gateau au Chocolat comes in at ¥3,000 (tax included), with reservations in abundance up to a month. When it's freshly cooked, the outside is crispy, and the outside is creamy like fondue chocolate, making a perfect melt-in-the-mouth combined texture!

The secret to its deliciousness is in the thoroughness to use only the best ingredients. The chocolate used in the photo is from an Italian brand called "Domori." The founder of Domori, Gianluca Franzoni, was deeply impressed with the quality taste of the Special Gateau au Chocolat, and so personally created his first and only chocolate mix called "KEN'S" to be used at the shop.

To draw out the good flavour of the chocolate, it's made with gluten-free chocolate. Although the flavour is rich and full-bodied, the result of the taste is that makes it simple to eat.

300 gateau chocolates are made in a single day! And because each and every one of them are handmade with the utmost care and detail, it's difficult to make any more than this, so there's always an abundance of reservations. But if you can't wait and need to try one straight away, limited quantities are being specially sold at Matsuya Ginza and Tobu Department Store in Ikebukuro, so be sure to check those places out.

Rinko couldn't control her excitement at the sweet smell of the chocolate. She took no time at all to begin tasting the Special Gateau au Chocolat.

When eaten at room temperature, it tastes like terrine chocolate. Depending on what temperature you eat it at, the taste and texture will change, so with one gateau chocolate you can enjoy trying three completely different flavours. Also, the balance between the sweetness and bitterness is fine-tuned every time. If you buy one now, the bitterness of the cocoa has increased every so slightly compared to 10 years ago.

Rinko gave it her seal of approval. "The moment I took a bite, the aroma of the cocoa hit me, and the soft texture just melted inside my mouth! The balance between the bitterness and sweetness is exquisite. This delicious chocolate hit me in the head right away. Happiness is running around inside my brain. I can't get enough of how it feels!"

You can go back via Shinjuku-Gyoemmae Station, but you should take a stroll towards Shinjuku Station instead – it's just a 17-minute walk. Plus, Shinjuku Gyoen – Shinjuku's imperial garden – is close by Ken's Cafe Tokyo, so you might enjoy getting lost in your own thoughts while taking a walk through nature.

The Special Gateau au Chocolat is a perfect present for yourself or someone special. They are always waiting on orders, so if you're interest, check out the shop's website below and make a reservation.

■Information

Ken's Cafe Tokyo

Address: 1-23-3 Shinjuku, Shinjuku-ku, Tokyo

Access: 3-minutes on foot from Exit 2 of "Shinjuku-Gyoemmae Station" via the Tokyo Metro Marunouchi Line

Opening Hours: 10:00-19:00

Closed: Weekends & Holidays

Website: http://www.kenscafe.jp

Model: Rinko Murata @rink0_

Rinko Murata appears in fashion magazines and is active on radio and TV. Sales of her first style book were so successful that it required extra printing during its first week. She also has a rapidly growing following across her social media profiles. As well as modelling at big fashion events, she also has her own column online at "She magazine," and receives much attention for her work in the areas of culture and lifestyle.

Photo & Writer: Haruka Yamamoto

Editor: Sayuri Mizuno(ASOBI SYSTEM)

Translator: Joshua Kitosi-Isanga

Tokyo Stroll: A Kimono Date With Yutaro to Climb Mount Fuji in Tokyo at Hatonomori Hachiman Shrine

The first date of 2018 with Yutaro was to visit a 'power spot' so we can have a wonderful year this year too. That being said, we went to "Hatonomori Hachiman Shrine" in Sendagaya which is next to Harajuku. This was our hatsumou, the first shrine visit of the New Year, and we went wearing kimono.

Hatonomori Hachiman Shrine is a 5-minute walk from Kita-Sando Station via the Tokyo Metro Fukukoshin Line, just one stop from Meiji-Jingumae Station in Harajuku. It's super easy to get there from Harajuku or Shibuya. You can also walk there in 5-minutes from Sendagaya Station if you take the JR Sobu Line.

Hatonomori Hachiman Shrine has a long history, even going as far as to be recorded in the Edo meisho zue, an illustrated guide to famous Edo places that was published at the end of the Edo period. The shrine grounds features the shogidou, where a huge Shogi (like chess) piece is enshrined; the Koga Inarisha shrine where the Koga-Gumi, a group of ninja serving the Tokugawa Shogunate, would pay reverence; a Noh stage; the main building that was completed in 1993, and more.

According to the Shinto chief priest Hirano, the oldest things in the shrine grounds are the 3 ginkgo trees planted there. If you visit the shrine, be on the lookout.

We finally arrived. After bowing, we headed through the torii gate and onward towards the shrine. We cleanse our hands and mouth before praying. I wonder what could he be praying for? He has an unusually serious expression.

After praying, we climbed the fuji-zuka, a manmade mound made to imitate Mount Fuji. It has received much attention as a 'power spot,' a place believed to heal visitors through special energy. The Edo period was a time when it was difficult for people to climb Mount Fuji, so common folk would look to fuji-zuka as Mount Fuji for their worshipping.

It is said that Hatonomori Hachiman Shrine was constructed in 1789, and the fuji-zuka, the oldest still standing in the city, was designated a Tangible Folk Cultural Property.

Yutaro-kun hasn't climbed Mount Fuji before, so this will be his first!

Mount Fuji has 5 stations you can stop off at leading up. Climbing fuji-zuka was tougher than we thought, so we agreed to wear sneakers next time. While being cautious we continued our climb without falling.

Writing from the Kansei era is written on the komitake sekison daigogen at the 5th station. You can't help but feel the length of the fuki-zuka's history at Hatonomori Hachiman Shrine!

The view from the top is amazing! When you see the tree-wrapped shrine grounds, your heart feels gentle and calm.

"It's a dream come true that we can climb Mount Fuji in Tokyo."

We took a different route going down. This route is steep too!

After we safely reached the bottom, we receive a goshuin shrine stamp to commemorate today's Mount Fuji worship. The ceremony fee is ¥300. Be sure you get one too after reaching the top!

Finally, we drew one of Hatonomori Hachiman Shrine's unique "Hato Mikuji." The omikuji blessing was "small blessing" (sho-kichi). After reading the omikuji carefully, we tied it to tie a link with the gods. Before we knew it, the date had come to an end.

How was this first kimono date? If you're thinking you want to walk around Harajuku in a kimono like Yutaro, then we recommend checking out a rental kimono store. The kimono worn today was rented at the Moshi Moshi Kimono Salon in Harajuku. Please enjoy yourself by going out in a kimono with your friends or on a kimono date with that special someone.

Model:Yutaro

Yutaro was born in Hiroshima on June 3rd 1998. His modeling career has earned him lots of attention as a fashion icon of the new generation. The famous model also works as a "charisma" shop assistant. Yutaro has gained his reputation as a "mysterious and handsome guy" from his appearance on Japanese variety shows. His debut was made on the show "Gyoretsu no Dekiru Horitsu Sodanjo" and has since then appeared on numerous different TV shows. He challenged himself to appear on stage for the very first time in March this year and is gaining popularity by the day for his diverse work.

Photographer: Kayo Sekiguchi

Writer: Sayuri Mizuno(ASOBISYSTEM)

Translator: Joshua Kitosi-Isanga

【Tokyo Stroll】Shopping & Sightseeing with Mozuku-kun the Dog: #2 Makuhari Shintoshin Pecos Pet Mall (Part 1)

Yuna Yabe is a dog lover whose eyes are set on becoming a seasoned pet owner. This series follows her journey as she takes her pet dog, Mozuku-kun, strolling around the city. For her second entry, Yuna headed to the Makuhari Shintoshin branch of "Pecos," located inside the AEON Pet Mall in Kaihin Makuhari, Chiba Prefecture. This is part one of two.

The closest stations to Pecos are Kaihin Makuhari Station and Shin-Narashino Station, both accessible via the JR Keiyo Line. There are also buses that go straight to the mall, making it super convenient if you come by train. There's also a car park right next to the mall if you decide to take the road, so it's easy to go there with a pet dog. Pecos in Makuhari Shintoshin is the biggest pet store in Japan, with the first floor spanning 820.6㎡ and the second 979.8㎡. They offer just about everything you could imagine from a pet shop in Japan, from food and clothes to an animal hospital and pet hotel.

The food corner accounts for one entire corner of the shop's second floor. Usually, they stock over 40 different varieties of dog food, and you can always buy something from there catered to your dog's breed and/or age. You can of course also take your dog around the shop with you, so if you're lost on what to buy then you can leave it in their hands (or paws).

A particularly popular brand of dog food in the shop is "Wellness" series, pictured above. The food is made up of carefully selected natural ingredients, so one reason for its popularity is how owners can be at ease while letting their dog eat this food.

Besides dog food, the shelves are also lined with plenty of snacks and supplements! Most of the supplements are for mature dogs, but even so, Yuna was absorbed in checking out what they had, thinking: it's still a bit early for Mozuku, but I'm interested in thinking about the future.

This original premium dog food can only be bought at AEON pet shops, including Pesco. It's made in Japan, so if you have a dog in Japan and are a dog lover who worries about your pet, you can absolutely trust this brand.

There's even cakes that you can buy for your pet if you're looking to gift yours something for their birthday or a commemoration. Mozuku wasn't about to leave the cake showcase that easily, almost as if he knew everything in there was delicious.

This one is perfect for pet owners who like a drink: alcohol for dogs. But don't worry, there's not actually any alcohol in there. So how about it? Having a nice evening drink together with your beloved pup?

This corner is filled with leads, beds and clothes for your dog. They have a wide range of sizes and varieties, making this area popular with fashion-conscious owners.

One popular aspect of the store praised by owners who have gone to buy clothes at Pecos is how you can actually let your dog try the clothes on in-store. You must have had that experience where you tried buying something, but it ended up being too dog, right? Well, if you're allowed to let your dog try on something before buying it, you can easily pick an outfit that looks great and is comfortable on them.

Here's Mozuku in the middle of trying something on. His ears are hidden by the turtleneck… he looks most displeased!

Pesco also sells convenient products for heading out with your dog, like dog seats for your car and prams. You can actually rent a test pram to check its usability, allowing you to consult with your pup on which best to choose.

In addition to products for your pet, the Makuhari Shintoshin branch of Pecos also has an animal hospital, trimming salon and pet hotel. It's filled with everything your pet could dream of! In part two of this article, Yuna will show the facilities of Pecos, like the animal hospital and pool, so don't miss out!

Continued in Part Two.

■Information

Pecos (Makuhari Shintonshin branch)

Address: 1-8 Toyosuna, Mihama-ku, Chiba-shi, Chiba Prefecture

Access: "Kaihin Makuhari Station" and "Shin-Narashino Station" accessible via the JR Keiyo Line

Opening Hours: 10:00-21:00 (*the animal hospital is open 24-hours a day)

Contact: 043-298-1122

URL:https://www.aeonpet.com/pecos/makuharishintoshin/index.html

Model:Yuna Yabe/Mozuku @yunaaay1030

Yuna Yabe won the grand prix prize at the "Zipper×ASOBISYSTEM Model Auditions" at the age of 15. She is an expert not only in fashion but make-up and video editing too. She's an influential figure to the people in her generation. Recently, her work has expanded greatly, such as appearing in music videos. Her activity continues to grow and looks to be very promising indeed.

Writer:Ryoichi Komaba

Photograph:Kayo Sekiguchi

Translation:Joshua Kitosi-Isanga
RELATED ENTRIES
Popular Manga Series 'Under Ninja' Gets Anime Adaptation from Tezuka Productions in October 2023

On February 22, known as Ninja Day in Japan, a teaser visual and website for the anime adaptation of the manga series Under Ninjawere unveiled. The series will premiere on TBS and other networks in October 2023.

Under Ninja is written and illustrated by Kengo Hanazawa, known for his series I Am a Hero and Boys on the Run. The manga series is currently serialized in Kodansha's Weekly Young Magazine and tells the story of a secret society of ninjas. While the underground warriors were thought to have disappeared after WWII, Kuro Kumogakure is one of them, though he's also a NEET.

A TV anime adaptation has been announced for 2023, a teaser trailer has been released, and a new teaser visual and teaser website have also been unveiled.

Teaser Trailer

The new visual released on February 22 depicts the main character Kuro lurking in the shadows. The staff lineup has also been revealed, with the series being directed by Satoshi Kuwabara with character designs by Nobuteru Yuki.

Check out the teaser site and get ready for battle in October!

©花沢健吾・講談社/アンダーニンジャ製作委員会

Anime RPG Princess Connect! Re:Dive Gets 31st Character Song CD

The 31st Character Song CD from Cygames' popular smartphone anime RPG Princess Connect! Re:Dive was released on January 25, 2023.

This new release includes the song Knight's Soul sung by Matsuri (Asami Shimoda) and Christina (Chiaki Takahashi), as well as Hatsuyuki Twin Approach by Yori (Sayuri Hara) and Akari (Azumi Asakura). Original karaoke and solo remixes of each song are also included.

These tracks were used as the ending themes for the limited-time Tribal Spirits: Raising Sword and Pride Bridge event, which began last October, and the Happy Happening Happy Twin Angels and Christmas Eve Gift event, which began last November.

The songs are also available to stream on all major music streaming services!

In addition, a music campaign will begin on February 14 to celebrate the fifth anniversary of Princess Connect! Exclusive A3-size posters (2 varieties) will be given to those who purchase the new CD at participating stores while supplies last.

© Cygames, Inc.

TRIGUN STAMPEDE Opening and Ending Themes Available on One Album

An album featuring both the opening and ending themes of the anime series TRIGUN STAMPEDE will be released on a single album on February 22, 2023 from TOY'S STORE. The opening, TOMBI, is performed by Kvi Baba, while the ending, Hoshi no Kuzu α, is performed by both Salyu and Haruka Nakamura.

Preorders are now available and those snagging a copy will also be gifted an original sticker featuring the album's artwork.

The record is only available in limited quantities and sales will conclude once the item is sold out.

TRIGUN STAMPEDE Non-Credit Ending


TOMBI, performed by Kvi Baba, was released on January 6 and has seen a surge in popularity, appearing on a number of popular playlists and reaching the top spot on the iTunes Rap and Hip-Hop chart.

The ending theme song, Hoshi no Kuzu α by Salyu and Haruka Nakamura, was released on January 13, 2023.

The jacket features an original design featuring the main character, Vash the Stampede, from the Trigun anime series.

The jacket was designed by Takahiro Yasuda, an art director and graphic designer belonging to the creative association CEKAI.

The non-credit ending video featuring the ending theme song is now available on the YouTube TOHO animation channel.

Be sure to tune into the long-awaited series TRIGUN STAMPEDE!

© 2023 内藤泰弘・少年画報社/「TRIGUN STAMPEDE」製作委員会

Ending Theme for TRIGUN STAMPEDE by Salyu x Haruka Nakamura Streaming Now, New EP Announced

Hoshi no Kuzu α, the new song by Salyu × Haruka Nakamura, was released on streaming services on January 13, 2023.

The track will be used as the ending theme for the TRIGUN STAMPEDE anime series. It will be featured starting in the second episode which airs on January 14 at 23:00.

A six-song EP titled March of the Saints has also been announced, scheduled to release on March 8, 2023. Hoshi no Kuzu α will be included and the cover art has been released. Preorders are open now!

TRIGUN STAMPEDE


 

TrySail Releases Opening Theme Song for My One-Hit Kill Sister Anime Series

TrySail is a popular girl group consisting of three popular voice actresses: Momo Asakura,
Sora Amamiya, and Shiina Natsukawa. Since their debut in 2015, the girls have performed
incredible live concerts, managing to hold successful events at Yokohama Arena and the
Yoyogi National Gymnasium. TrySail's latest album, Re Bon Voyage, was released in
September 2021, reaching the #5 spot on the Oricon Weekly Ranking.

The group's newest song, Karei One Turn, will be used as the theme song for the 2023
anime series My One-Hit Kill Sister. The happy-go-lucky track can be heard in the second
teaser trailer for the show.

Along with this exciting anime tie-up, TrySail has announced the song flower. The song will be used to commemorate the group's upcoming event 'LAWSON presents TrySail Arena
Live 2023 ~Ai ni Yuku yacht! Minna de Aso-boat!~' Be sure to watch out for what else
TrySail has in store for fans in 2023!

'Chillin' in My 30s After Getting Fired from the Demon King's Army' Anime Theme Gets Streaming Release, Music Video

Hinano has released the lead song from her third single CHANGEMAKER on all major streaming services. The 16-year-old singer is known for her 4-octave high-tone vocals.

The song has been chosen to serve as the opening song for the anime series Chillin' in My 30s After Getting Fired from the Demon King's Army which began airing on TOKYO MX on January 7. The series has been adapted from the popular manga series by Rurekuchie currently serialized in Monthly Young Magazine.

Hinano's debut song nocturne was produced by Yuki Kajiura and served as the theme song for the anime film Deemo: Memorial Keys. Her next song Virginia was chosen as the ending theme for My Master Has No Tail.

The new song CHANGEMAKER shows Hinano trying her hand at creating a rock track for the first time. "When I first listened to the tentative track, I wondered if I could do it justice. It seemed so difficult, I didn't know if I could sing it," Hinano said. "By really feeling the song with both my mind and body, I channeled my will and was able to sing it properly." The music video for CHANGEMAKER was also released on January 7.

Hinano「CHANGEMAKER」

The up-tempo rock sound combined with Hinano's incredible singing ability makes this track unforgettable. Inspired by the desire to light up a dark world, this song is sure to make even the most gloomy day bearable.

© 岡沢六十四・るれくちぇ・講談社/解雇された暗黒兵士製作委員会

Merchandise Inspired by SSSS.GRIDMAN Film Revealed, Rare Original Reproduction Images Shown

New merchandise has been revealed to coincide with the release of the SSSS.GRIDMAN compilation film on January 20, 2023. The film, along with the subsequent SSSS.DYNAZENON compilation film, will prepare fans for the original Gridman Universe film coming to theaters on March 24, 2023.

The SSSS.GRIDMAN film pamphlet features a summary of events seen in the film and includes new interviews with director Yoshiyuki Kaneko and singer Masayoshi Oishi.

SSSS.GRIDMAN Compilation Film Original Reproduction Image Set/SSSS.GRIDMAN Compilation Film T-Shirt/GRIDMAN & DYNAZENON Acrylic Keychain (11 varieties, random)/SSSS.GRIDMAN Compilation Film Pin (12 varieties, random)


The SSS.GRIDMAN Compilation Film Original Reproduction Image Set is a must-have item for fans, featuring 16 carefully-selected reproductions from the film in a special bag.

Plenty of other items are available for purchase including a commemorative T-shirt, keychains, and pins.

The SSSS.GRIDMAN compilation film is being directed by Yoshiyuki Kaneko, who served as assistant director on the anime series. The film will show a somewhat new interpretation of the story under this new direction.

Be sure to grab some of this exclusive merch before seeing the highly-anticipated original film Gridman Universe on March 24!

©円谷プロ ©2023 TRIGGER・雨宮哲/「劇場版グリッドマンユニバース」製作委員会

SSSS.GRIDMAN Compilation Film Bonuses Revealed

Based on the Tsuburaya Productions Gridman live-action tokusatsu series from 1993, the
SSSS.GRIDMAN anime series aired in October 2018. A sequel, SSSS.DYNAZENON, followed in April 2021.

Ahead of the release of GRIDMAN UNIVERSE, an all-new anime film coming in March, both SSSS.GRIDMAN and SSSS.DYNAZENON will be getting compilation films. Each will only be
in theaters for two weeks.

劇場総集編『SSSS.GRIDMAN』

The SSSS.GRIDMAN film will be in theaters starting January 20. Those buying tickets will
receive a special illustration card with a voice drama created by Akira Amemiya, the director of the SSSS series, while supplies last. The title of the drama is Hinekuremono Demo (Even if You're Cynical) starring Soma Saito (Sho Utsumi) and Hass (Akari Kito).

The newly-revealed illustration card's design features Yuta Hibiki, Sho Utsumi, Rikka
Takarada, and Akane Shinjo happily snapping photos.

SSSS.DYNAZENON will be released for two weeks starting March 10, and those buying
tickets will also get an illustration card and a special voice drama written by Akira Amemiya.

The SSSS.GRIDMAN compilation film is being directed by Yoshiyuki Kaneko, who served as assistant director on the anime series. The film will show a somewhat new interpretation of the story under his new direction. Both compilation films will include extra footage leading
up to the release of GRIDMAN UNIVERSE on March 24, 2023.

©円谷プロ ©2023 TRIGGER・雨宮哲/「劇場版グリッドマンユニバース」製作委員会

Information

SSSS.GRIDMAN Compilation Film
Limited 2-week screenings begin January 20, 2023
Admission Bonus: Illustrated Card with Voice Drama by Akira Amemiya
Official Website: https://ssss-movie.net/

Music Project Sizuk Performs Opening Theme for The Iceblade Sorcerer Shall Rule the World, Anime Music Video Released

Music composer Shunryu recently began the musical project Sizuk, creating numerous tracks for idol groups and anime series. Sizuk's first digital single Dystopia, released on January 6, serves as the opening theme song for the anime series The Iceblade Sorcerer Shall Rule the World. The music video, using plenty of footage from the anime, has also been posted to the official Sizuk YouTube channel.

Dystopia – Sizuk (Music Video)
The Iceblade Sorcerer Shall Rule the World Opening Theme Song

A Dystopia gift campaign is now underway on numerous streaming sites. Benefits vary, with one of the more impressive presents being an original voice drama by the stars of the anime series from mora. Physical goods are also available, including an A3-size poster and acrylic keychain designed by popular illustrator SOLANI. 

©御子柴奈々・講談社/「冰剣の魔術師が世界を統べる」 製作委員会

Anime Series Insomniacs After School Gets April Release Date, New Visual and Trailer Revealed

More information about the upcoming anime series Insomniacs After School has been revealed. The series is set to premiere on TV Tokyo in April 2023.

Makoto Ojiro's coming-of-age manga series is set in Nanao City, Ishikawa Prefecture. It follows Ganta Nakami, a high school boy suffering from insomnia, and Isaki Magari, a girl with the same issue. Insomniacs After School is serialized in Shogakukan's Big Comic Spirits.

The second key visual and trailer have been released, giving audiences a better glimpse at this bittersweet tale. The new image shows Ganta and Isaki in different rooms with headphones on. The text reads "what are you doing right now?"

The trailer shows off the beautiful scenery around Nanao City. An event was recently held in the real-life city to celebrate the popular series.

Insomniacs After School Trailer #2

New characters and their voices are revealed for the first time in this exclusive trailer!

The cast includes Haruka Tomatsu, Seiichiro Yamashita, Lynn, Natsumi Fujiwara, Sumire Morohoshi, Mamiko Noto, Sho Karino, Gen Sato, and Konomi Tamura.

Insomniacs After School is only three months away. Will you be tuning in?

Cast Comments

Haruka Tomatsu (Yui Shiromaru)
Popular Works: Sword Art Online (Asuna), Yo-kai Watch (Keta)

"I absolutely love stars, so this role makes me super happy! Shiromaru is cool and doesn't talk too much, but he is kindhearted and pure, and it was super fun to play him. Since he's an older character, there are plenty of scenes where he gives helpful advice. This series is really heartwarming and I hope you'll tune in!"

Seiichiro Yamashita (Tao Ukegawa)
Popular Works: The Eminence in Shadow (Cid Kagenou / Shadow), More Than a Married Couple, But Not Lovers (Jiro Yakuin)

"There are things that are incredibly difficult to say to others, but things that you feel you need to say. I could really feel the romance behind sharing secrets as I worked on this project. It carefully handles difficult issues and reminds us how hard it can be to truly understand other people. That's why the human experience is so complex and dramatic. It's a wonderful work filled with love. Enjoy it!"

Lynn (Motoko Kanikawa)
Popular Works: Mobile Suit Gundam: The Witch from Mercury (Miorine Rembran), Uma Musume: Pretty Derby (Maruzensky)

"I love the atmosphere of the original work. The glimpses of ordinary life seen in every scene are so precious. Kanikawa is funny and cute and it was a blast to play her. I had a blast ad-libbing with the other cast members! I hope that this series reaches a ton of new people now that it's being adapted into an anime series!"

Natsumi Fujiwara (Kanami Anamizu)
Popular Works: SPYxFAMILY (Damian Desmond), Chuka Ichiban! (Mao)

"I was worried that Anamizu would be too difficult of a role for me, but thanks to everyone's help, I was really able to enjoy working on this series. The main character suffers from insomnia which is a terrible thing, but I was thrilled the entire time. After all, I love the stars! Ah, the splendors of youth! I can't wait to see how the final product turns out!"

Sumire Morohoshi (Mina Nono)
Popular Works: Aikatsu! (Ichigo Hoshimiya), The Promised Neverland (Ema)

"Nono is so adorable! I wanted to make sure her laid-back energy came through. She's gentle and kind and I think it will be completely apparent to audiences what kind of person she is. The work itself is both fresh and nostalgic at the same time, and it was so fun to work with the cast. I felt like I was back in high school again!"

Mamiko Noto (Usako Kurashiki)
Popular Works: Kimi ni Todoke (Sawako Kuronuma), Hell Girl (Ai Enma)

"I'm Mamiko Noto and I play the role of Usako Kurashiki. As a native of Ishikawa, it's such a pleasure to work on a series based in my home prefecture. Ms. Kurashiki is a charming teacher and one I wish I had when I was a student. The original work is so rich in content and character, both warm and sad…it's so detailed that it can truly feel like you're wrapped up in it. I'm sure the anime will be the same way. I hope you're looking forward to it!"

Sho Karino (Rui Haida)
Popular Works: Tokyo Revengers (Chifuyu Matsuno), Idolmaster SideM (Yukihiro Kamiya)

"This wonderful story is so meaningful. I was happy to experience it with everyone, with this entire cast. The scenery and starry skies will stick in your mind and make you want to go out and explore the night. Working on Insomniacs After School made me feel like I could enjoy my high school life again! Thank you so much!"

©オジロマコト・小学館/アニメ「君ソム」製作委員会

The Legendary Hero Is Dead! Anime Series to Premiere in April 2023, Trailer and Second Visual Released

More information about the upcoming anime adaptation of The Legendary Hero Is Dead! was recently revealed during a live broadcast on the PONY CANYON YouTube channel on December 16, 2022. The first trailer and second key visual were unveiled along with additional cast information.


The original manga series ran in Shogakukan's Ura Sunday magazine from 2014 to 2020. Written and illustrated by Subaruichi, Volume 20 is currently on sale.

During the live broadcast, it was announced that Touka Scott would be played by Wataru Kato. Shun'ichi Toki will play Sion Bladan, Marguerit will be played by Yurika Kubo, and Millie will be played by Sakura Shinfuku. 

The Legendary Hero Is Dead! Trailer #1
https://youtu.be/mWl1PRtiTb8


Sakura Shinfuku is making her debut in the series after winning the Kimikoe Project, a competition to find and assist a new generation of voice actors. She plays the part of Millie Eunice, Yuna's younger sister and sword wielder on an adventure. Although nervous in the broadcast, the actress did her best, challenging senior voice actors in games to deepen their friendship.


The new visual shows Touka, Sion, Yuna, Anri, and Marguerit standing with brave expressions on their faces

Yuichi Nakamura's role as Kyle Osment has also been announced. Fans are looking forward to hearing how the actor portrays Sion's right-hand man, so be sure to tune in next spring!

(C)スバルイチ・小学館/勇者が死んだ!製作委員会

YuYu Hakusho Anime Series Celebrates 30 Years with Rerelease of Exclusive Record Box

To commemorate the 30th anniversary of the YuYu Hakusho anime series, a certain piece of exclusive merchandise is seeing a long-anticipated rerelease. The 25th Anniversary Single Record Box, originally released in 2017 to massive fanfare, is available to preorder now, with the release date set for February 18, 2023. Each record in the box is a unique color, making this item an incredible display piece.

YuYu Hakusho aired for a total of 112 episodes from October 1992 until January 1995, eventually finding popularity around the world.

The record box contains eight records with sixteen songs, including the theme song and character songs from the series. Each record's color matches the image of each song and character, with the red Disc 1 containing the fierce opening theme Hohoemi no Bakudan, and the popular ending theme Unbalance na Kiss wo Shite appearing the sky blue Disc 2.



Disc 8 contains the rare duet tracks WILD WIND by Kurama and Hiei and Omoide wo Tsubasa ni Shite by Yusuke and Keiko. These were previously only included in the limited edition Canime version only available online.

 

Those who purchase the album at the PONY CANYON RECORD SHOP will receive a clear folder with the 30th-anniversary logo and jacket photo while supplies last.




An exhibition celebrating the series' original author Yoshihiro Togashi is running until January 9, 2023.