Eir Aoi has released the music video for her new song Ryuusei which is currently serving as the opening theme song to the ongoing anime series Sword Art Online Alternative: Gun Gale Online.
Mei Hata makes an appearance in the music video, a young actress who has performed in dramas. The video expressively captures the sensitive feelings of a girl.
Eir Aoi's Comments:
"The music video for Ryuusei has been released. The actress Mei Hata appears in this one. The video tells the story of a girl who, despite being hurt by her daily life, still holds strong confidence in herself. This is the first music video I have done that has elements of a drama. My feelings have been put into this song, so I'd be happy if they resonated with other people."
Mei Hata's Comments:
"This is this first time I've appeared in a music video. I'm very happy to have been able to take part in Eir Aoi's wonderful music. I don't have any lines in the music video, I just act it out, so I was worried about how best to express everything, but after talking with the director, I was able to do it while valuing the emotions put into the song. I want lots of people to watch it."
Director – Takashi Tadokoro's Comments:
Eir's performance on the day was nothing short of powerful. The composition of the performances were simple as scenes, but the power embedded in her ability to convey emotions in her eyes, as well as her facial expressions and performance had me locked on and focused while I was watching without even realising. I also felt the same power in her determination. And Hata's power of expression in her acting is really something! At first glance she seems like a delicate girl, but her true essence is that she's extremely strong. The two of them were the best match for the acting in this performance."
The CD cover for Ryuusei / Yakusoku, which is set to hit shelves on June 13, has also been unveiled for the first time.
The beautiful cover with its air of exotic and the vibrant illustration make for a cool makeup.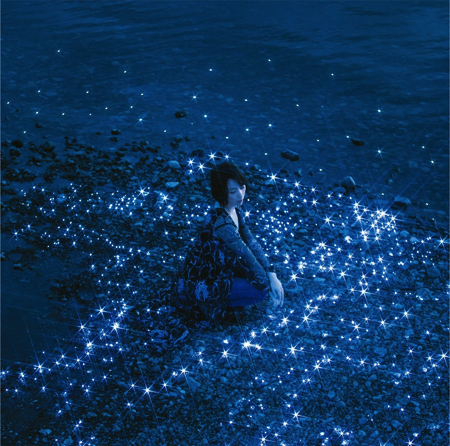 Eir Aoi has sprung back into action with full force, so much so that it feels like she never went on hiatus.
The singer will perform a solo show at the Nippon Budokan on August 16 to set her return in stone. Pre-sale tickets are currently on sale via her fan club, so be sure to check it out if you're interested.
■Information
Eir Aoi 14th Single – "Ryusei / Yakusoku"
*Ryusei is the Opening Theme for the TV anime series Sword Art Online Alternative: Gun Gale Online.
On Sale: June 13, 2018
Price:
First Press Edition: CD+DVD ["Ryusei" & "Yakusoku" Music Videos] + Photobook \2,000 (+tax)
Regular Edition: CD \1,200 (+tax)
Anime Edition: CD + DVD ["Sword Art Online Alternative: Gun Gale Online" Non-Credit OP] \1,600 (+tax)
Digital Download/Stream: https://EirAoi.lnk.to/ryuusei
Music Video: https://youtu.be/S7u6y3IuPjQ
Eir Aoi Special Live 2018 ~RE BLUE~ at Nippon Budokan
Location: Nippon Budokan
Date: August 16, 2018
Tickets
Eir Aoi Official Website