Tokyo Firework Festival EDOMODE to Take Place in Odaiba's Kabuki Area
Tokyo Hanabi Taisai ~EDOMODE~ will take place at Odaiba Seaside Park on August 11, 2018.
This grand firework festival will bring together some of the world's most prominent pyrotechnicians who will put on a show like that of a kaomise, an introductory performance of kabuki in the Edo Period where actors would make their first appearance on stage.
The festival will fuse together music, food, performance and technology symbolic of Tokyo. It will promote itself to the world as one of the city's new big summer events.
 There will be numerous admission-paid areas you can enter at the festival, including Beach, Kabuki, Pleasure Boat, Rooftop, and more, each of which offer a new angle and situtation to enjoy the fireworks.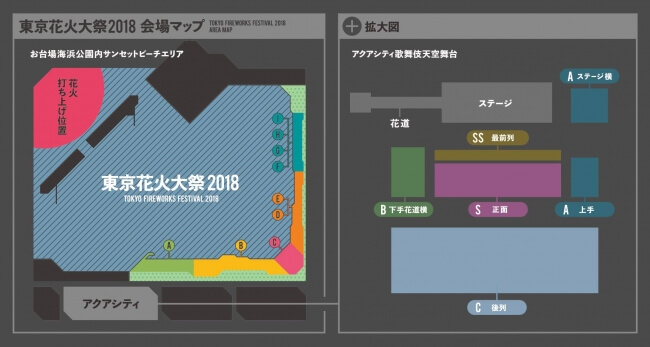 The first areas to open at the beach and kabuki area. The beach area offers table seats that face Tokyo Bay, as well as pair seats where you can even sit in yukata, family seats and more. Enjoy the bright fireworks against a background of Tokyo's night sky.
The kabuki area will be graced by the presence of Ichikawa Ebizō, a famous kabuki actor, who will put on a brand new performance themed on fireworks. Enjoy an extravagant collaboration of the lit up sky and a kabuki performance.

The kabuki show is limited to people who purchase the Kabuki & Firework Seat tickets (花火と歌舞伎を楽しむ席). Be warned, you can't see the performance from any of the other seats!
Experience this totally new kind of Japanese firework festival in Tokyo in what will be the last summer of the Heisei period.
Tokyo Hanabi Taisai ~EDOMODE~
Location: Odaiba Seaside Park (1 Daiba, Minato, Tokyo)
Date: August 11, 2018 (Extended to August 12)
Time: Open 16:00 / Fireworks 19:10 / Finish 20:30
Toll Area: Within Odaiba Seaside Park
TEL: 
03-5656-8757 (Weekdays only / 
10:00-
17:00)
RELATED ENTRIES
Doraemon Future Department Store: Secret Gadget Lab, Exclusive Merchandise & More

Doraemon Future Department Store is the world's first official Doraemon shop, and it's set to open tomorrow on December 1, 2019. Before its grand opening, however, the store has given customers a sneak peek into what to expect.

The shop's concept is from the perspective of Doraemon, who says, "I'll help make your future a good one." It's split into three areas: the Secret Gadget Lab, the Customise Zone, and the Shop Zone, each of which offers a unique Doraemon experience you won't find anywhere else.

Secret Gadget Lab

The Anywhere Door

Just like in the manga and anime series, the Dokodemo Door, or Anywhere Door, lets you travel anywhere.

Discover secret gadgets, like the air gun!

Have a go at trying to shoot and hit the 10 targets within the time limit.

*Requires one Doraemon Future Department Store coin to play

Dorayaki Baybayin Game

Touch the dorayaki to increase your score. Touch too many, and something crazy might just happen…

*Requires one Doraemon Future Department Store coin to play

Fly as far as you can with the Bamboo Copter

Reach the goal with the Take-copter, or Bamboo Copter.

*Requires one Doraemon Future Department Store coin to play

Customise Zone

Embroidered items

Embroider Doraemon characters and the logo onto towels, bags, clothes and more.

Characters (18 Designs): ¥700 Each (Before Tax)

Text  (45 Designs): ¥400 Each (Before Tax)

*The place where a design is embroidered is chosen for you

*There may be a waiting time during busy hours

 

Carved Seal Items

Have character designs, text and more carved onto various items like key rings.

Plate Key Ring (10 Designs) – ¥1,000 Each (Before Tax)

Room Key Holder (6 Designs) – ¥1,200 Each (Before Tax)

¥500 per carving (Before Tax)

*There may be a waiting time during busy hours

Shop Zone (Exclusive Merchandise)

These cute mugs have illustrations of Doraemon's secret gadgets on one side, and the first letter of those gadgets written in Katakana on the other side. It makes you want to collect them all!

Product Name (Pictured): Doraemon Dora-moji Mug Cup A

Price: ¥1,200 (Before Tax)

This cute figure of Doraemon is actually a piggy bank, a perfect gift to yourself or someone else!

Product Name: Doraemon Piggy Bank

Product: ¥4,000 (Before Tax)

Book Corner

There's even a book shop where you can pick up the latest issues of the Doraemon comic.

Bonus Items

To celebrate its grand opening, the store will give out the following items to customers.

Those who purchase any piece of merchandise will receive a free postcard with an original design with every transaction.

For every ¥4,000 (tax included) spent on a transaction on merch, you'll get an original handkerchief.

And for every book bought, you'll get a holographic postcard featuring a design of volume 0 of the manga.

*Bonus items available while supplies last

Information

Doraemon Future Department Store

Address: DiverCity Tokyo Plaza 2F, 1-1-10 Aomi, Koto Ward, Tokyo

Grand Opening: December 1, 2019

No fixed holidays except when DiverCity Tokyo Plaza is closed.

teamLab to Take Their Interactive Installation 'The Tree of Resonating Colors of Life' to Odaiba in Tokyo

Christmas is about to fall upon VenusFort in Odaiba, Tokyo, with a snow-pile of Christmas content set to take place at the mall from November 30 onward. This will include the exhibiting of teamLab's hugely popular "The Trees of Resonating Colors of Life" installation.

teamLab, The Tree of Resonating Colors of Life, 2018, Interactive Installation, Endless, H: 8000 mm W: 6000 mm D: 6000 mm Sound: Hideaki Takahashi© teamLab

Located in the Olive Plaza, this interactive art piece is a three-dimensional tree made up of many light spheres which change colour as people touch them.

The popular annual "SNOW WISH" event will also take place again this year, where delicate snow falls gracefully from the ceiling. This year the event is collaborating with "VenusFort Illumination 2019-2020 -Grateful Harmony-" to create a heart-warming and enchanting Christmas display that's sure to put you in the Christmas mood.

There will also be a Christmas raffle where you can win prizes, a special VenusFort Christmas party menu, as well as a Black Friday Market where you can grab some serious bargains.

Be sure to add Odaiba on your list of places to visit if you're celebrating Christmas and the holiday season in Tokyo this year.

Information

teamLab: The Tree of Resonating Colors of Life

Running: November 30, 2019 – March 1, 2020

Location: Odaiba VenusFort Floor 2F Olive Plaza (1-3-15 Aomi, Koto Ward, Tokyo)

teamLab Official Website: https://www.teamlab.art/

VenusFort Christmas 2019 Events:  http://55vf.jp

Japanese Fireworks Light Up the Night Sky Of Saudia Arabia

In celebration of the annual Saudi National Day―which commemorates the establishment of the Kingdom of Saudi Arabia―STAR ISLAND held a special event at Jeddah Fountain View on September 23 entitled "STAR ISLAND SAUDI ARABIA NATIONAL DAY EDITION" which was attended by Salman bin Abdulaziz Al Saud, the King and Prime Minister of Saudi Arabia.

STAR ISLAND was created in Japan and describes itself as 'future firework entertainment.' It fuses traditional Japanese fireworks with cutting-edge technology such as 3D sound, lighting and lasers. It has been taken both around Japan and overseas.

The event completely sold out, with close to 300,000 people gathering to witness the jaw-dropping, one-night-only firework spectacle forged specially for the 89th Saudi National Day. Also in attendance was Tsukasa Uemura who is the Ambassador of Japan at the Embassy of Japan in Saudia Arabia, as well as Amr Banaja, the CEO of General Entertainment Authority Saudi Arabia.

This was the second STAR ISLAND to be held outside of Japan. A special edition was prepared for the celebrations. The theme was "The Boy and The Falcon." In the show, young boys from both countries went on a trip around the world with a falcon, experiencing many difference cultures. The boys travelled to the year 2030 to see that both countries were still as wonderful as ever.

The story touched on Saudi Vision 2030, a long-term plan by Saudi Arabia which looks to further grow itself as a tourism nation, develop public sectors, and diversify its economy.

During the performance, local dance groups and Japanese performers stood on stage together to celebrate Saudi Arabian tradition and other cultures. It was an historical moment for the books.

The event was held at the behest of the Saudi Arabian General Authority for Entertainment (GEA), resulting in the development and vitalisation of both countries' entertainment markets as well as helping to create jobs. It also deepened the relationship between Japan and Saudi Arabia.

Information

STAR ISLAND SAUDI ARABIA NATIONAL DAY EDITION

Date: September 23, 2019

Time: 21:00-22:30 (Doors opened 19:00)

Location: Jeddah Fountain View (2099 Al Kurnaysh Rd, Al Hamra District, ,حي الحمراءJeddah 23212)

Official Website: http://www.star-island.jp

4 Must-Visit Fireworks Festivals in Kyoto This Summer

Kyoto―also known as the "old capital" and said to be the birthplace of Japanese culture. In its 1,200 year history, this ancient city has given rise to much of what can be considered quintessential Japanese culture. Fireworks are a monumental feat of summer in Japan with countless festivals up and down the country dedicated to them, and Kyoto is no exception.

If you're in Kyoto this summer then you mustn't miss these 4 fireworks festivals.

Kameoka Peace Festival Hozugawa River Fireworks Festival – A Magnificent Arsenal of 8,000 Beauties

This long-running event is held every year to pray for world peace. Its spectacular display features a lineup of fireworks specially selected by the Japan Fireworks Artist Association which aims to evolve the tradition of firework culture. Expect to see the night sky illuminated with a rainbow of colours from the festival's launch of 8,000 fireworks, including the Starmine which shoots a cloud of bright stars into the overhead abyss, as well as some original fireworks crafted for the festival such as the "Kamemaru Hanabi."

▼Kameoka Heiwasai Hozugawa Fireworks Festival (Kameoka Peace Festival Hozugawa River Fireworks Festival)

Date: August 11, 2019

Time: From 19:30
Location: Hozubashi Bridge
Official Website: http://kameoka-hanabi.jp/

Kyoto Nantan City Fireworks Festival – The Spectacular Starmine

Held by the riverbed of the Katsura River, the fireworks festival in Nantan makes use of the opposite shore from the viewing point which makes the fireworks look like they are raining down from the sky like a waterfall. The finale of this festival welcomes the behemoth of all Starmine fireworks which rips across the night sky in a blazing spread. The festival is also held as part of the Bon Festival and so lanterns are let loose down the Ōi River, creating a sight of subtle grace and beauty.

▼Kyoto Nantan City Fireworks Festival

Date: August 14, 2019

Time: From 19:30

Location: Katsura River
Official Website: http://www.yagi-hanabi.com/

Miyazu Toronagashi Fireworks Festival – Floating Lanterns & Fireworks For 400 Years

Held in the city of Miyazu, this festival combines fireworks with floating lanterns and shoryobune―boats adorned with tanzaku paper slips that are sent out to light the way for the deceased as part of the Bon Festival.  Floating lanterns on the water (known as toronagashi in Japanese) in Miyazu began 400 years ago. This year, it was counted as one of Japan's three biggest toronagashi events.

Together with the boat, around 10,000 lanterns are sent into Miyazu Bay, creating a beautiful and majestic atmosphere. Close to 3,000 fireworks are set to illuminate the sky above, leading to an indescribable beauty as the fireworks and lights give off their own light.

▼Miyazu Toronagashi Fireworks Festival

Date: August 14, 2019

Time: From 19:30

Location: Shimasaki Park
Official Website: https://www.kyo.or.jp/miyazu/hanabi/

Ine Fireworks – Fireworks Galore Envelop Ine Bay

Around 1,200 fireworks climb up and over Ine Bay, lighting the calm water surface and the funaya boat houses of Ine with their brilliance. The boat houses themselves are also strung and lined with hanging lanterns.

▼Ine Fireworks

Date: August 24, 2019

Time: 20:15

Location: Ine, Kyoto
Official Website: http://www.ine-kankou.jp/inehanabi/

Did you enjoy our pick? It isn't summer in Japan without fireworks. If you're travelling to Kyoto to catch some sun this year, finish the day off with one of its many fireworks festival―from traditional Kyoto-esque events to large-scale ones with 8,000 fireworks ready to be deployed.

17 Fireworks Festivals Taking Place This Summer in Ito City

This summer, Ito city will be seeing lots of large-scale fireworks festivals take place between July 20 and August 24.  

Ito Onsen Yume Hanabi/ Ito Onsen, Ito Coast 

The Yume Hanabi (Dream Fireworks) event will be held 10 times during the summer fireworks season. Enjoy a range of fireworks exploding before your very eyes. The sizes of the fireworks range from an outer diameter of 9 cm to 30 cm. Each day, between 1,000 and 1,500 fireworks will pierce the night sky with a beautiful show of colours. The best spot to watch these would be from a simple patch of grass in Nagisa Park. 

July 20 (Sat)  20:30 ー 20:50 (Approx. 1,000 fireworks)

July 28 (Sun) 20:30 ー 20:50 (Approx. 1,000 fireworks)

July 30  (Tues) 20:30 ー 21:00 (Approx. 1,500 fireworks)

July 31 (Weds) 20:30 ー 21:00 (Approx. 1,500 fireworks)

August 2 (Fri) 20:30 ー 20:50 (Approx. 1,000 fireworks)

August 3 (Sat) 20:30 ー 20:50 (Approx. 1,000 fireworks)

August 6 (Tues) 20:30 ー 20:50 (Approx. 1,000 fireworks)

August 7 (Weds) 20:30 ー 20:50 (Approx. 1,000 fireworks)

August 17 (Sat) 20:30 ー 20:50 (Approx. 1,000 fireworks)

August 24 (Sat) 20:30 ー 20:50 (Approx. 1,000 fireworks)

Usami Summer Festival  Kaijo Hanabi Taikai/ Usami Coast

This festival remains popular among the locals but is still yet to be discovered by tourists. This is the perfect spot to relax and enjoy the view at your own pace. The road leading from Usami Station is a pedestrian zone lined with stands and stalls, making it the perfect place to enjoy the festival vibes. 

August 1 (Thurs) 20:00 ー 20:30 (Approx. 1,500 fireworks)

Floating Lanterns Uchiage Hanabi/ Ito Coast

Bright lanterns are floated down the Matsukawa river which runs through the heart of the city. As the last magical lantern makes its way down the river, the fireworks are set off into the sky, illuminating the lanterns as they float downstream.

August 8 (Thurs) 20:50 ー 21:00 (Approx. 800 fireworks)

Taiko no Hibiki (Echoing Drums)  Uchiage Hanabi (Ito Kaigan)

Head over to Nagisa Park to witness the taiko drum battle. Nagisa Park is one of the best locations in Ito city to watch the fireworks. The energy from the drums will resonate throughout the entire park. As the battle reaches its climax, fireworks will soar into the sky, exploding to the beat of your heart.

August 9 (Fri) 20:50 ー 21:00 (Approx. 800 fireworks)

Anjin Large-Scale Seaside Fireworks Festival / Along Ito Coast 

This is the largest fireworks festival in Ito. Over the course of an hour, approximately 10,000 fireworks will be launched from five different areas along the coast, striking vibrant streaks of colour into the night sky over the sea. The fireworks range from digital Star Mines to Niagara fireworks. For those of you who want to escape the crowds to watch the fireworks at your own pace, we recommend the seating area, where you can fully enjoy a closeup view of the breathtaking fireworks for just ¥2,000 per seat. August 10 (Sat) 20:00 ー 21:00 (Approx. 10,000 fireworks)

Yanmono Sato Hanabi Taikai /Yawatano

In just 30 mins, 3,000 fireworks are fired into the sky, bursting into dynamic patterns that illuminate the sea and create a scene of lingering beauty that you will not be able to peel your eyes from. The fireworks are set off right before the spectator's eyes so you can watch the fireworks develop into spontaneous beauty right above you. 

August 14 (Weds) 20:00 ー 20:30 (Approx. 3,000 fireworks)

Kawana Dolphin Beach Large-Scale Seaside Fireworks / Dolphin Beach Park

This is a popular event among locals as well as tourists. Although there are not as many fireworks, the fact that viewers can enjoy them close up more than makes up for it. Niagara fireworks that shower over the ocean and Star Mines that blossom above you are just some of the popular kinds of fireworks this festival will allow you to witness.

August 15 (Thurs) 20:00 ー 20:30 (Approx. 2,000 fireworks)

Ito Hot Springs Hashi Festival Fireworks/ Ito Beach

At this unique festival, a tower made of chopsticks used at the hot springs is set on fire for a memorial service. A portable shrine overflowing with strong energy is carried through the streets as part of a parade. The event also sees hand-held fireworks, enhancing the festival vibes. The fireworks explode over the sea, colouring the sky with a scene that represents the end of summer. 

August 22 (Thurs) 20:30 ー 21:00 (Approx. 1,500 fireworks)

The summer holidays is the perfect time to enjoy a fireworks festival, so why don't you check one out?

Goldfish Festival, Fireworks And Much More Family Fun at Aquamarine Fukushima

During the summer holiday period between July and September, Aquamarine Fukushima is holding a range of events and supporting children to learn about marine life independently. Come join in the festival fun with goldfish scooping games, quoits, and much more. There will also be a fair from August 11 to 15. 

Aquamarine Fukushima Rare Creatures Picture Book <Complete the pictures!>

Dates: July 13 ー September 1

Aquamarine Fukushima is displaying rare creatures and ecological systems. The children can write the name of the new creatures they discover in their own picture book. Once they have completed the picture book, it will be an original record of discoveries. As the children record the features of the animals and other organisms they discover, adults will also find this information beneficial when looking around the exhibitions. 

How to take part: Pick up an application form at the entranceway on floor 1 of the aquarium main building (Honkan). The answers will all be distributed in one place. (Subject to change).

Summer Aquamarine Fukushima: Children's Answer Room

Open: July 20 ー September 1 

Here, all the answers to the children's puzzles about Aquamarine life are presented in panels and explained in easy terms. Along with the picture book where the children can record interesting life forms, this is the perfect way to support independent exploration. 

Goldfish scooping and Fun Fair

You can purchase goldfish that were bred at the aquarium, or catch them yourself at the goldfish scooping area. There is also a games corner where you and your children can enjoy a range of fun activities such as quoits. 

The goldfish building, which just opened last year, will be bringing back its 60cm-large Goldfish Nebuta lantern. To raise spirits during Japan's O-bon lantern festival, the aquarium will be open for much longer so that a lantern event can be held in the evening. 

Iwaki Traditional Vegetable Marché

Open: August 17 ー 18 (11:00 ー 14:00)

Head to the Aquamarine Aguri located outside Aquamarine Fukushima to purchase everyday vegetables as well as Japanese vegetables that have been grown through the cooperation of Iwaki farmers and Iwaki city. The traditional Iwaki marché sells mainly traditional summer vegetables such as okuimo potatoes, yardlong beans, beefsteak plants, kojiroi cucumbers, and much more. From local vegetables to healthy goods, everything is produced at Aquamarine Fukushima. 

Iwaki Fireworks Festival 

Enjoy the sight of fireworks soaring through the sky before your very eyes from the Aquarium grounds. This large-scale fireworks event will run until 9 pm on August 3.

Running: August 11 ー 15 (8pm) . 

※ Last entries: Up to 1hr before closing time. 

Come visit Aquamarine Fukushima for a perfect fun-filled day with the family!

Information

Goldfish Display and Sales

Running: August 11 ー 12 (Monday, national holiday) 

Times: 10:00 ー15:00、16:30 ー19:00

Goldfish Scooping/ Fair

Running: August 11 ー 15

Times: 16:30 ー19:00

The goldfish scooping event will end once all fish have been caught.

Water Yo-Yo Fishing, Quoits, Fishing Games, Barbecue Skewers: ¥300 per turn.

 

Aquamarine Fukushima 

Address: Tatsumicho-50 Onahama, Iwaki, Fukushima

Official Website: https://www.aquamarine.or.jp/

Summer 2019 Japanese Fireworks Festivals With The Wow Factor

Hello everyone, this is Midori from MMN's Editorial Department!

The first thing that pops into your head when you think of summer is fireworks. During the summer, Japan hosts so many large-scale fireworks events that it can be difficult to decide which one to visit. However, some festivals really stand out from the crowd. Today, I will share with you some fireworks festivals I would highly recommend for their extra wow-factor. 

If you're interested, check out the 2019 list for the top 10 fireworks festivals in Japan. 

2019 Artistic Fireworks at Moerenuma Park, Sapporo

Last year, this event was cancelled due to an earthquake, so excitement levels are high this year. 

This year, the fireworks dream team have put together a special non-stop program which includes the highest fireworks in the whole country. A fireworks photo and painting competition will be held after the fireworks event day.

▼2019 Artistic Fireworks at Moerenuma Park

Date: September 7, 2019

Official Website: https://www.moere.jp/

Relax 221m Above Ground: The RESTAURANT LUKE with SLY LOUNGE Fireworks Plan

Fireworks events held within the city can get very crowded, so how about watching them explode beautifully in the night sky from a restaurant? RESTAURANT LUKE with SLY LOUNGE is the perfect place to watch the Sumida River Fireworks festival and its 20,000 fireworks, or the Edogawa Fireworks Festival, where 14,000 fireworks are launched. Make sure to ask for the fireworks plan if you want this experience.

Being able to watch fireworks high in the sky is a wonderful lifetime opportunity. 

▼RESTAURANT LUKE with SLY LOUNGE

Address: St.Luke's Garden, 47th floor, 8-1 Akashicho, Chuo City, Tokyo

TEL: 03-3248-0211

Firework event plans:

July 27 Sumida River Fireworks Festival Special Plan

August 3 Edogawa Fireworks Festival Special Plan

Adults: ¥15,000, high school students: ¥6,000, middle school students: ¥4,000, elementary school students: ¥2,000 (Free for those under elementary school age)

Official Website: https://www.restaurant-luke.com/restaurant.html

Shin Yokohama Fireworks Festival  2019 Special Tickets

Kohoku-ku, Yokohama will be celebrating the 80th year of the Shin Yokohama Fireworks Festival. Tickets for seats to watch the 2019 fireworks event are now being sold. The fireworks will be launched in an area that is hundreds of metres wide. For the finale, you can enjoy yellow streams of light as they fall out of the sky. As this fireworks event is taking place at Shin Yokohama, you can get seats at the Nissan Stadium or the tennis court to enjoy a beautiful night.  

Photo: Takeshi Kanetake 

▼Shin Yokohama Fireworks Festival 2019

Date: July 7, 2019

Prices: Special entry area (unreserved seats): ¥2,000 (per person, 1m2 picnic sheet, 1 entry ticket).

Tennis court garden table seat: ¥20,000 (4 people, 4 tickets, 1 garden table), Nissan Stadium north side (for legal supporters/ event sponsors and others who contributed to the event: ¥54,000 (6 people, 6 tickets, table seating).

Official Website: http://shinyokohama-hanabi.com/

Enjoy Fishing With A Beautiful Fireworks Display In The Sky at Echizen, Fukui

Visit Echizen port to enjoy a beautiful fireworks display whilst on the hunt for fish and squid. This is a relatively cheap plan considering that you also get the chance to enjoy a beautiful view. This is a wonderful way to create special memories.

▼ Fishing and Fireworks in Echizen, 2019

Date: July 13, 2019

Price: Squid: ¥ 6,000 per person Fish: ¥7,000 per person (40 people max).

(Includes fishing equipement. Price is the same for both children and adults).

Official website: https://www.town-echizen.jp/SSL/experience/detail.php?id=90

A Cool Night at The Pool and Fireworks Every Day at Phoenix Seagaia Resort, Miyazaki

During the summer holidays, there will be a fireworks show every evening at Phoenix Seagaia Resort in Miyazaki prefecture. They have special seating, and also those who choose accommodation on the club floor can see the fireworks launched before their very eyes.

You can also enjoy the night pool or barbeque and simultaneously witness the fireworks. The best part is that there is a show everyday, so there is no need to worry about fitting it in with the rest of your plans.

▼Phoenix Seagaia Resort Summer Fireworks 2019

Event Period: Every day from July 20 ー August 31, 2019

Official Website: https://seagaia.co.jp/

This summer will be the first ever fireworks season of the Reiwa era, so how about making it extra special by attending a fireworks festival with that extra wow factor?

Enjoy The Beautiful View of Tokyo's Nighttime Sky And Sea With The Tokyo Twilight Pool Plan

Spending a cool night overlooking the beautiful calm water at Odaiba and relaxing in the gorgeous pool sounds like an excellent way to spend summer nights in Tokyo. Grand Nikko Tokyo Daiba is launching their summer-limited plan called Tokyo Twilight Pool Plan 2019 to allow you to do just that. 

The Tokyo Twilight Pool Plan 2019 comes with a delicious food menu that serves a variety of luxurious, mouthwatering dishes that look just as luxurious as they taste. Some examples include; mini hotdogs with chicken and vegetable sauce aurore, barbeque sauce spare ribs, and much more. They even serve all-you-can-drink top quality Jacquart champagne, which is a global top class wine chosen by many airlines and hotels. 

This hotel offers a unique view of the night sky and night waters of Tokyo from an open terrace. Guests can gaze at the relaxing view whilst enjoying delicious food and luxurious champagne. The Tokyo Twilight Pool Plan offers the perfect getaway for friends and couples. 

Information

Grand Nikko Tokyo Daiba's Tokyo Twilight Pool Plan 2019 

Running: July 5 ー September 1 (Weekdays only, reservations required. Please reserve at least three days before the date of your visit).

※ Closed between August 13 and 16. (Please obtain further information on opening and closing dates and times using the official website and telephone numbers listed below.)

Opening Hours: 16:00 ー 21:00 (Last entries: 19:30)

Prices: General: ¥11,000/ One Harmony members: ¥10,000

※ A restriction of up to 4 One Harmony members are permitted per group.

※ Entry prices included in prices stated above. 

Grand Nikko Tokyo Daiba

Address: 2 Chome-6-1 Daiba, Minato City, Tokyo 

Access: Direct connection from Daiba Station (Yurikamome line)/ Approx. 10-minute walk from Tokyo Teleport Station (Rinkai Line) 

Telephone no: 03-5500-6711(main number)

Official Website: https://www.tokyo.grandnikko.com/

Top 10 Japanese Summer Fireworks Festivals to Attend in 2019

When May rolls around in Japan, ticket sales open for the country's many firework festivals. It is the season when Japanese people start checking their calendars so they don't miss out on the summer fireworks and being drawing up any travel plans if they are attending a faraway festival.

Today we will take a look at the Top 10 firework events to attend in Japan this summer as ranked by Hankyu Travel International from the number of attendees from last year's festivals.

1st Place: Omagari Fireworks Festival (Daisen, Akita Prefecture)

Soaring in at No. 1 is the Omagari Fireworks Festival. Boasting a bright history of over 100 years, this famous festival enjoys an attendance rate exceeding 700,000 every single year. As well as the general display, the event also holds a firework competition which sees firework masters from all across Japan come together in a battle to put on the best light show. Some of these experts have received various awards such as the Prime Minister Award and Ministry of Economy, Trade and Industry Award. Omagari is also the only place in Japan to hold a firework competition in the late afternoon.

The theme for 2019 is Heizei Rinrin ("the awe-inspiring ordinary"). In the latter half of of the program, a display will be held called "Firework Musical Reiwa Festival" where over 2,000 fireworks will be launched. It will commemorate the new Reiwa era of Japan with hit songs from the Heisei period and more.

Date: August 31, 2019

Time: Afternoon Fireworks – From 17:15 / Evening Fireworks – From 18:50

Location: Omagari, Daisen, Akita Prefecture (大仙市大曲 雄物川河畔)

Access: 30-minutes on foot from JR Omagari Station

▼Omagari Fireworks Festival Details & Tour (Japanese)

https://www.hankyu-travel.com/kokunai/event/oomagari/?p_baitai=9599

2nd Place: Nagaoka Fireworks Festival (Nagaoka, Niigata Prefecture)


On August 1, 1945, the lives of 1,488 locals were taken during the Bombing of Nagaoka. The following year, a festival was held in an effort to aid in restoring the destroyed town. This is the precedent to the annual Nagaoka Festival which includes a firework display. It has been held every year for over 70 years with people from all over the country travelling to attend it. It is considered one of the main three firework festivals of Japan.

2019's program has several famous fireworks lined up for the display as well as the Phoenix, a firework to commemorate the restoration of the Chuetsu area of Niigata Prefecture from the earthquake back in 2004.

Date: August 2, 2019 – August 3, 2019 (*Nagaoka Festival will take place on August 1)

Time: 19:20-21:15

Location: Riverside of Shinano River under the Chosei Bridge in Nagaoka, Niigata Prefecture

Access: 30-minutes on foot from JR Nagaoka Station

▼Nagaoka Fireworks Festival Details & Tour (Japanese)

https://www.hankyu-travel.com/kokunai/event/nagaoka-hanabi/?p_baitai=9599

3rd Place: Huis Ten Bosch Fireworks Festival (Sasebo, Nagasaki Prefecture)

The Huis Ten Bosch Fireworks Festival is the biggest in all of Kyushu. Fireworks can be enjoyed at Huis Ten Bosch all throughout the year, but what's special about this year's festival are two particular displays: one which will be combined with music from Studio Ghibli films and another being a competition between firework experts from all around the world. The estimated number of fireworks to be launched is around 22,000. Don't miss out!

Dates

Ghibli Music Fireworks: July 13, 2019

Summer Special Fireworks: August 10, 2019

Kyushu Fireworks Competition: September 21, 2019

Location: Huis Ten Bosch

Access: 5-minutes on foot from JR Huis Ten Bosch Station

▼Huis Ten Bosch Hotel Tour & Information (Japanese)

https://www.hankyu-travel.com/kyushu/nagasaki/huistenbosch/?p_baitai=9599

4th Place: Ashikaga Fireworks Festival (Ashikaga, Tochigi Prefecture)


This year will mark the 105th run of the Ashikagawa Fireworks Festival which takes place beside the Watarase River. Last Year, Hankyu Travel International offered a tour plan consisting of both the Ashikagawa Fireworks Festival and the Kiryuyagibushi Festival. The latter gained popularity for its program which included a Blue Impulse performance, an aerobatic demonstration from the Japan Air Self-Defense Force. The finale of this year's Ashikagawa festival will feature an 800 meter firework display.

Date: August 3, 2019

Time: 19:00-20:45

Location: Under Tanaka Bridge near Fujioka Watarase Sports Park and the riverside

Access: 5-minutes on foot from Ashikaga Station via the JR Ryomo Line

5th Place: Kachimai Fireworks Festival (Obihiro, Hokkaido)


The Kachimai Fireworks Festival is organised by Tokachi Mainichi News which celebrates 100 years since launching this year. The first run of this festival dates back to 1929 when it was the first ever fireworks festival to be held in Hokkaido. In recent years, the company have set up a live VR stream which offers a a 360° view of the fireworks and festival. This year, to celebrate Tokachi Mainichi's 100th anniversary, they will also hold a demonstration on how fireworks are launched for the first time. The finale will be the Nishikikamuro, a special firework launch synonymous with the festival, which will light up the night sky with a spectacular display.

Date: August 13, 2019

Time: 19:30-21:00

Location: 400 meters along the Tokachi Ohashi Bridge in Obihiro, Hokkaido

Access: 30-minutes on foot from JR Obihiro Station

▼Kamachi Fireworks Festival Tour (Japanese)

https://www.hankyu-travel.com/kokunai/keyword/%E5%8B%9D%E6%AF%8E%E8%8A%B1%E7%81%AB%E5%A4%A7%E4%BC%9A/?p_baitai=9599

For numbers 6-10 on the list check out Hankyu Travel International's website below.

Traditional Japanese Fireworks Fuse With Cutting-Edge Technology for STAR ISLAND 2019 in Tokyo & Singapore

This year marks the third year of STAR ISLAND, a firework festival set to take place at Toyosu Gurui Park on July 20, 2019. Tickets are now on sale.

STAR ISLAND will collapse together traditional Japanese fireworks with the latest in cutting-edge technology including 3D sound, lighting and show performances. This immersive entertainment experience will stimulate all five senses of attendees as they enjoy the show with against panoramic backdrop of Tokyo's towering skyscrapers.

Past STAR ISLAND event

The tickets for STAR ISLAND sell out every single year. 2019 will be its fourth run and it promises to scale things up to greater heights as the event is moved to Toyosu Gururi Park for the first time.

Past STAR ISLAND event

The event will now house two children's areas for families which have proven popular each year as well as new BBQ seats.

Past STAR ISLAND event

This year, STAR ISLAND is expanding its experience overseas. Up to now, the event has been held at Odaiba Seaside Park in Tokyo for two years in a row since its inception in 2017. At the end of 2018, it embarked to Singapore for the New Year's event "Marina Bay Singapore Countdown 2019" where it was the main attraction, showcasing its wondrous and moving content to people from 86 different countries.

STAR ISLAND will return to Singapore for the same event for the 2020 countdown. Before that, it will make its way to Saudi Arabia for Saudi-Japan Vision 2030 on September 23, 2019, the same date the kingdom was founded.

If you get the chance, make sure to book your tickets to witness STAR ISLAND 2019 for yourself.

Information

STAR ISLAND 2019

Date: July 20, 2019

Time: 16:00-21:00 (*Will go ahead if it rains but stop during stormy weather)

Location: TOKYO STAR ISLAND (Toyosu Gururi Park, 6-5 Toyosu, Koto Ward, Tokyo)

Tickets: http://r.y-tickets.jp/starisland2019

Enquiries: Kyodo Tokyo 0570-550-799 (Weekdays 11:00-18:00 / Weekends & Holidays 10:00-18:00)

Official Website: http://www.star-island.jp

STAR ISLAND 2019 Schedule

2019/7/20 – STAR ISLAND 2019 in Toyosu Gururi Park, Tokyo

2019/9/23 – STAR ISLAND in Saudi Arabia

2019/12/31 @ STAR ISLAND in Singapore

Get a Night Pass to the teamLab Borderless Digital Art Museum in Odaiba

MORI Building DIGITAL ART MUSEUM: EPSON teamLab Borderless is an art museum co-managed by MORI Building and teamLab which is home to a borderless world without any maps in sight. The museum is currently displaying its spring display until the end of May.

It has been announced that this summer, from July 13 to September 1, the museum will extend its weekday hours to weekend hours where it will stay open until 21:00. They will also begin selling a limited number of Night Passes which enables guests to enter the museum from 18:00 for a closer, more intimate interaction with the exhibitions.

If you'll be in Japan this summer then take advantage of this opportunity to enter teamLab's immersive borderless world of digital art.

Information

MORI Building DIGITAL ART MUSEUM: EPSON teamLab Borderless

Address: 1-3-8 Aomi, Koto Ward, Tokyo

Price: Adults – ¥3,200 / Children – ¥1,000 / Disability Discount – ¥1,600

Night Pass: Price: Adults – ¥2,900 / Children – ¥1,000 / Disability Discount – ¥1,500

*Night Pass available from July 13 to September 1 only. Entry from 18:00 permitted.

Opening Hours: Weekdays 10:00-19:00 / Weekends 10:00-21:00

*Opening hours to run from 10:00-21:00 all week from July 13 to September 1.

*Last entries are one hour before closing time.

Closed: Every 2nd and 4th Tuesday

*Also closed Saturday June 22 and Saturday August 10. Open on Tuesday August 13.

Official Website: https://borderless.teamlab.art/

teamLab Borderless Digital Art Museum Unveil Springtime Display

teamLab Borderless is a digital art museum co-managed by MORI Building and teamLab that seeks to create a "borderless world" made possible by digital art. For this spring only the museum has announced a limited time display that will run from early March to late May.

The digital art pieces will take guests through a world of spring. Springtime flowers like Daphne odora and Astragalus sinicus will bloom in Spirits of the Flowers while plum blossoms and tree peonies will decorate Flowers – Layered Ultrasubjective Space. A spring scene will also unfold over in Memory of Topography, and Cherry blossom coloured lights will illuminate Forest of Illuminating Lamps.

Forest of Resonating Lamps – One Stroke (Running: Early March – Late April)

Two new displays will be exhibited inside Forest of Resonating Lamps – One Stroke for spring only. This includes the Cherry Blossom display with lamps lit up in that distinct pink colour and the Spring Hills & Fields display where the colours of five different flowers will radiate including four types of Japanese kerria and peach tree plants. When a person stands next to a lamp the light resonates to the next two lamps and this continues, spreading the lights across the room. This happens until all of the lamps have shone once brightly before returning to the first lamp.

Spirits of the Flowers (Running: Early March – Late April)

Flowers bloom and change throughout the year, and this rings true with this art installation. March will see the arrival of Daphne odora and in April Astragalus sinicus.

Flowers – Layered Ultrasubjective Space (Running: February 9 – Late May)

Plum blossoms will be rendered through February and March while April and May will give rise to tree peony displays. teamLab explains how "flowers are born, they grow, bud, blossom and in time the petals scatter and they die and fade away. The flowers repeat the process of birth and death endlessly." This process is recreated at Layered Ultrasubjective Space.

Memory of Topography (Running: Early March – Late May)

This installation depicts a rural mountain landscape of different elevations, and from March onward will give rise to elements of spring. teamLab explains that as the seasons change so does the appearance of flowers and insects. They highlight how even if you don't see scenery changing, including the landscapes, it always is and will never be the same twice, meaning a single moment in nature will never be repeated and can never be seen again.

Experience nature and the latest technology come together this spring at teamLab Borderless.

Information

MORI Building DIGITAL ART MUSEUM: EPSON teamLab Borderless

Address: 1-3-8 Aomi, Koto Ward, Tokyo

Opening Hours: Weekdays 10:00-19:00 / Weekends 10:00-21:00 (*Last entries are 1 hour before closing time)

Closed: Every 2nd and 4th Tuesday of the month. Also closed February 18th-20th but open February 12th and 26th.

Price: Adults – ¥3,200 / Children – ¥1,000 / Disabled Discount – ¥1,600

Official Website: https://borderless.teamlab.art/