Guess the Secret Flavour of McDonald's New Gudetama McFlurry and Win Prizes!
McDonald's a teaming up with popular Sanrio character Gudetama to release a new honey flavoured McFlurry. It will go on sale at all McDonald's branches in Japan on June 8.
The Gudetama McFlurry is made in the image of the lazy egg himself, deliciously made with rich milky soft serve and topped with two sauces and a secret ingredient.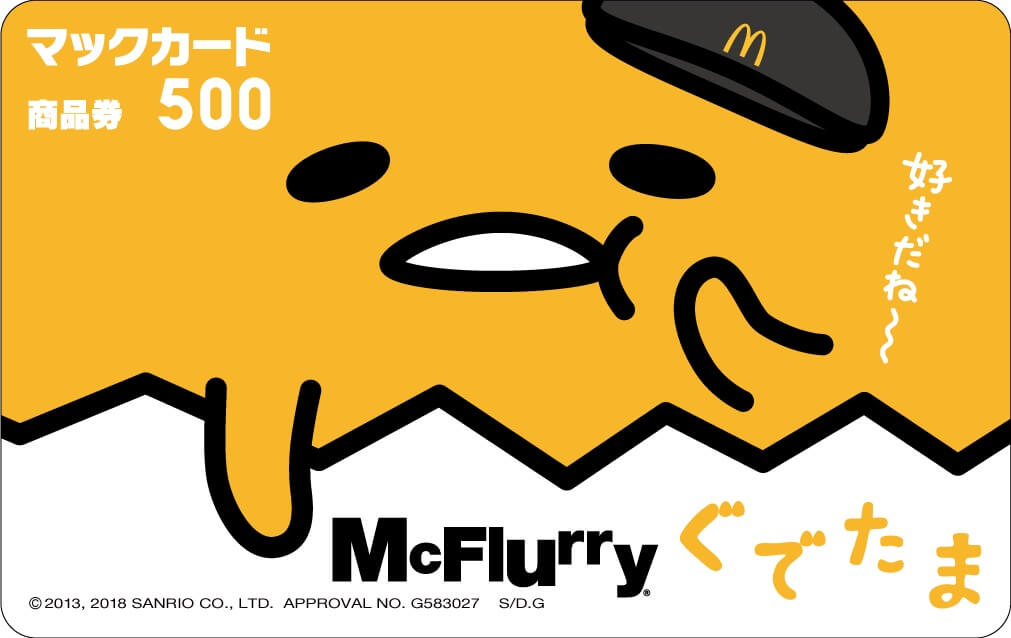 McDonald's Japan are also currently holding a campaign on Twitter for people to guess the flavour of the new product under the hashtag #ぐでたまってなに味? ('What flavour is Gudetama?') All you need to do is post your answer on Twitter along with the hashtag. Winners will be randomly selected to receive various gifts including a 'Golden Gudetama' as well as a McCard with an illustration of Gudetama. The flavour will be announced on June 13.
The Gudetama McFlurry was released early at McDonald's on Takeshita Street in Harajuku on June 1. It will be released everywhere else on June 8. You'll spot the branch instantly with the Gudetama illustrations decorating the restaurant.
There are six original cups that the new dessert will arrive in (though they are limited) to make your Gudetama experience even more fun. Also, from June 8, customers can receive one of six possible Gudetama toys if they buy a Happy Meal.
Fans of McFlurry and fans of Gudetama can look forward to enjoying this fun new collaboration.
■Information
マックフルーリー ぐでたま
販売エリア:全国 のマクドナルド店舗(一部店舗 を除 く)
期間:2018 年 6 月 8 日(⾦) 〜 7 月上旬(予定)
販売時間:10 時 30 分〜閉店まで(24 時間営業店舗では翌 1 時 00 分まで)
販売価格:税込 290 円 ※「マクドナルド 原宿竹下通り店」では、6 月 1 日(⾦)から先⾏販売を実施。※「マックフルーリー ぐでたま」の味は、6 月 13 日(水)11 時 00 分に発表予定。
「#ぐでたまってなに味︖」キャンペーン
ご自身の予想する「マックフルーリー ぐでたま」の味を、「#ぐでたまってなに味︖」というハッシュタグとともに、記入してツイートいただいた方の中から抽選で豪華賞品をプレゼントいたします。
応 募 期 間:第一弾「大予想キャンペーン」:2018年6月1日(⾦)17時00分〜2018年6月7日(木)23時59分
第二弾「実食キャンペーン」:2018年6月8日(⾦)13時30分〜2018年6月12日(火)23時59分 ・ キャンペーンページ
第⼀弾︓⼤予想キャンペーン:抽選で1名に「⾦のぐでたま」プレゼント。
第⼆弾︓実⾷キャンペーン:抽選で50名に「ぐでたまマックカード」2,000円分を プレゼント。
URL:http://www.mcdonalds.co.jp/campaign/mcflurry_gudetama/cmp02/
©2013, 2018 SANRIO CO., LTD. APPROVAL NO. G583027     S/D・G
RELATED ENTRIES
McDonald's Japan Unveils Marshmallow Cream Tart & Chocolate Raspberry Cupcake

McCafé by Barista branches of McDonald's Japan will release its new "Marshmallow Cream Tart" and "Chocolate Raspberry Cupcake" on November 6, both of which will be available for a limited time until the end of March 2020.

Marshmallow Cream Tart – ¥340

The tart has a dough base made from baked Graham crackers. It's layered with almond cream and chocolate ganache and topped with marshmallow that has been browned on the top. It offers a delicious variety of textures, from the smooth ganache to the sweet and fluffy cream and crunch tart base.

Chocolate Raspberry Cupcake – ¥340

The cute cupcake is a bitter dark chocolate decorated with a smooth sweet and sour raspberry cream.

You will be able to order either of these desserts as a set with either a regular size hot or iced Americano or latte until January 14, 2020 once they are released.

Information

Marshmallow Cream Tart & Chocolate Raspberry Cupcake

Running: November 6, 2019 – Late March 2020

Available: At McCafé by Barista branches of McDonald's in Japan

Official Website: http://www.mcdonalds.co.jp/shop/barista/

McDonald's Japan Unveils Crunchy Cookies and Cream Triangular Chocolate Pie

McDonald's Japan's deliciously-loved triangular chocolate pie is making a return this year in an all new cookie's and cream flavour, in addition to the regular chocolate flavour, both of which will hit branches across Japan for a limited time from October 15.

The chocolate pies have a crunchy exterior made up of layers and layers of delicious pastry. They're filled with warm, melted chocolate to complete the tempting treat.

This year sees a tasty new entry to the chocolate pie series, one filled with a sweet-smelling vanilla cream containing smashed Oreo® cookies. This creates an enjoyable texture of the smooth cream and the crunchy pie.

There is of course the hugely popular original flavour known as "Black" which contains almonds and sweet melted chocolate cream. Once you order your pie of choice you'll be left wondering where to start eating from!

Each pie also comes served in their own special packaging, both of which are limited in stock.

Information

Triangular Chocolate Pie – Black

Running: October 15, 2019 – Late December 2019 (subject to change)

Price: ¥130 (Tax Included)

Available: At most McDonald's branches around Japan

Triangular Chocolate Pie – Cookies & Cream

Running: October 15, 2019 – Mid November 2019 (subject to change)

Price: ¥150 (Tax Included)

Available: At most McDonald's branches around Japan

McDonald's Japan Official Website: http://www.mcdonalds.co.jp/

Check Out the Chocolate Matcha Frappé at McDonald's This Autumn

McDonald's is bringing back its irresistible Uji Matcha drinks series this autumn and adding a brand new drink: The Choco Matcha Frappé, which will be sold from September 25 for a limited period. This drinks series is only available at McDonalds Restaurants which serve the McCafé by Barista menu. 

The overwhelmingly popular Uji Matcha Series is currently being served for a limited period. From a Strawberry Matcha Frappé to Uji Matcha Chocolate and even Oreo® Cookie toppings, this series is the perfect way to indulge in a fusion of Japanese and western flavours. The Choco Matcha Frappé is the latest drink to join this series.

The base of the chocolate Matcha Frappé consists of chocolate whipped cream and a layer of high quality Belgian couverture chocolate sauce. The next layer is the frappé, which consists of matcha milk made from matcha sourced from Uji, Kyoto. This is topped with chocolate whipped cream and chocolate sauce and sprinkled with bitter cocoa Oreo® pieces. The faint green colour of the matcha is a wonderful contrast with the chocolate colour, creating the image of autumn.  

The mild flavour of the Uji matcha and chocolate is a matcha match made in heaven that you will want to taste again and again. The crunchy, bitter Oreo® cookie pieces create a texture adventure and enhances the flavours of the chocolate and matcha. This frappé is the perfect way of enjoying both the colours and flavours of autumn.  

The Matcha Frappé Latte, Matcha Latte and Iced Matcha Latte have been returning to the menu year after year since their first appearance in 2014. These drinks are also available this year. The entire drinks series is made using the slightly bitter Uji matcha sourced from Kyoto: the birthplace of matcha. The mellow flavour is perfectly balanced out by the milk. These matcha drinks are definitely worth trying. 

Information

Choco Matcha Frappé

Price (After Tax): Regular ¥490 /  Large ¥530

Selling: September 25 – Mid October 2019 (subject to change)

Matcha Frappé Latte

Price (After Tax): Regular ¥450 / Large ¥490

Selling: Until mid-October (subject to change)

Iced Matcha Latte

Price (After Tax): Regular ¥390 / Large ¥430

Selling: Until mid-October (subject to change)

Matcha Latte

Price (After Tax): Small ¥350 / Regular ¥390

Selling: Until mid October (subject to change)

Available only at McDonald's branches in Japan with a McCafé by Barista area.

* Please visit McDonald's official website to find out more information. 

* Only available during "McCafé by Barista" opening hours. Opening hours vary from branch to branch.

McDonald's Japan Reveals Caffè Latte McShake in Collaboration With Mt. Rainier

McDonald's Japan is collaborating with Morinaga Milk Industry's popular long-selling products Mt. RAINIER Caffè Latte to release the McShake x Mt. RAINIER Caffè Latte to McDonald's branches across Japan for a limited time from September 18.

Mt. RAINIER Caffè Latte is known for its tempting mix of rich aromatic espresso and full-bodied milk, and those flavours are about to meet another sumptuously compatible partner: the McShake. By using the McShake, which has a distinct creamy texture and subtle sweetness, McDonald's has redefined the Mt. RAINIER Caffè to create an incredibly refreshing dessert-like coffee drink.

Only the best coffee beans are used in Mt. RAINIER and are sourced from 60 countries around the world. The new McShake beverage has a shot of full-bodied coffee syrup made from the extract of those pressed coffee beans for a harmonious amalgamation of flavours.

The drink is available in small and regular sizes, with small sizes only coming served in a special cup with the Mt. RAINIER Caffè Latte logo on it. These cups are limited in stock.

McDonald's Japan is also holding a hashtag campaign to give 100 random people an original McCard and one case of Mt. RAINIER Caffè Lattes. Details below.

Information

McShake x Mt. RAINIER Caffè Latte
Running: September 18, 2019 – Mid October 2019 (subject to change)
Available: At most McDonald's branches in Japan

Price: Small ¥120 / Regular ¥200 (Tax Included)

McDonald's Japan Official Website: http://www.mcdonalds.co.jp/

Twitter Campaign (Hashtag: #うちの無敵タッグが優勝)

Running: September 11, 2019 at 12:00 (JST) – September 18, 2019 at 23:59 (JST)
How to Participate: Follow the official @McDonaldsJapan Twitter account and retweet this tweet

Prize: Original McCard (with ¥500 allowance) and one case of 10 Mt. RAINIER Caffè Lattes

McDonald's Japan's Cool Summer McFizz Beverages Release on July 10

McDonald's Japan has announced that it will release three new carbonated McFizz beverages as part of a summer campaign. The McFizz Blue Hawaii, McFizz Blood Orange and McFizz Lemon & Ginger will be served from July 10.

McFizzes are cool and refreshing carbonated beverages perfect for the summer heat. They are served in a variety of vivid colours.

McFizz Blue Hawaii

This refreshing light blue drink contains apple juice (1%) which has a refreshing sour taste. Blue Hawaii is a staple of summertime.

McFloat Blue Hawaii

The same as the McFizz Blue Hawaii but is transformed into a dessert drink with a dollop of rich and velvety soft serve ice cream.

McFizz Blood Orange (1% Juice)

The alluring orange gradation of the McFizz Blood Orange gives it a cute appearance. A mix of sweet and rich blood orange and refreshingly sour grapefruit juice, this is another perfect pick for the summer.

McFloat Blood Orange (1% Juice)

McFizz Lemon & Ginger (1% Juice)

This drink uses lemons from Sicily which have a characteristically bright yellow colour. It's mixed with ginger for an added refreshing bite.

McFloat Lemon & Ginger (1% Juice)

Each drink is served in cups featuring cute illustrations of a boy and girl in live. You can make a cute photo by lining them all up together♡

Fan away the hot weather this summer by picking up one of the new McFizz drinks from McDonald's in Japan!

Information

McFizz Summer Beverages

Running: July 10, 2019 – Late August 2019 (subject to change)

Available: At most McDonald's branches in Japan

Serving Time: McFizz – All Day / McFloats – From 10:30am

Prices (Tax Included): McFizz ¥250 / McFloat ¥310

Campaign Website: http://www.mcdonalds.co.jp/campaign/mcfizz_summer/

McDonald's Japan Reveals Oreo® Chocolate & Strawberry Oreo® Chocolate Frappes

McCafé by Barista branches of McDonald's in Japan will begin sales of their new Oreo® Chocolate Frappe and Strawberry Oreo® Chocolate Frappe on June 26. The drinks are an upgrade of their hugely popular Chocolate frappe drink with a mix of Oreo cookies and strawberry sauce.

Strawberry Oreo® Chocolate Frappe: Regular ¥410 / Large ¥450

The Strawberry Oreo Chocolate Frappe is a rich chocolatey frappe mixed with fruity strawberry sauce. It's topped with velvety whipped cream which is drizzled in a chocolate sauce made with 54% couverture chocolate from Belgium and topped with Oreo® cookies. One sip invites your taste buds into a myriad of flavours from the crunchy texture of the cookies to the sweet and sour strawberry sauce.

Oreo® Chocolate Frappe: Regular ¥390 / Large ¥430

The Oreo Chocolate Frappe is all of that minus the strawberry sauce. It was first sold at McDonald's Japan back in March this year for a limited time and proved hugely popular with customers.

Lift your spirits during Japan's damp rainy season with a delicious Oreo frappe.

*Oreo is a registered trademark of Mondelēz International, Inc.

Information

Oreo® Chocolate Frappe/Strawberry Oreo® Chocolate Frappe

Running: June 26, 2019 – Mid September 2019 (subject to change)

Available: At McCafé by Barista branches of McDonald's in Japan

Store List (Japanese): http://www.mcdonalds.co.jp/coffee/top.php

Summer Kicks Off at McDonald's with Fruity Summer Drinks

McDonald's full-time barrister café feature McCafé by Barista serves original café coffee. As part of McDonald's, they will launch summer drinks on Wednesday 12th June. From this day, the Peach Smoothie will be sold. There will also be a limited-time summer fruits smoothie which will be changed approximately every month. The first drink for round one is the Mango and Passionfruit Smoothie.

Peach Smoothie: M: ¥440, L:  ¥480       Extra toppings M: ¥500 Extra toppings L: ¥540

The summer drinks season will continue until late September. This year will mark the fifth year running of McCafé by Barista's popular menu. This summer, the Peach Smoothie will keep you refreshed with its peachy goodness. Peach purée and peach tea syrup is mixed to create the body of the smoothie. The drink is topped with a sauce filled with chunky pieces of peach.

Mango & Passionfruit Smoothie: M: ¥490, L: ¥530,       Extra toppings: M: ¥550 , L: ¥590

The limited-time drinks will be changed approximately each month. For the first round, the Mango and Passionfruit Smoothie is on the menu with its southern tropical vibes.  The refreshing mango sauce made from Alphonso mango purée is combined with a flavourful yet moderately sour passionfruit sauce. The sauces are then mixed with ice. The drink is topped with a sweet and fruity sauce which contains chunky fruit pieces. The sweet and sour balance is just right. In addition, if you pay an extra ¥60 on top of your purchase when you order either of these drinks, you can increase the toppings on your drink!

A round two and three of fruit smoothie summer drinks series has been planned. Don't forget to pick up a stamp card! Every time you purchase from this menu, you will receive a stamp. Collect four and you will be awarded with a free smoothie from the regular menu or a frappé (M size)

These smoothies are full of fruity feelings! Enjoy layers of luxury to your heart's content.

Information

Peach Smoothie

Available: Wednesday 12th June ー end of September (Subject to change)

Mango and Passionfruit Smoothie

Available: Wednesday 12th June ー end of July (Subject to change)

Available at: McDonalds nationwide that have a McCafé by Barista (98 of these currently exist in June 2019)

Selling times: Dependant on McCafé by Barista's opening hours. (Varies depending on the branch)

McDonald's Japan Official Website: http://www.mcdonalds.co.jp/shop/barista/

Gudetama's Official YouTube Channel Now Has English Subtitles

The official YouTube channel for the popular character Gudetama is now posting its videos with English, Traditional Chinese and Korean subtitles.

Gudetama is a lazy egg character that was created by Sanrio in 2013. His debut saw him reach No. 2 on Tabekyara Sousenkyo, a competition that had people voting for their favourite food-inspired character. His lethargic, no-energy demeanour has earned him international popularity. The decision to include subtitles in various languages serves to further expand his sluggish influence.

Videos posted on this channel include an archive of short animations that have and are shown on Japanese television as well as new videos made specifically for the YouTube channel. Sanrio plan to add more languages in the future.

The channel is also accepting translations from viewers using YouTube's subtitle function. These translations will be reviewed and judged before consideration to post them on the channel is made.

Be sure to head on over to Gudetama's channel and subscribe for daily content!

S/D・G
©2013, 2019 SANRIO CO.,LTD.  TOKYO,JAPANⒽ
©2019 monstersegg

McDonald's Japan Releasing New Waffle Cone With All the Toppings

McDonald's Japan is adding a new addition to its regular Waffle Cone series which combines all three toppings. It will be released for a limited-time only at McDonald's branches across Japan on May 29, 2019.


For the mere price of ¥150 customers can pick up one of three Waffle Cones currently on sale at McDonald's in Japan: Plain, Chocolate & Almond, and Strawberry. Each consists of a crunchy waffle cone filled with rich soft serve ice cream.

To celebrate one year since the fast-food chain launched this dessert, they are having a limited run of Waffle Cones that combine all toppings.
Drizzled onto the milky rich soft serve ice cream is chocolate sauce, strawberry sauce, and almonds, which add layers of delicious flavour and texture to the already-tasty Waffle Cone. They will also come served in a new sleeve with a more modern design.

Information

All-Toppings Waffle Cone

Price: ¥230
Running: May 29, 2019 – Late June 2019 (subject to change)
Available: At most McDonald's branches in Japan
Official Website: http://www.mcdonalds.co.jp/

McDonald's Japan Reveals New Iced Winner Coffee

On May 22, McDonald's Japan is releasing its new "Iced Winner Coffee" for a limited time at McCafé by Barista branches.

Iced Winner Coffee: Regular ¥320 / Large ¥360 (Tax Included)

The drink's base is an iced Americano which contains a refreshing shot of espresso that embodies a rich and full-bodied flavour and fragrance. Added to that is a smooth and milky whipped cream which marries exquisitely with the coffee. There's also a hot version of this beverage too, so pick your drink of choice depending on what you're feeling that day.

McDonald's Japan will also hold a limited-time campaign titled "World Coffee Tour" starting on May 22 to celebrate all the different ways coffee is drank around the world. For the campaign, customers can choose from one of four coffee beverages including the Iced Winner Coffee, Iced Americano, Cappuccino and Flat White together with a dessert: either a macaron, sugar doughnut or brownie. This "World Coffee Tour Set" offers ¥50 off the usual price of a coffee and desserts.

Information

Iced Winner Coffee: Regular ¥320 / Large ¥360

Winner Coffee: Regular ¥280 / Large ¥320

World Coffee Tour Set: ¥50 off regular price

Running: May 22, 2019 – Mid September, 2019 (subject to change)

Available: At McCafé by Barista branches of McDonald's in Japa

McCafé by Barista Official Website (Japanese): http://www.mcdonalds.co.jp/shop/barista/

McDonald's Japan Now Selling 4 New Yoghurt Drinks

McDonald's Japan is now selling four new beverages at McCafé by Barista branches. Available for a limited time only, the line-up includes the Strawberry Yoghurt Frappe, Strawberry Yoghurt Drink, Passion Fruit Yoghurt Frappe and Passion Fruit Yoghurt Drink.

With the brilliant sunlight radiating in the sky getting hotter with passing each day and causing us to sweat, it's time for some refreshment. And what better to quench our thirst than with one of McDonald's new drinks, a delicious balance of rich yoghurt and crunchy dried fruits. These parfait-like dessert drinks will cool you down and are filling enough to serve as the perfect healthy breakfast.

Strawberry Yoghurt Frappe: Regular ¥490 / Large ¥530

We begin with the Strawberry Yoghurt Frappe, a blend of drinking yoghurt and strawberry sauce containing fresh strawberries. It's topped with yoghurty whipped cream, fruits, granola, and more strawberry sauce. Enjoy layers of texture from crunchy to fluffy as well as a mix of sweet and sour flavours.

Passion Fruit Yoghurt Frappe: Regular ¥490 / Large ¥530

Next on the list is the Passion Fruit Yoghurt Frappe. This combination of drinking yoghurt and rich passion fruit is also topped with yoghurty whipped cream, fruits, granola, and passion fruit sauce. The crunchy granola is the perfect accompaniment to the refreshing passion fruit and yoghurt.

Strawberry Yoghurt Drink: Regular ¥390 / Large ¥430

Passion Fruit Yoghurt Drink: Regular ¥390 / Large ¥430

The other two "Yoghurt Drinks" use yoghurt as the base which serves up a tasty balance of full-bodiedness and sourness. They are finished with their respective fruit sauces and a fruit & granola mix.

McDonald's Japan Reveals Creamy New 'Bacon Potato Piesen'

McDonald's Japan has announced it will sell a new version of its popular firm and creamy Bacon Potato Pie for a limited time from April 10 called the "Bacon Potato Piesen."

The Bacon Potato Pie returns after almost a year and a half of not being on the menu. This crunchy pie is packed with firm and delicious potatoes, smokey bacon and onions.

The name of the new version is a play on the Japanese word senpai which should be familiar to anime lovers out there, denoting your upperclassman and superiors. A perfect harmony is created with the creamy filling and texture of the potatoes and bacon.

The pies come in one of four packages each with a different senpai on them saying different lines. Order on their own for a quick snack or as a set with a full meal.

Information

BACON POTATO PiESEN

Price: ¥150 (Tax Included)

Running: April 10, 2019 – Early May 2019 (Subject to Change)

Available: At most McDonald's branches in Japan

McDonald's Japan Official Website: http://www.mcdonalds.co.jp/