Gajoen Art Tour Now Taking Place at Hotel Gajoen Tokyo
Hotel Gajoen Tokyo is a museum and hotel that underwent revamp last April and is celebrating its 90th anniversary this year. The establishment opened its new Gajoen Art Tour for guests on June 18.
The tour will take place every Monday, Wednesday, Friday and Sunday from 9am for an hour and a half. Guests staying at the hotel will be guided through the myriad of marvelous art displays on show at Hotel Gajoen Tokyo.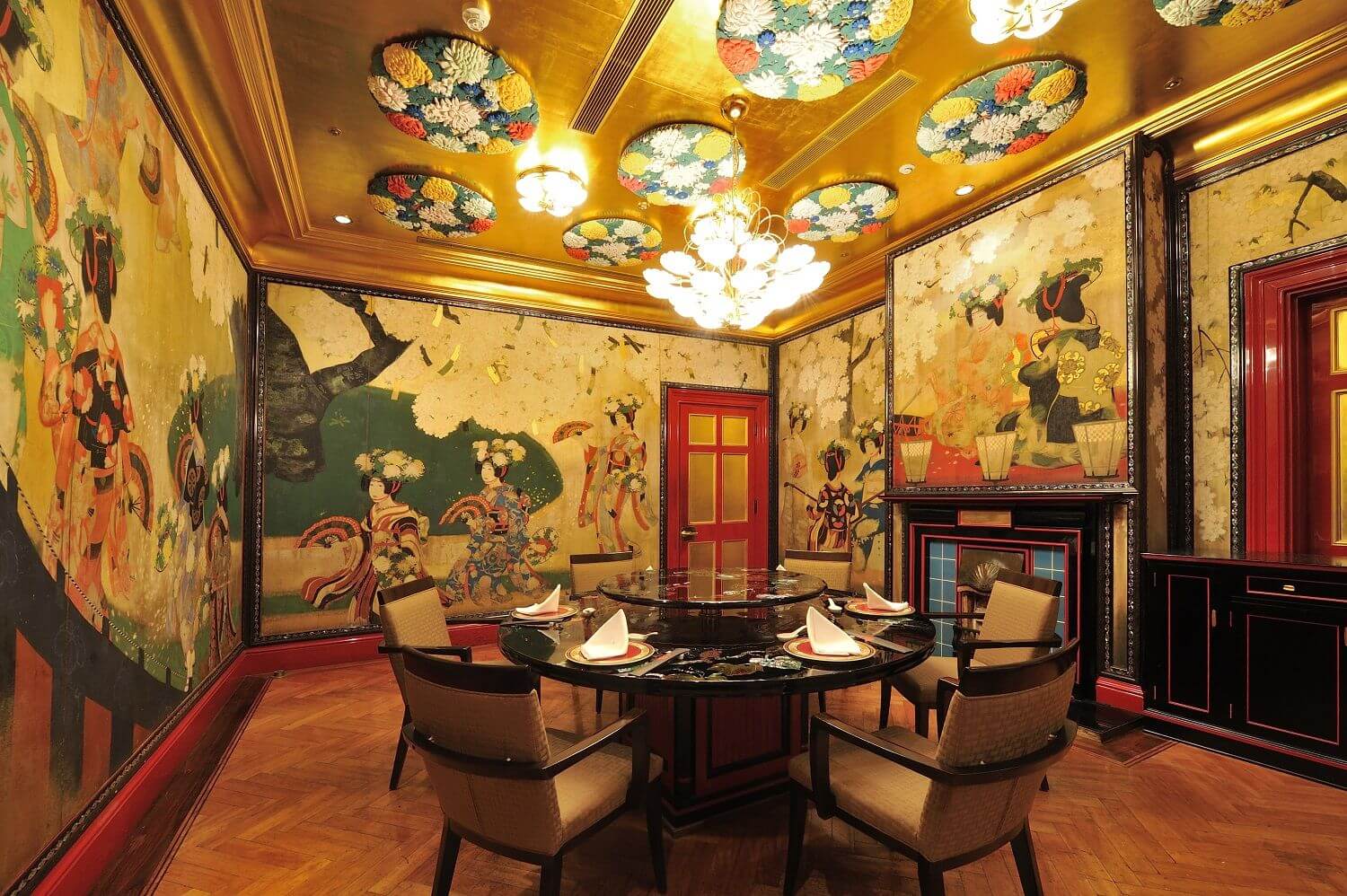 The hotel is known for hosting wedding ceremonies and opened as Japan's first wedding complex. Weddings take place at the Oumi-den which is home to colourful wooden carvings of cranes and deer, which are divine messengers, as well as the auspicious plum blossom. There's also folding fans spread out on the ceiling as a good omen.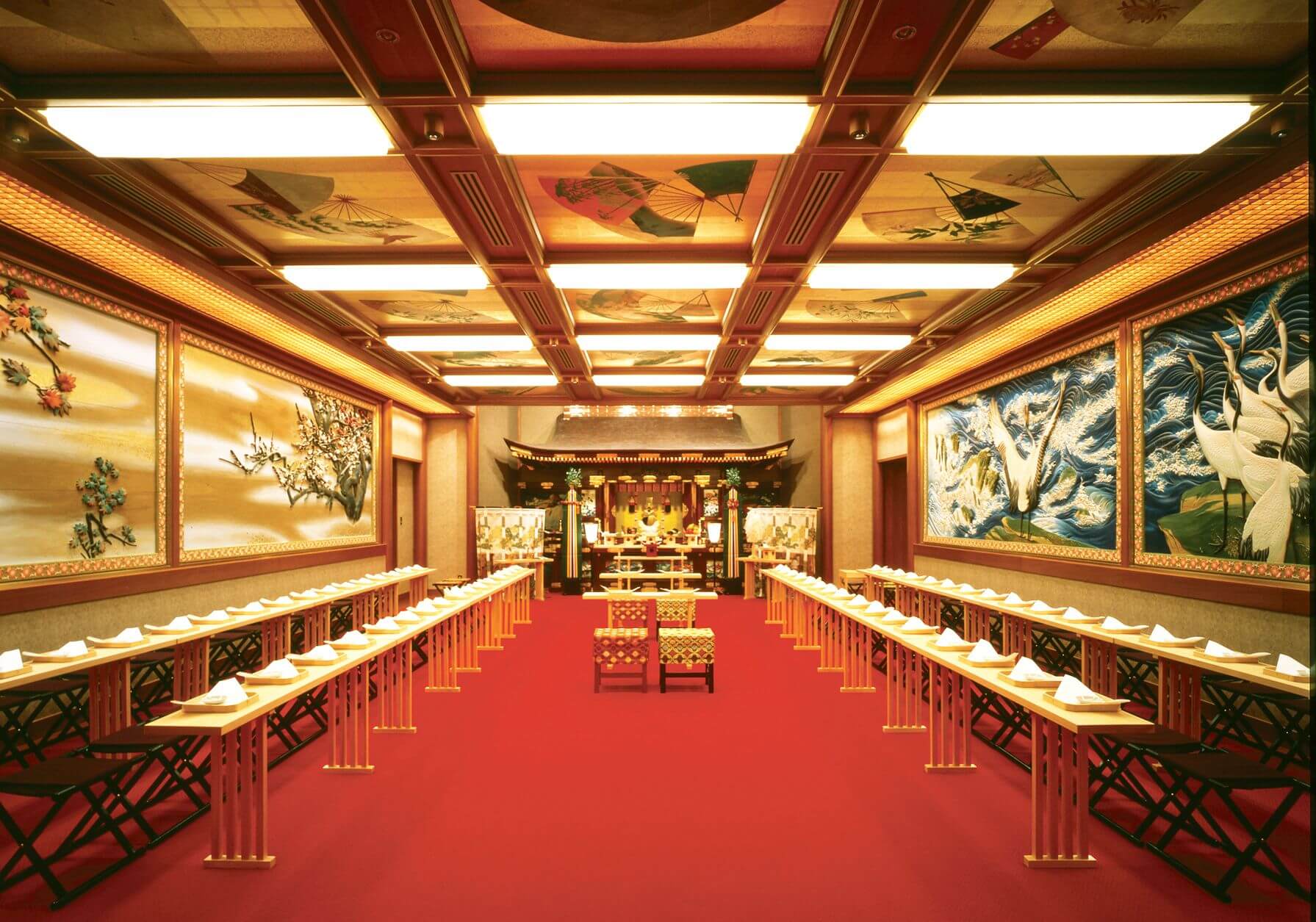 The tour will also introduce people to the many special rooms in the hotel, including the Gyokujo, a striking Japanese style banquet room with beautiful mother-of-pearl inlays and artwork by Japanese painter Gyokujo Masuda. There's also the Hyakudan Kaidan, or 100 Steps Staircase, which was registered by Tokyo Prefecture as a Tangible Cultural Property. Guests can look forward to commentary of the artwork on display in the hotel.
There's also the temple and shrine walking tour that began on June 19 which will take place every Tuesday, Thursday and Saturday from 9am. People will be guided around the temples and shrines near the hotel including Daienji, Gohyaku Rakanji, Ryusenji, and more.
Get involved with the Hotel Gajoen Tokyo art exhibition.
■Information
Gajoen Art Tour
Start Date: June 18, 2018
Schedule: Mondays, Wednesdays, Fridays and Sundays at 9am-10:30am
Shrine & Temple Walking Tour
Start Date: June 19, 2018
Schedule: Tuesdays, Thursdays and Saturdays at 9am-10:30am
Reservations for either tour must be made by 5pm the previous day. Places are open on a first-come, first-served basis.
Hotel Gajoen Tokyo
Address: 1-8-1 Shimomeguro, Meguro, Tokyo
TEL: 03-3491-4111
RELATED ENTRIES
Try This Mino Traditional Culture and Tea Tasting Experience Hotel Plan in Gifu

The Mino region of Gifu is famous for its traditional pottery called Mino Ware, its Gifu lanterns, and much more. Recently, an empty building located in front of Minokamo station in Gifu prefecture was renovated by a company called IDENTITY, who transformed it into a community building called MINGLE. MINGLE is now home to the Japanese tea shop Minokamo Chapo. This tea shop proudly represents the culture of tea and pottery that still remains in the Mino region. In order to share this wonderful culture, they are now offering a new accommodation plan to provide guests with the chance to experience the world of Japanese tea and the rich culture of Mino.

You can also experience tasting and comparing different Japanese teas that are offered by Minokamo Chapo. During your stay, you will also encounter lots of Mino Ware, and be surrounded by a traditional Mino interior decorated with Mino washi paper.

1st floor: Café and Bar

You can order the Japanese tea tasting selection at the counter. This space is used as the Minokamo Chapo tea shop from 11 am to 4 pm on weekends and national holidays.

2nd floor: Rooms


The rooms are approximately 22m2. On top of this space, there is also a shower room and toilet in their own separate rooms.

3rd floor: Lounge

This is an area of free space for the guests. There are future plans to decorate this space with paintings and pottery according to the season.

The interior of the guest rooms are also packed with the wonders of the Mino region, so we are going to introduce you to a few of its special features. 

Upon entering your room, you will be greeted by the warm light of an Akari lantern. This is a kind of lantern which is recognized as a traditional craft of Gifu prefecture. This lantern design was created by famous artist Isasmu Noguchi, who named it Akari which means "light".

In the bathroom, you will spot a few stylish mugs which belong to the brand "3rd-ceramics".  

 The rooms are affixed with paper sliding doors (shoji) and bear beautiful Mino washi paper that is a traditional turquoise-blue colour. 

This is the perfect place to enjoy a traditional experience like no other. 

Information

Accommodation Plan:

MINGLE Address: 2689-14, Otemachi, Minokamo, Gifu

【Standard Prices】

ーGeneral Reservationsー

3 Guests ¥13,890(¥4,630 per guest)

2 Guests ¥11,260(¥5,630/ per guest)

ーReservations Made a month in advanceー

3 Guests ¥11,190(¥3,730/ per guest)

2 Guests ¥9,460(¥4,730/ per guest)

※ The fee for 1 guest is the same as that of 2 guests.

◆Reservation Website:

Booking.com (English also available): https://www.booking.com/hotel/jp/mingle-minokamo.ja.html

Instagram: https://www.instagram.com/minocamo_mingle/

Phone Number: 080-4210-7117 

MinoKamo Chapo: https://mchaho.com/

New Hotel Renovation Hakone Yutowa in Gora Caters to Millennials and Families

Hakone Yutowa is a new hotel in the town of Gora, Hakone that opened on August 11, 2019. This hotel renovation is aimed at millennials (those in their 20s and earlier 30s) and families, offering various different rooms include your typical hotel-type as well as condos. There are also multiple shared public spaces full of fun and relaxation.

Part of the enjoyment at Hakone Yutowa is getting to walk around the site leisurely finding all the little things it has to offer, from the hot spring with its own hot spring source to a communal room so stylish you can't help reaching for your camera to snap photos. The hotel aims to offer guests "an experience in remote Hakone you can't get anywhere else" and it does so by presenting a new style of hotel accommodation.

Hakone Yutowa is about a five-minute stroll along a flat-level path from Gora Station, which is accessed via the Hakone Tozan Railway, meaning it can be accessed easily by those without a car. "Yutowa" is has a combination of meanings: the yu in Japanese means "hot water" which conjures up not only the hot springs but also a warm and welcome stay at the hotel. It is also word play with the word "you." The to means "and" in Japanese and wa is "circle" like a circle of friends. In other words, at Hokone Yutowa, you'll be spending a nice time together with someone special.

The hotel is split into three buildings: the East Wing, West Wing, and Condominium Wing. Each offers "a new style of travel accommodation."

New Style ①

Spa Lounge Nakaniwa and Lively Lounge are two public spaces in the hotel that anyone is free to use at their leisure. Nakaniwa is home to a footbath at the outdoor wooden deck which makes use of the hotel's natural spring source, as well as an open-air fire. Lively Lounge houses around 700 books which guests can pick from before finding a little spot to sit down and relax.

New Style ②

There are two types of rooms: Hotel and Condominium. The Condominium rooms are the first hotel rooms of their kind to be offered in the Gora area. These fancy rooms have their own hot spring bath with a beautiful view. The water in the bath flows directly from the hot spring source.

New Style ③

The all-inclusive plan includes breakfast and dinner as well as free drinks and free use of the communal spaces. Guests do not need to worry about any extra fees as everything is included. There are also other baths available in the hotel including one that makes use of colourful lights.

If you're looking for a hotel with freedom in Japan then take your family, friends or loved one to Hakone Yutowa.

Keio Plaza Hotel Tokyo Offers Luxurious Accommodation Plan & Tea Ceremony Experience For Families

Keio Plaza Hotel Tokyo, a highly prestigious and magnificent 4-star hotel located in Shinjuku, is now serving an all-new "luxurious" family package which includes a tea ceremony experience and much more. It is currently running from July 20 to September 1.

The rooms offered in the accommodation plan are the hotel's popular Wide Twin Rooms located on the Premier Grand club floor. Use of the Club Lounge is included in the package. The Wide Twin Rooms include two roomy queen-size beds which span 1.53 meters wide which allow parents to sleep comfortably with their children. Rooms also feature their own bathroom facilities.

The package also includes a check-in simulation for children aged 6-12 years where they can get a feel for what it's like to check-in. They will fill in their own check-in cards with parents and receive a ticket for the tea ceremony experience. They will be able to take their card home with them and take a commemorative photo.

The tea ceremony experience will be held on the hotel's 10th floor in the "Shofuan," an authentic tearoom that has been in the hotel since it opened in 1971. Parents and children will receive proper instruction from the tea ceremony teacher before pouring their own tea, allowing them to learn about traditional Japanese culture and etiquette. They will receive a special certificate of completion at the end.

If you're travelling to Japan as a family this summer then enjoy it in luxury at Hotel Keio Plaza Tokyo.

Information

Tea Ceremony Experience and Luxurious Accommodations for Families

Running: July 20, 2019 – September 1, 2019
Price: ¥18,450 per person for the Wide Twin Rooms on the Premiere Grand Club Floor *Usage for 2-4 people (Includes use of the Club Lounge, breakfast, and includes service charge and tax)

Package Includes:

①Tea Ceremony experience for overnight guests (1.5 hours required, children of preschool age or younger cannot participate but are welcome to watch)

②Simulated Club Lounge check-in experience for children and special commemorative photographs available between 2:00p.m. to 5:00p.m.

③Amenity items for mother use (skin care products etc.)

④Commemorative certificates of stays and tea ceremony completion, and photographs presented to guests

⑤Complimentary late check-out at 12:00p.m. (Normal check-out time is 11:00a.m.)

⑥Complimentary use of Sky Pool facilities

Enquiries & Reservations: +81-35322-8000

Keio Plaza Official Website: https://www.keioplaza.com/

Stay in a Traditional Japanese Hotel in Kosuge Village Where the Population is Just 700

NIPPONIA Kosuge Genryū no Mura is a new hotel opening in the village of Kosuge in Kitatsuru District, Yamanashi Prefecture on August 17. The hotel is renovated from an old Japanese-style house that was originally used for local personages and was constructed over 150 years ago.

Kosuge is about two-hours from Tokyo and is completely enveloped in the natural environment with 95% of the land occupied by trees and nature. Its population is around 700 which is a mere third of its peak population. It is currently faced with a serious depopulation problem due to its ageing population.

The hotel will open in an effort to pass on the beautiful landscapes and culture of the village to the next generation. It hopes to aid in solving the problem of its declining population and empty houses while acting as a means to bring in tourism and sightseeing.

The hotel serves as just the first part of this village revitalisation project. It features 4 guest rooms called OHYA as a restaurant that seats 22.

There are three rooms in the main building and one in the basement. Each is designed with privacy in mind and each has its own concept.

OHYA 1

From the rooms guests can enjoy the view of the gorgeous Japanese-style gardens surrounding the hotel.

The restaurant menu concept is titled 24 Sekki, which denotes the twenty four seasonal turning points of the old Japanese calendar, and is made using carefully local ingredients so that guests can enjoy an authentic Kosuge experience.

All the staff at the hotel are local villagers. The majority of the ingredients used in there are grown and produced by the farmers of Kosuge. The hotel also offers other services for guests to  get to know the area better such as nature walks and bike rides through the village. You are made to feel like one of the locals.

A second building will be renovated in May 2020 to accommodate two more rooms. There are 70-100 vacant buildings in Kosuge, so there are plans in place to receive permission from landlords to make further repairs, improvements and renovations.

If you're travelling to Japan and are looking for a truly remote experience then why not visit the quaint little village of Kosuge in Yamanashi Prefecture?

Information

NIPPONIA Kosuge Genryū no Mura

Address: 3155-1 Kosuge, Kitatsuru District, Yamanashi Prefecture (In Japanese: 山梨県北都留郡小菅村3155-1)

Grand Opening: August 17, 2019

Rooms: 4 (10 People)

Price: From ¥25,000 per person (includes one breakfast)

Access:
①Approximately 2 hours by car from Tokyo.
②1 hour by bus from Ōtsuki Station via the JR Chūō Main Line, 70-minutes by car from Oume Interchange
③1 hour by bus from Okutama Station via the Ōme Line, 20-minutes by car from Lake Okutama

TEL: 042-887-9210

Reservations: Open from August 1, 2019 via the following website: https://www.ikyu.com/vacation/00050804/

Snoopy Themed PEANUTS HOTEL Celebrates 1st Anniversary

To celebrate the 1st anniversary of the PEANUTS HOTEL, which opened on August 1, 2018, the hotel has released a collection of original commemorative merchandise.

The PEANUTS hotel is home to 18 rooms each with its own unique design. The merchandise collection is themed on each of these rooms.

PEANUTS HOTEL "Happiness is a warm puppy.." (Room 64) – ¥3,500

The theme of Room 64 is "Happiness is a warm puppy," so the PEANUTS HOTEL has made that a reality by creating a huggable Snoopy plush toy which is so cute and soft you'll never want to let him go. He is a smaller version of the big Snoopy you can hug in Room 64, meaning you can take him anywhere with you!

PEANUTS HOTEL 1ST ANNIVERSARY Postcards (5 Designs / 2 Included With Each) – ¥2,200

The hotel's postcard sets are popular with guests, and to celebrate the 1st anniversary, it is selling limited edition designs. Using special manufacturing methods, the hotel has released sets themed on Rooms 44, 57, 61 and 62. They are packaged in a beautiful box that looks like the outside of the hotel and its windows. They are great for both sending to someone with a message or for simply using them as decoration in your own room.

PEANUTS HOTEL x tegoto "solarsystem" (Room 42) – ¥49,000 (Only 30 Available)

PEANUTS HOTEL has teamed up with the internationally popular product brand tegoto to release mobiles inspired by Astronaut Snoopy which is the theme of Room 42. Each mobile is handcrafted individually and features Snoopy, Woodstock and the planetary system. Perfect for both kids and adults alike!

*Only 30 available. Each comes with its own unique handwritten serial number.

PEANUTS Cafe Nakameguro and PEANUTS DINER Yokohama are also joining in the celebration with their own pop-up corner which will run for the whole month of August. For this limited time only, they will sell items which are usually exclusive to the PEANUTS HOTEL.

"Lila" Aroma Essential Oils – ¥2,300 / Aroma Air Mist – ¥2,200 / Aroma Stone Diffuser – ¥2,200 / PEANUTS HOTEL Bath Towel – ¥3,200, Face Towel – ¥1,800, Amenity Set – ¥3,400 / Compression Bag (Contains 5) – ¥1,500

These items are also available over on the PEANUTS Cafe Online Shop. Join Snoopy and his friends in celebrating the 1st anniversary of the PEANUTS HOTEL by picking up some cute merch!

*All listed prices are pre-tax.

© 2019 Peanuts Worldwide LLC

Live the Disney Princess Dream With Tokyo Disneyland Hotel's Luxurious Afternoon Tea

If you've had the chance to visit Tokyo Disneyland or Tokyo DisneySea you will have tried the many delicious dishes and drinks on offer at its variety of restaurants. But did you ever know that Tokyo Disney Resort also offers afternoon tea?

Tokyo Disneyland Hotel serves the only afternoon tea set across the entire resort on occasion in line with certain events.

We had the pleasure of joining Disney mega fan Kanako as she went to visit the hotel to try this very special afternoon tea.

Tokyo Disneyland Hotel is the closest hotel to the entrance of Tokyo Disneyland. The first thing you will notice upon stepping inside is its use of Victorian decor. The ceiling also stands tall, opening the entire hotel up to give it a sense of space.

The afternoon tea is sold at the Dreamers Lounge in the lobby. In line with the Donald's Hot Jungle Summer event currently taking place at Tokyo Disneyland until September 1, the tea set is also "hot jungle summer" themed.

The first thing to note about the three-stack set is how refreshing and summery it looks – a perfect selection for the hot season. It comes with sandwiches, hors d'oeuvre, scones, desserts, and a choice of tea or coffee.

Kanako started with the very top plate. The plate itself is decorated with what is supposed to look like Donald's footprints and splashes of water.

The dessert on the left is haupia, a traditional Hawaiian dessert made with macadamia paste and roasted coconuts. It's crunchy and has an incredible flavour.

Sitting temptingly next to it is the panna cotta and melon coulis. It contains a single sage leaf which adds flavourful herb notes. The entire dessert itself has a satisfyingly refreshing taste which covers your taste buds with a single mouthful.

The middle plate features two types of scones: plain and pineapple. They come with separate servings of clotted cream and honey to lather the scones in. The latter scone is cute in that it's actually shaped like a pineapple. It's crunchy and delicious and goes exquisitely with the accompanying tea.

The tea menu has many options. Kanako went for the "Darjeeling Summer" from the premium tea selection. When you order from the premium menu your tea is prepared in a sleeping pot that is both cute and extravagant as you would expect with an afternoon tea set.

The bottom plate contains a bunch of different appetisers including tuna and okra tartar, mango and mascarpone canapé, tomato and fish capellini, keema curry quiche, and an ethnic pork sandwich.

Kanako was very happy with her hors d'oeuvre, saying: "Everything is delicious, but I really like the combination of the pork and the slightly chewy bread for the pork sandwich!"

The chilled cone cream scoop was very refreshing and a perfect palate cleanser.

Finally, the cute hot jungle summer dessert plate which caught our attention from the very start. It comes with a tropical cream cheese and passion fruit mousse, white grape and shiikuwasha jelly, and Peach Melba which looks like flowing magma.

You might be surprised to find out that the jungle leaves on the plate aren't actually part of the plate's design but in fact green chocolate carefully sprayed on.

Even the Goofy, Mickey and event logo on the plate are delicately made from chocolate. Once you know that you'll definitely be reaching for the camera straight away!

The Peach Melba is a lovely combination of peach compote and vanilla ice cream topped with raspberry sauce and almonds. Its mix sweet and sour flavours remind one of summertime.

It's not everyday you see a cream cheese mousse, is it? The one that Donald is sat on. Kanako especially enjoyed its passion fruit scent and velvety texture. It's made even more delicious when eaten together with the jelly surrounding it.

So, which was your favourite, Kanako-chan?

"Everything tasted amazing, but my favourite was the haupia♡ It's moderately sweet, and I really liked the flavour of the coconut! Everything in the afternoon tea set is cute down to the tiniest details, so it's perfect for taking photos for social media. I definitely wanna go again!"

The Donald's Hot Jungle Summer themed afternoon tea set is being served from 11:30-17:00 until September 1, 2019. Places are limited so I recommend making a reservation in advance.

Enjoy your summer to the fullest with this tropical afternoon tea set!

©️Disney

Information

Donald's Hot Jungle Summer Afternoon Tea Set

Running: July 8, 2019 – September 1, 2019

Location: Dreamers Lounge, Tokyo Disney Hotel

Serving: 11:30-17:00

Price: ¥4,000

Reservations: https://reserve.tokyodisneyresort.jp/

*Customers and guests can make reservations for the afternoon tea set.

*If you are not staying as a guest at the Disney Hotel then please make your reservation on the Tokyo Disney Resort website.

*Please note that servings are limited each day.

Witness Beautiful Japanese Art at Hotel Gajoen Tokyo's 100 Step Staircase

Those interested in Japanese art should most definitely visit the hotel and museum Hotel Gajoen Tokyo which is now holding the 5th Wa no Akari x Hyakudan Kaidan art exhibition until September 1.

It is taking place at its Hyakudan Kaidan, or '100 Steps Staircase'―which was registered by Tokyo Prefecture as a Tangible Cultural Property in 2009 for its exceptional architecture and artistic beauty. This year's event has been made bigger and better with brand new exhibits.

Visitors will ride the exquisitely decorated elevator and first come to an Aomori Nebuta Festival-style float as pictured above with its bright colours and angry gaze. This piece was created specially for the event. It also gives off an original summery smell too.

As you follow the path deeper into the exhibition―having first taken off your shoes―you will come a line of cloth crafts. You can switch on the lights inside to light up each piece which radiate the natural colours of the material. There are many cloth work pieces on display to enjoy.

This is what it looks like when looking up the 100 Step Staircase from the bottom. You will come to several rooms when ascending the stairs with light displays in them.

This is the first room inside which is a display created by bamboo lighting artist NITTAKE from Nichinan, Miyazaki. The bamboo is beautiful on its own but even more so when the lights are turned on in a dark room as the entire room is turned into artwork itself.

Continuing on you come to the "Nagasaki Lantern Festival." You can see the lights before you even enter the room and they plunge you into that Japanese festival atmosphere. It's truly spectacular inside. It's different from the previous room which was dark with lights hanging from it. It's even more bright and colourful. It made me want to visit the real Nagasaki Lantern Festival which boasts 1 million visitors every year.

This room contains umbrella art using Japanese umbrellas from Yamaga, Kumamoto. The colours of the umbrellas turn the room into something magical. The room has a relaxing, soothing vibe to it that makes you want to gaze in silence.

Dangling further up the stairs are wind chimes which continue the summer vibes.

There are many unique art pieces too such as these goldfish from Yanai, Yamaguchi. There is artwork from around 40 individuals and groups so there is lots to be discovered. Take your time to admire each and every thing in there.

The stairs actually go up to 99. Once you have seen the final exhibition on the top floor it's time to return to the bottom where you take your shoes off.

Whether you're interested in art or Japanese culture, this exciting event is one not to be missed this summer.

Information

Wa no Akari x Hyakudan Kaidan 2019 ~Kokoro no Shikisai~

Location: Hotel Gajoen Tokyo (1-8-1 Shitameguro, Meguro Ward, Tokyo)

Running: July 6, 2019 – September 1, 2019

Opening Hours: [Mon-Thurs] 10:00-17:00 (Last Entries 16:30) / [Fri-Sat & August 11-18] 10:00-20:00 (Last Entries 19:30)

*Photography allowed (Tripods, flash and photography for business purposes forbidden)

Price: Same-Day ¥1,600 / Advanced ¥1,300 (Special Advanced Price of ¥1,100 Until July 5) / University & High School Students ¥1,200 / Elementary & Junior High School Students ¥600

*Student ID required. Preschoolers permitted free entry.

TEL: 03-5434-3140

Online Tickets: https://www.e-tix.jp/100event/#akari

Official Website: https://www.hotelgajoen-tokyo.com/100event/wanoakari2019

Universal Studios Japan Adds Snoopy, Sesame Street & Jurassic World Rooms to Liber Hotel

Universal Studios Japan is set to open several new rooms at its official hotel "Liber Hotel by Universal Studio Japan" in collaboration with various franchises on November 13, the same date as the hotel opened.

The rooms include the first ever Peanuts rooms to open at an official hotel, Jurassic World and Sesame Street™. Each room has 4 different designs. Guests can look forward to enjoying a hotel stay like never before as they immerse themselves in their favourite franchises after an exciting day out at USJ.

Jurassic World Adventure Room

The Jurassic World concept room includes decorations of the dinosaurs out to catch you while the beds are inspired by the tour vehicles from the movies. The thrilling adventure continues right in your own hotel room.

Snoopy House Room

Home Sweet Home, somewhere where Snoopy, his friends, and we ourselves gather. Next to Snoopy's giant bed are colourful stained glass windows with Snoopy and the gang on them. Dive into the world of Peanuts!

Peanuts Jazz Room

Everyone is in relaxation mode in this jazz themed room, and you will be too if you stay here. It has the same atmosphere as a jazz bar!

Sesame Street™ Big Face Room

As its name suggests, this room features giant faces of various Sesame Street characters. The red and blue colour scheme of the room is really cute!

Guests staying at any of these new rooms will receive some exclusive merchandise. The spa bag and towel can be used at the hotel's spa too making them super useful. The card key and case will also have the name of the guest on it too with a special design. Take them home with you for memories of your trip!

Be sure to check the official homepage for mode details.

HARRY POTTER characters, names and related indicia are © & ™ Warner Bros. Entertainment Inc. Harry Potter Publishing Rights © JKR. (s19)

Despicable Me, Minion Made and all related marks and characters are trademarks and copyrights of Universal Studios. Licensed by Universal Studios Licensing LLC. All Rights Reserved.

TM & © 2019 Sesame Workshop © 2019 Peanuts Worldwide LLC TM & © Universal Studios & Amblin Entertainment Universal elements and all related indicia TM & © 2019 Universal Studios. All rights reserved. TM & © 2019 Universal Studios. CR19-2433 © LIBER HOTEL AT UNIVERSAL STUDIOS JAPAN

Information

Collaboration Rooms

Bookings: Open from July 26, 2019 (via the official homepage)

Grand Opening: November 13, 2019

Prices: Dependent upon day of the week and choice of plan. Check the official homepage for more details.

Official Homepage: https://hotel-liber.jp/

Liber Hotel by Universal Studio Japan

Address: 1-1-35 Sakurajima, Konohana Ward, Osaka

Sebastian Masuda And Other Phenomenal Artists Create Outstanding Doraemon Exhibition

28 artist groups and individuals have created artistic pieces to represent Japan's favourite animated character Doraemon. From July 12 to September 23, 2019, you can see these magnificent creations at the Doraemon Exhibition Osaka 2019 which will take place at Osaka Culturarium at Tempozan.

The Doraemon Exhibition Osaka 2019 features a range of artists who exhibit their works in Japan and even in foreign countries. This is a fantastic chance to meet a range of new Doraemon that the world has never seen. This event covers a range of genres through modern art that is overflowing with creativity and dedication for the anime character that has grasped the nation. 

On July 11, the day before the opening of the exhibition, there was a special opening ceremony and private viewing event held exclusively for staff and the press, which was a massive success. 

Press releases of the event reveal that artists Yasumasa Morimura and Sebastian Masuda were present at the ceremony for photos and greetings. 

Yasumasa Morimura commented with deep emotion: "I am so happy to have finally taken part in the Doraemon Exhibition. For this creation, I used lots of paper to make the costumes. I collaborated with Junko Koike, collecting lots of Doraemon manga as raw materials for the dress. As Doraemon has the power to manipulate time and space, and has the ability to create a door that leads to anywhere he desires, I thought a grey dress would be appropriate. In fact, the entire exhibition venue is just like the inside of Doraemon's pocket ー it is packed with the work of 28 solo artists and groups. What a fun experience it is. I hope that many people in the Kansai region come see this," he explained.

Sebastian Masuda commented: "I'm actually the same age as Doraemon and I share the same birthday as Noby; the main character from the series. I was born with a love for Doraemon."

He then commented on his art piece: "I actually wanted to make it as big as the Budha statue at Todaiji Temple in Nara, but we wouldn't be able to fit it in the venue so I made it two metres tall instead", he laughed. "I collected materials from markets from all around the world, so the final piece is literally made up of the colours of the world," he continued. 

His message to the people of Osaka is: "I would love it if lots of children came to see this. It would really make my day to hear reactions from them like "whoa, it's huge" or "that's so cool!""

Please come stop by to visit your favourite Doraemon!

Information

The Doraemon Exhibition Osaka 2019

Running: July 12, 2019  ー September 23, 2019 (74 days) 

※ No closed days.

Venue:  Osaka Culturarium at Tempozan (next to the Osaka Aquarium Kaiyukan) 

Address: 1-5-10, Kaigandori, Minato Ward, Osaka

Open: 10:00 ー 17:00 ※ Last entries: 30 mins before closing time 

Entry prices

General:¥1,500

Middle/High School: ¥1,200

4 y/o ー Elementary School: ¥800

Enquiries: (Hello Dial)  TEL: 050-5542-8600 (8:00 ー 22:00, no holidays)

From Wine to Hydrangeas Taste the Regional Shaved Ice Flavours of Japan at Hoshino Resorts KAI

Hoshino Resorts hot spring ryokan brand KAI is offering guests the opportunity to explore different regional shaved ice desserts that are served with delicious regional syrups and toppings. Shaved ice is a traditional summer dessert that was even mentioned in the famous work The Pillow Book, which was written by Sei Shonagon during her time as Empress Consort Teishi's court lady during the 990s and early 1000s of the Heian period.

The concept of KAI expresses both originality and the thirst for experimenting to make something new. The event offers a range of original flavours, embracing the Japanese tradition of eating flavoured shaved ice to battle the heat of summer. From wine-flavoured shaved ice in Nagano, to Hydrangea shaved ice at Hakone, this is the perfect opportunity to try a range of shaved ice desserts that are full of vibrant colours. These regional flavours are sure to spark your curiosity for discovery in that region. 

Wine Shaved Ice: Hoshino Resorts KAI Matsumoto (Asama Onsen, Nagano)

The cone-shaped region of Kikyogahara, which is located next to Matsumoto city, is well known for its wine production. This area produces around 50 different kinds of Kikyogahara wine. The flavoured syrup for this shaved ice comes from concord grape wine sourced from Kikyogahara. Each porcelain bowl for the dessert is handmade. Customers can enjoy the smooth, rounded feel of the grape pattern on the bowl as they dig into their dessert. As the alcohol is burned out of the dish, even those who do not like alcohol can enjoy this mature dessert. From the carefully prepared wine syrup to the handmade bowl, you will be able to feel all the hard work put into the making of these luxurious desserts. This is the perfect way to cool off after a hot day.

Hydrangea Shaved Ice: Hoshino Resorts KAI Hakone

Due to the altitude differences at Hakone, you can enjoy the beautiful hydrangeas for an even longer time than other areas of Japan. There is a Hydrangea train (Ajisai Densha) that runs up the mountains providing passengers with the beautiful view of blooming flowers, creating the perfect summer memories. Observing the large groups of flowers in full bloom fills you with such a refreshing feeling. Their beautiful colours are expressed in the colour of this hydrangea shaved ice.  

Strawberry Shaved Ice: Hoshino Resorts KAI Nikko (Chuzenji Onsen, Tochigi)

Tochigi prefecture has been Japan's no.1 producer of strawberries for 50 years straight. This shaved ice is served in a strawberry-shaped bowl and is served with sweet yet slightly sour strawberry syrup and a topping of bittersweet matcha sauce. Here, you can enjoy a cool evening up 1,300 metres high overlooking beautiful scenery from inside the establishment whose spectacular interior that boasts Tochigi's traditional art of Kanuma Kanoko craft. 

Tomato Flavoured Shaved Ice: Hoshino Resorts KAI Aso (Sonomoto, Oita)

As tomatoes thrive during the summer, this tomato shaved ice is the perfect way to cool down. This shaved ice is sweet and slightly sour and the vibrant red colour is enough to refresh you. Tomatoes are low in calories and contain an abundant range of healthy nutrients. They are also high in vitamin C which is good for your skin and is known for helping prevent illness. Tomatoes are also a good supply of vitamin E, which is good at slowing the effects of aging. Take a seat on the terrace and enjoy your shaved ice as a refreshing breeze rolls by. This is the perfect way to enjoy a cool summer with a healthy and delicious dessert. 

Neputa Shaved Ice: Hoshino Resorts KAI Tsugaru (Owani Onsen, Aomori)

The Neputa Shaved Ice represents the Hirosaki Neputa Festival that takes place in the summer at the old castle town of Hirosaki. To represent Tsugaru Vidro coloured glass, which is an important part of Tsugaru culture, red, blue and green coloured jelly pieces decorate the top of the shaved ice. These colours also represent the vibrant colours of Neputa festival. This Instagram-worthy dessert shows off the best of the fresh colours of Tsugaru. 

Information

Kai Regional Shaved Ice Desserts 2019

Running: July 13, 2019 – August 31, 2019

Entry: Free

Hoshino Resorts Kai Official Website: https://kai-ryokan.jp/

Teasing Master Takagi-san Season 2 Celebrated With Exhibition at Shibuya PARCO

An exhibition will be held at the Shibuya branch of shopping complex PARCO to celebrate the forthcoming second season of the popular anime adaptation of Teasing Master Takagi-san which will begin airing on July 7.

Teasing Master Takagi-san is an ongoing romantic comedy and slice of life manga series by Sōichirō Yamamoto serialised in Monthly Shōnen Sunday. The manga has sold over 7 million copies. The first season of the anime series aired from January to March last with an OVA in July.

The exhibition will plunge fans of the series into its world with original illustrations for the anime and manga and more on display. Fans can also get their hands on exclusive merchandise including capsule toys and canvas art.

A3 Poster – ¥1,000 (Tax Included)

Acrylic Key Rings (7 Designs) – ¥500 (Tax Included) *Capsule toy; design given is random

Folder Set: ¥1,200 (Tax Included)

Canvas Art: ¥2,500 (Tax Included)

Fans of Takagi and her antics with Nishikata won't want to miss out on this special limited-run exhibition.

©2019 Sōichirō Yamamoto・Shogakukan/Teasing Master Takagi-san Season 2 Production Committee

Information

Teasing Master Takagi-san Exhibition

Location: GALLERY X BY PARCO (13-17 Udagawacho, Shibuya, Tokyo)

Running: July 11 – 22, 2019

Opening Hours: 11:00-20:00

Entry: Free

Event Page: https://art.parco.jp/galleryx/detail/?id=254

The Entire World Is Curious About PAPABUBBLE's Candy Art Museum To Open In Ginza

Described as the "most interesting sweets shop in the world", PAPABUBBLE sells a range of cute and fun confections. On July 1, PAPABUBBLE will open a Candy Art Museum on basement floor 2 of GINZA SIX.

PAPABUBBLE has set up shop in over 30 cities worldwide. The main shop will contain art pieces made from candy. Considering all the candy shops that are currently out there in the world, nobody has ever seen anything quite like this before. 

The museum contains around 20 different ornaments that are edible sweets. Visitors who wish to purchase the ornaments can do so. Besides the standard sweets, the display items and range of sweets for sale will be changed every day. 

When the museum opens in July, visitors will be able to enjoy the wonderful texture and flavour of candy lampshades, enjoy the artistic and charming glow of candy mushrooms, and gaze in bewilderment at an antique vase baumkuchen cake. 

To commemorate its grand opening, customers who spend more than ¥5,000 (after tax) on display items or on the sweets shop range will receive either a soft gummy brain or soft gummy dentures. This campaign will be running throughout July. 

Along with the grand opening of the art museum, there will also be Ginza-limited products on sale that are completely unique to the Ginza branch. The lineup includes sweets made from ingredients that are rarely seen in Japan. This includes colourful and fruity chocolate such as rocky roads and soft candy sweets made from snow sugar. PAPABUBBLE will also sell souvenirs that represent Ginza such as Kirihako boxes which are beautiful boxes made from wood. 

If you are in Tokyo, you just cannot miss this museum that is overflowing with originality.

Information

Candy Art Museum by PAPABUBBLE (Gallery of Sweets Art by PAPABUBBLE)

Address: B2F, 6-10-1, Ginza, Chuo Ward, Tokyo 

Opens: July 1, 2019 

Opening Hours: Mondays ー Sundays (10:30 ー 20:30)

TEL: 03-6228-5535

PAPABUBBLE JAPAN Official Website: http://www.papabubble.jp