Babyraids Japan Member Rikako Oya's #OOTD (June 2018)
Rikako "Ricopin" Oya is the leader of style in Babyraids Japan, a five-member idol unit. This is her featured article series in which she delivers the latest fashion from Japan. The theme for this 5th entry is 'clear material,' and she's bringing it with three different styles that capture the current trend, as well as one of her own plain co-ords. Check out the chemical reaction between these transparent and accessory-focused summertime threads and Ricopin's style.
Combining a clear accessory with the outfits' colours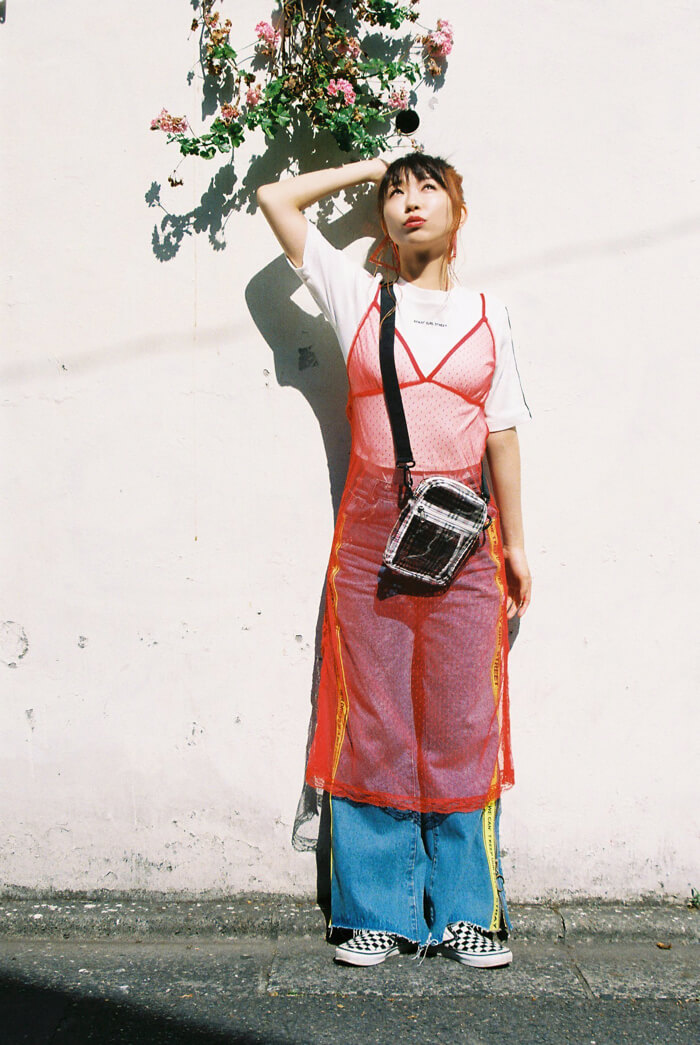 The red and black on the clothes together with the clear bag and earrings help the accessories to stand out even more. There's also transparent material used in the outfit which refines the simple t-shirt and denim jeans.
SPINNS: Clear Bag ¥1,998, Cami Dress ¥2,599 / one spo: T-Shirt ¥3,900, Jeans ¥7,900
Dressing a simple co-ord with an accessory
The summer vibe in this outfit is brought out by the added clear belt and sunglasses to the smooth co-ord which consists of a t-shirt and skirt. The look is completed with accessories lining the face which give an air of playfulness.
SPINNS: Belt ¥999, Sunglasses ¥1,998, Earrings ¥700 / KOL ME BABY (Shibuya 109): Skirt ¥5,900 / one spo: Necklace ¥2,900
Clad in vibrance and sparkles with glitter and transparency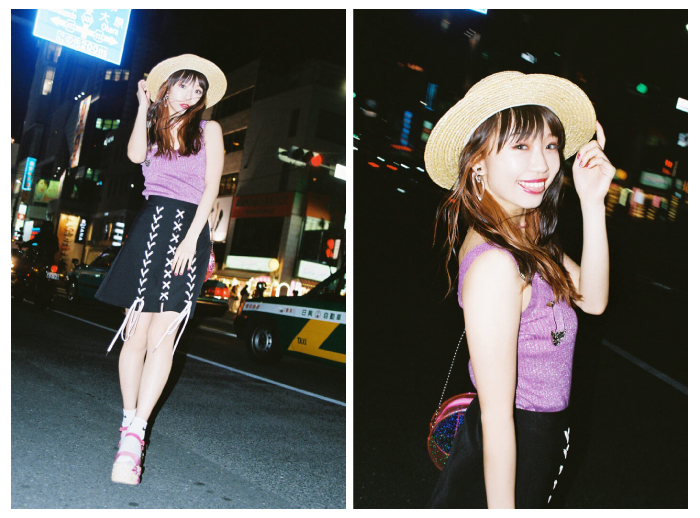 The top and clear bag have glitter in them, meaning this eye-catching co-ord can be shown off even at night. The lace up skirt and straw hat evoke girliness, and showing a moderate amount of skin gives a sense of effortlessness.
KOL ME BABY (Shibuya 109): Clear Bag ¥1,500 / Honey Salon by foppish: Sandals ¥14,800, Skirt ¥12,500 / Aymmy in the batty girls: Hat ¥8,640
Ricopin's Comments
"Transparent material is a thing of summer and didn't require any challenge, but this photo opportunity made me wants bags! They're see-through so I think long and hard about what to put inside (laughs), but they're super cute. There's a lot of transparent small accessories, so you can easily add them to your outfit which is one great thing about them. Adding accessories is something anyone can do and is really 'in' right now. The earrings and sunglasses were good too, but I'm interested in chokers. If I actually get one, something like a red camisole one piece is close to what I'd wear, so I'd like to go for something like that."
Check out Ricopin's plain clothes!
In this section, Style Leader Ricopin shows us what she's into right now for her plain clothes. She did all the styling herself too!
Colour is her ally with this pop one piece style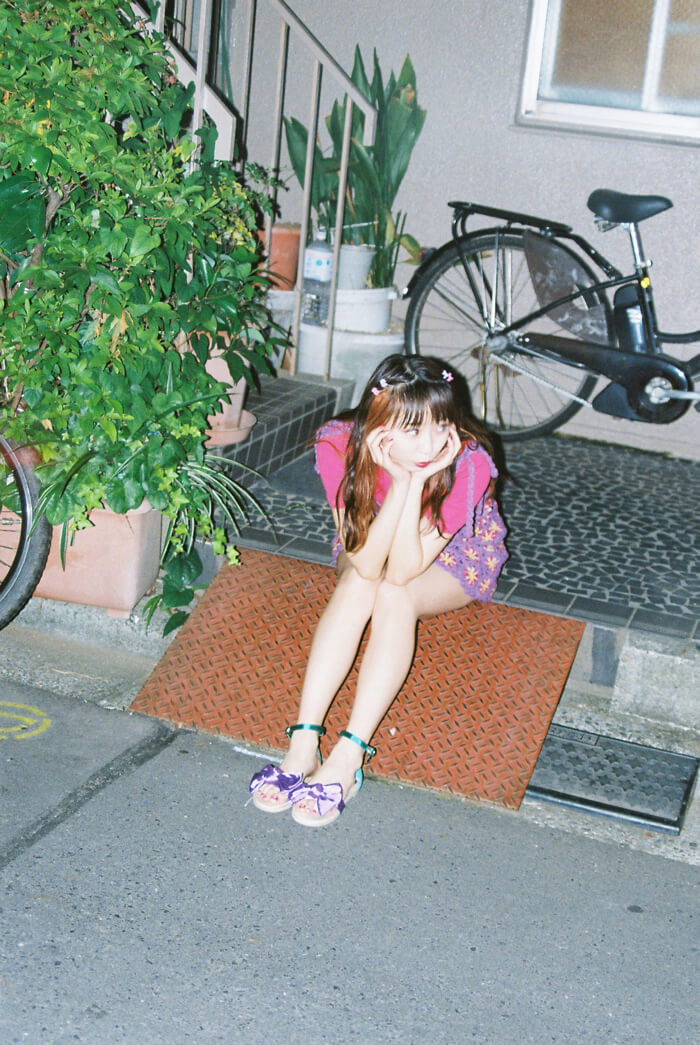 "I'm all about collecting one pieces right now. From those I've picked out my favourite purple crochet one piece. The sandals have purple on them too. The colour scheme is really my favourite part, it's like Ariel from The Little Mermaid. I love coloured clothing, so I find myself worry over colour combinations, but ever since I started this series I feel that the things I want to wear and the things I want to get out there are expressed in my outfits. I want to wear colourful co-ords more and more this summer!"
■Information
Rikako Ōya (Babyraids Japan)
Won the grand prix in the 2009 LOVE Berry auditions. Currently signed to LesPros Entertainment. Active as a member of idol group "Babyraids Japan." Known as "Ricopin" by her fans, she is in charge of talking for the group. Her trademark is her twin-tail hairstyle. She has an interest in playing the guitar, DJing, Harajuku Fashion and film cameras. She appears on the radio show "Babyraids Japan Oya & Takami no Shaberi Suta!".
Babyraids Japan Official Fan Club Website:http://babyraids.lespros.co.jp/
Twitter:@lespros_ricopin
Instagram:@rikako_ooya
Writer:Manami Ishii
Photographer:Asami Nobuoka