Rilakkuma & Korilakkuma Make-Up Brushes Released by Kumano Fude
From KOYUDO Collection's Kumano Fude make-up brush line comes a new Rilakkuma design series. Hikidashi Store are now taking pre-orders for the new Rilakkuma Face Brush, Rilakkuma Cheek Brush and Korilakkuma Cheek Brush.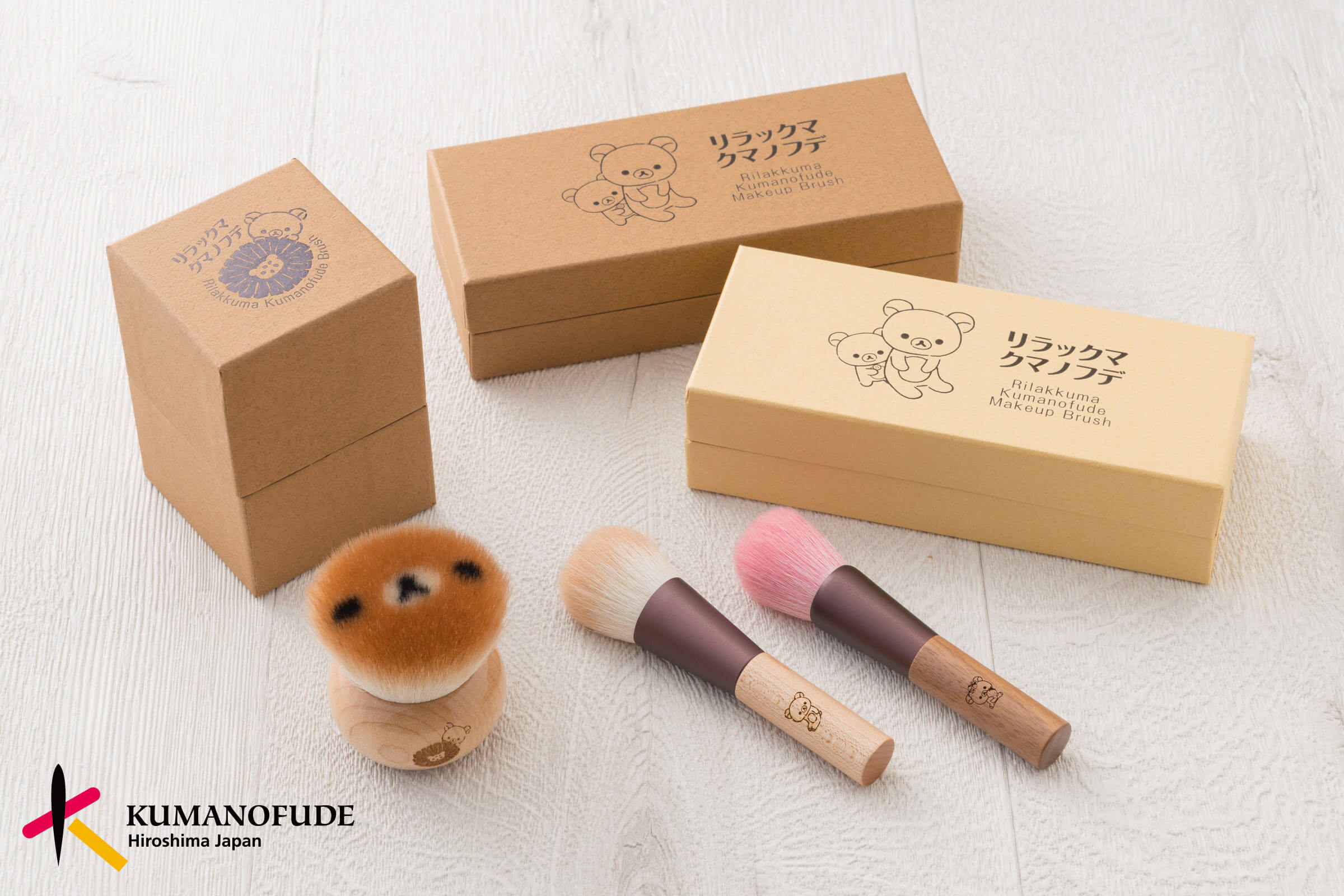 The Rilakkuma face brushes are carefully handmade by artisans one by one with three different colours of wool to create Rilakkuma's face.

The Rilakkuma cheek brush is dyed a brown colour like the bear himself.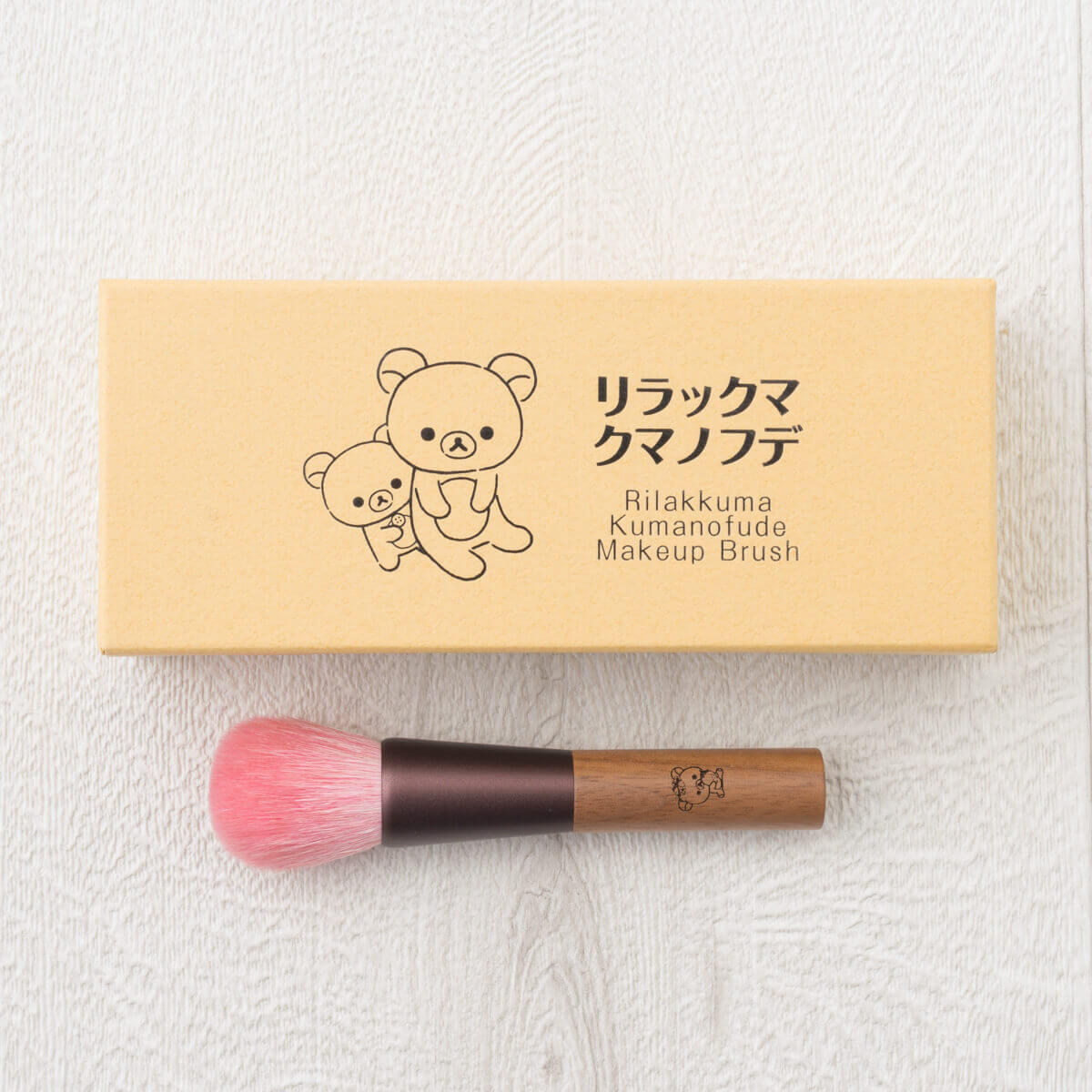 The Korilakkuma cheek brush is a dyed pink colour inspired by a strawberries, her favourite fruit. All the handles are made with natural wood and feature logos of the characters on the handles.
Kumano is the number one brush manufacturing company in Japan. In 1975, it was designated as a Traditional Craft by the Minister of Economy, Trade and Industry. Kumanofude continues to be cherished for its quality which is made possible by the traditional techniques and crafts use as well as the materials.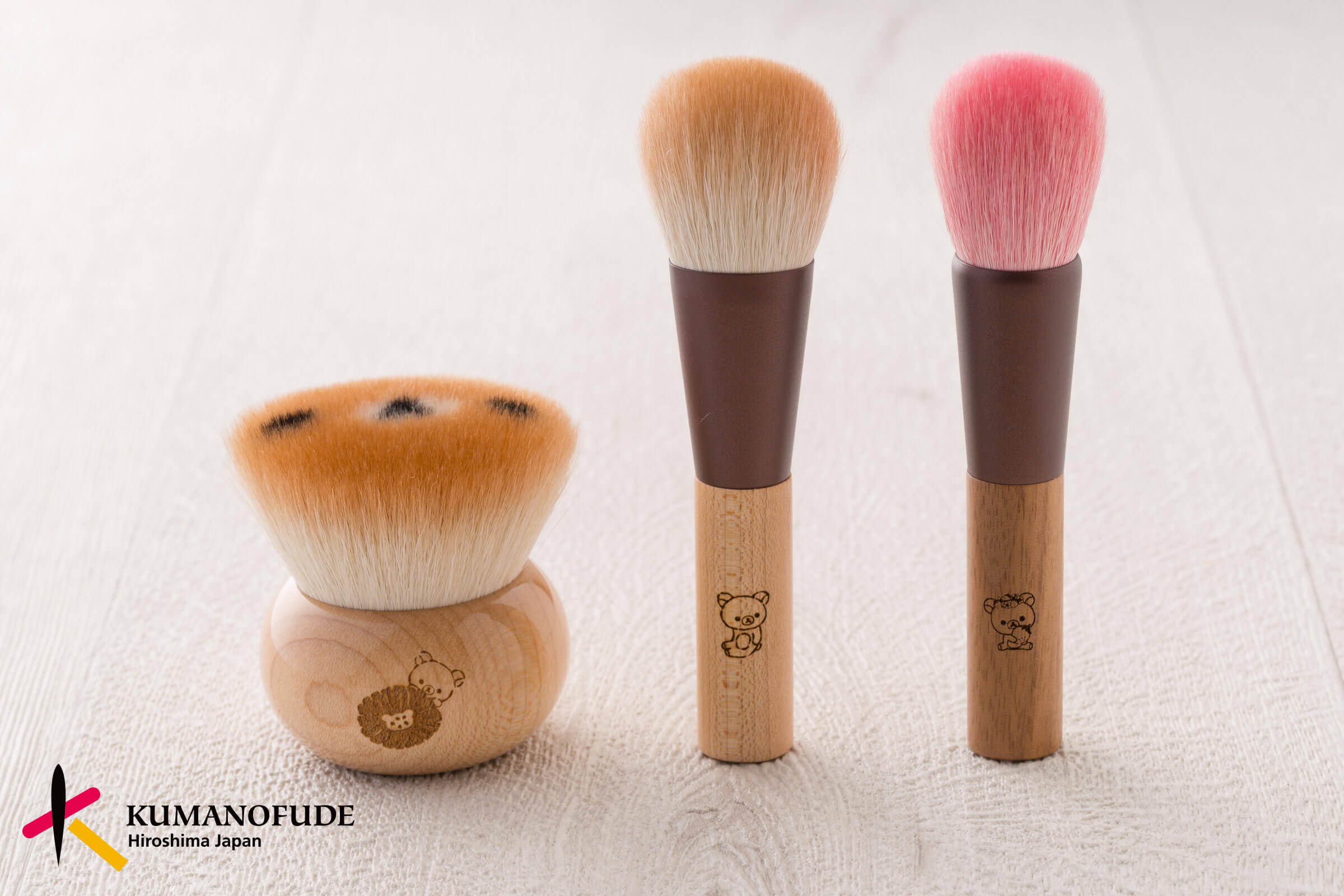 The Rilakkuma Kumano Fude brushes are the ultimate brushes made by the artisans of Kumano who continue the pass down the tradition of brush manufacturing which doesn't cut the tips off the brushes. Each brush is marked with an official quality approval mark of Kumanofude.
Cute yourself up with these new kawaii Rilakkuma items!
■Information
Rilakkuma Kumano Fude
Place of Manufacturing: Kumano, Aki District, Hiroshima Prefecture
On Sale: End of July 2018
Price: Face Brush ¥5,500 (+Tax) / Cheek Brush ¥3,700 (+Tax) each
Items: Face Brush (Rilakkuma), Cheek Brush (Rilakkuma / Korilakkuma)
Now accepting pre-orders.
Product Page: https://hkds.tokyo/category/RILAKKUMAKUMANOFUDE/
©2018 San-X Co., Ltd. All Rights Reserved.
RELATED ENTRIES
Cute Pikachu, Mew, Eeevee and Snorlax Blush & Powder Release in Pokémon Cosmetic Series

The next set of beauty items in the popular Pokémon Cosmetic Series has finally been revealed: the Pokémon Cheek and Pokémon Pressed Powder will be released on September 10. The line-up includes Pikachu, Eevee, Mew, and Snorlax.

Pokémon Cheek – ¥1,300 (Before Tax)

The Pokémon Cheek is a cream-type blush that spreads smoothly on your skin without any stickiness. It's comfortable on the skin and is durable. It also contains micropearls and so gives your skin a natural shine.

It comes in four colours: Pikachu Milky Pink, Eevee Rose Pink, Snorlax Coral Pink, and finally Mew Pearl White which brightens your natural skin tone. The blush comes as a stick and so is ncie and easy to apply and carry around.

Pokémon Pressed Powder – ¥1,500 (Before Tax)

The pressed powder comes with its very own powder puff featuring a cute original design. The powder is mixed with minerals that are gentle on the skin as well as collagen. It leaves your face looking smooth and natural without any unwanted shiny patches.

Pick from four different colours: Pikachu Pink which brightens natural skin colour, Eevee Mint which elevates transparency, Snorlax Yellow which conceals blemished, and Mew Purple which brings out transparency and shimmer.

When out there in the wild catching Pokémon, why not look good at the same time? Be sure to check out the Pokémon Cosmetic Series, and stay tuned for any new products that are released.

Information

Pokémon Cosmetic Series – Pokémon Cheek / Pokémon Pressed Powder

Release Date: September 10, 2019

Available: Pokémon Center,  ITS'DEMO, Tokyu Hands, Village Vanguard, and elsewhere

Official Website: https://lovisia.jp/pokemon/

Japanese Cosmetic Picture Book #2: Brightening Oil & Beauty Essence by AGILE COSMETICS PROJECT

Japan is home to an abundance of top-class, high quality cosmetic items. Knowledge about these cosmetics is slowly becoming widespread outside the country, with travellers stuffing their suitcases with everything they can to take back home with them.

Our featured series Japanese Cosmetic Picture Book is all about us here in the MOSHI MOSHI NIPPON team recommending products to you, our readers, that are made in Japan and that we use ourselves. Look forward to learning about the latest in cosmetics from the land of the rising sun.

Left: Clock G.e.n.e / Right: White Oil

The products we are taking a look at today are the White Oil and Clock G.e.n.e by AGILE COSMETICS PROJECT. The White Oil is an indispensable partner for the summer season while the Clock G.e.n.e is an essence that conditions the skin throughout the day.

AGILE COSMETICS PROJECT is a Japanese skincare brand that launched in November last year. They use completely natural ingredients in their products that are safe and good for your skin. What's characteristic about them however is that they update their products based on the demands of customers. To make products that their customer base will want to continue using, they focus on how an item feels on the skin, the functionality of its visual aspect, and its palatability amongst other things, all while making speedy improvements.

Has there ever been another brand that has listened to the desires of its users?

White Oil – ¥6,400 (Before Tax/Free Shipping) / Repeat Purchase – ¥5,500 (Before Tax/Free Shipping)

The White Oil is a two-layer product and so is to be shaken first before being used. Mixing two separate layers makes it easier for the oil to come together, down to the smallest corners of the outer layer. Ensure you mix it well before use.

When applied to your skin, it has a smooth texture despite being oil and does not become sticky. It feels very comfortable and natural on the skin and never becomes sticky even after applying, all while ensuring it stays moist. Since it's fairly smooth it means you can use it in summer and before you put on any makeup.

It's a personal favourite of mine. It makes a skincare routine super simple: after applying skin lotion you use the oil and you're done. It even comes in a stylish bottle and has a pleasant herb fragrance. I also have sensitive skin, so the fact that it's free from petroleum-based oils, mineral oil, parabens, UV absorption, and synthetic colouring is a huge plus.

I have used it for a week so I can't feel any change to my skin tone yet, but it has been incredible for keeping my skin in good condition. There are a lot of people on social media who have used it and have said that their skin tone has become brighter, so I will wait and continue using it!

Clock G.e.n.e – ¥7,000 (Before Tax/Free Shipping)

The second product to showcase is Clock G.e.n.e which was developed to create and maintain a "daily rhythm" in your skin. This liquid essence will treat one's tired skin, whether it be from your body clock being off, stress or the like. It adds moisture to the skin throughout the day and also protects it from damage and repairs at night.

It comes in a pipette-type bottle. It is added to your skin after applying moisturiser and makes it super soft. This too is made from 98% natural ingredients and is free from silicon, parabens, mineral oil, synthetic fragrances, and synthetic colouring, meaning people with sensitive skin can use it freely without worry.

If you use skin lotion, Clock G.e.n.e and White Oil in that order, your skin is going to feel completely different the next year. When you start using these items, people are going to complement how smooth your skin looks, so for me the effects are outstanding.

Even now, with the high level of satisfaction people have with these two products, the company are continuing to update them based on feedback buyers can give via the QR code that is coupled with the products. I feel strongly AGILE COSMETIC PROJECT's desire to create products that they want consumers to continue using means that they are making good products. Both items are sold online, but the first production batch for Clock G.e.n.e is currently sold out. They are set to release more in the near future, so be sure to peruse their website.

Writer: Sayuri Mizuno (MOSHI MOSHI NIPPON)

Translator: Joshua Kitosi-Isanga

Japanese Cosmetic Picture Book: #1―Skin Care & Moisturisation With RMK

Japan is home to a plethora of top-class, high quality cosmetic items. Japanese cosmetics are slowly becoming in-the-know outside the country, but there is still an abundance of products that are unknown to people.

In this new featured article series, we here in the MOSHI MOSHI NIPPON editorial team will showcase products made in Japan that we use. The brands and prices are unrelated to our picks, they are simply items we want to recommend for you to try.

The first items I've chosen are two moisturising products by RMK. RMK's skin care items cater to a variety of skin types and have been enjoyed by Japanese people of all generations for many years. The company renewed their skincare products on April 5 of this year. I tried out the update items for myself, so let's take a look.

The concept of the new items is "First Sense." Not only do they ensure your skin stays moist, they also "tailor" your skin to how you want to look.

I'm concerned about the outer part of my nostrils, and so I used the First Sense Hydrating Lotion Fresh, a moisturiser that balances water and oil content of your skin.

The lotion is a new combination of pear extract and sage leaf extract. Using cotton, the first use removes old keratin from the nose, and on the second and third uses it completely soaks into the skin. The white gel spreads well across the skin so feels comfortable. Its orange scent gives you a feeling of freshness in those tired and early mornings. I personally really like the smell, so I use it to relax before I sleep too.

Another item that was renewed was another moisturising item: the Balance Skin Conditioner for sensitive skin. It's alcohol free and contains hyaluronic acid. The texture makes your skin feel super gentle, moisturising it nice and deep. It contains ingredients that combat dry skin so is good to use when the season changes or to strengthen your skin barrier. It has a citrus and ginger fragrance which is extremely refreshing like the First Sense Hydrating Lotion Fresh. I have used this item when my skin has been drier than usual and when the pollen count has been high in the run up to spring.

RMK items are sold in the cosmetic section of department stores in Japan. They are also sold in Hong Kong, Taiwan and South Korea too, so be sure to check them out.

Writer: Sayuri Mizuno (MMN Editorial Team)

Information

RMK Official Website

Rilakkuma Umbrella by Felissimo Can Be Used in Clear or Rainy Weather

Felissimo released a new Rilakkuma-inspired beige-pink umbrella on their website on June 10.

The umbrella's design is subtle and sophisticated. The outer rim is lined with a brown coloured lace reminiscent of Rilakkuma. It also has a handle made from high quality wood carved into Rilakkuma's face. The umbrella also cuts 98% of UV rays meaning it can be used in both clear and rainy weather.

Its beige pink colour with brown lacing gives it a sophisticated feminine design.

Rilakkuma's facial features on the handle were made using laser cutting and together with the frilly cotton rope tied to it give it a polished and refined look.

There is also a name tag on the umbrella with a nonchalant Rilakkuma logo printed on it.

There is also a separate bag you can purchase to put your umbrella in after it rains so you don't get the floor wet if you go inside anywhere.

©San-X

LuLuLun Face Mask: A Beautifying Souvenir From the Japanese City Ise

When travelling abroad, I find myself buying and taking back lots of different souvenirs for myself and my family. I look for those items that are made with each region's particular materials and ingredients. By handing them out to people, I'm also sharing a little bit of that place with the people around me too.

Today I introduce to you the "Ise LuLuLun" face mask, a souvenir from the Japanese city of Ise that's perfect for that one person we all know who's into beauty and cosmetics.

The Ise LuLuLun is part of the popular "Tabi Suru LuLuLun" face mask series which sees limited edition face masks sold in different regions. The masks are made from an assortment of ingredients and plants. They are sold not just in Japan but around the world. Some of the variants to hit Japan have included Okinawa Shequasar and Shōdoshima Olive.

Ise Lululun is the first product in Japan to include extract of sakaki leaf which moisturises the skin. Sakaki is a flowering evergreen tree native to several Asian countries including Japan and is used as a symbol of longevity and vitality. The extract was made in cooperation with Ise City's manufacturing and tourism department, making this a very special product indeed. The sakaki is used in various Shinto activities such as offering them to altars and household shrines. Ise itself is home to many sasaki trees from which the extract in the Ise Lululun is made. Its moisturising effect ensures the skin stays nice and moist.

Let's get onto talking about what it's like to use this product. I've used Lululun packs in the past, but the feature of the Ise Lululun is absolutely the fragrance it gives off. The instant you bring the mask to your face your nose is filled with a smell akin to a forest of trees. If you close your eyes it's like you're enveloped in nature. It gives you a feeling of peace and tranquillity. And the way it relaxes you is nothing short of incredible… It's truly a gift and souvenir from Ise, bound with the air and scent of the city.

My face felt so smooth the day. I think I'll definitely be using this again for special occasions.

The Ise Lululun is a fusion of the Ise spirit of "being thankful for and treasuring every day" and Lululun's own spirit of being in high spirits and sound health. At the end of the day it made me hold my head high and say "thank you" to today. I was also warmed by the message written on the packaging (which you can see above).

If you plan a trip to Ise be sure to check out this exclusive beautifying item and maybe pick one up as a souvenir.

Writer: Sayuri Mizuno (ASOBISYSTEM)

Translator: Joshua Kitosi-Isanga

Information

Ise Lululun

Price: 2 Packs of 7 – ¥1,000 (Before Tax) / 4 Packs of 7 – ¥1,700 (Before Tax)

Available: At souvenir shops in Mie Prefecture, Aichi Prefecture and select parts of the Kansai region

Official Website: https://lululun.com/oise/

Rilakkuma & Kiiroitori Confections by Tabemas Coming to Lawson Convenience Stores

Character-inspired Japanese confectionery series Tabemas has revealed that its next products will be based on Rilakkuma and Kiiroitori. They will go on sale at Lawson convenience stores across Japan from May 21, 2019.

Both characters are made from a type of dough called "nerikiri" which is used in making traditional Japanese wagashi sweets. Their tiny hands, ears and facial features have all been carefully and delicately crafted to create some seriously adorable sweets which, as Tabemas describes all their products, are just too cute to eat.

Rilakkuma is filled with Japanese custard pudding flavoured bean paste while Kiiroitori is filled with chocolate flavoured bean paste. Both sweets are made with natural colouring and have the deliciously moist texture that wagashi have. They are also made with chickpeas which have become popular for their high nutritional value so are a better option for the health-conscious individual.

Whether as a treat to yourself or a friend, don't miss out on these cute and tasty sweets.

©2019 San-X Co., Ltd. All Rights Reserved.

Information

Tabemas – Rilakkuma / Kiiroitori

Price: ¥259 Each (Before Tax)

Release Date: May 21, 2019

Store: Chilled desserts section of Lawson convenience stores across Japan

*Not available at Natural Lawson or Lawson Store 100.

*Available while supplies last.

Product Page: https://www.bandai.co.jp/candy/tabemas/rilakkuma2/

Enjoy your chores more than ever before with this cute Rilakkuma-themed laundry bag by Felissimo! ♪

Felissimo is making washing more fun with the new character-themed Rilakkuma laundry bag.

Rilakkuma's everyday outfit is now a laundry net?! If you take a look inside the bag from the back zipper, you will notice that the inside of the bag has been accurately created and firmly secured to look just like Rilakkuma.

You'll feel as if Rilakkuma has come to stay at your house! Without realising, you'll be smiling at the sight of your new laundry bag swaying gently in the breeze alongside the rest of your laundry no matter where you are. If you're concerned about your delicates or socks, you can still wash them together with the rest of your laundry using this bag. You can put this bag directly in the washing machine! After you've finished the washing, you can easily carry the bag to the washing line by the handle! How useful!

The bag isn't fully transparent and it's made using mesh. This makes it perfect for carrying a change of clothes to the gym or your bath set for when you go to the hot springs!

Now you can finally enjoy doing the chores around the house thanks to the Rilakkuma laundry bag!

Information

Rilakkuma Dararinno hohon ♪ Character laundry bag

Price: ¥1,950 (+ tax)
Material: 100% polyester  ※ machine washable
Size :  50.5cm long X 35 ー 55cm wide,  handle length: 25cm
Maximum weight: 6kg

You can also choose to have a brand new laundry bag delivered to you each month (charges apply).

Made in China

Click here to purchase: https://feli.jp/s/pr190425/2/

Kirby-themed cosmetics lineup "Ichiban Coffret" is coming to Lawson stores!

A character lottery where you are always a winner?! A new Kirby-themed cosmetic goods lottery will arrive at Lawson convenience stores across Japan on Saturday 25th May 2019! The Ichiban Coffret collection consists of goods themed around the game Kirby's Dream Land.

A flower-themed Kirby original design! This is not available anywhere else. Whether you're a fan or not, you must see it!

Prize A:Dream cosmetics palette (only one type available), approx. size: 18cm

This cosmetics palette contains six different eyeshadow colours and two different blush colours. Not only is this the perfect colour scheme for the start of summer but the range of colours also makes it easy and suitable for anyone to use! The palette colour scheme is the same as that of the game! Upon opening it, you'll realise just how cute it is and you're bound to make use of it every day.

Prize B:Boyoboyo compact (only one type available), approx. size: 7.5cm

This compact takes on the shape of Kirby's face! This will give a cute, soft and even colour to your cheeks!

Prize C:Dazzling rouge (Two colours available), approx. size: 7cm

Kirby and Waddle Dee ー You can choose from two varieties of rouge lipstick. These easy-to-use lipsticks come in coral and pink ー choose one to brighten up your lips! ♪

Prize D:Kirarin lipgloss (three colours available) , approx. size: 10cm

These lipgloss containers have original designs. The three lipgloss colours are; glossy pink with a reddish tinge, clear pearl, and elegant pink pearl.

E prize:Mildly fragranced hand cream (three varieties available), approx. size: 5cm

There are three types of hand cream: pink floral, blue botanical, and orange garden. Now you have three different hand creams to choose from to suit your daily mood!

Prize F:Multipurpose colourful compacts (5 different colours available), approx. size: 4cm

This is a collection of cute round compacts! Each has a unique colour that is both simple and trendy! The five colours are pink, orange, red, pearl and brown! Each of the colours is a unique blend and has a creamy texture. Depending on the colour, you can also them as eyeshadow, blusher, lipstick, face highlighter and much more!

Last One prize:Coffret pouch, approx size: 25cm

You can fit all the items from the lineup into this bag! There's also an inside pocket ー what a useful item!

There are just so many cute goods as part of this line up so please check them out!

(C)Nintendo / HAL Laboratory, Inc.

Information

Ichiban Coffret: Kirby's Dream Land COFFRET COLLECTION
Available at:Lawson convenience stores (and many other places)
Available from: Sat 25th May 2019

More information:https://bpnavi.jp/t/kirby_c

※ Some stores may not have some/all of these items in stock. The lineup availability period may vary depending on the shop. The series of goods will no longer be available once stock runs out.
※ The goods may look different from the photos.
※ The details on the lottery and goods lineup are subject to change without notification.
※ "Last One" and "Double Chance" are registered trademarks.

Pokémon Cosmetic Series: Pokémon Mirrors & Point Pack Released

We have seen five items release in the Pokémon cosmetic series up to now: the face mask, lip cream, hand cream, lip gloss and body gel.

In total over 470,000 items have shipped in the series. They have gained much attention online not only for their cute designs but for the considered ingredients they contain. The series has been also been sold in Japanese airports and enjoyed as a souvenir from Japan. It was even released in Taiwan this month.

Two new Pokémon have been added to the series for the newest product―Slowpoke and Mew―for a total of six Pokémon. The new items in the line-up are mirrors and the point pack.

Cute pastel colours and designs decorated the six mirrors which include Eevee, Slowpoke, Mew, Jigglypuff, Pikachu and Snorlax. Their petite 76mm size makes them compact and convenient to carry around. But don't be put off by their small appearance as they are plenty big enough to fix your makeup on the go. The mirrors also come with a clear case meaning they won't get dirty.

The cute designs also make them a perfect idea as a gift♡

Also released is the point pack which is sure to be a hit on social media.

The point pack includes adorable Pokémon stickers you can put on your face and body. They are made by the cosmetic brand Lovisia and contain collagen, hyaluronic acid and shea butter for beautiful skin care. They are also scented with sweet soap.

One point pack comes with 11 sheets so you can enjoy them with friends and family or hand them out at sleepovers!

Information

Pokémon Mirror
Price: ¥650 (Before Tax)
Designs: 6

Available: At variety shops in Japan

Release Date: Will begin rolling out at stores from April 13, 2019

Pokémon Point Pack
Price: ¥500 (Before Tax)
Contains: 11 mini sheets

Available: At variety shops in Japan

Release Date: Will begin rolling out at stores from April 17, 2019

Rilakkuma-themed Japanese-style cafe Rilakkuma Tea House opens in Itsukushima, Hiroshima

Japanese-style Rilakkuma cafe Rilakkuma Tea House will permanently open up its second shop in Itsukushima, Hiroshima.

Itsukushima shrine located in Miyajima of Aki is the symbol of the shop. The large, elegant scarlet shrine gate that floats in the water is built entirely of wood and is one of the most beautiful shrine gates in Japan. The main shrine building has a long, honourable history as a world heritage site. As it was built by the sea, the beautiful wooden structure is famous worldwide.

 The Rilakkuma Tea House represents the shrine's traditional wooden architecture style and the warm atmosphere created by wood. Rilakkuma's favourite food, honey, is also a main theme.

The healthy menu and Japanese-style dessert menu which are popular at the Rilakkuma Tea House will also be available at the Itsukushima cafe. There are also dishes that use Miyajima and Hiroshima's famous delicacies including oysters and lemons. This is a flavour adventure you can only enjoy in Hiroshima!

Rilakkuma eel and oyster tempura gozen ¥1,580 (tax included)

Rilakkuma is taking a nap on a bed of fried eggs. Enjoy the crunchy eel and oyster tempura along with three varieties of traditional Japanese-style sides.

Yellow bird and fried oyster curry ¥1,280 (tax included)

This yellow bird is made from saffron rice and is topped with crispy fried oyster, which is the perfect match for the deep-flavoured curry!

There is also a dessert menu and a takeaway menu too! All the menus are packed with Hiroshima goodness!

Rilakkuma chilling out in the autumn leaves ー Japanese-style chocolate banana parfait ¥1,280 (tax included)

A bridge made from banana stretches over a valley of autumn leaves in a beautiful arch shape. The banana ice cream is complemented with gyuhi mochi cake and warabi mochi. The chewy texture of this Japanese parfait resembles banana daifuku cake!

Korilakkuma Seto Inland Sea lemon chiffon  ¥980  (tax included)

This is a fluffy chiffon cake that uses Seto Inland Sea lemons and honey. The cake is sprinkled with berries, and lemons slices decorate the cake to resemble flowers, creating a sweet yet sour flavour.

Delicious Rilakkuma/ Korilakkuma honey sandwich  ¥600  (tax included)

The Rilakkuma Brioche Bread and Korilakkuma White Bread are filled with different ice cream flavours! Those cute round eyes will win you over in no time! ♪

*Takeaway item

Rilakkuma autumn leaves manju (pack of 2) ¥350  (tax included)

These cute Rilakkuma autumn leaf-themed manju are an Itsukushima original!
*Takeaway item

Momiji manju (includes 8)  ¥1,200/Decorated wooden paddle(small, 5 patterns) ¥1,600 each/Kumano makeup brush /small dish (7 varieties) ¥800 each  (all prices with tax included)

There will also be Itsukushima Rilakkuma Tea House original goods! Of course, this includes the Itsukushima's speciality momiji manju buns, momiji wooden paddles and art overflowing with Itsukushima's specialities such as lemons!

There is just so much on the limited edition menu and there are just so many goods too! Check out the official website too! ♪

Information

Itsukushima Rilakkuma Tea House
Address:537, Nakanochohama, Miyajimacho, Hatsukaichi 739-0500,
Opening hours (subject to change):
Tea House :10:30 ー 17:30 (Lunch last orders: 16:30  Cafe last orders: 17:00)

Takeaway:10:00 ー 17:30
Shop:10:00 ー 18:00

Open all year round
Open from:Thursday 25/04/2019
※ It is possible that the reception is closed even during order times.

Rilakkuma Tea House official website:http://rilakkumasabo.jp

Netflix Original Series 'Rilakkuma and Kaoru' to be Released on April 19

Netflix just posted an English trailer for Rilakkuma and Kaoru, the first ever Rilakkuma stop-motion animation.

Netflix describes the series: "Her life might be a little mundane, but Kaoru gets to go home to Rilakkuma, her endearingly lazy roommate who happens to be a fuzzy toy bear."

The show will feature appearances from the lazy Rilakumma, the hard-working Korilakkuma, and the adorable Kiiroitori.

Twelve episodes are planned foe release across 12 months.


Lana Condor (X-Men: Apocalypse, Alita: Battle Angel) will provide the English dub for the main character Kaoru. The series is being directed by Kobayashi Masahito who has worked on many stop-motion pictures.

Rilakkuma and Kaori will hit Netflix on April 19, 2019 with a new episode airing every month.

©2019 San-X Co., Ltd. All Rights Reserved.

Cherry Blossom Jam Filled Rilakkuma Confections Releasing at Lawson Convenience Stores

Japanese confectionery brand Tabemas is releasing new cherry blossom flavoured Rilakkuma and Kiiroitori confections. You'll find them at Lawson convenience stores around Japan from March 26.

'Tabemas' is an abbreviation of the Japanese words taberareru masukotto, meaning 'mascots that you can eat.' It is a Japanese confectionery series that combines well-known characters and Japanese sweets made from ingredients like red bean paste, sugar and rice flour. Their products are hugely popular in Japan and are described as being too cute to eat. These delicate treats are the perfect dessert for the hanami season.

This product was originally released back in 2017, but this time they have made it even more delicious and fitting for the springtime. Rilakkuma is posed holding a pink cherry blossom flower while Kiiroitori is wearing one on his head. Inside both of them are two different bean pastes: Rilakkuma is brown sugar syrup flavoured while Kiiroitori is cherry blossom flavoured.

They not only taste delicious but are carefully crafted by hand so perfectly that you'll find them nearly too cute to eat!

Information

Tabemas Rilakkuma Sakura Rilakkuma

Price: ¥366 (Before Tax)

Release Date: March 26, 2019

Available: At the chilled desserts corner of Lawson branches in Japan.

*Not available at Lawson Store 100 branches.

*Limited stock. Products will discontinue once all have been sold.

*Select branches may receive stock at a different date from that of the release date.

*Select branches not stocking.

*Photos are for illustrative purposes only. Actual product may differ slightly.

*"食べマス" is a registered trademark of Bandai Co., Ltd.

Product Page: http://www.bandai.co.jp/candy/tabemas/s-rilakkuma/

©2019 San-X Co., Ltd. All Rights Reserved.