Official Crayon Shin-chan Shop in Tokyo Station Celebrates 1-Year Anniversary
On July 25 it will have been an entire year since the opening of the official Crayon Shin-chan shop in Tokyo Station. To celebrate, the shop is holding a 1-year anniversary fair starting from July 19 where they will sell exclusive anniversary merchandise and hand out novelties.
Located along Tokyo Character Street, the store has gathered an international fan base with both Japanese people and foreign tourists flocking to get their hands on limited edition merchandise, souvenirs and presents. The shelves are stocked with items perfect for many situations.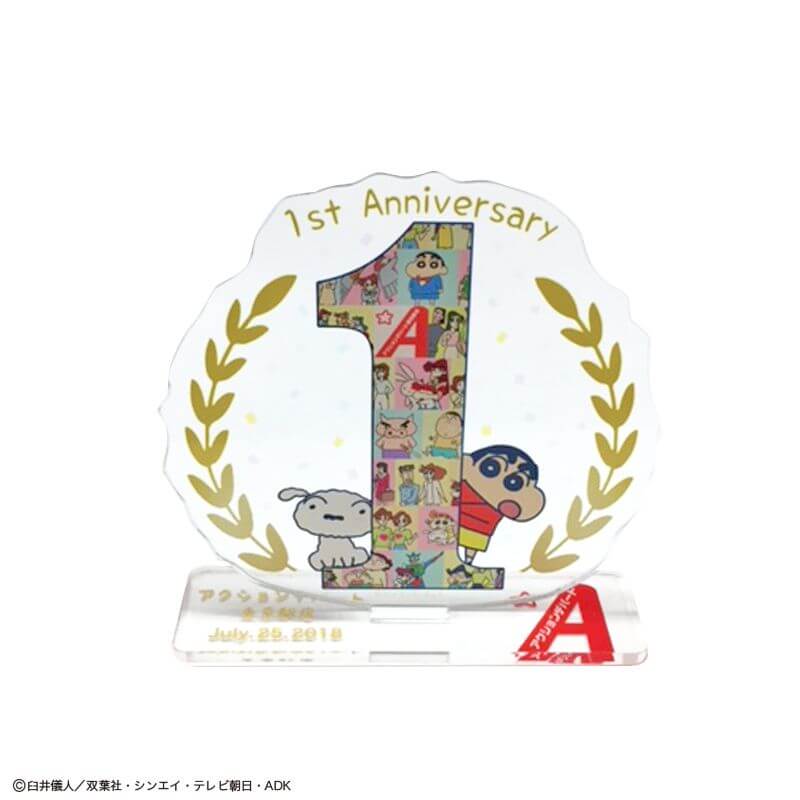 Acrylic Figure – ¥600 (+Tax)
Die Cut Stickers – ¥350 (+Tax)
Look out for the special golden colour designs being used on exclusive anniversary merchandise. These special items are limited edition and won't be available again!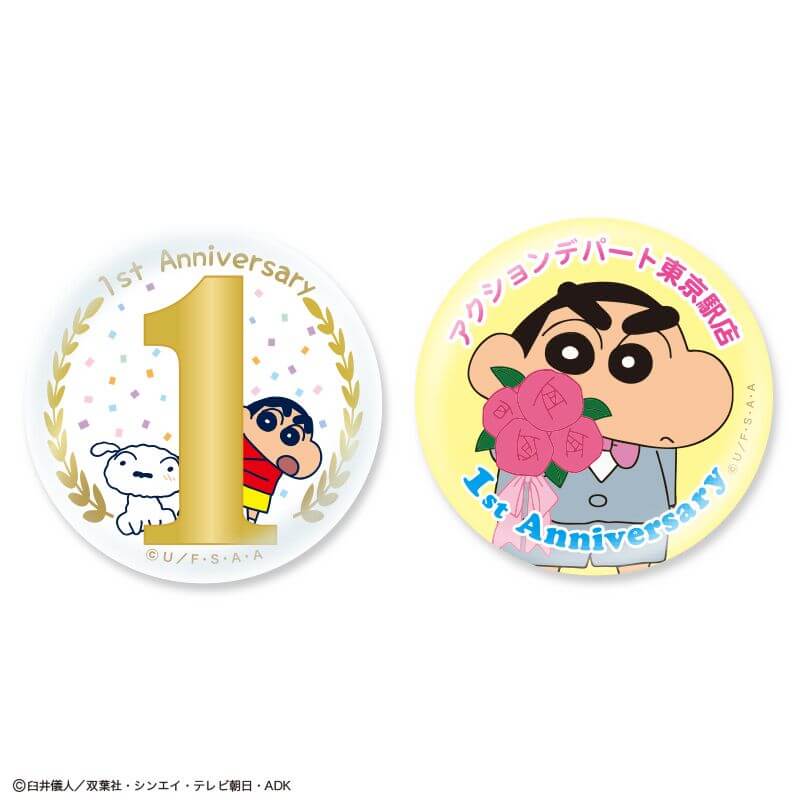 Those who spend over ¥1,000 (including tax) in the store can get their hands on one of two button badges: the first is the 1-year anniversary design and the second is the Shin-chan holding a bouquet design.
Head on over to the Crayon Shin-chan shop partake in the 1-year anniversary!
■Information
Crayon Shin-chan Official Shop
Address: Tokyo Character Street (Tokyo Station B1F, 1-9-1 Marunouchi, Chiyoda, Tokyo)
Opening Hours: 10:00am-8:30pm
TEL: 03-6259-1919
©Yoshito Usui / Futabasha・Shinei・TV Asahi・ADK
*Merchandise and button badges will discontinue after the fair ends.
*Once all stock of the first button badge design is given out the second will be given out.
RELATED ENTRIES
Top 10 Most Popular Souvenirs to Pick Up at Tokyo Station's HANAGATAYA Store | 2019 Edition

HANAGATAYA is a souvenir variety shop that opened in Tokyo Station's central passage back in July. After over 5 months of sales, the store has revealed its Top 10 most popular products based on sales.

The line-up features a selection of HANAGATAYA exclusives, as well as products from elsewhere which have received pre-sales at HANAGATAYA. You will be spoilt for choice with this selection, all of which are perfect for ringing in the New Year when travelling back home. Let's take a look.

1st Place

Banana Custard Cream – Tokyo 2020 Olympic Emblem Design (Tokyo 2020 Official Licensed Product) – Contains 8 – ¥1,134 (Tax Included)

Officially licensed by the Tokyo 2020 Olympics, these chewy cakes are made from domestic Japanese rice, and are filled with deliciously creamy banana custard.

2nd Place

Tokyo Banana Butter Madeleine (Tokyo Banana World) – Contains 4 – ¥560 Tax Included)

Exclusive to HANAGATAYA come these all-new butter madeleine's created by famous confectionery company Tokyo Banana. These baked treats feature a buttery fragrance and taste, and are made with a banana confiture and finished with fresh lemon.

*Exclusive to HANAGATAYA GRANSTA Tokyo Central Street

3rd Place

Toro One Press Chocolate Chick (Tokyo Hiyoko) – Contains 3 – ¥648 (Tax Included)

This year marks 107 since the company Hiyoko was established. The "Toro One Press Chocolate Chick" is a new confection from them: an adorable skyward-looking chick made up of three chocolate layersーeach with their own distinct flavour. At the heart of the chick is a moist chocolate paste.

*Exclusive to Tokyo Station

4th Place

Cheese Wich – Contains 5 – ¥594 (Tax Included)

These light and refreshing cheese cookies, called Cheese Wiches, are filled with a chocolate-coated melted cheese sauce. Three layers means an enjoyable amalgamation of flavours and textures.

*Exclusive to Tokyo Station

5th Place

Chocolate Chestnut Eggs (Ginza Tamaya) – Contains 4 – ¥800 (Tax Included)

"Goma Tamago" is a popular bite-sized egg-shaped confection. This chestnut flavour was created for HANAGATAYA, a mix of dark chocolate and vanilla flavoured chestnut paste.

*Exclusive to Tokyo Station

6th Place

Strawberry Cookie Sandwich (Berry UP!) – Contains 8 – ¥1,296 (Tax Included)

Berry UP! is a cute confectionery brand which creates baked strawberry sweets. Keeping with that theme, they have created a crunchy quintuple-layered cookie sandwich filled with sweet and sour strawberry chocolate.

7th Place

Shinjuku Curry Ebi (Shinjuku Nakamuraya) – Contains 6 – ¥600 (Tax Included)

If you're looking for something more savoury, then this one's for you: Shinjuku Nakamuraya's light, fluffy and melt-in-the-mouth ebi, coated in curry spices. One nibble is enough to get you instantly hooked.

8th Place

Strawberry Polvorón (Berry UP!) – Contains 6 – ¥1,296 (Tax Included)

Another entry from Berry UP!, these polvorón shortbreads are made from lots of fresh strawberries mixed with condensed milk and mascarpone, creating a subtle sweetness that's enough to have your mouth watering.

9th Place

BLUE MELTIN SAND (Tokyo Campanella) – Contains 8 – ¥1,200 (Tax Included)

What if herbal tea and cookies became its own snack? That's what Tokyo Campanella asked too, and so make it a reality. Their BLUE MELTIN SANDs are cat's tongue cookies stuffed with a herbal tea sauce that has a natural blue colour.

10th Place

Premium Cacao Full Sablé (Mary Chocolate) – Contains 18 – ¥1,350 (Tax Included)

Finally, we have a premium edition of chocolate company Mary Chocolate's Cacao Full Sablés. This one's for the adults, a sophisticated combination of bittersweet chocolate and berries.

*Exclusive to HANAGATAYA GRANSTA Tokyo Central Street

Did you enjoy this list? Which one takes your fancy the most? Whether as a souvenir for the folks back home, or as a treat to yourself to celebrate 2020, if you're in Tokyo this year then be sure to give HANAGATAYA a visit.

Tokyo Station's Top 10 Edible Winter Souvenirs as Chosen by Station Staff

There is just a month and a half left of 2019, with Christmas, the winter holidays and New Year celebrations right around the corner.

Tokyo Station City has compiled a list of must-grab food-related souvenirs and gifts at Tokyo Station. If you've ever visited Tokyo Station, you'll know that you can be spoilt for choice from the amount of goodies you can get your hands on. The list is based on the votes of 305 station staff members working at Tokyo Station who have voted on their Top 10 most recommend souvenirs to pick up this winter.

The staff members went around the shopping area and taste-tested different edible souvenirs across an 8-day period. Their early thoughts as they went down the list were how delicious or unique things were, but they soon began to take it more seriously to consider things like price, how easy an item was to carry and transport, and what certain people might like in particular.

If you're travelling to or from Tokyo Station during the holiday season, be sure to bookmark this list so you know what to buy for on the flight back home!

1st Place

Rakumadoka @ Terra Saison (GRANSTA) – 5 Set ¥1,080 (Tax Included) / 8 Set ¥1,728 (Tax Included)

This cheesecake is like a cream cheese-stuffed souffle-like sandwich. Branded with the words "Gin no Suzu" (a place in Tokyo Station) and "Tokyo," this seasonal product is exclusive to Tokyo Station. In December last year, they sold over 1,500 in a day.

2nd Place


Mount Baum Kuchen @ Nenrinya (Meihinkan) – ¥1,080 (Tax Included)

With its French bread texture, this delightful treat has a fragrant scent, is moist, and is simply delicious. It has a rich buttery taste and is baked slowly to perfection.

3rd Place

Shinjuku Curry Arare Ebi @ HANAGATAYA (GRANSTA) – 6 Set ¥600 (Tax Included)

This rich curry snack is made by Shinjuku Nakamuraya, and has a light melt-in-the-mouth texture with spicy curry seasoning and shrimp flavour. The shrimp flavour comes from a mix of shrimp powder and shrimp oil. The mix of curry powder and spices gives it a really authentic curry taste.

4th Place

Tokyo Vegetable Rice Crackers @ nomono (GRANSTA Marunouchi) – 12 Set ¥950 (Tax Included) / 18 Set ¥1,598 (Tax Included)

An assortment of rice crackers with three different flavours: great burdock, onion, and pumpkin. They have a set of 18 too which is perfect for handing out to lots of people.

5th Place

Maple Pie Sandwich @ The Maple Mania (GRANSTA) – 8 Set ¥1,944 (Tax Included)

Coated in caramel, this crunchy pie is made with a cream laced with maple sugar. Exclusive to Tokyo Station, the packaging design for this dessert is made with souvenirs in mind as it's made so it's easy to carry and take around with you.

6th Place

Kuzumochi @ Funabashiya Koyomi (ecute Tokyo) – 24 Cut (Serves 1-1.5) ¥790 (tax Included) / 36 Cut (Serves 2-3) ¥895 (Tax Included) / 48 Cut (Serves 4-5) ¥1,200 (Tax Included)

Funabashiya's kuzumochi is made with wheat starch that is fermented over a 450 day period before being cooked. It claims to be "the only fermented Japanese wagashi confection." Since it is fermented over such a long period of time, it takes on a unique flavour and elasticity.

7th Place

Cheddar Cheese Pie Sandwich @ Tokyo Milk Cheese Factory (ecute Keiyo Street) – 6 Pack ¥1,620 (Tax Included)

A crunchy pie filled with an addictive cheddar cheese cream. Exclusive to ecute Keiyo Street.

8th Place (Joint)

Premium Cacao Full Shortbread @ HANAGATAYA (GRANSTA) 8 Set ¥648 (Tax Included) / 18 Set ¥1,350 (Tax Included) / 27 Set ¥2,052 (Tax Included)

This is a premium edition of the store's Cacao Full Shortbread, made using the methods used to make the chocolate brand Merry Chocolate. The crunchy texture and full-bodied flavour of the cacao has been left as it is, while a few things have been added to make it a little more luxurious: French sour cream butter, strawberries, and raspberries.

8th Place (Joint)

Yaoki Senbei @ Mankaso (Meihinkan) – 16 Set ¥1,080 (Tax Included)

These plump senbei rice crackers are made with 100% domestic rice and come in six different delicious flavours: agodashi soy sauce, salted, shrimp, seaweed, plum and coarse sugar, and chirimen pepper.

10th Place

Tartlette Neuf @ le billet (ecute Tokyo) – 6 Pack ¥1,728 (Tax Included) / 9 Pack ¥2,592 (Tax Included)

la billet make their own tarts, and this assortment comes in a variety of flavours. Exclusive to Tokyo Station. A great option as a gift for meeting a business in Japan.

Which of these looks most tempting to you? Let us know on Twitter or Facebook!

Get Advanced Tickets to Watch the new Shin-chan movie: Crash! Rakuga Kingdom and Almost Four Heroes

Since 1990, Crayon Shin-chan has been published in Manga Action and made its debut as an anime series in 1992. Shin-chan has wooed the hearts of the entire country and even overseas. Every Crayon Shin-chan movie has become a big hit, capturing the hearts of the young and elderly, boys and girls. 

Following in the footsteps of its predecessors, next year will see the release of the 28th Crayon Shin-chan movie: Crash! Rakuga Kingdom and Almost Four Heroes on April 24, 2020. Advanced tickets with an unmissable bonus as well as movie teasers have been unveiled.

For many years, a giant kingdom fuelled by doodles created by humans has been peacefully floating in the sky. As time has gone by, less and less people have been doodling, resulting in fuel supplies running critically low. As the kingdom crumbles, doodles have been falling from the sky.  As the kingdom starts to face the threat of complete collapse, the kingdom's forces soon get on the case, forcing the innocent people of earth to produce more doodles to save the kingdom. The kingdom just happens to be floating above the city of Shin-chan's residence: Kasukabe.

Knowing that the lives of many are at stake, the princess of the Rakuga Kingdom entrusts the Kingdom's sacred Miracle Crayon to a hero – the five-year-old, mischievous and carefree Shin-chan. Shin-chan harnesses the power of the miracle crayon, drawing up a superhero team to save the world. The first hero: some briefs that haven't been changed in two days. He then attempts to draw up the love of his life: Nanako Ohara. Unfortunately, she doesn't quite look the same. Shin-chan then draws his hero Brave Pig, who Shin-chan fans will recognise from the series as the shy pig who is defeated by his shyness every time he has to save anyone. Shin-chan's three drawings jump right out of the sketch book and right into action in an attempt to save the day. 

In the film, the princess proclaims Shin-chan to be the only hero able to use the Miracle Crayon in the entire world. She hands the sacred tool to Shin-chan, entrusting him with the critical duty of serving the royal family as the court painter. The Rakuga Kingdom's Minister of Defense also makes a strong impression in the film with his masterplan to save the kingdom. As chaos unfolds on earth, it is up to Shin-chan to restore peace and order. Shin-chan joins forces with his three drawings and as troubles get knee-deep, some Shin-chan fans will be betting on the odds that Brave Pig ditches the scene like he usually does, in which case Shin-chan's odds of saving the world will be looking slimmer and slimmer.

The teaser trailer presents our favourite childhood anime in a colourful way. Crayons and coloured pencils are both the theme of the movie and the style in which the movie was made, adding a sweet finishing touch. As the Rakuga Kingdom is on the brink of destruction, Shin-chan gets to work, freely doodling away destruction with his superhero team consisting of smelly briefs, a badly-drawn dream girl, and the shy Brave Pig. 

Illustrator and manga artist Yoko Kuno, who was in charge of the character design for the Crayon Shin-chan movie Invasion!! Alien Shiriri and Burst Serving! and the animation for the ending scenes for Kung Fu Boys ~Ramen Rebellion~, is on the concept design team for this movie. 

Shin-chan joining forces with a group of doodles is an unexpected dream team collaboration that has got everyone excited. Those who purchase advanced tickets have the chance to get a limited edition Shin-chan crayon themed around the Crash! Rakuga Kingdom and Almost Four Heroes film. Look closely and you will realize that his hat is a red crayon. Just by looking at this bonus gift keyring will leave you with the sudden urge to start doodling. 

©Yoshito Usui/Futabasha Publishers Ltd./ SHIN-EI Animation・TV Asahi・ADK 20120.

Information

Crayon Shin-chan movie: Crash! Rakuga Kingdom and Almost Four Heroes 

Release Date: April 24, 2020 

Premiering at TOHO Cinemas across Japan. 

Official Website: http://www.shinchan-movie.com/

★Advanced Ticket Bonus Keyring

Promotion Event: Uki uki kaki kaki ♪ Ora ga Crayon Shin-chan!

There are a total of 75,000 Shin-chan keyrings to be given to those who purchase advanced tickets. Advanced tickets will be sold at cinemas across Japan from November 22. Only one Shin-chan keyring will be given per advanced ticket. The keyrings are limited to purchases made from movie theatres and cannot be purchased separately or resold. There are a limited number of Shin-chan keyrings available.

Advanced tickets are not available at all cinemas. Please visit the cinema's official website to find out whether it is selling advanced tickets.

Butter Sandwich Shop PRESS BUTTER SAND Releases Uji Matcha Flavour at Tokyo Station

The butter sandwich specialists over at PRESS BUTTER SAND are bringing their famous Uji matcha flavour butter sandwiches to their Tokyo Station branch on November 13.

Known as the Uji Matcha Butter Sand, this tasty snack was developed to celebrate the grand opening of the Kyoto Station branch of PRESS BUTTER SAND. Due to high demand, they've decided to take the product to Tokyo for a limited time.

The exterior is made with butter cream and carefully selected Uji matcha. You get the full rich flavour of the matcha and delicious taste of the butter at once. The sandwich itself is filled with bitter matcha butter cream and sweet caramel butter for a sumptuously smooth combination that marries temptingly with the crunchy cookie exterior.

The sandwich biscuits come in packaging that features navy Kyoto-esque artwork inspired by the characteristic cultivation method for Uji matcha which blocks out sunlight. The sandwiches themselves are individually packaged in matcha green packets to contrast with the box.

Don't miss out on a chance to enjoy the flavours of Kyoto while in Tokyo. Available at Tokyo Station only.

Information

Uji Matcha Butter Sand

Price: Box of 5 – ¥1,150 (Tax Included) / Box of 9 – ¥2,070 (Tax Included)

Shop: PRESS BUTTER SAND Tokyo Station

Available: November 13, 2019 – November 30, 2019

Official Website: https://buttersand.com

Tokyo Station's Best Rice Bowl & Noodle Dishes as Voted by Commuters

Tokyo Station and surrounding facilities are currently holding the "Tokyo Station Rice Bowl vs. Noodles Grand Prix 2019" tournament from October 7 to November 24 to find out people's favourite rice bowl and noodle dishes at the station.

The past three tournaments have focused only on rice bowls, but this year sees the introduction of noodles too, with past restaurants in Kitchen Street and GRANSTA competing once again as well as new ones in ecute Tokyo and KITTE for a total of 13 participating station areas. 92 dishes are in the line-up, the biggest list to date.

The current rankings for the rice bowl and noodle categories have finally been unveiled, so let's take a look at the Top 3 of each to see which is leading the race.

Category Is: Rice Bowl

1st Place

Ultimate Japanese Spiny Lobster Bowl – ¥2,200 (Tax Included) @ Tsukiji Sushiko (GRANSTA Marunouchi)

Tsukiji Sushiko was the victory of last year's grand prix. This year, they've whipped up a hearty seafood bowl made with a whole Japanese spiny lobster and 11 other delicious critters from the ocean.

2nd Place

Premium Wagyu & Uni Otsukimi Date – ¥2,530 (Tax Included) @ Uniya no Amagokoro (Kitchen Street)

Served with sliced premium brand wagyu, this bowl is topped with uni sea urchin eggs and ikura salted salmon roeーa luxurious combination you won't find anywhere else.

3rd Place

Ura Ooedo Tempura Bowl – ¥1,800 (Tax Included) @ Tenkiyo (Grand Roof)

This is an alternate version of the restaurant's famous Ooedo Tempura Bowl, served with delicious tempura.

Category Is: Noodles

1st Place

MISO JIRO – ¥1,000 (Tax Included) @ Tokyo Style Miso Ramen Do Miso (KITTE GRANCHE)

A super-filling bowl piled with pork char siu and a mountain of vegetables.

2nd Place

Lanzhou Wagyu Noodles – ¥950 (Tax Included) @ Mazilu Lanzhou Beef Noodles

Authentic Lanzhou ramen served by the Halal-certified Mazilu Lanzhou Beef Noodles, customers can choose between nine different thicknesses for their noodles to satisfy their palate.

3rd Place

Dehydrated Hamburger Bolognese – ¥1,190 (Tax Included) @ HAMBURG WORKS

Enjoy the full flavour of the hamburger meat made from Japanese black wagyu beef and served with pasta.

Be sure to use this list as reference if you're looking to eat while travelling through Tokyo Station!

Information

Tokyo Station Rice Bowl vs. Noodles Grand Prix 2019

Running: October 7, 2019 – November 24, 2019

Locations: Kitchen Street, Kurobei Yokocho, Kitamachi Dining, Grand Roof, Grand Roof Front, GranAge, GRANSTA, GRANSTA Marunouchi, KITTE, ecute Tokyo, ecute Keiyo Street

Participating Restaurants: 91

Menu Items: 92 (79 of which are exclusive to Tokyo Station)

5 Christmas Desserts to Buy at Tokyo Station | Christmas 2019

Shops in and around Tokyo Station are starting to roll out their Christmas products this month. We've select our Top 5 must-buy Christmas cakes and desserts if you're travelling in Tokyo or passing through Tokyo Station this year.

Christmas Koisuru☆Kumagoron – ¥980 (Tax Included) @ Siretoco Donuts (ecute Keiyo Street)

The perfect, most adorable doughnut treats to pick up this Christmas to share with friends and familyーor to enjoy yourself!

*Exclusive to the ecute Keiyo Street branch. Online orders available.

Suica Penguin Waffle Cake – ¥540 (Tax Included) @ RL waffle cake (GRANSTA)

Inspired by the adorable Suica penguinーthe mascot for Suica travel cardsーthis mini cake is a fluffy waffle rolled into whipped cream and yellow peach and is coated in chocolate.

*Only 100 to be sold. Sales begin from November 5 and is are first-come, first served. Reservation-only. Online reservations available.

*Delivery Window: December 20-25, 2019.

*Exclusive to GRANSTA.

©︎Chiharu Sakazaki/East Japan Railway Company/DENTSU by East Japan Railway Company

Suica is a registered trademark of East Japan Railway Company

Christmas Box (4 Included) – ¥1,940 (Tax Included) @ Fairycake Fair

Cute cupcakes decorated for Christmas. Also available in boxes of 6 and 9.

*Reservation Window: November 5 – December 20, 2019

*Delivery Window: November 30 – December 25, 2019

*Available for direct purchase in-store between November 30 – December 25, 2019

*Online reservations available. Exclusive to GRANSTA.

Chestnut Yule Log – ¥3,780 (Tax Included) @ le billet (ecute TOKYO)

This Christmas yule log is a mix of chestnuts and hazelnuts and contains a rich tiramisu-style chestnut cream.

*Online reservations available.

Noel – ¥6,200 (Tax Included) @ Tokyo Station Hotel

This chestnut cake is inspired by the pine pillars that supported the Tokyo Station Marunouchi station building until it was restored. It has a chestnut and sweet potato base and is layered with chestnut mousse and coffee mousse to recreate the rings of a tree which are used to tell a tree's age.

*10 served per day

*Reservation Window: November 5 – December 17, 2019

*Delivery Window: December 22-25, 2019

*Online reservations available. Exclusive to GRANSTA.

Eat all of the cute treats you can this Christmas and holiday season.

Tokyo's Newest Bubble Tea Shop PEARL LADY CHA BAR Opens at Tokyo Station

Bubble tea chain PEARL LADY opened a new tea and tapioca beverage cafe called PEARL LADY CHA BAR at GRANSTA Marunouchi in Tokyo Station on October 17.

This year marks the 10th anniversary of CHA BAR, a Japanese tapioca drink chain that serves different types of tea from around the world. The chewy tapioca pearls added to the drinks are made in the company's own factory and delivered fresh everyday to stores.

They boast a large drink line-up for tea-lovers, such as their specially-made rich milk tea latte, rock salt cream cheese made with mascarpone, seasonal fruit beverages, and more. The menu offers new and original ways of enjoying tea.

If you're passing through Tokyo Station during your travels to the capital, be sure to pick up a drink from PEARL LADY CHA BAR.

Information

PEARL LADY CHA BAR GRANSTA Marunouchi

Address: JR East Tokyo Station Floor B1F (Outside Ticket Gates), 1-9-1 Marunouchi, Chiyoda Ward, Tokyo

Opening Hours: 10:00-22:00

Access: 1-minute on foot from the Marunouchi F central ticket gates at Tokyo Station

Official Website: http://www.pearllady.jp/chabar/

Tokyo Station's Christmas Cakes Are a Must-Buy Present This Holiday Season

Two of Tokyo Station's shopping areas, GRANSTA and GRANSTA MARUNOUCHI―which are accessible inside the ticket gates and outside the ticket gates respectively―are set to hold the GRANSTA Christmas Fair from November 5 to December 25.

GRANSTA x Tokyo Staion Hotel

The main GRANSTA shopping area is joining hands with Tokyo Station Hotel for the very first time to release a line of hotel-original Christmas cakes.

Noel – ¥6,200 (Tax Included) @ Tokyo Station Hotel (*10 servings per day)

This pine tree stump chestnut cake was originally sold to support the reconstruction work of the Tokyo Station Marunouchi Building which was held until 2012. Topping the chestnut sweet potato base is a mix of chestnut mousse and coffee cream. This is topped with two types of chestnut pastes in a spiral shape to create the tree rings.

Bûche Chocolat Vanille – ¥5,500 (Tax Included) @ Tokyo Station Hotel (*10 servings per day)

The Bûche Chocolat Vanille is an exquisite yule log made with melt-in-the-mouth chocolate mousse and vanilla cream inside which hides sweet and sour, kirsch-soaked cherries and sauteed pears. The top of the log is temptingly lined with even more cherries to give it both that rich look and even richer taste.

Tokyo Station Marunouchi Building Cake Designs

GRANSTA will also sell cakes inspired by Tokyo Station. As well as the ones shown here, there are ones based on the bullet trains and more.

Station Building Fruit Cake – ¥4,320 (Tax Included) @ Colombin (*only 100 available)

Exclusive to GRANSTA comes this special Christmas fruit cake based on the station building. It would make great gift to bring to the Christmas party.

Cupola de Tokyo – ¥3,780 (Tax Included) @ Caffarel (*only 50 available / *design still a WIP so may differ from the photo)

This colourful Christmas cake draws inspiration from the gorgeous interior designs of the north and south domes of the Tokyo Station Marunouchi Building.

Suica Penguin Cakes

The adorable Suica Penguin is the mascot of Suica contactless smart cards used at train stations.

Suica Penguin Cake – ¥5,400 (Tax Included) @ Dalloyau (*only 100 available)

The main Suica Penguin cake is a combination of chocolate mousse and a cream made from tonka beans. This cute cake is sure to bring joy to any child this Christmas♡

Suica Penguin Chocolate Raspberry – ¥490 (Tax Included) @ Fairycake Fair (*30 servings per day)

Fairycake Fair has whipped up a chocolate cream-topped cupcake filled with raspberry jam. This one is for those who want something a bit smaller than a ginormous cake!

There are lots more cakes to look forward to, including ones in very limited quantities. If you're in Japan this Christmas season, be sure to pay a visit to GRANSTA and GRANSTA MARUNOUCHI in Tokyo Station.

©Chiharu Sakazaki / JR East / DENTSU Suica by JR East Suica

Information

GRANSTA

Address: JR East Tokyo Station Building Floors B1F & 1F (Inside Ticket Gates), 1-9-1 Marunouchi, Chiyoda Ward, Tokyo

Opening Hours: 8:00-22:00 (Until 21:00 on Sundays)

*Opening hours differ for select shops in GRANSTA

*The GRANSTA New Area opening hours are from 9:00-22:00(Until 21:00 on Sundays)

GRANSTA MARUNOUCHI

Address: JR East Tokyo Station Building Floors B1F (Inside Ticket Gates), 1-9-1 Marunouchi, Chiyoda Ward, Tokyo

Opening Hours: 10:00-22:00 (Until 21:00 on Sundays)

*Opening hours differ for select shops in GRANSTA MARUNOUCHI

GRANSTA Official Website (Japanese): https://www.tokyoinfo.com/shop/mall/gransta/

Tokyo Station Top Souvenir and Bento Rankings 2019

Tokyo Station is a hive of thriving shops and restaurants. If you are wondering where to start, exit the ticket barriers and head to GRANSTA Marunouchi to discover a new world of bento lunches, souvenir gifts and much more. Still stuck on where to go? Lucky for you, GRANSTA Marunouchi shoppers have voted for their favourite bento meals, sweet souvenirs and general souvenirs. We have summarised the top three winners of each category.

A total of 69 shops have risen to the challenge, submitting a total of 73 of their top items. This year, a total of 4,500 voters took part in the survey, which is 2,000 more than last year. There were 10 winners in each of the three categories of Bento Meals, Sweet Souvenirs, and General Souvenirs. Today, we are presenting you with the top three of each category. (The prices below are the prices after tax has been applied)

▶︎Bento Meals Category

1st place: Asakusa Imahan Sukiyaki (Tokyo-limited)

Asakusa Imahan was founded in the 28th year of the Meiji era (1895) and still serves delicious traditional Japanese food. The Sukiyaki Bento is filled with a range of nutritious vegetables and luxurious Japanese Black wagyu beef, which is a shop specialty. Enjoy the wonderful sukiyaki flavouring of the vegetables and meat. 

Price: ¥1,450 Shop: Asakusa Imahan (浅草今半)

2nd place: Salted Salmon Roe and Salmon Belly Bento 

*Limit of 150 sold per day.

Price: ¥1,280 Shop: Ekibenya Matsuri (駅弁屋 祭 )

Salmon belly flavoured with natural fat is fried and topped with salmon roe coated in a soy sauce dressing. This exquisite bento is full of flavours that go well together.

3rd place: Shoro Sando

*Limit of 200 sold per day 

Price: ¥648 Shop: Tsukiji Shoro (つきぢ松露 )

The faintly sweet flavour of the tamagoyaki seasoned and flavoured egg is the perfect match with the mayonaise.

▶︎ Sweet Souvenirs Top 3 

1st place: Maple Pie Sandwich Biscuit (Tokyo Station-limited)

Price: ¥1,944 (box of 8) Shop: The Maple Mania  

Maple cream is combined with maple sugar and sandwiched between two delicious and crispy pie crusts. The box takes on the appearance of a red brick, making it the perfect Tokyo Station souvenir. 

2nd place: Tokyo chocolate Sablé (Tokyo Station-limited)

Price: ¥1,080 (box of 12) Shop: Marché du Chocolat 

The packaging features a beautiful illustration of Tokyo Station. There are two chocolate sablé flavours: raspberry and hazelnut.

3rd place: My Captain Cheese Set (Tokyo Station-limited)

Price: ¥1,080 (box of 8 packets)  Shop: MY CAPTAIN CHEESE TOKYO 

Although having just opened in April 2019, this shop quickly made the rankings. From the outer packaging to the flavour, the efforts put into the making of this souvenir are clear. This brand new sweet cheese-flavoured treat is a new GRANSTA-limited souvenir.

▶︎ General Souvenirs

1st place: Karuizawa Royal Blend

Limit of 30 made per day 

Price: ¥1,122 (whole loaf)/ ¥ 561 (half loaf) Shop: BOULANGERIE ASANOYA 

The recipe used to bake this bread was deeply loved by the Kazoku; the rich and noble family class that existed during the Showa Era of Japan. This thick and fluffy loaf is made with lots of fresh cream for a rich flavour.

2nd place: Suica Penguin Mamegui Wrapping Cloth and Suica Baumkuchen cake (Tokyo Station-limited)

Prices: Mamegui Wrapping Cloth: ¥648/ Baumkuchen: ¥ 540  Shop: Mamegui (まめぐい)

The Suica penguin, who is the mascot on the Suica smart travel card, is printed on this round Baumkuchen cake. Wrap it in the hankerchief-sized tenugui cloth and it will be the perfect petit present for your friend.  

3rd place: Lemon and Shiikuwasha Lemon Vinegar (Tokyo Station-limited)

Price: ¥1,728 (250ml) Shop: Nomusu Ekisupuresu Tokyo (飲む酢エキスプレ・ス・東京)

This dessert vinegar has a refreshing lemon flavour. The slight bitterness of the Shiikuwasha vinegar makes it a wonderful dessert flavour. 

If you are overwhelmed by the vast selection of bento lunches or souvenirs, referring to these rankings is a safe option. Have fun shopping at Tokyo Station!

Tokyo Souvenirs Galore at Tokyo Station's New Gift Kiosk

Tourists and travellers using Tokyo Station this summer will be excited to hear that the all-new Gift Kiosk Tokyo souvenir shop will open at the Tokyo Station Shinkansen Yaesu Central Exit on August 7.

Gift Kiosk Tokyo's shelves are packed full of gifts and souvenirs aimed at travellers using the Shinkansen. This includes bundles of delicious sweets and desserts such as raw mooncake by Nakamuraya, Tokyo Souvenir Chocolate which comes in packaging featuring Tokyo's many iconic sites, and lots more.

Tokyo Chocolate Tokyo Souvenir :  ¥756 (Tax Included) 

The Tokyo Souvenir Chocolates are exclusive to Gift Kiosk and are a delicious retro-modern fusion combining 6 different chocolates and sweets made with traditional Japanese ingredients, offering an irresistible taste the likes of which you have never tried..

Nakamuraya's Raw Mooncake: Set of 5 – ¥756 (Tax Included) / Set of 8 – ¥1,188 (Tax Included)

Nakamuraya's chewy raw mooncake is made using traditional Japanese wagashi confection baking methods and is filled with sumptuous red bean paste. The paste is a blend of rich adzuki beans from Hokkaido and black sesame paste which has a strong flavour when combined with the beans. This is the first time it has been sold at Tokyo Station so all sweet tooths' eyes will be on this one.

As well as sweet treats, the store is full of drinks, bento boxes, sandwiches and other sundries. If you're passing through Tokyo Station, particularly if you're heading to another part of Japan using the Shinkansen, then be sure to stop by Gift Kiosk Tokyo.

Information

Gift Kiosk Tokyo

Business Hours: 6:30-22:30

*Photos are for illustrative purposes only

*Please be aware that items are subject to selling out

Official Website: https://www.kiosk.co.jp

2019 Top 10 Souvenirs Available at Daimaru Department Store, Tokyo

Looking for some delicious, well presented Japanese souvenirs? Head to Daimaru department store which is adjoined to Tokyo Station. On the first floor and basement floor lies a Japanese-style desserts and sweets area which contains approximately 70 delicious brands. Every day, approximately 30,000 desserts are sold to customers who are looking for souvenirs to bring to their family and friends. 

Now we have arrived at the summer holidays, there are many tourists who will soon reach the stage of panic where they are unsure of what souvenirs to bring back to their loved ones. Luckily, Daimaru Department store is a goldmine of beautifully presented Japanese-style sweet snacks made by top brands. Today, we present you with a list of the 10 fastest-selling souvenirs that were sold from July 2018 to June 2019. There is still plenty of time to get your hands on these souvenirs!

1st Place: N.Y.C. SAND: Caramel Sandwich Biscuits (box of 8) ¥1,080 (1st floor)

 As you take a bite, you will notice that the biscuit, chocolate and caramel will balance in perfect harmony just for a brief glorious moment. 

2nd place: Fukusaya: Fukusaya Cube (Cut into two) ¥270 (1st floor)

Have a small slice of luxury with this traditional recipe castella sponge cake which was specially made by experienced bakers. This is presented in a small, cute box. 

3rd place: Kamakura Toshimaya: Hato Sable (box of 10) ¥1,080 (1st floor)

This is a crispy dove-shaped shortbread biscuit which has a rich buttery flavour. This was first produced in the early 1900's during the Meiji period and is a souvenir limited to Tokyo.

4th place: Asakusa Mangando: Imokin ¥129 each (1st floor)

This baked treat is packed with the delicious flavour of sweet potatoes. The freshly baked scent is enough to draw you in. 

5th place: TOKYO BANANA STUDIO: Panda Banana Yoghurt (Box of 4) ¥515 (1st/basement floor) 

Children would just love to see the cute panda design. Wrap yourself in the mild banana yoghurt-flavoured cream.

6th place: Noix: Walnut cookie (Box of 4) ¥648 (1st floor)

This crunchy cookie is topped with a generous amount of caramelised walnuts.

7th place: Nenrinya: Mount Baum Shikkarime ¥756 (1st floor)

The outside of this baumkuchen is fragrant and crispy whilst the inside is soft and spongy. Take a bite to experience the wonderful texture of this European-style baked good. 

8th place: Azabujuban Agemochi-ya: Panchetta Agemochi (40g) ¥442 (1st floor)

The flavour of this baked mochi dough is like eating bacon cooked in an Italian style. This new flavour is a wonderful discovery that you should also try.

9th place: Sugar Butter Tree: SUGAR BUTTER SAND TREE (Box of 10) ¥690 (1st floor)

The crispy biscuit and melty white chocolate is a sublime combination that you will want to try again and again.

10th place:  Kanou Shoujuan: Ikkoten ¥270 each (1st floor)

A whole Japanese chestnut is smothered in a thick layer of Tamba Dainagon adzuki bean mix that is simmered lightly. This is especially delicious when eaten with tea. 

What do you think? When in desperate need of a souvenir for your family, friends or work colleagues back home, how about choosing one of the souvenirs listed above?

Information

2019 Souvenirs at Daimaru Department Store, Tokyo

Available Period: July 31 ー August 31.

Avaialble at: Daimaru Department Store Tokyo, Floor 1/Basement floor Hoppe Town

Daimaru Tokyo

Address: 1-9-1, Marunouchi, Chiyoda, Tokyo

Website: https://www.daimaru.co.jp/tokyo/

Most Popular Sweets & Chocolate Sold at Tokyo Station

Summer is here, and if you're travelling around Japan, chances are you'll be using Tokyo Station station at some point.

We recently covered 6 must-buy souvenirs at Tokyo Station. Today we'll be looking at the most popular Japanese and western sweets you can pick up there as ranked by sales.

Western Sweets & Snacks

1st Place: Maple Butter Cookie (Contains 18) – ¥1,900 (Tax Included) / Sold @ The Maple Mania

These cookies are made from maple sugar and fermented butter and baked with dark chocolate in the middle to make a crunchy cookie sandwich. They have been the most popular treat since they were released♡

2nd Place: Tokyo Station Waffles (10 Included) – ¥1,300 (Tax Included) / Sold @ R.L waffle cake

A flagship product of R.L. Waffle Cake, their fluffy waffles contain cream and fruit. These Tokyo Station exclusives have been improved this year and are now made with bamboo charcoal. This set of 10 plain waffles are available for a limited time only.

3rd Place: Tokyo Gianduja Chocolate Pie (Contains 8) – ¥1,080 (Tax Included) / Sold @ Caffarel

Chocoholics are going to love Caffarel's chocolate pies which are made lusciously with their gianduja chocolate. The pies enjoy repeat purchases from people who enjoy the crunchy outside of the pie and rich chocolate centre. They are enjoyed by people of all ages.

4th Place: Tokyo Kaminariya (Contains 8) – ¥1,062 (Tax Included) / Sold @ Tokyo Kaminariya

Tokyo Kaminariya is known for its sweet cone puffs which topped with fluffy cream, nuts and sesame seed bean paste. They are shaped like the god of thunder's horn and are cat tongue biscuits containing fragrant rice flour.

5th Place: Tokyo Station Assorted Cookies (Contains 20) – ¥1,965 (Tax Included) / Sold @ Tokyo Milk Cheese

This cookie assortment features the classic Salt & Camembert and Honey & Gorgonzola flavours. A perfect souvenir from Tokyo with its cute packaging!

Japanese Sweets & Snacks

1st Place: Kinpira Gobo (1 Bag) – ¥350 (Tax Included) / Sold @ Nishikihonrin

This crispy snack retains the original flavour of the ingredients and is made using 100% domestic wheat flour. It contains great burdock and spicy finely chopped vegetable flavours. It's a perfect little treat to yourself or someone you know and is a hit with foreign customers!

2nd Place: Mame Daifuku: ¥206 (Tax Included) / Sold @ Ginza Kanra

A hallmark product of Ginza Kanra, these soft daifuku contain whole adzuki beans grown by contracted farmers. Their simple flavour has transcended generations and is a beloved traditional Japanese dessert with all ages.

3rd Place: Panda no Tabi (Contains 5) – ¥1,080 (Tax Included) / Sold @ Keishindo

Keishindo's senbei shrimp rice cookies have various designs on them including cute pandas as well as famous sites in Tokyo such as Tokyo Tower and Kaminarimon. Exclusive to Tokyo Station, these are a fun and delicious choice.

4th Place: Wasanbon (Contains 9) – ¥756 (Tax Included) / Sold @ Kurio Shoten Gransta

Wasanbon is a type of traditional Japanese sugar. This product is made with traditional molasses which has been used since the store first opened. Using high quality sugar, Kurio Shoten has created a sweet and simple delicious snack.

5th Place: edocco Nami Ningyo Yaki – ¥1,080 (Tax Included) / Sold @ Hattendo & edocco

Ningyo yaki are little baked doll cakes, and these ones have a "raw" texture to them which is both moist and chewy, a texture enjoyed by Japanese people.

Did you enjoy this list? Be sure you get to try all the sweets and snacks you can in Japan and share them as souvenirs when you travel back home!