Official Crayon Shin-chan Shop in Tokyo Station Celebrates 1-Year Anniversary
On July 25 it will have been an entire year since the opening of the official Crayon Shin-chan shop in Tokyo Station. To celebrate, the shop is holding a 1-year anniversary fair starting from July 19 where they will sell exclusive anniversary merchandise and hand out novelties.
Located along Tokyo Character Street, the store has gathered an international fan base with both Japanese people and foreign tourists flocking to get their hands on limited edition merchandise, souvenirs and presents. The shelves are stocked with items perfect for many situations.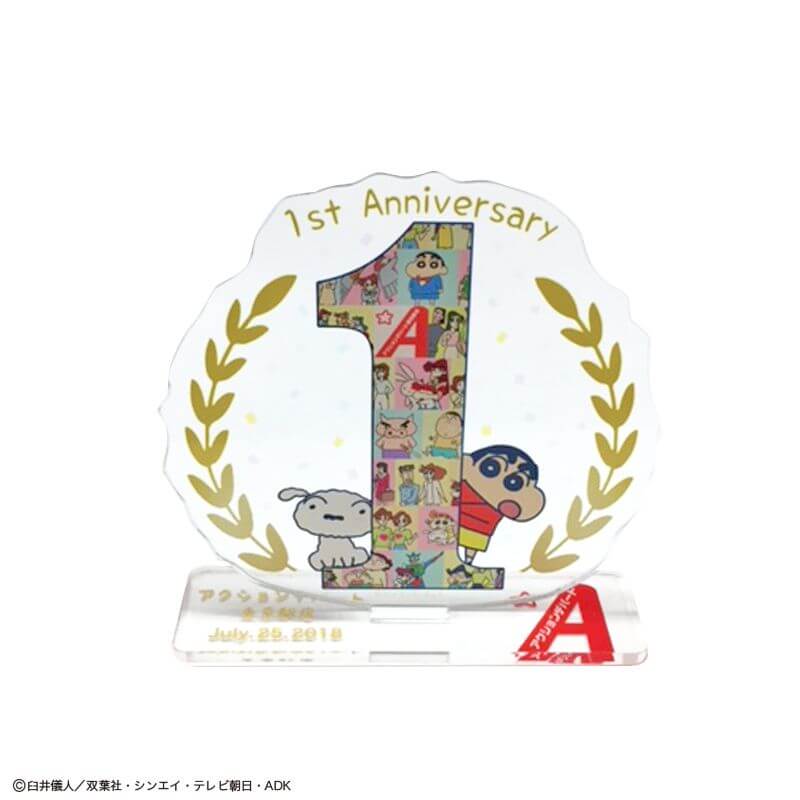 Acrylic Figure – ¥600 (+Tax)
Die Cut Stickers – ¥350 (+Tax)
Look out for the special golden colour designs being used on exclusive anniversary merchandise. These special items are limited edition and won't be available again!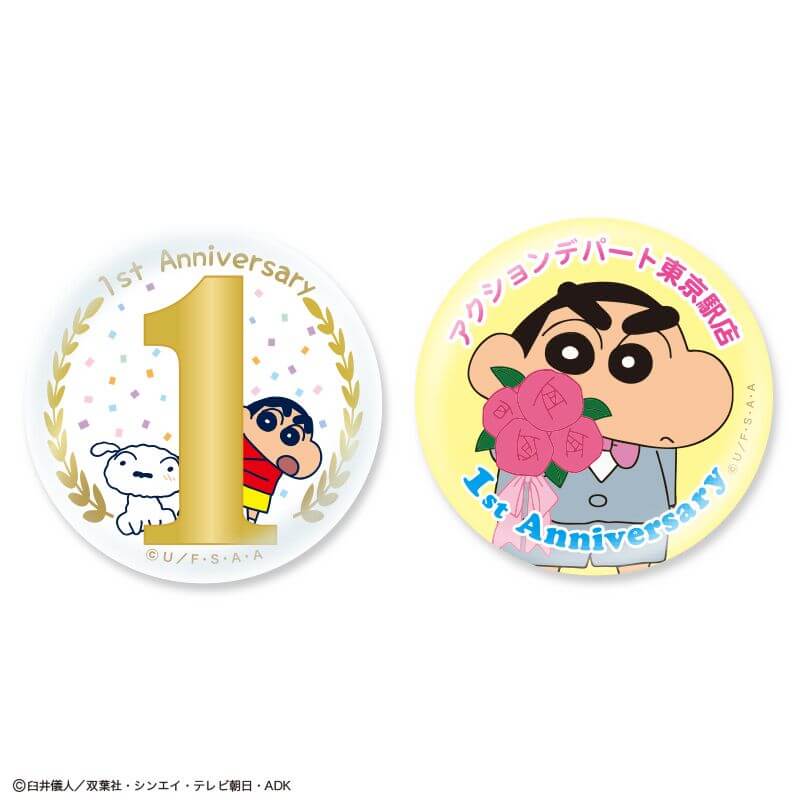 Those who spend over ¥1,000 (including tax) in the store can get their hands on one of two button badges: the first is the 1-year anniversary design and the second is the Shin-chan holding a bouquet design.
Head on over to the Crayon Shin-chan shop partake in the 1-year anniversary!
■Information
Crayon Shin-chan Official Shop
Address: Tokyo Character Street (Tokyo Station B1F, 1-9-1 Marunouchi, Chiyoda, Tokyo)
Opening Hours: 10:00am-8:30pm
TEL: 03-6259-1919
©Yoshito Usui / Futabasha・Shinei・TV Asahi・ADK
*Merchandise and button badges will discontinue after the fair ends.
*Once all stock of the first button badge design is given out the second will be given out.
RELATED ENTRIES
Crayon Shin-chan Launches 30th Anniversary Project

This year marks the 30th anniversary since the initial serialisation of popular manga series Crayon Shin-chan. It is also a celebration of 10 years since New Crayon Shin-chan began serialisation in the monthly magazine Manga Town.

Across the Crayon Shin-chan series, the two most important elements have always been friends and family. That's where the 30th anniversary project comes to light – in an effort to bring smiles to people who have been impacted by the spread of COVID-19. And "Love" is the keyword of the project.

The Nohara family meet a new family in the September 2020 issue of Manga Town

A new manga spin-off will begin in the September 2020 issue of Manga Town (on sale August 5) where the Nohara family will meet a completely new family. Various other publications will also be released including volume 10 of Crayon Shin-chan, which comes in time for its 10th anniversary, a Crayon Shin-chan encyclopedia entitled Crayon Shin-chan Taizen 2020 Nen Zouhohan, and volume 7 of the Nohara Hiroshi Hiru Meshi no Ryuugi spin-off.

Online Crayon Shin-chan tribute

Japanese manga website Comic Action will see 30 popular manga authors pay tribute to 30 years of Crayon Shin-chan by penning their own words about the series on August 21.

30th Anniversary Pop-Up Shops Open in Tokyo & Osaka

Two pop-up shops will open at the Junkudo Ikebukuro bookstore in Tokyo from August 18 to September 8 and MARUZEN & Junkudo Umeda bookstore from August 19 to September 9 in celebration of the 30 year milestone.

©Yoshito Usui / Futabasha

Japan's Anime Theme Park Nijigen no Mori Has Naruto, Boruto & Other Exciting Events This June

Nijigen no Mori is an anime theme park located on Awaji Island in Hyogo Prefecture. Here's a list of the latest events running at the park in June.

NARUTO & BORUTO SHINOBIZATO

NARUTO & BORUTO SHINOBIZATO is an area of Nijigen no Mori with attractions and more based on Naruto and his son Boruto. The area celebrated its 1st anniversary on April 20, 2020. The park is currently selling anniversary merchandise as well as other exclusive items. Guests who buy a ticket to the park online will receive a free 1st anniversary postcard.

Opening Hours: 10:00-22:00 (Reception Closes 20:00)

Price: Adults ¥1,800 / High & Junior High School Students ¥1,800 / Children (Elementary School Students & Younger) ¥500
*Free entry for those aged 3 and below

Price: ¥1,280 Each (Before Tax) *6 flavours

There are also beverages inspired by characters from the series.

Price: ¥1,050 (Before Tax)

There is also a special ramen dish you can order inspired by the Akatsuki, the biggest threat to the Hidden Leaf Village.

GRAND CHARIOT Hokutoshichisei 135°, a hotel and glamping facility located in the area, also opened its new Naruto-themed room on June 1, 2020.

The room, called "Hokage no Bessou" (Hokage's Villa), is renovated from one of the resort's buildings, and aims to plunge guests into the world of ninjas. The room takes inspiration from the Hidden Leaf Village and its characters, with references to the series and recreated scenes littered throughout. It also offers exclusive amenities for guests to enjoy.

Guests who stay in the Naruto room receive a free ticket to NARUTO & BORUTO SHINOBIZATO at Nijigen no Mori.

ⒸMasashi Kishimoto Scott / Shuiehsa・TV Tokyo・Pierrot

Crayon Shin-chan Adventure Park

Over at the Crayon Shin-chan shop in Nijigen no Mori, they're selling limited quantities of a "Happy Bag" full of Shin-chan merchandise, from picnic cushions to towels and more for a total of six items.


And for the summer season, the last entries to all attractions at Crayon Shin-chan Adventure Park have been extended. It's a chance to work your body while enjoying the green outdoors.

Opening Hours: 10:00-20:00 (Last Entries 19:30)
Price: Adults ¥4,480 / High & Junior High School Students ¥2,880 / Children (Elementary School Students & Younger) ¥1,180 / Seniors ¥1,440
*Free entry for those aged 4 and below. Please check the official website for weekend and national holiday prices.

Phoenix Night Walk

June 21 is Father's Day, and to celebrate Nijigen no Mori is holding an event on the day based on Osamu Tezuka's manga Phoenix. Dads can attend the event for free. The park is holding a birthday campaign for June for those whose birthdays were in March, April, and May since they were unable to go out due to isolation, as well as for those whose birthdays are in June.

Date: June 21, 2020

Time: 19:30-20:30

Price: General ¥3,300 (Junior High School Students & Older) / Children ¥1,200 (Aged 5-12)2020年6月21日(日)
営業時間:19:30~20:30(季節により異なる)
*Free entry for those aged 3 and below.

Tokyo Station's White Day Fair Loaded With Loving Gifts and Souvenirs

Tokyo Station's two shopping centresーGRANSTA, which is inside the ticket gates, and GRANSTA Marunouchi, which is outside themーare holding a White Day Fair which started the day after Valentine's Day and will run until March 14, 2020.

In Japan, Valentine's Day usually sees girls and women giving chocolate to guys and men, which can be for both friendship or love. On White Day, the opposite happens, where guys and men are expected to repay the favour. GRANSTA and GRANSTA Marunouchi have the perfect assortment of gifts and accessories that are sure to please any girls this White Day.

Tasty treats to return the favour

These visually-appealing picks are perfect for expressing your thanks to friends and coworkers.

Tokyo Station Exclusive: Mini Pigeon & Heart Biscuits – ¥880 @ Fairycake Fair (GRANSTA Floor B1F) / Available: From February 15, 2020

These cute tiny tins from Fairycake Fair are packed with crunchy and milky pigeon and heart biscuits and mini lemon yoghurt-flavoured meringues. They're a brand new product from the confectionery shop.

Tokyo Station Exclusive: Strawberry Pie Burger – ¥864 @ Kyobashi Senbikiya (GRANSTA Floor B1F) / Available: February 20, 2020 – March 14, 2020 (*30 served per day)

Adorably cut into love hearts, these pies are lovingly filled with cream, which has a subtle eggy flavour, and cream cheese

White Day Selection – ¥3,672 (Contains 9) @ Pierre Marcolini (GRANSTA Floor B1F) / Available: From March 1, 2020 while supplies last

An assortment of chocolates from popular chocolate brand Pierre Marcolini, named after the famous Belgian chocolatier, which is sure to make anyone happy. It includes a new chocolate called the "Gradation Cool."

Impress with these little gems

Here's a selection of gifts other than sweets that are great for those seeking something unique that no one else will buy.

Truffle Salt – ¥1,296 – @ DEAN & DELUCA (GRANSTA Floor B1F) / Available: Now on sale

This blended salt is a mix of summer truffle and natural sea salt. The absolute perfect gift for someone who loves cooking.

Dashi Stock – ¥1,080 @ Kayanoya (GRANSTA Marunouchi Floor B1F) / Available: Now on sale

An assortment of Kayanoya's popular "Kayanoya Dashi" and their flavour-packed "Kiwami Dashi." A great pick for those who want to return the favour with something out of the ordinary.

uka nail oil 13:00 – ¥3,300 @ FruitGATHERING (GRANSTA Floor B1F) / Available: Now on sale

Scented with refreshing mint and lemon and keeps your nails and skin nice and moist.

ecoffee cup-WILLIAM MORRIS – ¥2,310 Each @ Neue (GRANSTA Marunouchi Floor B1F) / Available: Now on sale

These beautifully stylish, textile-design cups are reusable, so you can take your coffee with you wherever and whenever.

Information

GRANSTA

Address: 1-9-1 Marunouchi, Chiyoda Ward, Tokyo (JR Tokyo Station Floor B1F-1F / Inside Ticket Gates)

Opening Hours: 8:00-22:00 (Until 21:00 on Sundays and the final day of consecutive public holidays)

*Opening hours differ from store to store

*GRANSTA's new area is open 9:00-22:00 (Until 21:00 on Sundays and the final day of consecutive public holidays)

GRANSTA Marunouchi

Address: 1-9-1 Marunouchi, Chiyoda Ward, Tokyo (JR Tokyo Station Floor B1F / Outside Ticket Gates)

Opening Hours: 10:00-22:00 (Until 21:00 on Sundays and the final day of consecutive public holidays)

*Opening hours differ from store to store

Kyary Pamyu Pamyu Turns Voice Actress in Upcoming New Crayon Shin-chan Movie

Crayon Shin-chan: Crash! Rakuga Kingdom and Almost Four Heroes is the 28th and newest anime film to enter the beloved Crayon Shin-chan series, which is set to release in Japan on April 24, 2020.

Crayon Shin-chan is a Japanese manga series written and illustrated by Yoshito Usui. It was first serialised in Weekly Manga Action in 1990, and subsequently received its first anime adaptation in 1992. Since then, it has become one of the most recognisable and loved series in Japan.

The story of Crayon Shin-chan: Crash! Rakuga Kingdom and Almost Four Heroes is as follows: For many years, a giant kingdom fuelled by doodles created by humans has been peacefully floating in the sky. As time has gone by, less and less people have been doodling, resulting in fuel supplies running critically low. As the kingdom crumbles, doodles have been falling from the sky.  As the kingdom starts to face the threat of complete collapse, the kingdom's forces soon get on the case, forcing the innocent people of earth to produce more doodles to save the kingdom. The kingdom just happens to be floating above the city of Shin-chan's residence: Kasukabe. Knowing that the lives of many are at stake, the princess of the Rakuga Kingdom entrusts the Kingdom's sacred Miracle Crayon to a hero – the five-year-old, mischievous and carefree Shin-chan. Shin-chan harnesses the power of the miracle crayon, drawing up a superhero team to save the world. Shin-chan's three drawings jump right out of the sketch book and right into action in an attempt to save the day. 

Voicing the part of the princess, who entrusts Shin-chan with saving the Rakuga Kingdom, is none other than Kyary Pamyu Pamyuーwho herself is a huge fan of Crayon Shin-chan.

Kyary Pamyu Pamyu's song Kimi ni 100 Percent (2013) was used as the 15th opening theme for the Crayon Shin-chan anime series, and maintains the record for being used the longest out of all of the series' opening themes. It was also used as the opening theme for the 2014 film Crayon Shin-chan: Intense Battle! Robo Dad Strikes Back. Kyary even appeared in the series as herself. Her history with the series has led her to being recognised as a member of the Shin-chan family.

Kyary received the offer to voice the princess in the upcoming new film after the production team heard her voice work for the character Mecchaka in the NHK Educational TV series u&i. They were impressed by the voice work, and initially didn't know it was Kyary. After finding out it was, they sent her the offer.

Kyary is a huge fan of Crayon Shin-chan and read the manga religiously. She is now taking this opportunity to challenge herself to some real seiyū anime voice acting. But it doesn't stop there either, as she will also perform the opening theme for the film too. Titled Rakugaki Ouen Taishi ("Support Ambassador for Rakugaki"), the song is centred around the Rakuga Kingdom.

Kyary and Shin-chan released some words of their own regarding this dream collaboration. Read them below.

Kyary Pamyu Pamyu | Comment

"I appeared as myself in the anime series once before, but this time I'm challenging myself to some authentic voice acting as the princess, so I hope everyone enjoys seeing a completely different side to me. I've been collecting and reading the Shin-chan manga since elementary school. Whenever I scored 100 in a test my dad would buy me a volume. I was bad at studying, but Shin-chan helped me work hard. He's like the hero who scooped me up and saved me! As a fan I'm super happy too, since this movie is based on a part from the manga series. I hope everyone who loves Shin-chan will look forward to it too!" *Translated from Japanese

Shinnosuke Nohara | Comment

"Kyary-chan, I'm super happy I get to see you again! So you're gonna be the princess who trusts me with the Rakuga Kingdom treasure, the 'Miracle Crayon,' right? I'll make sure to catch your love baton. And you're gonna be the Rakugaki Support Ambassador with me too. I'm way too excited. We're a dream combination! Enjoy yourself at the cinema."

©Yoshito Usui / Futabasha・Shinei・TV Asahi・ADK 2020

Information

Crayon Shin-chan: Crash! Rakuga Kingdom and Almost Four Heroes

Release Date: April 24, 2020

Official Website: http://www.shinchan-movie.com/

Japanese Travel Website Jalan Set To Launch Tokyo Station Fair As Cat Stalks Closer

Japanese travel website Jalan, which has been running for 30 years, is collaborating with Tokyo station's shopping centre GRANSTA for their third collaboration fair, which will run from February 15 – March 1, 2020. Travelling in Japan will be even more fun as the travel website's adorable mascot Nyalan takes to the scene in a variety of delicious foods – just what every cat person kneads!

Even more shops are participating for the third fair, which is now stretching to cover shops at Ecute Tokyo and Ecute Keiyo Street. Everything at the fair cannot be purchased from anywhere else or at any other time. From bento lunches and sweet treats to merchandise, everything is based on Jalan's adorable cat mascot Nyalan. The fair is full of the essentials to enhance the fun factor in your spring travels around Japan – fur real.

Nyalan Caramel Cream: ¥490 (Fairy Cake Fair) *Only at GRANSTA

A fluffy whipped cream Nyalan sits on top of a delicious fairy cake. Grinning from cheek to cheek, the expressions on these hand-decorated mini cake are packed with detail. The adorable Nyalan cupcake is filled with velvety homemade caramel sauce for a rich sweetness. 

Nyalan Paw-Shaped Bento: ¥880 *Only at GRANSTA

Dried katsuobushi and salmon are mixed with rice to create two different coloured paw-shaped sushi rolls. Enjoy the adorable round rolls and sides of simmered bamboo shoots and sakura mochi – pawfect for a spring outing!  

Amaou Strawberry Macaron and Nyalan Print Macaron: ¥648 (Pack of 2) *Only at DALLOYAU, GRANSTA

Nyalan print macarons were a big hit last year and now the adorable macarons are making a comeback for a limited time. The set of two macarons includes the popular amaou strawberry macaron and a vanilla macaron. This is great as a souvenir, however there are only 400 sets available so be quick if you want one!

Nyalan Doughnuts: ¥420 Each, Shiretoko Doughnut, available at Ecute Keiyo Street only

You won't be able to stop yourself from gasping at how adorable these doughnuts are. The moment you feast your eyes on the doughnuts, you won't be able to stop smiling. These sweet doughnuts are bursting with the delicious flavours of Hokkaido and would make the puurrfect quick munch when on a shopping break or a wonderful souvenir. 

Nyalan no Otetechirashi (1 pack: Approx. 12cm diameter)

【Uoriki Kaisen Sushi】 *Available only at Ecute Keiyo Street

On top of this cake-shaped sushi lies a paw made from negitoro (minced tuna). The sushi cake is made of up layers of the finest seafoods including crab and salmon. Only 20 are sold per day.

Nyalan Hand Towel: ¥880 Each, Handkerchief: ¥550 Each 【Hamamonyo】 *Available at Ecute Tokyo only

 This cute Nyalan hand towel and handkerchief are just what you need for your hot spring trip and are bound to add a sprinkle of fun to your everyday life. Enjoy spotting the different facial expressions of Nyalan in this Yokohama print design. Once you make a habit of using it every day, you won't be able to stop because it feels so nice. 

If you love cats, spice up your life with Nyalan!

Valentine's Day 2020 Gift Recommendations: Chocolates and Treats at Tokyo Station

If you're in Tokyo in the run up to Valentine's Day, and are in in need of some ideas to bestow your loved one, then you'll want to head to Tokyo Station City where they are never short of great ideas when the season of love rolls around.

From little gifts under ¥500 to more indulgent delights over ¥1,000, Tokyo Station has it all. We've picked out some recommendations ranging from chocolates to sweets and other great ideas for those without a sweet tooth.

【Under ¥500】Little gifts to hand out

Heart de Katsu Burger – ¥237 @ Tonkatsu Maisen (GRANSTA) *Available until February 14, 2020

For a limited time only, Tonkatsu Maisen's popular katsu burgers are being served in the shape of a heart up right now until Valentine's Day. If you're with your loved one in Tokyo until then, then how about enjoying one of these together?

Heart Senbei (3 Included) @ Fujimido (GRANSTA) *Available until February 14, 2020

Senbei are Japanese rick crackers, and these heart-shaped ones come as a set in black pepper, tuna mayo, and ume katsu (plum pulp and bonito flakes) flavours. Perfect for those who don't like sweet things, and great with a cup of Japanese sake.

Shizuko Chocolate (1 Included) – ¥378 @ Naruto Kintoki Honpo Kurio (GRANSTA) *Available until February 14, 2020

Kurio's potato sweet bean jelly is made from the store's sweet potato bean paste which is set and thus has the original flavour maintained. It's mixed with dark chocolate for that luxury feel as well as sweet potato skin.

Coffee Bean Chocolates (50g) – ¥432 @ Marche du Chocolat (GRANSTA)

For those with more of an adult flavour palate, these coffee beans are coated in milk chocolate. A must-have for all coffee lovers out there!

[¥500-¥1,000] Show your love with prices too good to overlook

Jelly in Puree Chocolatey in Sachinoka Strawberry & Dark Chocolate (24g) – ¥500 @ Hitotsubu Kanro (GRANSTA) *Available until March 14, 2020

Part of Hitotsubu Kanro's popular "Jelly in Puree Chocolatey" series, this limited edition flavour is made with sachinoka strawberries. Pick from four different designs.

Orangette (1 Box) – ¥680 @ Fairycake Fair (GRANSTA) *Available until February 14, 2020

Those who love a mix of chocolate and fruit will want a box of these orangettes, which exquisitely combine the bitterness of orange peel with chocolate. Exclusive to GRANSTA.

Hazelnuts & Puffs (1 Box) – ¥680 @ Fairycake Fair (GRANSTA) *Available until February 14, 2020

Two types of chocolate, hazelnut and puff, fill up a box of these treats, each with their own crunchy textures. Also exclusive to GRANSTA.

USHIO CHOCOLATL (1 Included) – ¥810-¥864 @ SHARED TOKYO (GRANSTA)

These chocolates are made simply from cocoa beans and salt. The packaging is super stylish too making them a great gift. They are limited in stock, so if you like the look of them, you'd best get in there quick.

[Over ¥1,000] High quality and luxurious indulgence

Cher Milieu – ¥1,404 @ le billet (Ecute Tokyo)

Made with rich Belgian sweet chocolate, sharp and bitter dark chocolate, and orange-flavoured sake, these raw chocolates are a welcome melt-in-the-mouth experience for Valentine's Day.

Raw Chocolate (9 Included) – ¥1,500 @ Quatre (Ecute Keiyo Street)

Each and every one of these raw chocolates is handmade with the chef's specially-selected chocolate and lots of fresh cream from Hokkaido. Every bite is a trip to chocolate paradise.

Dassai Matcha Truffles (4 Included) – ¥1,620 @ Waraku Beniya (Ecute Tokyo)

Waraku Beniya's Dassai Matcha Truffles are made with high quality Uji matcha from Kyoto, an original blend of white chocolate, and a special brand of Japanese sake.

Tokyo Station is the place to go this Valentine's Day, and there's plenty more to see in addition to what's on this list. Now is the time to give back to your loved one with a Valentine's treat.

*All listed prices include tax

7 Lucky Foods and Items From Tokyo Station To Push You Towards Success

You've studied as much as you can for your exams and prepared as much as you can for that mid-term presentation but the nerves are still getting to you. How about some lucky items to help you succeed? As the exam season is approaching, Tokyo Station's shopping centre GRANSTA is holding a fair from January 13 to February 14, selling a variety of lucky items and foods to fill you with the courage and strength you need to calm your nerves and boost your confidence.

 Katsu Sandwiches

As "katsu" also means "win", a crunchy and juicy "winning" sandwich is the perfect way to boost your confidence and energy levels.

Kinokuniya Katsu Sandwiches (3 Sandwiches): ¥430 (After Tax)/KINOKUNIYA Entrée GRANSTA Marunouchi Floor B1 (Outside ticket barriers)


A crunchy katsu sandwich with a thick slice of juicy Japanese pork – This popular katsu sandwich will provide you with the stamina you need to do that presentation.

Katsu Fillet Sandwich (4 Sandwiches): ¥880 (After Tax) / Nagoya Meibutsu Misokatsu Yabaton: GRANSTA Floor B1 (Inside ticket barriers)


A soft southern Kyushu katsu meat fillet drizzled with Yabaton's special sauce. Enjoy the juicy flavour with every bite. 

Egg and Shrimp Katsu Sandwich (1 Full Sandwich): ¥388 (After Tax) /Kyo no Gohan Wasai no Kuni: GRANSTA Marunouchi Floor B1 (Outside ticket barriers)


This pack includes a tender shrimp sandwich and a rich-flavoured egg sandwich. (Limited number sold per day)

Sangenton Katsu Sandwich Eat-In: ¥396, Take Away: ¥388 (After Tax)/ BOULANGERIE ASANOYA, GRANSTA Floor 1 (Inside Ticket Barriers)


The Sangenton Katsu Sandwich is a hearty meal that consists of pork of three origins. This is perfect to fuel up on energy before your big moment. (Limit of 40 sold per day)

Chestnut-Flavoured Talisman of Victory

Silver Bell Pancake Sandwich: ¥378 Each (After Tax)/ Colombin GRANSTA Floor B1 (Inside ticket barriers)

Chestnut-based foods as a victory treat date back to the end of the 15th century during the Warring States period of Japanese history. In this pancake sandwich, two fluffy pancakes hug a filling of delicious cream and chestnuts, creating the perfect victory snack. *Sold from January 13 – February 14, 2020

Lucky Iyokan Mikan Vinegar

Lucky Iyokan Mikan Vinegar (1:5 Dilution, 150ml): ¥1,296/ Drinking Vinegar expre・su Tokyo GRANSTA Floor B1 (Inside ticket barriers)

This mikan orange-flavored drinking vinegar is made from Iyokan mikan oranges, which is said to bring luck. "Iyokan" also means "good premonition", which is sure to provide both an energy and confidence boost. *Limited sales: From January 13, 2020 while stocks last.

Lucky Pentagonal Chopsticks Set

Lucky Pentagonal Chopsticks Set: ¥3,300/ Nihonbo GRANSTA Floor B1 (Inside Ticket Barriers)


These lucky pentagonal (gokaku) chopsticks are a play on words with the word "gokaku", which also means success. They are pentagonal right to the tip, making it easy to grip your food. This is the perfect present for your friend who is going to take an exam. Limited Selling Period: Until the beginning of March.

Tokyo Station GRANSTA is full of lucky items and foods to help you and your friends prepare for success.

Information

GRANSTA

Location: JR Tokyo Station Floor B1/1 (Inside Ticket Barriers)

Address: 1-9-1, Marunouchi, Chiyoda-ku, Tokyo

Opening Hours: 08:00 – 22:00 (Open until 21:00 on Sundays and the last days of consecutive holidays)

GRANSTAMARUNOUCHI

Location: JR Tokyo Station Floor B1/1 (Outside Ticket Barriers)

Address: 1-9-1, Marunouchi, Chiyoda-ku, Tokyo

Opening Hours: 10:00 – 22:00 (Open until 21:00 on Sundays and the last days of consecutive holidays)

*Opening hours of some shops may vary

Official Website: https://www.tokyoinfo.com/shop/mall/gransta/

Souvenirs at Tokyo Station's GRANSTA Shopping Complex Abundant For the New Year

Tokyo Station's GRANSTA and GRANSTA Marunouchi shopping complexes are holding a New Year's from December 26, 2019 to January 5, 2019 where sweets and souvenirs will be sold to beckon the new year. The items are based on the Year of the Rat in the Chinese zodiac for 2020.

Sweets and Souvenirs

Baked New Year 2020 (Contains 5) – ¥1,600 @ Fairycake Fair (Available from December 26)

Tuck into these adorable baked cookies with various celebratory designs including rats, flowers and the year 2020. They are egg flavoured and are made with caramel to create a taste similar to Japanese purin (a type of custard pudding).

 

High Grade Fresh Japanese Confection Assortment (Contains 6) – ¥1,848 @ Ginza Kanra (Available Mid-December to Mid-January)

Ginza Kanra's assortment of fancy confections are so pretty they almost seem a waste to eat, each with a variety of motifs such as a rat as well as "Gin no Suzu"ーa silver bell inside Tokyo Station that's famous as a meeting spot.

Ginza Kikunoya Fukiyose Kaiune Shikan (200g) – ¥1,998 @ Jimbocho Ichi no Ichi (Now on sale until all sell out)

This tin of assorted small sweets includes around 30 types of baked wheat bran treats and more. There's plenty to keep you going through the New Year celebrations.

Left: Eto Kokeshi Rat – ¥2,090 / Right: Mame Kokeshi Rat – ¥880 @ SHARED TOKYO (Now on sale)

Available in limited quantities only, these cute rat kokeshi dolls would look good even as decorations in small spaces. Their red and white colours add to the festive vibe as these are celebratory colours in Japan.

New Year's Card Shrimp Senbei Rice Crackers (Contains 11) – ¥1,080 @ Keishindo (Now on sale until all sell out)

Forget regular Christmas cards, hand someone one of these rice crackers instead which feature messages like "Here's to another great year" in Japanese as well as other New Year motifs.

Osechi and New Year's Bento

Houjou – ¥8,000 @ Asakusa Imahan (Available January 1 only)

Osechi is food prepared for the New Year in Japan, and this bountiful harvest includes Asakusa Imahan's famous wagyu black beef, red rice, rice with minced sea bream, and more. These are limited to 10 sets only.

Osechi Shoufuku Suzen – ¥1,800 @Sasahachi (Available January 1-3)

Another delicious mix of osechi like fish wrapped in kombu seaweed, hand-rolled sushi, and more—all of which goes down best with a cup of sake. Limited to 20 servings per day.

This is just a peek into what's available this New Year at Tokyo Station, so if you're using the station this year, be sure to stop by.

*All listed prices include tax

Information

New Year's Fair

Running: December 26, 2019 – January 5, 2020

TOKYO STATION GUIDE Official Website: https://www.tokyoinfo.com/

Top 10 Most Popular Souvenirs to Pick Up at Tokyo Station's HANAGATAYA Store | 2019 Edition

HANAGATAYA is a souvenir variety shop that opened in Tokyo Station's central passage back in July. After over 5 months of sales, the store has revealed its Top 10 most popular products based on sales.

The line-up features a selection of HANAGATAYA exclusives, as well as products from elsewhere which have received pre-sales at HANAGATAYA. You will be spoilt for choice with this selection, all of which are perfect for ringing in the New Year when travelling back home. Let's take a look.

1st Place

Banana Custard Cream – Tokyo 2020 Olympic Emblem Design (Tokyo 2020 Official Licensed Product) – Contains 8 – ¥1,134 (Tax Included)

Officially licensed by the Tokyo 2020 Olympics, these chewy cakes are made from domestic Japanese rice, and are filled with deliciously creamy banana custard.

2nd Place

Tokyo Banana Butter Madeleine (Tokyo Banana World) – Contains 4 – ¥560 Tax Included)

Exclusive to HANAGATAYA come these all-new butter madeleine's created by famous confectionery company Tokyo Banana. These baked treats feature a buttery fragrance and taste, and are made with a banana confiture and finished with fresh lemon.

*Exclusive to HANAGATAYA GRANSTA Tokyo Central Street

3rd Place

Toro One Press Chocolate Chick (Tokyo Hiyoko) – Contains 3 – ¥648 (Tax Included)

This year marks 107 since the company Hiyoko was established. The "Toro One Press Chocolate Chick" is a new confection from them: an adorable skyward-looking chick made up of three chocolate layersーeach with their own distinct flavour. At the heart of the chick is a moist chocolate paste.

*Exclusive to Tokyo Station

4th Place

Cheese Wich – Contains 5 – ¥594 (Tax Included)

These light and refreshing cheese cookies, called Cheese Wiches, are filled with a chocolate-coated melted cheese sauce. Three layers means an enjoyable amalgamation of flavours and textures.

*Exclusive to Tokyo Station

5th Place

Chocolate Chestnut Eggs (Ginza Tamaya) – Contains 4 – ¥800 (Tax Included)

"Goma Tamago" is a popular bite-sized egg-shaped confection. This chestnut flavour was created for HANAGATAYA, a mix of dark chocolate and vanilla flavoured chestnut paste.

*Exclusive to Tokyo Station

6th Place

Strawberry Cookie Sandwich (Berry UP!) – Contains 8 – ¥1,296 (Tax Included)

Berry UP! is a cute confectionery brand which creates baked strawberry sweets. Keeping with that theme, they have created a crunchy quintuple-layered cookie sandwich filled with sweet and sour strawberry chocolate.

7th Place

Shinjuku Curry Ebi (Shinjuku Nakamuraya) – Contains 6 – ¥600 (Tax Included)

If you're looking for something more savoury, then this one's for you: Shinjuku Nakamuraya's light, fluffy and melt-in-the-mouth ebi, coated in curry spices. One nibble is enough to get you instantly hooked.

8th Place

Strawberry Polvorón (Berry UP!) – Contains 6 – ¥1,296 (Tax Included)

Another entry from Berry UP!, these polvorón shortbreads are made from lots of fresh strawberries mixed with condensed milk and mascarpone, creating a subtle sweetness that's enough to have your mouth watering.

9th Place

BLUE MELTIN SAND (Tokyo Campanella) – Contains 8 – ¥1,200 (Tax Included)

What if herbal tea and cookies became its own snack? That's what Tokyo Campanella asked too, and so make it a reality. Their BLUE MELTIN SANDs are cat's tongue cookies stuffed with a herbal tea sauce that has a natural blue colour.

10th Place

Premium Cacao Full Sablé (Mary Chocolate) – Contains 18 – ¥1,350 (Tax Included)

Finally, we have a premium edition of chocolate company Mary Chocolate's Cacao Full Sablés. This one's for the adults, a sophisticated combination of bittersweet chocolate and berries.

*Exclusive to HANAGATAYA GRANSTA Tokyo Central Street

Did you enjoy this list? Which one takes your fancy the most? Whether as a souvenir for the folks back home, or as a treat to yourself to celebrate 2020, if you're in Tokyo this year then be sure to give HANAGATAYA a visit.

Tokyo Station's Top 10 Edible Winter Souvenirs as Chosen by Station Staff

There is just a month and a half left of 2019, with Christmas, the winter holidays and New Year celebrations right around the corner.

Tokyo Station City has compiled a list of must-grab food-related souvenirs and gifts at Tokyo Station. If you've ever visited Tokyo Station, you'll know that you can be spoilt for choice from the amount of goodies you can get your hands on. The list is based on the votes of 305 station staff members working at Tokyo Station who have voted on their Top 10 most recommend souvenirs to pick up this winter.

The staff members went around the shopping area and taste-tested different edible souvenirs across an 8-day period. Their early thoughts as they went down the list were how delicious or unique things were, but they soon began to take it more seriously to consider things like price, how easy an item was to carry and transport, and what certain people might like in particular.

If you're travelling to or from Tokyo Station during the holiday season, be sure to bookmark this list so you know what to buy for on the flight back home!

1st Place

Rakumadoka @ Terra Saison (GRANSTA) – 5 Set ¥1,080 (Tax Included) / 8 Set ¥1,728 (Tax Included)

This cheesecake is like a cream cheese-stuffed souffle-like sandwich. Branded with the words "Gin no Suzu" (a place in Tokyo Station) and "Tokyo," this seasonal product is exclusive to Tokyo Station. In December last year, they sold over 1,500 in a day.

2nd Place


Mount Baum Kuchen @ Nenrinya (Meihinkan) – ¥1,080 (Tax Included)

With its French bread texture, this delightful treat has a fragrant scent, is moist, and is simply delicious. It has a rich buttery taste and is baked slowly to perfection.

3rd Place

Shinjuku Curry Arare Ebi @ HANAGATAYA (GRANSTA) – 6 Set ¥600 (Tax Included)

This rich curry snack is made by Shinjuku Nakamuraya, and has a light melt-in-the-mouth texture with spicy curry seasoning and shrimp flavour. The shrimp flavour comes from a mix of shrimp powder and shrimp oil. The mix of curry powder and spices gives it a really authentic curry taste.

4th Place

Tokyo Vegetable Rice Crackers @ nomono (GRANSTA Marunouchi) – 12 Set ¥950 (Tax Included) / 18 Set ¥1,598 (Tax Included)

An assortment of rice crackers with three different flavours: great burdock, onion, and pumpkin. They have a set of 18 too which is perfect for handing out to lots of people.

5th Place

Maple Pie Sandwich @ The Maple Mania (GRANSTA) – 8 Set ¥1,944 (Tax Included)

Coated in caramel, this crunchy pie is made with a cream laced with maple sugar. Exclusive to Tokyo Station, the packaging design for this dessert is made with souvenirs in mind as it's made so it's easy to carry and take around with you.

6th Place

Kuzumochi @ Funabashiya Koyomi (ecute Tokyo) – 24 Cut (Serves 1-1.5) ¥790 (tax Included) / 36 Cut (Serves 2-3) ¥895 (Tax Included) / 48 Cut (Serves 4-5) ¥1,200 (Tax Included)

Funabashiya's kuzumochi is made with wheat starch that is fermented over a 450 day period before being cooked. It claims to be "the only fermented Japanese wagashi confection." Since it is fermented over such a long period of time, it takes on a unique flavour and elasticity.

7th Place

Cheddar Cheese Pie Sandwich @ Tokyo Milk Cheese Factory (ecute Keiyo Street) – 6 Pack ¥1,620 (Tax Included)

A crunchy pie filled with an addictive cheddar cheese cream. Exclusive to ecute Keiyo Street.

8th Place (Joint)

Premium Cacao Full Shortbread @ HANAGATAYA (GRANSTA) 8 Set ¥648 (Tax Included) / 18 Set ¥1,350 (Tax Included) / 27 Set ¥2,052 (Tax Included)

This is a premium edition of the store's Cacao Full Shortbread, made using the methods used to make the chocolate brand Merry Chocolate. The crunchy texture and full-bodied flavour of the cacao has been left as it is, while a few things have been added to make it a little more luxurious: French sour cream butter, strawberries, and raspberries.

8th Place (Joint)

Yaoki Senbei @ Mankaso (Meihinkan) – 16 Set ¥1,080 (Tax Included)

These plump senbei rice crackers are made with 100% domestic rice and come in six different delicious flavours: agodashi soy sauce, salted, shrimp, seaweed, plum and coarse sugar, and chirimen pepper.

10th Place

Tartlette Neuf @ le billet (ecute Tokyo) – 6 Pack ¥1,728 (Tax Included) / 9 Pack ¥2,592 (Tax Included)

la billet make their own tarts, and this assortment comes in a variety of flavours. Exclusive to Tokyo Station. A great option as a gift for meeting a business in Japan.

Which of these looks most tempting to you? Let us know on Twitter or Facebook!

Get Advanced Tickets to Watch the new Shin-chan movie: Crash! Rakuga Kingdom and Almost Four Heroes

Since 1990, Crayon Shin-chan has been published in Manga Action and made its debut as an anime series in 1992. Shin-chan has wooed the hearts of the entire country and even overseas. Every Crayon Shin-chan movie has become a big hit, capturing the hearts of the young and elderly, boys and girls. 

Following in the footsteps of its predecessors, next year will see the release of the 28th Crayon Shin-chan movie: Crash! Rakuga Kingdom and Almost Four Heroes on April 24, 2020. Advanced tickets with an unmissable bonus as well as movie teasers have been unveiled.

For many years, a giant kingdom fuelled by doodles created by humans has been peacefully floating in the sky. As time has gone by, less and less people have been doodling, resulting in fuel supplies running critically low. As the kingdom crumbles, doodles have been falling from the sky.  As the kingdom starts to face the threat of complete collapse, the kingdom's forces soon get on the case, forcing the innocent people of earth to produce more doodles to save the kingdom. The kingdom just happens to be floating above the city of Shin-chan's residence: Kasukabe.

Knowing that the lives of many are at stake, the princess of the Rakuga Kingdom entrusts the Kingdom's sacred Miracle Crayon to a hero – the five-year-old, mischievous and carefree Shin-chan. Shin-chan harnesses the power of the miracle crayon, drawing up a superhero team to save the world. The first hero: some briefs that haven't been changed in two days. He then attempts to draw up the love of his life: Nanako Ohara. Unfortunately, she doesn't quite look the same. Shin-chan then draws his hero Brave Pig, who Shin-chan fans will recognise from the series as the shy pig who is defeated by his shyness every time he has to save anyone. Shin-chan's three drawings jump right out of the sketch book and right into action in an attempt to save the day. 

In the film, the princess proclaims Shin-chan to be the only hero able to use the Miracle Crayon in the entire world. She hands the sacred tool to Shin-chan, entrusting him with the critical duty of serving the royal family as the court painter. The Rakuga Kingdom's Minister of Defense also makes a strong impression in the film with his masterplan to save the kingdom. As chaos unfolds on earth, it is up to Shin-chan to restore peace and order. Shin-chan joins forces with his three drawings and as troubles get knee-deep, some Shin-chan fans will be betting on the odds that Brave Pig ditches the scene like he usually does, in which case Shin-chan's odds of saving the world will be looking slimmer and slimmer.

The teaser trailer presents our favourite childhood anime in a colourful way. Crayons and coloured pencils are both the theme of the movie and the style in which the movie was made, adding a sweet finishing touch. As the Rakuga Kingdom is on the brink of destruction, Shin-chan gets to work, freely doodling away destruction with his superhero team consisting of smelly briefs, a badly-drawn dream girl, and the shy Brave Pig. 

Illustrator and manga artist Yoko Kuno, who was in charge of the character design for the Crayon Shin-chan movie Invasion!! Alien Shiriri and Burst Serving! and the animation for the ending scenes for Kung Fu Boys ~Ramen Rebellion~, is on the concept design team for this movie. 

Shin-chan joining forces with a group of doodles is an unexpected dream team collaboration that has got everyone excited. Those who purchase advanced tickets have the chance to get a limited edition Shin-chan crayon themed around the Crash! Rakuga Kingdom and Almost Four Heroes film. Look closely and you will realize that his hat is a red crayon. Just by looking at this bonus gift keyring will leave you with the sudden urge to start doodling. 

©Yoshito Usui/Futabasha Publishers Ltd./ SHIN-EI Animation・TV Asahi・ADK 20120.

Information

Crayon Shin-chan movie: Crash! Rakuga Kingdom and Almost Four Heroes 

Release Date: April 24, 2020 

Premiering at TOHO Cinemas across Japan. 

Official Website: http://www.shinchan-movie.com/

★Advanced Ticket Bonus Keyring

Promotion Event: Uki uki kaki kaki ♪ Ora ga Crayon Shin-chan!

There are a total of 75,000 Shin-chan keyrings to be given to those who purchase advanced tickets. Advanced tickets will be sold at cinemas across Japan from November 22. Only one Shin-chan keyring will be given per advanced ticket. The keyrings are limited to purchases made from movie theatres and cannot be purchased separately or resold. There are a limited number of Shin-chan keyrings available.

Advanced tickets are not available at all cinemas. Please visit the cinema's official website to find out whether it is selling advanced tickets.

Butter Sandwich Shop PRESS BUTTER SAND Releases Uji Matcha Flavour at Tokyo Station

The butter sandwich specialists over at PRESS BUTTER SAND are bringing their famous Uji matcha flavour butter sandwiches to their Tokyo Station branch on November 13.

Known as the Uji Matcha Butter Sand, this tasty snack was developed to celebrate the grand opening of the Kyoto Station branch of PRESS BUTTER SAND. Due to high demand, they've decided to take the product to Tokyo for a limited time.

The exterior is made with butter cream and carefully selected Uji matcha. You get the full rich flavour of the matcha and delicious taste of the butter at once. The sandwich itself is filled with bitter matcha butter cream and sweet caramel butter for a sumptuously smooth combination that marries temptingly with the crunchy cookie exterior.

The sandwich biscuits come in packaging that features navy Kyoto-esque artwork inspired by the characteristic cultivation method for Uji matcha which blocks out sunlight. The sandwiches themselves are individually packaged in matcha green packets to contrast with the box.

Don't miss out on a chance to enjoy the flavours of Kyoto while in Tokyo. Available at Tokyo Station only.

Information

Uji Matcha Butter Sand

Price: Box of 5 – ¥1,150 (Tax Included) / Box of 9 – ¥2,070 (Tax Included)

Shop: PRESS BUTTER SAND Tokyo Station

Available: November 13, 2019 – November 30, 2019

Official Website: https://buttersand.com