Luna Haruna Releases Visual For New Song 'Momoiro Typhoon'
The anime series Yuuna and the Haunted Hotsprings―adapted from the manga series of the same name serialised in Weekly Shonen Jump―aired its first episode on July 14. Japanese singer Luna Haruna performs the anime's opening theme song Momoiro Typhoon.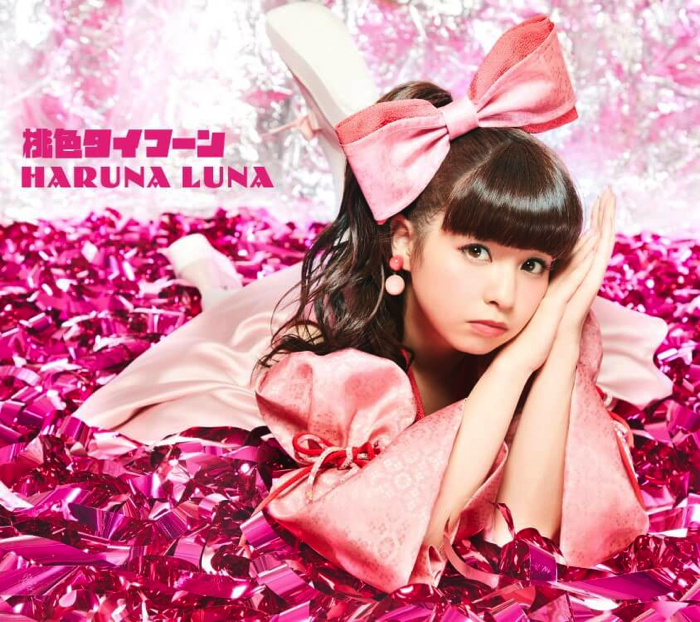 Since her 2011 debut with Sora wa Takaku Kaze wa Utau, which was the ending theme for the second season of Fate/Zero, Luna Haruna has gone onto perform numerous anime theme songs such as Overfly for Sword Art Online. She's cute, has true singing ability, and is described as a 'high spec anime song singer.'
A new visual has been released for the single in line with the airing of the show, as has the CD cover. She's blowing us away with her pink peach kawaii aesthetic like the song title.
The singer is currently holding promotional events ahead of the release of Momoiro Typhoon set to hit shelves on August 22. She will also perform at Animelo Summer Live next week and hold a solo show on October 7.
■Information
<Release Information>
"Momoiro Typhoon"
On Sale: August 22, 2018
*Opening theme song for TV anime series "Yuuna and the Haunted Hot Springs"
<Live Information>
Luna Haruna LIVE 2018 "LUNAtic Typhoon"
Date: October 7, 2018
Time: Doors 17:00 / Start 18:00
Venue: Shinagawa Intercity Hall (2-15-4 Konan, Minato, Tokyo) *5-minutes from JR Shinagawa Station's Konan Exit
Tickets: ¥6,000 (Tax Included)
*Separate drinking fee charged. Those aged 6-years-old and below not permitted entry.
★Luna Haruna Official Homepage Early Bird Tickets★
Ticket Window: July 13, 2018 at 12:00 – July 24, 2018 at 23:00
Event Performances
・July 28: Fate Night FES. 2018 @ Makuharu Messe International Exhibition Hall 9
・July 31: ANISON B.B. FESTIVAL〜2018 SUMMER〜 @ TSUTAYA O-EAST, Shibuya
・August 3: PlayStation Gaming Festival @ Taipei, Taiwan
・August 24: Animelo Summer Live 2018 "OK!" @ Saitama Super Arena
・September 15: Madman Anime Festival – Melbourne 2018 @ Melbourne, Australia
・October 13: Anime Music Live @ Mexico City, Mexico
Release Events
・July 14 at 15:00 – Entaba Akiba (Mini Concert & Handshake Session ①)
・July 15 at 12:00 – Nico Nico Honsha (Mini Concert & Handshake Session ①)
・July 15 at 18:00 – LA CITTADELLA (Mini Concert & Handshake Session ①)
・July 16 at 17:00 – Tower Records Fujisawa OPA (Handshake Session ②)
・July 21 at 18:00 – Tower Records Yokohama Vivre (Mini Concert & Handshake Session ①)
・July 22 at 19:00 – Tsutaya Ikebukuro AK Building (Mini Concert & Handshake Session ①)
・July 29 at 15:00 – HMV Esola Ikebukuro (Mini Concert & Handshake Session ①)
・August 5 at 15:30 – Sofmap Akihabara (Mini Concert & Handshake Session ①)
・August 11 at 13:00 – Animate Omiya (Handshake Session ②)
・August 12 at 15:00 – TRESSA YOKOHAMA South Building (Mini Concert & Handshake Session ①)
・August 18 at 15:00 HMV Esola Ikebukuro (Mini Concert & Handshake Session ①)
・August 19 (Time TBA) – Tower Records NU Chayamachi, Osaka (Mini Concert & Handshake Session ①)
・August 19 (Time TBA) – Tower Records Odaka, Aeon Mall 3F, Nagoya (Mini Concert & Handshake Session ①)
Event Details: http://www.harunaluna.jp/artist/Lunaharuna/info/496686
Luna Haruna Official Website: http://www.harunaluna.jp/
RELATED ENTRIES
Saekano Anime Complete EP 'glory days' by Luna Haruna Details and CD Covers Unveiled

Details have been released for the upcoming complete series EP glory days, titled after the Luna Haruna song of the same name, for the anime series Saekano: How to Raise a Boring Girlfriend. The EP will be released on October 23. The CD covers for each edition have also been unveiled, featuring Haruna clad in a gorgeous dress designed by herself.

The title track to the EP by Haruna will be used as the main theme song for the upcoming anime film Saekano: How to Raise a Boring Girlfriend Fine releasing on October 26. The song was written by Miku Sawai who sung the the season 1 ending Colorful.

The new artist photo and CD covers see Luna Haruna wearing a pure white wedding dress by her wedding dress brand LUNAMARIA. The dress is set to go on sale this autumn and will be the fifth in the series

The Limited Pressing Edition cover features an illustration of Megumi Katō from the anime series who is voiced by Kiyono Yasuno.

First Press Limited Edition copies come with a DVD featuring the glory days music video and "Making of glory days" footage. The Limited Pressing Edition DVD also includes the promo ad for the film and a mini poster. All three editions, including the Regular Edition, are coupled with original photo cards with different designs.

The EP includes 8 tracks in total including the season 1 opening Kimiiro Signal, season 2 opening Stella Breeze and film main theme glory days by Luna Haruna as well as the season 1 ending Colorful by Miku Sawai and season 2 ending Sakurairo Diary by Moso Calibration. Haruna has also covered these latter two themes for the EP.

Speaking about the main theme, Haruna said it is full of love for the show, with the lyrics looking back over the story so far. She also revealed that this is her first time collaborating with Miku Sawai on a song.

The ballad has a warm melody brought on by the string instruments and straightforward, unwavering lyrics. It can be heard in the video below.

Information

Saekano Series Complete EP 'glory days'

Release Date: October 23, 2019

First Press Limited Edition (CD+DVD): ¥2,500 (Tax Included) [VVCL 1530~1531]

Regular Edition (CD): ¥2,000 (Tax Included) [VVCL 1532]

Limited Pressing Edition (CD+DVD): ¥2,500 (Tax Included) [VVCL 1533~1534]

CD Pre-Order: https://harunaluna.lnk.to/0cSSJSuj

Luna Haruna Official Website: https://harunaluna.jp/

"Saekano: How to Raise a Boring Girlfriend Fine" Film

Release Date: October 26, 2019

Official Website: https://saenai-movie.com

Saekano Anime Series Complete EP 'glory days' by Luna Haruna Release Date Announced

Luna Haruna announced on a live stream on August 21 for the upcoming anime film Saekano: How to Raise a Boring Girlfriend Fine that she will perform the film's main theme song glory days. On the stream she was joined by film and series voice actresses Kiyono Yasuno (Megumi Katō), Sayuri Yahagi (Michiru Hyōdō), and Chinatsu Akasaki (Izumi Hashima).

Speaking about the main theme, Haruna said it is full of love for the show, with the lyrics looking back over the story so far. She also revealed that this is her first time collaborating with Miku Sawai on a song. The ballad has a warm melody brought on by the string instruments and straightforward, unwavering lyrics. It can be heard in the video below.

The song will serve as the title track for a new EP set for release on October 23 which features all of the songs from the Saekano series.

The tracklist will include the season 1 opening Kimiiro Signal, season 2 opening Stella Breeze and film main theme glory days by Luna Haruna as well as the season 1 ending Colorful by Miku Sawai and season 2 ending Sakurairo Diary by Moso Calibration.

Luna Haruna will perform a solo concert at Mt.RAINIER HALL SHIBUYA PLEASURE PLEASURE in Tokyo on November 16. Pre-sale tickets are now available to purchase on her website.

Lolita Singer Luna Haruna Announces Surprise Solo Live Performance at Most Recent Concert

Tokyo singer and lolita fashion model Luna Haruna finished her premium solo summer concert at SHIBUYA TAKE OFF7 on August 4. The concert title Lupa and Aries no gastronomie was named after her single Lupa to Aries which was released earlier this year in June and is so far only available on streaming services. Haruna performed once in the afternoon and once in the evening with a live band. She performed a total of 28 songs, including some brand new hits.

 She launched into her concert with her hit songs Stertear, Kimi Iro Signal, Stella Breeze and Overfly. She then performed her two new fairytale-themed songs Lupa to Aries and Kaiten Mokuba live for the first time. 

Afterwards, she turned to her fans and said:

"I challenged myself to something completely new this time. I want to show you all a side of me you have never seen before."

What the fans heard next was an unexpected surprise. 

She announced that she will be performing at Mt.RAINIER HALL SHIBUYA PLEASURE PLEASURE, Tokyo on November 16. The venue, packed with fans, could not contain their excitement, responding to the glorious news with cheers of joy that echoed throughout the entire room. 

Her recent release Kaiten Mokuba follows the same fairytale theme as Lupa to Aries. The beautiful harmonies created by the strings pierce through the strong and pressing beat of the song. This gothic fairytale song is appropriately titled Kaiten Mokuba (Carousel) to further emphasise the distorted feeling of being spun around in endless circles. Luna is an artist who represents the lolita scene for lolita fans worldwide. This fairytale video is where her true self comes alive. Her new, mysterious visuals are a fusion of lolita fashion and Alice in Wonderland themes. 

Luna Haruna Music Video: Kaiten Mokuba 

The head-spinning music video shows Luna in different lolita fashion outfits. Each outfit explores the depths of a different character from Alice in Wonderland. Watch Luna spin her way through five Alice in Wonderland-themed lolita dresses including the White Rabbit, the Cheshire Cat, the Mad Hatter and of course, Alice.  

Luna will also be singing the theme song for the upcoming anime film Saekano: How to Raise a Boring Girlfriend Fine, which will premiere on October 26. This isn't the first time Luna has been involved in the Saekano anime series. She performed the theme songs Kimi Iro Signal and Stella Breeze, which were the TV anime's first and second anime openings respectively. 

The anime film opening will be written by Miku Sawai, who wrote the lyrics for the TV anime's first and second ending theme songs Colourful and Sakura Iro Diary respectively. Miku Sawai and Luna Haruna have become massive sensations in the news for their anime hits. Just what kind of chemical reaction will unfold when these two heroines collaborate on the anime film's opening theme song? Please keep your eyes peeled for future updates. 

Photos: ©美澄

Information

Luna Haruna 2019 Autumn Solo Concert (Title to be confirmed)

Date/Time: November 16, 2019 Doors Open: 16:30 Start: 17:00

Venue: Mt.RAINIER HALL SHIBUYA PLEASURE PLEASURE, 

Address: Shibuya PRIME (6th floor), 2 Chome-29-5 Dogenzaka, Shibuya City, Tokyo

http://www.pleasure-pleasure.jp/index.php

Ticket Prices: ¥6,480 (after tax, designated seating only).

* You can order a maximum of four tickets per concert.

*There is also a compulsory one drink fee that you must pay upon entry into the venue. 

* Entry is not permitted for those under school age. 

Fan Club Member-limited preorder period: August 4th (21:00) ー 19th (23:59)

Luna Haruna Official Fan Club "L-67 Luna☆Station"

・General Ticket Sales period: To be confirmed.

Queries: (Sunrise Promotion Tokyo) 0570-00-3337(10:00-18:00)

Kaiten Mokuba

Available on most streaming services:  https://harunaluna.lnk.to/OWrKt0ME

Lupa to Aries

Available on most streaming services: https://harunaluna.lnk.to/ro4yd5wD

Saekano: How to Raise a Boring Girlfriend Fine

Premiere: October 26, 2019 across Japan. 

Anime Film Website: https://saenai-movie.com

Luna Haruna Official Website:  http://www.harunaluna.jp/

Concert Review: Luna Haruna, GARNiDELiA & Mashiro Ayano Perform in Mexico for Anime Music Live '18

Japanese music artists Luna Haruna, GARNiDELiA and Mashiro Ayano performed in Mexico City on October 13 for Anime Music Live 2018, a music concert celebrating music from popular anime series.

The concert took place at Auditorio BlackBerry in the capital which was packed with a crowd of around 2,000. It was planned by Japanese music label SACRA MUSIC which established itself in April 2017 and whose reach aims to extend overseas. The three artists who performed are all signed to all signed to SACRA MUSIC.

The night began with a special collaboration between GARNiDELiA vocalist MARiA, Luna Haruna and Mashiro Ayano who heated up the crowd with a cover of ClariS' Connect (2011).

The show then moved onto Mashiro's solo performance who played five songs including her hit tracks ideal white and Lotus Pain.

Next up was Luna Haruna who is set to release her first greatest hits album LUNA JOULE this November. The singer performed six songs including her debut track Sora wa Takaku Kaze wa Utau and her hit number Kimiiro Signal.

Last of the solo performances was GARNiDELiA. Vocalist MARiA was backed by fierce dancers as she performed a total of 6 songs including ambiguous and SPEED STAR.

After the three artists had completed their sets the crowd believed that was it for the program – but the words "COLLABORATION" appeared on the stage screen with Luna Haruna and Mashiro Ayano stepping on stage once more to perform Overfly.

The collaborations didn't end there however, as it was Luna and MARiA's turn to team up, performing a cover of Eir Aoi's INNOCENCE. MARiA and Mashiro then performed a cover of The Everlasting Guilty Crown by EGOIST.

Finally the three artists came together to perform oath sign by LiSA which launched the crowd into the stratosphere.

This was the first event of its kind by SACRA MUSIC to take place in Mexico and it was a roaring success.

Anime Song Singer Luna Haruna to Release Greatest Hits Album 'LUNA JOULE' on November 7

Luna Haruna has announced that she will release her first ever greatest hits album LUNA JOULE on November 7, 2018.

Her name is a very familiar one to fans of Japanese anime and games. Her career as an anime song singer began in May 2012 when she made her major debut with Sora wa Takaku Kaze wa Utau which was written and composed by Yuki Kajiura and serves as the ending theme song for season two of the anime series Fate/Zero. Since then, she has performed songs for a string of series including Sword Art Online, the Monogatari series, Saekano: How to Raise a Boring Girlfriend, High School Fleet, Yuuna and the Haunted Hot Springs and more, including games. To date she has released 3 albums, 2 mini albums and 12 singles.

Haruna also works as a model, and has combined her cute looks and solid singing skills to take to the stage. She has performed at Animelo Summer Live six times since her debut six years ago, which is the biggest annual anime music festival in Japan. She has also performed at events around the world close to 30 times.

The word 'joule' in her upcoming greatest hits album refers to a unit of energy and is supposed to encompass the energy of Luna herself. The full album title is also a reference to 'Luna juu' (るな充), a nickname the singer has given her fans. It wouldn't be wrong to call it a personal homage to those who have supported her over her career.

The album will be available in three versions: a regular edition that comes with one CD, limited edition that comes with two CDs and a Blu-ray, and limited pressing edition that comes in a box also with two CDs and a Blu-ray. The first press edition of the limited pressing edition contains a t-shirt and photo book.

Celebrate six years of Luna Haruna with a compilation of her greatest hits all in one release.

■Information

"LUNA JOULE"

On Sale: November 7, 2018

Limited Pressing Edition Box (2 CDs + Blu-ray + T-shirt + Photobook + Box Packaging): ¥8,000 (Tax Included)

First Press Limited Edition (2CDs + Blu-ray): ¥5,000 (Tax Included)

Regular Edition  (CD-Only) (First Press Packaging Available): ¥3,000 (Tax Included)

Luna Haruna LIVE 2018 "LUNAtic Typhoon"

Venue: Shinagawa Intercity Hall

Date: October 7, 2018

Time: Open 17:00 / Start 18:00

Luna Haruna Official Website: http://www.harunaluna.jp

Luna Haruna Digitally Releases New Song 'JUSTICE'

Luna Haruna's new song JUSTICE is now available for digital download.

This digital-only single is used as the opening theme song for the PlayStation®4 and PlayStation®Vita game Fate/EXTELLA LINK. The song marks 6 years since Luna Haruna provided a song for the Fate series, the last being her debut single Sora wa Takaku Kaze wa Utau. The J-pop singer is known for her cute sound, but this song flips that image on its head, instead serving up a fairly hard single.

The music video is a hardcore performance and sees Luna Haruna with a monster backing band. To commemorate the digital release, several websites are offering an alternative digital CD cover to 67 lucky people.

Luna Haruna will perform her first solo concert in almost a year titled LUNAtic Typhoon on October 7. Her 12th single Momoiro Typhoon, which serves as the opening for the anime series Yuuna and the Haunted Hot Springs, will be released on August 22. She will perform at Animelo Summer Live 2018 "OK!" the same week on August 24.

The singer will go on to perform at events in Penang in July and Mexico City in October. The Luna typhoon is looking to hit overseas this summer.

■Information

Luna Haruna – "JUSTICE" (OP Theme for PS4® and PS®Vita game Fate/EXTELLA LINK)

Released: June 7, 2018 (Digital-Only)

Download: https://harunaluna.lnk.to/justice

Music Video: https://www.youtube.com/watch?v=iJB6WJ3Y32Y

Fate Night FES. 2018

Venue: Makuhari Messe International Exhibition Hall 9

Date: July 28, 2018

Time: Open 18:30 / Start 19:30

Website: http://fes.fate-go.jp/nightfes/

Luna Haruna LIVE 2018 "LUNAtic Typhoon"

Venue: Shinagawa Intercity Hall *5-minutes on foot from JR Shinagawa Station, Konan Exit

Date: October 7, 2018

Time: Open 17:00 / Start 18:00

Tickets: ¥6,000 (Tax Included)

*Mandatory drink fee charged upon entry.

*Those pre-school age not permitted entry.

Luna Haruna Official Fan Club "L-67 Luna☆Station" – Early Entry

Entry Window: June 7, 2017 @ 12:00 – June 18, 2018 @ 00:00

Other Performances

7.7 @ Penang Anime Matsuri, Malaysia

8.24 @ Animelow Summer Live 2018 "OK!", Saitama Super Arena

10.13 @ Anime Music Live, Mexico City, Mexico

Luna Haruna Official Website: http://www.harunaluna.jp/

Luna Haruna's New Song to be Used as OP Song for Anime Series 'Yuuna and the Haunted Hot Springs'

Luna Haruna's new single, Momoiro Typhoon, will be used as the opening theme song for the forthcoming anime adaptation of Yuuna and the Haunted Hot Springs set to begin in July.

Yuuna and the Haunted Hot Springs is a manga series by Tadahiro Miura that has been serialised in Weekly Shonen Jump (Shueisha Inc.) since 2016. The voice actor and actress line-up for the anime adaptation includes Yuki Ono, Miyuri Shimabukuro, Eri Suzuki, Rie Takahashi, Ai Kakuma, Yui Ogura, and Sayaka Harada amongst others.

This will be Luna Haruna's 12th single, described by the artist herself as "a cute pop song." She's a popular artist among anime otaku as well as a huge lover of anime herself, which has set in stone her place as an anime song writer.

Luna Haruna's Comments (Excerpt)

"Yuuna and the Haunted Hot Springs is a series I want people to really have fun reading. It's packed full of girl appeal, exploring things like the cute parts about girls, giddiness and slight meanness.


"I'm so happy to have become part of this cute yet ever-so-slightly sad work.

"Momoiro Typhoon is a cute pop song that captures the essence of Yuuna and the Haunted Hot Springs, so please enjoy the song together with the series♡"

Yuuna and Luna Haruna are the ultimate tag team set to dye the upcoming summer pink.

■Information

"Momoiro Typhoon"

On Sale: August 22, 2018

Price:

Limited Pressing Edition (CD+Blu-ray) – ¥2,500 (Tax Included)

*Includes: Blu-ray, slip case packaging, photo book and photo card A.

First Press Limited Edition (CD+DVD) – ¥1,700 (Tax Included)

*Includes: DVD and photo card B.

Regular Edition (CD-Only) – ¥1,300 (Tax Included)
*Includes: Photo card C.

Anime Edition (CD+DVD) – ¥1,600 (Tax Included)

*Includes: DVD, digipak, photocard D.

'Momoiro Typhoon' Reservation Meet

・06.16 @ Tower Records Machida

・06.17 @ Tower Records Kichijoji

・06.23 @ HMV Lumine EST Shinjuku

・06.24 @ HMV LaLaport Yokohama

・06.30 @ Tower Records Ikebukuro

・07.01 @ HMV Tachikawa

*Full details to follow on Luna Haruna's official website.

Digital Single – "JUSTICE"

On Sale: June 7, 2018

*Opening theme song to the PlayStation®4 and PlayStation®Vita game "Fate/EXTELLA LINK"

Luna Haruna Official Homepage: http://www.harunaluna.jp/

'Yuuna and the Haunted Hot Springs' Official Website:http://yuragisou.com/

Luna Haruna to Digitally Release Fate/EXTELLA LINK Theme Song "JUSTICE"

Luna Haruna is a major player in the anime song industry, having sang themes for series including Fate/Zero, Sword Art Online, the Monogatari series, Saekano: How to Raise a Boring Girlfriend, High School Fleet, and more.

The next entru to her theme song discography has been announced. She is set to undertake the opening theme song to Fate/EXTELLA LINK, the latest addition addition to the Fate series set for release on PlayStation®4 and PlayStation®Vita.

JUSTICE marks 6 years since Luna Haruna provided a song for the Fate series, the last being her debut single Sora wa Takaku Kaze wa Utau. The cool rock song covers new ground for Haruna, intertwining a fast-paced feeling with a solid sound.

It will be released as a digital-only song on June 7th, the same day as when the game comes out. The opening clip of the game has been released featuring Haruna's new track, as well as a lyric video showcasing her new look for the release.

Be sure to check out the videos along with JUSTICE.

■Information

Luna Haruna – "JUSTICE" (OP Theme for PS4® and PS®Vita game Fate/EXTELLA LINK)

On Sale: June 7, 2018

Tour Schedule:

Luna Haruna Talk & Mini Live "JUSTICE"

▶︎Tokyo

Venue: TOKYO CULTURE CULTURE Shibuya (Shibuya, Tokyo)

Date: May 2, 2018

Time: 18:30 OPEN / 19:00 START

Venue Website: http://tokyocultureculture.com/

▶︎Osaka

Venue: Flamingo the Arusha (Namba, Osaka)

Time: May 3, 2018

Time: Daytime – 13:00 OPEN / 14:00 START & Evening – 17:00 OPEN / 18:00 START

Venue Website: http://www.flmg.jp/

Luna Haruna Official Website: http://www.harunaluna.jp/

Fate/EXTELLA LINK (PlayStation®4 and PlayStation®Vita): http://fate-extella-link.jp/

Check out the stop motion animation music video for Luna Haruna's new single "KIRAMEKI☆ Lifeline"!

Anisong artist Luna Haruna has sung a countless number of popular hit anime theme songs. Her new single "KIRAMEKI☆ Lifeline" will be released for sale on 8th November. The short version music video has now been released!

KIRAMEKI☆ Lifeline (Music Video / Short Version)

 The whole music video was created frame-by-frame. The white background of the video reflects the vocals of Luna Haruna, giving a pantomime vibe. Each frame was displayed on the monitor for editing, creating a cute animation that runs as if it were an anime. An overwhelming amount of effort went into creating this video. This video reflects a world of chaos where the 2nd dimension meets the 3rd dimension.

KIRAMEKI☆ Lifeline is the ending theme song for the new, cool anime series "URAHARA", which launched this month. Luna Haruna has also stepped up to the challenge of being a voice actress for the main character of this series. The song features Yuusuke Orita (trumpet) and Junnosuke Fujita (saxophone) from the energetic jazz band "TRI4TH". This is a battle between a jazz horn section, guitar rock and a digital sequence – a whole new world of music has unfolded in this one song!

The coupling tracks include the fresh and beautiful "Baby, maybe" (the theme song for TOKYO MX / MUSIC ON! TV "LisAni! Navi"), and "Flutter", which explores the divergence of the real and virtual world.

Luna Haruna's third album "LUNARIUM" that was announced in June will now be the base for her one man live that will take place on Sunday 22nd October. This will include her first ever live performance of KIRAMEKI☆ Lifeline so please don't miss out!

The charming and cute Luna Haruna singing a wicked and feisty song is something you don't want to miss!

■Information

Luna Haruna's new single "KIRAMEKI☆ Lifeline"

~ Ending theme song for TV anime "URAHARA"

Release date: Wednesday 8th November 2017

First-run limited edition version: CD+DVD / VVCL1118-9 / \¥1,481 + tax

Includes original photo card A

Disc 1 [CD]

KIRAMEKI☆ Lifeline
Baby, maybe
Flutter
KIRAMEKI☆ Lifeline (Instrumental)

Disc 2 [DVD]

・KIRAMEKI☆ Lifeline (Music Video)

・The Making of "KIRAMEKI☆ Lifeline"

Regular version:CD only / VVCL1120 / ¥1,204 + tax

○ Includes original photo card B

KIRAMEKI☆ Lifeline
Baby, maybe
Flutter
KIRAMEKI☆ Lifeline (Instrumental)

Limited edition version (anime CD):CD+DVD / VVCL1121-2 / ¥1,389 + tax

○ Hand drawn illustration digipak

○ Includes original photo card C

Disc 1 [CD]

KIRAMEKI☆ Lifeline
Baby, maybe
Flutter
KIRAMEKI☆ Lifeline (TV Size)

Disc 2 [DVD]

・TV anime "URAHARA" ending theme song video without credits

Live performance information:Luna Haruna LIVE 2017 "LUNARIUM"

Sunday 22nd October EX THEATER ROPPONGI Doors open: 15:30 / start time: 16:30

Tickets:¥5,000(price including tax・separate compulsory drink fee: ¥500)