Horizon Tokyo: A Restaurant Opening in Shiodome With a 270° Panoramic View
Horizon Tokyo is a new restaurant and bar set to open on August 31 on the 47th floor of Caretta Shiodome, a shopping and dining centre in the Shiodome area of Minato, Tokyo.
Floor 47 is the top floor of the towering complex, standing at 210m high. Upon opening the doors, you'll first be greeted by the bar where you can enjoy drinks in a stylish environment.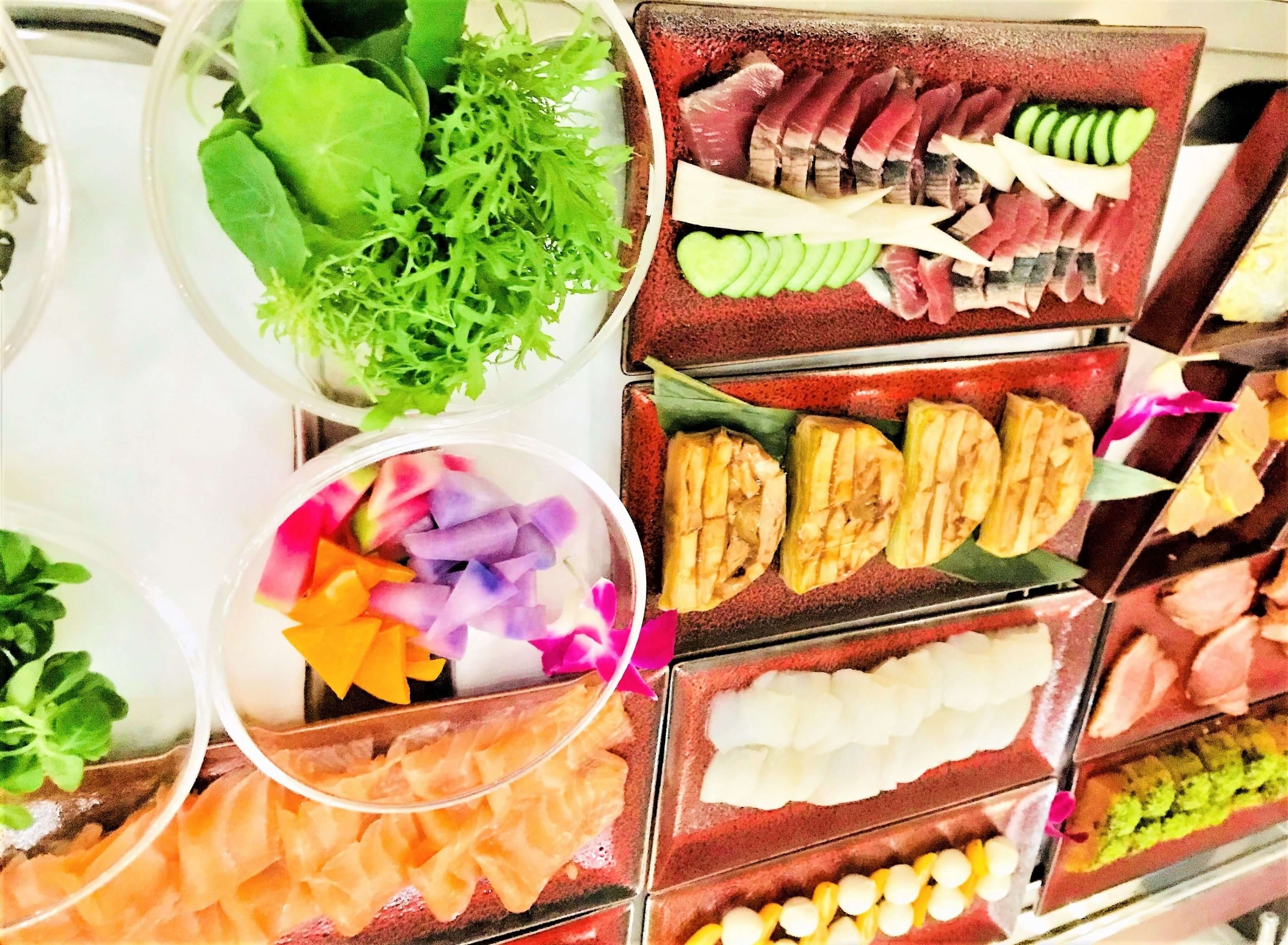 After enjoying a drink, you can head to the restaurant area which serves authentic French cuisine. Once seated, you can choose to order a range of hors d'oeuvre that arrives on a trolley. Each ingredient selected by the customer is catered towards every person. There are 18 appetisers to choose from with a selection of hot and cold foods. Main dishes are made with carefully selected seasonal ingredients from Japan. The quality and preparation methods stay faithful to French cuisine.
The restaurant's 270° panoramic view offers sights from Tokyo Skytree to the Rainbow Bridge which can be gazed at while enjoying your dinner.
Horizon Tokyo's speciality dishes are a specially made roast beef and bouillabaisse both created by head chef Omura.
The roast beef is farmed in Japan and is cooked carefully on a low heat at 74℃ giving it a soft and juicy texture.
The bouillabaisse is made with white fish, vegetables and wine together with orange skin, pernod, saffron and other ingredients all cooked into a soup with sea ruffe, sea perch, spiny red gurnard, homarus lobster and mussels.
There are also 20 desserts to choose from made by an award-winning pastry chef.
If you're looking for fine dining with a romantic view of Tokyo, then check out Horizon Tokyo.
■Information
Horizon Tokyo
Opening: August 31 ,2018
Address: Caretta Shiodome 47F, 1-8-2 Higashi-Shinbashi, Minato, Tokyo
Business Hours: 11:30am-11:00pm (Drinks Last Orders 10:30pm / Food Last Orders 9:00pm)
Closed: New Year's Holidays (January 1 – January 2)
TEL: 03-6280-6870
Website:  https://horizon.tokyo
RELATED ENTRIES
Peter Luger Steak House Opens First Japanese Branch at Ebisu Garden Place

Hailing originally from Brooklyn, the 130-year-old Peter Luger Steak House has announced the opening of its first-ever Japanese branch which will welcome customers at Ebisu Garden Place in Tokyo this September with its 3-storeys of red brick.

Peter Luger is credited with spreading the mouth-watering wonder of dry-aged beef steak to the world which has made the restaurant's name globally famous. The restaurant of course wields a Michelin Star and has been featured high on the Zagat Survey for over 30 years.

The secret behind Peter Luger's signature ingredient

The restaurant's beef fillet and New York strip are signature items on the menu, both of which are made from porterhouse steak. Their steak is also made from USDA Prime beef which is dry-aged by hand to intensify the flavour and aroma.

The porterhouse is placed directly onto the broiler and seasoned solely with salt. The steak is flipped only once during the broiling process. A knob of melted butter is added to a serving platter and the steak is sliced atop it. It's then placed back into the broiler for a few minutes depending on the doneness requested by the customer. It's this process that gives Peter Luger's steaks their deliciousness. 

 

Brooklyn red brick building and theatre decor

The Japanese branch takes inspiration from the Brooklyn restaurant with its red brick exterior.

The first floor is home to the bar where customers can enjoy food and cocktails. There's also a takeout shop with gifts and other items.

The second floor is the spacious dining space which is home to Peter Ruger's first-ever open kitchen. The third floor is another seating area with balcony-like seats so you can look out over the city.

There are seven private dining rooms of varying sizes for those looking a little more intimacy and privacy. The restaurant's lighting was also designed by a New York designer.

Information

Peter Luger Steak House Tokyo

Grand Opening: September 9, 2021

Address: 4-19-19 Ebisu, Shibuya, Tokyo

Bookings: From August 2021

Peter Luger Steak House Japan Official Website: https://peterluger.co.jp/

Ginza's Italian Restaurant FARO Earns Michelin Star

FARO, an innovative Italian restaurant in Ginza, Tokyo, has earned itself a Michelin Star in Michelin Guide Tokyo 2021 which went on sale on December 10, 2020.

Located on the 10th floor of the Tokyo Ginza Shiseido Building, the restaurant offers a taste of contemporary Italy, fusing tradition and innovation with a menu that incorporates Japanese ingredients and culture for an original dining experience.

Chef's Special: Potato spaghetti

The individual credited with the creation of a new food culture is FARO's executive chef Kotaro Noda who is the only Japanese person to own two Michelin-starred restaurants in Italy. He has been at the forefront of the Italian cooking world for the past 20 years.

Vegan Menu: Daikon Mochi [Winter Season Item]


Flower Tart

FARO puts a lot of work into its array of colourful vegan courses. These courses aren't only aimed at vegans either – they are available to anyone wanting to eat delicious and healthy food.

The restaurant is also a display of Japanese craftsmanship, with all cutlery, crockery, table accessories, and more made using traditional Japanese methods, like the lattice work on the doors from Niigata Prefecture, the Tajimi and Arita ware, fabrics from Imabari, Edo kiriko cut glasses, and more.

The decor of FARO is an elegant and stylish fusion of both Japanese and western tastes, with a colour gradation representing the earth, sea, and sky. This colouring offers a completely different dining in both the daytime or during evening hours.

Information

FARO
Address: 8-8-3 Ginza, Chuo-ku, Tokyo

Opening Hours: [Lunch] 12:00-13:30 / [Dinner] 18:00-20:30

Closed: Sundays/Mondays/Mid August/New Year Holidays
TEL: 0120-862-150 / 03-3572-3911
Official Website: https://faro.shiseido.co.jp/ 

SOAK: Tokyo's New Entertainment Restaurant & Bar Opens Bookings

Japanese creative company BAKERU has opened bookings for the new entertainment restaurant and bar SOAK which is set to open on November 13, 2020 on the top floor of MIYASHITA PARK's new brand hotel "sequence MIYASHITA PARK" in Shibuya, Tokyo. The restaurant will served up a 'Japanese innovative' menu made by Takeshi Nagashima of Nishiazabu 81 and Hideaki Nagaya of L'Effervescence.

An otherworldly restaurant and bar serving Japanese innovative cuisine

"BUILD NEO TOKYO" is the theme of SOAK. SOAK welcomes by Takeshi Nagashima of Nishiazabu 81 which delivers performance style-entertainment to customes, and Hideaki Nagaya of L'Effervescence, who was chosen for "JAPANESE CUSINE TOP 5 CHEF IN HONG KONG." Bartending will be Takashi Goto who has worked as the main bartender at Sake Bar DECIBEL in New York and Shampoo in Shinjuku Golden Gai.

An event and party space which can hold up to 100 people

Located just a 3-minute walk from Shibuya Station, SOAK can be used as a party and event space with a maximum capacity of 100 people whether it be a wedding reception or a gathering of friends, family, or business, as well as for events, catering to any and every need. The space was designed by Noiz, a leading interior designer in Japan. The monuments were designed by contemporary artist Akira Yoshida, while the audio design is by Acoustic Engineering and the music is selected by Hirokazu Yamasaki from the post-rock and instrumental band Toe.

OYU: The rooftop terrace offering a panoramic view of Shibuya

Take in a panoramic view of Shibuya atop the rooftop terrace, and enjoy the pool either in the sunlight or shrouded luxuriously in the night with gorgeous illuminations and a glass in hand.

The pre-opening is set for November 13, 2020, but this is subject to change depending on the state of the pandemic.

Information

SOAK

Pre-Opening: November 13, 2020

Address: MIYASHITA PARK North Floor 18F, 6-20-10 Jingumae, Shibuya, Tokyo

Opening Hours: 17:00-24:00 (Last Orders 23:30)

Closed: Mondays

TEL: 03-6427-9989 (17:00-22:00)

Official Website: https://soaks.tokyo/

Sip Sparkling Wine and Other Drinks Among Tokyo's Nightscape With Sarabeth's HIGH TEA TERRACE NIGHT

The Tokyo branch of New York-based restaurant chain Sarabeth's has announced a special autumn event that goes by the name 'HIGH TEA TERRACE NIGHT.' Set to run from September 23 to October 31, customers will be able to sit on a rooftop terrace in the evening with Tokyo's towering cityscape surrounding them while drinking sparkling wine and other all-you-can-drink free-flow alcoholic beverages—high tea style.


High tea refers to post-dinner evening tea time. At Sarabeth's, customers can look forward to dining on a special set menu for grown-ups with alcohol and other treats.


High Tea Style Set Menu With Free Drink | ¥5,000 (Before Tax)

Served on an afternoon tea stand, tuck into six different appetisers, meatball sliders, and truffle flavoured French fries. For the main dish, there's steak made in a red wine sauce and boletus mushrooms. Free drinks include sparkling wine, red and white wine, beer, high balls, cocktails, soft drinks, and more.

Feel the evening breeze of autumn while indulging in a special high tea experience in Tokyo.

Information

Sarabeth's Tokyo – HIGH TEA TERRACE NIGHT

Running: September 23, 2020 – October 31, 2020

Location: Sarabeth's Tokyo

Address: 1-8-2 Marunouchi, Chiyoda-ku, Tokyo

Serving Hours: 17:00-20:30
TEL: 03-6206-3551
*Free -flow drinks are all-you-can-drink for 90 minutes

*Reservations required by 16:00

Official Website: http://www.sarabethsrestaurants.jp/

Harajuku's New Carbonara Restaurant Serves Pasta Japanese Style

A new spaghetti carbonara restaurant by the name of Nama Carbonara opened in Harajuku, Tokyo on September 17, 2020.

The restaurant opened in the same building as Harajuku's popular fresh cream shop MILK and bubble tea shop Mot Tram. The restaurant makes its own fresh flat pasta everyday and uses fresh, rich cream sourced from Hokkaido.

The current menu lineup consists of six dishes, from classic carbonara to Japanese twists. Let's take a look at some of them.

Classic Carbonara | ¥790

Walleye Pollack Roe Japanese Carbonara | ¥1,090

Freshly Grated Cheese & Bacon Carbonara | ¥1,090

Seafood, Avocado & Basil Carbonara | ¥1,190

Discover a brand new world of carbonara like never before at Nama Carbonara in Harajuku.

Information

Nama Carbonara (生カルボナーラ専門店 原宿店)

Grand Opening: September 17, 2020

Address: THE SHARE 1F, 3-25-18 Jingumae, Shibuya, Tokyo

Opening Hours: 11:00-19:00 (Last Orders 18:30)

TEL: 03-5772-8858

Official Website: http://www.opefac.com/

Dine at Harajuku's New Tarako Spaghetti Restaurant Tokyo Tarako Spaghetti

Tokyo Tarako Spaghetti opened its all-new, second branch in Harajuku Omotesando on July 31, 2020. The restaurant opened its first branch back in January this year.

To commemorate the opening of the new restaurant, it is serving up two brand new tarako (cod roe) spaghetti dishes made with Japanese dashi.

Tarako & Kombu Umami With Dashi Spaghetti | ¥990 (Before Tax)

The first new dish is a combination of tarako, kombu, and dashi spaghetti. This dish adds a Japanese flair to it by combining tarako spaghetti with tarako boiled in soy. The full flavour of the kombu is extracted when the dashi is poured over, creating an irresistible flavour.

Three Fish Egg Tarako Spaghetti | ¥1,390 (Before Tax)

The second new dish on the menu is the "Three Fish Egg Tarako Spaghetti" which combines lots of tarako with toppings of salted salmon roe and flying fish roe. There's a whopping 100g of fish eggs on there, so you won't be going hungry with this filling, colourful serving of spaghetti.

Discover new kinds of tarako spaghetti dishes at Tokyo Tarako Spaghetti Harajuku Omotesando.

Information

Tokyo Tarako Spaghetti Harajuku Omotesando

Address: MS Bldg. 2F, 6-7-16 Jingumae, Shibuya, Tokyo

Opening Hours: 11:00-23:00 (Last Orders 22:00)
TEL 03-6803-8688

Official Website: https://www.tokyotarako.com

Tokyo's Famous Blue Note Tokyo Jazz Club Creators Launch Online Dinner Service

BLUE NOTE JAPAN Co., Ltd. launched an online store called "STAR TABLE" on August 5 which gives lets customers enjoy the same dinner experience as the company's restaurants from the comfort of their own home. BLUE NOTE JAPAN operates the entertainment business, restaurant business and bridal business of live restaurants such as the famous Blue Note Tokyo, a jazz cafe in Aoyama.

The first menu line-up on the website is "Home Dinner Course vol.1."

Weekend Dinner Course vol.1 | Serving: August 2020 – October 2020
Dishes: 5 | Price: ¥8,400 (Tax Included/Shipping Fee Separate) | Serves: 1

Home Dinner Course vol.1 is a full dinner course with a French taste which customers can warm up and arrange at their home, resulting in a meal so tasty they will feel like pro chefs themselves. This is the perfect way for busy people working remotely or people who aren't good at cooking to treat themselves from the comfort of their own home. The meal can also be cooked for get-together dinners with family.

The "Weekend Dinner Course" is the umbrella name for this service which will introduce a new course every three months. The next course, "vol.2," will be served in November. BLUE NOTE JAPAN is planning to introduce desserts and other items to the line-up.

Blue Note Tokyo is also live streaming music performances from the restaurant from fantastic artists so that customers can enjoy the full Blue Note experience.

With social distancing measures and other restrictions in place, this is a great service for people to enjoy a dining experience while staying safe.

THE AOYAMA GRAND HOTEL to Open on the Former Aoyama Bell Commons Grounds This Summer

THE AOYAMA GRAND HOTEL in Aoyama, Tokyo will officially open on August 5, 2020. Set to be a new landmark of Tokyo as "a hotel where you have fun," the establishment will house 42 rooms and a restaurant which serves everything from food around the world to authentic Japanese cuisine. Table bookings for the restaurant opened on July 1, 2020.

THE AOYAMA GRAND HOTEL is opening on the former Aoyama Bells Commons building which is just a 3-minute walk from Gaiemmae Station. The hotel is managed by Plan・Do・See who also manage 6th by ORIENTAL HOTEL (Yurakucho), ORIENTAL HOTEL (Kobe)< WITH THE STYLE (Fukuoka), THE LUIGANS (Fukuoka), and more.

Gaiemmae in Aoyama is a hub for fashion and culture in Japan which is visited by people all over the world. THE AOYAMA GRAND HOTEL will slot nicely into place in the area, serving a timeless experience with its polished and relaxing atmosphere and incredible restaurant.

ROOM

All guest rooms are fitted with a unique mid-century modern style design that maintains both the welcoming vibe of the region and brings a contemporary feel. Rooms are made to offer an experience akin to living there, where guests can look forward to indulging all their senses.

The bathroom amenities offered are provided by Oltana, making this the first hotel in Japan to stock the company's products. The items were developed specially for THE AOYAMA GRAND HOTEL and blend essential oils with Japanese fermentation methods. Everything from the raw materials to the finish product is made in Japan, and all are made sustainably and ethically.

RESTAURANT

Welcoming guests at the hotel entrance is THE BELCOMO on the fourth floor which offers a delicious casual dining experience whether it be for lunch, dinner, coffee, or an evening drink.

On the same floor is SHIKAKU, a counter-style restaurant serving authentic and seasonal Japanese food that is prepared before guests' eyes with fresh ingredients.

And hidden on the 19th floor where the guest rooms are located is Aoyama Sushi Kanesaka, a sushi bar that serves exquisite sushi courses made with artisanal care and the utmost care.

Opening on the hotel's top floor this autumn too is TRATTORIA ANDREA ROSSI, a classic Italian restaurant which will serve simple yet delicious dishes, wines, and desserts prepared in front of customers. On the same floor, a rooftop bar called THE TOP will also open where you can enjoy seasonal original cocktails, specially-selected wines, champagnes, and more.

Information

THE AOYAMA GRAND HOTEL

Address: 2-14-4 Kita-Aoyama, Minato-ku, Tokyo

Rooms: 42

Price: ¥60,000-¥120,000 (2 people for 1 room)

Check In From 15:00 / Check Out By 13:00

Official Website: https://aoyamagrand.com/en/

NoMad Grill Lounge: Gaze Across Tokyo's Nightscape at Akasaka's Rooftop Beer Garden

Steak house NoMad Grill Lounge has opened its beer garden atop its rooftop terrace which offers an unbroken view of Tokyo's nighttime scenery.

The terrace spans 330m² across and is equipped with a roof in case of rain. There, customers can enjoy a delicious meal with a great drink, making it a perfect spot for dates, dinners, or simple get-togethers. The modern and stylish food is made using ingredients from Japan, such as their exquisite wagyu steak which is fried New York style and can be paired with a delicious glass of wine specially selected by the restaurant's sommeliers.

¥8000 Meal Plan

¥15,000 Meal Plan

NoMad Grill Lounge's beer garden plans are popular every year. All plans come as a set with the restaurant's super popular mini burgers. There are four plans to choose from, each with varying prices.

¥5,500 Lunch Beer Garden Plan

The lunchtime-exclusive beer garden plan is a new introduction to the restaurant.

Enjoy a great meal and drink while gazing out across Tokyo's nighttime view.

Information

NoMad Grill Lounge
Address: Tokyo Garden Terrace Kioicho 4F, 1-3 Kiochoi, Chiyoda Ward, Tokyo
TEL: 03-5226-1129
Official Website: http://nomad-grill-lounge.com

Blue Bottle Coffee to Open New Cafe in Tokyo's Hiroo District

Blue Bottle Coffee Japan is set to open a new cafe inside "THE RESTAURANT," a speciality restaurant hall in Hiroo, Tokyo, on June 11, 2020.

THE RESTAURANT is a two-floor fusion of food and wellness that caters to work culture and business people. The food hall is a collection of master chefs spearheading 17 popular restaurants known both throughout Japan and abroad. It offers great food in a casual business setting.

THE RESTAURANT's grand opening is set for July 20, 2020, but Blue Bottle Coffee Hiroo Cafe will open before that on June 11, 2020. They will of course serve delicious cups of hand drip speciality coffees, as well as the first ever "Blue Bottle Coffee Pale Ale" which was co-developed by Blue Bottle and Ise Kadoya Brewery from Mie Prefecture.

COFFEE PALE ALE: ¥750

The unique "COFFEE PALE ALE" steeps Blue Bottle's "Three Africas" coffee beans in Ise Kadoya Brewery's famous pale ale which has won many awards in beer contests around the world. When yyou take a sip, you get a fresh citrus aroma combined with a bitter combination of the coffee roast and sharp beer, making for a delightfully refreshing summertime beverage. The pale ale, served draft, goes well with the cafe's tartine sandwiches.

Blue Bottle Coffee Hiroo Cafe will also sell limited edition eco bags, exquisite chocolate, and more. The cafe is a great option for brunch or a takeout latte, so be sure to pay it a visit when going to Hiroo.

Information

Blue Bottle Coffee Hiroo Cafe
Address: THE RESTAURANT 1F, 5-4-16 Hiroo, Shibuya, Tokyo

Opening Hours: 8:00–22:00

Access: 1-minute on foot from Hiroo Station's 2nd exit

BLUE BOTTLE COFFEE Official Website: https://bluebottlecoffee.jp
BLUE BOTTLE COFFEE Official Online Shop: https://store.bluebottlecoffee.jp/

AKOMEYA TOKYO in la kagū: Shopping Centre Celebrates 1st Anniversary With New Products

It's been one year since AKOMEYA TOKYO in la kagū opened in Tokyo in March 2019, and to celebrate, the shopping centre is releasing lots of new products for guests to enjoy starting on April 8, 2020.

AKOMEYA TOKYO in la kagū, the flagship store of AKOMEYA TOKYO, is celebrating its 1st anniversary with a new bigger and better product line-up. At the end of 2019, the new AKOMEYA Shokudo restaurant opened, and AKOMEYA TOKYO in la kagū began selling fresh vegetables and introduced AKOMEYA TOKYO's first line of Western-style clothing.

Floor 1F

AKOMEYA TOKYO in la kagū has upped its variation of food products, including a rice, vegetables, nuts, condiments, and more.

AKOMEYA Shokudo Kagurazaka to Open On April 1st

Seasonal Kobachizen – ¥2,200 (Before Tax)

Sweet and Sour Chicken & Vegetable Gozen – ¥1,500 (Before Tax)

The "Seasonal Kobachizen" is served with fresh white rice and a wide range of deliciously-made ingredients and condiments. There is also a line-up of classic Japanese food too available casually as self-service.

Desserts – From ¥700 (Before Tax)

Enjoy teatime too with AKOMEYA Shokudo Kagurazaka's dessert line-up. It will be a great place to pop into if you're strolling around Kagurazaka or doing some shopping.

*AKOMEYA Chubo will be open until March 29. It will close on March 30 and 31 for refurbishment before reopening on April 1 as AKOMEYA Shokudo.


More Details: https://www.akomeya.jp/shop/pg/1lakagukouji

Fragrant Smoked Food Products

Over 20 new smoked food products will be introduced made using special cooking methods. The cashew nuts, pistachios, spices, and coffee beans are smoked without any heat going into them before being smoked again inside a drum-shaped mixer to ensure every grain is coated. The soy sauces, oils, and dressings also have very tiny smoke bubbles in the liquid. Everything in the line-up is rich in smoky flavour

The Hive and Barrow's Vegetables

The Hive and Barrow is a husband and wife company which moved from the United Kingdom to Chiba Prefecture in 2010. With no agricultural experience, they were able to clear land at a mountain and begin producing a wide variety of organic vegetables outdoors in nature. The eye-catching colours of their produce, as well as its rich smell, is proof of their love and dedication to grow incredible vegetables. They sell fresh veg everyday, as well as exquisite hummous, soup bases, pickles and more, all using their fresh produce.

Floor 2F

The second floor houses Japanese lifestyle products, with a fun line-up that encourages the enjoyment of picking something out.

Western-Style Clothing to Dress Up Your Day

The clothing line-up offered on the second floor of AKOMEYA TOKYO in la kagū is not tied down by trends. It's a collection for when you want to look chic and polished offered by made-in-Japan brands that are dedicated when it comes to quality. The items are inspired to make you feel happy when you put them onーso find your favourite style.

Stocked Brands:
Alwel / ANSPINNEN / Catworth / dahl'ia / fruits of life / JOHN SMEDLEY / les Briqu'a braque / MANTERO / MATRIOCHIKA / NAPRON / R&D.M.Co- / Yarmo

Japanese Accessories

Enjoy a collection of brand accessories that boast tradition and craftsmanship from all across Japan. Each and every item is handmade with love and care by artisans, and without stereotypical designs in mind, so you can adorn yourself with originality.

Stocked Brands:

HARIO Lampwork Factory / NAGAE+ / TRIPLE O

As part of the anniversary celebration, those who spend over ¥3,000 (tax included) at AKOMEYA TOKYO in la kagū from April 8 will receive a limited-edition tea towel. These are limited in stock and won't be available once all are given out.

Shiseido Parlour to Open New Restaurant at WITH HARAJUKU in Tokyo

Shiseido Parlour, a pioneer of Japanese-style Western cuisine, has announced that it is opening its new restaurant and lounge Shiseido Parlour The Harajuku on the 8th floor of WITH HARAJUKU, a shopping centre located in front of Harajuku Station in Tokyo, on April 25, 2020.

Goshu no Sosai With Seasonal Ingredients

Main Dish

Shiseido Parlour The Harajuku breathes new life into the Japanese-style Western cuisine that has been cultivated in Ginza for 100 years, serving up a new prix fixe-style fixed price menu that elevates the taste, smell, and appearance of the seasonal ingredients used, from a Japanese way of thinking. This food can be enjoyed with a glass of one of the main wines selected by the restaurant's sommeliers, high-quality tea, and more.

Meals are enjoyed even more by the view offered at the restaurant, where you can see shrine groves of Meiji Jingu Shrine.

Main Dining

Forest Dinner (Chef's Recommendation) – ¥12,000 (Tax Included)

The design concept for the restaurant interior is forests. The restaurant promises a relaxing atmosphere like that of being wrapped amongst the mighty trees of the woods, the cool air blowing, and the rays of the sun spilling through the trees.

The interior design was created by Kazuya Ura, a Japanese architect who was involved with the building plan for the Kyoto State Guest House. The restaurant lounge features glass art on the wall which captures the image of sunlight filtering through the trees. This was created by Japanese glass designer Ikko Itabashi.

Lounge

The chic red lounge offers a view of the garden terrace and faces the direction of Akasaka. Tuck into appetisers and desserts and enjoy sipping on a drink. This is a great place to sit after your meal or for meeting up with someone.

If you're visiting Harajuku during your trip to Japan, why not pop into the new Shiseido Parlour The Harajuku?

Information

Shiseido Parlour The Harajuku

Address: WITH HARAJUKU (Floor 8F), 1-14-30 Jingumae, Shibuya, Tokyo
Opening Hours: 

Dining/Lunch: 11:30-15:30 (Last Orders 14:00)
Dinner: 18:00-22:00 (Last Orders 20:30)
Lounge: 11:30-22:30 (Last Orders 21:30)

Closed: Mondays (Except on public holidays), and closed April 27, 2020
Official Website: https://parlour.shiseido.co.jp/en/index.html