Babyraids Japan Member Rikako Oya's #OOTD (July 2018)
Rikako "Ricopin" Oya is the leader of style in Babyraids Japan, a five-member idol unit. This is her featured article series in which she delivers the latest fashion from Japan. The theme for July 2018 is 'Sports Mix.' Ricopin will showcase three different colourful sporty trending styles as well as one of her own personal favourite co-ords right now.
90's sports style with vivid colour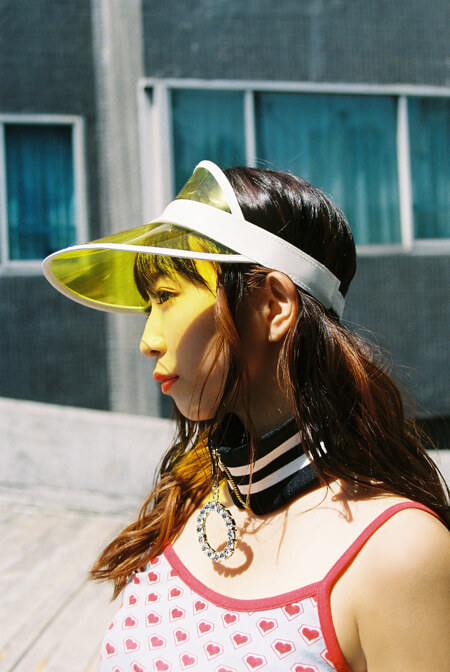 Mixing colour sports items like a jersey pants, sun visor and lined clothing is in right now. Ricopin is also donning a pop camisole and rustic accessories to give us that 90's vibe.
one spo: Sun Visor ¥2,500, Line Choker ¥2,900, Sandals ¥5,900 / KOL ME BABY Shibuya 109: Jersey Pants ¥3,800
An unexpectedly girly parker one piece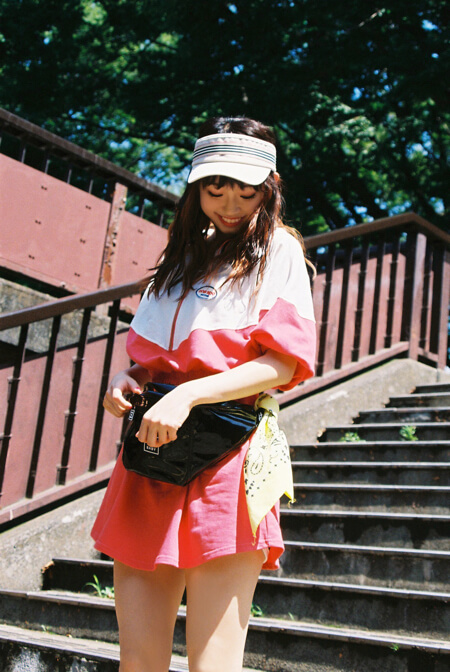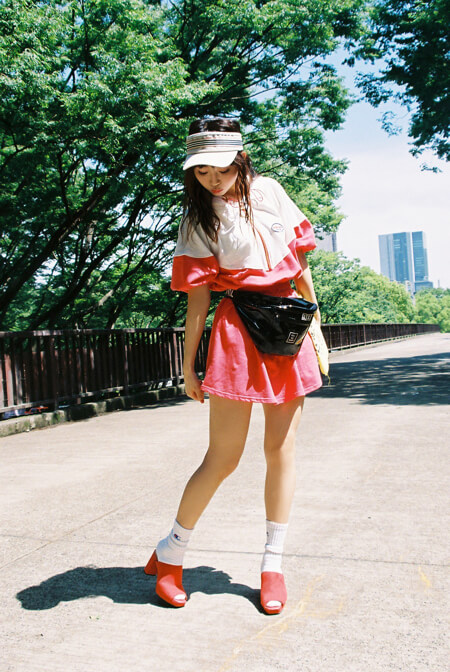 Wearing a casual parker one piece can look girly when combined with short sleeves and heels. Wearing a sun visor and waist pouch brings takes full advantage of the one piece's design and adds variety to complete this sporty look.
one spo: One Piece ¥6,900 / KOL ME BABY Shibuya 109: Sun Visor ¥2,300, Waist Pouch ¥1,900
Showing a healthy amount of skin with layered mesh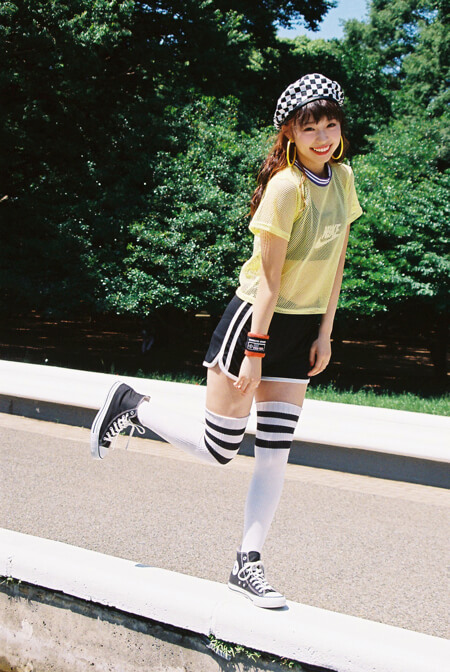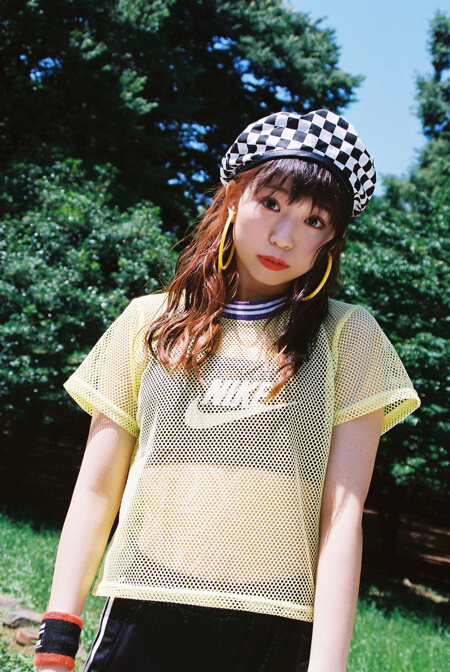 The bra top and running pants are true sports items and are made even more stylish with a mesh top. Adding the checkered beret and knee high socks gives originality and a street vibe.
SPINNS: Bra Top ¥3,500, Mesh Top ¥1,998, Short Pants ¥1,998 / KOL ME BABY Shibuya 109: Beret ¥2,300
Ricopin's Comments
"All of the styles today are cute, it was seriously so much fun! I often wear a lot of colourful clothes, so today's colour co-ordination and balance will come in useful. I've been interested in sun visors since last year, but I haven't been able to challenge myself to wearing one. But after putting one on this time it's easier to incorporate into an outfit than I thought, and just wearing one brings out something different from everybody else, so I want to try wearing them more this year! I also really like jersey pants and wear them in my own styles but playing around with colours and accessories I felt like I learned how to add variety without It being too much. I love the sporty look, so I want to go on and wear it more!
Participating Store List
one spo  03-3408-2771 / KOL ME BABY Shibuya 109 03-3477-5093 / SPINNS 0120-011-984
Check out Ricopin's own style!
In this section, Style Leader Ricopin shows us what she's into right now for her own style. She did all the styling herself too and there's an interview with her afterwards, so be sure to check it out.
A sweet and refreshing look with wide denim and a blouse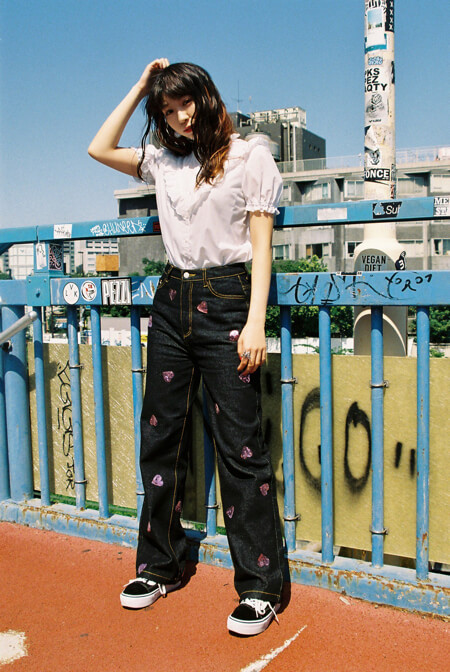 Interview
"I actually normally don't wear a lot of baggy pants. I have a lot of skinny pants. It's hard to balance them with something, and there's parts I avoid, but the moment I found these pants it was love at first sight. They were a challenge, but when I put them on they were cute like I imagined♡ It was difficult combining it with an equally cute top. In the end I found a blouse at WEGO which added a sweet mix. I've worn the sneakers several times in this article series. They have thick soles so they go well with the wide pants. I recommend them!"
■Information
Rikako Ōya (Babyraids Japan)
Won the grand prix in the 2009 LOVE Berry auditions. Currently signed to LesPros Entertainment. Active as a member of idol group "Babyraids Japan." Known as "Ricopin" by her fans, she is in charge of talking for the group. Her trademark is her twin-tail hairstyle. She has an interest in playing the guitar, DJing, Harajuku Fashion and film cameras. She appears on the radio show "Babyraids Japan Oya & Takami no Shaberi Suta!".
Babyraids Japan Official Fan Club Website:http://babyraids.lespros.co.jp/Twitter:@lespros_ricopin
Instagram:@rikako_ooya
Writer:Manami Ishii
Photographer:Asami Nobuoka