Kyogashitsukasa Miyako is a long-standing shop of Japanese confectioneries. The shop is known for having won Grand Master of Chado at the National Confectionery Exposition as well as one of their products being purchased by the country's emperor at the 10th National Meeting for the Healthy Ocean.
For the first time ever, the shop's Parfait Dora, a luxurious dorayaki made with fresh cream, is making its way to Tokyo for a limited period of time. You can find it at Ikesei Sweets Festa which is running from August 2 to August 12 at Seibu Department Store in Ikebukuro.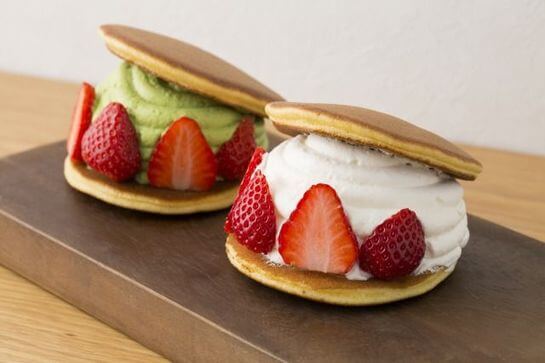 The Parfait Dora, which is produced under the shop's new brand Marunian, is a new take on Japanese dorayaki, a Japanese confection consisting of two pancakes typically filled with Azuki red bean paste. The pancakes are instead filled with a generous amount of fresh cream and fruits.
Marunian has its own shop which opened in March this year in Arashiyama. It instantly became the talk of the town particularly with young women and tourists and blew up online, especially via Instagram and other social media platforms.
Parfait Dora – Strawberries & Uji Matcha Cream – ¥500 (Tax Included)
Parfait Dora – Strawberries & Fresh Cream – ¥500 (Tax Included)
The strawberry-filled Parfait Dora is the shop's most popular item and comes in two flavours: Uji matcha cream and fresh cream. Both include red bean paste made with beans from Hokkaido which goes perfectly with the sweet and sour flavour of the strawberries.
Parfait Dora – Uji Matcha & Brown Sugar Syrup – ¥500 (Tax Included)
The Uji matcha and brown sugar syrup version is a new entry this summer and a very Kyoto-esque flavour. It's filled with Uji matcha cream, red bean paste, and white flour dumplings drizzled in brown sugar syrup. The chewiness of the dumplings add an exquisite layer to the textures.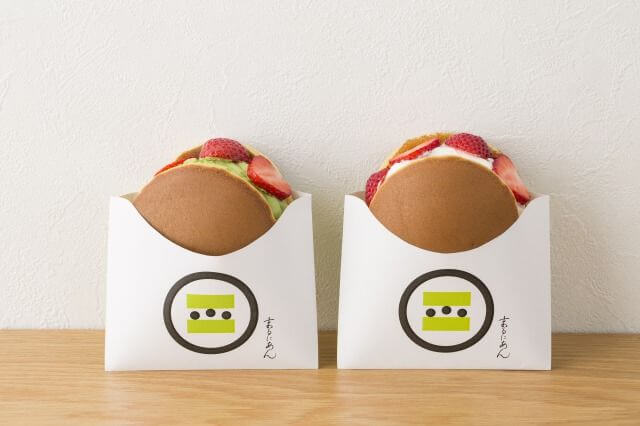 If you're in Kyoto then you've got to pick up one of these Parfait Dora to take with you on your stroll around the sites!
■Information
Ikesei Sweets Festa
Location: Seibu Department Store Ikebukuro
Running: August 2, 2018 – August 12, 2018
Event Page: https://www.sogo-seibu.jp/ikebukuro/kakutensublist/?article_seq=276226
Marunian
Address: 3-25 Sagatenryūji Susukinobabachō, Ukyō-ku, Kyoto-shi, Kyoto
Opening Hours: 11:00am-4:00pm (*Time subject to change depending on weather conditions)
No Fixed Holidays. (*Subject to closure depending on weather conditions)
Enquiries: 075-611-5825 (Kyogashitsukasa Miyako)
RECOMMENDED ENTRIES
The "dorayaki" specialized store, "DOU" will release matcha/strawberry flavors.

The "raw" dorayaki (bean-jam pancake) specialized store, "DOU's" third store will open inside "atre Kawasaki" on the 17th of February 2018.

Dorayaki is a Japanese dessert where red bean-jam is sandwiched between two "castella" sponge cakes. It is loved by many Japanese people as a snack/dessert.

"DOU" is a dorayaki-specialized store that offers new types of dorayakis. Since they opened their first store in Ikebukuro on May 2017, they have been selling standard-sized heavy "raw" dorayakis.

To commemorate the opening of the store inside atre Kawasaki, they released two new dorayakis which are "Nama Dorayaki Matcha" where matcha powder is mixed inside fresh cream and "Nama Dorayaki Ichigo (strawberry)" which uses the strawberry variety, "Tochiotome" produced in Tochigi Prefecture as a topping. They will also offer their plane dorayakis. The size of the dorayakis will be made smaller so that they can be eaten easily.

"Nama Dorayaki" is a brand new type of dorayaki that uses sponge cake-like soft dough, smooth fresh cream using milk produced in Hokkaido, red bean- jam using the best grade red beans called "Miyabi" and chewy soft mochi made with "Hakuchomochi" produced in Hokkaido which has a chewy texture.

The exterior/interior of the store and package of each product is designed in a modern style, so why not visit this store and try eating a dorayaki.

■Information

Products:

Nama Dorayaki – 270 yen (one piece) (tax included)

Nama Dorayaki <matcha> 270 yen (one piece) (tax included)

Nama Dorayaki <strawberry> 324 yen (one piece) (tax included)

"DOU" atre Kawasaki Store

Address: atre Kawasaki 3F, 26-1, Ekimae Honcho, Kawasakiku, kawasakishi, Kanagawa prefecture

Business hours: 10:00 to 22:00

TEL:044-276-8663

Dorayaki Specialist Shop "DOU" Opens New Confectionary Shop at Lumine EST in Shinjuku

The dorayaki specialist shop "DOU" opened its doors in the Tobu Railway section of Ikebukuro Station back in May this year. DOU is now expanding to open its second shop in Lumine EST Shinjuku later this year. The new shop will open on September 13th.

Dorayaki is a classic Japanese confection that comes as a pancake with sweet red bean filling DOU's best-selling item on its menu is a twist on dorayaki that has more of a light texture to it like that the sponge cakes made in the West.

They separate the egg yolk and egg whites and whisk them individually and use a steaming method on site to make the product fluffy and to give it a delectable flavour.

The ingredients they use are what give the overall flavour an exquisite balance. DOU use velvety, melt-in-the-mouth fresh cream from Hokkaido, high quality "Miyabi" adzuki beans which are cooked to perfection to create a gorgeous fragrance, and 'gyūhi' (a softer kind of mochi) that is made from mochi rice called "Hakuchomochi" that is cultivated in Hokkaido.

If you're a sweet tooth and interested in trying something exciting that mixes both Japanese and Western styles, then look no further than this new kind of dorayaki served by DOU!

■Information

DOU Lumine EST Shinjuku

Address: Lumine EST Shinjuku B1F, 3-38-1 Shinjuku, Shinjuku-ku, Tokyo

Opening Hours: Weekdays – 11:00-22:00 / Weekends & National Holidays – 10:30-21:30

Telephone: 03-6273-0142

Price: 1 = ¥324 (incl. tax) / Set of 4 = ¥1,252 (incl. tax)

*Only 4 per customer

Official Homepage: https://namadorayaki.com

Related article:Hokkaido Confectionery Brand "THE TREE TIMES" Release New & Tasty Luxurious Treats

Related article:The eatable gold sheet soft cream will debut in GINZA SIX for a limited time offer
RELATED ENTRIES
Japanese Souvenir Diary: Tokyo Strawberry Whipped Langue-de-chat

You're going on holiday to another country, but there's someone special back at home that can't go with you. What's the best way to make them feel like they haven't been left out completely? Souvenirs, of course! Picking out the perfect souvenir for the right person or people, whether friends or family, is a lot of fun as you consider what each person might like and appreciate.

We've condensed that thrill of souvenir searching into an article series. We will showcase products that the MOSHI MOSHI NIPPON editorial team have actually tried and recommend as souvenirs.

Tokyo Ichigo Whipped Langue-de-chat (Includes 6) – ¥650 (Tax Included)

Today, we will take a look at Tokyo Strawberry Whipped Langue-de-chat. This whipped chocolate cat tongue biscuit is nothing short of delicious. It's a fact.

And the cute packaging makes it even better, both the box and individual packs when you open it up.

And since they are individually packaged, you can share them amongst multiple people.

Whipped chocolate is sandwiched between the cat tongue biscuits.

Time to try one.

The biscuit itself has a buttery, exquisite flavour. Though they're stuffed with whipped chocolate, the chocolate itself is light on the belly. You get those sweet and sour notes from the strawberry too.

The combination of the lightly baked and delicate biscuits with the soft texture and subtle taste of the whipped chocolate is to die for. Your taste buds are tantalised by a flurry of strawberry.

I showed the 6 pack of biscuits, but they also sell a 12 pack (¥1,080) and 18 pack (¥1,620) too, so cater it to how many you need to share out (or enjoy to yourself!) They have a best before date of 30 days too, so don't have to worry if there's still some time left before you return home.

If you love strawberries, you won't be able to rest the Tokyo Strawberry Whipped Langue-de-chat. Be sure to check them out if you're looking for a Japanese souvenir from Tokyo.

Writer: Sayuri Mizuno (MOSHI MOSHI NIPPON Editorial Team)

Translator: Joshua Kitosi-Isanga

Information

Tokyo Strawberry Whipped Langue-de-chat

Available: At major stations in the Kanto region of Japan, department stores in Japan, and elsewhere

Best Before: 30 Days

Official Website: http://www.oraikan.jp/ih.html

Andy Warhol Exhibition in Kyoto: Select Major Artworks Revealed

An exhibition centred around Andy Warhol, the American artist who was at the forefront of the pop art movement, is set to roll up to the Kyocera Museum of Art in Kyoto from September 19, 2020. Around 200 pieces of art will be showcasedーover 100 of which have never been displayed in Japan beforeーas well as 15 video art pieces.

Three Marilyns (1962), Andy Warhol. The Andy Warhol Museum. *First showcasing in Japan

All of the pieces to be shown at the exhibition are the property of The Andy Warhol Museum, which is located in Pittsburgh, Pennsylvania in the US, where Warhol was born.

The Last Supper (1986), Andy Warhol. *First showcasing in Japan

Tunafish Disaster (1963), Andy Warhol. *First showcasing in Japan

Peacock (1957), Andy Warhol. *First showcasing in Japan

The line-up displays Warhol's diverse works, including his highly treasured Three Marilyns, as well as Tunafish Disaster from his Death and Disaster series, the enormous The Last Supper piece, Peacock which makes use of the Japanese style of gold leaf art, and more.

Kyoto (Kiyomizu-dera) (1956), Andy Warhol.

The exhibition will also turn its attention to Warhol's connections to Kyoto which haven't been discussed before. It will feature Warhol's sketch of Kiyomizu-dera in Kyoto which he drew during his trip around the world.

*All pieces are property of The Andy Warhol Museum

© The Andy Warhol Foundation for the Visual Arts, Inc. / Artists Rights Society (ARS), New York

Kaori's Easy Recipe: Learn to Make Frozen 2 Milk Tea Muffins

With just a small bit of ingenuity, turn everyday food into something cute using Kaori's easy recipe! With a few simple ideas, an ordinary recipe magically transforms into a cute dish.

In this recipe, you'll learn to make cupcakes based on the upcoming Disney film Frozen 2 which is set to hit theatres worldwide on November 22, 2019. These cupcakes are inspired by the Anna and Elsa poster design for the movie. This recipe has parts that are a little more tricky compared to my usual recipes, but put yourself to the test and you'll end up with something delicious!

Milk Tea Muffin Ingredients (Makes 5)

100g weak flour

70g unsalted butter

50g granulated sugar

1 egg

1 tsp bottled chestnut syrup

5-6 chestnuts preserved in syrup

50ml milk tea

*To make the milk tea, add one black tea bag into 70ml of milk and draw 50ml from that

Bean Paste Ingredients

500g white bean paste (shiro-an in Japanese)

25g unsalted butter (room temperature)

20ml milk

A bit of of vanilla extract

A bit of Wilton White icing colour

1. First, we'll make the milk tea muffins. Bring the unsalted butter to room temperature and whisk with a hand mixer. Add the granulated sugar and continue to whisk. Whisk the egg fully, and then add slowly to the mixture. Make sure to add the egg slowly so as to not split the butter.

2. Sieve the wheat flour and baking powder and add to the mix. Slowly add the milk tea and continue to whisk to bring the mixture together.


3. Add a teaspoon of the chestnut syrup. Chop the chestnuts and add those too, then mix once again.

4. Add 70-80% of the mixture equally between five cupcake cups. Bake at 170° for approximately 25 minutes.

5. Next, we'll make the bean paste cream. Do this by mixing together the white bean paste, unsalted butter, milk, vanilla extract, and Wilton White all at once. The Wilton White makes the cream turn a pure white colour.

6: Allow the muffins to cool, lather over the bean paste to taste, and finally decorate. All done!


I added colouring to chocolate plastic for the chest part of the dress. Then I cut it up and added it to the cupcakes. I hope you enjoyed the recipe, be sure to try making your own movie-inspired handmade desserts at home too!

The long-awaited sequel to Disney's blockbuster animated is right around the corner. The first Frozen film touched the entire world with its frosty beauty with both its story and music. Let It Go in particular was a worldwide phenomenon, and was an immense hit in Japan too.

Frozen 2 will see Elsa embark on a dangerous journey with Anna, Kristoff, Olaf and Sven as she discovers why she was born with magical powers, the answer to which is threatening her kingdom.

The new film's main theme, Into The Unknown, captures the complex feelings and emotions Elsa holds as she steps forth, with all her anxieties and hopes, into a new world.

Frozen 2 Trailer Japanese Version

The first Frozen film was a widespread global hit and there's no denying that Frozen 2 will follow in its footsteps. Get together with your family, friends or lover to watch it for the best experience.

Kaori invites you into her world of character-themed food dishes in her recipe series. Be sure to check out her Instagram where she has uploaded many pictures of her character dishes!

Kaori Kubota (@kaopan27)

I live in Hokkaido and I love to make character themed foods, desserts and pastries♡

I want to see my family smile, so I enjoy putting in a bit of effort to make character foods and changing food into something cute♡

You can see more of my character foods and character bento boxes on my Instagram page→@kaopan27

©2019 Disney. All Rights Reserved.

Information

Frozen 2

Release Date: November 22, 2019

Distributed by: Walt Disney Studios/Motion Pictures

Directors: Chris Buck/Jeniffer Lee

Starring: Idina Menzel (as Elsa), Kristen Bell (as Anna)

Official Website: https://disney.co.uk/movies/frozen-2

Heart-Meltingly Cute Olaf Confection to Arrive in 7-Eleven to Celebrate Frozen 2

Tabemas is a Japanese confectionery series of small, traditional sweets designed to look like characters. To celebrate the release of Frozen 2 on November 22, the series is releasing an Olaf confection which will be sold at 7-Eleven convenience stores across Japan from the same day as the release of the film. 


The series name "Tabemas" means "edible mascot" and as the name suggests, Olaf has completely transformed into a delicious traditional sweet from carrot nose to adorable feet. In sweet form, the 40mm-tall chubby Olaf is stood still, staring up at you with adorable round eyes overflowing with adoration.

This is a traditional nerikiri confection made from bean paste and soft mochi to a surprising level of detail. Even the snowflake pattern has been recreated. As Frozen 2 is set in autumn, Olaf has been stuffed with the most appropriate autumn flavour: maple. This small and dainty confection is the perfect treat for people of all ages.

These are in limited stock so hurry down to your nearest 7-Eleven from November 22 if you are interested. 

©️Disney

Information

Tabemas Confectionary Series: Frozen 2 Olaf 

Flavour: Maple

Recommended Retail Price: ¥258 (Before Tax)

Release Date: November 22, 2019

Available at: The chilled desserts section of 7-Eleven convenience stores across Japan

*As these are in limited stock, sales will end once stock has been depleted.

*Not available at all 7-Eleven convenience stores.

More Information: https://www.bandai.co.jp/candy/tabemas/olaf/

The Perfect Souvenir: Kyoto's Famous OTABE Confections in Velvety Matcha Chocolate

If you're in Kyoto looking for a delicious elegant souvenir for your people back home then BijuuCo.,ltd. is your port of call. Their irresistible desserts vary from their well known sweet bean paste-filled Yatsuhashi to their Kyo-Baum. They will be releasing the mouthwatering Matcha Chocolate OTABE from November 20, 2019.

The rich aroma of the matcha chocolate will be the first thing to entice you. The matcha Yatsuhashi is made from specially selected water and Koshihikari rice, which is famed as Japan's best rice. The soft and chewy texture of the Yatsuhashi dough gently embraces a velvety, melt-in-the-mouth matcha chocolate ganache filling. These OTABE confections are bursting with the flavours of Kyoto and are only available to purchase for a limited period.

OTABE combined with Kyoto's famous matcha chocolate is matcha match made in heaven. If you're ever in Kyoto, you must try it.

Information

Matcha Chocolate OTABE

Selling: November 20, 2019 to the start of May, 2020

Price: Box of 10 (2 packs of 5): ¥660 Before Tax

Eat within 11 days of production.

Purchasable from souvenir shops in Kyoto and Kyoto Station. 

Official Website: http://www.otabe.kyoto.jp/

Take a Look at Daimaru Tokyo's Delicious Seasonal Sweets Line-Up

With the weather getting colder and colder, don't you just want to snuggle up indoors under a nice warm blanket and eat tasty sweets and snacks? well, if you're in Tokyo this autumn, head to Hoppe Town on the first floor of Daimaru Tokyo where they're selling a bunch of different seasonal sweets from November 20 to 26. We're going to showcase a select few.

Cookie Doumei Assorted Box

Contains 10 (5 Types, 2 Each) – ¥1,900 @ Cookie Doumei (Floor 1F)

Enjoy a box of assorted cookies made by a UK-based cookie brand with a recipe like that mother uses. These simple baked cookies are made with wheat flour from Japan, fruits, spices, and chocolate.

Premium Chocolate (Dark/Matcha)

Contains 5 – ¥1,080 Each @ Dari K (Floor B1F) *Available until December 3, 2019

These crunchy and buttery biscuit sandwiches come in two flavours: a dark chocolate and salt, and a matcha made with freshly powdered matcha from Kyoto. These biscuits only appear a few times in Tokyo throughout the year at events, so don't miss out on this rare opportunity.

Chocolate Canelé

¥345 Each @ Le Soeur (Floor 1F)

Bearing a crunchy exterior and chewy inside, these rich chocolatey canelé are topped with almond for added texture. Change it up and put them in the fridge to set for a crispier texture.

Caramel & Raspberry

Contains 5 – ¥675 @ Caramel Verger (Floor B1F) *Available until December 3, 2019

These crunchy chocolate cookies are filled with a mix of dried fruits, caramel and cornflakes. The sourness of the berries coupled with the smoothness of the caramel is to die for!

Premium Natural Sweets

Contains 10 – ¥1,500 @ Lady Bear (Floor B1F)

These raw chocolates from Lady Bear get their natural sweetness from a delicious agave syrup. Delicious, tempting, irresistible.

Baked Mallow Crystal Cherry

Contains 4 – ¥1,382 @ Baked Mallow (Floor 1F) *Available until November 30, 2019

Graham crackers covered in couverture chocolate with high cocoa content and stuffed with fluffy marshmallow and a whole juicy Amarena cherry. What's not to like? These are available in a very limited number, don't miss out!

Which of these six tasty treats are most tempting to you?

Information

Seasonal Sweets

Running: November 20, 2019 – November 26, 2019

Location: Hoppe Town, Daimaru Tokyo Floor 1F  (1-9-1 Marunouchi, Chiyoda Ward, Tokyo)

Daimaru Tokyo Official Website: https://www.daimaru.co.jp/tokyo/

McDonald's Japan to Release Hot Cinnamon Melts Dessert For Wintertime

Roll up to McDonald's in Japan from November 20 to enjoy the return of the delicious Cinnamon Melts dessert, coming to all branches across the country.

McDonald's Melts series is a popular dessert in Japan. It introduced the new Double Chocolate Melts earlier this year. Customers have been waiting for the return of the elusive Cinnamon Melts since 2017, the first time the flavour made an appearance in seven long years. Well, their wish has finally come true. Look forward to tucking into soft pastry glazed with cinnamon sugar and drizzled in a sweet cream cheese syrup.

When customers open a box of these delicious delights, their noses are met with the tempting cent of cinnamon. Served warm, they are the perfect choice for tackling the harsh cold weather.

Compare their test with the Double Chocolate Melts which were released on November 6 and are still available for a limited time, or pair them with a cup of Premium Roast Coffee which the fast food chain revamped this year with a richer and more delicious flavour.

Information

Cinnamon Melts
Price: ¥300 (Tax Included)

Running: November 20, 2019 – Late January 2020 (Subject to change)

Available: At most McDonald's branches in Japan

*Price may vary from branch to branch and for McDelivery

Double Chocolate Melts

Price: ¥330 (Tax Included)

Running: Now Until Late January 2020 (Subject to change)

Available: At most McDonald's branches in Japan

*Price may vary from branch to branch and for McDelivery

McDonald's Japan Official Website: http://www.mcdonalds.co.jp/

Instagram-Worthy New York Christmas Lunch and Dessert Buffet Jollies Up Omotesando, Tokyo

BAR & GRILL DUMBO is a restaurant heavily inspired by the Brooklyn neighbourhood town of Dumbo in New York. They will be adding a sprinkle of New York Christmas magic to the menu from November 7 – December 25, 2019 with the Christmas New York lunch and dessert buffet.

The buffet table will be filled with irresistibly cute and delicious desserts. From the Statue of Liberty to Brooklyn Bridge, the background is lined with skyscrapers and New York's most iconic landmarks. 

The S'more Bar is the perfect opportunity to toast your own marshmallows. Sandwich your molten marshmallow between two crackers to enhance your New York Christmas experience. 

Put your icing skills to the test at the Iced Biscuits Corner where you can enjoy decorating your own biscuits to your liking.

There is more than just desserts, however. You must try the Christmas gratin, which is garnished with a jolly green Christmas tree made from romanesco broccoli. There is also a DUMBO Caesar Salad in the shape of a wreath, a delicious Roast Turkey Breast dish and much more. 

Make sure to pop down to Omotesando for a jolly New York-style Christmas celebration.

Information

Christmas in New York Lunch and Dessert Buffet

Running: November 7 – December 25, 2019

Location: BAR & GRILL DUMBO, The Strings Omotesando Floor 2

Address: The Strings Omotesando, 3 Chome-6-8 Kitaaoyama, Minato City, Tokyo

Running: 15:00 – 16:30 (90-minute time slot)

Buffet Photography Times: 14:45 – 15:00

Prices: Adults:¥4,500/ Children: ¥2,250 *Tax and Service Charge Included)

Reservations: www.strings-hotel.jp/omotesando/event/sweetsbuffet/

Krispy Kreme Celebrates the Year of the Rat With Cute New Year's Doughnuts

Krispy Kreme Doughnuts Japan is releasing three new end-of-year doughnuts on December 26. They will be available for a limited time only.

2020 is the Year of the Rat in the Chinese zodiac, and so Krispy Kreme has taken that theme to create its own adorable rat doughnut. Lathered in caramel chocolate, this cute doughnut is filled with rock salt caramel cream. Its eyes, tail and large round ears are made of  dark chocolate while its nose is made of coffee chocolate.

The second New Year's doughnut in the series is the Lucky Strawberry Ring (¥230), which gets its deep crimson colour from the sweet and sour nappage made from strawberry puree and milky white chocolate. It's finished with sprinkles of freeze-dried strawberries and gold leaf for that festive touch.

The Snowman Chocolate (¥230) is a cute snowman shaped doughnuts filled with a rich chocolate cream and covered in a milky snow white chocolate coating. Together with the Lucky Strawberry Ring, you get a festive mix of red and white which are symbolic colours of the New Year in Japan.

The three doughnuts are also available to purchase in a box set called Good Luck Zodiac Dozen which comes with twelve doughnuts including four Original Glazed®, the chain's most popular doughnut.

Welcome the new year with some delicious and kawaii doughnuts from Krispy Kreme Japan.

Information

New Year's Doughnuts

Available: December 26, 2019 to Mid-January 2020 (subject to change)

Official Website: https://krispykreme.jp/

Instagram Launches #MY TOKYO IS Campaign With Tokyo Metropolitan Government

Instagram launched a campaign with the Tokyo Metropolitan Government entitled "#MY TOKYO IS" on November 11 together with three limited-time stamps that can be used on people's Instagram stories.

The campaign is a global initiative to have people capture their favourite moments in Tokyo in the form of photos, videos and stories on Instagram. Shared posts will be used to curate places and scenery in Tokyo that the Tokyo Metropolitan Government want to showcase to the people of the world. This curation will take the form of an exhibitionーwhich will take place at GINZA ATRIUM on floor 6F of GINZA SIX and GINZA TSUTAYA BOOKS in late March 2020ーas well as a website and a book.

Statistics have shown that Instagram has a significant influence on the Japanese economy in terms of tourism, and so the Tokyo Metropolitan Government hopes that this interactive campaign will help to promote the city to tourists and travellers worldwide.

The stamps created as part of the campaign only appear in the tray when you're in the city of Tokyo. When you click the stamp, the #MYTOKYOIS search result page will be displayed, allowing you to see the other photos and videos posted by the people who have used the campaign hashtag.

If you're in Tokyo, then be sure to get involved in the campaign and show the world your favourite things about the city!

Information

Enter via Feed Posts

・Follow the official Tokyo Tokyo Instagram account @tokyotokyooldmeetsnew

・Add hashtags #MYTOKYOIS and #TokyoTokyo to your post

・Add spot or location info to the photo or video you took, and post

Enter via Stories

・Follow the official Tokyo Tokyo Instagram account @tokyotokyooldmeetsnew

・Use the #MYTOKYOIS sticker or add the hashtag #MYTOKYOIS using the text tool / hashtag sticker

・Add spot or location sticker of the photo or video you took, and post

#MY TOKYO IS Campaign Website

BAKE CHEESE TART will be baking up another fresh flavour which will be released in BAKE CHEESE TART shops across the country from November 15. The new featured flavour is of a Japanese Satsuma sourced from Shizuoka prefecture called Mikka Mikan. The brand new Mikan Cheese Tart will be sold at BAKE CHEESE TART shops countrywide. 

The Mikka Mikan Satsumas used for the cheese tart are sourced from Shizuoka, which is renowned for its deep history of producing Mikka Mikans, which are a kind of Satsuma Mandarin (Unshu Mikan). The Mikka Mikans are used to make a purée and powder which is then mixed with an original recipe cheese mousse for the tart.

This flavour first arrived at BAKE CHEESE TART's PARCHÉ branch in Shizuoka to celebrate its grand opening back in November 2018. The tart was intended to be a delicacy limited to the Shizuoka branch and to only be sold for a limited time. However, following its immense popularity, the Mikka Mikan Cheese Tart is going to be released again this winter for a limited time. 


The mild and fresh cheese mousse is perfectly balanced with the tangy sweetness of the Mikka Mikans. The subtle sweetness of the biscuit base makes for the perfect match with the soft cheese mousse which will melt in your mouth. 


BAKE CHEESE TART is also running an Instagram campaign involving the hashtag #おすそわけタルト. Those who purchase the Mikan Cheese Tart and post a photo of it on Instagram during the limited time period have the chance to enter a prize draw for a BAKE CHEESE TART coupon.

Warm up your heart with a soft and sweet, freshly-baked cheese tart and join in the campaign fun. 

Information

Mikan Cheese Tart

Price: ¥280 each (Tax Included)

Selling: November 15, 2019 – November 30, 2019

Available at: BAKE CHEESE TART shops across Japan *Not available at ASSE Hiroshima and SAN-A PARCO CITY branches.

More Information: https://cheesetart.com/en/

Instagram Campaign Information #おすそわけタルト

Running: November 15 – November 30, 2019

Prize: A coupon for 6 freshly-baked cheese tarts from BAKE CHEESE TART (20 winners)

* For more information on application requirements and how to apply, please refer to BAKE CHEESE TART's social media websites.

BAKE CHEESE TART Official Website: https://cheesetart.com/en/

Sleigh Bells Ring at Tokyo Disneyland This Year With Plenty Of Food & Merchandise to Go Around

Jolly faces are all around at Tokyo Disney Resort right now as Disney Christmas kicked off last Friday. It's set to sleigh its way up to Christmas Day this year.

The editorial team at MOSHI MOSHI NIPPON jumped ahead and got a taste of the festive fun at the parks recently, so we're going to showcase some more of the seasonal food and merry merchandise you can get your hands on this Christmas at Tokyo Disneyland.

Food that makes you want to kick back and enjoy a nice break

 

Special Set – ¥1,500 @ Grandma Sara's Kitchen

Grandma Sara's has created the perfect hot lunch for warming up cold guests this year, adorned with a clam and seafood tomato cream, cheese and white sauce. Dip your bread into the rich sauce and tuck in! For dessert, you get a cranberry cake inspired by the look of a snow-tipped Christmas tree.

Hot drinks of all kinds

'Tis the season to stay warm, and so Tokyo Disneyland has devised a line-up of tasty drinks to warm the cockles of your heart, with flavours ranging from ruby chocolate to matcha and tapioca cheese teaーa unique flavour that's all the rage right now.

We actually covered these drinks in detail last Monday, so check out our report here.



Deck the halls with these dessert & souvenir sets

Cranberry & Tea Cake With Souvenir Cup – ¥800 @ Sweetheart Cafe and elsewhere

Strawberry Dessert With Souvenir Cup – ¥800 @ Sweetheart Cafe and elsewhere

Head to the Sweetheart Cafe to enjoy some desserts which come with cute take-home souvenirs, like cups and plates. The cranberry and tea cake is a subtly sweet cake with a fragrant tea flavour and filled with sweet and sour cranberries.

The strawberry dessert is like strawberry shortcake with ascending layers of cake batter, cream, and strawberries. It's topped with holly to give it that Christmas-y finish.

Chocolate Doughnut – ¥380 @ Cleo's and elsewhere

The chocolate doughnuts at Cleo's are completely lathered in a chocolate danish-like dough and custard cream.

The doughnuts even come in this cute Mickey and Minnie packaging, who are dressed ready and for giving gifts to guests.

If you pay an extra ¥700 you can get this adorable pouch featuring Mickey, Minnie, Donald and Daisy as snowmen.

Have a merry little Christmas with these holiday season goodies

Headband – ¥1,800

Fun Cap – ¥3,000 / Plush Toy Wristband – ¥1,700

Feel happy simply by placing these Mickey & Minnie headband ears and getting into party mode. The park has also developed a Christmas version of the Pluto fun cap so he has reindeer antlers and holly attached. Both items were previously available in a pre-sale on the park app, so depending on the shop you visit, they may have none left in stock. But if you see one, be sure to grab it quick!

There's also a Mickey version of the Minnie Mouse plush toy wristband. Wear one and have your friend or loved one wear the other!

Popcorn Basket – ¥2,400 @ The Gazebo (Popcorn Wagon)

Pick up some popcorn served in a Christmas present basket decorated with cute illustrations of Mickey and company celebrating Christmas.

It comes strung with a ribbon decorated with green, red and white colouring like a candy cane.

Spend a Disney Christmas this winter at Tokyo Disneyland where you can stay warm with some comfort food and dress up!

Model: Yuna Yabe

Writer: Sayuri Mizuno (MOSHI MOSHI NIPPON)

Translator: Joshua Kitosi-Isanga