Andall is a Mini Castella Sponge Cake Shop in Ueno Ameyoko Market
Andall first opened on July 8 along Ameyoko Shopping Street, an open-air market that sits in Taito Ward in Tokyo
Andall sells baby castella, a type of popular Japanese sponge cake that rings nostalgic to Japanese people as it's often seen at festivals and on Ennichi. Their versions of baby castella are much more modern and catered towards Ueno's culture of walking while eating.
There are nine different toppings to choose from with this sweet dessert. The most popular is undoubtedly the 'Ueno Panda' version which is made with an original 'panda sauce' that uses yogurt as the base and is finished with a panda shaped cookie.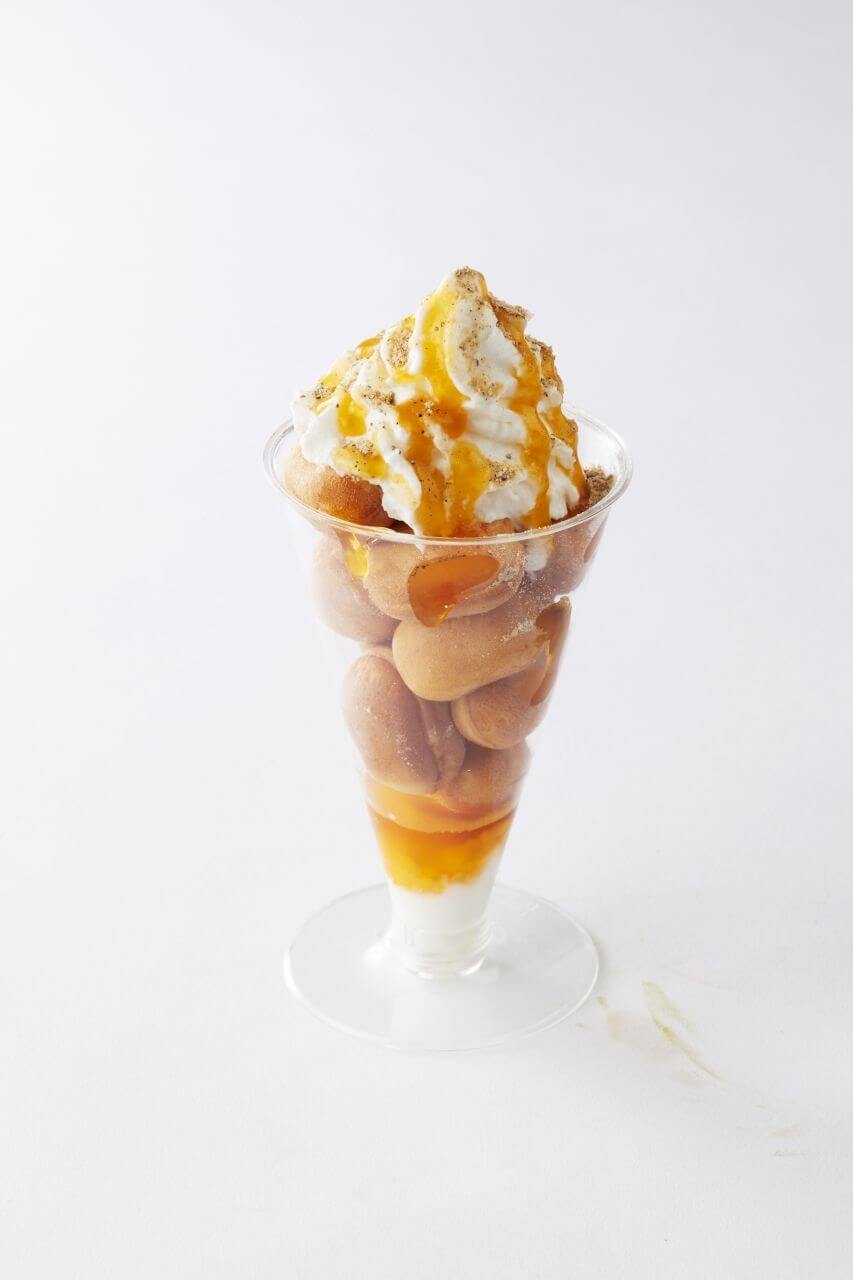 Houjicha Mango – ¥500
The Houjicha Mango baby castella enjoys the fragrance of houjicha tea together with the sweet and sour fusion of tropical fruits and mangoes.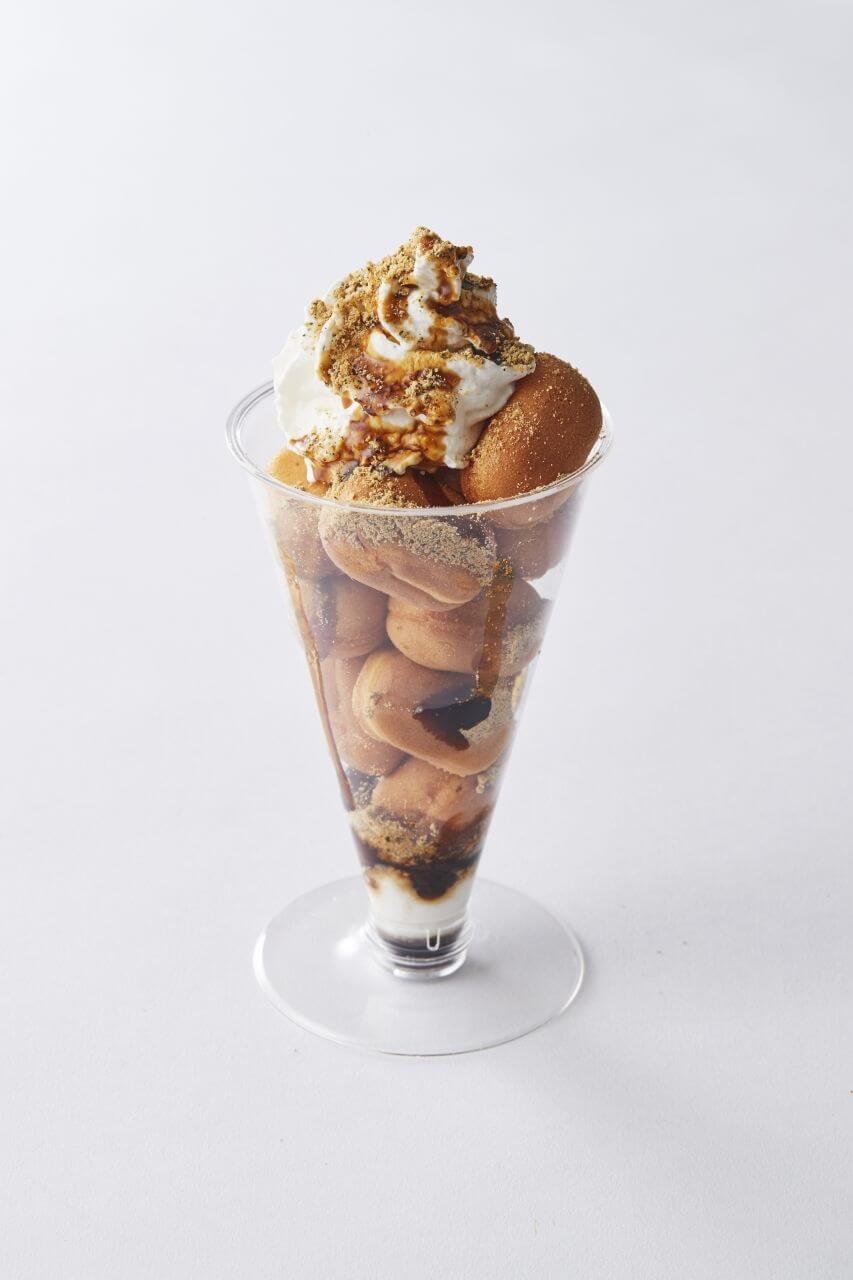 Black Sesame Roasted Soybean Flour – ¥500
The deep flavour of the black sesame soybean flour matches deliciously with the rich taste of brown sugar syrup.
They are also selling Taiwanese style fluffy shaved ice this summer only and will be introducing a range of products for autumn.
If you're sightseeing in Ueno then be sure to stop by Andall to try one of their baby castellas!
■Information
Andall – Ueno Ameyoko Branch
Address: Ameyoko Plaza B-84, 6-10-7 Ueno, Taito-ku, Tokyo
Opening Hours: 10:00am-7:30pm
Closed: Every 2nd Wednesday of the month
Website:  https://www.babycastella-andall.com/
RELATED ENTRIES
Autumn Sweet Potato Frappuccino Now Available at Starbucks Japan

Fall is in the air, which means seasonal treats are back at Starbucks! The Sweet Potato Frappuccino will be available at participating Starbucks locations beginning September 22, which also happens to be the first day of autumn. 

The 4th annual Artful Autumn @ Starbucks promotion is back for 2021! This year's concept is 'Made by Earth,' and the lineup of new products features fall ingredients that highlight the bounty of the planet. 

Tall Sweet Potato Frappuccino To-Go: ¥638 / In-store: ¥650

The new drink is filled with the flavor of baked sweet potato, honey, and molasses. Each beverage is made with roasted sweet potatoes that have been cut into pieces, keeping some of their unique texture. Sweet potato flakes sprinkled on top add a bit of crunch!

If you're in Japan, be sure to grab one before they're gone!

Information

Sweet Potato Frappuccino®

Available: September 22, 2021 – October 19, 2021 (While supplies last.) 

Where: Participating Starbucks locations nationwide. 

Official Site: https://www.starbucks.co.jp/

Kaori's Easy Recipe: Learn to Make Two-Layer Mizu Yokan

With just a small bit of ingenuity, turn everyday food into something cute using Kaori's Easy Recipe! With just a few simple ideas, an ordinary recipe magically transforms into a cute dish. 

Today, I'll teach you how to make two-layer Mizu Yokan, perfect for a hot summer day!

You don't even need an oven to make this sweet treat–just let it chill and harden! It's great as a summer vacation snack. 

Ingredients

This recipe makes 2 cups. 

For Mizu Yokan: 

120g fine-grained sweet bean paste

100cc water

Pinch of salt

1-2g Kanten powder

For Matcha Flavoring:

5g matcha

20g sugar

100cc water

1-2g Kanten powder

1

Place bean paste, water, salt, and Kanten powder into a pot and boil until dissolved. 

⚠The Kanten powder needs to be heated for a further 1-2 minutes after boiling to harden properly. After boiling, reduce heat to low. 

2

Pour mixture into container. 

After about 30 minutes at room temperature, the mixture will start to harden. Work on the matcha flavoring when it begins to harden. 

3

Place matcha, water, sugar, and Kanten powder in a pot and boil thoroughly. 

As you did with the Mizu Yokan, reduce heat to low and continue cooking through. 

4

When the mixture is heated through, gently pour it over the Mizu Yokan and refrigerate until ready to serve. 

This is delicious with a variety of toppings, from red bean paste and fresh cream to Shiratama dumplings and fresh fruit!

Kaori Kubota (@kaopan27)

I live in Hokkaido and I love to make character themed foods, desserts and pastries♡

I want to see my family smile, so I enjoy putting in a bit of effort to make character foods and changing food into something cute♡

You can see more of my character foods and character bento boxes on my Instagram page → @kaopan72

Minion-themed Sweets Return to Lawson Convenience Stores Across Japan

Bandai Candy's Tabemas series of Japanese sweets are releasing a fan favorite yet again! Minion-themed wagashi are making a triumphant return to Lawson convenience stores in Japan (excluding Natural Lawson and Lawson Store 100) on August 10, 2021. 

The line-up includes popular characters from the Despicable Me and Minions film series: the childish Bob, prank-loving Stuart, and the leader of the group, Kevin. After a popular release in 2020, it's no wonder they're back!

Tabemas, a portmanteau of 'edible' and 'mascot,' is a series of traditional confections made to look like well-known characters, crafting them out of ingredients such as red bean paste, rice flour, and sugar. Each Minion is faithfully crafted in edible fashion, from the goggles to the hairstyles. 

While the sweets are filled with red bean paste, a traditional flavor in Japanese sweets, each character has a different flavor: Bob is banana (his favorite), Stuart is strawberry, and Kevin is chocolate. As delicious as these treats may be, they're almost too cute to eat! We'd recommend taking a few snaps for Instagram before digging in. 

The Minions aren't the only characters the Tabemas series has made into edible creations: other popular releases include familiar faces from Rilakkuma, Sumikko Gurashi, One Piece, Snoopy, Kirby, Doraemon, Yo-kai Watch, Sailor Moon, Detective Conan, and a collection of beloved Sanrio and Disney characters!

Which Minion is your favorite flavor? 

Minions Franchise (C) Universal City Studios LLC. All Rights Reserved.

Information

Tabemas Minion 2021 Bob/Stuart/Kevin

Release Date: August 10, 2021

Where to Buy: At the chilled desserts section of Lawson convenience stores across Japan

Details: https://www.bandai.co.jp/candy/tabemas/minion02/ 

Product Lineup: https://www.bandai.co.jp/candy/tabemas/

*Not available at Natural Lawson or Lawson Store 100

*Available while supplies last
*Stock date may differ from branch to branch
*Select stores not participating
*Tabemas is a registered trademark of Bandai Co. Ltd

Evolutionary Japanese Sweets That Combines the Essence of Ohagi and Western Confectionary

Niigata prefecture is known for being a treasure trove of gastronomy, specializing in rice and sake products. Locals will be familiar with the long running Japanese sweet stores in the area, most of which incorporate the areas speciality rice and sake into their products.

"We want to let people know about Niigata's amazing sweets and spread the word about our local produce." 

With this in mind, a new "evolutionary" style of Japanese confectionary (Wagashi) was created, combining the traditional taste of Japan with the essence of the modern era to invoke both newness and nostalgia.

Mandai Bean Paste is the signature treat from the new Evolutionary Wagashi selection, made with the ever-popular Ohagi in mind. The mochi is made in partnership with a long-established Niigata confectionary store with over 200 years of experience in the prefecture.

The mochi is made using Shinnosuke, a new Niigata-based rice brand known for it's rich taste, while the Bandai-an bean paste filling is created by a long-standing local Anko store.

Each Ohagi is hand wrapped in store, with 12 delicious flavors available, including some seasonal fruits.

Unlike any normal Ohagi, this Evolutionary Wagashi is combined with seasonal fruits, nuts, and mascarpone cheese, adding an essence of Western flavoring to the traditional Japanese confectionary.

 The new store will be opening in the center of Niigata city, with a concept of "Long-established modern."

Just like their modern twist on timeless Japanese sweets, Bandai-an has created a fitting space that combines the dignified image of a traditional store with modern sensibilities.

These modern sweets can be enjoyed in all kinds of settings, so why not try them for yourself?

Information

Niigata Anko Bandai-an

Location: 2-2-9, Higashi Ōdoori, Chuo-ku, Niigata City, Niigata Prefecture

Opening Hours: 10:00~ 18:00

Official Site : http://bandaian.com

Hard Rock Cafe Releases Limited-Edition Pins of Ueno Zoo's Panda Xiang Xiang

Hard Rock Cafe Ueno is celebrating the 4th birthday of Ueno Zoo's giant panda Xiang Xiang with a collection of birthday pins. The limited-edition line-up was released on Thursday.

4th Birthday Pin | 300 Available | ¥2,200

4th Birthday Pin 2 | 500 Available | ¥2,200

The two pin designs are limited in stock, the first featuring Xiang Xiang with her mother and father has 300 available, and the second one has the cute giant panda on an aeroplane branded with her birthday date with 500 available.

Both pins capture Xiang Xiang's energetic personality and are cute souvenirs to take home after meeting her at Ueno Zoo.

Information

Hard Rock Cafe x Ueno Zoo Pims
Released: June 10, 2021 at Hard Rock Cafe Ueno Station Tokyo

Address: Atre Ueno Floor 1F, 7-1-1 Ueno, Taito-ku, Tokyo

TEL: 03-5826-5821
Also available online: https://hrcjapan.official.ec/

Hard Rock Japan Official Website: http://hardrockjapan.com/

Ueno's Real-Life Panda Idol Xiang Xiang's 4th Birthday Celebrated With Merchandise Release

Ueno Information Center is celebrating the 4th birthday of Xiang Xiang, the giant panda who was born at Ueno Zoo back in 2017, with the release of a merchandise collection. The line-up arrived on Wednesday and is available both at the information center and via their online store.

Although strict measures are in place at the center to reduce the risk of COVID-19 spreading, celebrations for Xiang Xiang aren't completely cancelled, as fans of the adorable panda, who has become something of an idol in Ueno, can get their hands on some fun goodies.

Ueno Panda Family Memorial Pins 2021 | ¥2,530 (Tax Included)

Ueno Panda Family Clear Pouch YE | ¥2,200 (Tax Included)

Ueno Panda Family Cooling Lunch Tote Bag | ¥1,650 (Tax Included)

The collection features motifs of Xiang Xiang, her mother Shin Shin, and her father Ri Ri. The pin collection, which comes in a gold leaf-laced box, includes Shin Shin in a tree peony, Xiang Xiang amongst the cherry blossoms, and Ri Ri with lotus flowers.

The pouch sees Xiang Xiang happy and energetic with her parents. It comes in a summery yellow and is made from semi-transparent matted vinyl. Perfect for storing away makeup, stationery, and any other bits and bobs.

The cooling bag is made from aluminium on the inside for keeping your food fresh. It's big enough for fitting a bento and 500ml bottle, making it handy for taking your lunch out with you.

Happy 4th Birthday, Xiang Xiang!

Information

Ueno Information Center Xiang Xiang's 4th Birthday Collection

Released: June 9, 2021

Where: Ueno Information Center

Ueno Information Center Official Website: https://uenoinfo.jp/

Ueno Information Center Online Shop: https://edotokyo1.com

Japan's Ultimate Confectionery Collaboration Invites Shiroi Koibito, Hagi no Tsuki, and Hakata Torimon

Japanese confectionery giants ISHIYA, KASHO SANZEN, and MEIGETSUDO launched the "Nippon no Omiyagenki Project" (Japan's Happy Souvenir Project) on May 16, 2021.

The project arrives in response to the decrease in tourism as a result of the COVID-19 pandemic. The three brands have come together to start a project to cheer people up with the power of snacks.

For the project's first release, they rolled out their Omiyagenki Box via the project's official website on May 16 which includes confections by all three companies wrapped in an original furoshiki cloth.

Omiyagenki Box | ¥5,400 (Tax Included)

Comments from the 3 Companies' Representatives (Translated by MMN)

Hajime Ishimizu (President and CEO at ISHIYA CO., LTD.)

"The Omiyagenki Project is a joint effort between our three companies to show hospitality to our customers whose roots lay in their birth-place, who love their home, and yet who kindly travel to us. Though we cannot travel at this moment in time, we hope that our snacks remind the people of Japan of our great regions."

Hidefumi Tanaka (President and CEO at KASHO SANZEN.CO.,LTD.)

"This is the season to enjoy the green scenery of the mountains and rivers, the countryside, the ocean that glimmers endlessly, and the sights of Tohoku, while enjoying something tasty. We deliver these feelings to you in a single wrapper with our brand that represents Hokkaido and Kyushu, and the feeling of travelling to these places."

Shinichiro Akimaru (CEO at MEIGETSUDO CO., LTD.)

"We are unable to travel or go on business trips due to COVID. It's a time where we have become unable to think about souvenirs. But we want to deliver happiness to the hearts of people in any way we can, and so we hope to give strength and happiness to Japan, even if it's only a little, with the power of souvenirs from three companies based in Hokkaido, Miyazaki, and Fukuoka."

Keep up to date with the project's latest additions at their official website below.

Information

Omiyagenki Box

Released: May 16, 2021

First Batch Shipping: Late May 2021

Second Batch Shipping: Early June 2021

Official Website: https://omiyagenki.base.ec/

Cow Brand Soap x BEAMS Japan Take Over Kotobukiyu Bath House in Tokyo

BEAMS Japan and Cow Brand Soap have teamed up to an event titled Sento no Susume 2021 which began on April 23. As part of the event, the two brands have come together at the popular Tokyo-based bath house Kotobukiyu where illustrations for the collaboration drawn by manga artist Mari Yamazaki (Thermae Romae, Olympia Kyklos) has been put up on the outside, inside, and along the walls.

See the illustrations being plastered in the video below.

At the bath house entrance, along the walls, and everywhere else

Fashion shoots are being held at the bath house

Limited-edition merchandise for Sento no Susume 2021

For many years, sento public bath houses have been big part of Japanese culture and are located up and down the country. They are places people go to unwind, relax, and destress. However, with times changing, they are because less part of people's lives, and the facilities themselves are seeing significant wear and tear as well as not having successors to take over the businesses. Sento no Susume aims to revitalise sento and raise their cultural value once again by showing how they can be enjoyed. The first event was held in January and February in 2019.



This year will be the second hosting of the event and invites manga artist Mari Yamazaki on board who has given Kotobukiyu a makeover with her iconic artwork themed on exercise and bathing. Six sports are featured in her drawings for the bath house including basketball, climbing, javelin, surfing, judo, and volleyball.

Have you experienced a Japanese sento before?

Rurouni Kenshin x Hello Kitty Collaboration Launching to Promote Manga's Upcoming Live-Action Films

In promotion of the forthcoming live-action films Rurouni Kenshin: The Final and Rurouni Kenshin: The Beginning, both of which will be released on April 23 and June 4 respectively this year, the series is rolling out a collaboration with Sanrio's globally-beloved character Hello Kitty on April 14.

Original Merchandise

Rurouni Kenshin x Hello Kitty Plush Toys (2 Designs) | ¥3,850 Each (Tax Included)

Rurouni Kenshin x Hello Kitty Plush Toys (4 Designs) | ¥2,750 Each (Tax Included)

Rurouni Kenshin x Hello Kitty A4 Folder Set | ¥495 (Tax Included)

Rurouni Kenshin x Hello Kitty Bottle | ¥1,540 (Tax Included)

Rurouni Kenshin x Hello Kitty Tote Bag | ¥2,200 (Tax Included)

Rurouni Kenshin x Hello Kitty Ballpoint Pens & Mechanical Pencils (2 Designs) | ¥770 Each (Tax Included)

Rurouni Kenshin x Hello Kitty Hand Towels | ¥1,430 (Tax Included)

Rurouni Kenshin x Hello Kitty Pins (6 Designs) | ¥330 Each (Tax Included)

Rurouni Kenshin x Hello Kitty Acrylic Stands (8 Designs) | ¥715 Each (Tax Included)

Rurouni Kenshin x Hello Kitty Sweets Paradise Collaboration Cafe

Menu Excerpt

Kenshin Hello Kitty Beef Bowl / Battousai Hello Kitty Omurice

Enishi Hello Kitty Orange Crepe / Tomoe Hello Kitty Anmisu / Kaoru Hello Kitty Strawberry Pancake

Acrylic Mascot Key Rings

10 Designs

Plush Toys

This marks the second collaboration between Rurouni Kenshin and Hello Kitty, the first taking place back in 2014 in promotion of Rurouni Kenshin: The Legend Ends. Fans can get their hands on a collection of cute merchandise with Hello Kitty dressed as various characters from the series, as well as tuck into a themed menu which will first be served at Sweets Paradise Ueno ABAB from April 22 before rolling out to six more Sweets Paradise branches in Japan.

©和月伸宏/集英社 ©2020 映画「るろうに剣心 最終章 The Final/The Beginning 」製作委員会

Sumikko Gurashi transformed into Japanese sweets

The Japanese character motif sweets series Tabemasu released a new sweets collection inspired by 4 of San-X's popular Sumikko Gurashi characters on March 2 at FamilyMart convenience stores in Japan.

Tabemasu Sumikko Gurashi Collection: Shirokuma (Strawberry Milk) & Tokage (Peach) / Tonkatsu (Chocolate) & Ebi Furaino Shippo (Banana) | 1 Box 2 Sets – ¥369 Each (Before Tax)

The popular characters Shirokuma and Tokage's bellies are filled with strawberry milk and peach flavoured sweet red bean paste. The besties Tonkatsu and Ebi Furai are making their first appearance on in the Tabemasu series with tales filled with chocolate and banana flavoured red bean paste. Their cute and plump charms are represented as edible Japanese traditional sweets which are too cute to eat!

The newcomer Tonkatsu represents a leftover piece of tonkatsu and who dreams to be eaten someday… his longtime dream is about to be accomplished with your help! Check out these cute and delicious sweets of Sumikko Gurashi.

(C)2021 San-X Co., Ltd. All Rights Reserved.

Tokyo's Masterpieces From The National Gallery London Exhibition Adds Extra Nighttime Dates

The National Museum of Western Art in Tokyo has been hosting the Masterpieces From The National Gallery London exhibition since June 18 this year, and has just announced additional nighttime hour viewings, so the exhibit will be open until 21:00 from October 13 to 17.

The exhibition brings together a special selection of 61 masterful works from The National Gallery London in Japan for the first time, such as Vincent van Gogh's Sunflowers, Johannes Vermeer's Lady Seated at a Virginal, and Claude Monet's The Water-Lily Pond.

Tickets for the evening viewings between October 13 and 17 will be available to purchase from September 19 via FamilyMart, e+, and Yomiuri Shimbun's online store in Japan. More details are available on the exhibition website.

Information

Masterpieces From The National Gallery London Exhibition – Tokyo
Running: June 18, 2020 – October 18, 2020

Venue: National Museum of Western Art

Opening Hours: 09:30-17:30 (until 21:00 from October 13 to 17)

Closed: Mondays
Enquiries: 03-5777-8600(ハローダイヤル)

Exhibition Website: https://artexhibition.jp/london2020/

*The exhibition will move to The National Museum of Art in Osaka from November 3, 2020 to January 31, 2021

New Desserts Arrive at Tokyo's Panda Themed Cafe Mainichi Panda CAFE by Saryo Ginza Seigetsudo

Saryo Ginza Seigetsudo, a cafe located on the 2nd floor of Matsuzakaya Ueno in Tokyo, has been holding its "Mainichi Panda CAFE" event since October last year where it is serving up panda themed food and drink, selling panda plush toys and books, and the cafe itself is decorated with all things pandas.

Mainichi Panda CAFE by Saryo Ginza Seigetsudo is now introducing four new panda desserts, and its exhibition theme is celebrating the birthdays of Ueno Zoo's giant pandas Xiang Xiang and Lili.

Adzuki Bean & Warabimochi Panda Parfait | ¥1,100

Japanese style parfait topped with panda-shaped ice cream.

Panda Jonamagashi & Matcha Set | ¥1,100 *Only 4 served per day

A Japanese 'jonamagashi' confection made to look like a panda wearing a straw hat.

Panda Pancake-Style Dorayaki w/Orange Peel | ¥1,100 (With Coffee ¥1,430)

Saryo Ginza Seigetsudo's signature dorayaki served pancake style and branded with a cute panda face.

Lemon Yogurt Cake Set | ¥1,210

A slice of refreshing lemon and yogurt cake.

Mainichi Panda Exhibition (Excerpt)

The cafe has a special photo exhibition on display of the cute giant panda family that is housed in Ueno Zoo.

Postcards


Postcard image

The first 100 customers who dine at the cafe each day will receive a free postcard of Ueno Zoo's pandas.

If you love pandas, and have visited Ueno Zoo before, then you won't want to miss a visit to Saryo Ginza Seigetsudo.

Information

Mainichi Panda CAFE by Saryo Ginza Seigetsudo
Address: Matsuzakaya Ueno 2F, 3-29-5 Ueno, Taito Ward, Tokyo
Opening Hours: 10:00-20:00 (Last Orders 19:30) *Opening hours subject to change
TEL: 03-3832-1111