All-Day Puro Halloween Party to Begin at Sanrio Puroland on September 14
The annual autumn-time event at Sanrio Puroland 'Puro Halloween Party' will take place at the indoor theme park from September 14 to October 31.
The theme this year is 'Halloween Rock.' It promises to be bigger and better than last year's event. A whole cast of Sanrio characters will make an appearance, including Cinnamoroll and friends.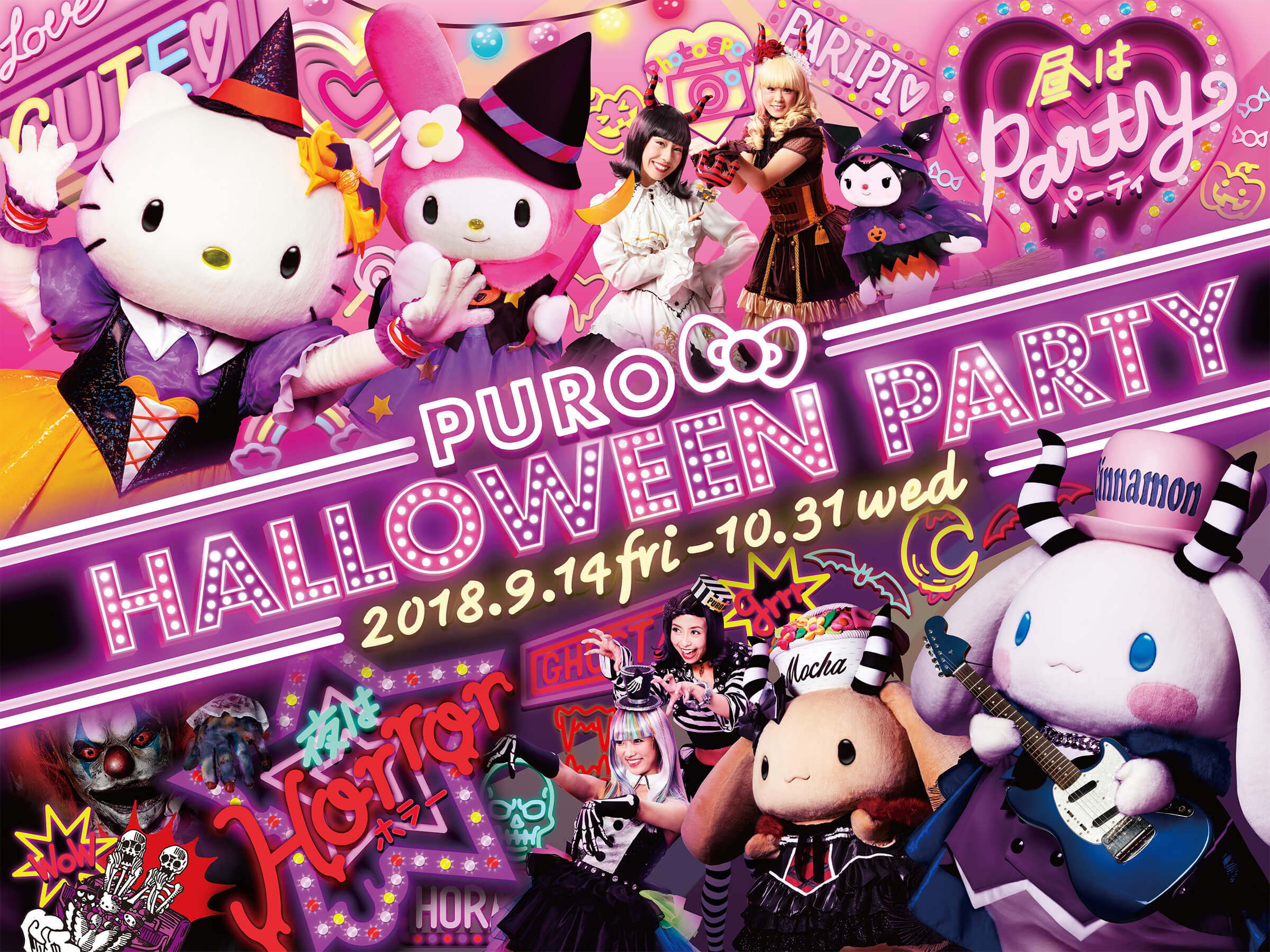 The event will be split into two parts this halloween: DAY TIME ~Party People Time~ and NIGHT TIME ~Horror People Time~.
During the daytime, you can look forward to the attractions taking on a Halloween theme, and the Sanrio cast dressed up in Halloween costumes.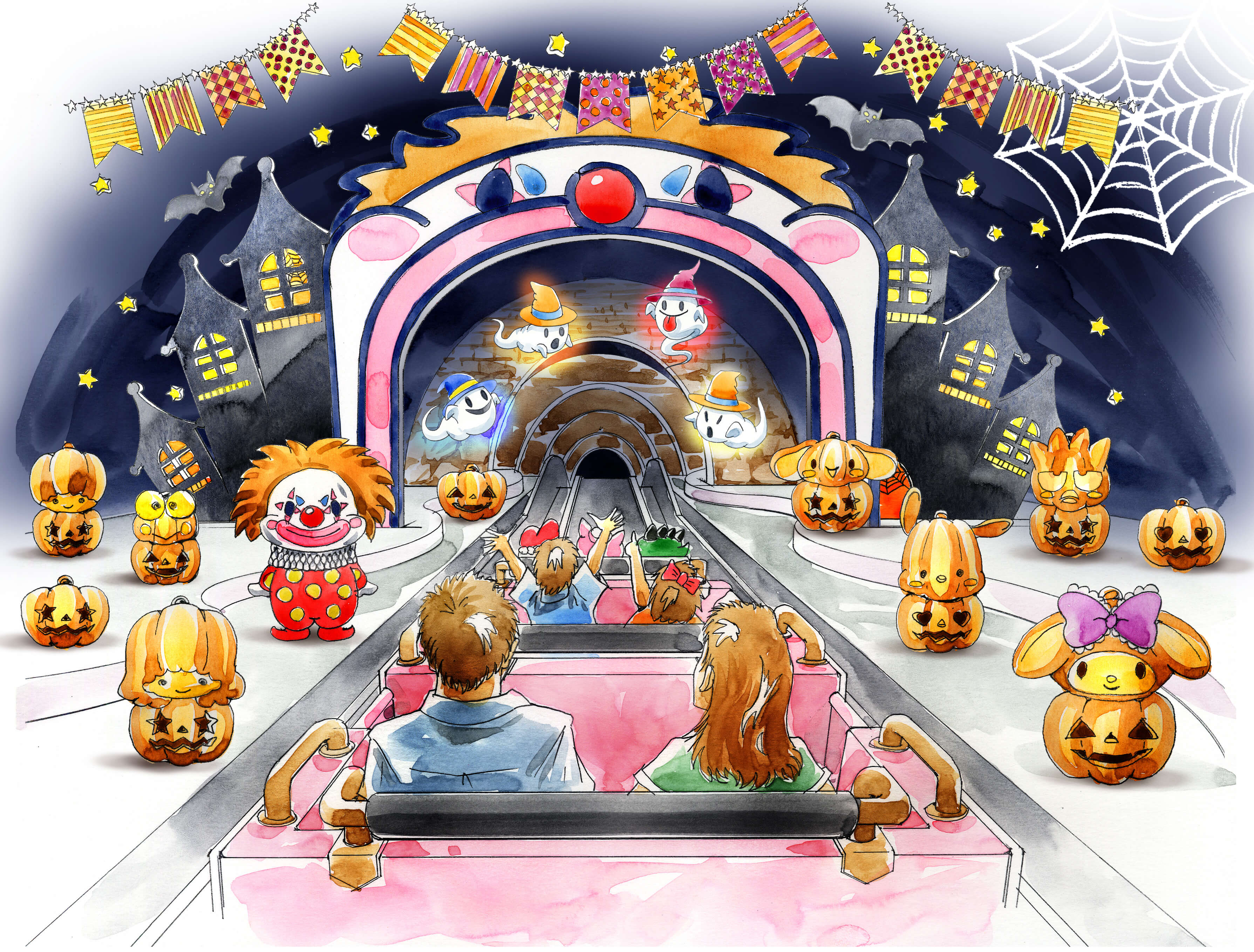 Amongst the attractions taking on a spooky theme this year is the Sanrio character boat ride which will be decked out in pumpkins, clowns and other little Halloween decorations.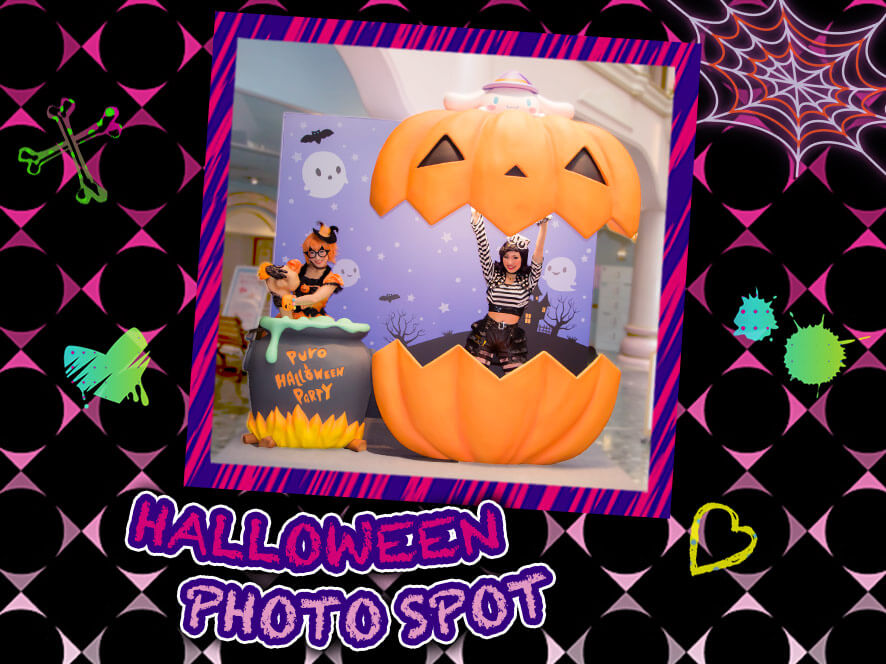 The third floor Rainbow Hall will also be home to a Halloween photo spot that'll make it look like you're being gobbled up by a pumpkin!
And for kids only, there will be a trick-or-treat greeting event with the fluffy purple kitten character Mewkledreamy. Maybe they'll get some candy from Mew…? All the characters will be dressed up super cute so be sure to meet them all.
When it turns to nighttime, several new themed attractions will open their creaky doors to the public, all of which you cannot run away from. This includes the Kurayami no Sanrio Character Boat Ride in the dark, the Ghost Pierrot Sneaking Horror House, and more. Sanrio are teaming up with Obaken, a horror attraction in Tokyo that offers top class scares and incorporates an escape element with varying difficulty levels. People of all ages can look forward to some real scares!
Opening the night part of the event will be the Halloween Rock Live Parade, a brand new parade running for this event only.
There will of course be a food menu perfect for Halloween-time too. Pick from the cute daytime menu or the spooky nighttime menu.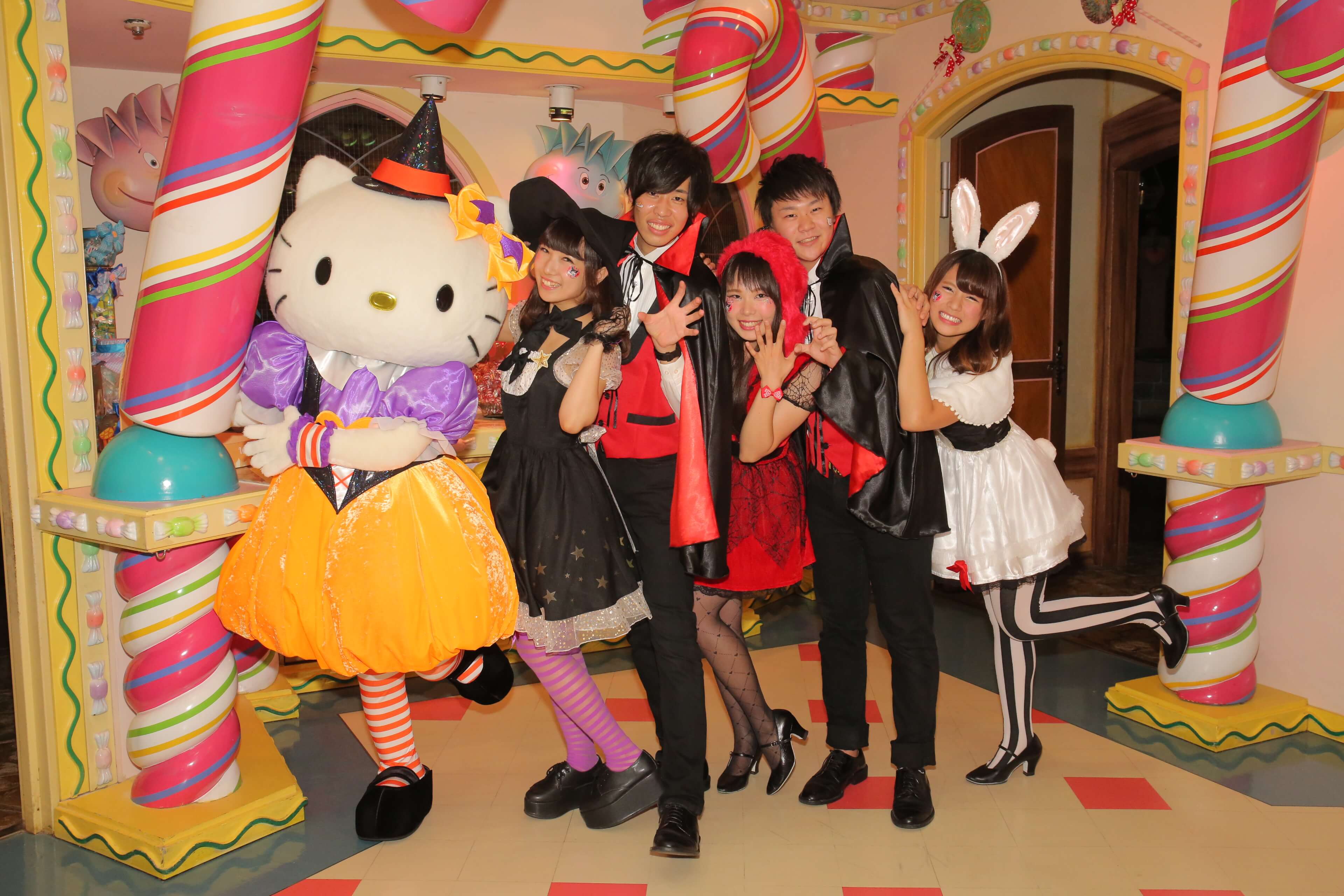 So that guests can enjoy the Halloween party even more, those who attend the event dressed up in a full costume will be able to buy a discounted passport ticket.
Enjoy your Halloween this year at Sanrio Puroland!
■Information
Sanrio Puroland
Address: 1-31 Ochiai, Tama, Tokyo
Opening Hours: https://www.puroland.jp/calendar/
TEL: 042-339-1111
Website: https://www.puroland.jp/
Puroland Halloween Party
Running: September 14, 2018 – October 31, 2018
Details: https://www.puroland.jp/2018_halloween/
DAY TIME ~Party People Time~
Open from opening time to 3:30pm on weekdays and to 4:30pm on holidays.
NIGHT TIME ~Horror People Time~
Open until closing time from 3:30pm on weekdays and from 4:30pm on holidays.
*Park open until 6:00pm on weekdays during Halloween.
*Times subject to change.
Halloween Discount
Running: September 14, 2018 – October 31, 2018
Passport Discount Prices: Weekdays & Holidays – Parent & Child ¥2,500 (¥1,500 on weekdays from 2:00pm and on holidays from 3:00pm)
Conditions: Take the discount ticket from the Puroland homepage (printed or shown on your phone screen) and attend in full costume.
*The discount is available to those in full costumes only. Not applicable to those in simple dress-up such as only face paint, a cloak and other single items.
Discount Page: http://www.puroland.jp/halloween-narikiri/
*Please check the full details and conditions for wearing costumes.
©1976,2009 SANRIO CO., LTD.
©1976,1988,1989,1990,1992,1993,1996,1999,2001,2004,2005,2010,2017,2018 SANRIO CO., LTD.
RECOMMENDED ENTRIES
Sanrio Boys Touch Rally to Take Place at Sanrio Puroland

Sanrio Puroland is introducing an original touch rally game to the park inspired by Sanrio Boys, a media project that was set up around a group of boys who love Sanrio's characters. The event begins on April 28, where a special discount will also be given to male attendees who arrive at the park holding plushies of the same characters that the Sanrio Boys do.


The Sanrio Boys Touch Rally will have people running around Puroland while listening to voice messages. If you purchase the Sanrio Boys IC card that has all 5 members on it and use it to touch four terminals in the park, you'll be able to hear voice messages from the characters. They will appear on the terminal display. Listen to their messages, head around the park and touch all the terminals. Those who clear the course will receive a Sanrio Boys original pin-back button. The stories that will take place in the voices messages will change from season to season, so enjoy hearing all of them.


Also, in line with the event, those who arrive carrying the same plushies as the Boys can enjoy a special discount. If you satisfy the conditions, you can purchase a Puroland passport ticket at a special price. The character plushies include Pompompurin, My Melody, Hello Kitty, Little Twin Stars, Badtzmaru, Cinnamoroll, and Kerropi. Simply show your plushy at the Sanrio Puroland ticket booth.


A series of live events titled Miracle☆Stage "Sanrio Boys" is also slated for November this year with the immensely popular Boys. Get up close and personal with them at the events and maybe find your favourite Sanrio character too.

Sanrio Puroland & Round-Trip Train Ticket Set to be Sold at Shinjuku Station!

Sanrio Puroland is a theme park where you can meet some of the world's most iconic characters including Hello Kitty and My Melody.

The closest station to the park is Tama-Center Station which is often perceived as being quite a trip, but it's very easy to get to. Just hop on the Odakyu Line from Shinjuku Station and it's just one stop. It takes about 35-minutes.

If you're planning a trip to Sanrio Puroland, then consider the new ticket set that's coming out on April 1, 2018. The super affordable Odakyu Sanrio Puroland Tour contains both a round-trip train ticket as well as a passport ticket into Puroland.

The tour can be paid for at the Odakyu Travel Center in Shinjuku Station's West Hub, which was refurbished this month.

Have a fun trip and affordable trip to Sanrio Puroland with this new ticket set!

■Information

Odakyu Sanrio Puroland Tour
On Sale: April 1, 2018
Location: Odakyu Travel Center Shinjuku West Hub, Hakone Tabi Ichiba

*Near Odakyu Line ticket gates at Shinjuku Station West

Price: Adults (18 years and above) ¥3,200 / Children (3-17 years) ¥2,400

Website: https://www.puroland.jp

Talk with "Cinnamorol" in real time!? Live streaming from Sanrio Puroland

Sanrio Puroland has started an official channel of Live Shop for the first time!

They will introduce/sell limited items which can only be bought at Live Shop!

The first streaming program will be broadcasted from the 18th of March 2018 (Sun.) and the popular character "Cinnamoroll" will participate in the program. The program will be broadcasted from Sanrio Puroland.

Ahead of Puro Easter which will be started from the 21st of March, goods related to Easter and Puroland's original goods selected by Cinnamonroll will be sold. The items which will be introduced in the program can easily be bought by using the application.

Also, Cinnamonroll will respond to the quizzes and questionnaires in the program. Let's send lots of comments and "Likes!"

 Don't miss this program where you can chat with Sanrio's characters in real time!

■Information

Cinnamoroll Birthday Special live streaming

Date: 2018/03/18 (Sun.) 20:00 to 21:00
RELATED ENTRIES
Tokyo DisneySea's New Halloween Show is a Thrilling Must-See

Disney Halloween 2019 has finally begun, and this year, Tokyo DisneySea is serving guests a dark and mysterious Halloween experience to keep them on edge. The festivities will run all the way up to October 31.

We visited the park to see Festival of Mystique, an all-new colourful and flamboyant show introduced this year. Here's our report.

The show began with music chiming in at Porto Paradiso in Mediterranean Harbor upon which trickled out lines of costumed friends of the sea. The beautifully dressed ladies at the front then spoke of a Halloween festival that was once held at the port, and their intention to resurrect it.

Out came a merrymaking Mickey mouse and Disney cast aboard a ship, clad in cute outfits the likes of which have never been seen before at the park.

Donald Duck, Goofy, Chip and Dale all got off the boat and headed towards the ladies, almost as if charmed by the allure of their beautiful and bewitching singing voices. This was followed by a sudden whimper by Pluto as he looked on towards Mickey. "Pluto, you've got to be a good boy! We've put a lot of effort into this Halloween," Mickey said to him. When he said this he began to think that something strange was going on with the festival―like something was going to happen…

The singing and dancing ladies went on to teach the onlooking guests a few dance moves to get involved with the show. Everybody danced together with Mickey as the leader.

It wasn't long however before the mood and tone of the music took an uncomfortable turn…

Before we realised it, Mickey had been locked inside a cage! But he was dancing and having fun literally just seconds before―what happened?!

Luckily, Minnie Mouse comes to the rescue to save Mickey and bring the fun Halloween festivity back. She takes the lead and dances with the guests this time.

So what happened to the Disney characters, and what was their fate? We don't want to spoil the ending, so you'll have to see it for yourself this fall!

©️Disney

Pompompurin Zombieland: Save Pompompurin From Zombies at Sanrio's Horror Event

Sanrio's popular character Pompompurin is collaborating with Obaken, a horror experience creative company, to bring the brand new horror event known as Pompompurin Zombieland to Sanrio Puroland on November 16 and 30.

Tickets will go on pre-sale for official Pompompurin ambassadors, or Pombassadors, on September 14 at 10:00am (JST) and general sales will begin on September 28 at 10:00am (JST). To find out more about Pombassadors and how to become one click here.

Pompompurin Zombieland Promo Video

Horror experience planner Obaken is set to shake the cute world of Pompompurin into a terrifying zombie-infested one. In the story, Pompompurin was happily looking for some tasty mushrooms to pick when all of a sudden he eats a poisonous one by mistake. It is your mission to deliver him the antidote to stop him from becoming a zombie. Other unfortunate victims who also ate poisonous mushrooms have died and returned as the living dead and will roam around Puroland. The antidote to save Pompompurin, who is on the brinks of turning into a green zombie, lies in the non-poisonous mushrooms located in 6 areas of the park.

You must survive getting infected by the zombie virus and get your hands on mushrooms. If you succeed you'll receive an exclusive Pompompurin Zombieland pin badge stating that you have cleared the mission.

You can even pick up an exclusive Zombie Purin t-shirt. These are limited in stock and can't be bought anywhere else.

Additionally, if you wear a combination of yellow and brown-coloured clothing when attending the event―which are the colours of Pompompurin―you'll get the above-pictured Zombie Purin sticker.

Full details can be found on the event's website below. Don't miss out on this creepy-cute experience this autumn.

©︎'96, '19 SANRIO

Tokyo DisneySea's Dark Halloween Festivities For 2019 Begin

Disney Halloween 2019 has finally begun! The Tokyo DisneySea fun is set to run until October 31 where it will provide guests with a dark and mysterious Halloween experience that will keep you on edge… like something's about to happen, but you're not sure what.

Tokyo DisneySea's decor takes on a more grown-up bewitching look compared to Tokyo Disneyland's cute decorations.

Hung throughout the park you will find decorative banners featuring illustrations of Disney characters dressed in their spooky garments. This year, Mickey, Minnie and the rest of the cast invite guests into a truly bewitching wonderland.


If you pop over to American Waterfront you'll find some great photo opportunities, like the Minnie Mouse and Daisy Duck statues waiting to welcome you at the entrance, clad in hauntingly beautiful attire and stood next to night-black pumpkins and dried flowers.


You'll find the rest of the costumed characters further in too. Be sure to get photos with everyone!

Chicken & Vegetable Steamed Bun – ¥600 @ Nautilus Galley / Teriyaki Chicken Rubber Ring Steamed Bun – ¥600 @ Seaside Snacks

Nothing has been left out from the Halloween spell this year, even the food menu and drinks which arrive in festive colours like black and purple like this bandage-wrapped mummy steamed bun and rubber ring steamed bun.

Inside the mummy is a delicious concoction of chicken, cabbage, and other veg.

The rubber ring steamed bun is the perfect snack to munch on as you walk around the park. It's filled with rich teriyaki chicken wrapped in a striking purple dough.

All of the food is packaged in cute packaging too―don't throw it away straight away and check out which illustration you got!

Assorted Sweets – ¥430 @ Gondolier Snacks and elsewhere

Check out these bite-sized confections, from a mini baumkuchen cake on a lollipop stick to strawberry cheesecake and purple sweet potato cream mochi. The chewy mochi Mickey can only be described as kawaii♡

Grape Tapioca Tea – ¥500 @ Mamma Biscotti's Bakery

Sparkling Black Tea Tapioca Drink – ¥450 @ Hudson River Harvest

Tokyo Disneyland's tapioca drinks are really popular in summer, and for Halloween they've arrived with all-new flavours, exclusive to the Disney Halloween event.

There's lots to see and experience at this year's Disney Halloween. Be sure to look everywhere, even in shop windows. And if you're eager to see more of the food and drinks available at both parks then click here.

Sanrio's Kuromi Takes Over Harmonyland This Halloween For Devilish Events

Sanrio character theme park Harmonyland in Oita has announced this year's Halloween event, Kuromi's Happy Halloween, which will begin on September 13. The devilish and mischievous Kuromi, whose birthday is on October 31-Halloween day-is taking over the park this year to deliver a very cute and just a tiny bit spooky Halloween to kids and adults this year.

Harmonyland's Halloween Night Party, a huge hit every year, will also return on October 26. In addition to Kuromi's birthday event, Wish me mell, another one of Sanrio's cute characters, will also celebrate her birthday on September 20.

The event also has its own story. While Hello Kitty was having fun preparing for Halloween with everyone, Kuromi looked at the calendar and noticed that the park was scheduled to be closed on October 31, her birthday. Angry by this decision, the scheming Kuromi began Halloween preparations of her own.

Pashakawa SWEET HALLOWEEN

This event is a chance to meet your favourite characters, who will be dressed up in their Halloween costumes, and take a photo with them. Be sure to say the secret password to them, "trick or treat," to get some free candy! The fun doesn't stop there though, as there'll be a chance to dance with the characters too.

Omotenashi Hello Kitty Cafe

Hello Kitty will serve as owner of the Hello Kitty Cafe, while Kuromi will be your maid along with the cafe staff, and Meister Cinnamon will learn your name and teach teach it to the rest of the character staff. At the end of the show, the cafe staff will change into their Halloween costumes.

Halloween Photo Spots

Special Halloween photos spots will be dotted around for Halloween where you can snap some cute pictures. From pumpkin heads of Hello Kitty, My Melody and  Kuromi to flower beds decorated with Kuromi, there will be no shortage of Instagrammable spots for photos. And when you get close to the two flower beds, you might just run into a trick set up by Kuromi herself… Also, the background music playing at the park was all chosen by Kuromi.

Halloween Merch & Menu

Of course, there will be lots of exclusive character merchandise to grab, as well as a cute themed menu designed just for Halloween.

Halloween Night Party ~Pink or Black~

The popular Halloween Night Party returns again this year, a one-night-only spectacle of lights, music and dance. The theme this year is "pink or black." Clad yourself in one or both of these colours and have a fun Halloween night!

・Date: October 26, 2019 (18:00-21:00)

・Price: ¥1,000 (Everyone aged 4+) *Price is reduced to ¥500 to those who hold an annual ticke

・A shuttle bus will be operating for free (limited spaces)

Celebrate Halloween this year together with Kuromi.

ⓒ '76, '91, '96, '99, '01, '05, '09, '17, '19 SANRIO

Universal Studios Japan Scales Up Halloween Events For 2019

The ever-popular Universal Surprise Halloween event is set to return again this year to Universal Studios Japan and will run from September 6 to November 4.

The event is set to be bigger than ever this year, with more attractions than ever before, as well as the event's three main elements―Zekkyo Halloween, Otana Halloween, and Kowa Kawa Halloween―making use of the entire park. Look forward to a unique and spooky Halloween experience the very second you enter the park.

Zekkyo Halloween

Three main events run every year during Universal Surprise Halloween. The first of these we are taking a look at is Zekkyo ("Screaming") Halloween, which plunges guests into terrifying experiences, the kind of scream-inducing encounters you conjure up in your imagination at Halloween.

As part of Zekkyo Halloween, just some of the exciting and hair-raising attractions include the brand new horror maze which will see you running for your life through its twists and turns, the return of the extremely popular zombie dance show, a survival horror maze based off the Resident Evil game series, and much, much more.

Otona Halloween

Otona ("Adult") Halloween is a more sophisticated kind of Halloween experience aimed at adults, clad with glamour and fashion, but certainly not free of scares.

Halloween 2019 sees the return of the interactive theatre event Hotel Albert in a brand-new sequel, Hotel Albert 2: Requiem. We covered last year's here, but in summary, it's an immersive theatre experience in which guests act as participants in the play. Guests walked around the attraction as characters in the story and experienced a beautifully haunting tale unfold before them. What secrets does the sequel hold? You'll have to attend to find out!

A new horror restaurant, named Park Side Grill ~Cursed Banquet Of Roses~, will serve up magnificent meals while imbuing a sense of uncanny in its diners.

Kowa Kawa Halloween

Of course, it's not all doom and gloom at Universal Surprise Halloween. Children will get to enjoy Kowa Kawa ("Creepy-Cute") Halloween again this year in all its Halloween trickery. Minions and the Sesame Street cast will be present and dressed in mischievous costumes. The incredible Festa de Parade will run the street, and kids will be able to catch falling candy at Happy Trick Or Treat where it will rain down like a waterfall.

USJ is a spearhead in Japan's Halloween culture, so if you're there for the spooky season, make sure you don't miss out.

©CAPCOM CO., LTD. ALL RIGHTS RESERVED.© 2019 Universal Studios. All Rights Reserved. ©2012 "Sadako 3D" Production Committee
HARRY POTTER characters, names and related indicia are © & ™ Warner Bros. Entertainment Inc. Harry Potter Publishing Rights © JKR. (s19)
Despicable Me, Minion Made and all related marks and characters are trademarks and copyrights of Universal Studios. Licensed by Universal Studios Licensing LLC. All Rights Reserved.™ & © 2019 Sesame Workshop© 2019 Peanuts Worldwide LLC© 1976, 2019 SANRIO CO., LTD. APPROVAL NO. EJ9071103

Halloween at HEP FIVE Osaka: Horror Ferris Wheel, Guillotine Photo Spot & More

Osaka's landmark shopping centre HEP in Umeda is just a short 3-minute walk from Umeda Station, meaning you don't have to worry so much about looking over your shoulder to see if Michael Myers or Dracula is following this Halloween as you make your way to "HEP FIVE HORROR×HORROR AUTUMN."

This bone-chilling event is set to deliver horror, beauty and fashion all in one place.

Junji Inagawa's Horror Ferris Wheel

The Horror Ferris Wheel was such a hit last year that it's set to return again this Halloween, better and scarier than ever. There will be two Ferris wheels, each inspired by two of ghost story writer Junji Inagawa's masterpieces. Incorporating an all-new horror system, the Ferris wheels will take riders up 106 meters high for a hair-raising experience they cannot escape. Once you're in, you're in until the end.

Monster Food

Of course, no Halloween party is complete without some fang-tastic food. HEP FIVE's restaurants have each whipped up their own unique dishes for the holiday.

Lulu Hashimoto's Doll World

Lulu Hashimoto has garnered attention both in Japan and overseas as the "living doll" for her doll costume. She will be present at HEP FIVE where you can get a photo with her at the first floor entrance atrium.

Date: October 12, 2019

Time: Slot ① 13:00 (Floors 5F-6F), Photos at 13:30 / Slot ② 15:00 (Floors 3F-4F), Photos at 15:30 /  Slot ③ 17:00 (Floors B1F & 2F), Photos at 17:30

Locations: The initial fan greeting will take place at various places across the shopping centre, and photos will take place on the first floor atrium

Getting a Photo: Tickets will be handed out from 11:00 on the day. 15 people per slot on a first-come, first-served basis.

Horror Show Time

Ghost performed Sadawo is set to take on the form of Japan's most famous horror icon Sadako from Ringu while riding a Segway. Look forward to a whole host of terrifying performances.

Date: October 19, 2019

Times: ①12:00 (Floots 6F-7F) / ②14:00 (Floors 4F-5F) / ③16:00 (Floors 2F-3F) / ④18:00 (Floors B1F-1F)

Locations: Various places across the shopping centre

Guillotine Photo Spot

Get your photo taken at the guillotine photo spot at the first floor atrium and look like something straight out of a slasher movie. Make it even better by dressing up in cosplay or Halloween outfits with friends!

Enjoy a horror experience like no other this Halloween at HEP in Umeda, Osaka.

Information

HEP FIVE "HORROR×HORROR AUTUMN"

Location: HEP FIVE (5-15 Kakudacho, Kita Ward, Osaka, Osaka Prefecture)

Date: September 20, 2019 – October 31, 2019
HEP FIVE Official Website: https://www.hepfive.jp/

Tokyo Disney Resort Unveils Its Spooky Halloween Merchandise and Food Menus

This year's Disney Halloween is set to hit Tokyo Disneyland® and Tokyo DisneySea® on September 10. In the run up to the event, Tokyo Disney Resort released some of the parks' Halloween merchandise early on Monday.

Special Merchandise

Long-Sleeve T-Shirt: Men's ¥3,600 / Women's ¥3,300 (*Men's in picture)

Gloves – ¥1,200 @ Grand Emporium, Tokyo Disneyland

From skeletal hand gloves to ghostly headbands, ghoulish Mickey ears and more, Tokyo Disneyland® has you set for your Halloween dress-up this year.

Headbands & Ear Hats @ Grand Emporium, Tokyo Disneyland & Emporio, Tokyo DisneySea

Grab the cute pumpkin-coloured Minnie headband or cool bandage-wrapped ear hat at both parks and get your scare on.

We recommend picking a full set, such as the skeleton t-shirt with the skele-ghost ear hat, or the bridal costume for a hauntingly beautiful Halloween. Mix and match to make your own spooky looks.

Special Food Menus

Popcorn Soda & Doughnut – ¥600 @ Captain Hook's Galley, Tokyo Disneyland

Forget trick-or-treat candy and order one of the many fun menu items at the parks, including this fizzy caramel popcorn flavoured beverage. The scrumptious popcorn coupled with the pumpkin flavoured doughnut make for a delightfully delicious combination.

Chicken & Vegetable Steamed Bun – ¥600 @ Nautilus Galley, Tokyo DisneySea / Teriyaki Chicken Rubber Ring Steamed Bun – ¥600 @ Seaside Snacks, Tokyo DisneySea

From a bandage-wrapped mummy steamed bun to a purple rubber ring steamed bun with a bat on it, Tokyo DisneySea and Tokyo Disneyland aren't short of Halloween bites this year, all so cute they seem a waste to eat!

Cassis & Passion Fruit Wine Cocktail – ¥680 @ Cafe Portofino, Tokyo DisneySea

Whisky & Orange Cocktail – ¥680 @ Barnacle Bill's, Tokyo DisneySea

Choose from five striking alcoholic drinks including the Cassis & Passion Fruit Wine Cocktail, which has a perfect balance of sweet and sour, and the Whiskey & Orange Cocktail, a mix of whisky, black tea and orange cocktail for an easy-to-knock-back flavour combination.

There is much terrifying excitement to be had this Disney Halloween. Put on your Halloween costume, order some food, and take lots of Instagrammable pictures at night. You won't soon be forgetting your Halloween experience at Tokyo DisneySea or Tokyo Disneyland.

©Disney

*The merchandise and menu items shown are subject to change without notice. Additionally, items are subject to selling out or discontinuation. Photos are for illustrative purposes only.

Dare To Treat Yourself to One of These 5 Halloween Dishes

One of Japan's most favourite celebrations of the year is Halloween. As autumn is setting in, you will notice halloween decorations gradually drift into shop windows and more importantly, Halloween-themed desserts and meals taking over restaurant menus. To prepare for this delicious apocalypse, we are now unveiling this year's top Halloween meals and desserts you really need to look out for. 

Krispy Kreme Halloween Doughnuts

Krispy Kreme branches across Japan will be releasing their pumpkin, chestnut and apple flavoured selection called MONSTER HARVEST in Monster DINER from September 11 to October 31.

*Some branches may not sell the Halloween collection. 

Halloween Dozen (Box of 12) Available: September 11 ー October 31, 2019 Price: ¥2,000 (before tax)

If you're having a Halloween party with friends and family then this box of a dozen doughnuts is the perfect treat. It contains autumn-limited flavours such as pumpkin, apple chestnut as well as some of KKDJ's classic doughnuts. Here's a nice trick to save money on your treats: You save ¥440 if you purchase this box over individually purchasing the same doughnuts. Add a splash of autumn colour to your Halloween with this beautiful box of delicious doughnuts. 

▼Krispy Kreme Doughnuts Japan Website: https://krispykreme.jp/

Halloween Menu at The Pokémon Cafe, Nihonbashi 

The Pokémon Cafe in Nihonbashi, Tokyo has revealed its Halloween food and drink line-up for the spooky season which will arrive early on September 7 be served until October 31.

Pikachu's Greedy Halloween Plate 2019 – ¥1,706 (w/ Plate ¥2,894)

This year's Halloween plate features Pikachu wearing a witch's hat. This filling plate features a pumpkin salad, spaghetti and more. Plenty to keep you going until the late-night candy snacking!

When ordering a drink at the cafe you'll receive one of six possible original design coasters. New designs will replace these from September 7. One of the six designs is being kept a secret!

 For the duration of the Halloween event, there's also a limited-edition lunch mat and clear coaster to get your hands on. These are limited in stock so you'll want to catch 'em all quickly! And don't forget, you have to book a table in advance to dine at the Pokémon Cafe.

© 2019 Pokémon.©1995-2019 Nintendo/Creatures Inc./GAME FREAK inc.

 Pokémon, ポケットモンスター and ポケモン are registered trademarks of Nintendo, Creatures Inc. and GAME FREAK inc.

▼ Pokémon Cafe
Address: 2-1-2 Nihombashi | Nihombashi Takashimaya SC East Bldg. 5F, Chuo 103-0027, Tokyo Prefecture
Business Hours: 10:30-22:00

Closed during Nihombashi Takashimaya SC East Bldg's closed hours.

Reservations: https://reserve.pokemon-cafe.jp/

Official Website: https://www.pokemoncenter-online.com/cafe/

Cute Halloween Desserts at The Capitol Hotel Tokyu in Tokyo

The Capitol Hotel Tokyu in Tokyo has revealed that  that it will serve up its Halloween Sweets Selection again this year at the hotel's pastry boutique ORIGAMI located on floor B2F. The confectionery chefs have spun some spooky fun into this collection of 10 cute treats.

 Frankenstein – ¥1,760 / Phantom – ¥1,760 / Cyclops – ¥1,760

The Phantom is a popular confection every year at the hotel, but this year he's had two new freaky friends carved out for him: Frankenstein's monster and a Cyclops. These white chocolate monsters are filled with chocolate-covered almonds, macadamia nuts and other hidden delights.

▼Halloween Sweets Selection

Running: October 1, 2019 – October 31, 2019

Location: ORIGAMI, The Capitol Hotel Tokyu Floor B2F

Full Sweets Line-Up: https://www.tokyuhotels.co.jp/capitol-h/restaurant/boutique/plan/50306/index.html

The Capitol Hotel Tokyu

Address: 2-10-3 Nagatacho, Chiyoda Ward, Tokyo

Official Website: https://www.tokyuhotelsjapan.com/global/capitol-h/

Cool, Cute and Cutting Edge Halloween Treats: Alice Halloween Party Buffet 2019 

Fantasy-themed restaurant Alice in an Old Castle has unveiled a new Halloween edition of their grand all-you-can-eat buffet. The Alice Halloween Party Buffet 2019 will take place from September 7 to October 31, 2019, serving up 30 varieties of desserts and light bites for their Halloween-limited event. 

This season, they are serving a mummy-themed croque madame and carrot cake with a vibrant orange Halloween colour. They will also be bringing out their Alice in Wonderland Pink Spicy Curry which is a filling curry which has become the popular number one. The Pumpkin Potage Soup and many other autumn-themed dishes will also become part of the lineup. There is surely no better way to enjoy your time than to indulge in these splendid desserts and delicious snacks. 

▼ Alice in an Old Castle

Address: Floor B1 Suzuwa Building, 2-16-8, Minami Ikebukuro Toshima, Tokyo

Regular Opening Hours: Mon-Fri, 17:00-23:30(L.O.22:30)

Weekends/national holidays  16:00-23:30(L.O.22:30)

No regular holidays (dependent on Suzuwa Building closing times)

Website: https://www.hotpepper.jp/strJ000999805/

Omotesando Q-pot CAFE. Cute Halloween Menu 

Q-pot. is known for its accessory brand, which features jewellery made to look like sweets and desserts. It is also known for the Q-pot CAFE. which flips that concept, instead making sweets and desserts that look just like real accessories. For Halloween this year, the Q-pot CAFE. has whipped up a spooky menu with the theme "DEVIL NIGHT" featuring appearances of all things Halloween from pumpkins to ghosts.

Vampire Afternoon Tea Set – ¥2,400 each (price after tax, a minimum of two people required)

*Contains milk, eggs and wheat

Take a look at this spooky afternoon tea set perfect for adults! From devils to monsters, Q-pot CAFE. has recruited a number of freaky friends for their themed dishes to terrorize your tastebuds.

The top plate comes with sponge and cream cheesecake pops coated in chocolate and salty breadsticks. The set also comes with homemade scones made from butter cream and sweet and tangy berry sauce, devil heart macaron-topped cupcakes, and pumpkin macarons which are bound to set your Halloween levels to max!

The bottom plate features savoury foods. The croissants are filled with egg, aromatic basil and dried tomatoes which provide an interesting texture.  The set also includes skewers of olives, mini tomatoes and pickles, and a Halloween Pumpkin soup.

If you are experiencing Halloween in Japan, you just have to try the themed desserts and meals!

Creepy-Cute Halloween Menu Spooks This October at Hotel Chinzanso Tokyo

The Bistro is a restaurant at Hotel Chinzanso Tokyo which offers casual dining in a warm and welcoming spacious environment. This October, the restaurant is set to serve up at "creepy-cute" Halloween menu with bone-chilling designs and delicious flavours.

The first dreadful dish is the pain de campagne which is made to look like real lips and fingers. The pork and foie gras pâté fingers are complete with a balsamic jelly coffin while the caprese lips are a mix of tomato and mozzarella cheese.

Next on the menu is a meaty meal made to look like squashed eyeballs. The eyeballs are made from small onions and are filled with blueberries to give them a very creepy and realistic look. They are served with beef cheek which has been marinated in red wine for three days before being cooked.

For dessert, look forward to meeting a seriously cute purple sweet potato mont blanc monster.

Making a return this year is a cooking lesson where a chef will teach you how to make a Halloween themed afternoon tea made up of sweets, scones and more. This is a rare chance to ask questions to a professional chef.

There will also be a children's event which is held every year and welcomes more than 200 kids. They can dress up and join in the stamp rally where they will be given a map to find all the stamp locations dotted around the hotel while gathering snacks. After the rally ends they can enjoy some Halloween desserts in the hotel's cafe Foresta.

Information

The Bistro Halloween ~Grown-Up's Halloween Dinner~

Running: October 1, 2019 – October 31, 2019

Time: 17:00-22:00
Location: The Bistro at Hotel Chinzanso Tokyo

Price: ¥6,390 (Tax and service charge excluded from price)

Event Page (Japanese): https://hotel-chinzanso-tokyo.jp/restaurant/plan/725d0986cd17bf2.html

Halloween Afternoon Tea Cooking Lesson
Date: October 16, 2019
Location: Camellia (Banquet Building Floor 3F)
Times:

[Slot 1] Sign-up from 11:00 / Lesson 11:30 / Dining 12:45-14:15

[Slot 2] Sign-up from 15:00 / Lesson 15:30 / Dining 16:45-18:15

Price: ¥6,800 (Tax and service charge included in price)

Bookings: Open from September 2, 2019

Capacity: 30 people per slot (Bookings done via online payment)
Bookings (Japanese): https://hotel-chinzanso-tokyo.jp/restaurant/plan/615d09977613e3e.html

Children's Halloween Stamp Rally & Cafe 2019
Date: October 30, 2019 – October 31, 2019
Times:

[Slot 1] Stamp Rally from 11:30 / Cafe Desserts 12:00-13:30

[Slot 2] Stamp Rally from 14:30 / Cafe Desserts 15:00-16:30

Price: Parent & Child Dessert Set ¥2,500 (Tax and service charge included in price)

*The stamp rally is free to participate in. Up to 3 children per adult. It costs ¥500 for an additional single children's dessert.
*For children aged 0 to preschool age. Costumes can be full outfits or part outfits.

*Stamp rally participation only is not permitted.

Location: Foresta at Hotel Chinzanso Tokyo
Bookings: Open from September 2, 2019
Capacity: 90 people per slot (Includes children) *Please book 3 days in advance
Bookings (Japanese): https://hotel-chinzanso-tokyo.jp/restaurant/plan/655ca72f362a69c.html

Sanrio Puroland Halloween 2019: IT Chapter Two, Horror Doll House & More Spooky Events

Sanrio Puroland is readying its tricks and treats for its Halloween festival this year. Titled "PURO HALLOWEEN PARTY ~KAWAII MASQUERADE~" the festival will run from September 13 to October 31.

This will be the park's first mask-themed festival and each day will be split into two slots: Day and Night. During the daytime, guests are invited to the park's "Cute Masked Party" string of events. But when night falls, the monsters will come out for the "Beautifully Scary Masquerade Party."

IT Chapter Two Collaboration

With IT Chapter Two right around the corner―the sequel to one of the biggest horror hits in years―Sanrio Puroland is collaborating with the film. This includes Hello Kitty taking Pennywise's place in the movie poster.

Hello Kitty's Red Balloon Mousse Cake – ¥650

In the Character Food Court on the first floor, you'll be able to order this mousse cake inspired by Pennywise's red balloons which is cutely topped with Hello Kitty ears. There will also be IT Chapter Two themed photo spots, and when evening sets in, red balloons will decorate the Lady Kitty House. IT might even appear somewhere in places you wouldn't expect…

Horror Content Made Even Scarier For 2019

Prepare to have your pants scared off with the scream-inducing Ghost Pierrot Masquerade Theater. The hugely popular mission-clear style haunted house returns and is open to everyone ages 10+ years. Can you survive the attack from the ghostly clown? If he sees you, it's over…

Location: Discovery Theater (Floor 1F)

Time: Approx. 15-minutes

Age Limit: 10-years-old and above

Lady Kitty House Transforms Into Doll House

The Lady Kitty House always has something special planned each year, and this year it's bringing something new. During the day the house will take on the form of a cute Halloween doll house.

But at night, it will become a horror doll house as the dolls are turned into butterflies as a result of a curse. Look forward to an ambivalent mix of terror and beauty.

The creeps will be made creepier on weekends and holidays one hour before the park closes when the dolls at the Horror Doll House start moving. Dress up in your Halloween attire and enjoy the hair-raising world of Lady Kitty House this year.

Join The Halloween Party Ball Mask Parade

The ball mask parade will take place on the first floor Puro Bridge. The Sanrio cast will be dressed up in ballroom attire with masks and dance elegant dances, pull onlookers into a frightening yet beautiful world.

Kawaii Masquerade Masks: Plastic – ¥800 Each / Paper – ¥400 Each

Join the fun by getting your hands on one of six character masks. Donning one of these may just be the thing you need to protect yourself from any ghosts in the area!

Location: Puro Bridge (Floor 1F)

Participating Cast: Hello Kitty, Cinnamoroll, My Melody, Kuromi, Wish me mell, Pompompurin

*More details can be found on the official homepage

Halloween Photo Spots

Have your photo taken together with the dressed-up Sanrio cast at the photo spot located in the Rainbow Hall on the third floor. Take your photo as you are or put on a mask and become one with the paintings.

Halloween Food

 

From Top Left: My Melody & Kuromi's Masquerade Party Curry ¥1,400 / Cinnamon's Black Halloween Ramen ¥1,100 / Masked Ball Black Omurice ¥1,300 / Dancing My Melody Corn Soup Pasta ¥1,300 / Hello Kitty's Masquerade Dress Parfait ¥850 / Cinnamon's Halloween Rare Cheese Tart ¥600 / Purin's Masquerade Doughnuts ¥600

"Black & Purple" is the theme for this year's Halloween menu which is packed with cute character dishes and desserts. 11 items adorn the menu including Kuromi's Black Night Cocoa which is served in the evening only.

Exclusive Halloween Merchandise

Mascots – ¥1,944 Each

Lots of character merchandise will be sold featuring the cast in their new Halloween costumes this year, from key rings to bags and more.

Dress Up & Get Discount

As part of the Halloween celebrations, if you arrive at the park in full Halloween dress you can get a discount on Passport Tickets. Be sure to go clad in your best outfit to have the most fun!

*All listed prices include tax

©1976,2009 SANRIO CO., LTD. ©1976,1990,1996,2001,2005,2010,2019  SANRIO CO., LTD.

©2019 Warner Bros. Entertainment Inc. All Rights Reserved.

Information

PURO HALLOWEEN PARTY ~KAWAII MASQUERADE~
Running: September 13, 2019 – October 31, 2019

DAY: Weekdays – Until 14:30 / Weekends – Until 15:00

NIGHT: Weekdays – From 14:30 Until Closing / Weekends – From 15:00 Until Closing

*Weekday closing hours during the Halloween period is 6:00pm. Times subject to change.

Event Page: https://www.puroland.jp/2019_halloween/

Halloween Dress-Up Discount
Running: September 13, 2019 – October 31, 2019
Price: 1-Day Ticket – ¥2,500 (Adults & Children) / Night Ticket – ¥1,500
Conditions: Print off a discount ticket from the Puroland homepage (or show on your digital device) and dress in full Halloween-themed attire
*Must be full dress. Those wearing only face paint, only capes and so on will not receive the discount.
*Full conditions can be found on the website below (in Japanese)

Discount: https://www.puroland.jp/halloween-narikiri/

Sanrio Puroland

Address: 1-31 Ochiai, Tama, Tokyo

Official Website: https://www.puroland.jp/

Q-pot CAFE. Omotesando Unveils Halloween Menu & Accessories For 2019

Q-pot. is known for its accessory brand, which features jewellery made to look like sweets and desserts. It is also known for the Q-pot CAFE. which flips that concept, instead making sweets and desserts that look just like real accessories.

For Halloween this year, the Q-pot CAFE. has whipped up a spooky menu with the theme "DEVIL NIGHT" featuring appearances of all things Halloween from pumpkins to ghosts.

Devil Obake-chan Plate (w/Drink) – ¥2,060 (Contains milk, eggs and wheat)

This kawaii dessert plate features a ghost made from a chewy vanilla gyūhi mousse filled with berry sauce. It comes with crunchy black bat cookies made with rich black cocoa cream and a pumpkin flavoured jack-o-lantern macaron.

Black Cat Plate (w/Drink) – ¥2,060 (Contains milk, eggs and wheat)

Steer clear from black cats this Halloween, except for this one which is a dark Graham cracker made from bitter caramel and chocolate mousse and is filled with almonds and dried cranberries. Flying around the kitty are the same crunchy black bat cookies made with rich black cocoa cream and the pumpkin flavoured jack-o-lantern macaron.

Vampire Chocolate Latte – ¥750 / +¥100 as Set (Contains milk and wheat)

Don't fear―you won't turn into a vampire if you take a sip from this chocolate latte topped with latte art of a flying bat. This frothy rich dark chocolate delight includes smashed Oreos.

Strawberry Cheese Tea – ¥750 / +¥100 as Set (Contains milk)

The strawberry cheese tea is a unique mix of the cafe's high quality black tea and salty cream cheese. It's smooth to taste and is surprisingly light to drink. Add a fruity strawberry punch to the cheese tea by pouring in the accompanying strawberry sauce.

Vampire Afternoon Tea Set For One – ¥2,400 (Contains milk, eggs and wheat)

They even have a gorgeously spooky afternoon tea set.

The top plate comes with sponge and cream cheese cake pops coated in chocolate, salty breadsticks, homemade scones made from butter cream and sweet and sour berry sauce, devil heart macaron-topped cupcakes, and pumpkin macarons.

The bottom plate features savoury foods including croissants filled with egg, basil and dried tomatoes, as well as olives, mini tomatoes, pickles, and a soup.

As well as Halloween food, the cafe also has a line-up of "DEVIL NIGHT" themed accessories for sale.

[From Top Left Clockwise] Vampire Bat Piercings (Pair) ¥8,000 / Mini Devil Ghost Sheet Necklace (Set/Special Packaging) ¥21,000 / Vampire Bat Brooch ¥7,000 / Vampire Bar Ring ¥12,000 / Vampire Spider Ring ¥13,000

Black Cat Necklace ¥16,000 / Silk Hat Charm ¥4,500

The black cat jewellery is a new addition to this year's line-up.

Enjoy a very cute and special Halloween in Japan this year at Q-pot CAFE.

*All listed prices are pre-tax

Information

2019 HALLOWEEN MENU

Running: September 10, 2019 – October 31, 2019

Address: Q-pot CAFE. Omotesando (3-4-8 Jingumae, Shibuya, Tokyo)

*The Halloween menu price will increase in line with the Japan's increase in consumption tax from 8% to 10% from October 1, 2019

Reservations: https://www.q-pot.jp/cafe.php

Q-pot. 2019 HALLOWEEN "DEVIL NIGHT" Jewellery

Release Date: September 7, 2019

Available: At Q-pot. (3-4-8 Jingumae, Shibuya, Tokyo) / Q-pot. Pop-Up Shop at IKSPIARI / Q-pot. ONLINE SHOP (from noon)/ Q-pot. INTERNATIONAL ONLINE SHOP

Spooky Halloween Doughnuts Float Into Krispy Kreme Japan

Krispy Kreme Doughnuts Japan (KKDJ) is carving its jack-o-lanterns out early this year in time for Halloween as it reveals its new series of holiday-themed doughnuts titled "MONSTER HARVEST in Monster DINER."

This pumpkin, chestnut and apple flavoured selection will be available at most Krispy Kreme branches across Japan from September 11 to October 31.

Pumpkin Custard Jack

Price: ¥230

The jack-o-lantern is the centrepiece of Halloween, and now you can much on one in doughnut form! Its face is coated in dark chocolate and filled with a velvety pumpkin custard cream. It also contains some pumpkin seeds for a crunch.

Black Cat Chestnut

Price: ¥250

The black cat's dark chocolate covered face includes crunchy cracker ears, giant white chocolate button eyes, and caramel chocolate nose and whiskers. Inside it's filled with a rich chestnut cream made from domestic chestnuts. The bottom part of the face is also sprinkled with tasty poppy seeds.

Apple Caramel Monster

Price: ¥230

This cute apple monster is a new addition to the KKDJ Halloween range. It's made from a juicy, sweet and sour apple nappage made from the juice of apples grown in Aomori Prefecture. The single eyeball is made from a mix of white and dark chocolate and is what makes this doughnut so cute. The single pumpkin seed at the top completes the monster's apple disguise.

Halloween Sprinkle

Price: ¥190

Covered in rainbow sprinkles, this custard pudding (purin) flavoured doughnut is subtly sweet and satisfyingly crunchy.

Halloween Dozen (Box of 12)

Price: ¥2,000

If you're having a Halloween party with family or friends then this box of dozen doughnuts is the perfect treat, containing all of the above doughnuts as well as some of KKDJ's classic doughnuts. You save ¥440 by picking up this box.

Don't miss this year's seasonal delights from Krispy Kreme.

Information

MONSTER HARVEST in Monster DINER

Running: September 11, 2019 – October 31, 2019
Krispy Kreme Doughnuts Japan Website: https://krispykreme.jp/