Crayon Shin-chan Humidifier – What's That Coming Out His Butt?
The 'Godzilla Humidifier' was selected for the Product Licensee Award in the 2018 Japan Character Awards.
Now an amusing new entry to the line has been created. The Crayon Shin-chan humidifier will be released at the beginning of December this year.
The Godzilla humidifier was born from the idea that it would be interesting if the humidifying mist sprayed blue like Godzilla's atomic breath. The product was a huge hit with Godzilla fans who praised it for not simply using Godzilla as the humidifier's model, but tying the character's traits to it.
The success of the product has led to this second instalment. Like the Godzilla model, the Crayon Shin-chan humidifier takes on the traits of Shin-chan himself.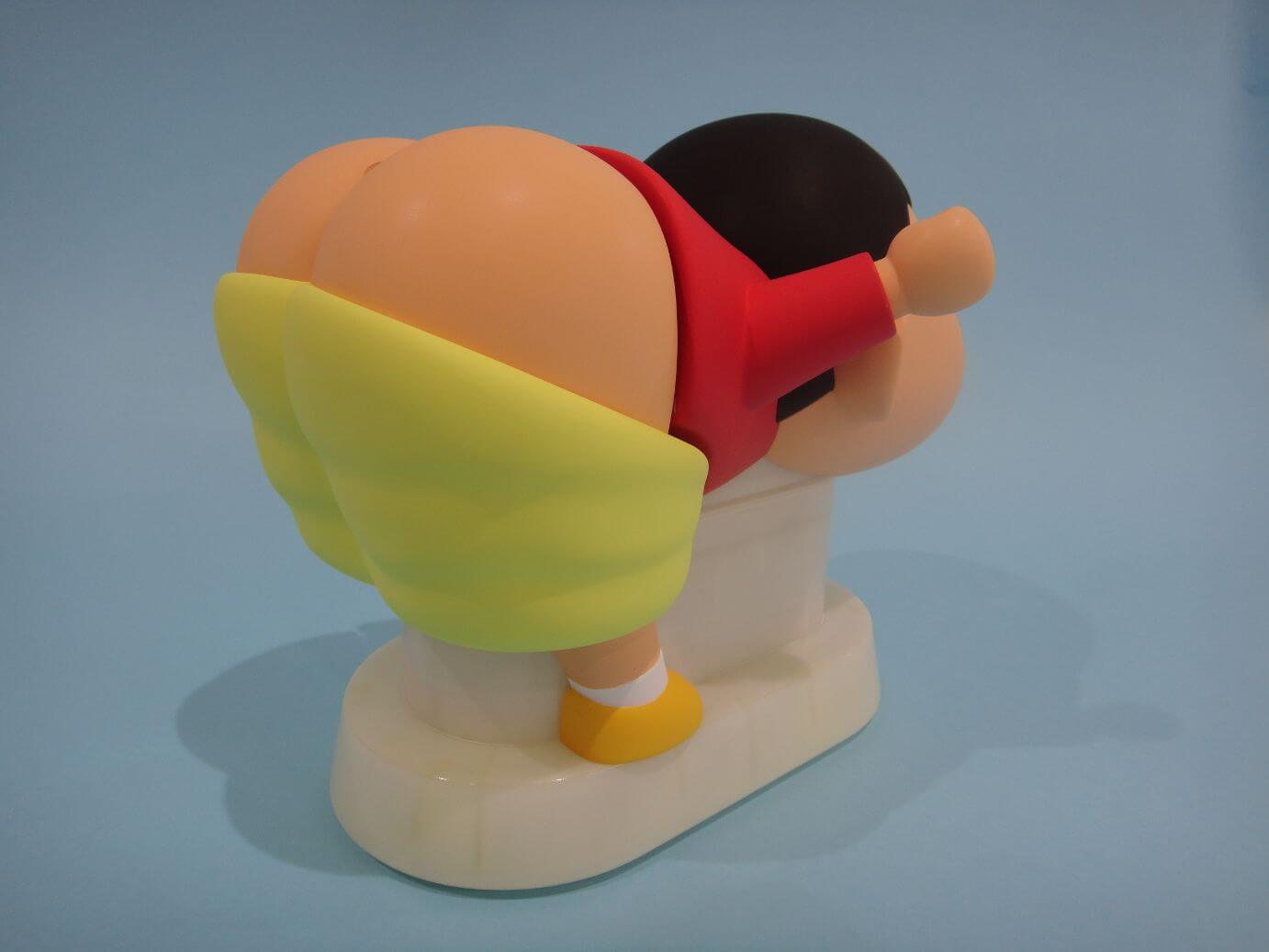 We him being cheeky and sticking out his butt. But that's not all – the humidifier mist actually comes out of his butt. Butts more often than not don't smell very pleasant, but that's not the case for Shin-chan as the humidifier can be used with an aroma oil of your choice.
It can be used in place of an ordinary humidifier. It has a 4-hour continuous mode and an 8-hour intermittent mode. It's also USB chargeable meaning you can make your work environment smell nice as it charges from your PC or laptop.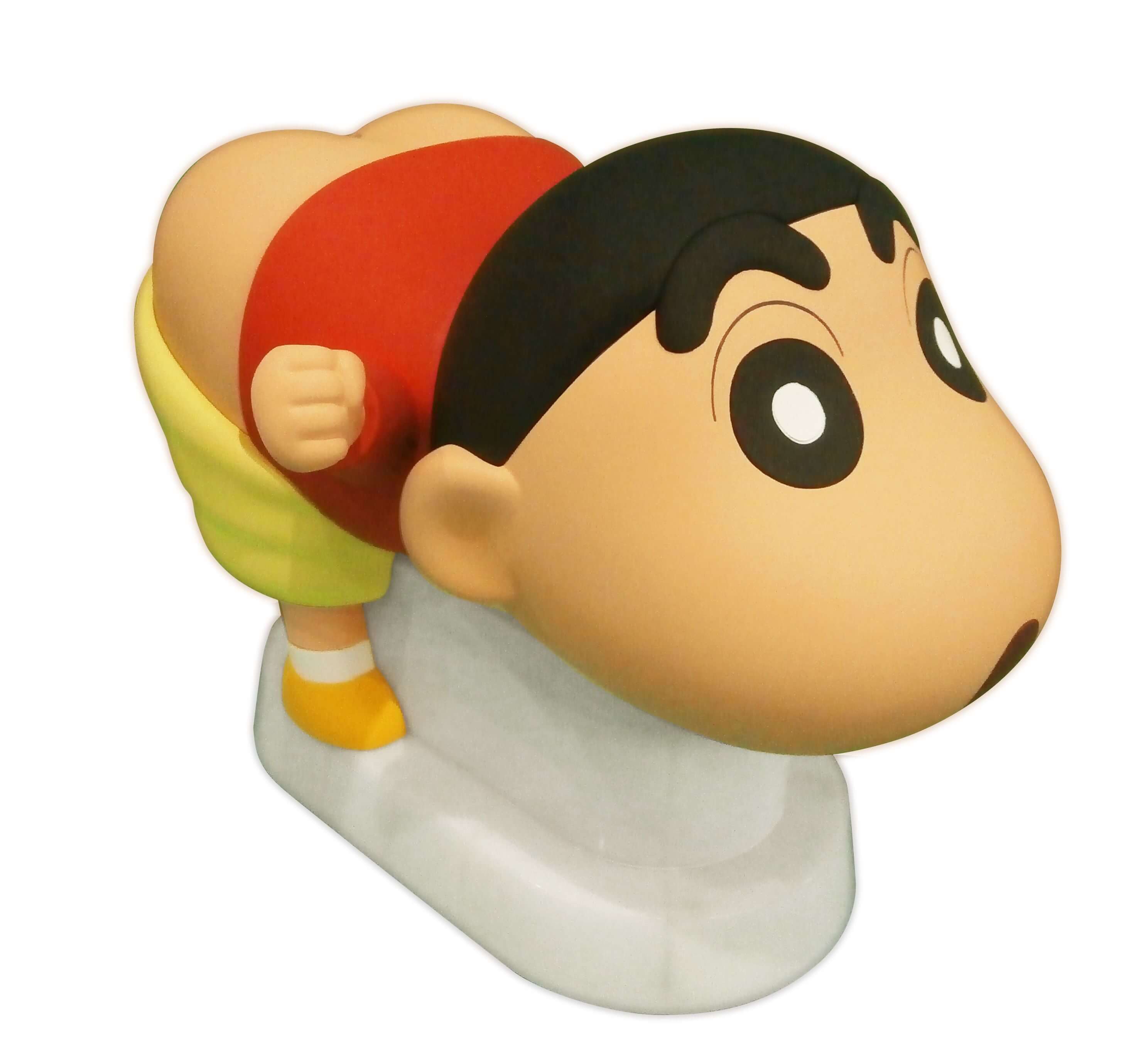 The humidifier also features recordings of Shin-chan voiced by Yumiko Kobayashi, the second voice of the character. There are three lines that will be played randomly whenever you switch it on and off.
Make your room smell nice with the aromas of Shin-chan's butt.
■Information
Crayon Shin-chan Humidifier
On Sale: December 2018
Available: Online (Japan), toy shops and shops selling miscellaneous items in Japan
Price: ¥7, 538 (Tax Included)
Includes: USB cable, assembly instructions, warranty
Product Size: Width 176mm×Height 172mm×Diamter 212mm
Humidifier Quantity: Approx. 20ml per hour (of continuous use)
Tank Quantity: Approx. 80ml
Continuous Use Time: 4 Hours (Subject to change depending on environment)
Voltage: DV5V, 500mA
Power Cord: Approx. 1.5m
Type: Ultrasonic humidifier
©Yoshito Usui / Futabasha・Shinei・TV Asashi・ADK
RELATED ENTRIES
Anime Film Crayon Shin-chan: Crash! Rakuga Kingdom and Almost Four Heroes Promoted With Themed Cafe in Saitama

Crayon Shin-chan: Crash! Rakuga Kingdom and Almost Four Heroes was released on September 11, 2020 as the 28th animated feature film in the Crayon Shin-chan series. To promote the film, a themed cafe is set to open at BOX cafe&space in the city of Koshigaya in Saitama Prefecture from October 1 to November 1.

The cafe originally opened at TOKYO PARADE inside Shibuya PARCO back in March for a limited time, and now it's headed north of Tokyo to Saitama.

Shin-chan fans can look forward to a menu lineup of dishes, drinks, and desserts inspired by the film's theme of "drawing."

Rakuga Kingdom Cafe Crayon Shin-chan Curry | ¥1,390 (Before Tax)

The Shin-chan curry is a spicy yellow curry combined with coconut milk. The white sauce is inspired by the light blue colour of the smocks worn at Futaba Kindergarten in the series.

Rakuga Kingdom Cafe Buriburizaemon Curry | ¥1,390 (Before Tax)

This one's a spicy black masala curry centred on Buriburizaemon.

Uki Uki Da Zo Crayon Shin-chan Pancakes | ¥1,390 (Before Tax)

Pancakes toped with cream and a cute Shin-chab illustration. It's served with a wafer featuring pictures of other characters from the film.

Minna Suki ni Kakeba? Rakugaki Pudding Plate | ¥1,390 (Before Tax)

Two pudding tarts and a crepe which you can draw on with a chocolate pen to create your own cute illustrations like Shin-chan.


Shin-Chan's Miracle Colourful Jelly Soda ¥890 | Shiro's Cotton Candy Strawberry Milk ¥990 (Before Tax)

A soda served with jelly in five different colours and a strawberry milk topped with Shiro who's made from cotton candy. It becomes a sweet strawberry milk as soon as the cotton candy hits and melts into the drink.

Pin Badges (8 Designs) | ¥400 (Before Tax)


Canvas Art | ¥3,500 (Before Tax) *Limited edition

Bonus Items

The merchandise lineup features items with original artwork. There's also bonus items for customers who book a table in advance as well as order a drink.

Enter the Rakugaki Kingdom of drawing at the limited-time Crayon Shin-chan cafe.

ⒸYoshito Usui/Futabasha・Shinei・TV Asahi・ADK 2020

Information

Uki Uki Kaki Kaki Rakugaki Kingdom Cafe
Location: BOX cafe&space
Address: AEON LakeTown kaze LakeTown Gate 1F, 4-2-2 LakeTown, Koshigaya, Saitama

Running: October 1, 2020 – November 1, 2020

Table Reservations: ¥500 (Before Tax) *includes free merch

Cafe Official Website: https://shinchan-movie2020-cafe.jp/

Crayon Shin-chan Launches 30th Anniversary Project

This year marks the 30th anniversary since the initial serialisation of popular manga series Crayon Shin-chan. It is also a celebration of 10 years since New Crayon Shin-chan began serialisation in the monthly magazine Manga Town.

Across the Crayon Shin-chan series, the two most important elements have always been friends and family. That's where the 30th anniversary project comes to light – in an effort to bring smiles to people who have been impacted by the spread of COVID-19. And "Love" is the keyword of the project.

The Nohara family meet a new family in the September 2020 issue of Manga Town

A new manga spin-off will begin in the September 2020 issue of Manga Town (on sale August 5) where the Nohara family will meet a completely new family. Various other publications will also be released including volume 10 of Crayon Shin-chan, which comes in time for its 10th anniversary, a Crayon Shin-chan encyclopedia entitled Crayon Shin-chan Taizen 2020 Nen Zouhohan, and volume 7 of the Nohara Hiroshi Hiru Meshi no Ryuugi spin-off.

Online Crayon Shin-chan tribute

Japanese manga website Comic Action will see 30 popular manga authors pay tribute to 30 years of Crayon Shin-chan by penning their own words about the series on August 21.

30th Anniversary Pop-Up Shops Open in Tokyo & Osaka

Two pop-up shops will open at the Junkudo Ikebukuro bookstore in Tokyo from August 18 to September 8 and MARUZEN & Junkudo Umeda bookstore from August 19 to September 9 in celebration of the 30 year milestone.

©Yoshito Usui / Futabasha

Japan's Anime Theme Park Nijigen no Mori Has Naruto, Boruto & Other Exciting Events This June

Nijigen no Mori is an anime theme park located on Awaji Island in Hyogo Prefecture. Here's a list of the latest events running at the park in June.

NARUTO & BORUTO SHINOBIZATO

NARUTO & BORUTO SHINOBIZATO is an area of Nijigen no Mori with attractions and more based on Naruto and his son Boruto. The area celebrated its 1st anniversary on April 20, 2020. The park is currently selling anniversary merchandise as well as other exclusive items. Guests who buy a ticket to the park online will receive a free 1st anniversary postcard.

Opening Hours: 10:00-22:00 (Reception Closes 20:00)

Price: Adults ¥1,800 / High & Junior High School Students ¥1,800 / Children (Elementary School Students & Younger) ¥500
*Free entry for those aged 3 and below

Price: ¥1,280 Each (Before Tax) *6 flavours

There are also beverages inspired by characters from the series.

Price: ¥1,050 (Before Tax)

There is also a special ramen dish you can order inspired by the Akatsuki, the biggest threat to the Hidden Leaf Village.

GRAND CHARIOT Hokutoshichisei 135°, a hotel and glamping facility located in the area, also opened its new Naruto-themed room on June 1, 2020.

The room, called "Hokage no Bessou" (Hokage's Villa), is renovated from one of the resort's buildings, and aims to plunge guests into the world of ninjas. The room takes inspiration from the Hidden Leaf Village and its characters, with references to the series and recreated scenes littered throughout. It also offers exclusive amenities for guests to enjoy.

Guests who stay in the Naruto room receive a free ticket to NARUTO & BORUTO SHINOBIZATO at Nijigen no Mori.

ⒸMasashi Kishimoto Scott / Shuiehsa・TV Tokyo・Pierrot

Crayon Shin-chan Adventure Park

Over at the Crayon Shin-chan shop in Nijigen no Mori, they're selling limited quantities of a "Happy Bag" full of Shin-chan merchandise, from picnic cushions to towels and more for a total of six items.


And for the summer season, the last entries to all attractions at Crayon Shin-chan Adventure Park have been extended. It's a chance to work your body while enjoying the green outdoors.

Opening Hours: 10:00-20:00 (Last Entries 19:30)
Price: Adults ¥4,480 / High & Junior High School Students ¥2,880 / Children (Elementary School Students & Younger) ¥1,180 / Seniors ¥1,440
*Free entry for those aged 4 and below. Please check the official website for weekend and national holiday prices.

Phoenix Night Walk

June 21 is Father's Day, and to celebrate Nijigen no Mori is holding an event on the day based on Osamu Tezuka's manga Phoenix. Dads can attend the event for free. The park is holding a birthday campaign for June for those whose birthdays were in March, April, and May since they were unable to go out due to isolation, as well as for those whose birthdays are in June.

Date: June 21, 2020

Time: 19:30-20:30

Price: General ¥3,300 (Junior High School Students & Older) / Children ¥1,200 (Aged 5-12)2020年6月21日(日)
営業時間:19:30~20:30(季節により異なる)
*Free entry for those aged 3 and below.

Kyary Pamyu Pamyu Turns Voice Actress in Upcoming New Crayon Shin-chan Movie

Crayon Shin-chan: Crash! Rakuga Kingdom and Almost Four Heroes is the 28th and newest anime film to enter the beloved Crayon Shin-chan series, which is set to release in Japan on April 24, 2020.

Crayon Shin-chan is a Japanese manga series written and illustrated by Yoshito Usui. It was first serialised in Weekly Manga Action in 1990, and subsequently received its first anime adaptation in 1992. Since then, it has become one of the most recognisable and loved series in Japan.

The story of Crayon Shin-chan: Crash! Rakuga Kingdom and Almost Four Heroes is as follows: For many years, a giant kingdom fuelled by doodles created by humans has been peacefully floating in the sky. As time has gone by, less and less people have been doodling, resulting in fuel supplies running critically low. As the kingdom crumbles, doodles have been falling from the sky.  As the kingdom starts to face the threat of complete collapse, the kingdom's forces soon get on the case, forcing the innocent people of earth to produce more doodles to save the kingdom. The kingdom just happens to be floating above the city of Shin-chan's residence: Kasukabe. Knowing that the lives of many are at stake, the princess of the Rakuga Kingdom entrusts the Kingdom's sacred Miracle Crayon to a hero – the five-year-old, mischievous and carefree Shin-chan. Shin-chan harnesses the power of the miracle crayon, drawing up a superhero team to save the world. Shin-chan's three drawings jump right out of the sketch book and right into action in an attempt to save the day. 

Voicing the part of the princess, who entrusts Shin-chan with saving the Rakuga Kingdom, is none other than Kyary Pamyu Pamyuーwho herself is a huge fan of Crayon Shin-chan.

Kyary Pamyu Pamyu's song Kimi ni 100 Percent (2013) was used as the 15th opening theme for the Crayon Shin-chan anime series, and maintains the record for being used the longest out of all of the series' opening themes. It was also used as the opening theme for the 2014 film Crayon Shin-chan: Intense Battle! Robo Dad Strikes Back. Kyary even appeared in the series as herself. Her history with the series has led her to being recognised as a member of the Shin-chan family.

Kyary received the offer to voice the princess in the upcoming new film after the production team heard her voice work for the character Mecchaka in the NHK Educational TV series u&i. They were impressed by the voice work, and initially didn't know it was Kyary. After finding out it was, they sent her the offer.

Kyary is a huge fan of Crayon Shin-chan and read the manga religiously. She is now taking this opportunity to challenge herself to some real seiyū anime voice acting. But it doesn't stop there either, as she will also perform the opening theme for the film too. Titled Rakugaki Ouen Taishi ("Support Ambassador for Rakugaki"), the song is centred around the Rakuga Kingdom.

Kyary and Shin-chan released some words of their own regarding this dream collaboration. Read them below.

Kyary Pamyu Pamyu | Comment

"I appeared as myself in the anime series once before, but this time I'm challenging myself to some authentic voice acting as the princess, so I hope everyone enjoys seeing a completely different side to me. I've been collecting and reading the Shin-chan manga since elementary school. Whenever I scored 100 in a test my dad would buy me a volume. I was bad at studying, but Shin-chan helped me work hard. He's like the hero who scooped me up and saved me! As a fan I'm super happy too, since this movie is based on a part from the manga series. I hope everyone who loves Shin-chan will look forward to it too!" *Translated from Japanese

Shinnosuke Nohara | Comment

"Kyary-chan, I'm super happy I get to see you again! So you're gonna be the princess who trusts me with the Rakuga Kingdom treasure, the 'Miracle Crayon,' right? I'll make sure to catch your love baton. And you're gonna be the Rakugaki Support Ambassador with me too. I'm way too excited. We're a dream combination! Enjoy yourself at the cinema."

©Yoshito Usui / Futabasha・Shinei・TV Asahi・ADK 2020

Information

Crayon Shin-chan: Crash! Rakuga Kingdom and Almost Four Heroes

Release Date: April 24, 2020

Official Website: http://www.shinchan-movie.com/

Get Advanced Tickets to Watch the new Shin-chan movie: Crash! Rakuga Kingdom and Almost Four Heroes

Since 1990, Crayon Shin-chan has been published in Manga Action and made its debut as an anime series in 1992. Shin-chan has wooed the hearts of the entire country and even overseas. Every Crayon Shin-chan movie has become a big hit, capturing the hearts of the young and elderly, boys and girls. 

Following in the footsteps of its predecessors, next year will see the release of the 28th Crayon Shin-chan movie: Crash! Rakuga Kingdom and Almost Four Heroes on April 24, 2020. Advanced tickets with an unmissable bonus as well as movie teasers have been unveiled.

For many years, a giant kingdom fuelled by doodles created by humans has been peacefully floating in the sky. As time has gone by, less and less people have been doodling, resulting in fuel supplies running critically low. As the kingdom crumbles, doodles have been falling from the sky.  As the kingdom starts to face the threat of complete collapse, the kingdom's forces soon get on the case, forcing the innocent people of earth to produce more doodles to save the kingdom. The kingdom just happens to be floating above the city of Shin-chan's residence: Kasukabe.

Knowing that the lives of many are at stake, the princess of the Rakuga Kingdom entrusts the Kingdom's sacred Miracle Crayon to a hero – the five-year-old, mischievous and carefree Shin-chan. Shin-chan harnesses the power of the miracle crayon, drawing up a superhero team to save the world. The first hero: some briefs that haven't been changed in two days. He then attempts to draw up the love of his life: Nanako Ohara. Unfortunately, she doesn't quite look the same. Shin-chan then draws his hero Brave Pig, who Shin-chan fans will recognise from the series as the shy pig who is defeated by his shyness every time he has to save anyone. Shin-chan's three drawings jump right out of the sketch book and right into action in an attempt to save the day. 

In the film, the princess proclaims Shin-chan to be the only hero able to use the Miracle Crayon in the entire world. She hands the sacred tool to Shin-chan, entrusting him with the critical duty of serving the royal family as the court painter. The Rakuga Kingdom's Minister of Defense also makes a strong impression in the film with his masterplan to save the kingdom. As chaos unfolds on earth, it is up to Shin-chan to restore peace and order. Shin-chan joins forces with his three drawings and as troubles get knee-deep, some Shin-chan fans will be betting on the odds that Brave Pig ditches the scene like he usually does, in which case Shin-chan's odds of saving the world will be looking slimmer and slimmer.

The teaser trailer presents our favourite childhood anime in a colourful way. Crayons and coloured pencils are both the theme of the movie and the style in which the movie was made, adding a sweet finishing touch. As the Rakuga Kingdom is on the brink of destruction, Shin-chan gets to work, freely doodling away destruction with his superhero team consisting of smelly briefs, a badly-drawn dream girl, and the shy Brave Pig. 

Illustrator and manga artist Yoko Kuno, who was in charge of the character design for the Crayon Shin-chan movie Invasion!! Alien Shiriri and Burst Serving! and the animation for the ending scenes for Kung Fu Boys ~Ramen Rebellion~, is on the concept design team for this movie. 

Shin-chan joining forces with a group of doodles is an unexpected dream team collaboration that has got everyone excited. Those who purchase advanced tickets have the chance to get a limited edition Shin-chan crayon themed around the Crash! Rakuga Kingdom and Almost Four Heroes film. Look closely and you will realize that his hat is a red crayon. Just by looking at this bonus gift keyring will leave you with the sudden urge to start doodling. 

©Yoshito Usui/Futabasha Publishers Ltd./ SHIN-EI Animation・TV Asahi・ADK 20120.

Information

Crayon Shin-chan movie: Crash! Rakuga Kingdom and Almost Four Heroes 

Release Date: April 24, 2020 

Premiering at TOHO Cinemas across Japan. 

Official Website: http://www.shinchan-movie.com/

★Advanced Ticket Bonus Keyring

Promotion Event: Uki uki kaki kaki ♪ Ora ga Crayon Shin-chan!

There are a total of 75,000 Shin-chan keyrings to be given to those who purchase advanced tickets. Advanced tickets will be sold at cinemas across Japan from November 22. Only one Shin-chan keyring will be given per advanced ticket. The keyrings are limited to purchases made from movie theatres and cannot be purchased separately or resold. There are a limited number of Shin-chan keyrings available.

Advanced tickets are not available at all cinemas. Please visit the cinema's official website to find out whether it is selling advanced tickets.

Pyokotama♪ Releases Doraemon, Hello Kitty, Pikachu & Shin Chan Soft Balls

Sega Toys Co., Ltd. will launch a new lineup of large, round character-themed balls called Pyokotama♪ Character series! The lineup includes four designs; Crayon Shin Chan, Doraemon, Hello Kitty, and Pikachu! These characters are famous in Japan and all over the world! The lineup will reach stores on Thursday 26th September 2019.

The cloth ball is approximately 13 cm in diameter. The faces of Crayon Shin Chan, Doraemon, Hello Kitty and Pikachu decorate the surface of the cushions…but what's on the other side…? Make sure you take a look! Turn on the switch on the ball and and then throw it around as much as you like! When you do, it will play the character's theme song or a famous song when you throw it!

Crayon Shin Chan

Make sure to check out the "backside" of the ball! As you throw the ball around, it will play the nostalgic melody of the Shin Chan theme song I'm Popular (Ora wa ninkimono).

Doraemon

His four-dimentional pocket is on the front of the ball and on the back is his small, red, circular tail! As you throw him around, he will play the anime opening song Yume o Kanaete Doraemon.

Hello Kitty

Her left ear is decorated with her signature large ribbon. When you throw this ball, a famous melody by Tchaikovsky will fill the air!

Pikachu

This ball is especially cute because of the ears! Throw this ball, and Pikachu will sing his own anime ending theme song"

These cute and round balls are perfect to enjoy the outdoors with your family and friends!

Ⓒ Yoshito Usui/ Futabasha, Shinei, TV Asahi, ADK Ⓒ Fujiko-Pro, Shogakukan, TV Asahi, Shinei, ADK

Ⓒ1976,2019 SANRIO CO.,LTD. APPROVAL NO.S600788 ⒸNintendo・Creatures・GAME FREAK・TV Tokyo・ShoPro・JR Kikaku ⒸPokémon

Information

Pyokotama ♪ soft balls (4 character designs)

Prices: ¥2,500 + tax each
Release date: Thurs 26/09/2019

Available at: Toy stores, volume retailers, general goods stores, online shops etc

Sega official website: http://www.segatoys.co.jp/

Going on a cinema trip during Golden Week? Here's 5 films perfect for kids and adults!

Hey everyone! It's Midori again from Moshi Moshi Nippon's Editorial Department!

As this Golden Week holiday is especially long, some people are going on holiday! As the weather is pretty unpredictable, it's the perfect opportunity to get your hands on cinema tickets ー it shouldn't be crowded either! Here's five of our film recommendations. Adults as well as kids are bound to love these films and they're all showing during April and May!

Crayon Shin-chan: Honeymoon Hurricane ~The Lost Hiroshi~

Every year, there's a new Shin-chan movie! In this movie, the Nohara family explore an unknown region during their trip to Australia! The Nohara couple have never celebrated their honeymoon, so what better time than now, they thought! Father Hiroshi, however, was kidnapped by a masked figure who wants to get their hands on some treasure! The masked figure, treasure hunters and the Nohara family are against each other to retrieve Hiroshi! As the final silly adventure of the Heisei era, it's something you just can't miss! Aimyon is in charge of the theme song for this movie, so this is your chance to hear her song "Haru no Hi"!

Aimyon to Perform Crayon Shin-chan: Honeymoon Hurricane ~The Lost Hiroshi~ Main Theme

Crayon Shin-chan: Honeymoon Hurricane ~The Lost Hiroshi~

Release: Fri 19th April 2019

Official website: http://www.shinchan-movie.com/

© Yoshito Usui / Futabasha / Shinei / Television Asahi ADK

2019 ©U/F・S・A・A 2019

Detective Conan: The Fist of Blue Sapphire

The film Detective Conan: Zero the Enforcer which was released last year was the highest grossing film out of the entire Detective Conan series. In its opening weekend, The Fist of Blue Sapphire managed to top the revenue of Zero Enforcer, and we are expecting this to rise up to become the highest grossing film in the Japanese box office! The film is set in Singapore where Kaito Kid steals the blue sapphire! Kaito Kid is a popular character even in the original series and with Makoto Kyogoku added to the mix, we've got a recipe for mayhem! Adults and children are bound to love this Detective Conan movie!

Detective Conan: The Fist of Blue Sapphire

Release: 12th April 2019

Official website: https://www.conan-movie.jp

©1997-2019 Gosho Aoyama/Detective Conan Design by Committee

Pokémon Detective Pikachu

This world-famous anime has finally become a movie! Former Pokémon trainer Tim discovers that his father has gone missing and embarks on a quest to find him. He heads to Ryme City;  a city where Pokémon and people live together in harmony. Upon his arrival, he meets his father's partner Detective Pikachu,  who surprisingly seems to be able to talk to him! Tim is still uncertain whether his father is even still alive, and so the pair search for Tim's father and protect Ryme City against the terrible incidents that occur during their visit! Will Tim ever be reunited with his father?! This is your chance to see Pikachu feature in a Hollywood film!

Pokémon Detective Pikachu

Released first in Japan on 3rd May.

Official website: https://meitantei-pikachu.jp/

© 2019 Legendary and Warner Bros. Entertainment Inc. All Rights Reserved.

© 2019 Pokémon.

Kakegurui

/
「映画 #賭ケグルイ」
舞台挨拶付き先行上映会@大阪
開 催 決 定 !
\

4月27日(土)TOHOシネマズ梅田に #浜辺美波 さん、#森川葵 さんが登場予定‼️
🎲1回目 11:00の回上映後
🎲2回目 14:00の回上映前

詳しくはコチラ🔽https://t.co/bexE2E5xym

大阪でも・・・
賭け狂いましょう! pic.twitter.com/fFBLnfm6Zq

— ドラマ&映画『賭ケグルイ』 (@kakegurui_jp) 2019年4月12日

This popular adult manga/anime is becoming a movie! The movie is set at Hyakkaou Private Academy; a school for rich kids. Here, the social hierarchy is determined by the strongest gambler.  The movie features obsessive gambler Yumeko; a natural gambler who gets a thrill from taking risks and has plunged into game with sweaty clenched fists. The series currently on air is a massively popular drama series. With Minami Hamabe playing the leading part, Taishi Nakagawa, Elaiza Ikeda and many other young actors and actresses have joined forces for this! The original author and director of the series created this version of film too, and so it is a completely original story! Whether you've always been a fan or whether this is your first encounter with the series, you're bound to enjoy it!

Kakegurui

Release: 3rd May

Official website: https://kakegurui.jp/

Aladdin

Check out the new poster for Disney's #Aladdin. See it in theaters May 24. pic.twitter.com/XlLCWxdulh

— Disney's Aladdin (@disneyaladdin) 2019年3月12日

Disney's classic movie Aladdin is now a live-action film! The poor, young Aladdin meets the rich princess Jasmine, and through fate, they encounter a magical genie in a lamp! The genie, who can grant three wishes, sets them on an adventure to seek what they really desire! Not only can you enjoy the movie's signature song "A Whole New World", but the live-action film features new songs created by the music teams behind La La Land and the Greatest Showman. Disney's high movie quality reputation and Will Smith's appearance as the Genie in the film are quite big topics in the news right now!

Aladdin
Release: 7th June
Official website: https://www.disney.co.jp/movie/aladdin.html

All these films were quite big in the news even before Golden Week! If you're tired of the crowds of tourists, how about popping to the cinema for a break?

Crayon Shin-chan collaborating with Hands Cafe for a limited time only!

The new movie Crayon Shin-chan: Honeymoon Hurricane ~The Lost Hiroshi~ will be released all over Japan from 19th April! To celebrate, there will be a collaboration between Crayon Shin-chan and Hands cafe. The collaboration cafe will be open from Wednesday 17/04 to Wednesday 15/05 2019 at Hands cafe in Shibuya, Etomo Chuo Rinkan, Umeda and Piole Akashi.

There are eight original items on the collaboration menu including mains, desserts and drinks.

Every customer who orders from the collaboration menu at the cafe will receive an original limited edition collaboration placemat as a novelty gift!

※ These will no longer be available when stocks are fully depleted.

Shin-chan beef curry ¥1,320 (price including tax)  ※ Contains honey

A beef curry topped with sweetcorn and star-shaped cheese. This also comes with a special caesar salad!

Where's the treasure? Adult's lunch plate ¥1,400 (price including tax)

This contains Shin-chan's favourite foods such as burgers and fried shrimp! The contents may suggest that this dish is for a child, but an adult is sure to be completely satisfied with this special plate! It also comes with a white pudding which is very light!

Nohara family happy fruit parfait ¥1,280 ※ 1 of 3 character images will be selected at random for the centre of the parfait

This fresh parfait contains mango yoghurt which is topped generously with pineapple jelly and a range of fruit.

Crayon Shin-chan movie collaboration special cafe au lait ¥650 (price including tax)  ※ 1 of 4 designs will be chosen at random

This is a Hands Cafe hot cafe au lait with a special Crayon Shin-chan design floating on the top!

To see what else is on the menu, check out the Hands Cafe official website! This is a cafe collaboration that Shin-chan fans won't be able to get enough of, so make sure you pop by during the holidays!

© Yoshito Usui /Futabasha Publishers Ltd., Shin–Ei Animation Co., Ltd, TV Asahi, ADK 2019

Information

Crayon Shin-chan X Hands Cafe

Running:Wednesday 17/04 to Wednesday 15/05 2019

Collaboration cafes:

Hands Cafe Shibuya ー Tokyu Hands 7th floor (12-18, Udagawacho, Shibuya City, Tokyo)

Hands Cafe Etomo Chuo Rinkan ー Etomo Chuo Rinkan 2nd floor (4-6-3 Chuo Rinkan, Yamato, Kanagawa)

Hands Cafe Umeda ー (Tokyu Hands Umeda 10th floor), 3-1-1, Umeda, Kita Ward, Osaka.

Hands Cafe Piole Akashi ー Piole Akashi Nishikan 1st floor (1-1-23, Oakashicho, Akashi, Hyogo

 

Hands Cafe official website:https://www.handscafe.jp/

Crayon Shin-chan movie official website:https://www.shinchan-movie.com/

Sanrio Releasing Hello Kitty x Crayon Shin-chan Collaborative Items

Sanrio is doing a bunch of things to celebrate Hello Kitty's 45th anniversary. The latest in the celebration sees a line of 19 Hello Kitty and Crayon Shin-chan collaborative items being sold from February 14, 2019.

 

In the March issue of the monthly manga magazine MangaTown which was released on February 5 there was a story in New Crayon Shin-chan which featured Shin-chan and Hello Kitty's current designer Yuko Yamaguchi.

Now, fans of Shin-chan and Sanrio's cute and popular kitty can look forward to getting their hands on a range of merchandise at official Crayon Shin-chan stores.

Mascot Holders (Pyjama): ¥2,160 Each

Mirror: ¥864

The story of this design is that Hello Kitty has gone to stay over at Shin-chan's house. Both of them are wearing adorable matching pyjamas♡

Roomwear Set: ¥4,536

Flat Pouch: ¥1,512

As well as the PJ design there is also an original illustration of both characters dressed as Waniyama-san, the mascot of Shin-chan's favourite Chocobi chocolate biscuits. The overall design itself too is modelled on the box that the biscuits come in.

 

There are lots of other items too get your hands on too, so don't miss out on this collaboration!

Aimyon to Perform Crayon Shin-chan: Honeymoon Hurricane ~The Lost Hiroshi~ Main Theme

It has been announced that singer-songwriter Aimyon will perform the main theme song for the anime film Crayon Shin-chan: Honeymoon Hurricane ~The Lost Hiroshi~ which is set to release on April 19, 2019.

Aimyon is a huge fan of Cragon Shin-chan. The song she has written for the latest film is titled Haru no Hi ("Spring Day"). It focuses on the love between Shin-chan's parents Hiroshi and Misae Nohara from their perspective and their honeymoon trip which they have never been on and which the film is based on.

The song will also be used as the new ending theme song for the Crayon Shin-chan anime series from February 8. Aimyon's 7th single to date, the CD will hit shelves on April 17, two days before the film's premiere.

Aimyon gave the following comments about the collaboration: "I have been given the opportunity to perform the main theme for Crayon Shin-chan: Honeymoon Hurricane ~The Lost Hiroshi~. I have loved the series since I was a child. I am so grateful to be able to say that. But at the same time I wondered to myself how I would be able to convey those loving memories, in my own way, in a song. When I heard that it was about 'family love' I thought I would write a song about the birth of the Nohara household. Crayon Shin-chan always taught me about the strength of family ties and happiness. Of course, that includes his bonds with everyone in the Kasukabe Defence Force too. There are of course times he stumbles too. The message the series gets across touches my heart. I am truly happy to be involved with this movie. Thank you for this lifetime treasure. I hope that the song Haru no Hi that I wrote reaches many places."

She continues: "This is a different film, but I watched [Crayon Shin-chan: Fierceness That Invites Storm!] The Adult Empire Strikes Back from 2001. That's where I first saw the Tower of the Sun by Tarō Okamoto. Crayon Shin-chan also introduced me to Takuro Yoshida, Betsy & Chris and others. It might not be the same, but I would be happy if I'm able to return the favour even a little."

Shin-chan also made a comment himself: "Cheers for making such a wonderful song for us. It makes me feel relaxed all the way to the centre of my butt. It was a really good song! Ahh, I want Aimyon to propose to me… Be sure you all listen to it!"

*Comments translated from Japanese.

Information

Haru no Hi

Release Date: April 17, 2019

First Press Limited Edition (Crayon Shin-chan Edition) ¥1,000 (Before Tax) [WPCL-13038]

Regular Edition: ¥1,000 (Before Tax) [WPCL-13037]

*Both editions come with different sleeve cases.

Aimyon Official Website: http://www.aimyong.net

Crayon Shin-chan: Honeymoon Hurricane ~The Lost Hiroshi~

Release Date: April 19, 2019

Official Website: http://www.shinchan-movie.com/

©Yoshito Usui / Futabasha・Shinei・TV Asahi・ADK 2019 ©U/F・S・A・A 2019

Crayon Shin-chan Shop to Open in Shibuya109

An official Crayon Shin-chan store is opened on floor B1F of Shibuya109 on September 12 for a limited time.

Crayon Shin-chan is an internationally beloved franchise that has spawned manga, anime, movies and more. Fans can look forward to getting their hands on exclusive items of their favourite character at the new shop.

There are currently three permanent Crayon Shin-chan shops located along Tokyo Character Street at Tokyo Station Ichibangai, at HEP FIVE in Umeda, Osaka, and at S-PAL Sendai. Crayon Shin-chan pop-up shops are also opening across Japan like the one arriving at Shibuya109.

Look forward to a line-up of merchandise with cute deisngs including fashion items, snacks perfect for souvenirs and more, as well as a range of popular items from the permanent stores.

If you're in Shibuya in September, October or November then why not stop by?

■Information

Store Details

Location: B1F Shibuya109 (2-29-1 Dogenzaka, Shibuya, Tokyo)

Running: September 12, 2018 – Mid November

Opening Hours: 10:00am-9:00pm

©Yoshito Usui / Futabasha・Shinei・TV Asashi・ADK

Yuzu Joined By Crayon Shin-chan On Stage to Sing New Song 'Muscat'

Japanese folk rock duo Yuzu held that 2018 arena tour entitled "BIG YELL II ~Great Voyage" at Yokohama Arena on August 4, 5 and 7. They performed their new song Muscat―which was released on August 1―for the very first time in front of fans at the shows.

Mustcat is an upbeat song that serves as the new theme song for the popular ongoing anime series Crayon Shin-chan. In the anime's opening video, a mascot character called Yuzu Man, created by Yuzu's own Yujin Kitagawa, makes an appearance.

Yuzu Man and Shin-chan both appearaced as special guests at the band's Yokohama Arena performance which the crowd reacted excitedly to. Together with the Yuzu members, the mascots performed their iconic dance created by popular Japanese choreographer Lucky Ikeda. The anime also appeared on the stage screens and the crowd joined in with the dance.

This tour began in April with the Yokohama Arena shows being additional dates. 12,000 fans attended each show which saw changes made from the main tour. Further additional dates have also been announced: they will play at Marine Messe Fukuoka on August 14 and 15 before heading to Osaka-jo Hall on October 21 and 22. They will perform to an estimated 35,000 people.

Fans are looking forward to seeing what kind of performances they have in store for the next set of dates.

■Information
New Single – "Muscat"

Released: August 1, 2018

Regular Edition (CD-Only) – ¥800 (+Tax) [SNCC-89939]

Concert Edition (CD+Original Yuzu Man & Shin-chan Towel) – ¥926 (+Tax) [SNCP-89940]

*The concert edition is sold only at the venues on the ongoing tour.

"Muscat" Special Page: http://yuzu-official.com/pages/muscat

Yuzu Official Website: http://yuzu-official.com