Ghost Themed Menu Arriving at Tokyo Disneyland® for Halloween 2018
Tokyo Disneyland's special ghost themed Disney Halloween event will begin on September 11.
It was recently announced that the theme of this year's Disney Halloween would be ghosts. These creepers will be waiting to greet guests at the park in the hopes of recruiting both them and the cast to their spooky squad.
In the run up to the start of the event, a special food menu was introduced to the park on September 3, as well as special merchandise, all taking on the form of cute ghosts. The park is also being decked out in lots of ghostly decorations.
The ghosts have played tricks on all of the food. Choose wisely from a beef karubi corn made with the Halloween-esque colours purple and orange, or the pink churros sold at the Parkside Wagon and Pecos Bill Cafe which, when you bite into it is actually pumpkin flavoured.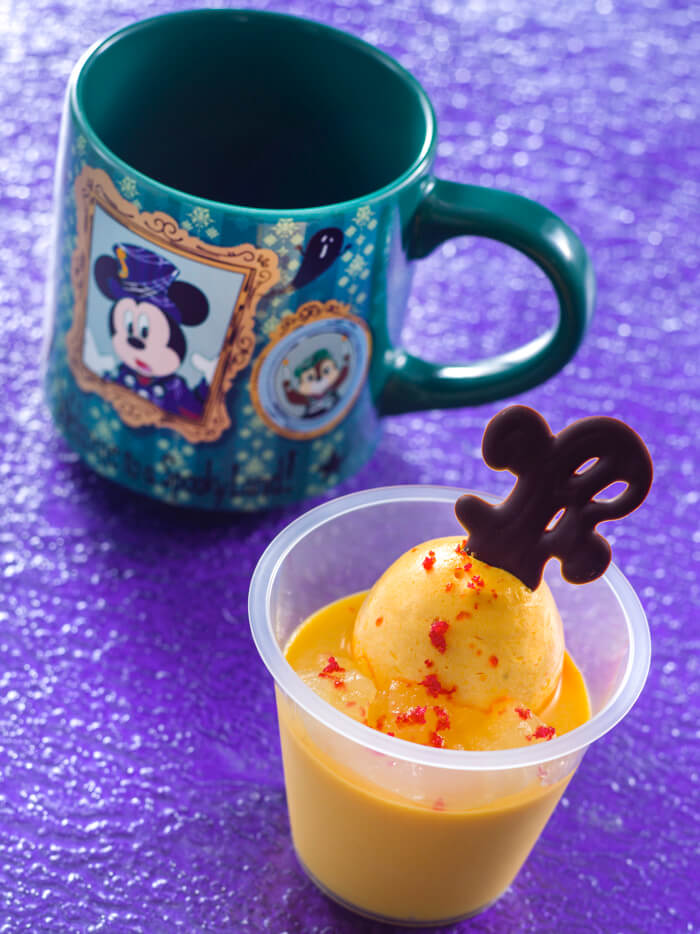 The Sweetheart Cafe has also joined in with the spooky season where they are serving a dessert with a cute chocolate ghost sat on top.
Perhaps you can become friends with the ghosts by getting your hands on the special ghost-shaped t-shirts.
Or try befriending them by getting an adorable plush toy version that can sit on your shoulder as you walk around the park.
The lanterns dotted around to decorate the park at night at of course also ghost shaped. The park has a different atmosphere to it as you walk around illuminated by them.
The ghosts have taken over the rest of the park too. Over in Fantasy Land, there's a building that looks like it's been taken over by a ghost. Watch your back for ghosts too as they'll be waiting for any opportunity to spook guests. There's even ghosts dressed up pretending to by cast members walking around having fun.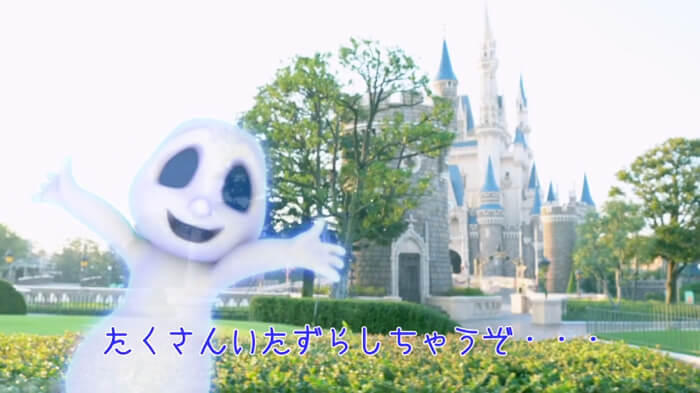 The ghosts are taking over social media too! Minarai Ghost-chan will be posting photos and videos of the event on Twitter, so be sure to follow her.
Roll up to Tokyo Disneyland this year to enjoy your Halloween with the cute and creepy ghosts!
RELATED ENTRIES
Disney Store Announces Merchandise Collaboration With Sebastian Masuda

The Disney Store has announced its first ever collaboration with artist and art director Sebastian Masuda. Titled "ARTIST COLLECTION by Sebastian Masuda," this merchandise line-up will hit Disney Stores across Japan and on the online shop on August 27.

Masuda's second "ARTIST COLLECTION," this time he is using items from the Toy Story film series that have been sold at the Disney Store and has re-designed them through his unique lens of cute and colourful pop art.

T-Shirt – ¥3,900 (Before Tax)

Makeup Brush Set – ¥1,900 (Before Tax)

The line-up spans from a Lots-o'-Huggin' Bear plush toy to key chains, notebooks, pencil cases, wristwatches, t-shirts and much more.

Waist Bag – ¥4,900 (Before Tax)

Backpack – ¥7,900 (Before Tax)

As well as stationery and fashion items, the collection also includes outdoor products: namely, the waist bag and backpack which not only look gorgeous but are superior when it comes to functionality.

The product designs are created in the same way that Sebastian Masuda makes all of his iconic projects: by using lots of different vivid items and materials.

Don't miss out on this toy box-like Disney Store exclusive line-up filtered through Masuda's colourful world.

©Disney/Pixar
  Mr. Potato Head is a trademark of Hasbro used with permission. ©Hasbro. All Rights Reserved.
  ©POOF-Slinky, LLC

Tokyo Disney Resort Reveals Its Spooky Halloween Programme and Character Costumes

Get ready for some spooky fun as Tokyo Disney Resort® transforms for the 52-day-long horrifically exciting Disney Halloween from September 10 to October 31. Head to DisneySea to be captivated by the new harbor show Festival of Mystique, or get spooked out of your skin at the Spooky "Boo!" Parade at Disneyland. Today, we will be revealing the spooky looks of both parks.

Tokyo DisneySea Festival of Mystique Costumes

Working with the main theme of a medieval European halloween, inspiration has been taken from the living creatures and waves at the port town Porto Paradiso. 

Mickey Mouse's costume inspiration comes from the the bones and scaly body of a sea creature. He will also be seen wearing a broach decorated with beautiful jewels. 

Minnie Mouse's costume resembles that of a medieval princess. You will see her in a fancy hat that bears beautiful pearls. Her costume is covered in scales on the chest and on the back which really suits her.

Tokyo Disneyland's Spooky Boo! Parade Costumes

Disney friends have joined forces with a group of spooky spirits. You just can't miss out on this rare chance to see your favourite Disney characters disguised as ghosts and skeletons. The strange and unusual atmosphere is sure to send a chilling shiver down your spine. 

Mickey and Minnie will be completely refreshing their colourful look. Mickey's necktie and Minnie's skirt are very mysterious and particularly intriguing.  Please come check them out!

Enjoy the beautiful costumes and the fun range of events this Halloween at Tokyo Disney Resort.

©️Disney

Tokyo's Pokémon Cafe Unveils Halloween Themed Menu Line-Up

The Pokémon Cafe in Nihonbashi, Tokyo has revealed its Halloween food and drink line-up for the spooky season which will arrive early on September 7 be served until October 31.

The cafe is known for always having a cute selection of meals and beverages inspired by each season. So, what do they have in store for Halloween 2019?

Pikachu's Greedy Halloween Plate 2019 – ¥1,706 (w/ Plate ¥2,894)

This year's Halloween plate features Pikachu wearing a witch's hat. This filling plate features a pumpkin salad, spaghetti and more. Plenty to keep you going until the late-night candy snacking!

Discovering Celebi!? Oak Forest Pesto Pasta – ¥1,706

This adorable and healthy, vegetable-packed Celebi dish includes basil flavoured short pasta and a cute.

Zorua's Halloween Roast Beef Burger – ¥1,706

This hearty burger is packed with a generous serving of roast beef. You'd best not leave a crumb or Zorua might play a trick on you!

When ordering a drink at the cafe you'll receive one of six possible coasters. One of the designs is being kept a secret!

And for the duration of the Halloween event, there's also a limited-edition lunch mat and clear coaster to get your hands on. These are limited in stock so you'll want to catch 'em all quickly! And don't forget, you have to book a table in advance to dine at the Pokémon Cafe.

© 2019 Pokémon.©1995-2019 Nintendo/Creatures Inc./GAME FREAK inc.

Pokémon, ポケットモンスター and ポケモン are registered trademarks of Nintendo, Creatures Inc. and GAME FREAK inc.

Information

Pokémon Cafe
Address: 2-1-2 Nihombashi | Nihombashi Takashimaya SC East Bldg. 5F, Chuo 103-0027, Tokyo Prefecture
Business Hours: 10:30-22:00

Access: 5-minutes on foot from Tokyo Station's Yaesu North Exit via JR Line / 5-minutes on foot from Nihonbashi Station's B2 Exit via Tokyo Metro Ginza Line and Tozai Line / 4-minutes on foot from Nihonbashi Station via Toei Asakusa Line

TEL: 03-6262-3439

Reservations: https://reserve.pokemon-cafe.jp/

Official Website: https://www.pokemoncenter-online.com/cafe/

New Must-Grab Disney Merchandise Features Mickey Mouse, Marvel & Star Wars

Japan's consumption tax is set to increase on October 1 from 8% to 10%. If you're looking to bulk buy or grab up must-have items from Japan then now is the perfect time before the percentage goes up!

Today we will take a look some of Disney's premium pieces of merchandise which are must-grabs before the tax increase.

Disney Senryobako – ¥ 2,982,650 (Tax Included) *Rate subject to change

A senryobako, or "thousand gold coin box," is a box that was used during the Edo period to store koban, the former Japanese oval coin. This box features a Mickey and Minnie Mouse design that reads "Forever together" at the top. It also includes a set of 50 koban featuring Mickey and Minnie designs on them. This is a super special and premium gift item!

Available At: GINZA TANAKA

Mickey 90th Anniversary Design Signature Pot (18cm) – ¥30,000 (Before Tax) *Comes in 11 colours

This pot is being released in celebration of 90 years since Mickey's screen debut. The pot lid features the iconic outline of Mickey Mouse. It's also delivered in limited-edition packaging.

Available At: Le Creuset

Movie Masterpiece DIECAST: Avengers 1/6 Scale Iron Man Mark 7 Figure – ¥58,800 (Tax Included) 

This highly detailed figure looks like Iron Man jumped right out of the movie theatre screen. Several different models and pieces are on sale too for each movie the superhero features in the Marvel Universe. Collect them all to create a whole range of poses.

Available At: Hot Toys

ROYAL SELANGOR Star Wars Vehicles "X-Wing" – ¥37,800 (Tax Included)

ROYAL SELANGOR Star Wars Figurine "Darth Vader" – ¥54,000 (Tax Included)

Malaysian-based company Royal Selangor is the largest pewter manufacturer and retailer in the world. Their new X-Wing and Darth Vader models elicit that vintage space opera vibe.

Available At: Royal Selangor

Each and every one of these items is a luxury Disney product. If you're a collector or are looking to buy a present for a fan then now's the best time to grab any of these premium products!

©Disney © 2019 MARVEL © &TM Lucasfilm Ltd.

Cute Halloween Sweets Spook Their Way Into Tokyo's The Capitol Hotel Tokyu

For this year's Halloween season, The Capitol Hotel Tokyu in Tokyo has announced that it will serve up its Halloween Sweets Selection again this year at the hotel's pastry boutique ORIGAMI located on floor B2F. The confectionery chefs have spun some spooky fun into this collection of 10 cute treats.

Frankenstein – ¥1,760 / Phantom – ¥1,760 / Cyclops – ¥1,760

The Phantom is a popular confection every year at the hotel, but this year he's had two new freaky friends carved out for him: Frankenstein's monster and a Cyclops. These white chocolate monsters are filled with chocolate-covered almonds, macadamia nuts and other hidden delights.

Witch Hat – ¥715

Dressed in a milk chocolate mousse is ganache and a rich and bitter crème brûlée made with bitter orange. It also contains a mandarin orange liqueur for deeper flavours. The mix of orange notes is refreshing on the palate.

Cross – ¥715

The orange and black Cross is a mousse cake made from pumpkin puree beneath which lies a cinnamon flavoured crème brûlée and coffee flavoured ganache. The bitter coffee elevates the exquisite sweetness of the pumpkin for a delicious combination.

Evil Eye – ¥715

Enter at your own risk with the grotesque-looking (but delicious tasting) Evil Eye mousse cake. It's made with fragrant biscuit and caramel as well as blonde chocolate from France and inside is a smooth pear jelly.

There are lots of other Halloween treats besides these coming to the hotel too, so if you're in Tokyo this October then be sure to stop by for a Happy Halloween.

*All listed prices include tax

Disney Christmas 2019 at Tokyo Disneyland: Spend This Year's Holiday Season With That Special Someone♡

Tokyo Disney Resort has announced this year's Disney Christmas which will take place at Tokyo Disneyland® and Tokyo DisneySea® from November 8 to December 25. This is the Tokyo Disneyland® event line-up. For the Tokyo DisneySea® schedule, click here.

Disney Christmas Stories

Disney Christmas Stories celebrates the holiday season with a magical parade which will bring together the Disney cast members with their loved ones. The characters will dress in festive outfits and deliver to guests their own Christmas stories. Seven joyous Christmas stories will unfold before guests' eyes, from a merry family outing with Donald Duck, his beloved Daisy Duck and his three nephews Huey, Dewey, and Louie, to the star couple Mickey and Minnie Mouse.

The parade will seemingly stop all of a sudden which will be followed by ringing bells, signalling the start of a Christmas party. Snow will fall along the parade route, and the cast members will invite guests to join them in celebrating a heart-warming Christmas.

Christmas Decorations

An enormous 15-meter tall Christmas tree will tower over World Bazaar and illuminate the streets with its brilliant lights together with dazzling projections, combining with the festive music to create a romantic atmosphere.

The plaza in front of Cinderella's Castle will glimmer with Christmas adornments as well as Christmas presents, Winnie the Pooh decorations, and more. Each themed land across the park will also be embellished in Christmas colours, bringing a merry little Christmas to the park.

Special Christmas Merchandise

Glass Set – ¥2,200 (Tax Included)

Around 65 special Disney Christmas themed items are set to go on sale from November 1, from glasses to cushions and more, all of which can be used for Christmastime at home. Featuring designs of the Disney characters, each item is sure to bring an air of that nostalgia we all feel at Christmas.

Christmas Food & Drink


Also available from November 1 is a very special Christmas menu made up of 15 dishes and drinks. There's the seafood cream bread packed with melted cheese, a hot dog dressed in the colours of Christmas with its eye-catching red bun and white cheese, and more. There's also a dish inspired by the Disney film Beauty and the Beast who are set to appear in the parade.

Enjoy a very merry Christmas this year at Tokyo Disneyland.

Kaori's Easy Recipe: Learn to Make Steamed Minnie Mouse Cocoa Cakes

With just a small bit of ingenuity, turn everyday food into something cute using Kaori's easy recipe! With a few simple ideas, an ordinary recipe magically transforms into a cute dish.

Today, I will show you the perfect recipe for making chocolate Minnie Mouse cakes using the Mickey Mouse Tezukuri Okazu Maker kit which you can buy on Belle Maison.

1. Ingredients

About 3-4 prep bowls

1 large egg

40g sugar

Oil or 10g melted unsalted butter

15ml milk

50g weak flour (sifted)

10g cocoa

5g baking powder

2.

①Crack the egg into a mixing bowl, add the sugar and whisk well.

②Add a drizzle of oil or melted butter and milk and whisk again.

③Add the sifted flour and stir in gently with a rubber spatula.

3.

Oil the silicone cake moulds and spoon in your mix.

4.

Steam on a high heat for about 10 minutes.

5.

Now it's time to make Minnie's ribbon. I got this ribbon mould from Daiso. Place it onto some baking paper and outline the shape with a pen. Fill the outline with red-coloured chocolate and leave to set in the fridge. Once it has completely set, add the polkadots.

6.

Once the cake has finished steaming, stick her onto a lollipop stick so it the cake be eaten like a lollipop, and fix the ribbon onto the top of Minnie's head.

And she's finished! It looks cute when you put a Mickey and Minnie one together side by side. You can make a lot of cute recipes using the Okazu Maker, so get your hands on one and try making your own!

Kaori invites you into her world of character-themed food dishes in her recipe series. Be sure to check out her Instagram where she has uploaded many pictures of her character dishes!

©️Disney

Profile

Kaori Kubota (@kaopan27)
I live in Hokkaido and I love to make character themed foods, desserts and pastries♡

I want to see my family smile, so I enjoy putting in a bit of effort to make character foods and changing food into something cute♡

You can see more of my character foods and character bento boxes on my Instagram page→@kaopan27

Live the Disney Princess Dream With Tokyo Disneyland Hotel's Luxurious Afternoon Tea

If you've had the chance to visit Tokyo Disneyland or Tokyo DisneySea you will have tried the many delicious dishes and drinks on offer at its variety of restaurants. But did you ever know that Tokyo Disney Resort also offers afternoon tea?

Tokyo Disneyland Hotel serves the only afternoon tea set across the entire resort on occasion in line with certain events.

We had the pleasure of joining Disney mega fan Kanako as she went to visit the hotel to try this very special afternoon tea.

Tokyo Disneyland Hotel is the closest hotel to the entrance of Tokyo Disneyland. The first thing you will notice upon stepping inside is its use of Victorian decor. The ceiling also stands tall, opening the entire hotel up to give it a sense of space.

The afternoon tea is sold at the Dreamers Lounge in the lobby. In line with the Donald's Hot Jungle Summer event currently taking place at Tokyo Disneyland until September 1, the tea set is also "hot jungle summer" themed.

The first thing to note about the three-stack set is how refreshing and summery it looks – a perfect selection for the hot season. It comes with sandwiches, hors d'oeuvre, scones, desserts, and a choice of tea or coffee.

Kanako started with the very top plate. The plate itself is decorated with what is supposed to look like Donald's footprints and splashes of water.

The dessert on the left is haupia, a traditional Hawaiian dessert made with macadamia paste and roasted coconuts. It's crunchy and has an incredible flavour.

Sitting temptingly next to it is the panna cotta and melon coulis. It contains a single sage leaf which adds flavourful herb notes. The entire dessert itself has a satisfyingly refreshing taste which covers your taste buds with a single mouthful.

The middle plate features two types of scones: plain and pineapple. They come with separate servings of clotted cream and honey to lather the scones in. The latter scone is cute in that it's actually shaped like a pineapple. It's crunchy and delicious and goes exquisitely with the accompanying tea.

The tea menu has many options. Kanako went for the "Darjeeling Summer" from the premium tea selection. When you order from the premium menu your tea is prepared in a sleeping pot that is both cute and extravagant as you would expect with an afternoon tea set.

The bottom plate contains a bunch of different appetisers including tuna and okra tartar, mango and mascarpone canapé, tomato and fish capellini, keema curry quiche, and an ethnic pork sandwich.

Kanako was very happy with her hors d'oeuvre, saying: "Everything is delicious, but I really like the combination of the pork and the slightly chewy bread for the pork sandwich!"

The chilled cone cream scoop was very refreshing and a perfect palate cleanser.

Finally, the cute hot jungle summer dessert plate which caught our attention from the very start. It comes with a tropical cream cheese and passion fruit mousse, white grape and shiikuwasha jelly, and Peach Melba which looks like flowing magma.

You might be surprised to find out that the jungle leaves on the plate aren't actually part of the plate's design but in fact green chocolate carefully sprayed on.

Even the Goofy, Mickey and event logo on the plate are delicately made from chocolate. Once you know that you'll definitely be reaching for the camera straight away!

The Peach Melba is a lovely combination of peach compote and vanilla ice cream topped with raspberry sauce and almonds. Its mix sweet and sour flavours remind one of summertime.

It's not everyday you see a cream cheese mousse, is it? The one that Donald is sat on. Kanako especially enjoyed its passion fruit scent and velvety texture. It's made even more delicious when eaten together with the jelly surrounding it.

So, which was your favourite, Kanako-chan?

"Everything tasted amazing, but my favourite was the haupia♡ It's moderately sweet, and I really liked the flavour of the coconut! Everything in the afternoon tea set is cute down to the tiniest details, so it's perfect for taking photos for social media. I definitely wanna go again!"

The Donald's Hot Jungle Summer themed afternoon tea set is being served from 11:30-17:00 until September 1, 2019. Places are limited so I recommend making a reservation in advance.

Enjoy your summer to the fullest with this tropical afternoon tea set!

©️Disney

Information

Donald's Hot Jungle Summer Afternoon Tea Set

Running: July 8, 2019 – September 1, 2019

Location: Dreamers Lounge, Tokyo Disney Hotel

Serving: 11:30-17:00

Price: ¥4,000

Reservations: https://reserve.tokyodisneyresort.jp/

*Customers and guests can make reservations for the afternoon tea set.

*If you are not staying as a guest at the Disney Hotel then please make your reservation on the Tokyo Disney Resort website.

*Please note that servings are limited each day.

Enjoy Pirate-Themed Food, Cocktails, Desserts And More at DisneySea This Summer

Tokyo DisneySea launched their special event called Disney Pirates Summer which will run until September 1. The event includes the launch of 16 colourful pirate-themed menus. 

We headed straight to Mediterranean restaurant Cafe Portofino to fill ourselves up on the delicious menu. Cafe Portofino is the nearest restaurant to the entrance of DisneySea. Once you find the Mediterranean Harbor, you will find it on the right. 

 Special set: ¥ 1,880 ① Potatoes and Roast Beef Salad ②Linguine topped with Olive and Caper Tomato Sauce and served with Battered Yellowfin Sole Fish ③ Lychee Pudding with Lemon Jelly topped with Mixed Fruit ④ A choice of Soft Drink ⑤ Pay an extra ¥310 for an alcoholic drink. 

I ordered the special set which is surprisingly big but definitely enough to satisfy the hungry pirates, who are always boasting about their enormous appetite. 

I started with the potato and roast beef salad, which was dressed in balsamic vinegar. The taste was so refreshing which is just what you want during the summer. The rosemary-flavoured potatoes were soft and a perfect match with the beetroot.   

The linguine was chewy and springy and the capers produced a mildly tangy flavour. I am not usually a big fan of olives, but these were very delicious. The battered fish was crispy and not oily, which is suitable for children and adults. 

Just looking at the lychee pudding with lemon jelly is enough to make you feel refreshed. It is packed with fruit and takes on the image of a pirate's treasure chest that is full of colourful rubies. This is the perfect way to clean your palate. 

Ordering the special set allows you to choose a soft drink. If you pay an extra ¥310, you can change this drink into an alcoholic drink. 

Sparkling Cocktail ( Rum and Mango Sherbet) On its own: ¥680

This cocktail takes on the image of a pile of pirate treasure. Mango sherbet sits on top of the cocktail like nuggets of precious gold. The base of the cocktail is rum and peach and the refreshing alcoholic flavour of the rum is moderately sweet, spreading instantaneously through your mouth on your first sip. The solid texture of the mango makes the cocktail even more enjoyable, so please mix it thoroughly before devouring. 

The bakery next to Cafe Portofino called Mamma Biscotti's Bakery is selling desserts which come with souvenirs that you can take home with you.

Mango Jelly and Orange Mousse with Souvenir Mug: ¥800

Jelly, mousse and meringue whip is layered in the mug. This refreshing dessert not only looks pretty, but is also made up of a range of fun textures for you to enjoy. 

You can take the souvenir mug back home with you. Its design features Mickey Mouse and friends dressed as pirates. 

Coffee Roll Cake with Souvenir Plate: ¥800

This is the perfect dessert for adults because it is slightly bitter. The layers of sponge, cream and bitter coffee makes for a range of delicious flavours. This plate's design also features Mickey Mouse, who has dressed up as a pirate for the event. This would be perfect to take home with you to remember your trip!

DisneySea is the perfect place to cool down this summer and create many wonderful memories, so please do pay a visit. 

©️Disney

Tokyo Disneyland's Hot Jungle Summer Event Offers Up Flames, Drenching Water & Delicious Food

Hi, everyone! It's Midori from MMN's editorial team.

Donald Duck is the star of Tokyo Disneyland right now with his Hot Jungle Summer festival that is running right now until September 1. It is packed full of events, limited time food and exclusive goodies all themed around summer.

The limited time food is taking on water and fire motifs with restaurants serving up both cool and refreshing looking items and hot summery items. I paid a visit to the festival together with Kanako so we could try out these seasonal meals and drinks.

Sparkling Drink (Blue Syrup) – ¥380

We headed over to Boiler Room Bites located inside Adventureland and tired out their blue coloured "sparkling drink." Blue syrup is added to the cup inside which chewy pieces of jelly bob up and down in the soda. Its appearance alone is enough to cool you down, it's really pretty!

They sell other sparkling drinks too, including a red coloured one with raspberry syrup and a yellow one with lemon syrup. It's cute and fun for you and your friends to get different coloured ones♡

For an extra ¥350 you can also get this huge yellow souvenir straw with Donald on the front. Simply kawaii♡

Cream Shaved Ice (Tropical Fruits) – ¥550 (Tax Included)

The tropical fruits flavour of Tokyo Disneyland's popular cream shaved ice is available for the festival only. It's a mix of shaved ice and soft serve ice cream.

It's sold at Troubadour Tavern in Fantasyland and comes with huge pieces of pineapple. It's not too sweet and is the perfect refreshment for the hot summer weather.

Special Set: ¥960 (Tax Included)

You can get this special set at the refreshment corner of World Bazaar. It comes with a bright red hot dog topped with cheese and a vegetable sauce packed full of veggies. The sauce is spicy and will whet your appetite!

It also comes with a drink and fries so you're sure to get your lunchtime fill.

Special Set: ¥1,080 (Tax Included)

Camp Woodchuck Kitchen in Westernland is popular for its turkey legs. This mouthwatering set comes with a tasty hamburger seasoned with curry sauce and topped with cheese. Even in the hot summer this one is a must-try. It also comes with fries and a drink.

The restaurant sells a whole load of other bites too like the onigiri burger, waffle sandwiches and more, all ideal for lunch. Sift through the menu and make your choice♡

Mango Milk Soft Serve Ice Cream w/ Raspberry Sauce – ¥400 (Tax Included)

If you want ice cream then you'll want to head to Squeezer's Tropical Juice Bar in Adventureland where they're selling mango and milk flavoured soft serve ice cream drizzled in raspberry sauce. The sweetness of the ice cream and sourness of the raspberry sauce go together really well. It's available for a limited time only so don't miss out!

That goes for everything else listed here, it's all limited-time-only, so if you're in Tokyo this summer then be sure to head on over ASAP!

©Disney

Tokyo Disney Resort at Night is a Must-Experience With Chill Shows & Events

Tokyo Disney Resort's® summer events have officially begun. There are plenty of exciting events to experience during the daytime this summer at Tokyo Disneyland and Tokyo DisneySea, but there are equally as many fun evening events too.

Let's take a closer look at what you can look forward to during summer nights this year at both parks and the Disney Ambassador Hotel.

Oh! Summer Banzai – Flames and water surround the Cinderella Castle

Oh! My Summer is the first stage show to be held at the Cinderella Castle in six years and will offer up a whole new kind of summer evening entertainment at Tokyo Disneyland. It will feature the impressive use of flames and drenching sprays of water to entertain the park guests.


A colourful jungle background will provide the setting for the show with Donald Duck as the main character who will be joined by Mickey, Minnie and other members of the Disney cast.

Together with the thundering music, thrilling dancing and refreshing water sprays, guests can look forward to a fiery show that in fact serves to cool them down from the summer heat.

If you're looking to cool down during the day then be sure to check out the Pirates of the Caribbean themed Pirates Summer Battle and Zootopia themed Judy and Nick's Jumpin' Splash events too to get sprayed with cold water.

Oh! Summer Banzai

Location: Castle Forecourt, Tokyo Disneyland

Performance Time: 20-minutes (Twice a day)

Event Page: https://www.tokyodisneyresort.jp/en/tdl/show/detail/938/

Barnacle Bill's – Chill out with beer and sausages at DisneySea

The blackcurrant beer cocktail and cheese-filled bone sausage set sold at Barnacle Bill's in American Waterfront is a must-try. The beer is super refreshing accompaniment for the hot weather and goes perfectly with the sausages.

 

Barnacle Bill's

Location: American Waterfront, Tokyo DisneySea

Running: July 8, 2019 – September 1, 2019

Official Webpage: https://www.tokyodisneyresort.jp/en/tds/restaurant/detail/430/

Empire Grill – A full course meal at Disney Ambassador Hotel

As part of the Tokyo Disneyland event Donald's Hot Jungle Summer, the Disney Ambassador Hotel is serving a special dinner course.

The course includes an assortment of ethnic flavours with beautiful plating. The sweetbreads doused in mango sauce have been made to look like Donald's feet.

For mains you can choose between quail farcie or beef loin. We ordered the latter. The meat is beautifully juicy and tender. It comes with feijoada on the side with chilli beans and vegetables. The crunchy tortillas are so delicious you'll want seconds.

The true standout from this gourmet course however is the dessert which is accompanied by Donald and Daisy Duck! It's a mix of white chocolate mousse topped with fruit and jelly. The hearts on the plate add that extra kawaii flavour to this special dish. It almost seems a waste to eat it… is what we said as we wolfed it down.

We also recommend the special Donald Hot Jungle Summer drink. Its tropical taste and colour makes it the perfect beverage for summer time.

If you order the drink you even get one of these exclusive coasters.

"Donald's Hot Jungle Summer" Empire Grill Dinner

Running: July 8, 2019 – September 1, 2019

Serving: [Dinner] Weekdays 17:30-21:00 / Weekends & Holidays 17:00-21:00 (*2 hours allotted)

Price: ¥10,000

"Donald's Hot Jungle Summer" Special Drink

Running: July 8, 2019 – September 1, 2019

Serving: [Lunch] 11:30-14:00 [Dinner] Weekdays 17:30-21:00 / Weekends & Holidays 17:00-21:00 (*2 hours allotted)

Price: ¥1,300

Official Website: http://www.disneyhotels.jp/en/dah/restaurant/index.html

Get Soaked at Tokyo DisneySea's Pirates Summer Battle Event

True summer is on the horizon as Japan's rainy season slowly begins to let up. Tokyo DisneySea's special summertime event Disney Pirates Summer began on July 7, and if you're looking to cool down from the hot weather, you won't want to miss the Pirates Summer Battle Get Wet show that is running until September 1.

The show is inspired by the world of Pirates of the Caribbean and features Captain Jack Sparrow and Captain Barbossa and his band of pirate comrades. It felt like being thrown into the sea life ourselves when we visited.

It begins with Barbossa, who occupies Port Paradiso, and some of his fellow pirates setting forth to plunder Captain Jack Sparrow's legendary ship. The remaining pirate ruffians left at the port begin loitering around.

The sound of a horn then burst across the water as the legendary ship appeared. On board is Jack Sparrow who has been defeated by Barbossa to which his fellow pirates cheer. Barbossa then set his eyes on us to become pirates too and shouted that he was going to find out if we had what it takes.

The test began and water was fired at the crowd, the pirates yelling at us things, "So ye wanna be pirates?" and "You want treasure too, don't ya?"

It was at that moment that Jack Sparrow appeared once again on a rickety ship. The crowd were tested on what they had learned and were encouraged to intimidate Jack Sparrow, but…

…all of a sudden a merry banquet began! Everybody soaked each other in water, sang and drink. It was during this time that the sly Jack Sparrow took action, causing Barbossa to enrage with fury.

With water shooting and flames blazing during the final battle, who came out victorious? You'll have to visit Tokyo DisneySea to find your! Enter the wild world of the pirates and get wet this summer for Disney Pirates Summer.

©️Disney