Monster Minions Are Invading Universal Studios Japan for Halloween 2018
Universal Studios Japan is holding its seasonal Universal Surprise Halloween even this year which consists of three elements: Otona Halloween, a sophisticated event for adult guests, Zekkyo Halloween, which is intended to make people scream, and Kowa Kawa Halloween for kids to enjoy.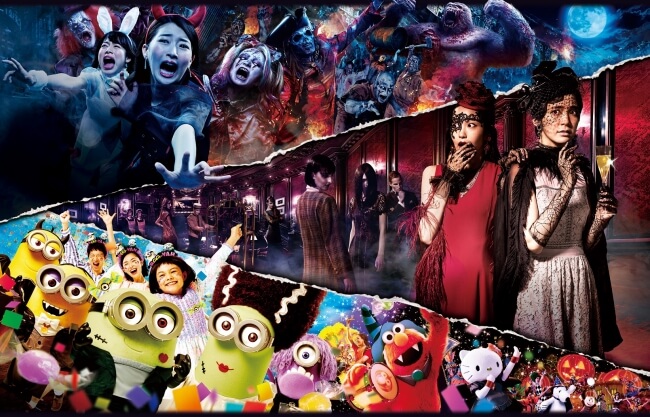 In this article we take a look at Kowa Kawa Halloween, which translates to "Creepy Cute Halloween," and is aimed at families.
With Kowa Kawa Halloween, kids can look forward to romping with the Despicable Me Minions who have transformed into monsters that are a little bit scary but more cute than anything. They will be playful like you've never seen them before.
There will be several events happening throughout the day too for families to enjoy a full day at the park. During the day there will be a parade titled Festa de Parade as well as the Happy Trick Or Treat where candy will be poured like a waterfall for kids to watch. At night the park will hold its first ever Universal Wonderland Kowa Kawa Night.
Festa de Parade was held last year too and was thoroughly enjoyed by guests. As well as the parade, they put on the first ever Minion "Kowa Kawa" Party Area where parent and child families of 800 people enjoyed the Minions putting on a stage show. It got pretty wild.
Gru joined the Minions in the party area who were dressed in creepy cute costumes. Gru and the gang all danced to popular pop songs together while as the crowd cheered. As guests joined in with the party fun by dancing along, parade floats began to arrive.
A total of nine floats came past all themed around Halloween. Confetti was shot into the air from the stage and floats, surrounding guests in the colours of Halloween.
Despite the sun setting, Halloween was only just beginning at Universal Studios Japan as they introduced the park's first ever Universal Wonderland Kowa Kawa Night. The walls of the park attractions are decorated with bats and spiderwebs. There are also creepy-cute projections and pumpkin decorations. It's a completely different atmosphere than during the day. The characters too dress up in creepy-cute costumes.
There's much to be enjoyed at USJ this year for Halloween. Whether it's Otona Halloween, Zekkyo Halloween or Kowa Kawa Halloween, you're sure to get your fill of spooks!
RELATED ENTRIES
Mario Question Blocks Appear in New York to Win a Trip to SUPER NINTENDO WORLD

SUPER NINTENDO WORLD is set to open at Universal Studios Japan (USJ) in 2020ーthe year of the Tokyo Olympicsーas the world's first theme park area centred on the world, games and video game characters from Nintendo. A whopping 60 billion yen has been injected to make the park a reality.

In promotion of the park, the "SUPER NINTENDO WORLD CHALLENGE" was held in New York, US on February 19.

Fans dashed to Grand Central Terminalーa tourist hot spotーwhere the event was held to play a game involving the iconic Question Blocks from the Mario video game franchise. The set-up, which brought to mind a Bonus Stage from the game, had people hitting the question blocks just like Marioーsomething which we all must have imagined doing before.

1,000 people participated in the event which they signed up to prior. It was a day of fun for not only players but onlookers too. Grand prize winners won trips to SUPER NINTENDO WORLD, which is set to open before the Tokyo Olympic Games start, while all other participants got their hands on some exclusive SUPER NINTENDO WORLD merch early.

One participant said: "I love everything about Mario, so I knew I'd definitely be taking part today! I've loved Mario since I was a kid, I even had a plush toy of him. Mario really is exciting. I've always wanted to be Mario, so I'm really happy with how today turned out. I want to go to SUPER NINTENDO WORLD with my best friend and try out all the attractions. I'm sure it's gonna be a lot of fun!" (Male, 20 / Staten Island, New York) *Translated from Japanese

One of the grand prize winners said: "I've been a huge fan of Nintendo's games since I was 3-years-old. I was lucky to get to take part in the SUPER NINTENDO WORLD CHALLENGE today, but to go and win the grand prize is an amazing feeling! I'll be going to Japan with my girlfriend who I love so much! I'm always paying attention to news about SUPER NINTENDO WORLD. The Mario Kart attraction will definitely be a ride, I'm looking forward to it so much I just can't wait! I always thought it would be great if they made a Mario theme park, so the fact they're doing it in both Japan and even the US is amazing!" (Male, 20 / The Bronx, US) *Translated from Japanese

The Question Blocks also made an appearance in Times Square. The event was covered on the morning news in the US with fans visible at the event, Rockefeller Plaza, and elsewhere.

If you're a Mario and Nintendo fan planning a trip to Japan then be sure you get to experience SUPER NINTENDO WORLD when it opens this year.

Universal Studios Japan's New Promotional Video Sees NMB48 Members Enjoying Their Youth

Last autumn, Universal Studios Japan released a video showcasing youngsters in enjoying their youth in the park, and it blew up on Japanese social media. The park released a new version of the video online on January, and it will hit television in the Kansai area on February 1.

The video's theme is "Youth is a moment; youth is infinite." We see five NMB48 membersーCocona Umeyama, Rei Jōnishi, Suzu Yamada, Ayaka Yamamoto, and Haasa Minamiーenjoying themselves in their private time at USJ. They play the part of five friends about to graduate from high school, and like them, the lighthearted nature of the video makes you want to make some memories at the park with your friends too.

The video is saying to all young people that they hope they can make special memories at USJ, deepen their bonds with their friends, and continue their friendships after graduating.

We get to see the five NMB48 members enjoying the park to the fullest, wearing park merchandise like their cute headbands and pouches, riding the attractions with smiles on the face, snapping photos, and eating food. The song that plays during the video is LILLY by Osaka-born three-piece rock band Hump Back.

USJ is set to hold numerous campaigns for students entering the park, beginning in February, including student discounts.

Universal Cool Japan 2020 Finally Begins: Attack on Titan, Monster Hunter World & More

This year's Universal Cool Japan finally opened at Universal Studios Japan on Tuesday, where it is set to run until June 28, bringing together the 'cool' aspects of Japan enjoyed by the rest of the world. Four internationally beloved franchises take the spotlight for 2020: Attack on Titan, Monster Hunter World, Detective Conan, and Lupin III.

A host of lucky guests were able to experience the attractions before anyone else. Today, we hear their review and comments of the all-new rides, attractions, live shows and restaurants centred around the four big contenders which serve to fully immerse fans in their incredible worlds.

Attack on Titan's first XR ride

The Attack on Titan manga series has celebrated its 10th anniversary last year. For this year's Universal Cool Japan, the internationally-acclaimed series welcomes its first ever XR ride, as well as its own "Survey Corps Diner."

Guests wear VR goggles that transport them into a 360° rendering of the world of Attack on Titan, with life-size Titans appearing before their very eyes. Guests ride a roller coaster and fly alongside the Survey Corps. If you've ever wanted to know what it's like to soar up high with ODM maneuver gear, now's your chance. The Attack on Titan XR Ride offers a thrill like no otherーone so tense you'll be left wondering whether you will survive.

■Guest Comment

"It was so much fun! The visuals are breathtaking and connect superbly to the ride's movements. I was completely immersed in the visuals; it really felt like I was riding a wagon. Eren and the Survey Corps members were so cool, and even the horses looked realistic. It was amazing!" (Woman, 20/Osaka Prefecture) *Translated from Japanese

The themed restaurant, "Attack on Titan Survey Corps Diner," is so realistic to a quality you wouldn't believe, with the Survey Corps members' weapons and personal belongings left casually around the place. Guests can feel immersed as they listen to the conversations between the characters will chowing down on their meal, take a photo with life-sized versions of Levi and Hange, and more.

Detective Conan World's two new attractions with Shuichi Akai have fans screaming

At Detective Conan World, fans can expect to see the appearance of the hugely popular character Shuichi Akai who is set to star in the upcoming animated film Detective Conan: The Scarlet Bullet (releasing April 17, 2020). Four rides and attractions can be enjoyed at Detective Conan World, including the manga series' first-ever story-packed roller coaster named Detective Conan x Hollywood Dream: The Ride.

Guests can also look forward to joining Conan solve cases in Detective Conan: The Escape ~The Scarlet Bullet~, an escape game featuring an original story and a live performance by a real cast. Participants will make use of AR technology and solve the cases within the time limit to escape. Expect appearances from familiar faces too like Rachel Moore, Richard Moore, and others.

In Detective Conan x Hollywood Dream: The Ride, you'll be placed in the passenger seat with Akai on the wheel who will use some extreme driving techniques to shake off the criminal. Look forward to plenty of thrills in this immersive experience.

 

■Guest Comment

"Not only do you solve cases, there's also a gaming aspect to the challenges which require the use of the AR terminal. It's also a team game where you work with others, so I enjoyed it with everyone else. A lot of characters make an appearance too, it was so cool." (Female, 20/Osaka Prefecture) *Translated from Japanese

There's also the Detective Conan Mystery Challenge in which guests take a hands-on approach to solve various incidents around the theme park. Harley Hartwell, Kazuha Toyama, and Tomoya's love rival Momiji Ooka are also present in this game with in the form of a real-life cast.

Fans can also tuck into some mystery-themed food at the Detective Conan Mystery Restaurant which combines food and live entertainment. Fans reacted overwhelmingly to the appearance of Masumi Seraーthe sister of Akai. There's also appearances from Amuro Tooru and Serena Sebastian too.

Lupin the Third: The Live

 

Witness a live cast playing the roles of the popular Lupin III, Daisuke Jigen, Goemon Ishikawa XIII, Fujiko Mine, and Koichi Zenigataーthe latter of which is trying to chase down Lupin. It features live entertainment by real cast members who will perform right before guests. The reaction to this live show has been overwhelming as guests feel like they are running through Delancey Street in New York with Lupin in this interactive story.

■Guest Comment

"I was amazed to have been able to see such an amazing show right in front of me. Lupin and the gang came from above, below, left, and right. There were too many good moments. I didn't have enough eyes! <laughs>" (Female, 20/Hyogo Prefecture)

Last year's Lupin III restaurant, Ristorante Amore, has received an upgrade for 2020. Experience being served by Lupin himself, with his gentle approach and know-how when it comes to getting with the ladies, and Goemon Ishikawa XIII, who is aloof and has terrible romance skills. They are serving up authentic Italian cuisine.

Monster Hunter World: Iceborne XR WALK

The Monster Hunter video game franchise is loved the world over, and is appearing once more at Universal Cool Japan after two years. Use interactive VR technology and go hunting in the world of Iceborne, the hit expansion to Monster Hunter World, in an experience so immersive you'll forget about the real world.

©Hajime Isayama・Kodansha / "Attack on Titan" Production Committee

©2020 Gosho Aoyama / Detective Conan Production Committee

© CRAP All rights reserved.

©Monkey Punch / TMS・NTV

©CAPCOM CO., LTD. ALL RIGHTS RESERVED.

書・SISYU

TM & © Universal Studios. All rights reserved.

Universal Studios Japan to Offer Student Discounts in February and March

Osaka-based theme park Universal Studios Japan (USJ) has announced special discounts on its "Universal Annual Pass" tickets for students which will be available from February 1, 2020 to March 31, 2020. All university students, graduate students, junior college students, vocational college students, high school students, and junior high school students can get their hands on the discount by simply showing their student ID when purchasing the pass.

The pass enables the guests to enjoy the host of exciting seasonal events and attractions throughout 2020 at USJ. The park will also offer exclusive campaigns for students during the graduation and spring break seasons.

Don't miss this chance to experience USJ's world-class entertainment at a discounted price. Reap all the benefits of student life!

Information

Universal Annual Pass Student Discount

Available: February 1, 2020 – March 31, 2020

*Available at the following times on the web ticket store only: January 31, 2020 at 16:00 (JST) to March 30, 2020 at 23:59 (JST)

Validity Period

For the student discount, the annual ticket start date must be activated between January 1, 2020 at March 31, 2020. It will then be valid for one year.

Limited To: University students, graduate students, junior college students, vocational college students, high school students, and junior high school students

Price: Student Discount – ¥21,800 (Tax Included) / Original Price – ¥26,800 (Tax Included)

Buying

・Web ticket store (until March 30, 2020)

・Universal Studios Japan ticket booth

・Universal Studios Japan Annual Pass Centre

・Lawson (Lawson Ticket via Loppi machines) (until March 30, 2020)

*When purchasing at the park, please show your student ID. Photocopies not valid.

*Discount not applied to the following tickets: "Universal Annual Pass Light" and "Universal Annual Pass VIP"

Universal Studios Japan Official Website: https://www.usj.co.jp/e/

Latest News On SUPER NINTENDO WORLD at Universal Studios Japan – MOSHI MOSHI NIPPON

SUPER NINTENDO WORLD is set to open at Universal Studios Japan (USJ) in 2020ーthe year of the Tokyo Olympicsーas the world's first theme park area centred on the world, games and video game characters from Nintendo.

What is "SUPER NINTENDO WORLD"?

SUPER NINTENDO WORLD will be the first-ever multilevel Nintendo-themed area at USJ, and the first of its kind in the world. Fans of the internationally beloved games can expected to see a whole host of rides and attractions dedicated to their favourite characters, from Mario Kart to Yoshi and beyond, as well as themed restaurants, merchandise shops, and more.

Power Up Band

Guests at SUPER NINTENDO WORLD will be able to feel like they are in a Mario video game with the Power Up Band, a purchasable wristband which works in connection with the USJ app for smartphones., which enables them to collect digital coins and compete with their friends for the highest score on the scoreboards.

Hit question blocks to collect coins

Just like Mario does in his quest to save Princess Peach from Bowser, guests can collect coins by hitting Question Blocks with their Power Up Bands. They will feel like they are competing in a video game, in real time, with the other guests in the park. The Power Up Band has numerous features, including the ability to obtain collectable items like Mario character stamps by completing various conditions listed on the app.

 

Battle bosses with friends

Additionally, guests can collect 'Keys' in a new attraction called 'Key Challenges' with which they can unlock various gameplay opportunities including 'Boss Battles.' They will be able to battle bosses together with their friends.

Charli XCX & Galantis drop music video to promote the park's grand opening

To promote the opening of SUPER NINTENDO WORLD, USJ dropped a music video entitled WE ARE BORN TO PLAY on their official YouTube channel on Tuesday in collaboration with Swedish electronic DJ duo Galantis and English singer-songwriter Charli XCX. The music video merges the real world with the world of Mario, with Charli hanging out with Toad on top of Peach's castle and people stomping on digital Goombas. The song features original music mixed together iconic leitmotifs from the Mario games.


We look forward when SUPER NINTENDO WORLD finally opens and will most definitely cover it once it does.

Universal Cool Japan 2020: Attack on Titan, Monster Hunter World, Detective Conan & Lupin III

It has been announced that Universal Cool Japan 2020 will take place from January 21 to June 28 next year. This year marks the 6th run of UCJ which began in 2015, bringing together the 'cool' aspects of Japan enjoyed by the rest of the world, and enjoys immense popularity every year.

Universal Cool Japan 2020 will see four big titles in Japanese entertainment come together. Expect all-new attractions for all-new experiences.

*The Monster Hunter World: Iceborne x USJ attractions will be announced at a later date

Attack on Titan XR Ride

The Attack on Titan manga series has celebrated its 10th anniversary this year. For the first time ever, the series is getting its own XR Ride in which guests will don VR goggles that will transport them into a 360° rendering of the world of Attack on Titan, with life-size Titans appearing before their very eyes. Guests will ride a roller coaster and fly alongside the Survey Corps. If you've ever wanted to know what it's like to soar up high with ODM maneuver gear, now's your chance.

Running: January 21, 2020 – June 28, 2020

Detective Conan World

Join Conan in the all-improved and revamped Detective Conan World and help him solve cases in Detective Conan: The Escape; ride the new story-filled roller coaster Detective Conan x Hollywood Dream: The Ride which features full voice acting and an immersive plot; run around the park and solve various incidents hands-on with Detective Conan Mystery Challenge; and dine at the Detective Conan Mystery Restaurant.

Running: January 21, 2020 – June 28, 2020

*Full details on the restaurant will be announced at a later date

Lupin the Third: The Live

Lupin the Third made its first appearance at UCJ 2019 and was very well-received. This live show features street live entertainment by real cast members who will perform right before guests. Join Lupin and the characters in the exciting world of the franchise.

Running: January 21, 2020 – June 28, 2020

Monster Hunter World: Iceborne x Universal Studios Japan

The Monster Hunter video game franchise is loved the world over, and is appearing once more at Universal Cool Japan after two years. Use interactive VR technology and go hunting in the world of Iceborne, the hit expansion to Monster Hunter World which has shipped 2.8 million copies worldwide.

Running: Spring 2020 (subject to change)

Image Credit: Universal Studios Japan

HARRY POTTER characters, names and related indicia are © & ™ Warner Bros. Entertainment Inc. Harry Potter Publishing Rights © JKR. (s19)
Despicable Me, Minion Made and all related marks and characters are trademarks and copyrights of Universal Studios. Licensed by Universal Studios Licensing LLC. All Rights Reserved.
Nintendo properties are trademarks and copyrights of Nintendo. © 2019 Nintendo.
TM & © Universal Studios & Amblin Entertainment

©Hajime Isayama・Kodansha / "Attack on Titan" Production Committee

©2020 Gosho Aoyama / Detective Conan Production Committee

© CRAP All rights reserved.

©Monkey Punch / TMS・NTV

©CAPCOM CO., LTD. ALL RIGHTS RESERVED.

書・SISYU

TM & © Universal Studios. All rights reserved.

5 Places to Celebrate Halloween in Tokyo | 2019 Edition

Halloween is right around the corner, and in Tokyo, the spooky celebrations are beginning early. If you're in the capital this month, here are 5 places you must check out this Halloween.

Plain Clothes Halloween 2019 @ Shibuya

Worried about what to wear for Halloween this year? No need to panic. If you're spending your Halloween in Shibuya this year, which is known the world over for its incredible Halloween festivities, then head to Tokyo Culture Culture on October 27 where a very unique event is taking place.

Jimi ("Plain") Halloween is an event that takes out the stress of having to go all out for Halloween as people go dressed as ordinary people. It has been held annually since 2014, with the number of attendees growing each year. Over 800 people took part last year, all clad in their plain clothes.

This year's event will be split into three slots, with a capacity of 200 people per slot. Sign-up has already started, so if you're interested, check the times below and book ASAP.

Full Details: https://www.moshimoshi-nippon.jp/263176

▶︎Jimi Halloween

Date: October 27, 2019 (3 Slots / 200 People Per Slot)

 Slot ①: 11:00-14:00 

 Slot ②: 15:00-18:00 

 Slot ③: 19:00-22:00 

★Places are available on a first-come, first-served basis at the website below

Venue: Tokyo Culture Culture (cocoti SHIBUYA 4F, 1-23-16 Shibuya, Tokyo)

Entry: Free (Apply at the link below)

Sign-Up: https://dailyportalz.jp/kiji/jimihalloween2019

MAX UNKO HALLOWEEN @ Odaiba

Unko Museum Tokyo, a poop-themed (unko in Japanese) museum located on the second floor of DiverCity Tokyo Plaza in Odaiba, opened its Halloween event "MAX UNKO HALLOWEEN ~Unko & Dancing Halloween~" last Friday which will run all the way up to October 31. They are serving "max unko kawaii-ness" in this all-new Halloween event.

At the Unko Museum this Halloween, expect to see nnko idol monsters, unko mummies, and lots of other cute and fashionable unko critters. All of them will be part of a spooky parade together with the museum's mascot character Umberto. 

Also, if you go up to one of the museum staff members and say, "Trick or Unko?" you'll receive a special Halloween gift. There's lots of other unko-fying entertainment to be enjoyed, so if you're looking for a different kind of Halloween experience, be sure to find out more about MAX UNKO HALLOWEEN.

Full Details: https://www.moshimoshi-nippon.jp/262397

▶︎MAX UNKO HALLOWEEN ~Unko & Dancing Halloween~

Location: Unko Museum Tokyo

Address: DiverCity Tokyo Plaza Floor 2F, 1-1-10 Aomi, Koto Ward, Tokyo

Opening Hours: 10:00-21:00 (Last Entries 20:00)

No Fixed Holidays (Except when DiverCity Tokyo Plaza is closed)

Ticket Reservations: https://reserve.ale-box.com/reserve/169

Official Website: https://unkomuseum.com/tokyo

ROPPONGI HILLS HAPPY HALLOWEEN 2019 @ Roppongi

Roppongi Hills has announced this year's Halloween festival. Titled "ROPPONGI HILLS HAPPY HALLOWEEN 2019," it will take place from October 1 to 31, packed full of spooky fun from a Halloween costume parade to a ghoulish gourmet menu line-up, featuring an always-unique array of food and drink.

Halloween Cupcakes – ¥638 Each @ LOLA'S Cupcakes Tokyo (Available from October 5)

LOLA'S Cupcakes has baked up an assortment of cute monster motif cupcakes, with flavours including pumpkin, purple sweet potato and more. Whichever one you pick, it's sure to give you a smile and delight your taste buds.

Happy Monster – ¥980 @ Cafe Crepe

Delight in this cute pumpkin and fresh cream crepe, filled with pumpkin ice cream and snug in an orange crepe wrap. Housed inside is an adorable purple sweet potato mont blanc monster wearing a witch's hat.

There's plenty of other Halloween-themed menu treats besides these too in addition to numerous spine-chilling events.

Full Details: https://www.moshimoshi-nippon.jp/257307

▶︎ROPPONGI HILLS HAPPY HALLOWEEN 2019

Running: October 1, 2019 – October 31, 2019

Official Website: https://www.roppongihills.com/en/

PURO HALLOWEEN PARTY ~KAWAII MASQUERADE~ @ Tama

Sanrio Puroland is currently holding its "PURO HALLOWEEN PARTY ~KAWAII MASQUERADE~" Halloween festival will until October 31. This is the park's first mask-themed festival, with each day split into two slots: Day and Night. During the daytime, guests are invited to the park's "Cute Masked Party" string of events. But when night falls, the monsters creep their way out for the "Beautifully Scary Masquerade Party."

With the release of IT Chapter Two―the sequel to one of the biggest horror hits in years―Sanrio Puroland is collaborating with the film. This includes Hello Kitty taking Pennywise's place in the movie poster amongst other special content.

A ball mask parade is taking place on the first floor Puro Bridge. The Sanrio cast is dressed up in ballroom attire with masks and dance elegant dances, pulling onlookers into a frightening yet beautiful world.

As part of the Halloween celebrations, if you arrive at the park in full Halloween dress you can get a discount on Passport Tickets. Be sure to go clad in your best outfit to have the most fun!

Full Details: https://www.moshimoshi-nippon.jp/249600

▶︎PURO HALLOWEEN PARTY ~KAWAII MASQUERADE~

Running: September 13, 2019 – October 31, 2019

DAY: Weekdays – Until 14:30 / Weekends – Until 15:00

NIGHT: Weekdays – From 14:30 Until Closing / Weekends – From 15:00 Until Closing

*Weekday closing hours during the Halloween period is 6:00pm. Times subject to change.

Event Page: https://www.puroland.jp/2019_halloween/

VISION HALLOWEEN PARTY 2019 @ Shibuya

VISION HALLOWEEN PARTY 2019 @ Shibuya

The annual Halloween event at SOUND MUSEUM VISION, a club in Dogenzaka, Shibuya, will take place again this year on October 31.

Look forward to seeing live DJ performances from Yasutaka Nakata and SHINTARO with special guest acts from Kuro-chan and Ringo-chan of Yasuda Dai Circus as well as live performances from Yayoi Daimon and Rei©hi.

Dress up in your fanciest Halloween dress and club all night this Halloween!

VISION HALLOWEEN PARTY 2019

Date: October 31, 2019

Time: Open – 21:00

Price: Dress-Up Discount ¥2,500 / Door ¥3,500

Event Page: http://www.vision-tokyo.com/event/vision-halloweenparty-2019

Which of these events takes your fancy? Let us know on Twitter @moshi_moshi_glb or Facebook at https://www.facebook.com/msmsnippon/

Ginza's Gorgeous Ice Cream Shop coisof Releases Halloween Parfait

Ginza's luxury ice cream shop has released a new parfait flavour for the Halloween and autumn season.

They have called it the "Akiiro Murasaki coi Parfait" (Autumn Colour Purple coi Parfait). Coloured like the vivid sumire plant―a species of violet―this mouth-watering parfait contains a jam made in-house with whole natsuhaze, a wild type of blueberry that has been used in Japan since ancient times. It's topped with a dollop of rich and milky ice cream, a puree made from in-season purple sweet potatoes, and assorted nuts for added crunch.

Natsuhaze blueberries contain a lot of polyphenols, giving them an elegant sour flavour which goes unbelievably well with the taste of the milky ice cream and sweet potato. The parfait is served with a liqueur made from sumire extract.

For the Halloween period between October 16 to 31, the parfait can also be topped with various spooky decorations at no extra cost, like chocolate ghosts, spiders and cobwebs.

If you're celebrating Halloween in Japan this year, or want to treat your date to a Halloween treat, then take them to Tokyo's high-class shopping district Ginza for a luxurious parfait.

Information

Akiiro Murasaki coi Parfait

Price: With Liqueur ¥1,200 (Before Tax) / Without Liqueur ¥1,000 (Before Tax)

Running: October 16, 2019 – November 30, 2019

*Free Halloween parfait toppings available October 16, 2019 – October 31, 2019

Coisof

Grand Opening: January 17, 2019

Address: re:Dine GINZA Floor 9F, 4-3-1 Ginza, Chuo Ward, Tokyo

Opening Hours: 11:00-22:00

TEL: 050-3628-5009

Website: coisof.favy.jp/

Starbucks Japan Unveils Halloween Dark Night Frappuccino®

Starbucks Coffee Japan has announced a new beverage called the Halloween Dark Night Frappuccino® which will be released at Starbucks branches (*1) across Japan from 17:22 (*2)―the time of sunset when night begins―on October 18, 2019. The coffee chain is also releasing its new "Halloween Masquerade" filter on Instagram (*3).

*1. Select branches not participating.
*2. Roll out time may differ at select branches.
*3. Instagram is a service owned by Facebook, Inc. The above-mentioned filter is not backed or managed by Instagram in any way nor is it affiliated with the service.

The Halloween Dark Night Frappuccino® is themed on an evening masquerade party. It will go on sale when the sun sets at 17:22 on October 18. As the name suggests, the drink itself is black and mysterious like the night, blending together black cocoa powder with white chocolate brownie.

The jet black beverage also has a red hue to it which comes from a sweet and sour red berry sauce made from raspberries, cranberries and strawberries. It's topped with a squirt of fluffy whipped cream, sprinkled with black cocoa powder, and drizzled with more of that red berry sauce to create that Halloween aesthetic. The black cocoa adds a delicious bitterness to the sweetness of the brownie and the sweet and sour mixed berries, creating a mouth-watering flavour combination.

The Halloween Masquerade filter was developed by Starbucks for people's Instagram stories this Halloween. There are four masks to choose from which can be changed by just tapping on the screen. There are other cool Halloween effects on the filter to find too. Something might even pop out of your mouth if you open wide…

Starbucks Japan will also sell the above-pictured Halloween cup stands when the drinks go on sale. Limited in stock, the stands come in black and white, titled Halloween Red Night Frappuccino® or the Halloween Dark Night Frappuccino® respectively. You can buy them separately or as a set.

Experience a spooky masquerade party at Starbucks this Halloween.

Information

Halloween Dark Night Frappuccino®

Price: Tall Size Only – ¥590 (Before Tax)

Running: October 18, 2019 at 17:22 to October 31, 2019 (While supplies last)

Available: At most Starbucks Japan branches

 

Starbucks "Halloween Masquerade" AR Filter

Available: From October 16, 2019 at 10:30 (JST)

How to Use:
・Available from Starbucks Japan's official Instagram profile @starbucks_j

・Download the Instagram app on your phone and access via https://sbux.jp/masq

*The filter will be removed without notice on November 1, 2019

Cup Stands


Running: October 18, 2019 – October 31, 2019 (While supplies last)

Halloween Red Night Frappuccino® / Halloween Dark Night Frappuccino®

Price: ¥990 Each (Before Tax) *Fits Tall size drinks only, Frappuccino® drink sold separately at ¥590

Available: At most Starbucks Japan branches

Starbucks Coffee Japan Official Website: https://www.starbucks.co.jp/

Wear Plain Clothes This Halloween at Shibuya's Jimi Halloween 2019 Event

Worried about what to wear for Halloween this year? No need to panic. If you're spending your Halloween in Shibuya this year, which is known the world over for its incredible Halloween festivities, then head to Tokyo Culture Culture on October 27 where a very unique event is taking place.

Jimi Halloween is an event that takes out the stress of having to go all out for Halloween as people go dressed as ordinary people. It has been held annually since 2014, with the number of attendees growing each year. Over 800 people took part last year, all clad in their plain clothes.

This year's event will be split into three slots, with a capacity of 200 people per slot. Sign-ups begin on October 15 at 12:00pm (JST).

Past Examples

①Situational attire

Beauty salon client

Dressing up as someone doing something has been a popular choice at the event recently. You can come up with some creative ideas that'll make people say, "You came as that?!"

②"I've seen people like that!" attire

Flea market woman

There's always certain types of people that everyone sees, and in Japan this is one of them!

③"I get it, but I don't get it" attire

Hawaii vibe  uncle

You've heard all about them, but have you seen them?

④Work attire

Handing out tissues with pachinko ads on them

Work attire is a go-to at the plain clothes event. It wouldn't be an exaggeration to say that this is the one that started the entire movement.

⑤Miscellaneous attire

Maslow's hierarchy of needs

The final entry is those which are hard to categorise. They serve whatever vibes they are feeling.

Attend this year's event and show off your own unique ideas!

Information

Jimi Halloween

Date: October 27, 2019 (3 Slots / 200 People Per Slot)

 Slot ①: 11:00-14:00 

 Slot ②: 15:00-18:00 

 Slot ③: 19:00-22:00 

★Places are available on a first-come, first-served basis at the website below

Venue: Tokyo Culture Culture (cocoti SHIBUYA 4F, 1-23-16 Shibuya, Tokyo)

Entry: Free (Apply at the link below)

Royal Park Hotel Tokyo Transforms For Halloween 2019

Royal Park Hotel Tokyo in Nihonbashi has begun its Halloween festivities for 2019, including a bone-chilling black and orange food and dessert menu, spooky decorations, a photo spot in the first floor main lobby, and more.

Check out their mouth-watering sweets assortment! Their Halloween Afternoon Tea set is packed full of autumntime flavours, from the glass desserts, to the apple chiboust, chocolate pocket watches with bats on them, adorable monster burgers, and more.

The hotel is also offering a Halloween Dinner Buffet on weekends and holidays decorated in Halloween colours. Pile your tray with figs and blackcurrants, chestnut mousse, pumpkin tarts, and plenty of other tasty treats, all prepared fresh in the kitchen.

This is just a peek into the hair-raising fun happening right now at Royal Park Hotel Tokyo. There's also the Halloween Cocktail Fair, Halloween Sweets & Bread event, and much more.

Spend your Halloween here, or even use it as an opportunity to try wearing your Halloween costume out so you're ready for October 31!

Information

Halloween Afternoon Tea

Running: October 1, 2019 – October 31, 2019

Location: Fontaine (Floor 1F Lobby Lounge)

Price: ¥4,840 Per Person (Tax Included)

Halloween Dinner Buffet (Weekends & Holidays Only)

Running: October 5, 2019 – October 27, 2019

Location: Symphony (Floor 1F Lobby Lounge)

Price: ¥7,260 Per Person (Tax Included) / Seniors ¥6,050 Per Person (Tax Included)

*¥4,235 Per Person (Tax Included) for those aged 4-12 years and 65+

Halloween Cocktail Fair

Running: October 1, 2019 – October 31, 2019

Location: Fontaine (Floor 1F Lobby Lounge) / Royal Scots (Floor B1F Main Bar)

Price: ¥1,936 Per Person (Tax Included)

Halloween Sweets & Bread

Running: October 1, 2019 – October 31, 2019

Location IKI (Floor 1F Sweets & Bakery)

Royal Park Hotel Tokyo

Address: 2-1-1 Nihonbashikakigarachō, Chuo Ward, Tokyo

Official Website: https://www.rph.co.jp/

Tokyo's Poop Museum Announces Halloween Event 'MAX UNKO HALLOWEEN'

Unko Museum Tokyo, a poop-themed (unko in Japanese) museum located on the second floor of DiverCity Tokyo Plaza in Odaiba, opened its Halloween event "MAX UNKO HALLOWEEN ~Unko & Dancing Halloween~" last Friday which will run all the way up to October 31. They are serving "max unko kawaii-ness" in this all-new Halloween event.

Unflushed Poop Resurrects For a Poop Monster Parade

At the Unko Museum this Halloween, expect to see nnko idol monsters, unko mummies, and lots of other cute and fashionable unko critters. All of them will be part of a spooky parade together with the museum's mascot character Umberto. Join in as they show the audience how to do the unko dance which the museum created themselves!

Candy Rains From the Unko Volcano

You'll find Halloween decorations all around the Unko Museum for the duration of the event. If you've visited before, you'll be familiar with the Unko Volcano which normally spurts out poop. Well, for Halloween, it will instead offer up candy. Its design has also changed so it's more fitting for the spooky season.

By the way, if you go up to one of the museum staff members and say, "Trick or Unko?" you'll receive a special present. Don't miss out―pluck up the courage and just say those words!

Exclusive Unko Museum Halloween Merchandise

The museum's popular "My Unko Maker" feature, where you sit on a toilet and colourful poop appears at the bottom, will also take on a Halloween theme. Halloween items will also be sold including the above-pictured unko headbands.

Visit the quirky Unko Museum for a Halloween event like no other.

Information

MAX UNKO HALLOWEEN ~Unko & Dancing Halloween~

Location: Unko Museum Tokyo

Address: DiverCity Tokyo Plaza Floor 2F, 1-1-10 Aomi, Koto Ward, Tokyo

Opening Hours: 10:00-21:00 (Last Entries 20:00)

No Fixed Holidays (Except when DiverCity Tokyo Plaza is closed)

Ticket Reservations: https://reserve.ale-box.com/reserve/169

Official Website: https://unkomuseum.com/tokyo