Keep Your Pokémon Trainer Hands Moisturised With Pokémon Hand Cream
Pokémon Hand Cream is the third and newest instalment to the Pokémon gift cosmetic series. There are 4 hand cream designs to choose from which were released on sale September 12.
The first release were saw were the Pokémon Face Masks and after that Pokémon Lip Balm. Each product was a hit on social media when they went on sale for their quality and cute packaging designs.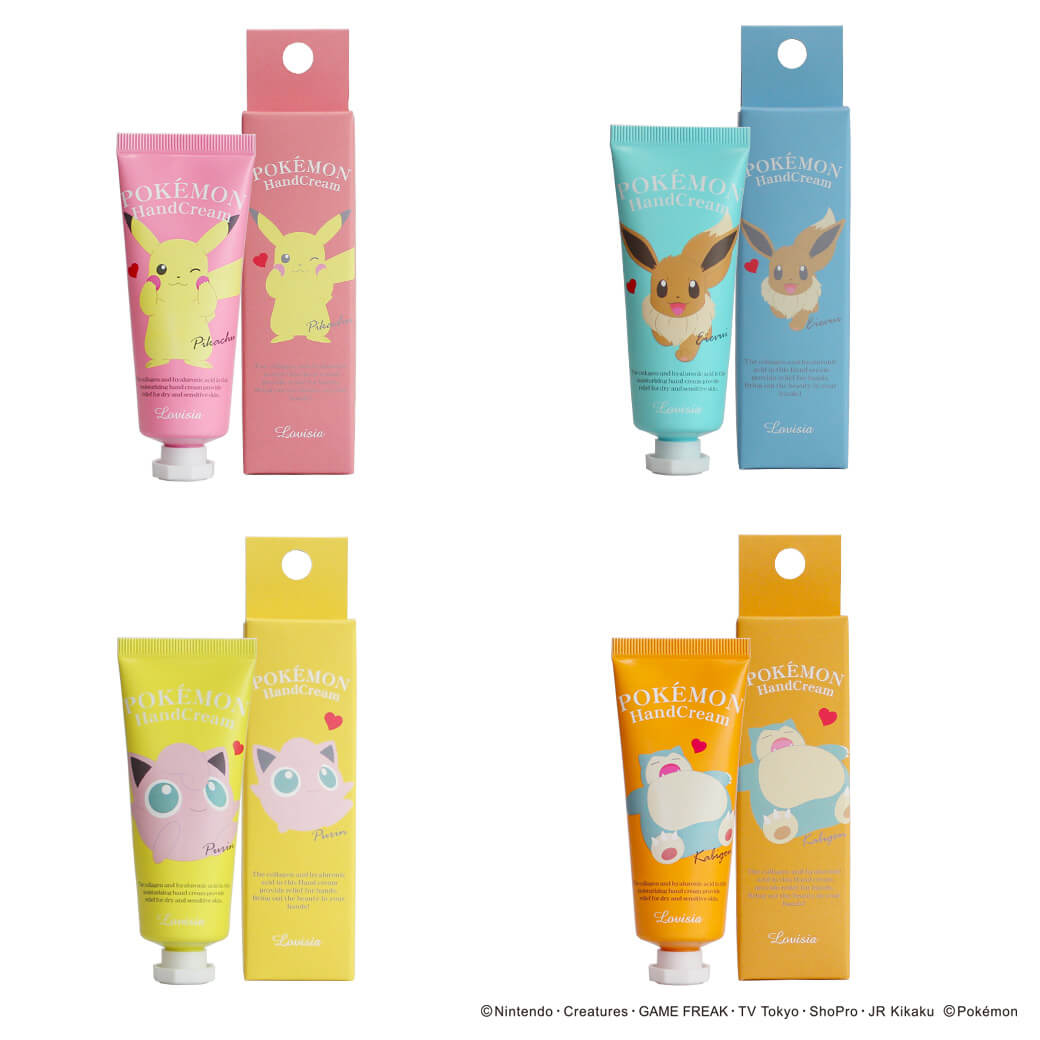 The new hand cream contains hyaluronic acid and collagen. Each design has its own fragrance for you to enjoy. They also come in boxes which makes them a great gift idea.
Whether buying one for yourself or a friend, be sure to get your hands on one of these cute and luxurious Pokémon hand creams!
■Information
Pokémon Hand Cream
Available: At variety shops around Japan
On Sale: September 12, 2018
Price: ¥800  (Pre-Tax)
Types: 4
Pokémon Gift Cosmetic Series: https://lovisia.jp/
©Nintendo・Creatures・GAME FREAK・TV Tokyo・ShoPro・JR Kikaku ©Pokémon
RECOMMENDED ENTRIES
Charge Your iPhone With These Pokémon Cable Huggers

The second line in the series of Pokémon cable covers will be released on July 5. They'll be available to purchase at capsule machines. It costs ¥300 for one go and there's six to get.

A common problem iPhone users face is their phone cable disconnecting so they can't charge. This cable figure series was developed to tackle this issue.

Not only do they prevent disconnection, they look cute too, adding a whole new experience to your charging experience. And all the familiar faces are making an appearance in this second line which fans are sure to love. Let's take a look at the line-up.

Of course we have to have Pikachu, whose electric type skill set is sure to benefit the speed of your charge.

Eevee is a popular Pokémon with fans of across all the generations. Simply cute, but it can be difficult choosing which Evolution stone to give it.

Let's hope Squirtle doesn't get the cable wet!

Bulbasaur ensures your cable won't fall out as he uses his vines for extra grip.

Charmander pose is precious as he gazes this way.

Don't lick that, Gengar!

And there you have it! Try to catch your favourite, or if you're a true Pokémon master, then try to catch 'em all!

■Information
Pokémon Gyutto Dakitsuki Cable Covers

Release Date: July 5, 2018 (*May differ between regions in Japan)

Price: ¥300 per go

Designs: 6

Webpage: http://kitan.jp/products/ccm_pokemon

Pokémon Face Masks – Maintain Your HP and Dodge Sun Damage with Moist Skin

In the first line of products in a new Pokémon gift cosmetic series comes four different Pokemon face masks which will be sold at variety stores and airports in Japan from July 20.

*Photos are for illustrative purposes only.
©Nintendo・Creatures・GAME FREAK・TV Tokyo・ShoPro・JR Kikaku ©Pokémon

Drawn in a variety of pastel colours, these designs of popular Pokémon are original to this cosmetic series.

The face masks don't just look cute – they're authentic and really work. Created by cosmetic brand Lovisia, they are made with hyaluronic acid and shea better and work against protecting your skin against UV rays and cold air.

Even more items are scheduled for this series, including lip cream, hand cream and more. Be sure to try them yourself!

■Information

Pokémon Face Masks
Price: ¥430 each
Types: 4

Stores: Variety shops, airports and elsewhere across Japan
Release Date: July 20, 2017

Website: https://lovisia.jp/

Pokémon Lip Cream & iPhone Accessories Make for Perfect Gifts From Japan

Japan has a lot of Pokémon merchandise, and they keep adding to the stock. Check out these brand new items being released this month!

iPhone Cable Bite

This cable bite series is an accessory for iPhone charging cables. They're a popular trend right now and are used as decoration made to look like they're chomping down on your phone. These six designs go on sale from August 10.

They also prevent your iPhone cable from falling out. The six designs include Pikachu, Eevee, Piplup, Psyduck, Meowth, and Munchlax.

■Information Cable Bite Pokémon

Price: ¥680 Each (Pre-Tax)

Available: Benelic Homepage 

http://benelic.com/


※CABLE BITE and the products are a registered trademark of Dreams Inc.

Pokémon Marble Lip Cream
These lip creams are the second product in a series of Pokémon themed cosmetics. Available in four designs, they go on sale from August 7 at Pokémon Center stores and ITS'DEMO stores in Japan.

The first product in the series was the Pokémon Face Masks. Close to 40,000 shipped within the first month.

The new lip creams are made with numerous beautifying ingredients such as hyaluronic acid and jojoba oil. Not only do they look good in design, they keep your lips moist and ensure they do not dry out.

The packaging designs are original to the cosmetic series. Both products make for a perfect souvenir from Japan, so why not pick one up?

■Informtaion Pokémon Lip Cream

Price: ¥750 (Pre-Tax)

Types: 4

Available: Pokémon Centers, ITS'DEMO, and variety shops in Japan

On Sale: August 7, 2018

Website:

https://lovisia.jp

*Select stores not stocking the products. Please enquire with the stores directly if you have queries.©Nintendo・Creatures・GAME FREAK・TV Tokyo・ShoPro・JR Kikaku

©Pokémon
RELATED ENTRIES
JINS Eyewear Launches Official Pokémon Model Design Glasses

JINS is teaming up with The Pokémon Company to release a special collection of glasses at JINS stores and their official online shop on January 1, 2021.

Your Pokémon partner with you wherever you go

The glasses come in four different models – Pikachu, Snorlax, Eevee, and Mew – so your favourite can set out on your Pokémon journey with you and be there wherever you go.

Completely original models capture the Pokémons' designs

The JINS Pokémon Model collection feature original designs and come with an original glasses case. There are plans to launch the glasses globally at JINS stores in the US, China, and elsewhere in the future.

Flagship Model | ¥12,000 (Before Tax)

All the glasses come in four different models: Flagship, Kanto Region, Johto Region, and Kids. The flagship model frames capture the colours of Pikachu, Snorlax, Eevee, and Mew, and each features pixel art of the respective Pokémon. The inner part of the frames also have silhouettes of the Pokémon along with the logo.


Pokémon Trainers will find their stylish glasses cases with a Poké Ball in the front, and inside, Pokémon pixel art.


Kanto Region Model | ¥8,000 (Before Tax)

The Kanto models are based on the Pokémon found in the Kanto Region of the Pokémon world, with Bulbasaur, Squirtle, Charmander, and Pikachu featured on the inner side of the left temple. On the inner right are the same Pokémon including Pikachu not wanting to go into its Poké Ball. This story woven into the glasses is sure to have long-time fans feeling nostalgic.

The top of the grey case has our four pixel friends, and they're featured on the inside too in silver leaf. The glasses cloth has designs of the original 151 Kanto Pokémon.


Johto Region Model | ¥8,000 (Before Tax)

Fans of the Johto Region Pokémon will enjoy these models which are metal combination frames featuring Chikorita, Cyndaquil, and Totodile.


The white glasses case features a sleek design with the logo on it while the cloth has alternating silver and gold Poké Balls.


KIDS MODEL | ¥5,000 (Before Tax)

On the inner part of the frames you'll find Pikachu, Eevee, Mew, Lucario, and Cinderace, as well as Poké Balls on the ends of the temple parts.

Kids Anti-Allergy Models | ¥3,000 (Before Tax)

The anti-allergy models have Pikachu designs and are equipped with hoods that protect the wearer from pollen. A special laser is used to make the hoods to that the glasses feel natural and not uncomfortable on the face.

These last two glasses cases are compatible with the kids models and include a Poké Ball design and Rotom Phone.

Limited-Edition Bag

Glasses come in a special limited-edition bag. These are limited in stock.

© 2020 Pokémon. © 1995 – 2020 Nintendo/Creatures lnc./GAME FREAK inc.
TM, ®, and character names are trademarks of Nintendo.

Tokyo Banana Chooses Eevee as Next Pokémon Souvenir Sweet

Tokyo Banana World has revealed that its next sweet treat in its Pokémon Tokyo Banana series will be Eevee which Pokémon Trainers can expect to catch up and down Japan from January 2, 2021, including at the store itself as well as at 7-Eleven branches.

Pokémon Tokyo Banana Welcomes Eevee as Entry #2

Tokyo's official souvenir sweets brand Tokyo Banana launched its new Pokémon Tokyo Banana series of confections in November with the first catch being Pikachu. Now Eevee is being added to the collection.


The fluffy sponge is a delicious caramel macchiato flavour and is filled with sweet banana custard cream. It can be eaten as it is, refrigerated, or even baked to create completely different flavour experiences.

6 Designs Including a Lucky Heart-Shaped Tail

The sponge cakes come in six different designs, all of which are adorable. The one to look out for though is the one with a cute heart-shaped tail.

Fluffy Eevee Design Packaging

Eevee Tokyo Banana Caramel Macchiato (Contains 2) | ¥291 (Tax Included)

The packaging features fluffy artwork of Eevee in six different designs, such as a waving Eevee and winking Eevee.

Where Can You Catch Eevee Tokyo Banana?

Eevee will roll out at 7-Eleven stores across Japan (excluding Okinawa) at the dates listed below. Each branch will have a limited stock so don't miss out.

January 2, 2021 Release
Tokyo/Kanagawa/Chiba/Saitama

January 16, 2021 Release
Hokkaido/Aomori/Iwate/Akita/Miyagi/Yamagata/Fukushima/Ibaraki/Tochigi/Gunma/Niigata/Fuji/Ishikawa/Fukui

January 23, 2021 Release
Yamanashi/Nagano/Shizuoka/Aichi/Gifu/Mie/Okayama/Hiroshima/Tottori/Yamaguchi/Tokushima/Kagawa/Ehime/Kochi

January 30, 2021
Osaka/Kyoto/Hyogo/Shiga/Nara/Wakayama/Fukuoka/Saga/Nagasaki/Oita/Kumamoyo/Miyazaki/Kagoshima

©2021 Pokémon. ©1995-2021 Nintendo/Creatures Inc. /GAME FREAK inc.
ポケットモンスター・ポケモン・Pokémonは任天堂・クリーチャーズ・ゲームフリークの登録商標です。

Hop Aboard The Exeggutor-Themed Plane in Japan

Japanese regional airline company Solaseed Air Inc. has partnered up with Pokémon, creating an Exeggutor-themed plane.

In October 2020, Exeggutor was labelled as Miyazaki prefecture's favourite Pokémon. This selection is due to Miyazaki being commonly associated with its warm and sunny climate. Exeggutor also resembles Miyazaki's famous Phoenix palm trees, making it the perfect Pokémon ambassador.

Solaseed Air Exeggutor decal sticker on the right side of the plane



Solaseed Air Alolan Exeggutor decal sticker on the left side of the plane


Solaseed Air has decorated the outside of their planes with large Pokémon decal stickers of approximately 9m long by 3m wide. Exeggutors can be seen on the right side whereas Alolan Exeggutors can be seen on the left.

Once you enter the aircraft, you will discover original Exeggutor headrest covers. The cabin crew will also be serving passengers while wearing original Exeggutor-themed aprons.

Solaseed Air Commemoration Gifts


A celebration was held at Miyazaki Airport on December 19, 2020 to commemorate the launch of the first Pokémon aircraft Solaseed Air 54, which departed Miyazaki at 10:05am and arrived at Tokyo Narita Airport at 11:40am. The passengers aboard were given Exeggutor-themed gift bags which contained sweets, an original Miyazaki prefecture ballpoint pen, coaster, magazine, commemoration certificate and more.

Solaseed Air Ceremony


Exeggutor also managed to make it to the ceremony to deliver happiness and express gratitude towards Solaseed Air passengers.

Enjoy the wonders of Miyazaki prefecture with Exeggutor and hop on the plane for an unforgettable adventure.

WHO are YOU? Pokémon Plush Toys Make a Comeback

Back in November, Sega Toys released a new Pikachu plush toy as part of its "WHO are YOU?" surprise toy series which reveals what character it is after being washed. As the series became more popular than expected, Sega Toys is continuing sales of the adorable anonymous balls of fluff.

Overwhelming Success

Since being launched in 2018, over 10 million WHO are YOU? toys have been sold worldwide. As a result, WHO are YOU? Pokémon was added to the collection, becoming a bigger sensation than ever imagined when it launched in November 2020. Pictures of the toys flooded social media and reservations were overwhelmingly high. As a result of its popularity, the WHO are YOU? Pokémon series is making a comeback and will be available to purchase online, at toy shops in Japan and elsewhere.

A Mysterious Pokémon Appeared!

WHO are YOU? Pokémon: ¥3,800 (Before Tax)

The WHO are YOU? series has plush toys taking the form of a fluffy ball to conceal the identity of the character. To evolve your mysterious Pokémon and discover its identity, it needs to be washed. In addition to the standard facial expression, there is also a smiling face and winking face. The winking Pokémon is the only female Pokémon and its tail is heart-shaped!

Give Your Pokémon Berries To Become Friends

After carefully coaching your Pikachu out of hiding, you will be rewarded for your efforts with delicious berries for your Pokémon. There are five different types of berries available including Pecha berries, Sitrus berries, Oran berries, Pomeg berries, and Lum berries. Your Pokémon will be clutching two to three of these berries and they will only be accessible when you successfully evolve your Pokémon. Use the berries to take your friendship to the next level. This toy is the perfect way to interact with Pokémon in a brand new way.

This is the perfect Christmas or New Year's gift for any Pokémon fan.

©2020 Pokémon. ©1995-2020 Nintendo/Creatures Inc./GAME FREAK inc. ©2019 Moose Group ©SEGATOYS
セガとセガロゴは株式会社セガまたはその関連会社の登録商標です。
SEGA and SEGA logo are registered trademarks of SEGA Co., Ltd. or its affiliates.

A BATHING APE® Set To Release Zarude-Themed Clothing Collection In Time For The New Pokémon Movie

A BATHING APE® (BAPE®) is once again collaborating with Pokémon to release a new clothing collection called A BATHING APE® Pokémon Collection – Zarude. The new line will be released on December 19, 2020 at A BATHING APE® shops as well as on the online shop.

  

A BATHING APE® is hoping to follow up on the success of their previous Pokémon collaboration collection which was released in October. The October collection incorporated their signature ape head design and was a big hit. The new collaboration is inspired by Zarude from the upcoming Pokémon film Pocket Monsters the Movie: Coco, which will be released on December 25 this year. The collection design merges the mystical concept of Zarude with a BABY MILO® style.

The collection is available in adult sizes as well as children's sizes making it the perfect clothing collection to match your kids or younger siblings. As the new Pokémon film touches on themes of parents and children, this is the perfect outfit to wear to watch the film. The items in this collection are not available anywhere else, so make sure to get your hands on them while stocks last.

©Nintendo・Creatures・GAME FREAK・TV Tokyo・ShoPro・JR Kikaku
©Pokémon ©2020 ピカチュウプロジェクト

Information

A BATHING APE® Pokémon Collection – Zarude
Release Date: December 19, 2020
Available At: A BATHING APE® Stores

Pokémon Center & Pokémon Store Announces 2nd Pika Winter Campaign

Pokémon Center and Pokémon Store branches in Japan are set to begin the 2nd Pika Winter Campaign which will see them adorned with special decorations from December 26, 2020 to January 11, 2021.

The Very Best Decorations


Pokémon Center Kyoto image


New decorations different from the first campaign will adorn all Pokémon Center and Pokémon Stores up and down Japan. These can be interacted with using a smart device to read the special code which will make Pokémon appear in AR.

Free Stickers On Social Media


Picture is for illustrative purposes only


Customers who take a photo with their phone of the AR decorations and post it to Twitter or Instagram with the hashtag #ピカッとウインター will receive a free sticker from staff in-store when showing their post to them. These are available while supplies last.

Free pocket tissue pack of one of 141 Pokémon


Picture is for illustrative purposes only


Customers who buy any merchandise from Pokémon Centers or Pokémon Stores in Japan will receive one of 141 possible pocket tissues with design of Pokémon from the Hoenn Region, such as Treecko, Torchic, Mudkip, and more.

If you're in Japan over Christmas and the New Year, don't miss out on the 2nd Pika Winter Campaign.

Information

Pika Winter Campaign
Running: December 26, 2020 – January 11, 2021
Location: Pokémon Center (Japan) / Pokémon Store (Japan)
Pokémon Center Official Website: https://www.pokemon.co.jp/

Take Christmas Selfies with Characters from 'Pokémon the Movie: Coco' with SNOW AR Camera App

The upcoming film Pocket Monsters the Movie: Coco is scheduled to release on December 25, 2020. To commemorate, AR camera app SNOW is releasing three collaboration stickers. Two stickers were released on December 11.

Add Pokémon Patterns to Your Masks


Take a mask selfie with your friends and watch your masks transform into a random Pokémon design. The patterns include Pikachu, Zarude and much more. There are a total of 9 Pokémon mask designs inspired by Pokémon that appear in the movie. Make sure you take lots of selfies to catch them all.

Christmassy Photo Frames to Take Selfies with Pokémon and Characters From The Movie


Using the new Pokémon photo frames, you can now take selfies with your favourite Pokémon and characters from the movie. Frame designs include Coco, the child who was raised among the Pokémon, the mythical Pokémon Zarude who raised him, and familiar faces such as Ash and Pikachu. Step into the world of the movie with these fun photo frames.

The Pokémon mask stickers and photo frames will only be available until December 25, 2020 so make sure to take pictures while you can. There is even a sprinkle of Christmas magic in the designs that will make for the perfect commemorative selfie.

There's not long now until the movie is finally released!

©Nintendo・Creatures・GAME FREAK・TV Tokyo・ShoPro・JR Kikaku ©Pokémon ©2020 ピカチュウプロジェクト

Tokyo Station's Pokémon Tokyo Banana is the Souvenir to Buy in Tokyo

Tokyo's official souvenir sweets brand Tokyo Banana launched pre-sales of its new Pokémon Tokyo Banana series of confections last month, with Pikachu as the first catch. Official sales will roll out at the Tokyo Station branch of Tokyo Banana on December 10, 2020.

Pokémon turn into Tokyo's official souvenir sweets

Pikachu will be the first Pokémon to feature as the design for Tokyo Banana.

A special Pokémon Tokyo Banana stall will open at Tokyo Station's JR Line

An official Pokémon Tokyo Banana stall will open inside Hanagataya on the JR side of Tokyo Station on December 10 which will sell exclusively Pokémon Tokyo Banana products. This will begin with Pikachu followed by an upcoming new entry set for release in January 2021.

They come in a cute gift box

Pikachu Tokyo Banana (Contains 8) | ¥1,188 (Tax Included)

Pokémon Trainers can pick up a pack of eight in a special gift box. These boxes are also available at other branches of Tokyo Banana in Tokyo including Shinagawa, Ueno, Ebina, and elsewhere. A must-grab to take home if you're travelling to Tokyo.

©2020 Pokémon. ©1995-2020 Nintendo/Creatures Inc. /GAME FREAK inc.
ポケットモンスター・ポケモン・Pokémonは任天堂・クリーチャーズ・ゲームフリークの登録商標です。

Japanese Koala's March Cookies Collaborates With Pokémon On Cheesecake Moomoo Milk Flavour

Koala's March is one of the many tasty treats made by Japanese confectionery company Lotte. They are bite-sized cookies with sweet fillings. Lotte is teaming up with Pokémon to release 48 Koala's March products with Pokémon prints on them.

Koala's March With Pokémon – Cheesecake Moomoo Milk Flavour

The crunchy biscuits feature a variety of Pokémon prints on them along with the Pokémon's names' in Japanese. They are filled with sweet cheesecake-flavoured chocolate. The collaboration is inspired by Moomoo Milk, an HP-restoring medicine seen in Pokémon. Together with the original Koala's March prints, there are a total of 96 individual designs to find.

A proper tasty snack for any Pokémon Trainer out there!

©LOTTE/Koala's March Project

©Nintendo・Creatures・GAME FREAK・TV Tokyo・ShoPro・JR Kikaku ©Pokémon

Seiko to Drop New Pokémon Watch Collection | MOSHI MOSHI NIPPON

Seiko is teaming up with Pokémon to release four limited-edition watches on December 11, 2020. Each model will be available to buy from Seiko in Japan.

Pikachu Icon Design Model SCXP175 | ¥30,800 (Tax Included)

The Pikachu Icon Design Model SCXP175 features a modern design with a yellow dial and black Pikachu silhouette. Pikachu's tail is used as the watch hands, underneath which is a nod to Pikachu's effectiveness as a lighting-type Pokémon against water-types. The watch has a leather strap with Pikachu's paw prints running down it.

Pikachu Green Model SCXP177 | ¥30,800 (Tax Included)

The Pikachu Green Model SCXP177 features a green dial inspired by Pikachu running through Viridian Forest. The second hand also has Pikachu's tail and the leather strap has Pikachu's paw prints.

Eevee Model SCXP179 | ¥30,800 (Tax Included)

The cute Eevee Model SCXP179 has coloured dots for the hours which represent Eevee's nine different evolutions. The leather strap has Eevee's paw prints.

Mewtwo Model SCXP181 | ¥30,800 (Tax Included)

The Mewtwo Model SCXP181 is purple to represent the Psychic-type Legendary Pokémon Mewtwo. The leather strap reads "Pokémon" on it.

There are three different underside designs featuring a closed Poké Ball, an open Poké Ball, and a closed Great Ball.


Each watch comes in a special box and with an additional nylon strap, which you can swap out with the leather one, as well as a Poké Ball design cloth.

©Nintendo・Creatures・GAME FREAK・TV Tokyo・ShoPro・JR Kikaku ©Pokémon

Pokémon Cosmetic Series: Ditto Face Mask Gets Added to the Set

Monosense has announced the release of a new Pokémon Gift Set which will hit Lovisia shops and variety stores in Japan as well as online on November 26, 2020.

The Pokémon cosmetic series has been a huge success in Japan since it launched, spanning face masks, hand cream, lip cream, lip gloss, point packs, mirrors, and body gel. The face masks however have proven the most popular, having sold over 600,000 of them (as of June 2020).

Ditto gets added to the series

Pokémon Face Mask Set (Includes 5) | ¥2,150 (Before Tax)

Pokémon Trainers can keep their faces moisturised while out in the wild with this set of five face masks. The collection includes the familiar Pikachu, Mew, Eevee, and Mew masks, and adds an all-new Ditto version. Skin can get pretty dry during the cold autumn and winter months, so these made-in-Japan face masks will keep Trainers' skin moisturised thanks to the collagen, hyaluronic acid, and shea butter in them.

Pokémon Gift Set

Pokémon Gift Set (4 Versions) | ¥1,200 (Before Tax)

The Pokémon Gift Set is a single box containing hand cream as well as a hand towel which comes with an emblem of the Pokémon you decide to choose. The hand cream is made with collagen and hyaluronic acid which keeps hand soft—super effective for throwing all of those Poké Balls. The Pikachu cream is "Pure Soap" scented, Eevee is "Pink Bouquet," Psyduck is "Sweet Peony," and Mew is "Floral Shampoo."

The gift sets come in cute packaging branded in pastel colours. Who will you choose?

Select stores in Japan will bag customers' Pokémon cosmetic products in a limited-edition bag too. The perfect Pika-gift for any lover of Pokémon!

Information

Pokémon Face Mask Set / Pokémon Gift Set
Release Date: November 26, 2020
Available: Variety shops in Japan / Lovisia online website
Product Page:  https://lovisia.jp/pokemon/

Make Your Own Chocolate Pokémon Pies With Lotte's Confectionery DIY Kit

Japanese confectionery company Lotte is launching a new version of its popular Choco Pie dessert in collaboration with Pokémon.

Pokémon Trainers out there with sweet tooths are given an ordinary blank Choco Pie which they can decorate with the accompanying assorted chocolates, nuts, and sweets to create their favourite Pokémon. They can create their own from their mind or follow the recipe provided.

Choco Pie Art with Pokémon will be released by Lotte in Japan on November 24, 2020.

©Nintendo・Creatures・GAME FREAK・TV Tokyo・ShoPro・JR Kikaku ©Pokémon