Relax on a comfortable ride accompanied by a wonderful window view of cherry blossoms with the Fujikyuko line
Available for a limited period from Saturday 26th March to Sunday 17th April, ride the Fujikyuko line to enjoy the tremendous view of Mt. Fuji and Japanese cherry blossom in full bloom. The Fujikyuko line sakura campaign offers a satisfying and breath-taking scenic view, which is enough to satisfy anyone!
This campaign will run for 1 month from the start date. The first train will leave from Otsuki station and end its journey at Kawaguchiko Station on a railroad 500m high! At this magnificent height, passengers can enjoy the view of sakura dotted around the track, which will continuously bloom for the entire month, and notice how the scenery changes.
Furthermore, the sakura will be illuminated during the evening every day at Tanokura station, Higashi-Katsura station and Kotobuki station. Additionally, available on only Friday 9th and Friday 15th April, passengers can appreciate authentic beer produced around the local area of Mt. Fuji as part of an all-you-can-drink event, which will be made available on the 'Nonden' (飲んでん) train. This is a magnificent combination to compliment the relaxing evening sakura view from the window of the train ride!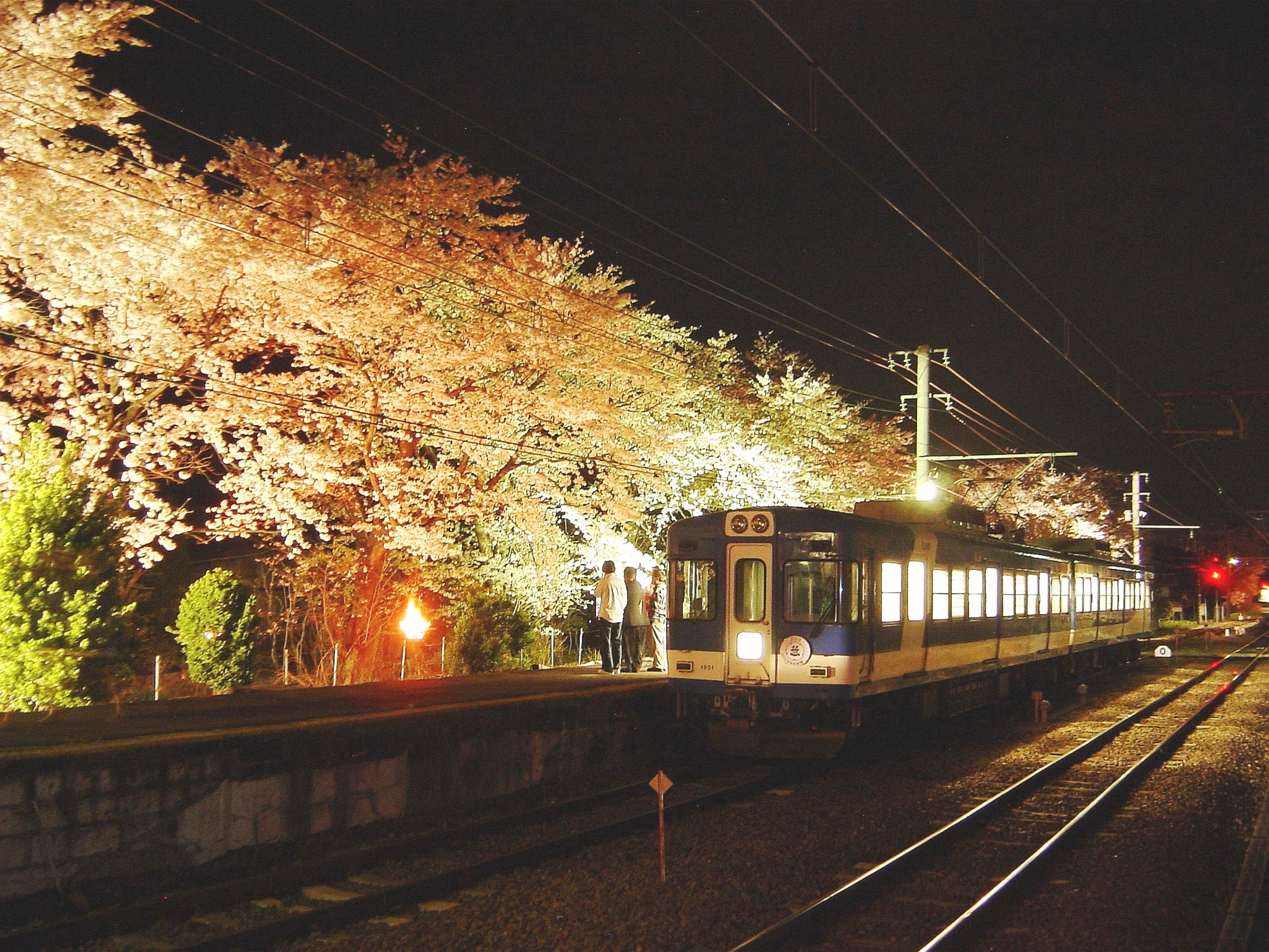 Upon arrival at the stations illuminated with evening sakura, passengers will be given the opportunity to leave the train to take photographs of these beautiful seasonal blossoms glowing in the light along the platform. The train will stop long enough for you to soak in the glow and magnificence of the beautiful cherry blossoms and to fill your camera!
Do not overlook this fantastic opportunity to enjoy Mount Fuji and Sakura!
■Information
Fujikyuko line sakura campaign outline summary (富士急行線 桜キャンペーン)
Limited period:Saturday 26th March ~ Sunday 17th April 2016
Campaign details
・Evening sakura light-up (夜桜のライトアップ)
Stations / Tanokura station, Higashi-Katsura station, Kotobuki station
Times / 18:00~20:30
・Evening sakura train (飲んでん)(By booking only)
Ride the train, drink local beer and enjoy the sakura illuminated during the evening.
Train departing from Otsuki
Transport service day/Friday 8th April 2016
Fare/3000円
Train departing from Kawaguchiko
Transport service day/ Friday 15th April 2016
Fare/3000円
Queries 0555-22-7133(Fujisan station evening sakura trainline)
RELATED ENTRIES
Virtual Hanami Event MIKU LAND 2022 YOSAKURA Invites Guests to the Metaverse with Hatsune Miku

MIKU LAND is Hatsune Miku's official VR amusement park. The locale opens sporadically on the Virtual Cast platform, inviting fans of the virtual singer to interact with the star herself and other music lovers from around the world. From April 28 until May 1, the MIKU LAND 2022 YOSAKURA event will invite Vocaloid lovers to the metaverse to enjoy the cherry blossoms and a number of unique experiences. 

Guests can visit Senbonzakura World, Miku's Detective Agency, Rin & Len Kagamine's Post Office in the Sky, and even a virtual haunted house during the event. VTubers Megu Shinonome, Tokino Sora, and Mirai Akari have been chosen as the official ambassadors of the event.

Senbonzakura World

Hatsune Miku's iconic track Senbonzakura, written by Kurousa-P, turns 10 this year. What better way to enjoy it than beneath virtual cherry blossom trees? Even if you can't visit Japan quite yet, enjoy the Japanese shrine atmosphere as you spend time with friends in this gorgeous virtual space.



Miku's Detective Agency

This puzzle-solving attraction invites guests to become assistant detectives by passing a test handed out by Detective Hatsune Miku! Those able to complete the challenge will also receive a limited-edition item.


Rin & Len Kagamine's Post Office in the Sky

This post office in the clouds isn't just a quiet place to relax. Visitors can take on a few different challenges, from mazes to more physical tasks.



Official Ambassadors


Megu Shinonome Comment
"I've been chosen as an ambassador for MIKU LAND! My name is Megu Shinonome, and I'm so excited to work with Miku! MIKU LAND keeps getting bigger and bigger, so I'm wondering what it will look like this spring…I'm looking forward to it! I'll do my best along with my fellow ambassadors Tokino Sora and Mirai Akari to convey the many charms of MIKU LAND to as many people as possible. We can't wait to see you!"

Tokino Sora Comment
"I'm so excited to visit MIKU LAND again! I'll do my best to make this another incredible event, and I'll be sure to enjoy myself as much as possible!"

Mirai Akari Comment
"I've been invited to MIKU LAND to act as the MC for this awesome event! During the SUMMER VACATION event, everyone on Virtual Cast was so kind to me. It was a blast, so I'm really looking forward to this too! I'll be sure to bring some extra excitement, so don't miss it!"

Information

Dates: April 28, 19:00 – May 1, 21:00
Location: Virtual Cast

Official Site: https://mikuland.com/

NAKED's Popular Sakura Artwork Transformed into Company's First NFT

The NFT platform 'Adam by GMO' will offer the creative company NAKED's first piece of NFT art. Sakura Ousai has been featured in the hands-on art exhibition NAKED FLOWERS held in Nihonbashi, Nijo Castle, Hong Kong, and Korea. The NFT will be available in late March and a portion of the proceeds will be donated to support Ukraine.

Since its establishment in 1997, NAKED has constantly produced incredibly unique art installations to fit with the times. Starting with the projection mapping of Tokyo Station in 2012, the company has created unprecedented art and entertainment experiences by combining real space with virtual experiences. The current theme is 'borderless creativity,' and creating NFT art fits into this vision.


NAKED FLOWERS, one of NAKED's signature events, has been held since the New Year 2016. The NAKED FLOWERS experience has now been converted into a piece of NFT art for the first time, and buyers can enjoy these cherry blossoms no matter their location!

Cherry Blossom Drone Project 2022 to Bring Hanami to People Around the World

Wishing you could be in Japan to see the cherry blossoms? The Cherry Blossom Drone Project on March 27 will be live-broadcasting some of the most beautiful blossoms in the country to viewers around the world. 

Incredible 4K aerial footage will be available to watch on YouTube LIVE for free from 12:00 until 19:00 on March 27, 2022. No matter where you are, you'll be able to lose yourself in the feeling of spring. 

Three Best Cherry Blossom Viewing Spots Chosen by Sakura Enthusiasts

Breathtaking Mountain Cherry Blossoms at Mount Yoshino in Nara

The First New Sakura Species in Over 100 Years Found in Wakayama Prefecture

A Sea of Cherry Blossoms at Takato Joshi Park in Ina, Nagano Prefecture

McDonald's Japan Offering Sakura Mochi Pie to Celebrate Springtime

McDonald's Japan will start selling the new Sakura Mochi Pie starting March 23, 2022 for a limited time only.

The new pie is inspired by sakura mochi, a traditional wagashi sweet popular during spring. 

Sakura mochi is typically made from mochi rice cakes filled with a sweet red bean paste and wrapped in a pickled cherry blossom leaf. The McDonald's pie is filled with azuki red bean paste and a chewy, sakura-flavored mochi that features bits of pickled sakura leaves.


The packaging will also feature spring designs and each pie costs just ¥150. They will be available until mid-April. 

Hoshino Resort Aomoriya Holds Cherry Blossom Viewing Event Under a Cozy Kotatsu

Hoshino Resort Aomoriya, an inn where visitors are invited to fully enjoy Aomori's culture, will begin its Hanami Kotatsu event from April 1 until May 31, 2022. Guests can enjoy local sake while warming themselves beneath a cozy kotatsu. In the chilly Aomori spring, a kotatsu) will be set up beneath the blooming trees for visitors to comfortably view the cherry blossoms. Hot-water bottles will also be available for rent if guests can a little too cold!

April in Aomori is spring according to the calendar, but it's still quite chilly. Nevertheless, the people of Aomori look forward to flower viewing to overcome the cold winter and enjoy the long-awaited arrival of spring.

Three Fun Additions to Make Cherry Blossom Viewing More Fun

1  A Traditional Umbrella with a Sakura Pattern

Next to each kotatsu is a row of Japanese umbrellas with cherry blossoms painted on them, spreading the pink cherry blossom imagery all around. When opened, the umbrellas are covered with cherry blossoms, making you feel as if you are under the cherry blossoms in full bloom.

2 Choose a Local Sake and Sake Cups for a Flower Viewing Sake Tower

Choose your favorite local sake and three sake cups to make a sake tower! Guests can choose from 10 Aomori sake brands, each with unique aromas and flavors. 

3 Cherry Blossom Patterned Cotton-Filled Hot Water Bottle for Extra Warmth

To keep extra warm beneath the kotatsu, a cotton blanket with a cherry blossom pattern and a hot-water bottle are available for rent. Doesn't it sound heavenly?

Limited Edition Flower Miffy Goods Featuring a Cherry Blossom Theme Now on Sale

Flower Miffy, a flower shop inspired by the popular Dutch picture book Miffy, has begun selling a new series of cherry blossom-inspired items! A limited number of postcard sets are also being offered as purchase bonuses. 

Flower Miffy Glass – Sakura Gradient Pink / Pearl: ¥1,595 (Tax Included)

Flower Miffy Sakura Plate: ¥2,090 (Tax Included)

Flower Miffy Mini Towel – Sakura Pink / Ivory: ¥770 each (Tax Included)

The series features original artwork, and fans of Miffy can get their hands on unique glassware, cherry blossom plates, and mini-towels. 

Those spending ¥3,300 (including tax) or more will receive a set of two limited edition postcards. The offer will end as soon as they're gone!

*Offer does not apply to flower arrangements.

Illustrations Dick Bruna Ⓒ copyright Mercis bv,1953-2022 www.miffy.com

Information

Cherry Blossom Series

Release Date: February 10, 2022

Where to Buy: Flower Miffy Shops Nationwide, Flower Miffy Online Shop

Official Site: https://benelic.com/flowermiffy/

Q-pot CAFE Introduces Cherry Blossom Inspired Seasonal Menu

To celebrate the arrival of spring, Q-pot Cafe is introducing a cherry blossom-themed menu for a limited time!

Cherry Blossom Romantic Dress Cake  Plate with Drink: ¥2,100 (Tax Included)

Enjoy this pink cherry blossom mousse and pure white whipped cream to celebrate the end of the gloomy winter season.

Rich pistachio mousse, strawberry pulp, fragrant almonds, and fluffy genoise come together in a scrumptious melt-in-your-mouth explosion of flavor.

Romantic Berry Blossom Tea: ¥850 (Tax Included) / Set Menu +¥200 (Tax Included)

A play on Q-pot Cafe's popular Flower Garden tea, the Berry Blossom Tea has a rich cherry blossom aroma with raspberries and milk added. 

Romantic Berry Blossom Tea with Bottle: ¥1,296 (Tax Included)

Take-out drinks in patterned bottles are also available! By bringing the bottle with you, the Berry Blossom Tea will be discounted to ¥750 (tax included). 

Information

2022 Q-pot Cafe Seasonal Menu

Location: Q-pot Cafe Omotesando

Available: March 1 – April 14, 2022

Online Reservations Open

Cherry Blossom Viewing Themed Café "Nintama Rantaro Chaya" to Open in Tokyo and Osaka

Two limited-time-offer collaboration cafés named "Nintama Rantaro Chaya" are coming to Tokyo and Osaka! The Tokyo location is now open, and the Osaka location is scheduled to open on February 18. Based on the long-running anime series Nintama Rantaro, this cafe invites guests to enjoy the falling cherry blossoms set to bloom in the spring. While the series hasn't found much popularity outside of Japan, it premiered in 1993, and continues to be a big hit with kids and adults alike!

Reservation Bonus: Original Sticker Sheet (3 varieties)

Drink Order Bonus: Original Coaster (20 varieties)

Menu

[Bento Team] Piping Hot Dashi Udon and Onigiri Bento Set

[Bento Team] Mountain & Seafood Bento

[Dumpling Team] Chicken Meatball Set

[Teahouse Team] Chouji & Isaku's Chazuke Set

Desserts

[Bento Team] Cherry Blossom Viewing Sweets Set

 [Dumpling Team] Two Peas in a Pod Anmitsu

 [Dumpling Team] Shaved Ice and Sweet Dango Set

 [Teahouse Team] Traditional Garden Plate

Drinks

Free Tea 

Shinbei's Dango Latte / Rantaro's Matcha Milk / Kirimaru's Shiny Lemon Soda

Fourth Grade Transforming Drink / Fifth Grade Purple Sweet Potato Milk Tea / Sixth Grade Matcha Lemonade

Original Merchandise

Pin (20 varieties, random)

Acrylic Keychain (20 varieties, random)

Acrylic Pin (20 varieties, random)

Acrylic Stand (Bento Team, Teahouse Team, Dumpling Team)

Clear Folder Set (Set of 3)

10-piece Sticker Set A, 10-piece Sticker Set B





The cafe menu has been divided into three 'teams': the Bento Team, the Dumpling Team, and the Teashop Team. Characters have been divided into these three teams, and many of the available dishes are based on everyone's favorite aspiring ninjas! Original merchandise and special offers will be available at the cafe as well, with the items featuring newly-drawn illustrations for the event.

©尼子騒兵衛/NHK・NEP

Information

Cafe Nintama Rantaro Chaya 2022

Location/Dates: 

Tokyo: 

BOX cafe&space Tokyo Solamachi / February 10 – April 3, 2022
Tokyo Skytree Town Solamachi 1F #8 (1-1-2 Oshiage, Sumida-ku, Tokyo)


Abeno-ku, Osaka:

Abeno contact / February 18 – March 27, 2022
Abeno Q's Mall 4F (1-6-1 Abenosuji, Abeno-ku, Osaka)

Reservations Now Available
Reservation Fee: ¥715 (Tax Included) *Includes bonus
Cafe Original Merchandise Available until April 3 at 23:59
https://nintama-cafe.jp/online_store 

Official Twitter: https://twitter.com/nntm_cafe (@nntm_cafe )

Official Site: https://nintama-cafe.jp/

Experience an Indoor Hanami Cherry Blossom Flower Viewing at Ofuro Cafe Bijinyu

Ofuro Cafe Bijinyu is now hosting its "Air Hanami" event where customers can enjoy a safe and socially-distanced Hanami flower viewing experience this spring.

Ofuro Cafe is a relaxing space that feels like you've been invited to a friend's house. You can enjoy coffee, magazines, the massage chair, rent a PC, and more, all for free.

In the middle of the cafe is a 3-meter tall cherry blossom tree to recreate that Japanese springtime feel. There are also some cherry blossom-themed souvenirs available for purchase.

With social gatherings and outdoor picnics being restricted in Japan for this year's Hanami season, Ofuro Cafe offers a space where people can do it safely. They can chat, read a book, play board games, and more beside the cherry tree for a tranquil flower-viewing experience.

Information

Ofuro Cafe Bijinyu

Address: 15-15 Kagoue, Aoi Ward, Shizuoka

TEL: 054-252-1126

Ofuro Cafe Bijinyu Official Website: https://ofurocafe-bijinyu.com/

Cherry Blossom Chocolate and Soda Releases From MAISON CACAO

Japanese aromatic raw chocolate brand MAISON CACAO is launching a new Kamakura-based brand called Shiki to Maison ("Four Seasons & Maison") which will feature chocolates that capture the events and culture found throughout the four seasons in Japan.

The first entries to the series are cherry blossom chocolates which are available from March 26 to April 4, as well as cherry blossom drink which can be enjoyed on March 27 and 28.

 

Aroma Raw Chocolate SAKURA ¥2,200 / Cacao Vinegar Soda SAKURA ¥550 (Before Tax)

Aroma Raw Chocolate SAKURA

Indulge in a box of these luxury cherry blossom chocolates which are made with 100% cacao powder which have a refreshing white chocolate aftertaste. The chocolates are made with cherry blossom as well as a fresh cream laced with salt-pickled cherry blossom. They also include a paste made from liquid drawn from cherry blossom petals. It's a taste of Japanese spring with every bite.

Cacao Vinegar Soda SAKURA

This springtime beverage includes a cacao vinegar made from cacao pulp and is coupled with fragrant cherry blossom. This one is available at the Komachi and Cacao Hanare branches as well as at CHOCOLATE BANK.

Information

Shiki to Maison Sakura Sweets

Japanese Product Name: 四季とメゾン 桜スイーツ

Serving: March 26, 2021 – April 4, 2021

MAISON CACAO Official Website: https://onlineshop.maisoncacao.com/

Japanese Springtime Flowers Bloom a Delicious Menu at TREE by NAKED Yoyogi Park

Spring has arrived at TREE by NAKED Yoyogi Park, a cafe run by NAKED that's located in Yoyogi Park in Shibuya, Tokyo. On Monday, the cafe launched a seasonal menu which incorporates a variety of spring flowers like cherry blossoms, showy's baby breath from Kumamoto, keiou-zakura from Yamagata, and more.

TREE by NAKED Yoyogi Park first opened in July 2017. It's an experience-based art restaurant where customers can enjoy Japan's latest cutting edge technology and next-generation gastronomy. Its popularity has risen rapidly, earning itself a reputation for offering an experience that stimulates all five of the senses, as well as for its photogenic interior decor.

With the pandemic restricting travel in Japan, people are unable to visit places far away across the country, and so the cafe is bringing a little bit of different places around Japan, namely their flowers, in collaboration with JA Kumamoto Uki and JA Yamagata.

Kumamoto is the only place in Japan that grows show's baby breath. They are raised with the prefecture's rich water and soil to blossom beautiful white and pink. These flowers can not only be enjoyed at TREE by NAKED Yoyogi Park as decorations, but customers can actually buy a bouquet of them too. Thanks to the skills of producers, the flowers can be grown out of season over a long period running from December to April, allowing people to enjoy their gorgeous springtime hues even if it's not spring.

Açaí Lemonade – Eat In ¥825 / Takeout ¥810

Cherry Blossom & Strawberry Nicecream – Eat In ¥770 / Takeout ¥756

"Power & Healthly" are the concepts for the lunch and cafe-time menu which includes both food and drink. The cafe's popular homemade açaí lemonade has been turned into a springtime version with fresh cherry blossom petals. There's also a vegan-friendly ice cream made with banana, avocado, soy milk, and a blend of strawberry and cherry blossom. It has a slight salt tang to it.

Vegan Cherry Blossom Latte – Eat In ¥770 / Takeout ¥756

Vegan Avocado & Sprout Sandwich – Eat In ¥1,100 / Takeout ¥1,080

The cafe's popular cherry blossom latte from last year returns with a soy milk base. There's also sandwiches, including a vegan one fried in coconut oil.

Strawberry Mille-Feuille – Eat In ¥1,650

The cafe's strawberry mille-feuille is so popular that they have to make a limited batch each day. It's even been featured on Instagram. With the strawberry season here, customers can enjoy fresh whole strawberries topping their dessert.

The cafe will also be running an evening cafe and bar experience with a range of desserts, food, and alcohol.

Information

Spring Menu

Released: March 15, 2021

Where: TREE by NAKED Yoyogi Park

Address: 1-10-2 Tomigaya, Shibuya, Tokyo

Opening Hours: 11:00-20:00 (EVENING CAFÉ & BAR TIME from 16:00) *Last orders at 19:00

Closed: Tuesdays/Wednesdays

TEL: 03-6804-9038

TREE by NAKED Yoyogi Park Official Website: https://tree.naked.works/yoyogi/

Snoopy Cherry Blossom Marshmallow Latte and Lemonade Serve Up at PEANUTS Cafe Nakameguro This Spring

PEANUTS Cafe Nakameguro is now serving up two new cherry blossom beverages for the spring season: the Sakura Lemonade and Sakura Charred Marshmallow Latte, both of which are now available to order until April 11.

Sakura Charred Marshmallow Latte ¥700 (Before Tax) / Sakura Lemonade ¥650 (Before Tax)

PEANUTS Cafe Nakameguro serves limited-time drinks every cherry blossom season in Japan, and this year is no different. Both beverages capture the cute pink tones of the country's national flower which invite feelings of springtime walks and Hanami flower viewing.

(C) 2021 Peanuts Worldwide LLC

Information

PEANUTS Cafe Nakameguro Spring 2021 Drinks

Serving: March 20, 2021 – April 11, 2021

Address: PEANUTS Cafe Nakameguro, 2-16-8 Aobadai, Meguro-ku, Tokyo

TEL: 03-6452-5882

Official Website: http://www.peanutscafe.jp/