Mapping event, "Sky Fireworks ‐FIREWORKS BY NAKED‐" will be held at Osaka Abeno Harukas
The night-time projection mapping event, "Tenku Hanabi 
‐
FIREWORKS BY NAKED –" staged by NAKED will be held at the observation deck of "Abeno Harukas" named "Harukas 300" from September 21

st

 2018 (Fri.).
 "Harukas 300" has been holding the projection mapping event called, "CITY LIGHT FANTASIA BY NAKED" for the past 4 years, during the winter season. This event has gained much popularity from both domestic and foreign visitors and over 600 thousand visitors have visited the event to date.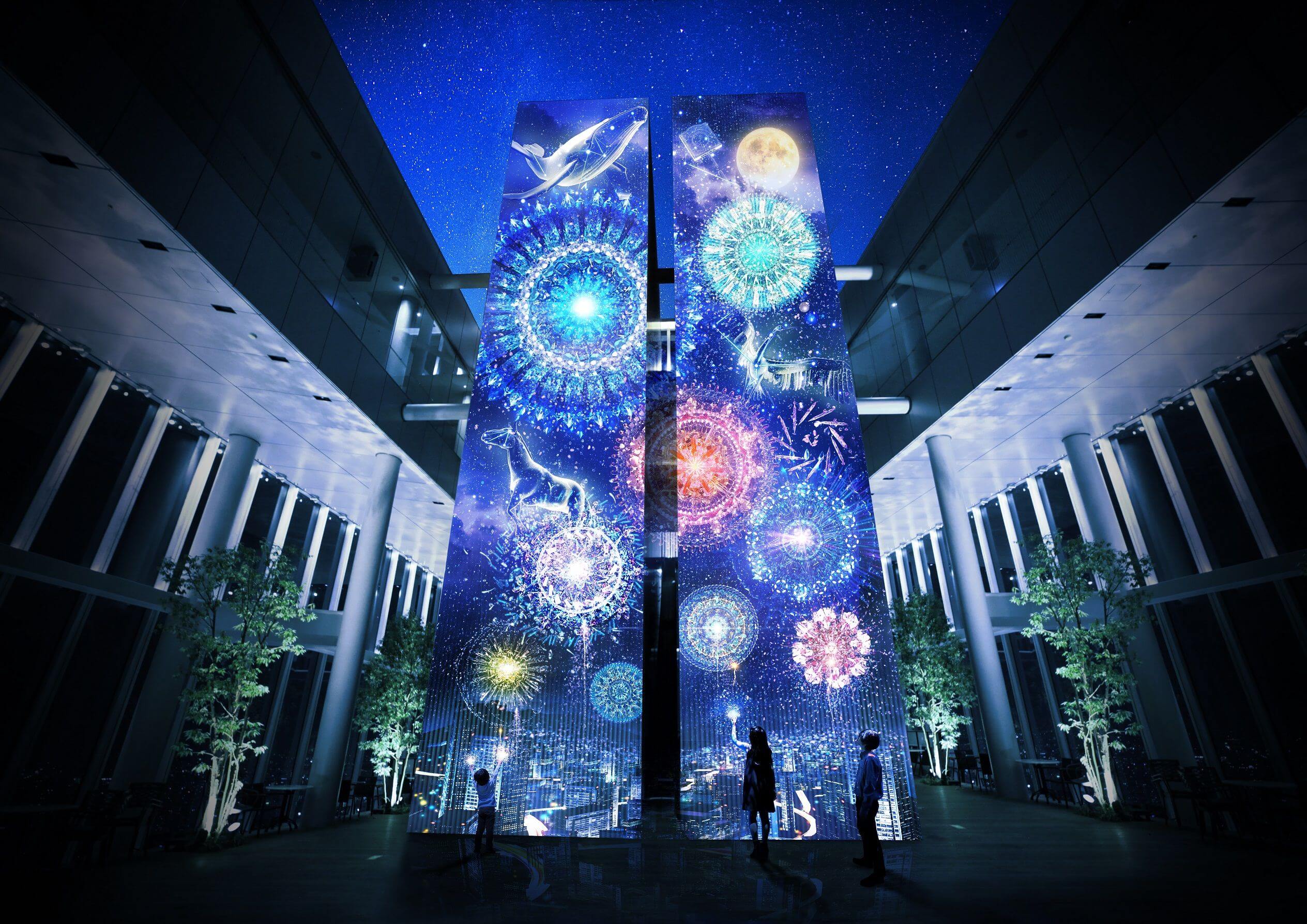 This time, the creative team of NAKED developed an art collection, "Tenku Hanabi ‐FIREWORKS BY NAKED." Fireworks can usually only be seen in one direction but they have successfully created fireworks that can be projected on the walls of buildings using projection mapping technology. The visitors of the event can enjoy a "colorful sky rocket experience" using projection mapping technology and they can sense technology by touching the 16m-high wall named "Twin Tower" which is located on the west side of Tenku Teien (sky garden / 58F).
Visitors can also enjoy watching fireworks from different angles in a space (58F to 60F) surrounded by 3-layered glass which is known as a unique aspect of "Harukas 300." 
Let's enjoy this brand-new fireworks entertainment event which is a combination of traditional fireworks and a sparkling world created using the motif of a kaleidoscope.
■Information
Address: 1-1-43, Abenosuji, Abenoku, Osakashi
Business hours: 9:00 to 22:00
Tenku Hanabi -FIREWORKS BY NAKED-
Venue: Harukas 300 (observation deck) 58F "Tenku Teien"
Date: starting from September, 21

st

 2018 (Fri.)
Time: After sunset 
~ 
21:40
Event price: Free. You can enjoy this event just by paying the entrance fee to the observation deck.
Tickets: Abeno Harukas 16F Harukas 300 (observation deck) ticket counter, Kintetsu Business Office, Family Mart
RECOMMENDED ENTRIES
TREE by NAKED: An Interactive Dining Experience in Yoyogi Park with Projection Mapping, Lighting & Music

NAKED Inc. is a company that creates interactive and immersive art events. They have dazzled many at their showcases including with their projection mapping at Tokyo Station and their interactive art exhibition FLOWERS by NAKED which brought the cherry blossom season to people early. They have even taken their work overseas in Taiwan and Beijing.

Did you know the company also has their very own restaurant in Yoyogi Park called TREE by NAKED?

You must book seats to dine there which offers a very special 2-hour course. It's a fantastical marriage of art and dining woven through projection mapping, virtual reality, lighting, aromas, music and of course, delicious food made using seasonal ingredients.

If you're looking to see some art while in Japan and enjoy great food then you can kill two birds with one stone at TREE by NAKED in Yoyogi Park. We visited the restaurant to witness and report back this new kind of interactive dining experience.

The restaurant is just a 2-minute walk from Yoyogi Station. When you arrive, you wait at the entrance to be seated. Once 8 people had gathered for the evening dinner we were led by the guide to dim private rooms in a Japanese rock garden with tables.

The course consists of six meals which each represent different stages in the life of a tree. We begin in the first room which uses projection mapping on the table and walls and are given an explanation of the courses.

A table made in the form of a Japanese rock garden

The table and room look like you've walked into an art exhibition. The guide who brought us to the other room took on the role of storyteller and led explained the story which would be linked by the sights and smells. They also this explanation in English.

An entire room uses project mapping to look otherworldly

After becoming completely immersed in the story we moved into the main room. This room uses virtual reality, project mapping and a dining experience to portray the story, exploring themes like the life of a tree, Japan's four seasons and the blessing of life.

(There were many other fun and interesting elements too but writing everything would spoil the experience for anyone thinking of going so we're only showing a snippet.)

The story begins by planting a seed in the soil. The soil is delicious! (Don't worry, it's not real soil)

The fish swim away when you touch this projection mapping. There's much fun to be had while waiting for food.

The plates change colours to showcase Japan's vivid seasons

But it's not just the technological performances that are striking – the food and drinks are also out of this world. The food on the menu was created by executive chef Nagatomo of restaurant and café Hoff which is located in Hatsudai, Tokyo. He designed 8 Japanese-style dishes inspired by the seasons that are made using seasonal ingredients. Drinks come with meals and you can choose from alcohol or tea. You often see alcohol paired with meals so it's interesting to see tea paired too. You can even drink tea made by a tea expert.

The restaurant at lunchtime. In the evening, the lights come on and the tables use project mapping.

After eating the main dish we moved to the second floor. This was home to the dessert room, the final part of the story, which represented a paradise on top of the tree where you can eat the forbidden fruit.

With our bellies, heads and hearts full, our first ever 'art gastronomy' came to a close. We got a fill of both art and food.

It's a little expensive to go, coming in at ¥23,000 (tax and service charge included) which includes the full course and drinks, but there is no other place like it where you can be immersed in such an experience that combines performance and cuisine.

If you want to go eat somewhere for a special day or would like to try something you then this is somewhere you're sure to enjoy. It's something you have to experience at least once.

Restaurant 'TREE by NAKED' in Yoyogi Park Combines Traditional Culture with Ultramodern Technology

TREE by NAKED Yoyogi Park has updated part of its menu and direction this month. The restaurant has introduced a completely new eating experience to its Japanese and western fusion cuisine by installing projection mapping, VR, sensors, lights, smoke, scents and music.


The restaurant first opened in July last year in front of Yoyogi Park in Tokyo as an experience-based art restaurant where customers can enjoy Japan's latest cutting edge technology and next-generation gastronomy. Its popularity rose rapidly, earning itself a reputation for offering an experience that stimulates all five of the senses, as well as the restaurant's photogenic interior decor. The restaurant accepts bookings only and allows 8 groups a day. Customers are led by a guide dressed in a kimono to on a journey through the life of a tree from its sprout to maturity. Each phase of the growth is represented by six different meals served to customers as well as two performances.


One of the performances incorporates koudou, a traditional Japanese performance art that takes the form of an incense-smelling ceremony. Customers are served food on plates that use projection mapping which shows the process of the four seasons changing. The course offers a variety of references to Japanese culture, including a story based on The Tale of the Bamboo Cutter.

The menu includes a variety of ingredients and several ways of eating unique to Japan, from Japanese Black aitchbone to ochazuke with wasabi that you grate yourself and high-quality houjicha green tea made by a tea master.

Also, every day from 10am to 4pm, they sell gourmet deli food made using fresh vegetables like beetroot, Brussels sprouts, cauliflower and purple cabbage that you can order to take away.

The restaurant is gaining much attention right now. It made an appearance on TV in Hong Kong in February this year. Why not true this unique dining experience for yourself while in Tokyo?

■Information

TREE by NAKED Yoyogi Park
Address: 1-10-2 Tomigaya, Shibuya, Tokyo

Opening Hours: Lunch 10:00-16:00 (Last Orders 15:00) / Dinner 17:30-23:00

Slot 1: Open 18:00, Start 18:15, End 20:30 / Slot 2: Open 20:15, Start 20:30, End 23:00
Store Information: 3 floors from B1-2F. Seats for 8 people per day. Reservations only.

Access: Exit 2 of Yoyogi Park Station via Tokyo Metro / Yoyogi-Hachiman Station via Odakyu Line (*No car park)

Reservations: 03-6804-9038

Enquiry Form: https://www.tablecheck.com/shops/treebynaked/reserve

Official Website: https://tree.naked.works/yoyogi/

Aqua Park Shinagawa will hold the cherry blossom-viewing event, "SAKURA AQUARIUM by NAKED"

"SAKURA AQUARIUM by NAKED" is an experience-based event created under the concept of "Japanese traditional culture × digital art, the world of cherry blossoms × the world of the sea" which will be held in Tokyo's leading entertainment park Maxell Aqua Park Shinagawa from the 3rd of March 2018 (Sat.) ~ 15th of April 2018 (Sun.).

"Maxell Aqua Park Shinagawa" is a place that introduces the charms of the sea world by exhibiting/performing many entertaining works and events using latest digital renditions.

The events which will be held this spring will create a magical world using the motif of cherry blossoms popular among both Japanese people and people from abroad. They are going to offer a new type of entertainment which cannot be experienced just by viewing cherry blossoms by combing the worlds of "traditional culture of Japan × digital art" and "cherry blossoms × the sea."

●The theme of the events is "the latest cherry blossom-viewing entertainment surrounded by cherry blossoms"

The leading creative company in Japan,"NAKED" will use projection mapping and art works to depict illustrations of vivid colored cherry blossoms and they will use all parts of the room including the ceiling, walls and floor. The guest of the event will be surrounded by cherry blossoms when they enter the venue.

Let's enjoy this beautiful spring event in this inside facility!

"A new type of dolphin show" which will deliver a"thrilling/new experience" to the viewers.

Precisely created entertainment shows combined with a water curtain, latest technologies and skills of dolphins can be enjoyed inside a circular venue where 1,200 persons can enter (seats:1,211 + standing area) . Don't miss this show where you can enjoy the movements of dolphins and latest technologies.

<Nighttime> Night performance "Sakuragatari"

Starting time: 19:00 / 20:30 (15 minutes)

<Daytime> Day performance "Haru Ranman"

Starting time: 11:30 / 13:00 /14:30 / 16:00 / 17:30 (15 minutes)

"Digital Sakura" will be depicted by using projection mapping technologies and art works which use the sophisticated design of "Kumiko," a traditional architecture method. The fish exhibition uses the motif of "flower arrangement" "SAKURA AQUARIUM."This same atmosphere is created throughout the inside of the aquarium. Each zone inside this aquarium highlights the beauty of cherry blossoms.

●Hanaakari, a cherry blossom café bar where you can enjoy spring-limited drinks

Lit-up choral which looks like cherry blossoms are installed inside the café to portray the magical world of cherry blossoms at nighttime and Japanese umbrellas are decorated on the tables shaped like a water tank. You can enjoy and feel the atmosphere of Japan by viewing living things while drinking alcohol. A little surprise where the petals of cherry blossoms emerge on the counter when receiving a drink can be enjoyed too.

During the period when "SAKURA AQUARIUM" is held, four types of original drinks will be offered.

Let' s enjoy this latest cherry blossom viewing experience at Maxell Aqua Park Shinagawa.

◼︎information

SAKURA AQUARIUM by NAKED
Date: 2018/03/03 (Sat.) to 2018/04/15 (Sun.)

Maxell Aqua Park Shinagawa

Address: 4-10-30, Takawa, Minatoku, Tokyo (inside Shinagawa Prince Hotel)

Business hours: 10:00 to 20:00

*entrance will be possible until one hour before closing time.
TEL:03-5421-1111
RELATED ENTRIES
Sanrio-Style Sarazanmai Café to Steal the Scene at Tokyo and Osaka

A café based on the popular anime Sarazanmai is coming to Tokyo on September 19 and Osaka on September 26 and will run for a limited time only. The café designs were produced by Sanrio. 

Sarazanmai is a TV anime which was produced by animation studios MAPPA and  Lapin Track. The anime became incredibly popular when it aired between April and June 2019 on the Fuji TV programming block Noitamina. The last episode was met by an undying stream of grateful messages from fans and even those involved in the creation of the series. 

Sanrio produced Sarazanmai designs which are perfect for the traditional coffee shop theme and the retro Asakusa atmosphere of the series. The collaboration cafés will open in Ikebukuro in Tokyo and Nipponnbashi in Osaka.

Menu

Football Curry of Youth: ¥1,380 (before tax)

Football is what connects the three main characters Kazuki, Kuji and Enta. Come taste the delicious flavour of budding friendship in the form of a delicious curry at the café.   

Pudding a la Mode of Friendship: ¥1,280 (before tax)

The three middle schoolers are represented in the form of colourful fruit. This is a delicious dish easily enjoyed by anybody. 

Sparkling Jelly Juice (Kazuki/Kuji/Enta): ¥650 each (before tax)

These jelly drinks are also themed around Kazuki, Kuji and Enta. The jelly lurking at the bottom of the cup adds a wonderful accent to the flavour.  

Original Goods

Badge (10 random designs): ¥450 (before tax)

Mug (one design only): ¥1,500 (before tax) 

Special Bonus Goods

Those who book seats in advance (¥500 + tax) and order from the menu will receive an original design sticker. You will be presented with one of four designs at random. 

For each item ordered from the menu, you will receive an original design drink coaster. One of six designs will be given to you at random. 

This café is the perfect place to relax at your own pace this autumn. 

© イクニラッパー/シリコマンダーズ

Information

Sarazanmai Café (Designs Produced by Sanrio)

Open:

・Ikebukuro, Tokyo: September 19 ー October 27, 2019

・Nipponnbashi, Osaka: September 26 ー November 5, 2019 

Advanced reservations accepted from 7pm on September 6, 2019 

Reservation Fee: ¥500 (comes with a bonus for reserving)

Official Website: https://sarazanmai-sanrio-cafe.jp/

Halloween at HEP FIVE Osaka: Horror Ferris Wheel, Guillotine Photo Spot & More

Osaka's landmark shopping centre HEP in Umeda is just a short 3-minute walk from Umeda Station, meaning you don't have to worry so much about looking over your shoulder to see if Michael Myers or Dracula is following this Halloween as you make your way to "HEP FIVE HORROR×HORROR AUTUMN."

This bone-chilling event is set to deliver horror, beauty and fashion all in one place.

Junji Inagawa's Horror Ferris Wheel

The Horror Ferris Wheel was such a hit last year that it's set to return again this Halloween, better and scarier than ever. There will be two Ferris wheels, each inspired by two of ghost story writer Junji Inagawa's masterpieces. Incorporating an all-new horror system, the Ferris wheels will take riders up 106 meters high for a hair-raising experience they cannot escape. Once you're in, you're in until the end.

Monster Food

Of course, no Halloween party is complete without some fang-tastic food. HEP FIVE's restaurants have each whipped up their own unique dishes for the holiday.

Lulu Hashimoto's Doll World

Lulu Hashimoto has garnered attention both in Japan and overseas as the "living doll" for her doll costume. She will be present at HEP FIVE where you can get a photo with her at the first floor entrance atrium.

Date: October 12, 2019

Time: Slot ① 13:00 (Floors 5F-6F), Photos at 13:30 / Slot ② 15:00 (Floors 3F-4F), Photos at 15:30 /  Slot ③ 17:00 (Floors B1F & 2F), Photos at 17:30

Locations: The initial fan greeting will take place at various places across the shopping centre, and photos will take place on the first floor atrium

Getting a Photo: Tickets will be handed out from 11:00 on the day. 15 people per slot on a first-come, first-served basis.

Horror Show Time

Ghost performed Sadawo is set to take on the form of Japan's most famous horror icon Sadako from Ringu while riding a Segway. Look forward to a whole host of terrifying performances.

Date: October 19, 2019

Times: ①12:00 (Floots 6F-7F) / ②14:00 (Floors 4F-5F) / ③16:00 (Floors 2F-3F) / ④18:00 (Floors B1F-1F)

Locations: Various places across the shopping centre

Guillotine Photo Spot

Get your photo taken at the guillotine photo spot at the first floor atrium and look like something straight out of a slasher movie. Make it even better by dressing up in cosplay or Halloween outfits with friends!

Enjoy a horror experience like no other this Halloween at HEP in Umeda, Osaka.

Information

HEP FIVE "HORROR×HORROR AUTUMN"

Location: HEP FIVE (5-15 Kakudacho, Kita Ward, Osaka, Osaka Prefecture)

Date: September 20, 2019 – October 31, 2019
HEP FIVE Official Website: https://www.hepfive.jp/

The Little Mermaid Themed Cafes Set Sail to Tokyo, Osaka, Nagoya & Hokkaido

Ariel is swimming to Japan this September as four branches of OH MY CAFE turn into cafes inspired by The Little Mermaid. The Tokyo and Osaka branches will open on September 21, the Hokkaido branch on September 22, and the Nagoya branch on September 27. The collaboration is being carried out by LEGS COMPANY, LTD.

Disney's The Little Mermaid was released back in 1989 as the 28th Disney animated feature film. It tells the story of the internationally-beloved Disney mermaid princess Ariel and her curiosity about the world above the sea.

The cafe's concept is "independent girl." Each cafe will take on a stylish look and be inspired by Ariel's unwavering heart and her strength to make her dreams come true.

Menu Line-Up

<Ariel> Veggie-Packed Pesto Pasta – ¥1,990

If you're vegetarian, you won't be disappointed with this healthy, vegetable-packed pasta dish. The plate it is served on features an illustration of Ariel swimming elegantly in the ocean.

Seaside Cream Risotto – ¥1,990

Based on sandy beaches is this creamy risotto. If you look closely you'll see one of Ariel's priceless treasures from her endless collection of whose-its, whats-its, and thingamabobs. Sebastian is hiding on the plate too, can you spot him?

<Kiss The Girl> Romantic Fruit Bowl – ¥2,190<Kiss the girll>

This romantic dish speaks for itself. Inspired by the breathtaking boat date between Ariel and Eric, the bowl includes assorted fruit, a cookie with the two lovers on it, and a side of jelly with Flounder cheering them on.

Drinks Line-Up

<Flounder> Stripey Yogurt Drink – ¥1,090 / With Coaster – ¥1,890

Flounder is Ariel's closest friend, so he had to be included on the menu. This cute yogurt-flavoured smoothie takes on the same colours as our stripey fish companion.

<Sebastian> Strawberry Smoothie – ¥890 / With Coaster – ¥1,790

Servant of King Triton and music composer, everybody's favourite Jamaican crab Sebastian gets his very own yogurt smoothie too. Mix the strawberry sauce in well for the best flavour.

Exclusive Original  Merchandise

Acrylic Badge (5 Designs) – ¥800

Lunch Mat (Set of 2) – ¥800

Bag – ¥1,500

Bonus Items

Every person that books a table in advance (¥500) and orders something from the food menu will receive one of 30 possible A5 folders.

Additionally, if they spend over ¥1,000 at the merchandise corner of a cafe, they'll receive the above-pictured The Little Mermaid 30th shopper bag. These are limited in stock and are available on a first-come, first-served basis.

There are lots of other character-themed food and drinks to be enjoyed at the cafes besides these ones too. To see everything, you'll need to visit yourself! Immerse yourself in the magical world of The Little Mermaid with cafe decorations featuring Instagrammable illustrations drawn exclusively for this collaboration.

*All listed prices are pre-tax.

*Photos are for illustrative purposes only. Actual products may differ.

©Disney

Information

"The Little Mermaid" OH MY CAFE

Locations/Dates
・Tokyo: OH MY CAFE TOKYO (Tokyu Plaza Omotesando Harajuku) / September 21, 2019 – November 9, 2019

・Osaka: kawara CAFE&DINING Shinsaibashi / September 21, 2019 – November 10, 2019

・Nagoya: kawara CAFE&KITCHEN Nagoya PARCO / September 27, 2019 – November 10, 2019

・Hokkaido: Cafe Interlude / September 22, 2019 – October 14, 2019

Official Website: https://mermaid.ohmycafe.jp/

BT21 Cafe Serves World Food in Shibuya, Umeda, Nagoya and Sapporo

LEGS COMPANY is opening four BT21 themed cafe called "BT21 CAFE 2019 WORLD"over the next couple of weeks. The Tokyo and Osaka branches opened on August 22. The Nagoya branch will open on September 4 and the Sapporo branch will open on September 5.

BT21 are the LINE messenger app characters created by K-pop group BTS. The cafe will serve up many different dishes of food from around the world, all with motifs of the various BT21 character line-up. Pictured below is just a select portion of the menu and merchandise you can look forward to.

Cafe Menu

 

Japanese Food Plate: Temari Sushi (Salmon, Duck, Minced Tuna, Fried Tofu, Shrimp Avocado) & Meat Udon – ¥1,490

American Food Plate: Slider Burgers (Macaroni Cheese, Egg Salad, Grilled Chicken), Potatoes & Carrot Salad – ¥1,490

South Korean Food Plate: Tteok-bokki, Japchae, Yangnyeom Chicken & South Korean-Style Rice Ball  – ¥1,490

Brazilian Food Plate: Churrasco, Mashed Potato & Feijoada – ¥1,490

Japanese Dessert (Left): Custard Taiyaki, Strawberry Daifuku, Berry Bean Paste Dango, Matcha Ice Cream – ¥1,290 / American Dessert (Right): American Waffles – ¥1,290

RJ (Left): Peach Calpis – ¥990 / CHIMMY (Right): Pineapple Soda – ¥990

COOKY (Left): Guava Soda – ¥990 / TATA (Right): Pineapple Soda – ¥990

Exclusive Merchandise

Japan Acrylic Key Rings (Left) – ¥750 / South Korea Acrylic Key Rings (Right) – ¥750

Folders (Left) – ¥400 Each / Hologram Stickers (Right) – ¥500 Each

Bonus Items

 

Every person who books a table in advance (¥650) will receive one of 7 possible mini fans pictured above on the left. Those who order a drink will receive one of 12 possible coasters pictured on the right.

There are lots of other cute pieces of merchandise and menu items to look forward to too. Full details can be found on the cafe's official website below.

*All listed prices are pre-tax. Photos are for illustrative purposes only.

©BT21

Information

BT21 Cafe 2019 WORLD

Locations/Dates:

SHIBUYA BOX CAFE&SPACE SHIBUYA 109 (August 22, 2019 – September 29, 2019)
UMEDA BOX CAFE&SPACE (August 22, 2019 – September 23, 2019)
NAGOYA BOX CAFE&SPACE (September 4, 2019 – October 6, 2019)
TOWER RECORDS CAFE at Sapporo PIVOT (September 5, 2019 – October 20, 2019)

*Cafes closed on September 30, 2019

Reservations

・Price: ¥650 (Before Tax)

Official Website: http://box-cafe.jp/

The BT21 Cafe is reservation-only

Gundam Artist Yuji Kaida Exhibition Announced For Osaka Umeda LOFT

To celebrate 40 years of Yuji Kaida's illustration artwork for the Gundam series, an exhibition entitled Yuji Kaida Gundam Gallery will take place on the fifth floor LOFT Forum of Umeda LOFT in Osaka from August 23 to September 8.

Yuji Kaida is known for his longtime work on box art for Gunpla model kits. The exhibition will feature a gorgeous collection of his iconic Gundam artwork, covering traditional art from Mobile Suit Gundam to Mobile Suit Gundam Wing to digital art in Mobile Suit Gundam: Iron-Blooded Orphans.

Over 70 pieces illustrated by Kaida will be displayed, each categorised into one of four themes. Many of these will include artworks being shown to the public for the first time such as the Gwazine-class battleship.

There will also be enormous towers of piled-up Gunpla boxes, a showcasing titled "Maiking of Hi-νGUNDAM" the process of digital art, and more.

The exhibition is an absolute must-visit for all fans of the Gundam franchise.

©Sotsu Co., Ltd.・Sunrise Inc.

Information

Yuji Kaida Gundam Gallery
Running: August 23, 2019 – September 8, 2019

Time: 11:00-21:00 (Until 18:00 on September 8) *Last entries 30-minutes before closing time
Location: LOFT Forum, Umeda LOFT Floor 5F, 16-7-5 Chayamachi, Kita Ward, Osaka
Entry Price: Adult ¥500 (Includes novelty gift) / High School Children & Below ¥400 (Includes novelty gift) / Elementary School Children & Below – Free
Official Website: https://art.parco.jp/

4 Must-Visit Fireworks Festivals in Kyoto This Summer

Kyoto―also known as the "old capital" and said to be the birthplace of Japanese culture. In its 1,200 year history, this ancient city has given rise to much of what can be considered quintessential Japanese culture. Fireworks are a monumental feat of summer in Japan with countless festivals up and down the country dedicated to them, and Kyoto is no exception.

If you're in Kyoto this summer then you mustn't miss these 4 fireworks festivals.

Kameoka Peace Festival Hozugawa River Fireworks Festival – A Magnificent Arsenal of 8,000 Beauties

This long-running event is held every year to pray for world peace. Its spectacular display features a lineup of fireworks specially selected by the Japan Fireworks Artist Association which aims to evolve the tradition of firework culture. Expect to see the night sky illuminated with a rainbow of colours from the festival's launch of 8,000 fireworks, including the Starmine which shoots a cloud of bright stars into the overhead abyss, as well as some original fireworks crafted for the festival such as the "Kamemaru Hanabi."

▼Kameoka Heiwasai Hozugawa Fireworks Festival (Kameoka Peace Festival Hozugawa River Fireworks Festival)

Date: August 11, 2019

Time: From 19:30
Location: Hozubashi Bridge
Official Website: http://kameoka-hanabi.jp/

Kyoto Nantan City Fireworks Festival – The Spectacular Starmine

Held by the riverbed of the Katsura River, the fireworks festival in Nantan makes use of the opposite shore from the viewing point which makes the fireworks look like they are raining down from the sky like a waterfall. The finale of this festival welcomes the behemoth of all Starmine fireworks which rips across the night sky in a blazing spread. The festival is also held as part of the Bon Festival and so lanterns are let loose down the Ōi River, creating a sight of subtle grace and beauty.

▼Kyoto Nantan City Fireworks Festival

Date: August 14, 2019

Time: From 19:30

Location: Katsura River
Official Website: http://www.yagi-hanabi.com/

Miyazu Toronagashi Fireworks Festival – Floating Lanterns & Fireworks For 400 Years

Held in the city of Miyazu, this festival combines fireworks with floating lanterns and shoryobune―boats adorned with tanzaku paper slips that are sent out to light the way for the deceased as part of the Bon Festival.  Floating lanterns on the water (known as toronagashi in Japanese) in Miyazu began 400 years ago. This year, it was counted as one of Japan's three biggest toronagashi events.

Together with the boat, around 10,000 lanterns are sent into Miyazu Bay, creating a beautiful and majestic atmosphere. Close to 3,000 fireworks are set to illuminate the sky above, leading to an indescribable beauty as the fireworks and lights give off their own light.

▼Miyazu Toronagashi Fireworks Festival

Date: August 14, 2019

Time: From 19:30

Location: Shimasaki Park
Official Website: https://www.kyo.or.jp/miyazu/hanabi/

Ine Fireworks – Fireworks Galore Envelop Ine Bay

Around 1,200 fireworks climb up and over Ine Bay, lighting the calm water surface and the funaya boat houses of Ine with their brilliance. The boat houses themselves are also strung and lined with hanging lanterns.

▼Ine Fireworks

Date: August 24, 2019

Time: 20:15

Location: Ine, Kyoto
Official Website: http://www.ine-kankou.jp/inehanabi/

Did you enjoy our pick? It isn't summer in Japan without fireworks. If you're travelling to Kyoto to catch some sun this year, finish the day off with one of its many fireworks festival―from traditional Kyoto-esque events to large-scale ones with 8,000 fireworks ready to be deployed.

Sebastian Masuda And Other Phenomenal Artists Create Outstanding Doraemon Exhibition

28 artist groups and individuals have created artistic pieces to represent Japan's favourite animated character Doraemon. From July 12 to September 23, 2019, you can see these magnificent creations at the Doraemon Exhibition Osaka 2019 which will take place at Osaka Culturarium at Tempozan.

The Doraemon Exhibition Osaka 2019 features a range of artists who exhibit their works in Japan and even in foreign countries. This is a fantastic chance to meet a range of new Doraemon that the world has never seen. This event covers a range of genres through modern art that is overflowing with creativity and dedication for the anime character that has grasped the nation. 

On July 11, the day before the opening of the exhibition, there was a special opening ceremony and private viewing event held exclusively for staff and the press, which was a massive success. 

Press releases of the event reveal that artists Yasumasa Morimura and Sebastian Masuda were present at the ceremony for photos and greetings. 

Yasumasa Morimura commented with deep emotion: "I am so happy to have finally taken part in the Doraemon Exhibition. For this creation, I used lots of paper to make the costumes. I collaborated with Junko Koike, collecting lots of Doraemon manga as raw materials for the dress. As Doraemon has the power to manipulate time and space, and has the ability to create a door that leads to anywhere he desires, I thought a grey dress would be appropriate. In fact, the entire exhibition venue is just like the inside of Doraemon's pocket ー it is packed with the work of 28 solo artists and groups. What a fun experience it is. I hope that many people in the Kansai region come see this," he explained.

Sebastian Masuda commented: "I'm actually the same age as Doraemon and I share the same birthday as Noby; the main character from the series. I was born with a love for Doraemon."

He then commented on his art piece: "I actually wanted to make it as big as the Budha statue at Todaiji Temple in Nara, but we wouldn't be able to fit it in the venue so I made it two metres tall instead", he laughed. "I collected materials from markets from all around the world, so the final piece is literally made up of the colours of the world," he continued. 

His message to the people of Osaka is: "I would love it if lots of children came to see this. It would really make my day to hear reactions from them like "whoa, it's huge" or "that's so cool!""

Please come stop by to visit your favourite Doraemon!

Information

The Doraemon Exhibition Osaka 2019

Running: July 12, 2019  ー September 23, 2019 (74 days) 

※ No closed days.

Venue:  Osaka Culturarium at Tempozan (next to the Osaka Aquarium Kaiyukan) 

Address: 1-5-10, Kaigandori, Minato Ward, Osaka

Open: 10:00 ー 17:00 ※ Last entries: 30 mins before closing time 

Entry prices

General:¥1,500

Middle/High School: ¥1,200

4 y/o ー Elementary School: ¥800

Enquiries: (Hello Dial)  TEL: 050-5542-8600 (8:00 ー 22:00, no holidays)

Toy Story 4 Themed Cafe Opens in Tokyo, Osaka, Sapporo& Nagoya

Did you catch Toy Story 4 at the cinema yet? If you're in Japan this summer then you won't want to miss the official Toy Story 4-themed cafes opening in Tokyo, Osaka and Nagoya on July 20 and in Hokkaido on July 21 for a limited time.

The film was released just last month but is only set to hit Japanese theatres on July 12. It serves as the fourth and final film in the Toy Story series, wrapping up the story that first warmed the hearts of the public when the first movie dropped back in 1995.

The cafe will be a toy box of fun for all fans of the films, featuring a Toy Story inspired menu and decorations laced with trivia.

It costs ¥500 (before tax) per person to book a seat at the cafe. Customers who order from the menu will receive one of 13 possible stickers pictured above in the style of theatre tickets.

Everyone who enters the cafe will also receive one of these 13 possible entry bands.

<Woody & Bo Peep> Fateful Reunion Plate (¥1,890)

Fans of Woody and Bo Peep should look at ordering the Fateful Reunion Plate, a chicken sandwich and vichyssoise set based on both characters' outfits. Find the sheep hidden amongst the dish!

<Duke Caboom> High in the Sky! Stunt Burger (¥1,890)

Duke Caboom's chicken burger is served with mint sauce and a heap of assorted vegetables. Fly high in the sky with the dish's delicious combination of flavours.

<Buzz, Ducky & Bunny> Night Carnival Pasta (¥1,790)

This meat pasta dish is topped with colourful vegetables. Keep the fun going at the moving carnival at night!

<Gabby Gabby & The Bensons> Afternoon Tea Set (¥1,790)

Paying tribute to Gabby Gabby and the dummies, the afternoon tea set comes with a tuna sandwich and a fruit and yogurt sandwich. To drink you can enjoy a decaff Earl Grey tea.

<Jessie> Pomegranate Water (¥890 or w/coaster ¥1,790)

Feel refreshed with Jessie's satisfyingly sour pomegranate water.

<Slinky> Orange Yogurt Smoothie (¥890 or w/coaster ¥1,790)

Or order Slinky's orange flavoured yogurt smoothie with kiwi sauce.

Ordering from the food menu will also get each person a specially-made paper apron.

There are lots of other items on the menu to look forward to as well. And don't miss out on the range of exclusive merchandise they have either.

Acrylic Key Ring (13 Designs): ¥500 Each

A5 Folder (10 Designs): ¥350 Each

Mini Duralex Glass (5 Designs): ¥800 Each

The Toy Story hype doesn't seem to show any signs of stopping just yet. Be sure to visit the official Toy Story 4 cafe in Japan.

©Disney/Pixar

© POOF-Slinky, LLC

*All prices include tax. Photos are for illustrative purposes only and so designs are subject to change.

Information

Toy Story 4 OH MY CAFÉ

Locations/Dates

Tokyo: OH MY CAFÉ TOKYO (Tokyu Plaza Omotesando Harajuku) / July 20 – September 16, 2019

Osaka: kawara CAFE&DINING Shinsaibashi / July 20 – September 16, 2019

Nagoya: kawara CAFE&KITCHEN Nagoya PARCO / July 20 – August 25, 2019

Hokkaido: Interlude Cafe / July 21 – September 16, 2019

Toy Story OH MY CAFE Official Website: https://toy.ohmycafe.jp/

Toy Story Official Website: https://toystory.disney.com/

Play Hide And Seek at After Hours Spooky Japanese Theme Park in Osaka

Hirakata Park in Osaka is set to host its scary nighttime horror event "Hide And Seek at Hiraka Park" again this year from August 26 to September 1. Tickets are now on sale via Lawson Tickets. The event is being held in collaboration with MBS, Yami and ICT of NTT West.

The park will take a turn for the worse as soon as evening settles and night envelops the sky, bringing a spooky shift to the usual mirthful atmosphere during the day. Something terrible will lurk in the dark after the park closes.

Participants of this event will need to use their electronic devices, such as a tablet or smartphone, to help them reach the goal within an hour while keeping hidden from any spirits that may be lying in wait in the shadows. We also recommend taking a spare pair of pants.

But that's not all, as guests at the park can now get involved in another frightening experience using VR technology. This VR game, which is called "The Vengeful Sleep Paralysis Ghost's Mansion," was introduced to the park on July 6 and is available for a limited time only.

If you're down for some hair-raising spooks but can't wait until Halloween, then you know where you need to go this summer.

Information

Hirakata Park x NTT West: "Theme Park Hide and Seek"
Location: The whole of Hirakata Park
*The meeting point is at the park's East Gate
Running: August 26, 2019 – September 1, 2019 & September 7, 2019 – September 8, 2019
Time Slots: ①19:00 / ②19:20 / ③19:40 / ④20:00 / ⑤20:20
*Participants are allocated an hour for each slot
*You must be at the East Game meeting point 5 minutes before your chosen slot

Price: Group Ticket (Up to 4 People)  – ¥14,000 (*comes with free bonus

Tickets: Lawson Ticket (L-Code: 55500)
*Where tickets are available on the day, they will only be sold up until 20:00 that day at Lawson and MINISTOP convenience stores. Please use the Loppi ticket machines in the stores and search for the tickets using the L-Code "55500."
Ticket Enquiries: Lawson Ticket – 0570-000-777 (10:00-20:00)

Homepage: https://www.mbs.jp/obake/

17 Fireworks Festivals Taking Place This Summer in Ito City

This summer, Ito city will be seeing lots of large-scale fireworks festivals take place between July 20 and August 24.  

Ito Onsen Yume Hanabi/ Ito Onsen, Ito Coast 

The Yume Hanabi (Dream Fireworks) event will be held 10 times during the summer fireworks season. Enjoy a range of fireworks exploding before your very eyes. The sizes of the fireworks range from an outer diameter of 9 cm to 30 cm. Each day, between 1,000 and 1,500 fireworks will pierce the night sky with a beautiful show of colours. The best spot to watch these would be from a simple patch of grass in Nagisa Park. 

July 20 (Sat)  20:30 ー 20:50 (Approx. 1,000 fireworks)

July 28 (Sun) 20:30 ー 20:50 (Approx. 1,000 fireworks)

July 30  (Tues) 20:30 ー 21:00 (Approx. 1,500 fireworks)

July 31 (Weds) 20:30 ー 21:00 (Approx. 1,500 fireworks)

August 2 (Fri) 20:30 ー 20:50 (Approx. 1,000 fireworks)

August 3 (Sat) 20:30 ー 20:50 (Approx. 1,000 fireworks)

August 6 (Tues) 20:30 ー 20:50 (Approx. 1,000 fireworks)

August 7 (Weds) 20:30 ー 20:50 (Approx. 1,000 fireworks)

August 17 (Sat) 20:30 ー 20:50 (Approx. 1,000 fireworks)

August 24 (Sat) 20:30 ー 20:50 (Approx. 1,000 fireworks)

Usami Summer Festival  Kaijo Hanabi Taikai/ Usami Coast

This festival remains popular among the locals but is still yet to be discovered by tourists. This is the perfect spot to relax and enjoy the view at your own pace. The road leading from Usami Station is a pedestrian zone lined with stands and stalls, making it the perfect place to enjoy the festival vibes. 

August 1 (Thurs) 20:00 ー 20:30 (Approx. 1,500 fireworks)

Floating Lanterns Uchiage Hanabi/ Ito Coast

Bright lanterns are floated down the Matsukawa river which runs through the heart of the city. As the last magical lantern makes its way down the river, the fireworks are set off into the sky, illuminating the lanterns as they float downstream.

August 8 (Thurs) 20:50 ー 21:00 (Approx. 800 fireworks)

Taiko no Hibiki (Echoing Drums)  Uchiage Hanabi (Ito Kaigan)

Head over to Nagisa Park to witness the taiko drum battle. Nagisa Park is one of the best locations in Ito city to watch the fireworks. The energy from the drums will resonate throughout the entire park. As the battle reaches its climax, fireworks will soar into the sky, exploding to the beat of your heart.

August 9 (Fri) 20:50 ー 21:00 (Approx. 800 fireworks)

Anjin Large-Scale Seaside Fireworks Festival / Along Ito Coast 

This is the largest fireworks festival in Ito. Over the course of an hour, approximately 10,000 fireworks will be launched from five different areas along the coast, striking vibrant streaks of colour into the night sky over the sea. The fireworks range from digital Star Mines to Niagara fireworks. For those of you who want to escape the crowds to watch the fireworks at your own pace, we recommend the seating area, where you can fully enjoy a closeup view of the breathtaking fireworks for just ¥2,000 per seat. August 10 (Sat) 20:00 ー 21:00 (Approx. 10,000 fireworks)

Yanmono Sato Hanabi Taikai /Yawatano

In just 30 mins, 3,000 fireworks are fired into the sky, bursting into dynamic patterns that illuminate the sea and create a scene of lingering beauty that you will not be able to peel your eyes from. The fireworks are set off right before the spectator's eyes so you can watch the fireworks develop into spontaneous beauty right above you. 

August 14 (Weds) 20:00 ー 20:30 (Approx. 3,000 fireworks)

Kawana Dolphin Beach Large-Scale Seaside Fireworks / Dolphin Beach Park

This is a popular event among locals as well as tourists. Although there are not as many fireworks, the fact that viewers can enjoy them close up more than makes up for it. Niagara fireworks that shower over the ocean and Star Mines that blossom above you are just some of the popular kinds of fireworks this festival will allow you to witness.

August 15 (Thurs) 20:00 ー 20:30 (Approx. 2,000 fireworks)

Ito Hot Springs Hashi Festival Fireworks/ Ito Beach

At this unique festival, a tower made of chopsticks used at the hot springs is set on fire for a memorial service. A portable shrine overflowing with strong energy is carried through the streets as part of a parade. The event also sees hand-held fireworks, enhancing the festival vibes. The fireworks explode over the sea, colouring the sky with a scene that represents the end of summer. 

August 22 (Thurs) 20:30 ー 21:00 (Approx. 1,500 fireworks)

The summer holidays is the perfect time to enjoy a fireworks festival, so why don't you check one out?

Goldfish Festival, Fireworks And Much More Family Fun at Aquamarine Fukushima

During the summer holiday period between July and September, Aquamarine Fukushima is holding a range of events and supporting children to learn about marine life independently. Come join in the festival fun with goldfish scooping games, quoits, and much more. There will also be a fair from August 11 to 15. 

Aquamarine Fukushima Rare Creatures Picture Book <Complete the pictures!>

Dates: July 13 ー September 1

Aquamarine Fukushima is displaying rare creatures and ecological systems. The children can write the name of the new creatures they discover in their own picture book. Once they have completed the picture book, it will be an original record of discoveries. As the children record the features of the animals and other organisms they discover, adults will also find this information beneficial when looking around the exhibitions. 

How to take part: Pick up an application form at the entranceway on floor 1 of the aquarium main building (Honkan). The answers will all be distributed in one place. (Subject to change).

Summer Aquamarine Fukushima: Children's Answer Room

Open: July 20 ー September 1 

Here, all the answers to the children's puzzles about Aquamarine life are presented in panels and explained in easy terms. Along with the picture book where the children can record interesting life forms, this is the perfect way to support independent exploration. 

Goldfish scooping and Fun Fair

You can purchase goldfish that were bred at the aquarium, or catch them yourself at the goldfish scooping area. There is also a games corner where you and your children can enjoy a range of fun activities such as quoits. 

The goldfish building, which just opened last year, will be bringing back its 60cm-large Goldfish Nebuta lantern. To raise spirits during Japan's O-bon lantern festival, the aquarium will be open for much longer so that a lantern event can be held in the evening. 

Iwaki Traditional Vegetable Marché

Open: August 17 ー 18 (11:00 ー 14:00)

Head to the Aquamarine Aguri located outside Aquamarine Fukushima to purchase everyday vegetables as well as Japanese vegetables that have been grown through the cooperation of Iwaki farmers and Iwaki city. The traditional Iwaki marché sells mainly traditional summer vegetables such as okuimo potatoes, yardlong beans, beefsteak plants, kojiroi cucumbers, and much more. From local vegetables to healthy goods, everything is produced at Aquamarine Fukushima. 

Iwaki Fireworks Festival 

Enjoy the sight of fireworks soaring through the sky before your very eyes from the Aquarium grounds. This large-scale fireworks event will run until 9 pm on August 3.

Running: August 11 ー 15 (8pm) . 

※ Last entries: Up to 1hr before closing time. 

Come visit Aquamarine Fukushima for a perfect fun-filled day with the family!

Information

Goldfish Display and Sales

Running: August 11 ー 12 (Monday, national holiday) 

Times: 10:00 ー15:00、16:30 ー19:00

Goldfish Scooping/ Fair

Running: August 11 ー 15

Times: 16:30 ー19:00

The goldfish scooping event will end once all fish have been caught.

Water Yo-Yo Fishing, Quoits, Fishing Games, Barbecue Skewers: ¥300 per turn.

 

Aquamarine Fukushima 

Address: Tatsumicho-50 Onahama, Iwaki, Fukushima

Official Website: https://www.aquamarine.or.jp/

Summer 2019 Japanese Fireworks Festivals With The Wow Factor

Hello everyone, this is Midori from MMN's Editorial Department!

The first thing that pops into your head when you think of summer is fireworks. During the summer, Japan hosts so many large-scale fireworks events that it can be difficult to decide which one to visit. However, some festivals really stand out from the crowd. Today, I will share with you some fireworks festivals I would highly recommend for their extra wow-factor. 

If you're interested, check out the 2019 list for the top 10 fireworks festivals in Japan. 

2019 Artistic Fireworks at Moerenuma Park, Sapporo

Last year, this event was cancelled due to an earthquake, so excitement levels are high this year. 

This year, the fireworks dream team have put together a special non-stop program which includes the highest fireworks in the whole country. A fireworks photo and painting competition will be held after the fireworks event day.

▼2019 Artistic Fireworks at Moerenuma Park

Date: September 7, 2019

Official Website: https://www.moere.jp/

Relax 221m Above Ground: The RESTAURANT LUKE with SLY LOUNGE Fireworks Plan

Fireworks events held within the city can get very crowded, so how about watching them explode beautifully in the night sky from a restaurant? RESTAURANT LUKE with SLY LOUNGE is the perfect place to watch the Sumida River Fireworks festival and its 20,000 fireworks, or the Edogawa Fireworks Festival, where 14,000 fireworks are launched. Make sure to ask for the fireworks plan if you want this experience.

Being able to watch fireworks high in the sky is a wonderful lifetime opportunity. 

▼RESTAURANT LUKE with SLY LOUNGE

Address: St.Luke's Garden, 47th floor, 8-1 Akashicho, Chuo City, Tokyo

TEL: 03-3248-0211

Firework event plans:

July 27 Sumida River Fireworks Festival Special Plan

August 3 Edogawa Fireworks Festival Special Plan

Adults: ¥15,000, high school students: ¥6,000, middle school students: ¥4,000, elementary school students: ¥2,000 (Free for those under elementary school age)

Official Website: https://www.restaurant-luke.com/restaurant.html

Shin Yokohama Fireworks Festival  2019 Special Tickets

Kohoku-ku, Yokohama will be celebrating the 80th year of the Shin Yokohama Fireworks Festival. Tickets for seats to watch the 2019 fireworks event are now being sold. The fireworks will be launched in an area that is hundreds of metres wide. For the finale, you can enjoy yellow streams of light as they fall out of the sky. As this fireworks event is taking place at Shin Yokohama, you can get seats at the Nissan Stadium or the tennis court to enjoy a beautiful night.  

Photo: Takeshi Kanetake 

▼Shin Yokohama Fireworks Festival 2019

Date: July 7, 2019

Prices: Special entry area (unreserved seats): ¥2,000 (per person, 1m2 picnic sheet, 1 entry ticket).

Tennis court garden table seat: ¥20,000 (4 people, 4 tickets, 1 garden table), Nissan Stadium north side (for legal supporters/ event sponsors and others who contributed to the event: ¥54,000 (6 people, 6 tickets, table seating).

Official Website: http://shinyokohama-hanabi.com/

Enjoy Fishing With A Beautiful Fireworks Display In The Sky at Echizen, Fukui

Visit Echizen port to enjoy a beautiful fireworks display whilst on the hunt for fish and squid. This is a relatively cheap plan considering that you also get the chance to enjoy a beautiful view. This is a wonderful way to create special memories.

▼ Fishing and Fireworks in Echizen, 2019

Date: July 13, 2019

Price: Squid: ¥ 6,000 per person Fish: ¥7,000 per person (40 people max).

(Includes fishing equipement. Price is the same for both children and adults).

Official website: https://www.town-echizen.jp/SSL/experience/detail.php?id=90

A Cool Night at The Pool and Fireworks Every Day at Phoenix Seagaia Resort, Miyazaki

During the summer holidays, there will be a fireworks show every evening at Phoenix Seagaia Resort in Miyazaki prefecture. They have special seating, and also those who choose accommodation on the club floor can see the fireworks launched before their very eyes.

You can also enjoy the night pool or barbeque and simultaneously witness the fireworks. The best part is that there is a show everyday, so there is no need to worry about fitting it in with the rest of your plans.

▼Phoenix Seagaia Resort Summer Fireworks 2019

Event Period: Every day from July 20 ー August 31, 2019

Official Website: https://seagaia.co.jp/

This summer will be the first ever fireworks season of the Reiwa era, so how about making it extra special by attending a fireworks festival with that extra wow factor?