Mapping event, "Sky Fireworks ‐FIREWORKS BY NAKED‐" will be held at Osaka Abeno Harukas
The night-time projection mapping event, "Tenku Hanabi 
‐
FIREWORKS BY NAKED –" staged by NAKED will be held at the observation deck of "Abeno Harukas" named "Harukas 300" from September 21

st

 2018 (Fri.).
 "Harukas 300" has been holding the projection mapping event called, "CITY LIGHT FANTASIA BY NAKED" for the past 4 years, during the winter season. This event has gained much popularity from both domestic and foreign visitors and over 600 thousand visitors have visited the event to date.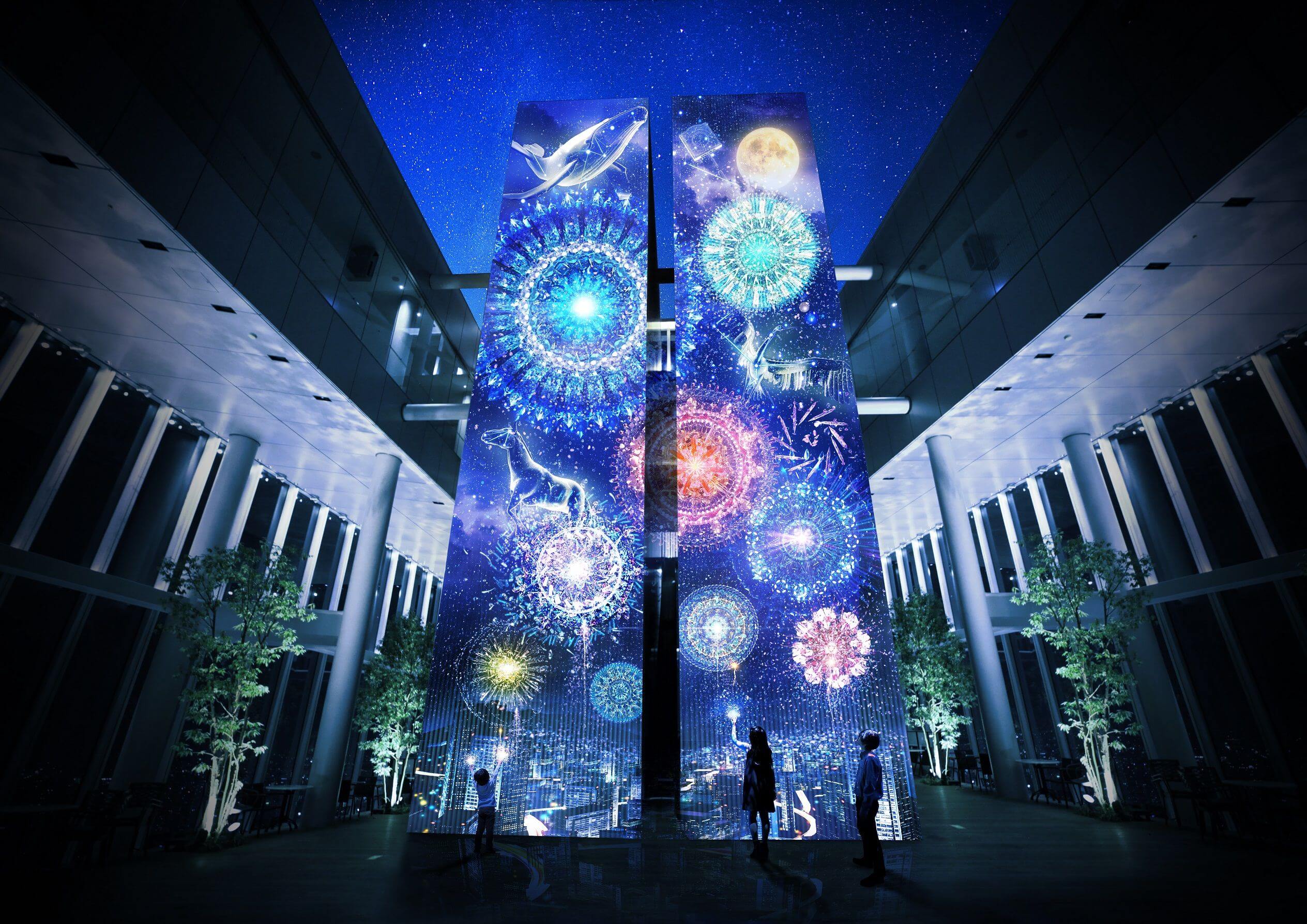 This time, the creative team of NAKED developed an art collection, "Tenku Hanabi ‐FIREWORKS BY NAKED." Fireworks can usually only be seen in one direction but they have successfully created fireworks that can be projected on the walls of buildings using projection mapping technology. The visitors of the event can enjoy a "colorful sky rocket experience" using projection mapping technology and they can sense technology by touching the 16m-high wall named "Twin Tower" which is located on the west side of Tenku Teien (sky garden / 58F).
Visitors can also enjoy watching fireworks from different angles in a space (58F to 60F) surrounded by 3-layered glass which is known as a unique aspect of "Harukas 300." 
Let's enjoy this brand-new fireworks entertainment event which is a combination of traditional fireworks and a sparkling world created using the motif of a kaleidoscope.
■Information
Address: 1-1-43, Abenosuji, Abenoku, Osakashi
Business hours: 9:00 to 22:00
Tenku Hanabi -FIREWORKS BY NAKED-
Venue: Harukas 300 (observation deck) 58F "Tenku Teien"
Date: starting from September, 21

st

 2018 (Fri.)
Time: After sunset 
~ 
21:40
Event price: Free. You can enjoy this event just by paying the entrance fee to the observation deck.
Tickets: Abeno Harukas 16F Harukas 300 (observation deck) ticket counter, Kintetsu Business Office, Family Mart
RECOMMENDED ENTRIES
TREE by NAKED: An Interactive Dining Experience in Yoyogi Park with Projection Mapping, Lighting & Music

NAKED Inc. is a company that creates interactive and immersive art events. They have dazzled many at their showcases including with their projection mapping at Tokyo Station and their interactive art exhibition FLOWERS by NAKED which brought the cherry blossom season to people early. They have even taken their work overseas in Taiwan and Beijing.

Did you know the company also has their very own restaurant in Yoyogi Park called TREE by NAKED?

You must book seats to dine there which offers a very special 2-hour course. It's a fantastical marriage of art and dining woven through projection mapping, virtual reality, lighting, aromas, music and of course, delicious food made using seasonal ingredients.

If you're looking to see some art while in Japan and enjoy great food then you can kill two birds with one stone at TREE by NAKED in Yoyogi Park. We visited the restaurant to witness and report back this new kind of interactive dining experience.

The restaurant is just a 2-minute walk from Yoyogi Station. When you arrive, you wait at the entrance to be seated. Once 8 people had gathered for the evening dinner we were led by the guide to dim private rooms in a Japanese rock garden with tables.

The course consists of six meals which each represent different stages in the life of a tree. We begin in the first room which uses projection mapping on the table and walls and are given an explanation of the courses.

A table made in the form of a Japanese rock garden

The table and room look like you've walked into an art exhibition. The guide who brought us to the other room took on the role of storyteller and led explained the story which would be linked by the sights and smells. They also this explanation in English.

An entire room uses project mapping to look otherworldly

After becoming completely immersed in the story we moved into the main room. This room uses virtual reality, project mapping and a dining experience to portray the story, exploring themes like the life of a tree, Japan's four seasons and the blessing of life.

(There were many other fun and interesting elements too but writing everything would spoil the experience for anyone thinking of going so we're only showing a snippet.)

The story begins by planting a seed in the soil. The soil is delicious! (Don't worry, it's not real soil)

The fish swim away when you touch this projection mapping. There's much fun to be had while waiting for food.

The plates change colours to showcase Japan's vivid seasons

But it's not just the technological performances that are striking – the food and drinks are also out of this world. The food on the menu was created by executive chef Nagatomo of restaurant and café Hoff which is located in Hatsudai, Tokyo. He designed 8 Japanese-style dishes inspired by the seasons that are made using seasonal ingredients. Drinks come with meals and you can choose from alcohol or tea. You often see alcohol paired with meals so it's interesting to see tea paired too. You can even drink tea made by a tea expert.

The restaurant at lunchtime. In the evening, the lights come on and the tables use project mapping.

After eating the main dish we moved to the second floor. This was home to the dessert room, the final part of the story, which represented a paradise on top of the tree where you can eat the forbidden fruit.

With our bellies, heads and hearts full, our first ever 'art gastronomy' came to a close. We got a fill of both art and food.

It's a little expensive to go, coming in at ¥23,000 (tax and service charge included) which includes the full course and drinks, but there is no other place like it where you can be immersed in such an experience that combines performance and cuisine.

If you want to go eat somewhere for a special day or would like to try something you then this is somewhere you're sure to enjoy. It's something you have to experience at least once.

Restaurant 'TREE by NAKED' in Yoyogi Park Combines Traditional Culture with Ultramodern Technology

TREE by NAKED Yoyogi Park has updated part of its menu and direction this month. The restaurant has introduced a completely new eating experience to its Japanese and western fusion cuisine by installing projection mapping, VR, sensors, lights, smoke, scents and music.


The restaurant first opened in July last year in front of Yoyogi Park in Tokyo as an experience-based art restaurant where customers can enjoy Japan's latest cutting edge technology and next-generation gastronomy. Its popularity rose rapidly, earning itself a reputation for offering an experience that stimulates all five of the senses, as well as the restaurant's photogenic interior decor. The restaurant accepts bookings only and allows 8 groups a day. Customers are led by a guide dressed in a kimono to on a journey through the life of a tree from its sprout to maturity. Each phase of the growth is represented by six different meals served to customers as well as two performances.


One of the performances incorporates koudou, a traditional Japanese performance art that takes the form of an incense-smelling ceremony. Customers are served food on plates that use projection mapping which shows the process of the four seasons changing. The course offers a variety of references to Japanese culture, including a story based on The Tale of the Bamboo Cutter.

The menu includes a variety of ingredients and several ways of eating unique to Japan, from Japanese Black aitchbone to ochazuke with wasabi that you grate yourself and high-quality houjicha green tea made by a tea master.

Also, every day from 10am to 4pm, they sell gourmet deli food made using fresh vegetables like beetroot, Brussels sprouts, cauliflower and purple cabbage that you can order to take away.

The restaurant is gaining much attention right now. It made an appearance on TV in Hong Kong in February this year. Why not true this unique dining experience for yourself while in Tokyo?

■Information

TREE by NAKED Yoyogi Park
Address: 1-10-2 Tomigaya, Shibuya, Tokyo

Opening Hours: Lunch 10:00-16:00 (Last Orders 15:00) / Dinner 17:30-23:00

Slot 1: Open 18:00, Start 18:15, End 20:30 / Slot 2: Open 20:15, Start 20:30, End 23:00
Store Information: 3 floors from B1-2F. Seats for 8 people per day. Reservations only.

Access: Exit 2 of Yoyogi Park Station via Tokyo Metro / Yoyogi-Hachiman Station via Odakyu Line (*No car park)

Reservations: 03-6804-9038

Enquiry Form: https://www.tablecheck.com/shops/treebynaked/reserve

Official Website: https://tree.naked.works/yoyogi/

Aqua Park Shinagawa will hold the cherry blossom-viewing event, "SAKURA AQUARIUM by NAKED"

"SAKURA AQUARIUM by NAKED" is an experience-based event created under the concept of "Japanese traditional culture × digital art, the world of cherry blossoms × the world of the sea" which will be held in Tokyo's leading entertainment park Maxell Aqua Park Shinagawa from the 3rd of March 2018 (Sat.) ~ 15th of April 2018 (Sun.).

"Maxell Aqua Park Shinagawa" is a place that introduces the charms of the sea world by exhibiting/performing many entertaining works and events using latest digital renditions.

The events which will be held this spring will create a magical world using the motif of cherry blossoms popular among both Japanese people and people from abroad. They are going to offer a new type of entertainment which cannot be experienced just by viewing cherry blossoms by combing the worlds of "traditional culture of Japan × digital art" and "cherry blossoms × the sea."

●The theme of the events is "the latest cherry blossom-viewing entertainment surrounded by cherry blossoms"

The leading creative company in Japan,"NAKED" will use projection mapping and art works to depict illustrations of vivid colored cherry blossoms and they will use all parts of the room including the ceiling, walls and floor. The guest of the event will be surrounded by cherry blossoms when they enter the venue.

Let's enjoy this beautiful spring event in this inside facility!

"A new type of dolphin show" which will deliver a"thrilling/new experience" to the viewers.

Precisely created entertainment shows combined with a water curtain, latest technologies and skills of dolphins can be enjoyed inside a circular venue where 1,200 persons can enter (seats:1,211 + standing area) . Don't miss this show where you can enjoy the movements of dolphins and latest technologies.

<Nighttime> Night performance "Sakuragatari"

Starting time: 19:00 / 20:30 (15 minutes)

<Daytime> Day performance "Haru Ranman"

Starting time: 11:30 / 13:00 /14:30 / 16:00 / 17:30 (15 minutes)

"Digital Sakura" will be depicted by using projection mapping technologies and art works which use the sophisticated design of "Kumiko," a traditional architecture method. The fish exhibition uses the motif of "flower arrangement" "SAKURA AQUARIUM."This same atmosphere is created throughout the inside of the aquarium. Each zone inside this aquarium highlights the beauty of cherry blossoms.

●Hanaakari, a cherry blossom café bar where you can enjoy spring-limited drinks

Lit-up choral which looks like cherry blossoms are installed inside the café to portray the magical world of cherry blossoms at nighttime and Japanese umbrellas are decorated on the tables shaped like a water tank. You can enjoy and feel the atmosphere of Japan by viewing living things while drinking alcohol. A little surprise where the petals of cherry blossoms emerge on the counter when receiving a drink can be enjoyed too.

During the period when "SAKURA AQUARIUM" is held, four types of original drinks will be offered.

Let' s enjoy this latest cherry blossom viewing experience at Maxell Aqua Park Shinagawa.

◼︎information

SAKURA AQUARIUM by NAKED
Date: 2018/03/03 (Sat.) to 2018/04/15 (Sun.)

Maxell Aqua Park Shinagawa

Address: 4-10-30, Takawa, Minatoku, Tokyo (inside Shinagawa Prince Hotel)

Business hours: 10:00 to 20:00

*entrance will be possible until one hour before closing time.
TEL:03-5421-1111
RELATED ENTRIES
SSSS.DYNAZENON and SSSS.GRIDMAN Pop-Up Shops Open in Akihabara and Osaka

Two pop-up shops, the SSSS.DYNAZENON @ Dash Store and SSSS.GRIDMAN @ Dash Store, are now open at Animate Akihabara and Animate Osaka Nipponbashi until June 24. The stores are themed on Tsuburaya Productions and Studio Triggers' anime series SSSS.DYNAZENON, which began airing in April, and SSSS.GRIDMAN.

SSSS.DYNAZENON @ Dash Store

SSSS.GRIDMAN @ Dash Store

Fans of the series can get their hands on a range of pre-sale and exclusive merchandise. For every ¥2,000 spent, they can get their hands on one of five possible bromide illustrations, and if they spend over ¥3,000, they'll enter for a chance to win a special poster.

Bromides (5 Designs)

Special Poster

The Line-Up

Dash Store Exclusive T-Shirts | 5 Designs | ¥7,150 Each (Tax Included)

Dash Store Exclusive Bottles | 2 Designs | ¥2,200 Each (Tax Included) (All come with one of 3 possible illustrated cards)

Dash Store Exclusive Metal Sticker Sets | 2 Designs | DYNAZENON ¥1,320 – GRIDMAN ¥880 (Tax Included)

Dash Store Exclusive T-Shirt | ¥2,750 (Tax Included)

Dash Store Exclusive Stainless Thermo Tumbler | ¥2,750 (Tax Included)

Pre-Sale Acrylic Stands | 5 Designs | ¥1,980 Each (Tax Included)

Pre-Sale Tapestries | 5 Designs | ¥3,850 Each (Tax Included)

Pre-Sale Pin Set | DYNAZENON ¥1,320 – GRIDMAN ¥880 (Tax Included)

©円谷プロ ©2021 TRIGGER・雨宮哲/「DYNAZENON」製作委員会
©円谷プロ ©2018 TRIGGER・雨宮哲/「GRIDMAN」製作委員会

The Promised Neverland x Hotel Keihan Room Plan Collaboration Begins

Hotel Keihan launched a new guest room plan in collaboration with the anime series The Promised Neverland at its Tokyo, Kyoto, Osaka, Nagoya, Sendai, and Sapporo branches on Tuesday. It also released a collection of exclusive merchandise which can be bought at each hotel's front desk.

Guest Rooms

Exclusive Merch Line-Up

Pins | ¥550 Each (Tax Included)

Key Rings | ¥550 Each (Tax Included)

Lobby display

The hotel plan was originally scheduled to take place for three months but has been extended by a further month to accommodate for travel restrictions as well as guest demand. New prices have also been introduced to make it more accessible to people. Fans of the anime series can get their hands on a range of items not available anywhere else too including pins, key rings, folders, and more.

The hotel room designs are inspired by both seasons of The Promised Neverland and come with life-size panels, wall decorations, and more, so fans can look forward to getting sucked into the world of the anime series.

(C)白井カイウ・出水ぽすか/集英社・約束のネバーランド製作委員会

Colourful Dessert Buffet 'OWNER OF A COLORFUL HEART' to be Served at Conrad Osaka

Conrad Osaka is set to serve a very special rainbow-coloured dessert buffet called 'OWNER OF A COLORFUL HEART' at its Atmos Dining restaurant in collaboration with Japanese artist Sebastian Masuda, who is known for his iconic work in Japan's culture of 'kawaii,' from June 4 to August 31.

OWNER OF A COLORFUL HEART Peach Dessert Buffet

The colourful line-up aims to bring light and strength to people during these dark times. It says that if we were to shine a light on our hearts, the hidden colours of our hearts would illuminate for all to see. We are all owners of a colourful heart. The beautiful and mouth-watering dessert table conceived by Masuda was made after he had discussions with Jimmy Boulay, executive chef at Atmos Dining, who helped bring this peach-filled sweet treat bounty to life.

The picturesque buffet is made so colourful thanks to a range of natural ingredients such as paprika, turmeric, coconut, rose, and more. The 'Colourful Heart Tarts,' which look like baby peaches, are fluffy and made sweet with peach and vanilla. The 'Sunshine in the Dark' is bright yellow like sunshine and contains peach and vanilla caramel cream. The 'Peach Prism Cupcakes' glisten vividly, and the 'Daisy Celebration' is a wonderful mix of almonds, rose mousse, and peach compote. Below is a small peek at just some of the goodies on this summertime feast.

Menu Sneak Peek


Marble Marble Mousse

Colourful Heart Tarts

Sunshine in the Dark

Peach Prism Cupcakes

Spring Garden

Daisy Celebration

Playful Macarons

The restaurant also has a photo booth where you can take photos together with some of Sebastian Masuda's most iconic works. There's also merchandise from the artist's own brand Sebastian Masuda ART. And that's not all – a special hotel plan at Conrad Osaka is also available where guests can stay in rooms decorated in Masuda's art. The plan comes with the dessert buffet attached. There are just three rooms a night with this plan for the duration of the buffet.

Bonus Item

Win a free glass of sparkling wine by posting a photo of yourself with a heart in the picture at the buffet with the hashtag #ownerofacolorfulheart.

If you're in Osaka this summer, show that you're also the owner of a colourful heart at this very special dessert buffet.

Information

OWNER OF A COLORFUL HEART Peach Dessert Buffet

Running: June 4, 2021 – August 31, 2021

Times: [Mon-Thur] 15:00-17:00 / [Fri-Sun & Holidays] 14:30-18:00

Price: Adults ¥6,200 / Children ¥3,100

*Prices will change to ¥6,800 and ¥3,400 respectively for Obon from August 7 to 16

Venue: Atmos Dining (Conrad Osaka Floor 40F)

Address: 3-2-4 Nakanoshima, Kita-ku, Osaka-shi, Osaka

Reservations: Online / Telephone (06-6222-0111 )

Official Website: https://conrad-osaka.hiltonjapan.co.jp/restaurants/conrad-sweets/summer2021

SEGA to Open Love Live! Themed Cafe in Akihabara and Around Japan

GENDA SEGA Entertainment is set to open a themed cafe in collaboration with Love Live! Nijigasaki High School Idol Club on April 29, 2021.

A completely original menu themed on the characters

Fans can tuck into a very special menu inspired by the members of the Nijigasaki High School Idol Club with drinks, desserts, and food. The cafe will run over the course of three periods each of which will also include their own unique menu items.

Drinks | ¥660 Each (Tax Included)

Period ①: Hamburger Plate / Yaki Udon | ¥1,320 Each (Tax Included)

Nikujaga Plate / Clam Chowder | ¥1,320 Each (Tax Included)

Period ②: 1st Year Banana Parfait / 2nd Year Strawberry Parfait / 3rd Year Grape Parfait | ¥1,100 Each (Tax Included)

Period ③ menu exclusives to be revealed

Get some freebies simply by ordering

Period ①: Drinks Coaster / Food Coaster / Parfait Costers

Period ②: Drinks Coaster / Food Coaster / Parfait Costers

Period ③ exclusive freebies to be revealed

Character birthday cards

Kanon Shibuya – May 1, 2021 / Sarah Kazuno – May 4, 2021

Ai Miyashita – May 30, 2021 / Nozomi Tojo – June 9, 2021

Mari Ohara – June 13, 2021

Merchandise to add to your collection

Releasing: April 29, 2021

Acrylic Stands | ¥1,320 Each (Tax Included)

Art Panels | ¥660 Each (Tax Included)

Releasing: May 15, 2021

Chibi Key Rings | ¥770 Each (Tax Included)

Bonus merch for every ¥2,000 spent

Bromides | Available April 29, 2021 – May 14, 2021

Bromides | Available May 15, 2021 – May 28, 2021

©2013 プロジェクトラブライブ! ©2017 プロジェクトラブライブ!サンシャイン!!
©2020 プロジェクトラブライブ!虹ヶ咲学園スクールアイドル同好会 
©2021 プロジェクトラブライブ!スーパースター!!
©GENDA SEGA Entertainment Inc.

Information

SEGA x Love Live! Nijigasaki High School Idol Club Collaboration Cafe
Running: April 29, 2021 – June 13, 2021

Where: SEGA Collaboration Cafe Akihabara 3 (SEGA Akihabara 3 Floor 7F) / SEGA Collaboration Cafe Stand / SEGA Akihabara 4 / Nanbasennichimae / Sendai / Okayama / Fukuoka Tenjin / Sasashima
 

Schedule

Period ①: April 29, 2021 – May 14, 2021

Period ②: May 15, 2021 – May 28, 2021

Period ③: May 29, 2021 – June 13, 2021

Cafe Details: https://sega-collabocafe.com/top/nijigasaki03.html

Love Live! Official Website: https://www.lovelive-anime.jp/nijigasaki/

City Hunter Manga Pop-Up Store to Open at Umeda LOFT in Osaka

Anime, manga, and tokusatsu event organiser CRAZY BUMP has announced the opening of a pop-up store centred on Tsukasa Hojo's manga series City Hunter which will run from May 12 to 25.

The pop-up shop first ran in Nagano in Tokyo last month and is now heading to Osaka. It's themed on Ryo Saeba versus Umibozu.

©北条司/コアミックス 1985,版権許諾証AG-301

Information

City Hunter Pop-Up Store: Ryo Saeba vs. Umibozu in Umeda LOFT

Japanese Shop Name: POP UP STORE~冴羽獠VS海坊主墓場の決闘編~in梅田ロフト

Running: May 12, 2021 – May 25, 2021

Where: Umeda LOFT (Floor 1F Market)

Address: 16-7 Chayamachi, Kita-ku, Osaka-shi, Osaka

Opening Hours: 11:00-21:00 (Until 18:00 on May 25)

Entry: Free

Special Page: https://hakabanogarou.jp/archives/17920

Music-Eating Space Hamsters BLUE HAMHAM Get Pop-Up Store in Tokyo and Osaka

CHOCOLATE Inc. is set to open the BLUE HAMHAM POP UP STORE at Shibuya PARCO in Tokyo on May 14 May 28 and Shinsaibashi PARCO in Osaka on June 4  July 2. The pop-up shops are centred on Arimura Taishi's characters BLUE HAMHAM.

BLUE HAMHAM are four music-eating space hamster brothers from a planet called 'Proxima b.' Their animations on Twitter, TikTok, and other social media platforms have garnered over 300 million views worldwide. In 2020, they began collaborating with overseas artists. Their musical animations have garnered popularity across the globe.

At the pop-up shop, fans can get their hands on over 30 new BLUE HAMHAM items. This also marks the brothers' first pop-up shop in Osaka. From exclusives to free novelties, there's plenty to enjoy.

At the store, fans will also be greeted by four 1-meter tall BLUE HAMHAM statues, the only ones in the world. There will be a display showing their animations, a chance to learn about the characters, and more.

©CHOCOLATE Inc.

Information

BLUE HAMHAM POP UP STORE

Tokyo Store: Shibuya PARCO B1F GALLERY X

Address: 15-1 Udagawacho, Shibuya, Tokyo

Running: May 14, 2021 – May 30, 2021

Tokyo Store: Shibuya PARCO B1F GALLERY X

Address: 15-1 Udagawacho, Shibuya, Tokyo

Running: May 28, 2021 – June 14, 2021

Osaka Shinsaibashi PARCO 10F EVENT SPACE

Address: 1-8-3 Shinsaibashisuji, Chuo-ku, Osaka-shi, Osaka

Running: June 4, 2021 – June 21, 2021

Osaka Shinsaibashi PARCO 10F EVENT SPACE

Address: 1-8-3 Shinsaibashisuji, Chuo-ku, Osaka-shi, Osaka

Running: July 2, 2021 – July 18, 2021

Special Page: https://art.parco.jp/shinsaibashi/detail/?id=656

Mr. Osomatsu Themed Hotel Rooms Open Across Japan

KADOKAWA has announced that it's taking the Mr. Osomatsu themed hotel room from EJ Anime Hotel at Tokorozawa Sakura Town in Saitama, which ran from December 3, 2020 to March 31, 2021, to six hotels in Sapporo, Nagoya, Osaka, and Hakata starting on April 28.

Mr. Osomatsu anime freebies for guests

Design of the free mask case

Free coaster

The 'EJ' of EJ Anime Hotel stands for 'Entertainment Japan.' The hotel aims to have guests living inside the stories they love from a wide range of Japanese media from anime to manga, movies, tokusatsu SFX movies, idol culture, and more. As well as room decorations and the exclusive merch that will be on sale, the hotel is also offering a new kind of accommodation experience by incorporating videos, sounds, lighting, and more. Its restaurant will also offer a selection of food and drink in collaboration with various series including all-out full course dinners.

Due to its popularity with guests, the Mr. Osomatsu themed anime room is heading to six locations across Japan which are listed below.

©赤塚不二夫/おそ松さん製作委員会

Gintama @ Dash Store to Open in Ikebukuro and Osaka This April

The Gintama @ Dash Store pop-up shop is returning to Ikebukuro P'PARCO and Animate Osaka Nipponbashi where fans can get their hands on lots of merchandise of Hideaki Sorachi's manga series Gintama.

Gintama's characters wear blue for the store

Dash Store will sell a range of exclusive items as well as offer pre-sales on upcoming merchandise. The illustration pictured above of the characters in blue hoodies was also drawn exclusively for the store and will feature on a range of items.

For every ¥2,000 (tax included) spent by fans at the store they will receive one of nine possible bromide pictures. And for an extra ¥500, those who buy one or more items can get a special tote bag too.

A look at some of the merch line-up

Acrylic Stands | ¥1,650 Each (Tax Included)

Folders | ¥440 Each (Tax Included)

Acrylic Key Rings | ¥715 Each (Tax Included)

Hoodies | ¥5,500 Each (Tax Included)

©空知英秋/集英社・テレビ東京・電通・BNP・アニプレックス

Maruoka Castle Turns Into Kaleidoscopic Wonder With Colourful Projection Mapping

Japanese creative company NAKED began a new projection mapping event at Fukui Prefecture's Maruoka Castle on March 31 as part of its Future Creation Project.

Maruoka Castle Castle Tower

Castle Tower Parkお天守前公園

NAKED launched its Future Creation Project back in 2014 as a way to express local sites around Japan in a creative manner going into the future. The project is held together with local children, grown-ups, and businesses, and takes place both inside and outside Japan.


The company took its projection mapping technology to Shinsen Izumi Elementary School in Tokyo in 2014 and again to Kesennumakoyo High School in Miyagi in 2015. It then rolled out its 0 x 0 Mugen Project in collaboration with Osaka University of Arts in 2016 which supports the projects and productions of students at the university as well as students looking to study there.

This year, NAKED joined hands with the locals of Fukui to set up a one-year projection mapping event at Maruoka Castle as part of the Future Creation Project.

Information

Maruoka Castle x NAKED Hikari Musubi

Japanese Event Name: 丸岡城×ネイキッド ヒカリ結び

Start Date: March 31, 2021

Where: Maruoka Castle (1-59 Maruokachō Kasumichō, Sakai, Fukui

Times: 20:00 / 21:00 (Twice a day for 20 mins)

Castle Opening Hours: 09:00-21:00

Official Website: https://www.city.fukui-sakai.lg.jp/

Hio Miyazawa and Suzu Yamanouchi Feature in Special Rainwear Commercial

Japanese rainwear brand Wpc. released a special new commercial featuring actors Hio Miyazawa and Suzu Yamanouchi. The collaborative video is entitled "What's Changed, What Hasn't Changed."

The Rainwear Items

Basic Jump Umbrella – Off Paint

Big Silhouette Rain Poncho – Unisex Caramel

Floral Pink Gradation


Colour Mesh Coat – Beige

Free Lookbook

The message of the commercial is one of positivity: that though somethings might change, others do not. It refers to the state of the world during the COVID-19 pandemic, that despite being unable to see our loved ones, and that we're unable to lead the lives we once did, our feelings towards those special to us, and those around us, is eternal.

Information

What's Changed, What Hasn't Changed

Lookbook: Free distribution at Wpc. Shinsaibashi PARCO and Wpc. pop-up shops

Official Website: https://bit.ly/3uw2BFn

Shun Nakao Solo Exhibition to Open at SkiiMa Gallery in Shinsaibashi

Japanese artist Shun Nakao is set to hold their GENKOUHAN exhibition at SkiiMa Gallery in Shinsaibashi PARCO from April 9.

A look at some of the merchandise to be sold

Lithographs | ¥4,200 Each (Tax Included)

Lithographs | ¥4,200 Each (Tax Included)

T-Shirts | ¥4,200 (Tax Included)

Sodagirl Acrylic Key Ring | ¥1,100 (Tax Included)

Nakao's colourful and laid-back art is a pleasant sight for the eyes during these dark times. Fans of their work can also get their hands on a range of merch from lithographs to t-shirts, acrylic key rings, and more – all created for this exclusive exhibition.

Information

GENKOUHAN

Running: April 9, 2021 – April 26, 2021

Opening Hours: 10:00-20:00

Location: SkiiMa Gallery at Shinsaibashi PARCO's (Floor 4F)

Entry: Free

SHUN NAKAO Official Website: https://www.shunnakao.com/

Kyary Pamyu Pamyu's Fragrance Brand Nostalgia Syndrome Releases Lily & Jasmine Series

Nostalgia Syndrome opened pre-orders for its new Lily & Jasmine series of fragrances on March 31. The products will be released on April 22.

Nostalgia Syndrome is a fragrance brand produced by Kyary Pamyu Pamyu which launched last year. The new Lily & Jasmine series will be available to purchase online and will also be sold at two brand pop-up shops in Tokyo and Osaka. Those who spend over ¥10,000 online or at either of the stores (tax included) will receive a free Nostalgia Syndrome novelty – these are available in limited supply.

Online Store Novelty: Original Thermal Bottle

Pop-Up Store Novelty: Original Big Eco-Bag

Lily & Jasmine Series

Eau de Toilette | ¥8,250 (Tax Included)

Room & Fragrance Spray | ¥3,300 (Tax Included)

Aroma Diffuser | ¥7,150 (Tax Included)

Bath Salts | ¥3,410 (Tax Included)

Hand Soap | ¥3,520 (Tax Included)

Scented Candle | ¥8,140 (Tax Included)

Eau de Toilette Two-Set (9mL)

Kyary Pamyu Pamyu | Comment

"This is Nostalgia Syndrome's second fragrance release. After mixing together various ingredients, I was finally able to catch the right scent. The theme for this one is 'travel fragrance.' Because of COVID, our time spent outdoors has gone down dramatically, but smells tied to our memories make up part of us all. And smelling them brings back those memories. This is a blend of sweet, sophisticated lily and refreshing jasmine, so it's a really easy one to use that can be enjoyed by both guys and girls. We're also opening our first pop-up shop so please be sure to drop by to try out!"

Lily and jasmine are vibrant fragrances and perfect for the spring season. Order yours today!

Information

Nostalgia Syndrome Lily & Jasmine

Pre-Orders: March 31, 2021 (Shipping from April 22)

Release Date: April 22, 2021

Pop-Up Stores

・+SPBS (SHIBUYA SCRAMBLE SQUARE 2F)

Running: April 22, 2021 – May 26, 2021

Where: +SPBS, SHIBUYA SCRAMBLE SQUARE Floor 2F, 2-24-12 Shibuya, Shibuya-ku, Tokyo

Opening Hours: 11:00-21:00

・Shinsaibashi PARCO

Running: May 13, 2021 – May 20, 2021

Where: Shinsaibashi PARCO Floor B1F, 1-8-3 Shinsaibashisuji, Chuo-ku, Osaka-shi-, Osaka

Opening Hours: 10:00-20:00

Nostalgia Syndrome Official Website: https://www.nostalgia-syndrome.com/