Japan's "A Happy Pancake" opens branch in Hong Kong! Kyoto Matcha Pancake limited commemoration sale!
On Friday 28th September, specialist pancake shop "A Happy Pancake" will open up shop for the first time in a foreign country!
"A happy pancake" opened in Omotesando, Tokyo in November 2015 and quickly became hot stuff. The shop was being featured on TV, in magazines and in the blink of an eye, massive queues started forming outside the door. 25 more shops sprung up all over Japan following this quick success. Now, the shop is celebrating its first ever overseas branch as it opens in Hong Kong!
 The Hong Kong branch will open on Friday 28th September. The interior of A Happy Pancake is calm and has a relaxing atmosphere. At the store front, you can see the pancakes being cooked in the open kitchen before your very eyes! After watching each pancake being carefully cooked one by one, they are brought to the overexcited customers who cannot wait to dig in!
A Happy Pancake
幸せのパンケーキ
The big difference between a regular pancake and a Happy Pancake is that a Happy Pancake has a fluffy texture. A lot of time and effort goes into the preparation of the pancakes. There is a very important key stage in the process. No baking powder is added to the pancake mixture and there are no artificial additives. A lot of care and attention goes into every pancake and they are all made entirely fresh. An ordinary pancake is fried for a few minutes on a pan, but a Happy Pancake adopts a completely different and original cooking method. Happy Pancakes are fried in a covered pan for more than 20 minutes. As is written on the shop's blackboard menu, this is served with "whipped butter", which is made using pure manuka honey that is directly imported from New Zealand.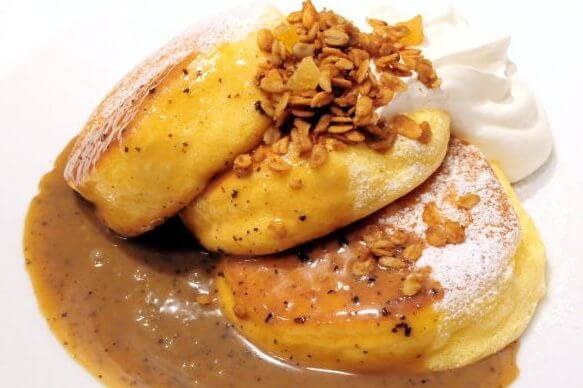 Milk Tea Pancake topped with Homemade Granola
紅茶ミルクパンケーキ 自家製グラノーラがけ
Besides the "Happy Pancake", there are many other popular items on the menu, for example, the milk tea pancake. This is a fusion of black tea and fresh caramel. The strong flavour of the cream and homemade apple and cinnamon granola accentuates the flavour. Please come try it!
Organic Matcha Ogura Butter Pancake with Brown Sugar Syrup
有機抹茶の小倉バターパンケーキ 黒蜜添え
To commemorate the opening of the new branch in Hong Kong, Kyoto's famous organic matcha red bean paste butter pancake that is topped with brown sugar syrup will be available for one week only! The scent of matcha compliments the fluffy, thick texture. The pancake is carefully fried and given the faint colour of matcha and gently topped with ogura red bean paste and a square of butter. This menu is full of Japanese flavours!!
 Fill up on Japan's famous fluffy pancakes in Hong Kong!
■Information
A Happy Pancake, Hong Kong (幸せのパンケーキ 香港店)
Grand opening: Friday 28th September 2018
Address: Shop Nos,203-205,2/F., Lee Garden Three,1 Sunning Road, Causeway Bay,Hong Kong
Opening hours: 10:00 — 22:00 (Last orders: 21:15)
No regular closing days
TEL:+852 2338 4315
URL:http://www.ahappypancake.hk/
A Happy Pancake, Kyoto (幸せのパンケーキ 京都店)
Address: A Happy Pancake, 2nd floor Kyara Building, 354-1 Iseyacho Gokomachi-tori Takoyakushi Agaru, Nakagyo Ward, Kyoto
Opening hours: Weekdays: 10:30 — 20:30, Weekends and national holidays: 10:00 — 20:30 (Last orders: 19:40)
No regular closing days
TEL:075-257-7777
Limited edition sales period: Friday 28th September — Friday 12th October 2018