Japan's "A Happy Pancake" opens branch in Hong Kong! Kyoto Matcha Pancake limited commemoration sale!
On Friday 28th September, specialist pancake shop "A Happy Pancake" will open up shop for the first time in a foreign country!
"A happy pancake" opened in Omotesando, Tokyo in November 2015 and quickly became hot stuff. The shop was being featured on TV, in magazines and in the blink of an eye, massive queues started forming outside the door. 25 more shops sprung up all over Japan following this quick success. Now, the shop is celebrating its first ever overseas branch as it opens in Hong Kong!
 The Hong Kong branch will open on Friday 28th September. The interior of A Happy Pancake is calm and has a relaxing atmosphere. At the store front, you can see the pancakes being cooked in the open kitchen before your very eyes! After watching each pancake being carefully cooked one by one, they are brought to the overexcited customers who cannot wait to dig in!
A Happy Pancake
幸せのパンケーキ
The big difference between a regular pancake and a Happy Pancake is that a Happy Pancake has a fluffy texture. A lot of time and effort goes into the preparation of the pancakes. There is a very important key stage in the process. No baking powder is added to the pancake mixture and there are no artificial additives. A lot of care and attention goes into every pancake and they are all made entirely fresh. An ordinary pancake is fried for a few minutes on a pan, but a Happy Pancake adopts a completely different and original cooking method. Happy Pancakes are fried in a covered pan for more than 20 minutes. As is written on the shop's blackboard menu, this is served with "whipped butter", which is made using pure manuka honey that is directly imported from New Zealand.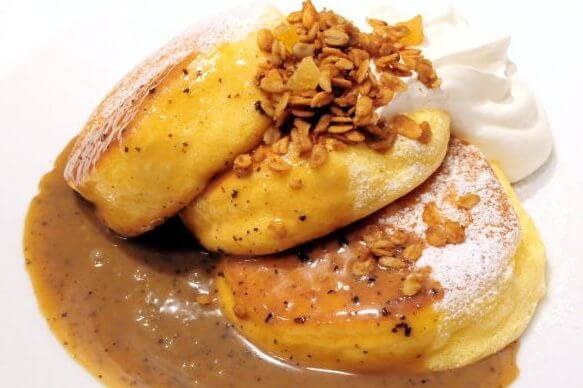 Milk Tea Pancake topped with Homemade Granola
紅茶ミルクパンケーキ 自家製グラノーラがけ
Besides the "Happy Pancake", there are many other popular items on the menu, for example, the milk tea pancake. This is a fusion of black tea and fresh caramel. The strong flavour of the cream and homemade apple and cinnamon granola accentuates the flavour. Please come try it!
Organic Matcha Ogura Butter Pancake with Brown Sugar Syrup
有機抹茶の小倉バターパンケーキ 黒蜜添え
To commemorate the opening of the new branch in Hong Kong, Kyoto's famous organic matcha red bean paste butter pancake that is topped with brown sugar syrup will be available for one week only! The scent of matcha compliments the fluffy, thick texture. The pancake is carefully fried and given the faint colour of matcha and gently topped with ogura red bean paste and a square of butter. This menu is full of Japanese flavours!!
 Fill up on Japan's famous fluffy pancakes in Hong Kong!
■Information
A Happy Pancake, Hong Kong (幸せのパンケーキ 香港店)
Grand opening: Friday 28th September 2018
Address: Shop Nos,203-205,2/F., Lee Garden Three,1 Sunning Road, Causeway Bay,Hong Kong
Opening hours: 10:00 — 22:00 (Last orders: 21:15)
No regular closing days
TEL:+852 2338 4315
URL:http://www.ahappypancake.hk/
A Happy Pancake, Kyoto (幸せのパンケーキ 京都店)
Address: A Happy Pancake, 2nd floor Kyara Building, 354-1 Iseyacho Gokomachi-tori Takoyakushi Agaru, Nakagyo Ward, Kyoto
Opening hours: Weekdays: 10:30 — 20:30, Weekends and national holidays: 10:00 — 20:30 (Last orders: 19:40)
No regular closing days
TEL:075-257-7777
Limited edition sales period: Friday 28th September — Friday 12th October 2018
RECOMMENDED ENTRIES
"Eggs'n Things" will sell Kyoto-limited "Ujimatcha Pancakes" in their stores throughout Japan

The Eggs'n Things – Kyoto Shijo Store- limited pancake item, "Kaoru, Ujimatcha Pancake" will be sold at all Eggs'n Things stores throughout Japan from the 27th of March 2018 (Tue.) to the 26th of April 2018 (Thurs.).

Kaoru, Ujimatcha Pancake – 1,500 yen (tax not included)

This is a new type of pancake using matcha custard made of strictly selected Ujimatcha and matcha cheese. This item is great mix of Western and Japanese-style cusine and is a fulfilling/gorgeous product using delicately sweet azuki beans and lots of whipped cream. The monaka (red bean-jam waffle) that comes with the item includes ice cream, azuki beans and shiratama (white rice ball) which tastes like zenzai (Japanese traditional dessert).

This sweets item was first created when Eggs'n Thing's Kyoto Shijo Store was opened. This item will now be offered at all their stores throughout Japan since they received many requests. For those of who love matcha desserts, this item is a "must try."

Let's enjoy this quality pancake that uses rich flavored, high quality Ujimatcha!

■Information

Kaoru, Ujimatcha Pancake

Available period: 2018/03/27 (Tue.) to 2018/04/26 (Thurs.)

Price: 1,500 yen (tax included)

Available stores: Eggs'n Things Stores thoroughout Japan

How about some pancakes during your shopping spree! 7 recommended cafes which sell pancakes in Ginza

There must be many people who want to eat something sweet after enjoying shopping in the Ginza.

In this article, I will introduce to you some recommended pancake shops in Ginza.

Shiawase no Pancake Ginza Shop

This pancake shop located in Omotesando, Tokyo which always has long waiting lines, will open a new store in Ginza on the 23rd of December 2017. The shop is located in front of the A5 Exit of Tokyo Metro Ginza Line's Gina Station. The décor inside the shop has a relaxing atmosphere. They have an open kitchen in front of the shop so that customers can observe the cooking process. It will no doubt be exciting to seeing the making process of their pancakes.

Yukino Shita Ginza

Yukino Shita is a shop which uses strictly selected ingredients and makes hand-made pancakes. The sweet scent of the pancakes and the scent of coffee fills the natural-styled interior of the shop. Their popular pancake, "Yotsuba Cream Cheese Jikasei Rennyu (home-made condensed milk) Ice wo Soete" is a simple pancake without any topping so you can taste the rich texture of the dough. The coffees they offer goes well with their pancakes.

Eggs 'n Things Ginza Shop

You can enjoy some "old-fashioned" pancakes topped with lots of raw cream inside this open-air, bright shop. Sitting on their terrace on a warm day is recommended. The pancake is not too sweet although it uses lots of raw cream and is recommended for women. You can enjoy eating at this shop since they sell a la carte breakfast/lunch menus and dinner menus (from 18:00).

DAVID MYERS CAFÉ

This café introduces Californian-style, body/environment-friendly menu items. You can enjoy a dessert which uses wheat flour produced in Hokkaido with bananas and bitter caramel sauce put on top of a soft dough. It is a thick-flavored pancake using caramel sauce with the scent of bourbon and fresh bananas. This pancake is recommended for women.

MOKUOLA DexeeDinerUILANI

This shop has a Hawaiian atmosphere and their standard menu pancakes use lots of yoghurt inside the dough. Their crispy pancakes are created by pouring the dough into a frypan and then baking it in an oven for a long period of time.

café & books bibliotheque

They sell more than 10 kinds of home-made desserts and their most popular item is their pancakes which are very healthy since they use yoghurt. You can put lightly bitter coffee sauce on top of the pancake which has a topping of tiramisu cream made with mascarpone and cream cheese, so the product is recommended for those of you who are not familiar to sweet desserts.

Ginza Coffee Shop Ginza Sukiyabashi Shop

A coffee shop located on the second floor of the building where BIGECHO is located. The building is located at the Sukiyabashi Intersection. The interior of the shop is chic with stylish decorations so this shop is recommended for not only women but also men. Their original maple butter pancake is very soft although the dough is thin so that customers can enjoy a unique texture.

 

How did you like our introduction to some cafes and shops which sell wonderful pancakes. Why not relax and enjoy some pancakes in the Ginza area.

6 Recommended Cafés for Pancakes in Harajuku—A Change From Crepes!

Hi, everyone. Ellie here from the MOSHI MOSHI BOX Harajuku Tourist Information Center.

Recently at the MOSHI MOSHI BOX we've had a lot of people, guys and girls, come in saying that they want to eat some tasty pancakes in Harajuku.

So today, I'm here to recommend some shops that sell pancakes around Harajuku.

Café Casa

"Café Casa" is a long-standing shop whose flavours have remained the same, serving to parents and children through the generations. Everything from the signboard to the illustrated menu and stained glass window created by the owner will leave you feeling cozy. The colour green envelops the café against other vivid colours. Due to customer demand the hot cakes sold there (¥750) have been a familiar item on the menu for almost 20 years. The contrast between the crunchy outside and fluffy inside is exquisite. They're different from your usual pancakes and have a nostalgic feel to them. Combine them with maple syrup and you've got yourself a truly delicious treat.

 Full Details: https://www.moshimoshi-nippon.jp/29317

gram

This stylish café can be found by walking from Harajuku Station down Takeshita Street for about 5-minutes. When you reach the end, turn right and look for the green signboard. The main food on the menu is pancakes, all of which are made with the best ingredients and made one-by-one after an order comes in. The most popular and recommended item on the menu is the fluffy "Premium Pancake" (¥950). The soft pancake wobbles as the waiter brings it over – it looks like it will collapse just by being placed on the table.  Eat this to experience the fluffiest and softest texture you have ever eaten.

Full Article: https://www.moshimoshi-nippon.jp/23455

Bills Tokyo Plaza Omotesando

Bills serve the world's most famous breakfast and were responsible for causing Japan's pancake boom. Located in Tokyo Plaza Omotesando Harajuku, the shop's Australian Ricotta Pancakes. Spread underneath the thick pancake are slices of fresh banana which you eat together with honey comb butter and maple syrup. The marriage between the salty ricotta cheese and sweet syrup is to die for.

Jinguen

"Jinguen" is a gallery café located in Ura-Harajuku. Recommended from their menu are their thick homemade hot cakes. The outside of the hot cake is crisp while the middle is silky smooth. Of course, they go really well with maple syrup. You can also add vanilla icing, whipped cream, and chocolate or strawberry sauce.

Working Holiday Connections – Harajuku Omotesando YM Square Branch

This café is just a one-minute walk from Meiji Jingu Station via Tokyo Metro on the second floor of YM Square. It has tall glass windows which open up the shop and give you a sense of space. Their original "Manly Pancakes" draw a line between standard pancakes and the recent emerging thick and fluffy pancakes to unveil an original and unique texture. The subtle flavour of the eggs make the pancakes melt-in-the-mouth and match perfectly with syrup and fresh cream.

Sunday Jam – Harajuku Branch

This place's specialty menu item is their Honolulu Pancakes. They're incredibly thick, with a crumbly outside and soft middle. These luxurious pancakes have a special flavour made for adults. They are drizzled with butter and fresh cream, and you can choose sausages or bacon to go with them. Eating them with your choice of honey or maple syrup is simply irresistible!

Did you like this list? Try and find your favourite pancakes while in Harajuku!
RELATED ENTRIES
Cute Bear Pancakes Whipped Up at IMADA KITCHEN in Tokyo's SHIBUYA109

IMADA KITCHEN in SHIBUYA109 has teamed up with Hattendo Cafe to co-create the new "Torokeru Kuma-san Pancakes" (Melty Mr. Beat Pancakes) which will be served from July 1, 2020 to August 30, 2020.

IMADA KITCHEN is a food project that aims to create original food in Shibuya. Together with Hattendo, a Hiroshima brand known for its incredible cream pastries, they have created a super cute bear design pancake. Bear designs are popular with young girls in Japan.

Torokeru Kuma-san Pancake: ¥450 (Before Tax)

The fluffy pancakes are filled with melt-in-the-mouth, handmade custard cream, meaning a single bite lets you enjoy both the moist texture of the pancake and the melty drizzle of the custard cream. Your mouth is instantly filled with flavours of maple syrup and egg, which when combined with the accompanying berries makes for a sweet amalgamation of deliciousness.

Torokeru Koro Tama Kuma Sandwich: ¥450 (Before Tax)

Normally, you would have to go to Hiroshima to try Hattendo Cafe's "Torokeru Koro Tama Kuma Sandwich," but now it will be available to try at IMADA KITCHEN. Made with the cafe's "cream bread," this moist sandwich is filled with egg salad, korokke, and cabbage for a hearty meal.

Eggs 'n Things Harajuku's Exclusive Chocolate Mint Pancakes Ship Nationwide in Japan

Eggs 'n Things Japan has announced that it is releasing its "Harajuku Chocolate Mint Pancakes" and "Mango Salsa Chicken & Eggs" to all branches throughout Japan (excluding temporarily closed branches).

Harajuku Chocolate Mint Pancakes: Eat In ¥1,480 (Before Tax), Takeout ¥880 (Before Tax) | Serving: May 15, 2020 – June 11, 2020

The Harajuku Chocolate Mint Pancakes speak for themselves. Enjoy a serving of mint flavoured pancakes drizzled in smooth mint cream which is sure to send a refreshing tinge through your nose. It's topped with an Oreo cookie, chocolate mint ice cream, and served with a side of chocolate sauce.

*The takeout option doesn't come with whipped cream or chocolate mint ice cream

Mango Salsa Chicken & Eggs: ¥1,280 (Before Tax) *Takeout option available | Serving: May 15, 2020 – June 11, 2020

A plate of juicy fried chicken and a punchy mango salsa with a flavourful coriander taste and spicy kick.

Two perfect dishes to enjoy an early summer this year, coming to Eggs 'n Things in Japan this Friday.

Kaori's Easy Recipe: Learn to Make Mickey Mouse Pancakes

With just a small bit of ingenuity, turn everyday food into something cute using Kaori's easy recipe! With a few simple ideas, an ordinary recipe magically transforms into a cute dish.

In this recipe, I made Mickey Mouse pancakes from the Face Art ga Kawaii Pancake Pan Mickey Mouse set you can buy on Belle Maison. You hear a lot of different tips and tricks on how to make the perfect pancake with your batter, so I'll show you a combined recipe to make yours as beautiful as possible♡

1. Ingredients (Makes 7-8 pancakes)

400g hot cake mix

300ml milk

1 large egg (approx. 52g)

15g honey

2. Mix the egg and milk together well. Add the hot cake mix slowly to ensure it does not become lumpy. Next, add the honey and mix. If you have time, leave to stand for 30 minutes on the side.

3. For the next step, please see the video I made below.

Heat the pan well without any oil.

Once heated, place the pan on a wet cloth once to remove the residual heat, turn the flame down to a medium, and pour in your mix.

Once your mix is in the pan, reduce to a low heat, put the lid on and leave to cook.

Once the surface is dry, cook the back side of the mix in another pan which you have already heated.

Done!

Belle Maison sells Minnie Mouse and Winnie the Pooh versions too. Try making your own Disney pancakes!

Kaori invites you into her world of character-themed food dishes in her recipe series. Be sure to check out her Instagram where she has uploaded many pictures of her character dishes!

Profile

Kaori Kubota (@kaopan27)
I live in Hokkaido and I love to make character themed foods, desserts and pastries♡

I want to see my family smile, so I enjoy putting in a bit of effort to make character foods and changing food into something cute♡

You can see more of my character foods and character bento boxes on my Instagram page→@kaopan27

©️Disney

Hokkaido Confectionery Makers Ishiya Open New Cafe in COREDO Muromachi Terrace

COREDO Muromachi Terrace is a new shopping complex in Nihonbashi, Tokyo that opened its doors on September 27, 2019. Confectionery company Ishiya, which is known for its Shiroi Koibito cookers that are considered a souvenir and speciality of Hokkaido, opened its first ever cafe outside Hokkaido entitled ISHIYA NIHONBASHI at the shopping centre.

ISHIYA NIHONBASHI is the first cafe managed by Ishiya outside of Sapporo, Hokkaido. The cafe's concept is to treat the people of Tokyo to the wonderful flavours of Hokkaido. This includes a selection of popular sweets and desserts, including the Shime Parfait―a common accompaniment to the end of any drinking party in Sapporo.

During the day, the establishment offers a sumptuous cafe menu whipped up by the chefs, such as pancakes and parfaits. Let's take a look.

Strawberry Ishiya Pancake (Fluffy) – ¥1,400 (Tax Included)

The Ishiya Pancakes are fluffier than clouds, made lavishly with cream cheese and fresh cream. They're topped with even more fresh cream and strawberries and are finished sweetly with condensed milk and a sweet and sour raspberry sauce. The pure white cream and raspberry sauce make these pancakes look cute and tempting♡

Shiroi Koibito Blend Coffee – ¥400 (Tax Included)

This original blend of coffee was crafted so it goes perfectly with a Shiroi Koibito biscuit. When you order a cup of this coffee you get one biscuit to enjoy with it.

During the evening and late night, the cafe serves snacks made to pair with alcohol as well as exclusive parfaits drizzled in Japanese sake. They also sell the "Shime Parfait," a classic post-drinking dessert in Sapporo.

Parfait Nihonbashi – ¥1,600 (Tax Included)

This Nihonbashi-exclusive parfait is topped with alcohol which you drizzle sake over. The parfait includes rich jelly. You can create even more delicious flavours with the accompanying matcha pudding or brown sugar syrup.

The cafe also sells Saqu, colourful high-class biscuits normally only sold in Hokkaido. They make for a perfect souvenir.

Taste the flavours of Hokkaido in Tokyo at Nihonbashi's newest hot spot.

Information

ISHIYA NIHONBASHI

Address: COREDO Muromachi Terrace 1F, 3-2-1 Nihonbashimuromachi, Chuo Ward, Tokyo

Opening Hours: 11:00-23:00

TEL: 03−6265−1143

No fixed holidays except when COREDO Muromachi Terrace is closed.

The "Pancake Prince" Opens A Brand New Pancake Restaurant in Omotesando

After a year of extensive research eating pancake after pancake, the one known as the "Pancake Prince" will open another branch of the Pancake restaurant VERY FANCY® in Omotesando on September 11. This restaurant will feature a unique Omotesando menu. 

The real identity of the legendary Pancake Prince is Satoru Sugimoto. In just one year, he visited a total of over 200 pancake restaurants in Japan and even overseas. His endless research led him to crafting a series of special recipes, which consist of high quality ingredients such as low viscosity wheat flour, aluminium-free baking powder, buttermilk and homemade cheese. The pancakes are fried carefully, creating a fluffy pancake with a new half-baked texture. 

VERY FANCY® has launched a brand new online advanced booking system which allows customers to quickly take to their seats without having to wait. Thanks to this new system, the restaurant has now become queueless. 

The menu at the brand new restaurant is based on the restaurant's standard pancake menu. The additional Omotesando menu is full of original ingredients and toppings that are unique to Omotesando. If you turn up to this branch, you can enjoy a lot more than just pancakes as there will be a variety of collaboration contents offered as well. This restaurant has also prepared a kid's menu and baby chairs. 

Homemade cheese kneaded into pancake batter and then fried to perfection ー this is just one example of the new fluffy "half cooked" texture pancakes that you absolutely must try. Come spend a wonderful moment munching marvelous pancakes surrounded by a cute and photogenic atmosphere.  

Information

VERY FANCY®︎ OMOTESANDO
Grand Opening: September 11, 2019

Address: AF Lohas St.Bidg 2F, 5-3-8 Jingumae, Shibuya, Tokyo
Opening Hours: 11:00-22:00
No regular holidays.

Reservation Website: http://veryfancy.me

Introducing Four Delicious Strawberry Desserts This Summer in Hokkaido

Hokkaido is a popular tourist destination for Japanese people as well as foreigners. During the winter, it is the perfect place to go skiing and during the summer, you will not suffer under sweltering heat like the rest of Japan. Hokkaido not only flourishes with wonderful tourist locations and delicious gourmet seafood, but also beautiful and stylish cafés.

Instagrammer Kei @607keih) uses his account to introduce the world to delicious desserts and meals. Today, he will be introducing you to the delicious strawberry-flavoured desserts that Hokkaido's capital Sapporo has to offer.

holidays pancake/ Susukino

Strawberry Pancake with Raspberry Sauce: ¥1200

holidays pancake is only open on Sundays. It is located inside a beer bar called es CRAFT. I ordered the strawberry pancake with raspberry sauce. The plate was stacked with three pancakes which were deliciously covered in fresh cream, whipped cream, vanilla ice cream, strawberries and raspberry sauce. The pancakes were soft and spongy. The flavour of the ricotta cheese really came through. Overall, this pancake is a very unique pancake to Hokkaido. 

The sweetness of the raspberry sauce and sourness of the lemon juice balanced out for a slightly sour tinge. The fresh cream and vanilla ice cream toppings can be obtained for free by simply following the café on Instagram. The variety of toppings add a whole new range of flavours and colours for you to mix and match, so there is no getting bored. You can reserve your spot simply by sending them a direct message on Instagram, or by referring to their story! These pancakes are a rare find in Hokkaido, so you must try them.

▼holidays pancake

Address: 1st floor N-place Building, 3-2-1, 4 Jonishi, Chuo Ward, Sapporo

Access: 3-minute walk from Susuki Station/Hosui-Susukino Station  

Opening Hours: 11:00 ー 16:00(Last orders: 5:30)

Closed: Mondays ー Saturdays

Official Instagram: https://www.instagram.com/kyujitsulab/

BerryBerryCrazy/ Susukino

Berry Berry Crazy is located on the 2nd floor of the building between 5-chome and 6 chome of Tanuki-Koji. The desserts here are made using strawberries sourced from Urakawa Sugano Orchard in Hokkaido. The species of strawberry used in the desserts is completely dependent on what is received upon the delivery of the ingredients that are received on the day. The parfait I ordered was made using a species of strawberry called Kaorino.

The parfait contained fresh strawberries and strawberry compote, whipped cream, strawberry granita, pie crust, chiffon cake, and milk ice cream. You can tell that this parfait is full of strawberry goodness just by looking at it. Not only are the strawberries delicious, but the strawberry granita and strawberry compote were also to die for. This combined with the delicious whipped cream enhances the rich flavour even more. 

▼Berry Berry Crazy

Address: 2nd floor, 5-20-2, Minami 3 Jonishi, Chuo Ward, Sapporo

Access: Approx. 5-minute walk from Odori Subway Station/Susuki Station

Opening Hours: 18:00 ー 24:00 (Last orders: 23:30)

Official Instagram: https://www.instagram.com/berryberrycrazy/

Café Blue/ Chuo Ward


Condensed Milk Strawberry Pancake: ¥1380 ※ Can change pancakes to waffles

A mountain of whipped cream sits on the pancakes served at this popular café. The condensed milk strawberry pancake intrigued me for quite while so I decided to order it. 

The plate is stacked with three pancakes, fresh cream and condensed milk. This is then drizzled with strawberry sauce and topped with vanilla ice cream. The pancakes were fluffy and the cream balanced the overall flavour, making it moderately sweet. The sweetness of the condensed milk and the sourness of the strawberry sauce were so delicious that there was no way I could get bored. 

▼ Café Blue

Address: 16-9-12, Minami 3 Jonishi, Chuo Ward, Sapporo

Access: 5-minute walk from Ropeway iriguchi Station

Opening Hours: 9:00 ー 19:00, (last orders: 18:00) 

Breakfast: 9:00 ー 11:00, lunch/dinner: 10:00 ー 19:00, desserts: 10:00 ー 19:00,

Open all year round.

Official Website: https://cafeblue.exblog.jp/

SHIRAYUKI/Tanuki-Koji 

Fruit Squash: ¥500 each

Shirayuki is located in Tanuki-Koji. The fruit squash here comes in four flavours and each contains popping boba. Today I ordered the Strawberry Squash. Strawberry sauce is drizzled into a cup of carbonated water. Popping boba is then added. The drink is topped with strawberries. 

The bubbles of the carbonated water makes it the perfect way to cool down in the summer. This drink is only available until August 15, so if you want to try it, get there soon.

▼SHIRAYUKI

Address: Shirayuki Sapporo Aiseikan Building, 5 Chome, Minami 1-jo nishi 5, Chuo Ward, Sapporo

Access: Approx. 5-min walk from Odori Subway Station

Opening Hours: 12:30 ー 19:00

No regular holidays

Official Instagram: https://www.facebook.com/shirayuki.hokkaido

So how about it? Kei's Instagram account is full of desserts and meals that you absolutely must try. If you are going to visit Hokkaido, make sure to check out Kei's Instagram so you know exactly which restaurant or café you want to visit!

Original article information and photographer: Kei (@607keih)

This Summer, Try These Luxurious Kyoto-Limited Uji Matcha Pancakes

Eggs 'n Things, Shijo Street, Kyoto will be selling luxurious Uji matcha pancakes from August 1, 2019. 

Eggs 'n Things Shijo Street first launched their delicious uji matcha pancakes back in February 2017. The pancakes quickly became a big hit among the locals as well as the tourists, appealing to visitors who wanted to discover more about Kyoto. This summer, Eggs 'n Things is packing their Kyoto-limited pancakes with even more Kyoto goodness.

These pancakes are luxuriously covered with rich matcha custard cream and garnished with rice flour dumplings, adzuki bean paste, chestnuts and a mini monaka wafer cake. Matcha is even kneaded into the pancake dough, maximising its mellow flavour. If you visit Kyoto, be sure to fully immerse yourself in the wonders of matcha ordering these matcha pancakes at Eggs 'n Things Shijo Street, Kyoto.

Information

Kyoto-limited Uji Matcha Pancakes 

Price: ¥1,580 (before tax)

Limited sale period start date: August 1, 2019 

Restaurant: Eggs 'n Things Shijo Street, Kyoto

 Eggs 'n Things Shijo Street, Kyoto

Address: 47-4,  Motoakuojicho, Higashinoroindori Shijo Sagaru, Shimogyo Ward, Kyoto

Opening Hours: 9:00 ー 22:00 (last orders: 21:00)

6 Must-Visit Cafes in Hokkaido For Their Kawaii Pancakes

Hokkaido is the northernmost of Japan's islands and a popular tourist location with both locals and overseas visitors, enjoyed for its winter sports like skiing, hot springs and more. It is also enjoyed for its cool climate, being the coldest region in Japan. It's home to many tourist spots and seafood restaurants, but today we're covering its countless cute cafes.

Kei, a Japanese Instagrammer, posts his visits to the many cafes of Sapporo―the capital of Hokkaido―on his Instagram page(

607keih). Today he will introduce us to 6 must-visit cafes in Hokkaido with the cutest pancakes.

Fafi Tamago no Pancake g-plus (Susukino, Sapporo)

This popular little cafe in the district of Susukino showcases its assortment of pancakes in a glass display. The cafe now sells affordable pancake and purin sets. I ordered the "Fruits and Milky & Chocolate Purin" set (¥980).


The fluffy pancake is made with Fafi's famous eggs which have a rich flavour and big yolks. The milky cream is sweet and silky smooth. Inside the pancake is delicious pineapple and strawberries which add a deliciously fruity accent.

Their pancakes are noticeably smaller at g-plus but since it comes with a purin in the set you're sure to be nice and full after. The set is perfect to share too.

▼Fafi Tamago no Pancake g-plus (Japanese: ファフィたまごのパンケーキ g-plus)

Address: 9-1019 Minami 5 Jonishi, Chuo Ward, Sapporo, Hokkaido

Business Hours: 11:30-19:00 (Last Orders 18:00)

Closed: Thursdays & Fridays

Official Website: https://g-plus.owst.jp/

Café ZIKKA (Kiyota, Sapporo)

Café ZIKKA serves a variety of pastries and desserts. Their elusive strawberry pancakes are a limited-time-only offer. These fat and fluffy pancakes have a distinctly different taste to other places. Heaping with strawberries, the fruit and pancakes marry in the most sumptuous of flavours when eaten with the yogurt ice cream centre. The strawberries also come in a variety of forms including whole, compote and sauce, making for a variety of succulent textures.


The fresh cream isn't overly-sweet making for a lighter pancake. It's also topped with crushed almond for added texture. The size of the pancakes aren't huge but since it's served with two and many toppings you'll absolutely be satisfied afterwards.

▼Café ZIKKA

Address: 11-12 Hiraokakoenhigashi, Kiyota Ward, Sapporo, Hokkaido

Business Hours: 11:00-20:00 (10:00-19:00 in January and February)

Closed: Wednesdays (Open on national holidays)

Official Website: http://yoshidacoffee.com/index.html

Kaze o Kanjite (Motomachi, Sapporo)

This cafe is just a 5-minute walk from Motomachi Station via the Tōhō Line. Simply exit from Exit 1 of the station, make a right and you'll arrive right there.

This cafe's aim is to bring it lots of students to eat their pancakes which are both cheap and delicious. I ordered the berry sauce pancakes.


The cafe's homemade strawberry jam contains pieces of fresh strawberry which alone already make the pancakes tantalising enough. They are served with a side of fresh fruits like extra strawberries as well as orange slices. The pancakes served here are so good that I personally count them as the best in Sapporo. That, and the prices are amazing for the huge portions you get. I want more people to get to know about this place, and not just students.

▼Kaze o Kanjite (Japanese: 風をかんじて)

Address: Kita House 1F, 17-2-3 Kita 24 Johigashi, Higashi Ward, Sapporo, Hokkaido

Business Hours: 10:00-18:00 (Last Orders 17:00)

Closed: Mondays & Tuesdays

Website: https://tabelog.com/hokkaido/A0101/A010202/1058705/

ROJIURA CAFÉ (Susukino, Sapporo)

ROJIURA CAFÉ is another cafe located in Susukino round on the backstreet of Round One. They serve pancakes and parfaits right into the early hours of the morning.

Their caramel sauce has salt in it to add a mouthwatering salty flavour that draws out the sweetness of the fresh cream. The nuts only add to this delectable delight of a pancake.

Fine and fluffy pancakes fit for the gods. Whether it's a dessert like pancakes or parfaits or even meals, ROJIURA CAFÉ's doors are open to  you from the evening until the deepest hours of the night.

▼ROJIURA CAFÉ

Address: TAKARA6.3, 3 Chome Minami 6 Jonishi, Chuo Ward, Sapporo, Hokkaido

Business Hours:

[Mon-Thurs] 18:00-03:00 (Last Orders 02:00)

[Fri-Sat] 18:00-04:00 (Last Orders 03:00)

[Sun & Holidays] 18:00-01:00 (Last Orders 00:00)

No Fixed Holidays

Official Website: http://sapporo-rojiuracafe.com/

OJ Coffee (Kotoni, Sapporo)

You'll find OJ Coffee just a few minutes' walk from Kotoni Station in Nishi Ward, Sapporo. This cafe serves exquisite coffees and boasts an abundant menu consisting of soba noodles, curries, steaks and more. They also serve pancakes so I decided to give them a go.

Fluffy, moist and glorious. The pancake is topped with custard and served with a side of fresh cream, both of which aren't overly sweet and go perfectly with the sweet beaten eggs of the pancakes. Decorated the outside of the plate is an assortment of fruits, maple syrup and other tempting treats for a variety of flavours. The coffee flavoured soft serve ice cream is a great palate cleanser too. The ice cream doesn't have the bitterness that comes with coffee but it's very coffee flavoured. It's close to Kotoni Station so if you're strolling around Nishi Ward looking for a cafe I highly recommend visiting here.

▼OJ Coffee

Address: D Planning Bldg. 1F, Kotoni 2 Jo, Nishi Ward, Sapporo

Business Hours: 7:30~22:00 (Last Orders 21:30)

No Fixed Holidays

Official Website: https://www.oj-coffee.com/

 

Café Blue (Ishiyama-dori, Sapporo)

Café Blue, built up from a renovated old house, is currently selling a new lemon and yogurt pancake for a limited time.

Their pancakes never fail to be anything less than fluffy. The generously drizzled yogurt sauce is fairly refreshing and sweet while still retaining that yummy yogurt flavour. The lemon curd sauce, too, is refreshing and combines well with the pancakes as lemon always does. The lemon also has honey in it making for a satisfyingly sweet and sour combination.


The ice cream on top is salt flavoured which bring out all the sweet flavours of the dessert. The crunchy almonds are nice and nutty and bring a great texture to the soft and sticky combinations. When I eat pancakes this is the  kind of thing I'm looking for!

The sauce was refreshing and the pancake overall was delicious and very easy to get down. The yogurt sauce really is amazing!

▼Café Blue

Address: 16-9-12 Minami 19 Jonishi, Chuo Ward, Sapporo, Hokkaido

Business Hours: 9:00-19:00 (Last Orders 18:00)

No Fixed Holidays

Website: https://tabelog.com/hokkaido/A0101/A010104/1036972/

Did you enjoy Kei's picks? Be sure to check out their Instagram page for more recommended desserts and foods to try in Sapporo. There's a wealth of choices on there that will make for great reference when travelling to Hokkaido.

Photo & Text: Kei (@607keih)

Translation: Joshua Kitosi-Isanga

Mogu Mogu Nippon | Convenience Store: 3 Seven Eleven Matcha Desserts

If you are wondering what Japan is particularly good at, matcha desserts is definitely one of them. However, you don't have to go to a shop that specialises in matcha sweets to get your fill. Matcha desserts can be easily obtained from the convenience store and once you start, it is hard to stop. 

Today, Instagrammer Yukko is going to introduce you to three delicious matcha desserts that you can get from Seven Eleven.

Dorayaki Pancakes Filled With Matcha Cream ¥278 (before tax)

Seven Eleven is always selling some kind of delicious matcha cream-filled dorayaki. This time, the name has been changed slightly. This dorayaki is just ¥3 more expensive than last time, however it looks just as good as it always has. You just will not be able to resist buying it. 

As you take your first bite of this high-quality snack, the scent of the matcha will reach you first, followed by the flavour of the matcha which spreads instantly through your mouth. The matcha is rich yet so light that it will instantly melt on your tongue. The pancakes sandwiching the large creamy matcha filling are both fluffy and thick. Cut it in half and you will not be able to resist. 

This is a wonderful snack to sink your teeth into while you walk. If you want to keep your hands clean, you could even use a spoon to scoop out the filling. Enjoy it in your own unique way as it is tasty no matter how you choose to enjoy it!

Matcha and Matcha Parfait ¥278

As the name implies, this matcha parfait is the perfect opportunity to taste a variety of matcha flavours in one single tub. From the bottom, the cup is filled with matcha jelly, followed by matcha mousse, milk mousse and matcha whipped cream. Within the layers of matcha whipped cream you will discover a goldmine of matcha jelly and a dorayaki pancake core. 

The matcha flavour of the jelly is quite weak, however its wobbly and springy texture contributes to the deliciousness of the parfait. The moderately sweet whipped cream combined with the matcha flavour is perfectly balanced. The milk mousse has a rich, milky flavour. It may be sweet, however the matcha mousse underneath it is slightly bitter, so enjoy them together for a delicious overall flavour. 

The fluffy matcha mousse and rich matcha is unbelievably delicious. The dorayaki centre is soft, fluffy and thick which accents the flavour. Overall, the parfait is not overpoweringly sweet and the matcha flavour is gentle on your tongue.  

Uji Matcha Cream Mochi: ¥110 (before tax )

Uji Matcha Cream Mochi is a soft, thin and chewy dough that is rolled out thin and then wrapped around a large spoon of uji matcha cream. This is always a popular pick. Last time, they served the uji matcha chocolate mochi. I wonder how the Uji Matcha Cream Mochi will taste!

This time, the mochi has a slightly more springy texture. The outside is chewy, yet the inside is gooey. This mochi cake is bursting with matcha so you can really enjoy the matcha flavour. The bitter matcha flavour is perfectly balanced with a touch of sweetness. This dessert even come with a fork so that you don't have to get your hands dirty. 

I know, it is hard to choose which matcha dessert to try. Convenience stores are always refreshing the varieties of goods they sell, so if you are particularly attracted to any of the desserts mentioned above, it is probably best to try them before they are replaced.

Mogu Mogu Yukko introduces lots of desserts and sweets that are easily found in convenience stores and supermarkets on her Instagram so please check out her other posts:

Photos and Text: Mogu Mogu Yukko

Get refreshed with J.S. PANCAKE CAFÉ's new Setouchi lemontastic menu!

Pancake shop J.S. PANCAKE CAFÉ, which is owned by apparel brand JOURNAL STANDARD, is launching a fair menu called "Lemon State of Mind" from Friday 10th May 2019. The new menu uses lemons sourced from Setouchi; the coastal area of the Seto Inland Sea which runs along Hiroshima and Okayama (and is well known for its lemons!)

J.S PANCAKE CAFÉ uses 100% wheat flour that is sourced from within Japan and has a delicious fragrance. From sweet to exquisitely salty, the menu is full of variety. The menu consists of four new sweet treats including pancakes, parfaits, drinks and much more! Setouchi lemons are the focal point of all these delicious treats!

LEMON PAVLOVA PANCAKE  ¥1,180 + tax

 After the meringue is baked until white, it becomes the crown to a stack of pancakes that were specially made using fresh Setouchi lemons. Using a knife, gently open the pavlova and a flow of sweet yet sour lemon curd will come rushing out. Let the Setouchi lemon curd and honey marinade intertwine with the pancakes and enjoy.

+¥100 TOPPING ICE CREAM
You can ask for a topping of creamy vanilla ice cream for an additional ¥100. This will create an even richer flavour for you to enjoy!

LEMON FRENCH PANCAKE  ¥1,280 + tax

The pancakes are soaked in a marinade and then fried to make a french toast-style french pancake. The lemons are carefully boiled and then caramelized with the pancakes. You will enjoy munching through this right to the lemon skin! Refreshing yoghurt cream is served alongside the pancakes for customers to try out the different flavours!

"SETOUCHI" LEMON PARFAIT  ¥1,000 + tax

A layer of lemon jelly is followed by lemon custard and then topped with a yoghurt mixture containing a superfood: chia seeds! Finally, a scoop of ogon shoga ginger and lemon-infused ice cream is placed on top and garnished generously with lemon slices to make this very adult-worthy parfait!

GREEN TEA LEMONADE  ¥580 + tax

This lemonade contains earl grey-infused green tea and carbonic acid. The aftertaste is a fresh, new flavour!

In addition, those who order the lemon pavlova pancakes or the lemon french pancakes will then be given a "lemonade service ticket" to use next time. With this ticket, you can order a lemonade of your choice and get it for absolutely free! These tickets are given on a first-come-first-served basis.

You just can't miss out on this lemon-tastic menu!

Information

Lemon State of Mind
Running: Friday 10th May ー Sunday 30th June 2019

Running at all J.S. PANCAKE CAFÉs

J.S. PANCAKE CAFÉ official website: http://pancake.journal-standard.jp

Eggs 'n Things releases strawberry and sakura pancakes only for this spring!!

Eggs 'n Things are releasing a splash of pink to their menu this spring. The spring-limited menu includes a strawberry and cherry blossom whipped cream pancake (いちごと桜ホイップのパンケーキ) and a pink eggs benedict with beetroot sauce. The menu will be available from Friday 22nd March to Thursday 25th April 2019.

Strawberry and cherry blossom whipped cream pancake ¥1,480 (+ tax)

いちごと桜ホイップのパンケーキ

Strawberry paste is kneaded into the pancake and the pancake is topped with cherry blossom-flavoured whipped cream. This dessert is covered with smooth, refreshing strawberries and fromage blanc sourced from within Japan. A generous servicing of strawberry sauce finishes the dish. Enjoy this with a serving of light and sweet spring-coloured whipped cream!

Pink eggs benedict with beetroot sauce ¥1,380 (+ tax)

ビーツソースのピンクベネディクト

The well-known superfood the eggs benedict but served with a twist. A spring-themed pink hollandaise sauce has been made by combining white sauce with beetroot sauce. This is served with salmon, mozzarella cheese and avocado ー what a perfect combination!

Enjoy a serving of Eggs 'n Things limited edition menu along with a slice of happiness this spring!

Information

Strawberry and cherry blossom whipped cream pancake

Pink eggs benedict with beetroot sauce
Running: Friday 22nd March to Thursday 25th April 2019.
Available in restaurants within Japan only:  ※ Not available at LaLaport and Nagoya Minato  AQULS, Takasaki OPA, Kashiwa Takashimaya Station Mall
Eggs 'n Things official website: https://www.eggsnthingsjapan.com/

Strawberry Tapioca Pancakes Pile Their Way Into Osaka's #702 CAFE&DINER

#702 CAFE&DINER in Namba Parks has introduced new tapioca pancakes to its menu which can now be ordered until February 28.

Towering four thick individual pancakes, each serving is topped with smooth and fluffy cream before being decorated with chewy and colourful tapioca. There are four tapioca flavours to choose from: strawberry, mango, matcha and tea.

To give an example of how delicious this pancakes really are, the milk tea versions come with tea flavoured tapioca balls, milk tea flavoured sauce, and cream. It's like eating milk flavoured bubble tea. The toppings may look simple but they are sumptuous, vibrant and photo-worthy.

Information

#702 CAFE&DINER Namba Parks
Address: Namba Parks Floor 7F, 2-10-70 Nanbanaka, Naniwa Ward, Osaka, Osaka Prefecture
Access: 1-minute on foot from the central and south exits of Namba Station via the Nankai Main Line and Nankai Kōya Line
TEL: 06-6643-9233
Opening Hours: 11:00-23:00
Website: http://www.sld-inc.com/702.html