Banana Fish Café & Bar to Open in Shinjuku on October 5
A café and bar themed on the popular ongoing anime series Banana Fish will open in Shinjuku, Tokyo on October 5 for a limited time.
Like the setting of the anime series, the café and bar too are based on New York. Waiting there to serve customers will be the show's main characters Ash Lynx and Eiji Okumura.
There will also be voice announcements by both characters chatting back and forth for customers to listen to. The first floor will feature a takeout menu and an exhibition of illustrations from the series while the second floor will be home to the café where fans can also get their hands on merchandise.
Customers who book a place at the café will receive an A3 poster randomly selected from 4 possible designs, all of which feature café original artwork.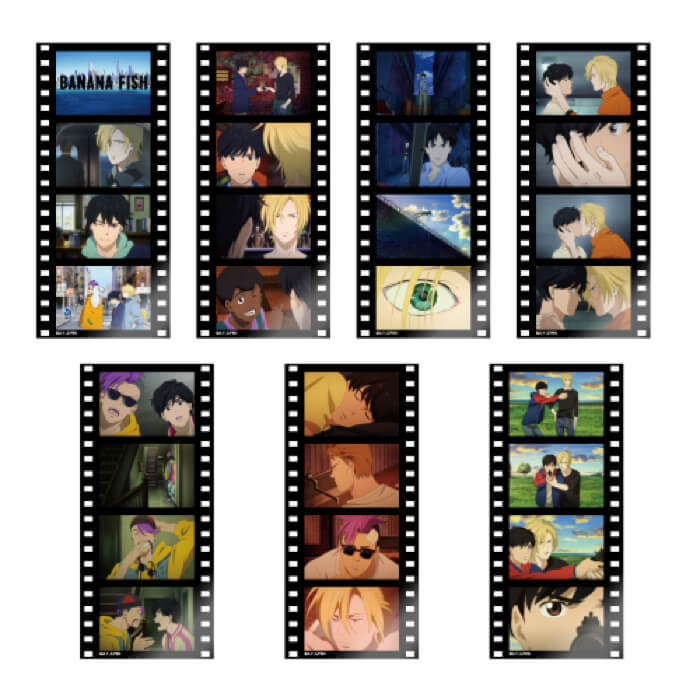 Customers who go to the café will also receive one of 7 possible film-style bookmarkers as pictured above which collect iconic scenes from the story.
If you order a drink you'll also receive one of 6 possible coasters with super deformed art – the first super deformed art to come out of the series.
The menu will include ramen rice which Ash is seen to eat in the manga, an Eiji style healthy sandwich, and more.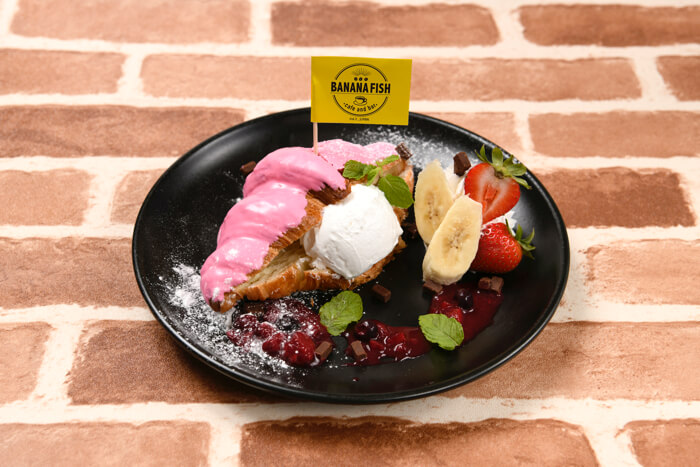 There will also be an original bar menu with plenty to choose from.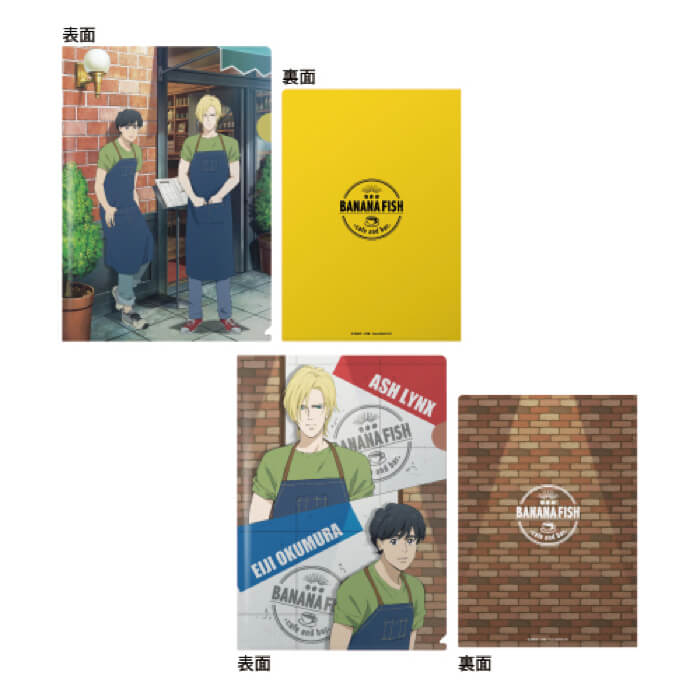 Once you've finished your meal get your hands on some of the merchandise including clear files, key rings, stands, jumpers, iPhone cases and more.
Immerse yourself in the world of Banana Fish this autumn!
■Information
Banana Fish Café & Bar
Address: Shinjuku Southern Terrace, 2-2-2 Yoyogi, Shinjuku, Tokyo
Running: October 5, 2018 – December 2, 2018
Opening Hours: 11:00am-9:20pm (80-minutes max. allowed)
*Bookings taken. If there is a seat free on the day however you are permitted entry without booking.
Booking Price: ¥650 (Pre-Tax)
Booking Bonus: A3 Clear Poster (selected randomly from 4 designs)
Other Bonuses: Receive a film style bookmarker for dining at the café. (+more)
Official Website: http://bananafish-cafebar.jp/
©Akimi Yoshida・Shogakukan / Project BANANA FISH
RECOMMENDED ENTRIES
Top 10 Character Cafés in Japan: September 2018

Character cafés are a unique experience in Japan which sees a café collaborate with well-known anime series, game series and various franchises by decorating the café interior with designs and illustrations based on them and meals and drinks inspired by them.

Here's a compilation of collaborative cafés you can look forward to in September 2018.

 

Howacolo Club x Hands Cafe (August 22 – September 17)

The hugely popular characters of Howacolo Club―a Japanese web comic―have are teaming up with five Hands Cafe branches around Japan until September 17. There are 5 different foods and drinks themed on the characters in Howacolo Club including the popular puppy Howacolo-chan. The cafe interior, too, has been be transformed into the world of Howacolo Club with illustrations, plushies and more. Enjoy a fun café time with your pals at Howacolo Club♡

Full Details: https://www.moshimoshi-nippon.jp/122234

Cardcaptor Sakura x SAKURA Fantasy Cafe (July 12 – September 30)

The Sakura Fantasy Cafe is themed on the latest entry to the Cardcaptor series, Cardcaptor Sakura: Clear Card, with three branches that were opened in Tokyo (Harajuku), Osaka (Abeno) and Saitama (Koshigaya). The Saitama branch is the last branch open. It has a line-up of photogenic food as well as a photo spot and more, all with original illustrations drawn specially for this collaboration. There's also a range of original Cardcaptor merchandise you can't get anywhere else. The menu includes cheese toast, roast beef, smoothies, pancakes and more.

Full Details: https://www.moshimoshi-nippon.jp/116035

Pompompurin x BOYS AND MEN (August 21 – September 30)

The Pompompurin Café in Nagoya themed on the popular character Pompompurin from the Sanrio franchise is teaming up Japanese variety show Boy Boy Mugendai by BOYS AND MEN until September 30. The collaboration is based on a skit by BOYS AND MEN titled Family ('Usuika no Hitobito'), with food taking inspiration from the characters such as the Showa style noodle set pictured above that's made in the image of the father's wig from the Usui family and more.

Full Details: https://www.moshimoshi-nippon.jp/123124

2PM Members x ZooPM (August 31 – October 8)

ZooPM Café, which was first opened in 2016 for a limited time, has gotten a revamp has reopened. Each dish on the menu is inspired by the ZooPM characters such as the Pan. K half-cooked pancakes,  Pi Young cheese curry, emperor penguin and more, as well as a range of ZooPM drinks. You must book in advance and spaces are available on a first-come, first-served basis so if you're interested be sure to get in there quick.

Full Details: https://www.moshimoshi-nippon.jp/123052

Grand Blue x 46 Shokudo (September 3 – October 8)

46 Shokudo has joined hands with popular anime series Grand Blue is teaming up with to open a collaborative café called Grand Blue Shokudo which is open until October 8. The theme of the café is 'a house by the sea.' The menu is packed with themed food and meals including Food Stall Snacks, Ramen, Nanaka & Chisa's Sisterly Curry, Kebako's Keba Keba Waffle, and more. Enjoy the last summer of Japan's Heisei Period with the members of Grand Blue!

Full Details: https://www.moshimoshi-nippon.jp/125006

Natsume's Book of Friends: Tied to the Temporal World x BOX CAFE&SPACE (September 14 – October 14)

To celebrate the release of the Natsume's Book of Friends movie on September 29, two themed cafes will open in Tokyo and Saitama as well as a character café booth at the Kyoto International Manga & Anime Fair 2018. They will serve a variety of themed dishes tied to autumn as well as merchandise with an autumn-time theme. Those who book at the Tokyo café in advance will receive one of four randomly selected original stickers pictured above. The menu items will differ at all three cafés, so be sure to try them all!

Full Details: https://www.moshimoshi-nippon.jp/125852

Fate/Grand Order x Sanrio (September 20 – October 28)

Sanrio are collaborating once more with the hugely popular online free-to-play RPG mobile game Fate/Grand Order―which is based on Type-Moon's Fate/stay night franchise―to open three themed cafés. They will open in Tokyo and Osaka alongside Sendai for the first time with newly drawn Heroic Spirits. All the food, drinks and merchandise available at the cafés are inspired by the Servants of Fate/Grand Order who have been drawn with cute designs. Enjoy a Fate experience you can't get anywhere else.

Full Details: https://www.moshimoshi-nippon.jp/123977

The Pokémon Cafe x Limited Edition Autumn Menu (September 8 – October 31)

The Pokémon Cafe in Nihonbashi released a new menu for autumn which is being served until October 31. The cute menu is inspired by different Pokémon including Gastly's Menchi Katsu Burger, Tangela's Halloween Mont Blanc, Golbat's Poisonous Float Drink and more. The cafe are serving their regular grand menu too, so whether it's your first time or you're a regular you're sure to have a lot of fun!

Full Details: https://www.moshimoshi-nippon.jp/126707

Shouta Aoi × Little Twin Stars Café (September 12 – November 4)

The collaboration between Japanese voice actress Shouta Aoi and the Sanrio mascots Kiki and Lala, aka the Little Twin Stars, was so popular in Omotesando that they've teamed up once more to bring people the new Shouta Aoi×Little Twin Stars Café ~Halloween Party~ event. As well as serving the much praised collaborative themed food from last time, there will be a new range of Halloween themed food too, as well as merchandise, all with cute illustrations and designs for a fun Halloween. The cute line-up of Halloween merchandise features rare designs you won't find anywhere else, so don't miss out!

Full Details: https://www.moshimoshi-nippon.jp/126272

The Very Hungry Caterpillar x J.S. PANCAKE CAFE (September 12 – November 4 *depending on branch)

J.S. PANCAKE CAFE have joined hands with The Very Hungry Caterpillar to turn their cafés into the world of Eric Carle's internationally beloved picture book. The four month duration the cafés will be open from September to December will reflect both the growth of the caterpillar as well as the story of the book. The first month, September, will represent the sun on the day that the caterpillar was born. In October, he will eat fruits and grow. In November he will enter his cocoon. Finally, in December, he will turn into a butterfly. All of this will be illustrated on the pancakes each month. Don't miss out on this chance to fully immerse yourself in the world of The Very Hungry Caterpillar!

Full Details: https://www.moshimoshi-nippon.jp/124618

Which of these cafés has piqued your interest the most? There's a lot of great ones to choose from this month, so if you're in Japan be sure to go to as many as you can!

TV Anime Grand Blue Themed Café to Open in Ikebukuro

Popular anime series Grand Blue is teaming up with 46 Shokudo to open a collaborative café called Grand Blue Shokudo themed on the series. The café will open on September 3 and run until October 8.

Food Stall Snacks

Kebako's Keba Keba Waffle

The theme of Grand Blue Shokudo is 'a house by the sea.' The menu will be packed with themed food and meals including Food Stall Snacks, Ramen, Nanaka & Chisa's Sisterly Curry, Kebako's Keba Keba Waffle, and more.

For merchandise, they will be selling two sets of pin badges.

The café is expected to be bustling with fans, so you must make a reservation in advance. Those who make a reservation will receive an original coaster as a gift. Those who order at the café will receive another coaster selected randomly from a possible 10 designs per order they make.

Enjoy the last summer of Japan's Heisei Period with the members of Grand Blue!

■Information

Grand Blue Shokudo

Location: 46 Shokudo, 4F Narita Bldg., 1-29-4 Higashi-Ikebukuro, Toshima Ward, Tokyo

Running: September 3, 2018 – October 8, 2018

Opening Hours: 10:30am-9:30pm

Bookings:http://grandblue-shokudo.jp/

Booking Present: Original coaster (1 design)

Booking Fee: ¥300 (Pre-Tax)

Order Present: Customers who order a drink at the café will receive a coaster selected randomly from a possible 10 designs.

Fate/Grand Order x Sanrio Character Cafés to Open in Tokyo, Osaka & Sendai

Sanrio have teamed up once more with the hugely popular online free-to-play RPG mobile game Fate/Grand Order―which is based on Type-Moon's Fate/stay night franchise―to open three collaborative cafés.

This collaboration first took place at the beginning of this year where cafés opened in Tokyo and Osaka. They are returning again to Tokyo and Osaka alongside Sendai for the first time.

Gilgamesh's Golden Curry – ¥1,480 (Pre-Tax)


Edmond Dantès & Sherlock Holmes' Mont Blanc Parfait – ¥1,180 (Pre-Tax)

All the food, drinks and merchandise available at the cafés are inspired by the Servants of Fate/Grand Order who have been drawn with cute designs.

Pin Badges (16 Designs) – ¥450 (Pre-Tax)

Pouch – ¥850 (Pre-Tax)

16 Servants will make an appearance at the cafés which is even more than last time. The decorations and designs have also been made even cuter and more fun.

Coasters

Stickers

You must book in advance to enter any of the cafés. Those who do book will receive a set of stickers, and those who order any item from the menu will receive one coaster randomly selected from a possible 16!

■Information

Fate/Grand Order Design produced by Sanrio Collab Café
Booking Price: ¥650 (Pre-Tax)

Tokyo Café
Address: B1F Fujiwara Bldg., 1-3-24 Higashi-Ikebukuro, Toshima Ward, Tokyo
Running: September 20, 2018 – October 28, 2018
Opening Hours: 10:00am-9:20pm

Osaka Café
Address: 2F/3F KUS Nipponbashi Bldg., 4-8-16 Nipponbashi, Naniwa Ward, Osaka, Osaka Prefecture
Running: September 27, 2018 – October 30, 2018
Opening Hours: 10:00am-9:20pm

Miyagi Café
Address: 8F Sendai LOFT, 1-10-10 Chuo, Aoba Ward, Sendai, Miyagi Prefecture
Running: September 22, 2018 – October 21, 2018
Opening Hours: 10:20am-8:40pm

Bookings can be made via the official website below.
http://fgo-sanrio-cafe.jp/
RELATED ENTRIES
Revue Starlight 1st Anniversary Celebrated With Themed Cafes in Akihabara & Osaka

To celebrate the 1st anniversary of media franchise Revue Starlight, two themed cafes are set to open in Toyko and Osaka on October 11 and November 8 respectively.

Revue Starlight is a multimedia project that currently consists of stage plays, an anime series which aired last year, several ongoing manga series, and a smartphone game.

Beautiful Sky Invincible Set – Yakisoba & Hot Dug Bun: ¥980

Nana's Handmade Banana Muffins: ¥1,180

Rinmeikan All-Girl's School Matcha au Lait: ¥750

Everything on the menu is inspired by the characters and world of Revue Starlight, from light meals to desserts and drinks.

Pin Badge Set (Set of 5): ¥2,100

Canvas Art (5 Designs): ¥3,500 Each (Karen Aijō/Hikari Kagura/Tamao Tomoe/Aruru Otsuki/Akira Yukishir0)

Exclusive merchandise will be sold at the cafes too, including designs of the characters dressed at cafe staff.

Reservation-Only Bonus Item: Original A4 Stickers (2 Chosen Randomly)

Bonus Item For Diners: Original Lunch Mat 92 Designs (2 Chosen Randomly)

Bonus Item For Drink Orders: Original Coaster (1 Chosen Randomly)

The cafes also have a line-up of bonus items for if you book a table in advance, dine at the cafe, and order a drink at the cafe.

Information

Revue Starlight -Re LIVE- Cafe 2019

Locations
①Akihabara, Tokyo (Ogiso Bldg. Floors 3F-4F, Sotokanda, Chiyoda Ward, Tokyo) / Running October 11, 2019 – November 24, 2019
②Nipponbashi, Osaka (KUS Nipponbashi Bldg. Floors 2F-3F, 4-8-18 Nipponbashi, Naniwa Ward, Osaka) / Running: November 8, 2019 – December 8, 2019

Reservations: Open September 19, 2019 at 18:00 (JST)
Reservation Price: ¥650 (Includes Bonus Item) *4 seats max

Cafe Website (Japanese): https://revuestarlight-relive-cafe.jp/

My Hero Academia Themed Cafe to Open at SEGA Ikebukuro GiGO in Tokyo

A cafe based on the hit TV anime series My Hero Academia will open at SEGA Ikebukuro GiGO on October 12.

Drinks Menu

 

Drinks – ¥600 Each (Before Tax)

Original Latte Art (11 Designs) – ¥700 Each (Before Tax) *Choose your own

Food Menu

Menu ①: October 12, 2019 – November 1, 2019

Katsu-Lover Midoriya's Pork Rib Noodles / Eijiro Kirishima's Crunchy Kakiage Don – ¥1,200 Each (Before Tax)

Menu ②: November 2, 2019 – November 24, 2019

Katsuki Bakugo's Spicy Mapo Doufu / Shoto Todoroki's Fire & Ice Tomato Cheese Pasta – ¥1,200 Each (Before Tax)

Dessert Menu

Menu ①: October 12, 2019 – November 1, 2019

Ochaco Uraraka's Japanese-Style Dessert Set with Matcha Milk – ¥1,200 (Before Tax) / Tenya Iida's Source of Strength Orange Parfait – ¥900 (Before Tax)

Menu ②: November 2, 2019 – November 24, 2019

U.A. Dessert Plate – ¥1,200 (Before Tax) / Tsuyu Asui's Kero Kero Parfait – ¥900 (Before Tax)

Enjoy a fun selection of food, drinks and desserts inspired by the My Hero Academia character cast. You can only pick between one meal and/or dessert when ordering.

 

Bonus Merch

When ordering from the drinks menu or one of the latte art coffees, you will receive one drinks coaster selected randomly from the following designs during the following dates.

Coaster Line-Up ①: October 12, 2019 – November 1, 2019

Coaster Line-Up ②: November 2, 2019 – November 24, 2019

And when ordering from the food or dessert menu, you will receive one of the below-pictured original bromide pictures chosen randomly. All of these bonus items are first-come, first-served.

Merchandise Shop

The cafe will also have its own merchandise corner selling exclusive items in collaboration with SEGA.

Available From October 12

Holographic Pin Badge (7 Designs) – ¥500 Each (Before Tax) *Chosen randomly, up to 10 allowed per person in one transaction 

Acrylic Key Ring with Stand – ¥1,200 Each (Before Tax) *Chosen randomly, up to 10 allowed per person in one transaction

Available From November 2

Mini Card (7 Designs) – ¥600 Each (Before Tax)

There are lots of other pieces of merchandise to get your hands on too. The cafe-exclusives are available only to those who use the cafe.

You must book a table in advanced if you want to visit, so be sure to get yours in quick.

©Kohei Horikoshi / Shueisha・My Hero Academia Production Committee ©SEGA

*Photos are for illustrative purposes only. Actual product may differ.

Information

SEGA Collabo Cafe My Hero Academia

Running: October 12, 2019 – November 24, 2019

Location: SEGA Collabo Cafe Ikebukuro GiGO (SEGA Ikebukuro GiGO Floor B2F, 1-21-1 Higashi-Ikebukuro, Toshima Ward, Tokyo

Schedule

Menu ①: October 12, 2019 – November 1, 2019

Menu ②: November 2, 2019 – November 24, 2019

*Menu items and coaster designs will change for each menu

*More details can be found on the SEGA Collabo Cafe official website

Cafe Website: https://sega-collabocafe.com/ikebukuro/heroaca02.html

My Hero Academia Official Website: https://heroaca.com/

Sanrio-Style Sarazanmai Café to Steal the Scene at Tokyo and Osaka

A café based on the popular anime Sarazanmai is coming to Tokyo on September 19 and Osaka on September 26 and will run for a limited time only. The café designs were produced by Sanrio. 

Sarazanmai is a TV anime which was produced by animation studios MAPPA and  Lapin Track. The anime became incredibly popular when it aired between April and June 2019 on the Fuji TV programming block Noitamina. The last episode was met by an undying stream of grateful messages from fans and even those involved in the creation of the series. 

Sanrio produced Sarazanmai designs which are perfect for the traditional coffee shop theme and the retro Asakusa atmosphere of the series. The collaboration cafés will open in Ikebukuro in Tokyo and Nipponnbashi in Osaka.

Menu

Football Curry of Youth: ¥1,380 (before tax)

Football is what connects the three main characters Kazuki, Kuji and Enta. Come taste the delicious flavour of budding friendship in the form of a delicious curry at the café.   

Pudding a la Mode of Friendship: ¥1,280 (before tax)

The three middle schoolers are represented in the form of colourful fruit. This is a delicious dish easily enjoyed by anybody. 

Sparkling Jelly Juice (Kazuki/Kuji/Enta): ¥650 each (before tax)

These jelly drinks are also themed around Kazuki, Kuji and Enta. The jelly lurking at the bottom of the cup adds a wonderful accent to the flavour.  

Original Goods

Badge (10 random designs): ¥450 (before tax)

Mug (one design only): ¥1,500 (before tax) 

Special Bonus Goods

Those who book seats in advance (¥500 + tax) and order from the menu will receive an original design sticker. You will be presented with one of four designs at random. 

For each item ordered from the menu, you will receive an original design drink coaster. One of six designs will be given to you at random. 

This café is the perfect place to relax at your own pace this autumn. 

© イクニラッパー/シリコマンダーズ

Information

Sarazanmai Café (Designs Produced by Sanrio)

Open:

・Ikebukuro, Tokyo: September 19 ー October 27, 2019

・Nipponnbashi, Osaka: September 26 ー November 5, 2019 

Advanced reservations accepted from 7pm on September 6, 2019 

Reservation Fee: ¥500 (comes with a bonus for reserving)

Official Website: https://sarazanmai-sanrio-cafe.jp/

Escape From Godzilla at TOKYO MYSTERY CIRCUS Escape Game Theme Park

TOKYO MYSTERY CIRCUS's catalogue of games just keeps on growing. The puzzle and escape game theme park has just announced the return of its escape game Escape From Shin Godzilla which is being held in collaboration with the 2016 film Shin Godzilla.

The event was previously held last April where it ran until October, enjoying huge popularity with over 40,000 escape game-goers. Players took the role of a member of the Kyosaitai―the anti-Godzilla task force―based in Kabukicho, Shinjuku where you will be tasked with solving puzzles to defeat the colossal giant.

The thrilling event returns once more with original visuals created to make it look like Godzilla has really invaded Kabukicho. Tickets are now on sale, and you can pick up exclusive merchandise and themed food at the venue too. Can you defeat Godzilla?

TM&©TOHO CO., LTD. ©SCRAP

Information

Escape From Shin Godzilla

Location: Himitsu Kichi Lab, TOKYO MYSTERY CIRCUS (Floor B1F)

Running: October 4, 2019 – November 10, 2019

Times

Weekdays: 13:20 / 16:20 / 19:20
Weekends & Holidays: 10:10 / 12:40 / 15:10 / 17:40 / 20:10
*The event will end 100 minutes after each starting time

Price
Advance: Single ¥3,300 / Group ¥12,000 / Repeater Group Ticket ¥12,000
Same-Day: Single ¥3,800 / Group ¥14,000 / Repeater Group Ticket ¥14,000
*Same-day tickets will not be available if all advance tickets sell out

 

TOKYO MYSTERY CIRCUS

Address: APM Bldg., 1-27-5 Kabukicho, Shinjuku, Tokyo, 160-0021

Opening Hours: Weekdays 11:30-23:00 / Weekends & Holidays 09:30-23:00

No Fixed Holidays.

Price: Free Entry (*Separate tickets required for games)

Official Homepage (English): https://mysterycircus.jp/en/

Event Page (Japanese): https://mysterycircus.jp/shin-godzilla/

The Little Mermaid Themed Cafes Set Sail to Tokyo, Osaka, Nagoya & Hokkaido

Ariel is swimming to Japan this September as four branches of OH MY CAFE turn into cafes inspired by The Little Mermaid. The Tokyo and Osaka branches will open on September 21, the Hokkaido branch on September 22, and the Nagoya branch on September 27. The collaboration is being carried out by LEGS COMPANY, LTD.

Disney's The Little Mermaid was released back in 1989 as the 28th Disney animated feature film. It tells the story of the internationally-beloved Disney mermaid princess Ariel and her curiosity about the world above the sea.

The cafe's concept is "independent girl." Each cafe will take on a stylish look and be inspired by Ariel's unwavering heart and her strength to make her dreams come true.

Menu Line-Up

<Ariel> Veggie-Packed Pesto Pasta – ¥1,990

If you're vegetarian, you won't be disappointed with this healthy, vegetable-packed pasta dish. The plate it is served on features an illustration of Ariel swimming elegantly in the ocean.

Seaside Cream Risotto – ¥1,990

Based on sandy beaches is this creamy risotto. If you look closely you'll see one of Ariel's priceless treasures from her endless collection of whose-its, whats-its, and thingamabobs. Sebastian is hiding on the plate too, can you spot him?

<Kiss The Girl> Romantic Fruit Bowl – ¥2,190<Kiss the girll>

This romantic dish speaks for itself. Inspired by the breathtaking boat date between Ariel and Eric, the bowl includes assorted fruit, a cookie with the two lovers on it, and a side of jelly with Flounder cheering them on.

Drinks Line-Up

<Flounder> Stripey Yogurt Drink – ¥1,090 / With Coaster – ¥1,890

Flounder is Ariel's closest friend, so he had to be included on the menu. This cute yogurt-flavoured smoothie takes on the same colours as our stripey fish companion.

<Sebastian> Strawberry Smoothie – ¥890 / With Coaster – ¥1,790

Servant of King Triton and music composer, everybody's favourite Jamaican crab Sebastian gets his very own yogurt smoothie too. Mix the strawberry sauce in well for the best flavour.

Exclusive Original  Merchandise

Acrylic Badge (5 Designs) – ¥800

Lunch Mat (Set of 2) – ¥800

Bag – ¥1,500

Bonus Items

Every person that books a table in advance (¥500) and orders something from the food menu will receive one of 30 possible A5 folders.

Additionally, if they spend over ¥1,000 at the merchandise corner of a cafe, they'll receive the above-pictured The Little Mermaid 30th shopper bag. These are limited in stock and are available on a first-come, first-served basis.

There are lots of other character-themed food and drinks to be enjoyed at the cafes besides these ones too. To see everything, you'll need to visit yourself! Immerse yourself in the magical world of The Little Mermaid with cafe decorations featuring Instagrammable illustrations drawn exclusively for this collaboration.

*All listed prices are pre-tax.

*Photos are for illustrative purposes only. Actual products may differ.

©Disney

Information

"The Little Mermaid" OH MY CAFE

Locations/Dates
・Tokyo: OH MY CAFE TOKYO (Tokyu Plaza Omotesando Harajuku) / September 21, 2019 – November 9, 2019

・Osaka: kawara CAFE&DINING Shinsaibashi / September 21, 2019 – November 10, 2019

・Nagoya: kawara CAFE&KITCHEN Nagoya PARCO / September 27, 2019 – November 10, 2019

・Hokkaido: Cafe Interlude / September 22, 2019 – October 14, 2019

Official Website: https://mermaid.ohmycafe.jp/

6 Must-Visit Character Themed Cafés Running in September 2019

Character cafés are an exciting experience in Japan which sees a café collaborate with well-known anime series, game series or other franchise by decorating the café interior with designs and illustrations based on them and meals and drinks inspired by them.

Before continuing this article be sure to check out our August 2019 list of character cafés as some of them are still running.

Fate/Grand Order Cafe in Omotesando

The third run of the Fate/Grand Order themed cafe, with designs produced by Sanrio, is taking place at OMOTESANDO BOX CAFE&SPACE from September 5 to 29.

When you book a table in advance (¥650 before tax per person) and order from the menu you'll receive one of the above possible 16 lunch mats. And if you order a drink you'll get one of the 16 coasters. You'll get one of either piece of these exclusive items per item you order from the menu.

Master & Mash Snow Field Meatballs – ¥1,490

This dish is piled with filling sauteed meatballs and mushrooms. The cream sauce is made to look like a snowy field. It's served with a side of jam for a succulent sweet and sour kick.

Brynhildr & Sigurd Croquembouche Parfait – ¥1,390

Croquembouche is often served at weddings in Italy at France. Here, it has been turned into an easy-to-eat parfait. It's topped with salt ice cream, yogurt mousse and more, all in refreshing colours.

To find out more details and what else they have on the menu, click here.

© TYPE-MOON / FGO PROJECT

▼Fate/Grand Order Design produced by Sanrio – 3rd Collaborative Cafe

Running: September 5, 2019 – September 29, 2019

Location: OMOTESANDO BOX CAFE&SPACE (Pine Under Flat Floor B1F, 5-13-2 Jingumae, Shibuya, Tokyo)

Official Website: https://fgo-sanrio-cafe.jp/

*Reservations now open via the official website

Love Live! & Sanrio Open Collaborative Cafes in Tokyo and Osaka

Multimedia project Love Live!―which has spawned an anime series, manga, game, movie and more―has teamed up with Sanrio to open themed cafes in Tokyo and Osaka on August 16 and September 27 respectively.

The menu features a bounty of flavourful food and drink which incorporates popular flavours, luscious taste, and hearty servings. You get a special illustration with every meal.

An Unlikely Combination Food Plate – ¥1,390 (Before Tax)

An interesting assortment of a mini omurice, soy sauce ramen, and a fresh tomato caprese salad. It also comes with the pictured postcard which features a blackboard design.

Deliciousness Ensemble! Invigorating Dessert Plate – ¥1,390 (Before Tax)

This dessert set is one fit for the gods, adorned with an apple topped castella, mini pancake laced with salted caramel ice cream, an tea-flavoured jelly. This also comes with the pictured postcard featuring different characters.

Fans of both franchises can pick up plenty of exclusive merchandise too, featuring the characters from Love Live! dressed like the Sanrio cast. There are bonus items for customers who book a table in advance too. Don't miss this first ever collaboration between Love Live! and Sanrio♡

To find out more details and what else they have on the menu, click here.

▼Love Live! Series x Sanrio Characters Cafe

Tokyo Cafe
Running: August 16, 2019 – October 14, 2019
Location: HARAJUKU BOX CAFE&SPACE (Lucessimo Bldg. Floor 2F, 4-28-28 Jingumae, Shibuya, Tokyo)

Osaka Cafe

Running: September 27, 2019 – October 27, 2019
Location: UMEDA BOX CAFE&SPACE( (Umeda LOFT Floor 1F, 16-7 Chayamachi, Kita Ward, Osaka, Osaka Prefecture)

Reservations: ¥500 (Before Tax)
Official Website: https://lovelive-sanrio-cafe.jp/

TV Anime Given Themed Cafe – Listen To The Characters' Voices As You Dine

Six branches of CAFFÈ & BAR PRONTO in Japan are set to collaborate with the ongoing yaoi anime series Given from September 13 to 23.

The theme of the collaboration is "After Band Practice." The cafes will serve up food inspired by the series as well as sell exclusive merchandise. The voice actors for the four main characters also recorded lines for the cafes which will play during your time there.

Bright Red Tomato Pasta – ¥1,296 (Tax Included)

Pancake Of The Day – ¥1,296 (Tax Included)

To find out more details and what else they have on the menu, click here.

©︎Natsuki Kizu・Shinshokan / Given Production Committee

▼TV Anime Given x Enter Bell at PRONT

Running: September 13, 2019 – September 23, 2019

Locations: PRONTO Sapporo Pole Town / PRONTO IL BAR Ochanomizu Sola City / PRONTO Ikebukuro Sunshine-dori / PRONTO Nagoya Marunouchi / PRONTO Meitetsu Gifu Station / BEERTERIA PRONTO Osaka Dojima

General Reservations

・Running: August 21, 2019 at midnight (JST) to September 23, 2019 at 23:59 (JST)

・Price: ¥1,188 (Tax Included) for one person. Includes one seat and drink.

*To make a reservation and receive the voice reminder you must have a Bandai Namco ID (free to register)

Official Website: https://bpnavi.jp/enterbell/given/

Chibi Maruko-chan Themed Menu & Merch Arrives at Tower Records Cafe Omotesando

To celebrate the 30th anniversary of the Chibi Maruko-chan anime series, Tower Records Cafe in Omotesando is collaborating with the franchise to turn its establishment into all things Maruko-chan for a limited time from September 5 to 29. Also, 22 branches of Tower Records as well as the Tower Records online store will sell collaborative merchandise.

Maruko-chan's Hamburger Plate – ¥1,500

The collaboration will be split into two different periods with different food and merchandise line-ups. The Maruko-chan Hamburger Plate, however, will be available for the cafe's entire duration. Hamburgers are Maruko-chan's favourite meal, and this one is served with vegetables and a rice ball with her adorable face on it.

Collaboration Period ①

Nagasawa-kun's Onion Soup Pasta – ¥1,500

Served with a whole onion, this soup seeped vongole pasta is inspired by the onion-head himself Nagasawa-kun.

Noguchi-san's Birthday Cake – ¥1,200

Celebrate Noguchi-san's birthday (September 9) with this very special blueberry and milk crepe birthday cake.

The exclusive merchandise takes on a music theme with original designs. Pick from 7 different items including a towel, tote bag, phone case and more.

To find out more details and what else they have on the menu, click here.

*All prices are tax-inclusive. Photos are for illustrative purposes only.

*Please enquire with shop staff about any food allergies.

ⒸSakura Production/Nippon Animation

▼Chibi Maruko-chan x TOWER RECORDS CAFE

Running: September 5, 2019 – September 29, 2019

Period ①: September 5, 2019 – September 17, 201

Period ②: September 18, 2019 – September 29, 2019

*The menu line-up and free gifts will be different for each period

TOWER RECORDS CAFE Omotesando
Address: Imon Harajuku Bldg. 2F, 6-3-9  Jingumae, Shibuya, Tokyo

Opening Hours: 11:00-21:30 (Last Orders 20:30)
Official Website: http://tower.jp/restaurants/cafe/omotesando

*No reservations, however during busy times numbered tickets will be handed out. Details on numbered tickets will be announced on the cafe's official Twitter page: @TRC_Omotesando

Chibi Maruko-chan x TOWER RECORDS Collaboration Merchandise
Release Date: September 5, 2019 (*Pre-orders now open)
Available: At 22 Tower Records branches and the online store
Tower Records Online: https://tower.jp
Collaboration Page: https://tower.jp/chibimaru

Hatsune Miku Music Cafe Opening in Tokyo & Fukuoka

The Hatsune Miku Music Cafe has returned for the third run and is now open in Akihabara, Tokyo and Hakata, Fukuoka.

The music cafe will be supported by VOCALOID music label KARENT. VOCALOID fans can look forward to dining while listening to music from their favourite characters―Miku, Luka, Rin, Len, MEIKO and KAITO―on high quality speakers and giant monitors.

Miku's Leek Record Curry – ¥1,200 (Tax Included)

Luka's Pink Peach Soda – ¥750 (Tax Included)

There's lots more merchandise, food and drinks as well as this too. You can see the full line-up on the official website. And for more details, click here.

© Crypton Future Media, INC. www.piapro.net

*The rate of consumption tax is set to increase from 8% to 10% in Japan from October 1, 2019 and so the prices listed here will increase
*Photos are for illustrative purposes only

▼Hatsune Miku Music Cafe – 3rd Run

・Ani ON STATION AKIHABARA
Address: Daidoh Limited Bldg. 1F, 3-1-16 Sotokanda, Chiyoda Ward, Tokyo

Running: August 23, 2019 – October 6, 2019
*Closed on September 1, 2019
*Regular hours will not run on October 6, 2019 due to the DJ event

・Ani ON STATION Hakata Bus Terminal
Address: Hakata Bus Terminal 7F, 2-1 Hakataekichuogai, Hakata Ward, Fukuoka, Fukuoka Prefecture
Running: August 28, 2019 – September 29, 2019

Entry Price: ¥500 (Tax Included)

Cafe Website: https://bandainamco-am.co.jp/cafe_and_bar/anionstation/special/miku_cafe3/
Ani ON STATION Official Website: https://bandainamco-am.co.jp/cafe_and_bar/anionstation/

BT21 Cafe Serves World Food in Shibuya, Umeda, Nagoya and Sapporo

LEGS COMPANY has opened four BT21 themed cafe called "BT21 CAFE 2019 WORLD" in Tokyo, Osaka, Nagoya and Sapporo. BT21 are the LINE messenger app characters created by K-pop group BTS. The cafe will serve up many different dishes of food from around the world, all with motifs from the BT21 character line-up.

Japanese Food Plate: Temari Sushi (Salmon, Duck, Minced Tuna, Fried Tofu, Shrimp Avocado) & Meat Udon – ¥1,490

Brazilian Food Plate: Churrasco, Mashed Potato & Feijoada – ¥1,490

Enter the cute world of BT21 and their world food line-up. Click here for more details.

*All listed prices are pre-tax. Photos are for illustrative purposes only.

©BT21

BT21 Cafe 2019 WORLD

Locations/Dates:

SHIBUYA BOX CAFE&SPACE SHIBUYA 109 (August 22, 2019 – September 29, 2019)
UMEDA BOX CAFE&SPACE (August 22, 2019 – September 23, 2019)
NAGOYA BOX CAFE&SPACE (September 4, 2019 – October 6, 2019)
TOWER RECORDS CAFE at Sapporo PIVOT (September 5, 2019 – October 20, 2019)

*Cafes closed on September 30, 2019

Reservations

・Price: ¥650 (Before Tax)

Official Website: http://box-cafe.jp/

The BT21 Cafe is reservation-only

Did you enjoy this list? Be sure to visit all the character cafés you can while in Japan this month! Stay tuned for next month's entry.

BT21 Cafe Serves World Food in Shibuya, Umeda, Nagoya and Sapporo

LEGS COMPANY is opening four BT21 themed cafe called "BT21 CAFE 2019 WORLD"over the next couple of weeks. The Tokyo and Osaka branches opened on August 22. The Nagoya branch will open on September 4 and the Sapporo branch will open on September 5.

BT21 are the LINE messenger app characters created by K-pop group BTS. The cafe will serve up many different dishes of food from around the world, all with motifs of the various BT21 character line-up. Pictured below is just a select portion of the menu and merchandise you can look forward to.

Cafe Menu

 

Japanese Food Plate: Temari Sushi (Salmon, Duck, Minced Tuna, Fried Tofu, Shrimp Avocado) & Meat Udon – ¥1,490

American Food Plate: Slider Burgers (Macaroni Cheese, Egg Salad, Grilled Chicken), Potatoes & Carrot Salad – ¥1,490

South Korean Food Plate: Tteok-bokki, Japchae, Yangnyeom Chicken & South Korean-Style Rice Ball  – ¥1,490

Brazilian Food Plate: Churrasco, Mashed Potato & Feijoada – ¥1,490

Japanese Dessert (Left): Custard Taiyaki, Strawberry Daifuku, Berry Bean Paste Dango, Matcha Ice Cream – ¥1,290 / American Dessert (Right): American Waffles – ¥1,290

RJ (Left): Peach Calpis – ¥990 / CHIMMY (Right): Pineapple Soda – ¥990

COOKY (Left): Guava Soda – ¥990 / TATA (Right): Pineapple Soda – ¥990

Exclusive Merchandise

Japan Acrylic Key Rings (Left) – ¥750 / South Korea Acrylic Key Rings (Right) – ¥750

Folders (Left) – ¥400 Each / Hologram Stickers (Right) – ¥500 Each

Bonus Items

 

Every person who books a table in advance (¥650) will receive one of 7 possible mini fans pictured above on the left. Those who order a drink will receive one of 12 possible coasters pictured on the right.

There are lots of other cute pieces of merchandise and menu items to look forward to too. Full details can be found on the cafe's official website below.

*All listed prices are pre-tax. Photos are for illustrative purposes only.

©BT21

Information

BT21 Cafe 2019 WORLD

Locations/Dates:

SHIBUYA BOX CAFE&SPACE SHIBUYA 109 (August 22, 2019 – September 29, 2019)
UMEDA BOX CAFE&SPACE (August 22, 2019 – September 23, 2019)
NAGOYA BOX CAFE&SPACE (September 4, 2019 – October 6, 2019)
TOWER RECORDS CAFE at Sapporo PIVOT (September 5, 2019 – October 20, 2019)

*Cafes closed on September 30, 2019

Reservations

・Price: ¥650 (Before Tax)

Official Website: http://box-cafe.jp/

The BT21 Cafe is reservation-only

Chibi Maruko-chan Themed Cafe Heading to Tower Records Cafe Omotesando

To celebrate the 30th anniversary of the Chibi Maruko-chan anime series, Tower Records Cafe in Omotesando is collaborating with the franchise to turn its establishment into all things Maruko-chan for a limited time from September 5 to 29. Also, 22 branches of Tower Records as well as the Tower Records online store will sell collaborative merchandise.

Maruko-chan's Hamburger Plate – ¥1,500

The hamburger plate will be served throughout the entire collaboration. Hamburgers are Maruko-chan's favourite meal, and this one is served with vegetables and a rice ball with her adorable face on it.

The collaboration will be split into two different periods with different food and merchandise line-ups. The food in the second period has yet to be unveiled, so we will take a look at some of the things for the first period.

Collaboration Period ①

Nagasawa-kun's Onion Soup Pasta – ¥1,500

Served with a whole onion, this soup seeped vongole pasta is inspired by the onion-head himself Nagasawa-kun.

Chi Chicken Sandwich – ¥1,500

This dish is  inspired by the scene in the anime series when Maruko fights with her sister over who gets to have a notebook as there is only one of them. When her sister claims ownership, Maruko proceeds to write "idiot" on the front cover while she's asleep and slips it back onto her bookshelf. This tuna mayo packed sandwich comes with a sandwich bag featuring the design of the notebook.

Noguchi-san's Birthday Cake – ¥1,200

Celebrate Noguchi-san's birthday (September 9) with this very special blueberry and milk crepe birthday cake.

30th Anniversary Melon Soda Float – ¥800

Topped with a dollop of ice cream and a cherry, the melon soda comes with a special 30th anniversary straw tag.

Chibi Maruko-chan Lattes – ¥700

The character lattes will have different character designs for each period as pictured above with the top row being the first collaboration and the bottom the second.

For every menu item ordered, customers will receive a random postcard. The postcards above feature the designs from the first collaboration period.

And the ones above here are those in the second.

And if you order a set of three items (food, drink and dessert), you'll receive an exclusive lunch mat. All of these items are first-come, first-served so you'll want to get to the cafe ASAP when it opens.

The exclusive merchandise takes on a music theme with original designs, from a towel to a tote bag and more.

Three t-shirts and a hoodie will also be sold exclusively at Tower Records Shibuya, Tower Records Shinjuku, Tower Records Cafe Omotesando, and the Tower Records online store.

Full information can be found on the official website below.

*All prices are tax-inclusive. Photos are for illustrative purposes only.

*Please enquire with shop staff about any food allergies.

ⒸSakura Production/Nippon Animation

Information

Chibi Maruko-chan x TOWER RECORDS CAFE

Running: September 5, 2019 – September 29, 2019

Period ①: September 5, 2019 – September 17, 201

Period ②: September 18, 2019 – September 29, 2019

*The menu line-up and free gifts will be different for each period

TOWER RECORDS CAFE Omotesando
Address: Imon Harajuku Bldg. 2F, 6-3-9  Jingumae, Shibuya, Tokyo

Opening Hours: 11:00-21:30 (Last Orders 20:30)
Official Website: http://tower.jp/restaurants/cafe/omotesando

*No reservations, however during busy times numbered tickets will be handed out. Details on numbered tickets will be announced on the cafe's official Twitter page: @TRC_Omotesando

Chibi Maruko-chan x TOWER RECORDS Collaboration Merchandise
Release Date: September 5, 2019 (*Pre-orders now open)
Available: At 22 Tower Records branches and the online store
Tower Records Online: https://tower.jp
Collaboration Page: https://tower.jp/chibimaru

Hatsune Miku Music Cafe Opening in Tokyo & Fukuoka

The Hatsune Miku Music Cafe is set to return for the third time this month. It will open in Akihabara, Tokyo on August 23 and in Hakata, Fukuoka on August 28.

The music cafe will be supported by VOCALOID music label KARENT. VOCALOID fans can look forward to dining while listening to music from their favourite characters―Miku, Luka, Rin, Len, MEIKO and KAITO―on high quality speakers and giant monitors.

Customers are able to request songs be played by picking from the record shelf. The huge discography will include the cafe's official theme song and music video Jazz Chorus no Natsu Takenawa which is written and composed by buzzG.

Fans can look forward to character-inspired food and drinks and can get their hands on a range of exclusive merchandise with designs illustrated by Kisaragi Yuu.

And if you gather enough stamps on your stamp card―one per visit―you'll be able to get priority access to a DJ event on October 6.

Merch

Leek Bag – ¥1,500 (Tax Included)

Multi Pouch (6 Designs) – ¥2,800 (Tax Included)

Food Menu

Miku's Leek Record Curry – ¥1,200 (Tax Included)

"Jazz Chorus no Natsu Takenawa" Summer Sky Jelly From the Starry Heavens – ¥600 (Tax Included)

When ordering something from the food menu you can receive one of 18 possible mini acrylic stands, chosen randomly.

Drinks Menu

Rin & Len's Yellow Mango Milk – ¥750 (Tax Included)

Luka's Pink Peach Soda – ¥750 (Tax Included)

There's lots more merchandise, food and drinks as well as this too. You can see the full line-up on the official website.

© Crypton Future Media, INC. www.piapro.net

*The rate of consumption tax is set to increase from 8% to 10% in Japan from October 1, 2019 and so the prices listed here will increase
*Photos are for illustrative purposes only

Information

Hatsune Miku Music Cafe – 3rd Run

・Ani ON STATION AKIHABARA
Address: Daidoh Limited Bldg. 1F, 3-1-16 Sotokanda, Chiyoda Ward, Tokyo

Running: August 23, 2019 – October 6, 2019
*Closed on September 1, 2019
*Regular hours will not run on October 6, 2019 due to the DJ event

・Ani ON STATION Hakata Bus Terminal
Address: Hakata Bus Terminal 7F, 2-1 Hakataekichuogai, Hakata Ward, Fukuoka, Fukuoka Prefecture
Running: August 28, 2019 – September 29, 2019

Entry Price: ¥500 (Tax Included)

Cafe Website: https://bandainamco-am.co.jp/cafe_and_bar/anionstation/special/miku_cafe3/
Ani ON STATION Official Website: https://bandainamco-am.co.jp/cafe_and_bar/anionstation/

Tokyo's Pokémon Cafe Unveils Halloween Themed Menu Line-Up

The Pokémon Cafe in Nihonbashi, Tokyo has revealed its Halloween food and drink line-up for the spooky season which will arrive early on September 7 be served until October 31.

The cafe is known for always having a cute selection of meals and beverages inspired by each season. So, what do they have in store for Halloween 2019?

Pikachu's Greedy Halloween Plate 2019 – ¥1,706 (w/ Plate ¥2,894)

This year's Halloween plate features Pikachu wearing a witch's hat. This filling plate features a pumpkin salad, spaghetti and more. Plenty to keep you going until the late-night candy snacking!

Discovering Celebi!? Oak Forest Pesto Pasta – ¥1,706

This adorable and healthy, vegetable-packed Celebi dish includes basil flavoured short pasta and a cute.

Zorua's Halloween Roast Beef Burger – ¥1,706

This hearty burger is packed with a generous serving of roast beef. You'd best not leave a crumb or Zorua might play a trick on you!

When ordering a drink at the cafe you'll receive one of six possible coasters. One of the designs is being kept a secret!

And for the duration of the Halloween event, there's also a limited-edition lunch mat and clear coaster to get your hands on. These are limited in stock so you'll want to catch 'em all quickly! And don't forget, you have to book a table in advance to dine at the Pokémon Cafe.

© 2019 Pokémon.©1995-2019 Nintendo/Creatures Inc./GAME FREAK inc.

Pokémon, ポケットモンスター and ポケモン are registered trademarks of Nintendo, Creatures Inc. and GAME FREAK inc.

Information

Pokémon Cafe
Address: 2-1-2 Nihombashi | Nihombashi Takashimaya SC East Bldg. 5F, Chuo 103-0027, Tokyo Prefecture
Business Hours: 10:30-22:00

Access: 5-minutes on foot from Tokyo Station's Yaesu North Exit via JR Line / 5-minutes on foot from Nihonbashi Station's B2 Exit via Tokyo Metro Ginza Line and Tozai Line / 4-minutes on foot from Nihonbashi Station via Toei Asakusa Line

TEL: 03-6262-3439

Reservations: https://reserve.pokemon-cafe.jp/

Official Website: https://www.pokemoncenter-online.com/cafe/

Scorch your Senses at the Spicy as Hell and Tasty as Well 2019 Food Festival Round 2 in Shinjuku

Spicy as Hell and Tasty as Well 2019 will be holding round 2 on August 16, 2019 at Okubo Park, Kabukicho in Shinjuku. This will be the event's biggest gekikara gourmet saiten (super spicy festival) Japan has ever seen. 

Food services that represent the spicy foods of the world have all joined forces at Kabukicho in Shinjuku; Asia's largest entertainment district to tinge it with a luminescent spicy red colour. So far, around 0.7 million people with a burning passion for spice have made their way to the spice central to test their tolerance to the range of gourmet spicy dishes. From beginner to mania, the event caters to all levels of spice-lovers. From a tiny touch of spice to spicy as hell, there is a wide range of spice levels to choose from. The dishes served and participating shops are changed each week, so you can enjoy a new spicy experience each week. 

At the 1st Round, spice fans had their fill of Ciao em Cafe's Bún bò Huế. This café, which originates from the outskirts of Tokyo in Hana-Koganei, took part in the event for the first time. One of their signature dishes is the Vietnamese soup, which captured the hearts of many women for its perfectly balanced sweet yet spicy flavour.  Despite being Menya Mazeharu's first time serving at the event, their queues stretched out into the sunset from morning to evening each day .

Round 2 will see Cheese to Gibier Curry Naru Ichizoku and Tokyo spice curry Aka to Kuro spicing up the event for the first time. This is the perfect opportunity to experience Awajishima Curry made with the world's most sense-scorching spices including ghost pepper, trinidad scorpion pepper, and the carolina reaper. Tokyo spice curry serves up red curry dishes made with ingredients traditionally used in natural Chinese food therapy. Their black curries are Kashmiri curries that will leave you feeling satisfied. 

These are just a selection of the vast number of noteworthy spicy dishes. You are bound to find the perfect curry to spice up your life at this event, so please check it out.

Information

Spicy as Hell and Tasty as Well 2019 (激辛グルメ祭り2019)

Venue: Okubo Park, Kabukicho, Shinjuku 

Address: 2-43, Kabukicho, Shinjuku, Tokyo

Access: 3-min walk from Seibu-Shinjuku Station or an 8-min walk from Shinjuku station (JR/ Odakyu/ Keio lines)

Entry: Free to enter, pay for your food and drinks. 

Schedule:

2nd round: Aug 16 ー 21

3rd round:  Aug 23 ー 28

4th round: Aug 30 ー Sept 4 

5th round: Sept 6 ー 11

6th round: Sept 13 ー 18 

* Closed on Aug 15, 22, 29 and Sept 5, 12 to change the shops.

* Open on rainy days (closed during stormy weather).

* Spicy as Hell and Tasty as Well is open for a total of 38 days this year, the longest it has ever run in history.  

Website: https://www.gekikara-gourmet.com/

TV Anime Given Themed Cafe Opens in Tokyo, Osaka Nagoya & Sapporo

Six branches of CAFFÈ & BAR PRONTO in Japan are set to collaborate with the ongoing yaoi anime series Given from September 13 to 23.

The theme of the collaboration is "After Band Practice." The cafes will serve up food inspired by the series as well as sell exclusive merchandise. The voice actors for the four main characters also recorded lines for the cafes which will play during your time there.

Fans who book a table in advance, whether as part of the pre-sale booking or ordinary booking, will receive one of two voice recorded mail reminders for their digital device. Chosen randomly, it will either be from Mafuyu and Ritsuka or Haruki and Akihiko.

Bright Red Tomato Pasta – ¥1,296 (Tax Included)

Pancake Of The Day – ¥1,296 (Tax Included) *Served during performances only

Hot Cafe Latte – ¥864 (Tax Included)

Acrylic Muddler (4 Designs, Chosen Randomly) – ¥864 Each (Tax Included)

Acrylic Glass Key Ring (4 Designs, Chosen Randomly) – ¥864 Each (Tax Included)

Pre-sales for tables and merchandise are now available over at Enter Bell until August 20.

©︎Natsuki Kizu・Shinshokan / Given Production Committee

Information

TV Anime Given x Enter Bell at PRONT

Running: September 13, 2019 – September 23, 2019

Locations: PRONTO Sapporo Pole Town / PRONTO IL BAR Ochanomizu Sola City / PRONTO Ikebukuro Sunshine-dori / PRONTO Nagoya Marunouchi / PRONTO Meitetsu Gifu Station / BEERTERIA PRONTO Osaka Dojima

Pre-Sale Table Reservations

・Running now until August 20, 2019 at 23:59 (JST)

・Price: ¥2,700 (Tax Included) for one person. Includes one seat, drink, backstage pass sticker, and one of four acrylic bangles.

General Reservations

・Running: August 21, 2019 at midnight (JST) to September 23, 2019 at 23:59 (JST)

・Price: ¥1,188 (Tax Included) for one person. Includes one seat and drink.

*To make a reservation and receive the voice reminder you must have a Bandai Namco ID (free to register)

*Menu items and merchandise subject to alterations without notice

*The pictured photos are of products still in development and may differ from the actual product

Official Website: https://bpnavi.jp/enterbell/given/