This club event gathers together popular DJs leading the club scene as well as much more young DJs who are gaining attention. It is held within the city periodically and will see a variety of unique projects come to be. MOSHI MOSHI NIPPON has picked this event and recommends it to those in the forefront of youth culture who want to know and experience things.
WOMB in Shibuya to hold its 16th Anniversary Event!
After having a sensational opening back in 2000, WOMB, a club aimed at Tokyo's club culture which Japan can boast about to the world located in Shibuya's Maruyama-cho, will be celebrating its 16th anniversary in April 2016.
WOMB is an indispensable, must-go-to location for Japan's club scene and dance music scene. In February of this year, the venue underwent a large scale revamp, which has been the talk of the town.
The 3rd floor terrace seats look down onto the "MAIN FLOOR" and is now home to the new "VVIP TERRACE" area which offers comfortable service including glass barriers along the whole of the aisle seat sections, giving a sense of freedom. Moreover, the enlarged "WOMB LOUNGE", where you can hear the music the best at very high quality, as well as the MAIN FLOOR's acoustics, lighting and performing equipment have all been upgraded.
■Event Information
Date: Saturday April 9th / OPEN 23:00
Venue: WOMB 2-16 Maruyama-cho, Shibuya-ku, Tokyo
Price: At door ¥3,500 / With flyer or WOMB member ¥3,000
LINE UP: SHINICHI OSAWA, DJ AKi, OHNISHI, DJ SODEYAMA, KABUTO, SATOSHI OTSUKI, DJ PI-GE, KIKIORIX, NAOKI SERIZAWA, ALYN, MONKEY TIMERS, YOSA, EITA, YMASA, REN
・VJ: REALROCKDESIGN
・LIGHTING: SAITO
 WOMB LOUNGE: DANTZ (REVAMP), TAI IKEZAWA (WEDM NEXT), YURIA (EDM WARZ), ALPHA ONE (#TOKYOMIX), YAMARIKI (MIX JUICE), WATCHMAN a.k.a. SHINGO ODA (#TOKYOMIX), KENTA (PLAY THE BEAT), FUMI (GEKIYABA SET), SHOHO (GEKIYABA SET)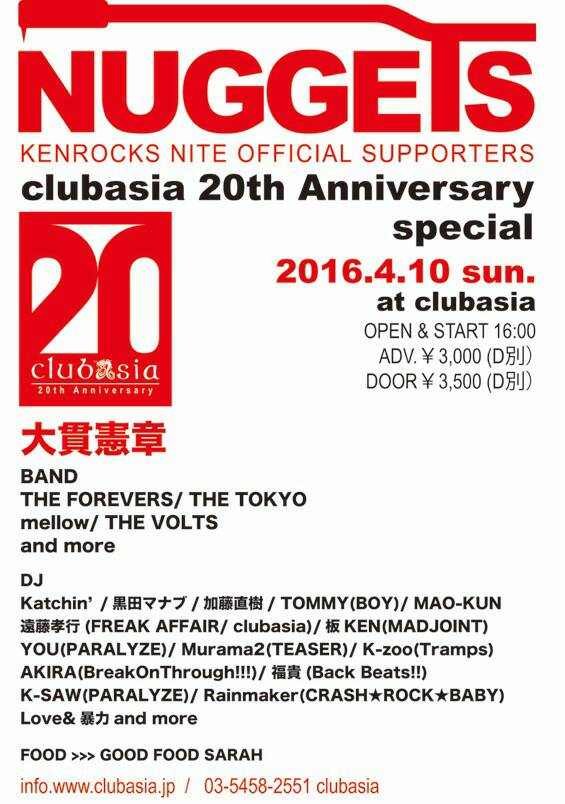 Rock band excavating anniversary event!
Well-known music critic Onuki Kensho will be celebrating CLUBasia's 20th anniversary at the music event "NUGGETS". The event will see not only DJs known for playing at NUGGETS, but also a string of distinguished bands including popular rock band GuitarWolf. Kensho Onuki, the spearhead of KEN ROCKS, who paved the way for the history of Japanese rock with the legendary event "London Nite" that started at Shinjuku Tsubaki House, will also be attending. A new kind of Japanese rock is being born right now in Shibuya. This is a night not to be missed.
■Event Information
NUGGETS x clubasia 20th Anniversary
Date: Monday April 10th / OPEN & START 16:00
Venue: clubasia 1-8, Maruyama-cho, Shibuya-ku, Tokyo
Price: At door ¥3,000 / Advance ¥2,500
 ・Bands
GuitarWolf,THE FOREVERS,THE TOKYO,The Swing Kids,mellow,THE VOLTS,U-ku
・DJ
Kensho Onuki ,Katchin', Kuroda Manabu,加藤直樹,TOMMY(BOY),MAO-KUN,遠藤孝行(FREAK AFFAIR/ clubasia),板KEN(MADJOINT),YOU(PARALYZE),Murama2(TEASER),K-zoo(Tramps),AKIRA(BreakOnThrough!!!),福貴(Back Beats!!),K-SAW(PARALYZE),Rainmaker(CRASH★69★BABY),Love&暴力,NORA(moonflowerxxx),ブルータス(N-night) and more…
Electronic music event! A must-see for techno lovers
Representatives of the underground techno genre will be performing at an event at Shibuya VISION! Artists include DENKI GROOVE member Ishino Takkyu, techno god KEN ISHII, techno musician Sunahara Yoshinori and many more representing artists, who will come together for this not-to-be-missed night. It has also been announced that electronic music artist Shibuya Kei'ichiro will be performing at the event under the name "DJ JIMIHENDRIXXX". With an excellent line-up formed of a mixture of personalities and creativity, the floor's voltage is sure to meet no bounds. Look forward to witnessing these cutting-edge and skilful artists who are leading the scene.
■Event Information
TECHNO INVADERS
Date: Friday April 15th / OPEN 22:00
Venue: VISION 1-8, Maruyama-cho, Shibuya-ku, Tokyo
Price: At door ¥3,500 / Advance ¥2,800
Takkyu Ishino / Ishino Takkyu・KEN ISHII ・SEKITOVA ・Licaxxx ・WATAPACHI
There will be an ID check (please make sure to take photo ID).
A night featuring a hybrid of sounds at Omotesando! Plus a special guest!
HIROFUMI OHTA, who appeared as the first Japanese artist to perform at "ULTRA MUSIC FESTIVAL IN MIAMI" and has successfully performed there 8 times, will produce the global standing, borderless party gig "EM-Electric Music". Appearing as a special guest will be JOHNNY YONO (Armada, Lange, Perfecto), a newcomer from LA that is making a name in the Japanese DJ scene and whose name appears consistently in the Beatport Top 100. DJ Dragon, who is the main DJ for "Cyber Trance" and who performed as the main act to an audience of 5000 at "agefarre 2015", a velfarre x ageHa collaboration event, will also be playing at the show. Enjoy the best music at this event held in the fashionable area of Omotesando!
■Event Information
EM-Electric Music-
Date: Friday April 15th / OPEN 22:00
Venue: ARC, 3-18-19 B1, Minami Aoyama, Minato-ku, Tokyo
Price: Males ¥4,000 / Females ¥3,000
 ・Special Guest DJ
JOHNNY YONO (Armada/Lange/Perfacto/Enhanced/Black Hole)
・Guest DJ
DJ DRAGON
MASARU (Plus Records / Kannon Sound)
 ・Resident DJ
HIROFUMI OHTA (2003-2010 Ultra Music Festival Miami / TK Tracks),PEPE ORRO (USA),AIL D'DRAGON,
 ・Featuring. DJ EDM48
ONNY,DAN,4C,YURI
 ・Dancer
NAMI,MANYA
ASOBINITE!!! Golden Week Battle Formation! 2nd Collaboration with CYBERJAPAN!
Renowned and legendary music producer Nakata Yasutaka will once again be holding the always highly anticipated ASOBISYSTEM flagship party ASOBINITE!!! along with another incredible line-up. Throw away your troubles and dance your heart out during the Golden Week holidays! The event will once again see the highly rated collaboration held last year between ASOBINITE and CYBEJAPAN. Look forward to the later announcements of special guests!
■Event Information
ASOBINITE!!! -GW SPECIAL-
Date: Friday April 29th / OPEN 23:00
Venue: ageHa, 2-2-10, Shinkiba, Koutou-ku, Tokyo
Price: At door ¥3,500 / Advance ¥2,500 / ageHa MEMBER ¥2,500
Pair Ticket: ¥4,800 ※To be used for two people.
Group Ticket: ¥6,600 ※To be used for three people.
20th PASS: ENTRANCE FREE!!
(Separate charge for 1 drink ¥500. Alcohol restricted to those under 20 years of age. ID checks for those who look under 20 years of age.)
International Coupon ¥3,000 (All Foreign I.D Holders)
・RESIDENT DJ
Nakata Yasutaka(CAPSULE)
・ Guest
MITOMI TOKOTO and CYBERJAPAN DANCERS
 ・VJ
TAKI KOHEI
 ・LASER
VenusLaser
 ・LIGHTING
MIURA
 and more SPECIAL GUEST!!!