Experience Okinawa's Breathtaking Scenic Views at ALLAMANDA IMGYA CORAL VILLAGE
IMGYA CORAL VILLAGE is located at Shigira Resort on the Miyako Islands of Okinawa Prefecture. The site received a name change on October 1, 2018 and now goes by the name ALLAMANDA IMGYA CORAL VILLAGE.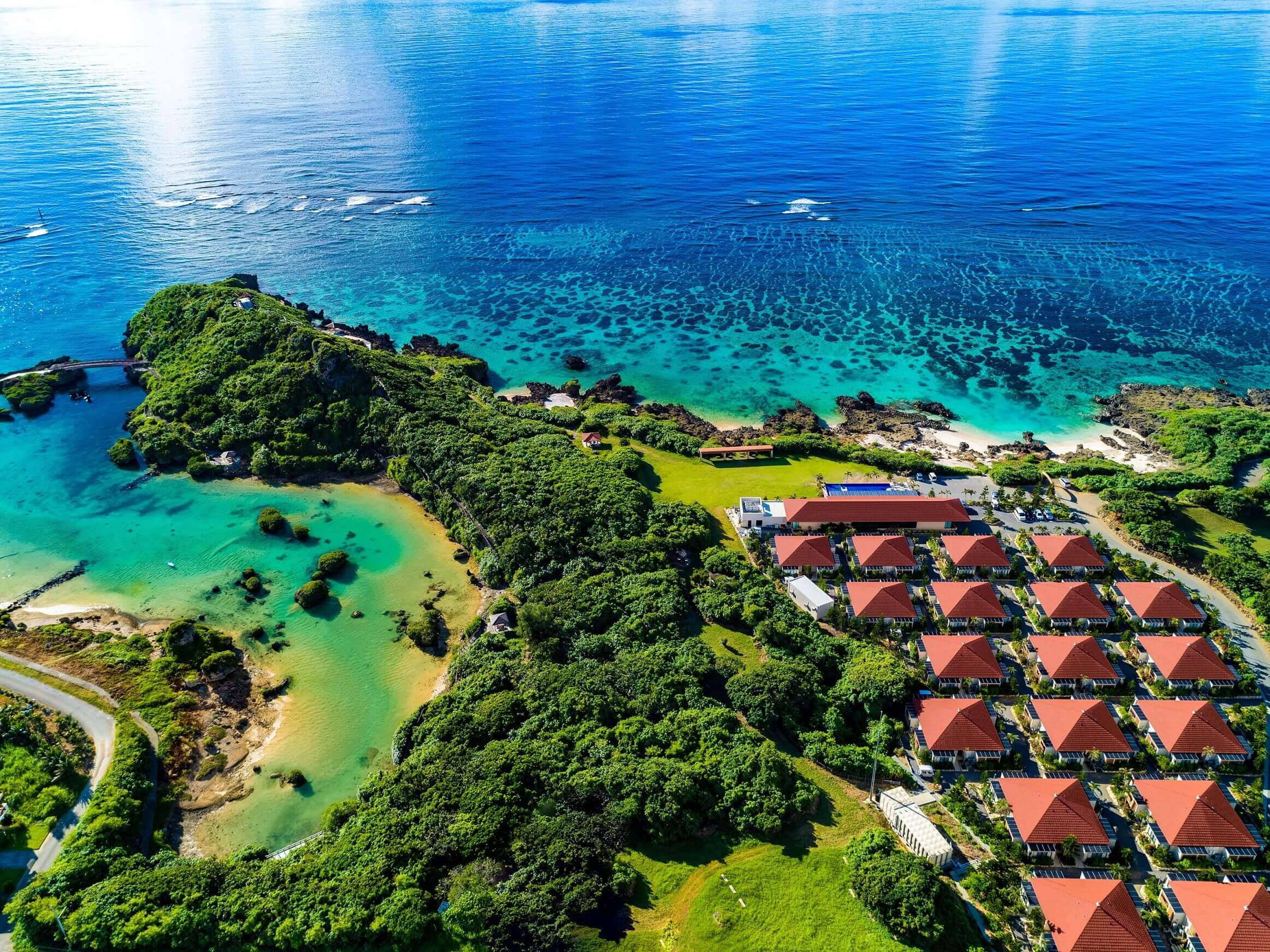 The site has undergone a "brush up" to better exhibit the charms that Imgya has to offer including the staff uniforms, amenities and more. Their concept is to offer individuals a great journey in a blue and green paradise.
The Miyako Islands sit approximately 300km southwest of mainland Okinawa. Direct flights depart from Tokyo, Nagoya and Osaka throughout the year and from Fukuoka for limited periods. Its easy access makes it a very popular resort destination. Shigira Resort boasts 3.3 million square meters on the island. This is where the Imgya area is located, home to newly-named ALLAMANDA IMGYA CORAL VILLAGE which is surrounded by lush nature.

The beachfront park Imgya Marine Garden makes use of the inlets on the premises, offering the best location to enjoy the beautiful sea and sights. The calm ocean is home to schools of tropical fish of all colours such as the yellowtail clownfish which you can see yourself by snorkelling. The parkside path is also ideal for a stroll during marine leisure time. During the day guests are surrounded by the sound of sea waves, and at night, they can enjoy gazing at the starry sky while wrapped in remote nature.

There are 72 rooms spread across 18 villa buildings. All rooms come with a living room, bedrooms, loft and a terrace with a Jacuzzi. The buildings have colourful and modern interiors. Rooms are decked out with wood which give them a warm and welcoming atmosphere. The terrace and Jacuzzi are sure to make for some Instagrammable photos.
The site's restaurant Coral Blue offers breakfast and dinner in the form of a buffet that rotates from Japanese food to western and Asian. The colourful menu uses ingredients from the island and Okinawa. You can even pick from an optional BBQ in the evening.
Whether it's a refreshing vacation with friends and family or an anniversary trip, why not visit ALLAMANDA IMGYA CORAL VILLAGE?
RECOMMENDED ENTRIES
Club Med Ishigakijima Places Number One in TripAdvisor's "Best Hotels for Families" Category

Club Med Ishigakijima in Okinawa has earned itself a high reputation. It placed number one on TripAdvisor's "Travellers' Choice Awards" for 2018 in Best Hotels for Families in Japan, and also ranked in tenth place in All Inclusive Resorts for the whole of Asia.

The Travellers' Choice Awards is an annual award based on millions of reviews and opinions written by traveller's around the world. Only the best of the best are chosen for an award; only 1% of the accommodations listed on TripAdvisor are chosen for the Travellers' Choice Award. This year marks the 16th run, with a total of 8095 properties from 94 countries around the world listed on TripAdvisor.

 

Club Med opened as the world's first hotel and resort to have a daycare service for children in 1967. It celebrated its 50th anniversary last year. The staff position of G.O at Club Med is a qualified and full-time job, devising programs for children based on their age to create an environment where both adults and children can enjoy themselves. A review from one traveller stated, "This is my first stay here in 4 years. My child was 2-years old then and is now 6. She really enjoys the mini club and can use it fully every day. Thanks to you, we've been able to enjoy a comfortable time as husband and wife" (*translated from Japanese).

Tadahiro Inoue, Marketing Director at Club Med, spoke about the honour of receiving the Travellers' Choice Award for the category of Best Hotels for Families: "Club Med has created a facility and service so that we can continuously offer the best child care as a pioneer of daycare services. The Ishigakijima resort has the 'Baby Welcome' service in place for 1-2 year old children and directs great effort into guarantees for millennial families. We will continue to work vigorously so that we can become the number one travel destination for families in the future."

If you're heading to Okinawa with the family, then how about considering Club Med Ishigakijima as your destination?

HOTEL LOCUS Grand Opening on Okinawa's Miyako Island—All Rooms Have Ocean View

The luxurious HOTEL LOCUS situated on the island of Miyako in Okinawa, where every room has an ocean view, held its grand opening on January 22, 2018.

A dream beach location and a great destination for snorkeling and diving to see the coral reefs, the number of tourists visiting Miyako Island in Okinawa has been increasing in recent years. In the northwestern region of  Miyako Island, just 10 minutes by car from Miyako Airport and facing Hirara port is HOTEL LOCUS, where every room has a view of the ocean. The hotel is positioned in the ideal location to take in the regional characteristics and charm of Miyako Island and aims to be an "experienced-based resort" where guests can fully enjoy everything that the island has to offer through numerous different experiences.

HOTEL LOCUS has selected a range of activities for guests to enjoy characteristic of Miyako Island, including food, culture, spots, people, and of course marine sports.

Hand Craft Design & Original Textiles 

To ensure guests can enjoy the rich natural environment of Miyako Island to the fullest, the hotel space is made warm and simple with handmade furniture, fabrics, artwork and more. Traditional Okinawan crafts and materials are also used for people to take in the regional characteristics while enjoying some quality, stress-free relaxation time.

Rooms are complete with rugs and cushions made with an original textile that transmits the charm of local Miyako craft. This textile was developed in collaboration with Eri Shimatsuka, a textile designer who formerly resided in Okinawa and currently works with international brands.  There are four designs themed on spinning thread ("UMU"), braiding plants ("AMU") and high quality Miyako kasuri fabric ("KASURI").

Ocean-view rooms

There are 100 rooms in HOTEL LOCUS, and all of them have an ocean view. There are 6 types of rooms to choose from, from compact and simple to twin rooms with a terrace, rooms with a private pool and hot tub, and more.

See Miyako Island's gorgeous ocean and the sunset from the restaurant

On the second floor of the hotel is "LOCUS TABLE," a restaurant that serves up fresh Miyako ingredients using island vegetables, herbs and spices from the hotel's own vegetable garden. The menu is brimming with delicious food. Feel the refreshing ocean breeze against your cheeks on the terrace with breakfast, and gaze at the beautiful sunset with dinner.

Concept shop

On the first floor next to the reception is a shop called "Concept Shop by su+". su+ is a new project by UDS who aim to bring forth new value in a room through materials. They promote the handiwork of Miyako by stocking handicrafts that elicit the warmth of the island.

Appreciate the beauty of Miyako Island at HOTEL LOCUS with an ocean view, local food and charming crafts.

■Information

HOTEL LOCUS

Address: Hirara Shimozato, Miyakojima-shi, Okinawa Prefecture, 906-0013

Grand Opening: January 22, 2018

Rooms: 100 (Check-in from 3pm / Check-out by 11am)

Facilities: Restaurant "LOCUS TABLE" / Shop "Concept Shop by su+" / Outdoor Pool / Sunset Terrace / Activity Lounge

Website: https://www.hotellocus.com/

Five recommended Okinawa accommodation facilities and experiences

Okinawa is located in the southernmost part of Japan. These islands are highly popular tourist destinations for both Japanese and foreign tourist. Here we want to introduce to you some highly recommended lodging facilities and experiences.

Okinawa/Miyakojima SHIGIRA RESORT "HOTEL SEA BREEZE CASUAL"

"HOTEL SEABREEZE CASUAL" was designed under the theme of "enjoying a quality resort casually" and it offers a new staying experience in Miyakojima which is different from the services which SHIGIRA RESORT has been offering.

The beach and sea surrounding SHIGIRA RESORT are always calm and are suitable for enjoying Marine leisure activities. In the resort, you can enjoy snorkeling with sea turtles and fish, sap yoga which has a high-quality relaxation effect, marine sports and golf. You will for sure be able to enjoy Miyakojima's rich leisurely atmosphere.

For further details take a look at the following article: http://www.moshimoshi-nippon.jp/70990

Okinawa/Miyakojima "HOTEL LUCUS"

It is an "experienced based" resort program where one can enjoy the island centering around the hotel. The architecture of the building is very simple since they want the visitors to feel the rich nature of Miyakojima. The hotel will incorporate traditional Okinawan crafts so that visitors can enjoy the hotel naturally and comfortably.

For further details take a look at the following article: http://www.moshimoshi-nippon.jp/69768

Okinawa/Iriomote Airbnb Minshuku

If you want to stay in a priceless place, a lodging located in a village surrounded by sugarcane fields from Airbnb is recommended. This room is recommended for people who have an interest in living on Okinawa's isolated islands and for those who wish to experience what it's like to live there. Guests will also be greeted by a loving mixed breed dog the Ryukyu Inu.

For further details take a look at the following article: http://www.moshimoshi-nippon.jp/59290

Okinawa/west coast "PANZA Okinawa"

A new attraction where you can fully enjoy the beauty of the sea has opened up in a resort area of Okinawa's west coast. Panza Okinawa has two different attractions, and one of them is called "MegaZip" where you can feel like you are flying above the beautiful sea. You will walk in the sky for about 250 meters hanging by a rope installed on your safety belt. And the other activity is "Go Fall." This is literally falling from thirteen meters high wearing a harness.

For further details take a look at the following article: http://www.moshimoshi-nippon.jp/30079

Okinawa "Hoshinoya Taketomijima"

This is a three-days and two-nights program where participators can enjoy bouldering using natural rocks at Iyal Beach (3 minutes on foot from Hoshinoya Taketomijima). Other than that, one can refresh your mind and body by participating in private shamisen lesson, making goza (Japanese mats) and coasters with "a Tiwaza Experience" and receiving spa-treatment.

For further details take a look at the following article: http://www.moshimoshi-nippon.jp/71181

Did you like our recommendations? Why not experience a leisurely island holiday on one of these islands.
RELATED ENTRIES
Try This Mino Traditional Culture and Tea Tasting Experience Hotel Plan in Gifu

The Mino region of Gifu is famous for its traditional pottery called Mino Ware, its Gifu lanterns, and much more. Recently, an empty building located in front of Minokamo station in Gifu prefecture was renovated by a company called IDENTITY, who transformed it into a community building called MINGLE. MINGLE is now home to the Japanese tea shop Minokamo Chapo. This tea shop proudly represents the culture of tea and pottery that still remains in the Mino region. In order to share this wonderful culture, they are now offering a new accommodation plan to provide guests with the chance to experience the world of Japanese tea and the rich culture of Mino.

You can also experience tasting and comparing different Japanese teas that are offered by Minokamo Chapo. During your stay, you will also encounter lots of Mino Ware, and be surrounded by a traditional Mino interior decorated with Mino washi paper.

1st floor: Café and Bar

You can order the Japanese tea tasting selection at the counter. This space is used as the Minokamo Chapo tea shop from 11 am to 4 pm on weekends and national holidays.

2nd floor: Rooms


The rooms are approximately 22m2. On top of this space, there is also a shower room and toilet in their own separate rooms.

3rd floor: Lounge

This is an area of free space for the guests. There are future plans to decorate this space with paintings and pottery according to the season.

The interior of the guest rooms are also packed with the wonders of the Mino region, so we are going to introduce you to a few of its special features. 

Upon entering your room, you will be greeted by the warm light of an Akari lantern. This is a kind of lantern which is recognized as a traditional craft of Gifu prefecture. This lantern design was created by famous artist Isasmu Noguchi, who named it Akari which means "light".

In the bathroom, you will spot a few stylish mugs which belong to the brand "3rd-ceramics".  

 The rooms are affixed with paper sliding doors (shoji) and bear beautiful Mino washi paper that is a traditional turquoise-blue colour. 

This is the perfect place to enjoy a traditional experience like no other. 

Information

Accommodation Plan:

MINGLE Address: 2689-14, Otemachi, Minokamo, Gifu

【Standard Prices】

ーGeneral Reservationsー

3 Guests ¥13,890(¥4,630 per guest)

2 Guests ¥11,260(¥5,630/ per guest)

ーReservations Made a month in advanceー

3 Guests ¥11,190(¥3,730/ per guest)

2 Guests ¥9,460(¥4,730/ per guest)

※ The fee for 1 guest is the same as that of 2 guests.

◆Reservation Website:

Booking.com (English also available): https://www.booking.com/hotel/jp/mingle-minokamo.ja.html

Instagram: https://www.instagram.com/minocamo_mingle/

Phone Number: 080-4210-7117 

MinoKamo Chapo: https://mchaho.com/

New Hotel Renovation Hakone Yutowa in Gora Caters to Millennials and Families

Hakone Yutowa is a new hotel in the town of Gora, Hakone that opened on August 11, 2019. This hotel renovation is aimed at millennials (those in their 20s and earlier 30s) and families, offering various different rooms include your typical hotel-type as well as condos. There are also multiple shared public spaces full of fun and relaxation.

Part of the enjoyment at Hakone Yutowa is getting to walk around the site leisurely finding all the little things it has to offer, from the hot spring with its own hot spring source to a communal room so stylish you can't help reaching for your camera to snap photos. The hotel aims to offer guests "an experience in remote Hakone you can't get anywhere else" and it does so by presenting a new style of hotel accommodation.

Hakone Yutowa is about a five-minute stroll along a flat-level path from Gora Station, which is accessed via the Hakone Tozan Railway, meaning it can be accessed easily by those without a car. "Yutowa" is has a combination of meanings: the yu in Japanese means "hot water" which conjures up not only the hot springs but also a warm and welcome stay at the hotel. It is also word play with the word "you." The to means "and" in Japanese and wa is "circle" like a circle of friends. In other words, at Hokone Yutowa, you'll be spending a nice time together with someone special.

The hotel is split into three buildings: the East Wing, West Wing, and Condominium Wing. Each offers "a new style of travel accommodation."

New Style ①

Spa Lounge Nakaniwa and Lively Lounge are two public spaces in the hotel that anyone is free to use at their leisure. Nakaniwa is home to a footbath at the outdoor wooden deck which makes use of the hotel's natural spring source, as well as an open-air fire. Lively Lounge houses around 700 books which guests can pick from before finding a little spot to sit down and relax.

New Style ②

There are two types of rooms: Hotel and Condominium. The Condominium rooms are the first hotel rooms of their kind to be offered in the Gora area. These fancy rooms have their own hot spring bath with a beautiful view. The water in the bath flows directly from the hot spring source.

New Style ③

The all-inclusive plan includes breakfast and dinner as well as free drinks and free use of the communal spaces. Guests do not need to worry about any extra fees as everything is included. There are also other baths available in the hotel including one that makes use of colourful lights.

If you're looking for a hotel with freedom in Japan then take your family, friends or loved one to Hakone Yutowa.

Mango Drinks Cafe CAFE MANGOSIX Opens First Japan Branch in Okinawa

MANGOSIX Japan opened its first ever CAFE MANGOSIX branch in Naha, the capital of Okinawa, on August 10.

CAFE MANGOSIX is a hugely popular cafe in South Korea which serves healthy drinks and desserts themed on its 6 S's concept: Sensual, Slim, Sweet, Social, Sexy, and Style.

Their must-try beverage is the Mango & Coconut Juice which combines rich mango with sweet coconut milk. The cafe even has some drinks exclusive to Japan so you won't find them anywhere else!

The popular Blue Lemonade from South Korea is also being sold.

Cool yourself off after sunbathing on the beaches of Okinawa by grabbing a drink from the new CAFE MANGOSIX!

Information

CAFE MANGOSIX

Address: 1-16-6 Matsuo, Naha, Okinawa

Opening Hours: 8:00-22:00

Access: 10-minutes by car from Naha Airport / 4-minutes on foot from Prefectural Office Station (via Yui Rail, aka Okinawa Monorail) / 2-minutes on foot from Okinawa Prefecture Government Building

Official Website: http://www.mangosix.co.jp/

Haneda Airport Releases First Bubble Tea Which Passengers Can Enjoy as They Fly

XFLAG STORE + HANEDA is a small branch of XFLAG STORE and is located in Terminal 1 of Haneda Airport. On August 13th, they released three energising bubble tea flavours served in a bottle that you can take on board with you when travelling along domestic air routes. The three bubble tea flavours are; MILK TEA, HOJICHA (a type of green tea) and MATCHA. 

These bubble tea flavours are limited to XFLAG STORE + HANEDA and were created with the intention of providing a splash of energizing fun to tiresome travels. 

As long as you screw the lid on properly, you can store your delicious drink in your bag and even carry it onto your flight so you can enjoy it whilst soaring through the clouds. This is the first time a shop at Haneda airport has ever sold a bubble tea drink with the intention of flight passengers taking it on board with them.

*Drinks and liquids are usually permitted on domestic flights in Japan. Please check the specific rules of your flight by referring to the official website of your airline. 

To commemorate the release of the new bubble teas, XFLAG STORE + HANEDA has launched an Instagram campaign with the chance to win an Amazon gift card worth ¥10,000 (approx. 80GBP/95USD). 

To take part in the Instagram campaign for the chance to win a ¥10,000 Amazon gift card, be sure to take a photo with your XFLAG STORE + HANEDA bubble tea drink and then post the picture on Instagram with the following three hashtags:

#旅タピ #タピオカ #空の上で飲めるタピオカドリンク

Four winners will be selected.

Get your summer holidays off to a soaring start with a beautiful bottle of bubble tea. 

Information

MILK, HOJICHA, MATCHA Bubble Teas

Price: ¥650 (before tax)

Release Date: August 13, 2019 

Available at: XFLAG STORE + HANEDA 

Address: Haneda Airport Terminal 1 South Wing, floor 3 (3-3-2 Haneda Airport, Ota Ward, Tokyo)

*Bubble teas sold may differ in appearance to the images in this article. 

* The MILK Bubble Tea (cup) is also available at XFLAG STORE SHINSAIBASHI. Both the HOJICHA and MATCHA Bubble Tea flavours are limited to XFLAG STORE + HANEDA.

XFLAG STORE Portal Website: https://xfl.ag/soratapi

4 Must-Visit Fireworks Festivals in Kyoto This Summer

Kyoto―also known as the "old capital" and said to be the birthplace of Japanese culture. In its 1,200 year history, this ancient city has given rise to much of what can be considered quintessential Japanese culture. Fireworks are a monumental feat of summer in Japan with countless festivals up and down the country dedicated to them, and Kyoto is no exception.

If you're in Kyoto this summer then you mustn't miss these 4 fireworks festivals.

Kameoka Peace Festival Hozugawa River Fireworks Festival – A Magnificent Arsenal of 8,000 Beauties

This long-running event is held every year to pray for world peace. Its spectacular display features a lineup of fireworks specially selected by the Japan Fireworks Artist Association which aims to evolve the tradition of firework culture. Expect to see the night sky illuminated with a rainbow of colours from the festival's launch of 8,000 fireworks, including the Starmine which shoots a cloud of bright stars into the overhead abyss, as well as some original fireworks crafted for the festival such as the "Kamemaru Hanabi."

▼Kameoka Heiwasai Hozugawa Fireworks Festival (Kameoka Peace Festival Hozugawa River Fireworks Festival)

Date: August 11, 2019

Time: From 19:30
Location: Hozubashi Bridge
Official Website: http://kameoka-hanabi.jp/

Kyoto Nantan City Fireworks Festival – The Spectacular Starmine

Held by the riverbed of the Katsura River, the fireworks festival in Nantan makes use of the opposite shore from the viewing point which makes the fireworks look like they are raining down from the sky like a waterfall. The finale of this festival welcomes the behemoth of all Starmine fireworks which rips across the night sky in a blazing spread. The festival is also held as part of the Bon Festival and so lanterns are let loose down the Ōi River, creating a sight of subtle grace and beauty.

▼Kyoto Nantan City Fireworks Festival

Date: August 14, 2019

Time: From 19:30

Location: Katsura River
Official Website: http://www.yagi-hanabi.com/

Miyazu Toronagashi Fireworks Festival – Floating Lanterns & Fireworks For 400 Years

Held in the city of Miyazu, this festival combines fireworks with floating lanterns and shoryobune―boats adorned with tanzaku paper slips that are sent out to light the way for the deceased as part of the Bon Festival.  Floating lanterns on the water (known as toronagashi in Japanese) in Miyazu began 400 years ago. This year, it was counted as one of Japan's three biggest toronagashi events.

Together with the boat, around 10,000 lanterns are sent into Miyazu Bay, creating a beautiful and majestic atmosphere. Close to 3,000 fireworks are set to illuminate the sky above, leading to an indescribable beauty as the fireworks and lights give off their own light.

▼Miyazu Toronagashi Fireworks Festival

Date: August 14, 2019

Time: From 19:30

Location: Shimasaki Park
Official Website: https://www.kyo.or.jp/miyazu/hanabi/

Ine Fireworks – Fireworks Galore Envelop Ine Bay

Around 1,200 fireworks climb up and over Ine Bay, lighting the calm water surface and the funaya boat houses of Ine with their brilliance. The boat houses themselves are also strung and lined with hanging lanterns.

▼Ine Fireworks

Date: August 24, 2019

Time: 20:15

Location: Ine, Kyoto
Official Website: http://www.ine-kankou.jp/inehanabi/

Did you enjoy our pick? It isn't summer in Japan without fireworks. If you're travelling to Kyoto to catch some sun this year, finish the day off with one of its many fireworks festival―from traditional Kyoto-esque events to large-scale ones with 8,000 fireworks ready to be deployed.

Experience Kyoto at Night: 5 Must-See Spots – MOSHI MOSHI NIPPON

The ancient city of Kyoto enjoys waves of tourists and sightseers from around the world throughout the year. It is particularly hot during the summertime because it's situated in a valley. If you've never walked around Kyoto's towns at night then we invite you to add it onto your list of sightseeing experiences.

We have compiled a list of 5 must-visit locations to best enjoy Kyoto's nightscape. We are joined by Taka, a Japanese Instagrammer who conveys the beauty of Kyoto through his picturesque photographs which has has provided us today.

Kyoto Station & Kyoto Tower

The modern architecture of Kyoto Station is a juxtaposition against the traditional image of Kyoto. There are lots of great places inside the station where you can get up high and gaze down at Kyoto's streets, but the absolutely unmissable nighttime spot are the mirrored windows. When evening sets in, you can see Kyoto Tower―which is opposite the station―reflected on the outside. Of course, you can enjoy the tower during the day too, but at night they light it up, making for a truly magical sight.

▼Kyoto Station

Address: Higashishiokoji Kamadonocho, Shimogyo Ward, Kyoto, Kyoto Prefecture

Kyoto Station Building Official Website: https://www.kyoto-station-building.co.jp/

▼Kyoto Tower

Address: 721-1 Higashishiokojicho, Shimogyo Ward, Kyoto, Kyoto Prefecture

Opening Hours: 9:00-21:00 (Last Entries 20:40)

*Opening hours subject to change without notice

Official Website: https://www.keihanhotels-resorts.co.jp/kyoto-tower/

Yasaka Shrine

Yasaka Shrine is an easy sightseeing spot to reach being just a 5-minute stroll from Gion-Shijo Station. The shrine is a power spot said to provide good luck when it comes to marriage ties. It bustles with visits from people from around the world and is in fact open 24-hours a day.

Paying a visit at night provides you with an entirely different look at Yasaka Shrine. Why not dine out along Shijō Street and take a walk to the shrine when the sky turns dark?

▼Yasaka Shrine

Address: 625 Gionmachi Kitagawa, Higashiyama Ward, Kyoto, Kyoto Prefecture

Official Website: http://www.yasaka-jinja.or.jp/

Kyoto Minamiza Theatre

Minamiza is the oldest theatre in Japan and is officially registered as a Japanese Tangible Cultural Property. Like Yasaka Shrine, the closest station to the theatre is Gion-Shijo Station. Leave through Exit 6 and it's right outside.

Minamiza has a long history spanning back to 1610 when it was founded. In May this year, Kyary Pamyu Pamyu performed a special concert there entitled Kyary Kabuki Kabuki which made use of projection mapping, fusing history and tradition with the latest cutting-edge technology to provide a concert like no other. The theatre is becoming a new sightseeing spot as it is lit up at nighttime. All of the lights are turned on until 10pm after which just the roof lights are kept on.

▼Kyoto Minamiza Theatre

Address: 198 Nakanocho, Higashiyama, Kyoto, Kyoto Prefecture

Official Website: https://www.shochiku.co.jp/play/theater/minamiza/

Ninenzaka

Ninenzaka is a long winding road that leads up to Kiyomizu-dera temple and is also a very famous tourist spot. It is registered under the Important Preservation Districts for Groups of Historic Buildings. In the daytime, the street bustles with locals and tourists dipping in and out of the souvenir shops, but the dark evenings of Ninenzaka are another kind of wonderful. The number of tourists drops significantly at night meaning you can have the street all to yourself and take plenty of photos, warm lanterns lighting your way.

▼Ninenzaka

Address: 2 Kiyomizu, Masuyacho, Higashiyama Ward, Kyoto, Kyoto Prefecture

Official Website: http://www.2nenzaka.ne.jp/

Kiyomizu-dera

Kiyomizu-dera is a 25-minute walk from Kiyomizu-Gojō Station which is reached via the Keihan Main Line. Registered as a UNESCO World Heritage Site, this ancient Buddhist temple is a very popular tourist destination. What we want those of you to see when visiting in the evening is the beautiful sunset which can be seen from the temple, colouring the streets of Kyoto a gorgeous orange.

▼Kiyomizu-dera

Address: 1-294 Kiyomizu, Higashiyama Ward, Kyoto, Kyoto Prefecture

Opening Hours: https://www.kiyomizudera.or.jp/access.php

Official Website: https://www.kiyomizudera.or.jp/

Taka has visited so many incredible locations in Kyoto, so if you're planning a trip there and need some recommendations be sure to follow him on Instagram.

Photos: Taka

Keio Plaza Hotel Tokyo Offers Luxurious Accommodation Plan & Tea Ceremony Experience For Families

Keio Plaza Hotel Tokyo, a highly prestigious and magnificent 4-star hotel located in Shinjuku, is now serving an all-new "luxurious" family package which includes a tea ceremony experience and much more. It is currently running from July 20 to September 1.

The rooms offered in the accommodation plan are the hotel's popular Wide Twin Rooms located on the Premier Grand club floor. Use of the Club Lounge is included in the package. The Wide Twin Rooms include two roomy queen-size beds which span 1.53 meters wide which allow parents to sleep comfortably with their children. Rooms also feature their own bathroom facilities.

The package also includes a check-in simulation for children aged 6-12 years where they can get a feel for what it's like to check-in. They will fill in their own check-in cards with parents and receive a ticket for the tea ceremony experience. They will be able to take their card home with them and take a commemorative photo.

The tea ceremony experience will be held on the hotel's 10th floor in the "Shofuan," an authentic tearoom that has been in the hotel since it opened in 1971. Parents and children will receive proper instruction from the tea ceremony teacher before pouring their own tea, allowing them to learn about traditional Japanese culture and etiquette. They will receive a special certificate of completion at the end.

If you're travelling to Japan as a family this summer then enjoy it in luxury at Hotel Keio Plaza Tokyo.

Information

Tea Ceremony Experience and Luxurious Accommodations for Families

Running: July 20, 2019 – September 1, 2019
Price: ¥18,450 per person for the Wide Twin Rooms on the Premiere Grand Club Floor *Usage for 2-4 people (Includes use of the Club Lounge, breakfast, and includes service charge and tax)

Package Includes:

①Tea Ceremony experience for overnight guests (1.5 hours required, children of preschool age or younger cannot participate but are welcome to watch)

②Simulated Club Lounge check-in experience for children and special commemorative photographs available between 2:00p.m. to 5:00p.m.

③Amenity items for mother use (skin care products etc.)

④Commemorative certificates of stays and tea ceremony completion, and photographs presented to guests

⑤Complimentary late check-out at 12:00p.m. (Normal check-out time is 11:00a.m.)

⑥Complimentary use of Sky Pool facilities

Enquiries & Reservations: +81-35322-8000

Keio Plaza Official Website: https://www.keioplaza.com/

Stay in a Traditional Japanese Hotel in Kosuge Village Where the Population is Just 700

NIPPONIA Kosuge Genryū no Mura is a new hotel opening in the village of Kosuge in Kitatsuru District, Yamanashi Prefecture on August 17. The hotel is renovated from an old Japanese-style house that was originally used for local personages and was constructed over 150 years ago.

Kosuge is about two-hours from Tokyo and is completely enveloped in the natural environment with 95% of the land occupied by trees and nature. Its population is around 700 which is a mere third of its peak population. It is currently faced with a serious depopulation problem due to its ageing population.

The hotel will open in an effort to pass on the beautiful landscapes and culture of the village to the next generation. It hopes to aid in solving the problem of its declining population and empty houses while acting as a means to bring in tourism and sightseeing.

The hotel serves as just the first part of this village revitalisation project. It features 4 guest rooms called OHYA as a restaurant that seats 22.

There are three rooms in the main building and one in the basement. Each is designed with privacy in mind and each has its own concept.

OHYA 1

From the rooms guests can enjoy the view of the gorgeous Japanese-style gardens surrounding the hotel.

The restaurant menu concept is titled 24 Sekki, which denotes the twenty four seasonal turning points of the old Japanese calendar, and is made using carefully local ingredients so that guests can enjoy an authentic Kosuge experience.

All the staff at the hotel are local villagers. The majority of the ingredients used in there are grown and produced by the farmers of Kosuge. The hotel also offers other services for guests to  get to know the area better such as nature walks and bike rides through the village. You are made to feel like one of the locals.

A second building will be renovated in May 2020 to accommodate two more rooms. There are 70-100 vacant buildings in Kosuge, so there are plans in place to receive permission from landlords to make further repairs, improvements and renovations.

If you're travelling to Japan and are looking for a truly remote experience then why not visit the quaint little village of Kosuge in Yamanashi Prefecture?

Information

NIPPONIA Kosuge Genryū no Mura

Address: 3155-1 Kosuge, Kitatsuru District, Yamanashi Prefecture (In Japanese: 山梨県北都留郡小菅村3155-1)

Grand Opening: August 17, 2019

Rooms: 4 (10 People)

Price: From ¥25,000 per person (includes one breakfast)

Access:
①Approximately 2 hours by car from Tokyo.
②1 hour by bus from Ōtsuki Station via the JR Chūō Main Line, 70-minutes by car from Oume Interchange
③1 hour by bus from Okutama Station via the Ōme Line, 20-minutes by car from Lake Okutama

TEL: 042-887-9210

Reservations: Open from August 1, 2019 via the following website: https://www.ikyu.com/vacation/00050804/

Snoopy Themed PEANUTS HOTEL Celebrates 1st Anniversary

To celebrate the 1st anniversary of the PEANUTS HOTEL, which opened on August 1, 2018, the hotel has released a collection of original commemorative merchandise.

The PEANUTS hotel is home to 18 rooms each with its own unique design. The merchandise collection is themed on each of these rooms.

PEANUTS HOTEL "Happiness is a warm puppy.." (Room 64) – ¥3,500

The theme of Room 64 is "Happiness is a warm puppy," so the PEANUTS HOTEL has made that a reality by creating a huggable Snoopy plush toy which is so cute and soft you'll never want to let him go. He is a smaller version of the big Snoopy you can hug in Room 64, meaning you can take him anywhere with you!

PEANUTS HOTEL 1ST ANNIVERSARY Postcards (5 Designs / 2 Included With Each) – ¥2,200

The hotel's postcard sets are popular with guests, and to celebrate the 1st anniversary, it is selling limited edition designs. Using special manufacturing methods, the hotel has released sets themed on Rooms 44, 57, 61 and 62. They are packaged in a beautiful box that looks like the outside of the hotel and its windows. They are great for both sending to someone with a message or for simply using them as decoration in your own room.

PEANUTS HOTEL x tegoto "solarsystem" (Room 42) – ¥49,000 (Only 30 Available)

PEANUTS HOTEL has teamed up with the internationally popular product brand tegoto to release mobiles inspired by Astronaut Snoopy which is the theme of Room 42. Each mobile is handcrafted individually and features Snoopy, Woodstock and the planetary system. Perfect for both kids and adults alike!

*Only 30 available. Each comes with its own unique handwritten serial number.

PEANUTS Cafe Nakameguro and PEANUTS DINER Yokohama are also joining in the celebration with their own pop-up corner which will run for the whole month of August. For this limited time only, they will sell items which are usually exclusive to the PEANUTS HOTEL.

"Lila" Aroma Essential Oils – ¥2,300 / Aroma Air Mist – ¥2,200 / Aroma Stone Diffuser – ¥2,200 / PEANUTS HOTEL Bath Towel – ¥3,200, Face Towel – ¥1,800, Amenity Set – ¥3,400 / Compression Bag (Contains 5) – ¥1,500

These items are also available over on the PEANUTS Cafe Online Shop. Join Snoopy and his friends in celebrating the 1st anniversary of the PEANUTS HOTEL by picking up some cute merch!

*All listed prices are pre-tax.

© 2019 Peanuts Worldwide LLC

Gaze at Shooting Stars at Akiyoshidai in Yamaguchi Prefecture with New Night Tour

Akiyoshidai is located in Mine, Yamaguchi. It is Japan's biggest karst plateau and is designated as a natural monument. If you love the stars in the night sky then you'll want to hear about the new shooting star night tours that have been announced by the Mine City Tourism Information Center.

Cities, towns and villages across Japan are seeking to cater tourist and travelers needs to experience something that only that place can offer which can be enjoyed by simply by 'looking.'

Akiyoshidai is a very popular site with photographers as it offers a clear and unbroken view of the stars. Mine City Tourism Information Center is capitalizing on this by offering more tours to visitors.


This series of tours will make it easier for people to travel to Akiyoshidai from the town area while taking advantage of a location where there is little artificial light.

Check the official website for more details on how you can witness the incredible Japanese night sky.

Information

Akiyoshidai Stars Accomodation Plan

Visiting Hakone? Pick Up A Freshly Baked Hakone Basque Cheesecake

A brand new Basque Cheesecake shop called Hakone Cheese Terrace opened on July 26th. The carefully balanced rich flavour and smooth texture of these cheesecakes makes them the perfect Hakone souvenir! Basque cheesecake is a type of burnt cheesecake that originated from Basque, Spain.

Hakone is home to a large number of Japan's popular tourist spots as well as relaxing hot springs and beautiful nature. Located just 1.5 hours from Tokyo, Hakone has an extraordinary atmosphere which will heal both your body and mind. Hakone Cheese Terrace opened to enhance the appeal of the nature surrounding Hakone resorts and to contribute to the fascinating culture of the area. 

The basque cheesecake comes in a mini cup so customers can enjoy this delicious treat while on the go exploring the local area. This is also the perfect souvenir size.

The cheesecakes at Hakone Cheese Terrace are made mostly from locally sourced ingredients. For a creamy, fresh taste, milk sourced from the south of Hakone is combined with high-quality cream cheese. An original recipe blend is used for a rich flavour and smooth texture.

The cheesecakes are baked fresh at the shop so you can enjoy your cheesecake at its most delicious stage. Rock salt, black pepper and soy sauce are available as toppings for customers to discover a new flavour.

Come enjoy the flavours of Hakone to your heart's content at Hakone Cheese Terrace. 

Information

Hakone Cheese Terrace  

Address: 54 Motohakone, Hakone, Ashigarashimo-gun, Kanagawa

Access: 3-minute walk from Motohakone Minato, 1-minute walk from Hakone Jinja Iriguchi (Hakone Shrine entrance), Hakone Tozan Bus.

Opening Hours:  9:00 ー 16:00

Official site: https://hakone-cheese-terrace.com/

Live the Disney Princess Dream With Tokyo Disneyland Hotel's Luxurious Afternoon Tea

If you've had the chance to visit Tokyo Disneyland or Tokyo DisneySea you will have tried the many delicious dishes and drinks on offer at its variety of restaurants. But did you ever know that Tokyo Disney Resort also offers afternoon tea?

Tokyo Disneyland Hotel serves the only afternoon tea set across the entire resort on occasion in line with certain events.

We had the pleasure of joining Disney mega fan Kanako as she went to visit the hotel to try this very special afternoon tea.

Tokyo Disneyland Hotel is the closest hotel to the entrance of Tokyo Disneyland. The first thing you will notice upon stepping inside is its use of Victorian decor. The ceiling also stands tall, opening the entire hotel up to give it a sense of space.

The afternoon tea is sold at the Dreamers Lounge in the lobby. In line with the Donald's Hot Jungle Summer event currently taking place at Tokyo Disneyland until September 1, the tea set is also "hot jungle summer" themed.

The first thing to note about the three-stack set is how refreshing and summery it looks – a perfect selection for the hot season. It comes with sandwiches, hors d'oeuvre, scones, desserts, and a choice of tea or coffee.

Kanako started with the very top plate. The plate itself is decorated with what is supposed to look like Donald's footprints and splashes of water.

The dessert on the left is haupia, a traditional Hawaiian dessert made with macadamia paste and roasted coconuts. It's crunchy and has an incredible flavour.

Sitting temptingly next to it is the panna cotta and melon coulis. It contains a single sage leaf which adds flavourful herb notes. The entire dessert itself has a satisfyingly refreshing taste which covers your taste buds with a single mouthful.

The middle plate features two types of scones: plain and pineapple. They come with separate servings of clotted cream and honey to lather the scones in. The latter scone is cute in that it's actually shaped like a pineapple. It's crunchy and delicious and goes exquisitely with the accompanying tea.

The tea menu has many options. Kanako went for the "Darjeeling Summer" from the premium tea selection. When you order from the premium menu your tea is prepared in a sleeping pot that is both cute and extravagant as you would expect with an afternoon tea set.

The bottom plate contains a bunch of different appetisers including tuna and okra tartar, mango and mascarpone canapé, tomato and fish capellini, keema curry quiche, and an ethnic pork sandwich.

Kanako was very happy with her hors d'oeuvre, saying: "Everything is delicious, but I really like the combination of the pork and the slightly chewy bread for the pork sandwich!"

The chilled cone cream scoop was very refreshing and a perfect palate cleanser.

Finally, the cute hot jungle summer dessert plate which caught our attention from the very start. It comes with a tropical cream cheese and passion fruit mousse, white grape and shiikuwasha jelly, and Peach Melba which looks like flowing magma.

You might be surprised to find out that the jungle leaves on the plate aren't actually part of the plate's design but in fact green chocolate carefully sprayed on.

Even the Goofy, Mickey and event logo on the plate are delicately made from chocolate. Once you know that you'll definitely be reaching for the camera straight away!

The Peach Melba is a lovely combination of peach compote and vanilla ice cream topped with raspberry sauce and almonds. Its mix sweet and sour flavours remind one of summertime.

It's not everyday you see a cream cheese mousse, is it? The one that Donald is sat on. Kanako especially enjoyed its passion fruit scent and velvety texture. It's made even more delicious when eaten together with the jelly surrounding it.

So, which was your favourite, Kanako-chan?

"Everything tasted amazing, but my favourite was the haupia♡ It's moderately sweet, and I really liked the flavour of the coconut! Everything in the afternoon tea set is cute down to the tiniest details, so it's perfect for taking photos for social media. I definitely wanna go again!"

The Donald's Hot Jungle Summer themed afternoon tea set is being served from 11:30-17:00 until September 1, 2019. Places are limited so I recommend making a reservation in advance.

Enjoy your summer to the fullest with this tropical afternoon tea set!

©️Disney

Information

Donald's Hot Jungle Summer Afternoon Tea Set

Running: July 8, 2019 – September 1, 2019

Location: Dreamers Lounge, Tokyo Disney Hotel

Serving: 11:30-17:00

Price: ¥4,000

Reservations: https://reserve.tokyodisneyresort.jp/

*Customers and guests can make reservations for the afternoon tea set.

*If you are not staying as a guest at the Disney Hotel then please make your reservation on the Tokyo Disney Resort website.

*Please note that servings are limited each day.