Experience Okinawa's Breathtaking Scenic Views at ALLAMANDA IMGYA CORAL VILLAGE
IMGYA CORAL VILLAGE is located at Shigira Resort on the Miyako Islands of Okinawa Prefecture. The site received a name change on October 1, 2018 and now goes by the name ALLAMANDA IMGYA CORAL VILLAGE.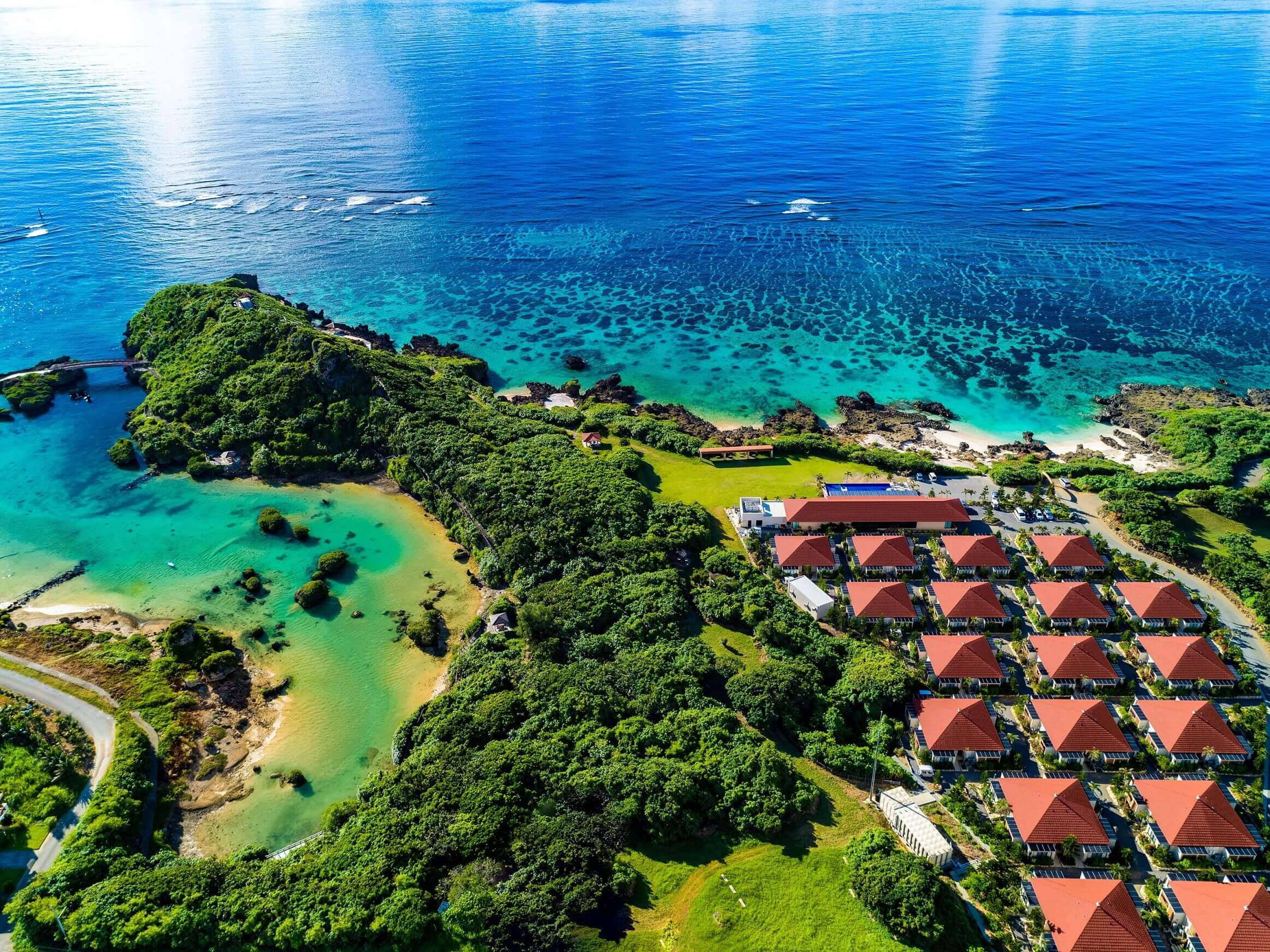 The site has undergone a "brush up" to better exhibit the charms that Imgya has to offer including the staff uniforms, amenities and more. Their concept is to offer individuals a great journey in a blue and green paradise.
The Miyako Islands sit approximately 300km southwest of mainland Okinawa. Direct flights depart from Tokyo, Nagoya and Osaka throughout the year and from Fukuoka for limited periods. Its easy access makes it a very popular resort destination. Shigira Resort boasts 3.3 million square meters on the island. This is where the Imgya area is located, home to newly-named ALLAMANDA IMGYA CORAL VILLAGE which is surrounded by lush nature.

The beachfront park Imgya Marine Garden makes use of the inlets on the premises, offering the best location to enjoy the beautiful sea and sights. The calm ocean is home to schools of tropical fish of all colours such as the yellowtail clownfish which you can see yourself by snorkelling. The parkside path is also ideal for a stroll during marine leisure time. During the day guests are surrounded by the sound of sea waves, and at night, they can enjoy gazing at the starry sky while wrapped in remote nature.

There are 72 rooms spread across 18 villa buildings. All rooms come with a living room, bedrooms, loft and a terrace with a Jacuzzi. The buildings have colourful and modern interiors. Rooms are decked out with wood which give them a warm and welcoming atmosphere. The terrace and Jacuzzi are sure to make for some Instagrammable photos.
The site's restaurant Coral Blue offers breakfast and dinner in the form of a buffet that rotates from Japanese food to western and Asian. The colourful menu uses ingredients from the island and Okinawa. You can even pick from an optional BBQ in the evening.
Whether it's a refreshing vacation with friends and family or an anniversary trip, why not visit ALLAMANDA IMGYA CORAL VILLAGE?
RECOMMENDED ENTRIES
Club Med Ishigakijima Places Number One in TripAdvisor's "Best Hotels for Families" Category

Club Med Ishigakijima in Okinawa has earned itself a high reputation. It placed number one on TripAdvisor's "Travellers' Choice Awards" for 2018 in Best Hotels for Families in Japan, and also ranked in tenth place in All Inclusive Resorts for the whole of Asia.

The Travellers' Choice Awards is an annual award based on millions of reviews and opinions written by traveller's around the world. Only the best of the best are chosen for an award; only 1% of the accommodations listed on TripAdvisor are chosen for the Travellers' Choice Award. This year marks the 16th run, with a total of 8095 properties from 94 countries around the world listed on TripAdvisor.

 

Club Med opened as the world's first hotel and resort to have a daycare service for children in 1967. It celebrated its 50th anniversary last year. The staff position of G.O at Club Med is a qualified and full-time job, devising programs for children based on their age to create an environment where both adults and children can enjoy themselves. A review from one traveller stated, "This is my first stay here in 4 years. My child was 2-years old then and is now 6. She really enjoys the mini club and can use it fully every day. Thanks to you, we've been able to enjoy a comfortable time as husband and wife" (*translated from Japanese).

Tadahiro Inoue, Marketing Director at Club Med, spoke about the honour of receiving the Travellers' Choice Award for the category of Best Hotels for Families: "Club Med has created a facility and service so that we can continuously offer the best child care as a pioneer of daycare services. The Ishigakijima resort has the 'Baby Welcome' service in place for 1-2 year old children and directs great effort into guarantees for millennial families. We will continue to work vigorously so that we can become the number one travel destination for families in the future."

If you're heading to Okinawa with the family, then how about considering Club Med Ishigakijima as your destination?

HOTEL LOCUS Grand Opening on Okinawa's Miyako Island—All Rooms Have Ocean View

The luxurious HOTEL LOCUS situated on the island of Miyako in Okinawa, where every room has an ocean view, held its grand opening on January 22, 2018.

A dream beach location and a great destination for snorkeling and diving to see the coral reefs, the number of tourists visiting Miyako Island in Okinawa has been increasing in recent years. In the northwestern region of  Miyako Island, just 10 minutes by car from Miyako Airport and facing Hirara port is HOTEL LOCUS, where every room has a view of the ocean. The hotel is positioned in the ideal location to take in the regional characteristics and charm of Miyako Island and aims to be an "experienced-based resort" where guests can fully enjoy everything that the island has to offer through numerous different experiences.

HOTEL LOCUS has selected a range of activities for guests to enjoy characteristic of Miyako Island, including food, culture, spots, people, and of course marine sports.

Hand Craft Design & Original Textiles 

To ensure guests can enjoy the rich natural environment of Miyako Island to the fullest, the hotel space is made warm and simple with handmade furniture, fabrics, artwork and more. Traditional Okinawan crafts and materials are also used for people to take in the regional characteristics while enjoying some quality, stress-free relaxation time.

Rooms are complete with rugs and cushions made with an original textile that transmits the charm of local Miyako craft. This textile was developed in collaboration with Eri Shimatsuka, a textile designer who formerly resided in Okinawa and currently works with international brands.  There are four designs themed on spinning thread ("UMU"), braiding plants ("AMU") and high quality Miyako kasuri fabric ("KASURI").

Ocean-view rooms

There are 100 rooms in HOTEL LOCUS, and all of them have an ocean view. There are 6 types of rooms to choose from, from compact and simple to twin rooms with a terrace, rooms with a private pool and hot tub, and more.

See Miyako Island's gorgeous ocean and the sunset from the restaurant

On the second floor of the hotel is "LOCUS TABLE," a restaurant that serves up fresh Miyako ingredients using island vegetables, herbs and spices from the hotel's own vegetable garden. The menu is brimming with delicious food. Feel the refreshing ocean breeze against your cheeks on the terrace with breakfast, and gaze at the beautiful sunset with dinner.

Concept shop

On the first floor next to the reception is a shop called "Concept Shop by su+". su+ is a new project by UDS who aim to bring forth new value in a room through materials. They promote the handiwork of Miyako by stocking handicrafts that elicit the warmth of the island.

Appreciate the beauty of Miyako Island at HOTEL LOCUS with an ocean view, local food and charming crafts.

■Information

HOTEL LOCUS

Address: Hirara Shimozato, Miyakojima-shi, Okinawa Prefecture, 906-0013

Grand Opening: January 22, 2018

Rooms: 100 (Check-in from 3pm / Check-out by 11am)

Facilities: Restaurant "LOCUS TABLE" / Shop "Concept Shop by su+" / Outdoor Pool / Sunset Terrace / Activity Lounge

Website: https://www.hotellocus.com/

Five recommended Okinawa accommodation facilities and experiences

Okinawa is located in the southernmost part of Japan. These islands are highly popular tourist destinations for both Japanese and foreign tourist. Here we want to introduce to you some highly recommended lodging facilities and experiences.

Okinawa/Miyakojima SHIGIRA RESORT "HOTEL SEA BREEZE CASUAL"

"HOTEL SEABREEZE CASUAL" was designed under the theme of "enjoying a quality resort casually" and it offers a new staying experience in Miyakojima which is different from the services which SHIGIRA RESORT has been offering.

The beach and sea surrounding SHIGIRA RESORT are always calm and are suitable for enjoying Marine leisure activities. In the resort, you can enjoy snorkeling with sea turtles and fish, sap yoga which has a high-quality relaxation effect, marine sports and golf. You will for sure be able to enjoy Miyakojima's rich leisurely atmosphere.

For further details take a look at the following article: http://www.moshimoshi-nippon.jp/70990

Okinawa/Miyakojima "HOTEL LUCUS"

It is an "experienced based" resort program where one can enjoy the island centering around the hotel. The architecture of the building is very simple since they want the visitors to feel the rich nature of Miyakojima. The hotel will incorporate traditional Okinawan crafts so that visitors can enjoy the hotel naturally and comfortably.

For further details take a look at the following article: http://www.moshimoshi-nippon.jp/69768

Okinawa/Iriomote Airbnb Minshuku

If you want to stay in a priceless place, a lodging located in a village surrounded by sugarcane fields from Airbnb is recommended. This room is recommended for people who have an interest in living on Okinawa's isolated islands and for those who wish to experience what it's like to live there. Guests will also be greeted by a loving mixed breed dog the Ryukyu Inu.

For further details take a look at the following article: http://www.moshimoshi-nippon.jp/59290

Okinawa/west coast "PANZA Okinawa"

A new attraction where you can fully enjoy the beauty of the sea has opened up in a resort area of Okinawa's west coast. Panza Okinawa has two different attractions, and one of them is called "MegaZip" where you can feel like you are flying above the beautiful sea. You will walk in the sky for about 250 meters hanging by a rope installed on your safety belt. And the other activity is "Go Fall." This is literally falling from thirteen meters high wearing a harness.

For further details take a look at the following article: http://www.moshimoshi-nippon.jp/30079

Okinawa "Hoshinoya Taketomijima"

This is a three-days and two-nights program where participators can enjoy bouldering using natural rocks at Iyal Beach (3 minutes on foot from Hoshinoya Taketomijima). Other than that, one can refresh your mind and body by participating in private shamisen lesson, making goza (Japanese mats) and coasters with "a Tiwaza Experience" and receiving spa-treatment.

For further details take a look at the following article: http://www.moshimoshi-nippon.jp/71181

Did you like our recommendations? Why not experience a leisurely island holiday on one of these islands.
RELATED ENTRIES
Hotel Chinzanso Tokyo to Hold Christmas Evening Party at Le Jardin Restaurant

Hotel Chinzanso Tokyo has announced that it will hold a special Christmastime "Evening Party" from December 20-25 at Le Jardin, the hotel's stylish cafe/restaurant that offers a gorgeous view of the hotel's quiet garden landscape.

The Evening Party will take place just a little later than afternoon tea time where customers can tuck into some succulent meat and fish. The hotel has held it for the past 14 years, and anyone that has experienced it will tell you that you'll want to go back after trying it once.

At the party, seasonal food is served on an extravagant 3-tier hors d'oeuvres stand together with champagne. You will never forget the taste of the chef's specially-prepared thick cut roast beef, as well as your own choice of dessert, tea, coffee and more.

The roast beef in particular is hugely popular, with repeat customers flocking to get a taste of its delicious flavour. It's seasoned with salt, fennel, rosemary and juniper berries, and garlic before being browned in the frying pan and subsequently cooked in an airtight pack together with a mirepoix made from carrots, onions, celery and other ingredients on a low heat at 63°C for 3 hours. This is the secret to the meat's popularity, resulting in soft and succulent heaven.

Menu items will be served in Christmas colours, including some made to look like Christmas trees, and there is also a meal plan that includes a present.

Enjoy a wonderful dinner time this Christmas in Tokyo at Hotel Chinzanso Tokyo.

Information

Christmas Evening Party

Running: December 20, 2019 – December 25, 2019

*Reservations required

*Musical performances to take place on December 20 and 21 (18:30-21:00)

Time: 18:00-22:00 (Last Orders 20:30)

Location: Le Jardin, Hotel Chinzaso Tokyo Floor 3F

Price: ¥4,600 (¥8,000 w/ present) (Tax & service charge not included)

Reservations/Enquiries: 03-3943-0920 (10:00-21:00)

Keio Plaza Hotel Tama's Hello Kitty & Sanrio Rooms Celebrate 5th Anniversary

To celebrate 5 years since the grand opening of the Hello Kitty Room at Keio Plaza Hotel Tama, guests are being treated to a very special present.

Friday November 1 marked the 45th anniversary of Hello Kitty. Together with the 5th anniversary of the hotel room, all guests who stay in any of the Sanrio character-themed hotels at Keio Plaza Hotel from now until February 29 next year will receive an application paper. Once they fill it out and then post it in the box in the lobby on the second floor they will be entered for a chance to win a one-night ticket to one of the three Sanrio character rooms. Exclusive merchandise will also be sold to commemorate the 5-year milestone.

The hotel poster promotional videos for the three rooms over on their homepage. This includes the revamped Hello Kitty Room, the My Melody Room which opened back in June, and the Little Twin Stars Room.

Information

Sanrio Character Room Ticket Campaign

Running: November 1, 2019 – February 29, 2020

Keio Plaza Hotel Tama

Address: 1-43 Ochiai, Tama, Tokyo

Official Website: https://www.keioplaza.com/tama/index.html

Hoshino Resorts to Open New Facilities in Okinawa, Hawaii & 3 More Places

Hoshino Resorts opened HOSHINOYA Guguan in Taiwan in June and Iriomotejima Hotel in Okinawa in October this year. It will also open Risonare Nasu in November. The hotel chain has now just announced that it will open 5 more new facilities in 2020, pushing the number of locations they manage up to 45 next year.

Iriomotejima Hotel

Risonare Nasu

Hoshino Resorts prides itself on offering a hotel experience that makes use of local regions as well as offering unique experiences. With their catalogue of facilities now set to increase, the company has a released a video detailing the five new hotels.

The five new hotels will open in Hawaii, Nagato in Yamaguchi Prefecture, Tsuchira in Ibaraki Prefecture, Kohama Island in Okinawa Prefecture, and mainland Okinawa.

The Hawaii hotel, named Hoshino Resorts Surf Jack Hawaii, describes itself as an "ohana-friendly retro boutique hotel with a satisfying Waikiki experience."

Nagato, Yamaguchi will give rise to the 16th hotel in Hoshino Resorts' brand of KAI hotels, named KAI Nagato. It will open in the Yumoto Hot Spring area and be inspired by Yamaguchi's traditional tea houses as well as buke samurai culture. Look forward to bathing in the hot springs of this traditional Japanese inn, steeped in history and culture.

Over in Ibaraki Prefecture, Hoshino Resorts will open Japan's biggest cycling resort, named Hoshino Resort BEB5 Tsuchiura, which we covered earlier this month. It will act as a "base camp" to enjoy cycling, with its core concept being "more an izakaya and less travel-focused where you can enjoy a laid-back time with friends." It hopes to put a new spin on travel by combining the worlds of cycling and accommodation.

Okinawa is getting three new hotels. Hoshino Resorts Risonare Kohama will feature 60 rooms each their own private villas. Its concept is "a private beach resort on a remote island swimming with the manta rays" and will offer a beach and resort-like experience to guests with views of the white sand and blue ocean.

HOSHINOYA Okinawa will be inspired by gusuku which refers to castles in the Ryukyu Islands that feature stone walls, with the hotel itself being enveloped in one. The hotel will be surrounded by the gorgeous ocean and coast, offering that quintessential Okinawan resort experience.

The tables at Hoshino Resorts Banta Cafe will offer a breathtaking view of Okinawa's grand seas, with a menu serving food and drink made with Okinawan ingredients.

2020 is looking to be a big year for Hoshino Resorts as it begins expansion. If you're travelling to Japan, why not check if one of their hotels is near where you're looking to stay?

Eat & Drink in Harajuku at MOSHI MOSHI ROOMS' Rooftop BBQ

Since opening in Harajuku last year, MOSHI MOSHI NIPPON's ultra-kawaii hotel MOSHI MOSHI ROOMS has been the talk of the town. We are here to announce a new BBQ plan for guests which is held on the hotel rooftop and which you can attend empty-handed.

MOSHI MOSHI ROOMS is only an 8-minute walk from Harajuku Station. You'll know you've arrived when you spot our neon sign pictured above. It's on the roof of this building you can look forward to getting your teeth into a delicious BBQ and chugging down drinks.

The rooftop design takes on a pop appearance, mixing blue with yellow. This cute design alone is enough to get you excited for what's to come. And since there are no tall buildings around us, you get a great view of Harajuku from below.

The BBQ plan comes equipped with everything you need: a fire, plates, cups, ingredients, and alcohol. We have a great option of drinks, including beer, wine, whisky, and soft drinks. There's also a beer server so you can enjoy your beer nice and frosty. If we don't have a drink you'd like, you can bring your own too. There's a FamilyMart and other shops nearby, so head there to stock up.

BBQ Set – ¥6,000 Per Person (Before Tax) *Photo is a select portion example for 5 people

For grub, our lineup includes meat, fish, egetables, fried onigiri, and sweets. There's Japanese beef too, as well as Japanese chicken, pork, lamb, sausage, and more. We prepare the most delicious ingredients for the current season. There's a lot of different meats to choose from, so rest assured you won't go hungry.

All the food is seasoned for you, so you can drop it all on straight away and get straight to eating.

Make a toast with your drinks and tuck in! The wagyu beef is nice and plump once it comes off the fire. One bite of the soft meat will treat your taste buds to a luxurious sweetness and the meat's delightful juices.

The chicken is seasoned sweet and spicy. It has a crunchy exterior and soft inside. The lamb is seasoned well too and has that distinct deep flavour lamb has.

Our fish and vegetables are all in season too. The fish pictured above is salmon cooked in foil and seared skipback tuna. The salmon is seasoned with butter and soy sauce. All of the delicious flavour of the skipback tuna is intensified while prepared on the fire, and the inside is sumptuously tender. It's seasoned with citrus soy sauce.

This here is giant okra which I tried for the first time. Giant okra is in season right now too. It's a lot more elastic than your regular size okra and has a juiciness when you bite into it.

I was so full already… until dessert arrived! These is a dessert sweet potato roasted on the fire.

I topped it with vanilla ice cream and tea flavoured ice cream before sprinkling on cornflakes to finish.

The mix of the hot potato and cold ice cream is a match made in heaven inside your mouth. The roasted sweet potato has a subtle sweetness which mixes perfectly with the creamy ice cream. I originally thought I was full but there's always room for dessert.

There are parasols too in case it rains. You can even rent out tents from the hotel if you like.

If you're looking to stay in Harajuku, come and see us at MOSHI MOSHI ROOMS and enjoy a BBQ with a rooftop view of Harajuku.

Writer: Sayuri Mizuno (MOSHI MOSHI NIPPON)

Translator: Joshua Kitosi-Isanga

Information

MOSHI MOSHI ROOMS BBQ Plan

Address: 2-18-7 Jingumae, Shibuya, Tokyo

Price: From ¥6,000 Per Person (Reservations Available)

Set Ingredients:

・Meat: Wagyu beef and other meats in season

・Fish: In season fish

・Vegetables: In season vegetables

・Other: Fried Onigiri, Satsuma Sweet Potato Dessert

・Drinks: 1 Beer Server, White Wine, Red Wine, Whisky, Shochu, Tea, Water, Orange Juice, Cola (soft drinks are served in 2ltr bottles)

Set Equipment:

・Grill, BBQ, Tongs, Plates, Cutlery, Cups

Reservation/Enquiries: info@moshimoshi-nippon.jp

*Prepared ingredients will differ from season to season

THE MACHIYA SHINSEN-EN: Kyoto's New Traditional & Modern Fused Hotel

THE MACHIYA SHINSEN-EN is a new hotel that just opened on Tuesday (October 15) located just a five-minute walk from Kyoto's world heritage site Nijō Castle. Renovated from an old Kyoto-esque townhouse, this 21-room hotel fuses traditional Japanese architecture with the modern, complete with a lounge on the first floor decked with an open space where guests can enjoy a gorgeous breakfast if they choose the option. The friendly staff will be waiting to welcome guests to the hotel like friends.

The hotel's name derives from Shinsenen, a Japanese Buddhist temple and Kyoto sightseeing  spot located just a one-minute walk from the site. The temple is home to Japan's only "ehomaki shrine" where Toshitokujin, the goddess of auspicious directions for the current year, is enshrined. The temple is also home to an enormous and beautiful lake, and is said to provide good luck with marriage ties, something which is known to everyone in Kyoto. The "machiya" part of the hotel's name means "townhouse" in Japanese.

The hotel combines the traditional with the modern effortlessly, with four types of suite rooms available including the spacious corner suite rooms, as well as suite rooms that focus more on traditional Japanese architecture, namely that of the old-fashioned townhouse. All suite rooms have a kitchen, washer/dryer, and other convenient amenities for those looking for a longer stay, as well as for families and larger groups.

THE SHINSEN-EN Deluxe Suite

Located on the top floor, this corner suite room offers a spacious environment and enjoys plenty of natural lighting for the window which takes up an entire wall. There are both beds as well as a tatami area with futons so you can pick how you want to sleep. There's also a roomy washroom as well as a dining space with a fully-equipped kitchen and washer dryer. The room also has a sofa, TV, refrigerator, free WiFi, and more for your convenience.

THE MACHIYA Deluxe Suite (Dragon)

This suite room has a Japanese aesthetic with its paper sliding doors and hanging scrolls. Natural light seeps in from the ceiling window fitted to the high ceiling. As well as the Japanese-style bedroom, it also has a western-style bedroom and living room, as well as both beds and futons, so you can pick if you want a Japanese sleep or a western sleep. There is a fully-equipped kitchen and washer dryer. The room also has a sofa, TV, refrigerator, free WiFi, and more for your convenience.

THE SHINSEN-EN Suite

The entrance to this suite room has lattice doors and stone paving, welcoming you with that traditional Japanese aesthetic. The spacious room basks in natural lighting from the enormous windows. There is a fully-equipped kitchen and washer dryer. The room also has a sofa, TV, refrigerator, free WiFi, and more for your convenience.

In addition to suite rooms there are four other types including Deluxe Twin, Superior Hollywood Twin, Hollywood Twin, and Classic Hollywood Twin. The rooms enjoy indigo blue and orange colouring for a relaxed and modern feel. Each have their own washrooms, toilets, sofas and desks. Additionally, all first floor rooms can be connected, so you can turn them into full 2-3 or 4-5 people spaces.

Guests can use the first floor lounge space freely and at their own leisure. And if they choose so they can also enjoy breakfast there.

The front desk staff can speak both English and Japanese so can support foreign travelers. The hotel is situated in a great place for sightseeing, so be sure to consider booking at the all-new THE MACHIYA SHINSEN-EN if travelling to Tokyo.

Information

THE MACHIYA SHINSEN-EN

Opened: October 15, 2019

Address: 17-1 17 Shinsenencho, Nakagyo Ward, Kyoto

Access: 5-minutes on foot from Nijōjō-mae Station

Rooms: 21 (approx. 22-45㎡)

Capacity: 2-5 people

Breakfast: Served in first floor lounge for an additional fee

Official Website: https://shinsen-en.com/

Experience Art and the Japanese Tea Ceremony Come Together at hotel koe tokyo's Private Lounge

"hotel koe tokyo" isn't your everyday normal hotel. Developed and produced by "koe," the hotel brings together fashion, music, cuisine, and a luxury accommodation experience. In line with DESIGNART TOKYO 2019, the hotel has announced it will hold a reservation-only event entitled "DESIGNART TOKYO 2019: Tea ceremony by artless+asahiyaki" at its third-floor private lounge on October 19 and 20.

Asahi ware is a type of Japanese pottery originating in Uji, Kyoto almost 400 years ago. Hosai Matsubayashi is the 16th generation master of this long-running workshop, known as Asahiyaki, and he's set to collaborate with Shun Kawakami, an artist and art director of global branding agency artless Inc. The collaboration is being held to promote Japanese culture not only to the people of Japan but those overseas too, and "hotel koe tokyo" is the perfect place to do it due to the huge number of foreign visitors that stay at the hotel.

The two of them have taken the traditional Japanese tearoom and have put a modern spin on it. Normally, this private lounge of the hotel is only usable by guests staying there, but this reservation-only event will grant exclusive access to all. It brings together Japanese tea and art in the form of a special tea-making course. Attendees will follow Hosai Matsubayashi's instructions and prepare their own tea. During the session, both Matsubayashi and Kawakami will give talks on their work while you enjoy your tea.

Take advantage of this special occasion to learn about the beauty of Japanese tea.

Information

Tea ceremony by artless + asahiyaki
Dates: Saturday October 19, 2019 / Sunday October 20, 2019
Time: 4 Slots – ①12:00 / ②13:30 / ③15:00 / ④16:30 (60 minutes each)
Capacity: 10 per slot
Location: hotel koe tokyo ("koe lounge" on Floor 3F)
Content: Tea Making + Tea Art
Price: ¥3,000 (Before Tax)
Reservations:  https://www.tablecheck.com/ja/shops/hotelkoe-tokyo-privatelounge/reserve
*This event is reservation-only

Suiran Ranks as Japan's Best Hotel in Condé Nast Traveler For Second Year in a Row

"Suiran, a Luxury Collection Hotel, Kyoto" has ranked as the number one hotel in Japan for the second year in a row in the Japan's Top Hotels category of Readers' Choice Awards 2019 in Condé Nast Traveler.

The Condé Nast Traveler Readers' Choice Awards lists the world's best travel experiences as ranked by international travellers. Over 600,000 people voted Suiran as Japan's best hotel for the second time.

Suiran is located in Arashiyama, Kyoto and first opened in March 2015 under a brand of luxury hotels known as The Luxury Collection®. The hotel's concept is to make full use of Arashiyama's appeal, lauded for its deep culture and history, while paving the way to the future. It houses guests from around the world who can enjoy a view of Arashiyama's lush natural landscape which changes beautifully with the seasons, and who can experience a fusion of the traditional and the modern while being served classic Kyoto hospitality.

Speaking about the award, the hotel's general manager Hiroyuki Hatori said the following: "I am greatly honoured that we have been given the number one spot two years in a row in this internationally-recognised poll. To all the people in the region who continue to support Suiran, and to all our guests who use the hotel, I thank you from the bottom of my heart. These results are an incentive to further work hard with our associates to ensure this is a hotel that people will love even more."

If you are travelling to Kyoto and looking for a place to stay, why not consider the city's best: Suiran, a hotel which continues to pass down tradition while embracing the modern?

Information

Suiran, a Luxury Collection Hotel, Kyoto

Address: 12 Sagatenryūji Susukinobabachō, Ukyo Ward, Kyoto

Access: 15-minutes on foot from Saga-Arashiyama Station / 6-minutes on foot from Arashiyama Station via Keifuku Electric Railroad / 15-minutes on foot from Arashiyama Station via the Hankyu Arashiyama Line

Official Website: https://www.marriott.com/hotels/travel/ukylc-suiran-a-luxury-collection-hotel-kyoto/

Izu Shaboten Zoo Opens New Hotel Izushaboten Village

Izu Shaboten Zoo in Ito, Shizuoka has opened its very own hotel Izushaboten Village Petit Hotel which is less than a minutes' walk from the zoo itself, making it an ideal location for those looking to see the animals so they can take their time at their own leisure.

The hotel offers various different rooms, from modern and chic to the Izu Shaboten Zoo Room, Pirate Room and more. Each room has its own unique touch you won't find anywhere else. The hotel also offers an accommodation plan that comes with entry tickets to the zoo.

For food, guests can enjoy dining at La Chic, a new restaurant that opened in spring this year that makes use of homegrown vegetables and produce sourced from contracted farmers. Food is served in a semi-buffet style in mornings and evenings so you can make up your own dish. Non-guests can eat here too if they make a reservation*.

*Reservations for non-guests are dependent on free tables and other conditions. The menu style and ingredients and subject to change without notice.

If you're looking to visit Izu Shaboten Zoo, consider booking a room at their official hotel.

Royal Park Hotel Tokyo Transforms For Halloween 2019

Royal Park Hotel Tokyo in Nihonbashi has begun its Halloween festivities for 2019, including a bone-chilling black and orange food and dessert menu, spooky decorations, a photo spot in the first floor main lobby, and more.

Check out their mouth-watering sweets assortment! Their Halloween Afternoon Tea set is packed full of autumntime flavours, from the glass desserts, to the apple chiboust, chocolate pocket watches with bats on them, adorable monster burgers, and more.

The hotel is also offering a Halloween Dinner Buffet on weekends and holidays decorated in Halloween colours. Pile your tray with figs and blackcurrants, chestnut mousse, pumpkin tarts, and plenty of other tasty treats, all prepared fresh in the kitchen.

This is just a peek into the hair-raising fun happening right now at Royal Park Hotel Tokyo. There's also the Halloween Cocktail Fair, Halloween Sweets & Bread event, and much more.

Spend your Halloween here, or even use it as an opportunity to try wearing your Halloween costume out so you're ready for October 31!

Information

Halloween Afternoon Tea

Running: October 1, 2019 – October 31, 2019

Location: Fontaine (Floor 1F Lobby Lounge)

Price: ¥4,840 Per Person (Tax Included)

Halloween Dinner Buffet (Weekends & Holidays Only)

Running: October 5, 2019 – October 27, 2019

Location: Symphony (Floor 1F Lobby Lounge)

Price: ¥7,260 Per Person (Tax Included) / Seniors ¥6,050 Per Person (Tax Included)

*¥4,235 Per Person (Tax Included) for those aged 4-12 years and 65+

Halloween Cocktail Fair

Running: October 1, 2019 – October 31, 2019

Location: Fontaine (Floor 1F Lobby Lounge) / Royal Scots (Floor B1F Main Bar)

Price: ¥1,936 Per Person (Tax Included)

Halloween Sweets & Bread

Running: October 1, 2019 – October 31, 2019

Location IKI (Floor 1F Sweets & Bakery)

Royal Park Hotel Tokyo

Address: 2-1-1 Nihonbashikakigarachō, Chuo Ward, Tokyo

Official Website: https://www.rph.co.jp/

10 Things You Can Do at the MOSHI MOSHI ROOMS Hotel in Harajuku | Girls' Night In Edition

MOSHI MOSHI ROOMS is a hotel accommodation service run by MOSHI MOSHI NIPPON located in Harajuku and bookable via Airbnb. Our hotel isn't just popular for sleep, however: it has become a hot spot with stylish girls who get together and use it as a party space.

This is our Top 10 list of things you can do in SAKURAーone of the hotel roomsーso you can discover the best way to enjoy your stay in Harajuku.

①Take advantage of the room decor and decorations to snap all the photos you can!

MOSHI MOSHI ROOMS opened its first room SAKURA in December last year, and more recently ORIGAMI in August. From the walls to the furnishing, SAKURA is cherry blossom pink throughout, decked out with countless gorgeous Instagram-worthy spots popular with our female guests.

You can always get a beautiful photo together with the cherry blossom flower monument in the background, located behind the bed and bloomed right up to the ceiling.

The enormous and comfy pink bed is piled full of lots of fluffy cushions. You can take some pretty romantic pictures too when snuggled on top or in the bed.

Photographer: Kayo Sekiguchi

Don't forget about the neon sign either, a symbol of the room and the Japanese kanji character for cherry blossom (桜 sakura). Sit on the sofa in front of it and make use of the sign's lighting to get a more dreamy and fantastical shot.

②Popular Harajuku takeout food perfect for a night at MOSHI MOSHI ROOMS SAKURA

MOSHI MOSHI ROOMS is located in Tokyo's fashion and culture hub of Harajuku, and that means it's within walking distance of some quintessential kawaii and Instagrammable food shops. We've picked out three we think are perfect for ordering takeout to enjoy back in your room at SAKURA.

GOOD TOWN DOUGHNUTS

Smile Mango ¥420 / Raspberry Pistachio ¥400 / Sea Salt Caramel ¥390 (All Tax Inclusive)

GOOD TOWN DOUGHNUTS is a really popular doughnut shop in Harajuku. Their big size doughnuts not only look cute, they're the real deal taste-wise, and are also made with natural yeast, wheat flour from Hokkaido, sea salt sourced in Okinawa, sugar from Tanegashima, and organic oils. They are high-quality doughnuts full of flavour and plenty filling.

GOOD TOWN DOUGHNUTS

Address: J-cube B1F, 6-12-6 Jingumae, Shibuya, Tokyo)

TEL: 03-5485-8827

Opening Hours: 10:00-20:00

No Fixed Holidays

Official Website: http://good-town.com/

AND THE FRIET

Box (2 Friet Types) w/ Dip – From ¥800 (Before Tax)

This French fry shop makes their fries from a variety of carefully selected in-season potatoes, including potatoes from Belgium. They are crunchy on the outside and fluffy in the centre. They're also delicious even when eaten cold, making them a great takeout option. You can pick two types from six varieties for one box, plus a dip of your choice. A perfect party accompaniment.

AND THE FRIET Laforet Harajuku

Address: Laforet Harajuku 2F, 1-11-6 Jingumae, Shibuya, Tokyo
TEL: 03-6434-7568

Opening Hours: 11:00-21:00

No Fixed Holidays (Except when Laforet Harajuku is closed)

Official Website: http://andthefriet.com/

TOAST LUCK

<Macarons> From Left: Soybean Flour / Crunky / Cheese – ¥371 Each (Before Tax)

At TOAST LUCK, you can enjoy a whole range of different South Korean foods, including toast which is their main menu item. They also sell these marble-coloured macarons which are a little bigger than Japanese macarons. There's lots of flavours to choose from, all of which give you a different take on your regular macaron!

TOAST LUCK

Address: 3-27-15 Jingumae, Shibuya, Tokyo

TEL: 03-6812-9499

Opening Hours: 11:00-20:00

No Fixed Holidays

Official Website: https://www.toast-luck.com/

③Line up all your food in your hotel room for a girls' night in

Gather all of your takeout goodies from around Harajuku for a girls' night in at MOSHI MOSHI ROOMS SAKURA! The room has its own kitchen equipped with utensils, a microwave and refrigerator, so you can even prep your own food too.

The living room is nice and spacious so you can really let your hair down and relax. There's a limited number of beds but there's no limit to the amount of people that can stay over, so invite all of your friends along!

④Watch movies on the projector

The room is equipped with an Android TV mobile projector which has Netflix, Hulu, YouTube and other services on it as well as games. There's endless amounts of fun to be had, so grab your snacks and put on a movie or compete together in a game. The screen projects onto the white walls, so you can pick the best spot for viewing.

Projecting it on the wall beside the bed means you can relax while watching films or music videos together.

The cherry blossom pink MOSHI MOSHI ROOMS SAKURA offers a memorable accommodation experience like no other. We will continue the Top 10 list in the next article entitled Birthday Edition.

Remember, if you're looking to stay in Harajuku, be sure to book with MOSHI MOSHI ROOMS.

Models: Aiko / Ringo
Photographer: Haruka Yamamoto
Writer: Sayoko Ishii

Translator: Joshua Kitosi-Isanga

Taiwanese Bookstore Chain Eslite Opens New Outlet in Nihonbashi, Tokyo

Eslite Bookstore is one of the prominent bookstore chains in Taiwan that opened an all-new outlet in Nihonbashi, Tokyo on September 27, 2019 that promotes reading, culture and lifestyle.

This will be the first Eslite Spectrum shopping mall to open outside Greater China. Its concept is "a cultural wonderland for reading and living" under wh ich Eslite has curated Nihonbashi's rich history and culture to promote to the people of Tokyo.

Eslite Spectrum is always in the front row when it comes to the latest in Taiwanese trends, and it's a place I never fail to visit when I travel to Taiwan. When I heard they would be expanding to Tokyo, I couldn't wait for the day of the grand opening to arrive. I made my merry way there, excited and eager to see what kind of place it would be, and what kind of items they would stock.

The outlet is split into 4 different zones: the bookshop zone, the stationery zone, the miscellaneous item and workshop zone, and the restaurant zone. The bookshop features a line-up of carefully selected reading material and book recommendations.

One hundred brands from around the world make up the miscellaneous and eating areas. Half of the brands are Taiwanese, meaning you can get your hands on authentic goods from Taiwan itself.

The building was designed by leading Taiwanese architect Kris Yao, whose concept for the design was "interweaving the old and new." It's a stylish, welcoming building with elements of the traditional Japanese aesthetic in there. The store front has indigo blue noren entry curtains, which is both stylish and quintessentially Japanese.

This new branch of Eslite Spectrum is home to stores setting up shop in Japan for the very first time. There are also many shops here selling items exclusive to Nihonbashi. I'm going to showcase four of the places I was particularly interested in.

Kuo Yuan Ye

Kuo Yuan Ye is a confectionery shop based in Shinlin, Taipei. Since opening, they have continued to use traditional confectionery-making methods, serving sweets with deep, rich flavours.

As well as having maintained tradition, they have also released products in collaboration with rising designers. I encourage you to try their beautiful line-up yourself to taste their long, delicious history.

Sarutahiko Coffee

We have covered Sarutahiko Coffee on MOSHI MOSHI NIPPON in the past when we visited the branch in Ebisu.

The first thing that struck me upon visiting this new branch is how different the interior design is to other places. The design and its concept of "coffee and words" were created by book director Yoshitaka Haba. Quotes pulled from the books can be found written all around the cafe. There is also a space underneath the chairs for storing books. No matter where you look in the cafe, it's nothing less than stylish.

The cafe has their own special hot cakes and original coffee blends exclusive to Nihonbashi. The hot cakes are topped lavishly with mont blanc, giving it an extremely rich taste and one reminiscent of autumn-time. Both the hot cakes and this original coffee blend are limited-time menu options available until November 14, so you'll want to get in there quick.

Wonder Chuan

For the first time ever, long-standing Taiwanese tea store Wonder Chuan arrives on the shore of Japan. The shop takes great care in the growing and brewing of its tea leaves, pouring their heart and soul into every cup.

The Taiwanese oolong tea drank was a similar colour to matcha. It had a sweet flavour and a much smoother taste compared to Japanese oolong. The shop also serves a selection of cocktails made with oolong tea as well as perform traditional tea-making methods for customers. They even have plans to host their very own Taiwanese tea workshops in the future.

Fujin Tree

The last place I want to introduce is Fujin Tree, also a first in Japan. This is another one of my favourites, so I was thrilled when this one was coming to Tokyo too!

It's uncommon to be able to drink wine in restaurants in Taiwan, but the popular Fujin Tree serves Taiwanese cuisine and champagne in style.

Their dishes are packed full of fresh vegetables and fruit. One of their popular picks is their springstar and century egg with spicy minced pork. It's a tasty dish with full, rich flavours that goes well with sake. It's also great with rice. There are many amazing options on the menu, but if you're spoilt for choice then I recommend this one.

Eslite is the bridge between Japanese and Taiwanese that aims to become a hub for Asian culture. Centred around reading, there are countless experiences to look enjoy here. Discover a new side of Nihonbashi by paying a visit.

Writer: Sayuri Mizuno (MOSHI MOSHI NIPPON)

Translator: Joshua Kitosi-Isanga

Information

Eslite Spectrum Nihonbashi

Address: COREDO Muromachi Terrace 2F, 3-2-1 Nihonbashimuromachi, Chuo Ward, Tokyo

Opening Hours: 10:00-21:00 (Fuji Tree is open 11:00-23:00)

No Fixed Holidays

Official Website: http://www.eslitespectrum.jp

Disney Ambassador®️ Hotel Now Serving Adorable Cake & Drink For Halloween

Disney Halloween 2019 is in full force at both Tokyo Disneyland and Tokyo DisneySea where "ghosts" are this year's theme. The spooky festivities are set to continue until October 31.

Disney Ambassador®️ Hotel is also getting in on the Halloween action, with a bone-chilling food and drinks line-up at the Hyperion Lounge.

Disney Halloween Cake Set – ¥1,700 (Available until October 31, 2019)

The eye-catching blueberry mont blanc is served with either tea or coffee. The sweet and sourness of the blueberry combined with the cream cheese is spot on.

It's also filled with blueberry jam for even more of a blueberry kick. Mix together with the powdered mango for extra flavour.

This cake set is serve from 12:00-22:00, but there is a limited number of servings per day so be sure to get in there quick!

Disney Halloween Special Drink – ¥1,300 (Available until October 31, 2019)

The Instagram-worthy drink is serving autumn vibes with its chestnut syrup and orange colour. It's also topped with whipped cream and a cute chocolate bat. The drink has a refreshing mix of range juice and grape juice which balance deliciously with the purple sweet potato whipped cream and sweet syrup. There's also grape jelly hidden underneath the cream.

This is also served from 12:00-22:00, and gets you an original coaster. These are limited in availability.

©️Disney