Kaori's Easy Recipe: Learn to Make Kiirotori Cup Sushi
With just a small bit of ingenuity, turn everyday food into something cute using Kaori's easy recipe! With a few simple ideas, an ordinary recipe magically transforms into a cute dish.
Today, you'll learn how to make Kiirotori Cup Sushi. Kiirotori is a small yellow bird who is often seen with Rilakkuma.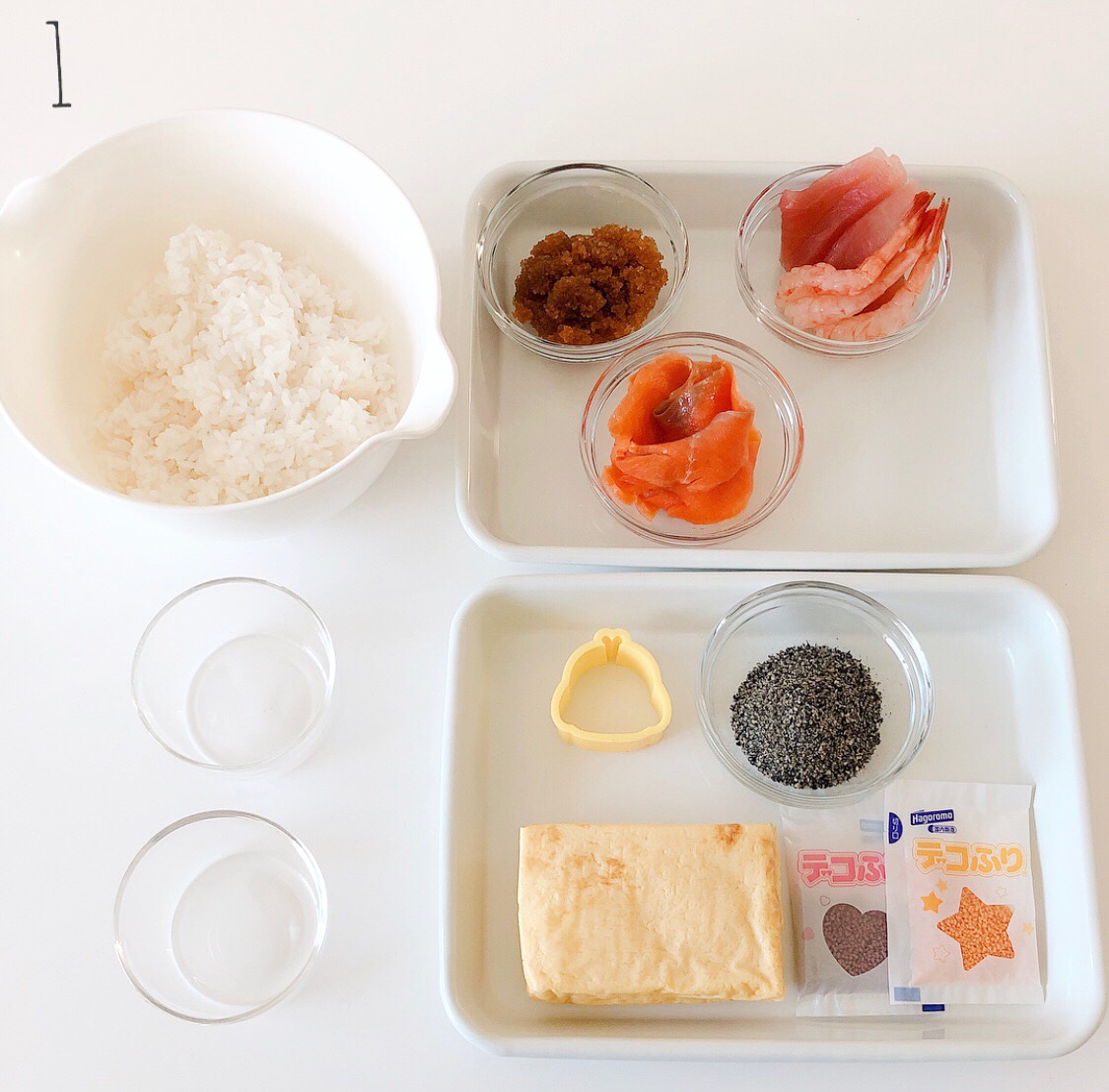 1.
Ingredients
★Transparent cups (the ones I used are from Daiso)
★Sumeshi (vinegared sushi rice)
★Ground sesame seeds, furikake seasoning (I used Decofuri's orange and purple seasoning)
★Thick omelette
★Fresh fish of your choice
2.
Divide three portions of vinegared sushi rice and mix one each with the ground sesame seeds and Decofuri seasonings. Mix the Decofuri orange seasoning with some flying fish roe (tobikko) too.
3.
Create three layers of rice from step 2 in your transparent cups as shown above.
4.
Pile fresh fish of your choice onto the cups.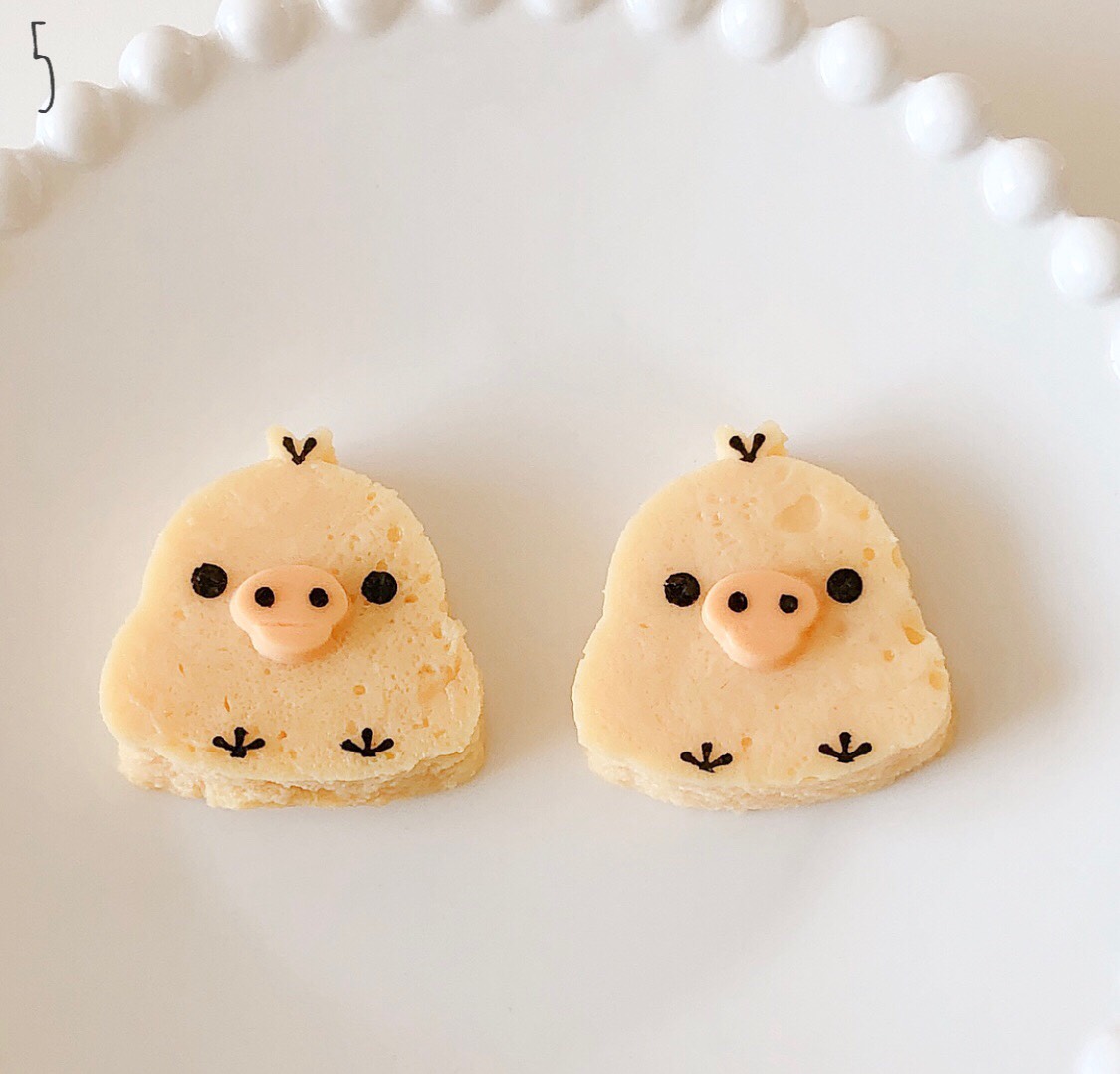 5.
Slice the thick omelette. I sliced mine into a Kiirotori shape but you can make whatever you like.
Place your character omelette on top of your rice next to the fish. I was making Halloween themed sushi this time so I dressed it up with Halloween toothpicks and other decorations♡
Kaori invites you into her world of character-themed food dishes in her recipe series. Be sure to check out her Instagram where she has uploaded many pictures of her character dishes!
Information
■Profile
Kaori Kubota (@kaopan27)
I live in Hokkaido and I love to make character themed foods, desserts and pastries♡
I want to see my family smile, so I enjoy putting in a bit of effort to make character foods and changing food into something cute♡
You can see more of my character foods and character bento boxes on my Instagram page→@kaopan27
RELATED ENTRIES
Rilakkuma x Tower Records Collaboration Includes Exclusive Merchandise and Themed Cafe Menu

Tower Records has announced Rilakkuma x Tower Records Campaign 2021, an event set to run from August 4 to August 29. The retail music chain is joining paws with Rilakkuma and company for a campaign with the theme "Wow, what a surprise!" at Tower Records stores, their online shop, and Tower Records Cafe.

Merch collab line-up

Tower Records has collaborated with Rilakkuma every year since 2009. This year sees the arrival of brand new original merchandise, a CD, and themed cafe.

The merchandise will be available at 27 Tower Records stores, Tower Records Cafe Omotesando, and online. Enjoy adorable original artwork of Rilakkuma, Korilakkuma, Chairokoguma, and Kiiroitori. There's lots of freebies to get your hands on too – check out the line-up below.

Available at 27 Tower Records stores, Tower Records Cafe Omotesando, and the online shop

Available at Tower Records Shibuya, Tower Records Cafe Omotesando, and the online shop

Free character cards with every purchase

Red Rilakkuma zabuton floor cushion

For this year's campaign, Rilakkuma fans can win themselves a zabuton floor cushion too. For a chance to win, you need to sign up online.

Tower Records x Rilakkuma CD cover

Postcard included with CD

The eighth Tower Records x Rilakkuma CD includes background music for doing yoga. There are 15 popular J-pop tracks in total which can be enjoyed for just chilling out to as w2ell.

Themed cafe menu

The cafe collaboration at Tower Records Cafe Omotesando takes on an American diner theme. Takeout drinks will also be available at the Nagoya Sakae SKYLE and Umeda NU Chayamachi branches too.

At Tower Records Omotesando

Table mats at Tower Records Omotesando

Rilakkuma, Korilakkuma, Chairokoguma, and Kiiroitori themed dishes, drinks, and desserts

Receive a free fan when you book a table in advance

Receive a free postcard when you order from the collab menu

Set of 3 original stickers

Free postcard when ordering from the Special Menu

Free postcard when you order a takeout bottle

Collect all six stamps in the stamp rally to win a poster

During the campaign, for every piece of merchandise ordered, you'll receive one of four possible character cards. 20 people who also scan the QR codes included on the cards by September 12 will be randomly chosen to win either a white Rilakkuma zabuton cushion or a ¥3,000 Tower Records gift card.

©2021 San-X Co., Ltd. All Rights Reserved.

Information

Rilakkuma x Tower Records Campaign 2021

Running: August 4, 2021 – August 29, 2021

Zabuton Cushion Applications

Units: 20

Submission Page: Tower Records Online

Submission Period: July 15, 2021 – August 29, 2021

Collab Merchandise

Pre-Orders: July 15, 2021

Release Date: August 4, 2021
Details: http://tower.jp/rkmg21 

Collab Cafe


Locations: Tower Records Cafe Omotesando / Tower Records Cafe Nagoya Sakae SKYLE (Takeout Drinks Only + Closed August 17) / Tower Records Cafe Umeda NU Chayamachi (Takeout Drinks Only + Closed August 16)

Menu ①: August 4, 2021 – August 13, 2021

Menu ②: August 14, 2021 – August 22, 2021

Details: https://tower.jp/rilakkuma-cafe2021 

*Table bookings mandatory

Japanese Michelin Star Chef to Open New Restaurant Kimura Don in Shinjuku

A new restaurant by the name of Kimura Don is set to open inside Shinjuku Takashimaya's Restaurant Square on July 20, 2021.

Kimura Don is a new donburi restaurant produced by Koji Kimura, a chef whose popular sushi bar Sushi Kimura, located in Futakotamagawa, has held two Michelin stars since 2013. His new eatery continues the traditions and techniques honed at Sushi Kimura while spinning innovation into new donburi rice bowl dishes conceived from the many ideas Kimura has conceived over the years.

The donburi to be served recreates that perfect balance between vinegared rice and toppings which Kimura mastered at his sushi bar. Customers can enjoy a range of additions including donburi classics such as meat and fish as well as seasonal ingredients. The restaurant also uses locally grown and reared produce and ingredients that's also environmentally-friendly from Tokyo such as Kinuhari rice from Hachiojo and Akigawagyu beef. This will help to foster a relationship between local farmers and consumers. 

Lunchtime Dishes | ¥3,500 Each | Serving Times: 11:00-17:00 (Last Orders 16:00)

Pick from five different donburi bowls such as tuna, pilchard, and roast beef. Each season will also has its own exclusive dish made with seasonal ingredients. There's also a special option to order a set of two smaller versions of the dishes too for ¥3,800. 

Evening Courses | From ¥12,000 | Serving Times: 17:00-23:00 (Last Orders 22:00)

The evening course line-up is also made up of five different bowls as well as seven seasonal snacks.

Koji Kimura | Comment

"I've been set up in Futakotamagawa for 16 years. I studied how to prepare sushi rice for many years, since it serves as the foundation, so that I could create unique sushi. I have made sushi rice that's unique and draws a line under other restaurants, rice which when combined with toppings explodes with umami flavour. I use this same sushi rice as the basis for lots of innovative donburi dishes, and I'd love for people to enjoy a taste at the first place in Japan to do this."

Kaori's Easy Recipe: Learn to Make a Rilakkuma Banana Cake

With just a small bit of ingenuity, turn everyday food into something cute using Kaori's Easy Recipe! With a few simple ideas, an ordinary recipe magically transforms into a cute dish.

In this recipe, I'll show you how to make a delicious banana cake that is tasty even if refrigerated!

Ingredients

Makes a 18cm pound cake

2 ripe bananas

100g unsalted butter

50g granulated sugar

2 eggs

100g weak flour

1

Bring the butter to room temperature and mix it with the sugar until it becomes white. I used unsalted margarine for this.

2

Gradually add both the egg whites and yolks and pour slowly into the mixture while mixing. Mash the banana with a fork, add to the bowl, and mix.

3

Sieve in the flour and mix lightly.

4

Bake at 160℃ for 40-45 minutes and it's ready! I used a 15cm pound cake tin and muffin tin to make mine. If using a muffin tin, bake for 30 minutes.

Leave to cool and use the edge of the pound cake tin to cut ears. Finish by using a chocolate pen to draw on Rilakkuma's face.

Kaori invites you into her world of character-themed food dishes in her recipe series. Be sure to check out her Instagram where she has uploaded many pictures of her character dishes!

Kaori Kubota (@kaopan27)

I live in Hokkaido and I love to make character themed foods, desserts and pastries♡

I want to see my family smile, so I enjoy putting in a bit of effort to make character foods and changing food into something cute♡

You can see more of my character foods and character bento boxes on my Instagram page → @kaopan72

Rilakkuma to Become Shop Manager at 18 Rilakkuma Stores in Japan

KIDDYLAND has announced that Rilakkuma will take on the role of shop manager at 18 Rilakkuma Stores this summer from July 1.

All the Rilakkuma managers to be appointed

The appointment of these Rilakkuma managers was held out in cooperation with San-X, the creators of the character. Each store will have a completely different Rilakkuma each with its own personality. Some will even have Korilakkuma. If you head on over to the official Rilakkuma Store Instagram and Twitter pages, you can see the Rilakkumas at their stores doing work, prepping for events, and more, so be sure to follow and cheer them on.

©2021 SAN-X CO., LTD. ALL RIGHTS RESERVED.

Rilakkuma & Sumikko Gurashi Festival Announced For Fall in Sapporo

Rilakkuma and Sumikko Gurashi are set to collaborate at a special festival centred entirely around the characters which will run at Sapporo Factory from September 17 to November 28.

Rilakkuma, Sumikko Gurashi, and you are invited to the festival which will be split into two areas: the Rilakkuma Pavilion and Sumikko Gurashi Pavilion where the characters will be present to greet guests. The event is taking on a magical theme which imagines the spirits of San-X, the company who created Rilakkuma and Sumikko Gurashi, casting a mysterious magic on the festival to bring happiness to all.

There's plenty for fans of the characters to enjoy including fun photo spots, exclusive merchandise, and much more.

If you're in Sapporo this autumn, don't miss the Rilakkuma & Sumikko Gurashi Festival.

Information

Rilakkuma & Sumikko Gurashi Festival

Running: September 17, 2021 – November 38, 2021

Venue: Sapporo Factory 3 (Floor 3F)

Address: 4 Chome-1-2 Kita 2 Johigashi, Chuo Ward, Sapporo, Hokkaido 060-0032, Japan

Opening Hours: [Weekdays] 13:00-17:00 (From 10:00 on September 17) / [Weekends] 10:00-17:00 (Last Entries 16:30)

Closed: Thursdays (Except September 23, 2021)

TEL: 011-272-9302 (10:00-17:00 except weekends and holidays)

Official Website: https://ntv.co.jp/rilakkuma-and-sumikko-fest/

Kaori's Easy Recipe: Learn to Make Baymax Mushi-Pan Steamed Bread

With just a small bit of ingenuity, turn everyday food into something cute using Kaori's Easy Recipe! With a few simple ideas, an ordinary recipe magically transforms into a cute dish.

Today, I'll teach you how to make Baymax mushi-pan steamed bread.

Ingredients

This recipe makes 5 portions

140g strong flour

20g granulated sugar

Pinch of salt

3g dry yeast

3g baking powder

5g vegetable oil

85ml-90ml milk (room temperature)

1

Mix everything together in a food processor. If you don't have a food processor, you can also knead the ingredients well by hand.

2

Ferment at 40℃ for 40 minutes. If you don't have a fermentation machine, leave in a warm environment.

3

Once the dough has doubled in size, divide into five portions and put into separate cups. If using paper cups, rub a little bit of oil inside.

4

Bake in the oven at 40℃ for 20-25 minutes.

5

After baking, steam in a steamer for 12-13 minutes. If you don't have a steamer, put into a frying pan or large pot with a little bit of water and cover.

6

Once cooled, use some nori seaweed to make Baymax's face and you're done!

Kaori Kubota (@kaopan27)

I live in Hokkaido and I love to make character themed foods, desserts and pastries♡

I want to see my family smile, so I enjoy putting in a bit of effort to make character foods and changing food into something cute♡

You can see more of my character foods and character bento boxes on my Instagram page → @kaopan72

Kirby Café Begins Serving its Spring Picnic Themed Menu

The Kirby Café branches in Tokyo and Hakata rolled out their Spring 2021 menu on Friday which is set to run until June 6. Themed on a springtime picnic, the line-up includes three items: six siz different temari-zushi servings, cherry blossom mochi, and a cherry blossom latte, all inspired by the Kirby video game series.

The Menu

Cherry Blossom Temari-zushi: Eat In ¥2,178 / Takeout ¥2,138

A serving of six sushi rolls perfect for a spring picnic. Each roll features designs that will be instantly-recognisable to Kirby fans.

Souvenir – Lunchbox (4 Designs)

Kirby's Spring Search | ¥1,078 (Tax Included)

Kirby is playing hide and seek under the cherry blossom tree in this cute dish which is adorned with shiny coloured candy.

Cherry Blossom Latte | ¥968 (Tax Included)

A light pink-coloured cherry blossom latte with a touch of salt. Mix everything together for a tasty sipping experience.

Netflix's Rilakkuma and Kaoru Promotes Official Fan Club With Community Stream Event

San-X is bringing fans of the popular Netflix animated series Rilakkuma and Kaoru with the launching of a community event to get everyone watching the series again together at the same time. Titled "Rilakkuma and Kaoru Watching Party," the event will take place on March 19. Although it's taking place in Japan, this is a fun chance for fan around the world to get involved too.

Rilakkuma and Kaoru has been well-received around the world. Netflix announced it as the second-most watched series in Japan in 2019. Now, fans can come together once again as the event, which is taking place in promotion of the opening of the series' official fan club, has them re-watching the first episode together.

There are two ways to get involved: via the Rilakkuma Community official fan club and on Twitter.

Getting Involved With the Rilakkuma Community Official Fan Club

The room for this event will open on Rilakkuma Community on March 18. There, fans can get ready to tune in to watch the episode together on March 19 at 19:00 (JST). There is a fee to pay if you want to join the fan club, and the website is in Japanese, so you'll need to be able to read the language if you want to use this method.

Fan club members will also receive an exclusive Rilakkuma and Kaoru wallpaper.

Getting involved on Twitter

You can follow the event with the official Japanese hashtag #リラックマとカオルさんを一緒に見ようの会 where people are encouraged to share their thoughts and support for the setries.

©2021 SAN-X CO., LTD. ALL RIGHTS RESERVED.

Chairoikoguma Market to Open at KIDDYLAND Osaka Umeda This Spring

Japanese character goods and toy chain KIDDYLAND is collaborating with San-X, the creators of the iconic Rilakkuma and its friends, to open the Chairoikogumarché, a market themed on Chairoikoguma, at KIDDYLAND Osaka Umeda. It will be open for a limited time this spring from March 11 to 25.

Chairoikoguma is a popular honey-loving bear character created by San-X who lives in the Honey Forest. This year marks the 5th anniversary since its debut.

In 2018 and 2019, San-X opened the limited-time Korilakkuma Meets Chairoikoguma Store which was hugely popular amongst Rilakkuma fans, with repeat buyers returning multiple times. Chairoikogumarché was originally scheduled to open at KIDDYLAND Osaka Umeda in April 2020, but it was postponed and will now open next month. Once they book their attendance, fans can look forward to laying their eyes on original Chairoikoguma artwork coupled with phrases spoken in the Kansai dialect. There will be exclusive items to purchase, merch pre-sales, bonus goodies, and more.

Merchandise Line-Up Excerpt

Charm Set | ¥1,320 (Tax Included)

Mask Case | ¥660 (Tax Included)

Pre-Sale Merchandise

Pre-Sale Release: March 11, 2021

*This product will be released for general sale at Rilakkuma Stores in Japan, excluding the Osaka Umeda branch, on March 13.

Chairoikogumarché & Nakayoshi Plush Toy (Sakuranokorisu) | ¥3,080 (Tax Included)

*Not available at Rilakkuma Store Umeda Osaka. Pre-sale exclusive to Chairoikogumarché.

*Will also be released on San-X's online shop.

Pre-Sale Release: March 11, 2021

*This product will be released for general sale at all Rilakkuma Stores in Japan on April 3, 2021.

Long Plush Pillow | ¥6,600 (Tax Included)

Mini Shoulder Bag | ¥5,500 (Tax Included)

*Will also be released on San-X's online shop.

Bonus Items

1. Customers who spend over ¥3,000 (tax included) at Chairoikogumarché will receive a random free zipper case from a possible two designs. First-come, first-served.

*One per person, per transaction. Design chosen randomly.

*Available while supplies last.

*Will be released at all Rilakkuma Stores except the Osaka Umeda branch on March 13.

2. Customers who spend over ¥5,000 (tax included) at Chairoikogumarché will receive a free tote bag. First-come, first-served.

*One per person, per transaction. Design chosen randomly.

*Available while supplies last.

©2021 SAN-X CO., LTD. ALL RIGHTS RESERVED.

Information

Chairoikogumarché

Running: March 11, 2021 – March 25, 2021

Where: KIDDYLAND Osaka Umeda

Address: Hankyu Sanbangai Floor B1F, 1-1-3 Shibata, Kita-ku, Osaka-shi, Osaka

Opening Hours: 10:00-20:00

*Opening hours subject to change

Event Page: https://www.kiddyland.co.jp/event/chairoikogumarche/

Rilakkuma Opens Official Fan Club

Fans of Rilakumma are in for a real treat as San-X, the company behind the internationally-beloved bear, opened the "Rilakkuma Tomonokai Official Fan Club" on Wednesday (February 10).

Plush Toy Set

Folder

Acryluc Key Ring

Signing up to the fan club means getting your hands on a range of merchandise from exclusive goods to new member items, a new wallpaper every month, access to the Rilakkuma Community, birthday mail, and more. Those who do sign up will receive a Rilakkuma plush toy and folder for free as thanks.

*Images are for illustrative purposes only. Size, colour, and design may vary from actual products.

©2021 SAN-X CO., LTD. ALL RIGHTS RESERVED.

Kaori's Easy Valentine's Recipe: Learn to Make Strawberry Milk Chocolate Pudding

With just a small bit of ingenuity, turn everyday food into something cute using Kaori's Easy Recipe! With a few simple ideas, an ordinary recipe magically transforms into a cute dish.

Today, I'll be showing you how to make Strawberry Milk Chocolate Pudding, a delicious recipe whipped up with love for Valentine's Day.

Ingredients

✩Ingredients For Chocolate Pudding
35g chocolate
300ml milk
30g-35g granulated salt
5g gelatine (dissolved in 1 tbsp water)

✩Ingredients For Strawberry Pudding
100g strawberries (fresh or frozen)
350ml milk
30g-35g granulated salt
5g gelatine (dissolved in 1 tbsp water)

Weck jars for the dessert.

1

First, we'll make the chocolate pudding.

Put the milk and granulated sugar into a pot and heat on the hob until the sugar melts. Turn the heat off, throw in the chocolate, and allow to fully melt. Once melted and the mixture is cooled, add the gelatine to dissolve.

2

Now, we'll make the strawberry pudding.

Put the milk and granulated sugar into a pot and heat on the hob until the sugar melts.

Add the mix to a blender with the strawberries and blitz. Add back onto the hob and heat through slightly. Allow the mixture to cool then add the gelatine to dissolve.

3

Once both mixtures are completely cooled, add them to the jars in an alternating pattern and chill until set.

⚠️Make sure the dessert is completely set and not runny before serving. About an hour each in the refrigerator should be sufficient.

Top with cream and strawberries and enjoy!

Kaori Kubota (@kaopan27)

I live in Hokkaido and I love to make character themed foods, desserts and pastries♡

I want to see my family smile, so I enjoy putting in a bit of effort to make character foods and changing food into something cute♡

You can see more of my character foods and character bento boxes on my Instagram page → @kaopan72

Kaori's Easy Valentine's Recipe: Learn to Make Rilakkuma Hot Chocolate Sticks

With just a small bit of ingenuity, turn everyday food into something cute using Kaori's Easy Recipe! With a few simple ideas, an ordinary recipe magically transforms into a cute dish.

Today, I'll be showing you a simple recipe for Valentine's Day made with ingredients bought entirely from the 100 yen store Seria. I call it the "Rilakkuma Hot Chocolate Stick."

Ingredients

Square mould from Seria (makes six sticks)
1 bag of milk chocolates

1 bag of white chocolates

1 bag of dark chocolates

Toppings of your choice (I used caramel chocolate chips and walnuts)

1

Melt all the chocolates separately over a bain-marie.

2

Create layers with each chocolate type. Pick your first choice and pour into the mould and wait for it to set lightly before adding the next chocolate. For this recipe, I went ahead and added the chocolate a little before layers had finished setting to create a marbling effect.

✩I also added some strawberry chocolate I had left over from my Rilakkuma chocolates.

3

Once all your chocolate is in the mould, stick in some lollipops and add toppings of your choice making sure they don't overflow. This will ensure they set together with the chocolate.

4

Allow to set overnight and your chocolate stick is ready.

5

I made Rilakkuma chocolates from scratch and added those to the sticks to finish.

Kaori invites you into her world of character-themed food dishes in her recipe series. Be sure to check out her Instagram where she has uploaded many pictures of her character dishes!

Kaori Kubota (@kaopan27)

I live in Hokkaido and I love to make character themed foods, desserts and pastries♡

I want to see my family smile, so I enjoy putting in a bit of effort to make character foods and changing food into something cute♡

You can see more of my character foods and character bento boxes on my Instagram page → @kaopan72