Sebastian Masuda to Open Colorful New York City Sushi Restaurant SUSHIDELIC in June 2023
Sebastian Masuda to open SUSHIDELIC, a new sushi restaurant in Soho, New York City. The location will open on June 28, 2023.
"King of Kawaii" Sebastian Masuda, creator of Harajuku's "KAWAII MONSTER CAFE," loved by celebrities around the world, has created a new restaurant concept  in New York City
 Sebastian Masuda is a multi-disciplinary artist whose unique sense of color transcends the boundaries of art, fashion, and entertainment. His restaurant "KAWAII MONSTER CAFE" opened in Harajuku in August 2015 and quickly became a popular spot in Tokyo, frequented by celebrities from around the world, including BLACK PINK's Jenny, Katy Perry, and Ariana Grande.
His next project will take place in New York City, where he is currently based. The restaurant will offer a completely new perspective on sushi, the most popular Japanese food in the U.S. and  an integral part of the American lifestyle.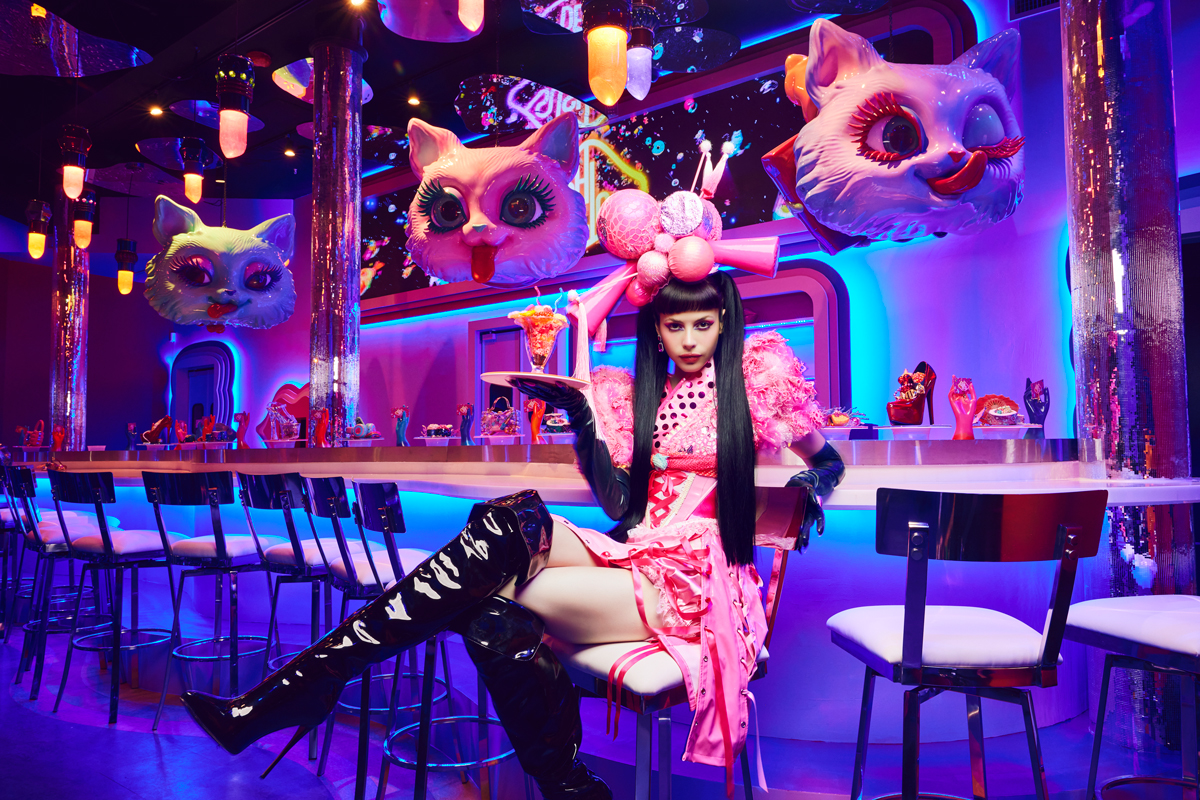 Enjoy an Immersive Kawaii Experience
The new location is meant to be an "immersive Kawaii experience." Once you step into the restaurant, you'll find yourself in a psychedelic and one-of-a-kind space that will make you feel as if you've wandered into another world. Guest will be guided by employees clad in colorful custom-made costumes, and three rotating cats will be suspended by the ceiling, rotating to reveal a secret image. Guests sitting at the counter will enjoy a pink custom-made conveyor belt, a.k.a a sushi lane.The restaurant will offer artist Sebastian Masuda "Immersive Kawaii Experiences" that go beyond THE DINING EXPERIENCE.
Featuring a Menu Developed by Japanese Chefs and Supported by AUTEC, Inc.
Chef Hiroki Abe and Sebastian Masuda collaborated to create an unforgettable menu, fully supported by AUTEC. After moving to the United States in 2001, Abe worked as an executive chef at EN Japanese Brasserie in NYC. He now works as a private chef at corporate events and parties around the U.S. On the technical side, AUTEC, which boasts the number one share of the automatic sushi machine market in North America, is backing up the venture. The sushi is sure to be as tasty as it is kawaii!
Featuring Restaurant Music by RAM RIDER, the Music Producer Behind the Score at KMC
The in-store background music is essential when cultivating an immersive experience. Music producer RAM RIDER, who created the music for KAWAII MONSTER CAFE, has written an incredible 70-minute ambient track for SUSHIDELIC. Guests can look forward to losing themselves in the adorable ambiance.
Tons of New Yorkers Visit During Pre-Opening, SUSHIDELIC Trends on Social Media
During SUSHIDELIC's limited pre-opening, scores of New York-based celebrities and
influencers visited the shop. The unparalleled ambiance, food presentation, and experience have quickly become a hot topic on social media!
Opening in SoHo, the Trendiest Neighborhood in New York City
SUSHIDELIC is scheduled to open at 177 Lafayette St. in the heart of the SoHo area, where the latest fashions and trends are born and where many fashion brands have opened their flagship stores.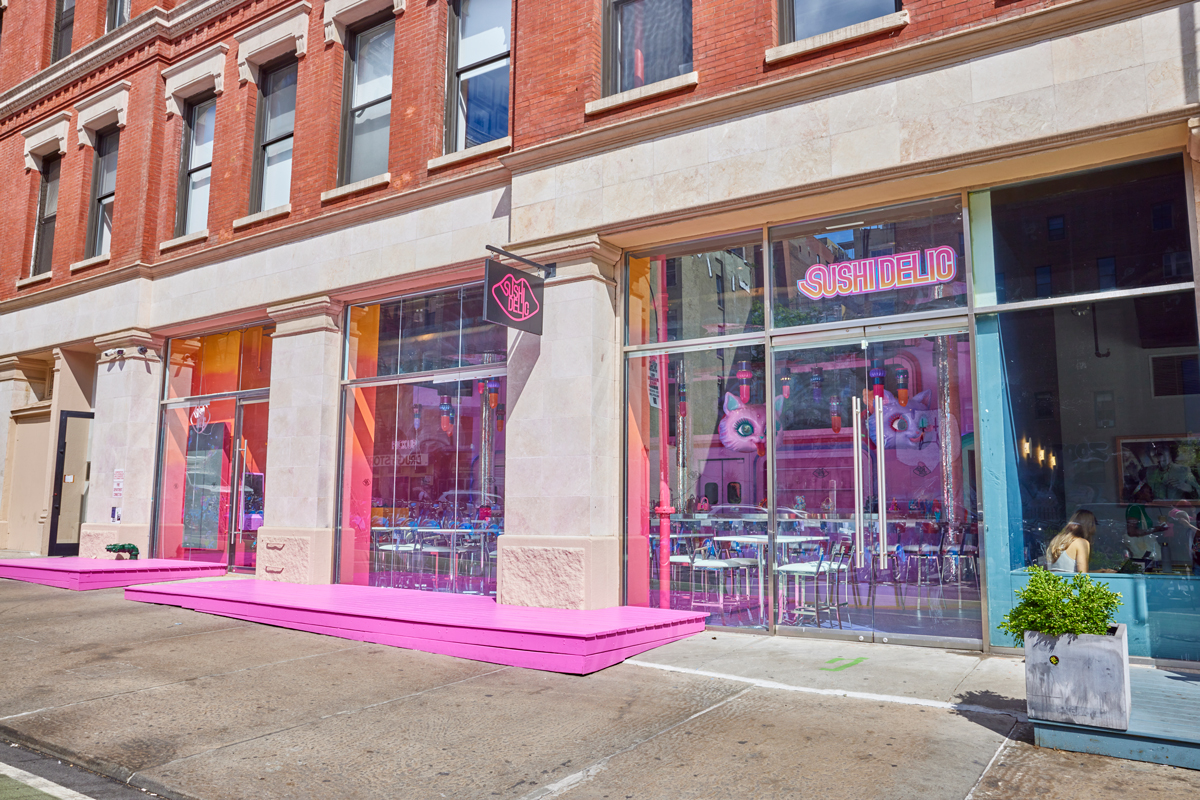 We will keep you updated with the latest information as it becomes available. Please look forward to the chemistry between "Sushi" and "Kawaii," two of Japan's proudest exports.
Sebastian Masuda
Information
Shop Overview
Name: SUSHIDELIC
Opening: June 28, 2023
Address: 177 Lafayette St, New York, NY 10013
RELATED ENTRIES
New Planetarium Project in Oita Prefecture Highlights Sushi, Not Stars

In Saiki City, located in the southernmost part of Oita Prefecture, visitors will find a unique project. For a limited time, guests can enjoy a sushi-netarium, where sushi–not stars–will be featured in the sky. Saiki City, where the event takes place, is a treasure trove of seafood thanks to the Bungo Channel and boasts the largest catch in Oita Prefecture. It's also known as Oita's premier sushi destination, with more than 350 varieties of ocean delicacies to enjoy each year. Saiki Sushi, made from fresh local fish, is known for its firm texture and for having just the right amount of fat. To promote this tasty dish throughout Japan, the interactive sushi-netarium promotion was created!

A Planetarium Experience Featuring Soothing Music and a Sky Filled with Sushi

The sushi-netarium is said to have a relaxing effect comparable to that of Beppu Onsen, the most famous tourist attraction in Oita. Those taking part will be able to see not only a sky filled with sushi, but a sushi meteor shower and the Gari Borealis. As you watch, it might become impossible not to crave sushi! Visitors will be able to take part in this special viewing at certain locations in Beppu City and at Oita Airport from September 22 until November 30. In a public announcement, the city invited guests to eat plenty of tasty local food and soak in the Beppu Onsen before enjoying the sushi-netarium to wrap up a wonderful day. 

The Beautiful 'Sushi Projector'

Check out these impressive projectors made exclusively for the sushi-netarium! These original sushi projectors in the shape of Saiki sushi are the only five such projectors in the world and come in the shapes of tuna, yellowtail, octopus, egg, and shrimp. 

Come enjoy this strange sushi-centric activity in the south of Japan! Participating facilities are listed on the website below.

Sebastian Masuda to Unveil Hands-On Live Performance Work

From September 30 until October 2, 2022, artist Sebastian Masuda will present a hands-on live performance work titled Polychromatic Skin – Minitsukeru, nugisuteru at kagoo in Kitakagaya, Osaka. 

Masuda, who currently resides in New York, is returning to Japan temporarily to prevent this colorful and experimental participatory live performance, inspired by the street style of the 90s. The title of the artwork is pulled from the artist's intention to break through and liberate people's unconscious stereotypes that stand in the way of gender freedom. This work is the second in a series following Polychromatic Skin -Gender Tower- and Polychromatic Skin -Gender Wall- to be exhibited at Roppongi Art Night 2022.

The theme of this art piece is 'wearing something by taking it off.' Audience members will participate in the live performance by wearing masks, tops, and bottoms based on the idea of androgyny, or the body of a human before it is divided into male or female. 

Upon entering the art space, guests will be surrounded by live music consisting of drums and violins and visuals, while being invited to act accordingly to create their own art. Each session lasts 60 minutes, and participation in the live performance must be reserved in advance. Tickets to view the works without participating in the performance will be sold at the venue on the day of the event.

The performance will take place at kagoo, a former warehouse space in Kitakagaya, an artistic area of Osaka. A free area at the entrance will feature a pop-up store filled with Sebastian Masuda's art, along with items from 6%DOKIDOKI, a popular Harajuku apparel brand celebrating its 27th anniversary in 2022.

<Comment from Sebastian Masuda>

"In Brooklyn, New York in 2018, I wandered off to go to the restroom at a club. The male and female signs on the restroom doors had been smashed together, and the sign only said 'non-gender.' Bewildered by the unexpected instructions, I opened the door with the usual color and found a completely different sight than I was expecting. Shocked to realize that there were stereotypes hiding unconsciously within me, I returned to the club floor to find the space is as fun as ever. Since then, I've wondered if there is a way to break the stereotypes I have. I can't stop thinking about it. 

Is breaking down the walls the only shortcut?
The right answer is inside all of us.
Sometimes, to see the truth, you just need to put something on.
Cast off the self by taking it off."

Kawaii King Sebastian Masuda to Hold 'COLORS FOR PEACE' Charity Art Exhibition in New York City

Sebastian Masuda, known as the "father of kawaii," moved to New York City in 2022 to be more active in the Big Apple while continuing his activities in Tokyo.

 

His first event since moving to the city will be the COLORS FOR PEACE charity art exhibition, which will be held at the Mizuma & Kips gallery on Manhattan's Lower East Side from July 29 until July 31. A portion of all proceeds from the sale of artwork and donations collected will be donated to the Ukrainian National Women's League of America, a human rights organization supporting those whose lives have been impacted by war.

Masuda wanted people to think about peace, which is the theme for the COLORS FOR PEACE exhibition. The showing will feature artwork in four primary colors–blue, yellow, green, and pink.

Along with original paintings and lithographs, the exhibition will also feature a bed installation where guests can freely relax. Visitors will be able to think about the people whose peaceful daily lives are threatened by the ongoing war, and will be able to support them through art.

An opening reception for the event will be held on the evening of July 29, and reservations are open now. More information will be announced on Masuda's social media accounts, including when the artist himself will appear.

Comment from Sebastian Masuda

"COLORS FOR PEACE is an event with a very straightforward theme, and that is for guests to think about peace. Close your eyes. Imagine it. Understand it. Understand how wonderful it is that you can sleep in your own bed at home tonight. We all know how comfortable it is to be able to sleep in our own bed, with our own sheets that have our own scent.

Through my activities over the years, I've come to realize that the 'kawaii' movement is one of the best ways to inspire peace. It helps us to understand each other, and the bright and vibrant colors make people happy, both in Japan and around the world. I hope that the COLORS FOR PEACE venue will be filled with many smiling faces and that it will transcend race, religion, age, gender, and all other borders."

PAGEBOY Collaborates with Hamazushi on New Sushi-themed Apparel Collection

High casual brand PAGEBOY has begun selling limited-edition collaboration items with sushi chain Hamazushi at stores nationwide, the official web store, and ZOZOTOWN. An original novelty box will be gifted to customers buying collab items while supplies last!

Lineup

Long Sleeve T-Shirt

Short-Sleeve T-Shirt

Short-Sleeve Patterned T-Shirt

Bucket Hat

Socks

Plates

Fans of the popular sushi chain can grab a shirt featuring Hamazushi's unique wave pattern motifs. Unisex brand PAGEBOYLIM also announced a simultaneous collaboration, with a long-sleeve T-shirt perfect for the guys out there.

Report: Sebastian Masuda's 'Yes, Kawaii is Art' Exhibition at Kanda Myojin Shrine Goes Beyond 'Cute'

What does the word 'kawaii' mean to you? For most people overseas, it's a purely Japanese aesthetic combining colorful visuals with cutesy characters to make something so adorable it defies imagination. In recent years, however, 'kawaii' has become a kind of philosophy that transcends language, national borders, and even consciousness. It's a driving force behind people's lives and something that pulls people out of bed in the morning–it's something capable of instantly putting a smile on people's faces. For those wishing to study the philosophy behind the 'kawaii' movement, the Godfather of Kawaii Sebastian Masuda is currently holding an exhibition at Kanda Myojin Shrine in Tokyo until December 12, 2021. What is it about 'kawaii' that is so capable of inspiring so many different people and cultures around the world? 

A correlation chart welcomes guests to the grounds. The 'Kawaii Archival Research,' a project on kawaii culture conducted with students from the Kyoto University of Arts, collected data on 'kawaii' trends from the post-war period to the present day. Through interactions with the worldwide 'kawaii' community, it's clear how much of an impact the aesthetic has had on people around the globe. 

In the midst of the pandemic in 2020, Masuda announced #KAWAIITRIBE, a way to encourage those coping with depression during the days of COVID-19. His followers were asked to use 'color' to bring the world together, and more and more, the 'kawaii' movement became a way to express and love oneself. Using #KAWAIITRIBE, more and more fans of the movements became connected–even if those users were countries apart. 

The hashtag #SPEAKUP was also utilized by Masuda to collect data from 'kawaii' lovers around the world, asking about hobbies, interests, and opinions on 'kawaii' culture. The data collected over the course of 12 days was incredibly meaningful to Masuda and led to plenty of new discoveries about the community as a whole. 

Masuda explains that each country has different types of 'kawaii,' and that the aesthetic is expressed in different ways around the world. One country may have people influenced mainly by 'kawaii' expressions in anime and manga, while another expresses it through fashion or music. 'Kawaii' is diverse, just as people are diverse. 

Sebastian Masuda has also held a Zoom meeting with people in 'kawaii' communities around the globe to discover how they became involved with the aesthetic initially, while also asking how it inspired them and gave them strength during these difficult times. Certain people claimed that 'kawaii' helped them in their personal growth, while others say it has brought out some of their potential in new and unexpected ways. While Masuda's artwork may simply seem visual, 'kawaii' has become a tool for new communication and personal healing and growth. Some may even call it a kind of therapy: a place where people can surround themselves with color and joy to heal from the difficulties of life. The bold colors of the 'kawaii' movement can inspire people to be bold in their daily lives. Individuality should be celebrated and self-confidence should reign supreme–that is yet another message of the 'kawaii' movement. 

Many people involved in the Zoom call had never met, and after the initial meeting, the room was left open to give people a place to communicate. Afterward, the 'kawaii' circle only became bigger, with a Facebook group bringing together more and more members of the community. 

The research done during the last year of the COVID-19 pandemic has given 'kawaii' lovers a reason to think deeply on how to overcome the many struggles born from the 'new normal,' and these forums are perfect places to share colorful messages of hope and strength. 

Inspired by Masuda's own struggles during his time in Manhatten in 2013, Colorful Rebellion -Seventh Nightmare- is on display at Kanda Myojin. The installation has previously appeared in locations around the world including New York City, Milan, and Amsterdam. This time, the exhibit was inspired by 'muro,' a basement room in Omotesando where amazake is fermented. The room was used as an air-raid shelter during the war, and walking along the dimly-lit path leading to Masuda's brightly-colored room, it's hard not to wish that those evacuees could have been surrounded by these beautiful colors instead of pitch darkness. 

It is no exaggeration to say that this is Masuda's representative work. Created in the midst of the artist's own struggles, it has helped establish the philosophy of 'kawaii' culture and continues to help those dealing with their own problems.

The Time After Time Capsule Art Project, starting in 2014 and held in 12 cities around the world, is a massive time capsule filled with messages and wishes for the future. Shaped like the beloved Sanrio character Hello Kitty, the capsule is gradually changing color as it becomes heavier and heavier with wishes for peace and happiness from fans around the world. Originally planned to be exhibited at the 2020 Tokyo Olympics, this couldn't come to fruition due to the current pandemic. This is the first time it is being shown in Japan. 

The WORLD TIME CLOCK, a once-famous landmark of Harajuku, has also been recreated and installed within Kanda Myojin. 

'Yes, Kawaii Is Art' at Kanda Myojin is a deeply emotional, personal, and inspiring exhibition allowing visitors to experience firsthand how 'kawaii' culture is capturing the hearts of people around the world. Sebastian Masuda isn't slowing down any time soon, and his works will continue to heal people and bring joy for many years to come. 

Sebastian Masuda's solo exhibition 'Primal Pop' will be held at Roppongi Hills A/D Gallery from December 11, 2021, until January 10, 2022.

TEXT:Natalie(MOSHI MOSHI NIPPON)

A Sneak Peek at Sebastian Masuda's 'Yes, Kawaii Is Art' Exhibition at Kanda Myojin Shrine

The Godfather of Kawaii Sebastian Masuda will open his 'Yes, Kawaii Is Art' exhibition at the 1,300-year-old Kanda Myojin Shrine on December 4, 2021. A number of Masuda's representative works will be on display at the historical site, known as one of the most important shrines during the Edo period. 

Colorful Rebellion -Seventh Nightmare-

Kanda Myojin Shrine

 

Colorful Rebellion -Seventh Nightmare- has been shown in New York, Milan, and Amsterdam over the past few years, and will now make an appearance as part of this exhibition. Given the magnificence of the venue, the work will be presented in a unique way–in the basement of the shrine. In addition, a part of the research on Kawaii culture conducted in collaboration with Kyoto University of Arts Ultra Factory will be on display as well. Guests will be invited to ponder the nature of Kawaii, and what makes it so beloved by audiences worldwide.


 

Colorful Rebellion -WORLD TIME CLOCK-

Time After Time Capsule Art Project

Kawaii Archival Research

Near the entrance to the shrine, the Colorful Rebellion -WORLD TIME CLOCK will be on display. Clad in the cutest colors imaginable, it has become a symbol of Harajuku around the world. The Hello Kitty-shaped time capsule, which was on display for five months in New York City in 2015, will also be shown on the temple grounds. The participatory art project has made it to 12 cities around the world so far. 

Kawaii culture will blend with traditional Japanese culture during this exhibition, so keep an eye out for more details coming soon!

What is 'Yes, Kawaii Is Art?' 

Sebastian Masuda has been at the helm of the global Kawaii movement for decades. 

 In 2020, Masuda asked a number of questions to fans of Japanese pop culture around the world–what is Kawaii? Why does Kawaii cross borders, generations, and gender? This new exhibition tries to find an answer to those questions while bringing some joy and excitement to the local community. 

Information

Sebastian Masuda Exhibition 'Yes, Kawaii Is Art' at Kanda Myojin Shrine

Dates: December 4 – December 12, 2021

Hours: 12:00-18:00 (Last Entry at 17:30)

Address: Kanda Myojin Shrine (2-16-2 Sotokanda, Chiyoda-ku, Tokyo)

Admission: Free (¥500 for Colorful Rebellion -Seventh Nightmare-)

https://sebastianmasuda.com/works/tokyo/

For more details on the event, follow Sebastian Masuda's Twitter: 

Sebastian Masuda Kawaii Exhibition to be Held at 1,300-Year-Old Kanda Myojin Shrine

Sebastian Masuda, the Godfather of Kawaii, is bringing his 'Yes, Kawaii is Art' exhibition to Tokyo. If that isn't cool enough, the event will be held from December 4 until December 12, 2021, at the 1,300-year-old Kanda Myojin Shrine, known as one of the most important shrines during the Edo period. 

Kanda Myojin, the Tokyo Venue

Work at 'Yes, Kawaii is Art' Venue in Osaka

Related Event, 6%DOKIDOKI Fashion Show

Originally scheduled to arrive in Tokyo in September, the exhibition was postponed due to the state of the COVID-19 pandemic. Kanda Myojin is known as the site of the Kanda Festival, one of the three major Shinto festivals in Tokyo started by Tokugawa Ieyasu in 1600. The shrine is very close to Akihabara, and has become a place for technophiles to pray for their electronics!

Sebastian Masuda is known as the Godfather of Kawaii, and his colorful and crazy art is known around the world. In 2020, Masuda asked a number of questions to fans of Japanese pop culture around the world–what is Kawaii? Why does Kawaii cross borders, generations, and gender? This new exhibition tries to find an answer to those questions while bringing some joy and excitement to the local community. 

Osaka's City of Art Kitakagaya has hosted Masuda's exhibition since October 30, with his works spread out across three different venues. These will be open until November 30, 2021. 

Additionally, on November 13, a street fashion show by Masuda's popular Harajuku fashion brand 6%DOKIDOKI will be held at the third venue. The brand turns 26 this year. 

Information

Yes, Kawaii is Art

Tokyo Event

Sebastian Masuda's "Yes, Kawaii is Art" Exhibition at Kanda Myojin Shrine

Running: December 3 – December 12, 2021

Hours: 12:00-18:00

Address: Kanda Myojin Shrine (2-16-2 Sotokanda, Chiyoda-ku, Tokyo)

*Details to be announced at a later date.

Osaka Event

Exhibition Pricing

Venue 1: ¥500 (Weekdays) ¥1,000 (Weekends/Holidays) 

Both Venue 1 + Venue 2: ¥1,500 (Viewing) ¥2,000 (Experience) 

Venue 3: Free

Details: https://sebastianmasuda.com/works/osaka/

Access: Close to Kita-Kagaya Station on the Osaka Metro Yotsubashi Line, Exit 4

Map: https://www.google.com/maps/placelists/list/fGC5yMFnbboXkfjYxijLmbHIzgP88w

Venue 1: kagoo

Main Work: 'Colorful Rebellion -Seventh Nightmare-

Running: October 30 – November 21, 2021

Closed Mondays and Tuesdays, November 17

Hours: 12:00-18:00

Address: 5-4-19 Kita-Kagaya, Suminoe-ku, Osaka

Venue 2: Oto Building

Main Work: 'Fantastic Voyage, Prototype II' 

Running: November 5, 6, 7, 12, 13, 14

Hours: Shows at 13:00, 15:00, 17:00 *Only at 17:00 on November 14

Address: 5-5-1 Kita-Kagaya, Suminoe-ku, Osaka

Tickets: https://sebastianmasuda.peatix.com/

Venue 3: Chidori Bunka

Main Work: 'Colorful Rebellion -WORLD TIME CLOCK-

Running: November 12 – November 21, 2021

Closed on Mondays, Tuesdays, Wednesdays

Hours: 12:00-18:00

Address: 5-2-28 Kita-Kagaya, Suminoe-ku, Osaka

Related Event

6%DOKIDOKI Fashion Show 'Colorful Riot'

Date: November 14, 2021

Time: 15:00~

Address: Venue 1 (Free Admission)

Official Site: https://sebastianmasuda.com/

KAWAII MONSTER KITCHEN by ASOBISYSTEM Opens in Osaka

For visitors to Tokyo who love Japanese pop culture, the KAWAII MONSTER CAFE was a rite of passage. Opened in Harajuku in 2015 and produced by the Godfather of Kawaii himself Sebastian Masuda, the restaurant was a love letter to all things cute. Starting in February 2021, ASOBISYSTEM has taken over the operation of this beloved property. 

Regrettably, due to the state of the world, KAWAII MONSTER CAFE HARAJUKU closed at the end of January 2021. However, the spirit of this colorful place isn't dead, and a new concept and menu are now coming to fruition in Osaka!

Contents

Monster Cake and Choppy

Monster Burger

Colorful Tonkatsu Monster Burger (Red): ¥1,380 (Tax Included, Drink Included) 

This bright red monster burger will make a great subject for an Instagram photo and is filled with pork cutlet and bacon dipped in a special tomato sauce. 

Colorful Shrimp Fritter Monster Burger (Blue): ¥1,380 (Tax Included, Drink Included) 

This tasty shrimp fritter sandwich is best enjoyed with plenty of tartar sauce!

Colorful Blue and Red Mini Burgers: ¥1,280 (Tax Included) 

Can't decide which burger you'd like to try? How about both! Guests can also design their own monster burgers with a special topping kit.

Monster Cooking

Cooking Class Fee: ¥700 (Tax Included) 

Cooking Class Fee with Cutlery: ¥1,000 (Tax Included) 

Length: 30 minutes

Ages 9+

Quiz Rally Card

Traverse the four floors of the Hug Museum for a special quiz rally! There will be one question on each floor, marked by Choppy! Those who answer all the questions correctly will receive an original mask case!

Monster Merchandise

 

The Hug Museum, sponsored by Osaka Gas, offers plenty of hands-on exhibitions related to food. The grand opening of the KAWAII MONSTER KITCHEN was held on November 2, and inspired children and adults alike to have fun with their food and embrace all th ings kawaii. A photo spot featuring a massive monster cake has also been installed, supervised by Sebastian Masuda. Come experience the spirit of kawaii culture in Osaka!

King of Kawaii Sebastian Masuda Opens Exhibition in Osaka

Artist Sebastian Masuda is a leading figure in Japan's culture of KAWAII. The creator of the popular Harajuku brand 6%DOKIDOKI, the creator has worked with Kyary Pamyu Pamyu and a number of other kawaii personalities in the past. Now, his exhibition titled 'Yes, Kawaii is Art' is coming to Osaka from October 30 to November 21, 2021. The event will take place in Kitakagaya, an art district located in an old factory area, with three distinct venues opening each week. Each will exhibit a different work. 

Fantastic Voyage Digest Video

Presale tickets for Fantastic Voyage, Prototype II, a performance taking place at the second venue, went on sale on October 21. The prototype was created as a device for 'imagining the isolated future,' and shows a transparent capsule traveling through space. The thirty-minute performance will surround viewers with sounds and images and is sure to dig deep into the psyche. 

An exclusive VIP plan will be available on October 30 and 31 and is reserved for only two groups per day. Those who can afford the ¥80,000 per person ticket price can enjoy a luxurious Halloween buffet at the Conrad Osaka hotel. Each scrumptious sweet was designed by Masuda himself, and VIP guests can also tour rooms where his works are displayed. Masuda will accompany visitors to directly explain his works, so the cost might be worth it!

Information

Yes, Kawaii Is Art 

Details: https://sebastianmasuda.com/works/osaka/

1st Showing – kagoo (General reception and ticket office)

Featuring 'Colorful Rebellion -Seventh Nightmare– and more 

Running: October 30 – November 21, 2021 (Closed Mondays and Tuesdays, and November 17)

Hours: 12:00-18:00

Address: 5-4-19 Kitakagaya, Suminoe-ku, Osaka

2nd Showing – Oto Building

Featuring 'Fantastic Voyage, Prototype II'

Open: November 5, 6, 7, 12, 13, 14 at 13:00, 15:00, and 17:00 (Only 17:00 on November 14)

Address: 5-5-1 Kitakagaya, Suminoe-ku, Osaka

Details: https://voyage-osaka2021.peatix.com/

3rd Showing: Chidori Bunka

Featuring 'Colorful Rebellion -WORLD TIME CLOCK– and more

Open: November 12 – 21, 2021 (Closed Monday, Tuesday, Wednesday) 

Hours: 12:00-18:00

Address: 5-2-28 Kitakagaya, Suminoe-ku, Osaka

6%DOKIDOKI Fashion Show 'Colorful Riot'

Date: November 14, 2021 from 15:00-16:00

Address: At 1st Showing location's Free Area

 "Yes, Kawaii is Art" VIP Plan

Yes, Kawaii is Art VIP Plan Including Conrad Osaka Halloween Buffet

Price: ¥80,000 per person (Tax Included, limited to two groups per day) 

Dates: October 30 & 31, 2021

Hours: 14:30-18:30

Private Art Tour Plan for Groups and Businesses

Price: ¥200,000 (Tax Included) 

Dates: November 6, 7, 10, 11, 12

Hours: Morning Group 10:00-12:00 / Evening Group 18:30-20:30

VIP Plan Details/ Reservations: https://forms.gle/BMjMHb9jr6RMZg1G7

Masuda Sebastian is Spreading KAWAII Culture with these Commemorative Events

Artist Masuda Sebastian, a leading figure in Japan's KAWAII culture, is celebrating his 30th year of activities this year. His works express KAWAII from a variety of perspectives, taking the world by storm and creating a new KAWAII culture with new values. His store 6%DOKIDOKI opened in Harajuku in 1995, and Masuda has since been working as an art director, spreading KAWAII culture throughout Japan and across the world. 

He has also been in charge of the art direction and costumes for Kyary Pamyu Pamyu's music videos since her debut in 2011, often featuring 6%DOKIDOKI pieces. The combination of art and music captured the imagination of fans across the globe, inviting them into their world of music.

 

 

To commemorate his anniversary, fans will be able to experience his artwork, both past and present, at a variety of special KAWAII events. 

Be sure to check out these unmissable events and exhibitions!

 

【SPOT】Masuda Sebastian and 6%DOKIDOKI 1995→2021

Duration: Until October 3 2021

 

Masuda Sebastian opened 6%DOKIDOKI in Harajuku back in 1995. To commemorate the 26th anniversary since it's opening, a limited pop up shop has opened in Shibuya PARCO to celebrate the brand's history. Here you can find posters featuring designs from the 90's alongside modern 6% products. 

 

Details: https://www.moshimoshi-nippon.jp/ja/498415

【SPOT】MORI ART MUSEUM – Masuda Sebastian Pop Up Store

Duration: Until October 17 2021

A pop up shop from Masuda Sebastian's art brand, Sebastian Masuda ART. The shop will stock the latest goods from the brand, alongside a selection of art pieces. The store will be opened in TOKYO CITY VIEW on the 52nd floor of the Roppongi Hills Mori Tower, which is also hosting the 'Sanrio Exhibition: 60 Years of Japanese Kawaii History,' where you can view Masuda Sebastian's 'Unforgettable Tower' art piece. 

Details: https://www.moshimoshi-nippon.jp/ja/499990 

 

【SPOT/FOOD】Masuda Sebastian x Conrad Osaka Second Collaboration

Duration: October 31 2021 

Masuda Sebastian has worked closely with Conrad Osaka's executive pastry chef Jimmy Boulay to create a limited-time Halloween sweets buffet. Why not treat yourself to a colorful sweets party this Autumn, packed full of seasonal ingredients?

Details: https://www.moshimoshi-nippon.jp/ja/492445 

【SPOT】Yes, Kawaii Is Art

Duration: November 12 ~ November 21 (closed Monday,  Tuesday, Wednesday) 

A Masuda Sebastian art exhibition hosted in Kitakagaya, Osaka's City of Art. Here you can experience his artwork while discovering the "KAWAII" that has influenced the world and sparked new ideas.

Details: https://www.moshimoshi-nippon.jp/503083

【BOOK】Masuda Sebastian's Artworks PAINT IT, COLORFUL

 Published in 2020, this is Masuda's first artbook. It compiles a variety of his works, including those from Kyary Pamyu Pamyu's PONPONPON and Fashion Monster music videos, the KAWAII MONSTER CAFE restaurant, and Sanrio Puroland's Miracle Gift Parade. Dive into Masuda Sebastian's world with this colorful book which showcases all his art from around the world. 

 Details: https://www.moshimoshi-nippon.jp/ja/345928 

 

【SPOT】Future Peace Nursery

Masuda Sebastian was the visual producer for this nursery which opened in Sendagaya in June 2019. The community contribution project was headed by childcare facility developer Edulead and ASOBISYSTEM, which fosters and spreads Japanese culture. Masuda's colorful design creates a bright and charming space, ideal for nurturing children's growth. 

Details: https://www.moshimoshi-nippon.jp/ja/223582 

TEXT:Natalie(MOSHI MOSHI NIPPON)

Masuda Sebastian Exhibition "Yes, Kawaii is Art' Held in Kitakagaya, Osaka's City of Art

Artist Masuda Sebastian will be holding the 'Yes, Kawaii is Art' exhibition in Osaka and Kyoto. The exhibition will be starting in Kitakagaya, Osaka's City of Art, held between October 30 and November 30.

 

The exhibition explores the current state of 'Kawaii,' a keyword which has influenced the world, along with a selection of Masuda Sebastian's works.

In 2020, Masuda started conversations with Kawaii communities across the globe to light up the world with vivid colors following the pandemic. What is Kawaii? Why does Kawaii surpass borders, generations, and gender, as the community moves onwards? This exhibition investigates the depths and new possibilities that Kawaii offers, through the works of Masuda Sebastian and his activities as an activist. 

 

Special Focus

Venue 1: Japan's First Colorful Room Exhibition


The first venue features a full-room installation titled 'Colorful Rebellion Seventh Nightmare.' 

The piece was first released in 2014 and was created as a self-portrait representing the seven deadly sins. Following its first exhibition in Chelsea, New York, it has since been exhibited in Florida's Young at Art Museum, Milano's Milano Salone, Amsterdam's Tropenmuseum, and Antwerp's Museum aan de Stroon. This will be the first exhibition of this work in Japan.

Second Venue: An Experience Based on the Artist's Memories

The second venue features the experience-type exhibit, 'Fantastic Voyage.' The piece, which was originally shown for just three days in Tokyo during February 2021, has been reworked and will be exhibited once more. The art reflects the current world, where everything is rapidly changing due to the Covid pandemic. 

A transparent capsule drifts through space, travelling through a world studded with snippets of sound and words. Both the guest experiencing this world and the person within the capsule are experiencing the same time together without exchanging words. It is the concept and prototype of "a device that imagines the future in an isolated world." The performance lasts for 30 minutes, reaching deep into the viewer's senses.

Venue Three: Harajuku's Famous World Time Clock is Revived in Two New Forms


The third venue features the famous 'Colorful Rebellion -WORLD TIME CLOCK-,' a piece which was beloved by the city of Harajuku since its unveiling in 2015, remembered by tourists from all over the world. The original 2015 world clock, which was displayed on the streets of Harajuku, has been reconstructed while retaining the original faded materials. The 2019 version, which was made based on the colors of the original world clock, will also be displayed. 

 

The Tokyo exhibition was expected to open in September 2021 but was postponed due to Covid-19. Details for the new exhibition dates will be announced in the future. 

 

"I want to see the future of Kawaii. That is why I cannot stop creating; that is what drives me." – Masuda Sebastian. 

Information

 "Yes, Kawaii is Art"

First Venue – kagoo: 5-4-18 Kitakagaya, Suminoe-ku, Osaka

Duration: October 30 ~ November 21 2021 (Closed Sunday and Tuesdays, closed on November 17.)

Opening Hours: 12:00 ~ 18:00

 

Second Venue: 5-5-1 Oto Building, Kitakagaya, Suminoe-ku, Osaka

Duration: November 5, 6, 7, 12, 13, and 14, 2021

Opening Hours: 13:00 ~ 14:00 / 15:00 ~ 16:00 / 17:00 ~ 18:00 (*Only open between 17:00 ~ 18:00 on November 14.)

 

Third Venue: 5-2-28 Sendori Bunka Hall, Kitakagaya, Suminoe-ku, Osaka

Duration: November 12 ~ November 21 (Closed on Monday, Tuesday, Wednesday)

Opening Hours: 12:00 ~ 18:00

Official Site: https://sebastianmasuda.com 

Godfather of Kawaii Sebastian Masuda Celebrates 30 Years in Showbiz with Pop-Up Shop at Roppongi Hills

Sebastian Masuda is a powerhouse of all things cute. From starting the popular Harajuku-based brand 6%DOKIDOKI in 1995 to creating the now-legendary music video for Kyary Pamyu Pamyu's PONPONPON, Masuda is now celebrating 30 years in the industry. An exhibition of the artist's works will be shown in an upcoming exhibition in both Tokyo and Osaka from Fall 2021 until 2022. Prior to that, a Sebastian Masuda pop-up shop is coming to Roppongi Hills and Shibuya PARCO starting this month!

From September 23 until October 17, the art goods brand Sebastian Masuda ART will hold a pop-up shop within the Mori Art Museum Shop on the third floor of Roppongi Hills West Walk. In addition to the latest art goods, including the brand-new 'Inner Voyage' series, a number of Masuda's colorful art pieces will be on display, with some being for sale. 

When visiting Roppongi Hills, don't forget to head up to the 52nd floor for the 60th Anniversary Sanrio Exhibition: The Beginning of Kawaii, running from September 17 until January 10, 2022. Sebastian Masuda's work 'Unforgettable Tower' will be on display when entering the event, while the Tokyo City View store will be selling some of the artist's products! Basically, both the 3rd and 52nd floors will be nothing but kawaii. 

Mori Art Museum Shop

Stickers: ¥550 – ¥2,860 (Tax Included)

 Inner Voyage T-Shirt: ¥7,480 (Tax Included)

Microcosmos -Tattoo Pink & Me-   

Sebastian Masuda & 6%DOKIDOKI 1995→2021

Mesh Top:  ¥10,450 (Tax Included)

Long Sleeve T-Shirt: ¥8,250 (Tax Included)

DOKI DOKI Earrings: ¥4,290 (Tax Included) / Logo Plate Necklace: ¥7,590 (Tax Included) / 6% Logo Pochette: ¥6,050 (Tax Included)

Charm Pouch – Kawaii Company: ¥2,860 (Tax Included) / Sebastian Masuda STUDIO COLOR PALETTE: ¥4,400 – ¥2,860 (Tax Included) Felissimo

The Sebastian Masuda & 6%DOKIDOKI 1995→2021 event will be held from September 17 to October 3 at Hobonichi CultureN, located inside Shibuya PARCO. Guests will be able to look back at the 26-year history of the 6%DOKIDOKI brand. 

2021, much like 2020, has lost a lot of it's brightness due to the ongoing pandemic. Why not surround yourself with some kawaii goods to raise your spirits? 

Information

Sebastian Masuda Pop Up Store

Running: September 23 – October 17, 2021

Address: Mori Art Museum Shop (Roppongi Hills West Walk 3F,  6-10-1, Roppongi, Minato-ku, Tokyo)

Details: https://art-view.roppongihills.com/jp/shop/

Sebastian Masuda & 6%DOKIDOKI 1995→2021

Running: September 17 – October 3, 2021

Address: Hobonichi CultureN (Shibuya PARCO 4F, 15-1 Udagawa-cho, Shibuya-ku, Tokyo)