BiSH's New Song 'stereo future' to Feature as GOD EATER 3's Opening Theme
Six-member idol group BiSH are knee deep on their BRiNG iCiNG SHiT HORSE TOUR and are set to wrap it up with a final performance at Makuhari Messe at the end of the year.
In the meantime, a music video for the group's forthcoming single stereo future set to drop on December 5 has been released.
The music video was shot over the course of two days at the Oya History Museum in Tochigi Prefecture. Though it's a place where BiSH have filmed several music videos in the past, this time they featured locations they haven't used before in addition to spots in the surrounding area. It also features BiSH's most fierce dancing to date choreographed by the group's own Aina The End. The emotional performance is backed by a band and strings section of 30 in the background
It has also been announced that the new single will be used as the opening theme GOD EATER 3, an action RPG and newest entry to the GOD EATER series. A special version of the song entitled stereo future (GOD EATER 3 Ver.) to bring out the full world of the game. The track will be included on the single's limited edition release.
The single includes the coupling track S・H・i・T, a song about BiSH with lyrics written by the group's own Ayuni D.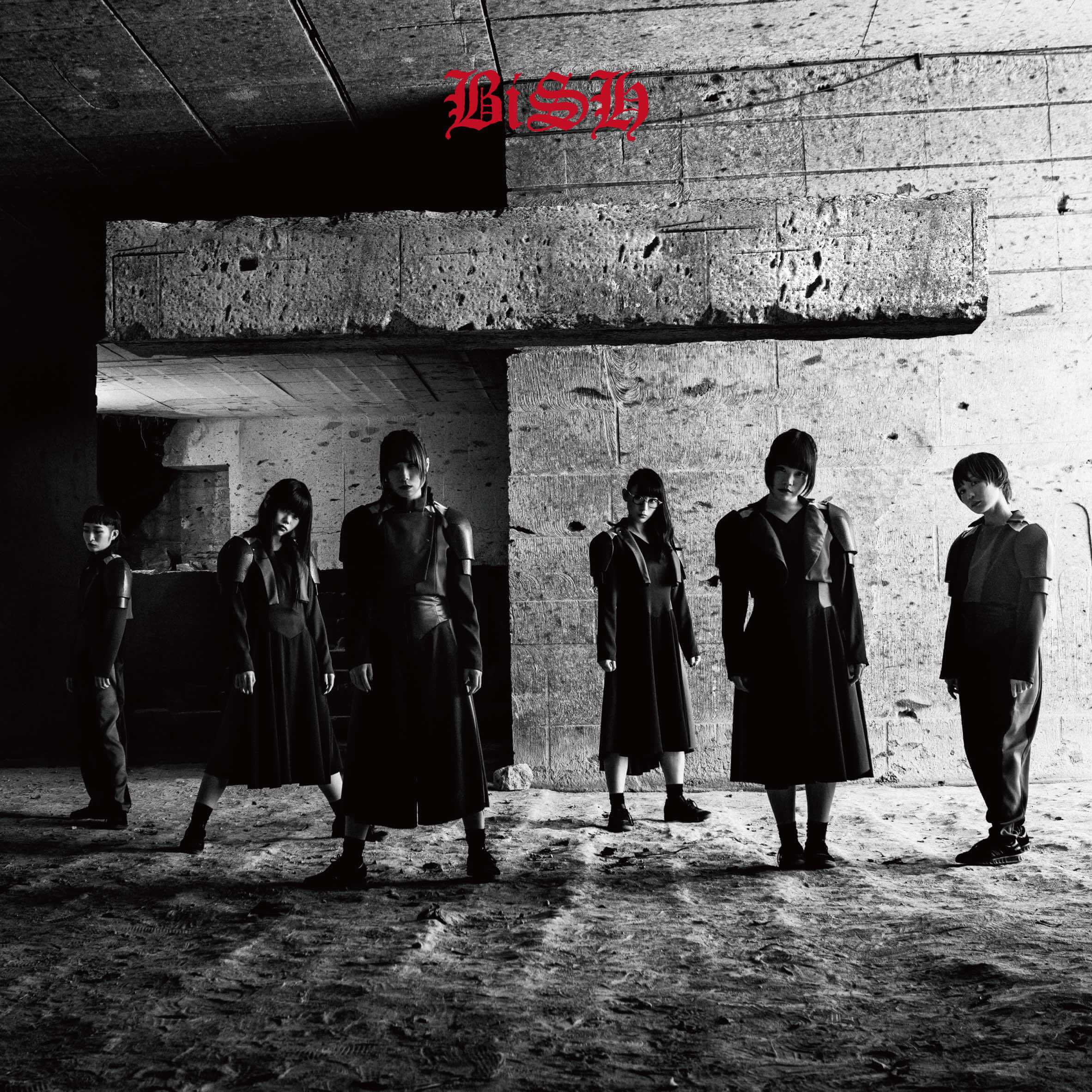 BiSH never fail to get their passion and emotions across in every new release.
Information
stereo future
Release Date: December 5, 2018
First Press Limited Edition (CD+Blu-ray): ¥6,800 (+Tax)
Regular Edition (CD+DVD): ¥4,500 (+Tax)
Regular Edition (CD): ¥1,000 (+Tax)
BRiNG iCiNG SHiT HORSE TOUR FiNAL "THE NUDE"
Venue: Makuhari Messe International Exhibition Hall 9-11, Chiba
Date: December 22, 2018
Time: OPEN 14:30 / START 16:00
Tickets on sale November 10, 2018 at 10:00am (JST)
Ticket Purchase: http://l-tike.com/bish
BiSH Official Website: http://www.bish.tokyo
GOD EATER 3 Official Website (Japan): http://ge3.godeater.jp/
GOD EATER 3 Official Website (Europe): https://en.bandainamcoent.eu/god-eater/god-eater-3
©BANDAI NAMCO Entertainment Inc.
RELATED ENTRIES
BiSH Releases Highly-Anticipated Music Video for 'Sayonara Saraba'

On August 6, BiSH, known as a 'punk rock band without instruments,' released the music video for their song Sayonara Saraba! The 8th single released across 12 consecutive months will drop on August 31. 

Sayonara Saraba – BiSH (Official Music Video)

Sayonara Saraba was created in collaboration with Taka from ONE OK ROCK and MEG from MEGMETAL and features lyrics written by KENTA from WANIMA. This is the first time BiSH has collaborated with an outside producer for a series of releases, and this electrifying rock number shows a different side of the group. 

The coupling song, A long way to go, was composed by Taka and MEG from MEGMETAL and written by JxSxK. 

The music video was directed by Kento Yamada, who has produced a number of other videos for the group.

The teaser trailer, released previously, shows a stylish video with an eye-catching red and black color scheme.

Sayonara Saraba – BiSH (Teaser)

More information regarding the 9th and 10th consecutive single has been released! The 9th song will be released on September 21, while the 10th will be released on October 26. Be sure to give them both a listen!

Information

Sayonara Saraba

Release Date: August 31, 2022

 

・First Run Limited Edition (Single CD+Blu-ray+Live CD+Photobook)

Price: ¥11,000 (Tax Included)

・DVD Version (Single CD+DVD)

Price: ¥4,950 (Tax Included)

・CD Version (CD only)

Price: ¥1,100 (Tax Included)

BiSH iS OVER! Special Site: https://www.bish.tokyo/BiSH_iS_OVER/

Taka from ONE OK ROCK and KENTA from WANIMA Create New Track for BiSH

BiSH, known as a 'punk rock band without instruments,' has released a teaser video of the making of their newest song! Sayonara Saraba was performed in collaboration with Taka from ONE OK ROCK with lyrics written by KENTA from WANIMA. The video was uploaded on July 31 on BiSH's official Twitter and YouTube pages. 

This is the first time that BiSH has collaborated with an outside producer for a series of releases, and this electrifying rock number shows a different side of the group. The coupling song A long way to go was composed by Taka and MEG from MEGMETAL and written by JxSxK. 

The 8th single released across 12 consecutive months will drop on August 31. It can be preloaded now.

The full-length making-of video is now available on the BiSH official YouTube channel, so give it a watch!

Sayonara Saraba Documentary

New artwork for Sayonara Saraba has also been unveiled. The visuals have a dark and cool feel, matching the track's rock image.

BiSH has announced that it will disband in 2023. As new information is released prior to the group's dissolution, we'll be sure to cover it. 

BiSH Appears on First Front Cover of the Reborn Fashion Magazine Zipper

DONUTS and ASOBISYSTEM will begin reprinting the legendary fashion magazine Zipper starting March 23, 2022! The commemorative first issue will feature girls group BiSH on the cover, and the girls will also take center stage in a six-page special feature.

The first feature will feature plenty of what Zipper is known for–Harajuku street photography. The magazine is filled with unique talents who are looking towards the future of Tokyo's style. The theme, simply put, is "I decide what's fashionable!" 


The grand prize winner of the Zipper model audition will also be announced in the first issue. Seven finalists were selected via a live streaming audition and a professional photo shoot. The winner will work as a Zipper model for a full year.

Idol Group BiSH to Disband in 2023, Promises to Make 2022 the 'Year of BiSH'

Punk-idol group BiSH will disband in 2023. The announcement was made at an emergency live show held at Nakano heavysick ZERO on December 24, 2021, with over 420,000 people tuning in. Nakano heavysick is where BiSH held their first solo concert in 2015. 

 

During the live show, the members performed the setlist from their first concert. The group's breakup was announced at the end of the show, and although it's a sad time for fans, the members promised to make 2022 the 'Year of BiSH' with an expansive number of activities announced.

BiSH made four exciting announcements regarding 2022: 12 new releases, a nationwide tour, a BiSH Festival, and a 67-stop live-house tour.

 

BiSH's Promise

      1. 12 consecutive months of releases starting January 2022

   2. The nationwide 'COLONiZED TOUR' 

      3. A BiSH Festival

      4. A live-house tour at 67 locations in 33 prefectures across Japan with proceeds from the best album 'FOR LiVE -BiSH BEST- being donated

Comment from Cent Chihiro Chicchi

BiSH will disband in 2023. 

We started here at Nakano heavysick ZERO, a live house with only an 80 person capacity. We've been so lucky and so happy to have the support of so many people.

Thank you for loving us and giving us a place to be ourselves.

On our way to 2023, we're going to give back to our fans with tons of exciting projects. 

Each of us has a distinct personality, and I think that BiSH was a place where we could each be ourselves without restraint.

We promise to make 2022 our best year ever. Before we hit the finish line, there's so much we want to do!

We hope that we can properly convey our gratitude and love during our live performances. Everyone, come out and party with us until the end!

BiSH Collab Poster Available in Tower Records Monthly Push Campaign!

Tower Records have been promoting artists in-store with their Monthly Tower Push campaign, and the next group to be getting the big Tower Push will be BiSH as they promote their 4th major album, GOiNG TO DESTRUCTION, releasing on August 4, 2021. 

Monthly Tower Push August | BiSH Collab Poster

Tower Records Limited Bonus: Jigsaw Puzzle *Not available with HAKAI-BAN (AVCD-96749).

 

Between August 1 and 31, these special collaboration posters will be available at all Tower Record and TOWERmini store. Each store will be promoting the release alongside a commemorative panel exhibit to mark the release of GOiNG TO DESTRUCTiON, BiSH's first full-length album in over 2 years.

 

10 lucky customers who purchase the album, available from August 4, enter the draw between August 3rd and 9th at participating stores, will win a free Monthly Tower Push A2 poster.

Those who purchase the album in store can enter the lottery on the Tower Record website using a QR code on the receipt, while customers buying online can enter the draw using the special lottery page.

A limited edition receipt will also be provided to customers who purchase BiSH's GOiNG TO DESTRUCTiON during the promotion period.

 

This special campaign celebrating the groups 4th anniversary is a a must-visit for any BiSH fan!

 

Shibuya PARCO's Dwiky KA Exhibition Collaborates With Japanese Brands and Artists

PARCO opened the Dwiky KA Exhibition at its Shibuya branch on Friday where it's set to run until August 9. Dwiky KA is an Indonesian artist who has collaborated with many music artists and apparel brands.

Dwiky KA x HYSTERIC GLAMOUR

Dwiky KA x BiSH

Dwiky KA x Kosuke Kawamura

Dwiky KA x Kosuke Kawamura

Dwiky KA x Tappei

Robot exhibit

As part of the exhibition, a line-up of merchandise and original items is being sold, including collaborations with brands Hysteric Glamour and balansa x YAGI, artists Kosuke Kawamura and Yappei, and idol punk band BiSH.

Information

YAGIBOY & GALLERY X presents Dwiky KA exhibition "LABRAX"
Running: July 30, 2021 – August 9, 2021

Location: GALLERY X

Address: Shibuya PARCO Floor B1F, Udagawacho, Shibuya, Tokyo
Opening Hours: 11:00-20:00
Price: ¥500 (Tax Included)
Official Website: https://art.parco.jp

BiSH Releases Kingdom Anime Opening Theme 'STACKiNG' Music Video

Japanese idol group BiSH, often called the 'punk band without instruments,' released the full music video for their new song STACKiNG on Monday. The track will feature as the second opening theme for the anime series Kingdom from July 18.

BiSH / STACKiNG [OFFiCiAL ViDEO]

The song is also available to listen to on major music streaming and download services. It will feature on their upcoming 4th album GOiNG TO DESTRUCTiON set to release on August 4.

BiSH, the Japanese idol group often nicknamed 'the punk band without instruments,' have announced that their 4th studio album GOiNG TO DESTRUCTiON will be released on August 4, 2021. It comes over two years since their last album release.

The album will be available in four versions: the CD Edition, First Press Limited Edition, DVD Edition, and Destruction Edition.

The CD edition features just the 14-track album, including STORY OF DUTY written as promotion for Call of Duty: Mobile, STAR which was written as the main theme for a Japanese TV drama, and in case…, the opening theme for the anime series Godzilla Singular Point. The album includes 10 new songs

BiSH – "GOiNG TO DESTRUCTiON" Promo

The aptly-named Destruction Edition comes in special packaging and includes signed cards by the members inside. The First Press Limited Edition and DVD Edition features 60-minutes of live video footage, with the former also coming with the STORY OF DUTY music video, STAR lyric video, music videos for new songs, behind-the-scenes footage, and a photobook.

BiSH / BiSH SPARKS "This is not BiSH except BiSH" EPiSODE 4

Information

GOiNG TO DESTRUCTiON

Release Date: August 4, 2021

First Press Limited Edition (CD+Blu-ray Disc+Photobook): ¥11,00 (Tax Included) [AVCD-96748/B]

Destruction Edition (CD-Only): ¥3,300 (Tax Included) [AVCD-96749]

DVD Edition (CD+DVD): ¥6,380 (Tax Included) [AVCD-96750/B]

CD Edition (CD-Only): ¥3,300 (Tax Included) [AVCD-96751]

Official Website: https://www.bish.tokyo/

BiSH Launch Clothing and Accessory Collaboration With GU

GU is set to launch a new collection in collaboration with the Japanese girl group, who are often described as 'the punk band without instruments,' on March 22 when it will roll out at all GU stores and their online site in Japan.

Each member of the group had a hand in designing the collection. That goes for not only the designs themselves, but the shapes and silhouettes too.

Men's Wear Line-Up

The items read the Japanese word "清掃員" which means "garbage collector," a title BiSH uses for their fans. The coat, shirt, and T-shirts are versatile and varied.

Accessories & More

The collection includes not only general clothing items but accessories and other bits that can be used at music events too, like a tote bag, cap, and more.

Original T-Shirt Designs by BiSH

As part of the collaboration, two T-shirts in six designs have been created by each member of BiSH. A video of the band wearing their T-shirts was released on GU's YouTube page and online store on Monday, so be sure to check it out.

Novelty Items Designed by BiSH

The members also designed a range of limited-stock novelty items too. There are six pins available for 25,000 lucky fans. 410 of those fans will also be randomly selected to receive a signed novelty. The designs are available to see over on the official website.

The Novelties

・GU Stores (Stock: 20,000 / First-Come, First-Served)

How to Get: Spend over ¥3,000 with tax on any of the BiSH collaboration products and download the GU app

・Online Store (Stock: 20,000 / Recipients Chosen Randomly)

How to Get: Spend over ¥3,000 with tax on any of the BiSH collaboration products

Live Concert Stream by BiSH

BiSH will perform live on Sunday March 21 at 19:000 (JST) which fans can tune in to watch at GU's online store as well as via GU LIVE STATION on the brand's official app. It will be a great chance for fans to connect with the band.

AiNA THE END Announces New Song 'Dare Dare Dare' For Japanese Drama 'Anonymous'

Japanese singer-songwriter AiNA THE END, who is also known as a member of the Japanese idol group BiSH, announced via her official Twitter page that her new single Dare Dare Dare ("Who Who Who") will be released on music streaming and download services on February 23, 2021. The track will be used as the new opening theme for the ongoing TV Tokyo drama series Anonymous: Keishicho "Yubisatsujin" Taisakushitsu starring Shingo Katori which began airing in January.

AiNA THE END

New Song – "Dare Dare Dare"

Dare Dare Dare is a new song not featured on AiNA THE END's solo album THE END which dropped on February 3 this year. It is produced by Japanese music producer and arranger Seiji Kameda who also produced THE END.

AiNA teased the new single's artwork on her official Twitter account along with a snippet of the instrumental version of the song.

BiSH's AiNA THE END Releases First Solo Album 'THE END'

AiNA THE END, a member of the popular Japanese idol group BiSH, released her first solo album THE END on Wednesday (February 3). All the songs on the record were written and composed by AiNA, who has posted new videos for seven of the tracks on her official YouTube channel.

THE END features 13 tracks in total. The newly-uploaded ones to her YouTube channel include NaNa, Mekashikonda Hi ni Kagitte, Harou, Hibi, STEP by STEP, Seiteki Jouya, and Saboten Girl. AiNA posted a live session she recorded with Shin Sakiura on acoustic guitar who also helped with pre-production on her new album.

The other tracks on the album have their own videos on AiNA's YouTube channel too spanning from animation to a dance video and more.

THE END is now streaming and available for download on major music services including Spotify, Apple Music, iTunes, and elsewhere.

Japanese idol band BiSH, often referred to as 'the punk bank without instruments,' posted a live video of their song HUG ME on Monday taken from their 8-hour video content BiSH presents FROM DUSK TiLL DAWN.

BiSH presents FROM DUSK TiLL DAWN features live footage of all of BiSH's 93 songs along with skits during concerts and more.

  

HUG ME is a rare track taken from their 2015 album Brand new idol SHiT, the band's first independent release. It features lyrics by former group member Hug Mii who left BiSH back in 2016.


The outfits for the group members (other than the original members AiNA, Chicchi, and Momoko) were newly created for this special live performance.

BiSH / HUG ME [BiSH presents FROM DUSK TiLL DAWN]