Concert Review: BAND-MAID's First US Solo Show a Huge Success, New Single Announced
BAND-MAID held their first-ever US serving at Los Angeles' Lodge Room on November 9. The sold-out show was a roaring success. The band also announced a yet-to-be titled new single to be released alongside their already-announced new single glory on January 16, 2019.
BAND-MAID previously performed in the US for the first time at SAKURA-CON in San Francisco in April 2016 to a crowd of almost 3,000, but this was their first real solo concert.
Roaring cheers from the masters and princesses in the crowd welcomed BAND-MAID onto the stage, letting them know they were ready for their serving.
The cheers were subsequently almost muted by the piercing sound of Kanami's guitar. BAND-MAID marked their territory and status by starting with DOMINATION, the theme of this World Domination Tour.
What followed was a string of aggressive tracks, including Play and the non-fiction days, which showcased the true performance skills of each member. Even they had surprised looks on their faces during the 7th song Thrill in reaction to the crowd's heated excitement.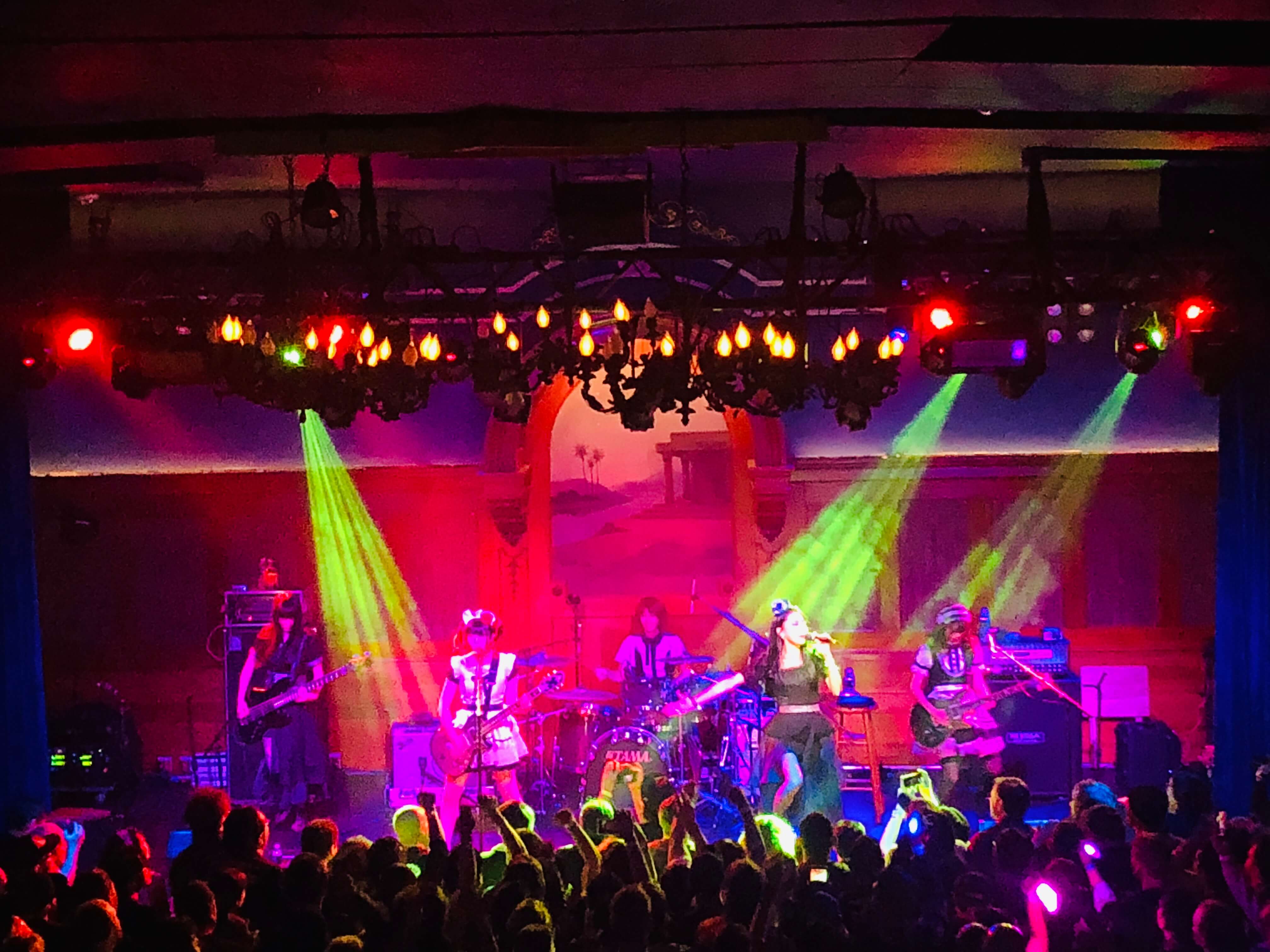 The excitement between the crowd and the members continued to build as a sense of unity wrapped around the room – with everyone rocking out to the first set list of BAND-MAID's first US solo show.
"Welcome home, Masters and Princesses of Los Angeles," vocalist and guitarist Miku Kobato begun in Japanese. "Welcome to BAND-MAID's serving!" The crowd joined in with saying her favourite phrases, "Kuruppo," which is the sound a pigeon makes, and in this case a rock 'n' roll pigeon.
Towards the end of the serving, Kobato did the band's signature Omajinai Time―a section of the concert performed at every show―which consists of call-and-response with the crowd of the phrases "Moe Moe" and "Kyun Kyun." The band kicked it up a gear as they sprinted towards the final act.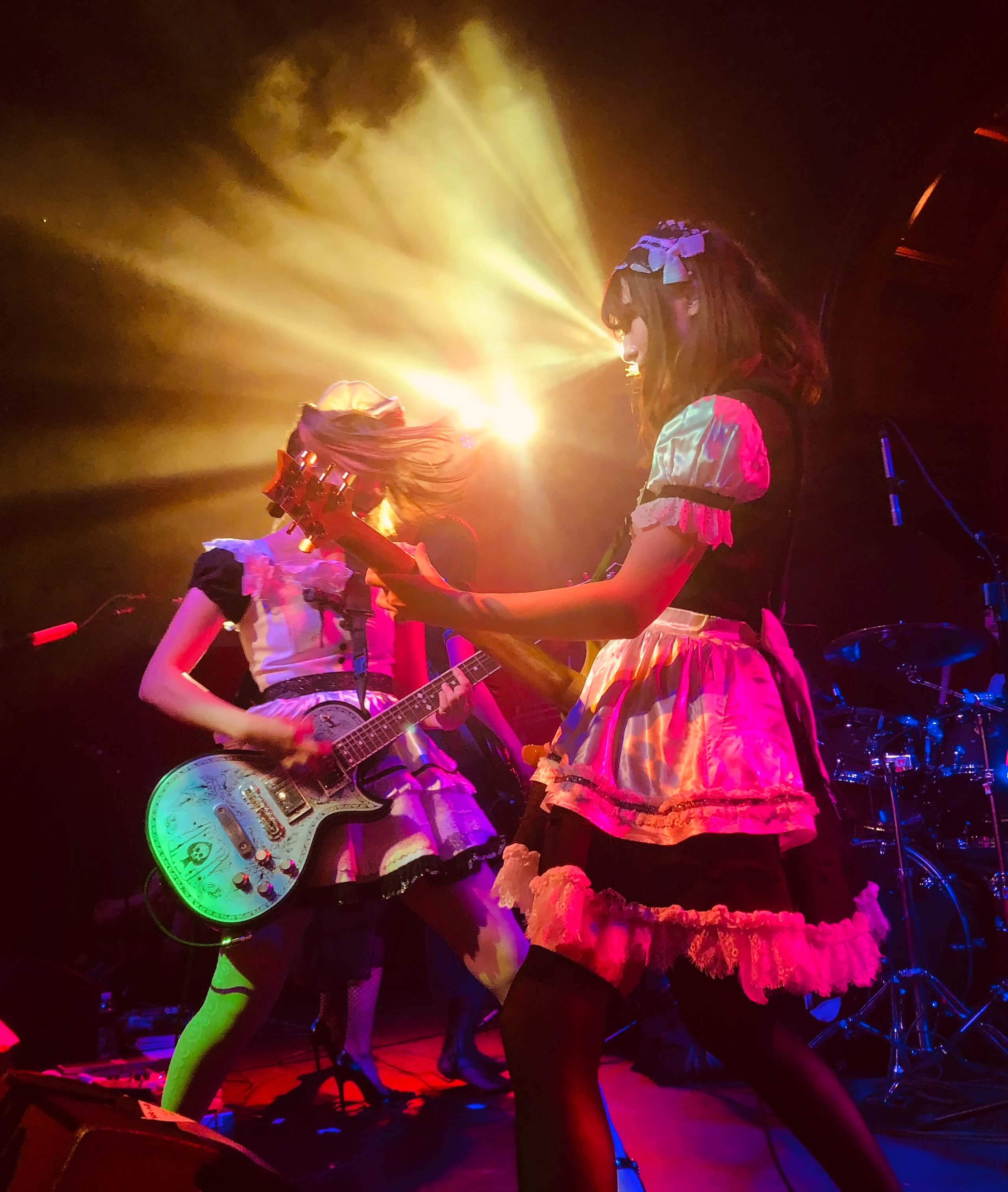 The 20 song set-list concluded with the band's internationally popular hit track Choose me and a very satisfied American crowd. They also officially announced a new 2-track single to be released simultaneously with their upcoming new song glory on January 16, 2019. The song titles have yet to be revealed.
BAND-MAID have 6 more concerts left overseas before heading home for the Japan leg of their world tour. The tour will finish with two days at Shinkiba STUDIO COAST in Tokyo on January 11 and 12 next year.
With their tour finale and two new singles set for 2019, BAND-MAID's quest for world domination is imminent.
Bonus tracks for the upcoming singles have also been announced for Japan. Select stores and online stores will offer acoustic versions of the track when you purchase either single. Other stores will include an instrumental version of onset (which they are performing live) when you purchase both singles.
There's a total of 7 songs to look forward to with glory and the yet-to-be-announced single, so be sure to check them out.
Information
glory – CD Release
On Sale: January 16, 2019
Price: ¥926 (Pre-Tax)
Tracklist:
1. glory (Ending theme song for TV anime series Yu-Gi-Oh! VRAINS)
2. hide-and-seek
New Single ① – Title TBA
On Sale: January 16, 2019
Price: ¥926 (Pre-Tax)
Tracklist:
1. Title TBA①
2. Title TBA②
"glory" & "Title TBA" Bonus Tracks
①"glory" in-store and online purchasing bonus track: Puzzle" (Acoustic Version)
②"Title TBA" in-store and online purchasing bonus track: anemone) (Acoustic Version)
③"glory" and "Title TBA" in-store and online purchasing bonus track: "onset" (Instrumental)
*Store and online store list to be announced in the near future.
Received a B2-size poster when purchasing both singles at BAND-MAID's show at Shinkiba STUDIO COAST, Tokyo on either January 11, 2019 or January 12, 2019.
BAND-MAID WORLD DOMINATION TOUR 2018【宣告】~senkoku~
・2018/11/09 Los Angeles, Lodge Room *SOLD OUT
・2018/11/10 San Francisco, The Chapel *SOLD OUT
・2018/11/14 Helsinki, Nosturi
・2018/11/16 Amsterdam, Melkweg
・2018/11/17 London, The Dome
・2018/11/18 Paris, Backstage
・2018/11/21 Berlin, SO36
・2018/11/22 Munich, Feierwerk
BAND-MAID WORLD DOMINATION TOUR 2018-2019【侵略】~Shinryaku~
・2018/09/12 @ Kawasaki CLUB CITTA', Kanagawa *SOLD OUT
・2018/09/15 @ Kanazawa EIGHT HALL, Ishikawa
・2018/09/17 @ studio NEXS, Niigata
・2018/09/22 @ Hiroshima Club Quattro
・2018/09/24 @ Okayama CRAZYMAMA KINGDOM
・2018/09/28 @ Zepp Nagoya, Aichi
・2018/09/30 @ Sendai Rensa, Miyagi
・2018/10/07 @ Takamatsu MONSTER, Kagawa
・2018/10/08 @ Namba Hatch, Osaka
・2018/11/04 @ Sapporo PENNY LANE 24
・2018/11/30 @ Fukuoka DRUM LOGOS
・2018/12/01 @ Kumamoto
・2018/12/08 @ Kyoto FANJ
・2018/12/09 @ Kobe Harbor Studio, Hyogo
・2018/12/14 @ NaganoCLUB JUNK BOX
・2018/12/16 @ Kofu CONVICTION, Yamanashi
・2019/01/11 @ Shinkiba STUDIO COAST, Tokyo
・2019/01/12 @ Shinkiba STUDIO COAST, Tokyo
Yu-Gi-Oh! VRAINS Website: http://ani.tv/yugioh-vrains/
RELATED ENTRIES
BAND-MAID Release Music Video For Epic New Song 'endless Story'

BAND-MAID just dropped a music video for their incredible new song endless Story which will be featured on their upcoming untitled third album which is set for a December 2019 release.

The band's lead composer and guitarist KANAMI explained that endless Story was written as a stadium and arena song for crowds to sing along to. The grand, huge-scale music video was shot on the island of Ōshima in Tokyo.

Along with the music video, BAND-MAID have also just announced the schedule for getting pre-sale tickets to their new Japan tour which begins this October.

BAND-MAID are set to perform at several big festivals this summer, beginning with ROCK IN JAPAN FES 2019 on August 10 followed by RISING SUN ROCK FESTIVAL 2019 in EZO and SUMMER SONIC 2019. They will subsequently head on the North America leg of their world tour before hitting up their home country for a nationwide 18-date tour.

Information

BAND-MAID New Album

Release Date: December 2019

Title and details TBA

Tour Schedule: https://bandmaid.tokyo/calendar

BAND-MAID Official Website: https://bandmaid.tokyo/

BAND-MAID WORLD DOMINATION TOUR 2019 ~gekidou~

9/26 – New York City, US @ Gramercy Theater

9/27 – New York City, US @ NYC Mercury Lounge (*Added show)
9/28 – Dallas, US @ Dallas Cambridge Room
9/30 – Los Angeles, US @ Echoploex
10/1 – Los Angeles, US @ Echoploex

Concert Review: BAND-MAID Announce New Album For December 2019 Release at Tour Finale

BAND-MAID delivered the final Serving of their Japan tour "BAND-MAID WORLD DOMINATION TOUR 2019 [Gekidou]" at the Showa Women's University Hitomi Memorial Hall in Tokyo on July 30―their first solo show playing at a hall―with an incredible 25-track set list.

After the lights dimmed and the the sound effects began to roll, fans were first met by band drummer AKANE who ran onto the stage. She was followed by guitarist KANAMI, bassist MISA, and vocalist and guitarist SAIKI. Not far behind them was main vocalist SAIKI who walked out as cool and composed as a queen. As if to signal the start of the Serving―which the band maids call their concerts―the crowd roared the venue down.

The opening song to the long night ahead was Screaming. Right from the get-go AKANE's energetic drumming bellowed through the room while MISA's bass reverberated into every fan's core coupled with KANAMI's enticing guitar playing. In mere seconds the thrill of the crowd skyrocketed into the stratosphere.

With excitement through the roof, BAND-MAID then dropped glory on the crowd―the ending theme for the TV anime series Yu-Gi-Oh! VRAINS―during which SAIKI shouted, "Everybody scream!" The Masters and Princesses did just that, offering their loud cries to the stage.

Miku looked out to the crowd and said, "Welcome home, Masters and Princesses. We have arrived. This is the last show of our Gekidou tour, kuruppo!" She expressed the band's gratitude for selling out the final concert of the tour and followed it up by saying, "Welcome to BAND-MAID's Serving. Let me hear your voices!"

Following the initial MC, the members went straight into Rock in me for which Miku is the lead vocalist. She brought fans together with a bout of call-and-response during the song.

Kobato went to carry out her signature Omajinai Time―a section of the concert performed at every show―which consists of call-and-response with the crowd of the phrases "Moe Moe" and "Kyun Kyun." But just when everybody thought she was about to start, there was a sudden "Pshh" sound. It was MISA opening a can of beer, something she has been doing since the European leg of this tour. When the mood in the room was a bit more relaxed, she finally began the call-and-response which also included "Gekidou Gekidou" which is the name of this tour and means tumultuous.

After Omajinai Time, the fiery fans were treated to a performance of the band's newest song Wonderland which they have performed across the tour. To ensure the crowd didn't miss a single word the lyrics played on the five stage monitors that had been prepared. They were laced together with artistic visuals.

The Masters and Princesses had no idea that they were in for another huge treat. "We've got a new song. It's going to be carnage, so let's go!" The song was Rinne and was performed for the first time ever. Every person in the audience were captivated by the upbeat music and emotional lyrics. This served as the final track of the night, wrapping up a display of what can be called the peak of J-rock entertainment.

After the band left the stage, text on the stage screens appeared and read "BAND-MAID WORLD DOMINATION TOUR 2019-2020 [Gekidou]," announcing the continuation of the tour from autumn into February next year. It also unveiled that the band will release their first studio album in two years. The title has yet to be announced, but it revealed a December 2019 release date.

And so ended the banquet of tumultuous Servings. At least for now until autumn. Join the Masters and Princess army and help BAND-MAID achieve world domination.

Information

BAND-MAID New Album

Release Date: December 2019

Title and details TBA

BAND-MAID WORLD DOMINATION TOUR 2019-2020 [Gekidou]

Tour Details: https://bandmaid.tokyo/

BAND-MAID Adds Second New York Date to 2019 World Tour

BAND-MAID have added a second New York date to their ongoing 2019 world tour due to tickets having sold out in the US. The band will perform at Mercury Lounge on September 27.

The tour began in the UK at London's Islington Assembly Hall on June 22. The European leg of the tour will wrap up at DAS LOGOS in Hamburg on June 26. BAND-MAID will then stop in Taipei before heading on the sold-out US leg.

Tickets for this show are VIP tickets only. Due to limited capacity, tickets are expected to sell out quickly. BAND-MAID's world domination is clear for all to see once more.

Information

BAND-MAID WORLD DOMINATION TOUR 2019 ~gekidou~

9/26 – New York City, US @ Gramercy Theater

9/27 – New York City, US @ NYC Mercury Lounge (*Added show)
9/28 – Dallas, US @ Dallas Cambridge Room
9/30 – Los Angeles, US @ Echoploex
10/1 – Los Angeles, US @ Echoploex

BAND-MAID Official Website: https://bandmaid.tokyo/

BAND-MAID Announce Additional Date For 2019 World Tour & Unveil Tour Visuals

BAND-MAID have announced a new Asia date to their upcoming world tour which will also see them perform in Europe and the US. The theme of the world tour is Gekidou, or 'tumultuous.' The Asia show will take place at HANA STAGE in Taiwan's capital of Taipei on June 13.

BAND-MAID previously shot their music video for Daydreaming which was included on the band's second major single Daydreaming / Choose me.

Two official visuals for the tour have also been unveiled.

Both visuals align with the tour's tumultuous theme. They will be used as official posters for the tour.

BAND-MAID's world domination is almost at hand once more. Check the dates of the tour below and be sure to catch them live if they're heading to your city.

Information

ASIA TOUR – BAND-MAID WORLD DOMINATION TOUR 2019 ~gekidou~
Date: July 13, 2019
Venue: HANA STAGE, Taipei
Tickets: On sale from July 7, 2019 at 12:00 (Local Time)
Info: https://bandmaid.tokyo/contents/247327

WORLD TOUR – BAND-MAID WORLD DOMINATION TOUR 2019 ~gekidou~

6/22 – London, UK @ Islington Assembly Hall

6/23 – Paris, France @ Le Trabendo

6/24 – Bochum, Germany @ Zeche

6/26 – Hamburg, Germany @ DAS LOGOS

7/13 – Taipei, Taiwan @ HANA STAGE,
9/26 – New York City, US @ Gramercy Theater
9/28 – Dallas, US @ Dallas Cambridge Room
9/30 – Los Angeles, US @ Echoploex
10/1 – Los Angeles, US @ Echoploex
Info: https://bandmaid.tokyo/contents/247330

JAPAN TOUR – BAND-MAID WORLD DOMINATION TOUR 2019 【激動】
6/8 @ Osaka Namba Hatch
7/11 @ Nagoya Diamond Hall
7/30 @ Showa Women's University Hitomi Memorial Hall, Tokyo
Info: https://bandmaid.tokyo/contents/247330

BAND-MAID Official Website: https://bandmaid.tokyo/

Japanese Music Artists Performing Overseas in 2019: Part 3

With summer fast approaching, concertgoers are gearing up for this year's music festivals and live shows. We previously covered numerous Japanese bands and artists performing who overseas this year in parts one and two of this feature, but since the previous entry, even more acts have been announced.

Here is a new list of artists embarking outside Japan this summer.

Suchmos

For the first time in their career, rock group Suchmos are set to embark on their first ever Asia Tour this June. They will hit up 6 locations, beginning in Hong Kong before heading to Taipei, Seoul, Shenzhen, Shanghai and Beijing.

▶︎ Suchmos ASIA TOUR 2019

2019/6/2 @ Music Zone @ KITEC, Hong Kong

2019/6/7 @ Legacy Taipei, Taipei

2019/6/9/ @ YES24 Live Hall, Seoul (*w/ HYUKOH)

2019/6/12 @ B10 Live, Shenzhen

2019/6/14 @ Modern Sky Lab, Shanghai

2019/6/16 @ Tango Live (Floor 3F), Beijing

Suchmos Official Website: https://www.suchmos.com

→News Update (June 1, 2019)
Following unexpected illness of one of their members, Suchmos have cancelled all remaining dates on their upcoming overseas tour.

【NEWS】
アジアツアー追加公演が決定しました。

■6/28(金) ジャカルタ
会場は後日発表

■6/30(日) バンコク
Moon Star Studio 1

▼公演詳細はこちら▼https://t.co/HzrqIYa1FQ pic.twitter.com/ooz5TLntDL

— [ALEXANDROS] (@alexandroscrew) 2019年4月13日

[ALEXANDROS]

Rock band [ALEXANDROS] are also heading on tour in Asia throughout June and July. The band are currently on their "Sleepless in Japan Tour" in promotion of their newest album Sleepless in Brooklyn and will take their concerts across Asia for 8 shows, starting with Shanghai on June 21 and wrapping in Seoul on July 21. This also marks their first time performing in Shanghai and Beijing.

 

▶︎ Sleepless 2019 Asia Tour

2019/6/21 @ Modern Sky Lab, Shanghai

2019/6/23 @ Beijing Omni Space, Beijing

2019/6/28 @ Jakarta (*Venue TBA)

2019/6/30 @ Moon Star Studio 1, Bangkok

2019/7/5 @ Music Zone @ E-Max, Hong Kong

2019/7/7 @ Legacy Taipei, Taipei

2019/7/19/ @ Bentley Music Auditorium, Kuala Lumpur

2019/7/21 @ MUV HALL, Seoul

[ALEXANDROS] Official Website: https://alexandros.jp

SAKANAQUARIUM 2019 "834.194"
6月28日 上海&6月30日 深セン公演

明日5月1日12:00よりチケット販売が始まります。
券種・プレイガイドはサカナクションHPに掲載しています。https://t.co/GyH6y5B25n

— sakanaction (@sakanaction) 2019年4月30日

Sakanaction

Sakanaction have announced that they will play in Shanghai and Shenzhen at the end of June. Upon unveiling the news the band created their own Weibo account, a Chinese social media platform. The rock band will release their new album 834.194 in June, their first album release since sakanaction was released 6 years ago in March 2013. The Asia dates were added to their ongoing Japan tour. This will be their second set of headline concerts outside in Japan since they performed overseas for the first time back in 2013 in Taiwan. The band are known for their use of cutting-edge technology at their shows, so foreign fans can look forward to seeing what they have in store for them next month.

  

▶︎ SAKANAQUARIUM 2019 "834.194"

2019/6/28 @ Modern Sky Lab, Shanghai

2019/6/30 @ A8 Live, Shenzhen

Sakanaction Official Website: http://sakanaction.jp

BAND-MAID

Earlier this month, five-piece maid rock band BAND-MAID announced the European leg of their 2019 world tour, one which will begin this June and one whose decided theme is Gekidou, or "tumultuous." All shows on BAND-MAID's 2018 world tour sold out completely. The initial European leg of their long-awaited new world tour will take them to 3 countries for 4 performances. They will then head to the US in September.

Related Article: BAND-MAID Announces European Leg Of 'Tumultuous' 2019 World Tour

▶︎BAND-MAID WORLD DOMINATION TOUR 2019 【激動】 ~gekidou~

6/22 – London, UK @ Islington Assembly Hall

6/23 – Paris, France @ Le Trabendo

6/24 @ Bochum, Germany @ Zeche

6/26 @ Hamburg, Germany @ DAS LOGOS

9/26 @ NYC Gramercy Theater, US

9/28 @ Dallas Cambridge Room, US

9/30 @ LA ECHOPLEX, US

10/1 @ LA ECHOPLEX, US

World Tour Info: https://bandmaid.tokyo/contents/241952

BAND-MAID Official Website: https://bandmaid.tokyo/

Kyary Pamyu Pamyu, CAPSULE, m-flo & More

The biggest names in Japanese pop music are set to take over Los Angeles at QTAQUEST LIVE and OTAQUEST KICK OFF PARTY which is set to take place at THE NOVO by Microsoft on July 3, 2019. Both OTAQUEST LIVE and OTAQUEST KICK OFF PARTY serve as the opener to Anime Expo, the biggest anime convention in the US, which will run from July 4 to 7. CAPSULE, Kyary Pamyu Pamyu, Crazy Boy, HIROOMI TOSAKA and m-flo are set to deliver Japanese entertainment to US lovers of Japanese music and entertainment.

Related Article: Kyary Pamyu Pamyu, Yasutaka Nakata & CRAZYBOY to Perform at QTAQUEST LIVE in Los Angeles

▶︎OTAQUEST LIVE

Date: July 3, 2019

Time: OPEN 17:00 / START 18:30

Location: THE NOVO by Microsoft, Los Angeles, California, US

Line-Up: CRAZYBOY / HIROOMI TOSAKA / m-flo / CAPSULE / Kyary Pamyu Pamyu

OTAQUEST KICK OFF PARTY

Date: July 3, 2019

Time: OPEN/START 22:00

Location: THE NOVO by Microsoft, Los Angeles, California, US

Line-Up: ☆Taku Takahashi / TeddyLoid / Yasutaka Nakata (CAPSULE) / …and more

Event Website: https://live.otaquest.com/

Tickets: https://www.axs.com/events/372261/otaquest-live-tickets?skin=novo

Ai Otsuka

This year, Ai Otsuka celebrates her 15th anniversary since her debut. The singer-songwriter released her greatest hits album Ai am BEST, too in January this year, and she is currently in the midst of her nationwide Japan tour. 5 Asia dates have been added to the tour. Her previous Asia tour took her to just three cities: Taipei, Shenzhen and Guangzhou, but this year she is spreading her wings and will perform in Guangzhou, Chengdu, Shanghai and Taipei.

 

▶︎ AIO PIANO at ASIA vol.2 

2019/7/17 @ Dr. Sun Yat-sen's Memorial Hall, Guangzhou

2019/7/19 @ 特侖蘇音楽庁, Chengdu

2019/7/27 @ BANDAI NAMCO SHANGHAI BASE DREAM HALL, Shanghai

2019/7/28 @ BANDAI NAMCO SHANGHAI BASE DREAM HALL, Shanghai

2019/8/17 @ ATT SHOW BOX 大直, Taipei

Ai Otsuka Official Website:  http://avex.jp/ai/

If you love Japanese music and a Japanese band or artist are coming to a city near you this year, then be sure to show your love and support by getting your hands on a ticket to see them live.

Female Japanese rock band BAND-MAID announce America tour!

Female Japanese rock band BAND-MAID have announced their world tour that will take place at four locations in three countries. On top of that, they have just published the news that they will be travelling all over North America in late September for their America tour!!

Just recently, the band announced their collaboration with Live Nation; the worldwide event promotion company known for having worked with Madonna and Lady Gaga. Following this announcement, the band have already snapped up the opportunity to kick off a live tour in America!

BAND-MAID have finalised their plans for their tours in Japan and overseas and their participation in a rock festival. The girls' theme for 2019 is turbulence, and to get fans to really get in the mood, they have been unveiling their thrilling entertainment plans for the year one after the other.  


There's no end to BAND-MAID's energy and passion. Make sure to give the girls all your attention because you can't miss what they have in store for you!

Information

・Sat 22/06, London, UK @ Islington Assembly Hall
・ Sun 23/06 Paris, France @ Le Trabendo
・Mon 24/06 Bochum, Germany  @ Zeche
・Weds 26/06 Hamburg, Germany @ DAS LOGOS
・ Thurs 26/09 NYC Gramercy Theater, America
・ Sat 28/09 Dallas Cambridge Room, America
・ Mon 30/09 LA ECHOPLEX, America
・ Tues 01/10 LA ECHOPLEX, America


World tour information:  https://bandmaid.tokyo/contents/241952

BAND-MAID Announces European Leg Of 'Tumultuous' 2019 World Tour

BAND-MAID, a name which by now should strike you with energetic exhilaration and musical admiration. This quintuple line-up of hard-rocking maids are no stranger to performing live, with a string of dates locked in for them to perform at some of Japan's biggest rock festivals this year.

With that in mind, overseas fans can start to get excited as the band have just announced the European leg of their 2019 world tour, one which will begin this June and one whose decided theme is Gekidou, or "tumultuous."

All shows on BAND-MAID's 2018 world tour sold out completely. The initial European leg of their long-awaited new world tour will take them to 3 countries for 4 performances. US shows are scheduled to be announced in the near future.

BAND-MAID's event promoter for this tour is Live Nation who have worked with some of the biggest names in music including Madonna, Lady Gaga and over 2000 other artists. They manage well over 20,000 concerts a year.

Below are comments from the members regarding the upcoming tour.

・Miku Kobato (Vocals/Guitar)

"For us, whose goal is world domination, getting to work with such a wonderful event promoter as Live Nation is reassuring and makes me happy. To all of the Masters and Princesses of the world, we work hard so that we can deliver to you a glorious Serving [concert]."

・Saiki (Vocals)

"I was really surprised and am glad that we were able to join hands with such [an event promoter] as Live Nation. We will also work hard to ensure we can hold more Servings around the world."

・KANAMI (Guitar)

"I am so excited to get to join up with Live Nation! We will work hard so that we don't lose to all the other international artists already associated with them! I hope we can endeavour to have fun together as we head towards world domination!"

・AKANE (Drums)

"We've linked up with Live Nation!! I'm so happy!! We will push through with everything we've got to ensure this is a new step forward for BAND-MAID!! We ask for your kind support!!!"

・MISA (Bass)

"I am honoured to be teaming up with Live Nation. We will work hard so that we can perform at overseas festivals and more in the future. And I want to drink some delicious sake with everyone!"

Information

BAND-MAID WORLD DOMINATION TOUR 2019 【激動】 ~gekidou~

6/22 – London, UK @ Islington Assembly Hall

6/23 – Paris, France @ Le Trabendo

6/24 @ Bochum, Germany @ Zeche

6/26 @ Hamburg, Germany @ DAS LOGOS

BAND-MAID Official Homepage: https://bandmaid.tokyo/

Concert Review: BAND-MAID Announce 2019 Overseas Tour & Wrap Up Japan Tour Finale

BAND-MAID wrapped up their BAND-MAID WORLD DOMINATION TOUR 2018-2019【Shinryaku】 at with two final shows at Shinkiba STUDIO COAST in Tokyo on January 11 and 12. This is a report of the concert on the 12th for which tickets sold out on the same day as their release.

Both nights had entirely different set lists. Across the two days the five-member rock band performed to 4,000 Masters and Princess of varying ages.

Excitement amongst fans was evident for all to see as they waited patiently in the venue which was wrapped in a bewitching atmosphere brought about by the projection of a western-style house on the stage curtain. The start of the final "Serving" was imminent―the name for BAND-MAID's concerts referring to them serving their Masters and Princesses as maids.

Akane's fierce drumming beat the crowd into a frenzy as her silhouette appeared on the curtain followed by bassist Misa, guitarist Kanami, vocalist and guitarist Miku Kobato and vocalist Saiki. BAND-MAID opened the final night of their long tour with DICE.

"Shinkiba, I can't hear you!" cried Saiki, provoking fans to scream louder. The band followed up with the non-fiction days and then Moratorium for which the curtain finally dropped, kindling the fire in the crowd.

BAND-MAID threw out an aggressive set list, starting with the song glory which is used as the ending theme song for the anime series Yu-Gi-Oh! VRAINS.

Kobato greeted fans with her call-and-response catchphrase "Kuruppo!" before giving a warm welcome to fans to their Serving. They went on to play DOMINATION, a BAND-MAID-defining number that encapsulates their ultimate goal: world domination.

The final treat of the first half of the show was the performance of without holding back ~instrument~, an instrumental song written specially for this night.

At the start of the second half, Kanami stood before her keyboard and played gracefully to the tunes of start over and Daydreaming. The Masters and Princesses were sucked deeper into the world of BAND-MAID and their set which was a variation of slow and fast songs.

Saiki pierced the bodies of the Masters and Princesses during the acoustic anemone with her voice and kept their gazed lock with the subsequent hard rock tunes Matchless GUM and FREEDOM. The two guitars and one bass all came together to perform before the band went on to play Bubble, a song used as the main theme for the Japanese TV drama Perfect Crime.

Kobato took to lead vocals for TIME as BAND-MAID stormed their way into the final act of the tour finale.

The members invited the crowd into a world of rock with their standard string of songs you., Play and Choose me. Saiki then announced, "This will be our last song! Let's give it all we've got, Shinkiba!" The song in question was Don't you tell ME which rolled into the climax of the night.

BAND-MAID we're actually supposed to have concluded the concert here. "Are you okay with this, Shinkiba? Do you want more?! Hold on a sec," said Saiki. The members came together in front of the drums and started talking to each other. "We're not done yet either!" In a surprising turn of events, the band shredded their way into FORWARD, a song that wasn't on the set list.

At the end of the show, fans were treated to another surprised: the music video for Bubble, the band's fifth single set to be released tomorrow on January 16.

The Bubble music video will be released on YouTube in the near future. BAND-MAID have also announced an overseas tour. Details will be announced in the near future, so stay tuned.

Photography: MASANORI FUJIKAWA

Information

Bubble

On Sale: January 16, 2019

Price: ¥926 (Pre-Tax) [CRCP-10420]

Tracklist:

1. Bubble (Main theme song for Japanese drama series 'Perfect Crime')

2. Smile

glory

On Sale: January 16, 2019

Price: ¥926 (Pre-Tax) [CRCP-10419]

Tracklist:

1. glory (Ending theme song for TV anime series Yu-Gi-Oh! VRAINS)

2. hide-and-seek

"glory" & "Bubble" Bonus Tracks

①glory in-store and online purchasing bonus track: Puzzle" (Acoustic Version)

②Bubble in-store and online purchasing bonus track: anemone) (Acoustic Version)

③glory and Bubble in-store and online purchasing bonus track: "onset" (Instrumental)

Store List/Online Information: https://bandmaid.tokyo

BAND-MAID WORLD TOUR 2019【Gekidou】

Details TBA.

BAND-MAID Official Website: https://bandmaid.tokyo

BAND-MAID begin world tour and latest album available world wide

BAND-MAID has released latest album "Just Bring It" in America and Canada on CD ahead of the band's world tour, which includes San Fransisco this month and the UK, France, Germany and Spain in November. The album and their previous material has also been made available in Spotify for the first time outside of Japan, as well as latest double A-side single "Daydreaming / Choose me."

On the CD release in America, guitarist and vocalist Miku comments:

"We're happy and very excited that Masters and Princesses overseas are enjoying our music. It fills our hearts with excitement and joy! We're also excited about returning to America, the first country we served overseas!"

Regarding the tour, Miku adds,

"We're looking forward to see Masters and Princesses, new and old! And also for shopping and eating lovely food in each city – we can't wait!"

■Information

BAND-MAID WORLD TOUR 2017

Burn! Burn! BAND-MAID Moe Moe Cune

(Sun) 10 September: JPOP SUMMIT, San Francisco. USA

(Fri) 3 November: O2 Academy Islington, London. UK

(Sat) 4 November: La Boule Noire, Paris. France

(Sun) 5 November: Zeche, Bochum. Germany

(Wed) 8 November: Bi Nuu, Berlin. Germany

(Thu) 9 November: Backstage, Munich. Germany

(Sun) 12 November:  Salamandra, Barcelona. Spain

Just Bring It

Don't you tell ME
Puzzle
Moratorium
YOLO
CROSS
OOPARTS
Take me higher ! !
So,What?
TIME
you.
Awkward
decided by myself
secret My lips

BAND-MAID official web site:

BAND-MAID to Release New Single 'Bubble' Alongside 'glory' in January

BAND-MAID announced last month that they will release their fifth single alongside their already-announced fourth single glory―the ending theme for Yu-Gi-Oh! VRAINS―on January 16, 2019. The title of the track has been revealed to be Bubble and it will be used as the main theme for the upcoming Japanese drama series Perfect Crime.

The series stars model and actress Reina Triendl and actor and singer Dori Sakurada. It is an adaptation of the hugely popular manga series of the same name which has over 6 million downloads across digital manga sites and is especially popular with women in their 20s and 30s. This is the first time BAND-MAID have performed a main theme for terrestrial broadcasting drama.

Speaking about the experience, vocalist Saiki commented: "It's a manga that we read in our own time so we were shocked to get the call. [Guitarist and vocalist]Miku Kobato wrote the lyrics just for this drama so we would be happy if people enjoy both the series and Bubble."

The CDs for both BAND-MAID's fourth single glory and fifth single Bubble have also been unveiled.

BAND-MAID's ongoing third world tour has enjoyed sold-out venues both inside and outside Japan. Look forward to what 2019 has in store for the band, beginning with two new singles dropping on January 16.

Information

Bubble

On Sale: January 16, 2019

Price: ¥926 (Pre-Tax) [CRCP-10420]

Tracklist:

1. Bubble (Main theme song for Japanese drama series 'Perfect Crime')

2. Smile

glory

On Sale: January 16, 2019

Price: ¥926 (Pre-Tax) [CRCP-10419]

Tracklist:

1. glory (Ending theme song for TV anime series Yu-Gi-Oh! VRAINS)

2. hide-and-seek

"glory" & "Bubble" Bonus Tracks

①glory in-store and online purchasing bonus track: Puzzle" (Acoustic Version)

②Bubble in-store and online purchasing bonus track: anemone) (Acoustic Version)

③glory and Bubble in-store and online purchasing bonus track: "onset" (Instrumental)

Store List/Online Information: https://bandmaid.tokyo

Receive a B2-size poster when purchasing both singles at BAND-MAID's show at Shinkiba STUDIO COAST, Tokyo on either January 11, 2019 or January 12, 2019.

BAND-MAID WORLD DOMINATION TOUR 2018-2019【侵略】~Shinryaku~

・2018/12/09 @ Kobe Harbor Studio, Hyogo
・2018/12/14 @ NaganoCLUB JUNK BOX
・2018/12/16 @ Kofu CONVICTION, Yamanashi
・2019/01/11 @ Shinkiba STUDIO COAST, Tokyo
・2019/01/12 @ Shinkiba STUDIO COAST, Tokyo

BAND-MAID Official Website: https://bandmaid.tokyo

BAND-MAID to Release Yu-Gi-Oh! VRAINS Ending Theme 'glory' on CD

It has been announced that BAND-MAID will release new new song glory―the ending theme for the ongoing anime series Yu-Gi-Oh! VRAINS―on CD on January 16, 2019. The full music video also recently dropped on YouTube.


BAND-MAID released the new song digitally worldwide on October 4 in 118 countries along with a short version of the music video. What led to this new announcement was a demand from fans both in Japan and overseas for both a CD release and the full music video.

BAND-MAID are currently on their tour entitled BAND-MAID WORLD DOMINATION TOUR 2018-2019 ~Shinryaku~. Dates on the tour continue to sell out. Tickets for the tour finale shows at Shinkiba Studio Coast on January 11 and 12 are also now on sale.

Information

glory – CD Release

On Sale: January 16, 2019

Price: ¥926 (Pre-Tax)

Tour Page: https://bandmaid.tokyo/contents/181839

BAND-MAID Official Homepage: https://bandmaid.tokyo/

BAND-MAID WORLD DOMINATION TOUR 2018【宣告】~senkoku~
・2018/11/09 Los Angeles, Lodge Room *SOLD OUT
・2018/11/10 San Francisco, The Chapel *SOLD OUT
・2018/11/14 Helsinki, Nosturi
・2018/11/16 Amsterdam, Melkweg
・2018/11/17 London, The Dome
・2018/11/18 Paris, Backstage
・2018/11/21 Berlin, SO36
・2018/11/22 Munich, Feierwerk

BAND-MAID WORLD DOMINATION TOUR 2018-2019【侵略】~Shinryaku~
・2018/09/12 @ Kawasaki CLUB CITTA', Kanagawa *SOLD OUT
・2018/09/15 @ Kanazawa EIGHT HALL, Ishikawa
・2018/09/17 @ studio NEXS, Niigata
・2018/09/22 @ Hiroshima Club Quattro
・2018/09/24 @ Okayama CRAZYMAMA KINGDOM
・2018/09/28 @ Zepp Nagoya, Aichi
・2018/09/30 @ Sendai Rensa, Miyagi
・2018/10/07 @ Takamatsu MONSTER, Kagawa
・2018/10/08 @ Namba Hatch, Osaka
・2018/11/04 @ Sapporo PENNY LANE 24
・2018/11/30 @ Fukuoka DRUM LOGOS
・2018/12/01 @ Kumamoto
・2018/12/08 @ Kyoto FANJ
・2018/12/09 @ Kobe Harbor Studio, Hyogo
・2018/12/14 @ NaganoCLUB JUNK BOX
・2018/12/16 @ Kofu CONVICTION, Yamanashi
・2019/01/11 @ Shinkiba STUDIO COAST, Tokyo
・2019/01/12 @ Shinkiba STUDIO COAST, Tokyo

Yu-Gi-Oh! VRAINS Website: http://ani.tv/yugioh-vrains/

BAND-MAID Release Yu-Gi-Oh! VRAINS Ending Theme 'glory' Worldwide & Music Video

BAND-MAID dropped their new song glory digitally in 118 countries worldwide on October 4. The song is the new ending theme song for the ongoing anime series Yu-Gi-Oh! VRAINS and first appeared on the show on October 3.

The band also released the short version of the song's music video on their official YouTube channel. The virtual reality system featured in the video is a reference to Yu-Gi-Oh! VRAINS in which duels take place in the virtual reality cyberspace system LINK VRAINS.

BAND-MAID will embark on their world tour BAND-MAID WORLD DOMINATION TOUR 2018 ~senkoku~ in November.

Information

"glory"
Released: October 4, 2018
Available in 118 countries worldwide.

BAND-MAID WORLD DOMINATION TOUR 2018【宣告】~senkoku~
・2018/11/09 Los Angeles, Lodge Room *SOLD OUT
・2018/11/10 San Francisco, The Chapel *SOLD OUT
・2018/11/14 Helsinki, Nosturi
・2018/11/16 Amsterdam, Melkweg
・2018/11/17 London, The Dome
・2018/11/18 Paris, Backstage
・2018/11/21 Berlin, SO36
・2018/11/22 Munich, Feierwerk

BAND-MAID WORLD DOMINATION TOUR 2018-2019【侵略】~Shinryaku~
・2018/09/12 @ Kawasaki CLUB CITTA', Kanagawa *SOLD OUT
・2018/09/15 @ Kanazawa EIGHT HALL, Ishikawa
・2018/09/17 @ studio NEXS, Niigata
・2018/09/22 @ Hiroshima Club Quattro
・2018/09/24 @ Okayama CRAZYMAMA KINGDOM
・2018/09/28 @ Zepp Nagoya, Aichi
・2018/09/30 @ Sendai Rensa, Miyagi
・2018/10/07 @ Takamatsu MONSTER, Kagawa
・2018/10/08 @ Namba Hatch, Osaka
・2018/11/04 @ Sapporo PENNY LANE 24
・2018/11/30 @ Fukuoka DRUM LOGOS
・2018/12/01 @ Kumamoto
・2018/12/08 @ Kyoto FANJ
・2018/12/09 @ Kobe Harbor Studio, Hyogo
・2018/12/14 @ NaganoCLUB JUNK BOX
・2018/12/16 @ Kofu CONVICTION, Yamanashi
・2019/01/11 @ Shinkiba STUDIO COAST, Tokyo
・2019/01/12 @ Shinkiba STUDIO COAST, Tokyo

BAND-MAID Official YouTube Channel: https://www.youtube.com/user/BANDMAID

BAND-MAID Official Homepage: https://bandmaid.tokyo/