TV Anime Okoshiyasu, Chitose-chan Stamp Rally Taking Place in Kyoto
Kyoto Tower is holding a stamp rally from December 25 to January 31 themed on the ongoing anime series Okoshiyasu, Chitose-chan. The series follows the adventures of the cute emperor penguin Chitose-chan who strolls curiously around famous places in Kyoto. The stamp rally will have participants collection stamps from three places that appear in the anime series: the Kyoto Municipal Subway, Kyoto Aquarium and Kyoto Tower.
Each stamp rally location has been given its own name: "Ride Kyoto Municipal Subway," "Enter Kyoto Aquarium" and "Climb Kyoto Tower."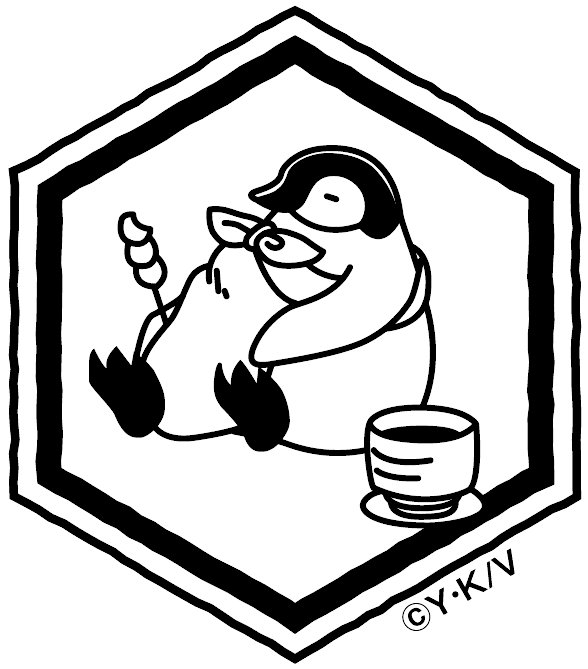 Each spot earns you a unique stamp based on that location. What's more is that if you get involved, the first 1,000 people at each spot will receive an original Chitose-chan folder (pictured below).
Kyoto Tower will also be decorated with panels and boards displaying scenes from the anime.
Kyoto Aquarium appeared in episode 10 of the anime on December 7. Kyoto Tower will appear in episode 11 which airs on December 14. If you're in Japan this month then follow Chitose-chan's trip around Kyoto!
Information
Chitose-chan Stamp Rally
Locations: Tokyo Tower Observation Deck Floor 5F / Kyoto Municipal Subway (Higashiyama Station, Karasuma Oike Station and Kokusaikaikan Station) / Kyoto Aquarium
Price: Free (charges may apply to access each location)
*Stamp rally paper can be obtained at each location, underground stations (on racks at ticket gates), and bus stations
*1 folder given per person (first-come, first-served)
Anime Panel Exhibition
Location: Kyoto Tower Floor 2F
Time: 9:00-21:00
Entry: Free
*Times subject to change from January
Okoshiyasu, Chitose-chan Official Website: http://vap.co.jp/chitosechan/
RELATED ENTRIES
Fermented Food Cafe 'Tsuke x Koji Haccomachi' to Open in Kyoto's Sanjo Area

Tsuke x Koji Haccomachi is a new cafe opening in the Sanjo area of Kyoto on February 22, 2020, that is centred entirely on fermented foods.

The name "Haccomachi" derives from the Japanese word Hakko (Hacco), meaning fermented, and Komachi (Comachi), meaning a beautiful woman. The cafe hopes for people to incorporate fermented foods into their livesーsomething which is rooted in Japanese food cultureーand live comfortably.

The cafe's logo showcases the making of kōjiーa type of mould used in the fermentation process of certain food products in Japan, like soybeans. The logo hope to pass down this long upheld tradition.

Hakko fermentation is a major part of Japan's food culture. Since ancient times, the sweetness and umami brought about by the enzymes in the fermentation process have served to accompany many foods in the country, such as miso, soy sauce, mirin, rice vinegar, and so onーall traditional condiments used in the Japanese kitchen that are still fundamental today.

The menu at Tsuke x Koji Haccomachi features a line-up of fermented foods made in Kyoto, including those from Kyoto-based soybean makers Fujiwara Shokuhin, Sawai Shoyu Honten which has produced the same high quality soy sauce for decades, sake brewery Kitagawa Honke which has been around since the Edo Period, and more.

A Small Look at the Menu

Lunch Menu

Haccomachi Special – Fermented Lunch Plate: ¥1,690

This lunch plate is an assortment of hors d'oeuvre made with fermented condiments, tandoori chicken that has been pickled to elevate the umami, marlin fish, soup, and more.

Dinner Menu

Spare Ribs On The Bone in Miso Yuan Yaki: ¥1,490

This hearty portion of spare ribs are marinated in a miso, mirin, and soy sauce mix. Taste the full umami flavour of the juicy meat.

Namerō Miso Salmon in Yoghurt Sauce: ¥770

The salmon is served namerō style, a type of tataki or pounding method, in miso. The yoghurt has both a refreshing and rich flavour.

Homemade Komekoji Rice Malt Sweet Sake Yoghurt: ¥470

The splitting of the sour yoghurt serves to elevate the sweetness of the sake. This is a drink that even those who don't like sweet sake are sure to enjoy.

Cafe Menu

Miso Pound Cake w/ Vanilla Ice Cream: ¥550

The miso pound cake is a collaboration with Japanese confectionery company Sarasa, which has 6 branches of cafes and shops in Kyoto. It's made using komekoji rice malt powder provided by an old-fashioned Japanese shop (菱六もやし). The umami of the miso is intensified, and the cake stays moist thanks to the powder. It's served with a dollop of refreshing vanilla ice cream.

Blackcurrant & Vanilla Sweet Sake Affogato: ¥550

A unique spin on the affogato dessert which has you pouring hot sweet sake over tangy and refreshing blackcurrant sherbet and rich vanilla ice cream. Enjoy the mix of the hot sake and the cool ice cream.

Discover the Japanese tradition of fermentation at Tsuke x Koji Haccomachi, opening February 22, 2020.

Information

Tsuke x Koji Haccomachi

Grand Opening: February 22, 2020
Address: 78-1 Masuyacho, Shitagaru Yanaginobamba Sanjo-dori, Nakagyo Ward, Kyoto,
Opening Hours: [Weekdays] 11:00-15:00 & 17:00-22:00 / [Weekends & Holidays] 11:00-22:00

Closed: Wednesdays
Official Website: https://haccomachi.jp/

ART LAB KYOTO: The New Shop Opening at Kyoto City Kyocera Museum of Art

ART LAB KYOTO is the new museum shop set to open at Kyocera Museum of Art on March 21, 2020 in line with the revamp currently undergoing at the museum, with design work being co-created by Japanese architects Jun Aoki and Tezzo Nishizawa.

Kyoto is known as a hub of Japanese culture, managing to maintain traditions while constantly evolving. ART LAB KYOTO will embody everything about this idea when it opens after the museum's revamp. The spacious shop will not only sell merchandise related to the exhibitions, but books and goods related to art from Kyoto both traditional and contemporary, items in collaboration with external artists, original and exclusive sweets, and more. ART LAB KYOTO will also host events promoting the diversity of art and culture in Kyoto.

Information

ART LAB KYOTO

Address: Kyoto City Kyocera Museum of Art Floor B1F (124 Okazaki Enshojicho, Sakyo Ward, Kyoto)

Grand Opening: March 21, 2020

Closures: Open every day until April 30, 2020 except March 23. The schedule commencing May will be posted at a later date on the official website.
Opening  Hours: 10:00-19:00

Official Website (English): https://kyotocity-kyocera.museum/en/

Experience a Cherry Blossom Burger in Kyoto's Famous Cherry Blossom Tourist Spot Arashiyama

This March, a restaurant in Arashiyama, Kyoto, that goes by the name CROSS Burger&Beer/Coffee, has announced it will release its new "Sakura Burger" (Cherry Blossom Burger) for the spring season.

CROSS Burger&Beer/Coffee is a restaurant known for its burgers made with pitch black buns – a result from combining the mixture with bamboo charcoal – which are served on afternoon tea stands. All of their patties are made with 100% domestic wagyu, specifically hiragyu from the town of Tanba in Kyoto. To ensure the meat maintains its high quality texture, it is minced together with shoulder and shank, which also creates great flavour.

The new cherry blossom burger uses a pink bun like that of the springtime flower. It has a chewy texture, and the surface is charred so that the outside is crispy and the inside soft. It also means that the meat juice permeates the bun better, and without making it go soggy. The patty is uses the same hiragyu meat, which is breaded and deep-fried to create what is known as menchi-katsu in Japanese. By doing this, it locks in the characteristic and unique flavour of the meat, as well its juice.

Drizzled over the patty is a homemade tartar sauce with Kyoto-style chopped vegetables pickled in salt as the base. The restaurant chops up the vegetables randomly to leave texture in the sauce, which has a refreshing taste thanks to them, creating a flavour you'll enjoy until the last bite. The burger is also stuffed with a sunny-side up egg and purple cabbage, the latter of which has a slightly bitter bite to it, resulting in an amalgamation of mouth-watering flavours.

Order together with a cocktail or soda float to create an Instagrammable photo.

If you're heading to Japan to visit Kyoto this cherry blossom season, head to Arashiyama to enjoy the sights and a delicious Sakura Burger.

Information

CROSS Burger&Beer/Coffee
Address: 48 Arashiyama Kamikaidōchō, Nishikyō Ward, Kyoto, Kyoto Prefecture

Opening Hours: Lunch 11:00-16:00 / Dinner 16:00-23:00

Official Website: https://cross.grandwest.kyoto/

Kyoto Brighton Hotel Offers 5 New Hotel Plans For Springtime, Cherry Blossom & Temple Experiences

Kyoto Brighton Hotel is now selling reservations for its new "Haru no Asobi Plan" (Springtime Fun Plan) which is taking place between March and May this year and offers guests the opportunity to enjoy Kyoto in the spring and its cherry blossoms.

Spring in Kyoto is the most popular season for tourists and travellers who flock from not only across Japan but from around the world. The Haru no Asobi Plan is made up of 5 exciting plans to see the ancient capital's breathtaking cherry blossoms, vibrant green maples, and other offerings.

"Asakatsu" – An early morning temple visit and stroll

Get away from the crowded streets and enjoy the rare opportunity to experience incredible early morning sights you don't normally get to see. Spend a quiet morning in a gorgeous environment in this plan. Several temples and gardens are in place for the experience: Kōdaiji Temple, Bishamon-do Temple, Taizō-in, Haradanien, and Tenryū-ji.

Kiyomizu-dera Temple special night viewing

One of the must-visit spots when travelling to Kyoto is Kiyomizu-dera, officially a World Heritage Site. This plan rents out the temple for you to experience it at nighttime. The main building is currently undergoing large-scale renovation to secure the roof as well as the inner construction of the temple. Seeing the temple is truly a sight to behold.

You are guaranteed a view of the famous "Stage of Kiyomizu," an enormous veranda attached to the main hall. The surrounding trees will be lit with enchanting lights, and you'll be able to gaze at the distant city nightscape. Experience Kyoto like never before as the warm lights illuminate the Niōmon (Deva Gate), 3-storey pagoda, and purified water which runs from the Otowa Waterfall.

Discover the world of Kyoto embroidery

The traditional practice of Kyounui, or Kyoto-style embroidery, has continued since the Heian Period and is even garnering attention overseas. It's a delicate and refined style of embroidery unique to Kyoto.

After your embroidery session which will take place in a Kyoto town house nearby the cherry blossom-filled Hirano Shrine, you'll look at kimono and yukata so beautiful they'll look like they should be in an art museum, before heading to eat together with the creator.

See the green maple trees of Hōgon-in on a private train

Board the private 1-2 carriage Randen train on the Keifuku Electric Railroad, which runs from Shijō-Ōmiya to Arashiyama. This cute retro train will take you Arashiyama where the green maples are breathtakingly beautiful.

You'll also get to stroll through the quaint gardens of Hōgon-in Temple, view artwork painted by Noriko Tamura, and more.

Sky Bus

Enjoy a panoramic view on a private ride of the Sky Bus, a double-decker bus which is gaining huge popularity right now. You will ride through the city of Kyoto and see the rows of pink cherry blossoms. In April, they will also do an evening tour of the cherry blossoms so you can see them at night, and in May they'll do a green maple tree tour.

Discover the beauty of Kyoto in this very special hotel plan at Kyoto Brighton Hotel.

Explore Kyoto With a Hot Pudding Latte From Kyo Yasaka Pudding

Kyo Yasaka Pudding is a shop with a new vision. Located in Kyoto's tourist hot spot of Higashiyama ward, it's home to a team of people who love and are well-versed when it comes to food. Their incredible purin, or Japanese custard puddings, are made carefully one by one to make people happy. These puddings are tried and tested: much trial and error was done to ensure the ingredients, flavours, technique, and appearance were perfect.

On January 24, they're set to release a new product to the menu: the Kyo Yasaka Hot Pudding Latte.

This hot beverage combines a pudding latte, made from incredible Kyoto milk, with super rich caramel cream. It's then topped with a mix of tempting decorations. The caramel and cream are of a high quality, with the caramel cream itself having a unique and irresistible bitter bite you won't find anywhere else.

This is the perfect accompaniment to a winter walk through Kyoto while sightseeing.

Information

Kyo Yasaka Hot Pudding Latte

Release Date: January 24, 2020

Price: ¥700 (Tax Included)

Kyo Yasaka Purin

Address: 87-4 Hoshinochō, Higashiyama Ward, Kyoto, Kyoto Prefecture

Official Website: https://www.kyo-yasaka-pudding.co.jp/

Bunjee Jump From the Top of Kyoto Tower With Their New VR Experience

Have you ever wondered what the thrill of bungee jumping would be like, but are too afraid of heights to even consider putting it on your bucket list? Have no fear, because Kyoto Tower is bringing a new VR bungee jumping experience to the top of the building which will be available to experience from February 1 for a limited time.

This VR experience was first brought to the tower in the fall of 2018, and this year it is making its grand return. After the event originally ended, there was huge demand for it to be held again.

Those brave enough to have a go at this VR bungee jump (or bungy, depending where you are from), will go above and beyond the 100 meter observation deck to the highest accessible point of Kyoto Towerーup 120.9 metersーwhich is normally closed off to the public, to the special VR deck which has been prepared.

The experience will offer you not only the thrill of jumping from Kyoto's tallest structure, but the chance to gaze upon a panoramic view of the beautiful city too.

Information

Kyoto Tower VR Bungy Jump

Running: February 1, 2020 – March 31, 2020

Time: 12:00-21:00 (Last Entries 20:45)

Location: Kyoto Tower Observation Deck – Floor 1F (the 11th floor of Kyoto Tower)

Price:

・VR Bungy Ticket: ¥800 (Tax Included)

・Observation Deck & Bungy Set Ticket (Tax Included): Adults: ¥1,400 (Individual Purchase: ¥1,600)/High School Students: ¥1,300 (Individual Purchase: ¥1,450)/Elementary & Junior High Students: ¥1,100 (Individual Purchase: ¥1,350)

*Ages 7+ only

*Set tickets are available to purchase on floor 1F of Kyoto Tower

*Run times subject to change

*Ticket charges applied for ages 7+; those aged below 7-years-old are not permitted to use the VR system

*An entry ticket to the Kyoto Tower observation deck is not necessary to experience the VR system

Official Website: https://vr-bungee.com/

Top Matcha Desserts in Kyoto Perfect for Your Next Instagram Post

 When you think of Kyoto, matcha immediately comes to mind. Today with the help of the Kansai region's expert dessert Instagrammer Tiara, we'll be introducing you to the top matcha dessert shops of the Kansai region. 

Kawatomo, Fushimi 

Matcha Ganache Cake

This matcha ganache cake looks just as good as it tastes. The beautiful smooth matcha coating is delicious and rich. The cake is best enjoyed with a cup of coffee and is the perfect sophisticated treat. 

▼Kawatomo

Address: 792 Nishishujakuchō, Fushimi Ward, Kyoto,

Opening Hours: 11:30-18:00

Closed: Mondays, Tuesdays and Wednesdays

Official Instagram: https://www.instagram.com/chika_ara/

Chasho Shimizu Ippoen Kyoto

A delicious spun sugar decoration rests on top of the melt-in-the-mouth matcha tiramisu parfait. The mascarpone and matcha ice cream is made completely from Hokkaido milk. The balance of flavours and moderate sweetness makes this parfait irresistible. 

▼Chasho Shimizu Ippoen 

Address: 665 Honkawaracho, Higashiyama Ward, Kyoto

Entry:11:00-16:00

Closed: Mondays*

*Open on National Holiday Mondays but closed the following day. Closed during the New Year Period.

Official Website: https://ippoen.co.jp

MATCHA REPUBLIC, Shimogyō Ward

Rock Salt Cheese Bubble Matcha Latte/ Bubble Matcha Latte

This unique drink belongs on Instagram. A cute ink bottle is filled with a mildly sweet matcha drink accented with a hint of salt. You've never tried anything quite like this before.

▼MATCHA REPUBLIC

Address: Floor 1, 721-1 Higashishiokojicho, Shimogyo Ward, Kyoto

Opening Hours: 9:00-21:00

Official Website: https://www.matcha-republic.com

JTRRD cafe KYOTO, Nakagyō 

Uji Matcha Smoothie (Kyoto-Limited)

Pink, red, orange, yellow, purple, green – this Uji matcha smoothie is a rainbow of colours. There are four different designs and you can choose from three varieties of fruit to decorate the inside of your cup. Each smoothie is made of fruit and vegetables, making this a healthy way to indulge in matcha. It is so beautiful you won't want to drink it.

If you're looking for a shop to satisfy your matcha cravings, you can't go wrong with Tiara's recommendations.

Tiara's Instagram never fails to keep us updated on the most delicious and beautiful desserts in the Kansai region so check it out.  

Article Contents and Photos by @happy_pinkrose_tiara

5 Must-Eat Succulent Strawberry Desserts in Kyoto That Are Simply Kawaii

Winter is here, which means that the season of strawberries has finally fallen upon Japan. Today we are joined by Instagrammer Tiara, who enjoys posting their adventures around Japan's Kansai region to try out all of the sweets and desserts. We are taking a look at must-visit locations in Kyoto for a taste of their tempting strawberry delights.

LITT UP.KYOTO in Gion-Shijō

At LITT UP.KYOTO, their "ichigoame" lets you enjoy strawberries in their original cute form.

They are coated in sweet strawberry candy and served on sticks in cups reminiscent of something from a Japanese festival. Part of their allure is how perfect they are as a tasty treat for walking around with. There's even popping candy attached to the strawberries for an even sweeter textural treat.

▼LITT UP.KYOTO Gion

Address: 533 Gionmachi Minamigawa, Higashiyama Ward, Kyoto

Opening Hours: 10:00-18:00

Official Instagram: https://www.instagram.com/litt_up_kyoto/

Kissa Zou in Imadegawa

The "Kisetsu no Babaroa" (Seasonal Baravois) at Kissa Zou has an springy texture and sits in a sweet and sour strawberry sauce.

I recommend ordering one of the separate elephant cookies to place on top too to make this an even cuter dessert.

▼Kissa Zou

Address: 440-3 Santeicho, Kamigyo, Kyoto

Opening Hours: 9:00-18:00 (Last Orders 17:00)

No Fixed Holidays

Official Instagram: https://www.instagram.com/kissa_zou/

Chounohane in Fushimi

At Chounohane they are serving strawberry barquettes as well as mini versions of them. The dessert itself is of course beautiful, but is made even more so by the antique plate♡

▼Chounohane

Address: 791 Nishishujakucho, Fushimi Ward, Kyoto, Kyoto Prefecture

Opening Hours: [Tues/Sat/Sun] Shop & Cafe 11:00-17:00 / [Fri] Shop Only 11:00-17:00

Official Instagram: https://www.instagram.com/chounohane/

Utanekodo in Kyoto Shiyakusho-mae

Utanekodo was renovated from a 100+ year old building and has its own cat cafe. The cafe space is located on the first floor.

Their "Nyanko Strawberry Milk" speaks for itself, topped with adorable kitty ice cream and delicious with its subtly sweet taste.

▼Utanekodo

Address: 155-4 Tachibanayanagicho, Nakagyo Ward, Kyoto, Kyoto Prefecture

Opening Hours: 13:00-20:00 (Last Orders 19:00)

No Fixed Holidays

Official Website: http://utanekodo.com/

MASHOLA in Kyoto Shiyakusho-mae

Finally we have the "Strawberry Tiramisu Cube Cake" served at MASHOLA, a Korean-style cafe. This cake is made with refreshing homemade tiramisu cream, delightful sponge, and is packed full of sweet and sour strawberries which complement the entire thing.

▼MASHOLA

Address: 1-A MOVIX, 406 Sakuranocho, Nakagyo Ward, Kyoto, Kyoto Prefecture

Opening Hours: 10:00-20:00

Official Website: https://mashola.business.site/

All of these cafes are wonderful, so if you're in Kyoto for the strawberry season, be sure to visit as many as you can.

Tiara has plenty of other recommendations over on their Instagram page, so if you're a sweet tooth looking for something sweet to indulge in around the Kansai area, be sure to give them a follow.

Text & Photos: @happy_pinkrose_tiara

Translation: Joshua Kitosi-Isanga

Kiyomizu Cheese Kobo: Kyoto's Dessert House Releases Matcha Tiramisu and New Cheese Products

Kiyomizu Cheese Kobo opened in Kiyomizu Gojozaka, Kyoto in July this year as the first place in Kyoto to specialise in "bottled cheesecakes." This month, they are releasing four new products to continue the cheese craze right to the end of 2019.

The first is a revamp of their number one most popular soft serve cheese ice cream: the "Chocolate Mont Blanc Cheese Soft." The soft serve ice cream is a mix of refreshingly sweet milk and rich cheese topped with a full-bodied mont blanc-style chocolate—a welcome addition during the winter months when you want to stay in and indulge in some chocolate. The ice cream is finished with crushed chocolate pieces and a crowning raspberry to create a chocolate cake in a cone. You're sure to become a frequent customer after a bite of this.

And for the Christmas season only, between December 18th-25th the shop is also selling another special soft serve that's made to look like a Christmas tree. The cheese soft serve is covered with a sprinkling of Uji matcha powder and adorned with chocolate pearls and stars.

Kiyomizu Cheese Kobo is also releasing hot versions of its "Kiyomizu Cheese Drink" and "Matcha Cheese Tea," the iced versions of which were greatly enjoyed in summer. The Matcha Cheese Tea can also now be ordered with tapioca topping, creating a delicious combination between the expertly crafted rich matcha cheese tea and the chewy and sugary tapioca pearls.

Also released this month is the "Homemade Matcha Tiramisu" when is served in a traditional masu box and served only on the second floor eat-in section. This irresistible delight is made with flavourful mascarpone cheese and bitter Uji matcha from Kyoto to create a dessert that's perfect during a trip or day out in Kyoto. Because of the hard labour that goes into creating this dessert, only 5-10 are served per day, so be sure to arrive early to not miss the opportunity.

Information

Chocolate Mont Blanc Cheese Soft – ¥550 (Before Tax)

Christmas Cheese Soft – ¥400 (Before Tax) *Available December 18-25, 2019 only

Matcha Tapioca Cheese Tea – ¥550 (Before Tax)

Homemade Matcha Tiramisu – ¥540 (Before Tax)

Kiyomizu Cheese Kobo

Address: 569-10 Shiraitochō, Higashiyama Ward, Kyoto, Kyoto Prefecture

Official Website: http://kiyomizu-cheese.com/

Furoshiki-Wrapped Matcha and Strawberry Sandwich Biscuits Released at PRESS BUTTER SAND

PRESS BUTTER SAND released two new sandwich biscuit products on December 13. PRESS BUTTER SAND Kyoto Station will release the Tsutsumi Uji Matcha and PRESS BUTTER SAND Hakata Station the Tsutsumi Amaou Strawberry. Both are limited in stock.

Both boxes of these delicious treats contain five of the store's famous "PRESS BUTTER SAND" sandwich biscuits, and they come gift-wrapped in an original furoshikiーa type of Japanese wrapping cloth. The appearance of both products in their packaging maintain an artisanal aesthetic and capture the vibe of their respective cities.

The furoshiki were designed by Yumiko Kakizaki (BAKE Inc.), the creative director at PRESS BUTTER SAND, and several creators active around Kyoto and Fukuoka. Each design was made to represent the characteristics of Kyoto and Hakata.

Also available is the Tsutsumi Black, a set each of 5 original and black flavoured butter biscuit sandwiches.

PRESS BUTTER SAND boasts over 2.5 million sales a year on average. If you've get to try their scrumptious biscuit sandwiches then don't pass up the opportunity to try these new flavours.

Information

Tsutsumi Uji Matcha (Includes 5 Uji Matcha and 5 Original Biscuit Sandwiches)

Price: ¥3,240

Available: PRESS BUTTER SAND Kyoto Station

Running: December 13, 2019 until stock sells out

Tsutsumi Amaou Strawberry (Includes 5 Amaou Strawberry and 5 Original Biscuit Sandwiches)

Price: ¥3,240

Available: PRESS BUTTER SAND Hakata Station

Running: December 13, 2019 until stock sells out

Official Website: https://buttersand.com

Handmade Christmas Chocolate Santa and Snowman Released at ATELIER de GODIVA in Kyoto

GODIVA Japan released two new chocolate products at the Daimaru Kyoto branch of ATELIER de GODIVA, a chocolate shop which combines GODIVA's skilful craftsmanship with chocolate artistry. Named "ATELIER Christmas Showpiece Santa Claus" and "ATELIER Christmas Showpiece Snowman," the two chocolate artworks were released on Wednesday and are available until December 25.

Each and every one of these chocolate sculptures are handmade in-store by the shop's chefs. They are exclusive to ATELIER de GODIVA Daimaru Kyoto and the perfect Christmas treat to adorn any Christmas party this holiday season.

These cute Christmas-exclusives not only taste delicious, but are fun to look at. Santa is sat in a chimney ready to deliver the presents while the snowman is sat next to a Christmas tree looking warm with its scarf.

Both of these are limited in stock and won't be available ever again after they sell out, so don't miss out.

Information

ATELIER Christmas Showpieces

Running: December 11, 2019 – December 25, 2019

Price: ¥1,500 Each (Before Tax) *Takeout only

Available: ATELIER de GODIVA Daimaru Kyoto (Daimaru Kyoto B1F, 79 Tachiuri Nishimachi, Shimogyo Ward, Kyoto, Kyoto Prefecture)

Opening Hours: 10:00-20:00

GODIVA Japan Official Website: https://www.godiva.co.jp

Kabuki Cat Mascot Claws Its Way into koe donuts kyoto Collaboration Set

From old shrines and temples to cuisine, Kyoto enjoys a rich arts and culture scene. The former capital is also famed for preserving Japan's traditional stage drama known as Kabuki. Every year, Minamiza Theatre located on Shijō Street in Kyoto holds a grand Kabuki performance called THE FESTIVE KAOMISE PRODUCTION to commemorate its debut. This year, the performance will run from November 30 – December 26.

To celebrate, koe donuts kyoto will be selling collaboration doughnuts themed around the official Kabuki character "Kabuki Nyantaro" during the same period.

Kabuki Nyantaro's adorable face decorates some of the doughnuts and can even be seen on the packaging too. This set is exclusive to koe donuts Kyoto.

Enjoy a traditional Kabuki performance with some delicious Kabuki Nyantaro doughnuts to complete your Kyoto experience.

©2017, 2019 SANRIO/SHOCHIKU APPROVAL NO. G603142  著作(株)サンリオ

Information

koe donuts kyoto × Kabuki Nyantaro Collaboration Doughnuts

Selling: November 30 – December 26, 2019

Selling Times: 10:00 – 21:40 (During performance intervals only)

Shop Location: Minamiza Theatre Floor 2, Shijō Street, Kyoto

Box of 6 Doughnuts: ¥1,800 (After Tax)

 

Information and updates will be posted on koe donuts' official social media websites.

koe donuts Official Instagram: (@koe_donuts) https://www.instagram.com/koe_donuts/