Japan's Top 10 Instagram-Worthy Locations
Snaplace is a website that analyses posts on social media they they deem 'Instagrammable.' They have close to 6,000 spots listed on their website, and they have selected the very best from their data this year to make two Top 10 lists for 2018 – one for Instagram and one for Twitter.
Instagram Top 10

1st Place: Yasaka Kōshin-dō (Kyoto, Kyoto Prefecture)
Coming in at No. 1 is Yasaka Kōshin-dō, a small temple in Kyoto dedicated to Shomen Kongo, a guardian warrior, and three wise monkeys. The temple is known by locals for the colourful cloth balls that decorate the site called "kukurizaru" on which worshippers write their wishes and hang them. There is a rental kimono place close to this temple, making it the perfect spot to snap some photos.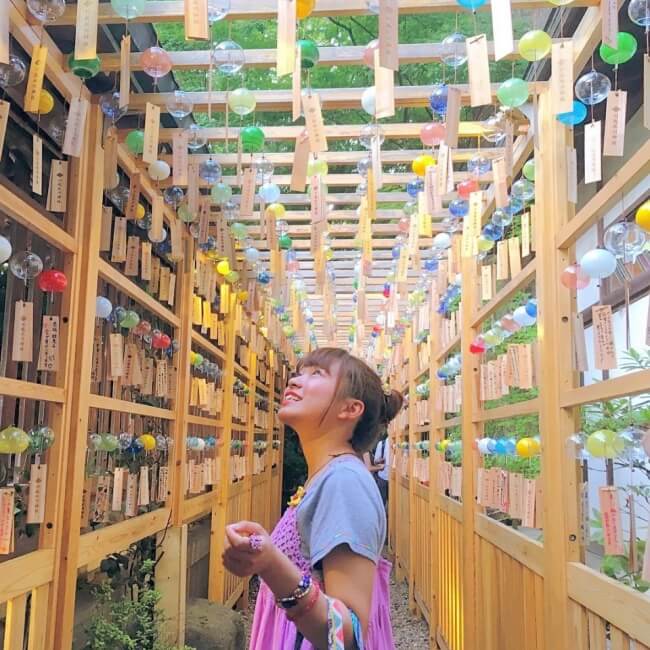 2nd Place: Kawagoe Hikawa Shrine (Kawagoe, Saitama)
Kawagoe Hikawa Shrine is a popular spot with Japanese women for being a shrine of love. There, you can get your hands on special charms and fortunes based on the East Asian concept of the 'red string of fate' which binds together two people destined to meet. There's a stylish cafe and in summer they set up a corridor of wind chimes as shown in the photo. There's lots of places to take pictures here.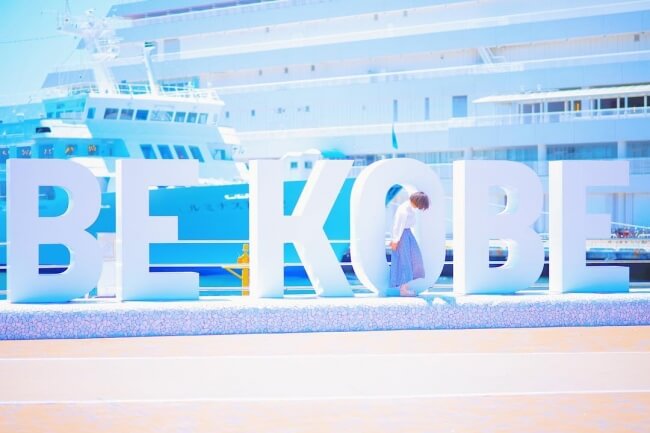 3rd Place: BE KOBE (Kobe, Hyogo)
The "BE KOBE" sign was built in April 2017 and was seen much across student social media during its first year. You can see lots of high school students take photos here on school trips to Kobe from October to March. This spot was initially popular with just students but its recognition began to spread amongst the masses and today taking a picture there is a must-do when visiting Kobe. On a busy day you can be waiting over 30 minutes to get one.
4th Place: La Collina (Omihachiman, Shiga)
La Collina is a confectionery factory that sells a range of exclusive sweets and confections including baumkuchen. This cute place looks like something out of a fairy tale and is noted for its post-worthy treats and chic, otherworldly architecture. Its spread on social media came from the fact that the building can easily make it look like you've been transported to another world. It has a real Studio Ghibli vibe to it with its grassy roof and surrounding natural environment.
5th Place: Sakushima (Nishio, Aichi)
6th Place: 21st Century Museum of Contemporary Art (Kanazawa, Ishikawa)
7th Place: Sarushima (Yokosuka, Kanagawa)
8th Place: Sankoinari Shrine (Inuyama, Aichi)
9th Place: Site Of Reversible Destiny (Yoro, Gifu)
10th Place: Shima Mediterranean Village (Shima, Mie)
Twitter Top 10
1st Place: Ōkunoshima (Takehara, Hiroshima)
Ōkunoshima is sometimes called "Poison Gas Island" for its role in World War II as a poison gas factory. But it is more known for being called "Rabbit Island" due to the number of feral rabbits living there. Around 700 roam the island, so it's become a popular spot for taking photos.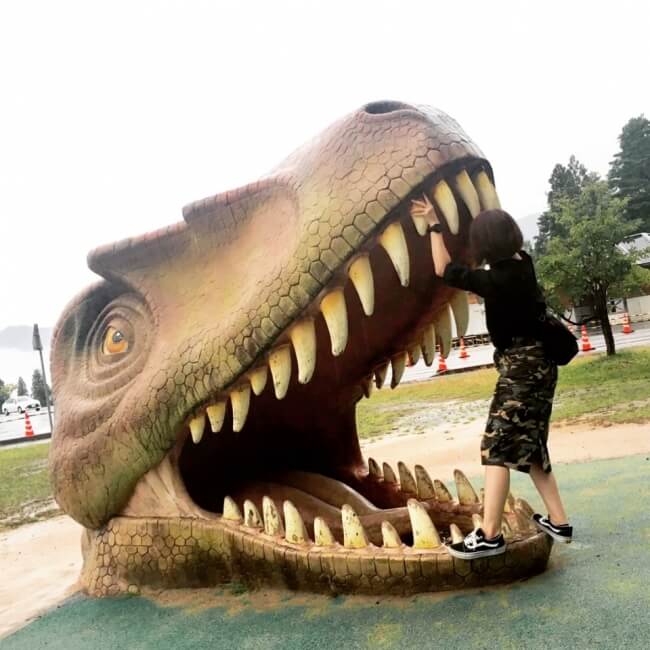 2nd Place: Fukui Prefectural Dinosaur Museum (Katsuyama, Fukui)
This museum is the biggest dinosaur museum in Japan and is renowned across Asia for its dinosaur fossil and specimen display. The gigantic realistic dinosaur models have hit it big on Japanese social media.
3rd Place: Ushiku Daibutsu (Ushiki, Ibaraki)
Ushiku Daibutsu was originally the tallest statue in the world from 1993-2002, even making it into the Guinness World Records. As of 2018 it is now one of the five tallest statues in the world. A photo of this Buddha looks like something from another world which led to its surging popularity on social media.
4th Place: Yasui Konpiragu Shrine (Kyoto, Kyoto Prefecture)
The Yasui Konpiragu Shrine is home to a large stone which is associated with binding good relationships tighter and severing bad ones. You first write your wishes on a piece of paper. If you want to initiate a good relationship then you must crawl through the hole in the stone from front to back while holding the paper. To end a bad relationship you crawl from back to front. The ritual is completed by sticking the paper onto the stone.
5th Place: Shimizu Koen (Noda, Chiba)
6th Place: Sand Museum (Tottori, Tottori Prefecture)
7th Place: Mikane-Jinja Shrine (Kyoto, Kyoto Prefecture)
8th Place: Nanzo-in (Kasuya District, Fukuoka)
9th  Place: North Safari Sapporo (Sappoto, Hokkaido)
10th  Place: Momotaro Shrine (Inuyama, Aichi)
Use this list as reference when in Japan to get the very best photos for showing off your trip!
RECOMMENDED ENTRIES
6 places you can get Instagram-worthy rainbow treats in Tokyo!

Rainbow sweets are now trending. As well as being very popular overseas, a large variety of shops that sell rainbow sweets have also been opening in Japan. Today we'll be looking at rainbow sweets that you can eat in Tokyo! The impact of their vivid colours makes them perfect for an Instagram shot!

LE SHINER (Takeshita Street, Harajuku)

This shop has appeared many times on TV for its Instagram-worthy aesthetics. The pink bear is a real eye-catcher! The exterior is also cute ♡

The shop's speciality is the rainbow soft serve ice cream. Colourful rainbow ice cream spirals around the base of pink ice cream.

Their colourful menu also includes rainbow cake sticks, rainbow sandwiches and much more!

Further information: https://www.moshimoshi-nippon.jp/ja/93444

◼︎Information

LE SHINER (レ・シヤナー)

Address: COXY176 Building 1st floor, 1-7-10, Jingumae, Shibuya, Tokyo

Opening hours: Weekdays – 11:00 — 18:00 / Weekends & national holidays – 10:30 — 19:00

Access: 3-minute walk from Harajuku station Takeshita Street exit (JR Yamanote line)/ 4-minute walk from the 5th exit of Meiji-Jingumae Station (Tokyo Metro Chiyoda line)

TEL:070-1361-8686

Totti Candy Factory (Takeshita Street, Harajuku)

Totti Candy Factory has cute petit cakes, cotton candy and much more. There must be so many people who have tried this! Whatever you may have heard about this place, their showstopper is definitely the huge colourful cotton candy!

If you're looking for a present or souvenir, we recommend you get one in a cup!

◼︎Information

Totti Candy Factory

Address: RYU Apartment 2nd floor, 1-16-5, Jingumae, Shibuya, Tokyo

Opening hours: Weekdays – 11:00 — 20:00

Weekends & national holidays: 10:00 — 20:00

Access: 3-minute walk from Harajuku station Takeshita Exit (JR Yamanote line)

TEL:03-3403-7007

The KAWAII MONSTER CAFE is a new famous spot in Harajuku that has attracted many from all over the world.

One of their specialities is the colourful poison parfait, which is a photogenic masterpiece that is topped with ice cream, fruit, and even a piece of roll cake.

There are even rainbow cakes, rainbow pasta dishes, and much more!

Further information: https://www.moshimoshi-nippon.jp/ja/64096

◼︎Information

KAWAII MONSTER CAFE(カワイイモンスターカフェ)

Address: YM Square 4th floor, 4-31-10, Jingumae, Shibuya, Tokyo

Opening hours: Lunch: 11.30 — 16:30 (last orders: 16:00 ), dinner: 18:00 — 22:30 (last orders: 22:00) (Monday — Saturday and the day before national holidays

※ 90-minute seating slots, last entry: 15:30

Sundays & national holidays 11:00 — 20:00(Last orders: 19:30)

No regular closing days. It is possible that customers will not be allowed to enter the cafe when certain events take place.

Access: 1-minute walk from the 5th exit of Meiji-Jingumae station (Subway)/ 5-minute walk from JR Harajuku station Omotesandō exit

TEL: 03-5413-6142 ※It is possible to make reservations(Excluding Weekends and national holidays)

LOLA'S Cupcakes (Roppongi, Harajuku)

It is possible to say that LOLA'S Cupcakes are the instigators for the rainbow sweets trend. Their cupcakes may be famous, but their rainbow cakes are also a popular choice!

Seven different colour layers of cake are sandwiched together with buttercream.

◼︎Information

LOLA'S Cupcakes

Harajuku

Address: Cascade, 2nd floor, 1-10-37, Jingumae, Shibuya, Tokyo

Opening hours: 11:00 — 20:00

Access: 2-minute walk from 3rd exit Meiji-Jingumae station (Tokyo Metro Fukutoshin line/ Chiyoda line), 2-minute walk from Harajuku station Omotesando exit (JR Yamanote line)

TEL:03-6447-1127

Roppongi

Address: Roppongi Hills Metro Hut floor B1, 6-4-1, Roppongi, Minato, Tokyo

Opening hours: 11:00 — 21:00

Access: Direct access from the concourse of Roppongi station (Tokyo Metro Hibiya line), 4-minute walk from Roppongi station (Toei Ōedo Line)

TEL:03-3475-1127

A WORKS (Gakugei-daigaku Station)

What makes this cafe appear so Instagram-worthy is its resemblance to a traditional Japanse-style house. In this popular cafe, all the cakes are made by hand. Sales end once all the cakes are gone.

This place has more to offer than just a rainbow-coloured cheesecake — there are also unicorn cakes, Cheshire cat cakes and much more ♡

◼︎Information

Address: 3-3-7, Takaban, Mguro, Tokyo

Opening hours: Monday, Tuesday Friday & Sunday:  11:30 — 22:00

Thursdays:  11:30 — 16.00

Saturdays:  11:30 — 23:00(Last orders: 22:00)

Regular closing days: Wednesdays

Access: 2-minute walk from Gakugei-daigaku Station (Toyoko line)

TEL:050-5570-3475

NEW NEW YORK CLUB (Azabu-Jūban/ Jiyūgaoka station)

This shop was built for those who want to experience and taste New York culture in a New York atmosphere. Their signature treat is the rainbow-coloured bagel. However, they are only available on the weekends!

◼︎Information

NEW NEW YORK CLUB

Azabu-Jūban

Address: 3-8-5, Azabu-Jūban, Minato, Tokyo

Opening hours: 9:00 — 18:00 (Sales will end once all have been sold)

No regular closing days

Access: 3-minute walk from the A1 exit of Azabu-Jūban station (Tokyo Metro Namboku line)

TEL:03-6873-1537

Jiyūgaoka

Address: TF 2-15-14, Midorigaoka, Meguro, Tokyo 

Opening hours: 11:30 — 20:00

Regular closing days: Tuesday

Access: 5-minute walk from Jiyūgaoka station

TEL:03-6459-5669

What are you waiting for? Get your hands on some rainbow sweets!

A photogenic dreamland, "TOKYO ICE CREAM LAND" which offers photogenic ice creams suitable to be uploaded on your Instagram!

Tokyo Photogenic Team will hold a most-advanced, dreamy photogenic ice cream event which will offer ice creams suitable to be uploaded to your Instagram called "TOKYO ICE CREAM LAND" for a limited time offer from the 15th of December to the 17th.

Young females using Instagram (16 to 24 years old) often visit various photogenic spots to upload photos and videos to their SNS. Many young females are requesting for information RE: sightseeing spots and restaurants which are popular with Instagramers. One can create an "ideal timeline" by uploading quality contents to SNS. One of the most popular photogenic items is ice cream.

The event will set up many kinds of photo spots created under the theme of "ice cream," not just offering ice cream to the customers.

It can be said that the event is a dreamy kingdom of "ice cream" with many photogenic spots which young females will love. A lecture tour of teaching how to take photos will also be held.

Let's upload nice photos to SNS in the most advanced photogenic dreamland.

■Information 
Event name: TOKYO ICE CREAM LAND

Date: 12,15 to 17

(15th – 19:00 to 21:00, 16th to 17th – 9:00 to 21:00)

Venue: Omotesando SO-CAL LINK GALLERY.

Address: 〒150-0001 4-9-8, Jingumae, Shibuyaku, Tokyo

Access: 3 minutes by walk from Tokyo Metro "Omotesando" Station, 7 minutes by walk from "Meiji Jingumae" Station

Fees: Pre-ordered ticket 2,000 yen, normal ticket 3,000 yen (the quantity of the ticket is limited)

First-come-first-serve-basis, limited time offer – 45 per session (the time might differ according to the situation of the reservation)

Ticket can be bought from here↓

※Please enter the discount code (TIC7) if you want to purchase a pre-order ticket so that you can receive a discount. (pre-order ticket must be purchased before 10,31. The number of the tickets is 1,000)

Official Twitter: https://twitter.com/TILofficail

Official Instagram: https://www.instagram.com/ice_land2017/?hl=ja

Fukuoka Castle becomes a photo spot! –"Light Festival in Fukuoka Castle Ruins"

"Light Festival in Fukuoka Castle Ruins"is now being held inside the grounds of Maizuru Park / Fukuoka Castle ruins in Fukuoka Prefecture. Fukuoka Castle is famous for its beautiful stone walls. The castle's stone walls have now become an

light-art space. Light projections onto the wall move as people get close to and touch the stone wall.

teamLab is a creation group comprised of programming, CG, mathematics and other specialists. They are an ultra-technologist group of creators. Setting their aims on exploring a new relationship between man and nature, they cross over the boundaries of art, science, technology and creativity.

The venue for this festival, Fukuoka Castle was built in 7 years starting in 1601. It is the biggest castle in Kyushu and is a nationally designated historic site. The castle is comprised of the main enclosure, the second enclosure and the third enclosure. The stone walls are a prominent part of this castle and so it is sometimes called a "stone castle."This castle's stone walls are very beautiful and they are constructed in four layers making of a large-scaled castle.

teamLab is calling this a "Digitalized Nature, Digitalized City" project. Why not come and view and experience this festival!
AFnlFlowers, Symbiotic Lives in the Stone Wall – Fukuoka Castle Ruins

Featured Works

<Resisting and Resonating Ovoids and Trees>

The light-emitting ovoids scattered throughout the castle ruins and the trees.

The light-emitting ovoids and the light on the trees are independent of each other. Yet, as the lights become brighter and then become dimmer, it looks as though they are breathing. The propagating lighting creates a resonating sound which spreads out and disappears. In other words, if a wave of light resonates towards you it means that there is a person over there. By entering this art space you will become more fully aware that there is another person entering your same space.

<Animals of Flowers, Symbiotic Lives in the Stone Wall – Fukuoka Castle Ruins>

Ruins of Daitenshudai – a stone wall 60 meters in length and 8.5 meters in height. In various animal bodies, flowers are born, bloom then scatter and fade away. Furthermore, if people touch the animals the flowers scatter. When all the flowers have scattered, the animal fades away.

 
<Breathing, Resonating Stone Wall – Fukuoka Castle Ruins>

All of the 630 meter stone walls of Fukuoka Castle are lit up. The lights on the stone walls flicker as if they are breathing. Furthermore, the lighting on the main stone wall looks as though it is responding to the artwork, "Resisting and Resonating Ovoids and Trees." It shines brightly, spreads and then fades.

<Stone Steps of Oblivion – Fukuoka Castle>

The stone steps leading up to Shoten Shukaku of Fukuoka Castle are lit up. When people come close to the steps the lights get brighter and sound is emitted.

<Spatial Calligraphy in a Stone Wall – Fukuoka Castle Ruins>

Fukuoka Castle is sometime referred to as the"Stone Castle."On the stone walls of Fukuoka Castle's Daitenshudai Ruins, is an open space for "spatial calligraphy."Here a never-ending calligraphy work appears on the stone walls.

"Special calligraphy" means to write on an open space. The depth and speed of the strokes create a special power. One can gain a new insight into the power of calligraphy by viewing this artwork.


Here is an experience-based art project that both adults and children can enjoy. Why not go and visit this "Light Festival in Fukuoka Castle Ruins."

■Information

"Light Festival in Fukuoka Castle Ruins" 2017-2018

Address: Fukuoka Castle Ruins 1 Maizuru Park Jonai, Chuo-ku, Fukuoka-shi, Fukuoka Prefecture
Festival duration: 2017 December 1st (Fri.) ~ 2018 January 28th (Sun.) *no holiday during this period

Open: 18:00 – 22:00 (last entry 21:30)

Admission: Adults 1000 yen  Junior and senior high students 600 yen   children 300 yen  * 3-years and younger are free

Sponsored by "Light Festival in Fukuoka Castle Ruins Planning Committee"
RELATED ENTRIES
Kyoto Sweets Shop Otabe Rereleases Demon Slayer: Kimetsu no Yaiba Snacks with New Designs

Otabe, one of the most popular sweets souvenir shops in Kyoto, Otabe, is known for its delicious matcha and mini-desserts. Starting May 12, the company has released nine uniquely packaged sweets inspired by Demon Slayer: Kimetsu no Yaiba. The limited-edition packaging will feature popular characters from the series. Previously, the company released matcha cakes for the crossover–this time, fans can enjoy choco-an flavor!

Demon Slayer: Kimetsu no Yaiba Choco-an

Demon Slayer: Kimetsu no Yaiba Matcha

Demon Slayer: Kimetsu no Yaiba Otabe (with Original Sticker)

Original Sticker: 15 varieties, 1 given at random

Focusing on the hashira from the series, fans will want to be on the lookout for their favorite character. These sweets can be bought at select stations in the Kyoto and Osaka area, major Kyoto tourist attractions, and online. In addition, matcha flavored treats will also be on sale featuring Tanjiro Kamado, Nezuko Kamado, Zenitsu Agatsuma, Hashibira Inosuke, Kagaya Ubuyashiki, and Muzan Kibutsuji.



©吾峠呼世晴/集英社・アニプレックス・ufotable

Information

Demon Slayer: Kimetsu no Yaiba Choco-an
Release Date: May 12, 2022
Price: ¥432 (Tax Included)
Where to Buy: Train station in Kyoto & Osaka area, Major Kyoto tourist attractions, online.
Details: http://www.otabe.kyoto.jp/kimetsunoyaiba/

Hydrangea Parfait Featuring Local Matcha Available at Itohkyuemon in Kyoto

Located in Uji, Kyoto, matcha shop Itohkyuemon was founded in the late Edo period. Three cozy locations have just launched a Hydrangea Parfait, perfect for spring.

Hydrangea Parfait

Hydrangea Coaster

The shop's main location is headquartered in Uji, which is also home to Mimuroto Temple, known for its hydrangeas. The flowery location attracts thousands of tourists during the rainy season. 

The Hydrangea Parfait has been offered since 2013, now celebrating its 10th year. The popular seasonal treat features matcha hydrangea mashed sweet potatoes, hydrangea-colored jelly, leaf-shaped matcha cookies, and blueberries. Those ordering a parfait will also receive a hydrangea coaster as a gift, so why not enjoy the rainy season with something sweet to lift your spirits?

Yunohana Onsen Resort Reveals Contemporary Art-Inspired Guest Rooms

Sumiya Kihoan, a cozy inn at Yunohana Onsen in Kameoka City in Kyoto, opened a unique new guest room on April 28, 2022. The room's concept is "where guests can stay in the middle of contemporary art," and was inspired by the works of internationally-acclaimed contemporary artist Yukinori Yanagi. The new room, created as part of the Art Room Project, has been named 'Kofuu.'

The Icarus Corridor Connecting Heaven and Earth

Heavenly Bath Welcoming a Rainbow at Dusk

In-Ground Bath Featuring Oribe Glazed Ceramic

Concept Drawing of the Art Room Project by Yukinori Yanagi


The new room includes an open-air bath where guests can be transported into the world of Yanagi's contemporary art while gazing at the gorgeous Kyoto landscape. Upon entering the inn, guests are greeted by a long corridor leading to the bedrooms, dining room, and two creative open-air baths. The space was created in collaboration with Yanagi and local artists and craftsmen, such as potter Ishii Naoto, obi craftsman Yamaguchi Genbei X, plasterer Kusumi Akira, and Japanese paper craftsman Hatano Wakaru. A delicious menu is prepared by chef Hosoi Kunihiko.

Kyoto's Garden Museum Hiei Opens Limited-Time Collaboration Event with Violet Evergarden Anime Series

Kyoto's Garden Museum Hiei has announced that it will host a collaboration event with Kyoto Animation's Violet Evergarden anime franchise, entitled 'A Story of Flowers and Letters,' from May 3 to July 10, 2022.

The Garden Museum Hiei, an outdoor facility inspired by French Impressionism, sits near Mt. Hiei and is known for its incredible floral displays which change colors each season. "This scenery matches the image of the landscape depicted in the Violet Evergarden anime series, which led to the decision to hold this collaborative event," the press release reads.

Visitors can enjoy collaboration visuals and standees that will only be available to see at the gardens. The event will also feature original merchandise, collaboration drinks, and a voice-recorded introduction to the facilities by Violet herself, voiced by Yui Ishikawa.

Violet Evergarden

Violet Evergarden premiered in 2018. The main character, Violet, was trained to be a soldier and therefore has trouble expressing her emotions. In order to learn the meaning behind her commander's final words, "I love you," she embarks on a new path in life, writing letters on others' behalf. A spin-off film was released in Japan in 2019, and a second film premiered in September 2020.

Information

Violet Evergarden x Garden Museum Hiei ~A Story of Flowers and Letters~

Venue: Garden Museum Hiei

Running: May 3 – July 10, 2022

The Heike Story, INU-OH Character Concept Art on Display at Kyoto International Manga Museum

The Heike Story anime series premiered in Japan on Fuji TV's +Ultra programming block on January 12. With character designs by Fumiko Takano, fans instantly fell in love with the show's cast of characters, and an art book will be released soon, with preorders opening this week.

 

The Kyoto International Manga Museum has opened an exhibition displaying character concept art from SCIENCE SARU's The Heike Story and INU-OH anime from April 21 to June 27. The exhibit commemorates The Heike Story's TV broadcast and INU-OH's theater opening in Japan. Fumiko Takano (The Heike Story) and Taiyo Matsumoto (INU-OH)'s character concept drawings are on display in Gallery 4. 

Both titles are based on Hideo Furukawa's modern language rendering of the classic Japanese epic The Tale of the Heike.


The Heike Story will additionally release an art book titled The Colors of The Heike Story in June. The book will feature an interview between art director Tomotaka Kubo and series director Naoko Yamada, and is scheduled for release in June. Those pre-ordering the book will receive a special gift.

©高野文子 /「平家物語」製作委員会 
©松本大洋 /2021 "INU-OH" Film Partners

Information

The Heike Story – Fumiko Takano and INU-OH's Taiyo Matsumoto Character Concept Art Exhibition

Running: April 21 – June 27, 2022

Venue: Kyoto International Manga Museum Gallery 4 (452 Kinbukicho, Nakagyo-ku, Kyoto)

Access: 2-minute walk from Exit 2 of Karasuma Oike Station on the Kyoto Municipal Subway Karasuma Line and Tozai Line



The Colors of The Heike Story

Price: ¥5,500 (Excluding Tax)
Format: A4 size, 112 pages
ISBN: 978-4-908062-41-4
Publisher: HeHe / hehepress.com

The Heike Story Anime Series
Official Site: HEIKE-anime.asmik-ace.co.jp

Shoujuin Temple and THE THOUSAND KYOTO Collaborate on Special Afternoon Tea

THE THOUSAND KYOTO hotel will begin selling a special afternoon tea set in conjunction with the Buddhist Temple Shoujuin on May 9, 2022. These scrumptious treats can be enjoyed at the hotel's second-floor cafe and bar TEA AND BAR until July 15.

This offering was made with the thought of escaping the summer heat in mind. Customers can enjoy eight kinds of sweet and savory dishes, from quiche and salmon sandwiches to scones with honey and sweet bean paste.

Souvenirs


Kanouhimo

Sange

The entrance to the cafe will also be transformed to reflect the majesty of Shoujuin Temple.

The early summer scenery will be captured with majestic hydrangeas, which will surround guests and prove the perfect background for photos.


Guests can also go home with two traditional souvenirs. Both the kanouhimo and sange are lucky charms typically available at Shoujuin on holidays.

Hydrangea Afternoon Tea Available at Art Grace Wedding Hills in Kyoto for a Limited Time

Art Grace Wedding Hills, a wedding venue in Kyoto, will offer a hydrangea-themed afternoon tea service from May 1 until June 24, 2022. Guests can enjoy this dreamy event each Friday, Saturday, and Sunday.

Top Tier

Middle Tier

Bottom Tier

Welcome Drink

Hydrangea Parfait

Come taste these delectable dishes to welcome the summer season.

Studio Ghibli Secrets Revealed in Kyoto Exhibition Featuring Miyazaki Collaborator Toshio Suzuki

The Toshio Suzuki and Ghibli Exhibition opened at The Museum of Kyoto on April 23, 2022.

Toshio Suzuki, a producer at Studio Ghibli, has worked with both Hayao Miyazaki and Isao Takahata on a number of beloved masterpieces. The exhibition will feature a large bookshelf housing 8,800 of Suzuki's publications. Many of these were published before Suzuki joined Studio Ghibli, and guests are invited to see how the producer was inspired to join the legendary studio after working as an editor at a manga magazine. 

This exhibition was realized after Suzuki himself proposed the idea of exhibiting his books for the first time. At the press preview, Suzuki made a statement. "My dream was to collect all the books I've read over the past 70 years and display them in one room. Today, I'm so happy to stand in the middle of it. On one hand, I'm amazed by how much there is. On the other hand, I feel like there could always be more."

©TS ©Studio Ghibli

The giant bookshelf containing 8,800 tomes was based on a brick-and-mortar store that once served as Suzuki's 'hideout.' The wallpaper was designed by William Morris, a favorite of the producer since his youth. Among the many books on display, one area is lined with issues of Kinema Junpo, Japan's oldest film magazine. Suzuki notes that he thought about throwing them out each time he moved, but luckily, he decided to keep them! Some issues are from the Taisho era and are incredibly valuable. If you want to read them yourself, you are welcome to do so at the exhibition!

Many of Studio Ghibli's most famous works were born from casual conversations between Isao Takahata, Hayao Miyazaki, and Toshio Suzuki. Suzuki has played a large role in film advertising, including many of the memorable posters and ads almost everyone has seen. He has always included each film's most inspiring song in television ads, which has dramatically increased audience attendance. After all, who doesn't love the music in Studio Ghibli films?

What's your favorite Ghibli film?

Information

Toshio Suzuki and Studio Ghibli Exhibition

Running: April 23 – June 19, 2022
Closed on Mondays *Open on April 25, May 2

Hours: 10:00-18:00 *Open until 19:30 on Fridays (Last entry 30 minutes before closing)

Venue: The Museum of Kyoto 4F, 3F Exhibition Room (623-1 Higashikatamachi, Nakagyo Ward, Kyoto)

Official site:https://suzukitoshio-ghibli.com/

Oakwood Hotel Oike Kyoto Reveals Room Plan with UNDERSON UNDERSON Washi Underwear

The lifestyle brand UNDERSON UNDERSON is all about making skin healthier by using washi paper. The unique brand has teamed up with Oakwood Hotel Oike Kyoto, known for its traditional washi decorations, for a special accommodation plan! Booking a room will get you a fancy new pair of underpants and some other popular items. The plan began on April 11, 2022, and will continue through the end of the year.

UNDERSON UNDERSON Underwear

UNDERSON UNDERSON Stretchy Washi Mask

john masters organics × UNDERSON UNDERSON Mask & Air Refreshener

The plan wants to allow visitors to enjoy their stay in Kyoto while experiencing traditional Japanese washi paper with both their eyes and their skin. The walls of the Oakwood Hotel Oike Kyoto feature artwork and furnishings with Japanese flare and have been upgraded to include HAMADAWASHI's Tosa washi paper. This material has been used in the restoration of cultural heritage sites such as Nijo Castle and Ginkaku-ji Temple. Tosa washi can also be found on the partitions at Cafe O and on the walls of the coworking space!


To celebrate the collaboration, UNDERSON UNDERSON will be giving away underwear and other items made of its iconic WASHIFABRIC.


While this may sound like a strange collab, how would you like to give this underwear a try?

Information

Oakwood Hotel Oike Kyoto
UNDERSON UNDERSON Underwear Collaboration Room Plan
Available: April 11 – December 31, 2022
Reservations / Official Site: https://oakwood.jp/kyoto-oike/

The Royal Park Hotel Iconic Kyoto to Offer Immersive Meditation Rooms

The pandemic has caused problems for people all over the world. Mental health has taken a beating over the last few years, and in order to help people take back control of their mental wellness, The Royal Park Hotel Iconic Kyoto will begin offering immersive meditation rooms for guests only! These rooms will allow guests to enjoy a soothing private space and will be available starting April 1, 2022.

Blank meditation 

tea mediation 

The Medicha meditation rooms consist of two spaces: 'blank,' where guests are surrounded by mist, and 'tea,' where guests will immerse themselves in beautiful water patterns. An original program shown on in-room televisions at the hotel will also instruct guests in the art of meditation. 

In 'Blank Meditation,' guests will stand in a cool mist and immerse themselves in layers of diverse sounds and shifting colors of light. This will help quiet the mind and create a 'blank slate' mentally. 

The 'Tea Meditation' room invites visitors to spend time with themselves while getting lost in shimmering water patterns in a dimly lit space as they carefully brew their own tea. Two types of tea are on offer, each with distinct aromas and flavors.


 

Global Creators to Screen Films for Peace at Huis Ten Bosch Theme Park in Nagasaki

Huis Ten Bosch, a theme park in Nagasaki, will be screening 'ENLIGHTENMENT,' a film series for world peace from April 1 until April 28, 2022.


The event is taking place as a way to show support for the people of Ukraine and to pray for world peace by blending together short videos expressing love and compassion from video creators around the world. These videos are being projected on buildings and signage in countries around the world amidst the concerning current situation in Ukraine. 

The film has already been shown in more than 16 countries around the world and is now coming to Huis Ten Bosch, which boasts the world's largest illumination event with 13 million light bulbs.

Information

ENLIGHTENMENT

Running: April 1 – April 28, 2022

Screening Times: Twice a day at 20:00 and 21:00
Location: Jardim da Arte 'Waterfall of Light'

Takashimaya Kyoto to Open BTS Pop-up Store for a Limited Time

BTS LICENSED PRODUCTS SHOW, an event where fans of the Korean pop group BTS can snag officially licensed products, will be held at Takashimaya Kyoto Store from March 30 to April 12, 2022.

Items at a Glance

Face Cushion (7 varieties) 

Mug (7 varieties)

 

TinyTAN, the adorable characters created by the band members, will appear on the merchandise inspired by some of BTS's biggest hits like Dynamite, MIC Drop, DNA, and IDOL. Fans can grab plush toys, cushions, cell phone cases, towels, keychains, acrylic stands, umbrellas, gloves, hats, and more! Those spending ¥3,300 or more (including tax) will receive an original shopping bag.